This is the easiest and The Best Vegan Chocolate Cake, made with plant-based pantry-staple ingredients for a dense, rich espresso-spiked chocolate flavor and topped with light and fluffy chocolate buttercream frosting.
Who doesn't love chocolate cake? Especially when it's totally mouthwatering with ultra-rich chocolate. Whether it's for a birthday, Valentine's Day, or a regular Tuesday night, it's never a bad time for a slice of fudgy cake with plenty of frosting. This recipe is Dairy-free, Egg-free, and has a Gluten-free option- Trust me, even 'non-vegans' are totally fooled, licking their fingers and asking for seconds after they taste this vegan cake!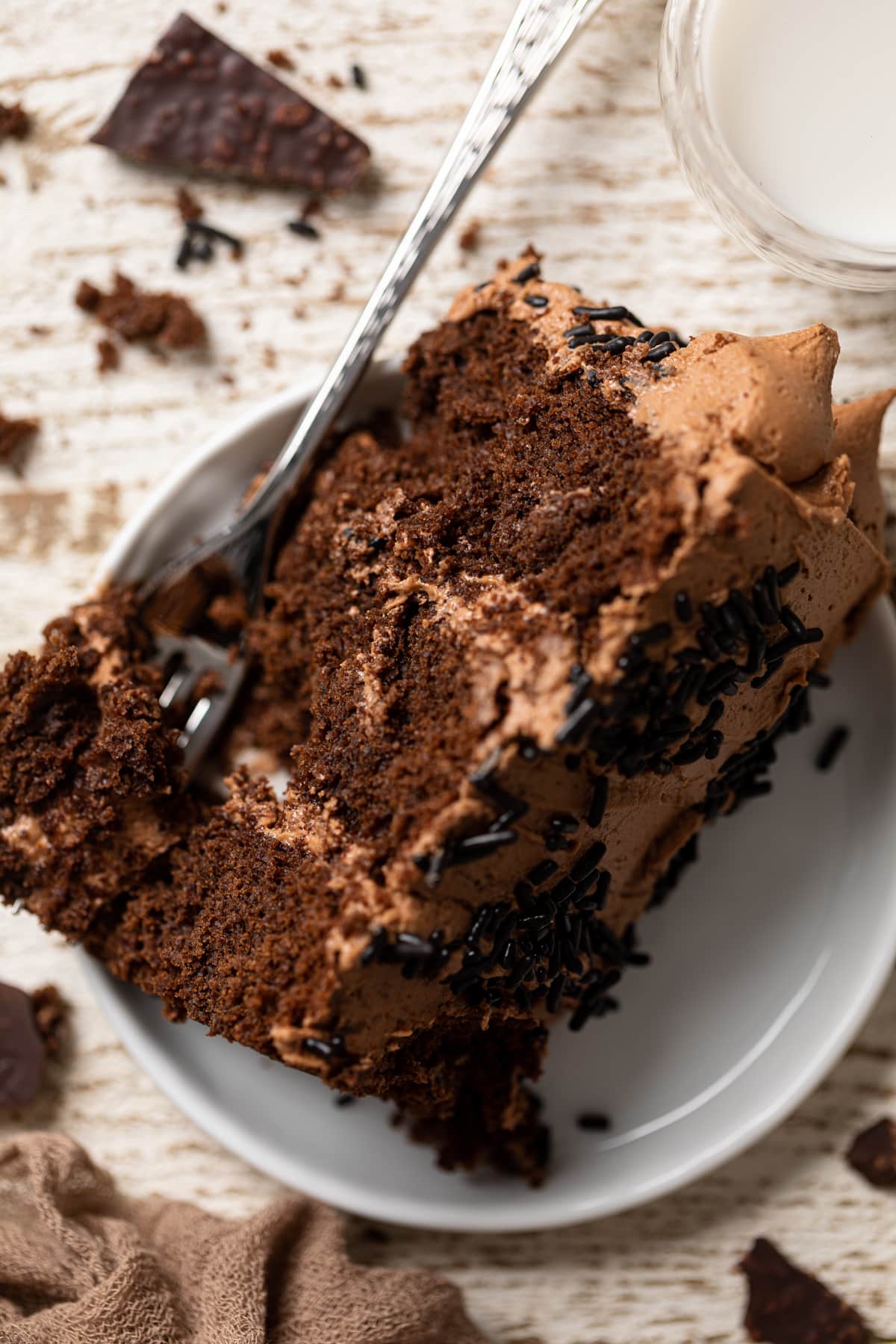 Where To Buy Vegan Chocolate Cake
Depending on where you live, typing "vegan bakery near me" in the search bar might not come out with the best search results. That's why this easy Vegan Chocolate Cake recipe comes in handy---you can make it in the comfort of your home without too much fuss. The delectability of the espresso-spiked chocolate cake and decadent chocolate buttercream frosting is guaranteed to be a great celebration treat!

Okay, I know what you are thinking. ALOT of recipes claim to be 'the best' I get that. I tested it at multiple birthday and dinner parties, and with one bite of this decadent, moist vegan chocolate cake, every single person around commented that this was The Best Vegan Chocolate Cake they'd ever tasted, so that's enough proof for me! It's totally kid-proof and family-friendly!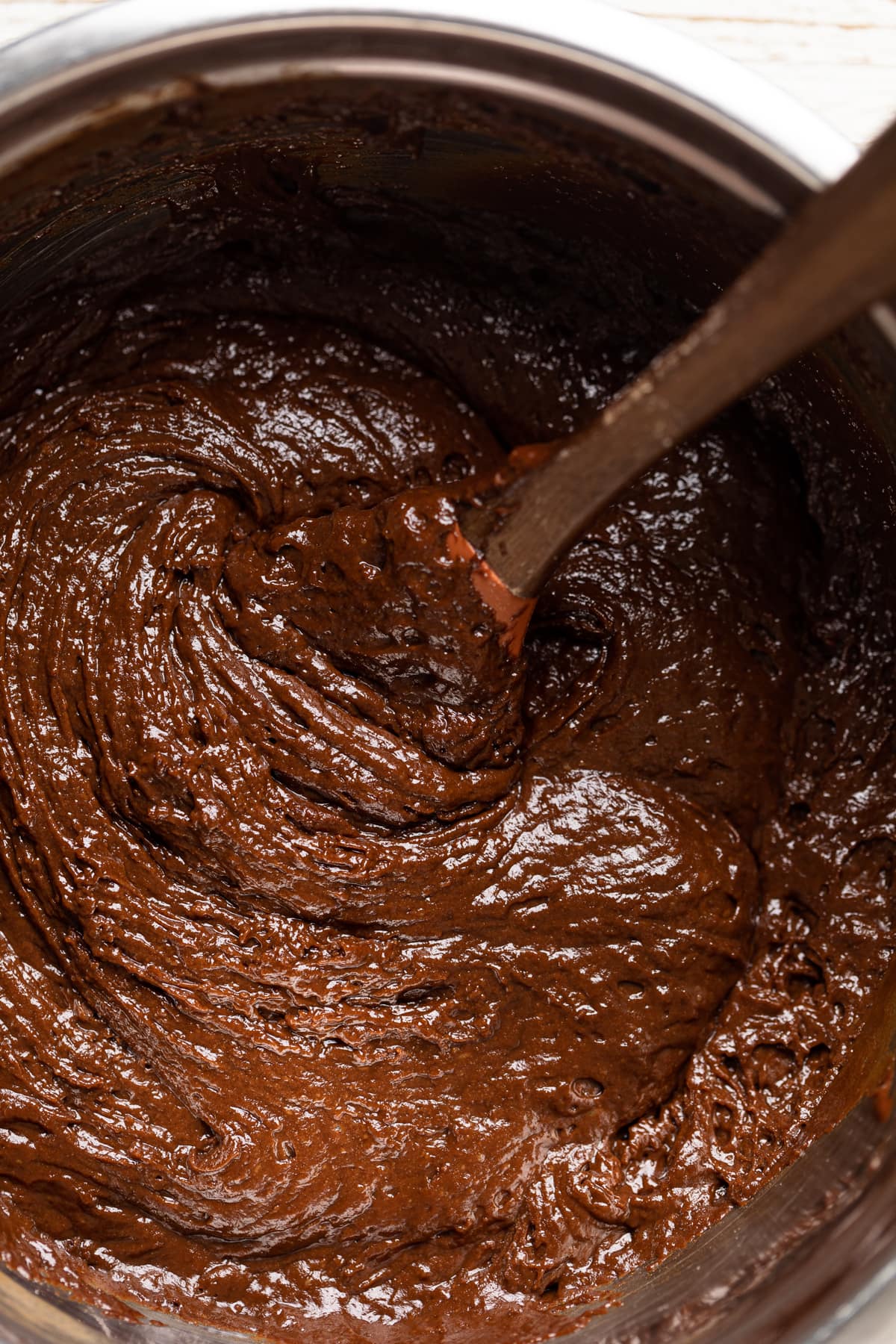 What Is Vegan Chocolate Cake Made Of?
Specifically, this vegan chocolate cake is made using common cake ingredients like all-purpose flour, baking powder, vanilla extract, and sugar. Though eggs are frequently used in baked goods like cakes, this chocolate cake recipe is totally egg-free and plant-based. Don't worry, it's still got that most rich cakey texture.
How To Make Vegan Chocolate Cake Without 'Milk'
There are many kinds of non-dairy vegan-friendly alternatives to cow's milk you can buy in most stores these days. Or you can make your own. Try my Easy Homemade Coconut Milk recipe or my Homemade Creamy Oat Milk recipe!
For this tasty vegan chocolate cake recipe, I've used almond milk as a dairy-free alternative to replacing dairy milk. Almond milk is a light plant-based 1:1 alternative to dairy milk that does not carry an overpowering taste of almonds that translates into the finished cake product.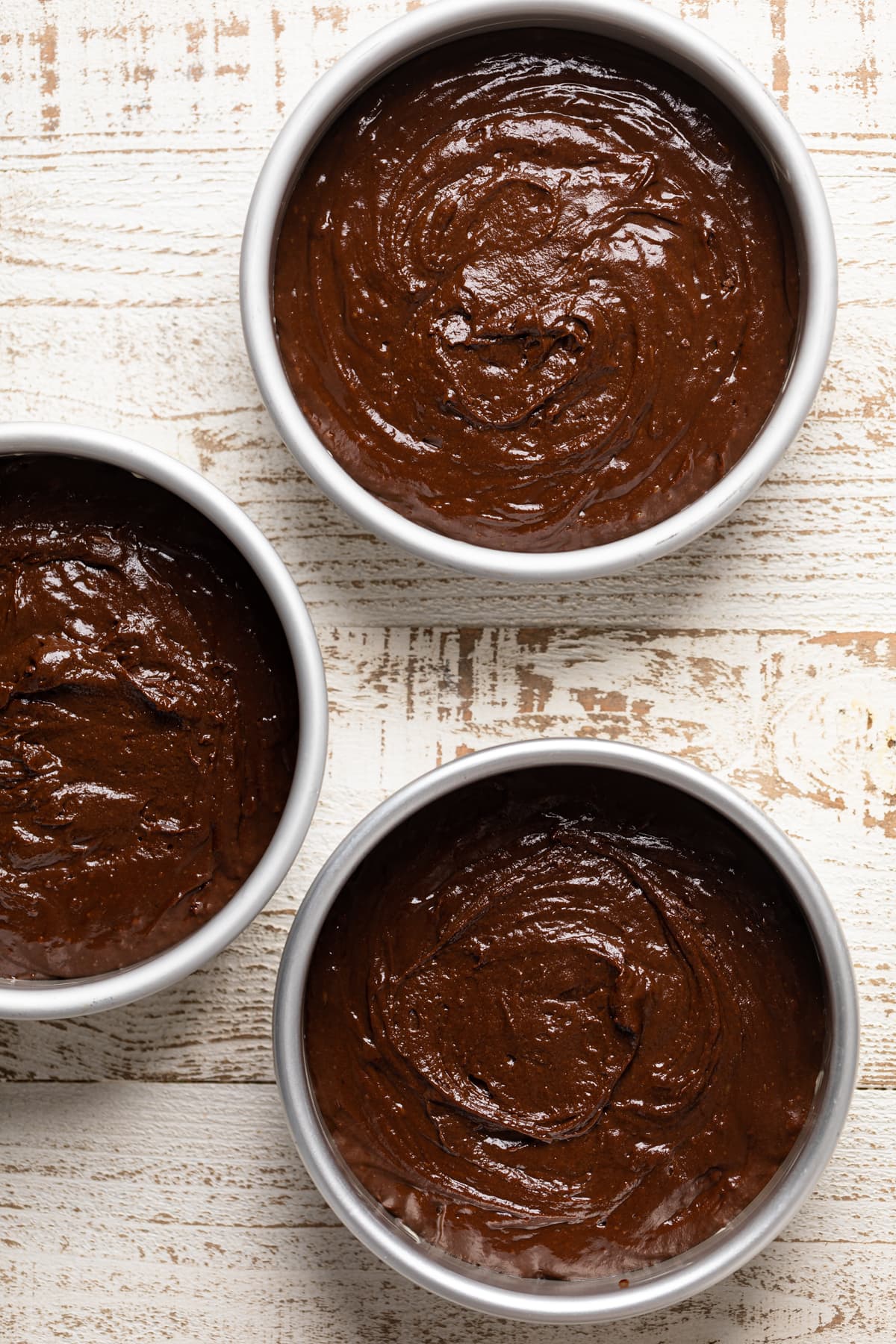 How to Make Vegan Chocolate Cake
Start making this recipe with the chocolate cake batter. Here's what you need to make it:
All-purpose flour. I use organic flour from King Arthur.
Cocoa powder. Cacao powder will also work.
Cane sugar. I use organic to make sure it's vegan.
Baking powder and baking soda
Cinnamon. To warm up the rich chocolate flavor a bit.
Sea salt
Instant espresso powder. This won't add much caffeine to your cake, but adds a delicious bitter quality.
Vanilla. Use pure extract if possible.
Almond milk. Or any plant-based milk you like.
Apple cider vinegar. To help the baking powder activate with a bit of acid.
Semi-sweet chocolate. Make sure your chocolate is vegan!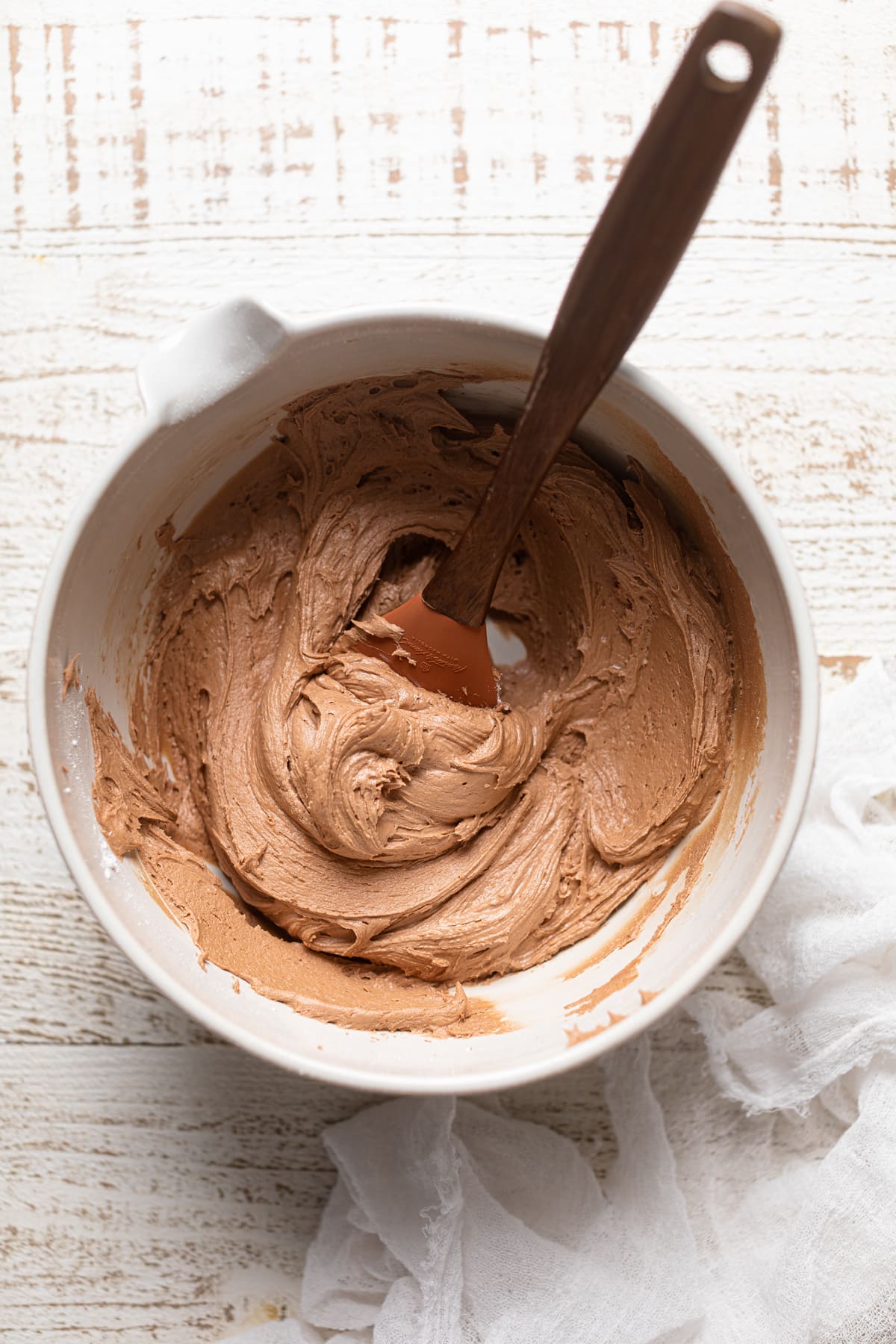 Perfect Occasions For The Best Vegan Chocolate Cake
These events are a great excuse to eat cake!
Birthdays
Anniversaries
Barbecues
Potlucks
Kids Sleepovers
Holiday Gatherings
Graduations
Baby Showers
Dinner Parties
Actually, any time is a good time for cake, right? Bake away for a little weekday pep-up!
Cake Flour vs. All-Purpose Flour.
With this cake, you can either use all-purpose flour or cake flour, both of which are sold by Bob's Red Mill. When it comes to the main ingredient of this entire recipe—-the flour, I enjoy using Bob's Red Mill Unbleached White All-Purpose Flour, which is ideal for all kinds of baking, including this one. However, I do occasionally use Super-Fine Cake Flour which adds a nice airiness and fluffiness to your cakes as well.
How To Make This Cake Gluten-Free
If you would love to make this cake gluten-free, then substituting all-purpose flour with Bob's Red Mill 1-to-1 Baking Flour is the easiest option. It's a special blend of gluten-free flours, starches, and xanthan gum, which makes this cake just as soft, fluffy, and airy as the original!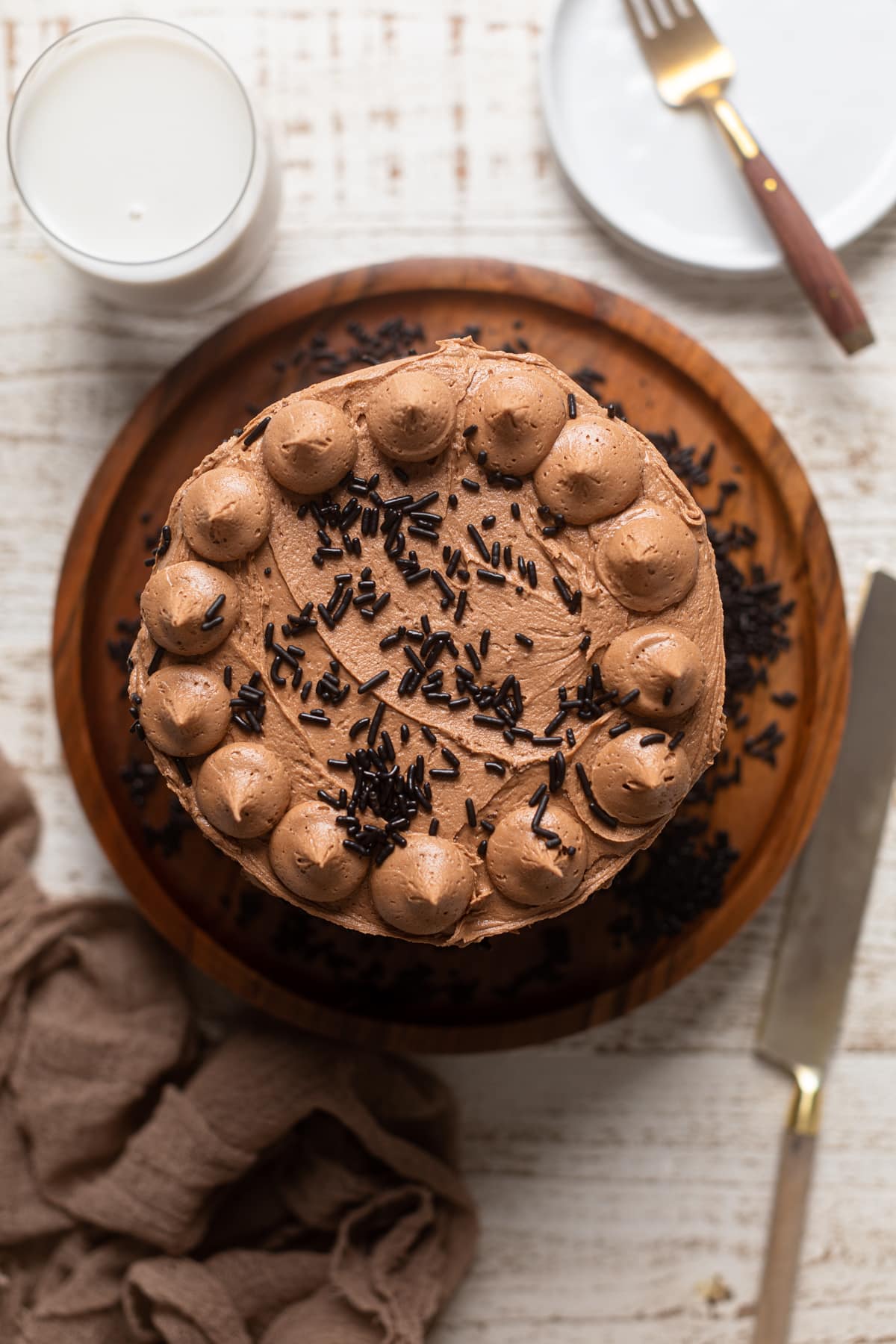 Tips for Making The Best Vegan Chocolate Cake
Because this cake doesn't rely on eggs or dairy, there are a few steps that are slightly different from your typical cake-making process.
Start by making vegan "buttermilk". Combine the dairy-free milk with the vinegar and let it sit for 5 to 10 minutes to sour a bit.
Use melted butter for easier blending.
Make sure you let the cakes cool fully before trying to frost them. Otherwise, your frosting will melt right off.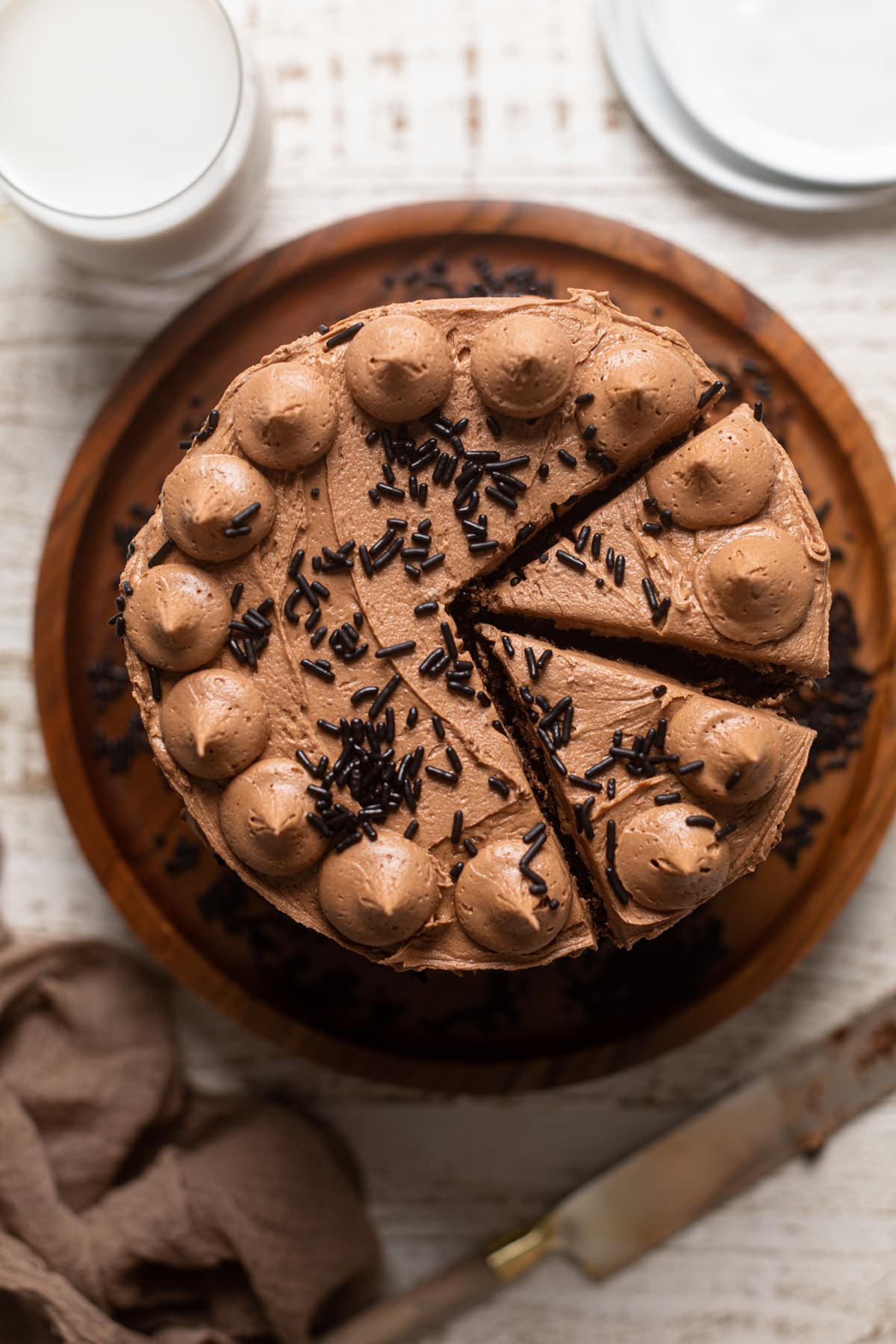 Chocolate Buttercream Frosting
The frosting on this cake is an airy, light, and fluffy chocolate dairy-free buttercream. Even without any dairy, it's incredibly rich and airy. You'll want to keep this frosting on hand for all of your vegan baking projects. Here's what you need:
Powdered sugar. Granulated sugar will make a grainy texture in your frosting, so opt for confectioner's sugar.
Cocoa powder. Cacao powder also works!
Vegan butter. Let it soften to room temperature for the easiest blending.
Vanilla. To contrast some of the decadent chocolate flavors.
Almond milk. Any dairy-free milk works.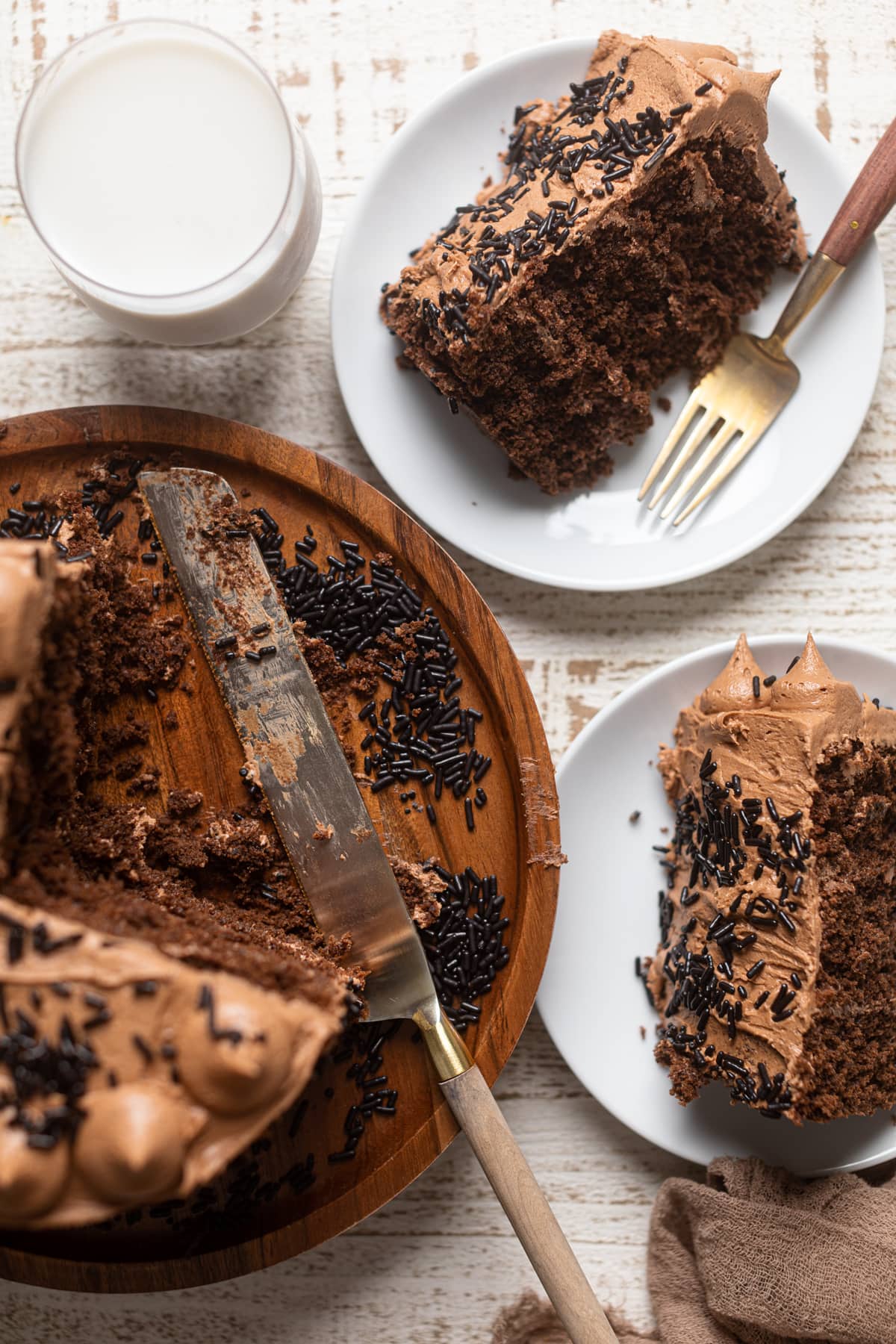 Storing Leftover Vegan Cake
You can store leftovers for up to 4 days in an airtight container in the fridge. The cake also freezes well. Wrap it tightly in plastic wrap and store it in the freezer for up to 3 months.
If you're making the cake ahead of time to serve for a party, I recommend frosting the cake just before serving.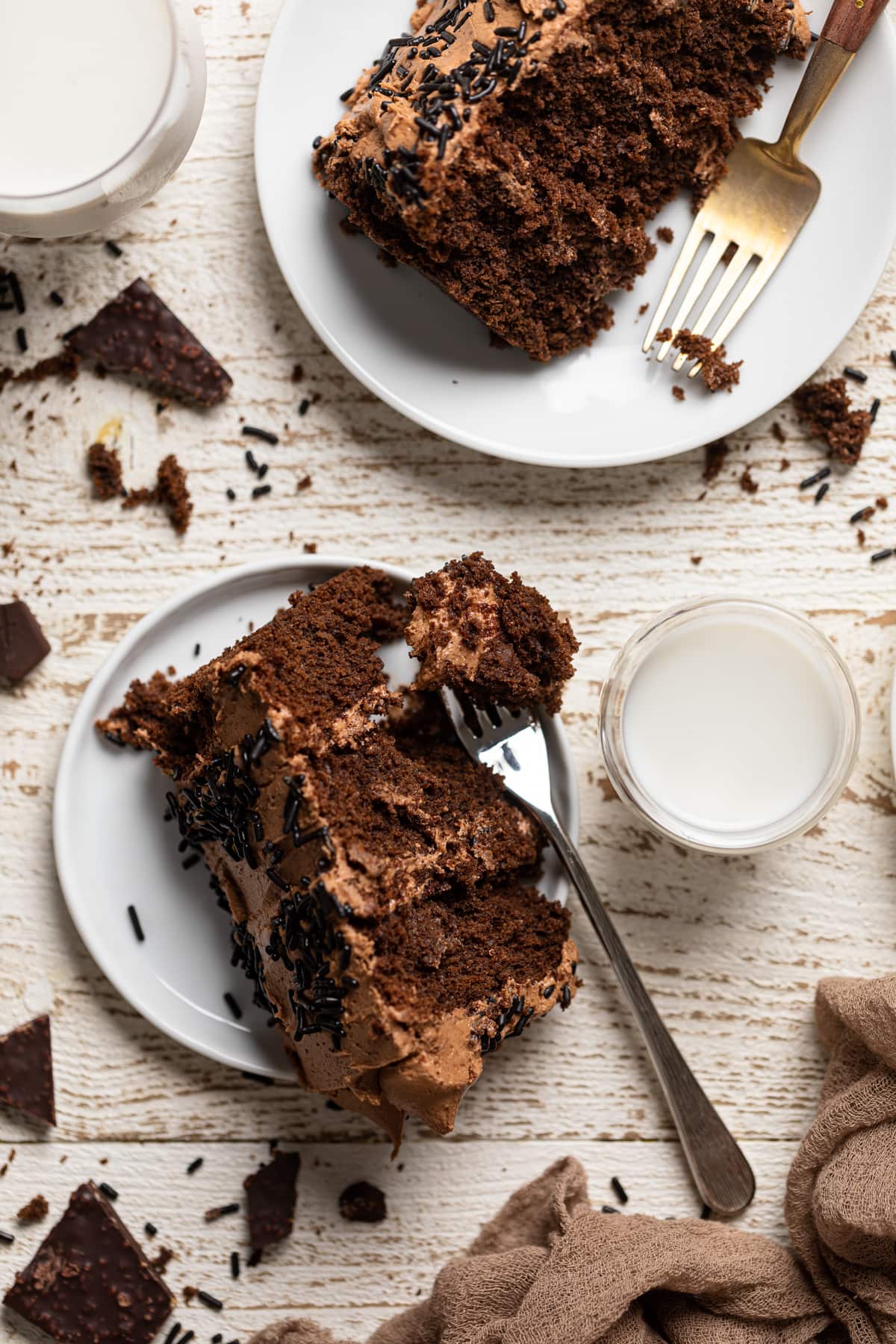 Assembling the Layer Cake
When your cake layers and frosting are ready, you can assemble this vegan chocolate cake.
Start by trimming the cake. The goal is to make as flat a surface as possible. The best way to do this is with a serrated knife.
You can make two or three layers with this cake.
If frosting the cake gets difficult, you can pop the whole thing in the fridge for a few minutes to help firm up the frosting.
On top, I like to make cute little decorations with a piping bag. And of course, chocolate sprinkles because there's never too much chocolate. Elegant chocolate shavings will also work beautifully!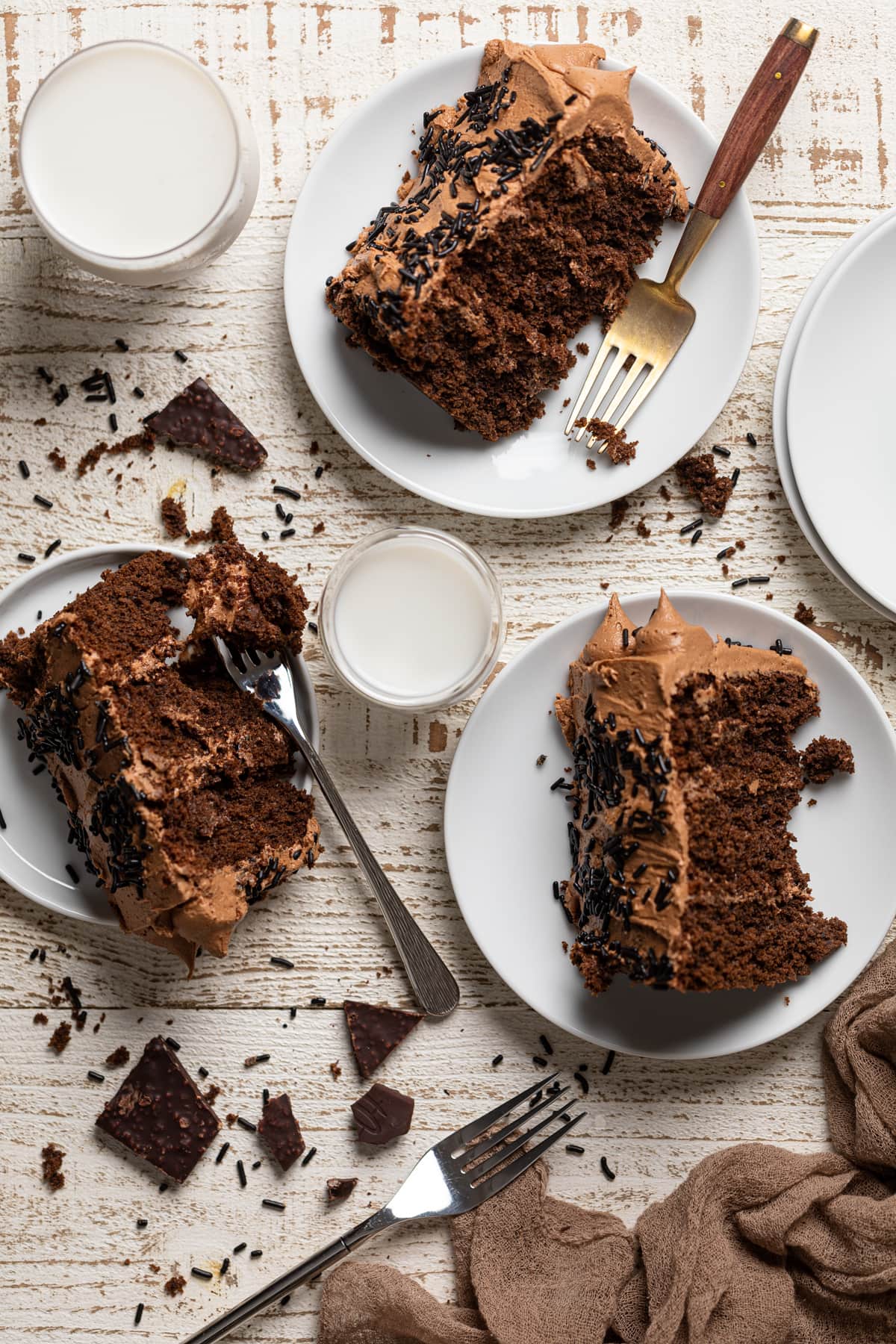 So to those of you who need a chocolate fix right about now or who are new to the plant-based world and missing the taste of rich, decadent cake, give this recipe a try. You can't really go wrong! I tried to make it as fool-proof as possible!
OR, if you want something a little more bite-sized, try my plant-based dairy-free Fudgy Vegan Brownies recipe. Or you're sick of chocolate and looking for something new, try this Vegan Funfetti Cake + Vanilla Buttercream It's one of my go-to dessert recipes since it never fails to wow guests!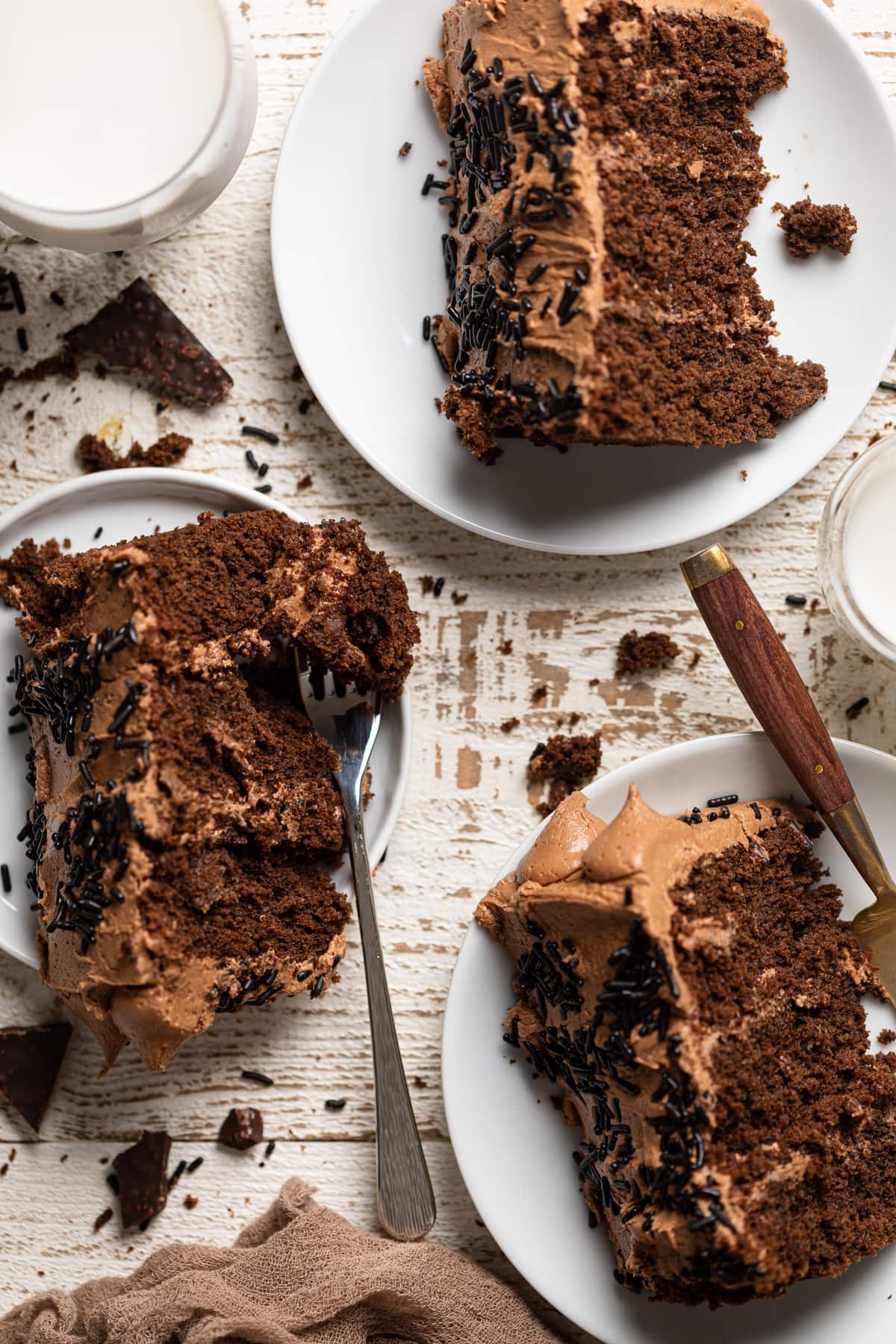 So, What Does It Taste Like?
Just like a delicious vegan chocolate cake should! It's:
Fluffy and tender
Generously frosted
Sweet & chocolatey flavors melt in your mouth
Moist and dense
Totally decadent, and did I mention delicious?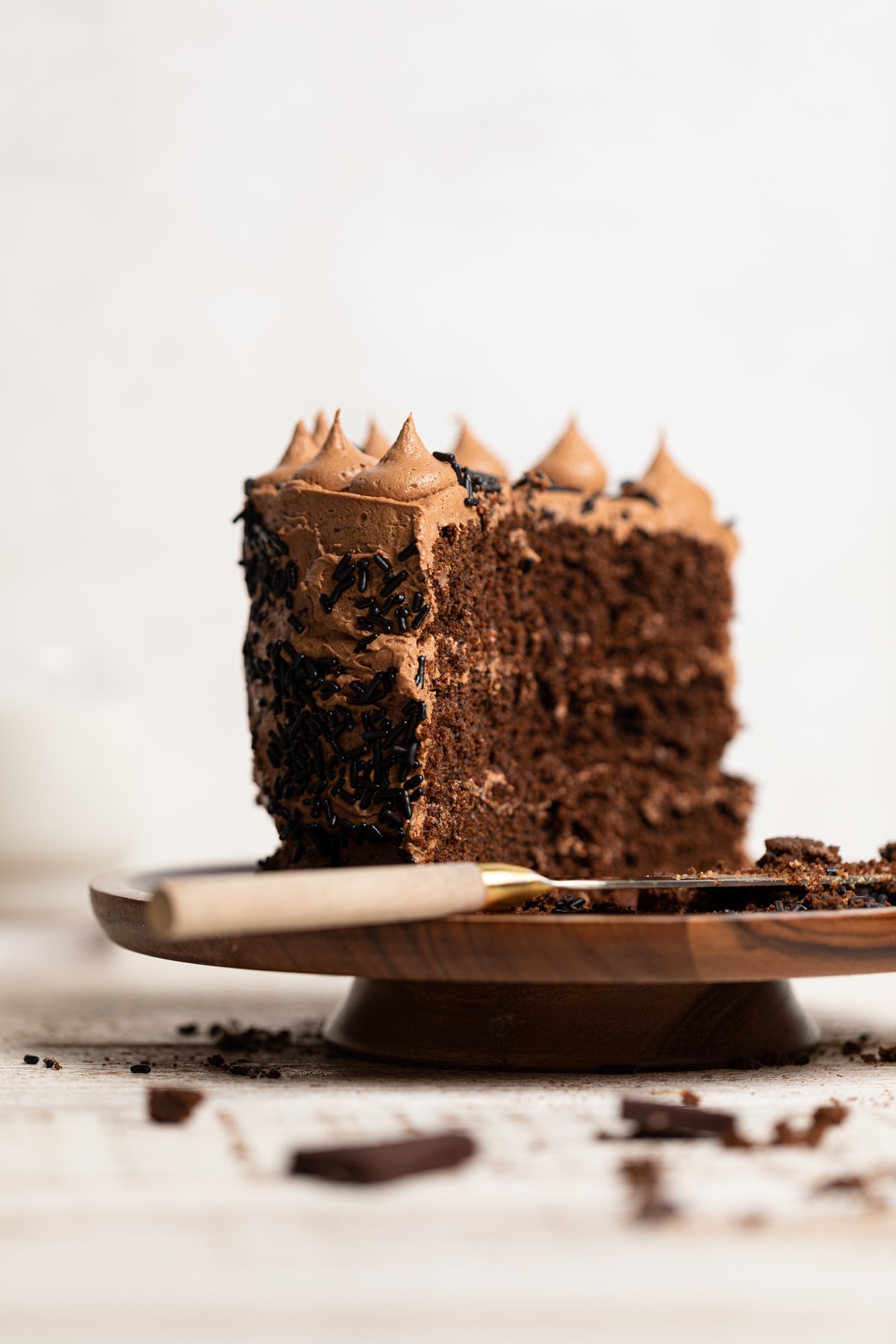 Cacao vs. Cocoa.
Did you know that Cacao AND Cocoa are the same thing?
Chocolate is actually made from Cacao beans (or seeds). It's said that companies who use the term 'Cacao' are referring to the beans, pods, or ground-up version of the beans. However, the term Cocoa is often referred to as the powdered version of it all (which is formed after the fat is pressed out of the bean).
Of course, there's a whole process that happens, and you can find out more about that here.
Note that to make cocoa powder, the fat must be removed from the chocolate. This means that cacao or cocoa powder is lower in fat and calories than regular chocolate.
So, of course, it's always best to go with a brand of Cacao that contains those nutrients and are premium to ensure that your body actually receives all of those boosters. Navitas Organics' version of Cacao not only does that, but it's so delicious as well! You can always purchase it on their site or through a large retailer like Amazon.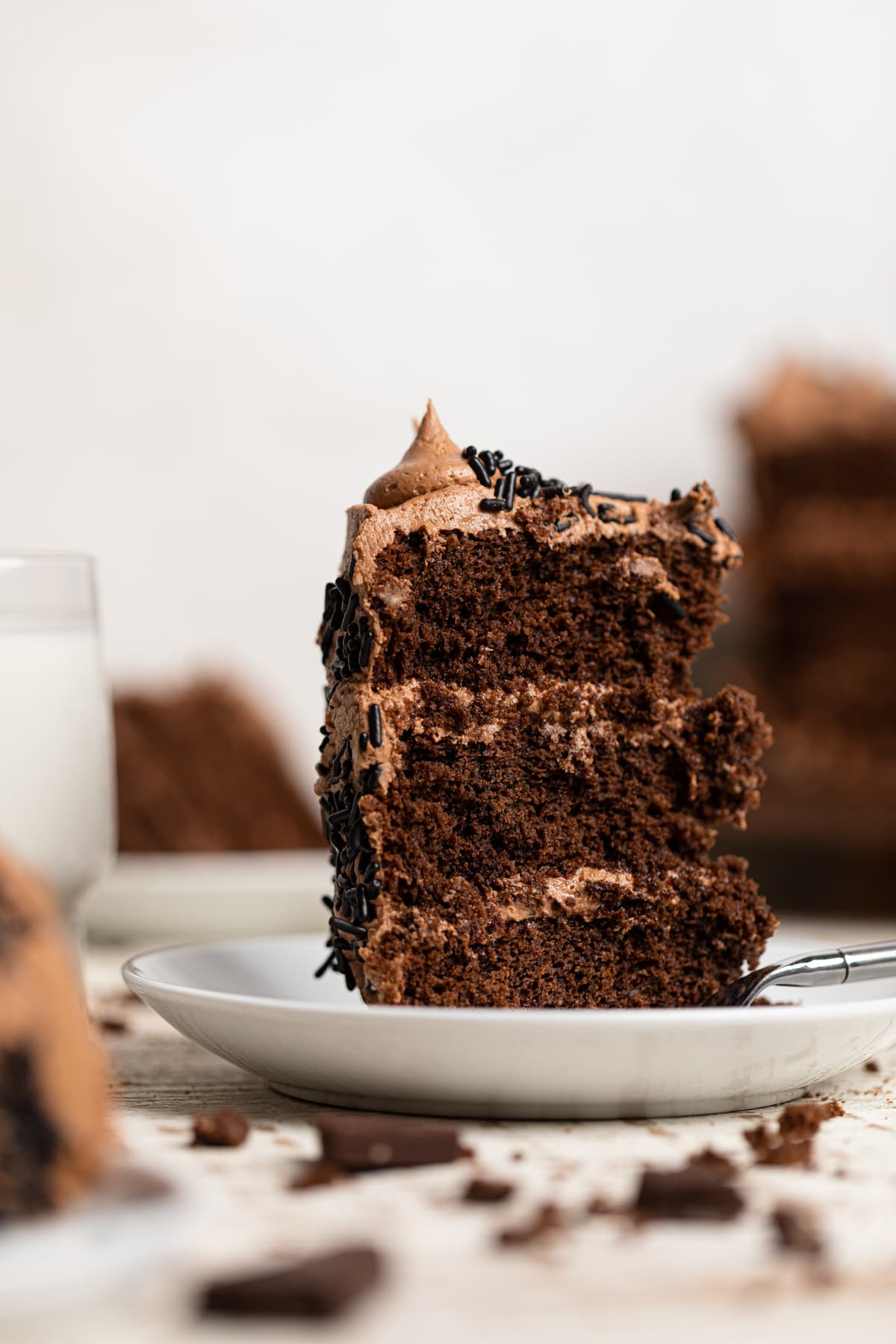 Cacao has a host of health benefits which include:
Antioxidants
Heart health
Anti-cancer properties
High in iron and tryptophan (which is an amino acid that helps the body make serotonin---a relaxing chemical).
Yup, you heard us right. Chocolate is GOOD for you... Any excuse for more vegan cake, right? Haha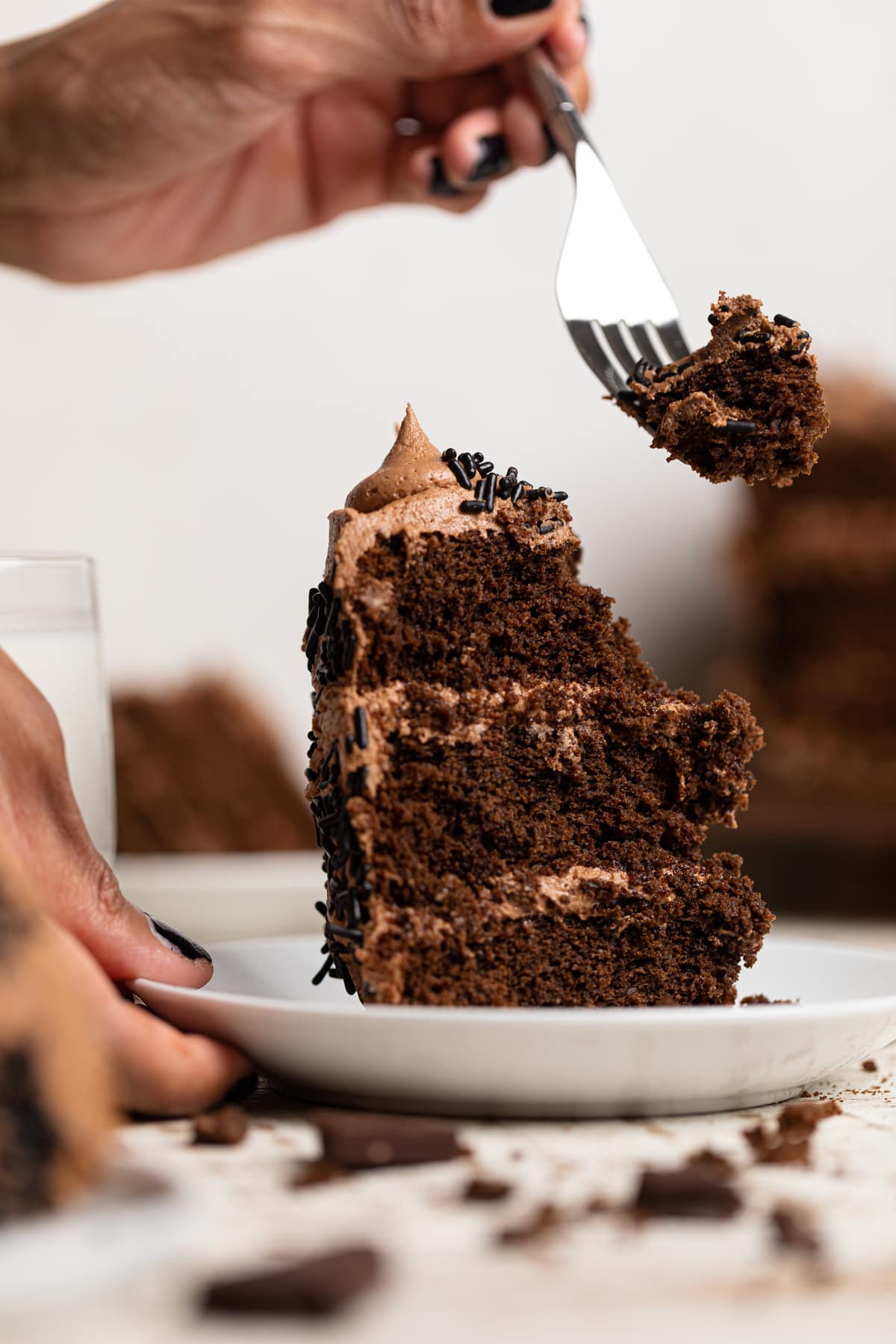 More Decadent Vegan Chocolate Recipes To Try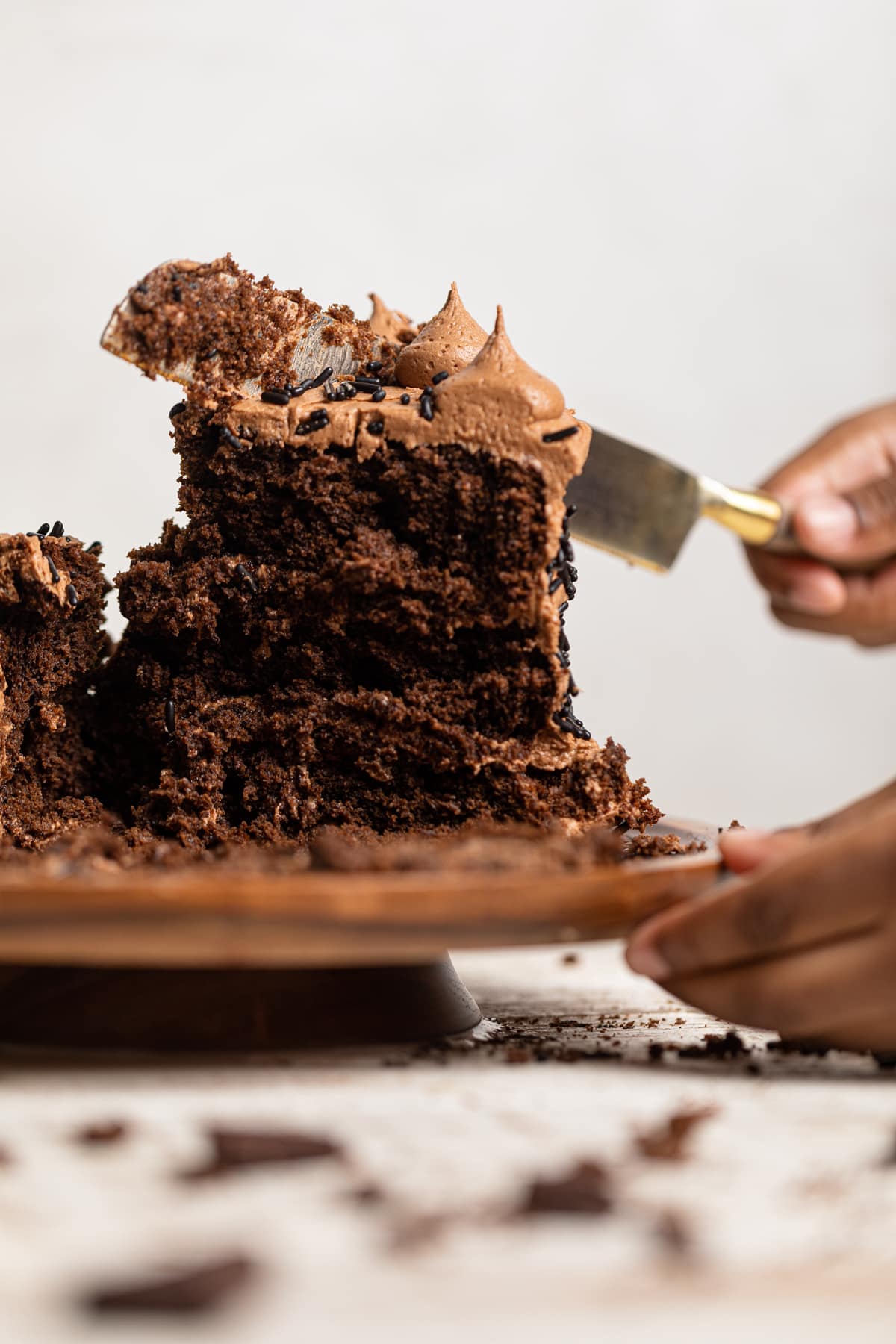 MADE OUR RECIPE(S)?
If you make this The Best Vegan Chocolate Cake recipe or any other recipe from us, be sure to tag us on Instagram at #Orchidsandsweettea so that we can share the love!
CHOCOLATE CAKE:
3

cups

organic all purpose flour

(See Notes!)

1

cup

organic cocoa powder

(You can also use Cacao powder as well!)

1 ½

cups

organic cane sugar

2

tsps

baking powder

1

teaspoon

baking soda

1

teaspoon

ground cinnamon

1

teaspoon

sea salt

2

tsps

dissolvable espresso powder

1

cup

boiling water

1

teaspoon

vanilla extract

1

cup

Almond milk

(You can use your fave plant-based milk!)

1

tablespoon

apple cider vinegar

½

cup

vegan butter, melted

1

cup

vegan semi-sweet chocolate, melted
CHOCOLATE BUTTERCREAM:
4-5

cups

organic powdered sugar, sifted

¼

cup

organic cocoa powder

½

cup

vegan butter, softened at room temp.

1

teaspoon

vanilla extract

¼

cup

Almond milk

(You can use your fave plant-based milk!)
CHOCOLATE CAKE:
Begin by preheating your oven to 350 degrees Fahrenheit. Lightly grease (with butter) AND line with parchment paper the bottoms of THREE 6-inch cake pans or TWO 8-inch pans.

In a bowl or measuring cup, add the milk and apple cider vinegar together, whisking until combined. Let it sit for 5-10 minutes until the mixture slightly thickens.

In another bowl, add together the espresso powder and boiling water, mixing until powder fully dissolves.

In a large bowl, whisk together the flour, cocoa powder, sugar, baking powder, baking soda, cinnamon, and salt until combined.

Add in the milk-ACV mixture, melted butter, melted chocolate, and espresso mixture and mix together using a rubber spatula or wooden spoon, until just combined.

Divide the batter evenly into each of the cake pans and bake for 20-25 minutes, or until a toothpick or butter knife comes out clean when tested in the centers.

Bake for 30-35 minutes, until the center of the cakes come out clean using a toothpick.

Remove cakes from the oven and let them rest in the pan for 10 minutes or so before removing the cakes and placing them onto a cooling rack to fully cool. NOTE: Let them cool for at least 1-2 hours in a cool place.
VEGAN CHOCOLATE BUTTERCREAM:
Simply beat the butter in the bowl of an electric mixer (or using a hand-mixer) on medium-high speed, until smooth and pale. Add in the powdered sugar, cocoa powder, vanilla, and milk, continuing to mix on medium-speed until you reach the desired consistency----smooth and fluffy. NOTE: Add more milk (1 tablespoon at a time if too thick) or powdered sugar (for more thickness).
ASSEMBLY:
Place the first cake layer on your cake stand and evenly cover the top with buttercream. Now, top with 2nd layer and add more buttercream atop that layer. Finally, top with final layer and top with remaining buttercream, spreading it over the tops and sides of cake, evenly and thinly.

Once fully frosted, add small little designs of the buttercream using a piping bag + tip followed by chocolate (or rainbow) sprinkles around the sides and top of cake, if desired. Chill for 5 minutes to ensure that buttercream sets.

When ready to serve, remove from the refrigerator. Slice and enjoy!
STORAGE: Keep cake leftovers stored for up to 4 days in the fridge. Keep it in an airtight container to keep the cake from drying out. You can also freeze the cake tightly wrapped in plastic wrap for up to 3 months. Before serving, defrost the cake on the counter.
FLOUR: For an extra fluffy cake, you can always use cake flour instead of all-purpose. See post for more!
CUPCAKES: This recipe yields about 2 dozen cupcakes. Simply bake for 18-20 minutes instead, until centers come out clean.
The Best Vegan Chocolate Cake + Chocolate Buttercream.