This Vegan Strawberry Cake with Oatmeal is moist, fluffy, and full of real strawberry flavor thanks to an easy strawberry puree and homemade dairy-free frosting. It's the perfect pink layer cake to share with your Valentine!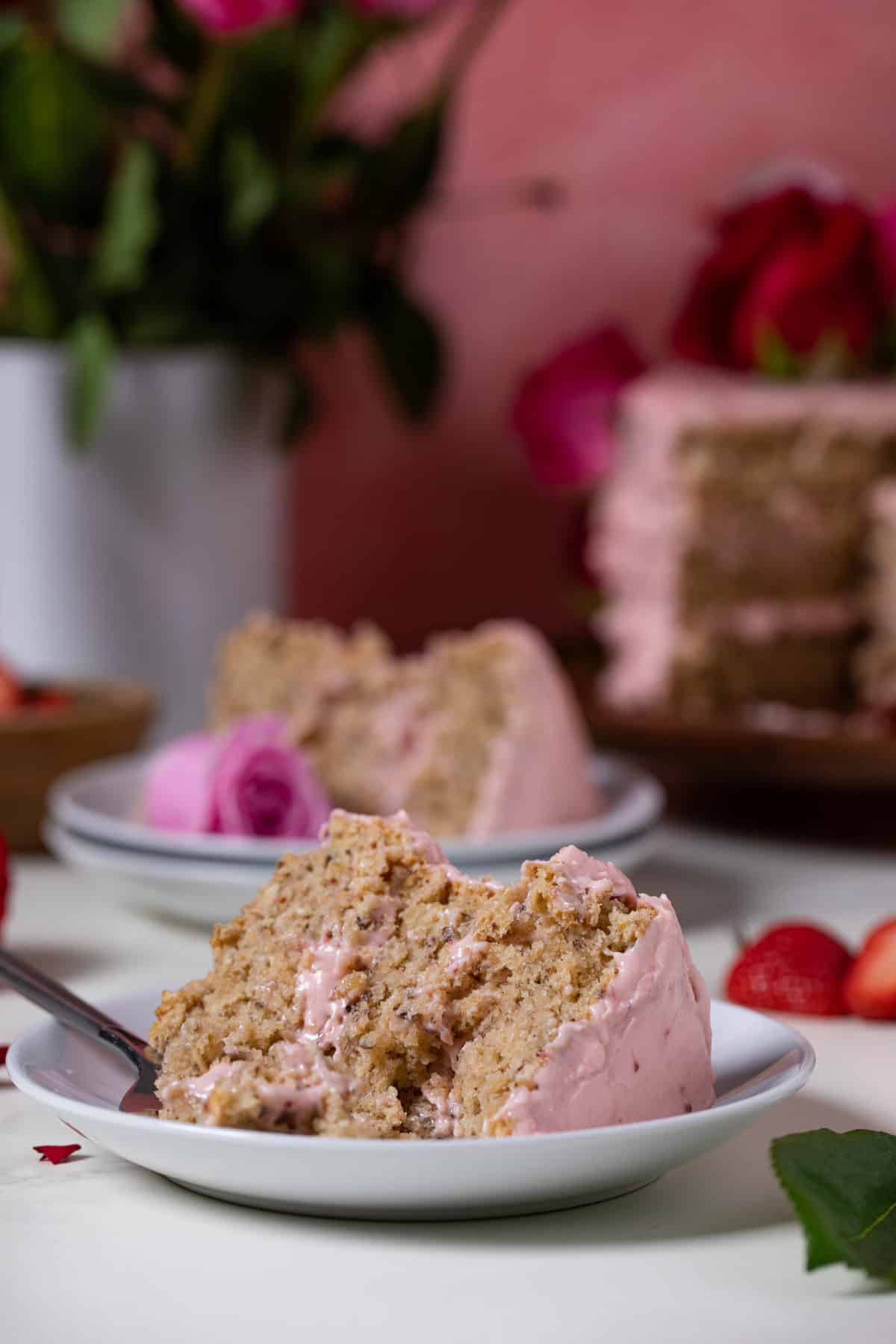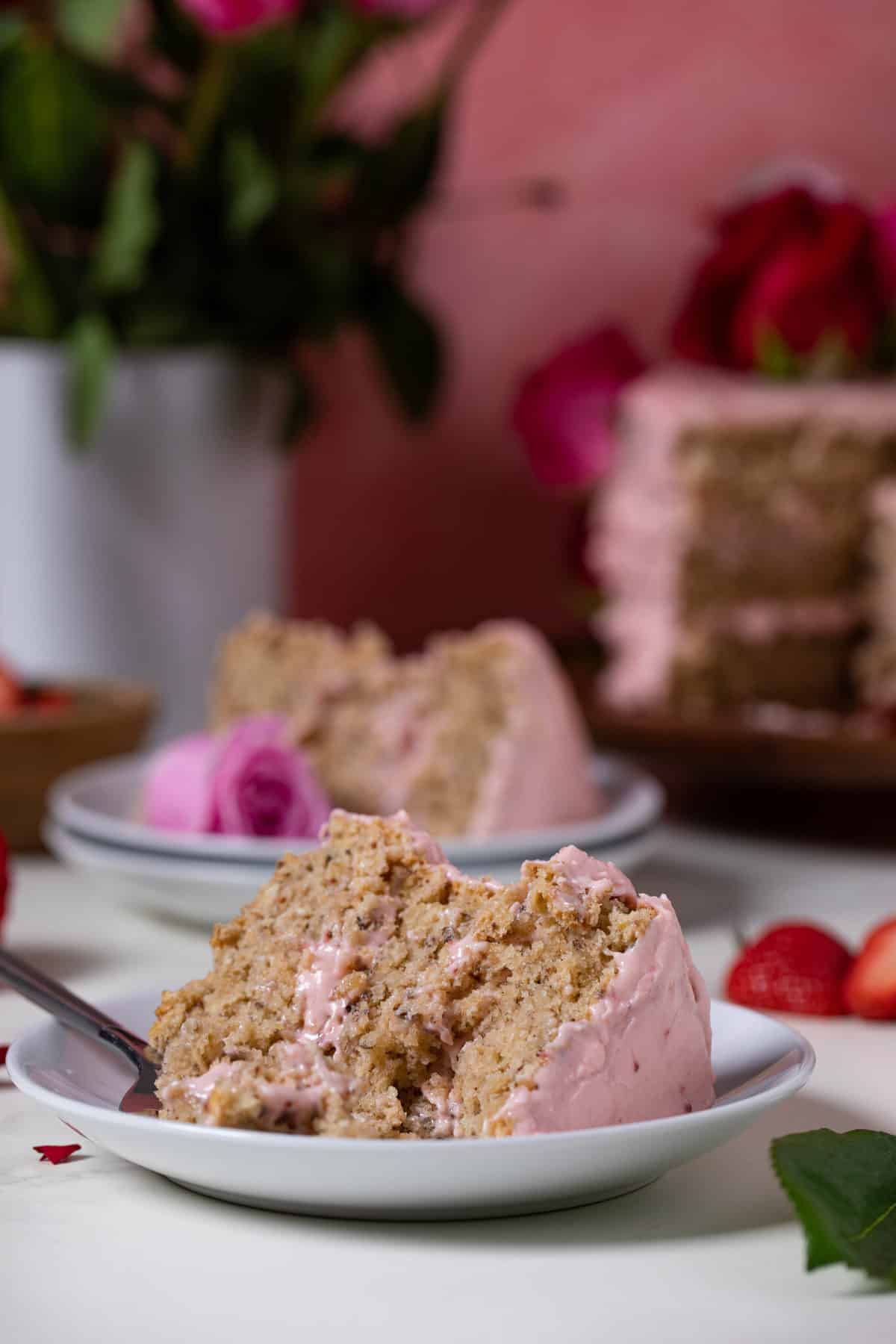 V-day might be right around the corner, but if you ask me, you don't need an excuse to make this sweet strawberry cake. Though it's completely dairy and egg-free, this cake has an incredibly spongy texture and warm, subtly oaty flavor.
And the best part of all? The easy vegan strawberry frosting, which is perfectly pink, fluffy, and creamy without any butter. Ultimately, it's hard to believe, but even non-vegans will be asking for a second slice of this strawberry oatmeal cake.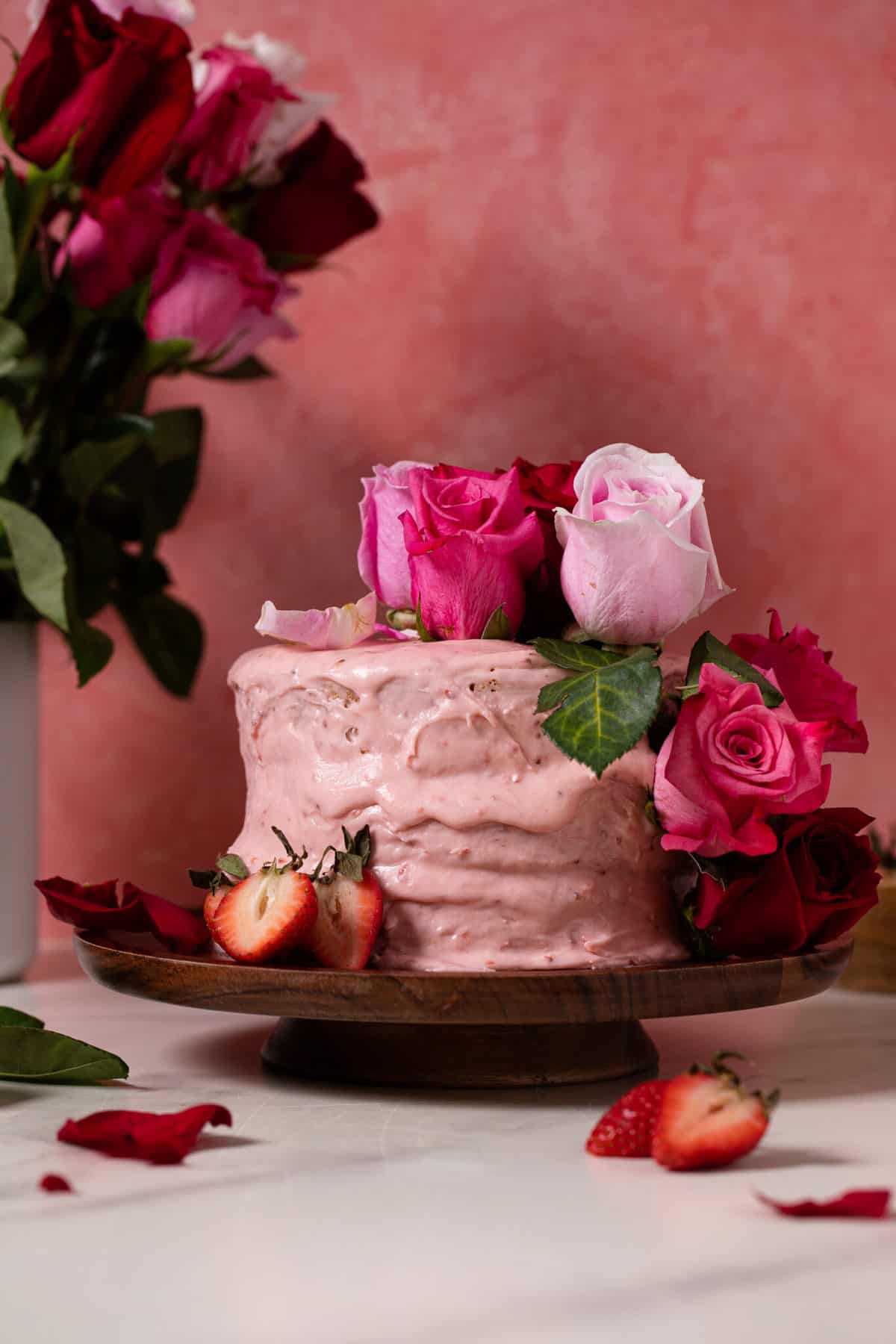 How to Make Vegan Strawberry Cake.
While this cake is fully plant-based, you don't need any fancy or special ingredients. All you need to whip up this simple oatmeal cake batter is:
All-purpose flour. Choose organic to ensure your flour is vegan.
Rolled oats. I recommend organic. These are sometimes labeled "old fashioned oats". They add a bold flavor and texture to the cake, so be sure you don't get quick or instant oats.
Cane or coconut sugar. Opt for organic sugar to ensure it's vegan. Coconut sugar is a great option if you're looking to reduced your refined sugar intake. It won't change the flavor of the cake.
Baking powder and baking soda. These lift and lighten the cake as it bakes.
Ground cinnamon. Add the perfect subtly spicy, warming flavor to compliment the oats.
Vegan butter or coconut oil. Plant-based butter is usually made with coconut oil, so either one works well in this recipe. The butter might add a slightly more buttery flavor, but it's not very noticeable.
Oat milk + apple cider vinegar. This is the secret to achieving the rich, moist tang of buttermilk without any dairy. Oat milk is naturally sweet and perfect for vegan baking. And apple cider vinegar adds a punch of acid to bring the other flavors to life. It's also necessary to activate the baking powder.
Flax eggs. Make these by whisking 3 tablespoons of ground flaxseed (not whole!) with 9 tablespoons of water. Let them sit for about 5 minutes until they gel. This acts just like an egg would to bind the cake together and enrich the batter with healthy fats.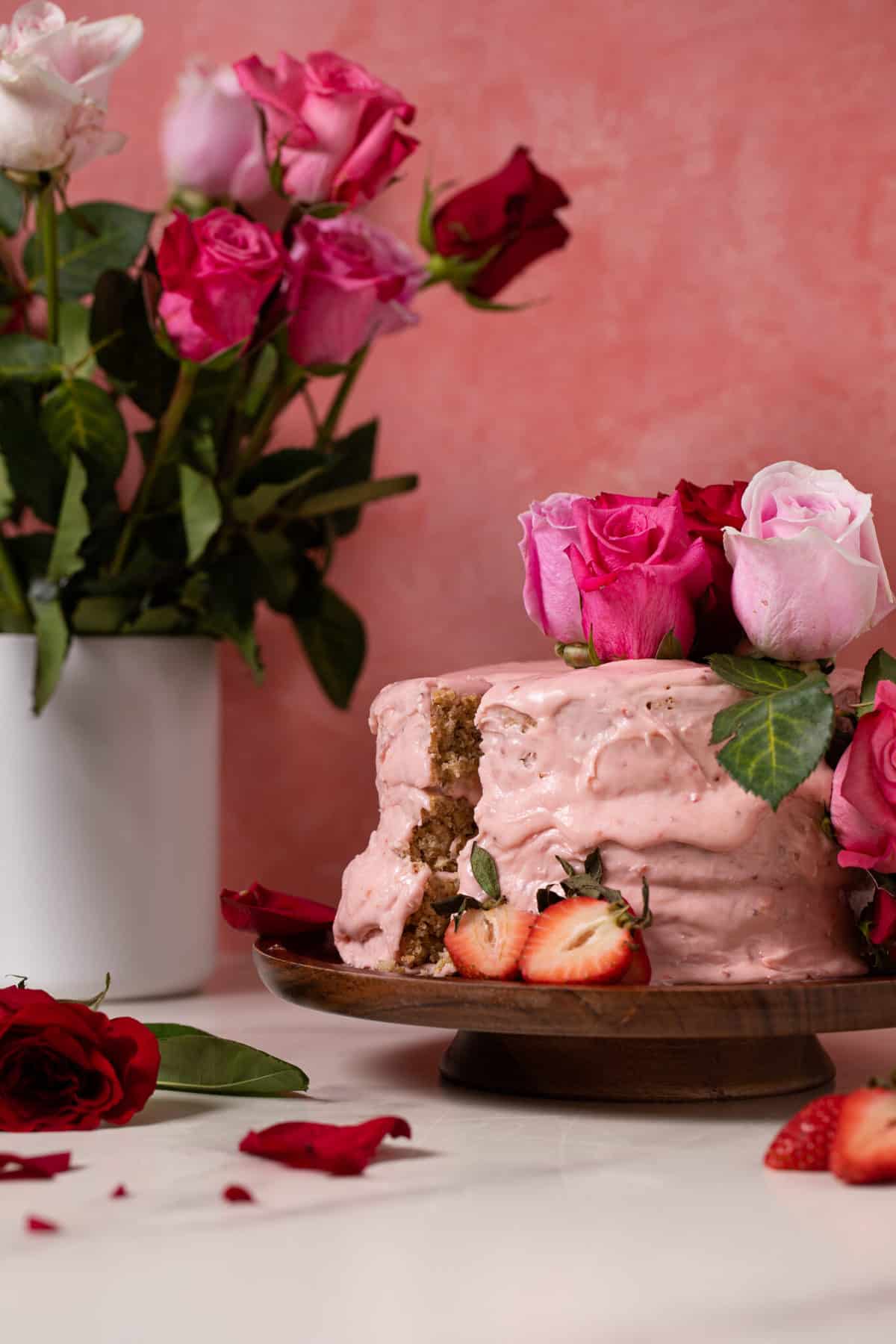 Making the cake batter is a typical baking technique of combining the dry ingredients in one bowl, the wets in another, then mixing the two until just combined. Be sure not to overmix the batter, leaving a few lumps is a good thing! Otherwise, your cake can come out tough and dense, rather than light and airy.
Bake the cake in two well-greased 6- or 8-inch round cake pans for 30 to 33 minutes. To check for doneness, insert a toothpick into the center of one of the cakes. If it comes out mostly clean, remove the cakes from the oven.
Be sure to let them cool in the pan for 10 minutes (they're still finishing baking all the way through, even after they come out of the oven). Then let the cakes cool on a wire rack all the way to room temperature before frosting and assembling.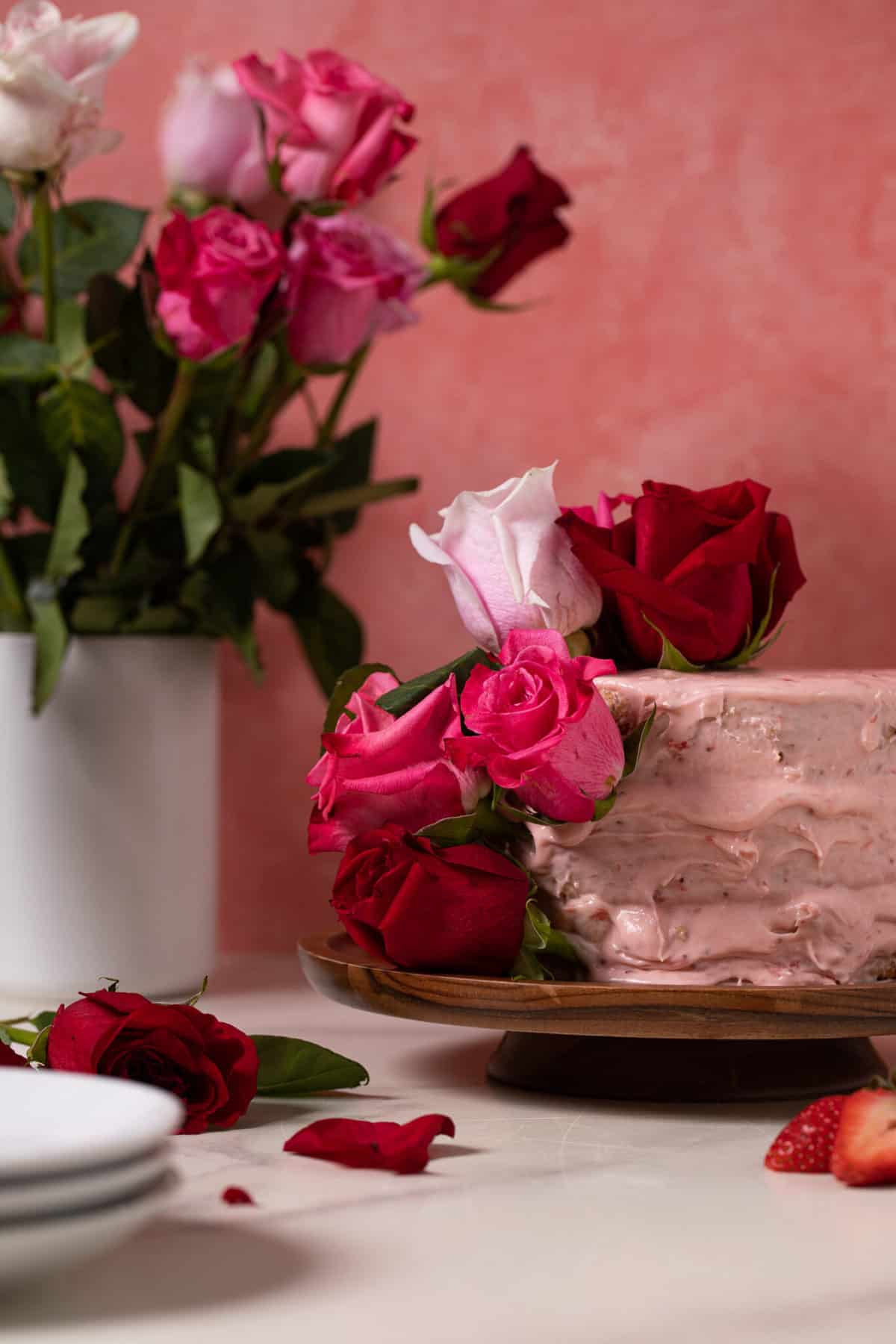 Making Vegan Strawberry Frosting.
Speaking of vegan frosting, while the strawberry cakes cool, it's time to make a simple, creamy vegan buttercream. This frosting gets its beautiful pink hue and natural sweetness from real strawberry purée, not food coloring.
Making frosting with fruit purée is a great technique that works with any of your favorite juicy fruits. Other berries, including raspberries, blackberries, and blueberries work. In addition, stone fruits like peaches, apricots, and cherries will work. Feel free to experiment by mixing fruits in your pureé too to make it your own. The flavoring possibilities are pretty endless!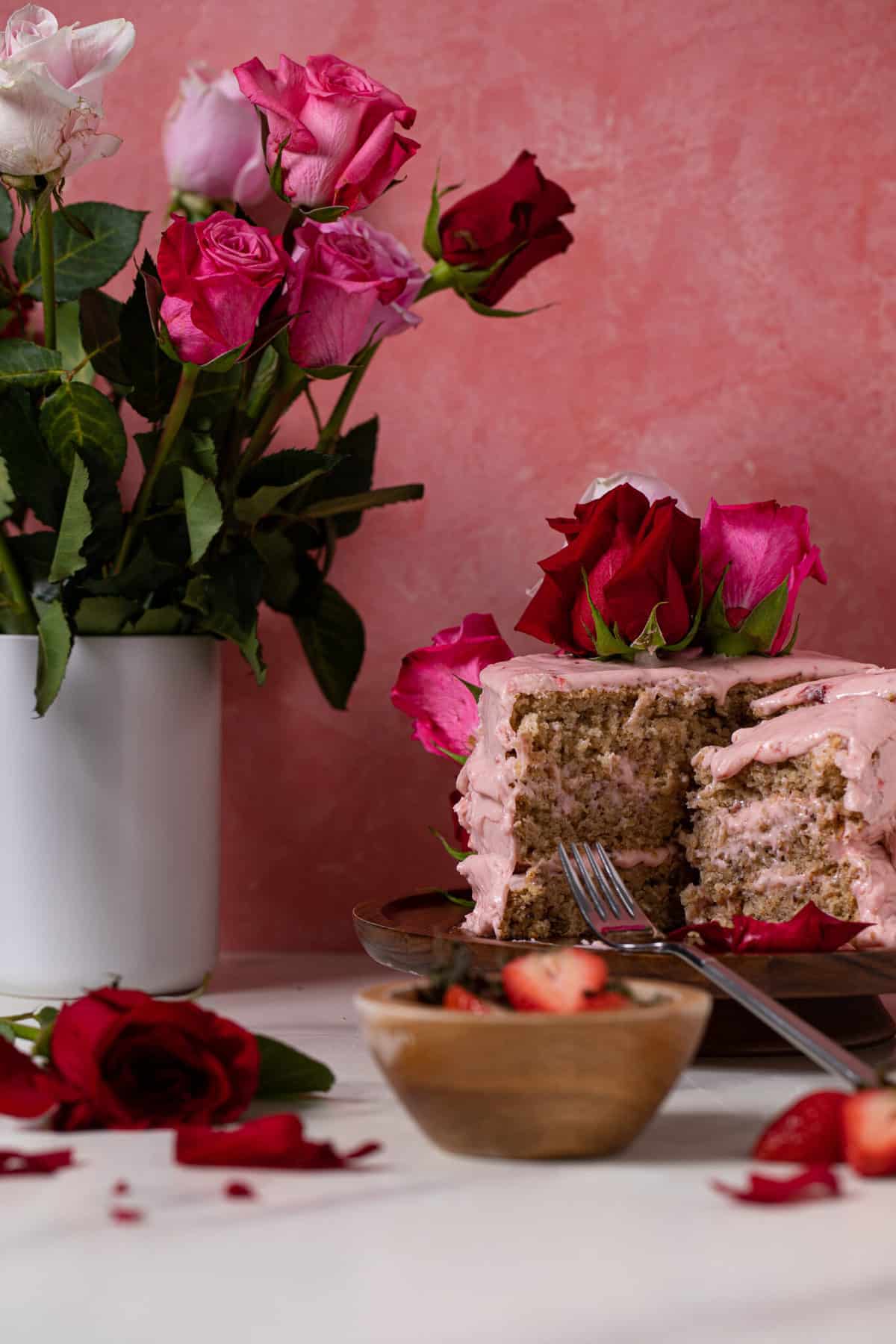 Strawberry Puree.
To make the purée for your vegan strawberry cake frosting, you'll need just four ingredients, plus water:
Strawberries. Fresh or frozen berries both work!
Cane or coconut sugar. Either work well to make your fruit puree.
Lemon juice. This bit of acid helps bring out the natural sweetness in the fruit.
Vanilla extract. Adds a warming undernote to the bright, fresh berry flavor.
Arrowroot starch. This is an excellent gluten-free thickener. It doesn't add any flavor but thickens up your purée to the perfect pourable consistency without turning it into jelly.
Make the puree by first combining all of the ingredients in a medium pot on the stove. Then simmer the berries until they break down, about 10 to 12 minutes. Next, add the arrowroot starch, whisk well, and watch as your puree thickens up beautifully. Finally, reduce the mixture for a few more minutes, then let it cool fully.
You can speed up the cooling by placing the puree in a bowl in the fridge. Stir it every few minutes to help it cool evenly.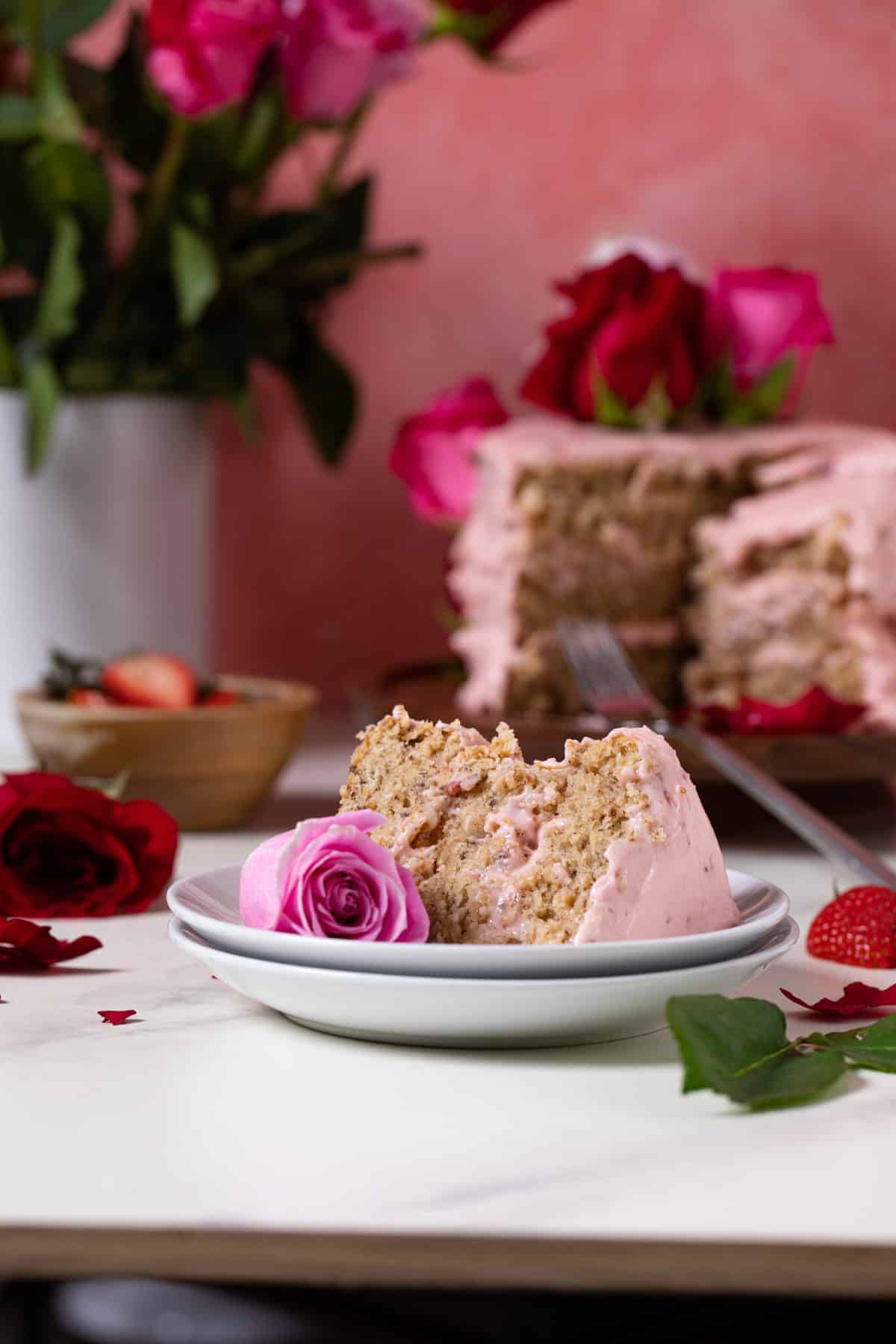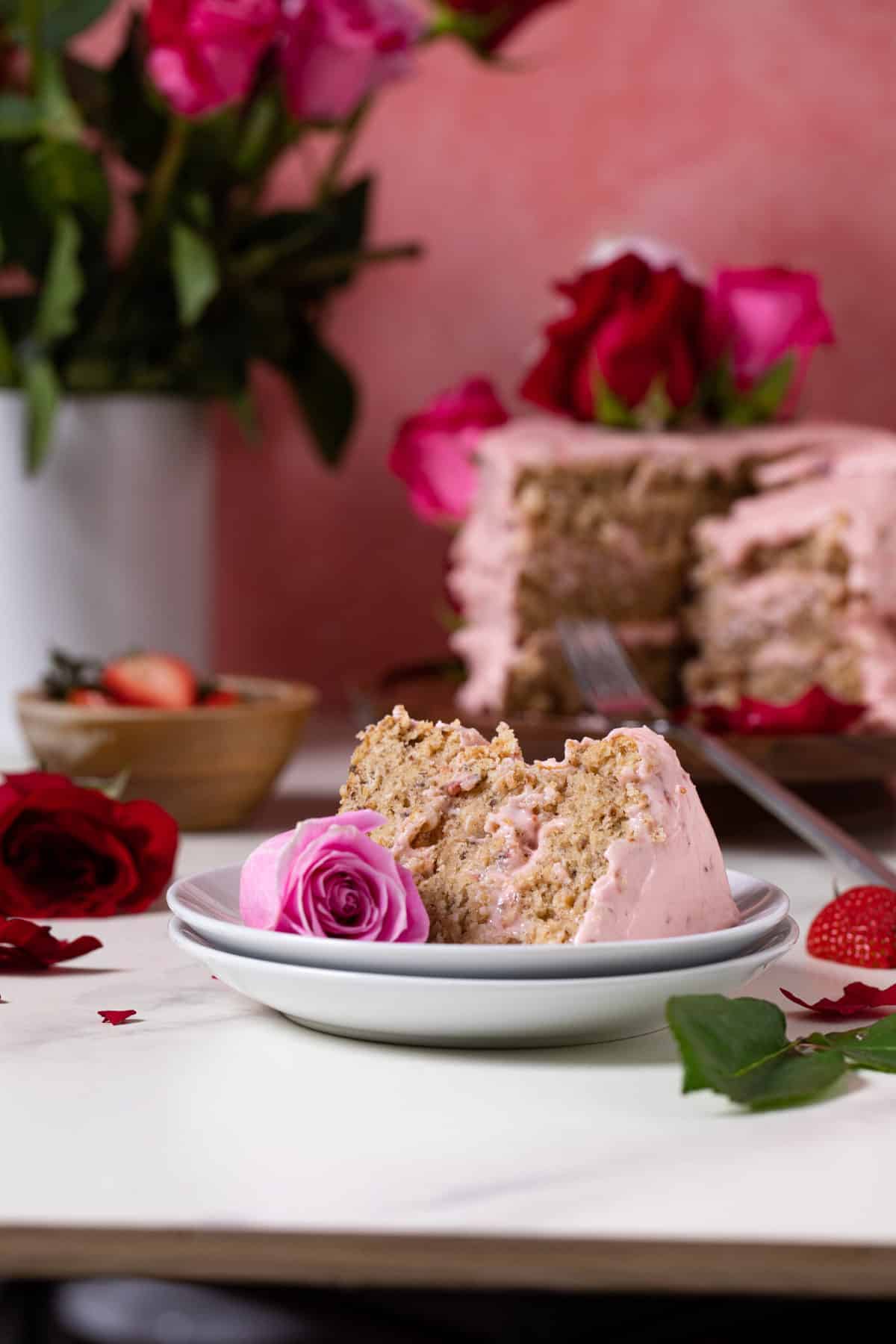 Vegan Buttercream Frosting.
While the fruit puree cools, whip up the quick vegan buttercream frosting. You'll need:
Vegan butter. Be sure it's softened to room temperature, otherwise, it won't blend into a fluffy texture easily.
Powdered sugar. Also known as confectioner's sugar. This ensures your puree is totally smooth, with no grains of granulated sugar to ruin the texture.
Strawberry puree. Fully cooled, of course!
Vanilla extract. To add another note of vanilla to your vegan strawberry cake.
The easiest way to make vegan buttercream is with an electric mixer with a paddle attachment. First, beat the vegan butter until it's smooth and creamy. Then add the powdered sugar, strawberry puree, and vanilla, and keep mixing until the mixture is fluffy and uniformly pink.
Tip: Your frosting should be a spreadable consistency. If it's too thick, add plant-based milk, 1 teaspoon at a time, until you reach that texture. If it's too thin, add powdered sugar, 1 tablespoon at a time, until you get there.
Another note is to store the frosting in the fridge if you're not using it right away. If you do this, then you may need to let it thaw a bit on the counter to make it spreadable before frosting the vegan strawberry cake.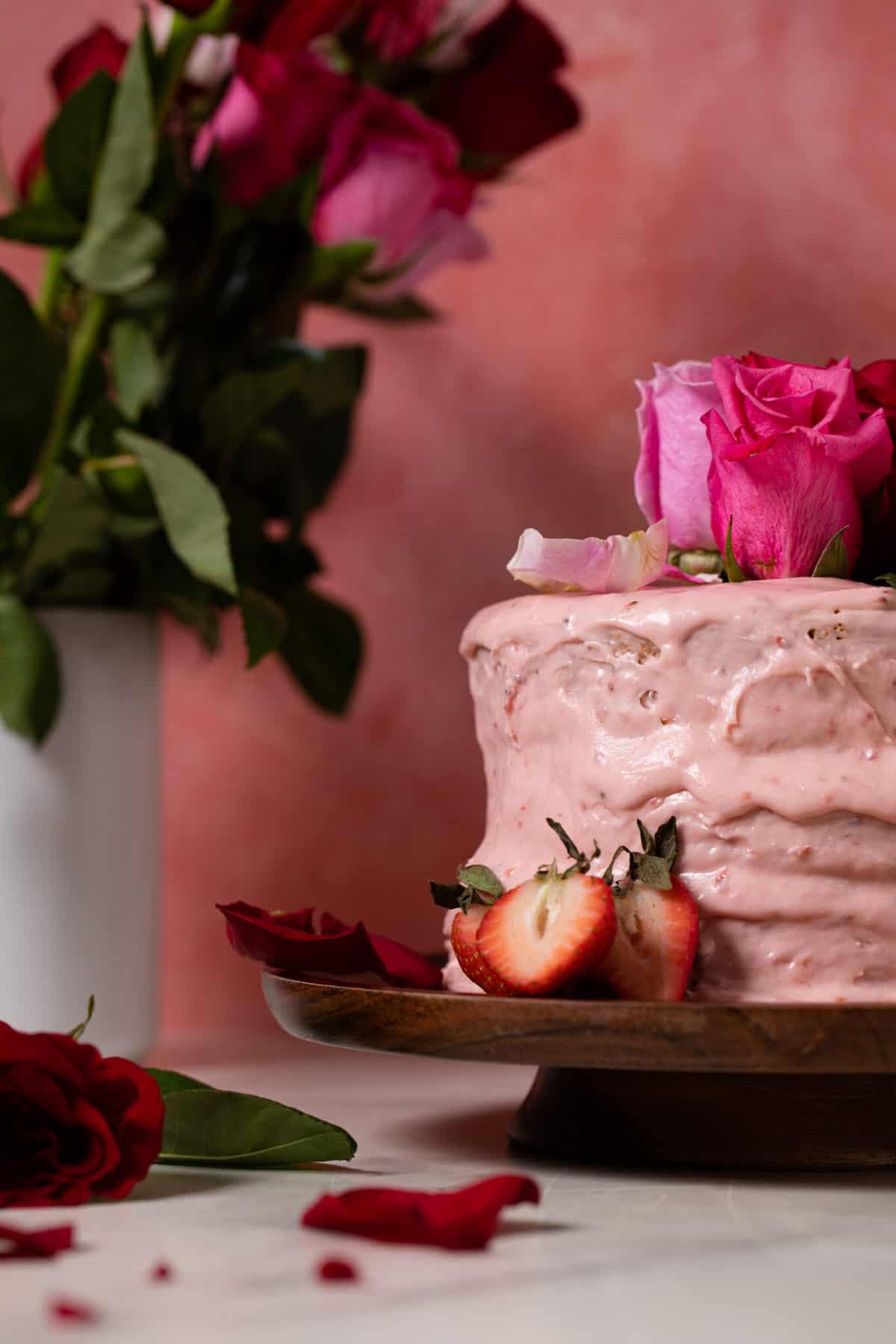 Assembling Vegan Strawberry Cake with Buttercream.
Now that you have all of your components: two fully cooled round oatmeal cakes and a creamy vegan strawberry buttercream, it's assembly time.
I like to build the cake directly on the cake stand I plan to serve it on. Otherwise, moving the fully assembled cake can be messy (and dangerous!).
First, place one vegan cake layer on the stand. Smear it with a generous layer of buttercream and use an offset spatula to smooth it flat. Add your second cake layer and finally, cover your cake with the remaining buttercream.
That's it! The fluffy pink frosting and delicate cake texture speak for themselves. There's no need for extra decorations on this masterpiece, it's ready for slicing!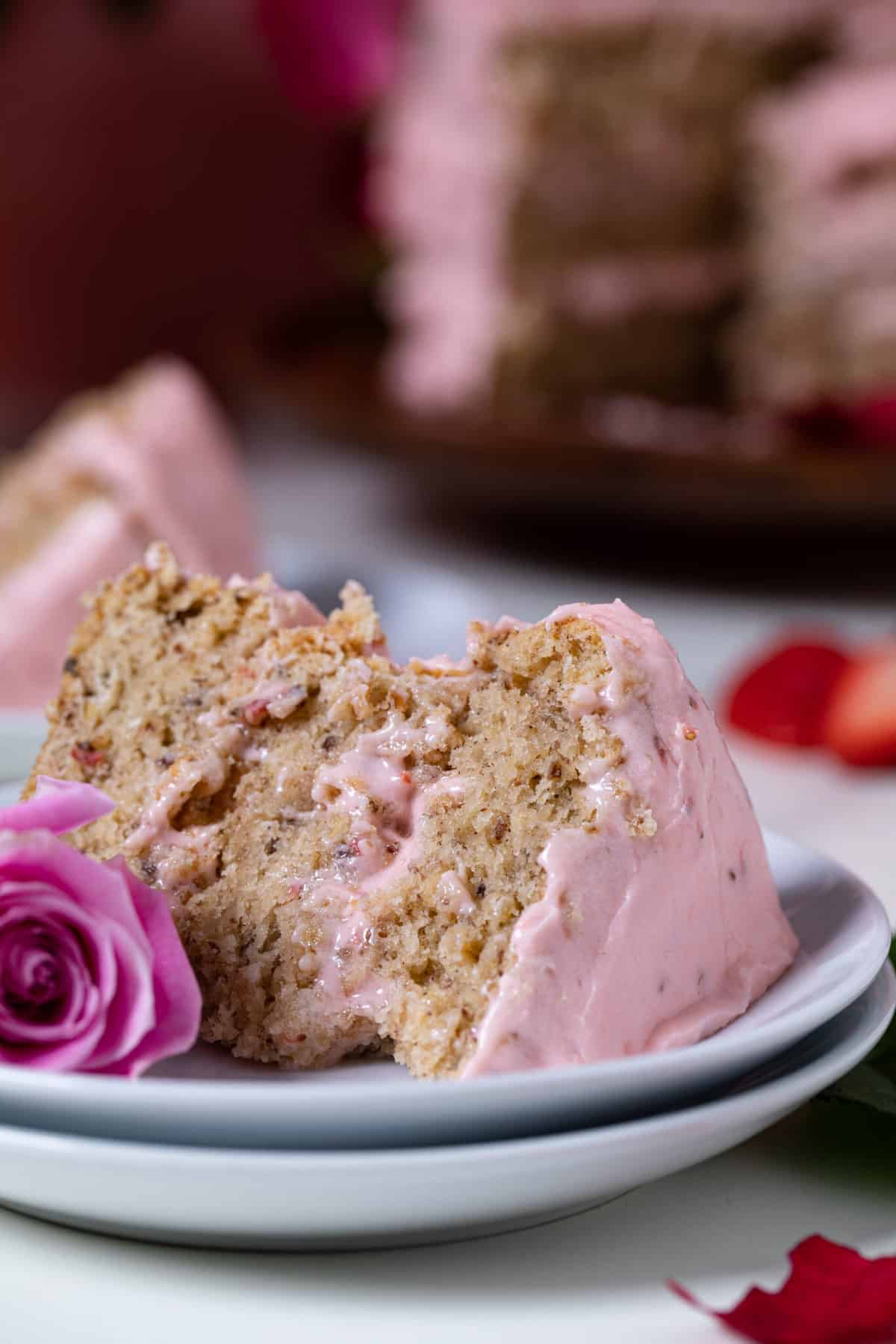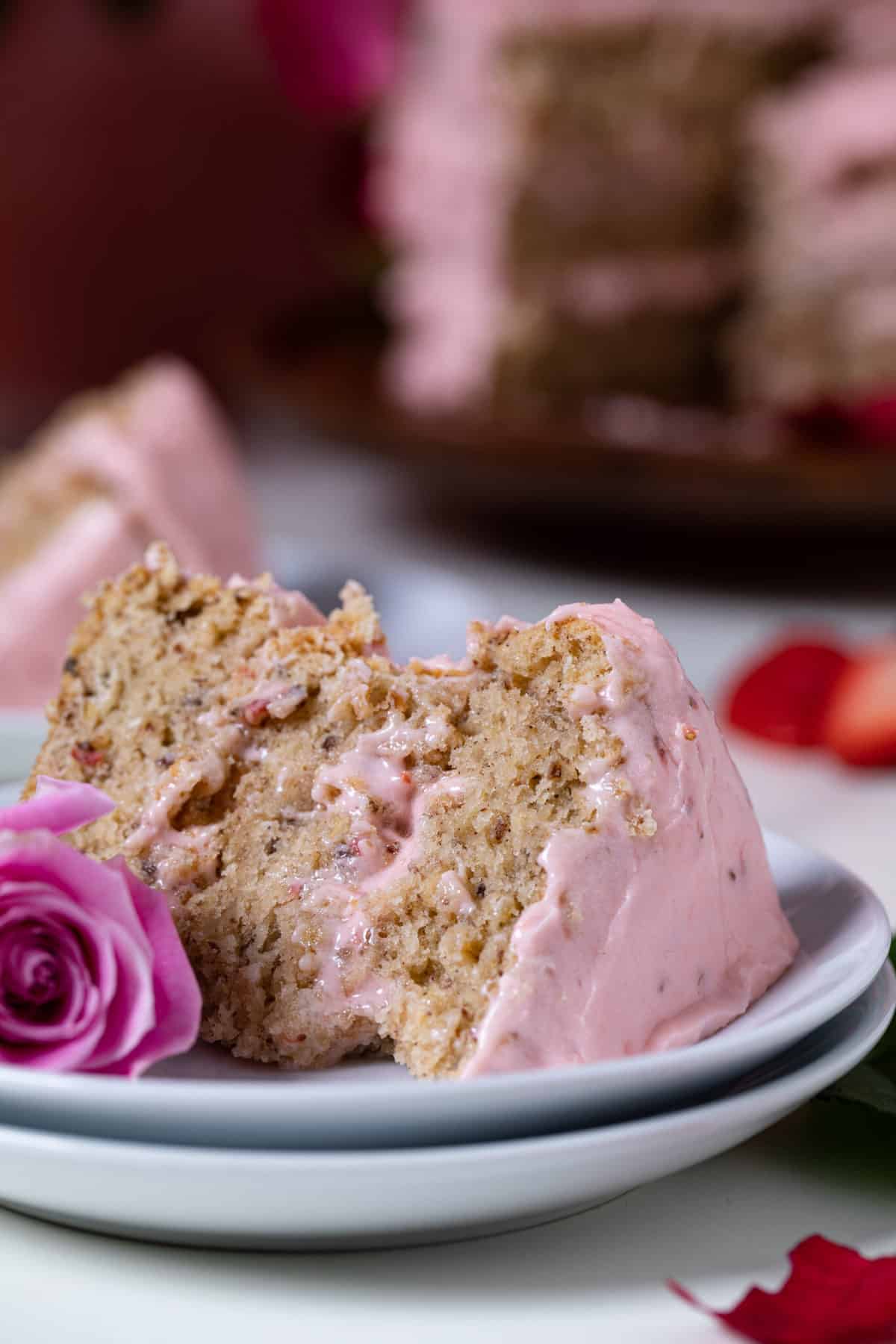 Storage.
If you don't finish all of your vegan strawberry cake, store it for up to four days in the fridge. Keep it in an airtight container to keep the cake from drying out. You can also freeze the cake tightly wrapped in plastic wrap for up to three months. Before serving, defrost the cake on the counter.
More Vegan Desserts for Valentine's Day.
If you love this vegan strawberry cake with oatmeal, try these other plant-based treats next: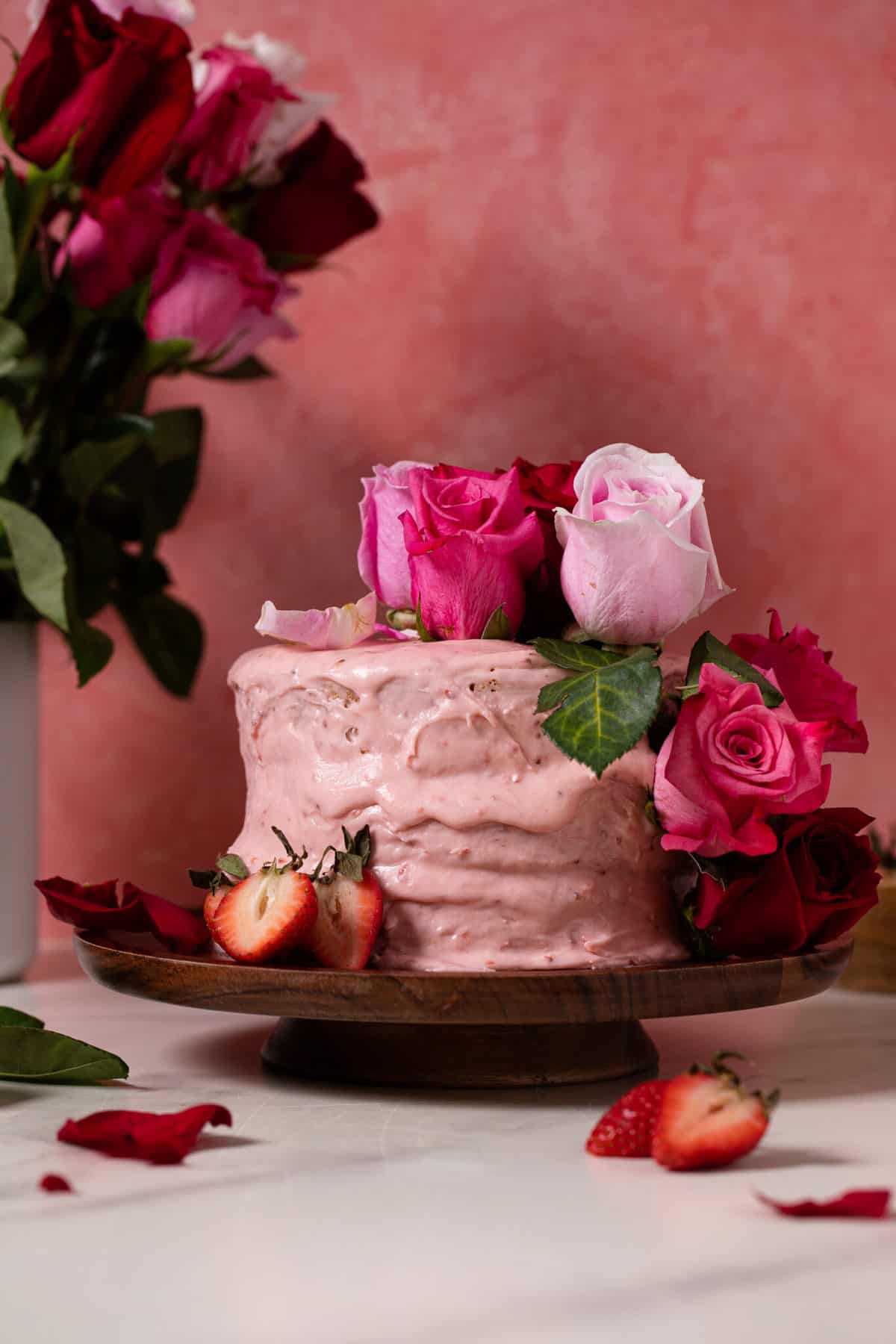 Vegan Oatmeal Cake:
2 ½

cups

organic cups all-purpose flour

(I use Bob's Red Mill)

1

cup

organic rolled oats

1 ½

cups

organic pure cane sugar

(I use Wholesome Sweet; See Notes!)

2

tsps

baking powder

1

teaspoon

baking soda

1

teaspoon

ground cinnamon

1

teaspoon

sea salt, finely ground

⅓

cup

vegan butter, melted

(I use Earth Balance; See Notes!)

2 ½

cups

oat milk (plus, more if needed) + 1 tablespoon ACV

(You can use your fave plant-based milk!)

3

flax eggs

(3 Tbsps ground flaxseed + 6 Tbsps water!)
Strawberry Puree:
3

cups

Strawberries, frozen or fresh

½

cup

organic pure cane sugar

1

tablespoon

juice of a lemon

¼

cup

fresh water

1

teaspoon

vanilla extract

1

tablespoon

arrowroot starch + 2 Tbsps WARM water

(See Notes!)
Vegan Strawberry Frosting:
3-4

cups

organic powdered sugar, sifted

4

Tbsps

vegan butter, softened at room temp.

3-4

Tbsps

strawberry puree 

1

teaspoon

vanilla extract
Vegan Oatmeal Cake:
Begin by preheating your oven to 350 degrees Fahrenheit. Lightly grease (with butter) AND line with parchment paper the bottoms of three 6-inch cake pans.

In a small bowl, add the flaxseed meal and water together to a bowl, stirring and letting it set + thicken for 5 minutes; This makes the 'flax eggs'. In a separate bowl, add the milk + ACV together and let sit for 5 minutes until it activates and acts as 'vegan buttermilk'.

In a large bowl, whisk together the flour, oats, sugar, baking powder, baking soda, and cinnamon until combined.

Add in the milk-ACV mixture, melted butter, flax eggs, and mix (using a hand-mixer) until just combined. NOTE: It might not look fully combine and that's OK-------we just need the wet ingredients to be combined together before adding them into the next step.

Add the wet ingredients in with the dry ingredients and stir until full combined. NOTE: If the batter looks extremely thick, add extra milk, 1 tablespoon at a time until it's somewhat pourable but not runny or thin at all.

Divide the batter evenly into each of the cake pan and bake for 20-25 minutes, or until a toothpick or butter knife comes out clean when tested in the centers.

Remove cakes from the oven and let them rest in the pan for 10 minutes or so before removing the cakes and placing them onto a cooling rack to fully cool. NOTE: Let them cool for at least 1-2 hours in a cool place.

In the meantime, make the strawberry puree.
Strawberry Puree:
Combine the strawberries, sugar, lemon juice, water, and vanilla extract in a medium pot over medium-high heat and bring to a boil. Lower heat to simmer until the strawberries are soft, about 10-15 minutes, stirring occasionally.

Now mix together 1 Tbsp arrowroot starch in a small bowl with 2 Tbsps WARM water until well combined, smooth, and has a 'milk-like' consistency. Add to strawberries, stirring until sauce begins to thicken, about 2-3 minutes. Remove from heat and let cool completely.
Vegan Strawberry Frosting:
In the bowl of an electric mixer (attached with a paddle), beat the butter on high speed until smooth, pale, and creamy, about 2 minutes. Turning the mixer on low, add the powdered sugar (½ the amount), vanilla, and strawberry puree, mixing them together until well combined. Add the remaining powdered sugar and mix until well combined. NOTE: If the frosting is too thick, add milk (1 teaspoon at a time); if it's too thin, add additional powdered sugar (1 tablespoon at a time). Wallah!
Assembly:
Place the first cake layer on your cake stand and evenly cover the top with buttercream. Now, top with 2nd layer and evenly cover the top with buttercream. Repeat for the third layer.

Once fully layered, add remaining buttercream atop cake and spread it over the tops and sides of cake, evenly and thinly.

Once fully frosted, add small little designs of the buttercream using a piping bag + tip or fresh strawberry slices or sprinkles around the sides and top of cake. Chill for 5 minutes to ensure that buttercream sets.

When ready to serve, remove from the refrigerator. Slice and enjoy!
STORAGE: Keep cake leftovers stored for up to 4 days in the fridge. Keep it in an airtight container to keep the cake from drying out. You can also freeze the cake tightly wrapped in plastic wrap for up to 3 months. Before serving, defrost the cake on the counter. FLOUR: For an extra fluffy cake, you can always use cake flour instead of all-purpose. BUTTER: Instead of melted butter, you can use vegetable oil or canola oil. SUGAR: Instead of pure cane sugar, you can substitute with coconut sugar or brown sugar.  STARCH: If you don't have arrowroot, you can always use regular corn starch or instant tapioca flour.
Calories:
548
kcal
|
Carbohydrates:
148
g
|
Protein:
8
g
|
Fat:
16
g
|
Saturated Fat:
3
g
|
Polyunsaturated Fat:
5
g
|
Monounsaturated Fat:
7
g
|
Trans Fat:
2
g
|
Sodium:
676
mg
|
Potassium:
262
mg
|
Fiber:
5
g
|
Sugar:
59
g
|
Vitamin A:
163
IU
|
Vitamin C:
36
mg
|
Calcium:
201
mg
|
Iron:
3
mg
Vegan Strawberry Cake with Oatmeal.