Searching for the Best Fudgy Vegan Brownies recipe out there? Well, you are in the right place. This easy vegan brownie recipe is as quick and easy as using a box and even better than traditional brownies (Seriously!). Our plant-based version has the soft, fudgy, chocolatey center we all love with a delicious crackly chewy crust that is to die for. These beauties are sure to melt in your mouth! Gluten-free option.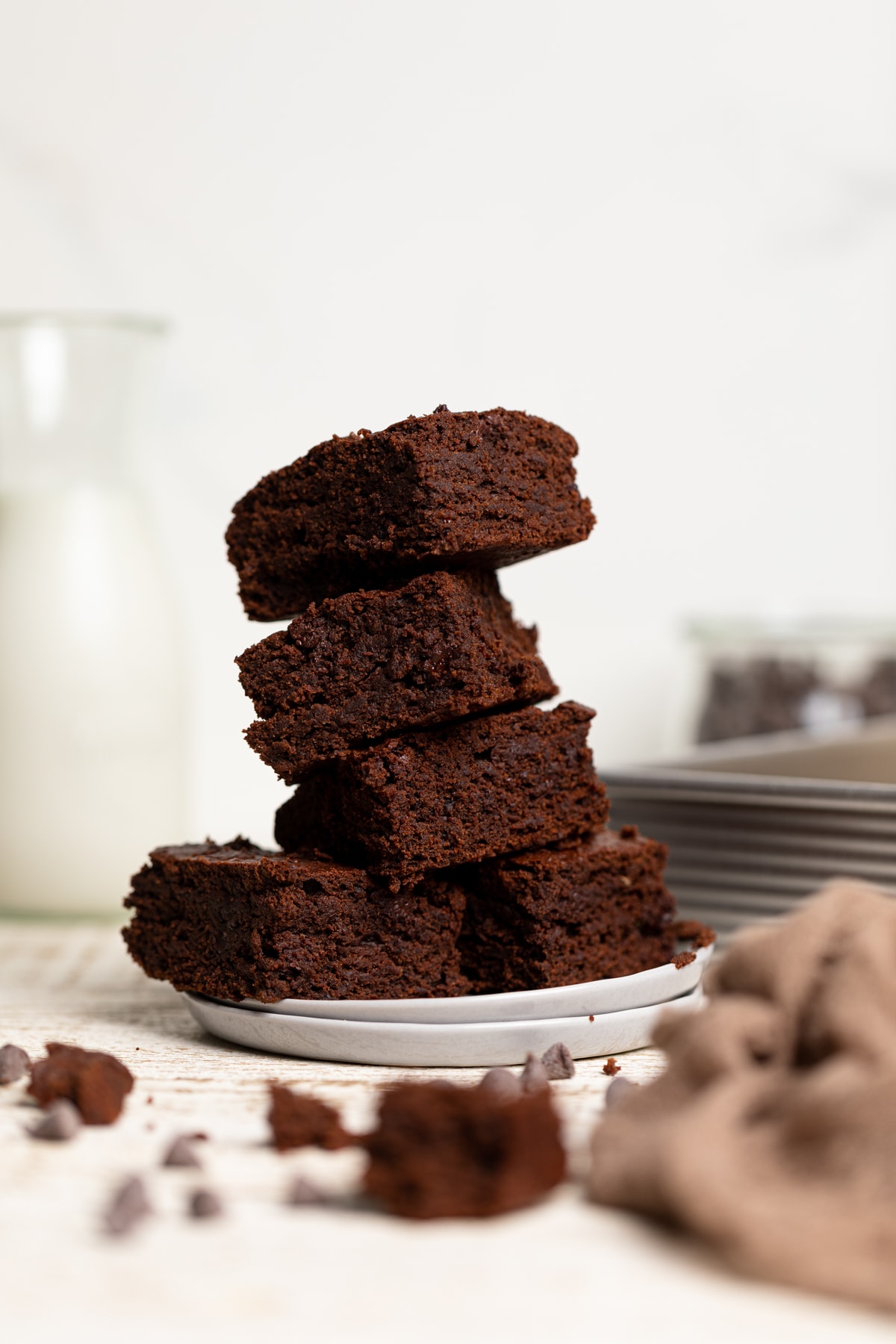 What Makes This The 'Best' Fudgy Vegan Brownies Recipe?
Y'all, these brownies are proof that vegan desserts can taste just as good (and sometimes even better) than the 'real' thing! These homemade vegan brownies never last long in my house and are quick to disappear thanks to their crispy edges, fudgy centers, and a rich, decadent chocolate burst of flavor. You won't even be able to tell these Fudgy Vegan Brownies are plant-based, thanks to their amazing texture and delicious ultra-chocolatey flavor.

For die-hard brownie lovers, these brownie recipes are also a must-try: Vegan Fudge Zucchini Brownies, a blend of rich chocolate and zucchini with a sprinkle-topped twist; Chocolate Oreo Skillet Brownie, where Oreos and gooey chocolate unite in a skillet; and the Vegan Brownie Cookie Dough Cake, the ultimate fusion of brownie and cookie dough for your sweetest cravings. And If you're more of a cake person no problem--check out our Best Cake Flavors for Any Occasion!

These perfect little squares of chocolatey goodness not only cut like a dream but are also a breeze to whip up. It's like I stumbled upon the ultimate brownie hack, and I'm here to share it with you because, hey, we've all been there, craving that perfect brownie that's neither too cakey nor overly gooey.
Jump to: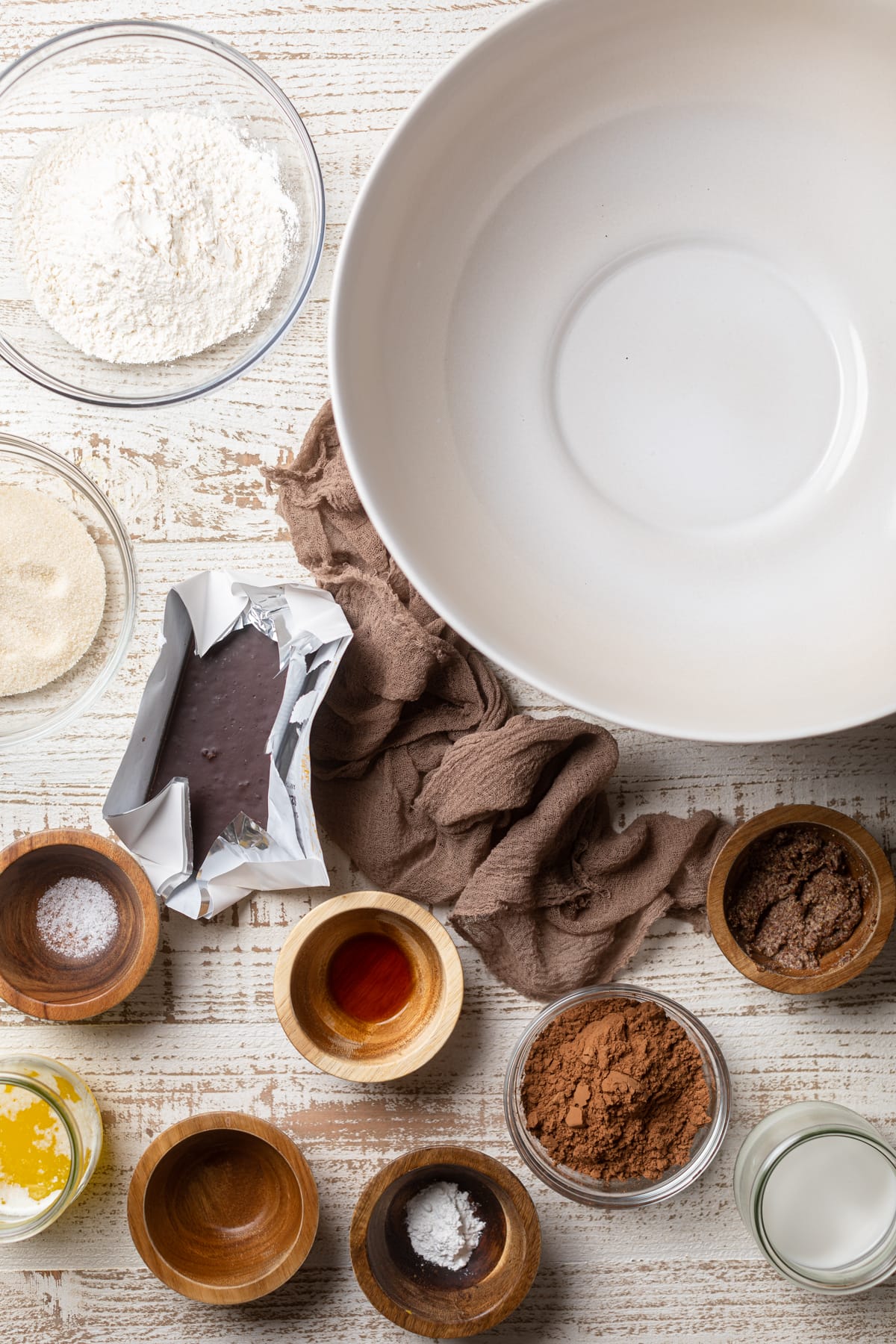 Here's what you need for these delicious vegan brownies -
Organic all-purpose flour: For structure.
Organic pure cane sugar: For sweetness and texture.
Unsweetened cocoa powder: Adds that rich chocolate flavor.
Baking powder: Infuses rich chocolate flavor.
Sea salt: Blanances the flavor.
Flaxseed meal + warm water: Perfect as an egg substitute, adding moisture and binding.
Vegan butter: For a buttery richness and moisture. I love using the brand Earth Balance
Almond milk: Adds moisture. Feel free to use your favorite plant-based milk.
Vanilla extract: For a touch of vanilla goodness!
Vegan semi-sweet chocolate chips: For extra chocolatey goodness and melty pockets of joy.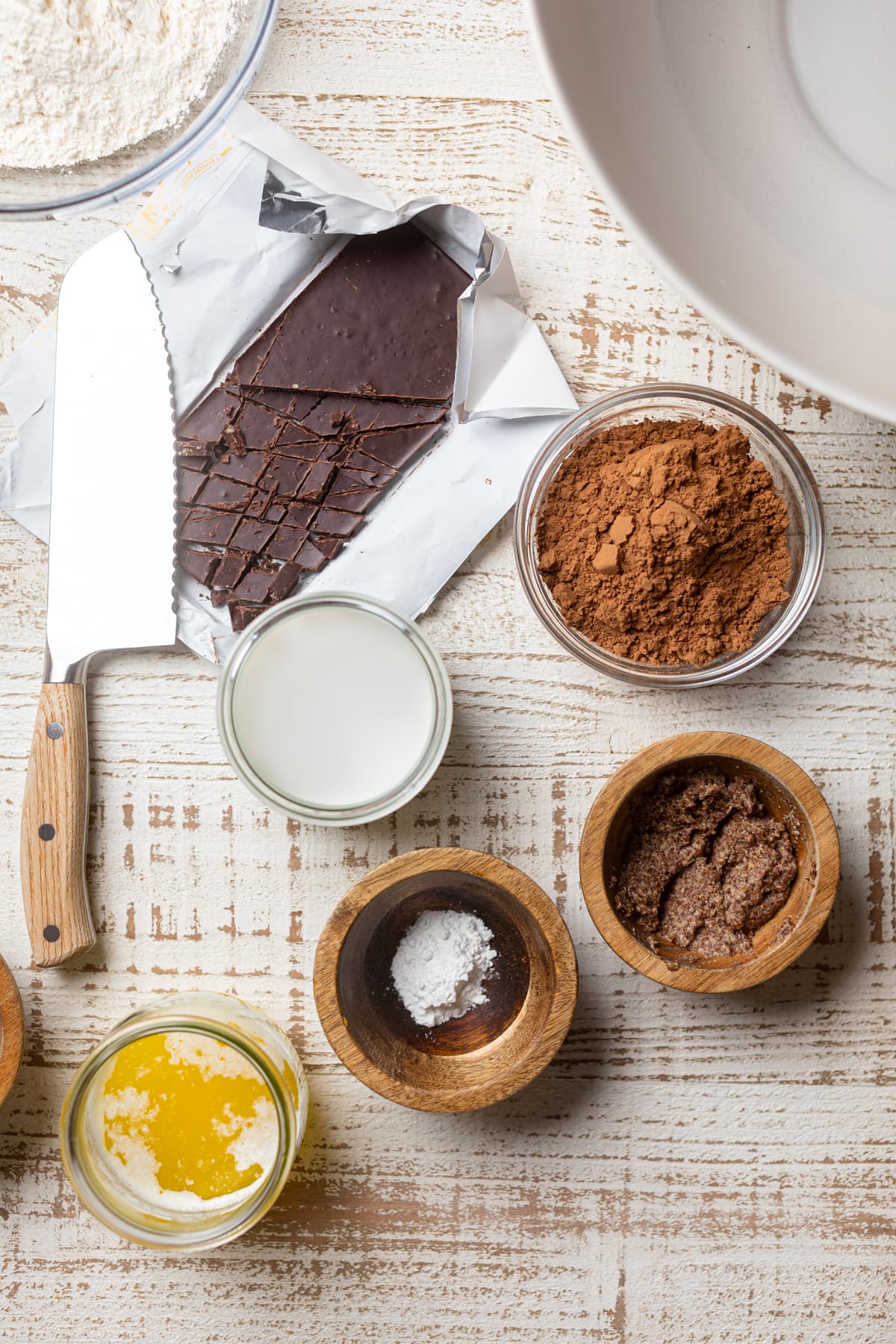 How To Make Vegan Brownies Without 'Dairy' + 'Eggs'
Vegan brownie recipes are not exactly rocket science. However, traditional brownies often require eggs, butter + milk to achieve that fudgy ooey- gooey texture. So what's the secret? Lo and behold, the flaxseed egg! (Flaxseed meal and warm water...Taa-Daa!) It keeps these brownies moist and chewy in all the right places while remaining completely plant-based!

I use almond milk as a dairy-free milk alternative. But there are many kinds of non-dairy vegan-friendly alternatives to cow's milk you can buy in most stores these days. Or you can make your own. Try my Easy Homemade Coconut Milk recipe or my Homemade Creamy Oat Milk recipe! For butter there are a lot of plant-based options available that are amazing for vegan baking!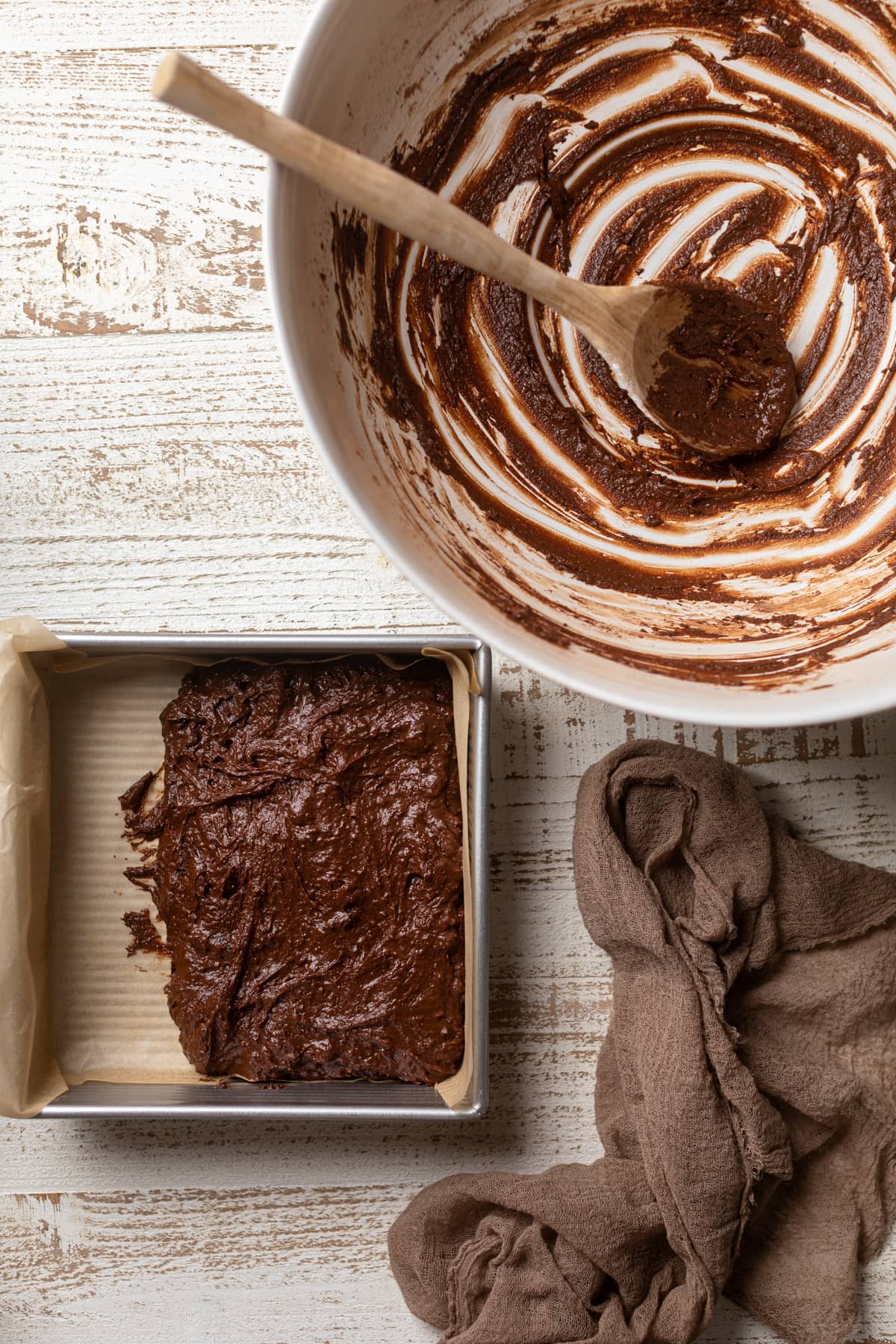 Time To Ditch The Boxed Brownie Mix!
I know, I know, not everyone prefers to bake from scratch, and that boxed Betty Crocker mix sounds so tempting when it comes to ease. Let's be honest, it's most people's go-to for a quick dessert. But I'm telling you, this easy and quick vegan brownie recipe is going to give that box a run for its money!
Did you know that you likely already have the staple ingredients found inside boxed brownies right in the pantry? And honestly, the ingredients you currently have are likely to be of higher quality than those found in the box.
Boxed brownie mix generally consists of flour, baking powder or soda, and cocoa powder. These simple ingredients for the Best Fudgy Vegan Brownies are cheaper when bought and used individually.
Even the most novice bakers are likely to have each of these ingredients in the cupboard. If not, that's okay! It is so easy to learn how to make homemade versions of boxed baked goods.
Why High-Quality Brownie Ingredients Matter
When it comes to making the best vegan brownies, I firmly believe that using top-notch ingredients is the secret sauce. Especially in dishes like vegan brownies, where you crave that warm, rich, melt-in-your-mouth chocolatey goodness straight out of the oven, ingredient quality is paramount. This is what truly sets my vegan brownies apart!
Keeping some basic ingredients on hand for those spontaneous chocolate cravings is a must, but don't skimp on quality. For example, opt for fair-trade cocoa powder to ensure it's sourced responsibly. Flour plays a starring role, so choose the best you can find. And here's a pro tip: replace your baking powder annually to guarantee your brownies rise to perfection. After all, nobody wants their brownies to turn out flat as a pancake, right?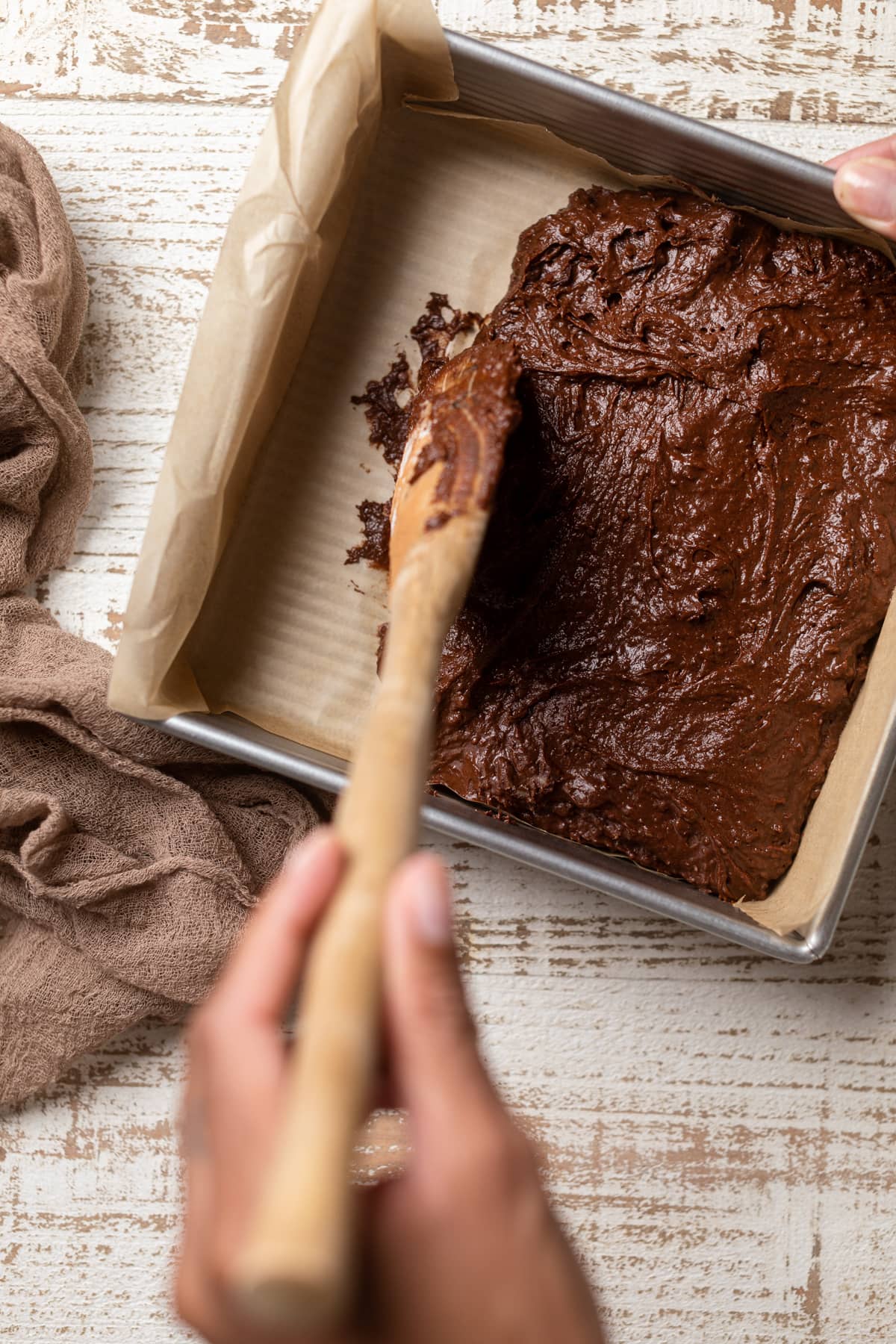 Why You Will LOVE These Fudgy Vegan Brownies
Decadent chocolatey bliss in every bite.
Easy-to-make + simple ingredients.
Gooey, chewy, and utterly irresistible texture.
Minimal effort, maximum deliciousness.
Foolproof recipe for all baking levels.
Bakery-quality at home.
So, What Do They Taste Like?
Just like a delicious vegan chocolate brownie should! It's:
Sweet & chocolatey flavors melt in your mouth
Crispy edges + fudgy middles
Moist and dense
Totally decadent, and did I mention delicious?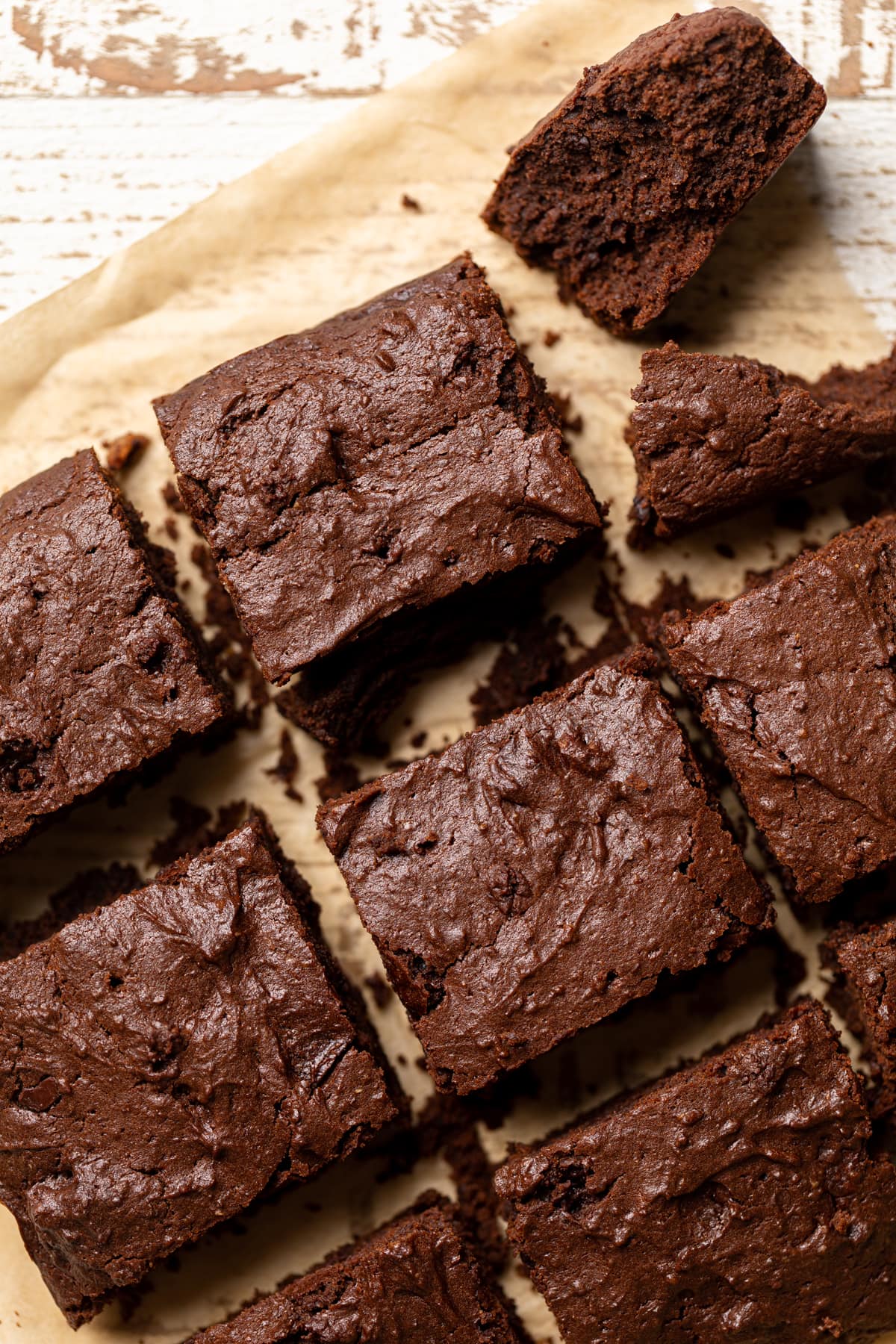 Perfect Occasions For The Best Fudgy Vegan Brownie
These events are a great excuse to eat brownies!
Birthdays
Anniversaries
Barbecues
Potlucks
Kids Sleepovers
Holiday Gatherings
Graduations
Baby Showers
Dinner Parties
Actually, any time is a good time for brownie, right? Bake away for a little weekday pep-up!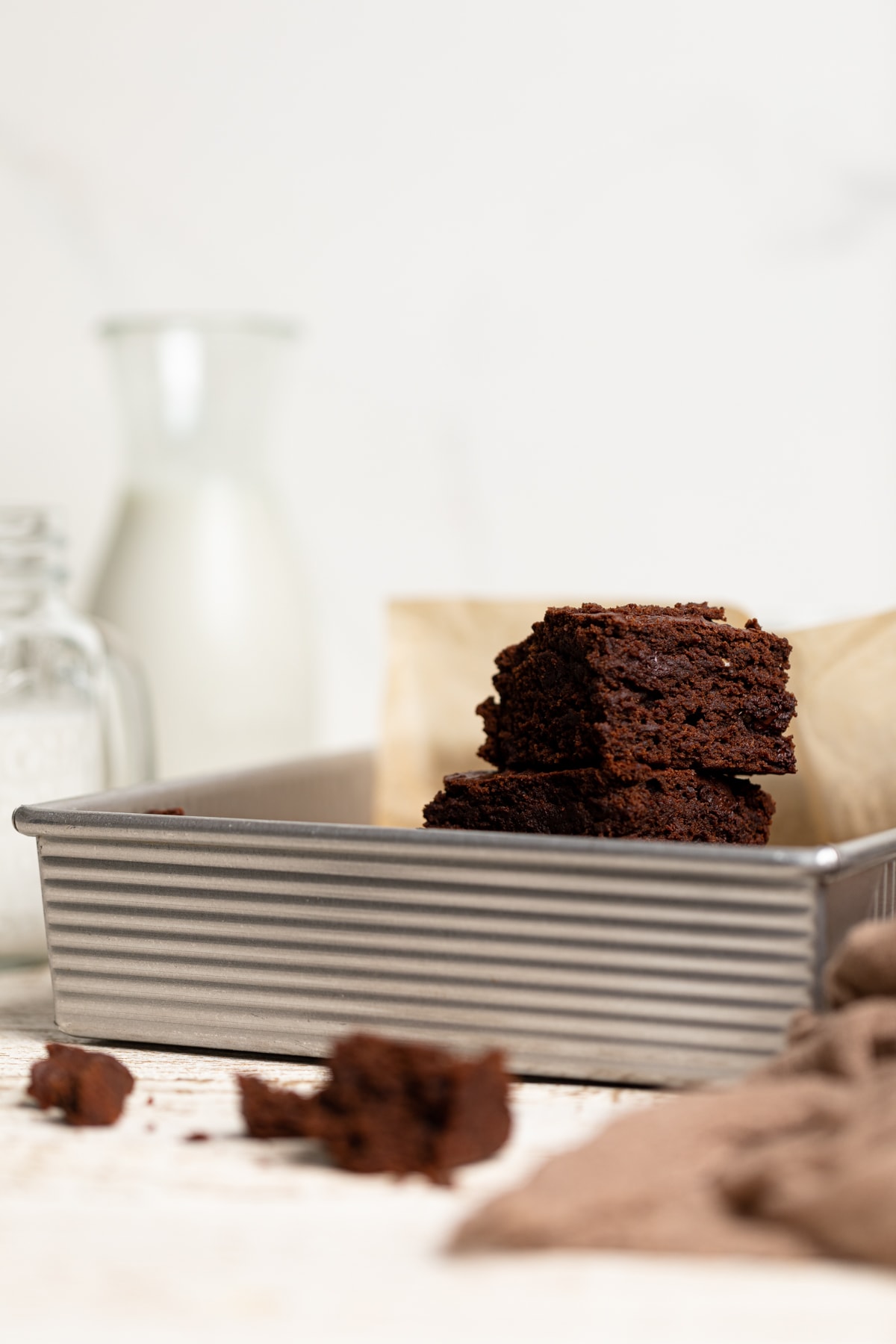 How to Serve Fudgy Vegan Brownies
Here are a ideas on how to enjoy this vegan chocolate brownie-
Warm and Fresh: Enjoy a slice while it's still warm from the oven. The crisp top and soft, moist interior make for a heavenly combination.

Pair with a Beverage: Brownies pair beautifully with a hot or iced coffee like this Iced Caramel Latte, or for my chocolate lovers, double the chocolate fun with this Creamy Homemade Caramel Hot Chocolate
Ice Cream: Brownies + ice cream = The ultimate indulgence
Try it with Caramel Ice Cream or Butter Pecan Ice Cream for the perfect warm + cold creamy treat.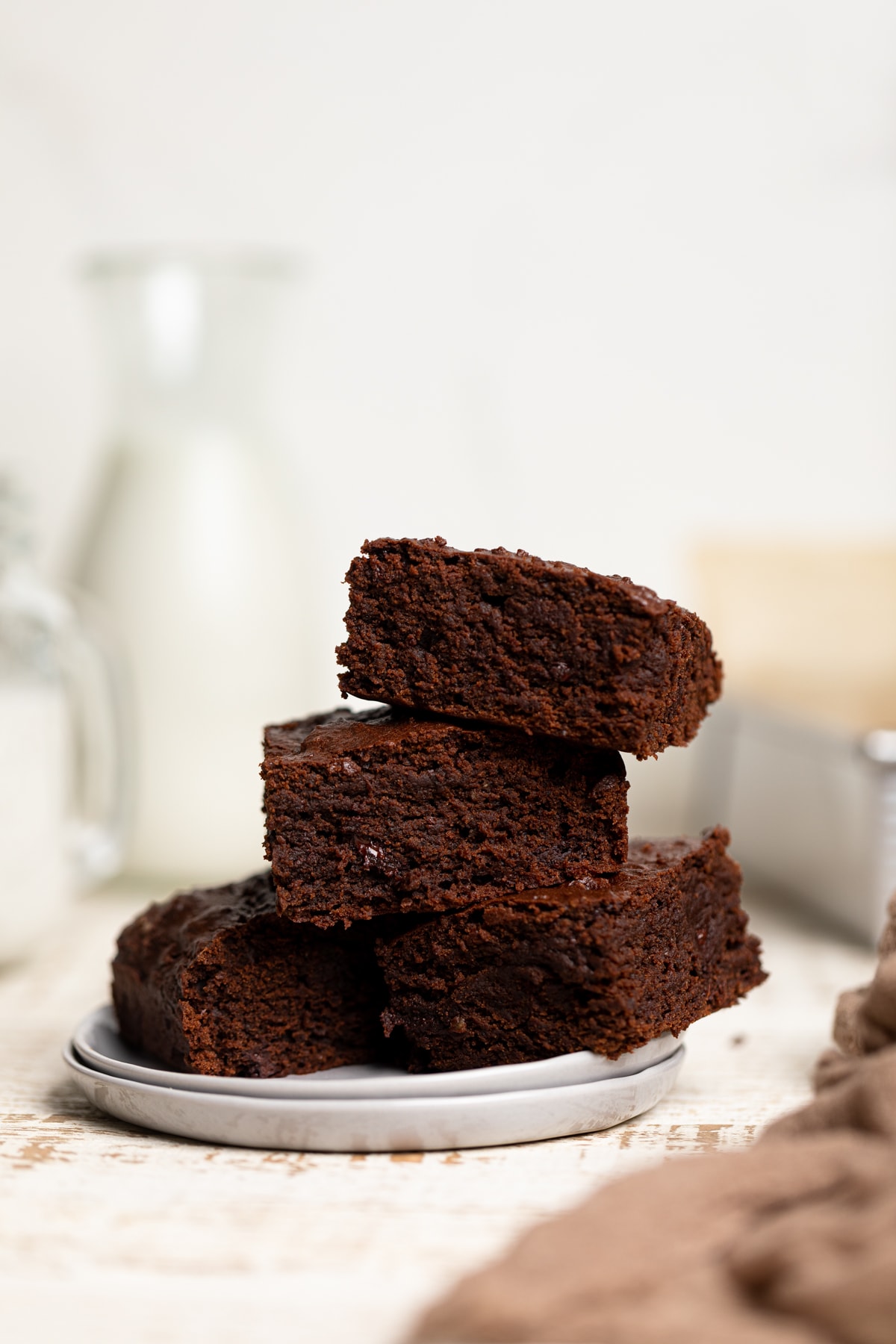 Tips For The Best Vegan Brownies
Use High-Quality Ingredients:
Start with premium ingredients like high-quality cocoa powder, vegan chocolate chips, and organic sugar for the best flavor.
Wait Before Cutting
Now, here's a little lesson in patience: let those brownies cool down entirely before you dive into them. They keep cooking even after they leave the oven, and if you slice too soon, you'll end up with a gooey situation. So, give your brownies some space to cool, and they'll reward you with perfect, fudgy goodness!
Measure!
Let's talk about measuring, the unsung hero of baking! When it comes to getting those perfect brownies, precision is your best friend. I highly recommend using a digital scale – it's like having a trusty sidekick in the kitchen.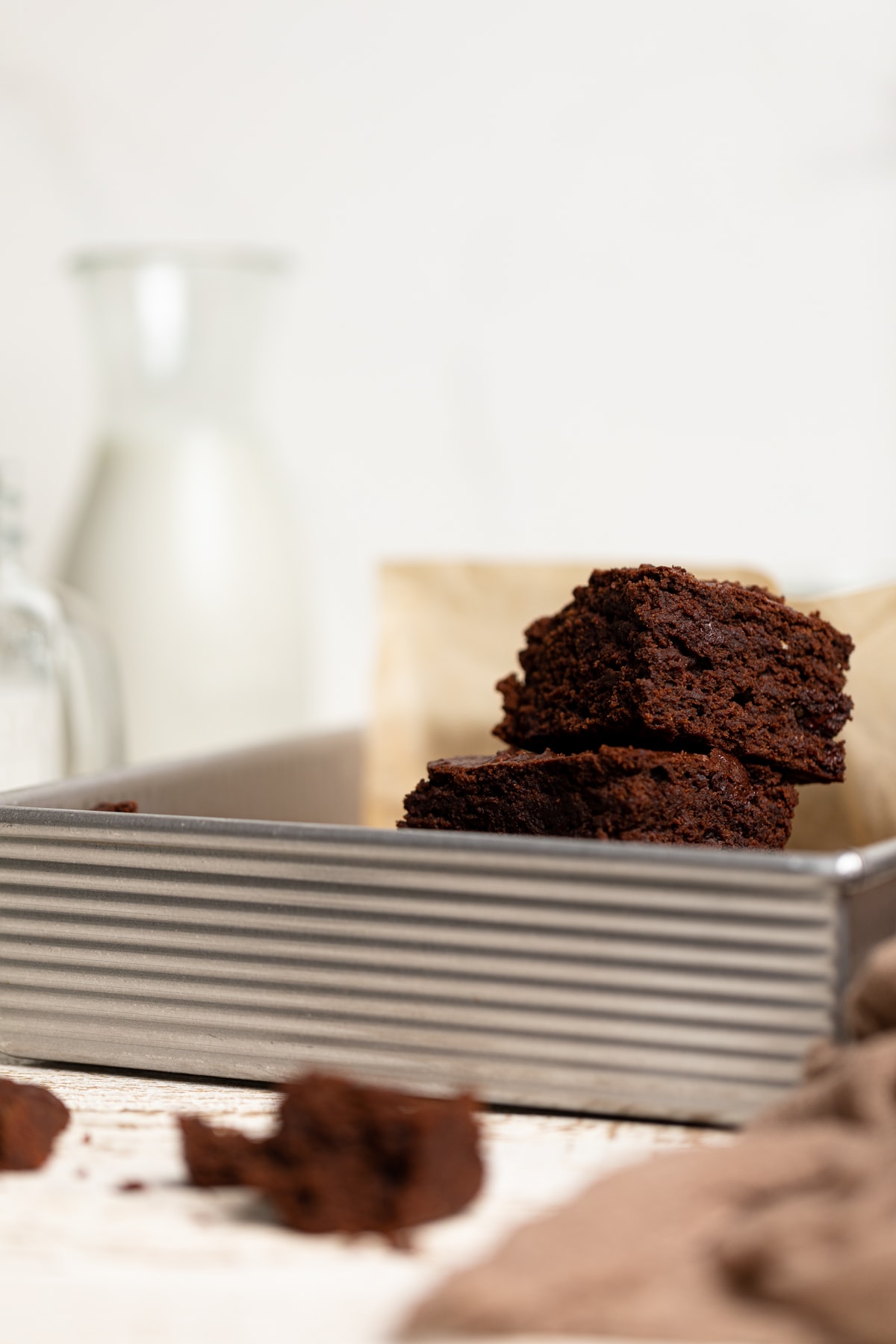 How to Cut Fudgy Vegan Brownies (Without Making a Mess)
Cutting fudgy vegan brownies without a mess is doable. First, let them cool completely. Then, use a sharp knife, wipe it clean between cuts, and start with a straight edge. Dip the knife in hot water if it sticks, or try a plastic knife for gooey brownies. Be swift, rotate the pan if needed, and keep a damp cloth nearby for wiping. Enjoy your perfectly cut delicious brownie squares!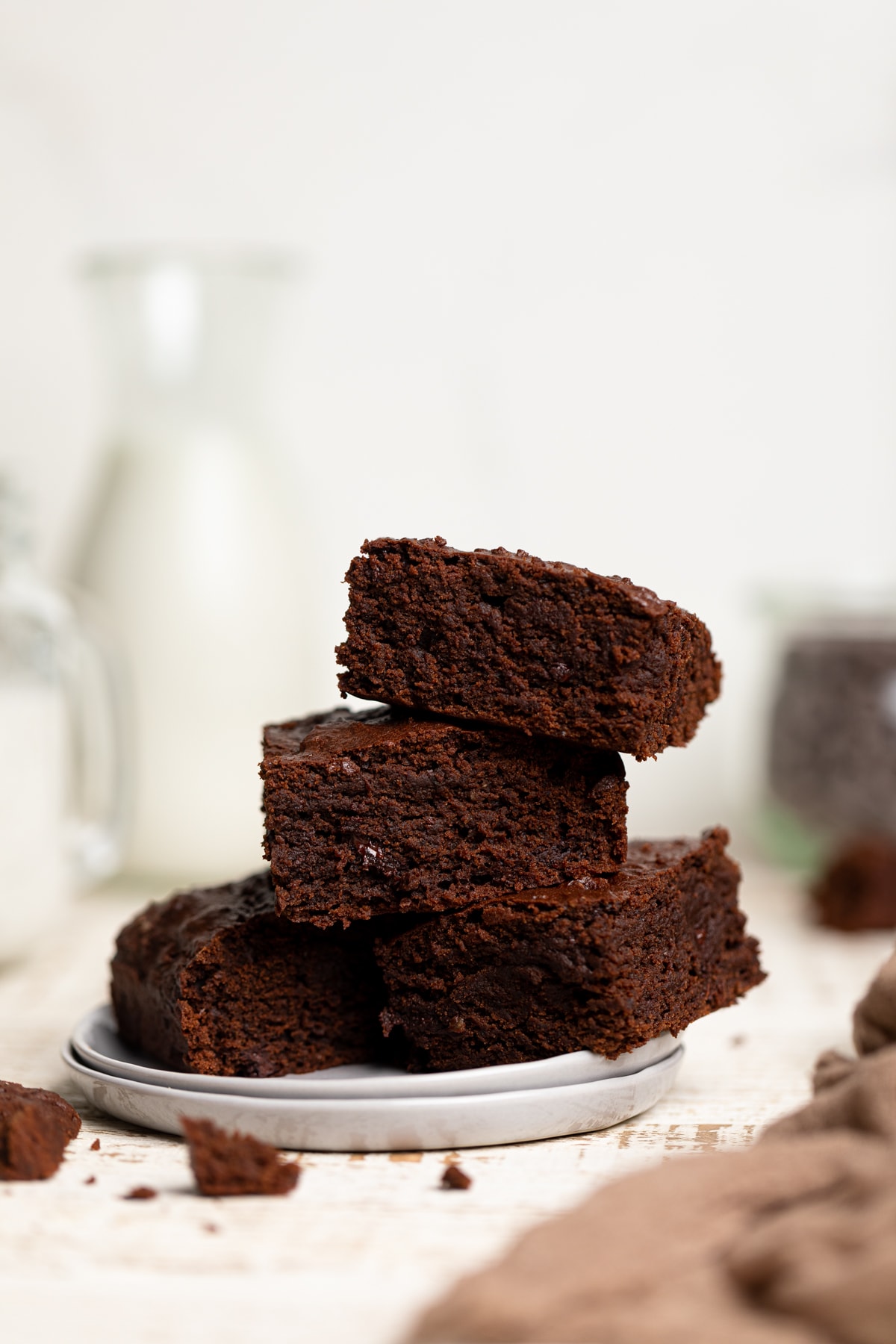 Best Fudgy Vegan Brownies Q + A's
Can I make this vegan brownie recipe GF?
Yes! You can make this fudgy vegan brownies recipe GF by substituting the flour with 1-to-1 baking flour blend by Bob's Red Mill and reducing the Almond milk to ⅓ cup and the vegan butter to ⅓ cup.
How To Store Vegan Brownies?
Keep leftover brownies in a tightly sealed container for up to 3 days at room temp. You can refrigerate them for up to 5 days.
What's the secret to keeping vegan brownies from being too dry?
One key is not overbaking. Remove them from the oven when a toothpick or skewer inserted into the center comes out with a few moist crumbs, not wet batter. Also, using high-quality ingredients helps.
What's the best way to reheat leftover brownies?
Warm up brownies in the microwave for a few seconds or in a preheated oven at a low temperature to restore their gooey goodness.
Can I use another plant-based milk?
Although, I love using Almond milk for my baking mostly, because the consistency is great for all kinds of baking and cooking, however, you can use any vegan milk you like for this brownie recipe. I recommend making your own plant milk to save money and because it's so easy! Here are some of the best dairy-free milk recipes to make at home:

From the classics like cashew milk, sesame milk, Coconut milk, soy milk, and almond milk, we now have delicious options like oat milk and even potato and quinoa milk.
Can I freeze these brownies?
Yes, you can freeze brownies! To freeze them, first, ensure they've cooled completely. Then, wrap them tightly in plastic wrap or aluminum foil, or place them in an airtight container. Freeze for up to three months, and when you're ready to enjoy, let them thaw at room temperature or gently reheat them in the oven for that freshly baked taste.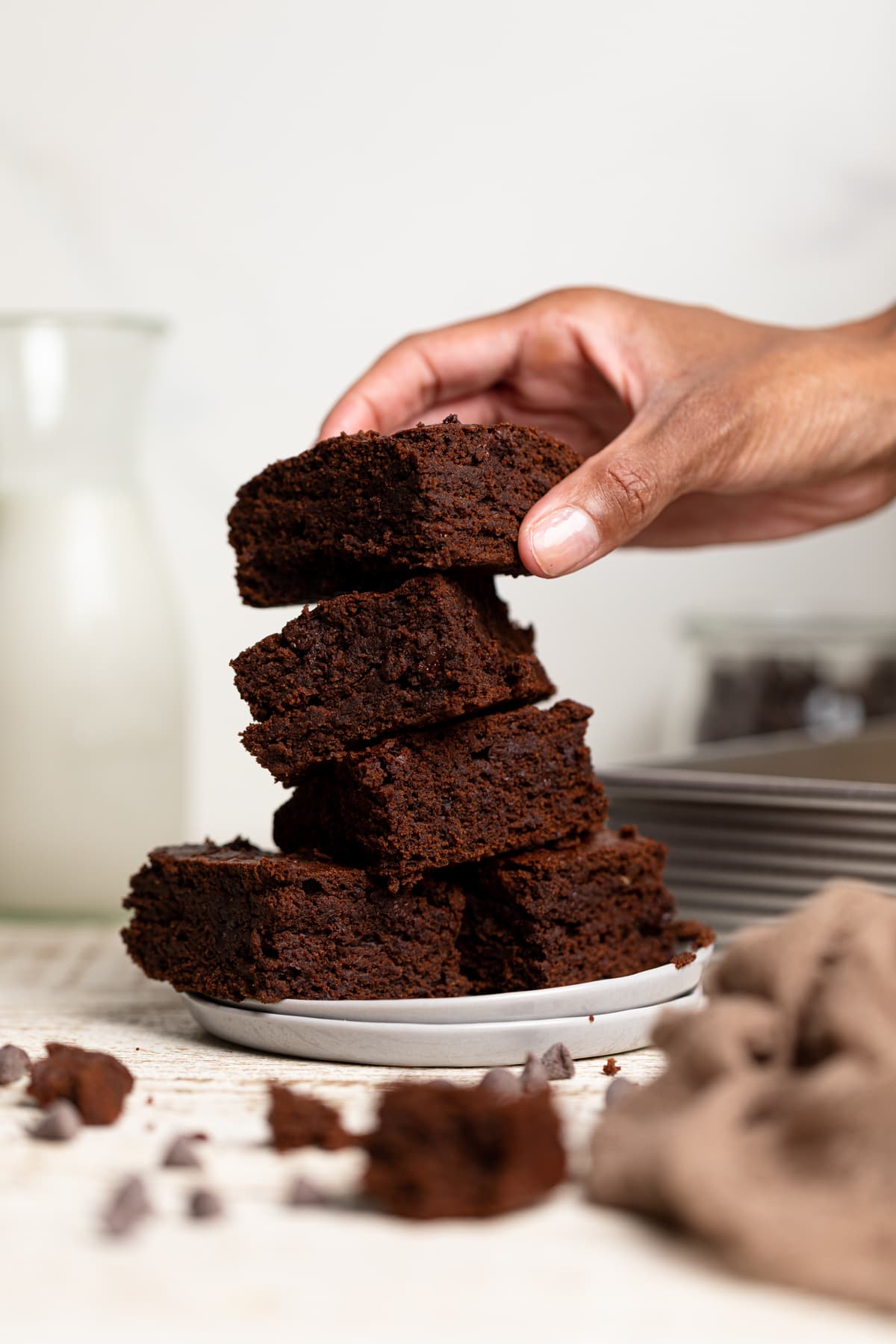 More Decadent Vegan Chocolate Recipes To Try
MADE OUR RECIPE?
If you make this Best Fudgy Vegan Brownies recipe, be sure to Tag @orchidsnsweettea_ on Instagram and hashtag it #orchidsandsweettea!
BROWNIES:
1

cup

organic All-purpose flour

(I use Bob's Red Mill; See Notes for GF option!)

1

cup

organic pure cane sugar

(I use Wholesome Sweets)

¾

cup

cocoa powder, unsweetened

1

teaspoon

baking powder

½

teaspoon

sea salt

4

Tbsps

flaxseed meal + 8 Tbsps WARM water

(This makes your 'Flax Eggs')

½

cup

vegan butter, melted

(See Notes!)

½

cup

Almond milk

1

tablespoon

vanilla extract

1

cup

vegan chocolate chips, semi-sweet

(See Notes!)
TO MAKE THE BROWNIES:
Preheat the oven to 350 degrees Fahrenheit and grease a square 8 x 8 baking pan with vegan butter and line with parchment paper.

Begin by adding the flaxseed meal + water to a small bowl, stirring until combined and letting it sit for 5-10 minutes. Set aside.

In a large bowl, add the melted butter and sugar together, whisking until combined.

Add in the flaxseed meal mixture, milk, and vanilla, whisking to combine.

Now, add in flour, cocoa powder, salt, and baking powder, mixing everything together a spatula or wooden spoon, until fully combined. **NOTE: Batter will be thick, that's OK**

Finally, add in ½ of the chocolate chips and fold them in gently.

Pour the batter into the prepared baking pan and evenly spread it in. Pour the remaining ½ of chocolate chips and gently press them in slightly.

Bake for 35-40 minutes or until the center comes out "mostly clean".

Remove from oven and let cool for about 20 minutes or so before lifting brownies out from the pan.

Once fully removed, let the brownies cool for another 10-15 minutes before slicing into squares.

Serve each brownie with your favorite non-dairy ice cream, fruit, or sprinkled powdered sugar, if desired.

Bon Appetit!
STORAGE: Keep leftover brownies in a tightly sealed container for up to 3 days at room temp. You can refrigerate them for up to 5 days.
GLUTEN-FREE: You can make these brownies GF by substituting the flour with 1-to-1 baking flour blend by Bob's Red Mill and reducing the Almond milk to ⅓ cup and the vegan butter to ⅓ cup.
BUTTER VS. OIL: If preferred, you can always substitute the vegan butter with coconut oil, canola oil, or vegetable oil. 
CHOCOLATE: You can substitute chocolate chips with chopped vegan chocolate, if desired as well.
Calories:
401
kcal
|
Carbohydrates:
57
g
|
Protein:
6
g
|
Fat:
22
g
|
Saturated Fat:
7
g
|
Polyunsaturated Fat:
5
g
|
Monounsaturated Fat:
6
g
|
Trans Fat:
2
g
|
Sodium:
309
mg
|
Potassium:
193
mg
|
Fiber:
6
g
|
Sugar:
36
g
|
Vitamin A:
0.3
IU
|
Vitamin C:
0.03
mg
|
Calcium:
103
mg
|
Iron:
4
mg