Vegan Chocolate Donut Holes with sweet potato and rainbow sprinkles are a kid-friendly treat for breakfast, snacks or dessert baked in the oven and glazed with a dairy-free chocolate sauce.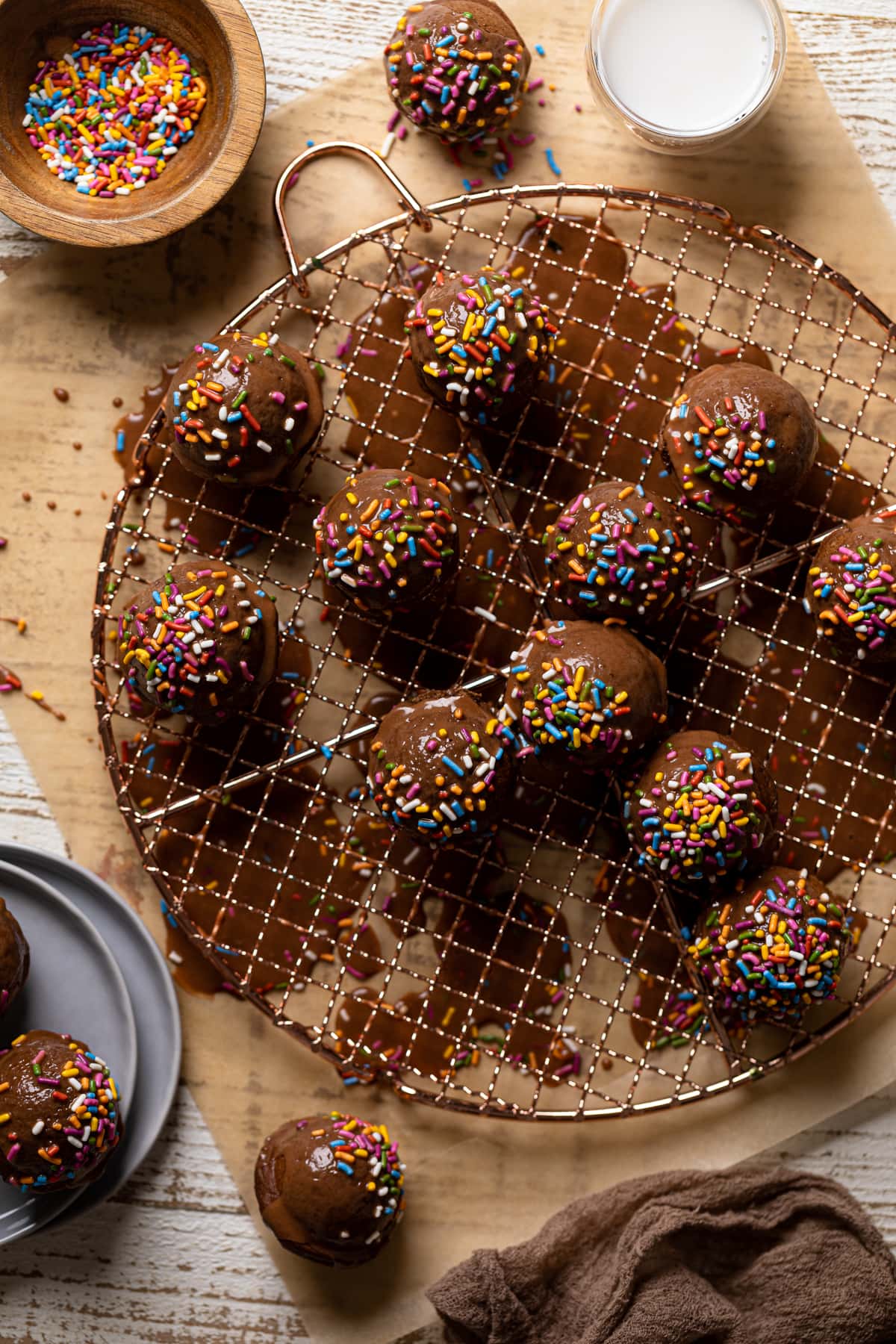 It's no secret that I love donuts. From Vegan Blueberry Donuts with Blueberry Glaze to Vegan Red Velvet Baked Donuts, they're such a tasty treat that's easy to make. Plus, they're an unexpected baked good. Instead of brownies or cupcakes, bring donuts to your next birthday celebration--I promise it will go over well! I promise that these Vegan Chocolate Donut Holes with Sweet Potato are truly something special for both adults and kids-alike!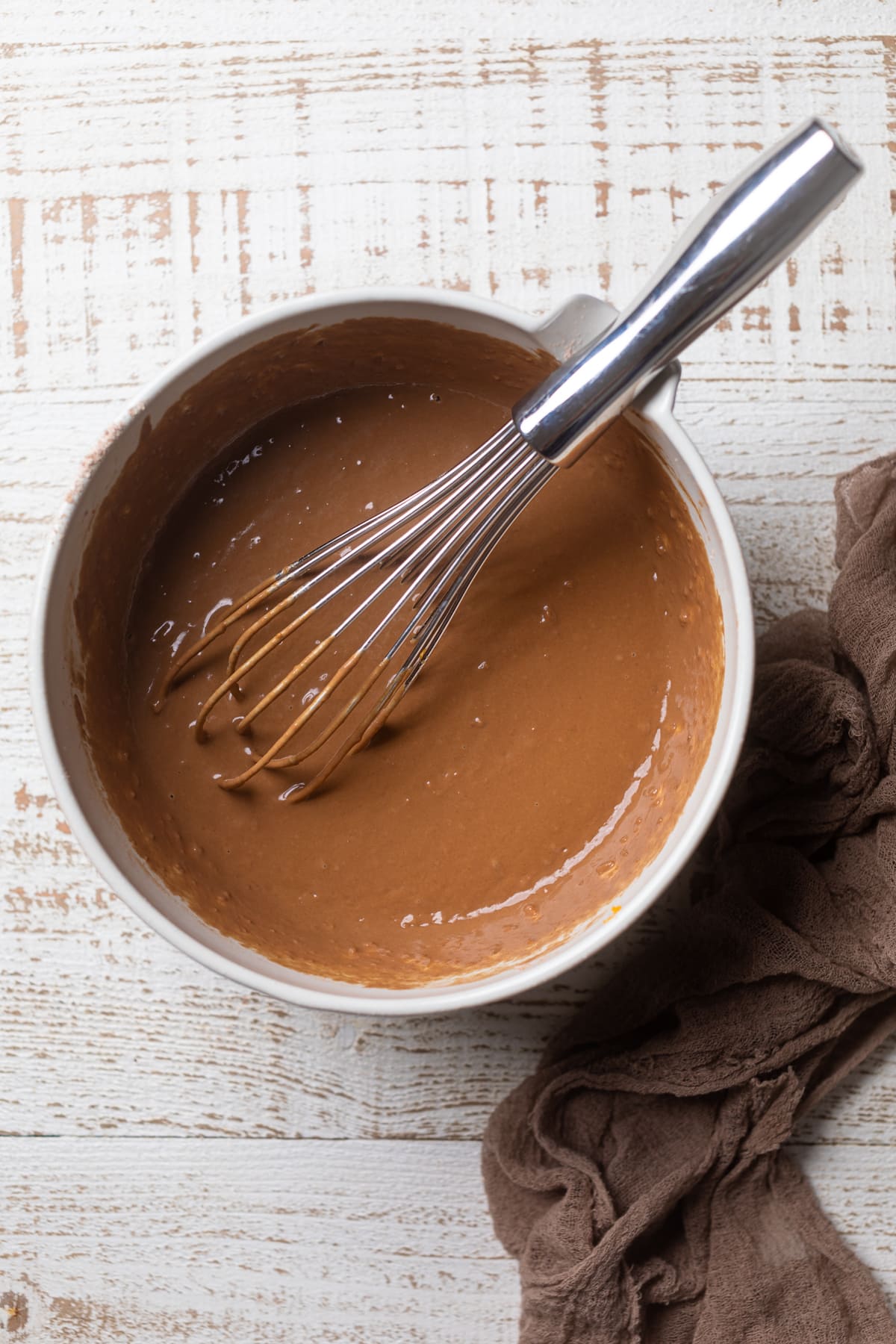 These vegan chocolate donut holes are made with sweet potato, dark chocolate and almond milk for a moist, dense and fudgy treat for all ages.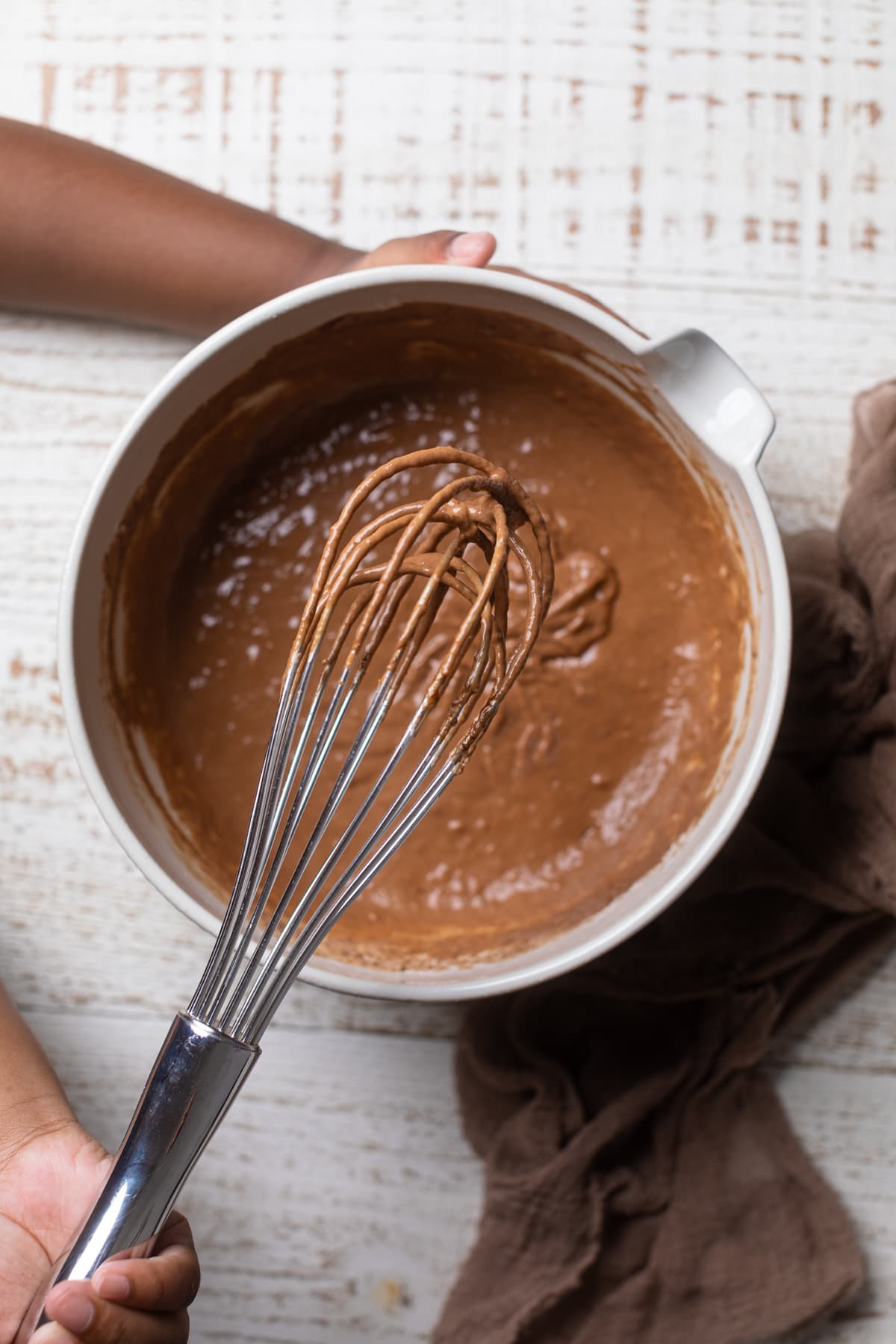 How to Make Vegan Donut Holes
The good news is that you don't need any frying oil to make these donuts. They're baked in the oven for a healthier and easier process. A donut hole pan makes perfectly round two-bite treats that are soft on the inside with a crisp exterior all the way around.
Ingredients
Here's what you need to make chocolate donut holes:
Flour. You can use all all-purpose flour. Or, for a cakier texture, substitute 1 cup with super-fine cake flour.
Cocoa powder. Use organic to make sure it's vegan.
Cane sugar. You could also use coconut sugar if you prefer.
Baking powder and baking soda
Mashed sweet potato. You can make this at home or buy it from the store.
Almond milk. Any other dairy-free unsweetened milk will work.
Apple cider vinegar. This makes vegan buttermilk.
Vegan butter. I like Earth Balance brand.
Vanilla extract. Make sure to use the pure stuff, not imitation!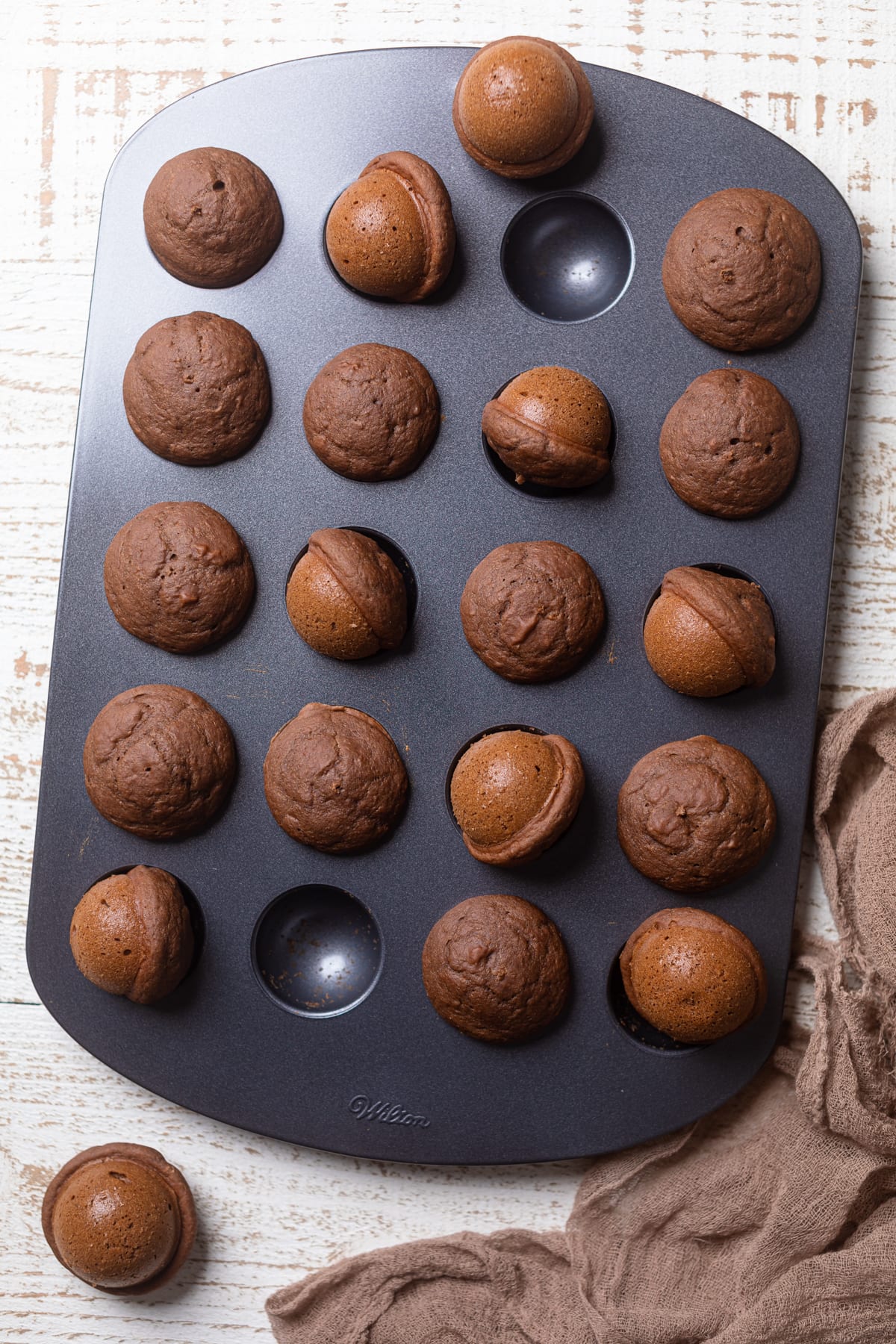 Vegan Chocolate Glaze
The donuts get covered in a drippy and sweet dairy-free chocolate glaze after baking. Here's what you need to make the glaze:
Powdered sugar. This makes the texture nice and smooth. Cane sugar will give you a grainy texture.
Organic cocoa powder
Almond milk. Again, feel free to use any vegan milk you like.
Vanilla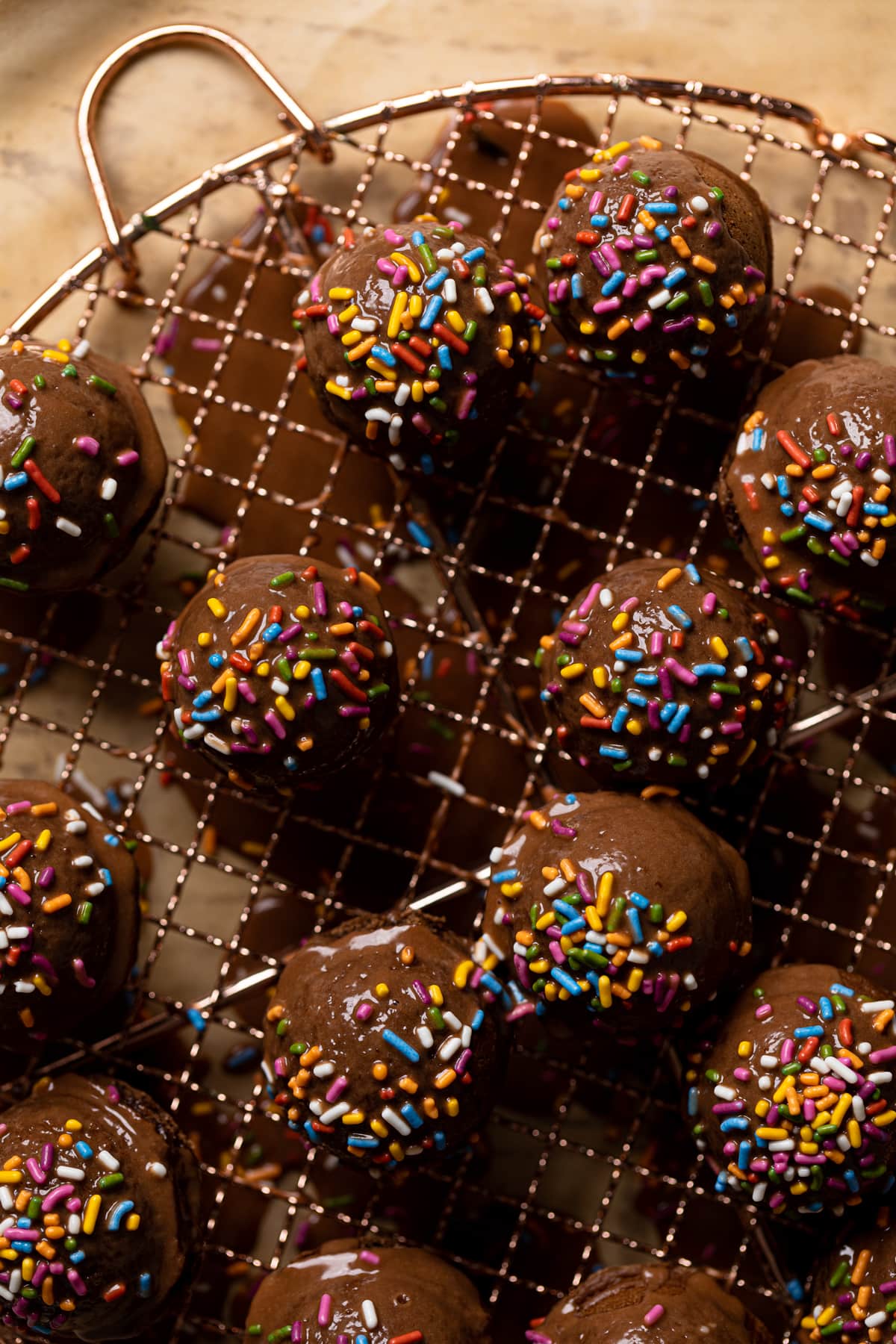 Decorating Donut Holes
When the chocolate donut holes are baked, remove them from the pan and set them on a wire rack. et the donuts cool completely before glazing them.
Then, when you're ready to glaze, dun each donut directly into the warm chocolate sauce to coat. Return the glazed donut to the wire rack. The glaze will harden up a bit as it cools. Before it hardens, I like to sprinkle the donuts with vegan rainbow sprinkles.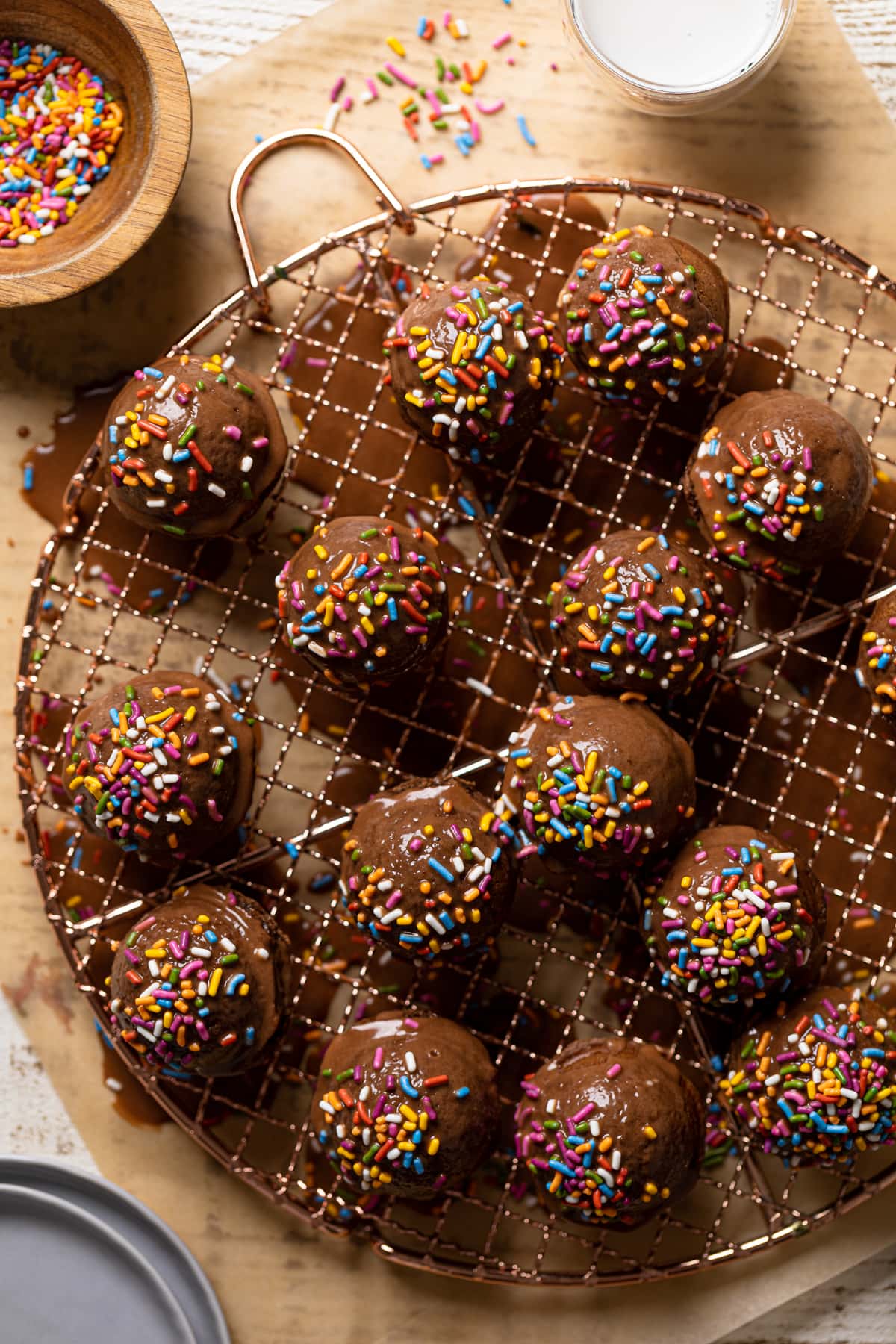 Storage Suggestions
Store leftover donut holes in an airtight container in the fridge for up to 3 days. Really, these are best enjoyed straight away after baking, so don't hold back!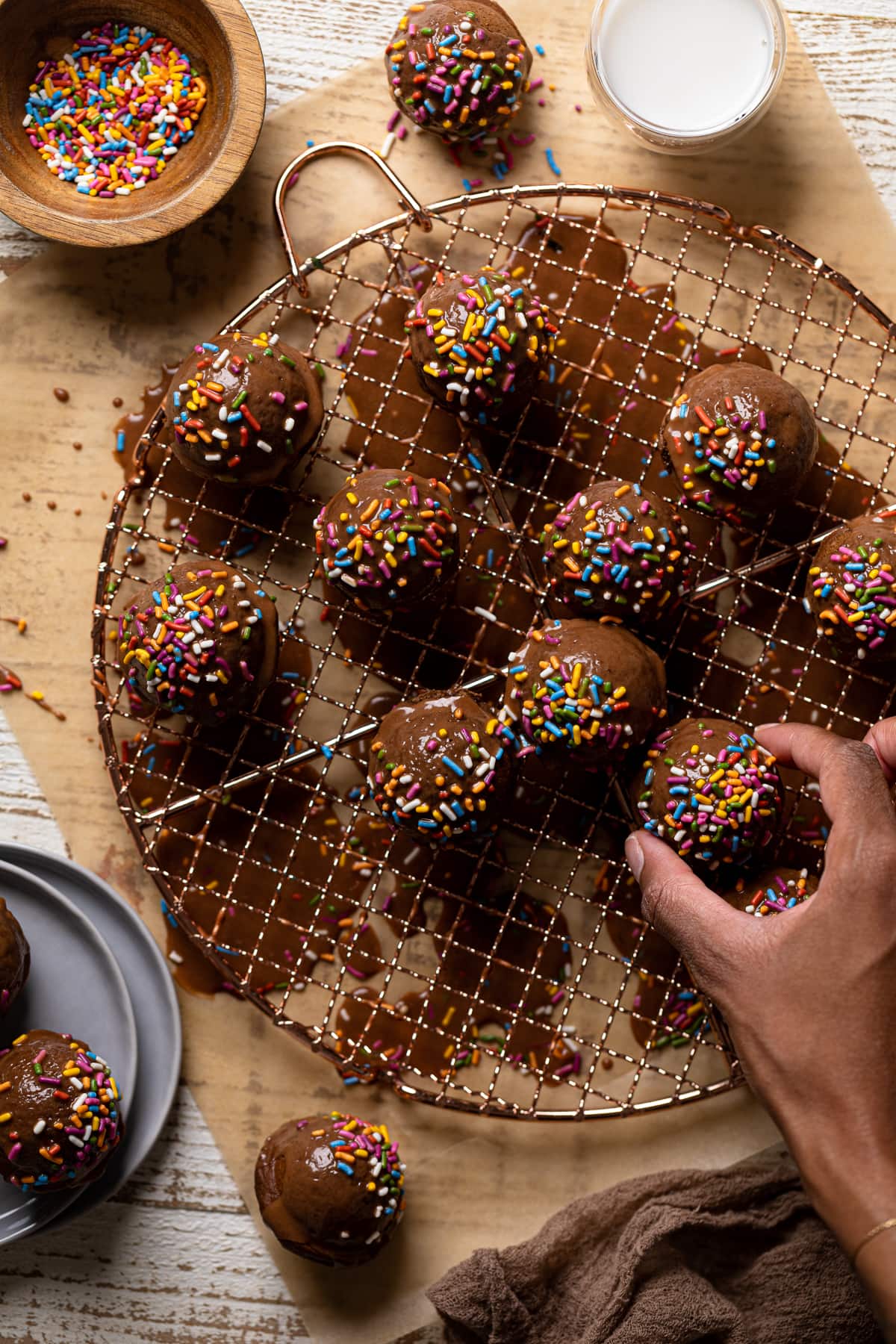 Can I Freeze Donuts?
For longer storage, you can freeze the donut holes in an airtight container for up to three months.
I recommend first freezing the donuts on a baking sheet, so they stay separated. After about an hour, you can transfer everything to a bag or container to keep in the freezer.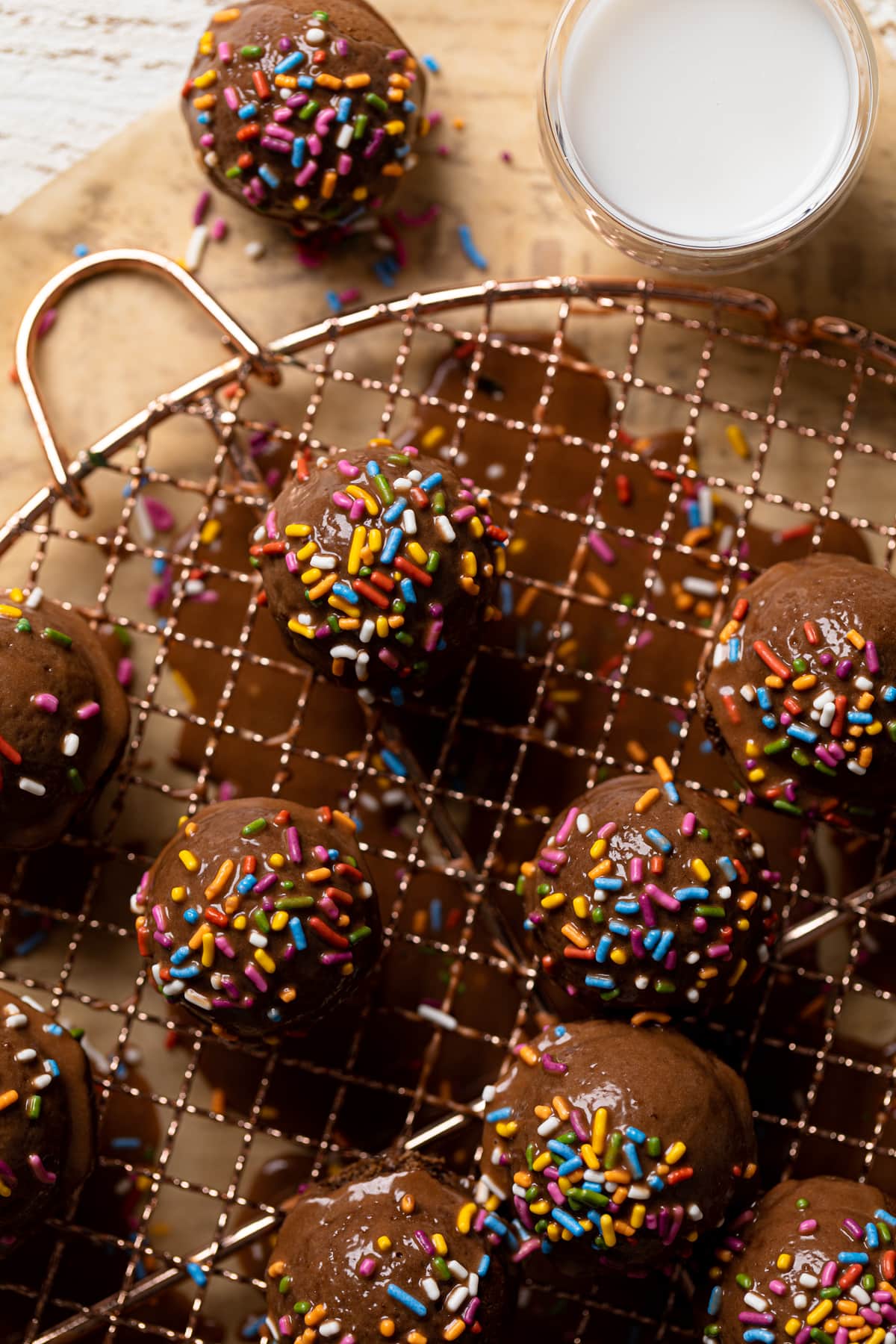 Other Sweetener Options
You can swap the cane sugar in the donut batter with agave, coconut sugar or pure maple syrup. However, if you use a liquid sweeter, you'll only need ¼ cup.
For more sweetener alternatives, read The Best Healthy Sugar Alternatives + Substitutes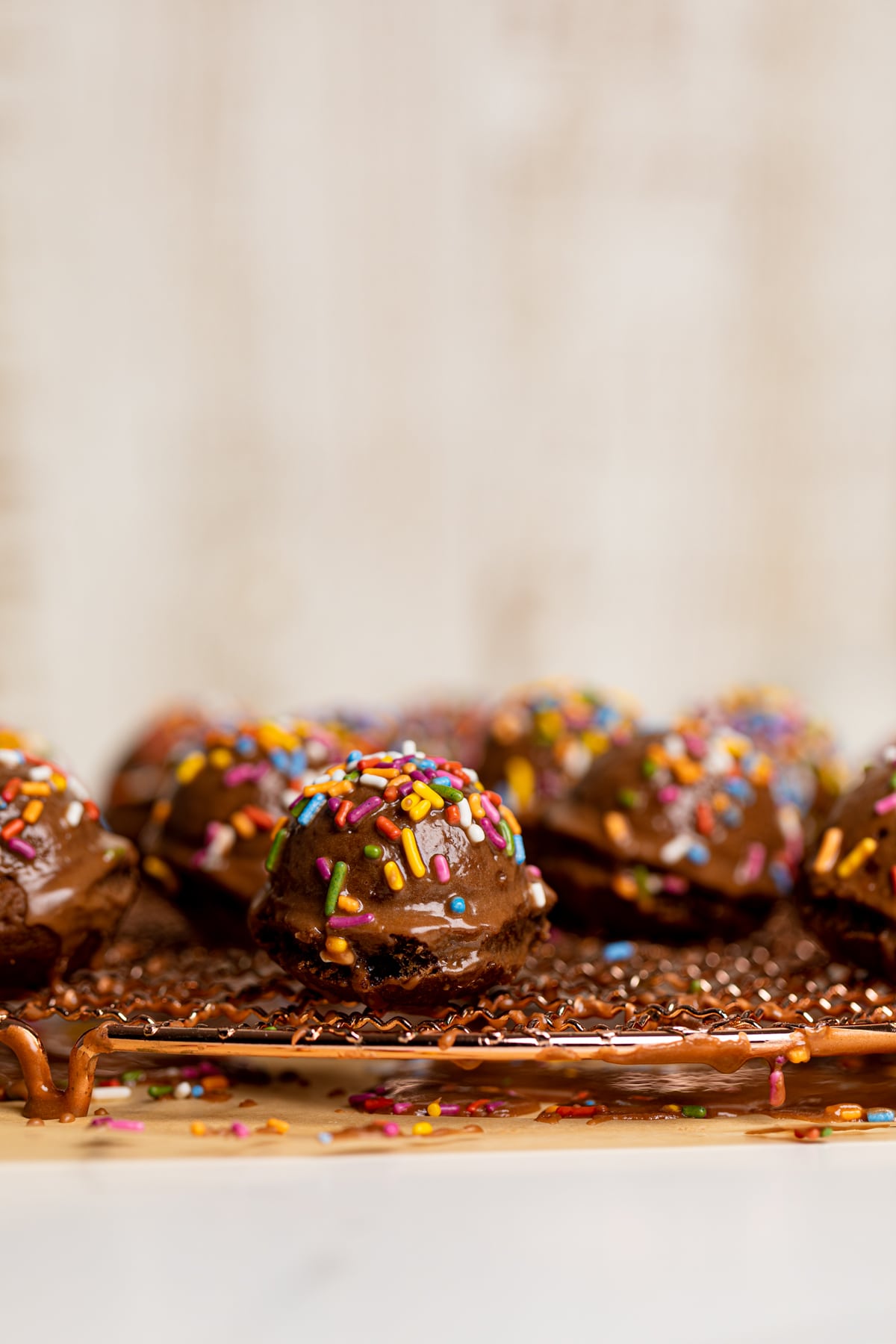 3 Tips To Making The Perfect Baked Donuts EVERY TIME:
NEVER OVER-MIX!
When mixing together the wet and dry ingredients, do so just until everything is combined. DO NOT OVER-MIX! This will ensure that your doughnuts/donuts are soft and fluffy.
PIPE YOUR BATTER INTO THE DONUT CAVITIES.
For perfectly sized donuts, be sure to pipe them into the donut cavity, about ¾ way full. If you don't have a piping bag, simply use a zip loc bag and cut the edge as a handy alternative.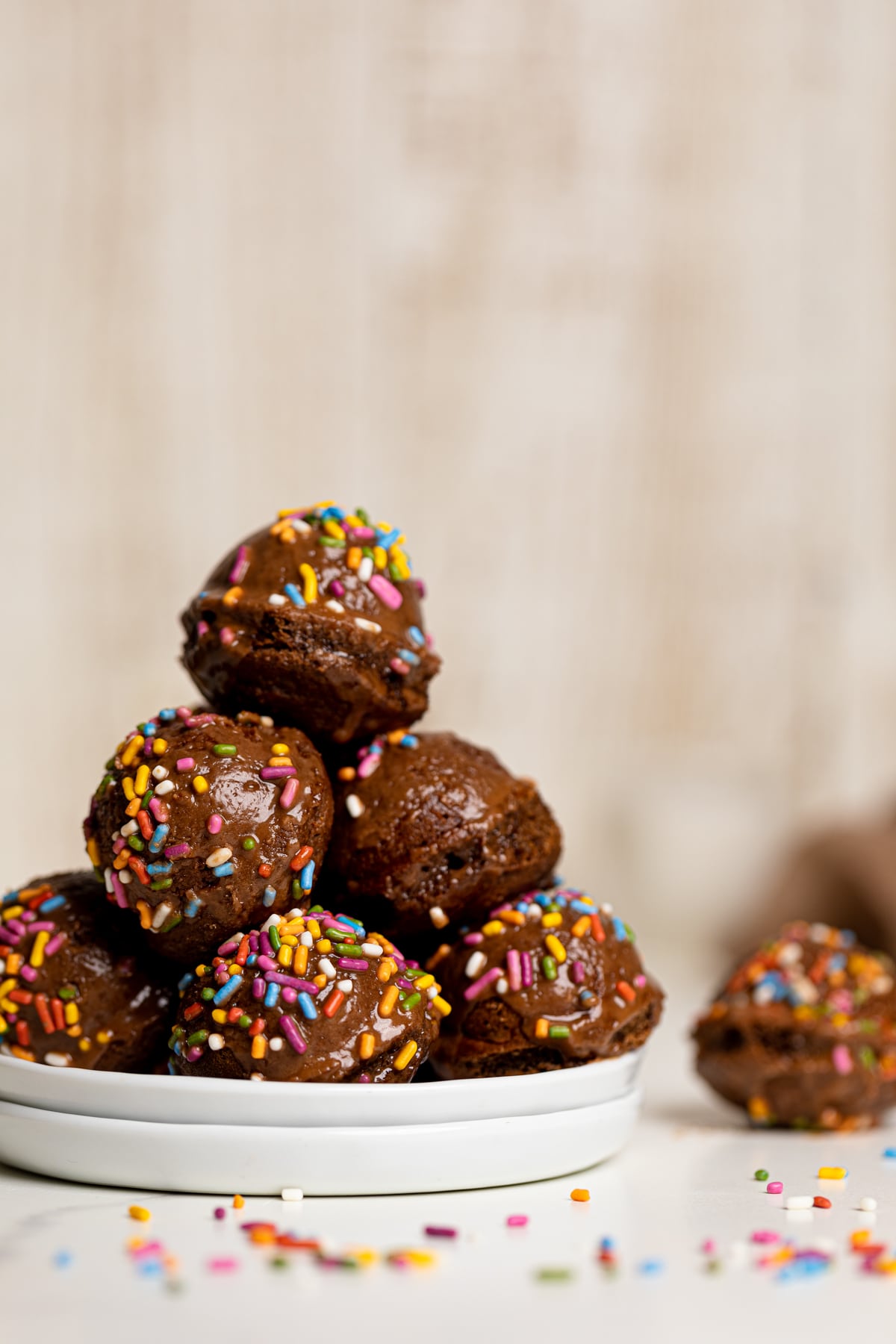 ALWAYS CREATE A BUTTERMILK, EVEN IF IT'S VEGAN OR DAIRY-FREE.
This is so important because the acidy from the buttermilk makes the gluten in flour tender, which creates a softer texture and ensures that donuts are nice and fluffy. If you don't want to use lemon juice, you can substitute it with apple cider vinegar.
More Vegan Donut Recipes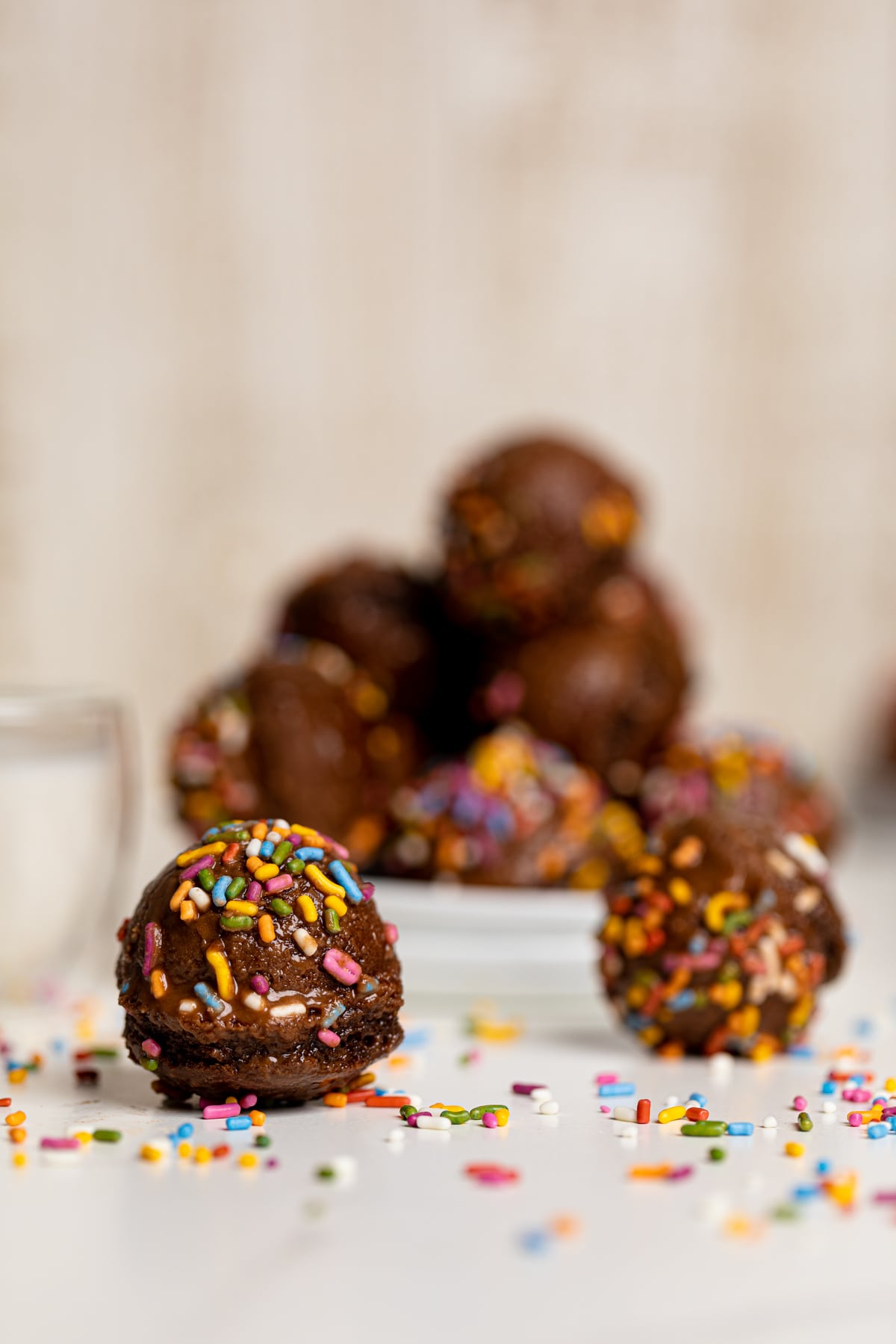 MADE OUR RECIPE(S)?
If you make these Vegan Chocolate Donut Holes with Sweet Potato, I'd love to see your creations! Tag @orchidsnsweettea_ on Instagram and hashtag it #orchidsandsweettea!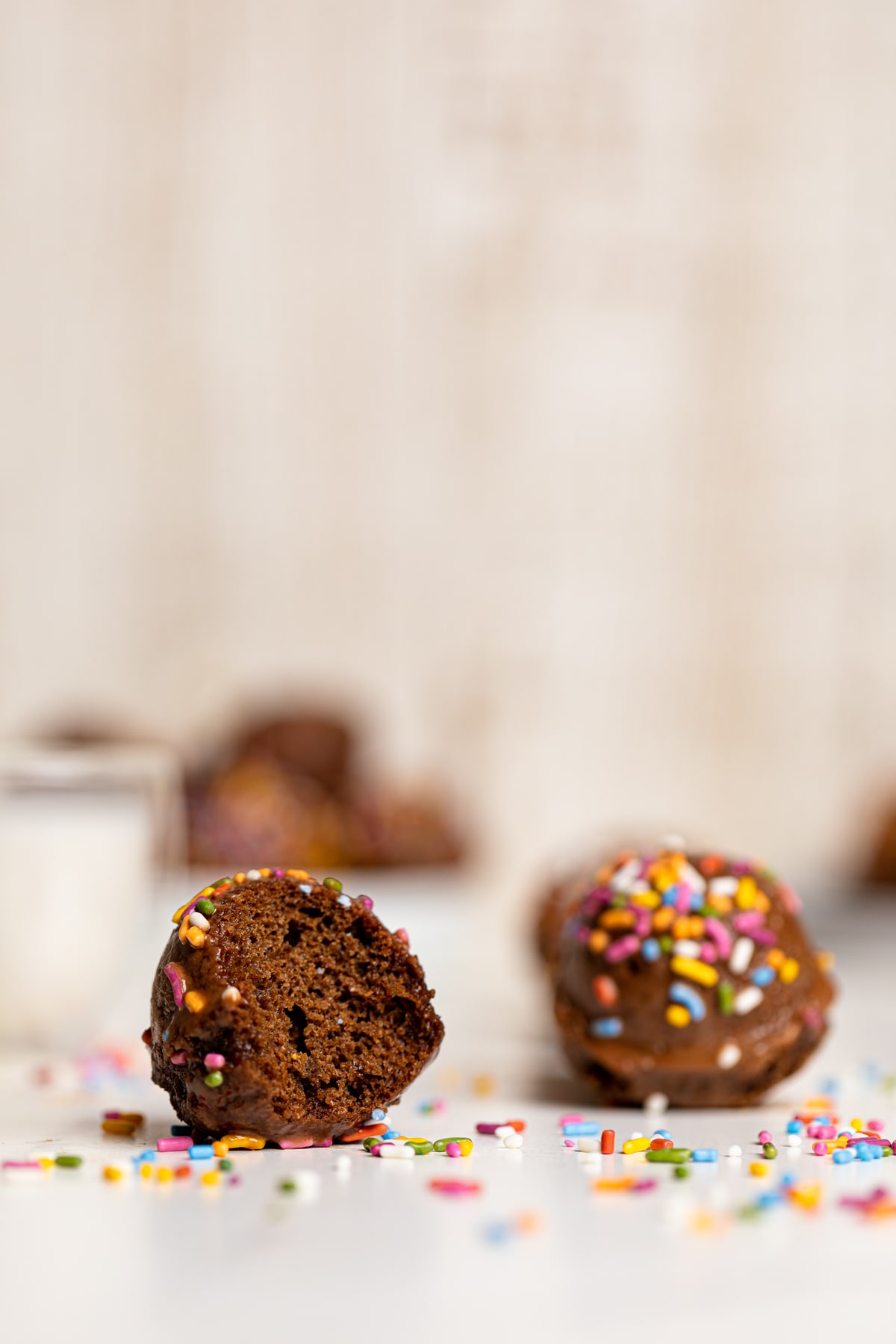 DONUT HOLES:
1 ½

cups

organic all-purpose flour

(See Notes!)

½

cup

organic cocoa powder

½

cup

pure cane sugar

2

tsps

baking powder

¼

teaspoon

baking soda

¼

teaspoon

sea salt

2

Tbsps

cooked mashed sweet potato

1

cup

Almond milk

1

tablespoon

apple cider vinegar

2

Tbsps

vegan butter, melted

1

teaspoon

vanilla extract
CHOCOLATE GLAZE:
2

cups

organic powdered sugar

2

Tbsps

organic cocoa powder

1-2

Tbsps

Almond milk, unsweetened

1

teaspoon

vanilla extract

pinch of

sea salt
FOR THE DONUT HOLES:
Begin by preheating your oven to 350 degrees Fahrenheit and lightly greasing a 20-cavity donut hole pan.

In a separate bowl, add the milk + apple cider vinegar, whisking together well and letting it sit aside for 2-3 minutes. Then add the mashed sweet potato, melted butter, Agave, vanilla, and whisk everything together.

In a separate bowl, sift together the flour, cocoa powder, baking powder, baking soda, and sea salt. Finally, stir in the dry ingredients until just well combined and batter is thick and smooth, about 2-3 minutes.

Spoon the batter into a plastic ziplock bag (or piping bag), cutting the tip and pipping it into prepared donut hole pan. NOTE: Be sure to only fill each cavity ¾ of the way. This ensures that donut holes are perfectly shaped and not too large.

Bake for 10-13 minutes or until toothpick inserted into donut centers come out clean.

Remove from oven and allow them to cool for 5-10 minutes before releasing the donuts from their pan and unto a cooling rack to cool completely.
FOR CHOCOLATE GLAZE:
Whisk together the powdered sugar, cocoa powder, salt, Almond milk, and vanilla until smooth and consistency is met. NOTE: For a thicker glaze, add additional powered sugar (1 tablespoon at a time) until consistency is met. For a desired thinner glaze, add additional milk (1 tablespoon at a time) until consistency is met.

Once fully cooled, dip each donut hole into the prepared Vanilla Glaze and set them back onto cooling rack so that glaze hardens a bit. Top with rainbow/festive sprinkles and repeat until all donut holes are glazed and sprinkled.

Bon Appetit!
STORAGE: Can be stored in a tightly sealed container and best if placed in the refrigerator for up to 3 days for ultimate freshness.
SWEETENER: If you choose to opt out of cane sugar, you can always substitute with Agave, coconut sugar, or pure maple syrup instead. If using liquid sweeteners, be sure to reduce measurement to ¼ cup instead.
FLOUR: If you want your donuts to be more of a 'cakey' texture, substitute 1 cup of All-purpose flour with Super-Fine Cake Flour. 
BUTTER: Instead of vegan butter, you can also substitute with melted coconut oil or vegetable oil.
SWEET POTATOES: Preheat oven to 425 degrees Fahrenheit and line a baking sheet with parchment paper or foil. Rinse sweet potatoes (about 2 medium-sized) and pat dry. Lightly coat potato with Extra Virgin Olive Oil and place in oven, baking for 45 minutes to 1 hour, until tender and juices begin to bubble outside of skin. Remove from oven, let cool for 10-15 minutes and slice in half. Remove sweet potato insides and place in a bowl, mashing it until "pureed". Continue recipe. Store leftover mashed potatoes in an airtight container in the refrigerator for 3-4 days. 
Calories:
74
kcal
|
Carbohydrates:
27
g
|
Protein:
2
g
|
Fat:
2
g
|
Saturated Fat:
0.4
g
|
Polyunsaturated Fat:
0.5
g
|
Monounsaturated Fat:
1
g
|
Trans Fat:
0.2
g
|
Sodium:
113
mg
|
Potassium:
59
mg
|
Fiber:
1
g
|
Sugar:
5
g
|
Vitamin A:
284
IU
|
Vitamin C:
0.3
mg
|
Calcium:
45
mg
|
Iron:
1
mg