These Vegan Gingerbread Donuts + Chai Glaze are a healthier option to a Holiday classic + favorite combo—Gingerbread + Chai! Not only are they completely moist + fluffy, but they're also loaded with warm ginger and spices, and just melts in your mouth with goodness.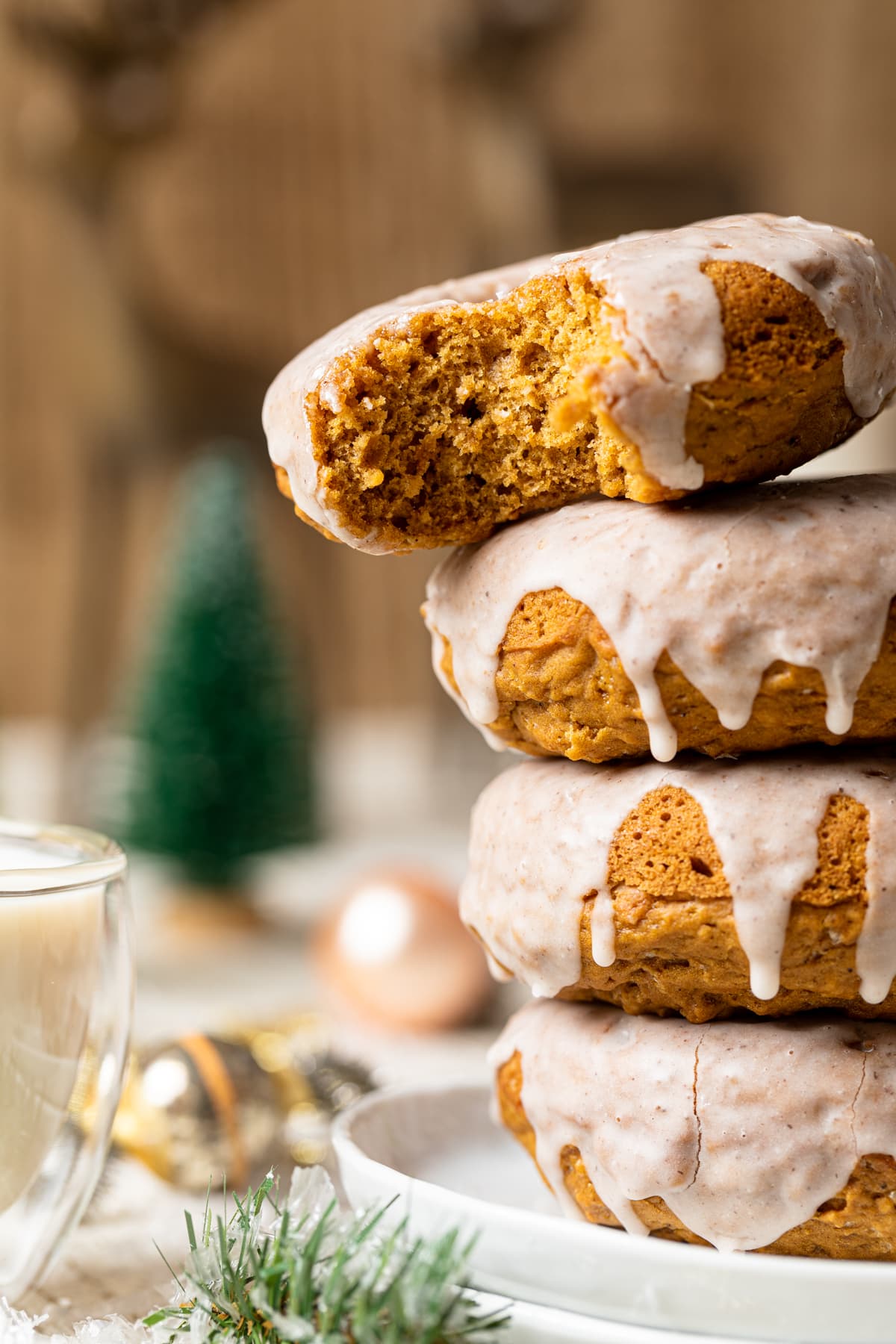 Donuts is one of my go-to weekend breakfast recipes. And while I enjoy a store-bought doughnut every now and then, I find that homemade is so much better. When you make donuts at home, you can easily control the ingredients and how they're made. As a result, homemade donuts like these healthy vegan gingerbread donuts, are better for you. Embrace the coziness fall with our Baked Vegan Pumpkin Spice Donuts recipe – They're like a warm hug for your taste buds!
How to Make Vegan Gingerbread Donuts with Chai
While homemade donuts might sound like a project recipe, they actually come together quite easily. To make these sweet treats, you'll combine the dry ingredients in one bowl. In a separate bowl, combine the wet ingredients. Then combine the two and pipe the batter into a donut pan. Bake them up until golden and fully set. Finally, let the donuts cool before glazing them with your quick chai frosting.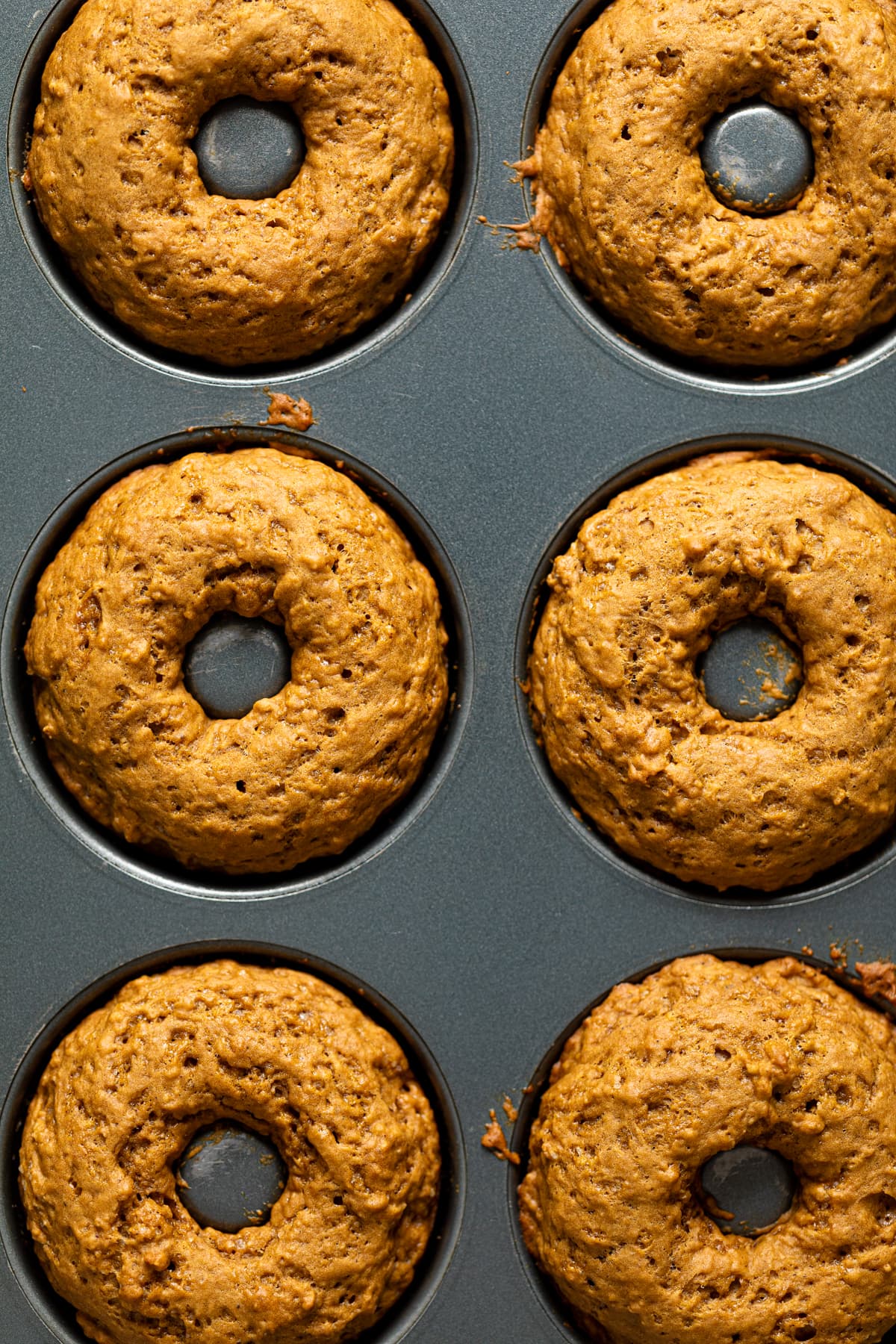 While this Holiday season wasn't the easiest and I'm sure that many of you can agree this year, I am truly grateful for the love from those around me--no matter how small the number. I know that many of you might be grieving from the loss of a loved one(s) or grieving the loss of relationships during this season, while many celebrate an abundance, but I wanted to send love + light your way.
Things won't always look better in the moment, but in time---they do get better.
In addition, I wanted to THANK all of you for your constant support, whether it was all year or for just a part of it. Orchids + Sweet Tea wouldn't be anything without that!
The challenges that come along with life can sometimes make us feel nothing but pressure or stress, but it's so important that we fix our minds on the good things that happen as well. It's in those moments where true miracles exist---God's miracles.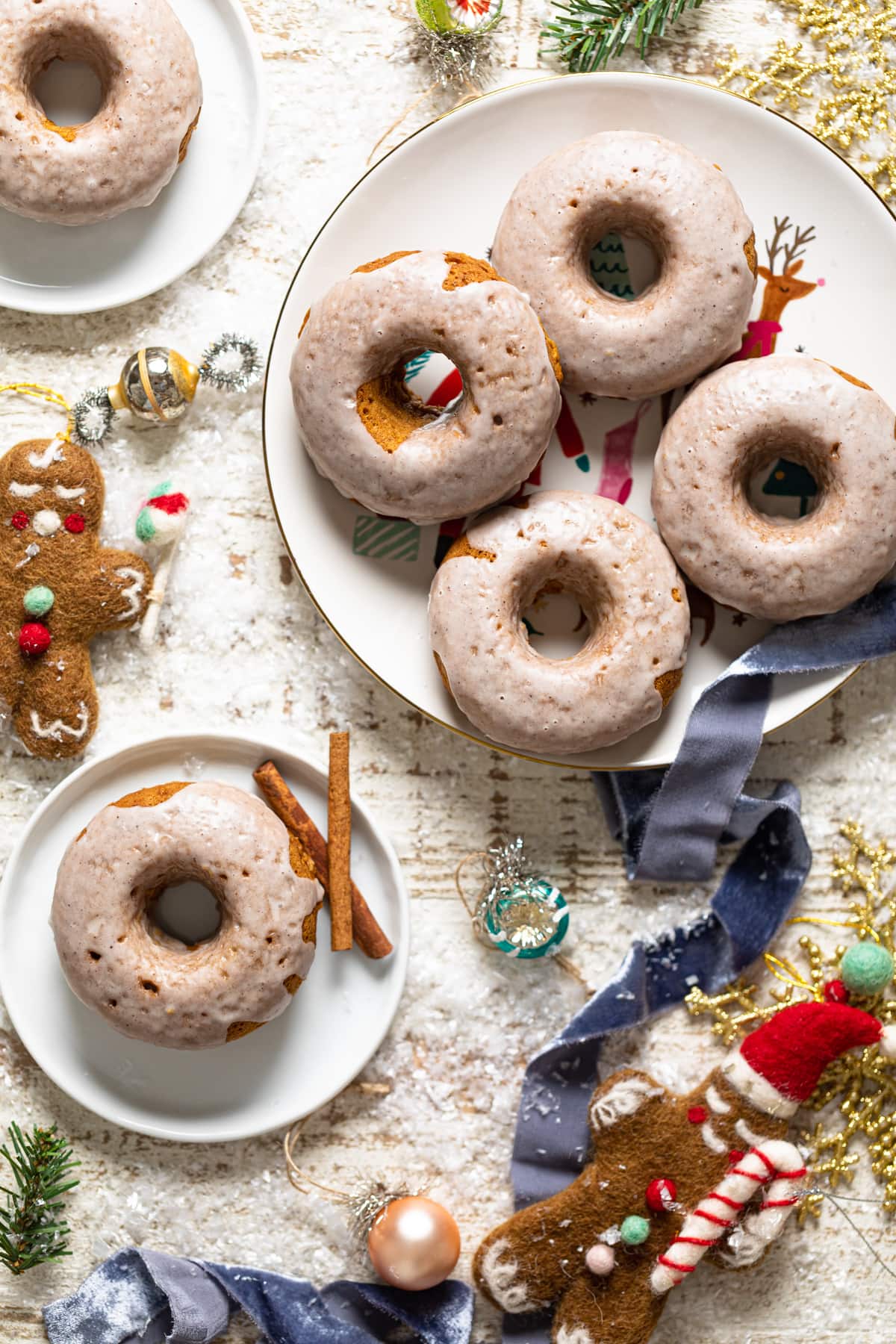 Why Gingerbread and Chai?
When it comes to this recipe, I'm so happy to finally share it because it's SO GOOD!
If you've already seen our Vegan Gingerbread Cake + Chai Buttercream recipe, then you can understand our obsession with this delicious combo! There's just something about the slight spicy flavors on gingerbread and deep spices of the chai flavor----especially when put together. Just a burst of goodness.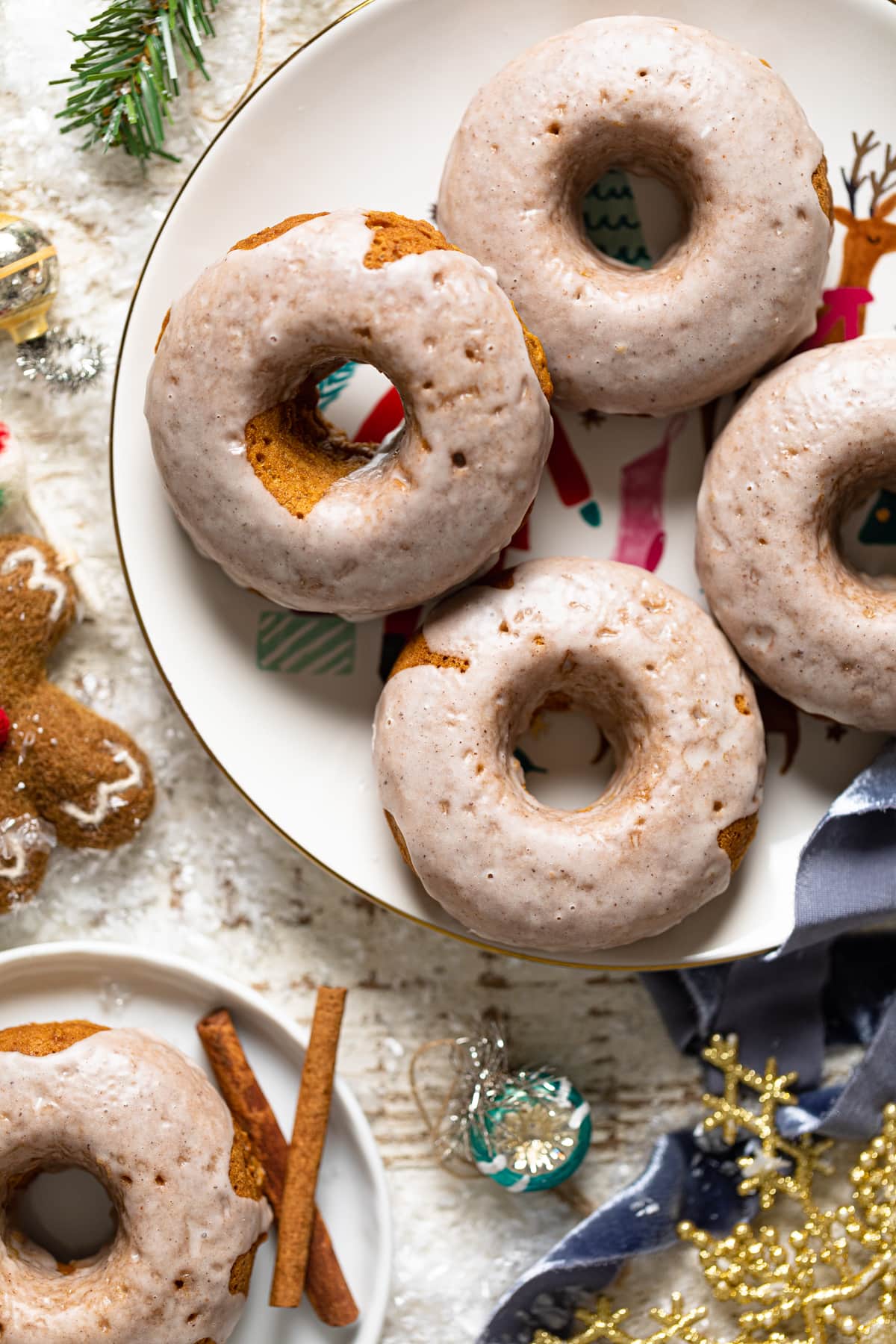 Plus, these donuts are fully baked (healthier option minus the grease of frying), so easy to whip together, and just so soft + fluffy. I mean, what's not there to love?
EQUIPMENT
The only unique piece of equipment you need to make homemade donuts is a donut pan. If you're a donut fan, I highly recommend adding one to your kitchen toolbox. You'll never have to go out for donuts again, and you can always customize the ingredients, flavors, and decorations of your breakfast pastries!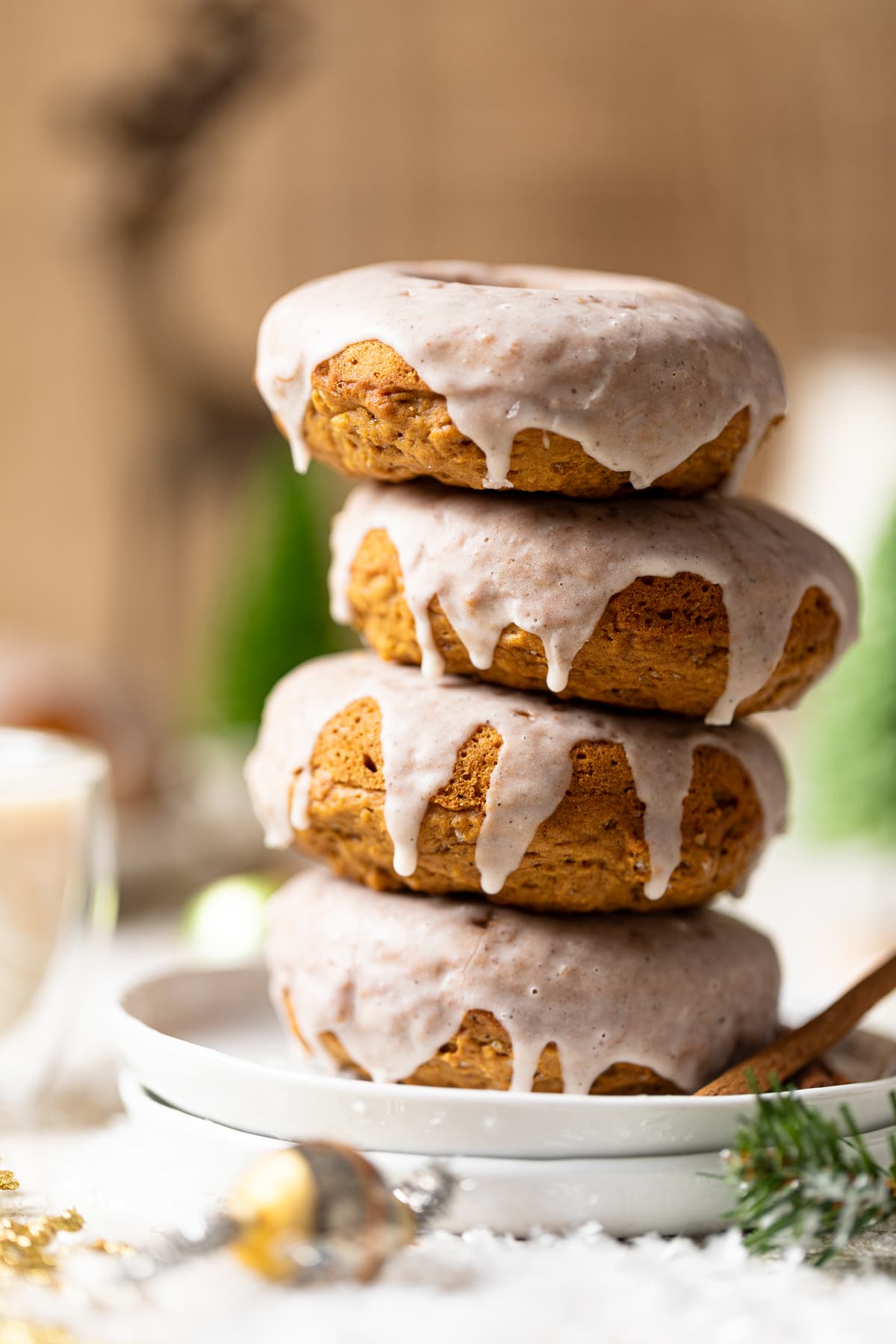 Simple Chai Glaze
A quick chai glaze adds shine, flavor, and extra sweetness to these vegan gingerbread donuts. To make a simple glaze while the donuts cool, you'll need:
2 cups of powdered sugar
1 teaspoon chai mix
1 teaspoon vanilla extract
1-2 tablespoons unsweetened coconut milk or other non-dairy milk
Simply mix all of the ingredients together in a medium bowl. Add more milk, 1 tablespoon at a time, or more powdered sugar, 1 teaspoon at a time,  to reach your desired thickness. The glaze should be drizzle-able but not so runny that it runs off of the donuts. 
This easy dairy-free glaze recipe is good to keep in your back pocket. It works just as well on donuts as it does on cupcakes and cookies. It's the perfect vegan icing for people who aren't fond of frosting.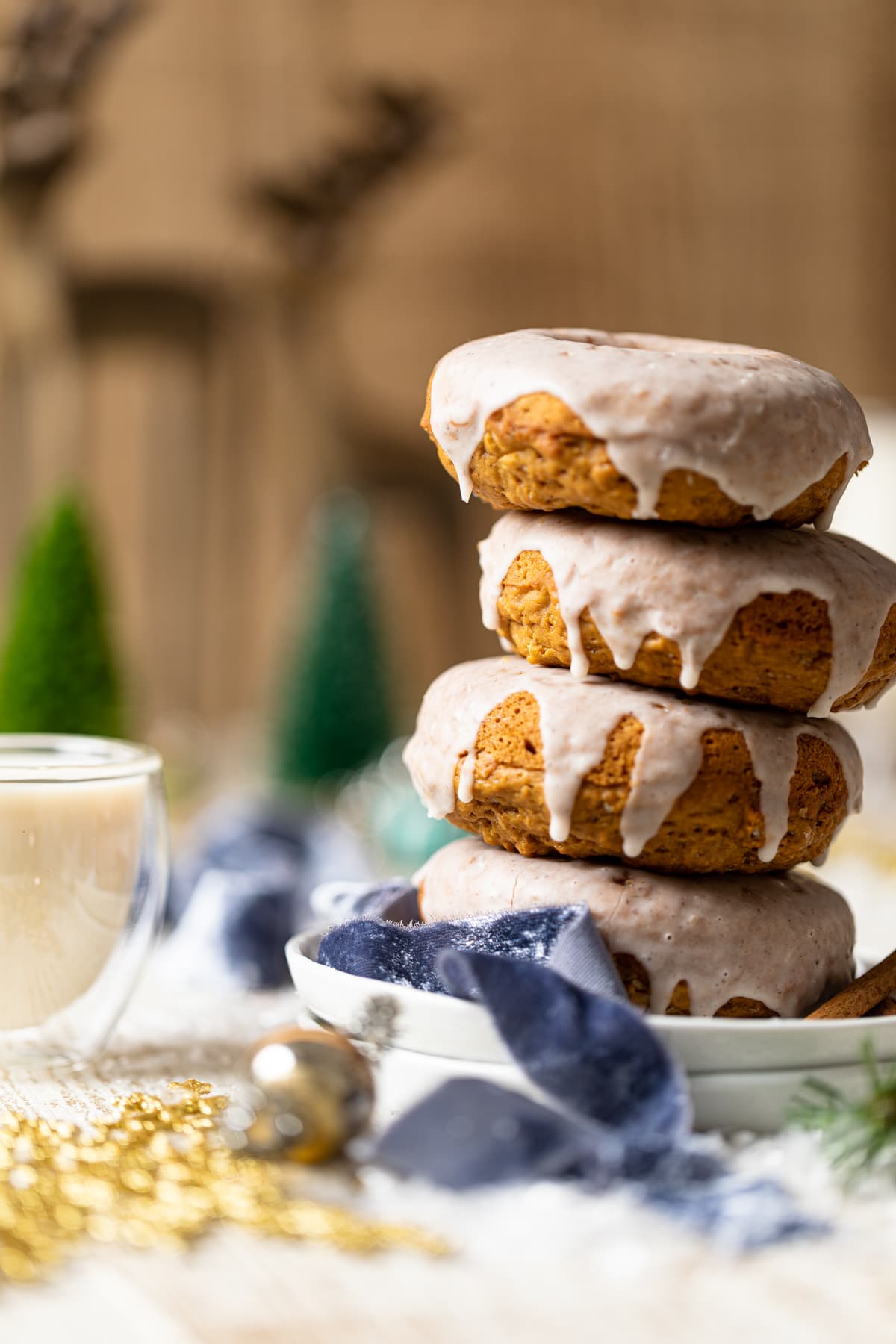 REGULAR MOLASSES VS. BLACKSTRAP MOLASSES?!
OK, so if you aren't aware, there are two types of Molasses—-regular and blackstrap.
While most people use regular molasses which is literally 'bittersweet', I tend to use blackstrap molasses in all of my recipes as a way to cut back on the sugar content.
Blackstrap is hardly used by many due to it's bitterness and 'heaviness' when use din baking since it can make the texture of your baked goods more thick and dense if not used correctly.
That's why I use only HALF THE AMOUNT of molasses that a recipe might otherwise require. That way, I get the darker color (not too dark) without compromising the texture or taste. Don't worry—I make a not of this in the recipe below as well.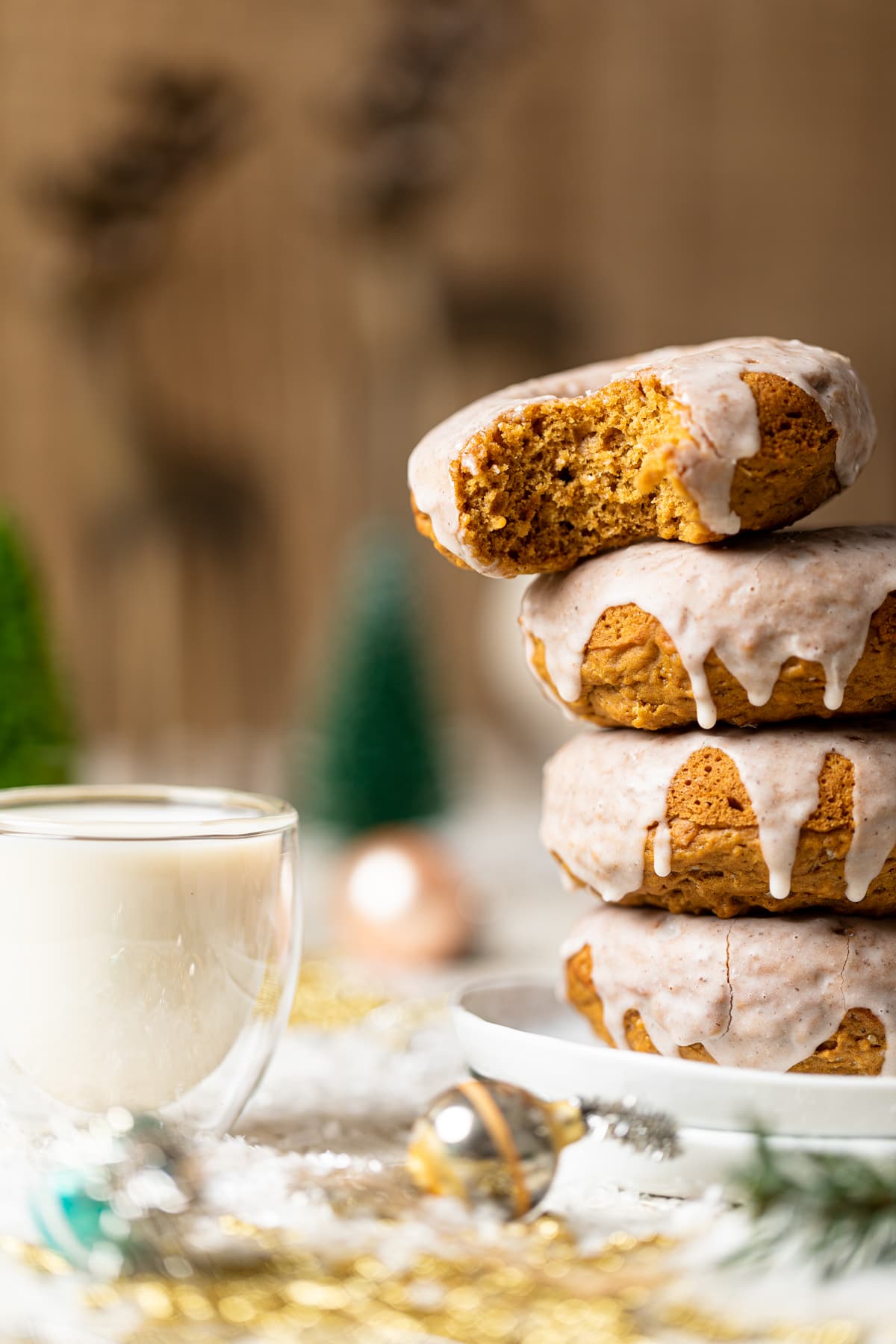 More Vegan Donut Recipes
For more popular dairy-free doughnut recipes, check out these:
Vegan Red Velvet Baked Donuts
Vegan Peppermint Brownie Donuts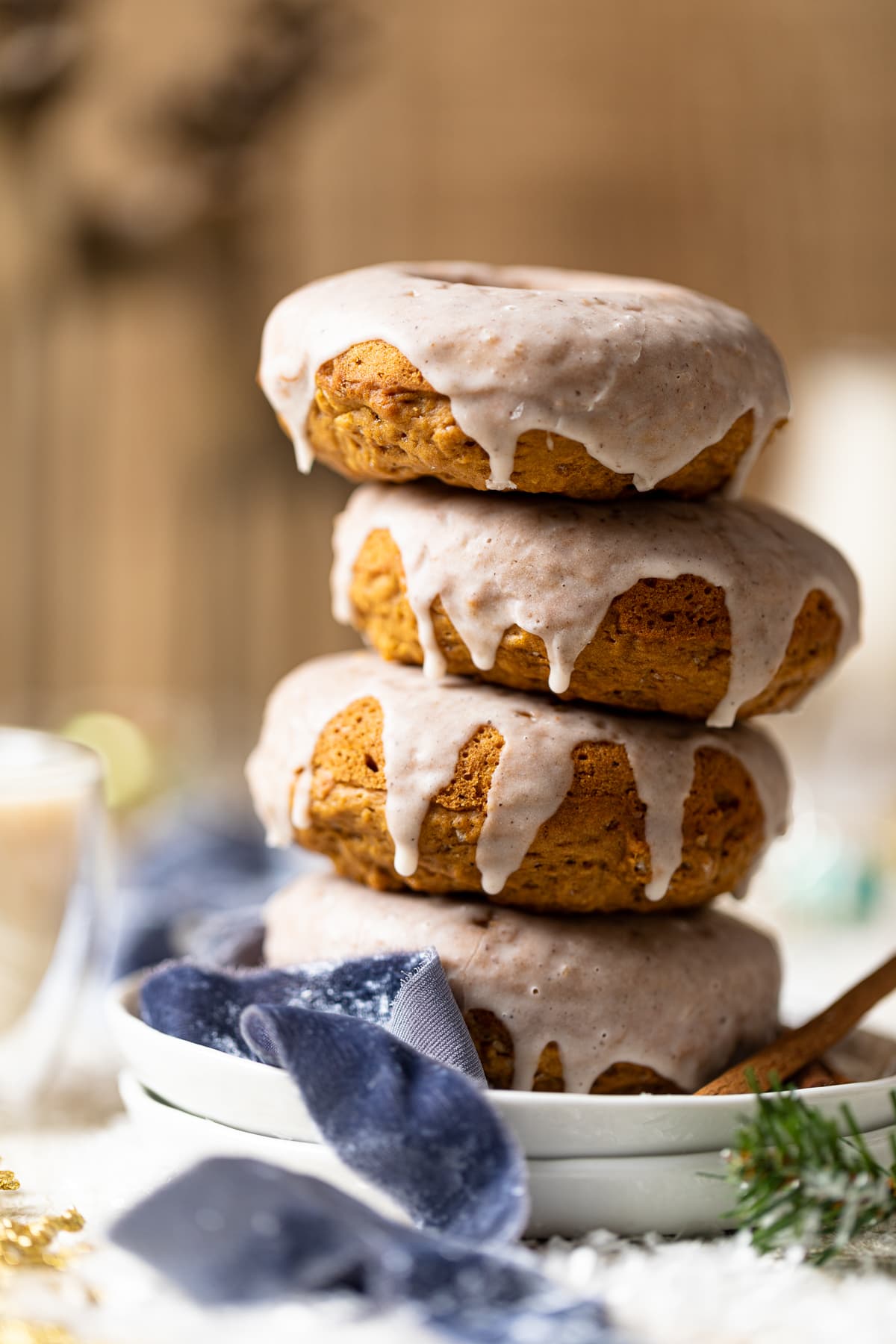 MADE OUR RECIPE(S)?
If you choose to make these Vegan Gingerbread Donuts with Chai Glaze or any other recipe from us, be sure to tag us on Instagram at #Orchidsandsweettea so that we can share the love!
DONUTS:
1 ½

cups

organic all-purpose flour

2

tsps

baking powder

¼

teaspoon

baking soda

½

cup

organic brown sugar

1

teaspoon

ground ginger

1

teaspoon

ground cinnamon

½

teaspoon

ground nutmeg

¼

teaspoon

ground cloves

¼

teaspoon

sea salt

⅛

teaspoon

ground allspice

¾

cup

Almond milk

(You can use your favorite plant-based milk!)

¼

cup

molasses

(See Notes!)

3

Tbsps

vegan butter, melted

(See Notes!)

1

teaspoon

vanilla extract

1

teaspoon

apple cider vinegar 
TO MAKE THE DONUTS:
Preheat oven to 375 degrees Fahrenheit and spray your donut baking pans that has 6-wells.

In a bowl, add the milk + apple cider vinegar, whisking together well and letting it sit aside for 2-3 minutes. Then add the melted butter, molasses, vanilla, and whisk everything together.

In a separate bowl, sift together the flour, baking powder, baking soda, sugar cinnamon, ginger, nutmeg, cloves, allspice, and sea salt. Finally, stir in the dry ingredients until just well combined and batter is thick and smooth, about 2-3 minutes.

Spoon the batter into a piping bag and pipe batter it into prepared donut pan wells, filling them about ¾ of the way.

Bake for 10-13 minutes or until toothpick inserted into donuts comes out clean.

Remove from oven and allow to cool for 5 minutes before releasing the donuts from their pan and unto a cooling rack to cool completely.
TO MAKE THE CHAI GLAZE:
Whisk together the powdered sugar, chai spice mix, Almond milk, and vanilla until smooth and consistency is met. NOTE: For a thicker glaze, add additional powered sugar (1 tablespoon at a time) until consistency is met. For a desired thinner glaze, add additional milk (1 tablespoon at a time) until consistency is met.

Once fully cooled, dip each donut into the prepared chai glaze and set them back onto cooling rack so that glaze hardens a bit. Repeat until all donuts are glazed.

Bon Appetit!
STORAGE: Can be stored in a tightly sealed container and best if placed in the refrigerator for up to 3 days for ultimate freshness.
FLOUR: If you want your donuts to be more of a 'cakey' texture, substitute 1 cup of All-purpose flour with Super-Fine Cake Flour. 
OIL: Instead of vegan butter, you can also use vegetable or coconut oil, if preferred.
SWEETENER: If you choose to opt out of pure cane sugar, you can always substitute with coconut sugar, Agave, or pure maple syrup instead. For liquid sweeteners, just adjust the amount of milk used by reducing it by 2 Tbsps to start.
GLUTEN-FREE VERSION: To make these donuts GF, I recommend using a GF Flour Blend (Bob's Red Mills has a great version!). **NOTE: If the donuts mixture is too 'thin + runny', simply add additional GF flour, ¼ cup at a time.**
CHAI SPICE MIX: 2 Tbsps cinnamon, 1 teaspoon nutmeg, 1 teaspoon ginger, 1 teaspoon allspice, 1 teaspoon cardamom, ½ teaspoon ground cloves
Calories:
288
kcal
|
Carbohydrates:
96
g
|
Protein:
4
g
|
Fat:
7
g
|
Saturated Fat:
1
g
|
Polyunsaturated Fat:
2
g
|
Monounsaturated Fat:
3
g
|
Trans Fat:
1
g
|
Sodium:
385
mg
|
Potassium:
277
mg
|
Fiber:
1
g
|
Sugar:
29
g
|
Vitamin A:
3
IU
|
Vitamin C:
0.1
mg
|
Calcium:
175
mg
|
Iron:
3
mg
Vegan Gingerbread Donuts + Chai Glaze.