This warming and spiced Vegan Chai Ginger Bread loaf is dairy-free, egg-free and heavily flavored with Jamaican seasonings, including cinnamon, ginger, and allspice.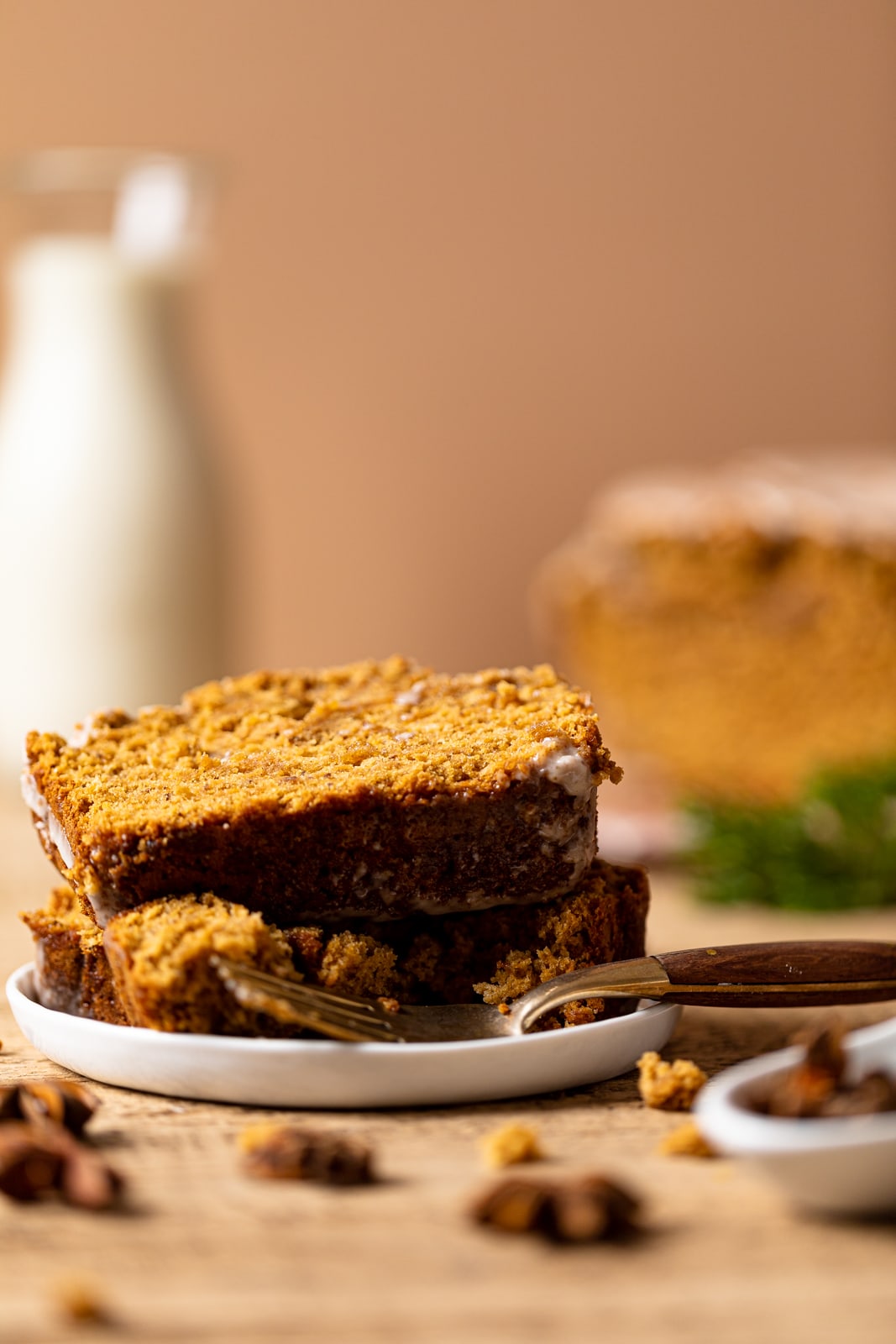 I'm thrilled to share this little slice of my Jamaican culture with you today. This loaf is full of flavors that you'll find in Jamaican cuisine, especially ginger and allspice. If you're looking for more highly flavorful, Jamaican-inspired recipes, be sure to check out my cookbook!
It's jam-packed with healthy, unique and delicious recipes for breakfast, dinners, desserts and more.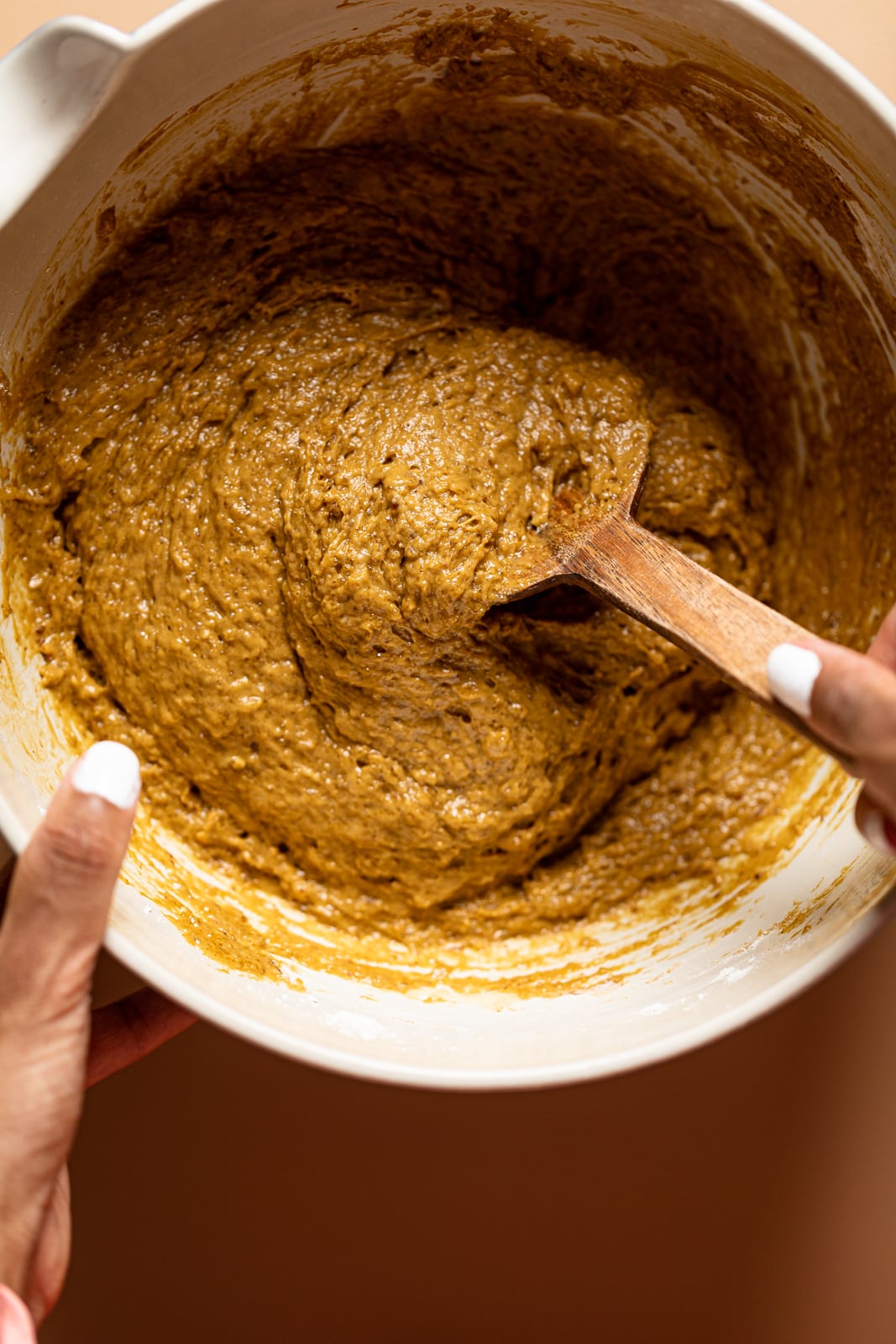 Ingredients for Chai Ginger Bread
The foundation for this bread is all of the spices. Here's what you need to make this moist and dense treat:
Flour. I use organic all-purpose flour to make sure it's vegan.
Brown sugar. Likewise, you'll want to use organic if you're vegan.
Baking powder to lighten your loaf.
Flax eggs. You'll need ground flax meal and water to make this egg-free binding agent.
Spices. Ginger, cinnamon, and allspice make a great trio to flavor this loaf.
Molasses. For the signature gingerbread flavor.
Oat milk. You can use your favorite plant-based milk. I love oat!
Golden syrup. You can use maple syrup instead.
Vegan butter. I like Earth Balance vegan buttery sticks for baking.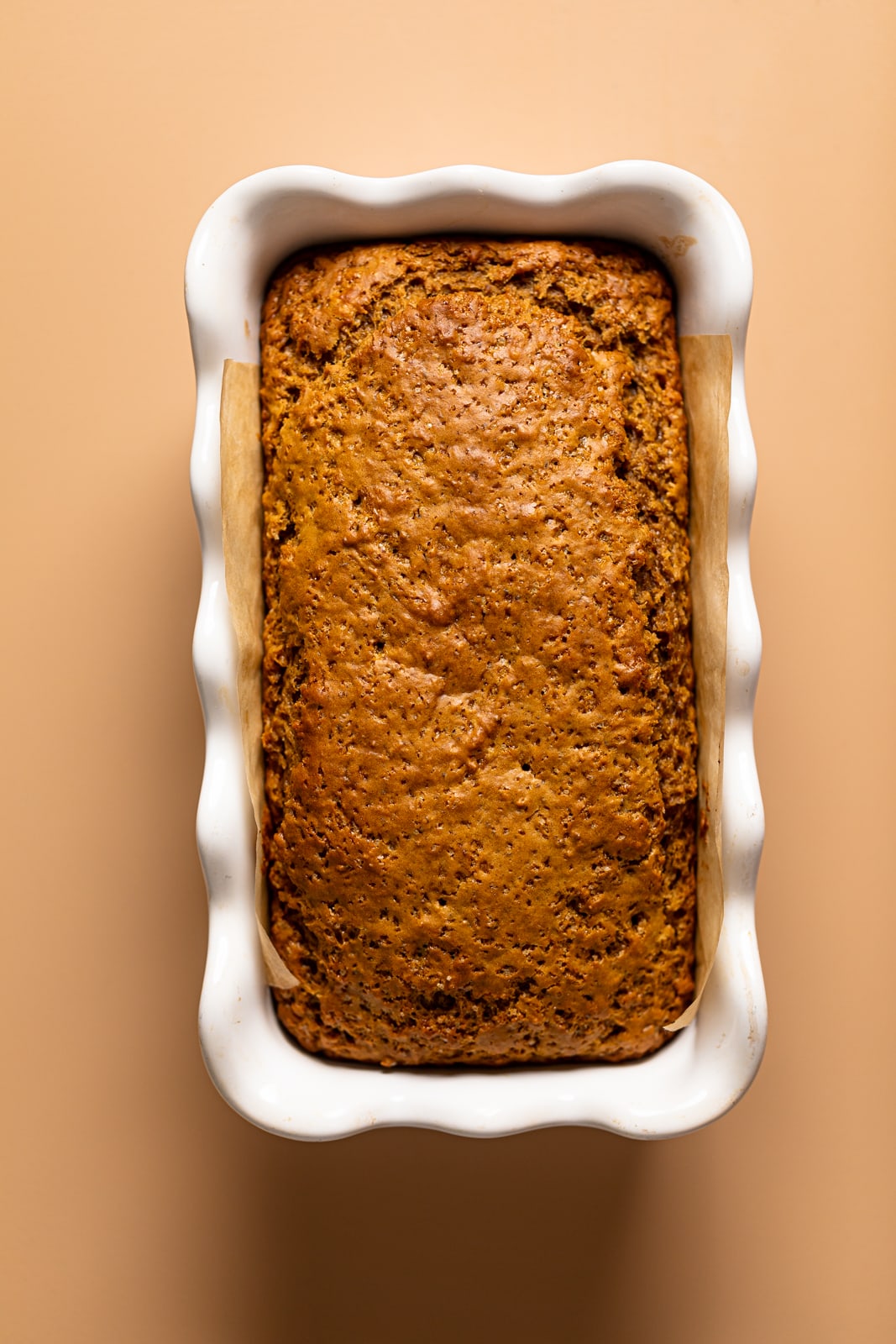 Chai Glaze
To finish off this sweet treat, add a drizzle of a three-ingredient glaze. All you need to make the glaze is:
Powdered sugar. If you use granulated sugar, your glaze may come out gritty and unpleasant.
Chai spice mix. You can make your own! See the notes below the recipe.
Oat milk. Again, any plant-based milk will work.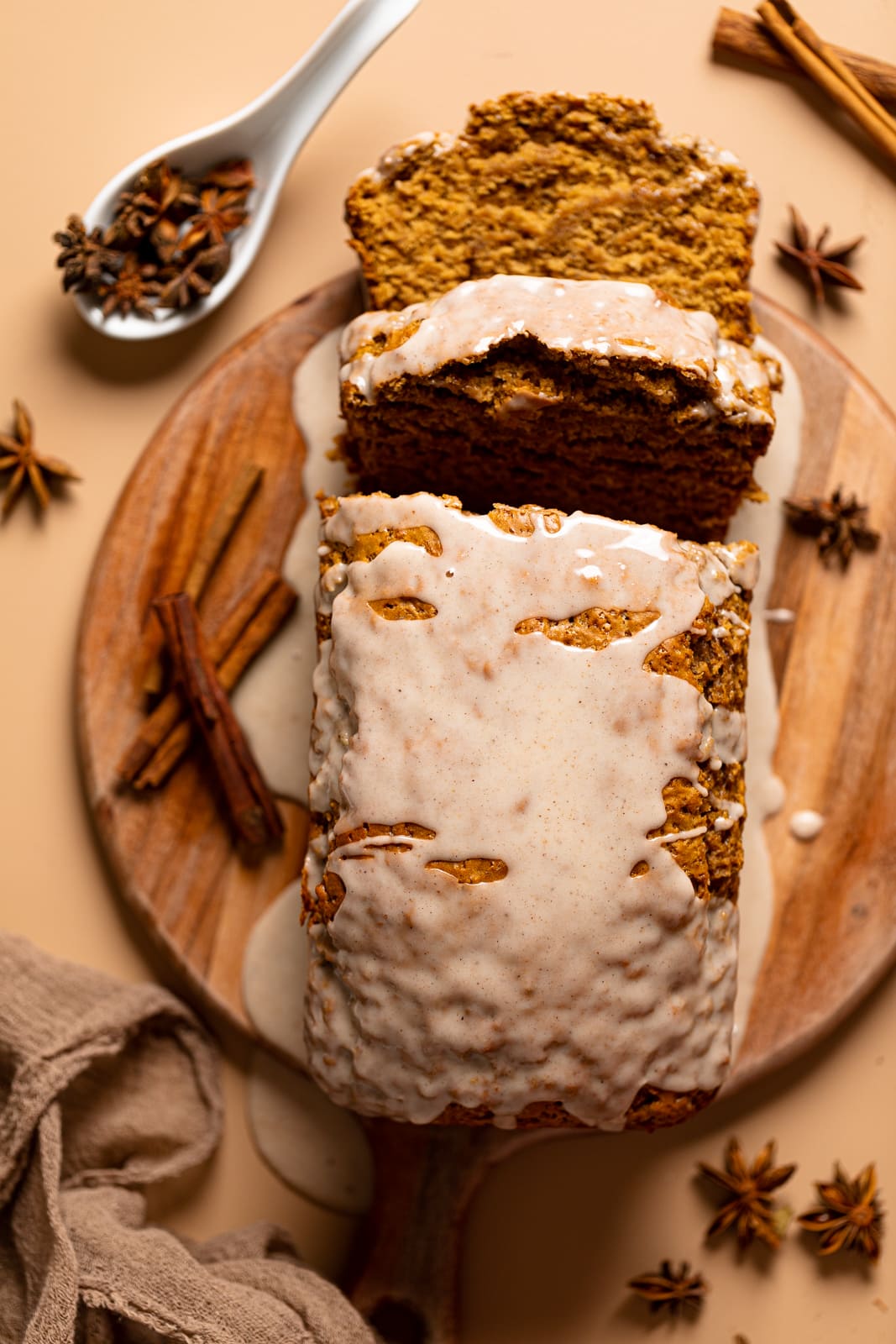 Gluten-Free Gingerbread Loaf
This recipe is already vegan, but it's easy to make gluten-free too. Simply replace the all-purpose flour with gluten-free all-purpose. I like Bob's Red Mill brand. If you find that the loaf batter is too thin, add more flour, 1/4 cup at a time, mixing well between additions.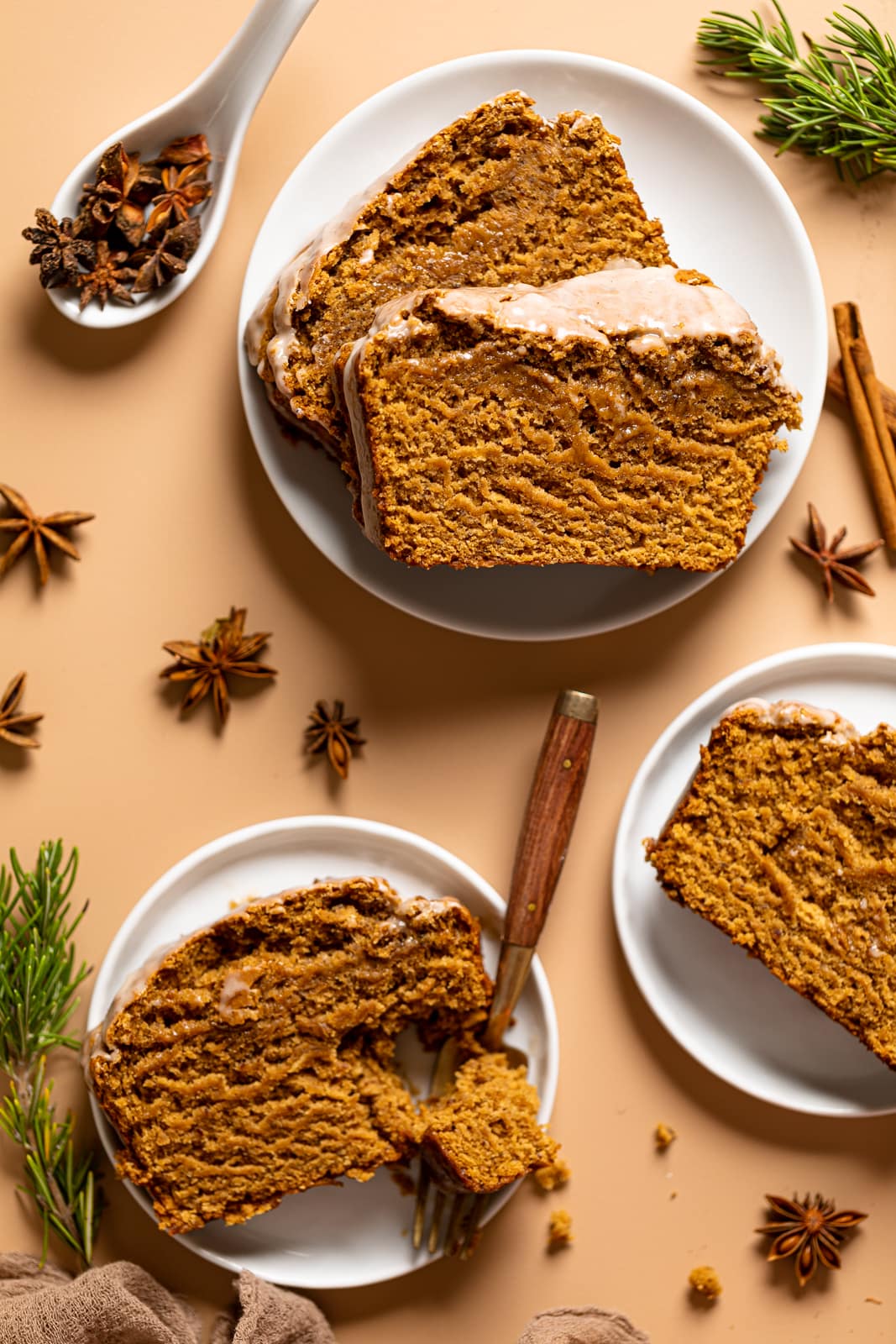 Serving Suggestions
Wait to glaze your gingerbread loaf until it's fully cooled. Then, simply slice and serve! You can enjoy this cake for breakfast, as a snack or for dessert. It's sweet enough without being overwhelming.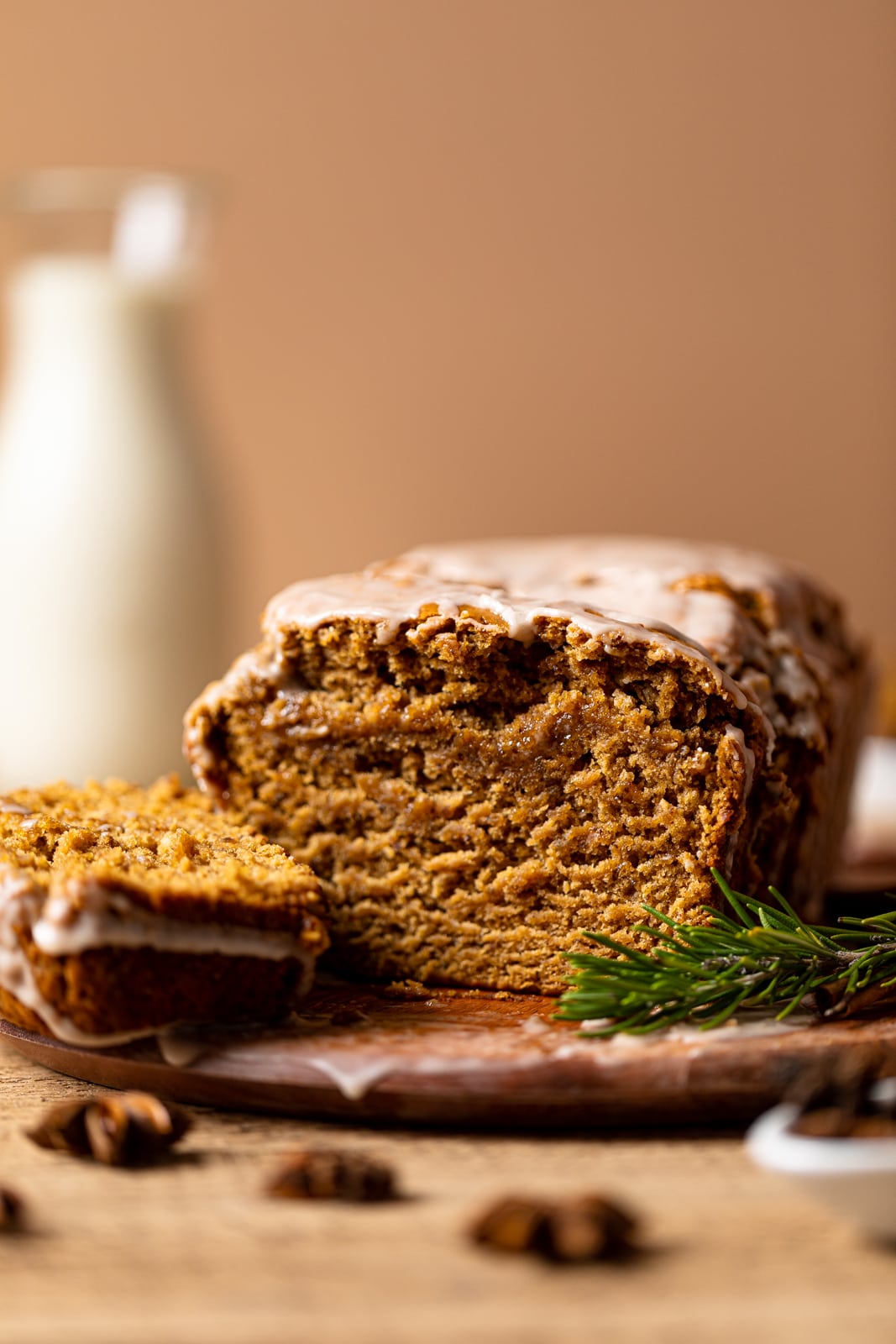 Storing Leftovers
Store leftover gingerbread loaf tightly wrapped in foil or reusable wrap. It will stay fresh at room temperature for up to two days. Or up to a week in the fridge. For longer storage, pop the loaf into the freezer for up to six months.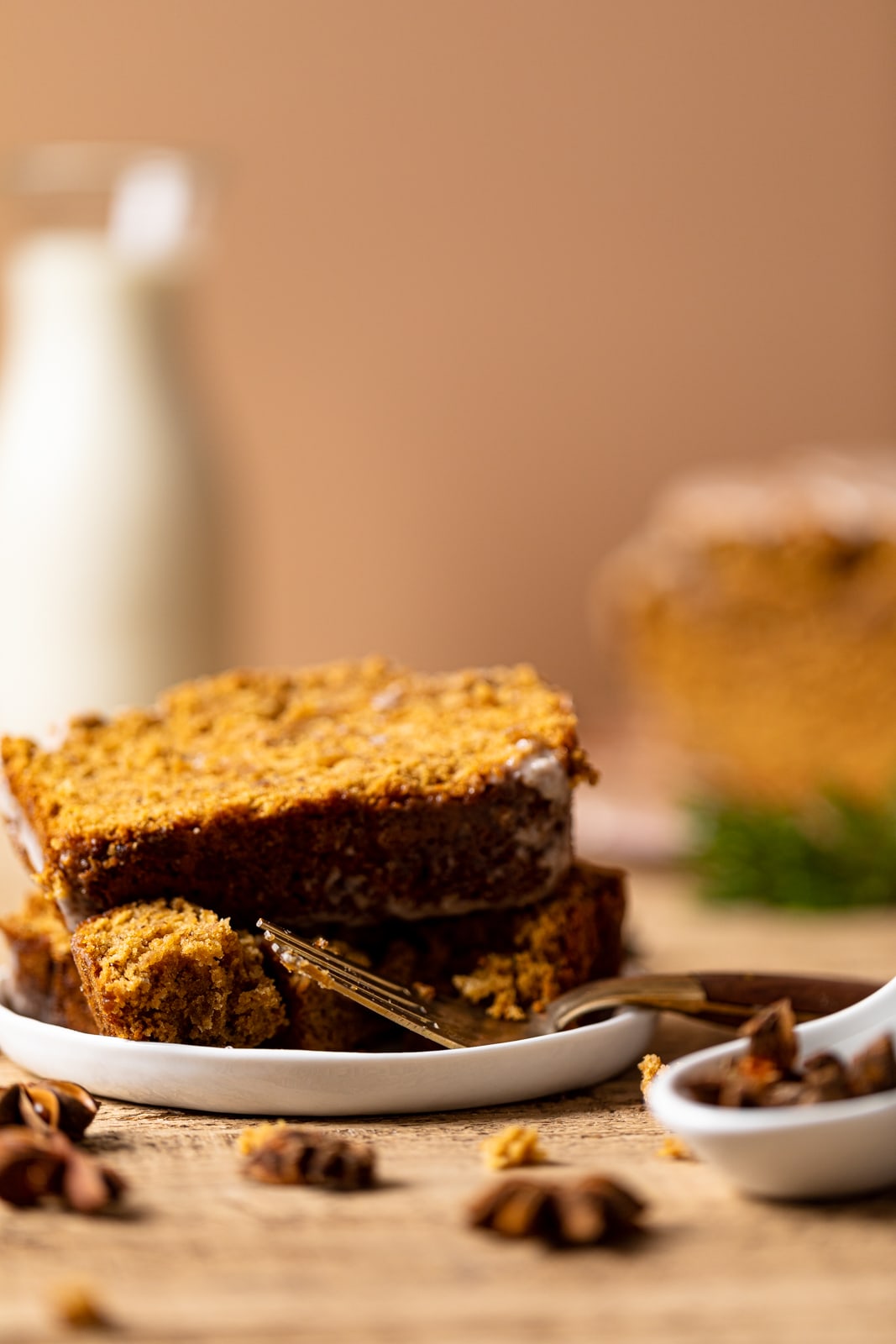 More Healthy Vegan Dessert Recipes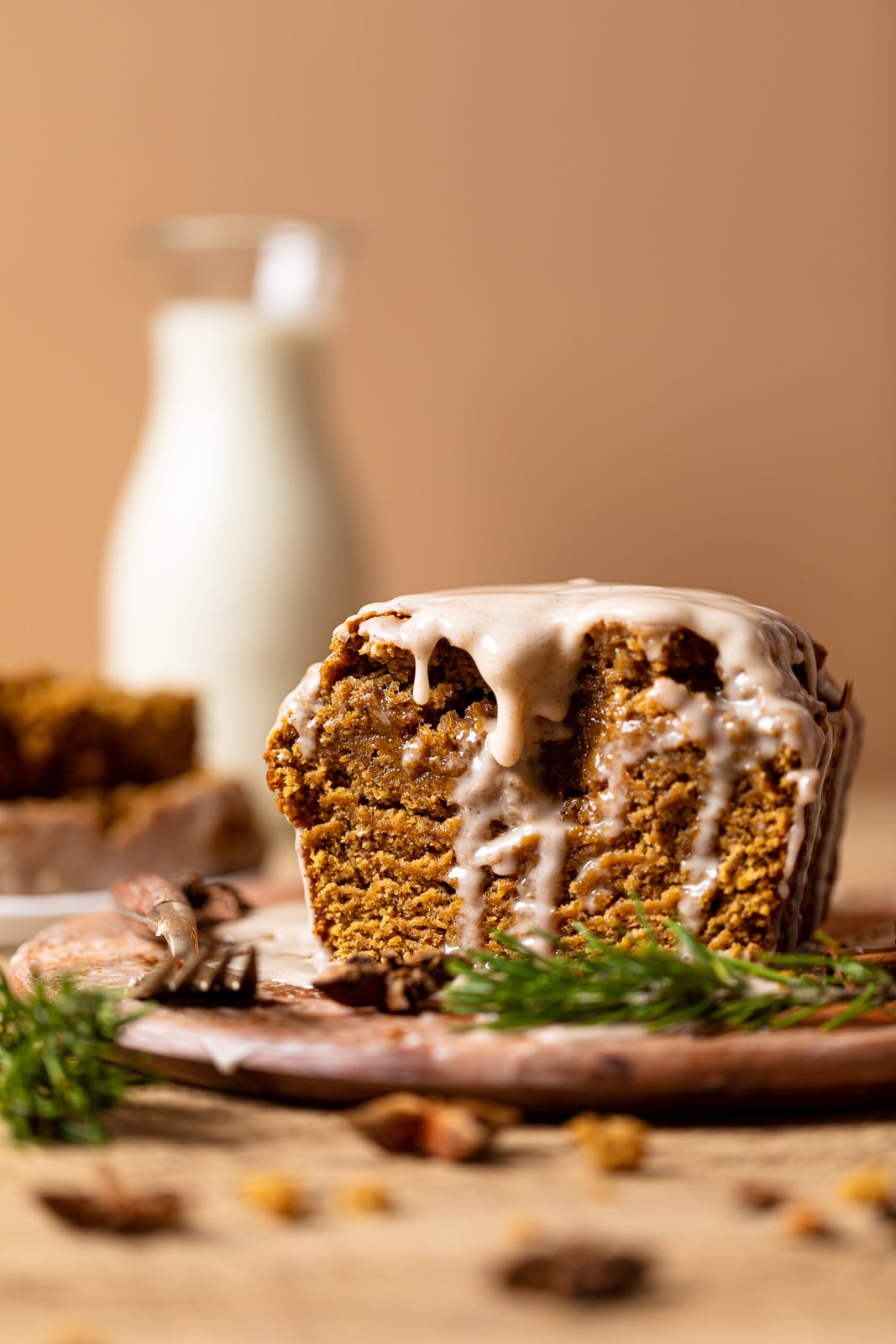 If you make this Vegan Chai Ginger Bread recipe, tag @orchidsnsweettea_ on Instagram and hashtag it #orchidsandsweettea
BREAD:
3

cups

organic all-purpose flour

1

cup

organic brown sugar

2

tsps

baking powder

2

flax 'eggs'

(2 Tbsps flaxseed meal + 6 Tbsps water)

1 1/2

Tbsps

ground ginger

1

Tbsp

ground cinnamon

1

tsp

ground allspice

1/2

tsp

sea salt

3

Tbsps

molasses

1 1/2

cups

Oat milk, homemade or store-bought

(You can use your fave plant-based milk;See Notes!)

2

tsps

golden syrup

(See Notes!)

4

Tbsps

vegan butter, melted
CHAI GALZE:
2

cups

organic powdered sugar

1

tsp

chai spice mix

(See Notes!)

1-2

Tbsps

Oat milk
TO MAKE THE BREAD:
Preheat your oven to 375 degrees Fahrenheit and line a loaf pan with parchment paper and lightly grease it using vegan butter or coconut oil.

In a small bowl, mix together the flaxseed meal and water and let sit for 5 minutes until the mixture thickens and becomes "paste-like".

In a large bowl, combine the molasses, melted vegan butter, golden syrup, flax 'eggs', and milk, whisking them together until well combined.

Next, stir in both flours, baking powder, organic brown sugar, ginger, cinnamon, allspice, and sea salt and mix until well incorporated! **NOTE: DO NOT OVER-MIX!**

Pour batter in the prepared loaf pan (evenly spreading it out).

Bake for 55-60 minutes, or until a toothpick or knife that is inserted in the middle comes out clean. **NOTE: Midway, I like to poke VERY SMALL holes all over the bread to allow heat to penetrate through and to ensure it cooks through.**

Once done, remove bread from oven and let it cool for 10-15 minutes before gently removing it from loaf pan to cool completely.
TO MAKE THE CHAI GLAZE:
In a bowl, whisk together the powdered sugar, chai spice mix, and milk, until smooth and the glaze is thick enough, but slowly slides off whisk when lifted. NOTE: If too thick, add 1 Tbsp of milk; if too thin, add 1-2 Tbsps more of the powdered sugar.

Once cooled, drizzle the glaze atop bread, slice and enjoy!

Bon Appetit!
STORAGE: Refrigerate leftover bread by tightly wrapping it in foil paper or keeping it fully covered in a cake stand—lasts up to a week. Can also be stored at room temperature for up to 2 days.
GLUTEN-FREE VERSION: To make this bread GF, I recommend using a GF Flour Blend (Bob's Red Mills has a great version!). **NOTE: If the bread mixture is too 'thin + runny', simply add additional GF flour, 1/4 cup at a time.**
CHAI SPICE MIX: 2 Tbsps cinnamon, 1 tsp nutmeg, 1 tsp ginger, 1 tsp allspice, 1 tsp cardamom, 1/2 tsp ground cloves.
SWEETENER: If you choose to opt out of brown sugar, you can always substitute with coconut sugar, Agave, or pure maple syrup instead. For liquid sweeteners, just adjust the amount of milk used by reducing it by 2 Tbsps to start.
WHAT PLANT-BASED MILKS ARE GOOD FOR THIS RECIPE? My go-to plant-based brand for Oat milk when using store-bought is the Forager Project. However, you can always use your fave or one of the following: Almond, coconut milk, homemade oat milk (froths/foams VERY WELL), flax milk, etc.
Vegan Chai Ginger Bread.