Vegan Chai Ginger Bread--- A delightful quick bread that's both easy to make and incredibly delicious, perfect for your tea-time or dessert cravings. This loaf is generously seasoned with a blend of Jamaican spices. Cinnamon brings an earthy warmth, ginger adds a zesty kick, and allspice contributes a sweet depth, creating a harmonious symphony of flavors that infuse each moist, fluffy bite. Savor this delightful treat alongside a cup of tea or coffee for the ultimate comforting cozy moment! Gluten-free option.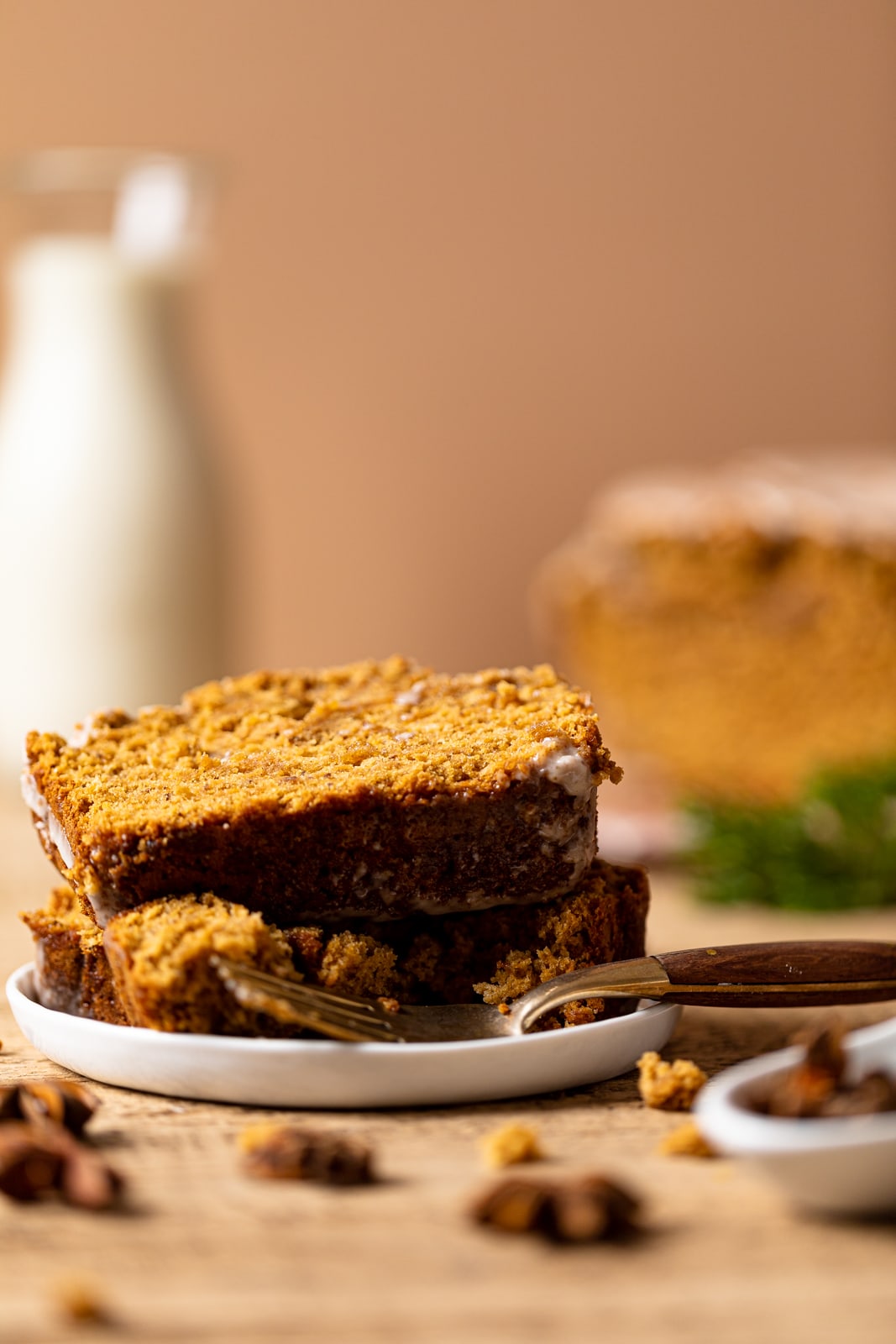 Why Vegan Chai Ginger Bread?
Vegan Chai Ginger Bread-- Loaded with just the right amount of sweetness with a nice hint of spice. We're making it a wholesome, soothing treat by adding a healthy amount of chai glaze with pleasant fall spices. I'm thrilled to share this little slice of my Jamaican culture with you today. This loaf is full of flavors that you'll find in Jamaican cuisine, especially ginger and allspice. All the warming spices of cozy chai make this feel like the winter/Jamaican version of my vegan pumpkin bread!

If you're looking for more highly flavorful, Jamaican-inspired recipes, be sure to check out my cookbook + my list of 22 Jamaican Foods You Need To Try! All are jam-packed with healthy, unique, and delicious recipes for breakfast, dinners, desserts and more.
This Vegan chai spiced quick bread is a breeze, ready in just an hour. It's the ideal treat for those chilly, cozy days and all your fall baking sessions. With the perfect blend of sweetness + spices, it's totally vegan and dairy-free, so everyone can dig in. And if you're a chai-spice lover, don't miss out on my other chai-inspired creations like the Homemade Pumpkin Chai Cinnamon Rolls and Spiced Chai Cheesecake + Gingersnap Crust!
Jump to: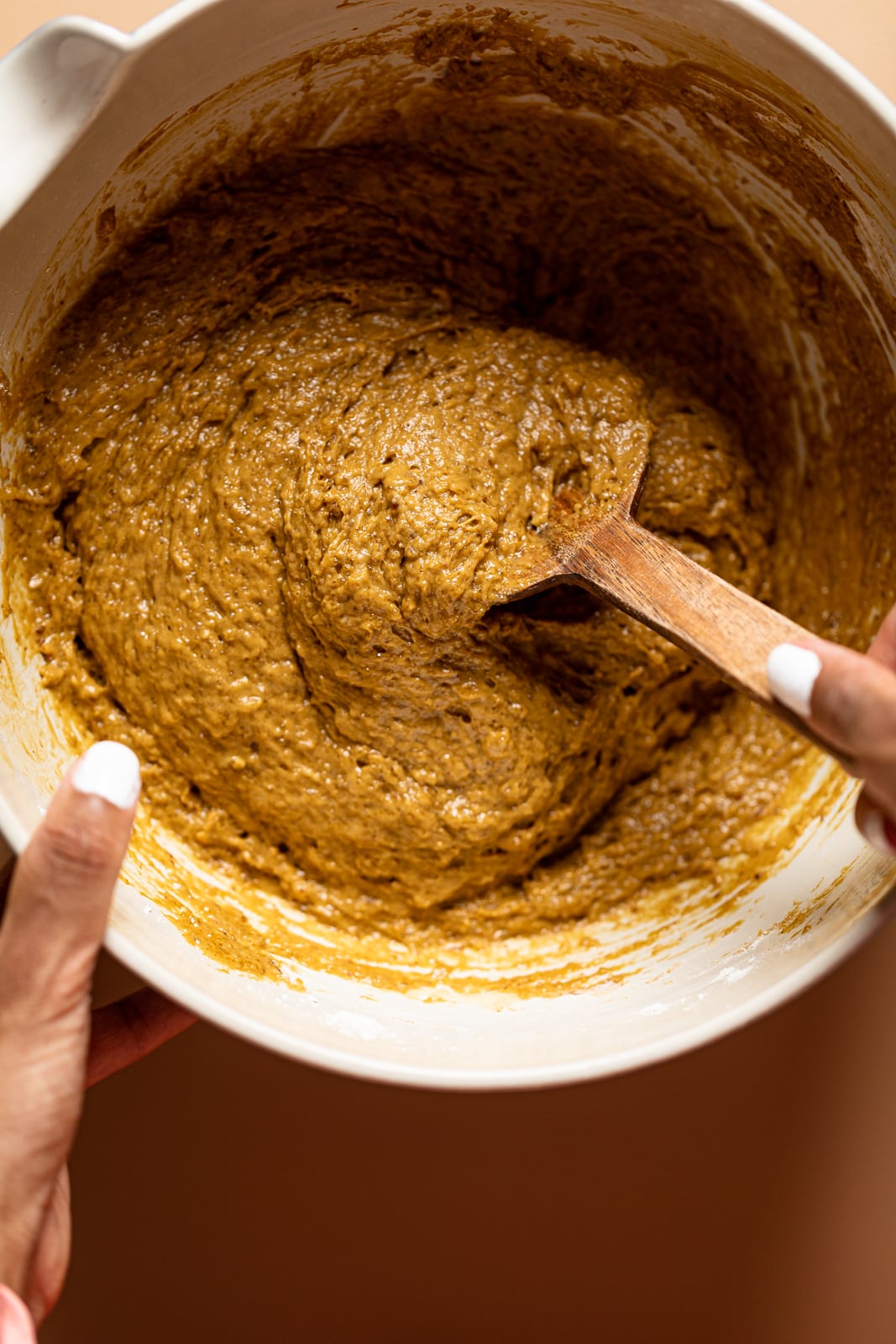 Ingredients for Chai Ginger Bread
The foundation for this bread is all of the spices. Here's what you need to make this moist and dense treat:
Flour. I use organic all-purpose flour to make sure it's vegan. (See notes for gluten-free option)
Brown sugar. Likewise, you'll want to use organic if you're vegan.
Baking powder to lighten your loaf.
Flax eggs. You'll need ground flax meal and water to make this egg-free binding agent.
Spices. Ginger, cinnamon, and allspice make a great trio to flavor this loaf.
Molasses. For the signature gingerbread flavor.
Oat milk. You can use your favorite plant-based milk. I love oat!
Golden syrup. You can use maple syrup instead.
Vegan butter. I like Earth balance for all things vegan butter!
Chai Glaze
To finish off this sweet quick bread, add a drizzle of a three-ingredient glaze. All you need to make the glaze is:
Powdered sugar. If you use granulated sugar, your glaze may come out gritty and unpleasant.
Chai spice mix. You can make your own! See the notes below the recipe.
Oat milk. Again, any plant-based milk will work. Try my homemade oat milk!
SHOP MY FAVORITE TOOLS FOR BAKING, ESPECIALLY FOR THIS CHAI BREAD!
Here, I've curated a list of baking essentials that I use to achieve my favorite baked goods, especially with this Vegan Chai Ginger Bread. Everything from my fave loaf pan, wooden spoons, parchment paper, and more. SEE THEM HERE!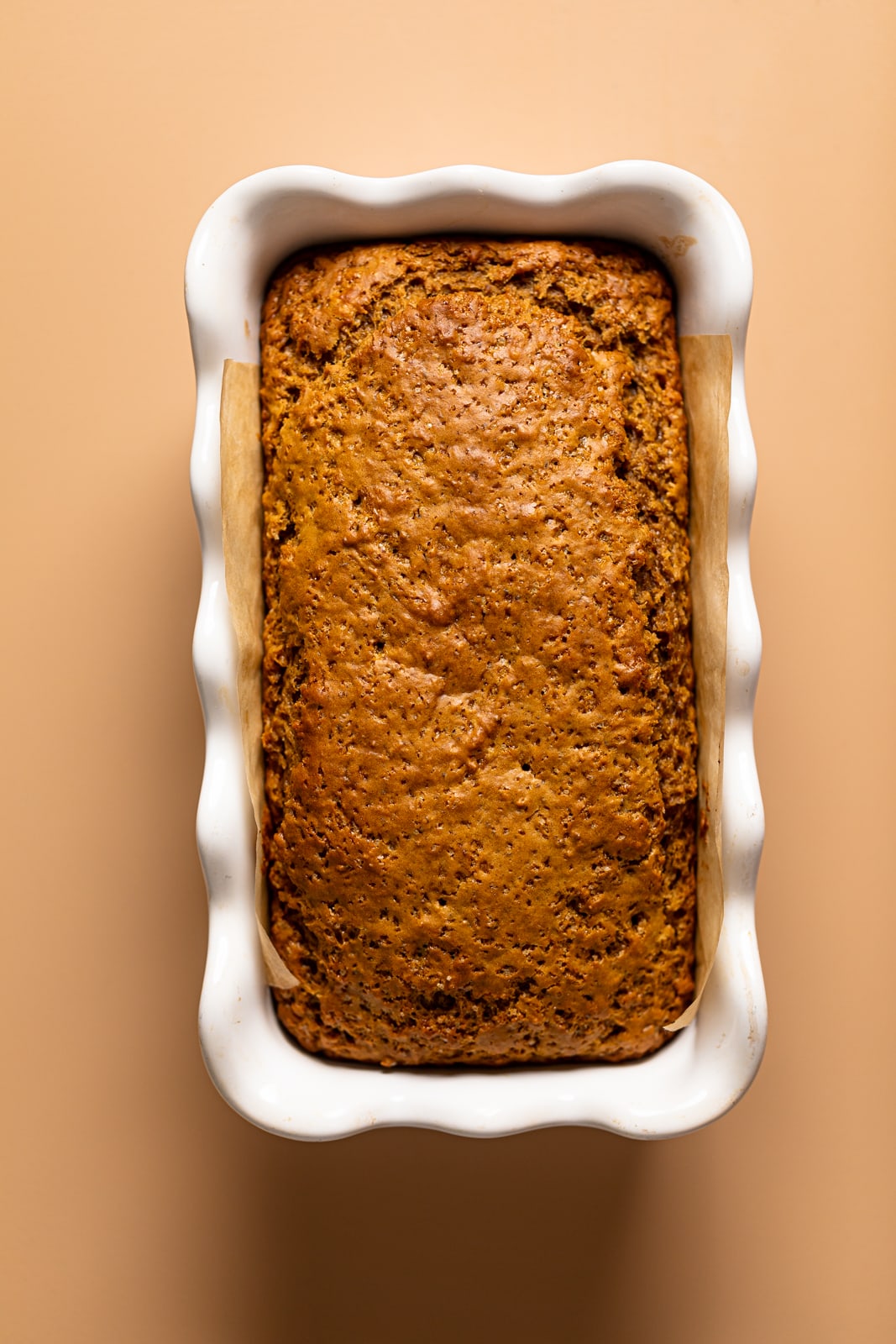 Why You Will LOVE This Vegan Chai Ginger Bread
Quick to prepare + ready in just 1 hour.
Perfect for cozy, chilly days + fall baking.
Strikes the ideal balance between sweetness + aromatic spices.
Vegan + dairy-free so all eaters can enjoy! + Gluten-free option.
Totally moist, fluffy + tender texture that's simply irresistible.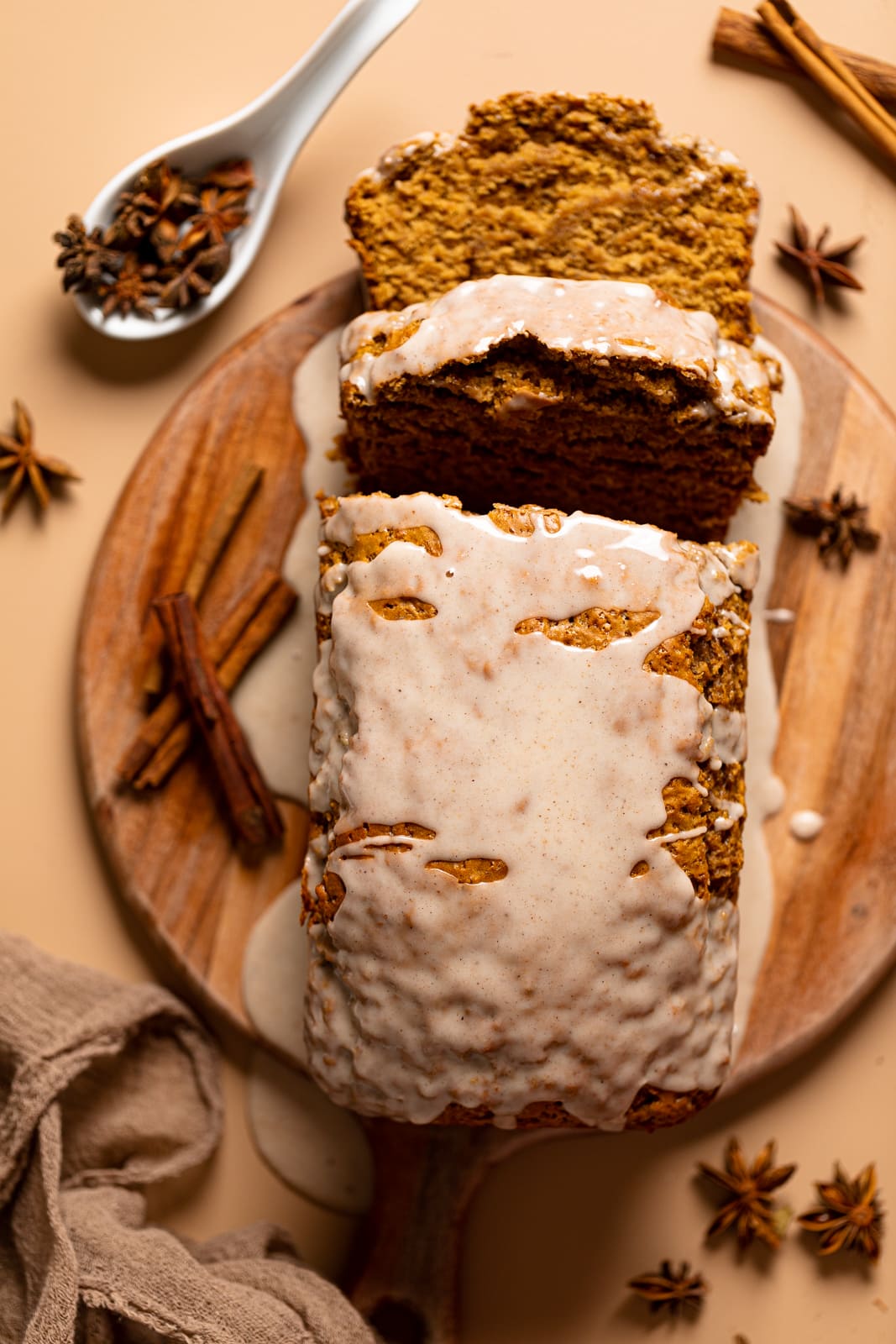 How To Make Your Own Chai Spice Mix
One of the essential elements of this vegan bread is the actual chai spice blend. It is very simple to make, plus, you can make a larger batch and save some for baking!
To make homemade Chai Spice, combine these spices:
2 Tbsps cinnamon
1 teaspoon nutmeg
1 teaspoon ginger
1 teaspoon allspice
1 teaspoon cardamom
½ teaspoon ground cloves
That's it! This delicious blend is perfect for lattes, cookies, cakes, pies, pudding, bread or all things chai-infused deliciousness!
Looking for a Healthier Sweetener Option?
The Best Healthy Sugar Alternatives + Substitutes list is all about finding better ways to enjoy your favorite sweets without compromising your healthy lifestyle. For those who follow a vegetarian and/or vegan lifestyle, this lists offers a few great ideas to incorporate healthy sweeteners into your diet.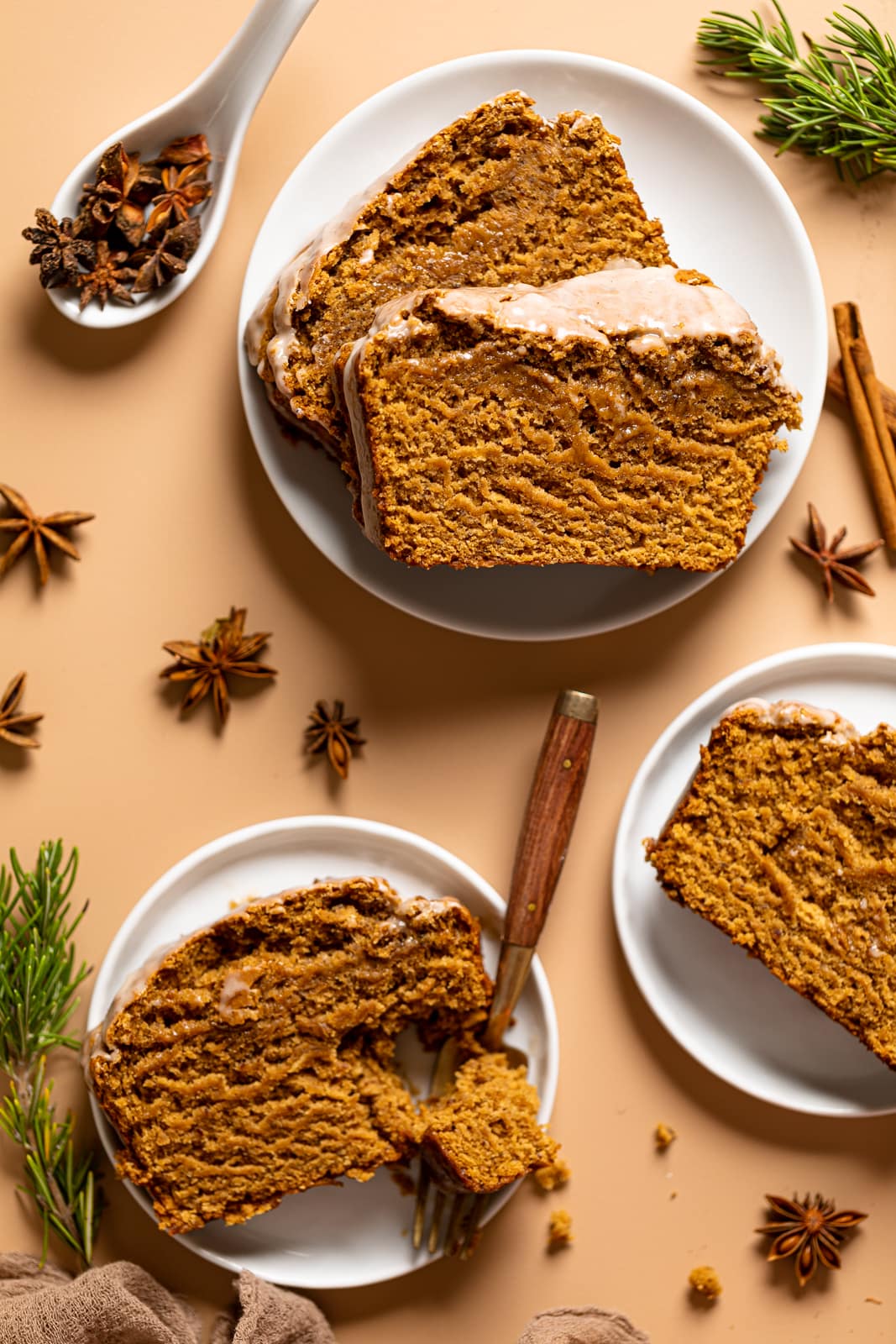 What Does This Vegan Chai Ginger Quick Bread Taste Like?
DELICIOUS
Chai-infused + a little warming spice from the ginger
Tender + moist
Perfectly naturally sweet
Subtly warmly spiced
Uber satisfying + mouthwatering
How to Serve Vegan Chai Ginger Bread
This sweet treat has a place at breakfast, brunch, or tea time. But it doesn't stop there. Here are a few more creative ideas on how to enjoy this Vegan Chai Ginger Bread:
Warm + fresh: Enjoy a slice while it's still warm from the oven. The crisp top and soft, moist interior make for a heavenly combination. You can savor it as is or add a pat of vegan butter or a drizzle of maple syrup for extra indulgence.

Toasted + topped: Toast a slice to add a delightful crunch to the already delicious bread. Once toasted, you can spread a layer of your favorite vegan cream cheese, nut butter, or even homemade fruit compote on top for a decadent twist.

Pair with a beverage: Chair bread pairs beautifully with a hot or iced coffee like this Iced Caramel Latte, or for my chocolate lovers try this Creamy Homemade Caramel Hot Chocolate

Ice cream sandwich: Get creative and turn your Vegan Chai Ginger Bread into a delightful ice cream sandwich. Slice the bread + scoop your favorite vegan ice cream like this Caramel Ice Cream or Butter Pecan Ice Cream in the middle, and enjoy a warm + cold creamy treat.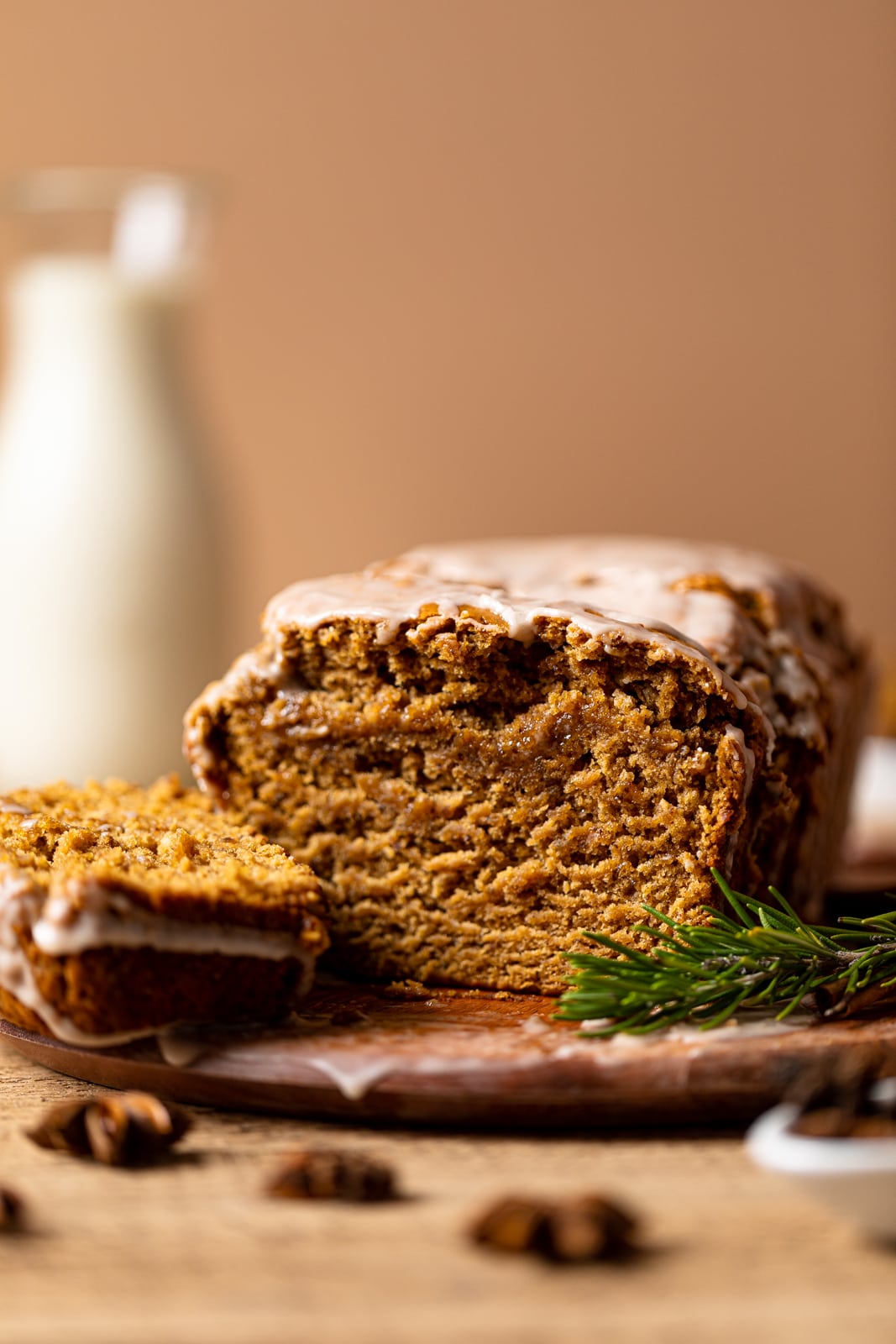 Tips For THE BEST Vegan Chai Ginger Bread
After a bit of trial and error with many types of breads, I've found that the following tricks have been full-proof in baking my quick breads perfectly:
ENSURE THAT YOUR BATTER IS THE "RIGHT" CONSISTENCY.
You want the batter to be "scoopable" which means that it's thick but also easily stirred versus really "liquidy" or super thick where it's hard to manage.
POKE HOLES!
Midway through the baking time, poke small holes (using a toothpick or cake tester) around the tops of the bread to allow for the heat to penetrate through more easily and cook everything evenly. NOTE: I do this twice. Once halfway through the baking time and the second time in the last 10-15 minutes.
PUT IT IN THE MIDDLE.
Place your bread in the middle rack so that it browns but doesn't burn since it's in the oven for at least 1 hour.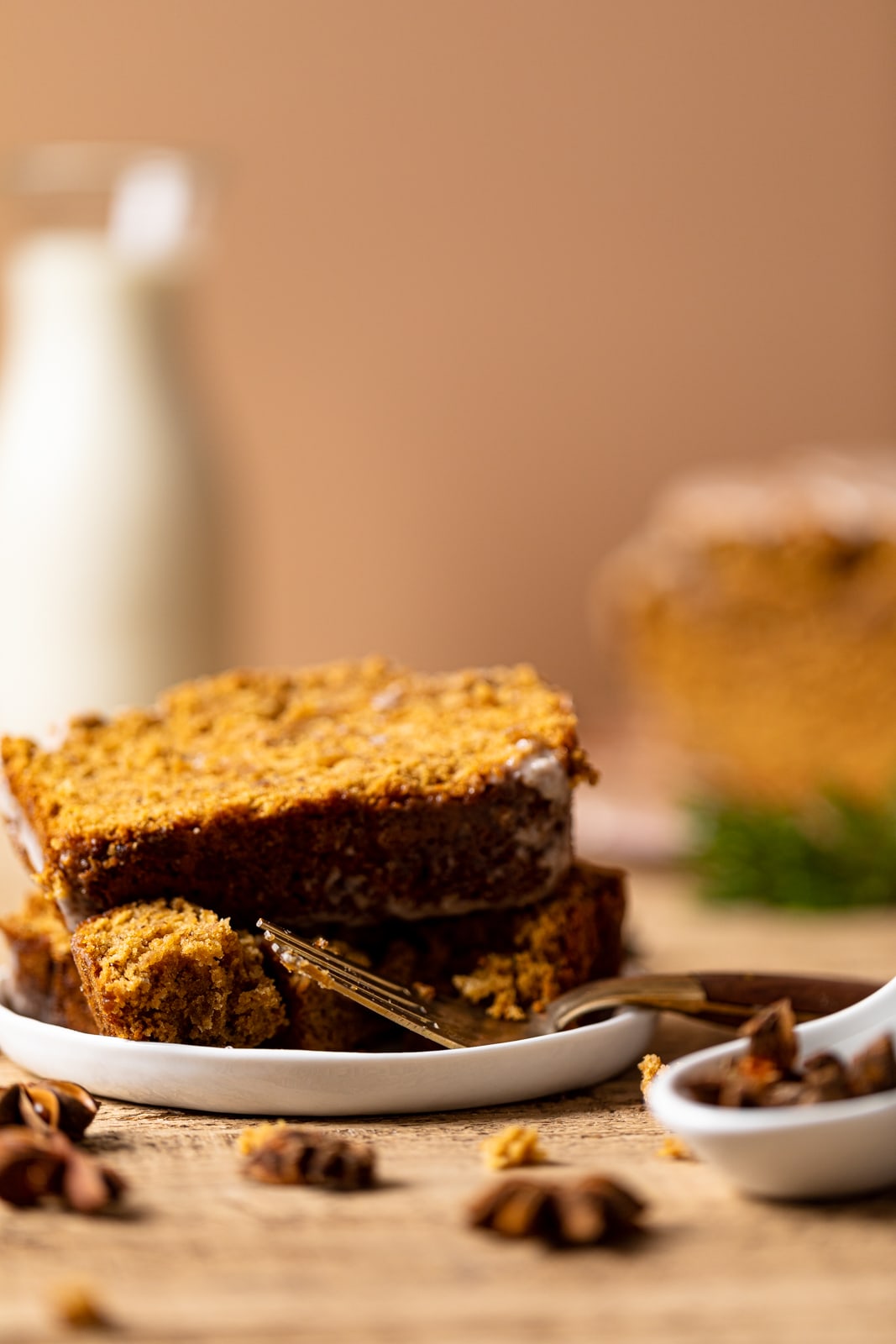 Can I Use Other Types of Milk For Quick Bread?
Absolutely! If you'd like to switch things up with the type of plant-based milk that you use—–that's totally fine! The world of plant-based milk is constantly expanding. From the classics like coconut milk, cashew milk, soy milk and almond milk, we now have delicious options like oat milk, and even potato and quinoa milk.
Best Substitutes for Molasses?
OK, so if you're not a fan of using molasses, then I completely understand. While molasses usually plays the most important role for the beautiful brown color in anything Gingerbread, there are definitely other options!
Dark Maple Syrup (Just be sure to reduce other liquids slightly to avoid an overly wet dough)
Dark Corn Syrup
DIY Mix: ½ honey + ½ brown sugar or ½ dark corn syrup + ½ maple syrup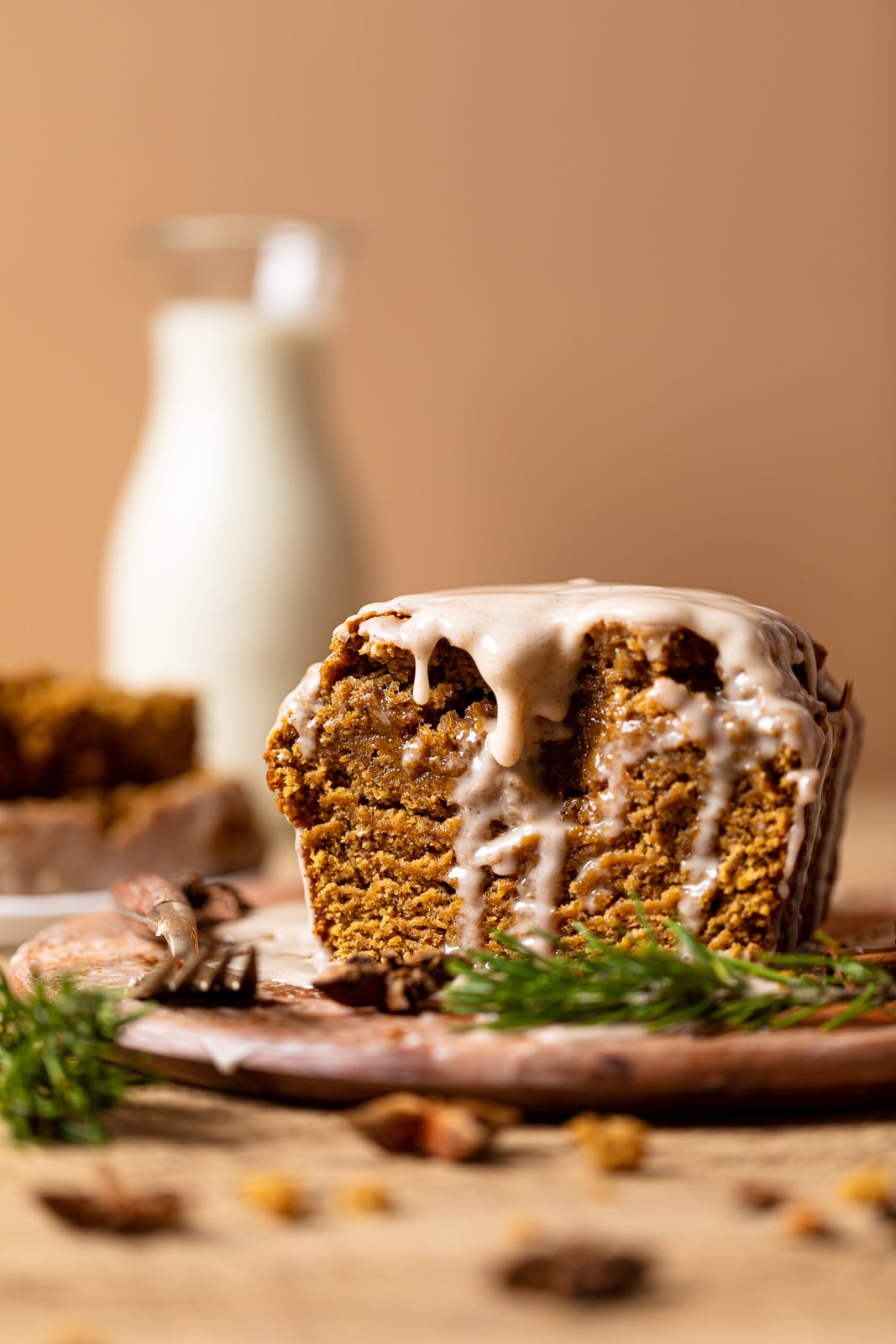 Common Chai Ginger Bread Q + A's
How to Store Leftover Chai Ginger Bread?
Store leftover gingerbread loaf tightly wrapped in foil or reusable wrap. It will stay fresh at room temperature for up to two days. Or up to a week in the fridge.
Can I freeze this vegan bread?
Yes! For longer storage tightly wrap in foil or reusable wrap and pop the loaf into the freezer for up to six months.
How to Make gluten-free?
This quick bread recipe is already vegan, but it's easy to make gluten-free too. Simply replace the all-purpose flour with gluten-free all-purpose. I like Bob's Red Mill brand. If you find that the loaf batter is too thin, add more flour, ¼ cup at a time, mixing well between additions.
Can I use another sweetener for this vegan quick bread ?
Yes! If you choose to opt out of brown sugar, you can always substitute with coconut sugar, Agave, or pure maple syrup instead. For liquid sweeteners, just adjust the amount of milk used by reducing it by 2 Tbsps to start.
More Delicious Vegan Dessert Recipes
MADE OUR RECIPE(S)?
If you tried my Vegan Chai Ginger Bread recipe or any other recipe on my website, please please leave a 🌟 star rating and let me know how you go in the 📝 comments below. I love hearing from you.
Total Time:
1

hour
10

minutes
BREAD:
3

cups

organic all-purpose flour

1

cup

organic brown sugar

2

tsps

baking powder

2

flax 'eggs'

(2 Tbsps flaxseed meal + 6 Tbsps water)

1 ½

Tbsps

ground ginger

1

tablespoon

ground cinnamon

1

teaspoon

ground allspice

½

teaspoon

sea salt

3

Tbsps

molasses

1 ½

cups

Oat milk, homemade or store-bought

(You can use your fave plant-based milk;See Notes!)

2

tsps

golden syrup

(See Notes!)

4

Tbsps

vegan butter, melted
CHAI GALZE:
2

cups

organic powdered sugar

1

teaspoon

chai spice mix

(See Notes!)

1-2

Tbsps

Oat milk
TO MAKE THE BREAD:
Preheat your oven to 375 degrees Fahrenheit and line a loaf pan with parchment paper and lightly grease it using vegan butter or coconut oil.

In a small bowl, mix together the flaxseed meal and water and let sit for 5 minutes until the mixture thickens and becomes "paste-like".

In a large bowl, combine the molasses, melted vegan butter, golden syrup, flax 'eggs', and milk, whisking them together until well combined.

Next, stir in both flours, baking powder, organic brown sugar, ginger, cinnamon, allspice, and sea salt and mix until well incorporated! **NOTE: DO NOT OVER-MIX!**

Pour batter in the prepared loaf pan (evenly spreading it out).

Bake for 55-60 minutes, or until a toothpick or knife that is inserted in the middle comes out clean. **NOTE: Midway, I like to poke VERY SMALL holes all over the bread to allow heat to penetrate through and to ensure it cooks through.**

Once done, remove bread from oven and let it cool for 10-15 minutes before gently removing it from loaf pan to cool completely.
TO MAKE THE CHAI GLAZE:
In a bowl, whisk together the powdered sugar, chai spice mix, and milk, until smooth and the glaze is thick enough, but slowly slides off whisk when lifted. NOTE: If too thick, add 1 tablespoon of milk; if too thin, add 1-2 Tbsps more of the powdered sugar.

Once cooled, drizzle the glaze atop bread, slice and enjoy!

Bon Appetit!
STORAGE: Refrigerate leftover bread by tightly wrapping it in foil paper or keeping it fully covered in a cake stand—lasts up to a week. Can also be stored at room temperature for up to 2 days.
GLUTEN-FREE VERSION: To make this bread GF, I recommend using a GF Flour Blend (Bob's Red Mills has a great version!). **NOTE: If the bread mixture is too 'thin + runny', simply add additional GF flour, ¼ cup at a time.**
CHAI SPICE MIX: 2 Tbsps cinnamon, 1 teaspoon nutmeg, 1 teaspoon ginger, 1 teaspoon allspice, 1 teaspoon cardamom, ½ teaspoon ground cloves.
SWEETENER: If you choose to opt out of brown sugar, you can always substitute with coconut sugar, Agave, or pure maple syrup instead. For liquid sweeteners, just adjust the amount of milk used by reducing it by 2 Tbsps to start.
WHAT PLANT-BASED MILKS ARE GOOD FOR THIS RECIPE? My go-to plant-based brand for Oat milk when using store-bought is Ripple Foods. However, you can always use your fave or one of the following: Almond, coconut milk, homemade oat milk (froths/foams VERY WELL), flax milk, etc.
Calories:
401
kcal
|
Carbohydrates:
109
g
|
Protein:
6
g
|
Fat:
8
g
|
Saturated Fat:
1
g
|
Polyunsaturated Fat:
3
g
|
Monounsaturated Fat:
3
g
|
Trans Fat:
1
g
|
Sodium:
332
mg
|
Potassium:
262
mg
|
Fiber:
3
g
|
Sugar:
38
g
|
Vitamin A:
102
IU
|
Vitamin C:
0.2
mg
|
Calcium:
192
mg
|
Iron:
4
mg