This Vegan Carrot Cake + Orange-infused Frosting isn't your traditional version of carrot cake. Not only is it completely vegan, fluffy, + moist, but it's also loaded with shredded carrots, orange zest, pecan/walnuts, pineapple, and a ton of warm, fall spices that create one decadent flavor. Topped with a smooth vegan orange-infused frosting and sprinkles of chopped nuts---if desired.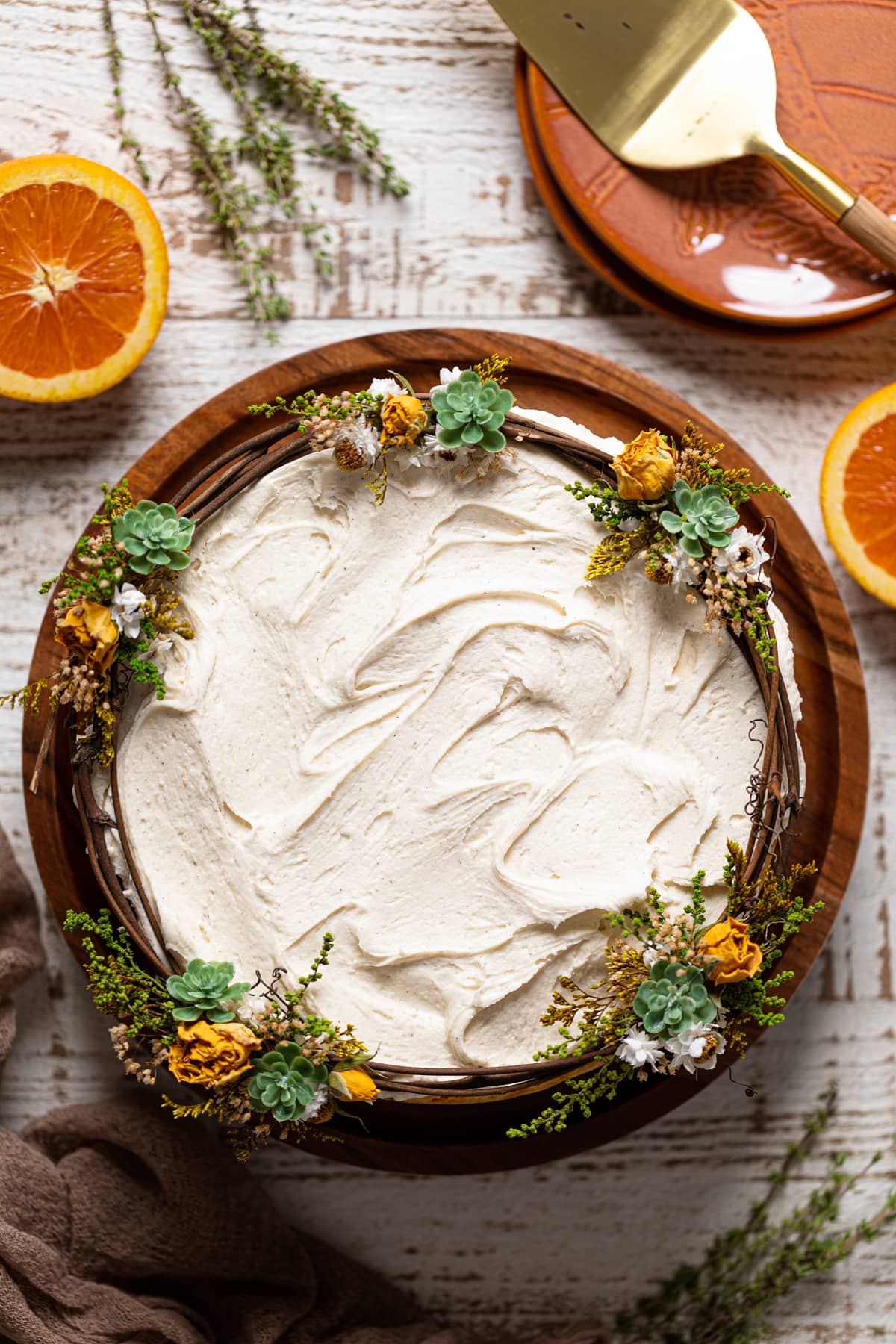 Honestly, I don't even know where to begin with this Vegan Carrot Cake + Orange-infused Frosting. It's just SO GOOD, ya'll. I mean the layer of flavors in just one bite will leave you absolutely obsessed and it's so simple. 
More importantly, my tradition for the past few years has been making our Birthday treats each year. However, before this, my Husband's cake was often purchased from Magnolia Bakery---still the same Carrot Cake flavor of course.
I can still remember placing my special order a few days before and taking the NYC train tp pick it up in the city, right in time for his Birthday surprise! Magnolia Bakery's Carrot Cake was (and still is) our favorite! OMG! So, of course, this cake is a simpler rendition of my husband's original birthday cake. The only awesome part about this one specifically----it's VEGAN.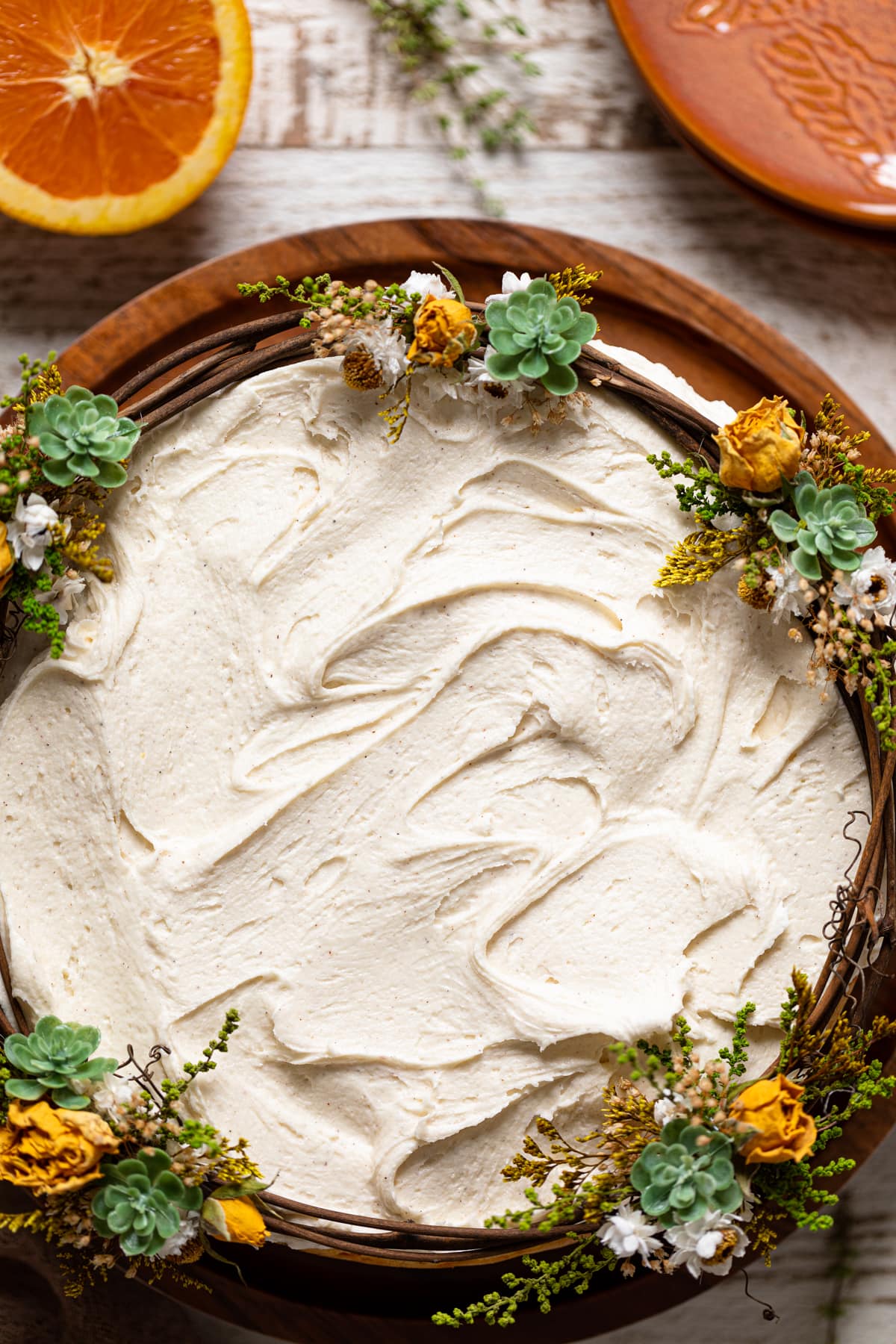 Also, you might want to consider steps you can take so that everyone can have a slice. If you know your vegan friends are going to be there, you don't want to leave them out with this one!
Can I Use This Citrus-infused Frosting for Other Desserts?
As stated before, this Citrus-infused Buttercream on top of my Vegan Carrot Cake is one of my favorite recipes on earth. It is nuts how simple, yet effectively delicious it is.
This buttercream goes perfectly with this carrot cake, but it also goes well with any dessert you pair it with. After combining only a handful of ingredients, you get the best vegan frosting ever!
Feel free to pair your frosting with any of these desserts:
Cinnamon rolls
Cupcakes
Whoopie pies
Macaron
Sandwich cookies
Brownies/blondies
Sheet cake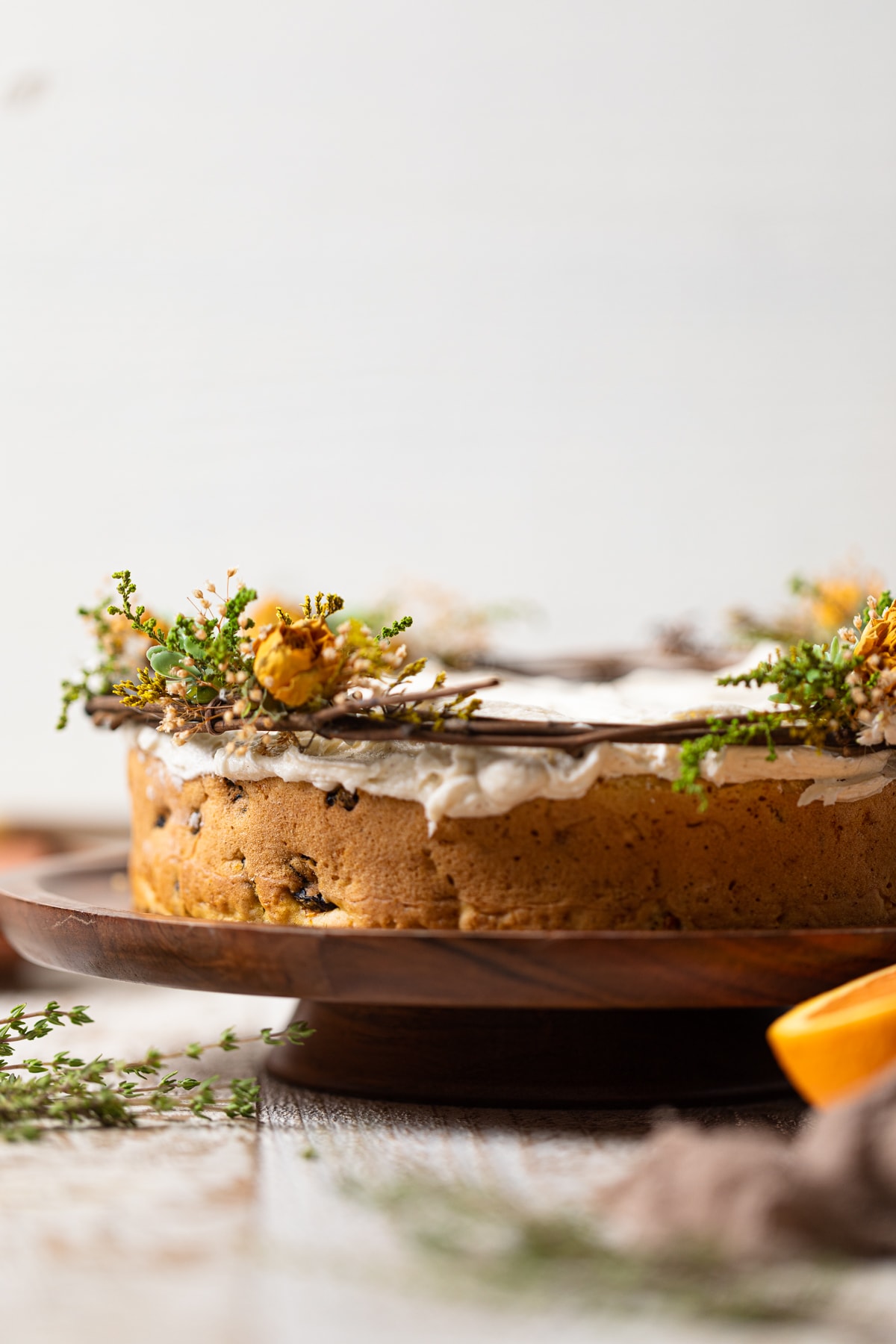 Looking for a Healthier Sweetener Option?
The Best Healthy Sugar Alternatives + Substitutes list is all about finding better ways to enjoy your favorite sweets without compromising your healthy lifestyle. For those who follow a vegetarian and/or vegan lifestyle, this lists offers a few great ideas to incorporate healthy sweeteners into your diet.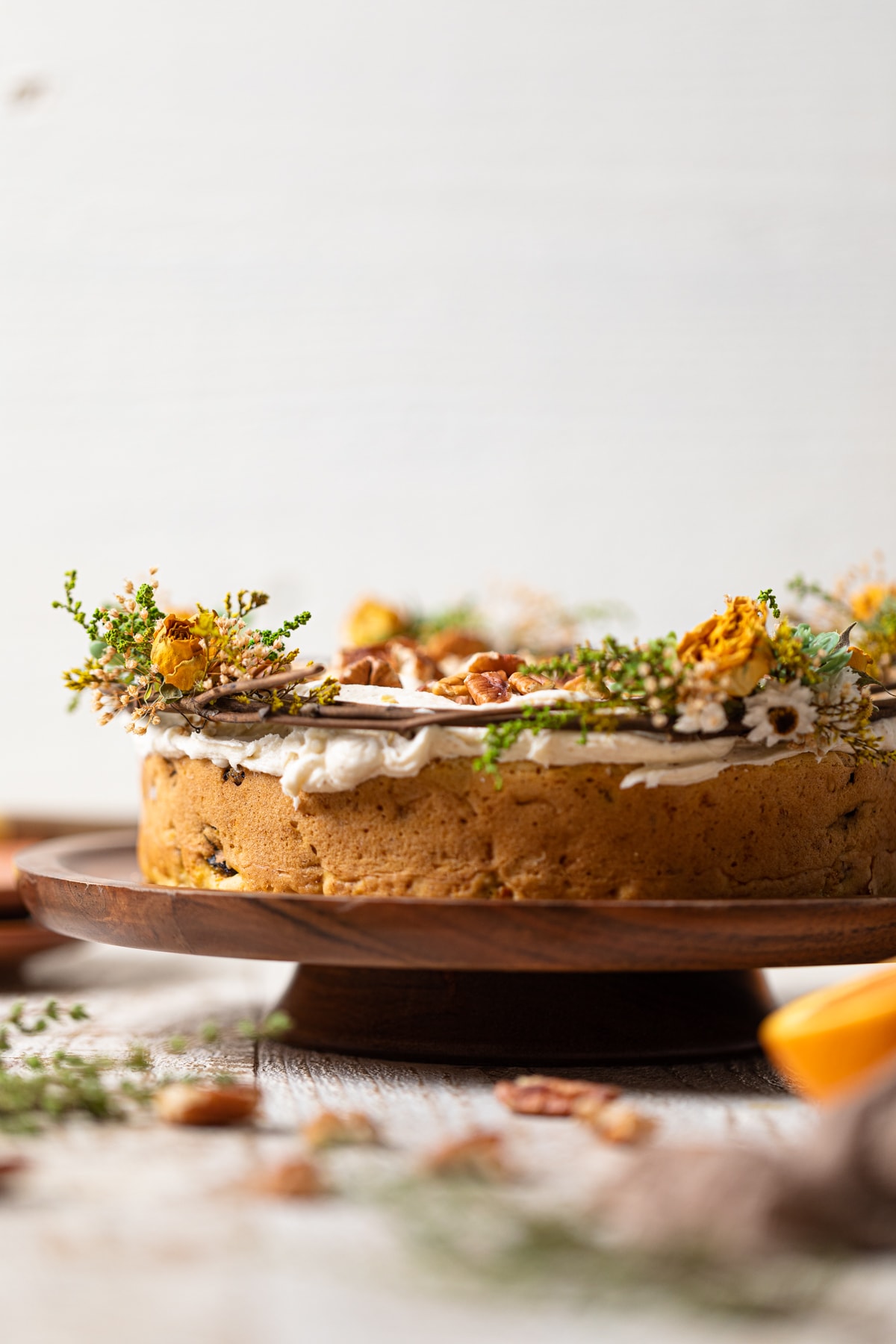 WHAT'S THE SECRET TO THIS SOFT, MOIST CAKE?
The butter (or oil) + use of cake flour. This combo of ingredients definitely creates a beautiful soft, fluffy, + moist bite of any cake, including this carrot cake.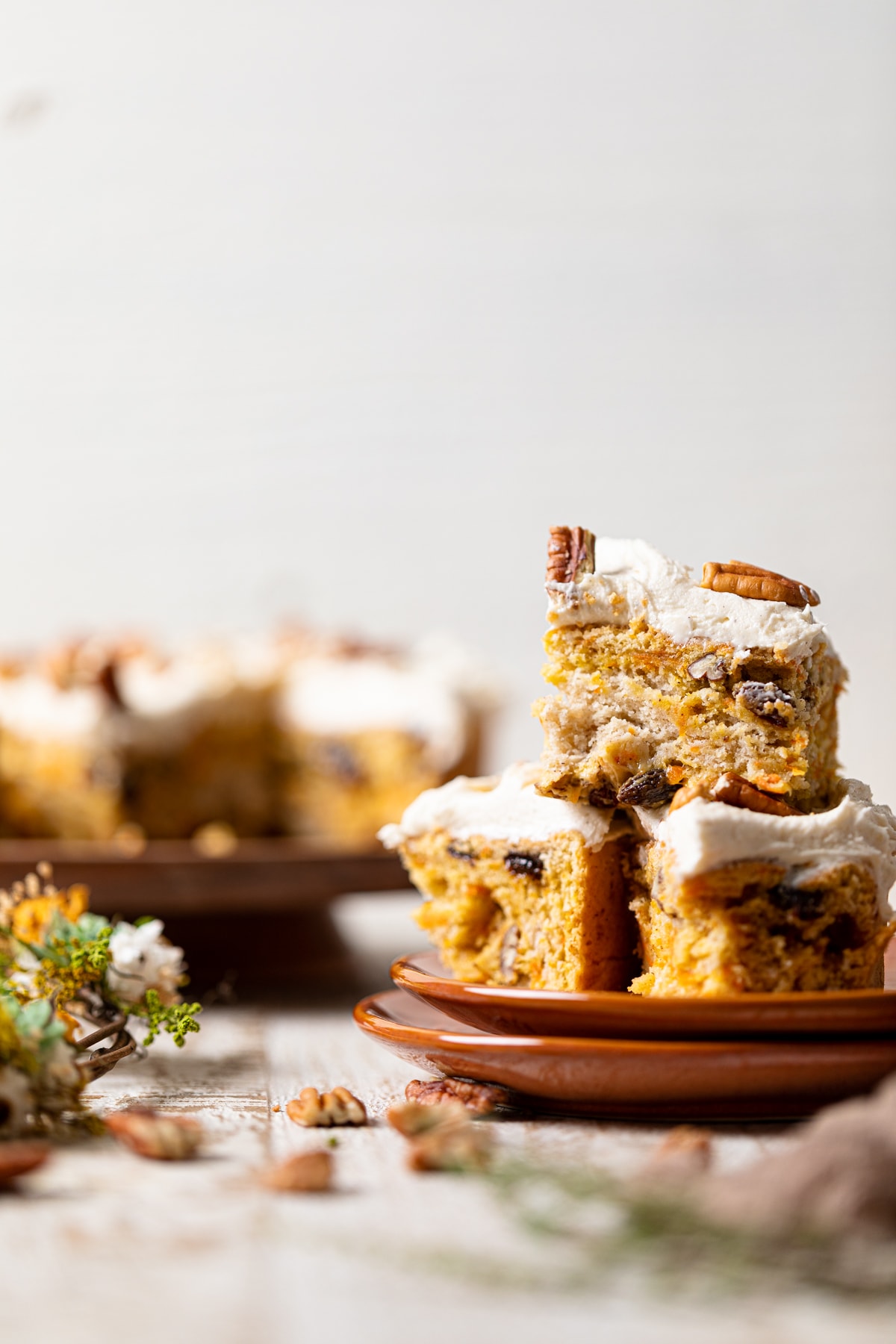 Ingredients in Vegan Orange-infused Buttercream
For the Buttercream:
4-5 cups organic powdered sugar, sifted
1 cup vegan butter, softened at room temp.
2 Tbsps freshly-squeezed orange juice
1 tsp vanilla extract
1 tsp ground cinnamon
1 tsp orange zest
Pinch of sea salt
1-2 Tbsps Almond milk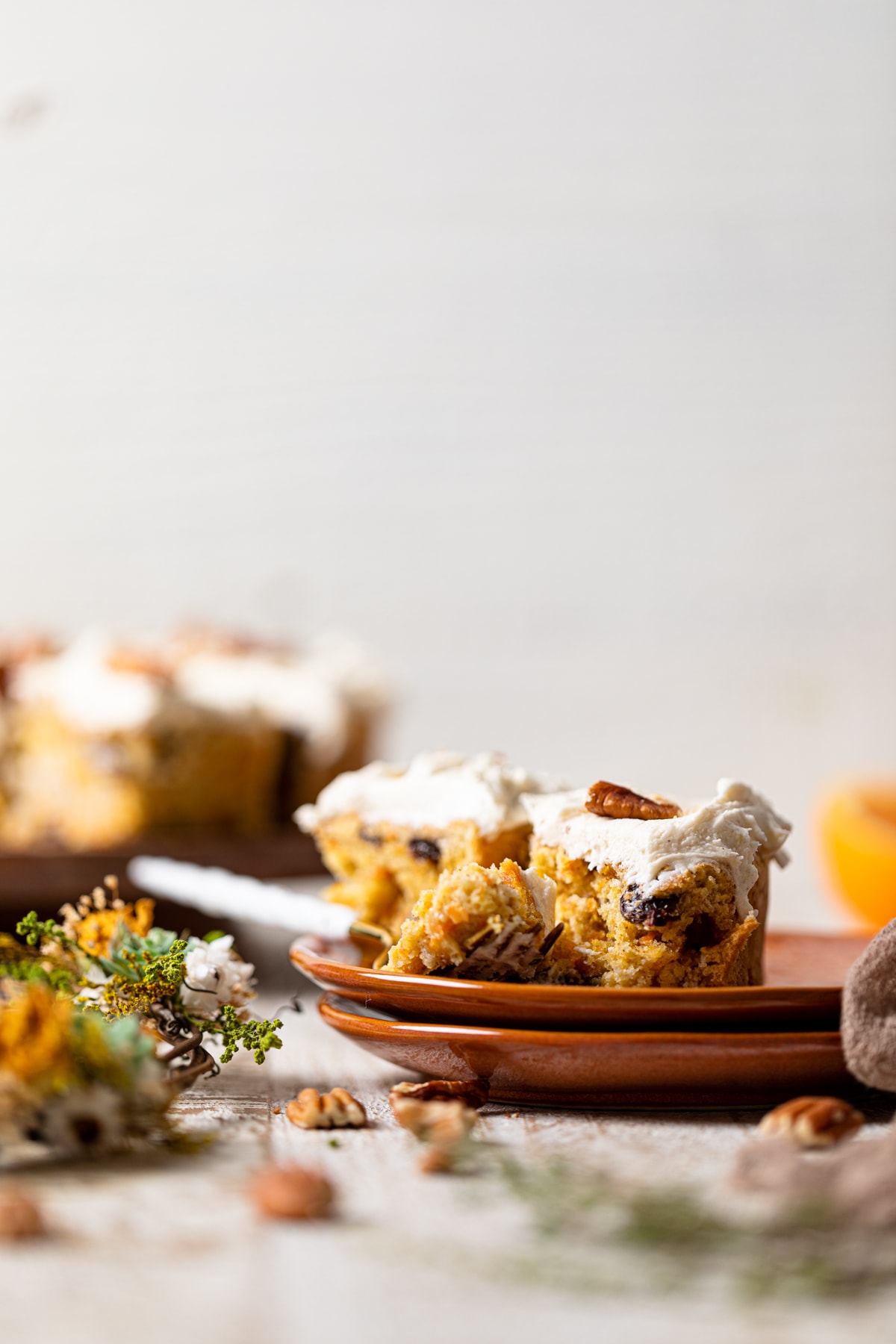 Other Recipes You'll Love
If this Vegan Carrot Cake appeals to your sweet tooth, try these recipes, too!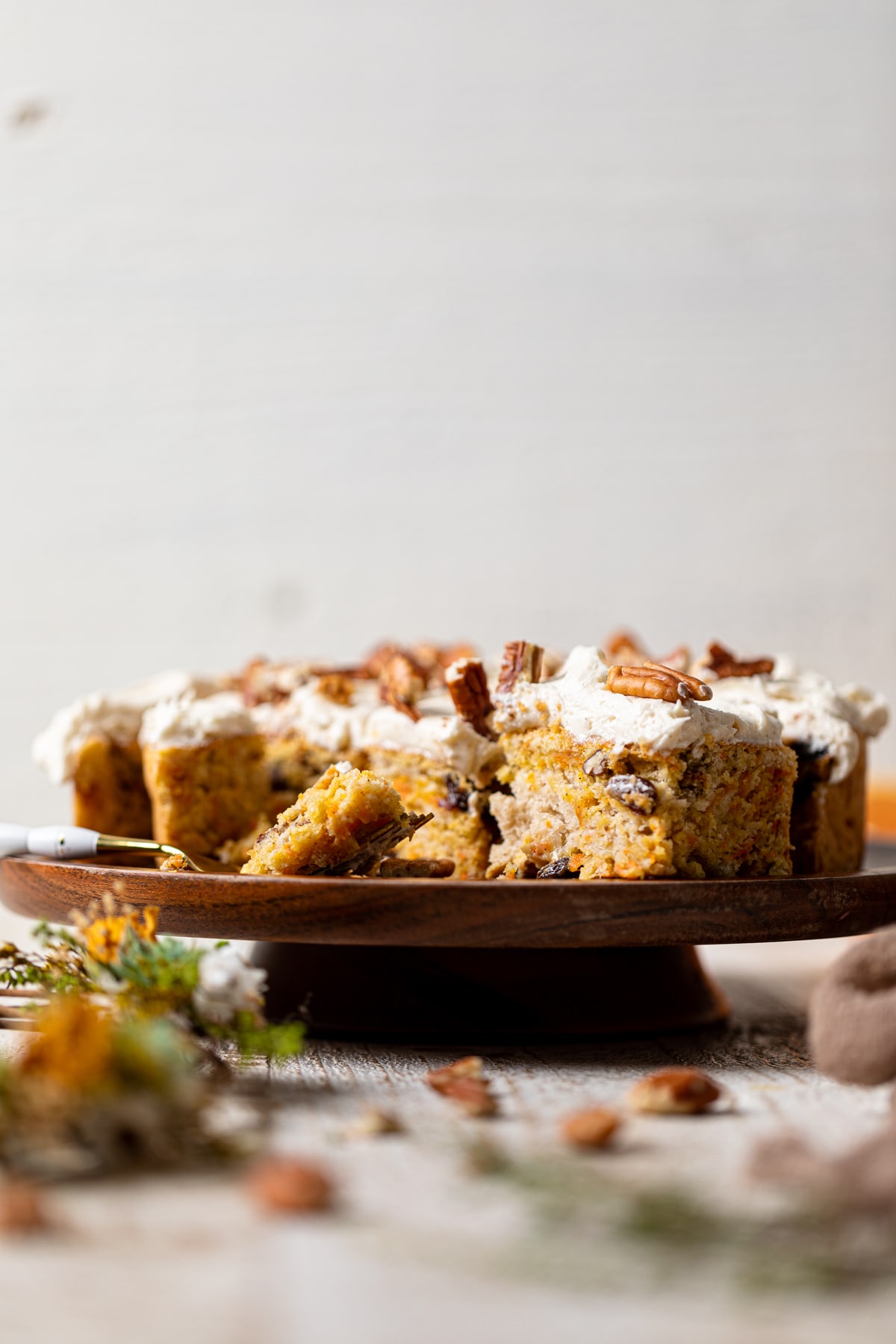 MADE OUR RECIPE(S)?
If you make this Vegan Carrot Cake + Orange-infused Frosting, tag @orchidsnsweettea_ on Instagram and hashtag it #orchidsandsweettea!
SHEET CAKE:
1

cup

grated carrots

(That's about 2 medium carrots!)

2

cups

organic cake flour

1

cup

organic cane sugar

1

tablespoon

baking powder

2

tsps

ground cinnamon

1

teaspoon

ground nutmeg

½

teaspoon

ground allspice

¼

teaspoon

ground ginger

½

teaspoon

sea salt

1

teaspoon

vanilla extract

1

cup

Almond milk + 2 Tbsps! 

(You can use your fave plant-based milk!)

1

tablespoon

Apple Cider Vinegar

¼

cup

coconut oil, melted

(See Notes!)

½

cup

chopped pecans, toasted

(See Notes!)

¼

cup

chopped walnuts, toasted

¼

cup

pineapple chunks, chopped finely

¼

cup

dried raisins, soaked

(See Notes!)

1

teaspoon

orange zest
ORANGE-INFUSED BUTTERCREAM:
4-5

cups

organic powdered sugar, sifted

1

cup

vegan butter, softened at room temp.

2

Tbsps

freshly-squeezed orange juice

1

teaspoon

vanilla extract

1

teaspoon

ground cinnamon

1

teaspoon

orange zest

Pinch of

sea salt

1-2

Tbsps

Almond milk 

(You can use your fave plant-based milk!)
TO MAKE CARROT CAKE:
Begin by preheating your oven to 350 degrees Fahrenheit. Lightly grease and line with parchment paper (with two sides hanging out) an 8-inch square pan (for a thicker cake) or a 9 x 13 baking pan.

In a bowl, whisk together the milk and apple cider vinegar and set aside for 5-10 minutes until everything "activates".

In a large bowl, whisk together the flour, grated carrots, sugar, baking powder, cinnamon, nutmeg, allspice, ginger, orange zest, and salt until combined.

In a separate bowl, whisk together the almond milk, apple cider vinegar, vanilla, and coconut oil and set aside.

Add the wet ingredients to the dry ingredients, and mix together using a rubber spatula, until combined. Gently fold in the pineapple chunks, raisins, and chopped nuts. **NOTE: Don't Over-Mix!**

NOTE: If the batter looks extremely thick, add extra milk, 1 tablespoon at a time until it's somewhat pourable but not runny or thin at all.

Pour batter evenly into prepared pan, spreading everything around for a perfect evenness.

Bake for 20-25 minutes, or until the center of the cake comes out clean when tested with a toothpick or butter knife.

Once done, remove the cake from the oven and let cool for 30 minutes before carefully lifting it from the pan and unto a cooling rack to cool completely.
ORANGE-INFUSED BUTTERCREAM FROSTING:
Simply beat the butter in the bowl of an electric mixer (or using a hand-mixer) on medium-high speed, until smooth and pale. Add in the powdered sugar, cinnamon, orange juice, orange zest, salt, vanilla, and milk, continuing to mix on medium-speed until you reach the desired consistency----smooth and fluffy. NOTE: Add more milk (1 tablespoon at a time if too thick) or powdered sugar (for more thickness).

Using a metal or rubber spatula, top cooled cake with buttercream frosting and evenly spread over the top until fully coated and smooth. Top with toasted chopped pecans or walnuts, if desired. Wallah!

Slice into medium-sized squares and enjoy!

Bon Appetit!
STORAGE: Keep leftover cake tightly wrapped using plastic wrap and refrigerated for up to 5 days. To store frozen (frosted or unfrosted), simply tightly wrap and cover cake and freeze for up to 2-3 months. To serve, thaw in the refrigerator overnight and bring to room temperature.
SOAKED RAISINS: To ensure that your raisins are softened, simply add the raisins to a bowl and fill with boiling water and let sit for 10 minutes or until swollen. When ready to use, drain and continue recipe.
FLOUR: If you don't have cake flour, you can always just use all-purpose flour instead. 
MAKE AHEAD: You can always bake this cake the night or day before and let it cool, tightly wrap, and refrigerate until ready to use. The buttercream frosting can also be made prior and tightly wrapped and stored in the fridge as well. When ready to serve, let cake sit at room temperature for 30 minutes to an hour, frost, and enjoy!
SHREDDED CARROTS: If needed, using a food processor shred the carrots until completely minced. 
OIL VS. BUTTER: Instead of vegan butter, you can also use Vegetable or Coconut oil, if preferred.
GF OPTION: If you want to make this cake Gluten-Free, you can simply substitute flours with Bob's Red Mill's 1-to-1 Baking Flour and ensure that the Rolled oats are GF-certified. Just add an additional ¾ cup or so if needed; To use other GF flours such as coconut, almond, etc. just be sure to add 1 teaspoon of Xanthan gum. 
Calories:
423
kcal
|
Carbohydrates:
81
g
|
Protein:
4
g
|
Fat:
30
g
|
Saturated Fat:
7
g
|
Polyunsaturated Fat:
8
g
|
Monounsaturated Fat:
13
g
|
Trans Fat:
3
g
|
Sodium:
356
mg
|
Potassium:
169
mg
|
Fiber:
3
g
|
Sugar:
19
g
|
Vitamin A:
1801
IU
|
Vitamin C:
3
mg
|
Calcium:
112
mg
|
Iron:
1
mg