This Vegan Funfetti Cake + Vanilla Buttercream is a healthier option to your classic childhood favorite—funfetti!. Not only is it completely moist + fluffy, but it's also loaded with sweet little rainbow sprinkles that when paired with this airy vegan vanilla buttercream, they all work amazingly together. A definite crowd-pleasing cake for any occasion, especially for Birthdays.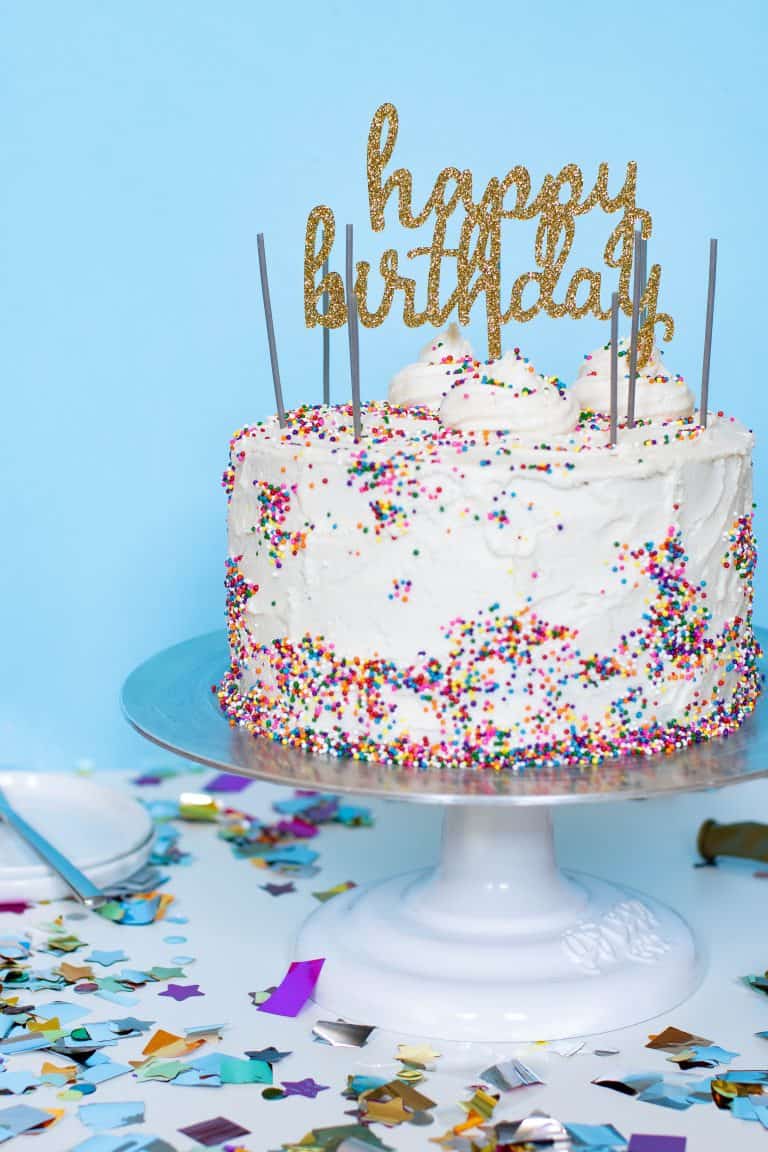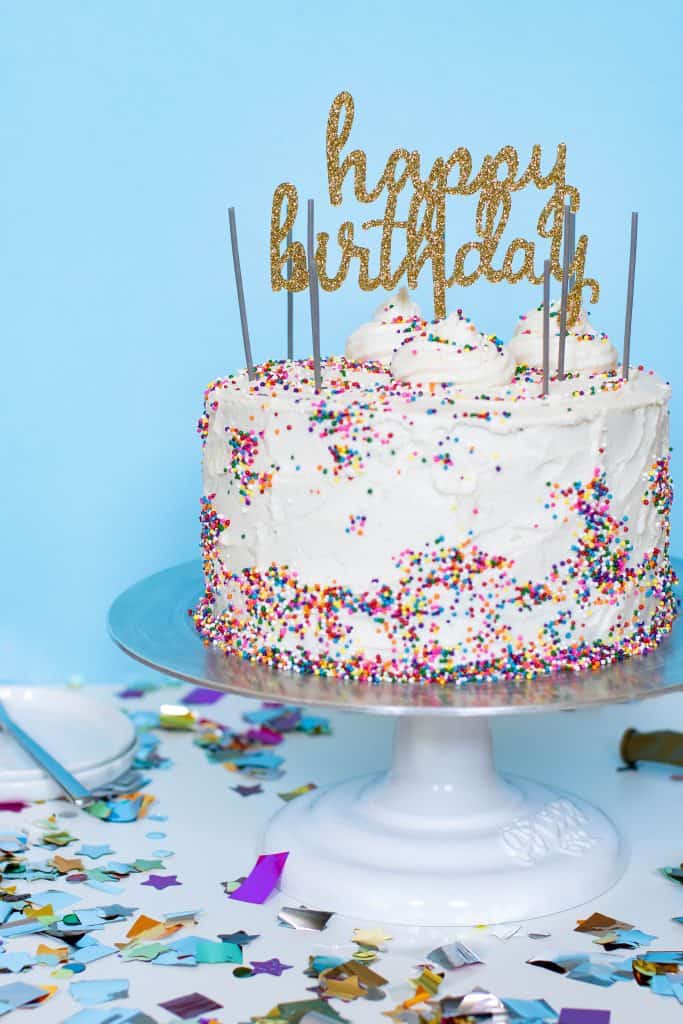 Hey ya'll. Today's my Birthday and I couldn't be more grateful in this moment. Yet another day and another year. In addition to it being the start of my newest chapter—-Year 30.
I know. I'm getting old. Haha.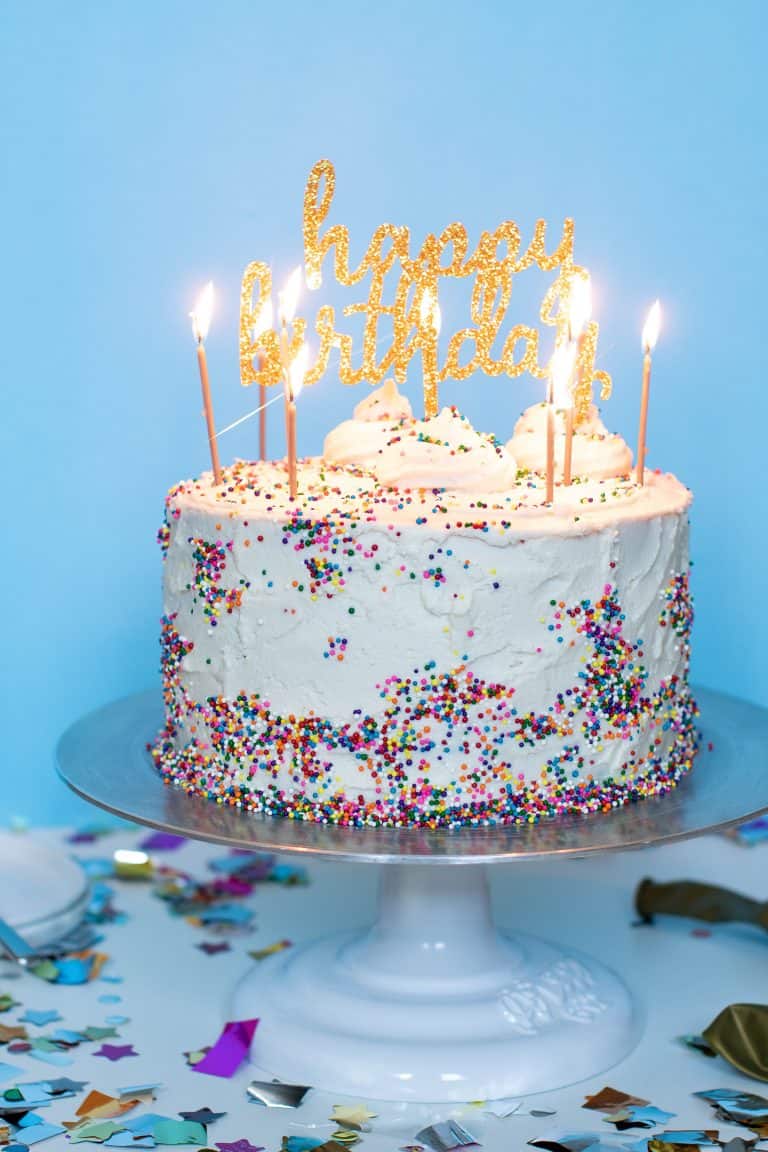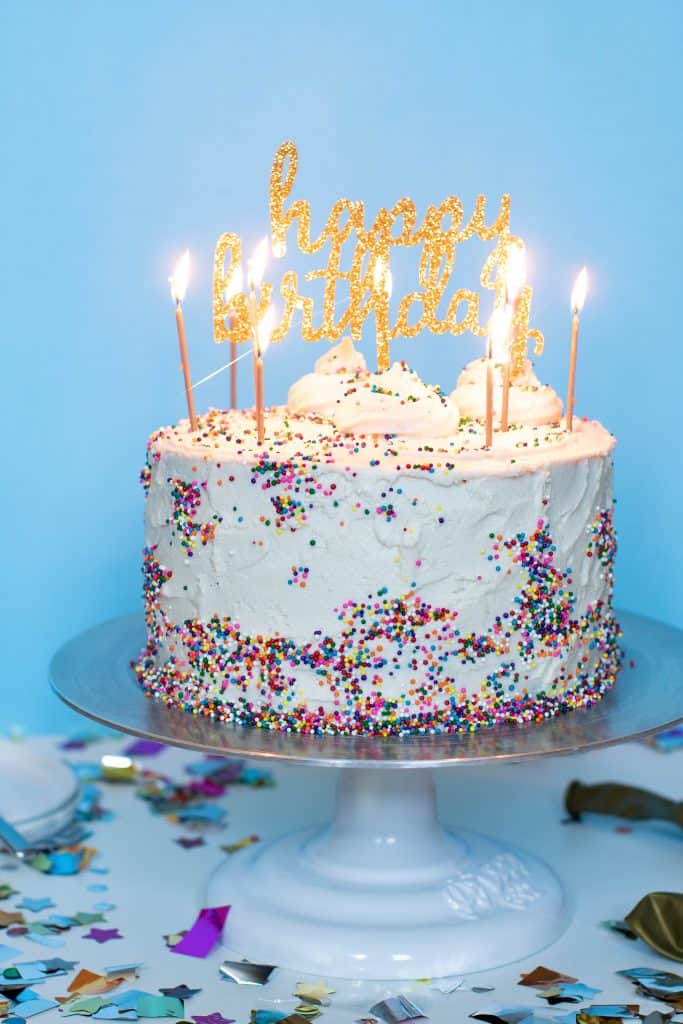 Seriously—-I'm so excited for my 30s and can't wait to see what it all entails. As for my 20s—I've carried with me some really valuable lessons.
For one, relationships have been my biggest lessons. Along the way, I've lost some really close relationships while gaining a few in turn.
Yes—I can admit that it's been super tough in the process, however, looking back at everything, I can see God's hand in it all. He was being strategic.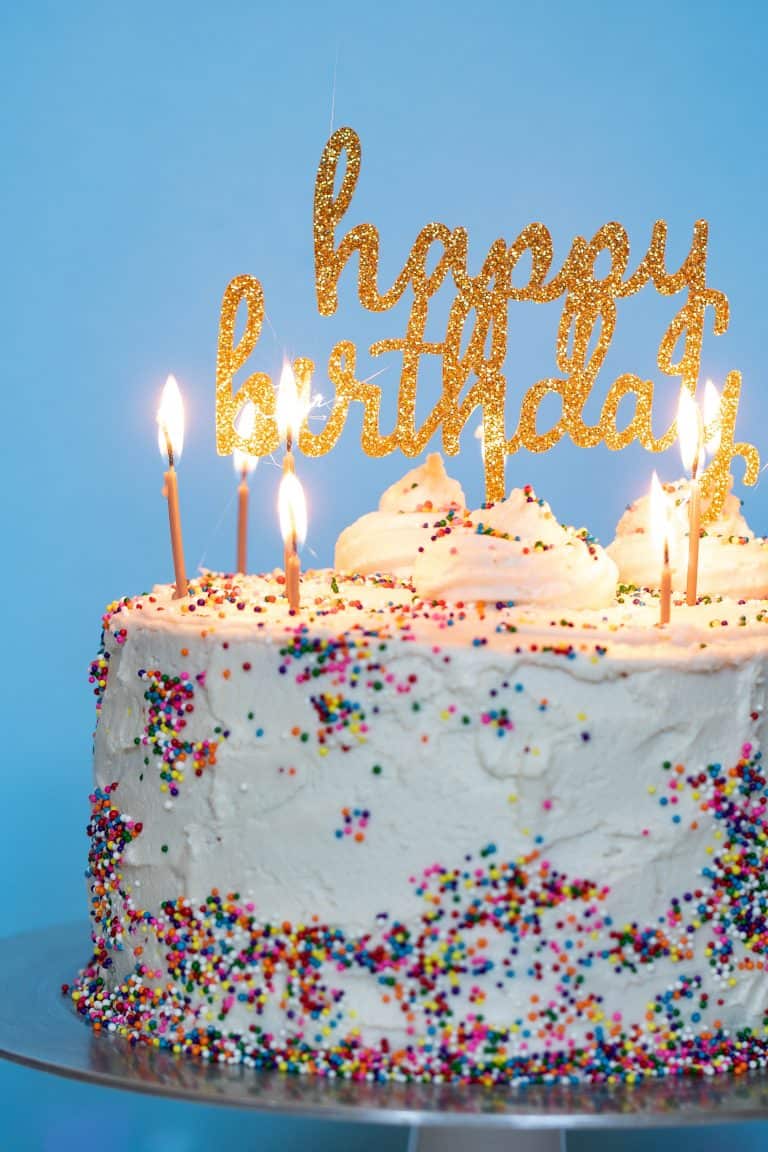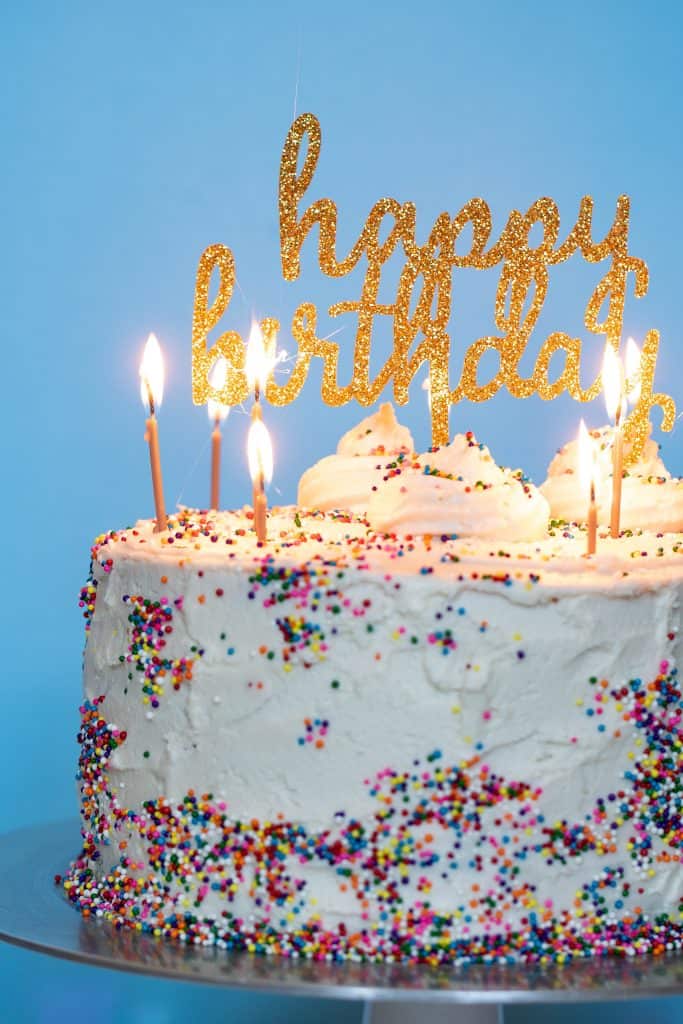 Secondly, I've learned just how tough cultivating your dreams and a business can be. Initially, it takes a ton of investing before you reap even a tad bit of the actual reward.
So, if you're just starting out or you're half way through—-don't give up! Things will get better in time. Consistency is important.
Remain consistent even when everything says that it's not going anywhere. Something will happen when it's time.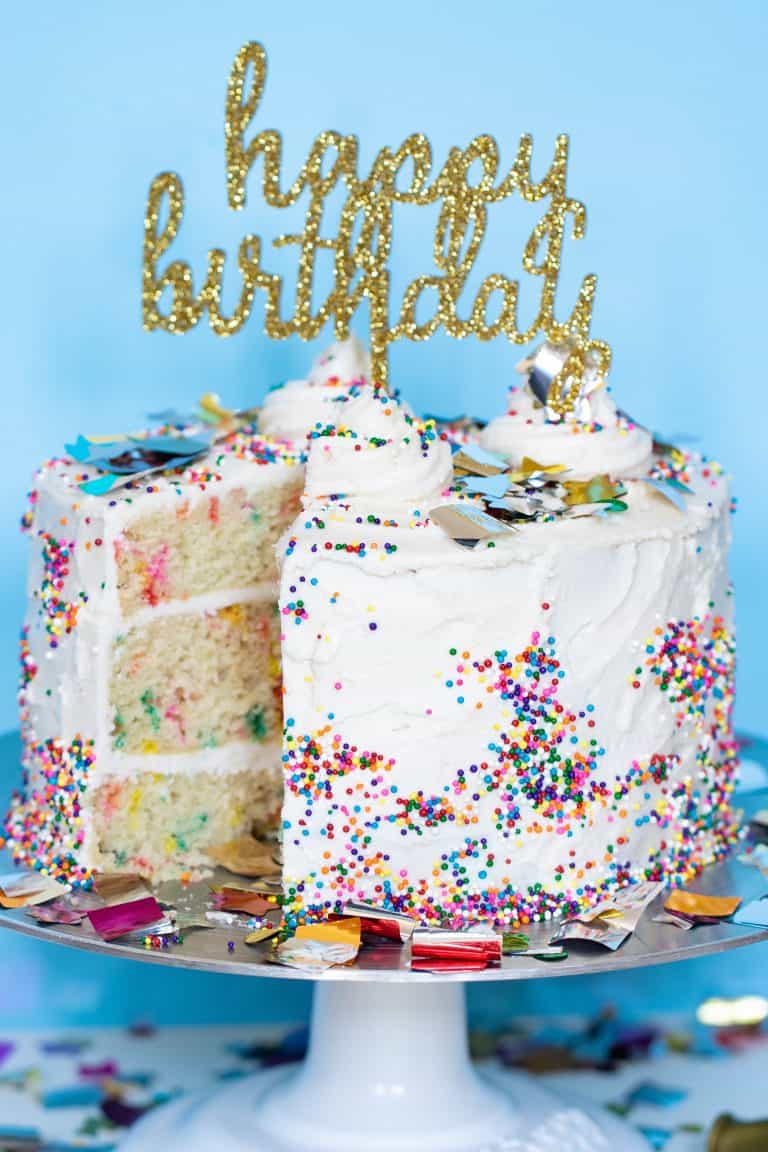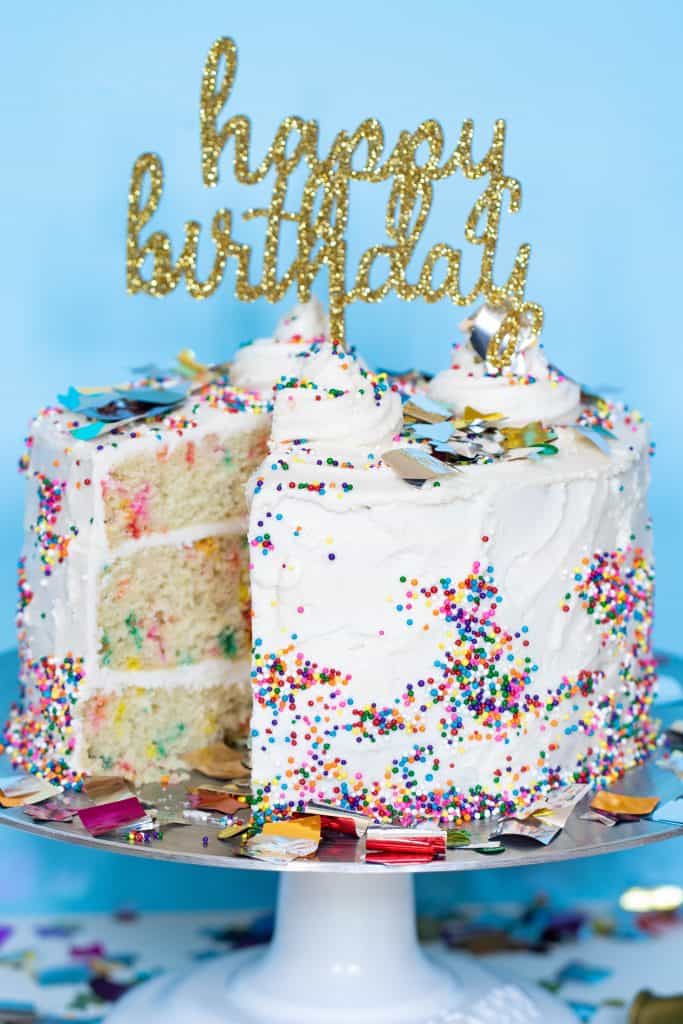 Honestly, there a ton of other things I've learned, however, I can attest to the top two being my biggest ones for the past year or so.
But to dig deeper, I'd recommend checking out one of our articles—Ending Relationships: 5 Mindsets That Keep You Stuck.
Of course When Life Gives You Lemons, Make Sweet Tea! We've all been there or know someone who has been there.
That place where you've felt like Life has handed you a handful of lemons and boy, are those lemons real sour. I know that they say that you should make Lemonade with those lemons, but what if you don't want the obvious?
What if you've decided that you're willing to do things the unconventional way so that you can get unconventional results?
If you're anything like me, then when Life gives you lemons, make Sweet Tea; forget Lemonade.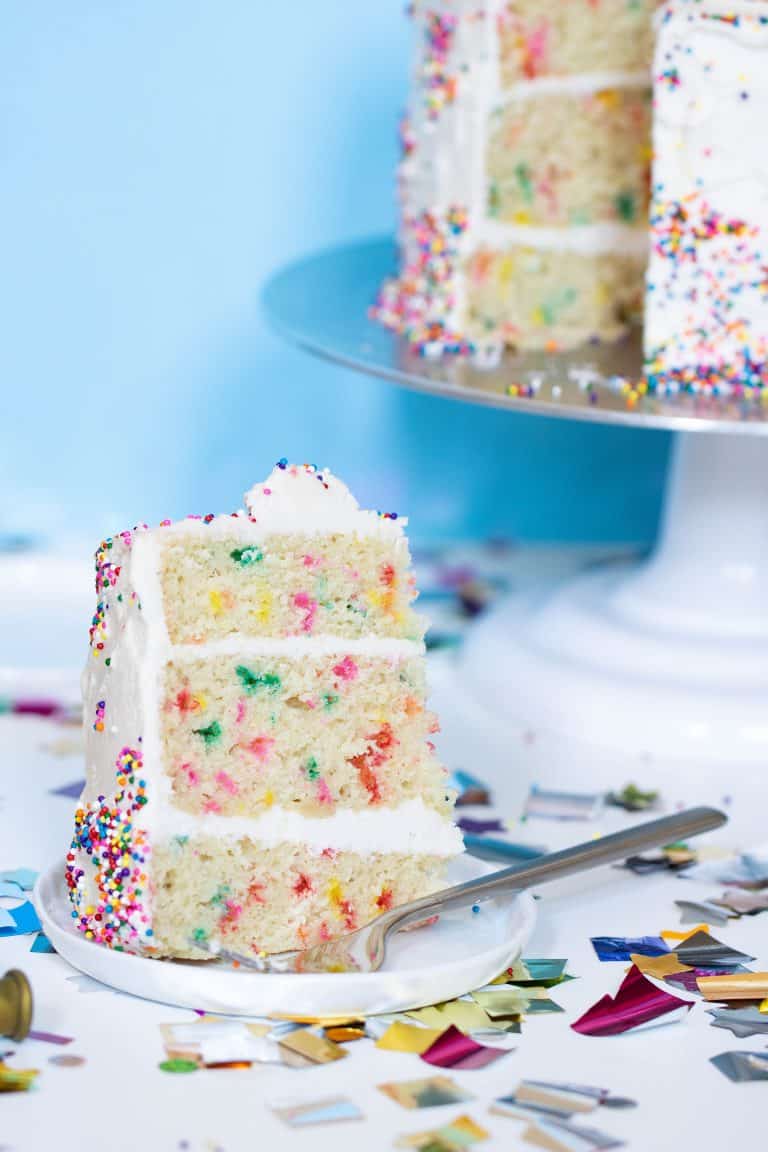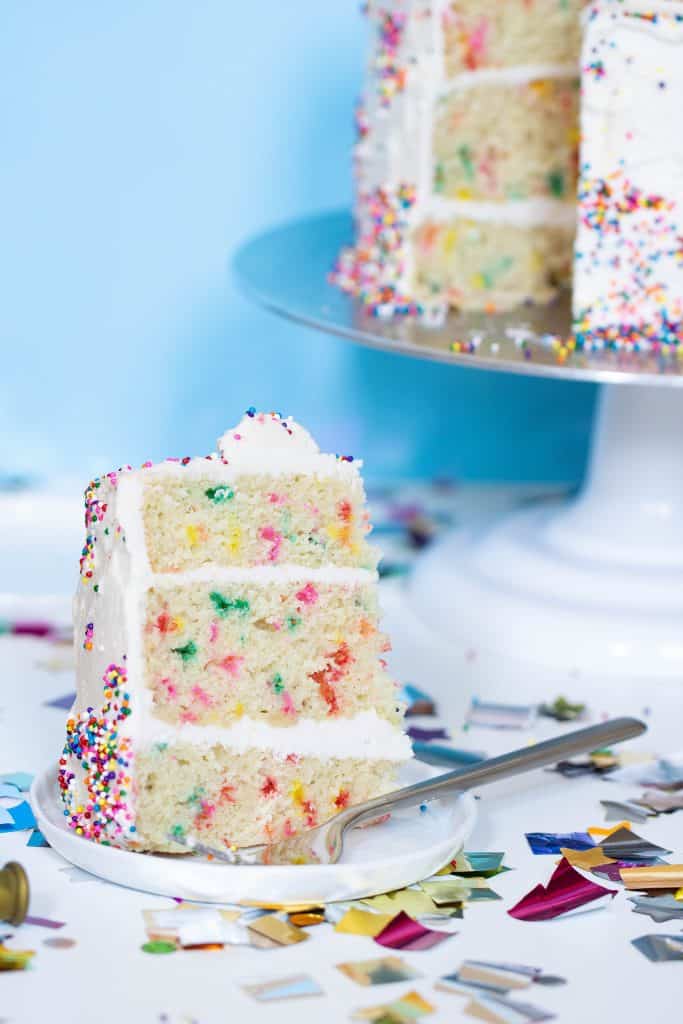 Once you've pin-pointed out everything, always think about your steps to becoming better. I've assessed this for myself and found that it's truly helpful in discovering the best version of yourself.
8 Secrets to Being Your Best You is a guide to making your current year and years that follow, the most effective and life-changing.
From doing the necessary work that is required to letting go of toxic relationships + environments to making minor tweaks to a healthier lifestyle; all 8 habits and practices are sure to help you be the best version of yourself that you possibly can.
OK, so can we talk about this cake for a sec? If you've been an avid follower of Orchids + Sweet Tea, then you know that I often opt out of Birthday Cakes for my special day and go for my favorite—some form of cheesecake.
Check out this Mango Cheesecake + Chocolate Graham Cracker Crust.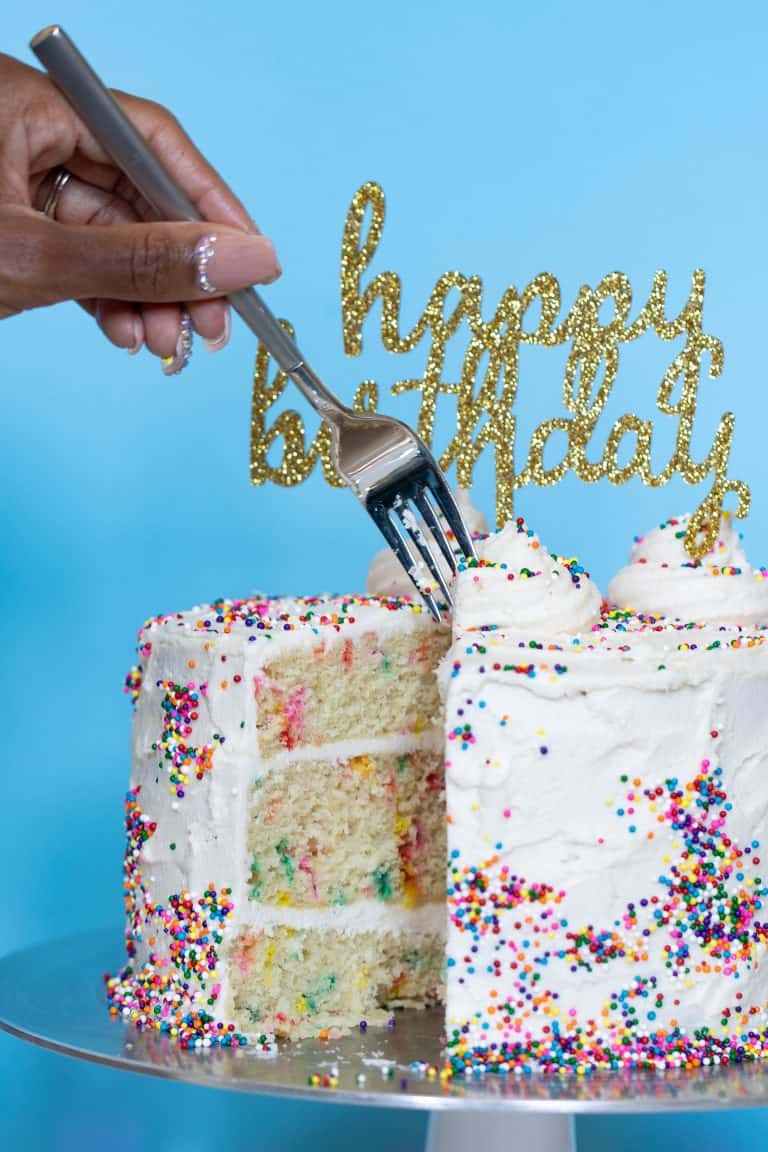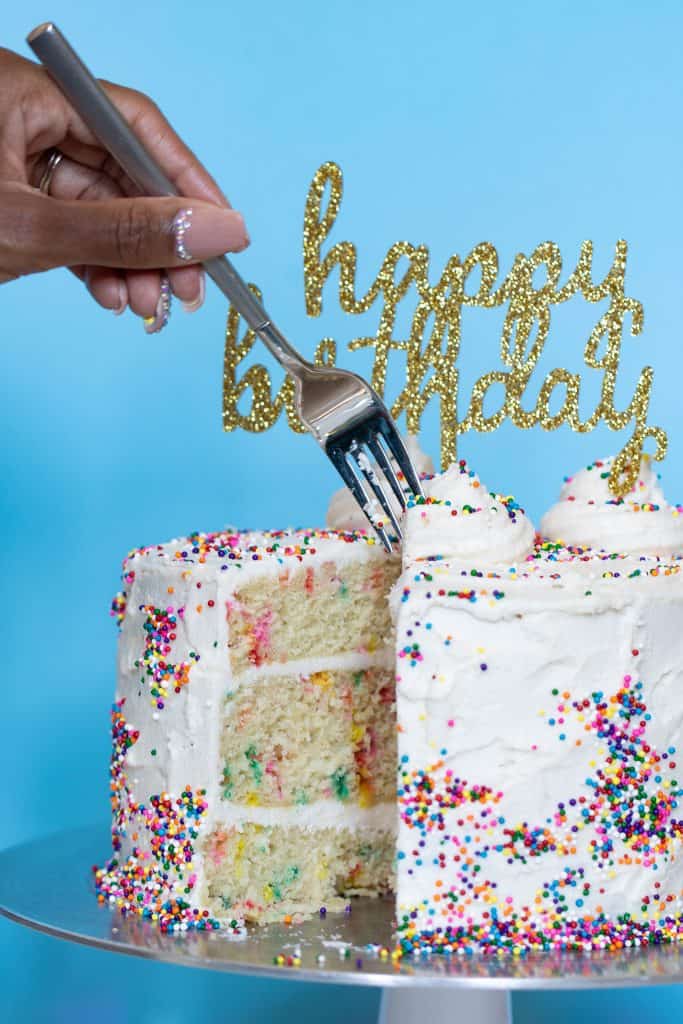 Trust me, you can never go wrong with cheesecake.
However, I wanted to do something a bit different to bring in my new chapter (Chapter 30), so I decided on a cake. Since this occasion isn't that 'simple', I wanted to make a fun cake while keeping things on the healthier side.
So, why not a Vegan cake, right?
Honestly, Cakes have been super challenging for me since I began pursuing them, however, I still fight through it and create to the best of my ability.
Take this Lemon + Strawberry Layer Spring Cake that I made recently for the Spring. It was my first experimented cake that included real flowers as decor. Yet—it was fun!
With this particular cake, I chose to create a beautiful Vegan cake that remained fluffy and airy, but also showcased a delicious frosting.
Usually regular cakes are topped with some sort of buttercream and while this cake was a Vegan one, I had to come up with ways to best create a similar 'buttercream'. And wallah!
All I needed to do was incorporate vegan shortening along with my vegan butter of choice, and you get a great buttercream without the dairy and/or other preservatives.
Lastly, another thing that I've learned about baking a cake is having the right tools. As a basic—-you should have a cake stand (preferably one that has a turnstile table), spatulas (big + small), piping bags + tips, correct baking pans and parchment paper, and if you need to get a bit more fancy—Bake Even Cake Strips (Wilton has some awesome quality ones!), which are such a genius invention.
Have no clue what these are? Whelp, you basically soak them in water before wrapping them around your cake pan while baking.
These stripes ensures that your cakes don't bake with a funny "dome" or anything. Just flat and even.
Yup. So, that's it. All the details of what I've used. Looking for other great Birthday cake ideas?
If you've been an avid follower of Orchids + Sweet Tea, then you'll know that I've attempted a few other cakes for my Husband's Birthday and Little Guy's Big Day: Vegan Carrot Cake + Orange-infused Frosting, Fluffy, Buttery Vanilla Birthday Cake, and Very Vanilla Cake!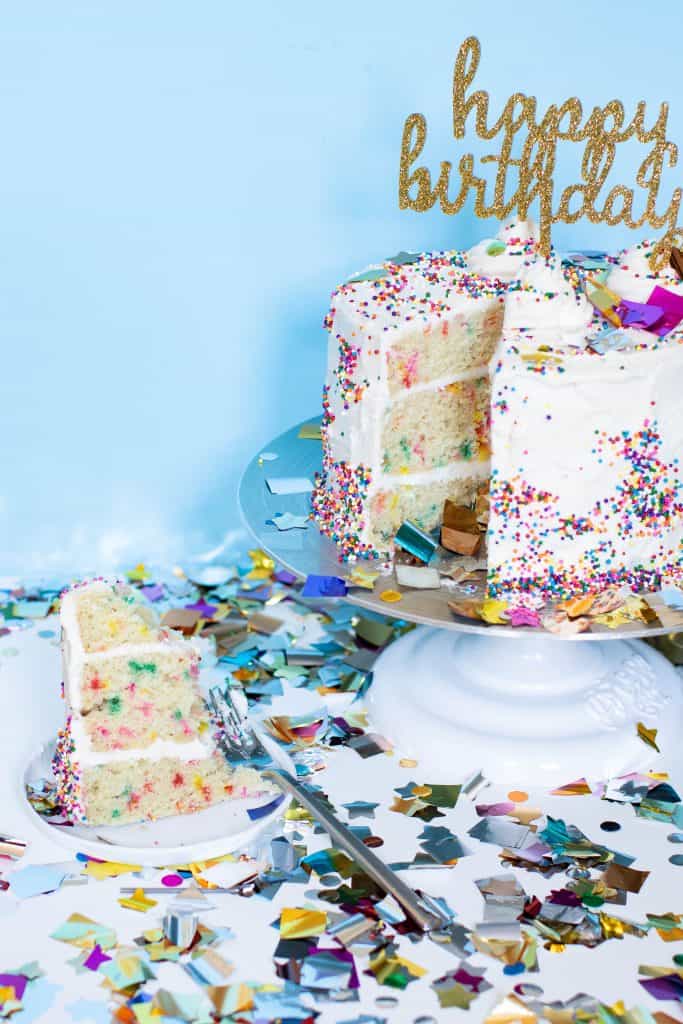 MADE OUR RECIPE(S)?
If you choose to make this Vegan Funfetti Cake + Vanilla Buttercream recipe or any other recipe from us, be sure to tag us on Instagram at #Orchidsandsweettea so that we can share the love!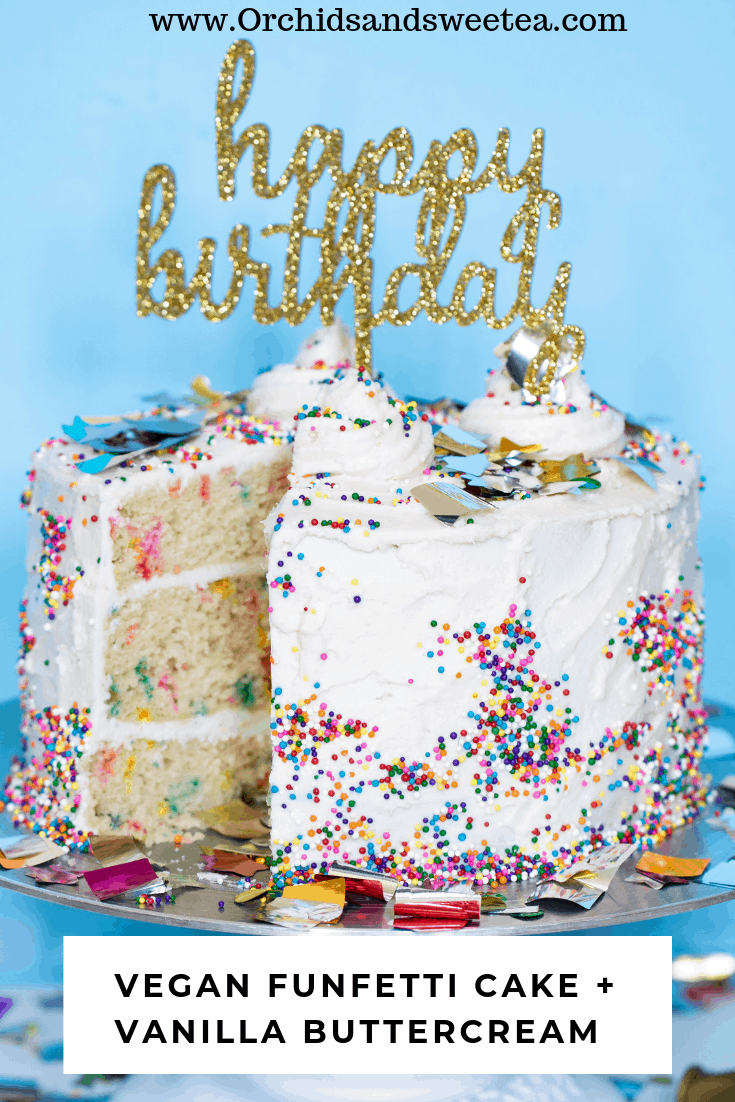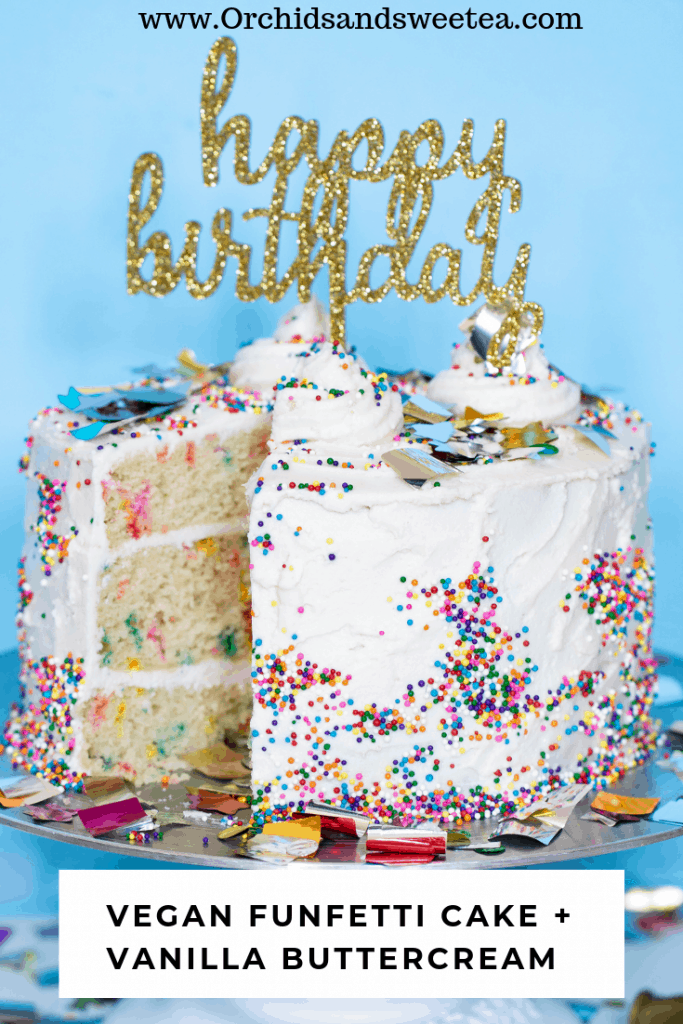 CAKE:
1

cup

organic all purpose flour

(See Notes!)

1/2

cup

Super fine cake flour

(See Notes!)

1 1/2

tsps

baking powder

1/2

tsp

baking soda

1/2

tsp

sea salt

3/4

cup

organic cane sugar

1

cup

Almond milk

(You can use your fave plant-based milk)

1

Tbsp

Apple Cider Vinegar

1/4

cup

vegetable oil

(See Notes!)

1

tsp

vanilla extract

1/2

cup

Vegan rainbow sprinkles
VANILLA BUTTERCREAM:
4-5

cups

organic powdered sugar

1/2

cup

vegan butter, softened at room temp.

1

tsp

vanilla extract

2-3

Tbsps

Almond milk

(You can use your fave plant-based milk)

pinch of

sea salt
TO MAKE THE CAKE:
Begin by preheating your oven to 350 degrees Fahrenheit. Lightly grease (with butter) AND line with parchment paper the bottoms of TWO 9-inch cake pans (for thicker layers) or THREE 8-inch cake pans. See Notes for measurements/sizes.

In a bowl, whisk together the milk and apple cider vinegar and set aside for 5-10 minutes until everything "activates" to create the dairy-free "buttermilk".

In a large bowl, whisk together the flours, baking powder, baking soda, sugar, and salt until combined.

In the bowl of an electric mixer (attached with a whisk), add the Milk-ACV mixture and add the oil and vanilla. Mix for a minute or two before turning off the mixer and changing the attachment to a paddle.

On low speed, add in the dry ingredients to the wet ingredients and continue to mix until well incorporated and batter is smooth, about 3-4 minutes.

Fold in the rainbow sprinkles until well incorporated.

Pour batter evenly into prepared pans, spreading everything around for a perfect roundness. NOTE: If using Bake Even Cake Strips, you would wrap them around your pans at this point.

Bake for 30-35 minutes, until the center of the cakes come out clean using a toothpick.

Once done, remove cakes from the oven and let cool completely. NOTE: I often let my cakes cool for 30 minutes or until them are very cool when touched and then place them in the refrigerator to cool completely for another hour or so; this makes icing easier.
TO MAKE THE VANILLA BUTTERCREAM:
Simply beat the butter in the bowl of an electric mixer (or using a hand-mixer) on medium-high speed, until smooth and pale. Add in the powdered sugar, vanilla, and milk, continuing to mix on medium-speed until you reach the desired consistency—-smooth and fluffy. NOTE: Add more milk (1 Tbsp at a time if too thick) or powdered sugar (for more thickness).
ASSEMBLY:
Place the first cake layer on your cake stand and evenly cover the top with buttercream. Now, top with 2nd layer and add more buttercream atop that layer, spreading it over the tops and sides of cake, evenly and thinly. NOTE: If making a 3-layer, be sure to repeat step 1 of assembly once again before getting to the final layer.

Once fully frosted, add small little designs of the buttercream using a piping bag + tip around the sides and top of cake. Chill for 5 minutes to ensure that buttercream sets. Sprinkle with vegan rainbow sprinkles around the sides and top of cake.

When ready to serve, remove from the refrigerator. Slice and enjoy!

Bon Appetit!
STORAGE: Keep cake leftovers stored for up to 4-5 days in the fridge. Keep it in an airtight container to keep the cake from drying out. You can also freeze the cake tightly wrapped in plastic wrap for up to 3 months. Before serving, defrost the cake on the counter.
FLOUR: If you don't have cake flour, you can always just use all-purpose flour entirely instead. 
LAYERS/SERVINGS: For a THREE 6-inch layer cake or TWO 9-inch layer cake, just DOUBLE the ingredient measurements; for THREE 8-inch layer cake, just TRIPLE the ingredient measurements.
FUNFETTI CUPCAKES: This exact recipe (without adjustments to measurements) yields about 12 cupcakes. Simply bake for 18-20 minutes instead, until centers come out clean.
OIL: Instead of vegetable oil, you can also use melted vegan butter or coconut oil, if preferred.
GLUTEN-FREE: To make this cake GF, I recommend using a 1-to-1 Baking Blend (Bob's Red Mill has a great option!); When using this flour, be sure to reduce milk by 1/2 and slowly add bit by bit to ensure that batter isn't too thin.
 
Vegan Funfetti Cake + Vanilla Buttercream.