Make the Best Lemon Coconut Cake with fresh lemon juice, and coconut buttercream frosting for Easter, Mother's Day, or any springtime celebration! Vegan option available.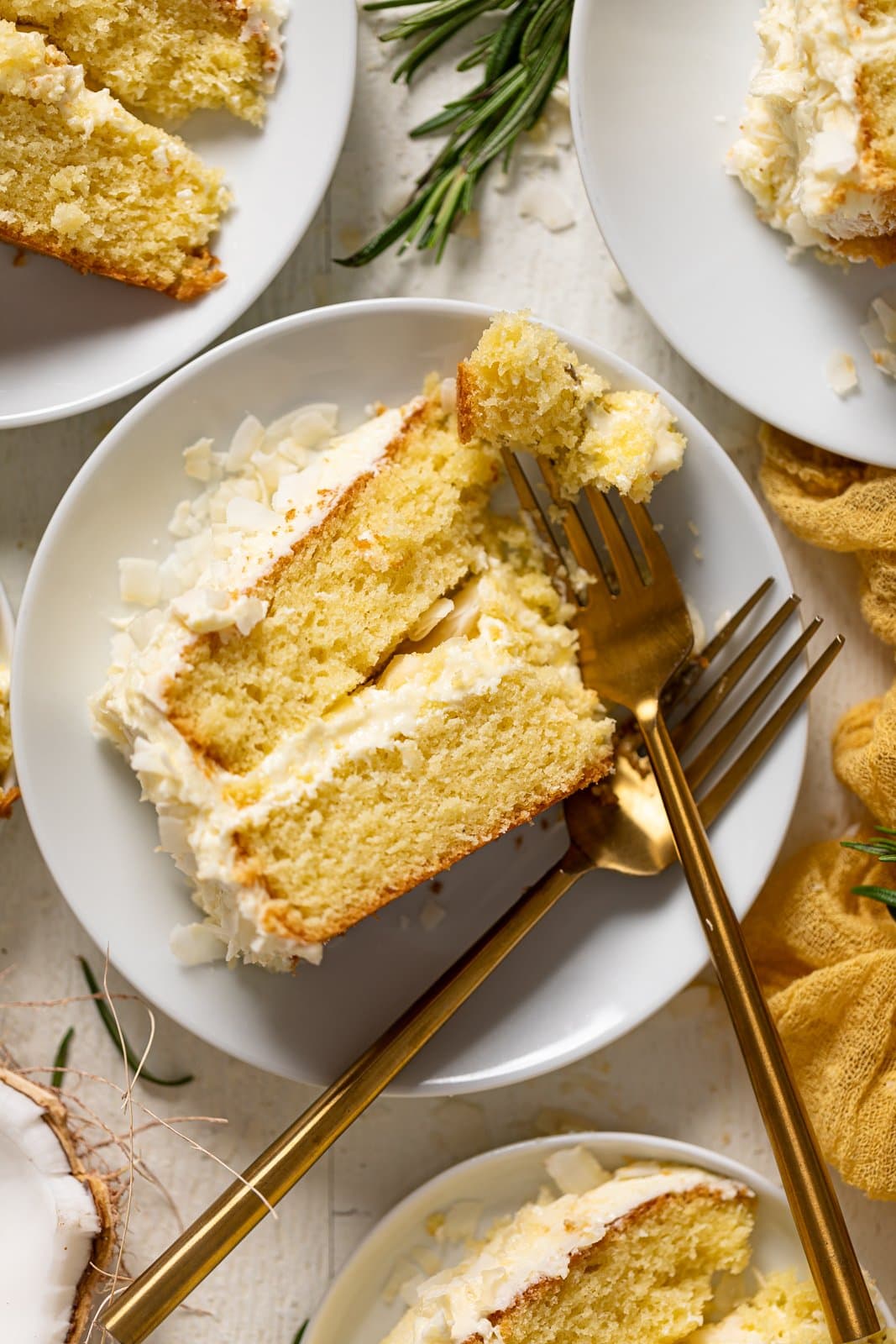 If you're looking for the perfect show-stopping dessert to serve for a spring birthday party, Easter gathering or Mother's day, this coconut lemon cake is for you. It's fluffy, sweet, nutty, and topped with a creamy buttercream frosting you'll want to smear on everything.
The Secret to a Fluffy Cake
What's my secret to keep this Lemon Coconut Cake light, fluffy and airy?
Well, there are two: First, the buttermilk. Second, the proper combination of flours if you'd like. This cake can use all-purpose flour and superfine cake flour. This combo definitely creates a beautiful bite.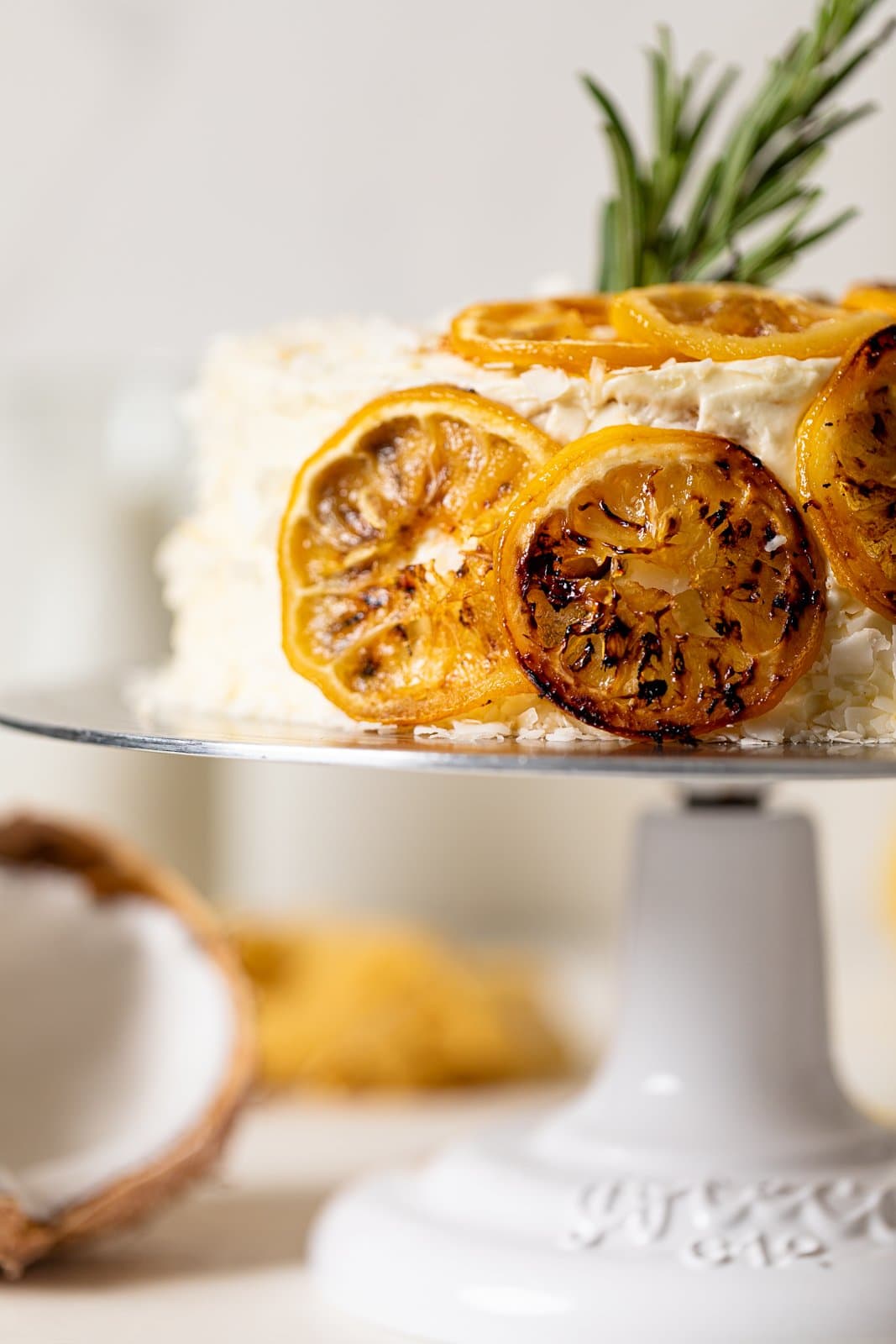 Lemon Coconut Cake Ingredients
Here's what you need to make this nutty, lemony cake:
Flour. I use all-purpose organic flour from Bob's Red Mill.
Cane sugar. I also use organic sugar.
Butter. Use unsalted butter softened to room temperature for easy blending.
Lemon zest and juice. The fresh stuff will taste best!
Eggs. These should be at room temperature before you start baking to ensure even blending.
Vegetable oil. You can also use coconut if you prefer.
Buttermilk. To make dairy-free buttermilk, simply add lemon juice to almond milk or another dairy-free milk.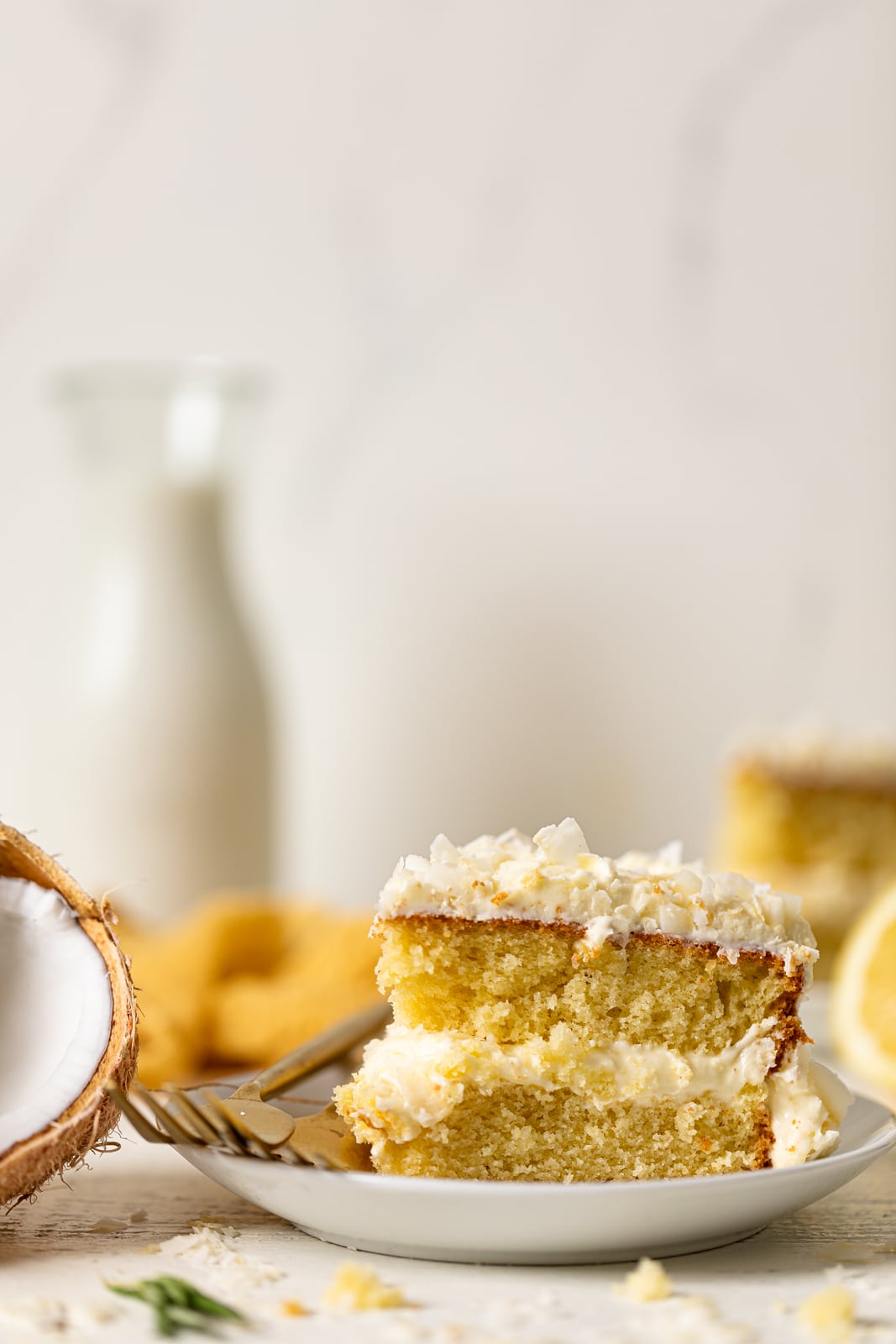 Coconut Buttermilk Frosting
To decorate the cake, make a light and fluffy coconut-flavored buttercream frosting. Here's what you need:
Powdered sugar. If you use granulated sugar, your frosting may have a gritty texture.
Butter. Use unsalted, softened butter.
Coconut milk. This should be at room temperature. I recommend using full-fat.
Coconut extract. This adds an extra dose of tropical coconut flavor.
Assembling the Lemon Coconut Cake
Before you frost your cake, you'll need to trim it. Use a long serrated knife (or cake slicer) to slice the thin crust layer off the top of each cake to make a flat surface.
Next, place the first cake layer on a cake stand and evenly cover the top with buttercream. Now, place the with second layer on top and evenly cover the top with buttercream. You can add more layers if you like too!
Once your cake is fully stacked, spread the remaining coconut buttercream over the cake and down the sides.
Tip: Make things a bit easier by spreading a very thin layer of buttercream over the cake and chilling it for 30 minutes before adding the remaining buttercream.
Once fully frosted, garnish your masterpiece with coconut flakes from any discarded cake, flowers, roasted lemon slices, crumbs from discarded pieces of cake, etc. as desired. Slice and enjoy!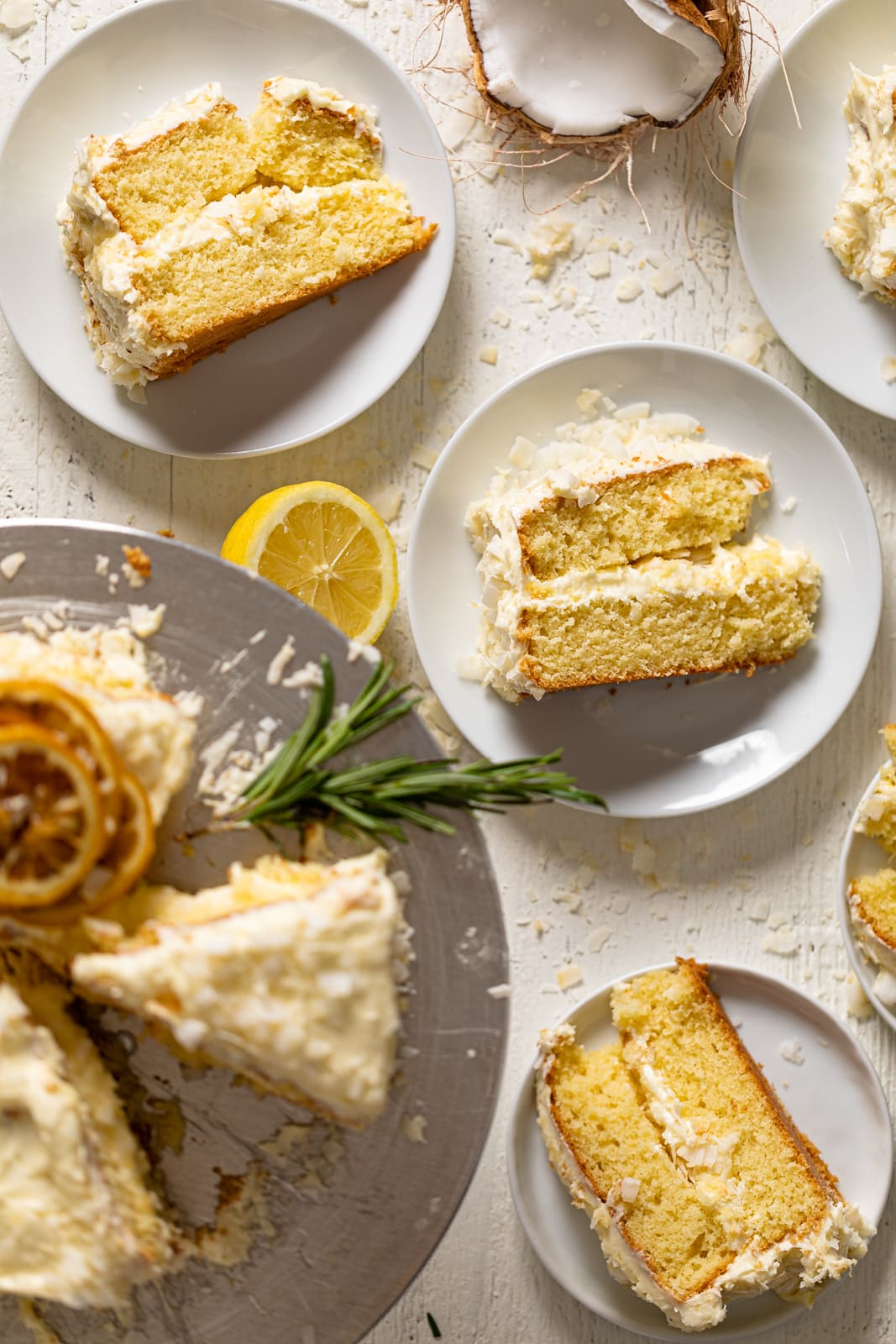 Can I Make Vegan Coconut Cake?
Yes, if you'd like to make this cake dairy-free and egg-free, it's easy enough! Simply omit the eggs. Use vegan butter instead of regular butter.
Lemon Coconut Cupcakes
to make cute individual cupcakes, you don't need to change anything with the recipe. Simply divide the batter between lined cupcake wells and bake for 18 to 20 minutes, until they're set in the center. This recipe makes about 30 cupcakes.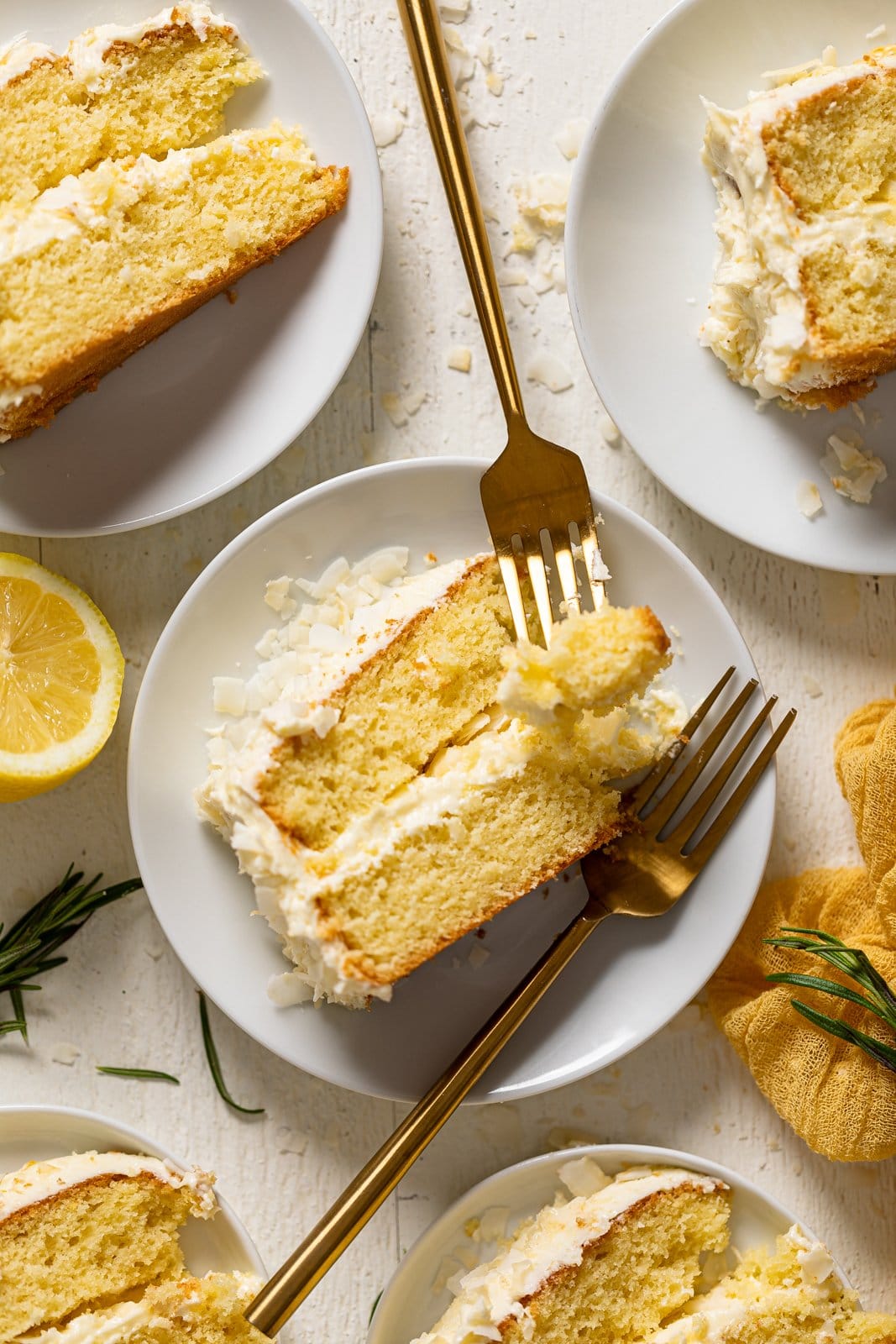 Decorating Ideas for this Lemon Coconut Cake
The fluffy homemade buttercream frosting is all you need to decorate and assemble this layer cake. If you'd like to add some extra pretty touches, try:
Coconut flakes
Roasted lemons. See the notes section below the recipe for how to make smoky and charred roasted lemons. They make a dramatic cake decoration!
Edible flowers, such as chamomile or nasturtiums
Sprinkles. Yellow or white sprinkles would add a nice touch.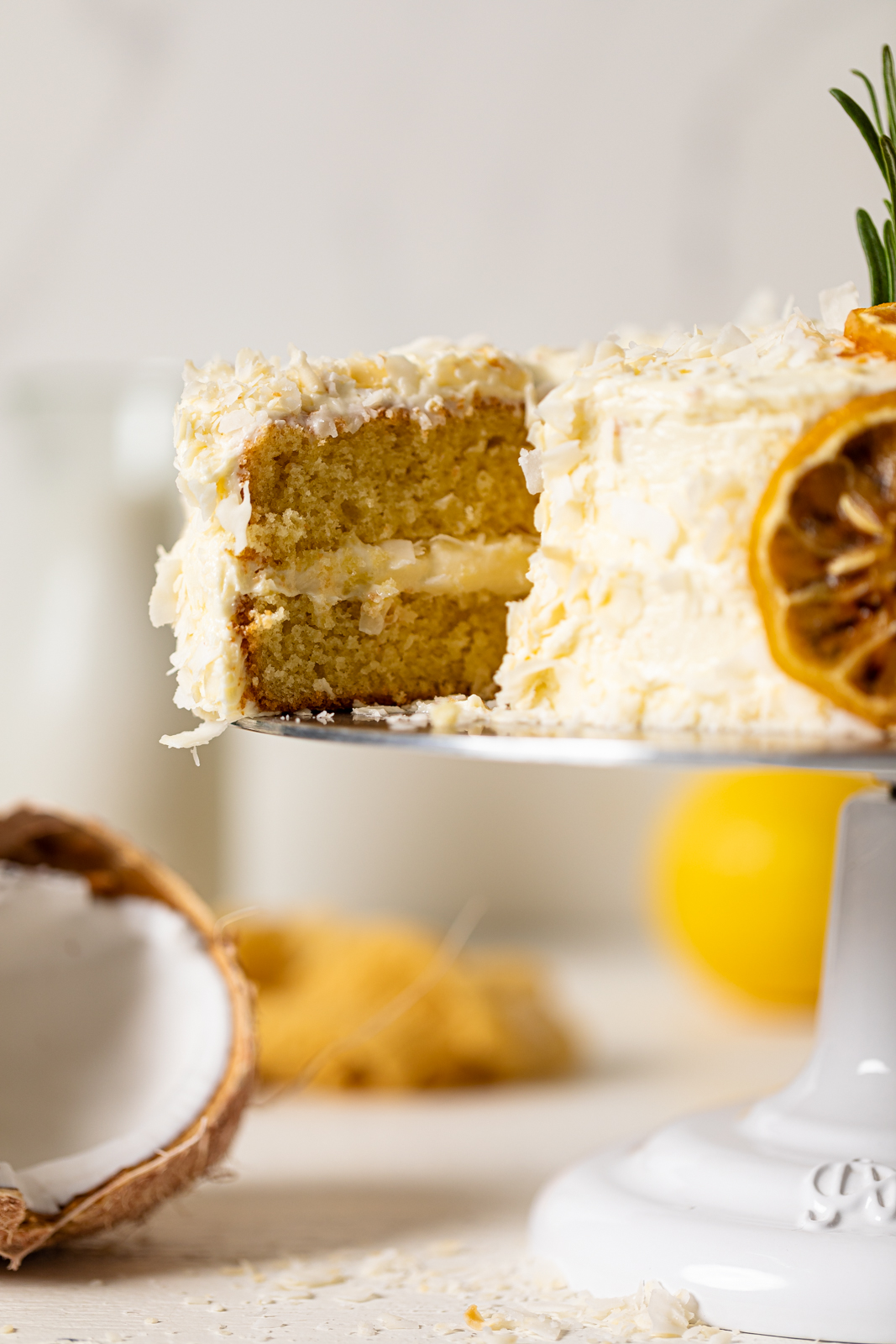 Storage Suggestions
Store leftover cake tightly wrapped or in an airtight container in the fridge for up to four days. You can also freeze the cake for up to 6 months. Then just defrost the cake on the counter for a few hours before serving.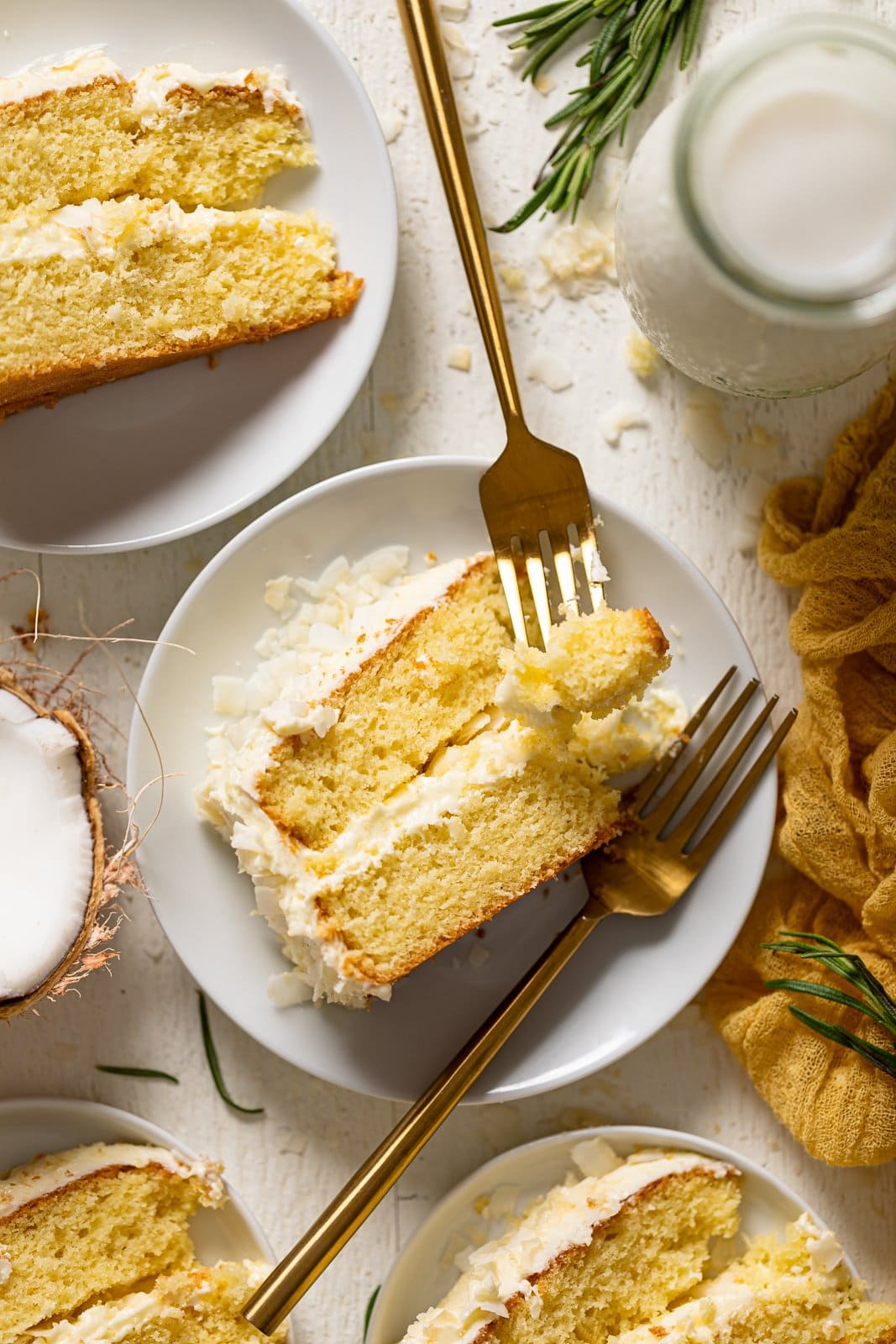 More Layer Cakes to Celebrate
MADE OUR RECIPE(S)?
If you make this Lemon Coconut Cake, be sure to tag me on Instagram @orchidsandsweettea!
LEMON CAKE:
4

cups

organic all-purpose flour

1 ½

cups

organic cane sugar

1

cup

unsalted butter, softened at room temp.

2 ½

tsps

baking powder

1

tablespoon

lemon zest

Pinch of

sea salt

4

large

organic eggs, at room temp.

2

tsps

freshly-squeezed lemon juice

(You can also use lemon extract, if preferred)

⅓

cup

vegetable oil

(You can also use coconut oil)

1 ½

cups

dairy-free "buttermilk: milk + 1 tablespoon lemon juice 

(You can also use full dairy if desired!)
COCONUT BUTTERCREAM FROSTING:
5

cups

organic powdered sugar, sifted

1

cup

unsalted butter, softened at room temp.

3-4

Tbsps

full-fat coconut milk, room temp.

(The canned version)

1

teaspoon

coconut extract
TOPPINGS:
Coconut flakes

Lemon slices, roasted

(Optional, See Notes!)
MAKE THE CAKE:
Begin by preheating your oven to 350 degrees Fahrenheit. Lightly grease (with butter) AND line with parchment paper the bottoms of TWO 8 or 9-inch cake pans (for thicker layers) or THREE 6-inch cake pans.

In a bowl, whisk together the milk and lemon juice and set aside for 5-10 minutes until everything "activates" to create the dairy-free "buttermilk".

In a large bowl, whisk together both the flours, baking powder, lemon zest, and salt until combined.

In a bowl, add the butter and sugar, beating them together using a hand-mixer (on high-speed), until pale and fluffy, about 2-3 minutes.

Add the eggs (one at a time) followed by the freshly-squeezed lemon juice and oil, mixing until combined. On low-speed, add in the dry ingredients followed by the buttermilk and continue to mix until combined and the batter is smooth, about 3-4 minutes. NOTE: The batter should be thick, yet slowly run off the whisk once lifted.

Divide the batter evenly into each of the cake pans and bake for 30-35 minutes, or until a toothpick or butter knife comes out clean when tested in the centers.

Remove cakes from the oven and let them rest in the pan for 10 minutes or so before removing the cakes and placing them onto a cooling rack to fully cool. NOTE: Let them cool for at least 1-2 hours in a cool place.
MAKE THE BUTTERCREAM FROSTING:
Simply beat the butter in the bowl of an electric mixer (or using a hand-mixer) on medium-high speed, until smooth and pale. Add in the powdered sugar, coconut extract, and coconut milk, continuing to mix on medium-speed until you reach the desired consistency—-smooth and fluffy. NOTE: Add more milk (1 tablespoon at a time if too thick) or powdered sugar (for more thickness).
ASSEMBLY:
Place the first cake layer on your cake stand and evenly cover the top with buttercream and a handful of coconut flakes. Now, top with 2nd layer and add more buttercream atop that layer, spreading it over the tops and sides of cake, evenly and thinly. NOTE: If making a 3-layer, be sure to repeat step 1 of assembly once again before getting to the final layer.

Once fully frosted, add small little designs of the buttercream using a piping bag + tip around the sides and top of cake. Top with coocnut flakes, as desired. Chill for 5 minutes to ensure that buttercream sets. NOTE: For a fancy moment or occasion, add roasted lemon slices for a nice look!

When ready to serve, remove from the refrigerator. Slice and enjoy!

Bon Appetit!
STORAGE: Keep cake leftovers stored for up to 4-5 days in the fridge. Keep it in an airtight container to keep the cake from drying out. You can also freeze the cake tightly wrapped in plastic wrap for up to 3 months. Before serving, defrost the cake on the counter.
FLOUR: You can also use cake flour in place of all-purpose flour for a fluffier texture. 
LEMON CUPCAKES: This recipe yields about 30 cupcakes. Simply bake for 18-20 minutes instead, until centers come out clean.
DAIRY BUTTERMILK: Add 1 cup of organic heavy cream + 1 tablespoon lemon juice and let sit for 10 minutes, until it thickens.
VEGAN OPTION: To make this cake entirely dairy-free + vegan, simply omit the unsalted butter and eggs and use vegan butter instead and add 1 tablespoon apple cider vinegar to milk instead of lemon juice. Also, feel free to use coconut oil as a substitute for vegetable oil, if desired. 
ROASTED LEMONS: Makes about 12 slices of lemons. About 3 Regular or Meyer lemons, washed, patted dry, and sliced thin (about ⅛ inch thick). Remove seeds. Preheat oven to 350 degrees F and on a baking sheet lined with parchment, add sliced lemons. Lightly brush tops with olive oil and sprinkles of cane sugar. Bake for 35 or so minutes (keeping an eye on them after the first 15 minutes to ensure that they don't burn). Remove from oven and let cool until they harden a bit and can be added to cake for decor.
Lemon Coconut Cake.