You're in for a real treat with this homemade Lemon Coconut Cake recipe! It's dense, moist, and oh-so-fluffy, layer cake with a perfect blend of zesty lemon and sweet coconut buttercream frosting. Whether it's a special occasion or just a sunny day, this cake is a crowd-pleaser that will make your taste buds sing. Embrace the flavors of Spring + Summer with this dreamy delight—it's simply irresistible. Gluten-free + Vegan Option.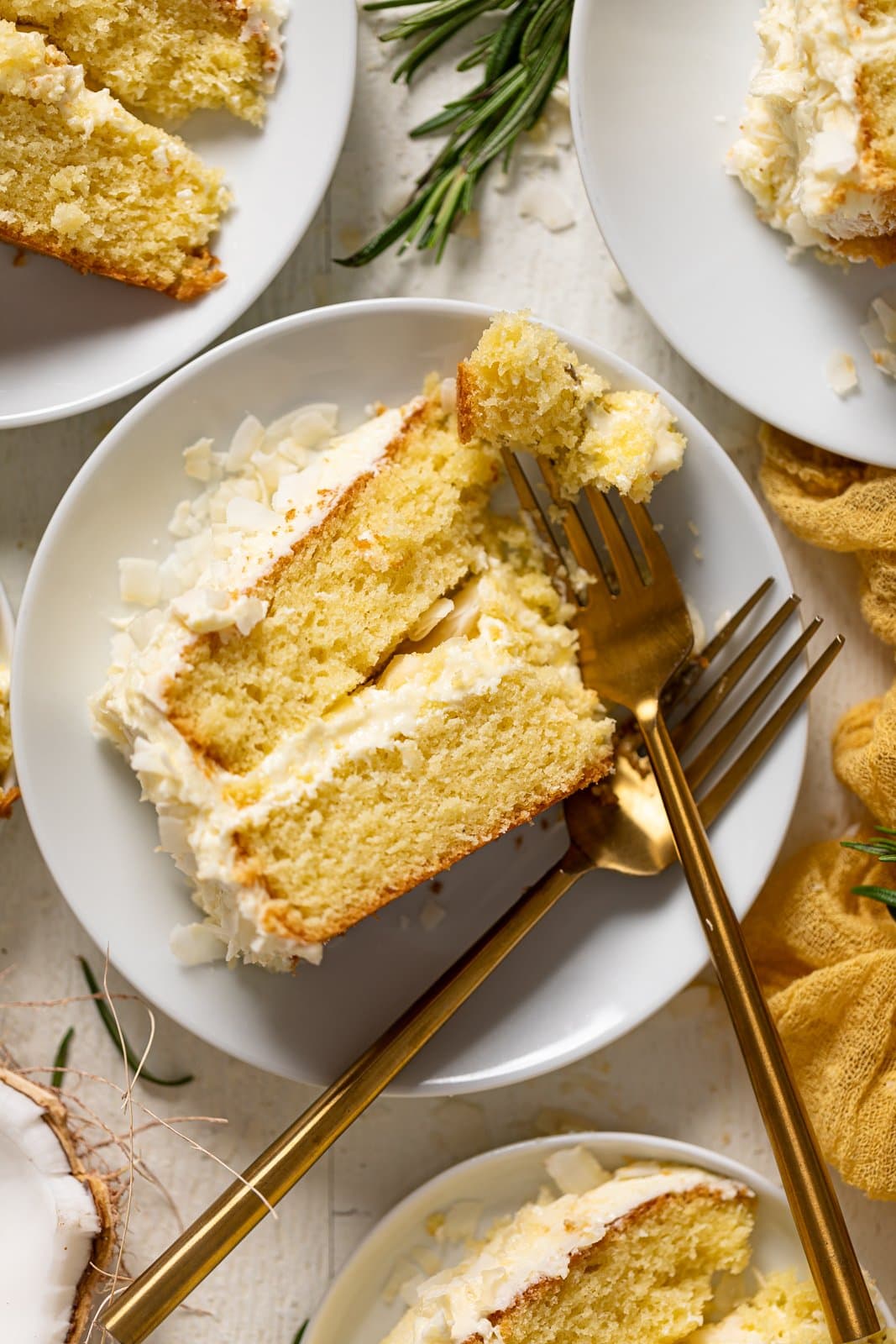 Why Lemon Coconut Cake?
Now, if you're a fan of baking cakes (or just eating them, let's be real), you absolutely have to give this homemade Lemon Coconut Cake a try!--It's a slice of pure heaven. Brace yourself for an explosion of flavors as it combines the best of lemon cake and coconut cake into one mouthwatering creation. Imagine sinking your teeth into a soft, spongey cake that's filled with coconut sweetness and infused with that delightful lemon zing – Thats my kind of treat!

Each bite is a symphony of flavors, with the fresh lemon complementing the subtle sweetness of coconut in the most perfect harmony. If you're a lemon aficionado, I've got even more lemony goodness to share – Give this Lemon Blueberry Olive Oil Cake, Perfect One-Bowl Lemon Birthday Sheet Cake and Strawberry Lemon Layer Cake a whirl too! However, if you're into more classic cakes, then maybe this Southern Salted Caramel Cake is just the thing that you need!

This Lemon Coconut Cake recipe has just the right amount of sweetness, fluffiness & softness, includes a ton of lemony freshness and coconuty goodness. It's like sunshine on a plate! And is altogether easy to make—using simple ingredients. It's perfect for any spring + summer occasion, from a backyard barbecue to a fancy dinner party.
Jump to: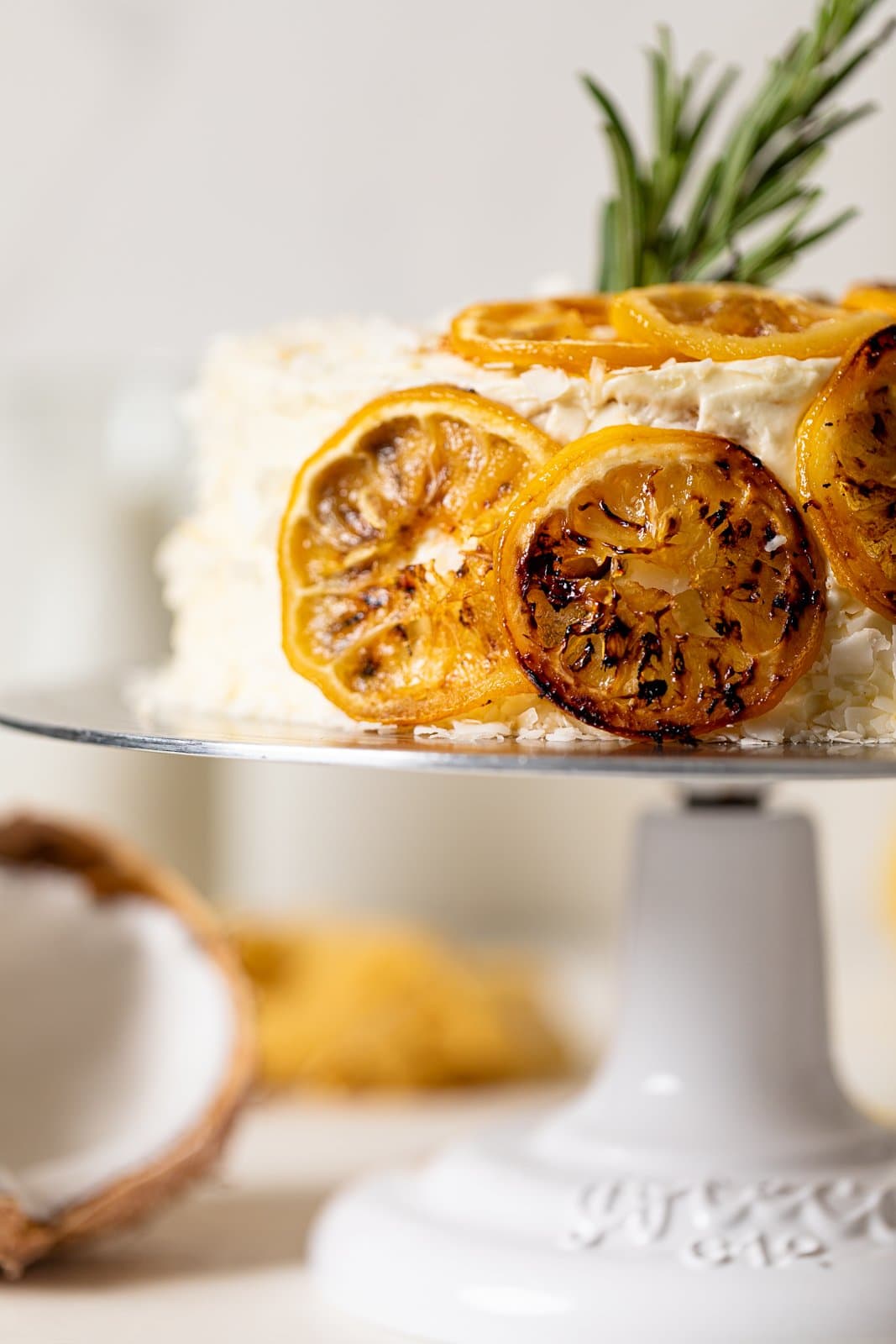 Is This Lemon Coconut Cake Beginner Friendly?
Absoltely! No baking experience? No problem! You can still create an impressive and delicious coconut cake that will wow your guests. If you've ever been intimidated to frost and decorate a homemade cake before, join the club. It's a great cake to start with! Don't worry; I'll guide you through it! Whether you're a seasoned baker or a beginner, this cake is sure to impress and bring some sweetness to your day!
Lemon Coconut Cake Ingredients
Here's what you need to make this nutty, lemony homemade coconut cake:
Flour. I use all-purpose organic flour from Bob's Red Mill.
Cane sugar. I also use organic sugar.
Butter. Use unsalted butter softened to room temperature for easy blending.
Lemon zest and juice. The fresh stuff will taste best!
Eggs. These should be at room temperature before you start baking to ensure even blending.
Vegetable oil. You can also use coconut if you prefer.
Buttermilk. To make dairy-free buttermilk, simply add lemon juice to almond milk or another dairy-free milk.
Coconut Buttermilk Frosting
To decorate the cake, make a light and fluffy coconut-flavored buttercream frosting. Here's what you need:
Powdered sugar. If you use granulated sugar, your frosting may have a gritty texture.
Butter. Use unsalted, softened butter.
Coconut milk. This should be at room temperature. I recommend using full-fat.
Coconut extract. This adds an extra dose of tropical coconut flavor.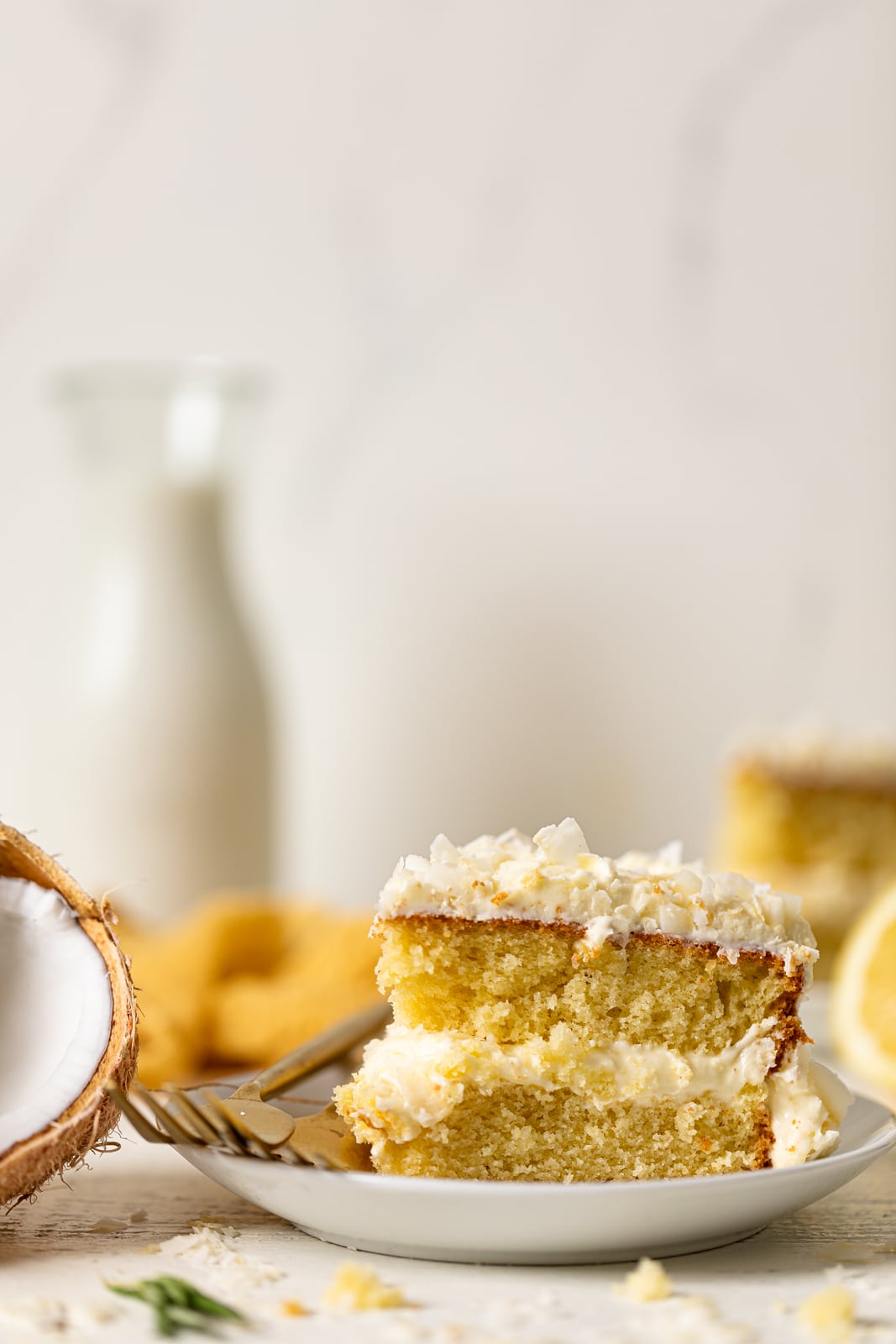 Tips For Making The Perfect Coconut Lemon Cake
TIP #1:
One thing that I've learned about baking a delicious lemon cake recipe is having the right tools. As a basic—-you should have a cake stand (preferably one that has a turnstile table), spatulas (big + small), piping bags + tips, correct baking pans and parchment paper.
TIP #2:
One of the essential ingredient combos for a light, silky cake texture is baking soda/baking powder and acid ingredient (usually apple cider vinegar + plant-based milk for vegan cakes). When acid and baking soda/baking powder reacts, it creates bubbles and helps to create a nice rise for your baked goods, leaving an airy texture.
TIP #3:
One of my latest tricks to a perfect coconut cake has been to ensure that ALL of my dry ingredients are sifted. Trust me, ya'll—-this works! Making all the dry ingredients fully sifted makes things airy, as you've guessed it and allows everything to combine faster.
TIP #4:
Never Over-mix! When creating a perfect cake, it's so important to add the dry ingredients and wet ingredients alternately and as soon as everything is combined very well, THAT'S IT! Over-mixing creates a more dense cake.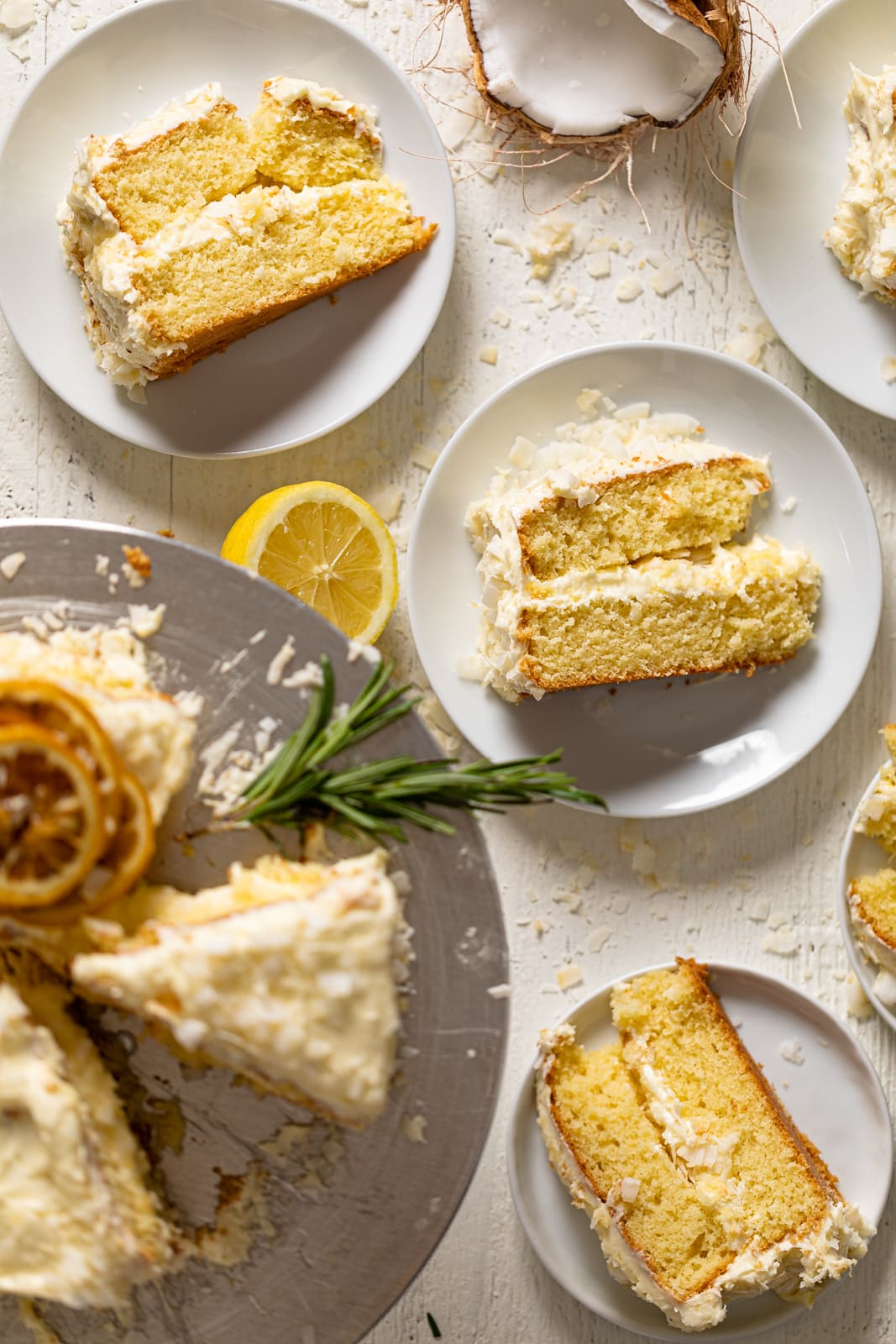 Assembling the Lemon Coconut Cake
I promise it's not as daunting as it seems, I will guide you through it!
Before you frost your cake, you'll need to trim it. Use a long serrated knife (or cake slicer) to slice the thin crust layer off the top of each cake to make a flat surface.
Next, place the first cake layer on a cake stand and evenly cover the top with buttercream. Now, place the with second layer on top and evenly cover the top with buttercream. You can add more layers if you like too!
Once your cake is fully stacked, spread the remaining coconut buttercream over the cake and down the sides.
Tip: Make things a bit easier by spreading a very thin layer of buttercream over the cake and chilling it for 30 minutes before adding the remaining buttercream.
Why Didn't My Cake Come Out Of The Pan Clean?
This issue can occur for TWO reasons: the first being that you didn't allow the cake to cool enough before removing it. I always recommend letting it cool for at least 20-30 minutes before removing it and letting it cool completely on a cooling rack. Secondly, the issue could be that the pan wasn't greased well. I like to grease + add cake pan parchment paper to the bottom.
Decorating Ideas for this Lemon Coconut Cake
The fluffy homemade buttercream frosting is all you need to decorate and assemble this lemon layer cake. If you'd like to add some extra pretty touches, try:
Coconut flakes
Roasted lemons. See the notes section below the recipe for how to make smoky and charred roasted lemons. They make a dramatic cake decoration!
Edible flowers, such as chamomile or nasturtiums
Sprinkles. Yellow or white sprinkles would add a nice touch.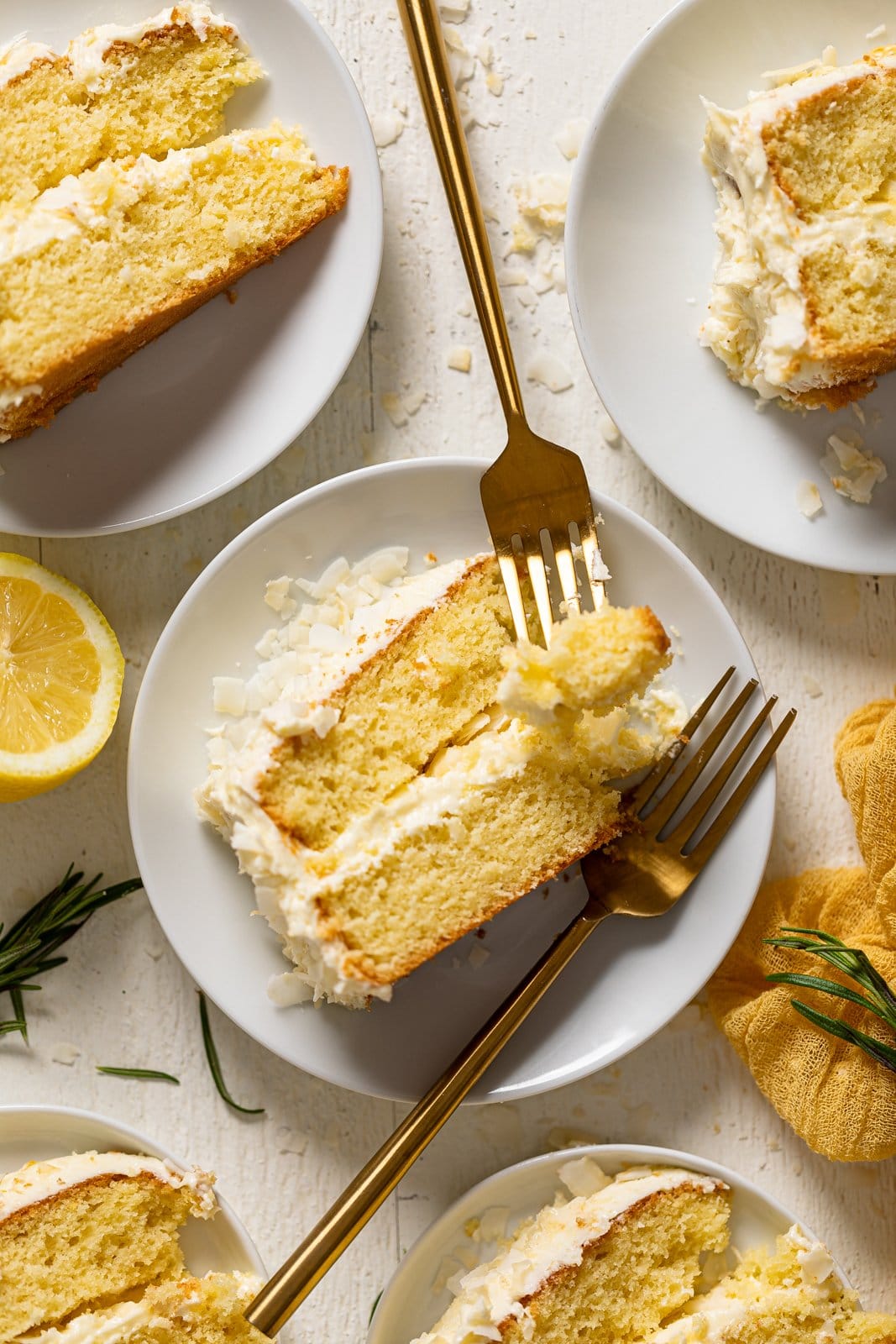 What To Serve Homemade Lemon Coconut Cake With?
This coconut cake recipe is indulgent and amazing all on its own, but if you're looking to add a little something extra, here are some more fun ideas for what to serve with the best homemade lemon cake -
Fresh Berries: The bright and juicy flavors of strawberries, blueberries, raspberries, or any seasonal berries make a perfect match with the vanilla cake. They add a refreshing touch and a burst of vibrant color.
Toasted Nuts: Sprinkle some toasted almonds, pecans, or walnuts on top of the cake for added crunch and a nutty flavor profile.
Ice cream: The contrast between cold ice cream and cake can be a winning combination. Try my No-Churn Caramel Cone Ice Cream or No-Churn Butter Pecan Ice Cream
Coffee or tea: A cup of coffee or tea can be a great way to round out the flavors of the cake. The bitterness of the coffee or tannins in the tea can help balance out the sweetness of the cake. Try my decadent Iced Caramel Latte [with Coffee Ice Cubes] or keep it coconut-y with this Toasted Coconut Honey Latte
Mocktails: A colorful drink like this Loaded Hibiscus Mocktail complements the cake beautifully or Frozen Pineapple Margarita Mocktail for a tropical twist!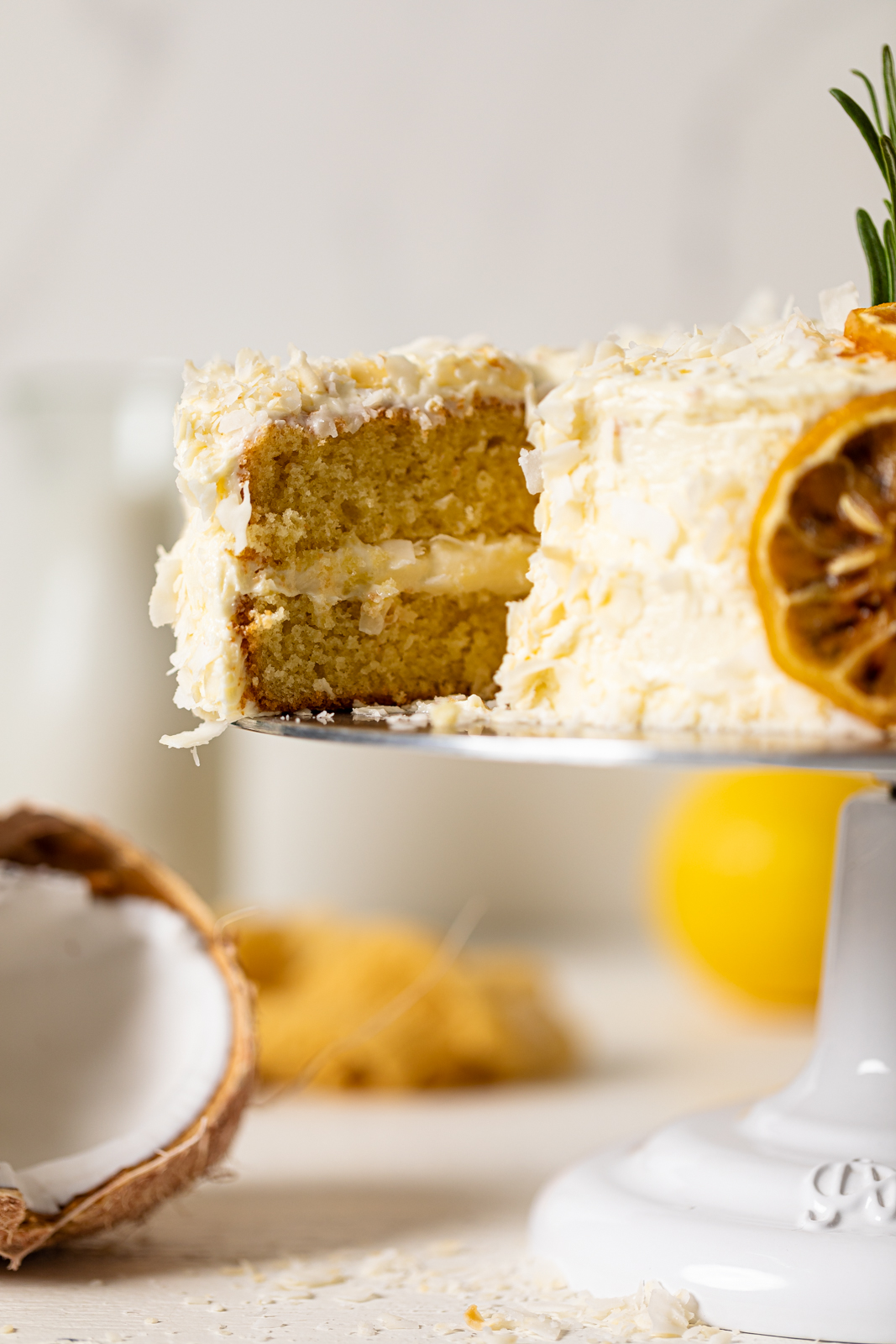 Why You Will LOVE This Homemade Lemon Coconut Cake?
A perfect balance of sweetness to satisfy your cravings.
Insanely delicious and perfectly moist.
Can be made as a traditional 2 or 3-layer cake, sheet cake, or cupcakes. Your choice!
A totally dreamy spring + summer dessert for any occasion
Vibrant lemon & coconut flavors
Most importantly... It's totally mouthwatering
Perfect Occasions For A Slice Coconut Cake
These events are a great excuse to eat cake!
Birthdays
Anniversaries
Barbecues
Potlucks
Kids Sleepovers
Holiday Gatherings
Graduations
Baby Showers
Dinner Parties
Actually, any time is a good time for cake, right? Bake away for a little weekday pep-up!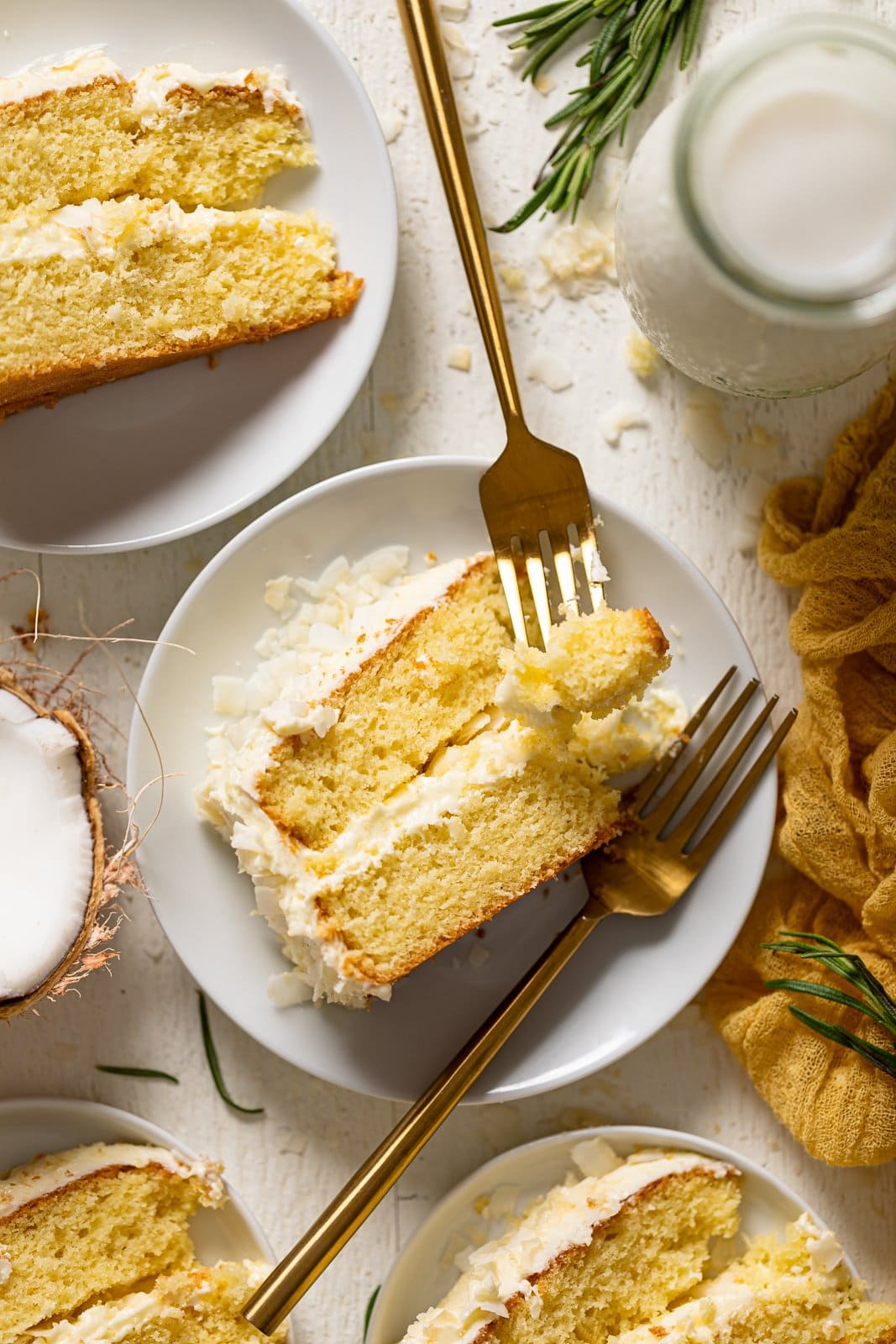 Lemon Coconut Cake Q + A's
Can I Make this Lemon Cake Recipe Gluten-Free?
If you would love to make this homemade coconut cake gluten-free, then substituting all-purpose flour with Bob's Red Mill 1-to-1 Baking Flour is the easiest option. It's a special blend of gluten-free flour, starches, and xanthan gum, which makes this cake just as soft, fluffy, and airy as the original! They also have a great All-purpose GF flour that works great as well.
Can I Make Vegan Homeade Coconut Cake?
Yes, if you'd like to make this cake dairy-free and egg-free, it's easy enough! Simply omit the eggs. Use vegan butter instead of regular butter.
Can I Make Lemon Coconut Cupcakes Instead?
Absolutely! To make cute individual cupcakes, you don't need to change anything with the recipe. Simply divide the batter between lined cupcake wells and bake for 18 to 20 minutes, until they're set in the center. This recipe makes about 30 cupcakes.
How To Store Homemade Coconut Cake?
Store leftover cake tightly wrapped or in an airtight container in the fridge for up to four days. You can also freeze the cake for up to 6 months. Then just defrost the cake on the counter for a few hours before serving.
Can I Make This Lemon Cake Recipe Ahead Of Time?
Absolutely! You can always bake this delicious lemon cake the night or the day before and let it cool, tightly wrap, and refrigerate until ready to use. The frosting/buttercream can also be made prior and tightly wrapped and stored in the fridge as well. When ready to serve, let the cake sit at room temperature for 30 minutes to an hour, frost, and enjoy!
Love Cake? Try These Next!
MADE OUR RECIPE(S)?
If you make this Lemon Coconut Cake, be sure to tag me on Instagram @orchidsandsweettea!
LEMON CAKE:
4

cups

organic all-purpose flour

1 ½

cups

organic cane sugar

1

cup

unsalted butter, softened at room temp.

2 ½

tsps

baking powder

1

tablespoon

lemon zest

Pinch of

sea salt

4

large

organic eggs, at room temp.

2

tsps

freshly-squeezed lemon juice

(You can also use lemon extract, if preferred)

⅓

cup

vegetable oil

(You can also use coconut oil)

1 ½

cups

dairy-free "buttermilk: milk + 1 tablespoon lemon juice 

(You can also use full dairy if desired!)
COCONUT BUTTERCREAM FROSTING:
5

cups

organic powdered sugar, sifted

1

cup

unsalted butter, softened at room temp.

3-4

Tbsps

full-fat coconut milk, room temp.

(The canned version)

1

teaspoon

coconut extract
TOPPINGS:
Coconut flakes

Lemon slices, roasted

(Optional, See Notes!)
MAKE THE CAKE:
Begin by preheating your oven to 350 degrees Fahrenheit. Lightly grease (with butter) AND line with parchment paper the bottoms of TWO 8 or 9-inch cake pans (for thicker layers) or THREE 6-inch cake pans.

In a bowl, whisk together the milk and lemon juice and set aside for 5-10 minutes until everything "activates" to create the dairy-free "buttermilk".

In a large bowl, whisk together both the flours, baking powder, lemon zest, and salt until combined.

In a bowl, add the butter and sugar, beating them together using a hand-mixer (on high-speed), until pale and fluffy, about 2-3 minutes.

Add the eggs (one at a time) followed by the freshly-squeezed lemon juice and oil, mixing until combined. On low-speed, add in the dry ingredients followed by the buttermilk and continue to mix until combined and the batter is smooth, about 3-4 minutes. NOTE: The batter should be thick, yet slowly run off the whisk once lifted.

Divide the batter evenly into each of the cake pans and bake for 30-35 minutes, or until a toothpick or butter knife comes out clean when tested in the centers.

Remove cakes from the oven and let them rest in the pan for 10 minutes or so before removing the cakes and placing them onto a cooling rack to fully cool. NOTE: Let them cool for at least 1-2 hours in a cool place.
MAKE THE BUTTERCREAM FROSTING:
Simply beat the butter in the bowl of an electric mixer (or using a hand-mixer) on medium-high speed, until smooth and pale. Add in the powdered sugar, coconut extract, and coconut milk, continuing to mix on medium-speed until you reach the desired consistency—-smooth and fluffy. NOTE: Add more milk (1 tablespoon at a time if too thick) or powdered sugar (for more thickness).
ASSEMBLY:
Place the first cake layer on your cake stand and evenly cover the top with buttercream and a handful of coconut flakes. Now, top with 2nd layer and add more buttercream atop that layer, spreading it over the tops and sides of cake, evenly and thinly. NOTE: If making a 3-layer, be sure to repeat step 1 of assembly once again before getting to the final layer.

Once fully frosted, add small little designs of the buttercream using a piping bag + tip around the sides and top of cake. Top with coocnut flakes, as desired. Chill for 5 minutes to ensure that buttercream sets. NOTE: For a fancy moment or occasion, add roasted lemon slices for a nice look!

When ready to serve, remove from the refrigerator. Slice and enjoy!

Bon Appetit!
STORAGE: Keep cake leftovers stored for up to 4-5 days in the fridge. Keep it in an airtight container to keep the cake from drying out. You can also freeze the cake tightly wrapped in plastic wrap for up to 3 months. Before serving, defrost the cake on the counter.
FLOUR: You can also use cake flour in place of all-purpose flour for a fluffier texture. 
LEMON CUPCAKES: This recipe yields about 30 cupcakes. Simply bake for 18-20 minutes instead, until centers come out clean.
DAIRY BUTTERMILK: Add 1 cup of organic heavy cream + 1 tablespoon lemon juice and let sit for 10 minutes, until it thickens.
VEGAN OPTION: To make this cake entirely dairy-free + vegan, simply omit the unsalted butter and eggs and use vegan butter instead and add 1 tablespoon apple cider vinegar to milk instead of lemon juice. Also, feel free to use coconut oil as a substitute for vegetable oil, if desired. 
ROASTED LEMONS: Makes about 12 slices of lemons. About 3 Regular or Meyer lemons, washed, patted dry, and sliced thin (about ⅛ inch thick). Remove seeds. Preheat oven to 350 degrees F and on a baking sheet lined with parchment, add sliced lemons. Lightly brush tops with olive oil and sprinkles of cane sugar. Bake for 35 or so minutes (keeping an eye on them after the first 15 minutes to ensure that they don't burn). Remove from oven and let cool until they harden a bit and can be added to cake for decor.