This Iced Lemon Loaf Pound Cake is dense, moist, and fluffy---just perfect for your Spring baking needs. It's also well balanced between tart and sweet flavors as zesty lemon is paired with a simple lemon-y icing. A definite crowd-pleasing treat for the Easter season or any special occasion, especially during the Spring season. A true classic dessert! Make ahead + Gluten-Free options.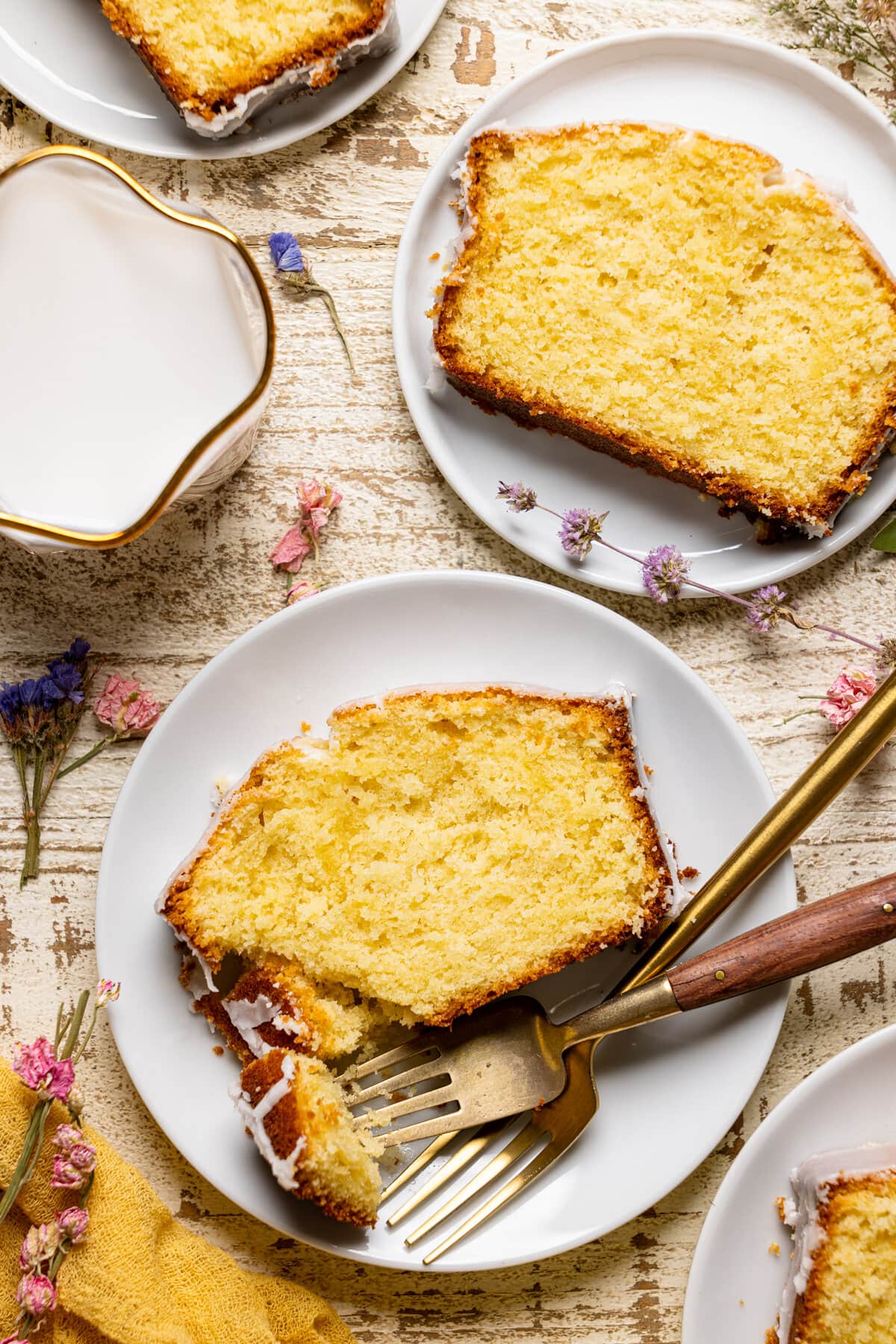 Disclaimer: This post contains affiliate links via Amazon for products that I wholeheartedly love.
If you're a fan of loaf cake or lemon flavor, then this is just the recipe you need! It's such a Southern classic---pound cake in loaf form! One of my favorite parts about Spring is the bright, colorful, flavorful baking recipes that we get to indulge in to ring in more sunshine! This Iced Lemon Loaf Pound Cake is by far one of my favorite cakes that comes together super easy and literally only takes little effort if you ask me. Whenever I'm in the mood for baking layered cakes, this Lemon + Strawberry Layer Spring Cake is a nice switch up but close rendition and it's SO GOOD! Oh, and for another loaf cake idea---you'll surely want to make this Roasted Blueberry Lemon Olive Oil Bread recipe! If you're a lover of cake, then our Best Cake Flavors for Any Occasion list is one to check out!
Plus, who doesn't love lemon, right? Seriously lemon is one of my favorite citrus flavors and I can absolutely create almost anything tasty with it. haha. This pound cake definitely only lasts about 2 days in my house because everyone is eating a slice by the hour it feels. So, I'm sure that this cake will be a family-favorite and staple in your house too!
If you're like me, then sometimes switching things up is your middle name, so if you do make this pound cake more than once, then feel free to add different flavored icings on top like strawberry or blueberry. Also, you can even add berries to the cake batter if you're feeling extra fancy. Either way----this one's a must-bake, especially with Easter coming around the corner!
But, if you've been craving Starbuck's lemon loaf, which is my go-to whenever I do grab a drink + loaf, then this recipe is one for the books! Plus, you save money by baking this entire loaf and having it to yourself. Isn't it a win, win. Haha.
What is Lemon Loaf Made of?
Basically, lemon loaf is made of flour, sugar, butter, baking powder, eggs, lemon zest, lemon juice or extract, and a buttermilk or yogurt or sour cream, of some sort. It's fairly a handful of ingredients that you'll probably already have on hand!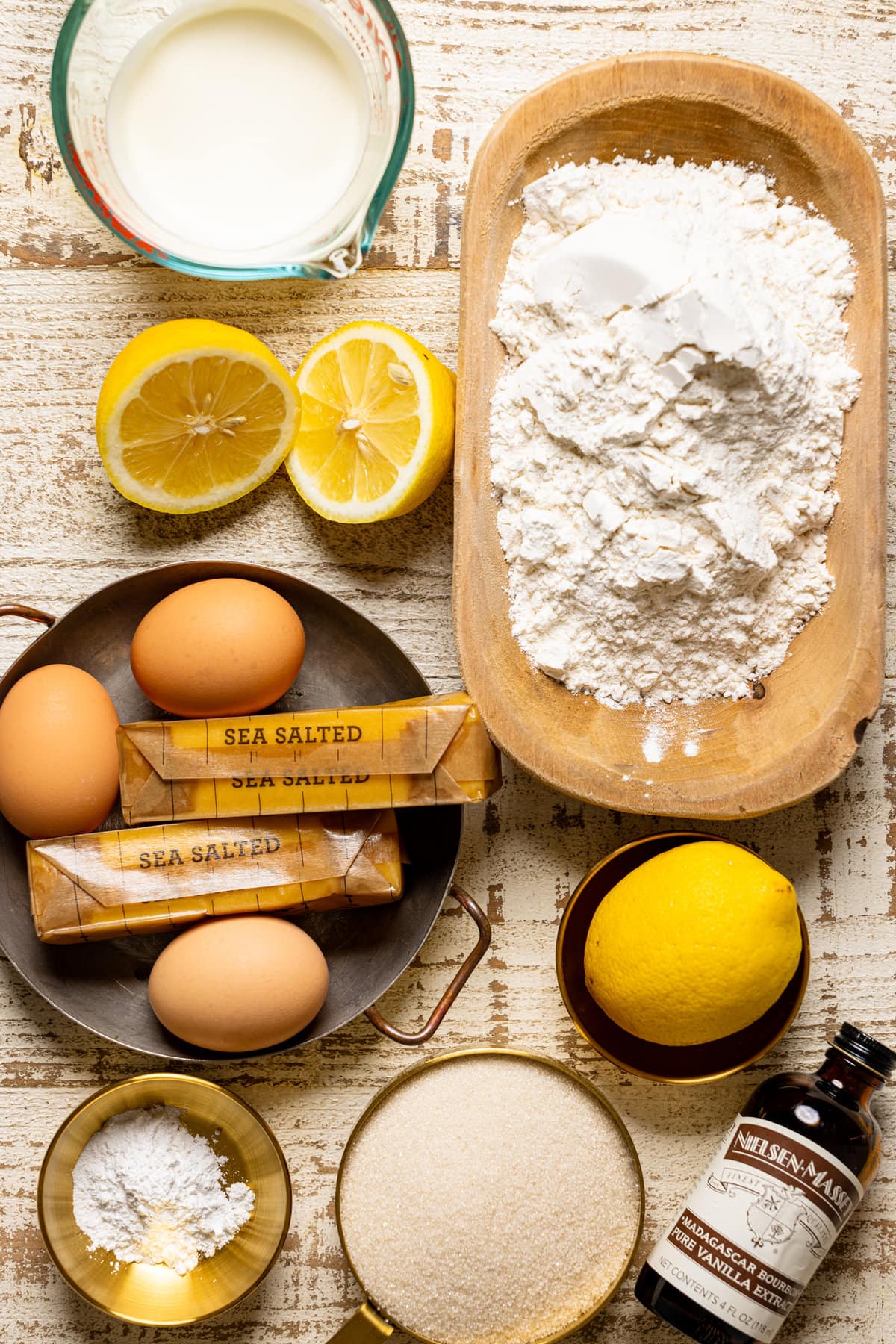 How to Make Iced Lemon Loaf Pound Cake
This is a simple recipe to make when it comes to this Iced Lemon Loaf Pound Cake. And chances are you probably already have the ingredients on hand. You'll basically start by beating together the sugar and butter until fluffy, then add in the eggs, vanilla, and other wet ingredients before finally adding in the dry ingredients. Mix until combined and smooth and then scoop into your prepared loaf pan, bake, cool, and whip together the simple icing to top it with. Wallah! Slice and enjoy!
Ingredients for Iced Lemon Loaf Pound Cake
This is a classic Iced Lemon Loaf Pound Cake. Here are the ingredients you need:
Flour. I love using all-purpose flour, however, you can use a blend with a combination of all-purpose flour and organic cake flour for more airy, fluffy cake.
Baking powder to help leaven your cake. Be sure that it's fresh!
Cane sugar. I use organic sugar for the best quality.
Lemon zest adds a major zippy flavor. The more, the merrier.
Lemon juice. I love using actual squeezed lemons for a bolder, high-quality lemon-y flavor. You could also use lemon extract if you like. This is for both the cake + the icing.
Butter. Use unsalted butter to better control the seasoning. But salted butter is fine too! Just omit the salt.
Eggs. These should be at room temperature for easy mixing.
Vanilla. Helps to enhance the flavor.
Cinnamon. Just a pinch will do!
Buttermilk. This can be made by combining organic heavy cream and lemon juice. However, you can also use plain yogurt or sour cream.
Powdered sugar. Also known as confectioner's sugar. This ensures your puree is totally smooth, with no grains of granulated sugar to ruin the texture.
Heavy cream or milk. Again, you can use your fave milk for the icing or plant-based milk instead.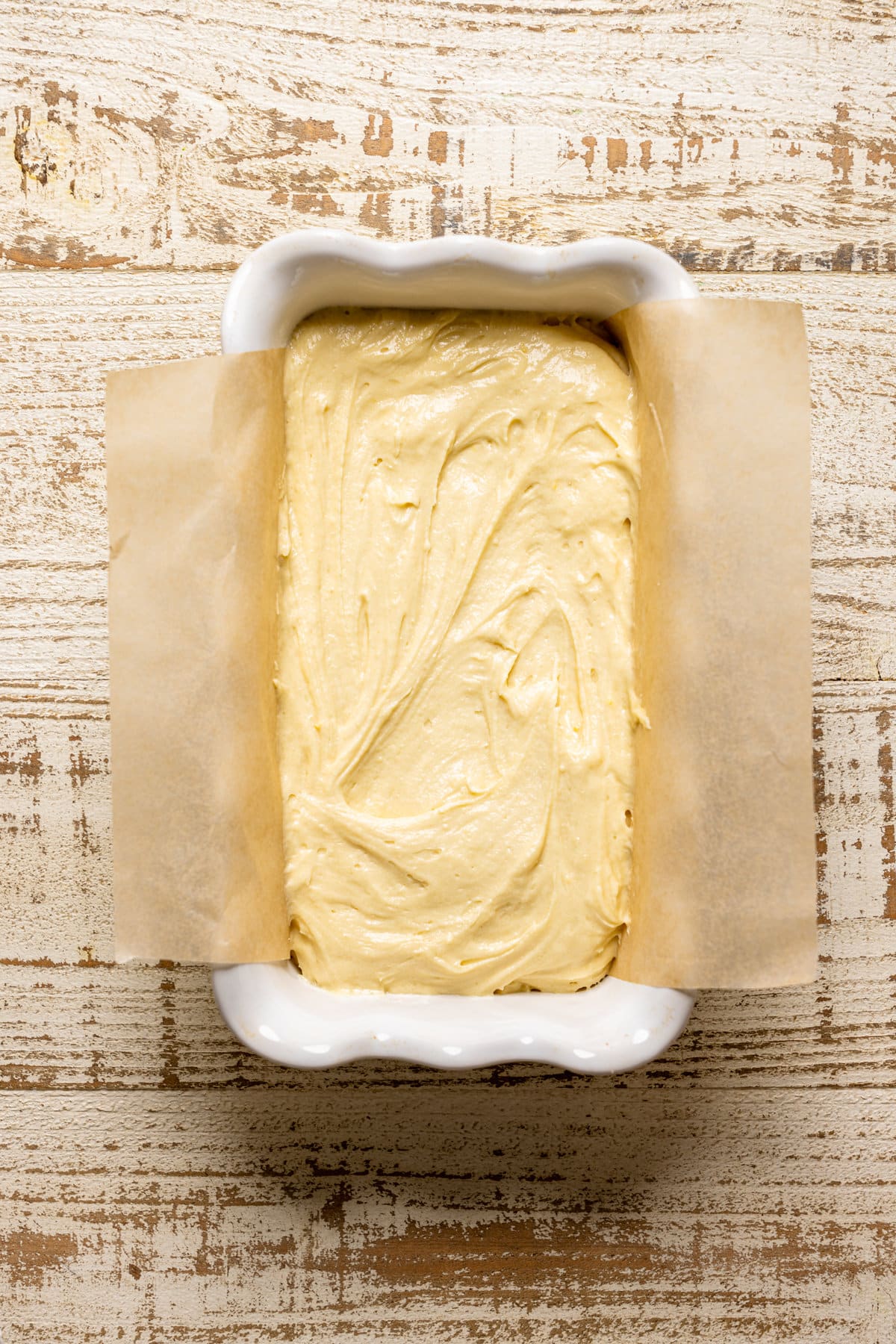 WHY YOU'LL LOVE THIS ICED LEMON POUND CAKE:
It's SUPER fluffy + moist.
So easy to whip together.
Only requires ONE bowl! No stand-mixer needed for cake unless you choose to use one!
Perfectly sweet + tart at the same time.
Better than Starbuck's lemon loaf----I promise!
Topped with a delicious, simple lemon icing!
Gluten-free option available!
Make for the perfect Birthday, Easter, or celebratory sweet treat.
WARNING: Highly Addictive!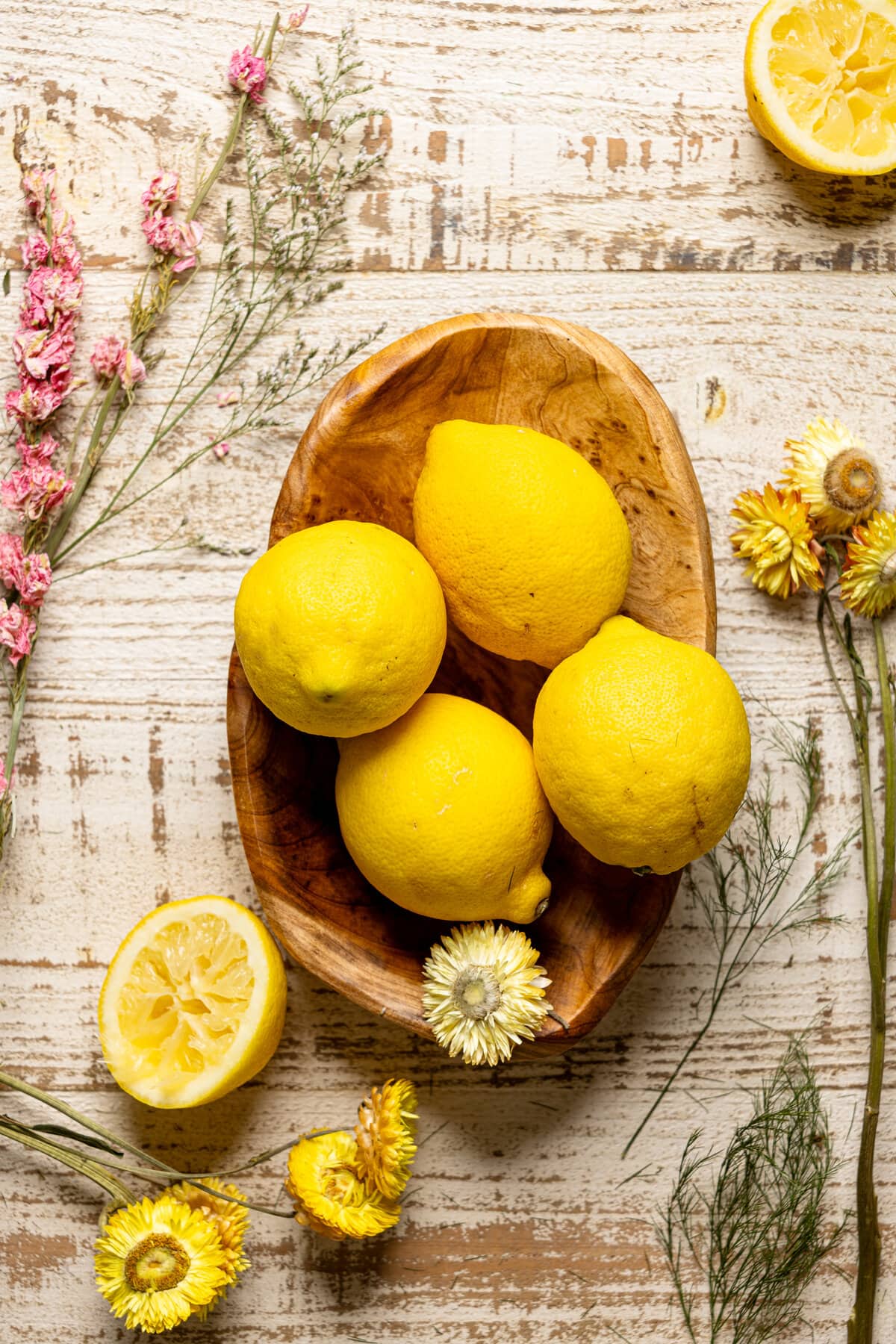 Can I Use Lemon Juice Instead of Lemon Extract?
I highly recommend using freshly-squeezed lemon juice to bring acidity to your cake, which interacts with the leavener for a fluffy, soft texture, BUT also for a bolder, high-quality taste that extract just wouldn't give. However, if lemon extract is what you have on hand, by all means use it! In this recipe, you'll need about 3-4 large lemons for a good amount of juice. The trick to more juice: Firmly roll your lemon (one by one) unto a hard surface or countertop prior to cutting and squeezing. This helps to extract more juices without the need to squeeze for your life. Haha.
Can I Use Lemon Juice Instead of Lemon Zest?
Of course! If you don't have lemon zest on hand because you're using store-bought lemon juice or you just prefer not to add it in, you can always substitute the zest with additional lemon juice. The general rule of thumb is to add 2 Tbsps of lemon juice for every 1 teaspoon of lemon zest called for. That simple!
Cake Flour vs. All-Purpose Flour.
When it comes to the main ingredient of this entire Lemon Loaf Pound Cake recipe—-the flour, I enjoy using Bob's Red Mill Organic All-Purpose Flour, which is ideal for all kinds of baking, including this one.
However, I do occasionally use Super-Fine Cake Flour which adds a nice airiness and fluffiness to your cakes as well.
How to Make Your Own Homemade Cake Flour
If you're in a pinch and you don't have any cake flour on hand and you only have all-purpose flour---no worries! You can still achieve that extra fluffiness that cake flour would by simply adding 1 teaspoon of arrowroot or starch to your flour before whisking.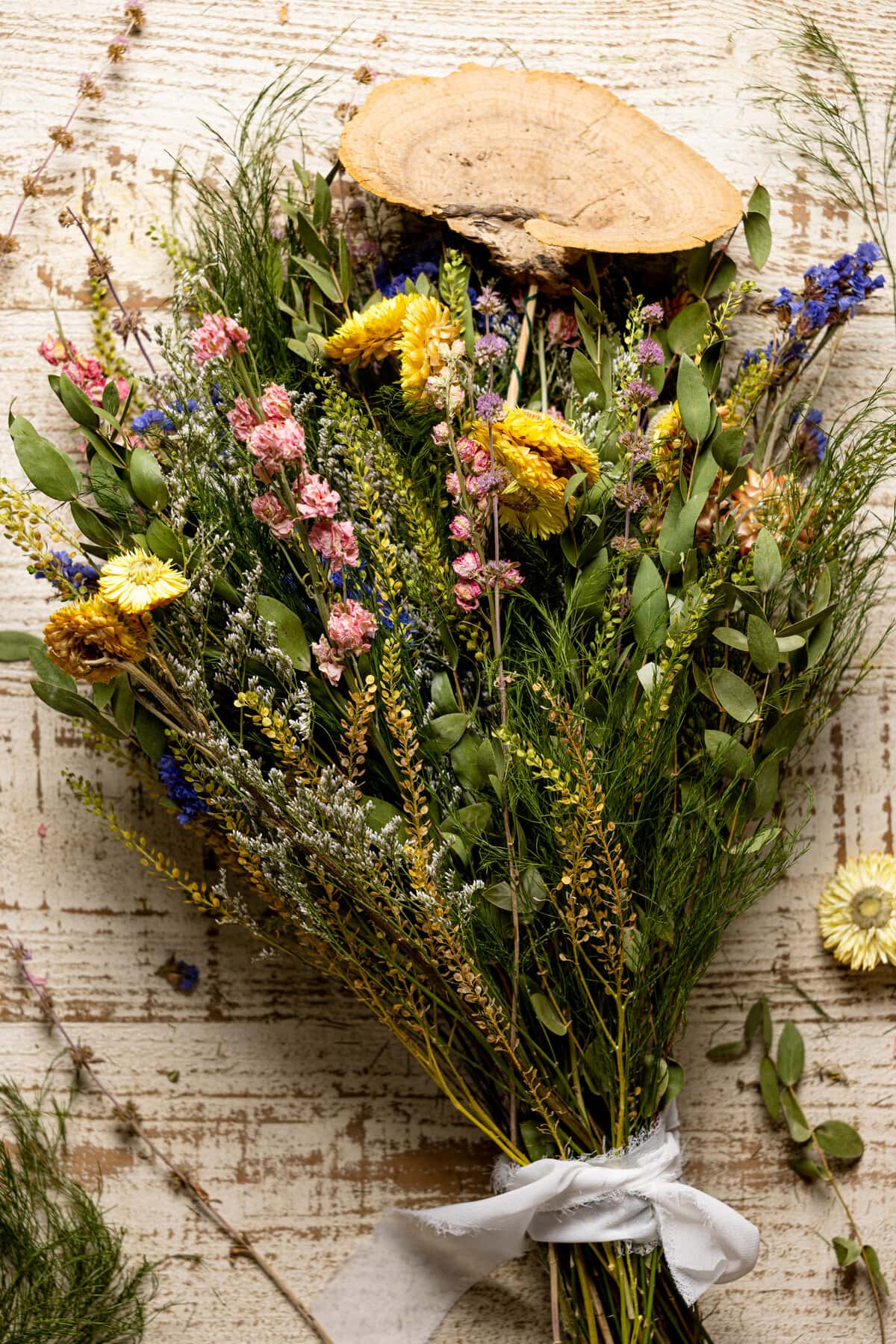 Now that we're officially in Spring, I'm so happy that I finally get to decorate both my house and a few recipes with florals that resonate with the season so well like this bouquet which so beautifully handmade by my dear friend, Nina from Right Side Hand. I love that these are dried flowers because they last longer but also bring in the earthy, floral smell that live florals do! They truly brighten up the areas in my house and dish like no other.
SHOP MY FAVORITE TOOLS FOR COOKING, ESPECIALLY FOR THIS LEMON LOAF!
Here, I've curated a list of cooking + baking essentials that I use to achieve my favorite baked goods or cooked meals, especially with this Iced Lemon Loaf Pound Cake. Everything from my fave baking sheet, dutch ovens, wooden spoons, mixing bowls, and more. SEE THEM HERE!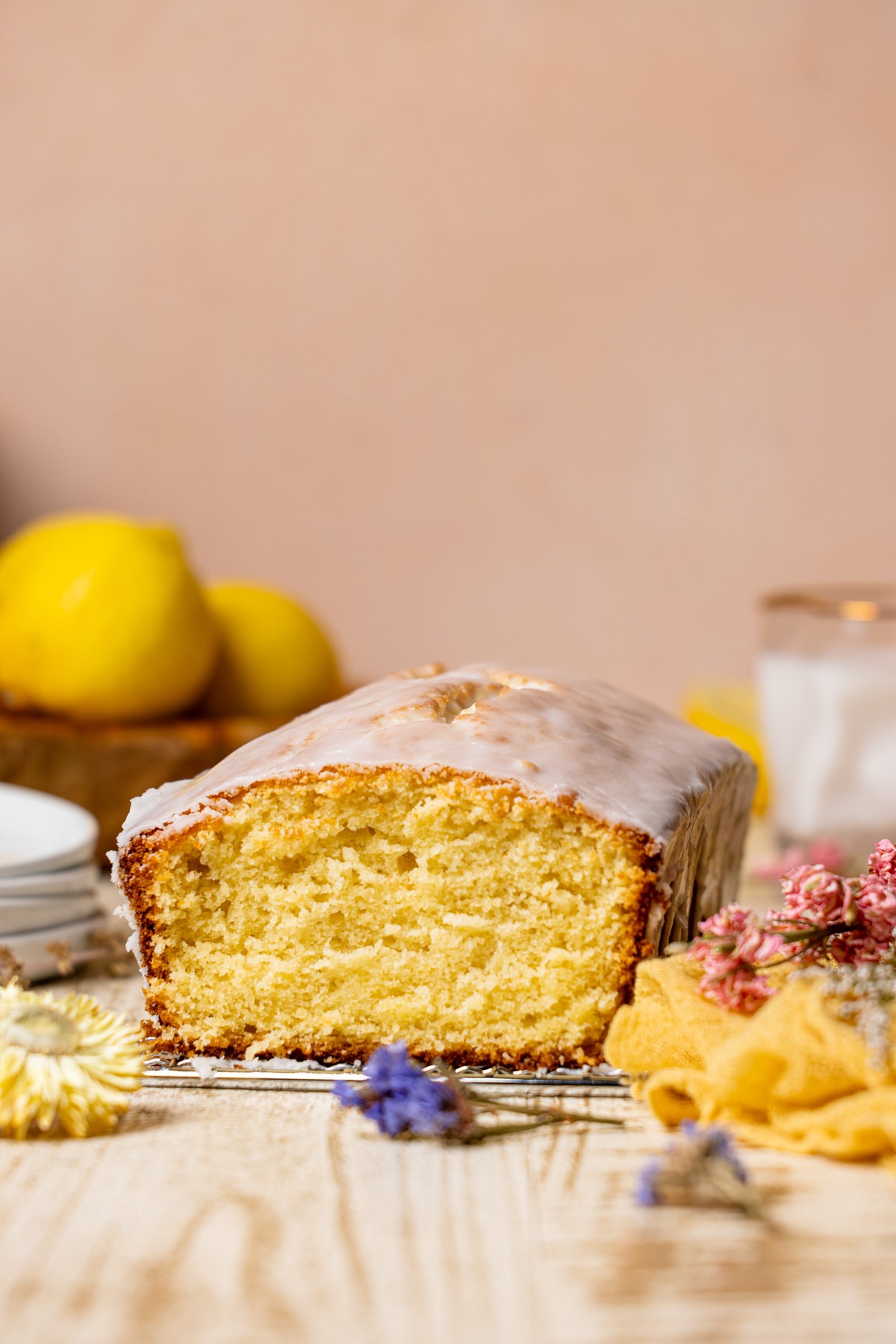 How to Know If Your Baking Powder + Baking Soda are Fresh
Baking is such a science, but more importantly because certain ingredients like your leaveners (aka baking powder + baking soda) are completely fresh so that your lemon loaf (and other baked goods) fully rise and bake through nicely.
Incase you weren't aware, there's an easy to double check both the baking powder and baking soda. Here's what you need:
BAKING SODA HACK:
-Add 1 teaspoon baking soda with ¼ cup vinegar or lemon juice in a bowl and if it's fresh, the mixture should "bubble/fizz". If no bubble/fizz is present, then your baking soda needs to be replaced.
BAKING POWDER: 
-Add 1 teaspoon baking powder with ¼ cup Hot tap water in a bowl and if it's fresh, the mixture should "bubble/fizz". If no bubble/fizz is present, then your baking powder needs to be replaced.
How Long To Bake Lemon Loaf in the Oven?
OK, so when it comes to most loaf cakes or breads, the million dollar question is always how long should they bake for. Honestly, the general rule of thumb is 55-60 minutes, while checking them in between to ensure that the top isn't browning too quickly and to ensure that the middle is baking through. For a personal tip, I always love making tiny holes around the tops of my cakes and breads (especially the center) to help the heat penetrate through and it's best to use a toothpick or cake tester for small holes and not an actual knife or anything.
How to Tell When Cake or Loaf is Done?
Like I always mention, I often check the center with a cake tester or toothpick or knife to ensure that it's clean. This means that the crumble has set and you're good to go. Also, you can do the "jiggle" test by shaking it slightly (using mittens of course) to see if there's any movement in the center of the cake. A done cake will be solid without any jiggling.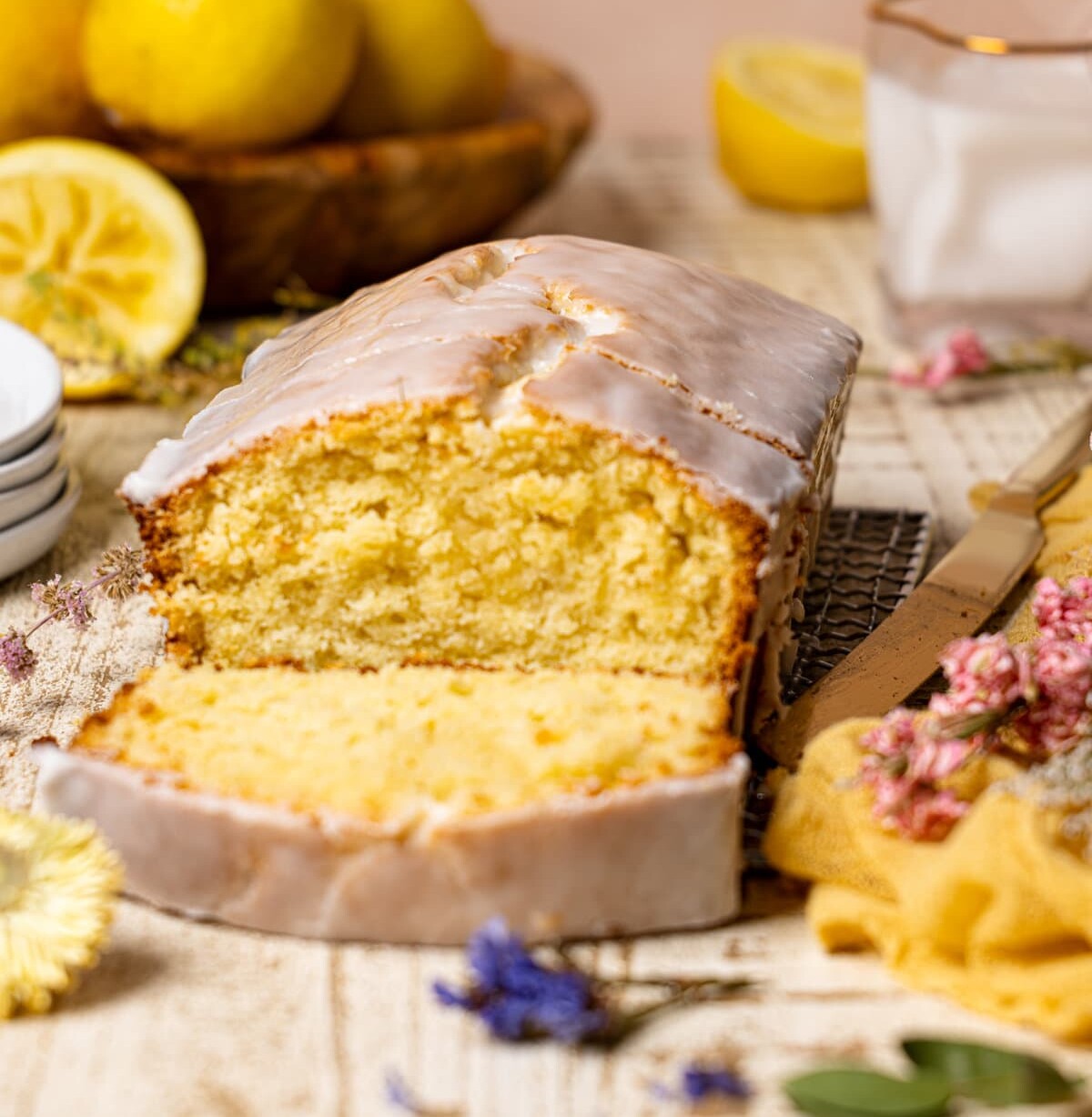 COMMON FAQs ABOUT THIS LEMON LOAF CAKE.
WHY ARE THE INGREDIENTS AT ROOM TEMPERATURE?
When it comes to ingredients, especially in baking, it's always best to have cold ingredients at room temperature to ensure that the mixing process is more seamless and even. How to know when it's perfectly softened-----once you poke it and it slightly indents.
Please note that microwaving your butter last minute if you forget to leave it out at room temperature isn't recommended. Microwaving often changes the consistency of the butter which doesn't create a nice 'creaminess' when mixed. Therefore, I recommend planning to have your butter out on the countertop for about 1-2 hours prior to baking this lemon pound cake.
Top Hacks for Softening Butter:
Use Indirect heat from microwave
Cut butter into smaller pieces
Flatten the butter by pounding
Use a hot water in a glass or container
CAN THIS LOAF POUND CAKE BE MADE AHEAD?
Absolutely! You can always bake this cake the night or day before and let it cool, tightly wrap, and refrigerate until ready to use. The icing is a quick whip together for the day of. When ready to serve, let cake sit at room temperature for 30 minutes to an hour, spoon icing on top, and enjoy!
SHOULD LEMON LOAF BE REFRIGERATED?
Initially, you don't need to store leftover lemon loaf in the refrigerator. It should be tightly wrapped in plastic wrap or stored tightly in a cake stand at room temperature for up to 5 days. However, by the 3rd day or so, it's best that you refrigerate it so that it stays fresh and the icing doesn't make things soggy!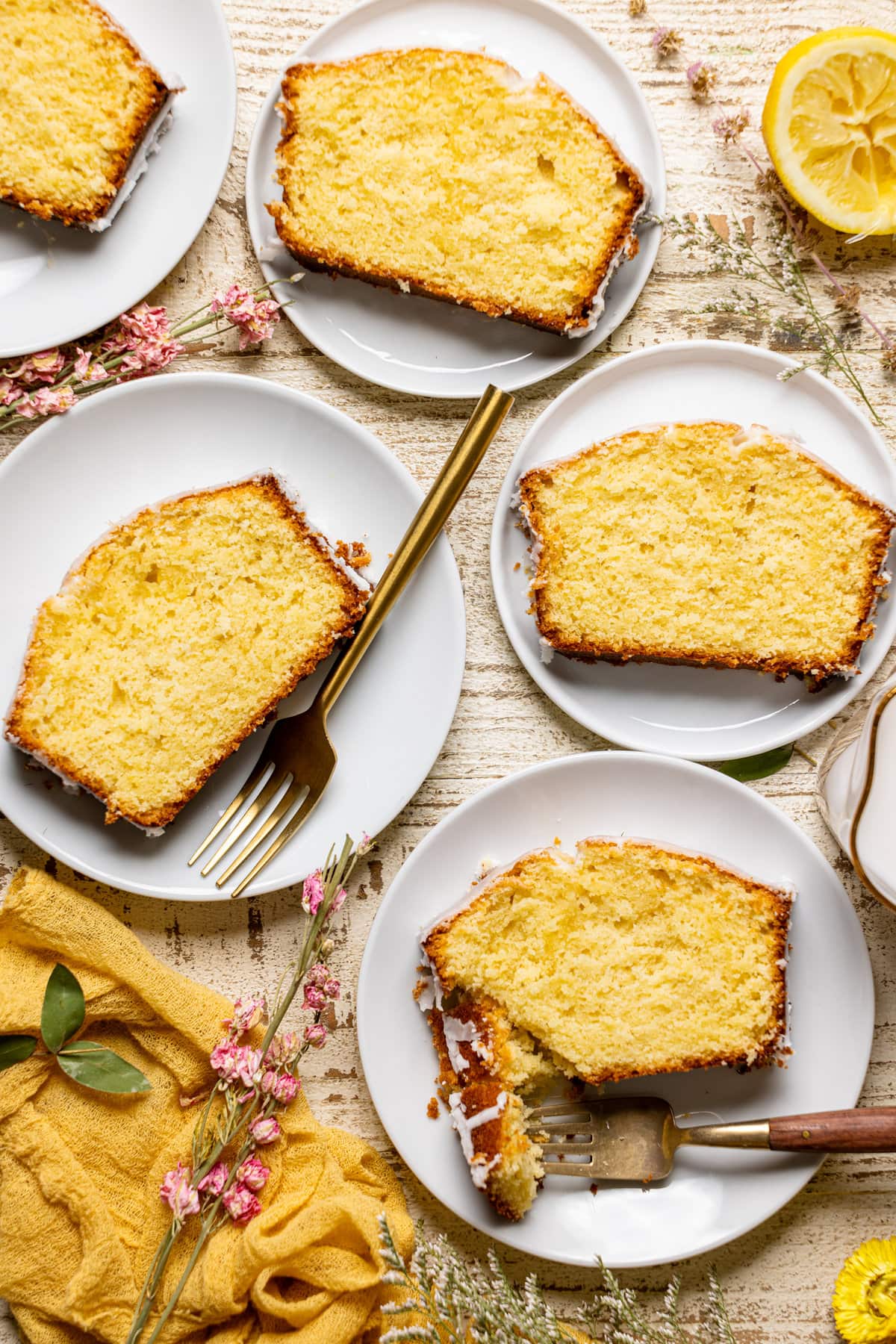 Can I Make Lemon Cupcakes?
Sure! To turn this cake recipe into individual cupcakes, simply divide the batter between about 30 cupcake wells. Bake for 18 to 20 minutes, until the centers are set. You'll just need a buttercream, which can be lemon-infused or another flavor. See my Vanilla Yogurt Cake recipe for the vanilla buttercream---just add 1-2 Tbsps of lemon juice instead of vanilla for a lemon-y feel.
Can I Make this Iced Lemon Loaf Pound Cake Gluten-Free?
Yes! If you would love to make this Iced Lemon Loaf Pound Cake gluten-free, then substituting all-purpose flour with Bob's Red Mill 1-to-1 Baking Flour is the easiest option. It's a special blend of gluten-free flours, starches, and xanthan gum, which makes this cake just as soft, fluffy, and airy as the original! They also have a great All-purpose GF flour that works great as well.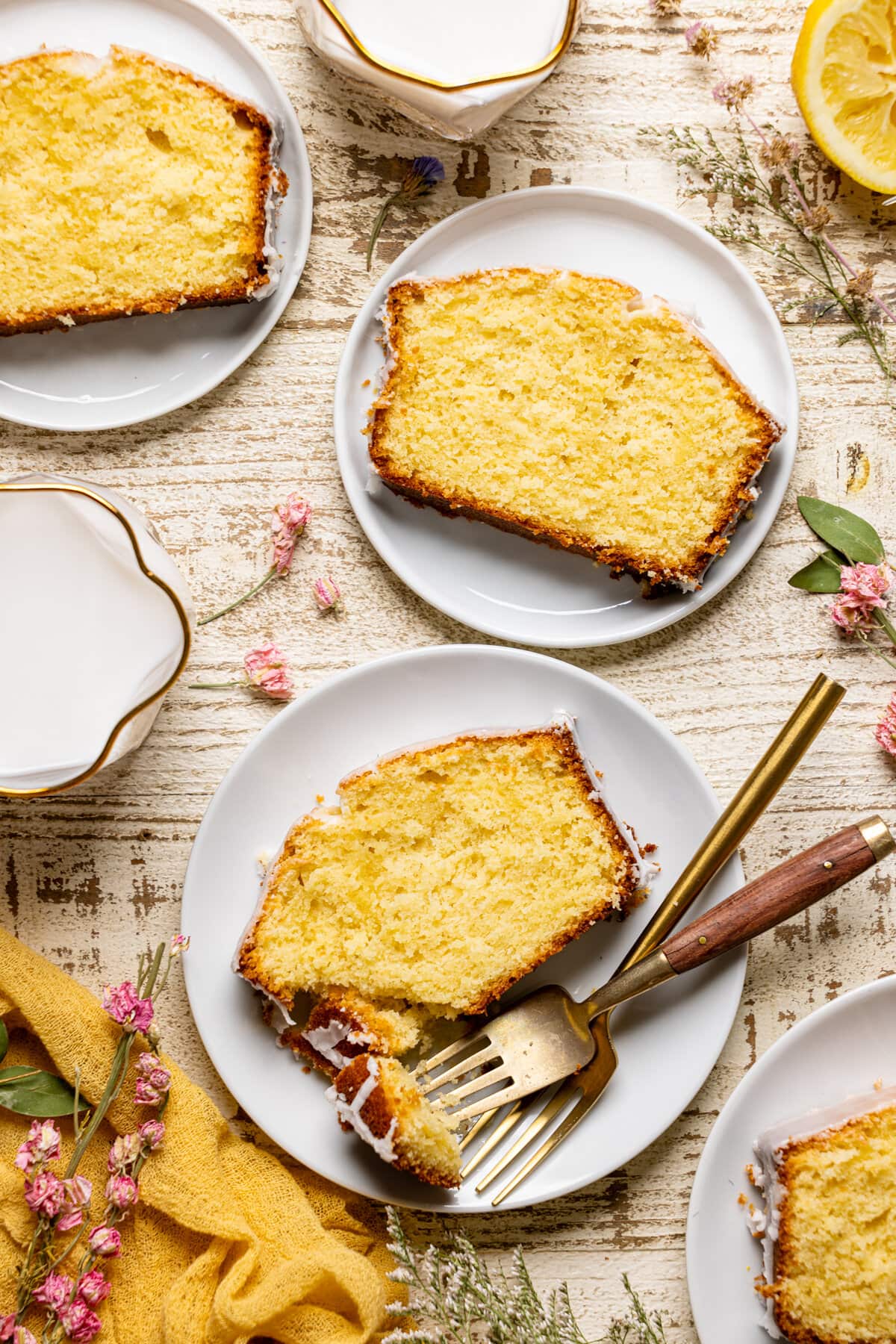 Reader Favorite Lemon-infused Recipes You'll Love!
My Iced Lemon Loaf Pound Cake is a smash hit, so if you like this one, you will love these recipes!
MADE OUR RECIPE(S)?
If you make this Iced Lemon Loaf Pound Cake, be sure to tag me on Instagram @orchidsandsweettea!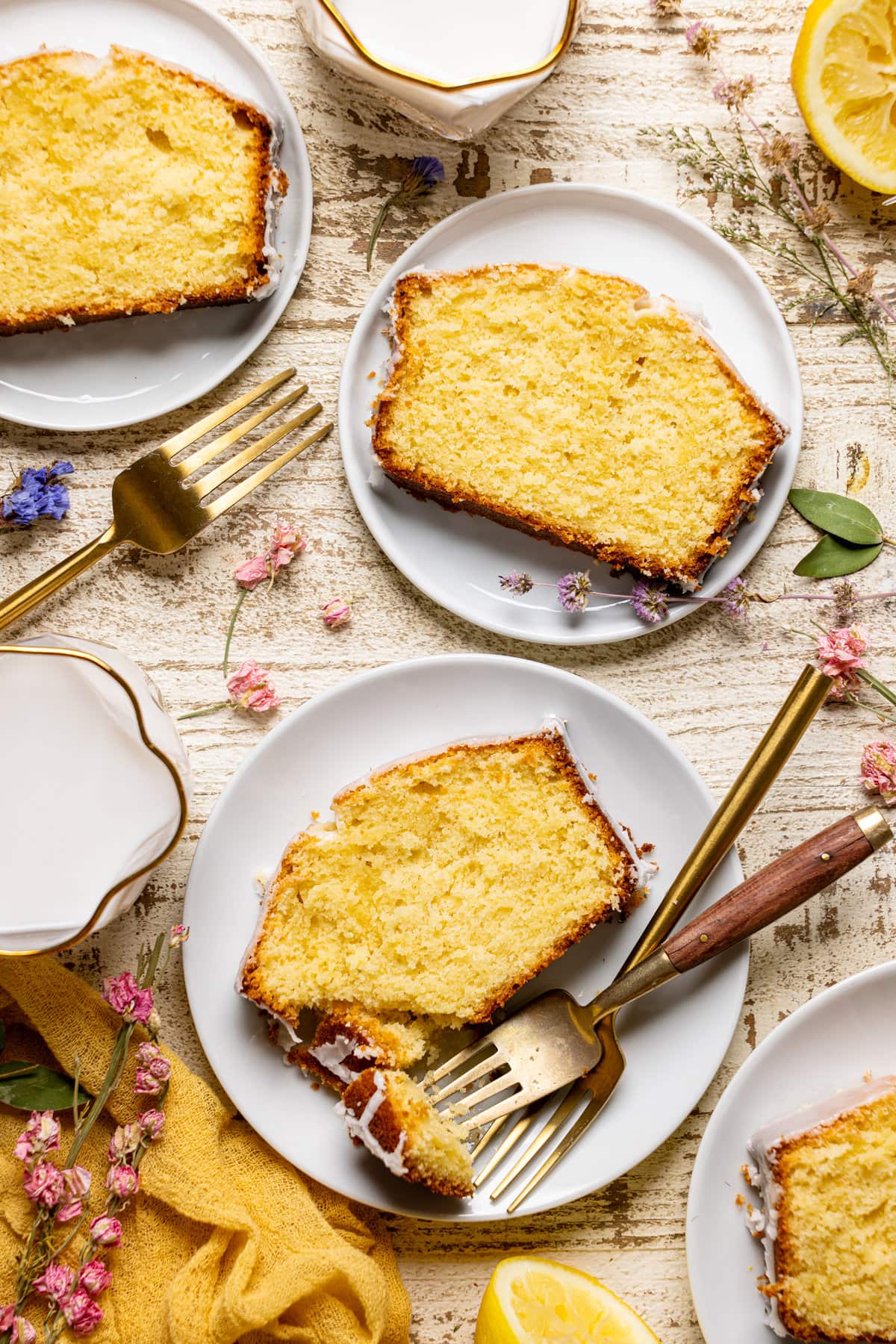 Total Time:
1

hour
10

minutes
LEMON POUND CAKE:
1 ½

cups

organic all-purpose flour

1

cup

unsalted butter, softened at room temp.

1

cup

organic cane sugar

1

teaspoon

baking powder

½

teaspoon

sea salt

Pinch of

ground cinnamon

1

teaspoon

lemon zest

3

large

organic eggs, at room temp.

1

lemon, freshly-squeezed

(That's about 2-3 Tbsps)

1

teaspoon

vanilla extract

¼

cup

buttermilk

(That's heavy cream + 1 tablespoon lemon juice; You can also use sour cream or plain yogurt)
LEMON ICING:
1

cup

organic powdered sugar, sifted

½

lemon, freshly-squeezed

(That's about 1 ½ Tbsps)

1

tablespoon

organic heavy cream or milk

(You can also use plant-based milk)
TO MAKE THE LEMON POUND CAKE:
Preheat your oven to 375 degrees Fahrenheit and lightly grease a standard loaf pan using butter or oil and line it with parchment paper (with the sides hanging out for an easy pull out).

BUTTERMILK: In a bowl or measuring cup, whisk together the heavy cream and lemon juice and set aside for 5-10 minutes until everything "activates" to create the buttermilk. NOTE: Skip this part if using yogurt or sour cream.

In a large bowl, whisk together the flour, baking powder, lemon zest, cinnamon, and salt until combined.

In a bowl, add the butter and sugar, beating them together using a hand-mixer (on high-speed), until pale and fluffy, about 2-3 minutes.

Add the eggs (one at a time) followed by the freshly-squeezed lemon juice and vanilla, mixing until combined. On low-speed, add in the dry ingredients followed by the buttermilk (or alternative) and continue to mix until combined and the batter is smooth, about 3-4 minutes. NOTE: The batter should be thick and scoop-able. DO NOT OVER-MIX!

Pour/scoop batter in the prepared loaf pan (evenly spreading it out).

Bake for 55-60 minutes, or until a toothpick or knife that is inserted in the middle comes out clean. NOTE: Midway, I like to poke VERY SMALL holes all over the loaf to allow heat to penetrate through and to ensure it cooks through.

Once done, remove cake from oven and let it cool for 10-15 minutes before gently removing it from loaf pan to cool completely.
TO MAKE THE LEMON ICING:
In a bowl, whisk together the powdered sugar, lemon juice, and milk, until smooth and the icing is thick enough, but slowly slides off whisk when lifted. NOTE: If too thick, add 1 tablespoon of milk; if too thin, add 1-2 Tbsps more of the powdered sugar.

Once cake is cooled, spoon the icing atop pound cake until fully covered, let it "set" for 1-2 minutes and then slice and enjoy!

Bon Appetit!
STORAGE: Keep cake leftovers stored for up to 4-5 days at room temperature. Keep it in an airtight container to keep the cake from drying out. However, by day 3, it's best to refrigerate any leftovers for longer freshness. You can also freeze the cake tightly wrapped in plastic wrap for up to 3 months. Before serving, defrost the cake on the counter.
FLOUR: You can also use cake flour in place of all-purpose flour for a fluffier texture. 
GLUTEN-FREE VERSION: To make this cake GF, I recommend using a GF Baking Flour Blend (Bob's Red Mills has a great version!).  NOTE: If the cake mixture is too 'thin + runny', simply add additional GF flour, ¼ cup at a time.
MAKE AHEAD OPTION: See Post for details!
Calories:
411
kcal
|
Carbohydrates:
61
g
|
Protein:
5
g
|
Fat:
25
g
|
Saturated Fat:
15
g
|
Polyunsaturated Fat:
1
g
|
Monounsaturated Fat:
7
g
|
Trans Fat:
1
g
|
Cholesterol:
132
mg
|
Sodium:
237
mg
|
Potassium:
105
mg
|
Fiber:
1
g
|
Sugar:
26
g
|
Vitamin A:
828
IU
|
Vitamin C:
11
mg
|
Calcium:
65
mg
|
Iron:
2
mg
Iced Lemon Loaf Pound Cake.