This Perfect Lemon Blueberry Cheesecake is the most delicious Easter dessert with a simple graham cracker crust, tangy lemon filling, a sweet + tart blueberry compote and festive Easter egg toppings. Gluten-free option avilable.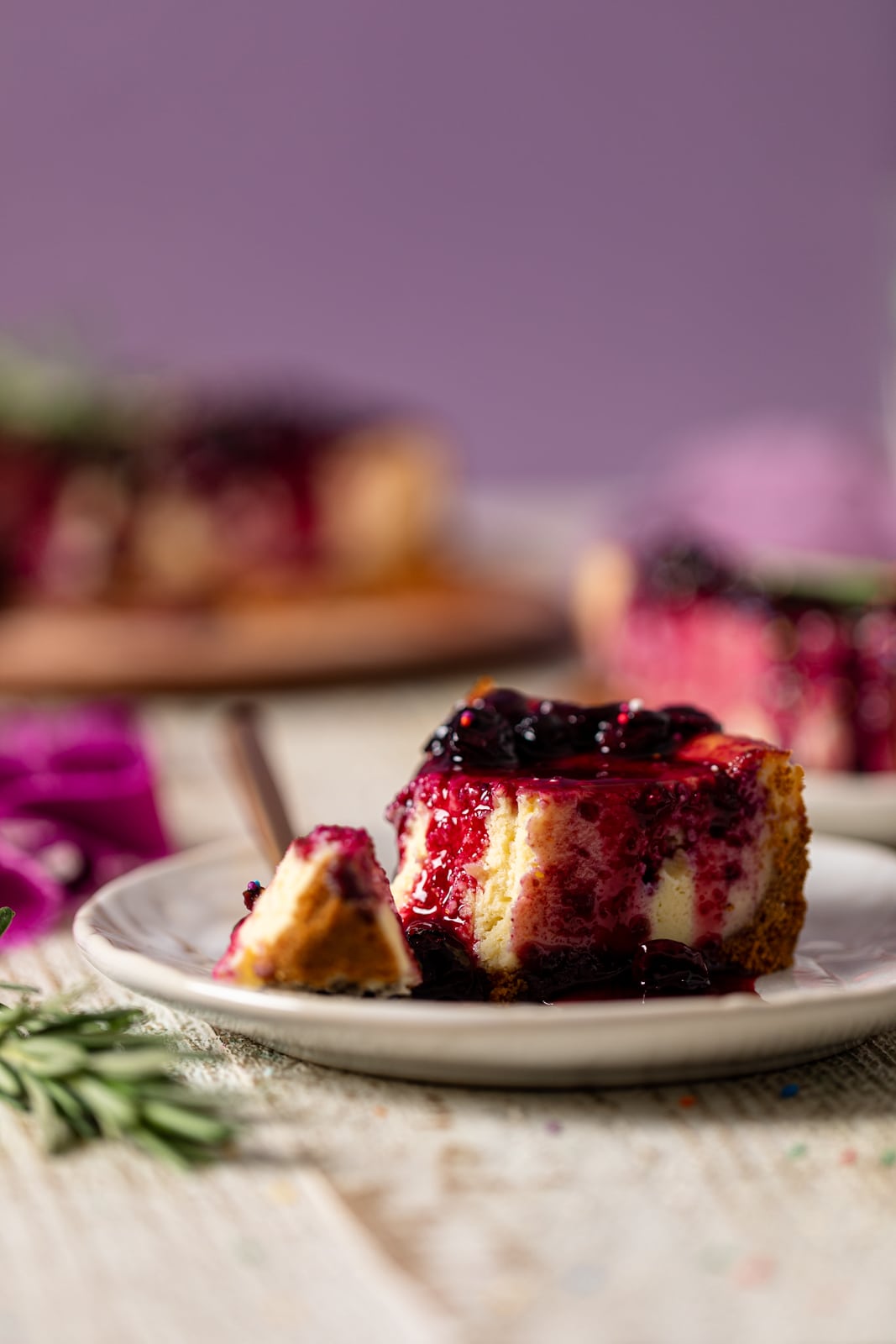 Easter always reminds me of bright, festive citrusy flavors. And this lemon blueberry cheesecake is my favorite way to bring some brightness to the pastel color spread at the holiday. You can serve these sweet treats after an Easter dinner to finish of the holiday on a lemony note.
It's the perfect size for a light dessert that satisfies your sweet tooth without weighing you down. And don't worry, it's not just for Easter! This cheesecake is welcome all year long.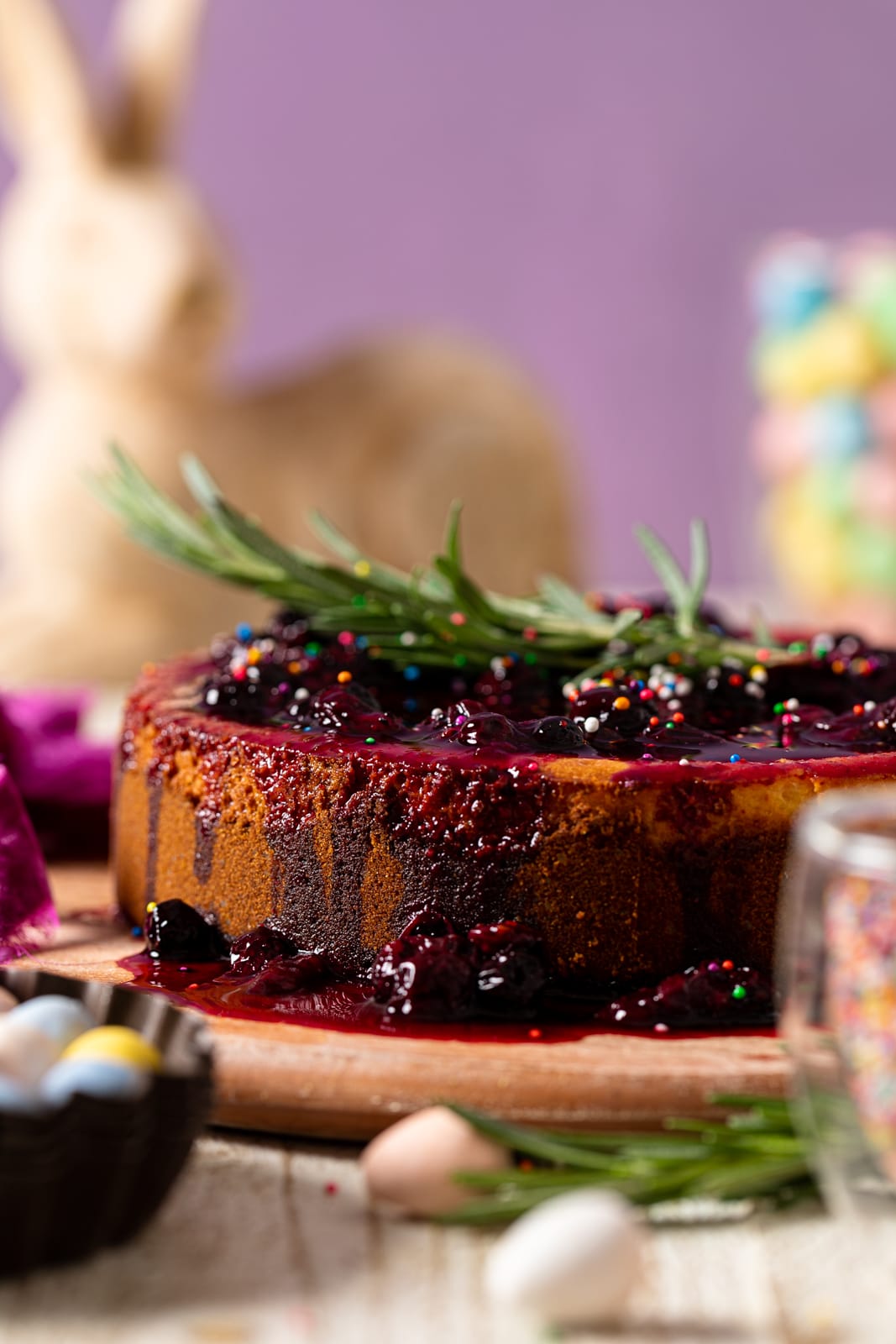 How to Make Lemon Blueberry Cheesecake
There are three main components to this cheesecake: the graham cracker crust, lemon cheesecake filling and the blueberry topping. I recommend starting with the crust, because it needs to bake and cool fully before you can add the cheesecake filling.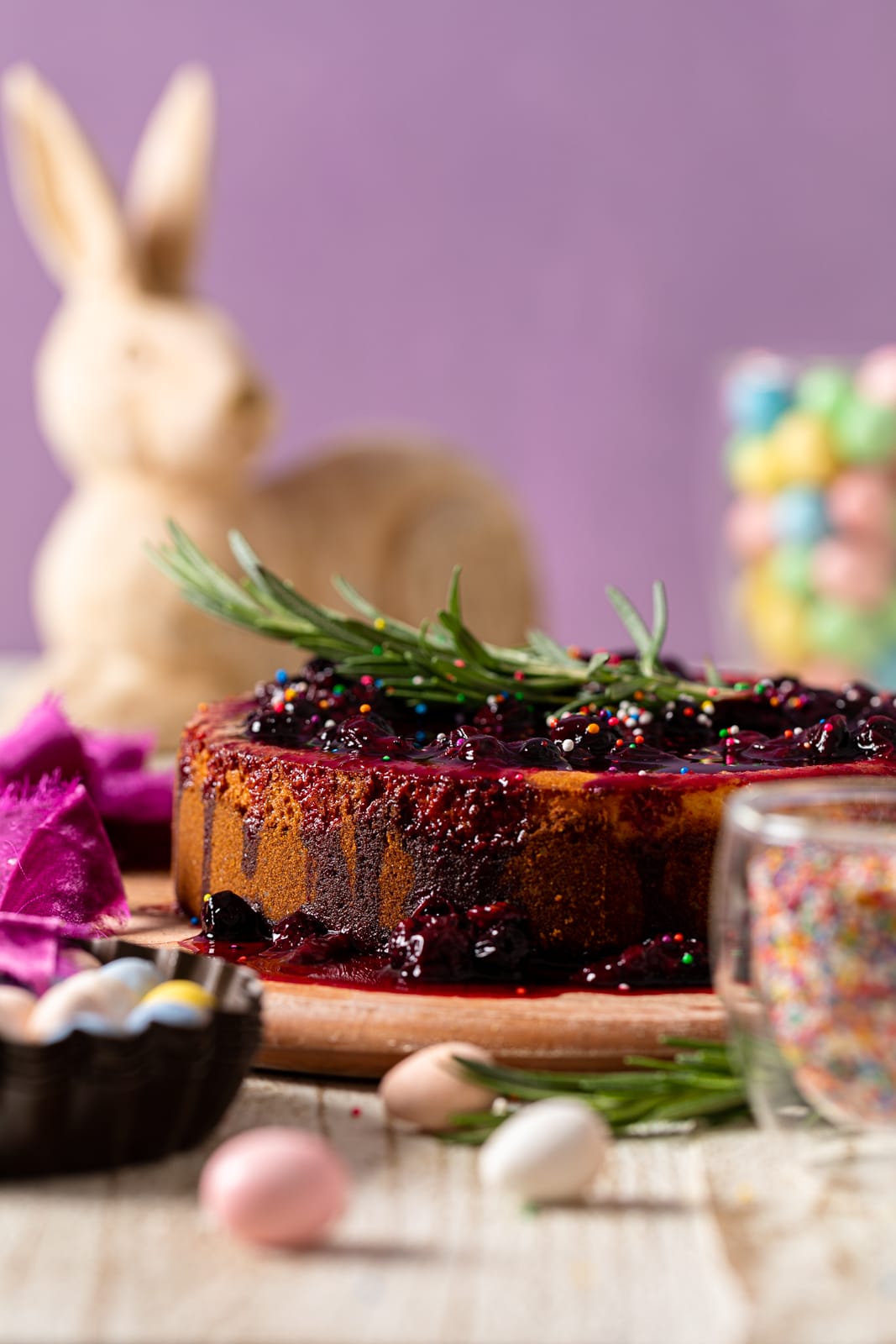 Graham Cracker Crust
Making a baked cheesecake crust with graham crackers requires just four ingredients:
Graham crackers. You'll need 16 to 18 full sheets.
Brown sugar. You can also use coconut sugar if you prefer.
Cinnamon for added spiced flavor.
Butter. Use unsalted, melted butter to bind the crackers together.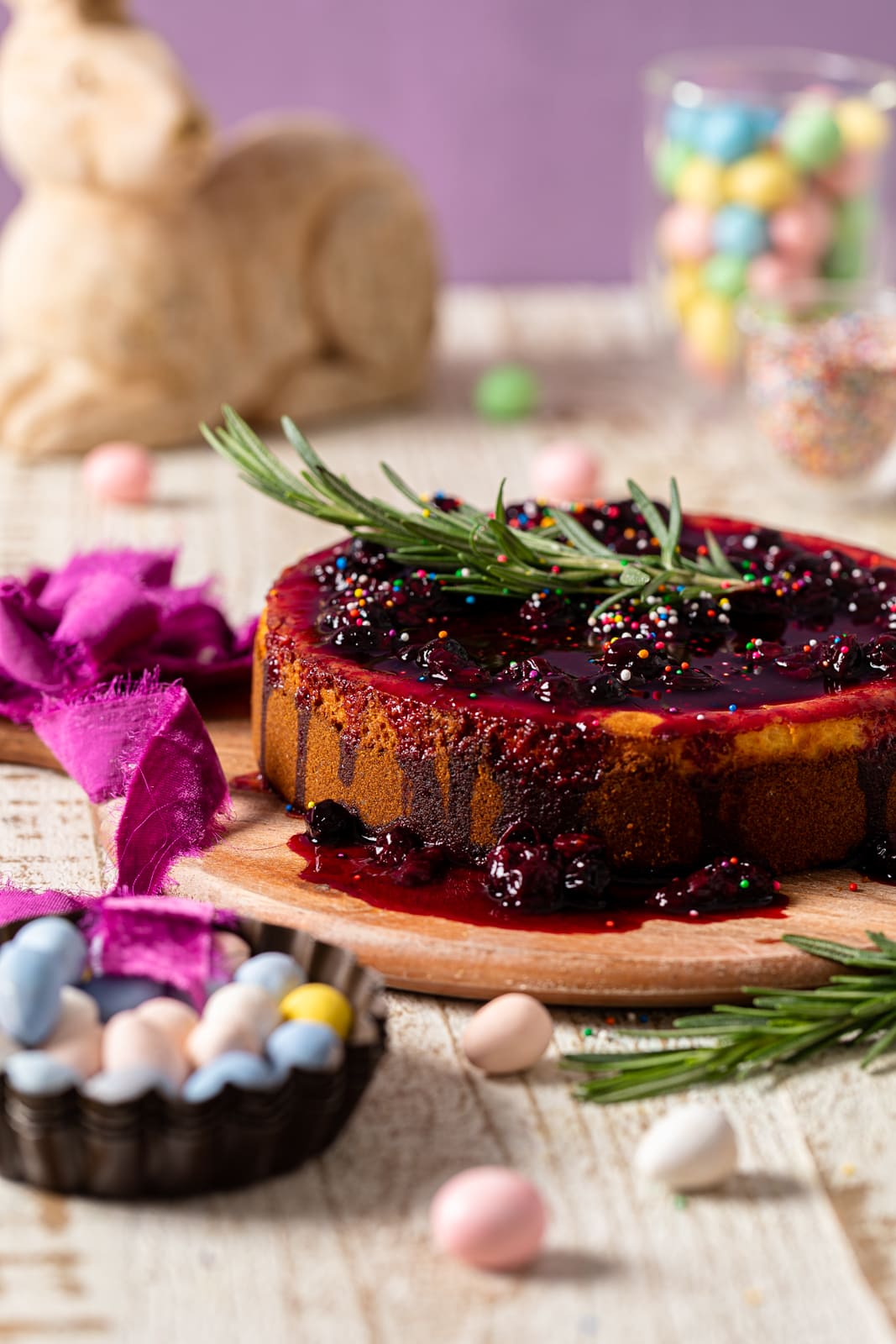 Lemon Cheesecake Filling
Next, make the tangy and creamy cheesecake filling. This is made with:
Cream cheese. This should be softened to room temperature for the fluffiest, most uniform cheesecake.
Flour. You'll need regular all-purpose to thicken your cheesecake.
Lemon juice. You can also use lemon extract if you like a bolder lemon flavor.
Lemon zest
Eggs. These should also be at room temperature to blend well.
Sour cream. I use low-fat, but full-fat will also work.
Simple Blueberry Compote Topping
Making the simple blueberry compote topping only requires a handful of simple ingredients:
Fresh or Frozen blueberries. You'll need about 2 cups.
Cane sugar. You can also use maple syrup if you prefer.
Lemon juice.
Water. Use filtered water or regular tap water if preferred.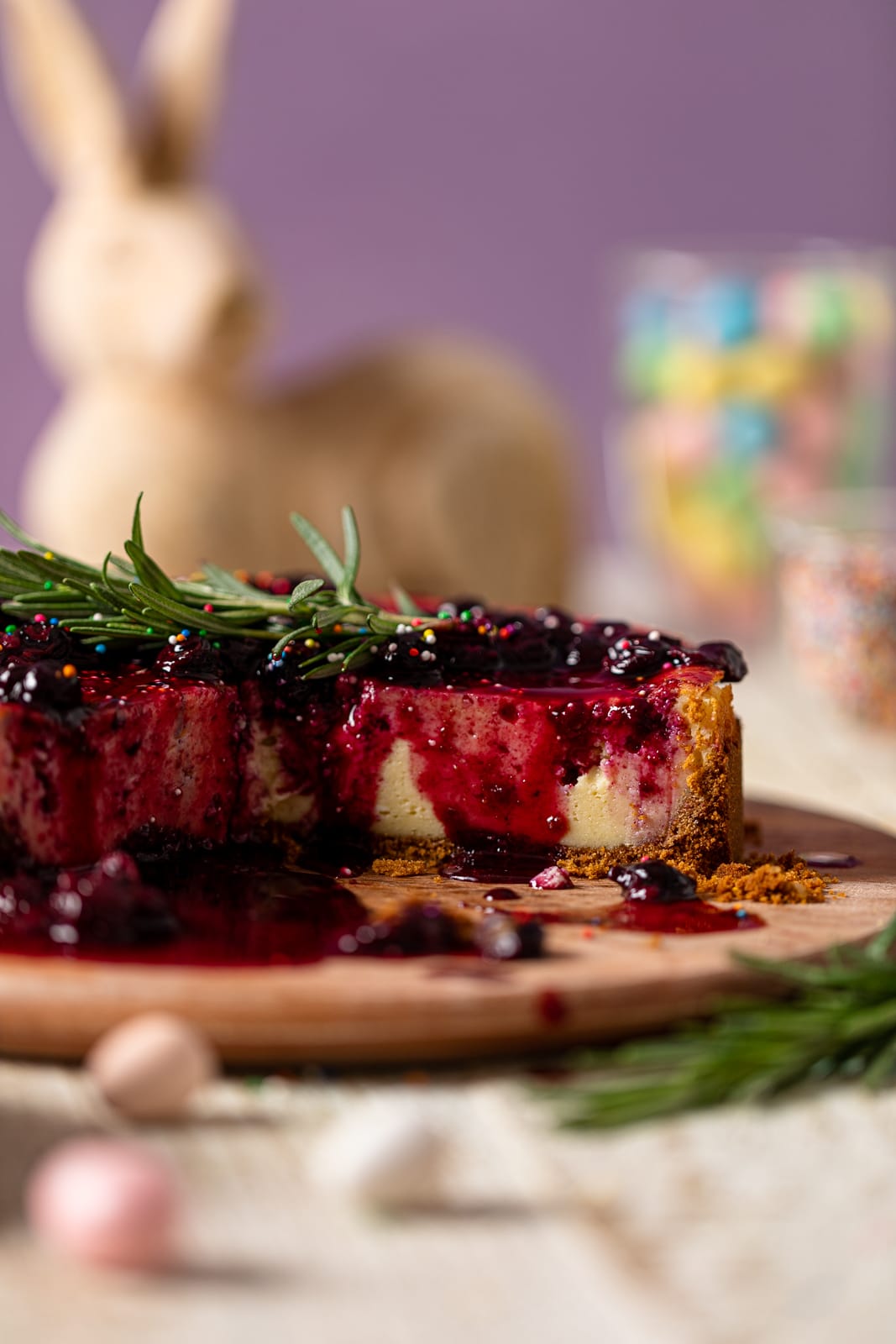 Topping Ideas
When your lemon cheesecake is fully cooked and cooled, you can add some festive toppings for Easter. I like to add Easter egg chocolate candies, whipped cream and pastel-colored sprinkles.
See the notes below my recipe for how to make quick homemade whipped cream.
If you're not serving this lemon blueberry cheesecake for Easter, you can top them with year-round toppings like fresh fruit, jam, or even chocolate shavings.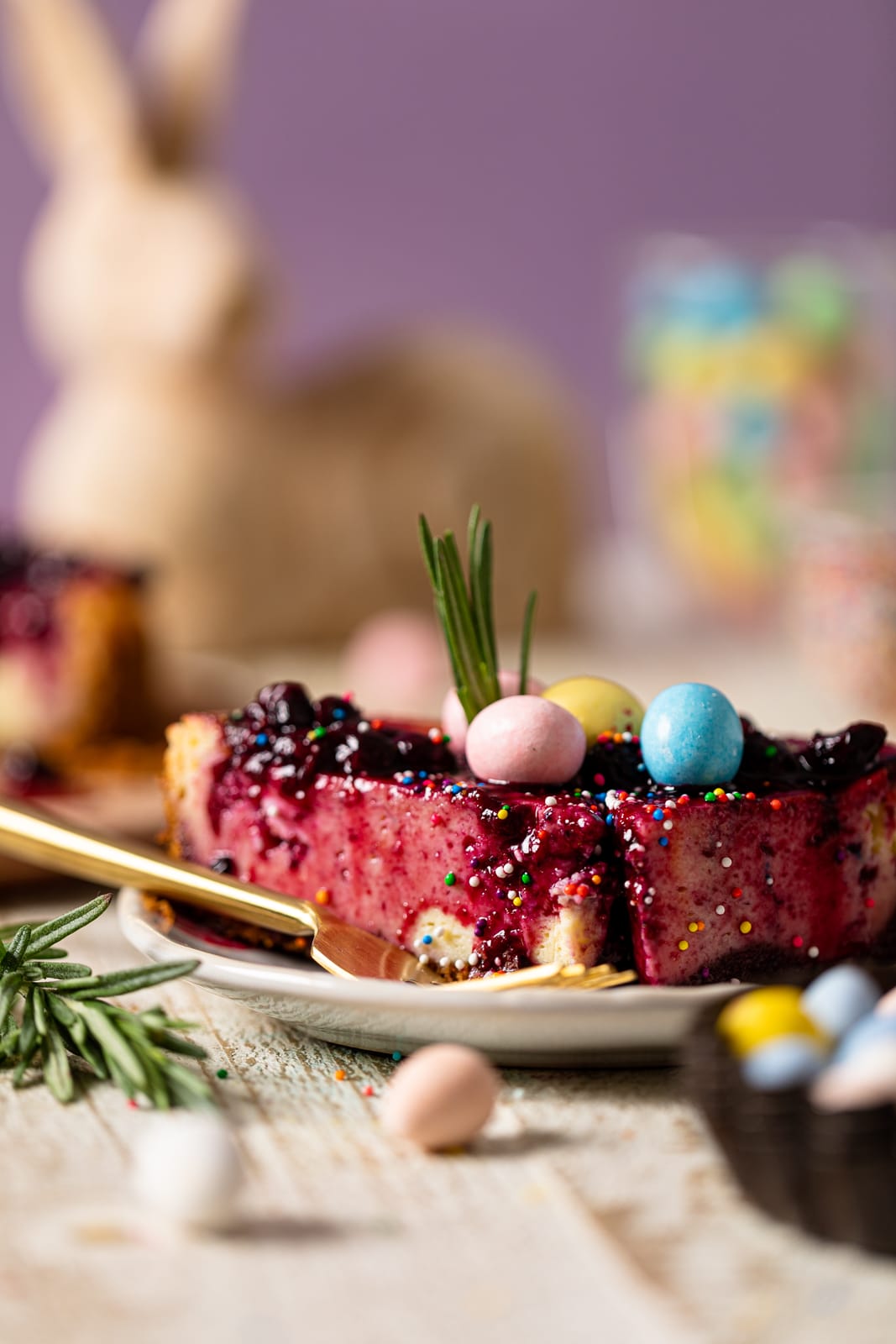 Make-Ahead Lemon Blueberry Cheesecake
This lemon blueberry cheesecake is a great make-ahead recipe. You can store it in the fridge in an airtight container for 2 to 3 days before serving. For the best texture, keep the cheesecake chilled in the freezer until you serve it.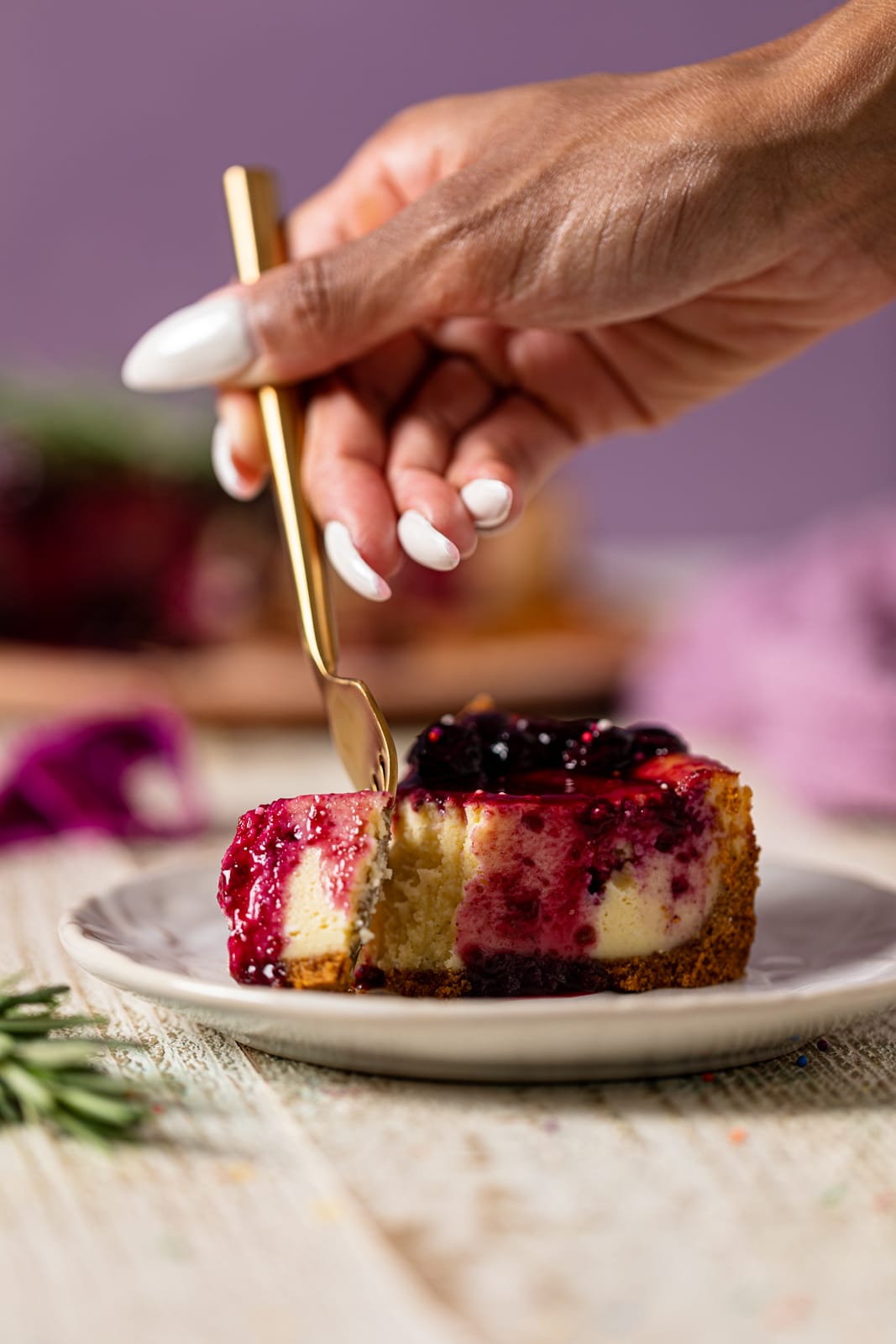 More Cheesecake Recipes
If you make this Perfect Lemon Blueberry Cheesecake, be sure to tag me on Instagram @orchidsandsweettea!
LEMON FILLING:
16

ozs.

organic cream cheese, softened at room temp.

(That's 2 packs!)

1

cup

organic cane sugar

4

Tbsps

organic all-purpose flour 

2

tsps

freshly-squeezed lemon juice

(You can also sub w/ lemon extract)

1

teaspoon

lemon zest

2

large

organic eggs, room temp.

3

Tbsps

low-fat sour cream

¼

teaspoon

sea salt
BLUEBERRY COMPOTE TOPPING:
TO MAKE THE CRUST:
Preheat oven to 350 degrees Fahrenheit and prepare a 7 or 8-inch cheesecake pan by lightly greasing it with butter.

Grind the graham crackers, until almost finely ground (it's OK to leave a few medium chunks, if your'e a lover a little crunch!). Combine the Graham crackers in with the cinnamon, brown sugar and melted butter in a small bowl and mix with a spatula until well incorporated.

Add the mixture into the prepared pan and press down into the bottom with your fingers (focusing on the middle) to ensure that it's perfectly covering the bottom and sides (like a deep well).

Bake the crust for about 5 minutes and then remove from oven and allow it to cool until you're ready to use.
CHEESECAKE FILLING:
In the bowl of an electric mixer (or using a hand mixer), mix together on low speed: the cream cheese, cane sugar, and flour until combined. Be sure to scrape the sides and bottom of the bowl if needed.

Next, add the lemon juice, lemon zest, and the first egg and beat slowly until mostly combined. Then add the remaining egg and mix until well combined, still mixing everything on low speed. Now, add the sour cream and salt and continue mixing.

Change mixer attachment to a whisk and beat on medium-high speed for 1-2 minutes or so until completely smooth and lump-free. NOTE: DO NOT OVER-MIX. Be sure to stop once the batter becomes smooth.

Pour the batter into the prepared pan until ¾ filled. NOTE: Leaving a bit of room at the top prevents the cheesecake from spilling over while baking.

Bake the cheesecake for 35-40 minutes (until center comes out mostly clean when tested with a toothpick or knife), then turn off the oven and allow it to sit in the oven for another 5 minutes with the oven door halfway open to avoid cheesecake from deflating. NOTE: When baking, I always prepare a medium pot with water and add it to the oven as well, to keep cheesecake temperature even and to add moisture.

In the meantime, make your blueberry topping.
TO MAKE THE SIMPLE BLUEBERRY TOPPING:
In a saucepan, add together all ingredients over medium-high heat, stirring until combined. Once blueberries begin to soften, continue stirring until mixture begins to thicken a bit, about 5-6 minutes. Remove from heat and let cool.
STORAGE: Leftover Cheesecake can be stored (tightly wrapped) in the refrigerator for up to 5 days. For best results, keep cheesecake in the freezer until the night before you're ready to serve. Defrost by refrigerating.
HOMEMADE WHIPPED CREAM: In the bowl of an electric mixer on medium-high speed, whip the organic heavy cream (2 cups), using the whisk attachment for 4-5 minutes, until fluffy peaks begin to form. NOTE: When it begins to thicken after the first 2-3 minutes, gradually add in 1 tablespoon vanilla extract and a pinch of sea salt.
NON-FESTIVE TOPPINGS: To use this recipe year-round, simply top cheesecake bites with fresh fruit such as sliced strawberries, blueberries, blackberries, raspberries, etc.
CHEESECAKE BITES: If you turn this recipe into cheesecake bites, you'll make about 2 dozen bites.
GLUTEN-FREE: To ensure that this cheesecake is entirely GF, be sure to use GF-friendly Graham Crackers and ensure that all other ingredients are GF-friendly. 
Calories:
397
kcal
|
Carbohydrates:
70
g
|
Protein:
13
g
|
Fat:
9
g
|
Saturated Fat:
4
g
|
Polyunsaturated Fat:
1
g
|
Monounsaturated Fat:
3
g
|
Trans Fat:
0.2
g
|
Cholesterol:
66
mg
|
Sodium:
680
mg
|
Potassium:
288
mg
|
Fiber:
2
g
|
Sugar:
49
g
|
Vitamin A:
265
IU
|
Vitamin C:
5
mg
|
Calcium:
246
mg
|
Iron:
2
mg
Perfect Lemon Blueberry Cheesecake.