So, you know that my heart lies in the South! I've been a Florida girl my whole life and while I've resided in NYC for quite some time, I've always stayed true to my good ole' southern roots.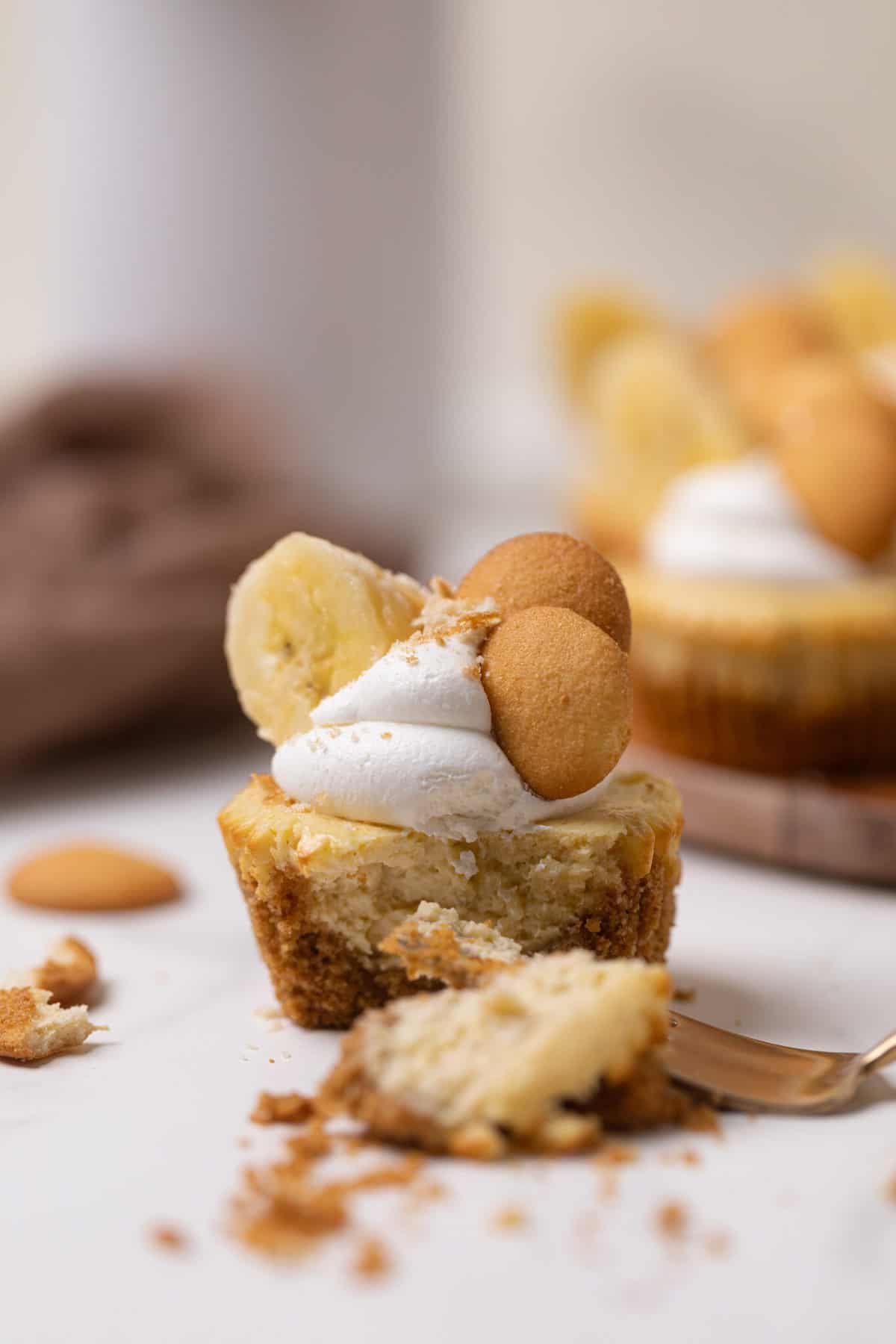 And if you've followed my blog for a while, you may know that I LOVE BANANA PUDDING! I can't get enough of the creamy, fluffy texture and custardy banana flavor. It always brings me back to growing up in the south.
However, since cutting back on the amount of dairy I eat, I haven't indulged in my favorite dessert nearly as much as I'd like to.
And while there are some great vegan options available to make banana cheesecake, this just is one of those recipes that I'm stubborn to change in a major way. It's probably because my love for Southern-style banana pudding dates back to my childhood. This was one of the best sweet treats my Grandmother made, always before we enjoyed a night under a stack of fluffy blankets watching a movie.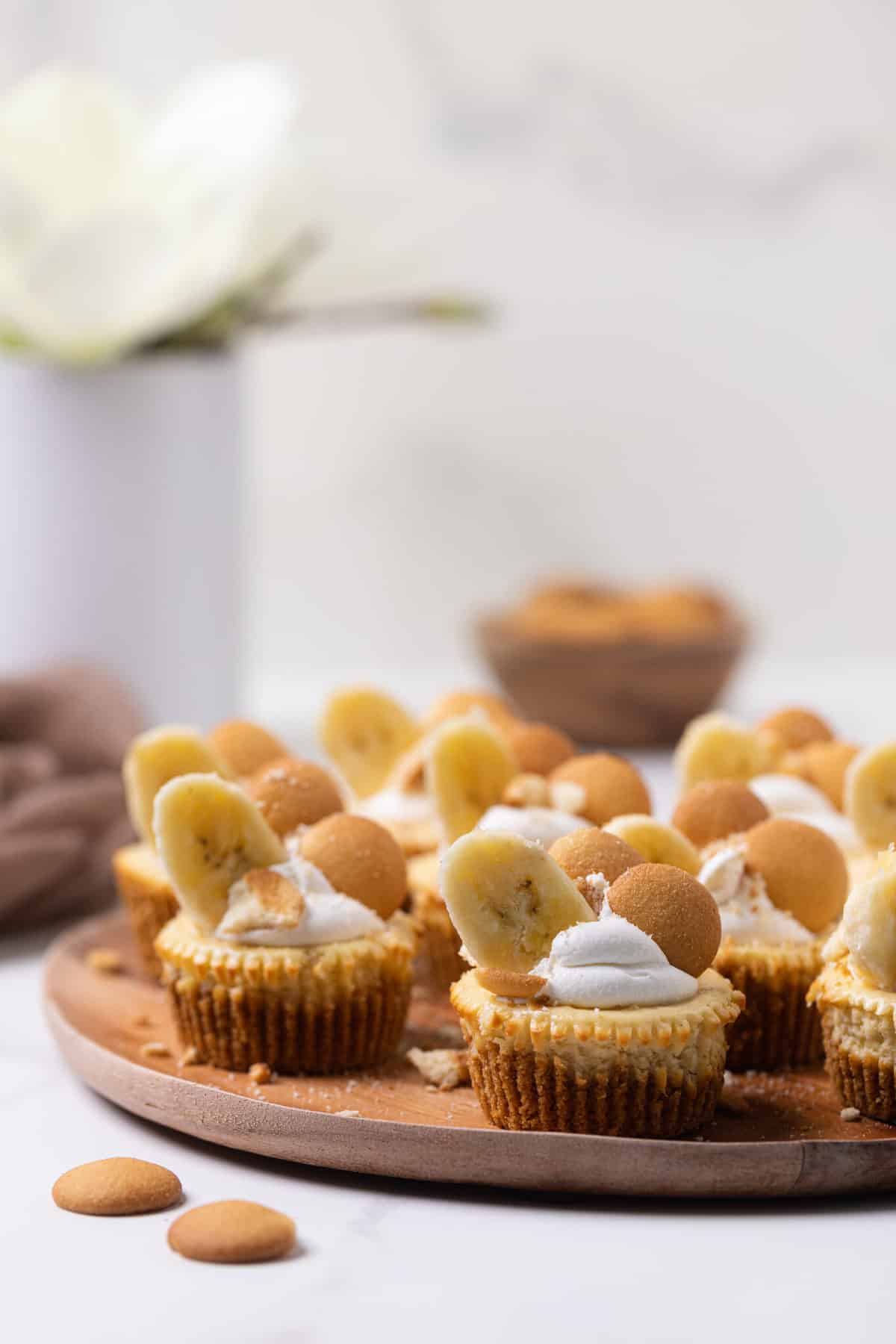 She usually whipped up signature banana pudding with the instant pudding mix (which I've still used to this day) and loaded it up with sliced bananas and Nilla wafers. YUM! I always loved the extra Nilla wafers tucked away in each layer. And of course, we never forgot the whipped cream on top.
Today's recipe for Southern-style banana pudding cheesecake bites is my way of honoring my grandma's recipe. I've put my own spin on it by turning fluffy pudding into dense cheesecake bites with a crunchy gingersnap crust. The one thing that I'll never skip, however, is still the whipped cream topping.
And now it's my turn to pass this recipe on to my little guy and all of you. I hope you enjoy this treat as much as I do.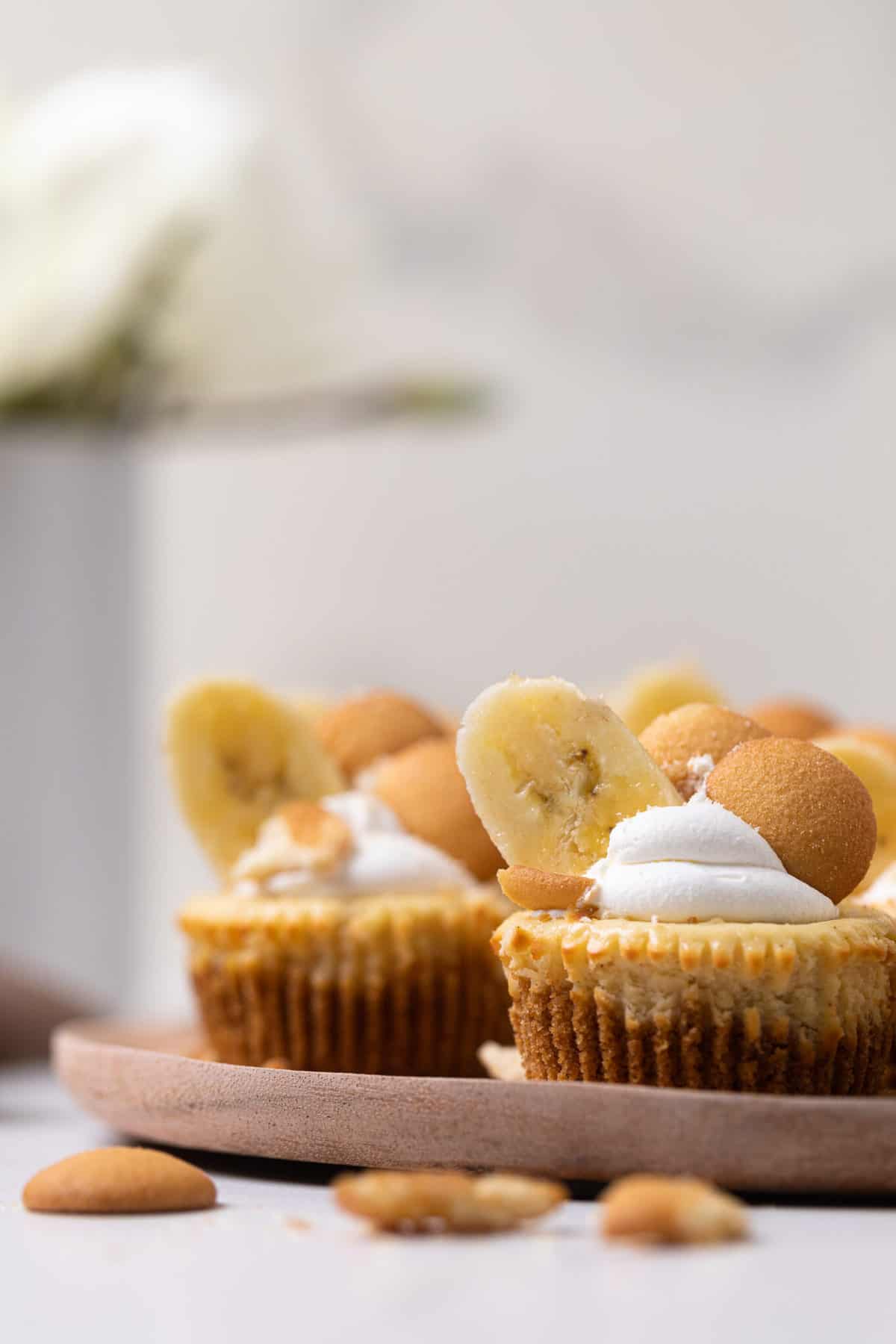 How to Make Southern-Style Banana Pudding Cheesecake Bites
While this recipe is a bit different from the typical instant pudding mix recipe, it's still a fairly simple recipe to follow. It's also a great opportunity to get your kids in the kitchen! They can have fun preparing the no-bake crust and mixing up the banana cheesecake filling.
Ingredients
Here are the ingredients for all three layers of this decadent homemade dessert:
Vanilla Wafer Crust:
Nilla wafer cookies. Use any variety of homemade or store-bought cookies.
Pure cane sugar. I recommend organic sugar for the best quality and flavor.
Unsalted butter. You'll use melted butter to hold the cookie crust together.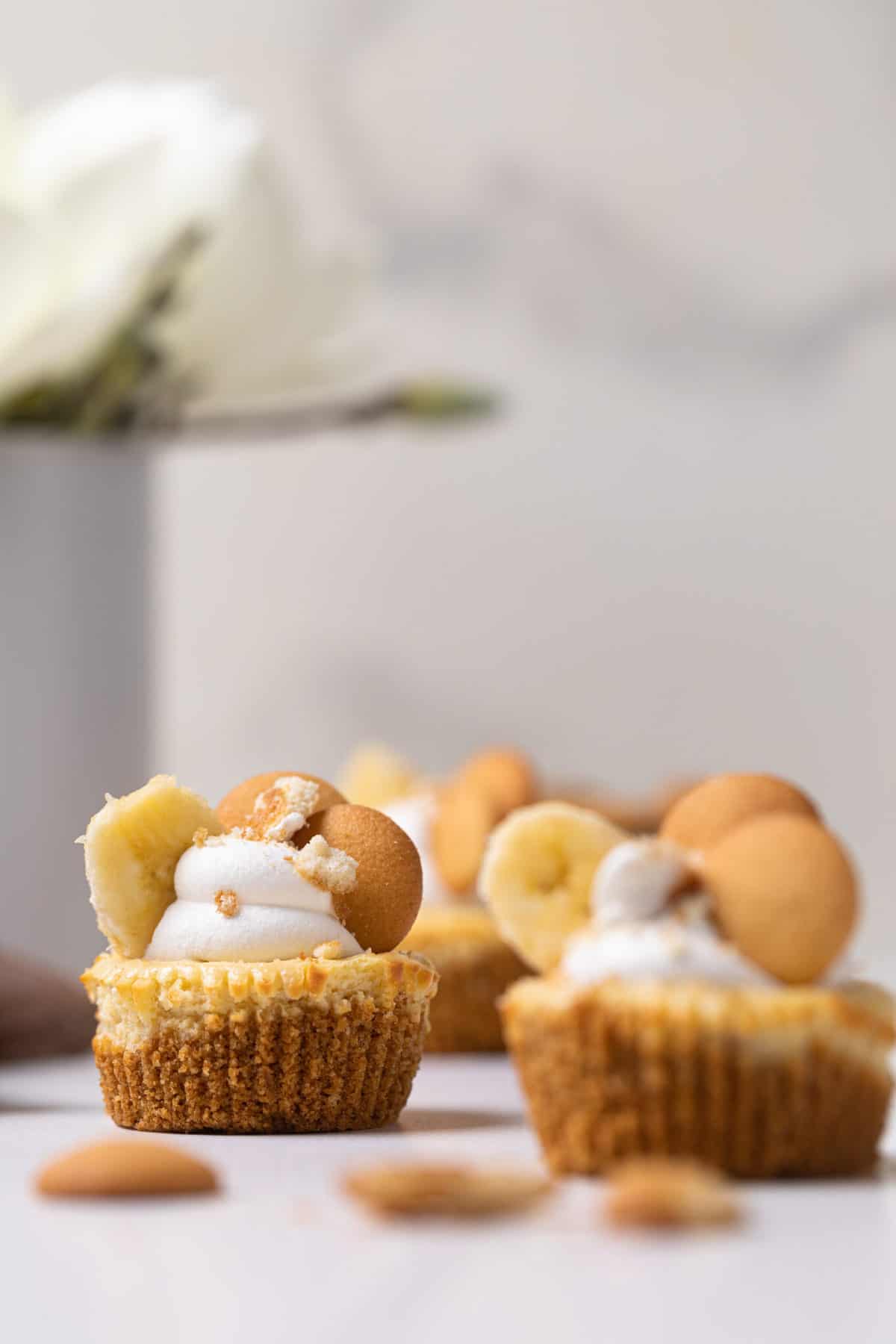 Banana Pudding Cheesecake:
Cream cheese. You'll need 1 ½ 8-ounce packages of cream cheese. Let it soften to room temperature so it's easy to whip into a luscious, creamy cheesecake texture.
Pure cane sugar. Again, I recommend organic.
All-purpose flour. I used Bob's Red Mill organic flour for all of my baking projects.
Sour cream. This adds extra tang to balance the sweetness of the banana.
Bananas. You'll need about 1 medium banana for the cheesecake layer. Choose a nice dark brown, ripe banana for natural sweetness and easy mixing.
Vanilla extract. This is a must-have banana pudding flavor-enhancer. Make sure to use pure vanilla for the best flavor.
Eggs. These will help build the structure of your cheesecake so it's dense but creamy.
Cinnamon. Just a pinch adds a hint of warming spice to the mix.
Whipped Cream + Toppings:
Heavy whipping cream. You'll need very cold cream to whip it well.
Powdered sugar. This dissolves seamlessly into whipped cream so you don't end up with a grainy texture.
Vanilla extract. Add a hint of vanilla to the cream for extra flavor.
Nilla wafers. A must-have crunchy topping in my book!
Banana slices. Add a few on top of each cheesecake bite to complete the classic Southern presentation.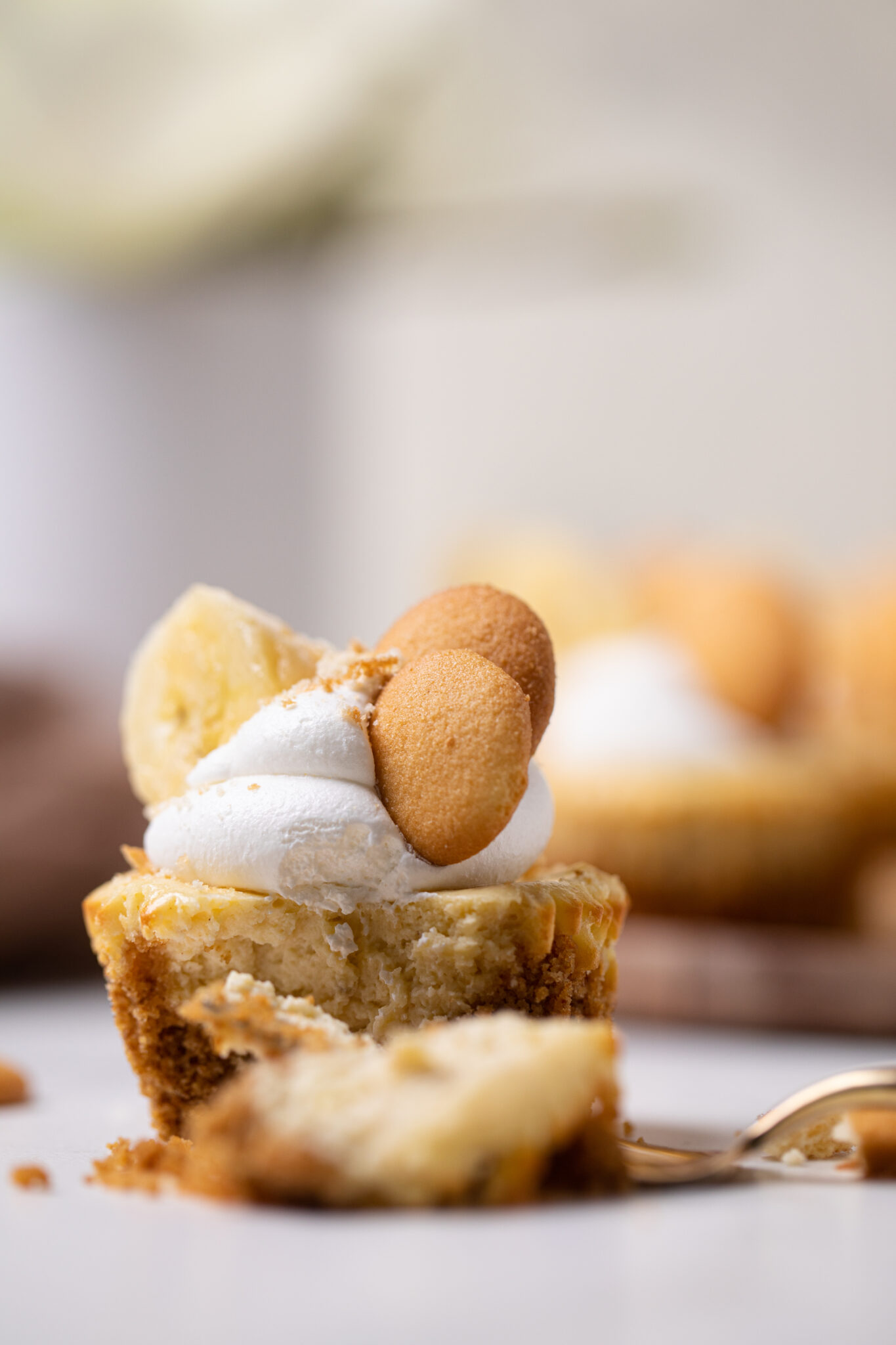 Gingersnaps vs. Vanilla Wafers
While vanilla wafers are certainly the more traditional cookie to pair with Southern-style banana pudding, I love the addition of some spice from ginger snaps.
The cookies are crisp and full of warming ginger and cinnamon flavor. I find that this is the perfect balance to rich sour cream cheesecake and sweet bananas.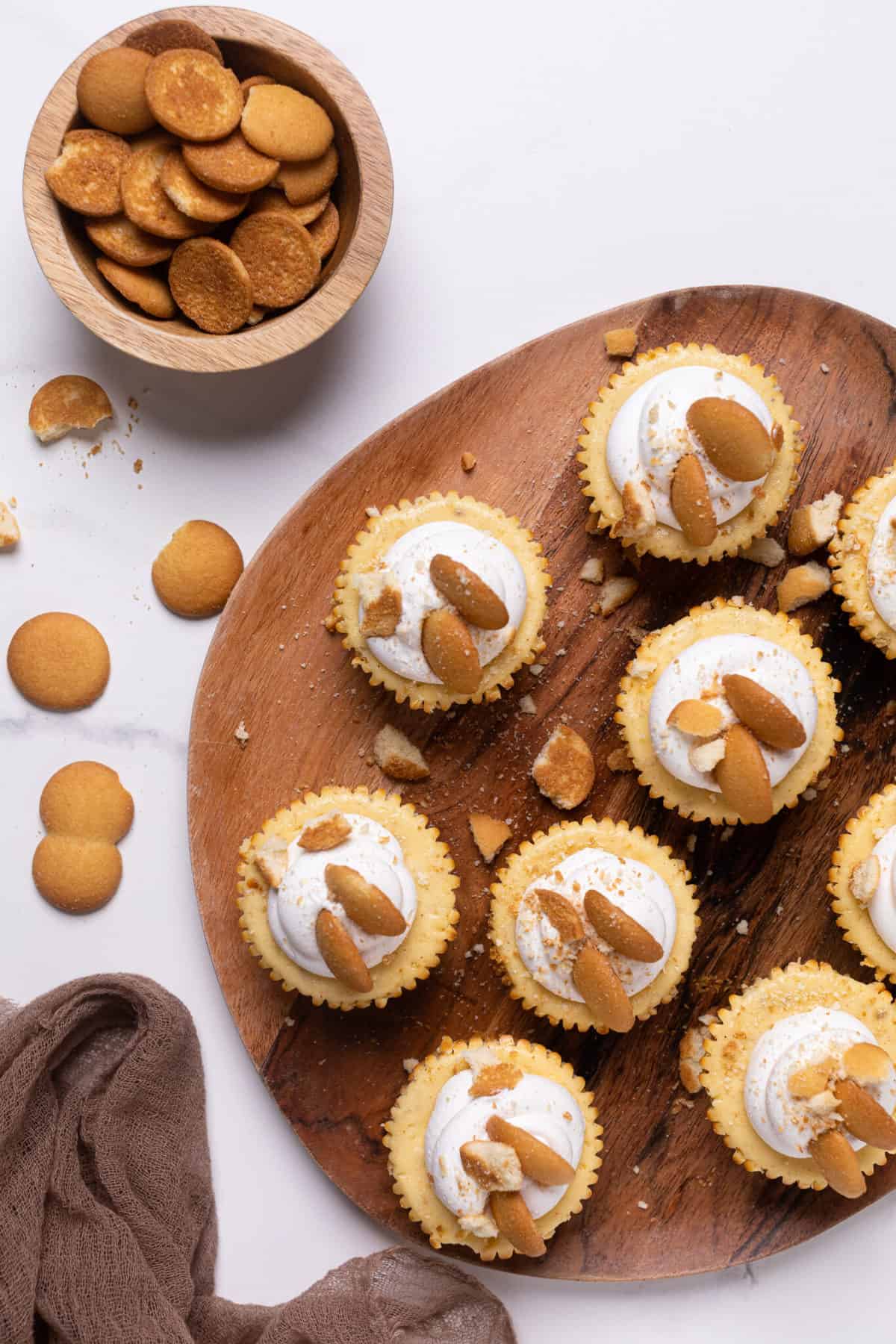 Instructions & Tips
Ready to start making these delectable banana pudding cheesecake bites? Here's how to do it:
Make the gingersnap cookie crust.
Start by breaking down the nilla wafers and graham crackers into a very fine meal. A food processor is the easiest way to do this. However, for a bit of fun, you can smash the cookies in a zip-top bag with a measuring cup or rolling pin. Ultimately, the cookies should have a uniform consistency, though a few larger chunks are ok.
Next, blend up the cookie/crackers with sugar and melted butter to combine and divide the cookie crust between cupcake liners. Then bake these for about 5 minutes so they're set but not browned on top. This par-baking step helps keep your crust firm, not soggy.
Meanwhile, prepare the banana pudding cheesecake filling.
This is a simple matter of beating together the ingredients until you have a light, fluffy and uniform mixture. I recommend using an eclectic mixer for this job. However, you can also use a whisk and some elbow grease if you don't have a mixer.
Next, divide the filling between the cooled baked crusts in the cupcake liners and return them to the oven. The cheesecakes bake for 16 to 18 minutes, or until the center is set and the edges are just starting to turn golden brown.
Instead of immediately removing the cooked cheesecake bites from the oven, turn off the oven and let them sit for 5 minutes. Then open the oven door and leave the banana pudding cheesecake bites inside for 5 to 6 minutes. This lets the cakes cool slowly to prevent cracks.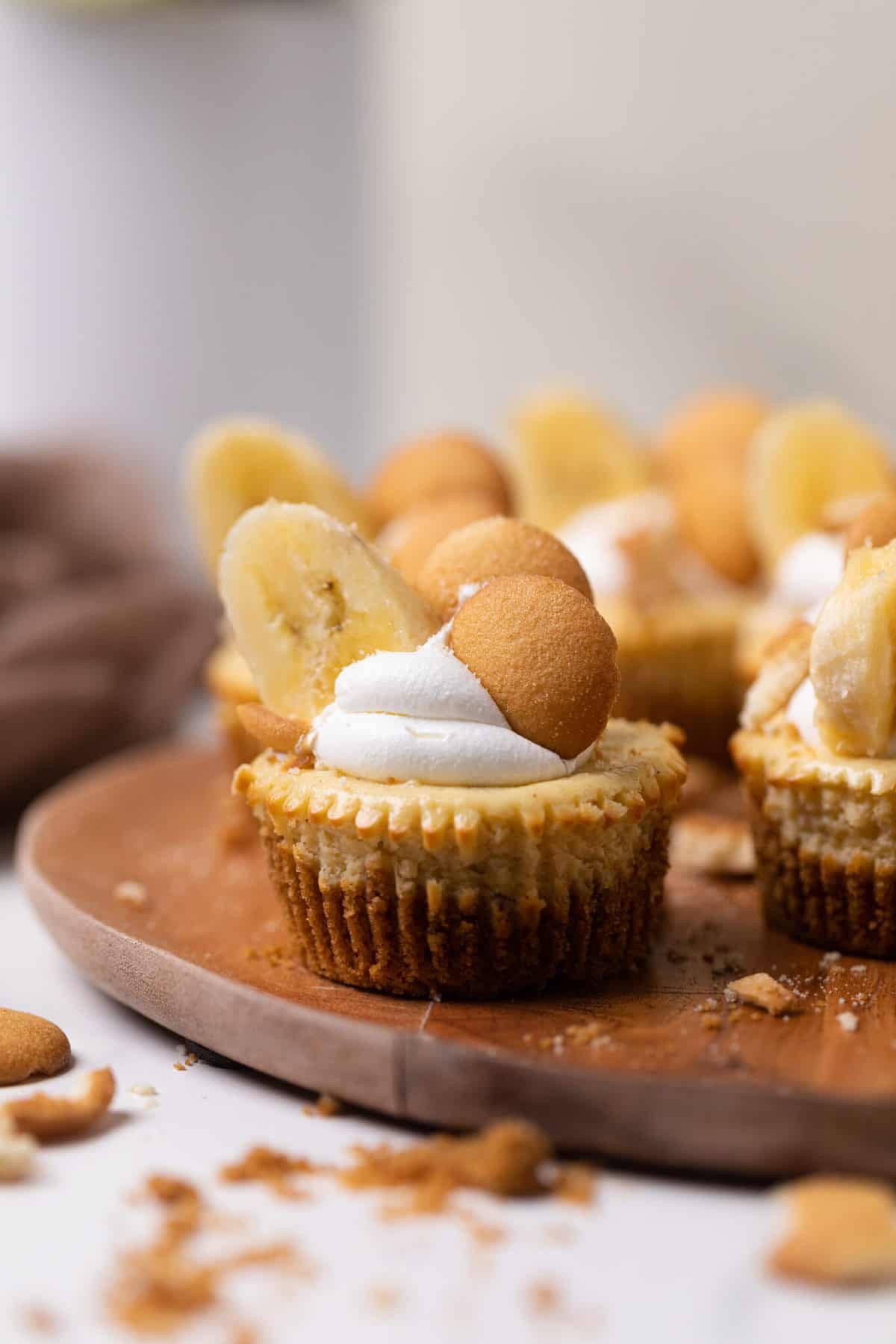 Finally, decorate the cheesecakes
The final step in this recipe is to cover each cake with a tower of homemade whipped cream, banana slices, and Nilla wafers.
To make the fluffiest whipped cream, place the mixing bowl and beaters in the freezer for a few minutes before you start mixing. The cold will help the cream maintain its stiff texture. Also, be sure to let the cheesecake bites cool in the fridge before adding any toppings.
Chilling the cheesecakes in the fridge also lets the cake firm up and set fully so you'll have a dense, most texture that holds its shape, rather than falling apart.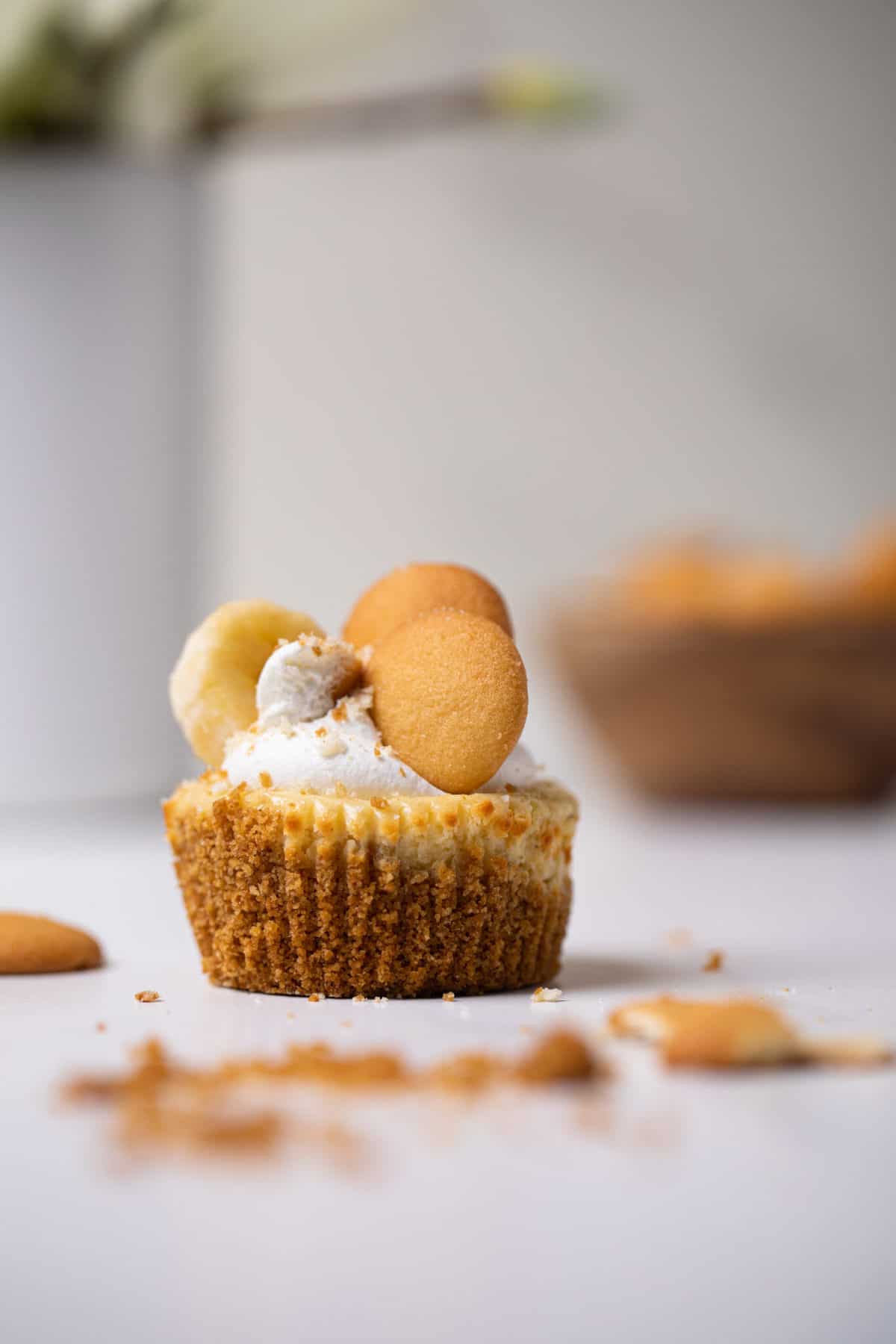 If you're looking for more cheesecake-inspired recipes, then try these next:
NILLA WAFER/GRAHAM CRACKER CRUST:
1

cup

Nilla wafer cookies

1 ½

cups

Graham crackers, chopped

2

Tbsps

organic brown sugar

pinch of

ground cinnamon

3

Tbsps

unsalted butter, melted
BANANA CHEESECAKE FILLING:
1

banana, fully mashed

12

ozs.

organic cream cheese, softened at room temp.

(That's 1 ½ packs!)

½

cup

organic cane sugar

2

Tbsps

organic all-purpose flour

2

Tbsps

vanilla instant pudding mix

2

large

organic eggs, room temp.

3

Tbsps

low-fat sour cream

2

tsps

vanilla extract

pinch of

ground cinnamon

pinch of

ground nutmeg

pinch of

sea salt
TOPPINGS:
Whipped cream, store-bought or homemade

Vanilla wafer cookies, whole + crushed

Banana Slices
NILLA WAFER/GRAHAM CRACKER CRUST:
Preheat oven to 325 degrees Fahrenheit and prepare a 12-cavity cupcake pan with cupcake liners.

Grind the nilla wafer cookies and graham crackers in a food processor, until almost finely ground (it's OK to leave a few medium chunks, if your'e a lover a little crunch!). Combine the cookie/cracker mixture along with the brown sugar, and melted butter into a medium bowl and stir until full combined.

Divide the mixture between the cupcake liners (about 2 Tbsps per well) and press down into the bottoms with your fingers (focusing on the middle) to ensure that it's perfectly covering the bottom and sides (like a deep well).

Bake the crusts for about 5 minutes and then remove from oven and allow it to cool until you're ready to use.
BANANA CHEESECAKE FILLING:
In the bowl of an electric mixer, mix together on low speed: the cream cheese, cane sugar, vanilla pudding mix, and flour until combined. Be sure to scrape the sides and bottom of the bowl if needed.

Next, add the vanilla extract and the first egg and beat slowly until mostly combined. Then add the remaining egg and mix until well combined, still mixing everything on low speed. Now, add in the sour cream, mashed banana, cinnamon, nutmeg, and salt and continue mixing.

Change mixer attachment to a whisk and beat on medium-high speed for 1-2 minutes or so until completely smooth and lump-free. NOTE: DO NOT OVER-MIX. Be sure to stop once the batter becomes smooth.

Add a small amount of filling to each cupcake liner (about 2 Tbsps), repeating until all batter is used.

Bake the cheesecakes for 16-18 minutes, then turn off the oven and allow them to sit in the oven for another 5 minutes with the oven door halfway open to avoid cheesecakes from deflating. NOTE: When baking, I always prepare a medium pot with water and add it to the oven as well, to keep cheesecake temperature even and to add moisture.

Remove cheesecakes from the oven and allow them to continue to cool for another 15-20 minutes or until at room temperature coolness, before putting them in the refrigerator for at least an hour.
HOMEMADE WHIPPED CREAM + ASSEMBLY:
Add 2 cups of organic heavy whipping cream, ¼ cup of powdered sugar and 1 teaspoon of vanilla extract into the mixing bowl of an electric mixer (w/ a whisk attachment) and whip on high speed until stiff peaks form, about 5-6 minutes. Once fluffy, add whipped cream to a piping bag with your favorite tip and add it to the refrigerator until ready to use.

Once cooled, remove the cheesecake from the fridge and remove cupcake liners. Top cheesecakes with the whipped cream along with banana slices and Nilla wafer cookies. NOTE: let the sauce further 'set' as both the topping + cheesecakes continue to cool. You can add cheesecakes back to the refrigerator for a few minutes to aide in this.

Bon Appetit!
STORAGE: Leftover Cheesecakes can be stored (tightly wrapped) in the refrigerator for up to 5 days. For best results, keep cheesecakes in the freezer until the night before you're ready to serve. Defrost by refrigerating.
WHIPPED CREAM: If you decide not to make your own whipped cream, feel free to substitute with Coolwhip!
Calories:
221
kcal
|
Carbohydrates:
34
g
|
Protein:
7
g
|
Fat:
7
g
|
Saturated Fat:
3
g
|
Polyunsaturated Fat:
1
g
|
Monounsaturated Fat:
2
g
|
Trans Fat:
0.1
g
|
Cholesterol:
43
mg
|
Sodium:
341
mg
|
Potassium:
169
mg
|
Fiber:
1
g
|
Sugar:
21
g
|
Vitamin A:
164
IU
|
Vitamin C:
1
mg
|
Calcium:
121
mg
|
Iron:
1
mg
That's my Southerner's Banana Pudding Cheesecake Bites for ya! Cheesecake, anyone?