These Southerner's Banana Pudding Cheesecake Bites are beyond the best remix to the South's famous Banana Pudding. Packed with the original sweet flavors, this recipe adds a nice spice which stems from it's gingersnap cookie crust and the creaminess definitely comes from the burst of cream cheese in ever bite. Small enough to keep yourself from eating too many (if that's your thing!) and plenty enough to satisfy a big sweet tooth!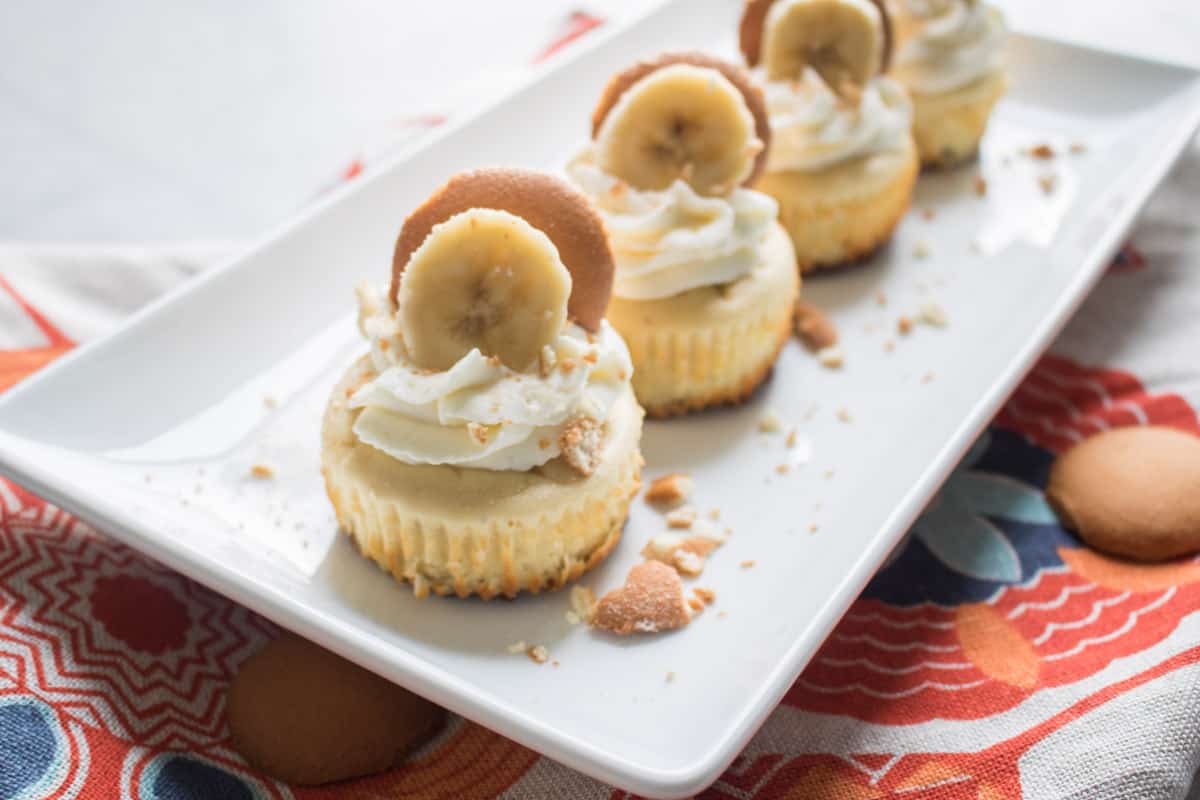 So, you know that my heart lies in the South! I've been a Florida girl my whole life and while I've resided in NYC for quite some time, I've always stayed true to my good ole' southern values. This definitely being one.
If you've followed my blog for a while, you'd know that I LOVE BANANA PUDDING! However, since minimizing dairy ingredients in my day to day, I haven't had a chance to enjoy a good bowl of this stuff in a while.
And while there are vegan options available, this just is one of those recipes that I'm stubborn to change in a major way. More so, because this dates back to my childhood and being one of the sweet treats that my Grandmother would make, right before we enjoyed a night filled with big blankets and a movie.
I remember her always whipping together her Banana pudding with the instant pudding mix (which I've still used to this day) and loading it with bananas and vanilla wafers. YUM!
I would love the extra vanilla wafers that were tucked away in each layer and then topped over the whipped cream. Boy, was it delicious!
Now, I decide to make this ever so often, in honor of the times she would make them and it brings back such great memories!
This has become the only thing left of Florida that I get to participate in while I'm thousands of miles away.
However, this is definitely a recipe that I'd like to pass down to my little guy once he's older (of course with a secret family ingredient) and create that tradition for him to pass down and so forth and so on.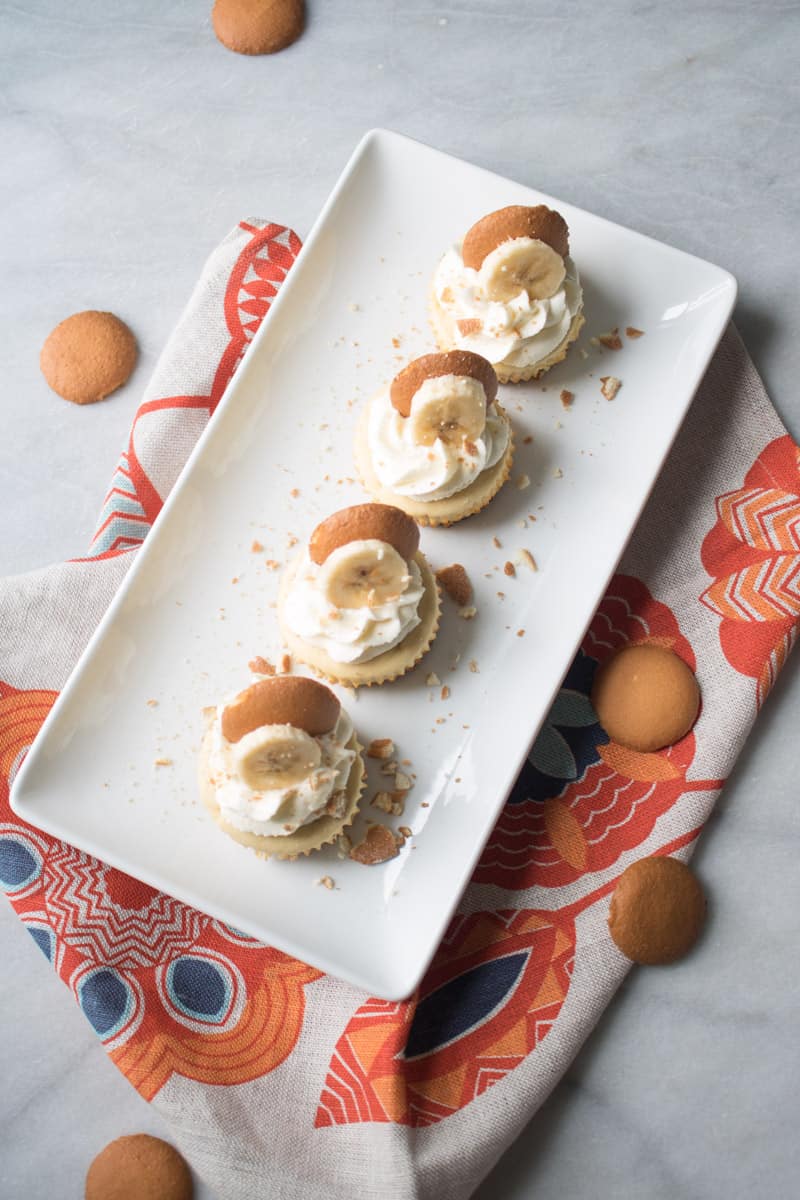 This time, I wanted to change things up a bit. Firstly, I wanted to make small bites so that I managed the amount of dairy I ate. Haha!
But secondly, I wanted to merge my two favorite things–Banana Pudding + Cheesecake and make a NEW FAVORITE. And that I did!
Initially, I was a bit concerned that it may not taste that great. I mean, these ARE two bold flavored desserts. But, Ya'll…..THIS WORKED and it worked BEAUTIFULLY.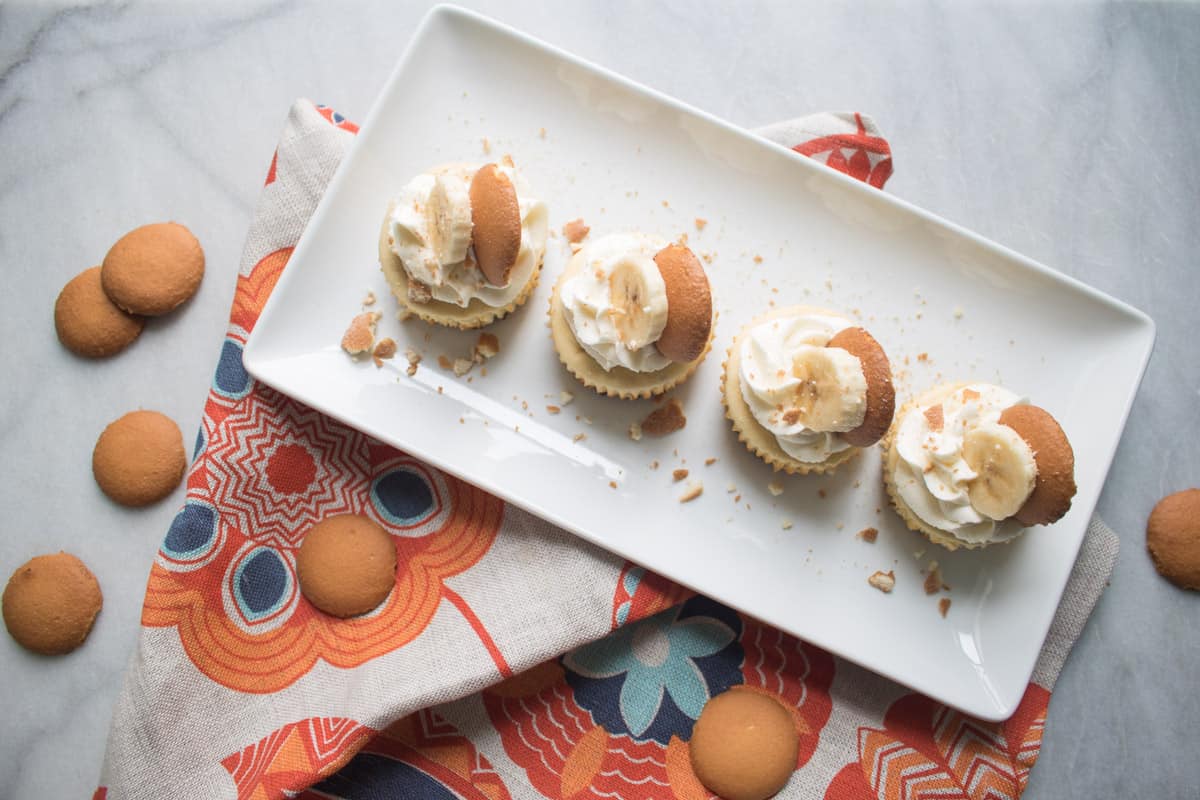 For some Southerner's, they often stick to the traditional vanilla wafers as the "star cookie", however, others take a more bold approach and use gingersnap cookies which are amazing and have a nice taste of spice to them.
So, for this recipe, I wanted to infuse both by using gingersnap cookies as the crust, while still keeping things traditional the way my Grandma did it, by topping them with vanilla wafers. "Chile"(a Southern colloquialism)….these sweet bites that starred both, were amazing! Haha.
Looking for more cheesecake inspired recipes? Check these out:
Plus, it's a super easy recipe and did not require much time at all. A majority of the work is done in the refrigerator as the cheesecakes "set" after being baked and cooled.
And the design isn't that difficult once you have a pipping bag and slice of the banana and vanilla wafers.
The great thing, is that the whipped cream is solid enough to hold the banana slice and vanilla wafers well because of a "secret ingredient"—powdered sugar!
So, no worries about this being an utter disaster or impossible to replicate.
Now, on to the recipe……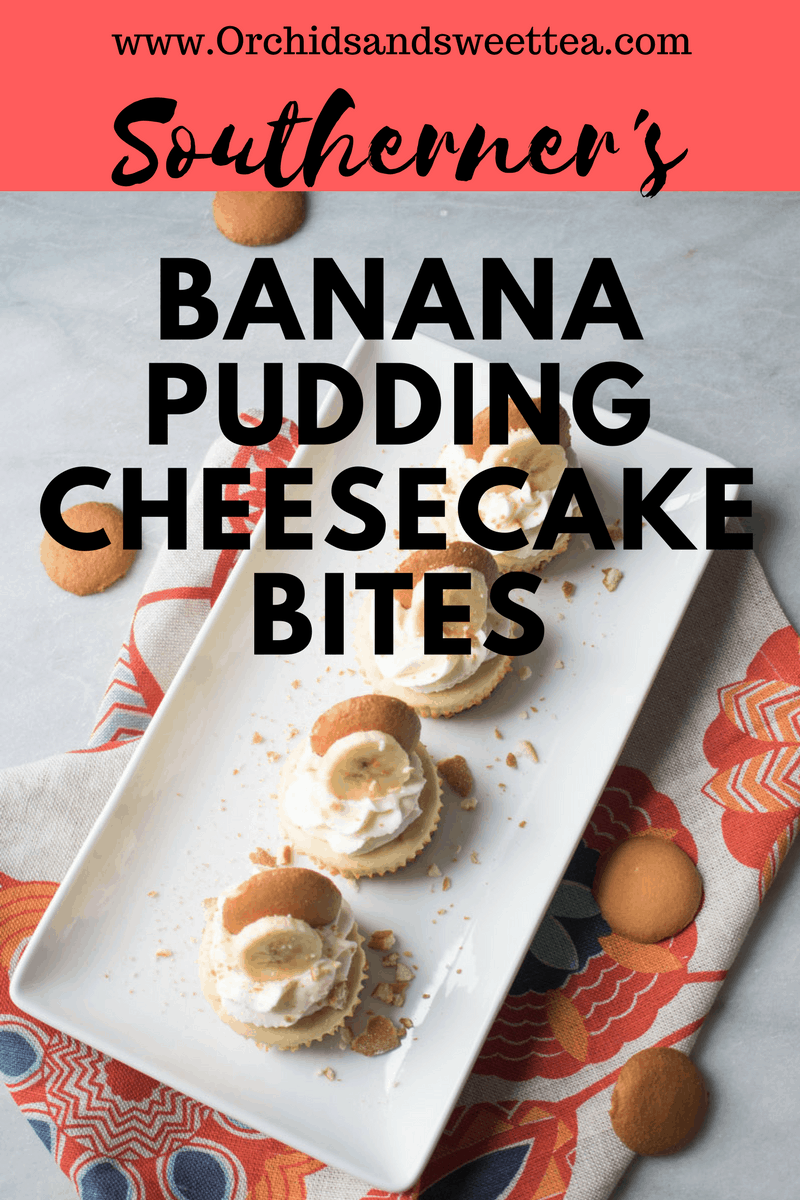 Gingersnap Cookie Crust:
1 1/2

cups

gingersnap cookies

2

Tbsps

pure cane sugar

3

Tbsps

unsalted butter, melted
Banana Cheesecake Filling:
12

ounces

packaged cream cheese

(That's 1 1/2 packs, to be exact if using an 8 oz.!)

1/2

cup

pure cane sugar

3

Tbsps

organic all-purpose flour

(I used Bob's Red Mill)

1/4

cup

sour cream

1/4

cup

lightly mashed bananas

(That's about 1 medium banana)

1

tsp

vanilla extract

2

large

eggs

pinch of

cinnamon

1

medium

banana, sliced
Whipped Cream + Toppings:
3/4

cup

organic heavy whipping cream

(Make sure that's it stays Cold!)

6

Tbsps

powdered sugar

1/2

tsp

vanilla extract

vanilla wafers

banana slices

(That's about 1 medium banana)
Gingersnap Cookie Crust:
Preheat the oven to 325 degrees Fahrenheit and add cupcake liners to a cupcake pan.

Grind the gingersnap cookies until almost finely ground (it's OK to leave a few medium chunks, if you'e a lover a little crunch!). Combine the gingersnap cookie crumbs, pure cane sugar and melted butter in a small bowl and mix with a spatula until well incorporated.

Divide the mixture between the cupcake liners (about 2 tablespoons per cup) and press down into the bottoms with your fingers to ensure that it's perfectly covering the bottom.

Bake the crusts for about 5 minutes and then remove from oven and allow it to cool until you're ready to use.
Banana Cheesecake Filling:
In a large bowl, mix together on low speed in an electric mixer, the cream cheese, pure cane sugar, and flour until combined. Be sure to scrape the sides of the bowl if needed.


Add the sour cream and mashed bananas and continue to beat on low speed until well combined.

Next, add the vanilla extract and the first egg and beat slowly until mostly combined. Then add the remaining egg and mix until well combined. Add a pinch of cinnamon at this point, if desired (I always love taking flavor to another level).

Now, add a small amount of filling to each cheesecake cup (about 2 Tbsps), then add a couple banana slices on top. (This keeps the traditional bites of banana slice in Banana Pudding, alive + well!)

Add additional filling on top of the banana slices, filling each cup until 3/4 full.

Bake the cheesecakes for 18-20 minutes, then turn off the oven and allow them to sit in the oven for another 5 minutes.

Remove cheesecakes from the oven door and allow them to continue to cool for another 15-20 minutes, then put them in the refrigerator until ready to be served.
Whipped Cream + Assembly:
Add the heavy whipping cream, powdered sugar and vanilla extract to the mixing bowl of an electric mixer (w/ a whisk attachment) and whip on high speed until stiff peaks form. Then, add whipped cream to a pipping bag.

Once cooled, remove cheesecakes from cupcake liners and pipe a swirl of whipped cream on top of each cheesecake and with a banana slice and vanilla wafer cookie. Repeat until complete.

Crumble a few vanilla wafer cookies in your hand and sprinkle atop cheesecakes, if desired.

Refrigerate again, until ready to serve. Bon Appetite!
Cheesecakes are best when well covered and can last for 2-3 days.
That's my Southerner's Banana Pudding Cheesecake Bites for ya! Cheesecake, anyone?