The Best Oreo Cheesecake Bites have a sweet Oreo cookie crust and a decadent Oreo filling, topped with whipped cream for the perfect over-the-top treat.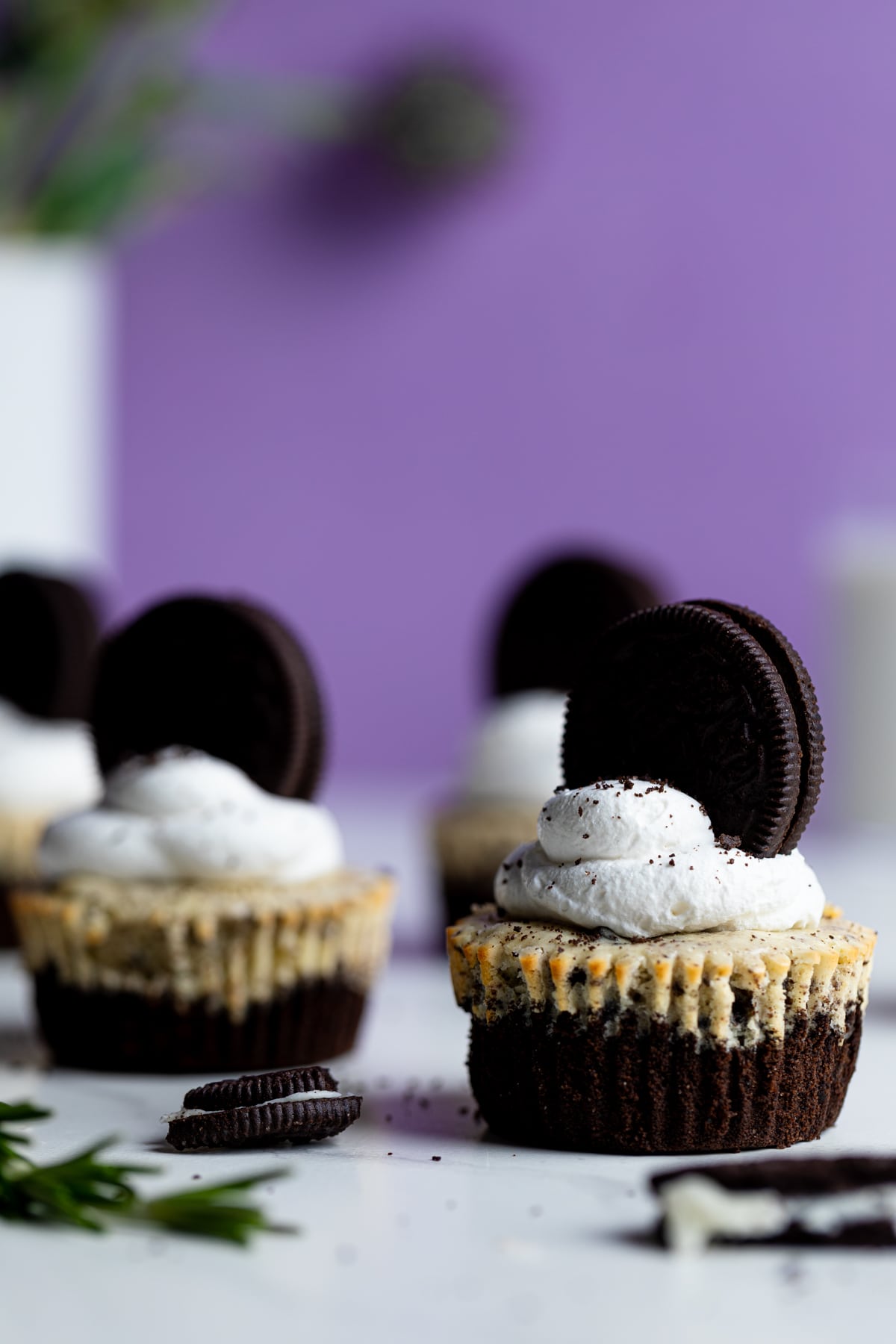 Who doesn't love Oreos? Sure, they're perfect on their own (or at least with a glass of milk for dunking). But I can't stop there.
You know I love turning this favorite cookie into No-Churn Peanut Butter Oreo Ice Cream, Vegan Vanilla Oreo Cake, and these adorable Best Oreo Cheesecake Bites.
But let me tell you, these cheesecake bites are so special. This easy cheesecake recipe incorporates everything I love about Oreo cookie flavor into thick, tangy mini cheesecakes. Prepare to be captivated by the perfect balance of tangy, sweet, + chocolate-y notes in every delightful bite. Of course, the filling is velvety, soft, fluffy, and light. Definitely melts-in-your-mouth. This summer dessert recipe is sure to be a crowd-pleaser!
Are Oreos Vegan?
Yup! According to a bit research and the Oreo official website, they've been a dairy-free and vegan treat since they launched. Who knew---right? Despite the filling, most Oreos actually contain no form of milk or animal product, depending on the flavor which some might contain honey, etc.
As for which flavors are actually vegan, here's a list of them to keep things safe when picking:
The original Oreo cookie
The Double Stuffed Oreo
The Most Stuffed Oreo
Oreo Gluten-Free
Oreo Double Stuffed Gluten-Free
Chocolate Creme Oreo
Dark Chocolate Oreo
Jave Chip Oreo
Carrot Cake Oreo
Lemon Oreos
Golden + Golden Doubled Stuffed Oreos
And a 

few others

.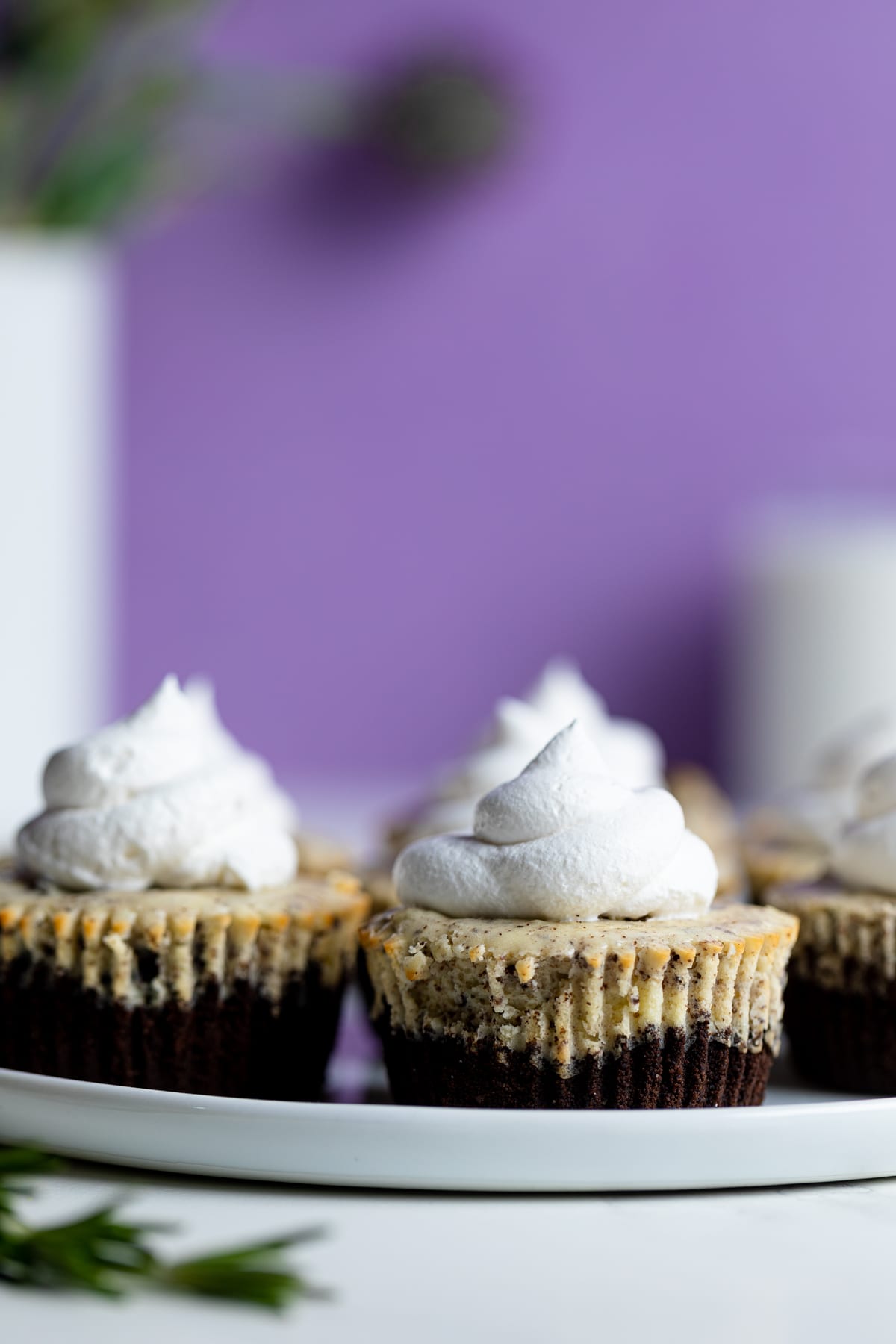 The best part about these treats is that they're so easy to make and only require a few ingredients. You can also have fun with kids in the kitchen making these mini cheesecakes!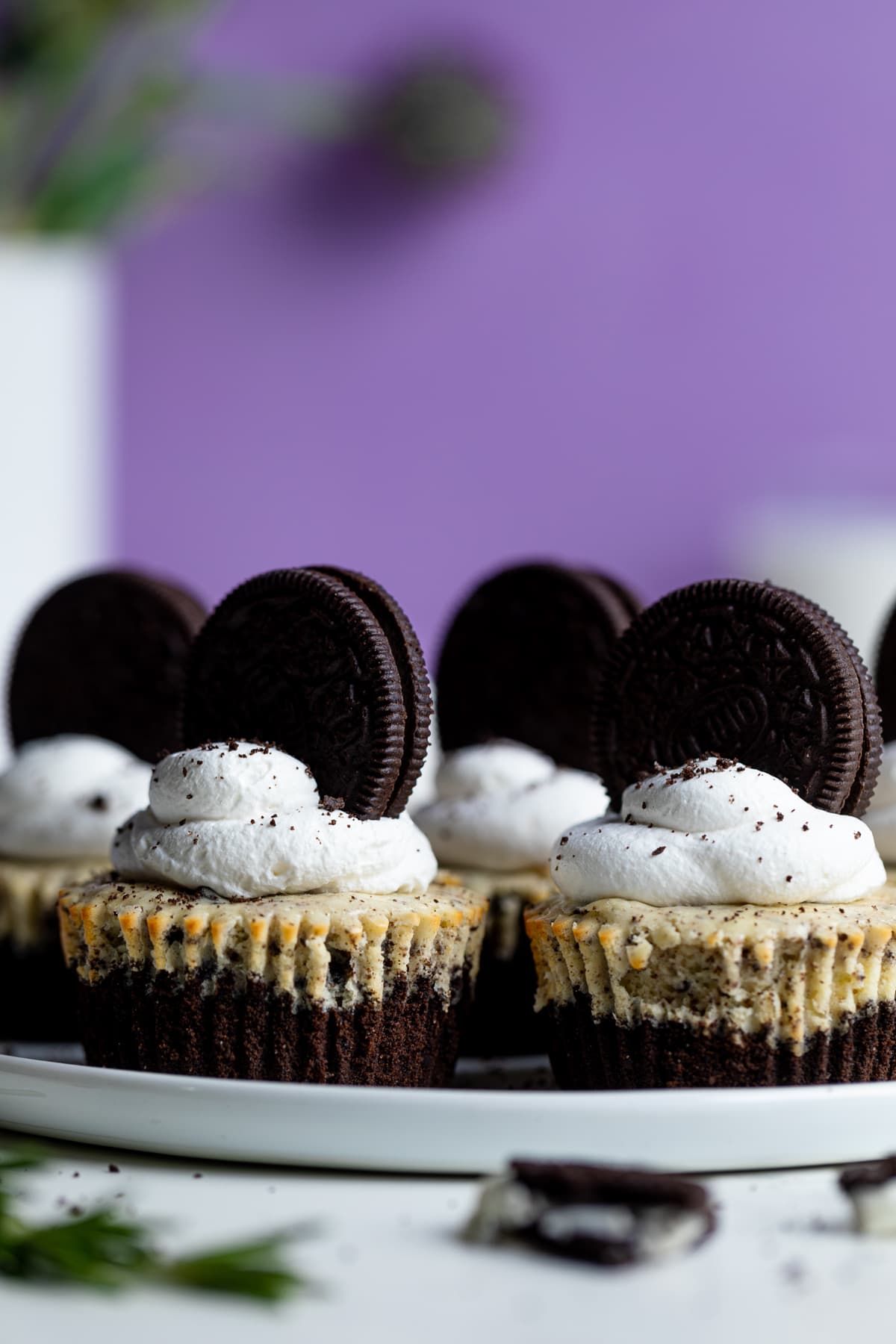 Why You'll Love These Cheesecake Bites:
They're the perfect two-bite size for an after dinner treat that doesn't feel like a sugar overload.
They're jam-packed with Oreos from the crust to the garnish. 
Crispy on the bottom and tangy and fluffy in the center, the perfect combination. 
You can make them ahead of time for a party!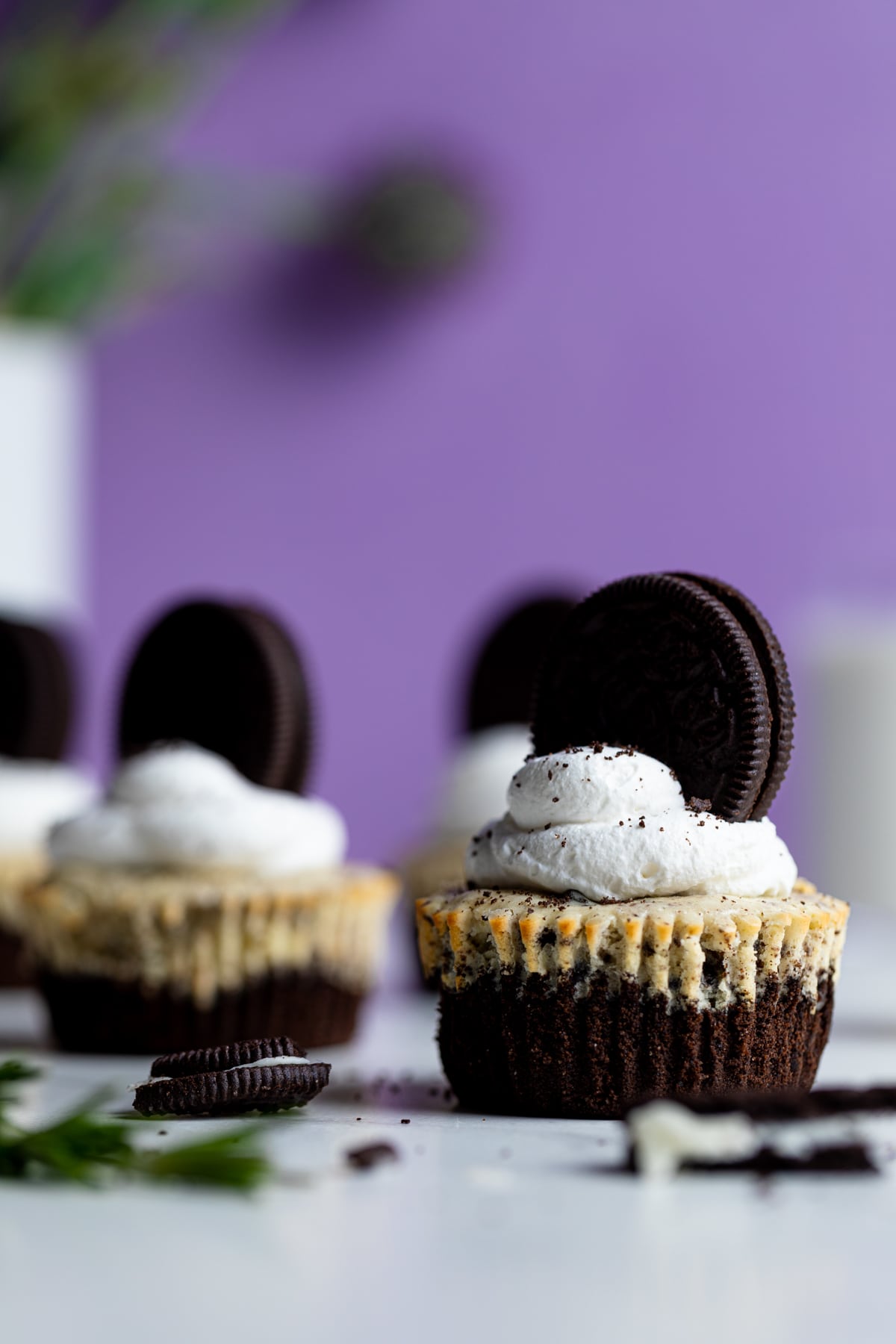 SPECIAL TIPS FOR MAKING THE PERFECT CHEESECAKE.
AVOID THOSE LUMPS!
Always, ALWAYS soften your cream cheese at room temperature for a minimum of 30 minutes to ensure that it can be fully smooth when you beat it in an electric mixer.
COMBINE CAREFULLY + SLOWLY.
Be sure to add in the eggs ONE AT A TIME and always keep the mixer's speed on low to avoid over-mixing. A light mix always does the trick!
USE THE RIGHT PAN.
I find that using the correct baking pan helps to make a great cheesecake as well. I like using the traditional cheesecake pans that pop out at the bottom for whole cheesecakes. When making cheesecake bites, I prefer lining the pan with cupcake liners for ease.
ALWAYS ADD A WATER BATH.
I like to add a small pot of water on the lower rack of the oven while I bake my cheesecakes, cakes, cupcakes, etc. However, you can always add your cheesecake pan within another pan that has a small amount of water as your bath. Either way, it keeps in the proper moisture and helps everything to bake nicely.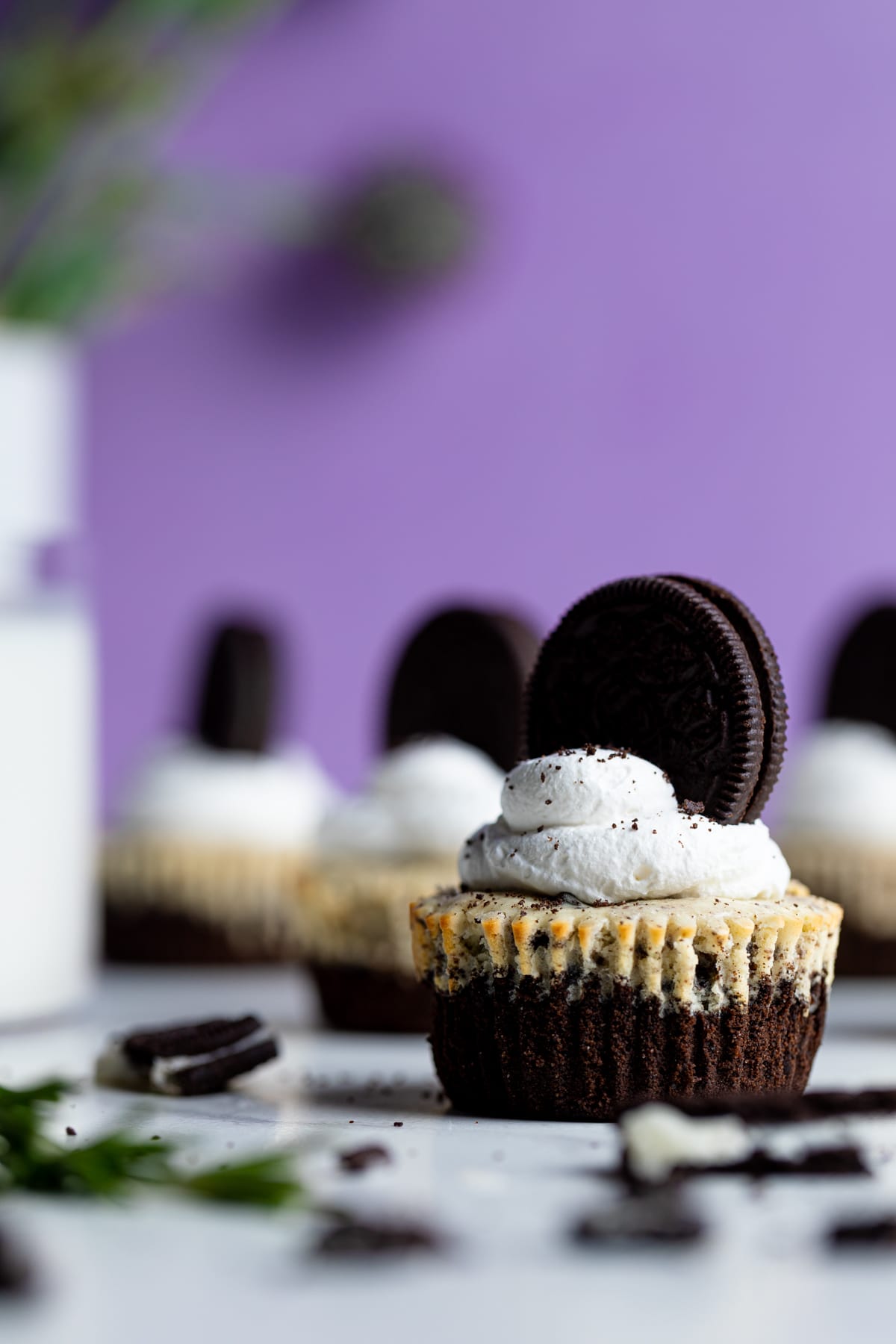 KEEP THE OPENING OF THE OVEN DOOR AT A MINIMUM.
Yup, that's right. No quick peeking every few minutes. Every time that the oven door is open, it causes your cheesecakes to inflate from the sudden shift in temperature. That's why it's imperative to end the baking of your cheesecakes by turning off the oven and cracking open the oven door slightly for a few minutes before removing them out of it entirely.
DO THE WOBBLE, WOBBLE TEST!
When checking to see if your cheesecake is done, always do the jiggle test to ensure that it only jiggles slightly in the middle. Don't worry—while it cools, the trapped heat will continue to cook the center nicely.
COOL, COOL, AND COOL!
Lastly, be sure that your cheesecake is FULLY cooled before covered. This avoids condensation form forming and that not so great wetness that happens on the tops when covered before cooled.
Once fully cooled at room temperature, you're free to refrigerate it for an hour (uncovered) and then you can place foil or plastic wrap over it after that.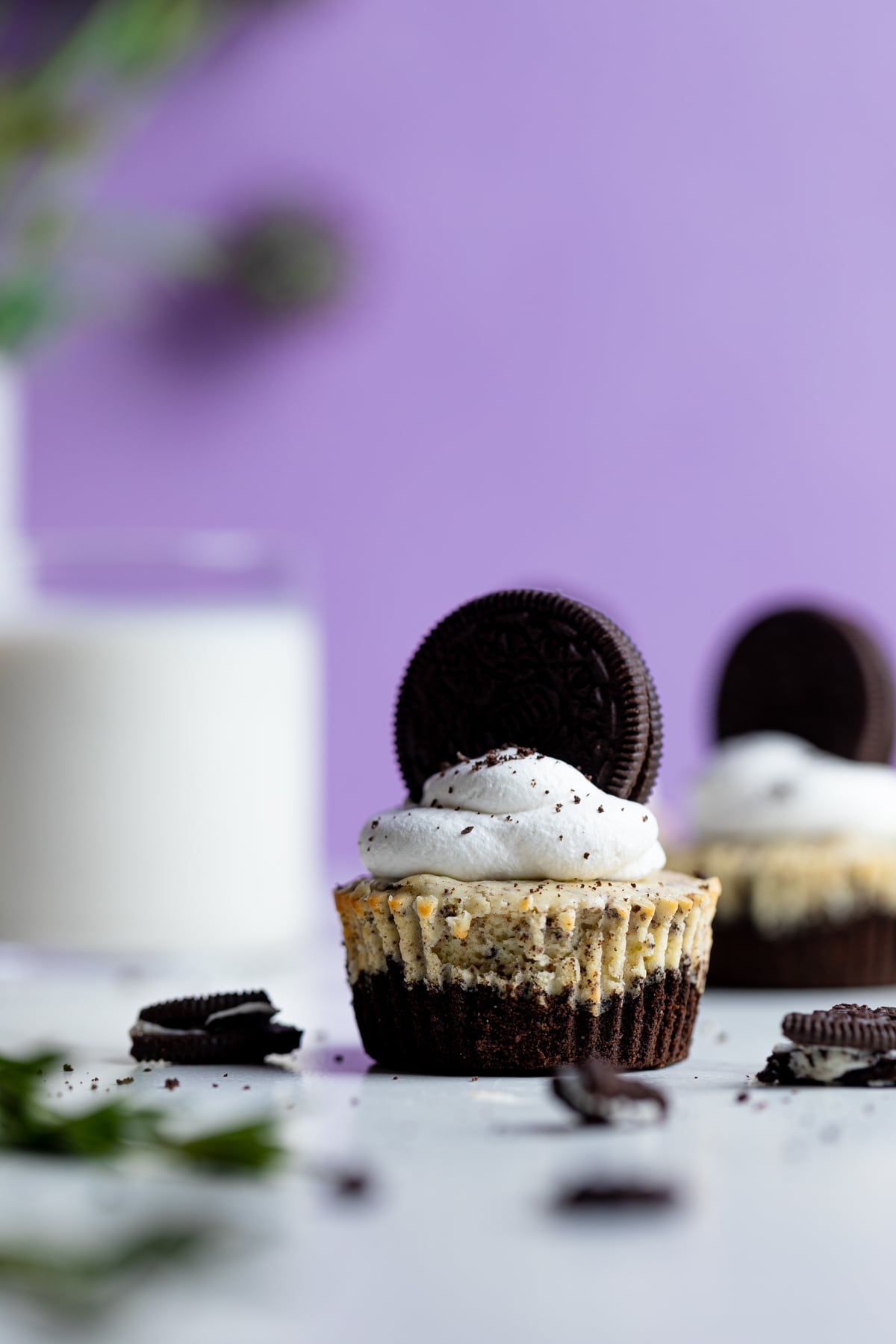 How to Make Oreo Cheesecake Bites
There are two steps in this recipe: making the crust, and making the Oreo cheesecake filling. 
Start with the crust, which will bake while you whip up the filling. 
Oreo Cookie- Graham Cracker Crust
It's best to use a food processor to make the crust. This way, the cookies break down into a fine meal and hold together nicely. 
You'll need to remove the filling from the Oreos for the crust. You only want to use the chocolate cookie part. Add the cookies in with the chocolate Graham Crackers and some butter, and you should have a crust dough that holds together when pressed.
Before baking, make sure the crust is nicely packed into the cupcake pan. Use your fingers or a pie tamper if you have one. 
The crust only needs to bake for 5-10 minutes, or until it's firm all the way through. Then let it cool while you make the filling. 
Oreo Cheesecake Filling
A few notes to keep in mind about the filling for your cookie cheesecake bites:
Make sure your cream cheese is softened to room temperature. This way, it will whip easily for a fluffy texture. If you forget to take it out of the fridge, you can warm it in the microwave for 10-20 seconds.
Wait to add the vanilla and eggs until the cream cheese mixture is very light and fluffy. 
The sour cream adds wonderful tang and a lighter, airier texture to the cheesecake filling. If you're out, you can substitute Greek yogurt. 
Make sure there are no lumps of flour or cream cheese in the filling before you fold in the Oreo pieces.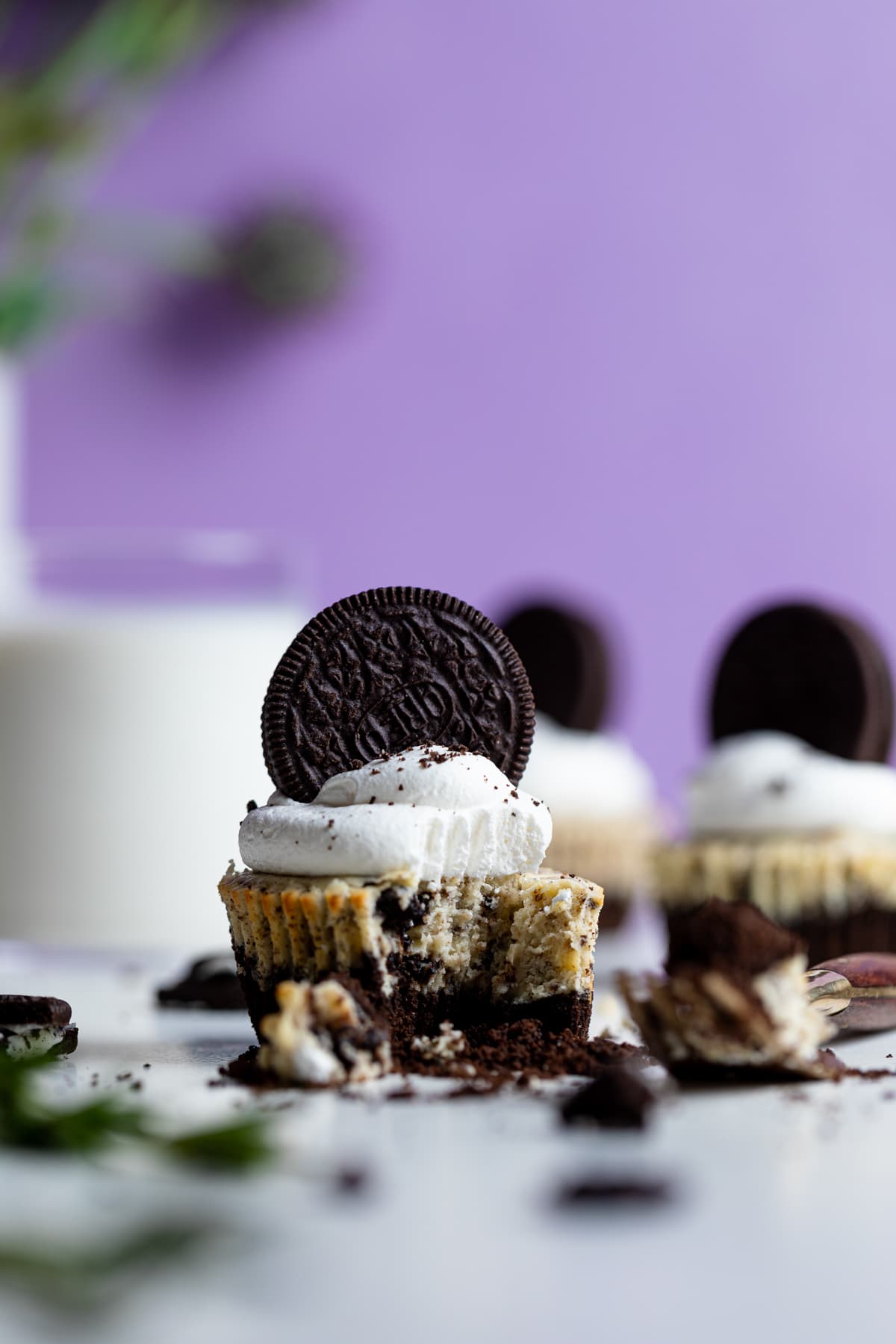 Why Do Cheesecake Bites Cool in the Oven?
The trick about leaving the cheesecakes in the oven with the door open after baking helps to prevent cracking. If the cheesecakes change temperature too quickly (from the oven to room temp), they may cack o the surface.
By leaving them in the oven, they slowly reach room temperature and hold their shape nicely.
The cheesecakes will still need to chill for a while out for the oven, as these are best served chilled or at room temperature.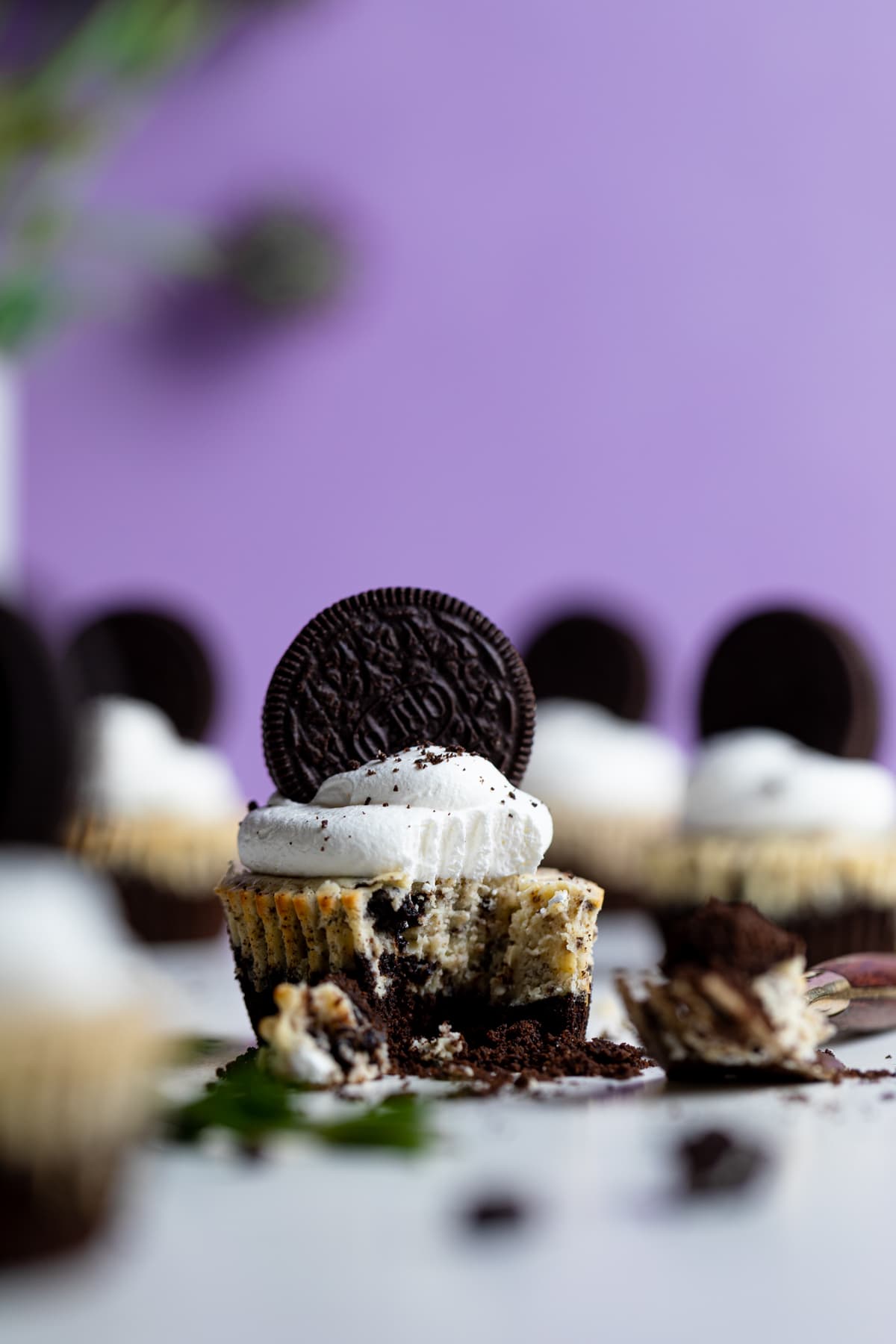 More Amazing Oreo Recipes to Try Next!
MADE OUR RECIPE(S)?
If you make these Oreo Cheesecake Bites or any other recipe from us, be sure to tag us on Instagram at #Orchidsandsweettea so that we can share the love, rate, comment below, + share!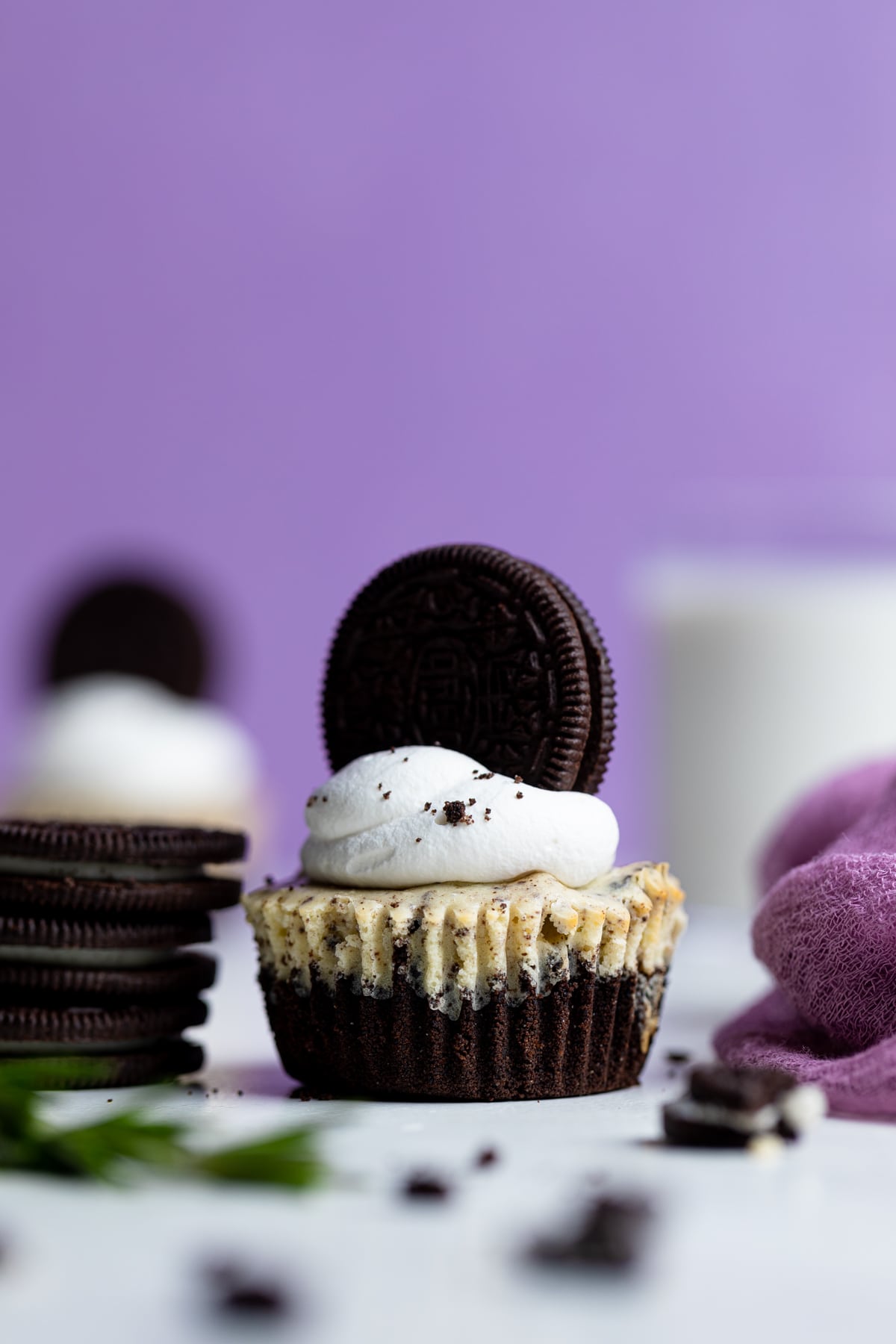 Serves:
12
Cheesecake Bites
OREO GRAHAM CRACKER CRUST:
CHEESECAKE FILLING:
12

ozs.

organic cream cheese, softened at room temp.

(That's 1 ½ packs!)

½

cup

organic cane sugar

3

Tbsps

organic all-purpose flour

1

teaspoon

vanilla extract

2

large

organic eggs, room temp.

3

Tbsps

low-fat sour cream or greek yogurt

pinch of

finely-ground sea salt

10

Oreo cookies (WHOLE), crushed
TOPPINGS:
Whipped cream, store-bought or homemade

Oreo cookies, crushed or whole
CRUST:
Preheat oven to 325 degrees Fahrenheit and prepare a 12-cavity cupcake pan with cupcake liners.

Grind the Oreo cookies and chocolate graham crackers in a food processor, until almost finely ground (it's OK to leave a few medium chunks, if your'e a lover a little crunch!). Combine the cookie/cracker mixture along with the melted butter into a medium bowl and stir until full combined.

Divide the mixture between the cupcake liners (about 2 Tbsps per well) and press down into the bottoms with your fingers (focusing on the middle) to ensure that it's perfectly covering the bottom and sides (like a deep well).

Bake the crusts for about 5 minutes and then remove from oven and allow it to cool until you're ready to use.
FILLING:
In the bowl of an electric mixer, mix together on low speed: the cream cheese, cane sugar, and flour until combined. Be sure to scrape the sides and bottom of the bowl if needed.

Next, add the vanilla extract and the first egg and beat slowly until mostly combined. Then add the remaining egg and mix until well combined, still mixing everything on low speed. Now, add in the sour cream, and salt and continue mixing.

Change mixer attachment to a whisk and beat on medium-high speed for 1-2 minutes or so until completely smooth and lump-free. NOTE: DO NOT OVER-MIX. Be sure to stop once the batter becomes smooth. Fold in the crushed Oreo cookies.

Add a small amount of filling to each cupcake liner (about 2 Tbsps), repeating until all batter is used.

Bake the cheesecakes for 16-18 minutes, then turn off the oven and allow them to sit in the oven for another 5 minutes with the oven door halfway open to avoid cheesecakes from deflating. NOTE: When baking, I always prepare a medium pot with water and add it to the oven as well, to keep cheesecake temperature even and to add moisture.

Remove cheesecakes from the oven and allow them to continue to cool for another 15-20 minutes or until at room temperature coolness, before putting them in the refrigerator for at least an hour.
HOMEMADE WHIPPED CREAM + ASSEMBLY:
Add 2 cups of organic heavy whipping cream, ¼ cup of powdered sugar and 1 teaspoon of vanilla extract into the mixing bowl of an electric mixer (w/ a whisk attachment) and whip on high speed until stiff peaks form, about 5-6 minutes. Once fluffy, add whipped cream to a piping bag with your favorite tip and add it to the refrigerator until ready to use.

Once cooled, remove the cheesecake from the fridge and remove cupcake liners. Top cheesecakes with the whipped cream along with an Oreo cookie.

Bon Appetit!
STORAGE: Leftover Cheesecakes can be stored (tightly wrapped) in the refrigerator for up to 5 days. For best results, keep cheesecakes in the freezer until the night before you're ready to serve. Defrost by refrigerating.
WHIPPED CREAM: If you decide not to make your own whipped cream, feel free to substitute with Coolwhip!
Calories:
237
kcal
|
Carbohydrates:
32
g
|
Protein:
7
g
|
Fat:
9
g
|
Saturated Fat:
4
g
|
Polyunsaturated Fat:
1
g
|
Monounsaturated Fat:
4
g
|
Trans Fat:
0.1
g
|
Cholesterol:
43
mg
|
Sodium:
320
mg
|
Potassium:
144
mg
|
Fiber:
1
g
|
Sugar:
20
g
|
Vitamin A:
158
IU
|
Vitamin C:
0.03
mg
|
Calcium:
113
mg
|
Iron:
2
mg