These Mini Salted Caramel Cheesecake Bites with apples are the perfect size for sharing and full of apple pie flavor with a crunchy sweet streusal topping. Topped with a light homemade salted caramel drizzle for a sweet and salty finishing garnish.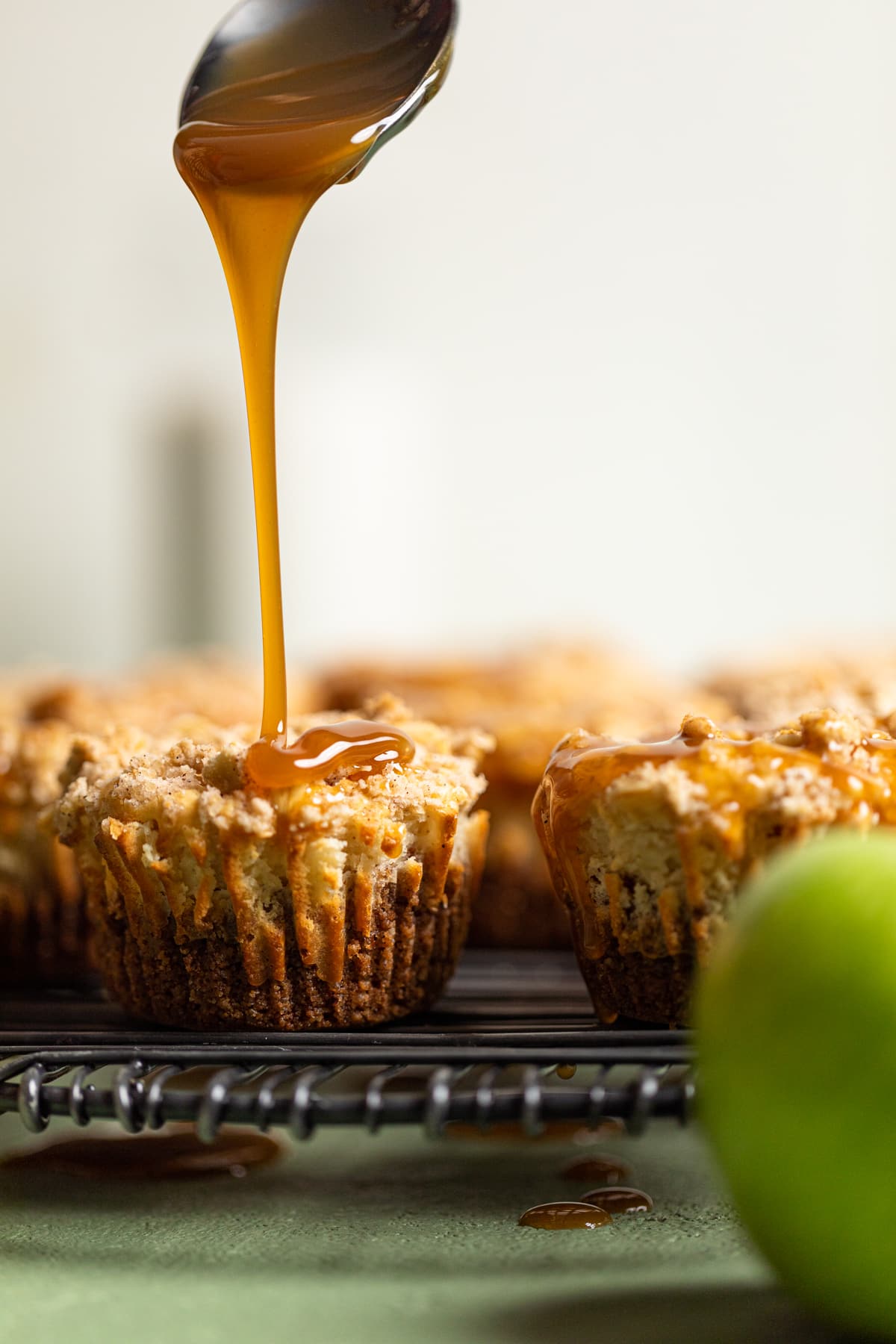 I first made these adorable cheesecake bites to celebrate National Cheesecake Day. Now, I make them all the time. They're one of my go-to recipes for fall baking because they have the warming and comforting flavors you crave in fall but with a twist. Instead of heavy pastry or bread, these bite-sized cheesecakes have a light and fluffy apple cheesecake filling and get their sweetness from a light homemade caramel sauce. The textures of soft, crispy and gooey meld together perfectly in every bite.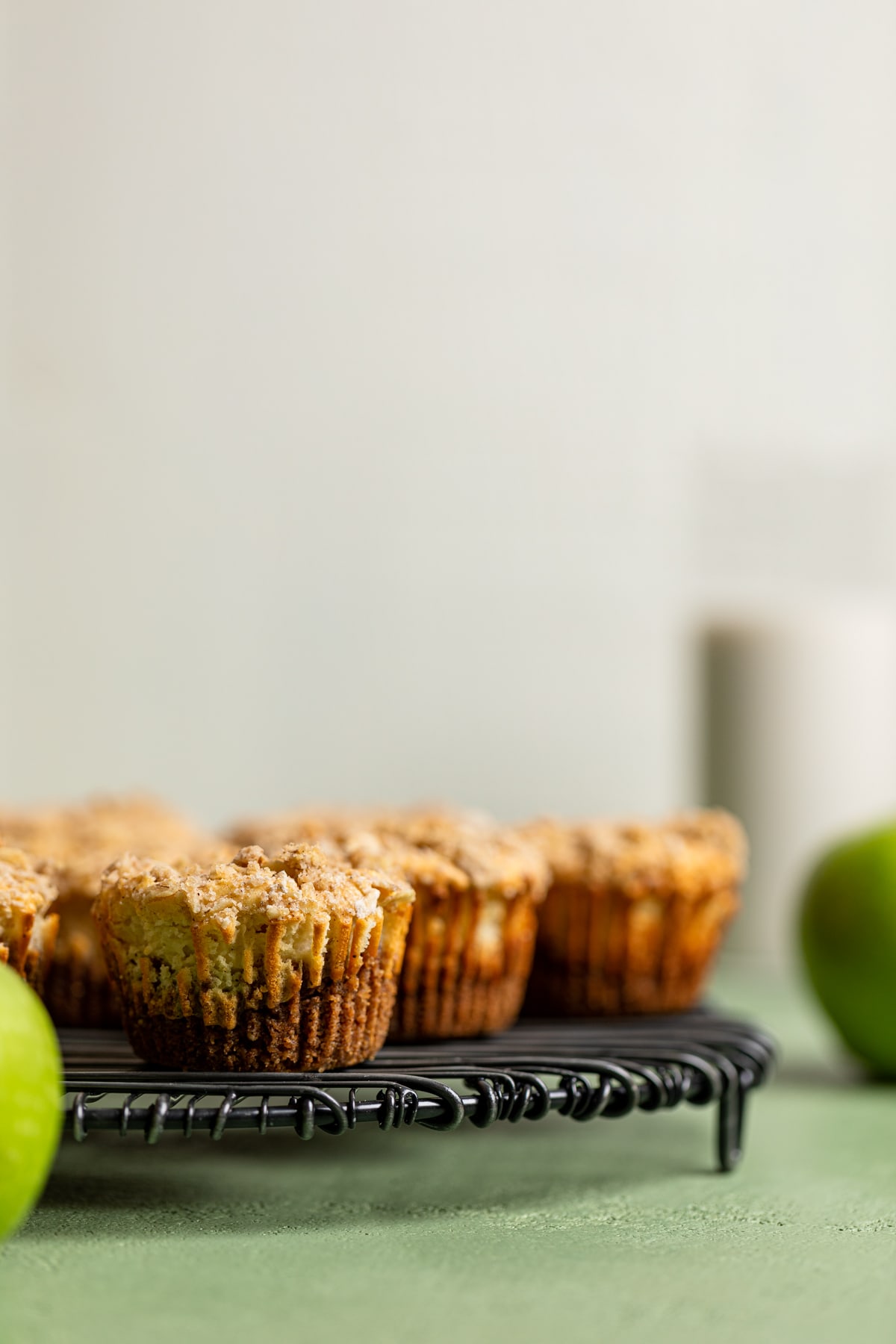 How to Make Salted Caramel Cheesecake Bites
There are three components to these adorable apple pie cheesecake bites:
Caramel sauce
Graham cracker crust
Apple cheesecake filling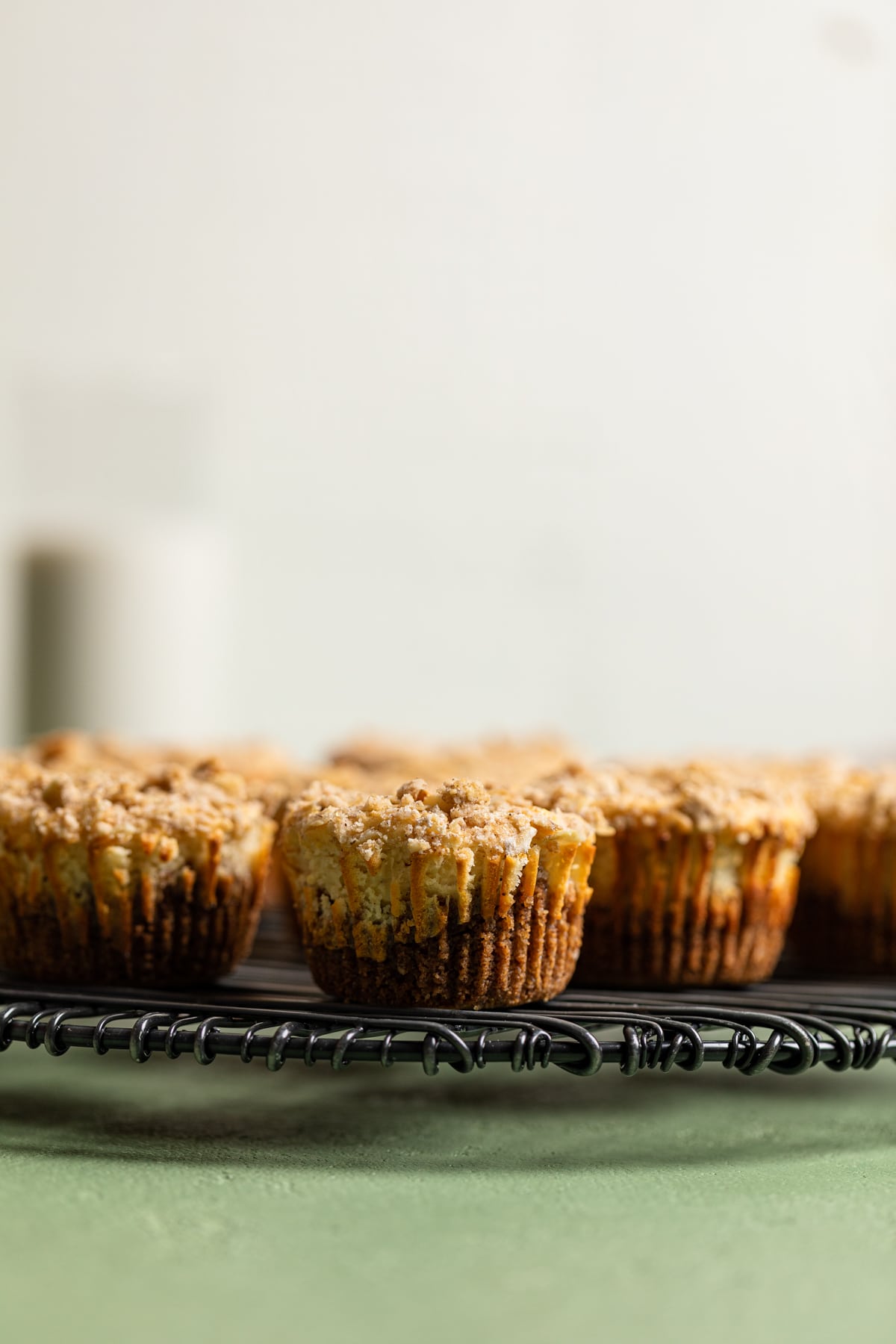 Here's how I recommend making the components and layering your cheesecakes: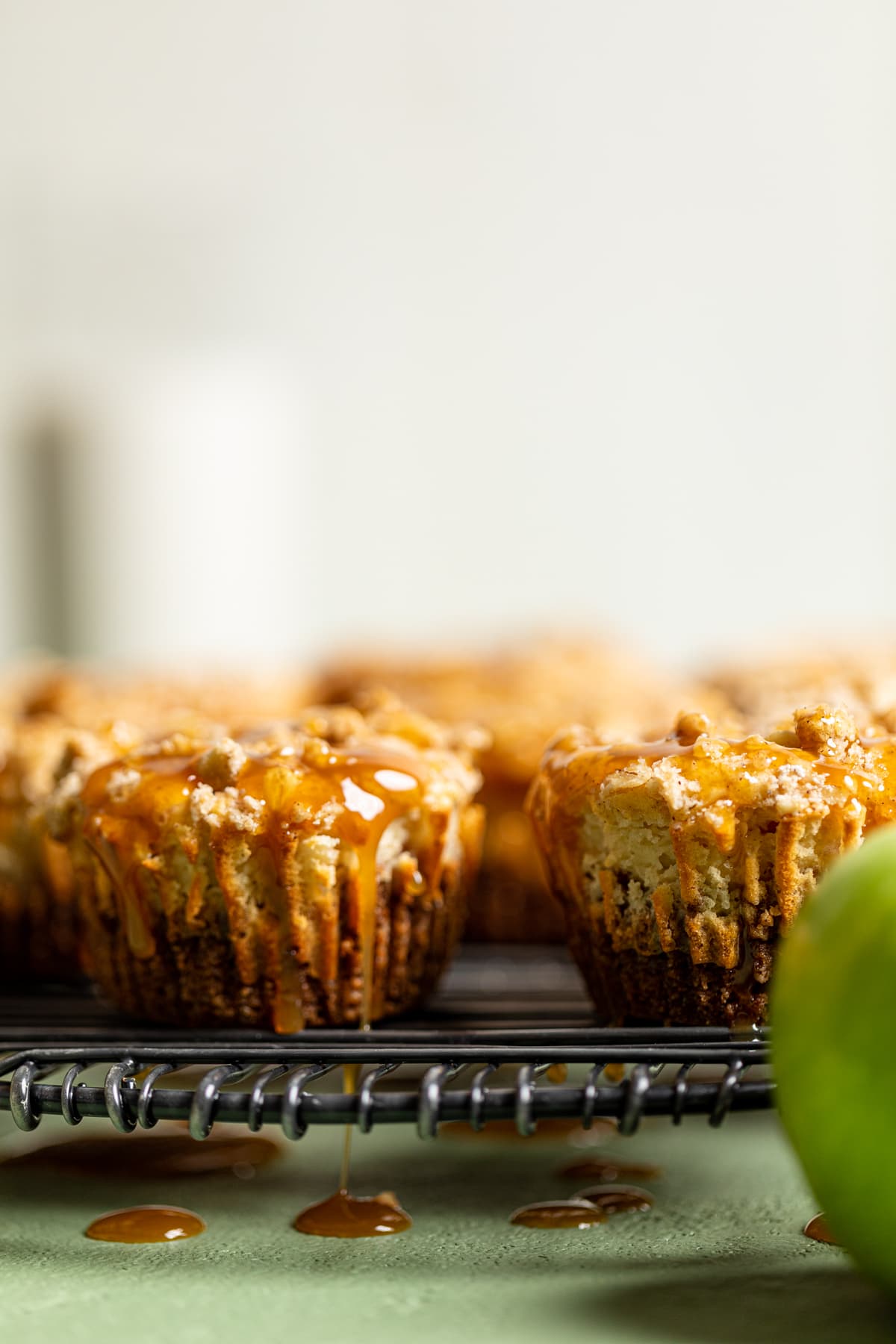 Homemade Salted Caramel Sauce
The sauce drizzled on each cheesecake bite is my favorite part. You can keep this sauce recipe in your back pocket to dress up all kinds of desserts, from No-Churn Brownie Ice Cream to Vegan Apple Cranberry Crumble Pie
Here's what you'll need to make it:
Brown sugar
Heavy cream. The cream doesn't have to be super cold for caramel.
Unsalted butter. Cut the butter into small cubes so they melt at the same rate.
Water
Salt
That's it! This easy salted caramel sauce is made right on the stovetop in one pan. You'll need to pay attention the whole time to prevent burning, but as long as you don't crank the heat too high, it's easy to make and so delicious.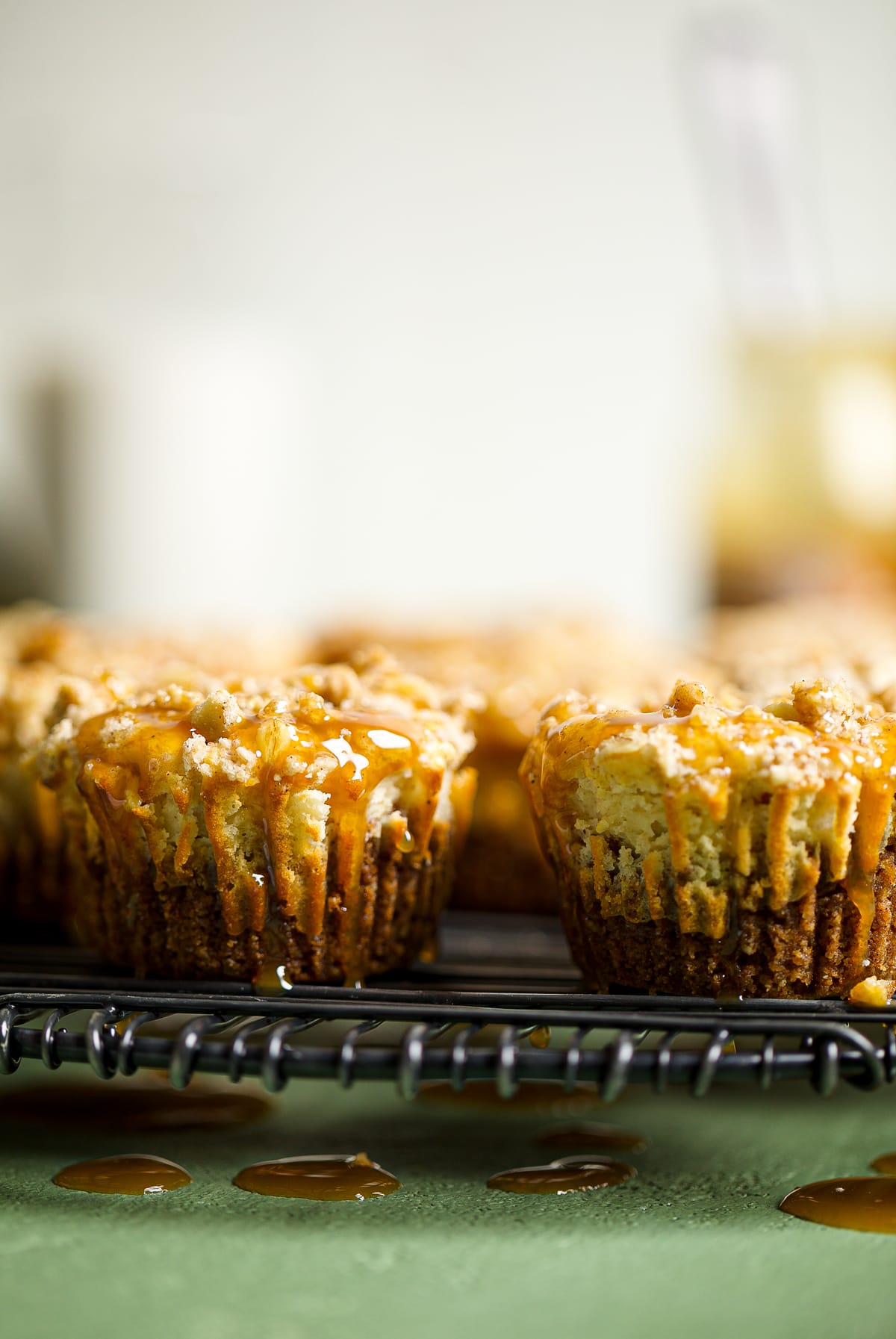 Graham Cracker Crust
Next, make the crumbly and crunchy graham cracker crust. Here's what you need:
Graham crackers. You'll grind these into a fairly coarse meal. It's ok to have some larger pieces.
Cinnamon for warming fall flavor
Sugar. Use granulated sguar.
Butter. Make sure it's melted first to hold the crust together.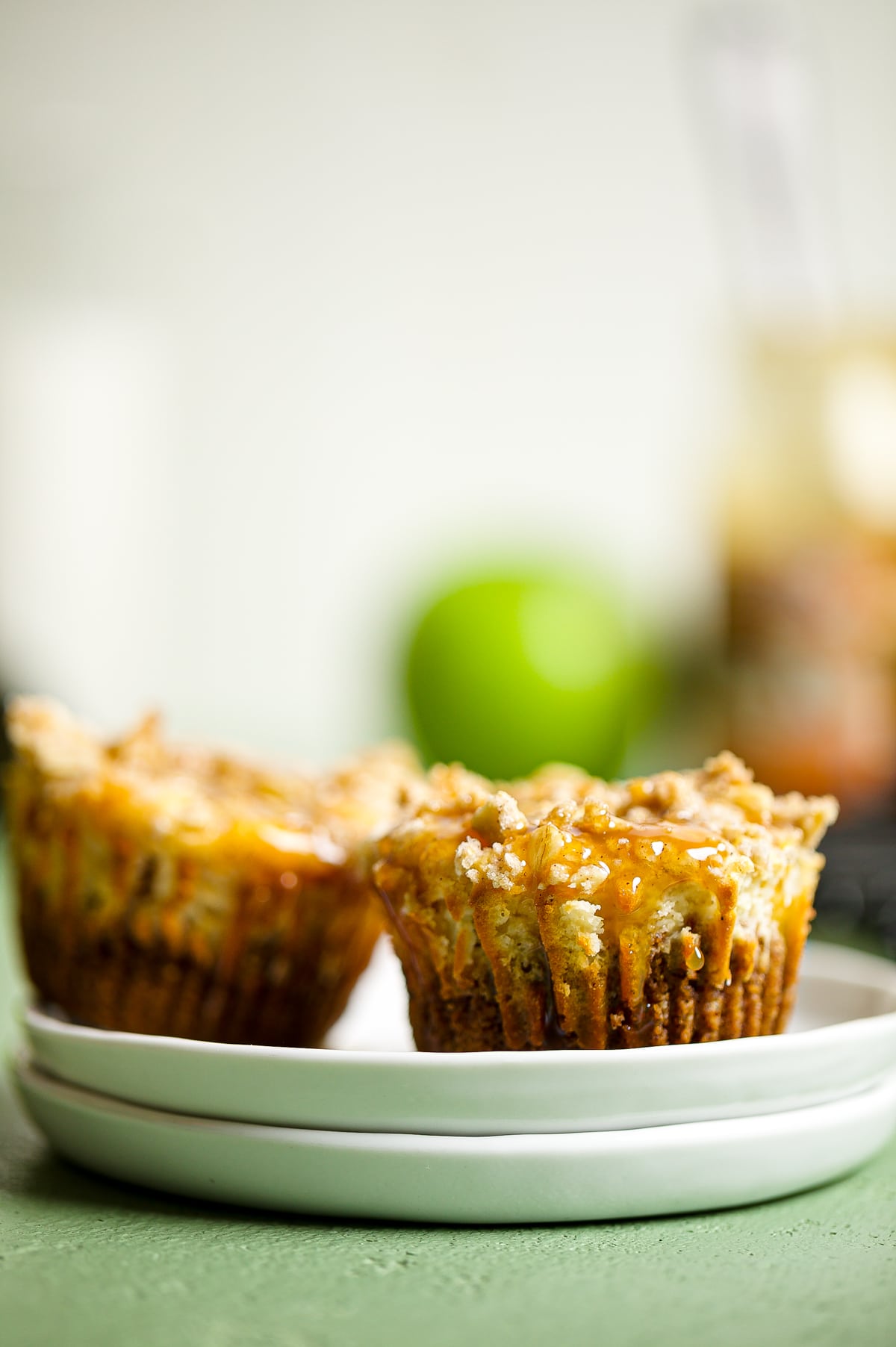 Apple Cheesecake Filling
Finally, while the crusts pre-bake and cool, whip up the simple apple cheesecake filling. With these ingredients:
Apples. You can use any kind, but tart apples like Granny Smiths work great.
Cream cheese. Make sure it's softened for easier mixing and a light and fluffy texture.
Granulated sugar. I always use organic.
Flour. All-purpose works great.
Vanilla
Eggs. These give the custardy texture and flavor to your cheesecakes.
Greek yogurt. Use plain, full-fat greek yogurt for best results.
Cinnamon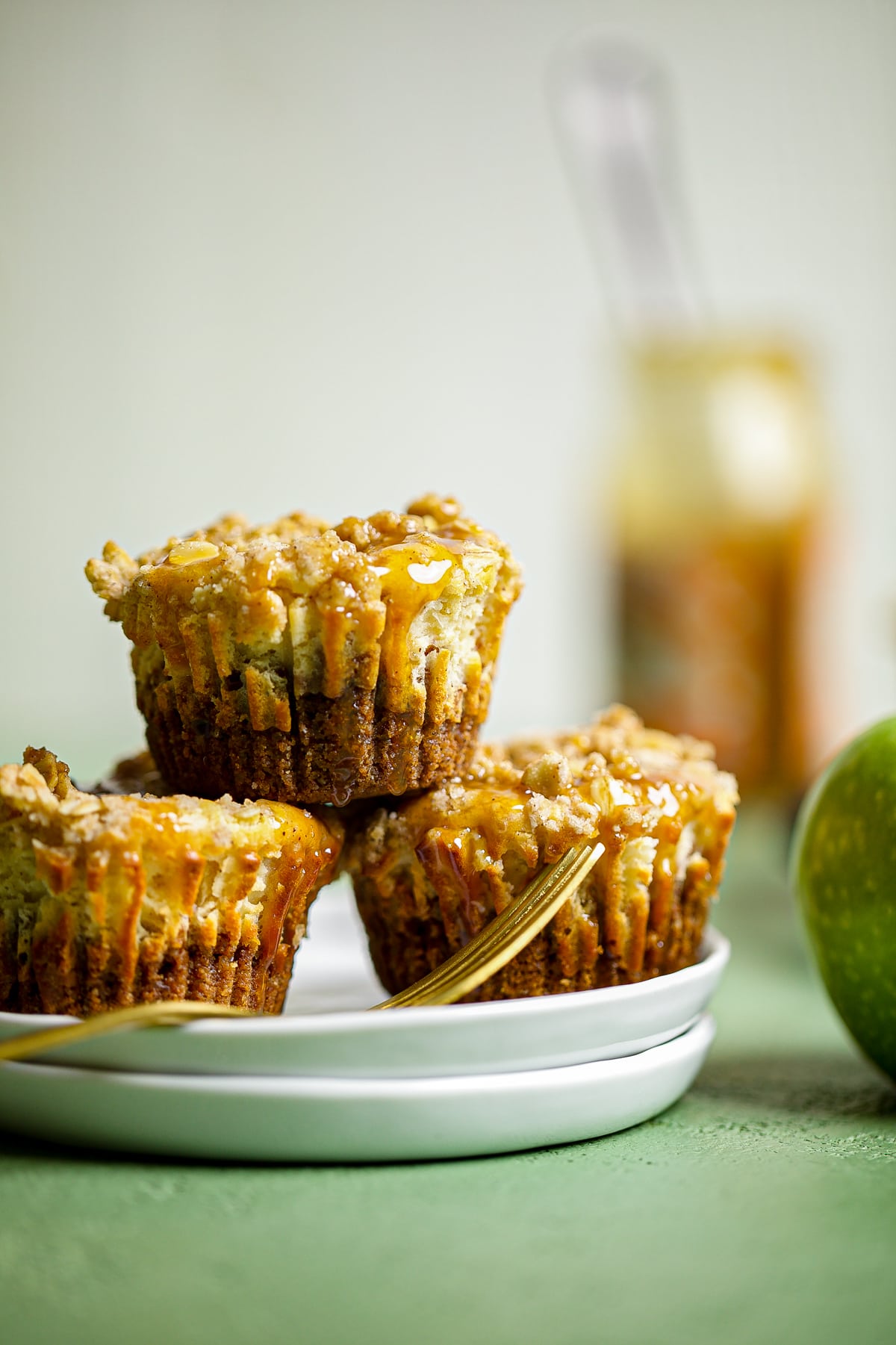 Storing Leftover Caramel Sauce
You can make the sauce ahead of time if you like. Store leftover sauce in an airtight container in the fridge for up to two weeks. To serve, reheat the sauce in the microwave or in a pot on the stove.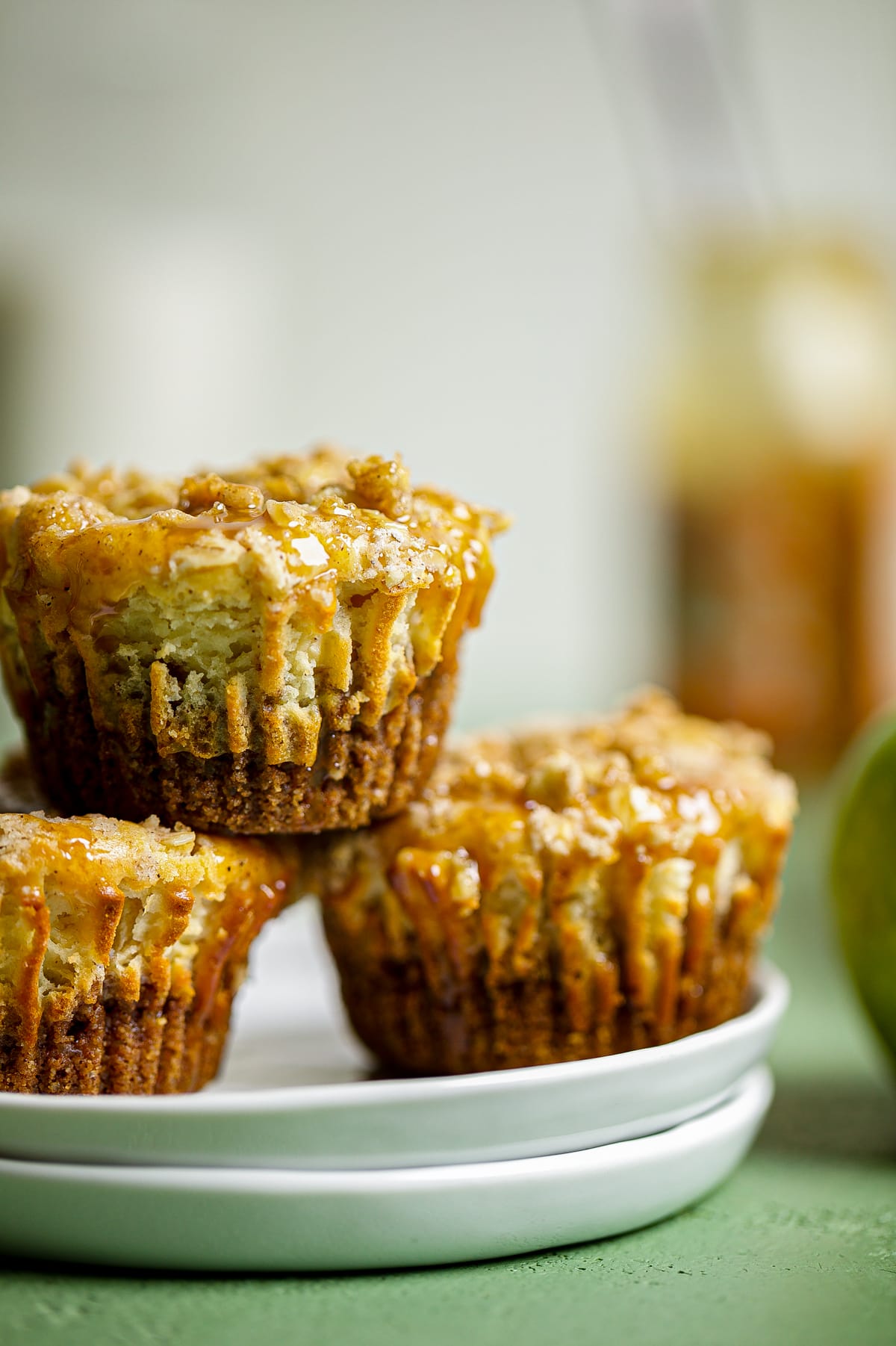 Baking Tips for Cheesecake without Cracks
Here are my best tips for making sure your cheesecake bites don't crack in the oven:
Add a pan of hot water to the bottom of the oven. This creates a steam bath around the cheesecakes to gently cook them from the outside in.
When the bites are done baking, leave them in the oven, turn it off, and prop the door open a few inches. This way, the cheesecakes slowly cool down. If they cool too quickly, they may crack.
Chill the cheesecake bites in the fridge for at least an hour and preferably overnight before serving. These are best enjoyed chilled.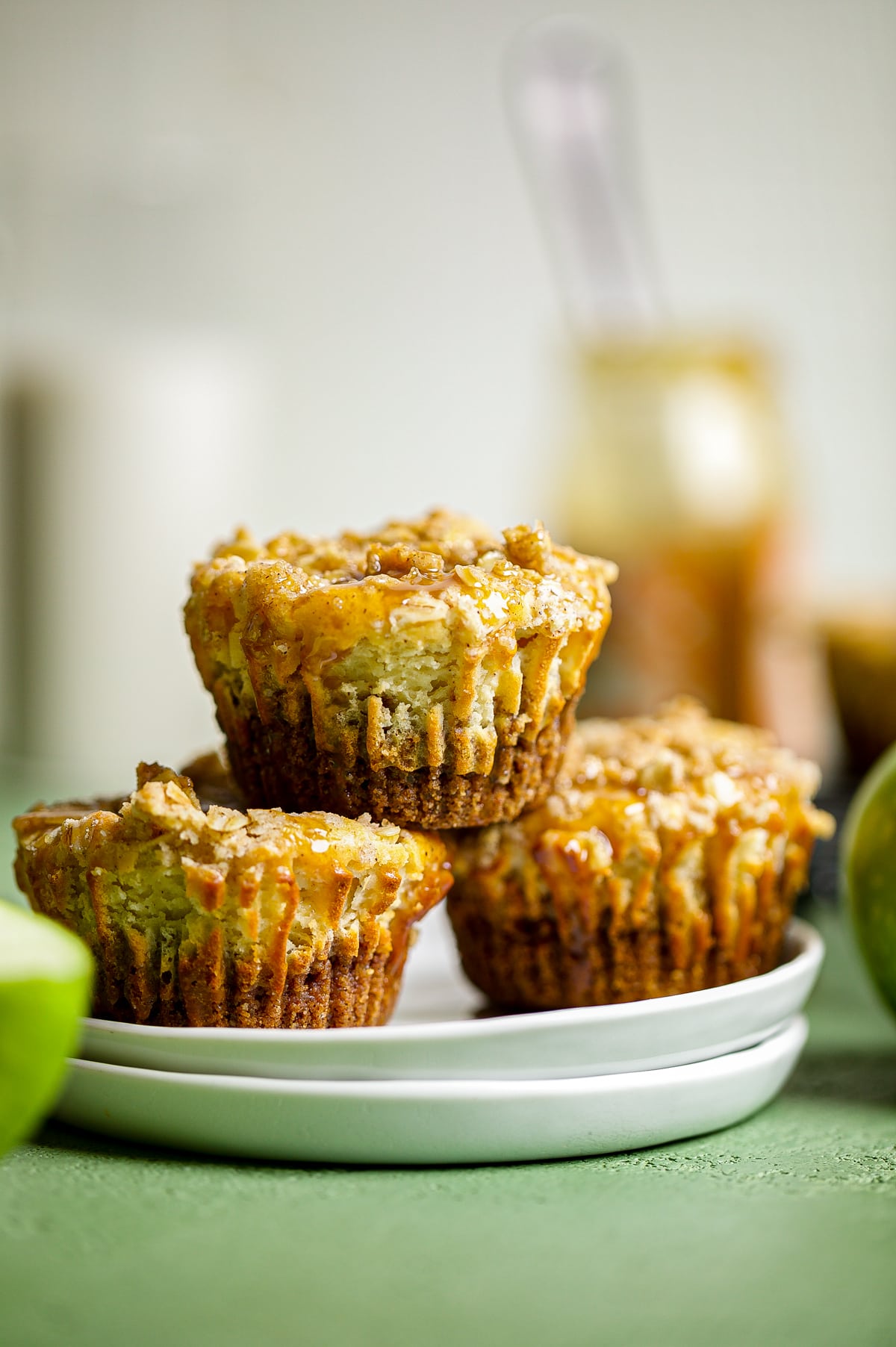 More Easy Cheesecake Recipes
MADE OUR RECIPE(S)?
If you make these Mini Salted Caramel Cheesecake Bites or any other recipe from us, be sure to tag us on Instagram at #Orchidsandsweettea so that we can share the love!
GRAHAM CRACKER CRUST:
2

cups

Graham crackers, chopped

(About 12-14 Graham Crackers)

3

Tbsps

organic brown sugar

1

teaspoon

ground cinnamon

3

Tbsps

unsalted butter, melted + more, if needed
CHEESECAKE + FILLING:
1

medium

Granny smith apple, peeled + diced

12

ozs.

organic cream cheese, softened at room temp. 

½

cup

organic cane sugar

3

Tbsps

organic all-purpose flour

1

teaspoon

vanilla extract

2

large

organic eggs, at room temp. 

3

Tbsps

low-fat or full-fat sour cream

½

teaspoon

ground cinnamon

¼

teaspoon

sea salt
CRUMBLE TOPPING:
⅓

cup

organic all-purpose flour

¼

cup

organic rolled oats

¼

cup

organic brown sugar + 2 Tbsps

½

teaspoon

ground cinnamon

¼

teaspoon

ground allspice

Pinch of

sea salt

3

Tbsps

unsalted butter, partially melted
HOMEMADE SALTED CARAMEL SAUCE:
1

cup

organic brown sugar

6

Tbsps

unsalted butter, cut into cubes

½

cup

organic heavy whipping cream

1

teaspoon

sea salt
TO MAKE CRUST:
Preheat oven to 350 degrees Fahrenheit and prepare a 12-cavity cupcake pan with liner.

Grind the graham crackers, until almost finely ground (it's OK to leave a few medium chunks, if your'e a lover a little crunch!). Combine the Graham crackers, cinnamon, brown sugar and melted butter in a small bowl and mix with a spatula until well incorporated.

Add the mixture into the prepared cavities (about 1-2 Tbsps each) and press down into the bottom with your fingers (focusing on the middle) to ensure that it's perfectly covering the bottom and sides (like a deep well).

Bake the crusts for about 5 minutes and then remove from oven and allow them to cool until you're ready to use.
TO MAKE CHEESECAKE:
In the bowl of an electric mixer, mix together on low speed: the cream cheese, sugar, and flour until combined. Be sure to scrape the sides and bottom of the bowl if needed.

Next, add the vanilla extract and the first egg and beat slowly until mostly combined. Then add the remaining egg and mix until well combined, still mixing everything on low speed. Now, add the sour cream and spices and continue mixing until combined.

Change mixer attachment to a whisk and beat on medium-high speed for 1-2 minutes or so until completely smooth and lump-free. NOTE: DO NOT OVER-MIX. Be sure to stop once the batter becomes smooth. Fold in diced apples.

Pour the batter into the prepared cavities until ¾ filled (each). NOTE: Leaving a bit of room at the top prevents the cheesecake from spilling over while baking.
TO MAKE THE CRUMBLE TOPPING:
In a medium bowl, whisk together the all-purpose flour, oats, brown sugar, cinnamon, allspice, and sea salt. Add in the partially melted butter and using your fingers, rub the butter into the dry ingredients until it turns into small crumbles and is moist.

Evenly top the cheesecake fillings with the crumble topping, ensuring that it's all well packed within the cupcake cavity.

Bake the cheesecake bites for 16-18 minutes (until centers come out mostly clean when tested with a toothpick or knife), then turn off the oven and allow them to sit in the oven for another 5 minutes with the oven door halfway open to avoid cheesecake from deflating. NOTE: When baking, I always prepare a medium pot with water and add it to the oven as well, to keep cheesecake temperature even and to add moisture.

Remove cheesecakes from the oven and allow them to continue to cool for another 15-20 minutes, before putting them in the refrigerator for at least an hour.

In the meantime, make the caramel sauce.
HOMEMADE SALTED CARAMEL SAUCE:
Heat the brown sugar in a medium skillet over medium-high heat and stir constantly using a rubber spatula until clumps are formed. Add butter and continue to stir until everything has melted and become a dark 'amber-like' color. Continue to stir consistently until fully melted and bubbly, about 2-3 minutes.

Now, slowly whisk in the heavy cream and continue stirring until well incorporated and sauce has fully thickened. Sprinkle in salt and stir again. Remove from heat and allow to cool slightly before using. Set aside.
ASSEMBLY:
Once cooled/chilled, remove the cheesecake bites from their liner (carefully) and top with caramel sauce.

Bon Appetit!
STORAGE: Leftover Cheesecake can be stored (tightly wrapped) in the refrigerator for up to 5 days. For best results, keep cheesecake in the freezer until the night before you're ready to serve. Defrost by refrigerating.
STORAGE (CARAMEL SAUCE): Leftover caramel sauce can be stored in a tightly sealed mason jar for up to two weeks. When ready to use, simply reheat sauce in the microwave at 15 second intervals until softened and at room temp.
Calories:
407
kcal
|
Carbohydrates:
56
g
|
Protein:
8
g
|
Fat:
18
g
|
Saturated Fat:
10
g
|
Polyunsaturated Fat:
1
g
|
Monounsaturated Fat:
5
g
|
Trans Fat:
0.5
g
|
Cholesterol:
77
mg
|
Sodium:
565
mg
|
Potassium:
201
mg
|
Fiber:
1
g
|
Sugar:
41
g
|
Vitamin A:
584
IU
|
Vitamin C:
1
mg
|
Calcium:
157
mg
|
Iron:
1
mg
Mini Salted Caramel Apple Streusel Cheesecake Bites.