This Lemon + Strawberry Layer Spring Cake is dense, moist, and fluffy. It's also well balanced between tart and sweet flavors as zesty lemon is paired with sweet strawberry buttercream frosting. A definite crowd-pleasing treat for the Easter season or any special occasion.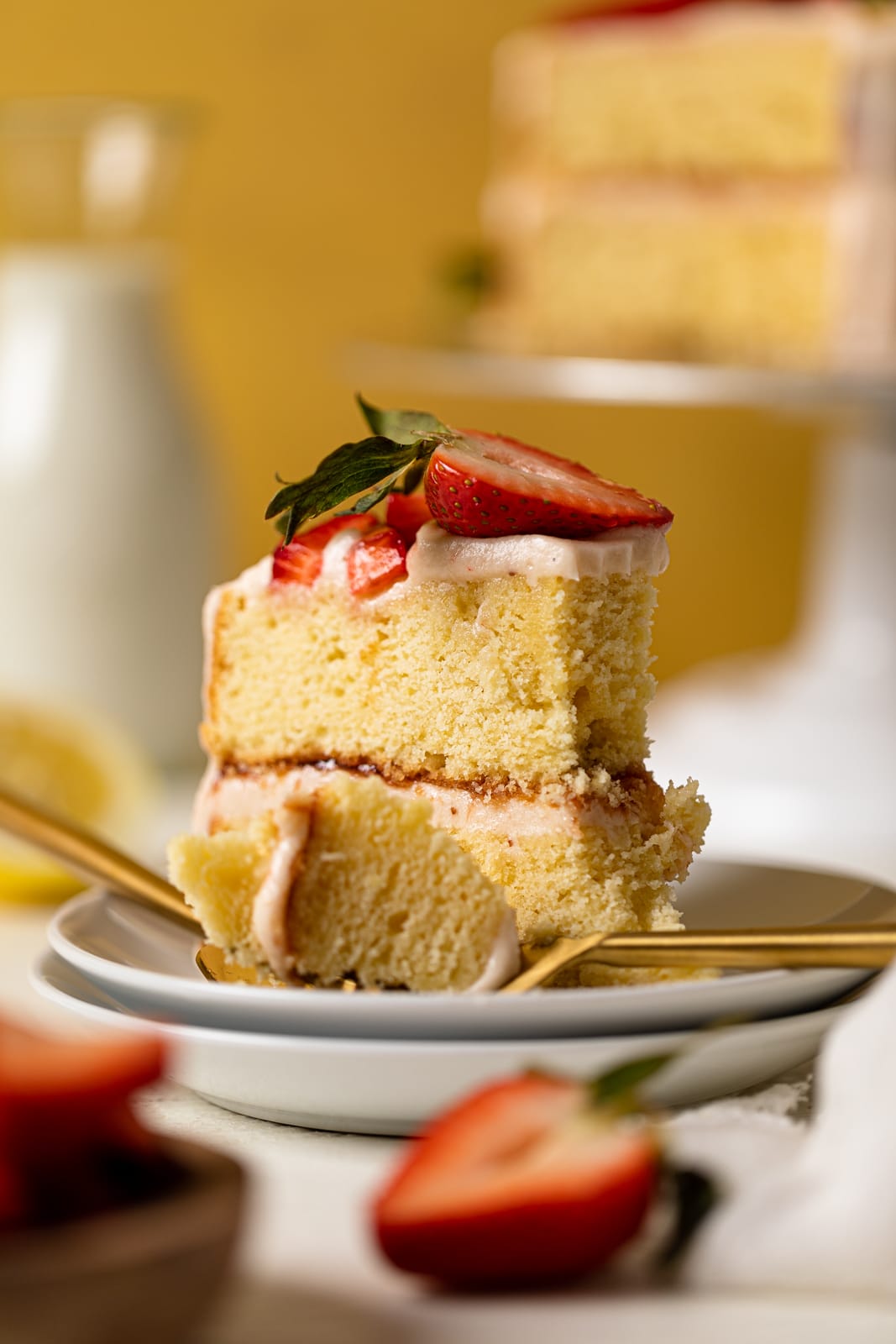 If you've ever been intimidated to frost and decorate a homemade cake before, join the club. I had to teach myself the ways of cake decorating, and though it's definitely fun and tasty, it's also challenging! This is one f the first cakes I challenged myself to decorate from scratch for an Easter party, and I learned so much. It's a great cake to tart with if you're hoping to learn the art of cake decorating.
This One-Bowl Lemon Birthday Sheet Cake is by far one of my favorite close variations to this lemon strawberry cake. SO good!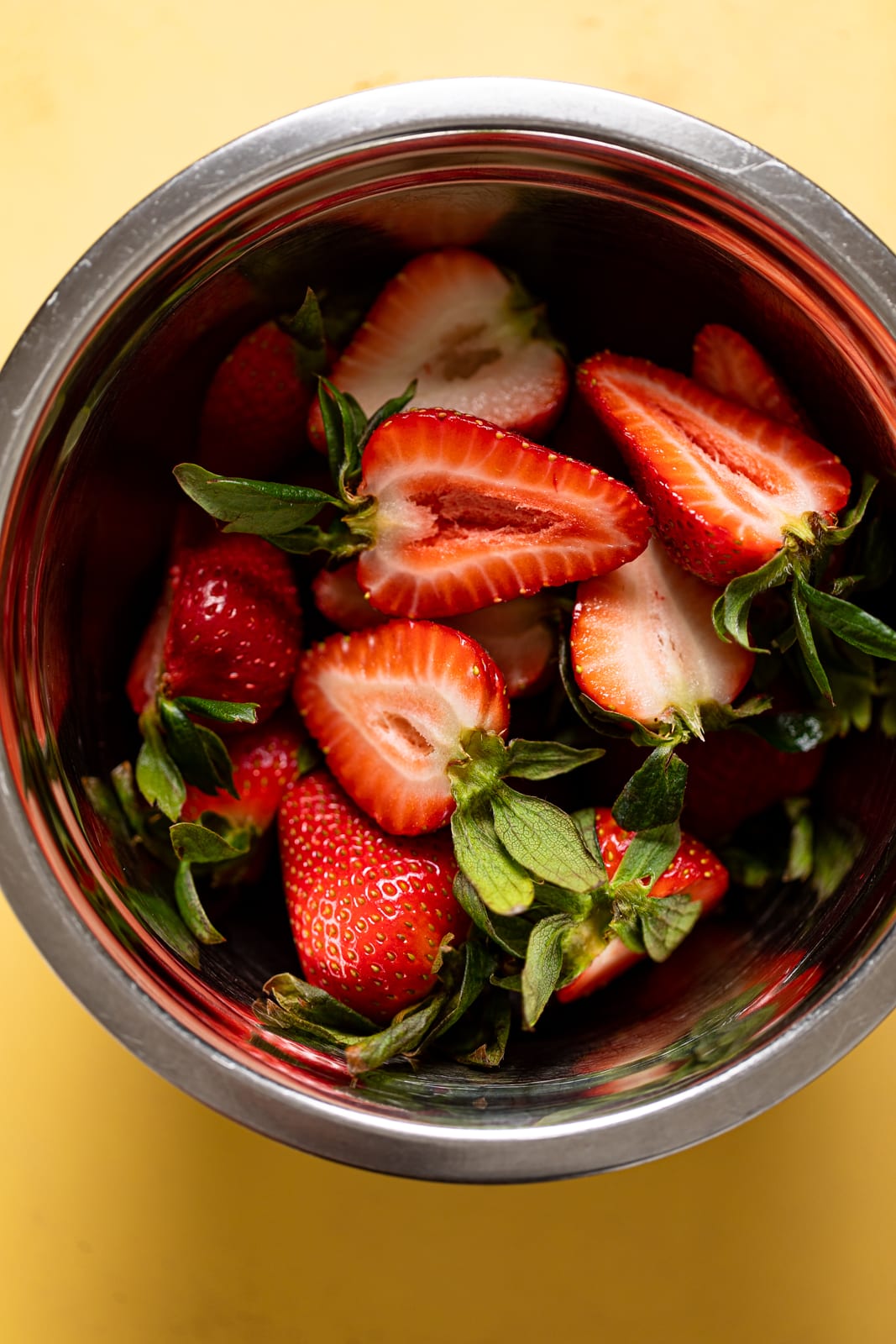 Ingredients for Lemon Strawberry Layer Cake
This is a classic sheet cake. Here are the ingredients you need:
Flour. The blend for this cake batter is a combination of all-purpose flour and organic cake flour.
Baking powder to help leaven your cake.
Cane sugar. I use organic sugar for the best quality.
Lemon zest adds a major zippy flavor.
Butter. Use unsalted butter to better control the seasoning.
Eggs. These should be at room temperature for easy mixing.
Lemon juice. You could also use lemon extract if you like.
Vegetable oil. You could replace this with melted butter or vegan butter too.
Dairy-free buttermilk made by combining plant-based milk and lemon juice. Try using homemade almond milk!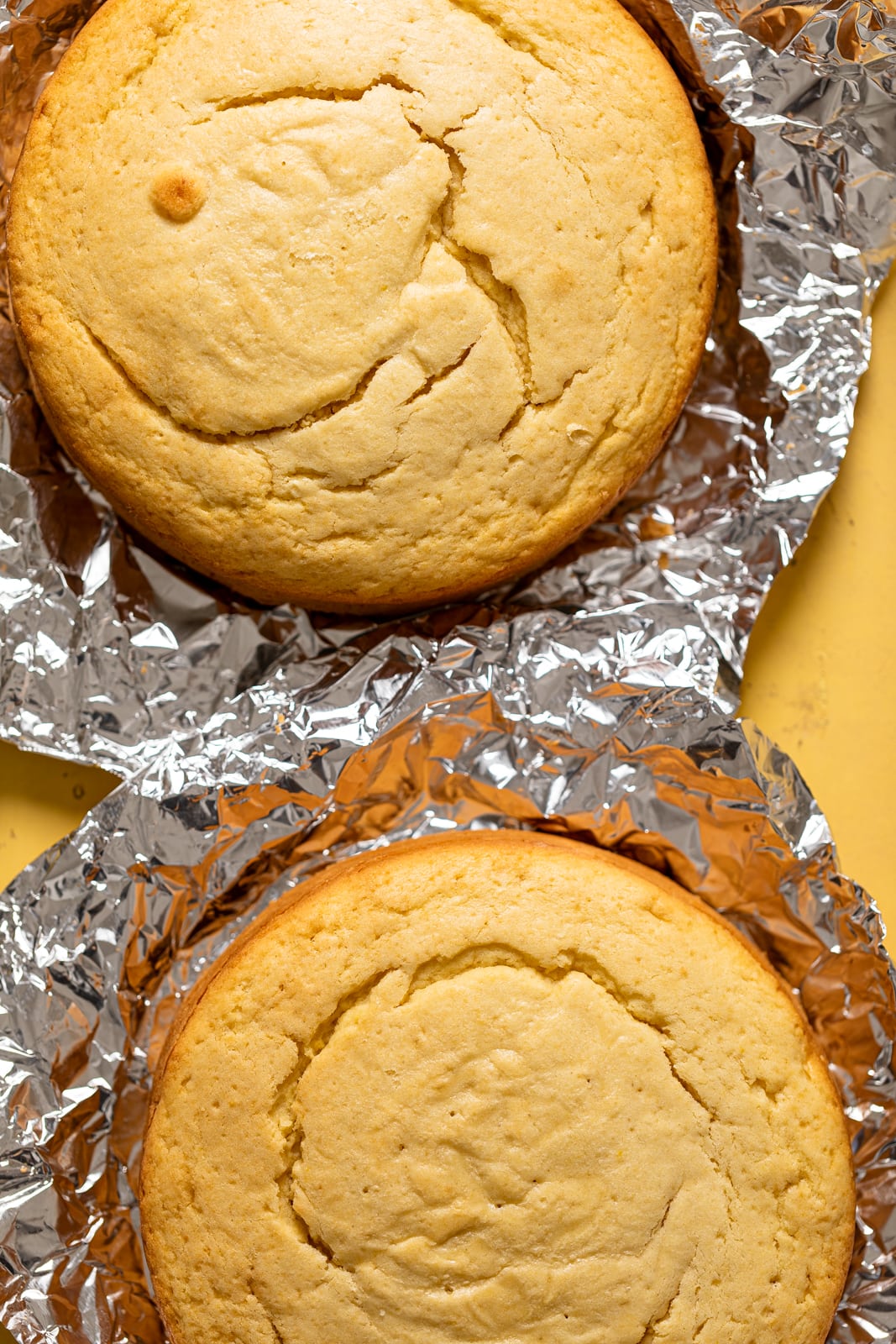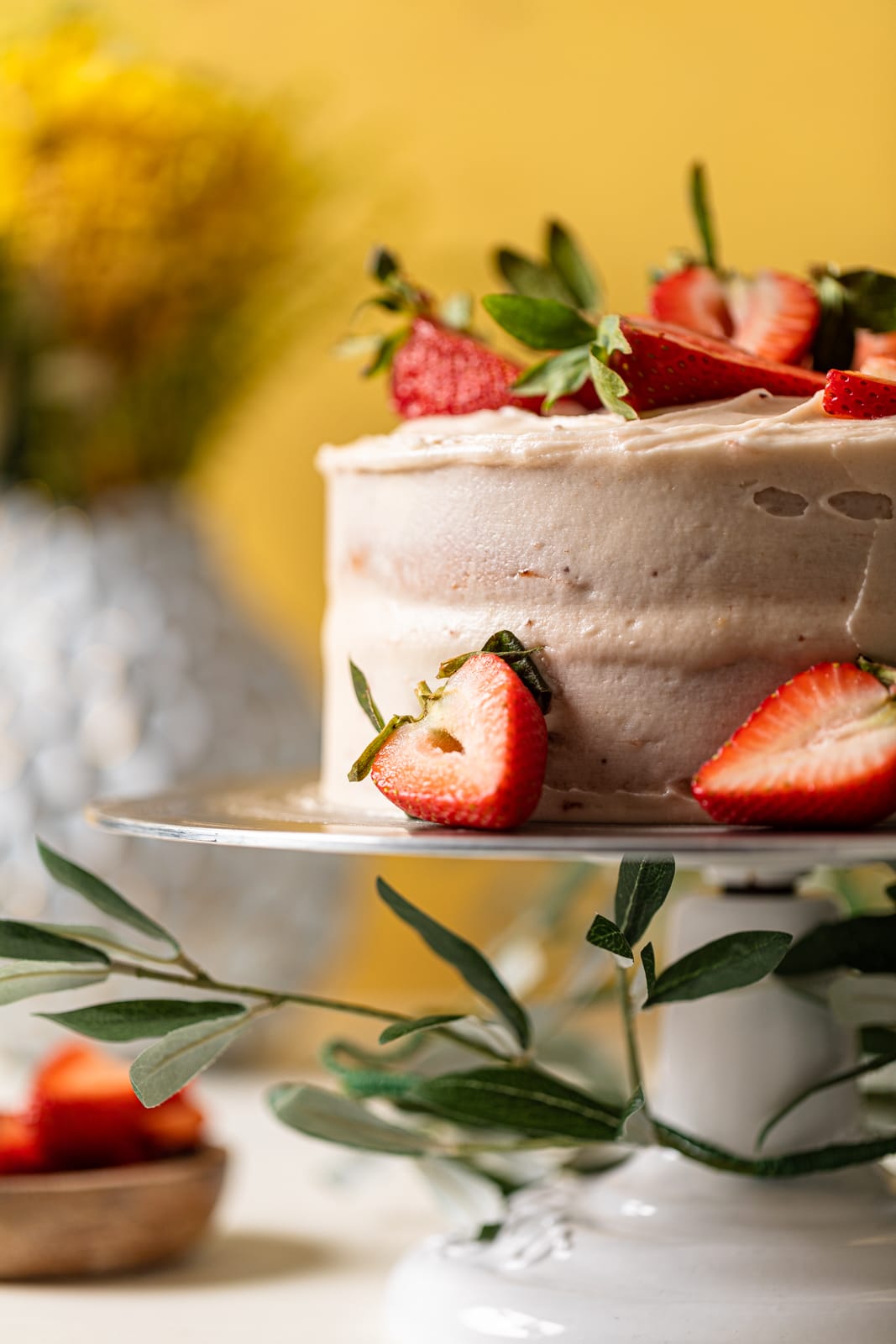 The secret to a Fluffy Cake
What's my secret to keep this lemon strawberry cake light, fluffy and airy?
Well, there are two: First, the buttermilk. Second, the proper combination of flours. This cake uses all-purpose flour and superfine cake flour. This combo definitely creates a beautiful bite.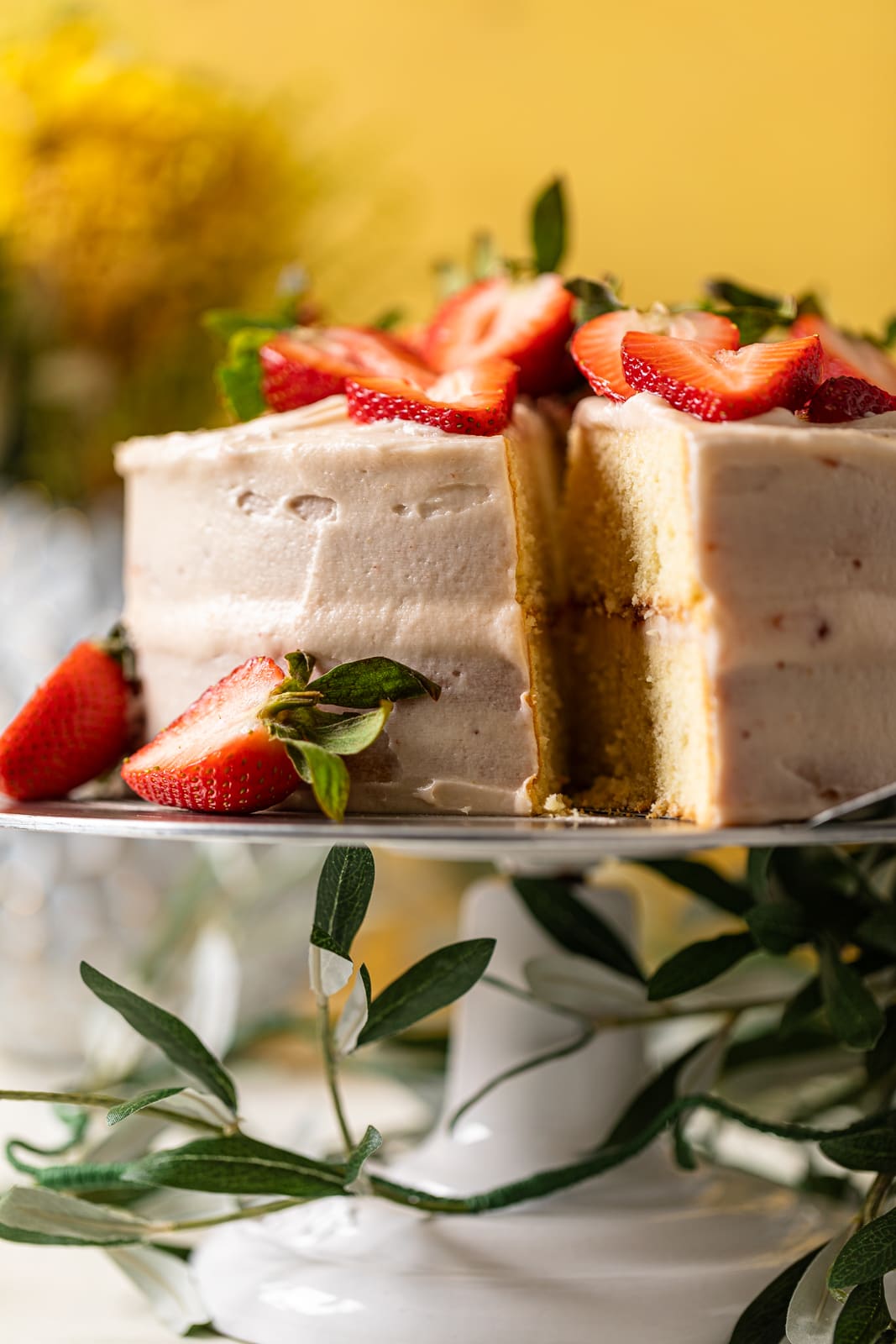 Strawberry Buttercream Frosting
For the pink buttercream frosting, I recommend starting with Homemade Strawberry Compote. This way, your buttercream cake frosting gets a pretty pastel pink tone without adding food colors. Plus, it has real fresh strawberry flavor!
In a pinch, you can use store-bought strawberry preserves. I recommend jam over jelly for the more fluid texture.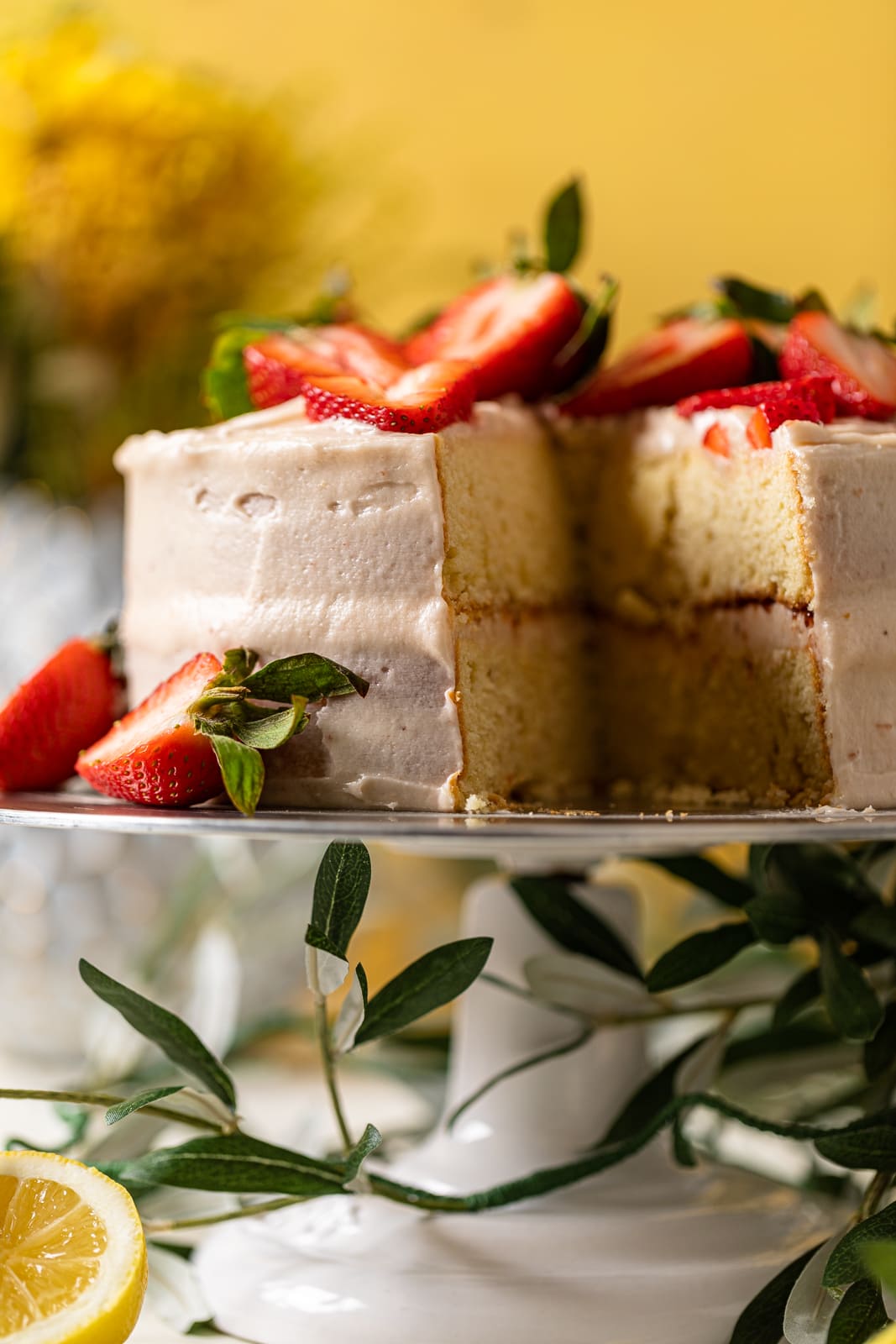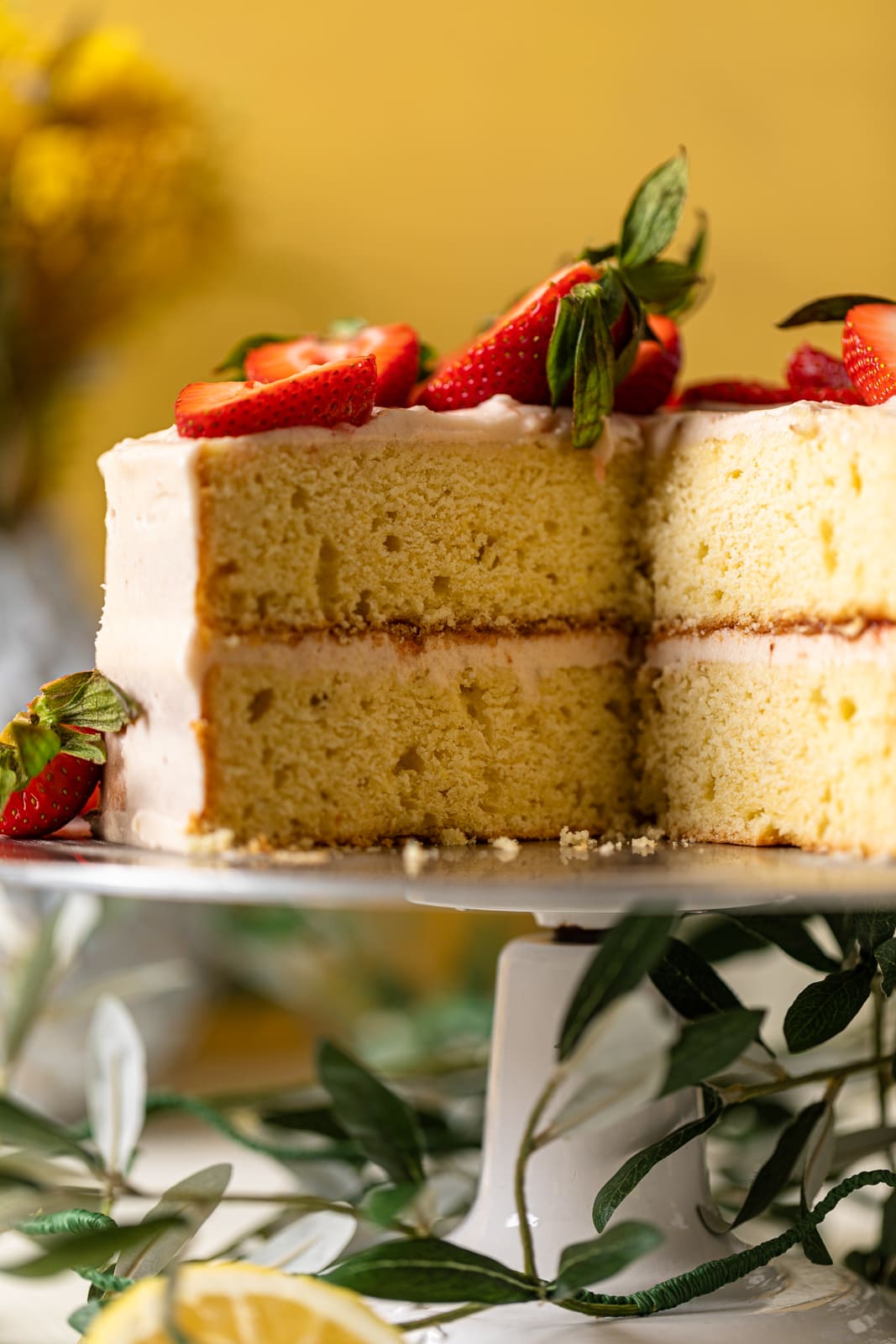 How to Decorate A Strawberry Cake For Easter
My favorite way to decorate a cake for Easter is with fresh flowers. For my celebration, I picked up Violet Roses, Hydrangeas, and Lilies to make my vision come together.
As a bonus when you let nature be your decorating, perfecting the cake couldn't be easier. Simply cut the stems very short and stick them in place. Voila!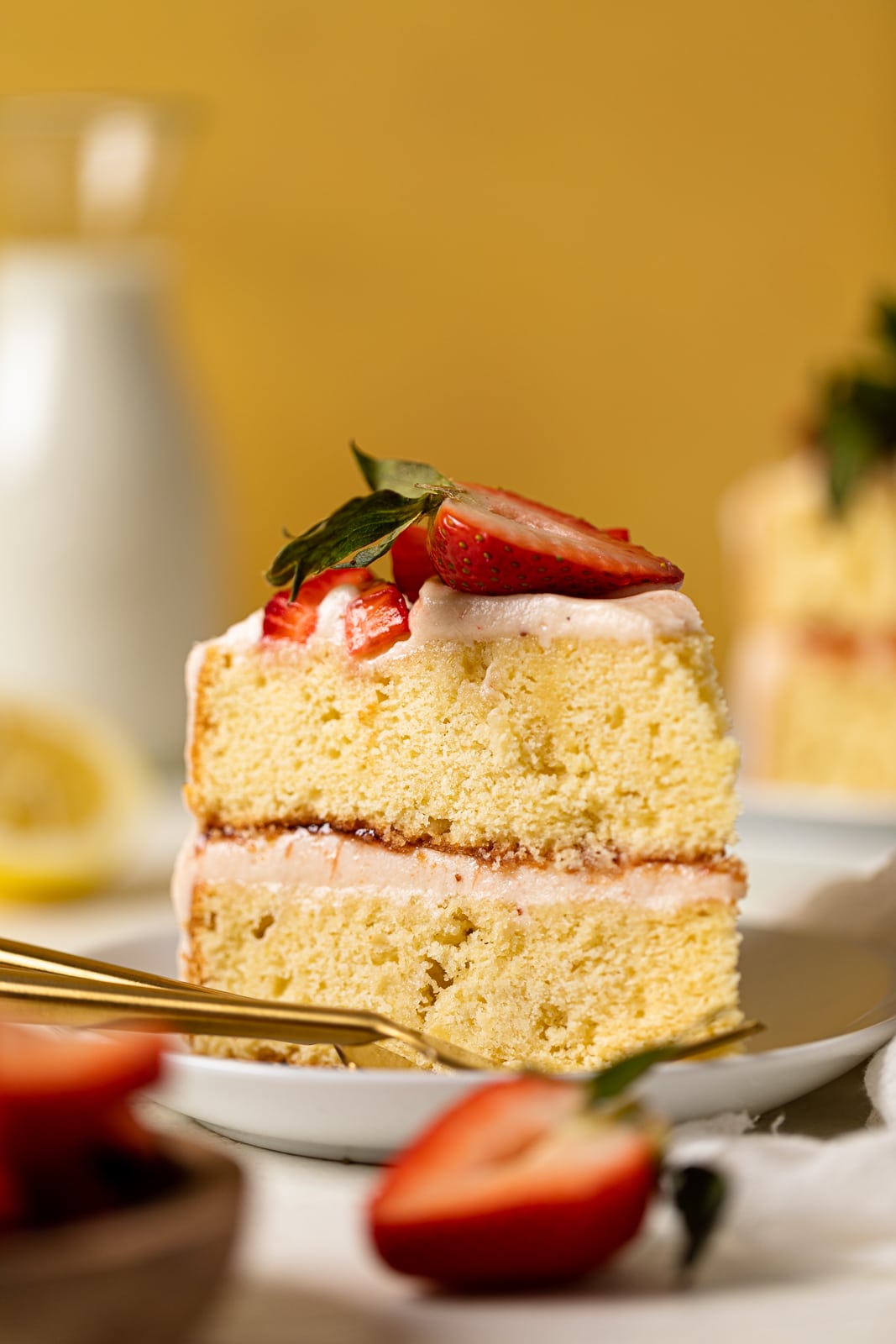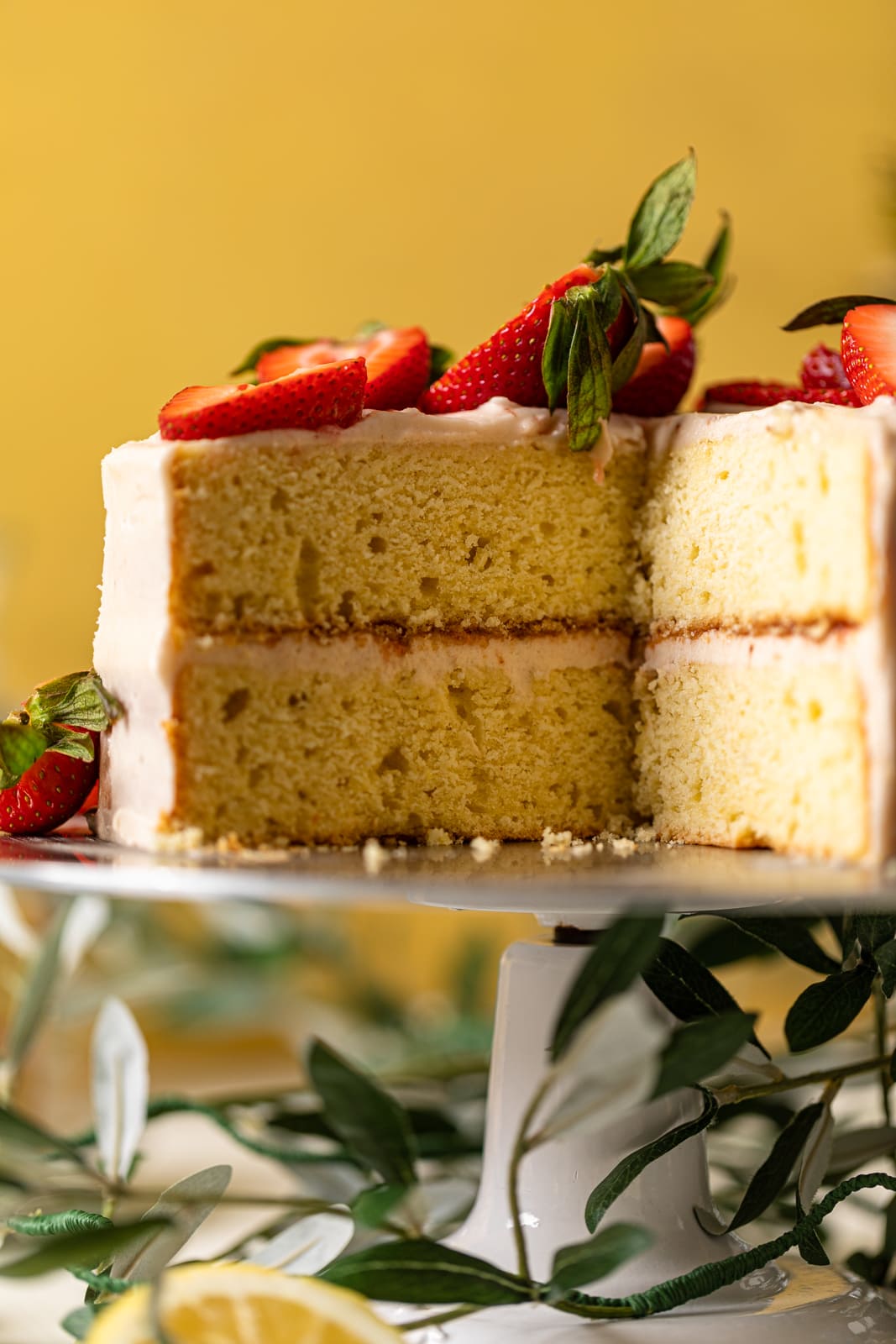 Assembling the Cake
Before you frost your cake, you'll need to trim it. Use a long serrated knife (or cake slicer) to slice the thin crust layer off the top of each cake to make a flat surface.
Next, place the first cake layer on a cake stand and evenly cover the top with buttercream. Now, place the with second layer on top and evenly cover the top with buttercream. You can add more layers if you like too!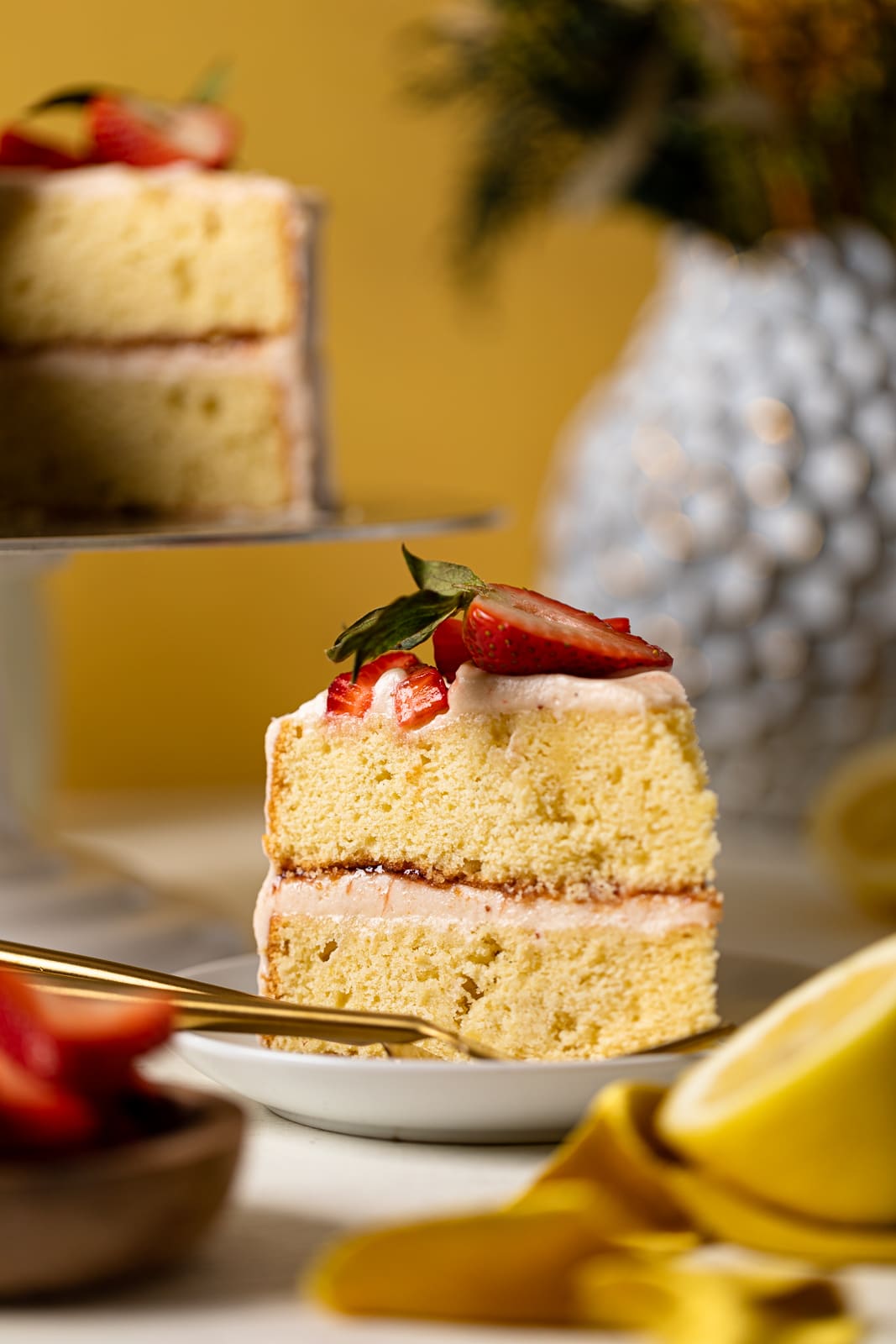 Once your cake is fully stacked, spread the remaining strawberry buttercream over the cake and down the sides.
Tip: Make things a bit easier by spreading a very thin layer of buttercream over the cake and chilling it for 30 minutes before adding the remaining buttercream.
Once fully frosted, garnish your masterpiece with bits of cake crumble from any discarded cake, flowers, nuts, etc. as desired. Slice and enjoy!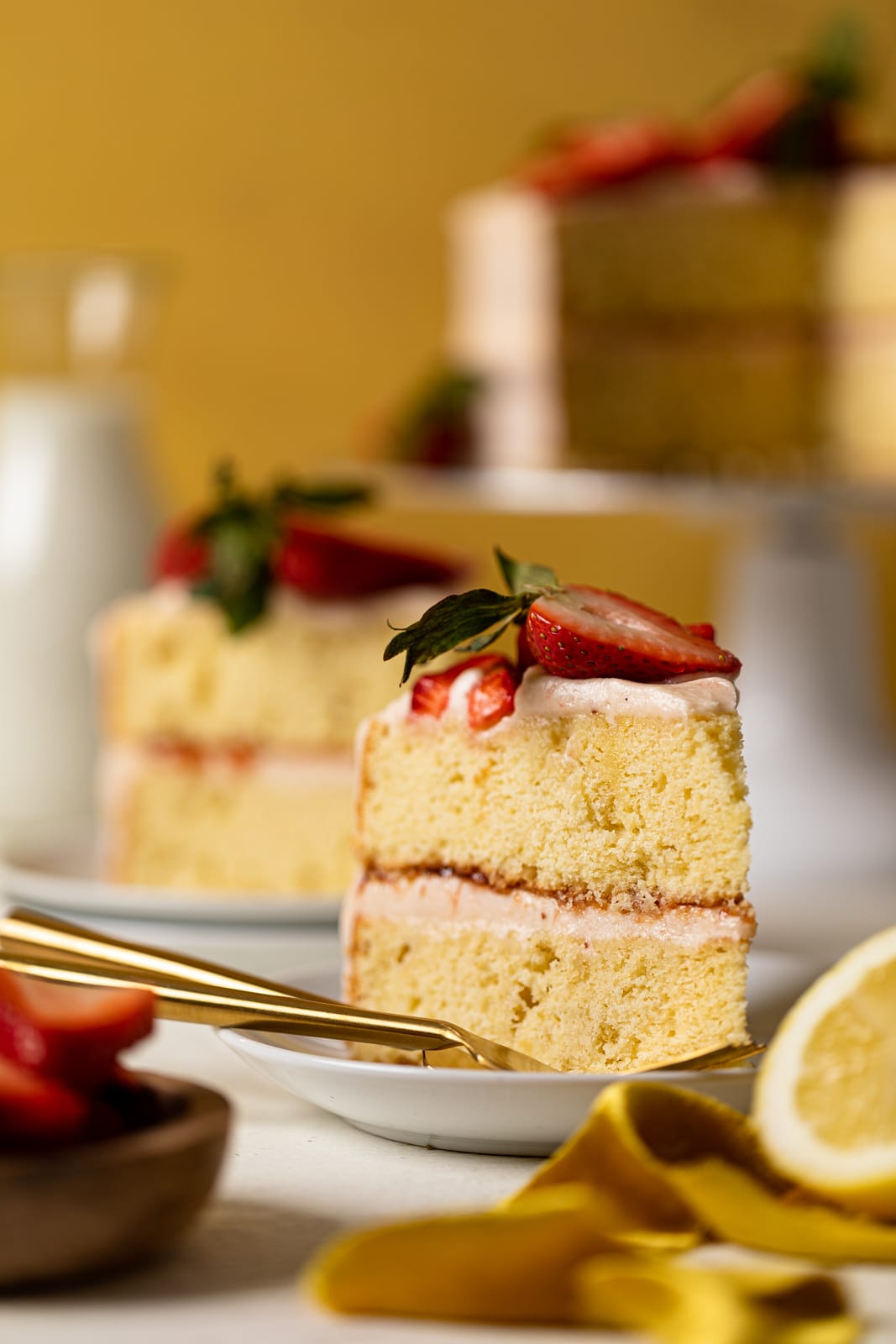 More Beautiful Spring Cake Recipes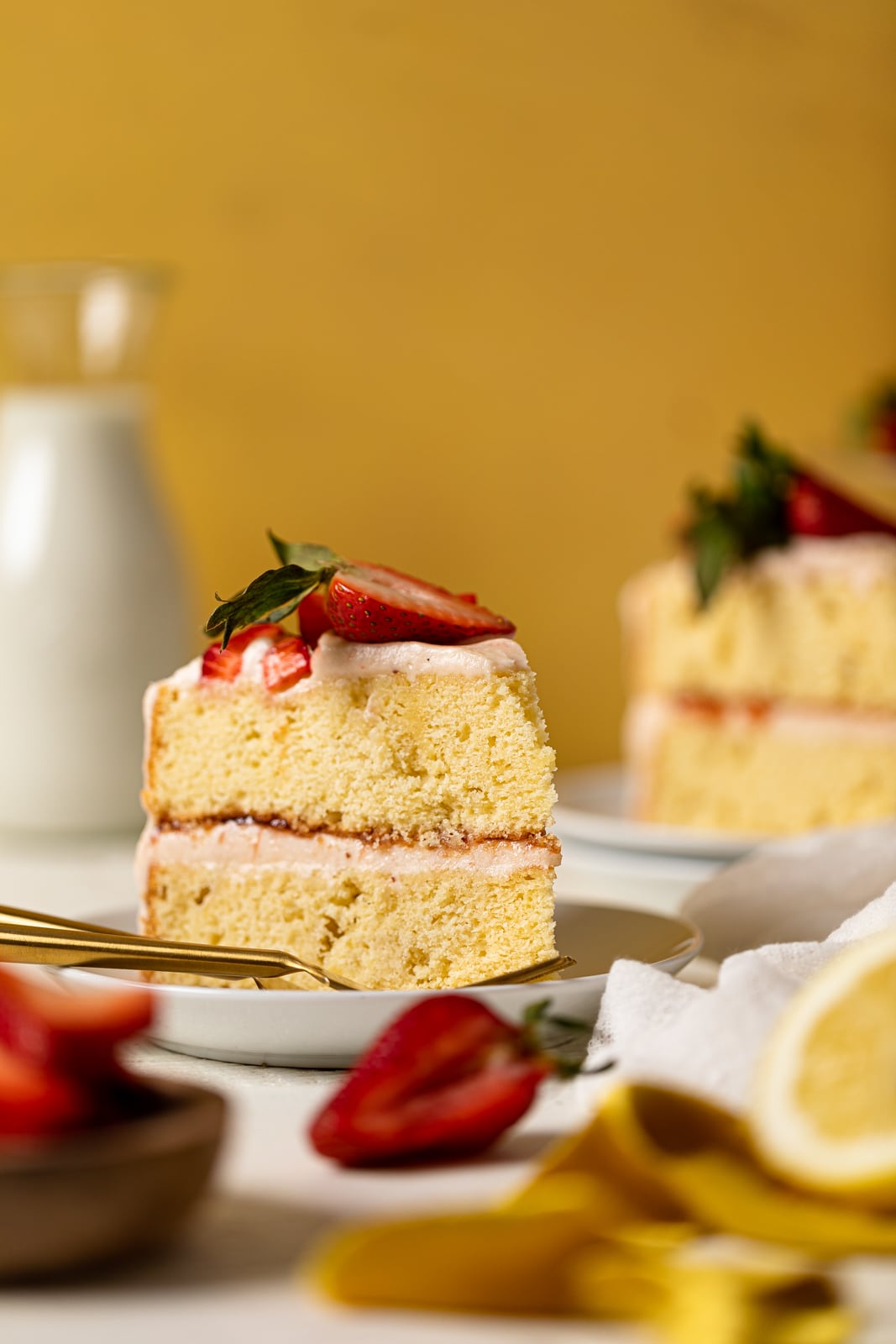 MADE OUR RECIPE(S)?
If you choose to make this Lemon + Strawberry Layer Spring Cake recipe or any other recipe from us, be sure to tag us on Instagram at #Orchidsandsweettea so that we can share the love!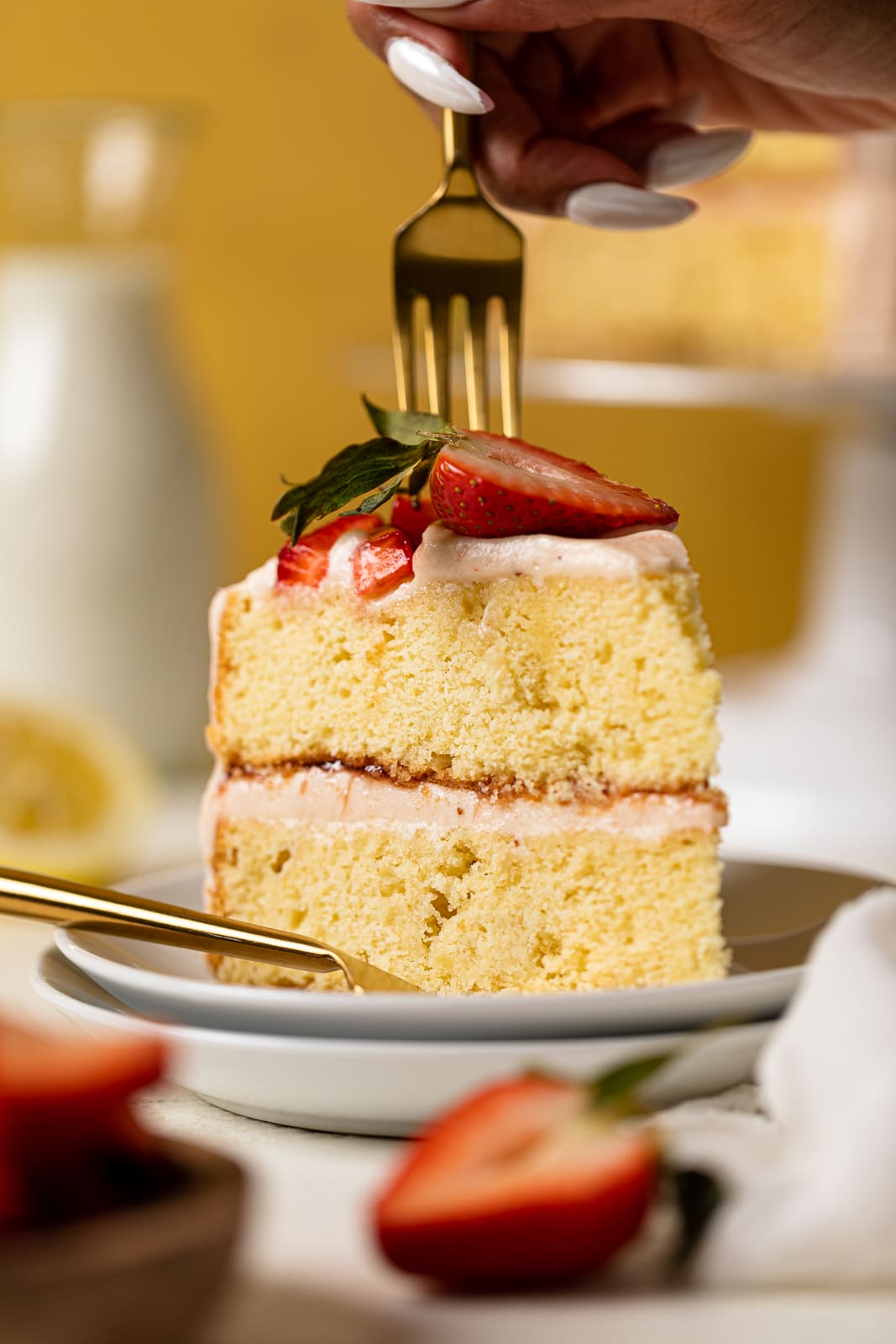 LEMON CAKE:
2

cups

organic all-purpose flour

2

cups

organic cake flour

2 1/2

tsps

baking powder

1 1/2

cups

organic cane sugar

1

Tbsp

lemon zest

Pinch of

sea salt

1

cup

unsalted butter, softened at room temp.

4

large

eggs, at room temp.

2

tsps

freshly-squeezed lemon juice

(You can also use lemon extract, if preferred)

1/3

cup

vegetable oil

1 1/2

cups

dairy-free "buttermilk: milk + 1 Tbsp lemon juice

(You can also use full dairy if desired!)
STRAWBERRY FILLING:
1

cup

strawberry preserves or jam

1 1/2

Tbsps

freshly-squeezed lemon juice
STRAWBERRY BUTTERCREAM FROSTING:
5

cups

organic powdered sugar, sifted

1

cup

unsalted butter, softened at room temp.

2

Tbsps

strawberry preserves or jam

3-4

Tbsps

Almond milk 

(You can also use full dairy if desired!)
MAKE THE CAKE:
Begin by preheating your oven to 350 degrees Fahrenheit. Lightly grease (with butter) AND line with parchment paper the bottoms of TWO 9-inch cake pans (for thicker layers) or THREE 8-inch cake pans.

In a bowl, whisk together the milk and lemon juice and set aside for 5-10 minutes until everything "activates" to create the dairy-free "buttermilk".

In a large bowl, whisk together both the flours, baking powder, lemon zest, and salt until combined.

In a bowl, add the butter and sugar, beating them together using a hand-mixer (on high-speed), until pale and fluffy, about 2-3 minutes.

Add the eggs (one at a time) followed by the freshly-squeezed lemon juice and oil, mixing until combined. On low-speed, add in the dry ingredients followed by the buttermilk and continue to mix until combined and the batter is smooth, about 3-4 minutes. NOTE: The batter should be thick, yet slowly run off the whisk once lifted.

Divide the batter evenly into each of the cake pans and bake for 30-35 minutes, or until a toothpick or butter knife comes out clean when tested in the centers.

Remove cakes from the oven and let them rest in the pan for 10 minutes or so before removing the cakes and placing them onto a cooling rack to fully cool. NOTE: Let them cool for at least 1-2 hours in a cool place.
MAKE THE STRAWBERRY FILLING:
In a bowl, add the strawberry preserves/jam and lemon juice, mixing until combined and easily mixable. Set aside.
MAKE THE BUTTERCREAM FROSTING:
Simply beat the butter in the bowl of an electric mixer (or using a hand-mixer) on medium-high speed, until smooth and pale. Add in the powdered sugar, strawberry preserves/jam, and milk, continuing to mix on medium-speed until you reach the desired consistency—-smooth and fluffy. NOTE: Add more milk (1 Tbsp at a time if too thick) or powdered sugar (for more thickness).
ASSEMBLY:
Place the first cake layer on your cake stand and evenly cover the top with buttercream and a few spoonfuls of strawberry filling. Now, top with 2nd layer and add more buttercream atop that layer, spreading it over the tops and sides of cake, evenly and thinly. NOTE: If making a 3-layer, be sure to repeat step 1 of assembly once again before getting to the final layer.

Once fully frosted, add small little designs of the buttercream using a piping bag + tip around the sides and top of cake. Chill for 5 minutes to ensure that buttercream sets. Top with sliced strawberries, if desired. NOTE: For a fancy moment or occasion, add florals atop cake for a Spring vibe!

When ready to serve, remove from the refrigerator. Slice and enjoy!

Bon Appetit!
STORAGE: Keep cake leftovers stored for up to 4-5 days in the fridge. Keep it in an airtight container to keep the cake from drying out. You can also freeze the cake tightly wrapped in plastic wrap for up to 3 months. Before serving, defrost the cake on the counter.
FLOUR: You can also use cake flour in place of all-purpose flour for a fluffier texture. 
LEMON CUPCAKES: This recipe yields about 30 cupcakes. Simply bake for 18-20 minutes instead, until centers come out clean.
DAIRY BUTTERMILK: Add 1 cup of organic heavy cream + 1 Tbsp lemon juice and let sit for 10 minutes, until it thickens.
VEGAN OPTION: To make this cake entirely dairy-free + vegan, simply omit the unsalted butter and eggs and use vegan butter instead and add 1 Tbsp apple cider vinegar to milk instead of lemon juice. Also, feel free to use coconut oil as a substitute for vegetable oil, if desired. Ensure that all ingredients are vegan-friendly, including strawberry preserves/jam.
Lemon + Strawberry Layer Spring Cake.