These soft, Easy Strawberry Oat Scones are absolutely the most simple to make scones that you'll ever eat! These strawberry scones boast a super flaky, buttery crust-- They're melt-in-your-mouth tender. With a deliciously fresh, sweet filling studded with bits of strawberries and oatmeal goodness, topped with an amazing sweet strawberry glaze. This strawberry scone recipe is the perfect breakfast, brunch, or afternoon snack for the entire family. Gluten-free + Dairy-free option!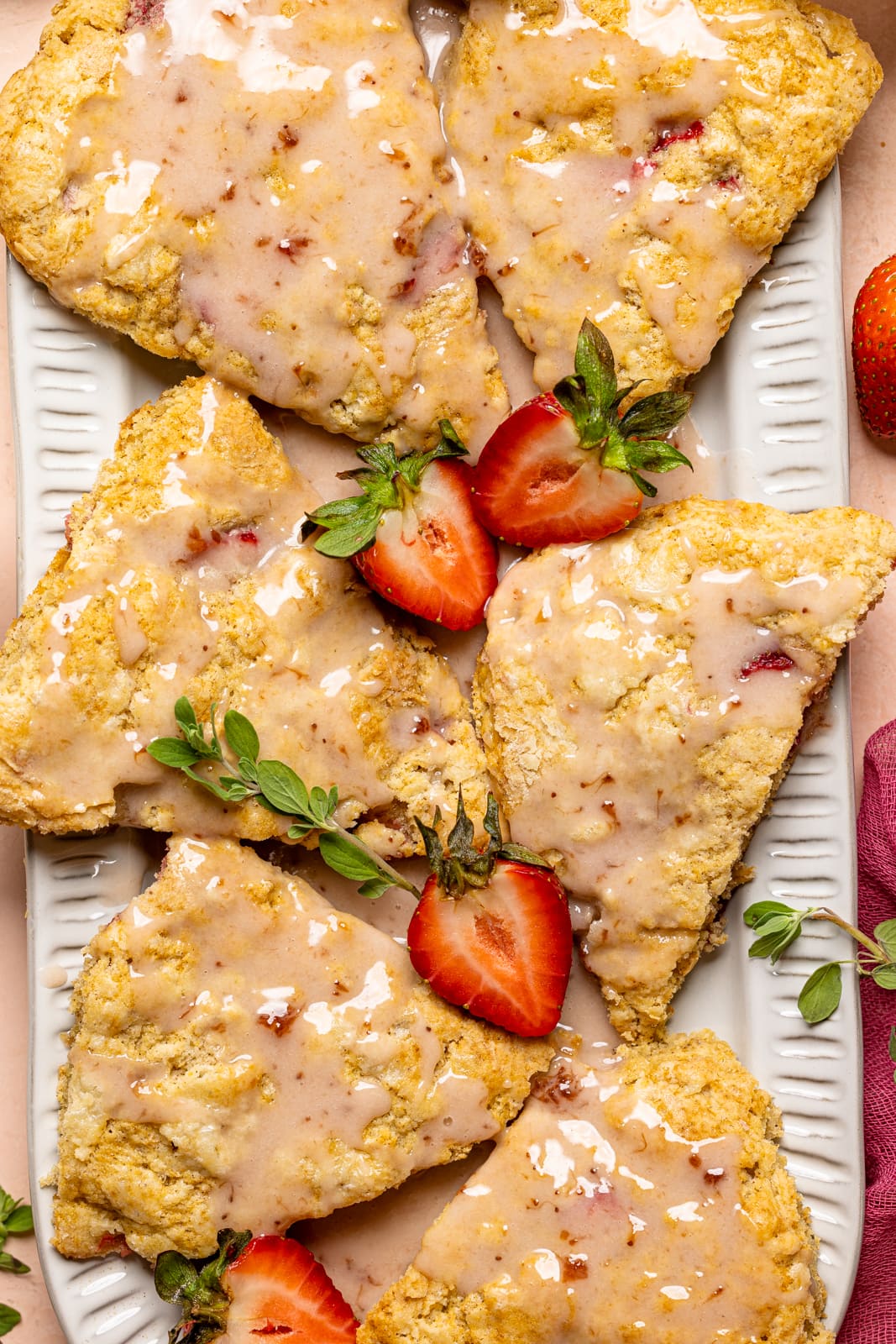 The weather is warming up and that means Strawberry season has arrived!! There's no better way to ring in the first day of Summer than with these Easy Strawberry Oat Scones, seriously!
Making these breakfast scones is a breeze, even for beginners! It took some trial and error, but I have mastered the art of the PERFECT EASY SCONE RECIPE! All you need is a good base scone recipe and then you can mix and match with savory + sweet. Some of my absolute favorites are my Dairy-Free Blueberry Almond Scones or these Cranberry Orange Scones, and of course, The Best Banana Carrot Cake Scones for my carrot cake and banana bread lovers-- a delicious hybrid.
Why Strawberry Oat Scones?
If you've been an avid reader of Orchids + Sweet Tea, then you're aware that I love incorporating strawberries into my recipes! So scones + strawberries were a delicious no-brainer!
I'm less about making them incredibly "perfect" in terms of their shape and more about making them "perfect" in terms of flavor and texture. Haha. Pair them with a cup of fresh homemade coffee, or if you are wanting to enjoy all things berry try this Roasted Dandelion Strawberry Tea, and you're all set for the best breakfast + brunch + afternoon delight ever! The perfect treat any time of the day.
These scones are just the right amount of sweetness, fluffiness includes a pinch of cinnamon, and are altogether an easy-to-make scone—using simple ingredients. It's a win, win situation—believe me!
Jump to: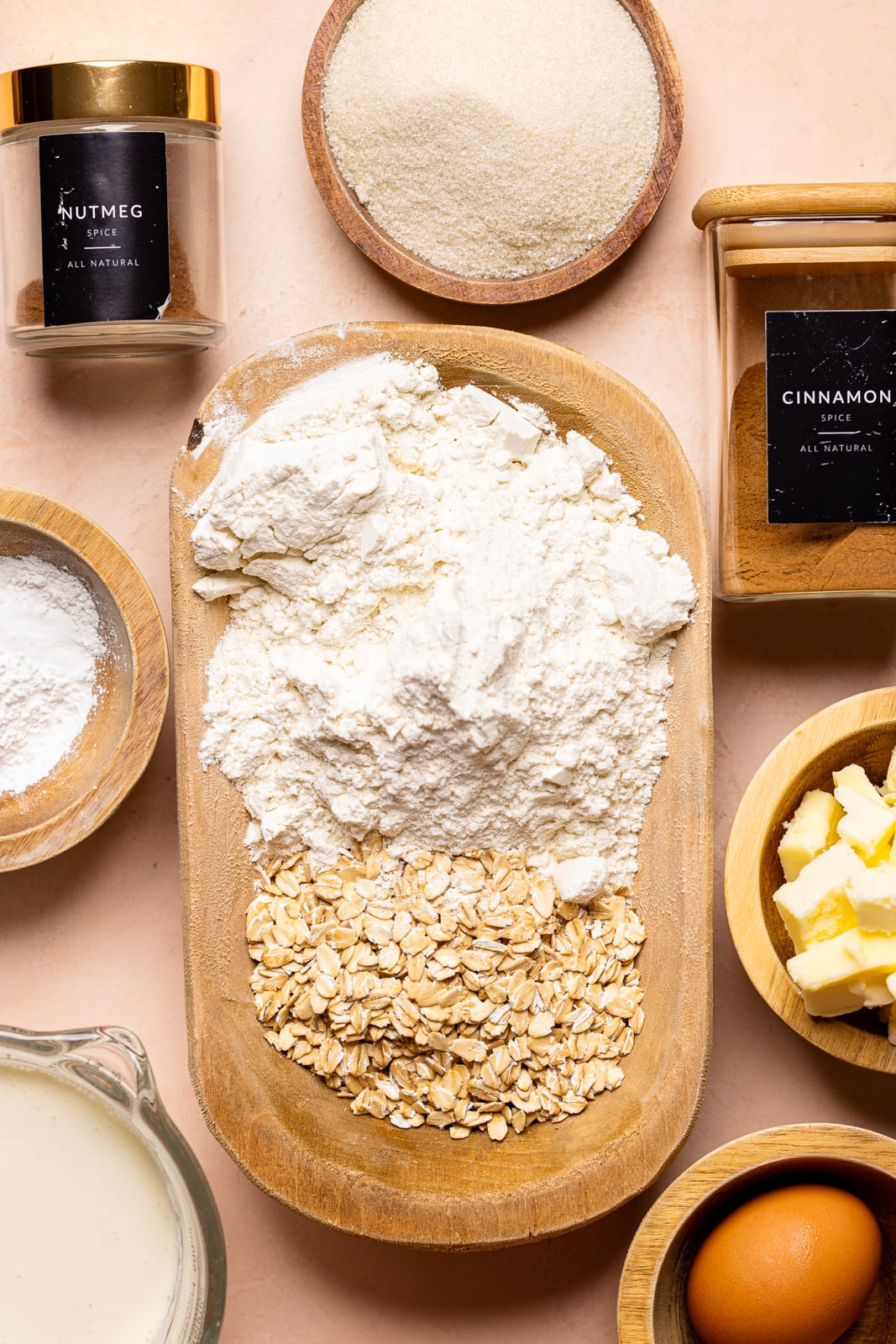 What Are Scones?
By definition, scones are biscuit-like pastries or quick breads that are often rolled into round shapes or cut into triangular quarters and then baked. English scones are often served with butter, jam, or clotted cream. And while American scones are similar, they are often sweeter, are topped with icing or confectioner's sugar, and have a lot of butter inside them.
Making Strawberry Jam
I highly recommend making your own strawberry jam/compote for these scones if you have the time or are in the ultimate baking mood. If you have fresh strawberries and a bit of sugar on hand, you can whip it up in less than 15 minutes.
Then, you'll use the compote to infuse the batter with extra strawberry flavor, and you can serve it on top!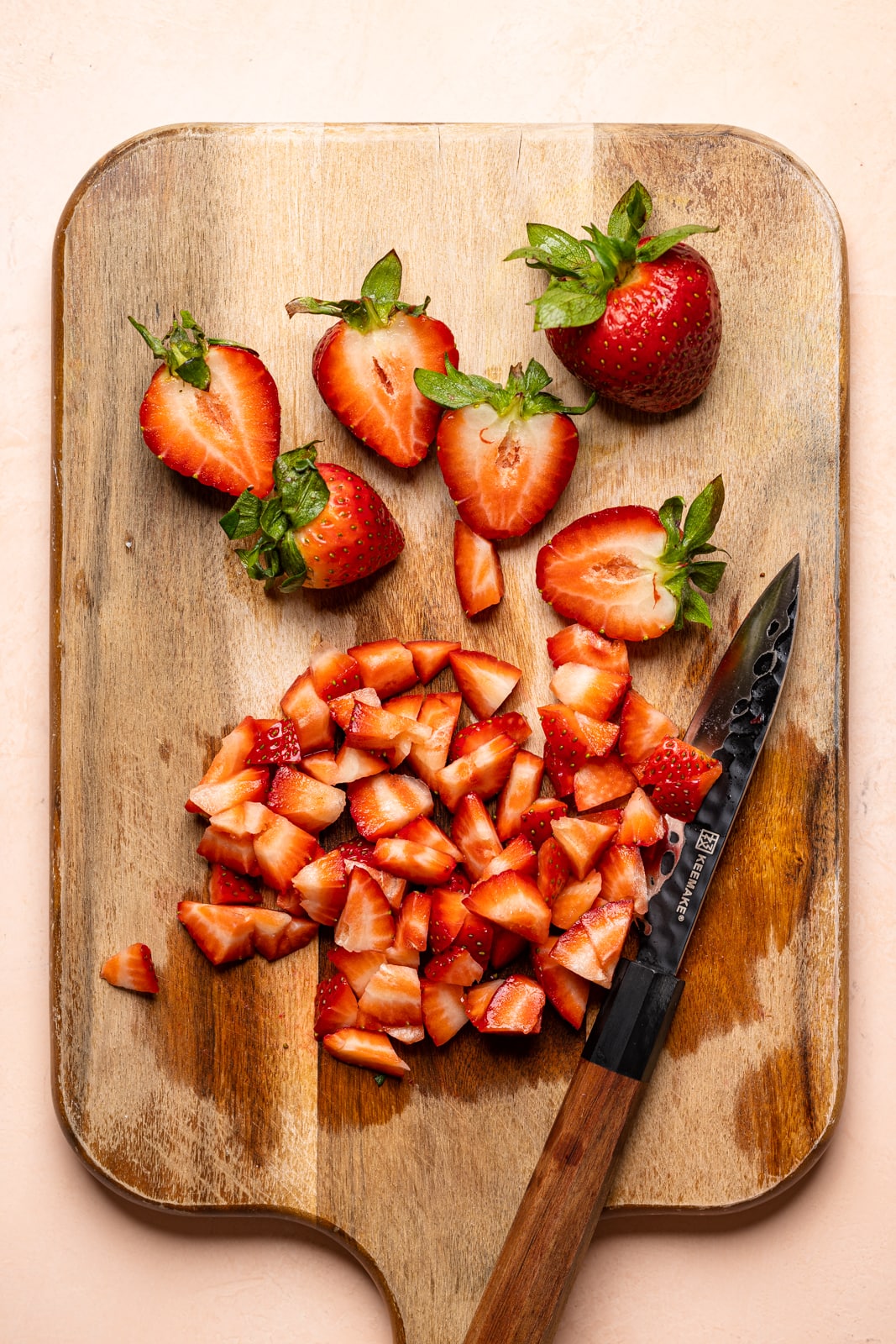 How to Make the Perfect Strawberry Oatmeal Scones
For the most part, all scone recipes use the same framework. A mixture of dry ingredients, a liquid, and small pieces of butter. The butter melts in little pockets in the oven, which creates the nice layers you love in a delicious freshly-baked scone. This strawberry oatmeal scone recipe takes a totally new flavor twist with fresh sliced strawberries, a pinch of cinnamon, and tangy buttermilk.
Ingredients for Strawberry Oatmeal Scones
Here's what you need for these banana carrot cake scones:
All-purpose flour. I use organic flour from Bob's Red Mill or Kings Arthur flour.
Strawberries. I like to slice the strawberries thin for the perfect bite. You can also dice them if you'd prefer smaller bites.
Cane sugar. You can also use regular granulated or coconut sugar if you prefer.
Baking powder. to help the scones rise in the oven.
Ground spices. In this recipe, I use cinnamon, but you can also add a pinch of nutmeg as well.
Butter. Use unsalted so your scones stay sweet, not salty. Also, freeze + grate the butter for best results.
Egg. This should be cold to help keep the dough cold for the best results.
Vanilla. Adds great flavor.
Dairy-free buttermilk. All you need to make this tangy mixture is plant-based milk (such as almond) and lemon juice.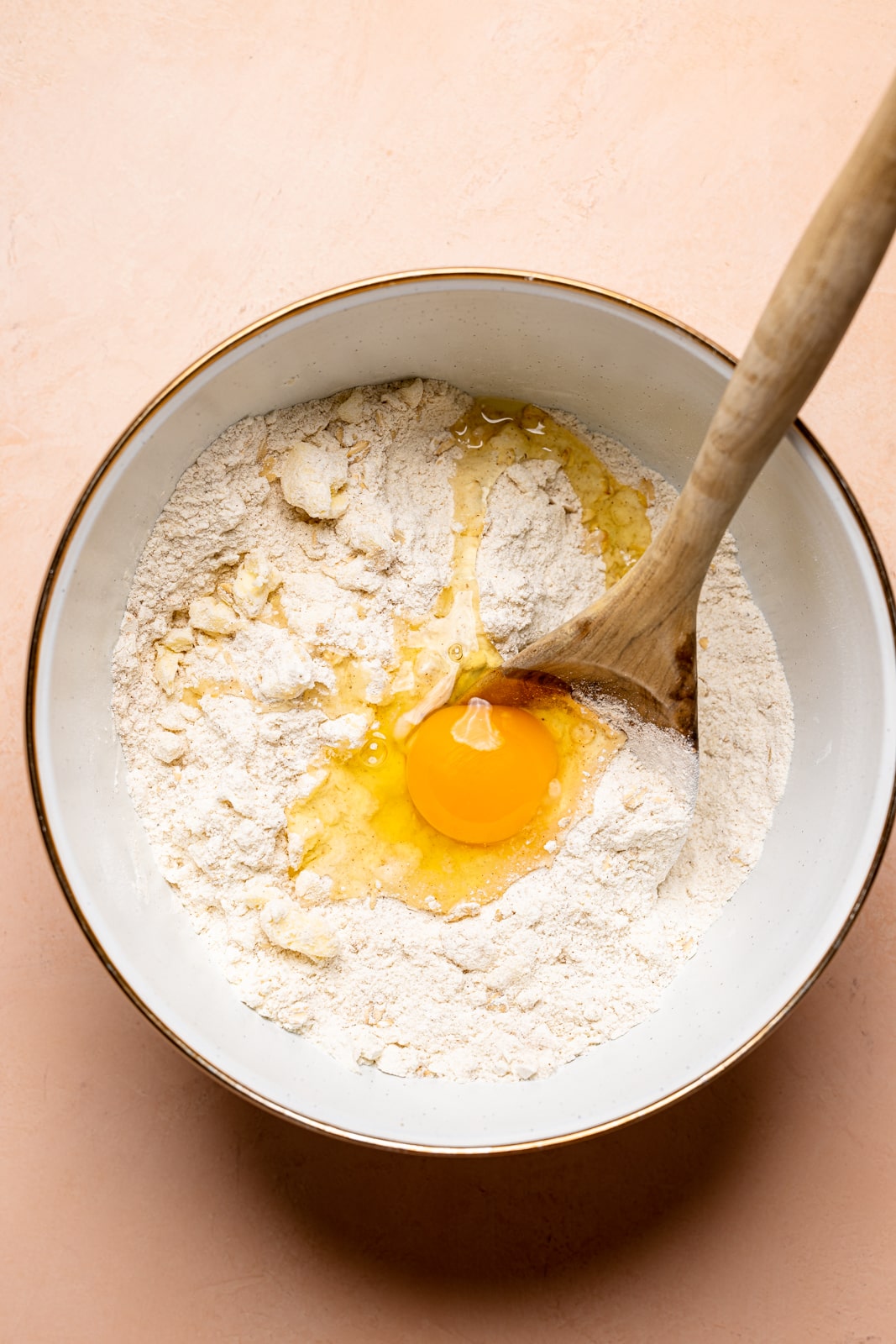 TIPS TO MAKING THE BEST FLAKIEST SCONES!
Ok, ok, so there are a few tricks to perfecting this Easy Strawberry Oat Scones recipe! Listen up!
ALWAYS, ALWAYS USE VERY COLD BUTTER.
Much like with other pastries, ensuring that you use VERY COLD butter is super important in creating a flaky scone. If you aren't ready to use your butter right away, be sure to keep it in the refrigerator or freeze it in the meantime while you get the remaining ingredients together.
ADDING BREAD OR PASTRY FLOUR HELPS!
After testing scones in various variations, I've realized that adding half-bread flour (or pastry flour) along with all-purpose flour made for an airy, flakier scone than just using all-purpose flour. Of course, if you only have all-purpose flour, that's fine too.
NEVER SKIP THE STEP OF CUTTING YOUR BUTTER INTO CUBES!
For a truly flaky scone, cutting your butter into cubes (or pieces) and then cutting it together with the flour is SUPER IMPORTANT! It definitely ensures that your scone is flaky and soft in the middle.
ALWAYS USE BUTTERMILK, EVEN IF IT'S A DAIRY-FREE VERSION.
If you aren't aware, Buttermilk not only brings a nice 'tangy' taste to breads and baked goods, but it also works to tenderize gluten, which gives your baked goods more of a softer texture and body. If you want a dairy-free version, simply use your favorite plant-based milk and add 1 tablespoon of lemon juice and let is sit for 15 minutes. Also, Yogurt and Sour Cream make great substitutes.
DON'T FORGET TO BRUSH THE TOPS!
Before placing your scones into the oven, always brush the tops of them with melted butter, buttermilk, or egg wash. Trust me—-they won't brown much without it!
NEVER OVER-MIX THE BATTER, JUST ENOUGH TO INCORPORATE INGREDIENTS WELL.
ALWAYS ADD DOUGH TO A FLOURED SURFACE BEFORE CUTTING INTO SHAPE.
NEVER USE A ROLLING PIN TO FLATTEN DOUGH. ONLY PAT IT AROUND INTO A CIRCLE.
ALWAYS USE A VERY SHARP KNIFE OR PASTRY CUTTER TO CUT SCONES INTO TRIANGULAR SHAPES. THIS AVOIDS 'DROOPING' OF THE SIDES!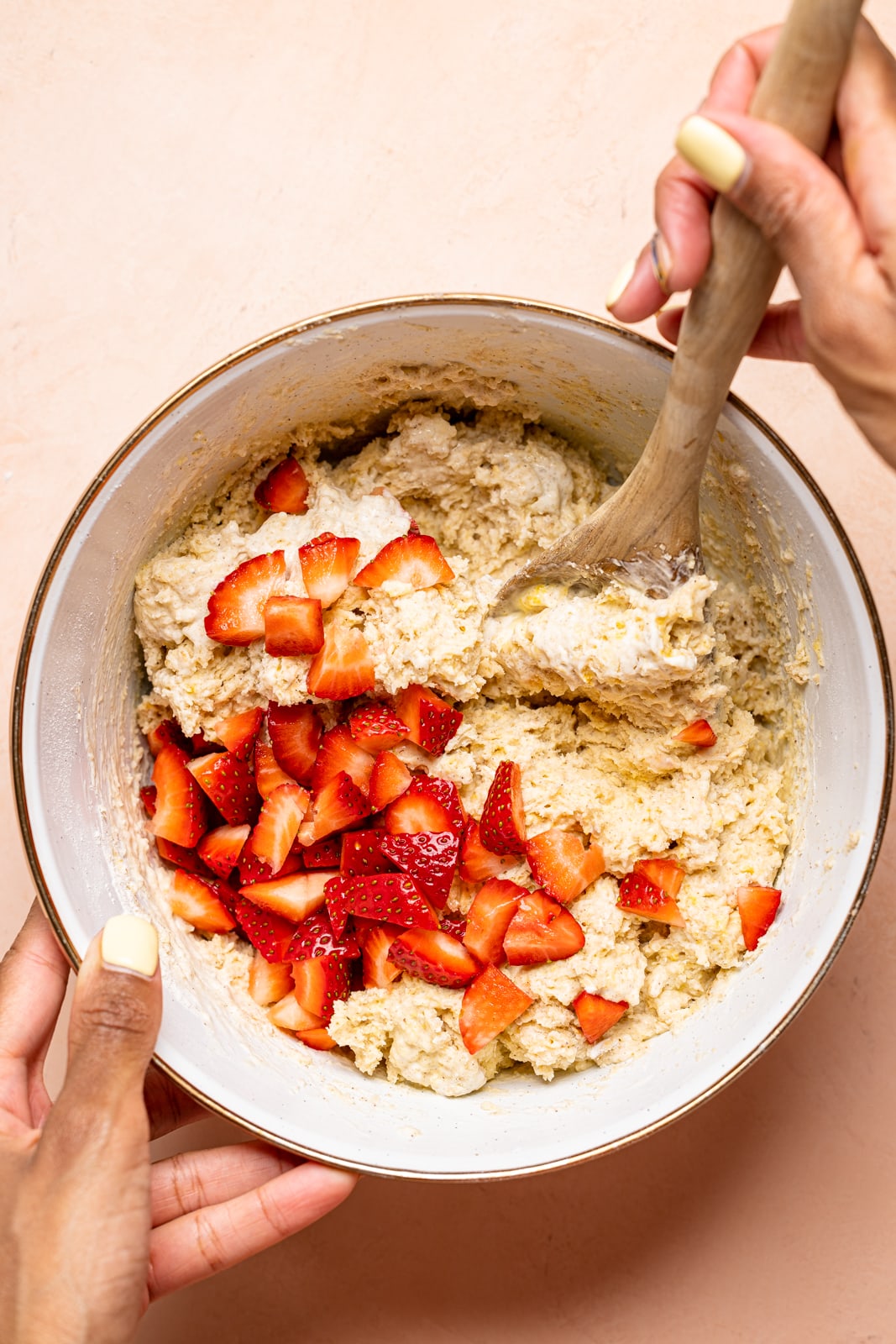 Why You Will LOVE These Strawberry Oat Scones
Dreamy Flavors: The fruity sweetness of strawberries and the wholesome goodness of oats is the perfect flavor combo.
Perfect texture: A balance between being soft, flaky, and slightly chewy, making each bite so satisfying.
Easy to make: Don't let the fancy appearance fool you - these scones are surprisingly easy to whip up, even for those with minimal baking experience.
Family-friendly: Kids and adults alike will be asking for seconds..Trust me.
Super Versatile: Customize to your liking with dairy-free options to suit everyone!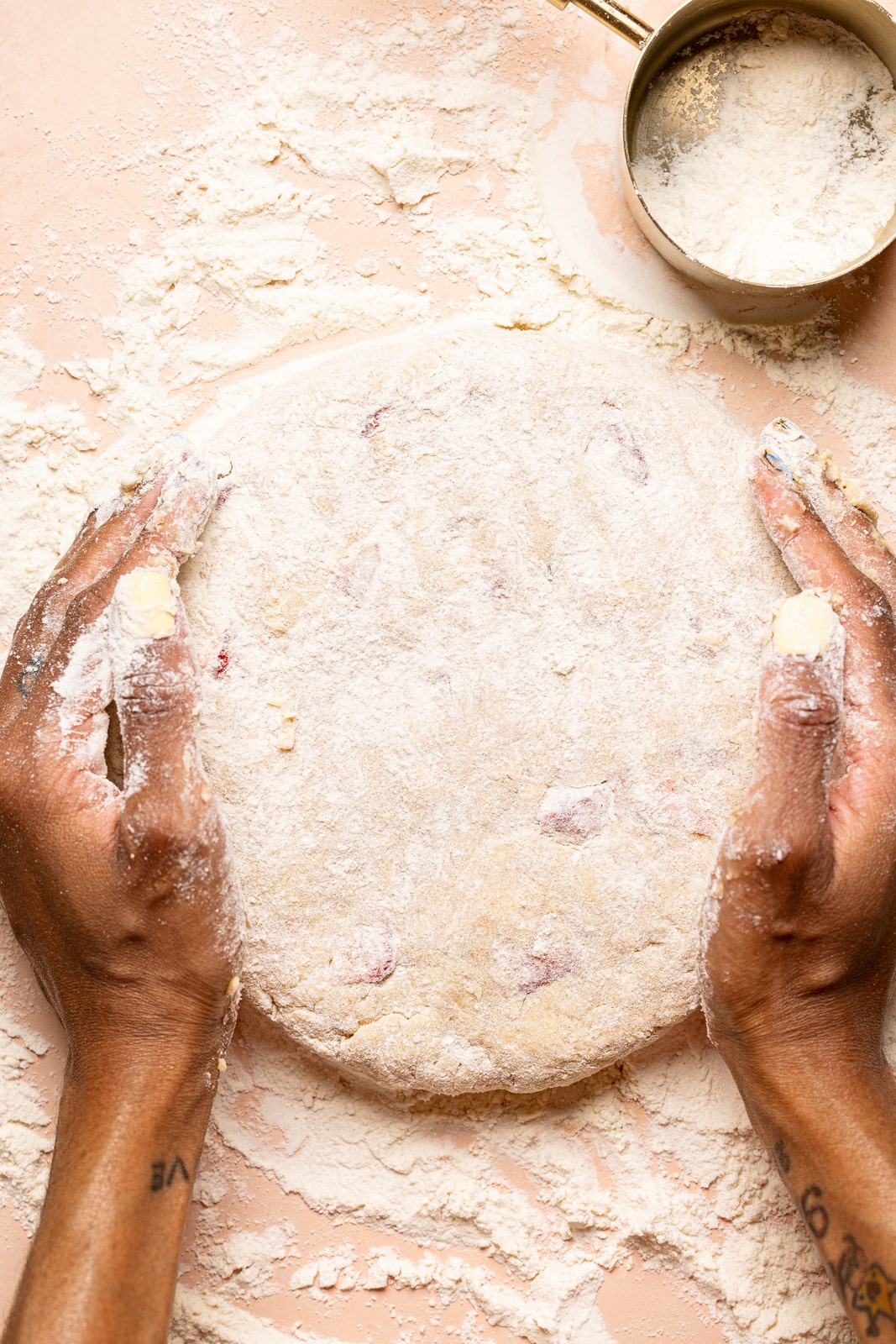 How To Pick The BEST Strawberries
Spring/Summer = Peak strawberry season = Maximum deliciousness!
One of my favorite parts of this time of year is the fresh berries! But there is nothing worse than getting home and realizing you have accidentally brought squishy moldy strawberries! Here are a few tips for finding and buying the most delicious strawberries!
Consider buying locally grown strawberries for the freshest and most flavorful berries.
Choose strawberries that are bright red in color and avoid any that are pale, pinkish, or have white or green areas.
Look for berries with fresh, green leaves, and avoid any with brown, wilted, or moldy stems.
Smell the strawberries to ensure they have a sweet, fresh aroma.
Gently press the berries to check for firmness. They should be firm but not too hard or mushy.
Inspect the container for any signs of moisture or mold.
Strawberries are not only yummy but they're also packed with healthy nutrients that can keep you feeling great. So having a fridge full of fresh strawberries is the perfect excuse to get creative in the kitchen and whip up some delicious desserts like this Vegan Strawberry Oatmeal Cake or my personal favorite is a fresh fruit drink, like this Strawberry Basil Pineapple Mocktail
So go ahead and treat yourself to some fresh, juicy strawberries this season – your taste buds will thank you!
Fresh Or Frozen Strawberries
You can use either fresh or frozen strawberries for this easy scone recipe. If using frozen or fresh strawberries, be sure to toss them in 1 tablespoon of arrowroot starch or flour before folding them into the scone batter. This creates a barrier with the moisture to ensure that your scones don't spread as much and cooks through.
Can I Use Another Plant-Based Milk?
Yes, you can use any dairy-free milk you like to make these deliciously perfect scones if you choose to create a dairy-free "buttermilk" instead. Here are some easy recipes to make your own milk that's cheaper and so easy!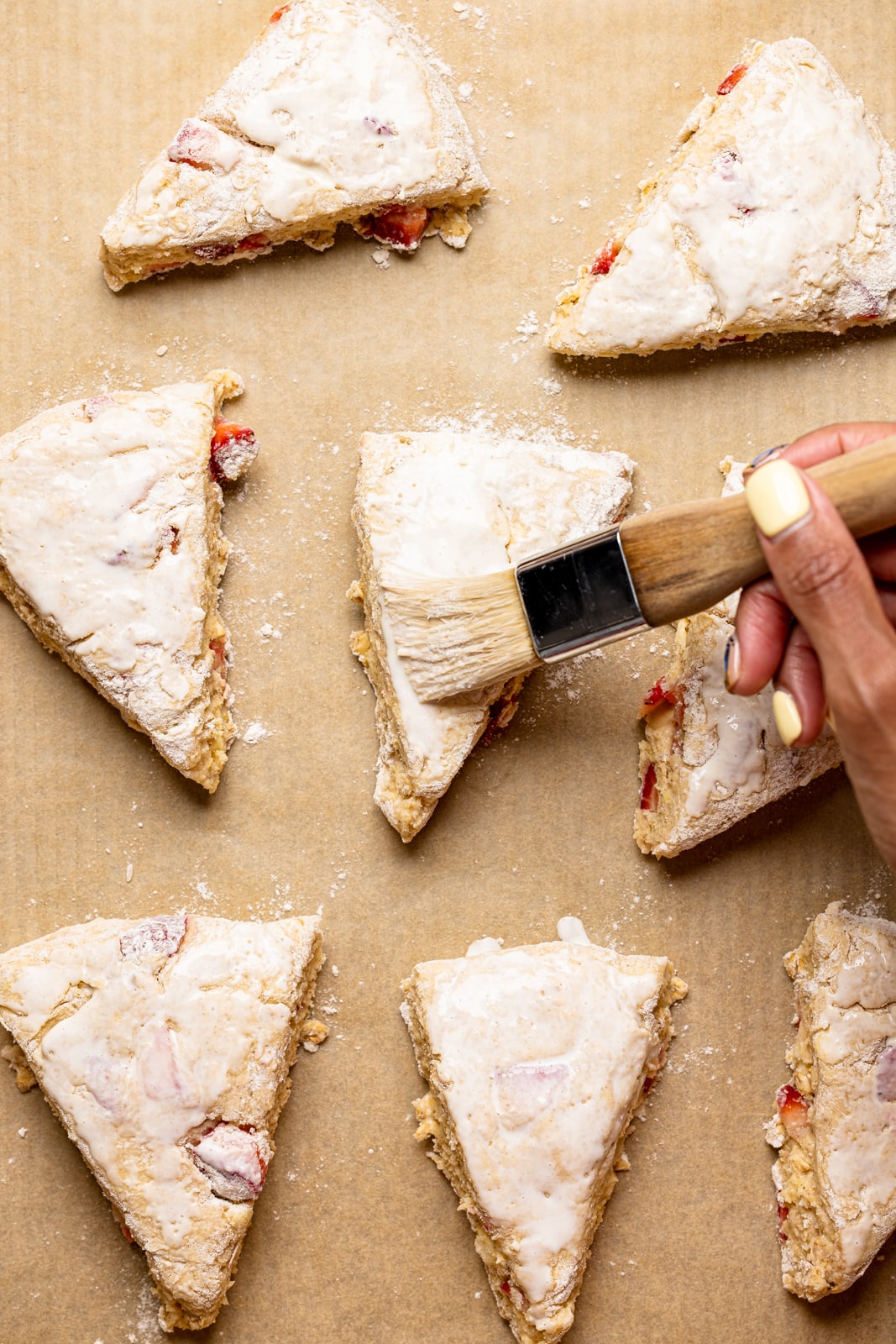 Easy Strawberry Oat Scones Q + A's
Can I Freeze Strawberry Scones?
Yes! Once your baked perfect scones are fully cooled, you can freeze them in an airtight container for up to six months. Defrost them on the counter for a few hours, then serve at room temperature.
How to Store Leftover Scones?
Leftovers for this strawberry scone recipe can be stored in an air-tight container and refrigerated for 1-2 days for the best taste. Reheat in the oven or microwave when ready to serve.
How to Serve Strawberry Oatmeal Scones
These strawberry scones don't need much more than the sweet strawberry glaze. But if you want an extra something to serve on the side, try butter or lemon curd. You can serve these perfect scones for breakfast, as a snack, or with tea or coffee any time of day. I love enjoying them alongside. They also are easy to pack for brunch or party.
How To Make This Scone Recipe Dairy-free?
To make this strawberry scones recipe totally dairy-free use a vegan buttermilk and sub out regular butter for your favorite dairy-free version. I love this Miyoko's Vegan Butter for baking!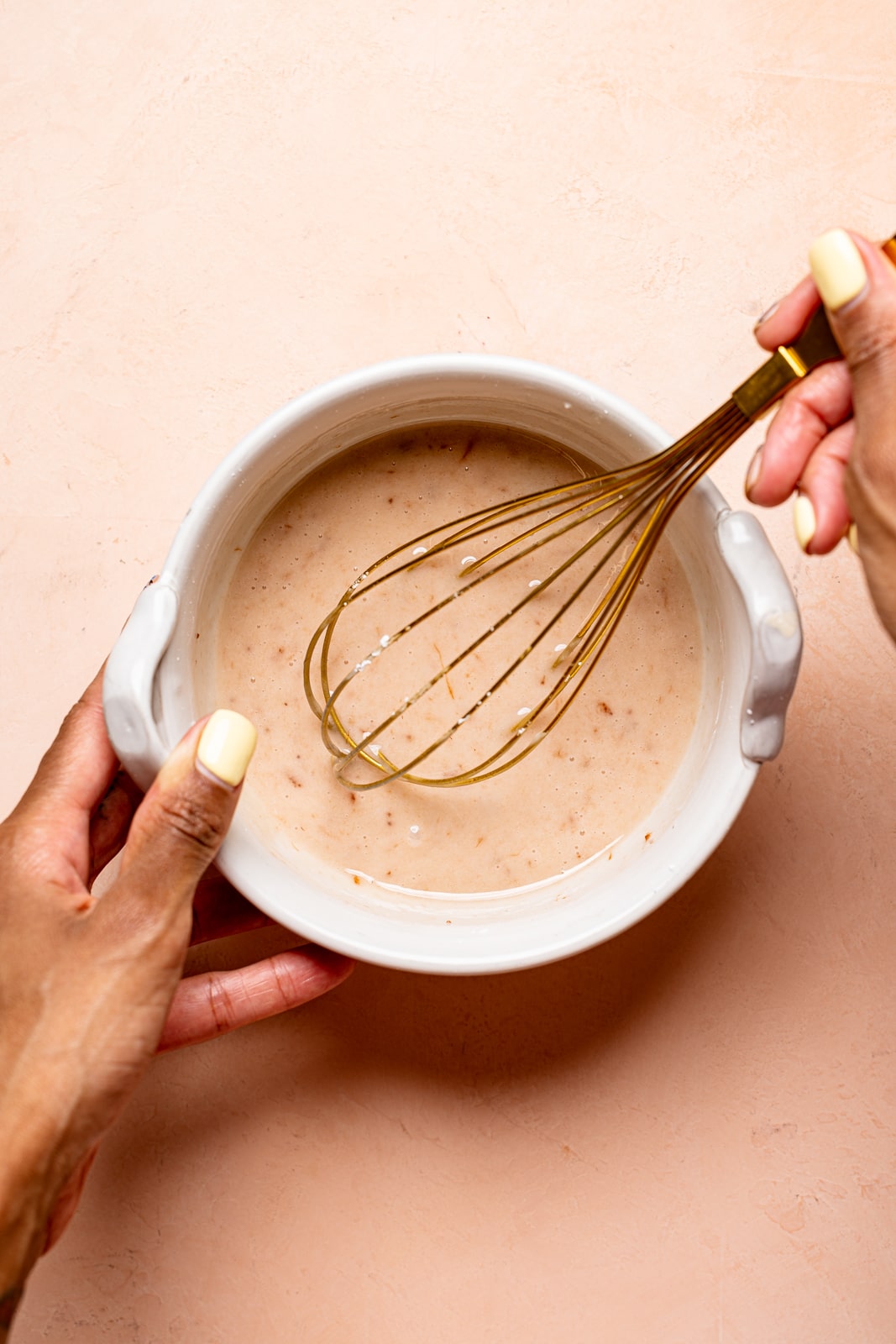 More Delicious Breakfast + Brunch Recipes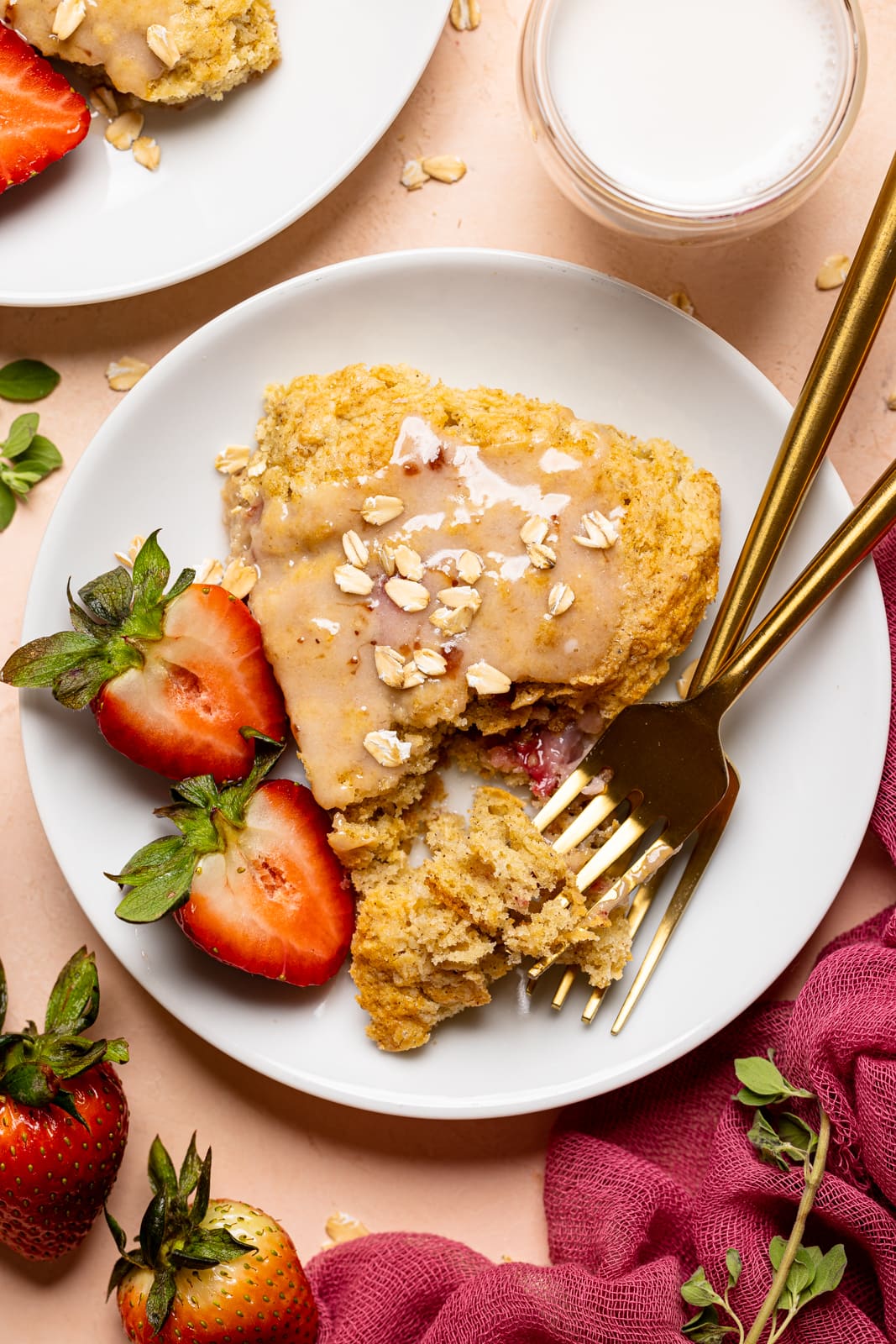 MADE OUR RECIPE(S)?
If you make these Easy Strawberry Oat Scones, be sure to tag me @orchidsandsweettea!
SCONES:
1 ¾

cups

organic all-purpose flour

1

cup

organic rolled oats

½

cup

organic cane sugar

2

tsps

baking powder

¼

teaspoon

baking soda

½

teaspoon

sea salt

½

teaspoon

ground cinnamon

½

cup

VERY COLD unsalted butter, grated or cubed

(See Notes!)

½-3/4

cup

COLD buttermilk

(You can use heavy cream + 1 teaspoon lemon juice or SEE Notes for Dairy-free option)

1

large

egg, cold

1

cup

diced strawberries

(Patted dry well and tossed in 1 tablespoon of flour)
STRAWBERRY GLAZE:
1 ½

cups

powdered sugar, sifted

2-3

Tbsps

organic heavy cream

(You can also use whole milk or heavy cream)

1

tablespoon

strawberry preserves or jam
MAKE THE SCONES:
Preheat oven to 425 degrees Fahrenheit and prepare a baking sheet with parchment paper.

In a large bowl, add flour, oats, baking powder, baking soda, sugar, cinnamon, and salt and whisk together until combined.

Add the cold butter pieces into the dry ingredients and using a fork, mix together until it resembles "peas".

In a separate bowl, whisk together the buttermilk and egg, until combined and smooth. Pour wet ingredients into the dry ingredients and mix everything together using a spatula or your hands (working it together with one hand) until the dry ingredients are moistened and a ball can be created. NOTE: No need to create a ball just yet. You have to now add remaining ingredients.

Fold in the strawberries and gently press them into the dough.

Add the dough unto a floured surface, pat and shape dough into an 8-inch round circle. Using a very sharp knife (or pastry cutter), slice into 8 equal wedges (triangular shaped), dusting knife or pastry cutter with flour incase dough is on the stickier side.

Place each scone onto the prepped baking sheet and brush tops with a little egg wash. Bake for 13-15 minutes until tops are golden brown and the center comes out clean after inserting a toothpick.

Remove from the oven and let cool completely before adding glaze.
TO MAKE THE GLAZE:
Whisk together the powdered sugar, strawberry preserves/jam and heavy cream, until combined and smooth. NOTE: If the glaze seems too thin, add in another ½ cup of powdered sugar. However, If it seems too thick, add an additional 1 tablespoon of milk.

Once cooled, drizzle the glaze atop each scone, and allow it to set for about 3-4 minutes so that it hardens.

Garnish with oats and/or fresh sliced strawberries, if desired.

Bon Appetit!
STORAGE: Leftovers can be stored in an air-tight container and refrigerated for 1-2 days for best taste. Reheat in the oven or microwave when ready to serve.
GRATED BUTTER: If you choose to grate your butter instead of cubing it, add the stick to a freezer for 15 minutes. Remove from freezer and using a grater, grate into pieces.
STRAWBERRIES: If using frozen or fresh strawberries, be sure to toss them in 1 tablespoon of arrowroot starch or flour before folding them into the scone batter. This creates a barrier with the moisture to ensure that your scones don't spread as much and cooks through.
TIPS FOR MAKING FLAKY SCONES: See above details in the post above recipe.
Calories:
214
kcal
|
Carbohydrates:
67
g
|
Protein:
5
g
|
Fat:
3
g
|
Saturated Fat:
1
g
|
Polyunsaturated Fat:
1
g
|
Monounsaturated Fat:
1
g
|
Trans Fat:
0.003
g
|
Cholesterol:
25
mg
|
Sodium:
297
mg
|
Potassium:
111
mg
|
Fiber:
2
g
|
Sugar:
15
g
|
Vitamin A:
88
IU
|
Vitamin C:
11
mg
|
Calcium:
78
mg
|
Iron:
2
mg