Baked French toast is one of the easiest make-ahead breakfast recipes ever. Make it Spring ready by adding bright, fresh fruit such as strawberries. This dairy-free Baked Strawberry Croissant French Toast combines the flaky, airy texture of croissants with a soft, custard-like delight that is French Toast and sweet notes of strawberry. The easiest, delicious way to kick start your morning!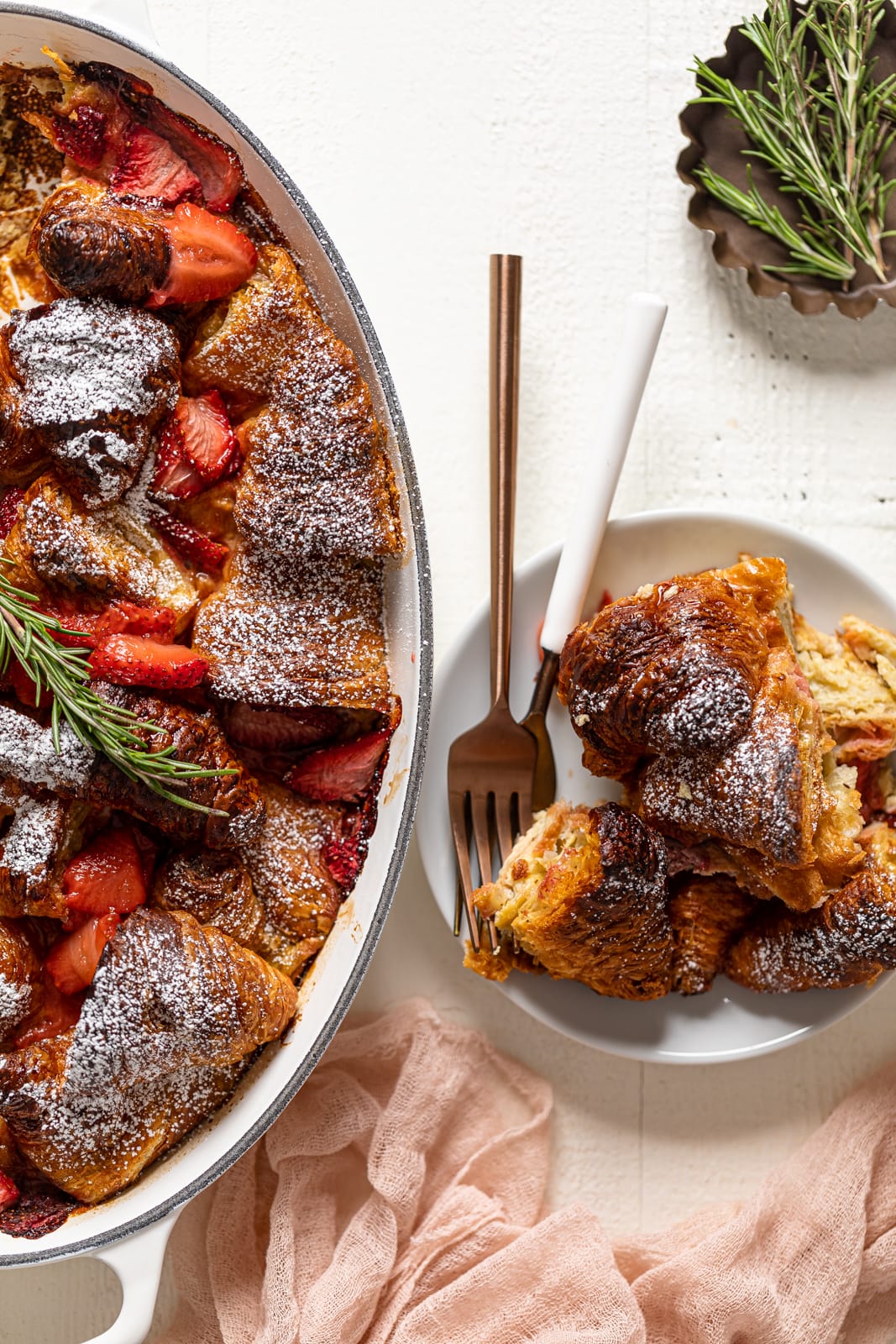 I couldn't resist adding yet another baked french toast recipe to the list of must-haves! One thing about this Baked Strawberry Croissant French Toast is the fact that it uses croissants in place of rustic or bread bread. Trust me, this choice is so worth it!
When it comes to breakfast, sometimes I really enjoy the dishes that remind me of a good dessert early in the morning. Can you relate? There's just something about know that you get to indulge in something sweet and delish as the start to your morning sometimes. Don't believe me----try this Healthy Breakfast Apple Crumble Oatmeal Bowl. That topping will remind you of a sweet, warm apple crisp with ice cream. Haha.
All things strawberry is right up my alley and this recipe is the epitome of everything strawberry. For an extra kick, I chose to add a bit of strawberry preserves to the batter along with the fresh slices tucked away in between each croissant.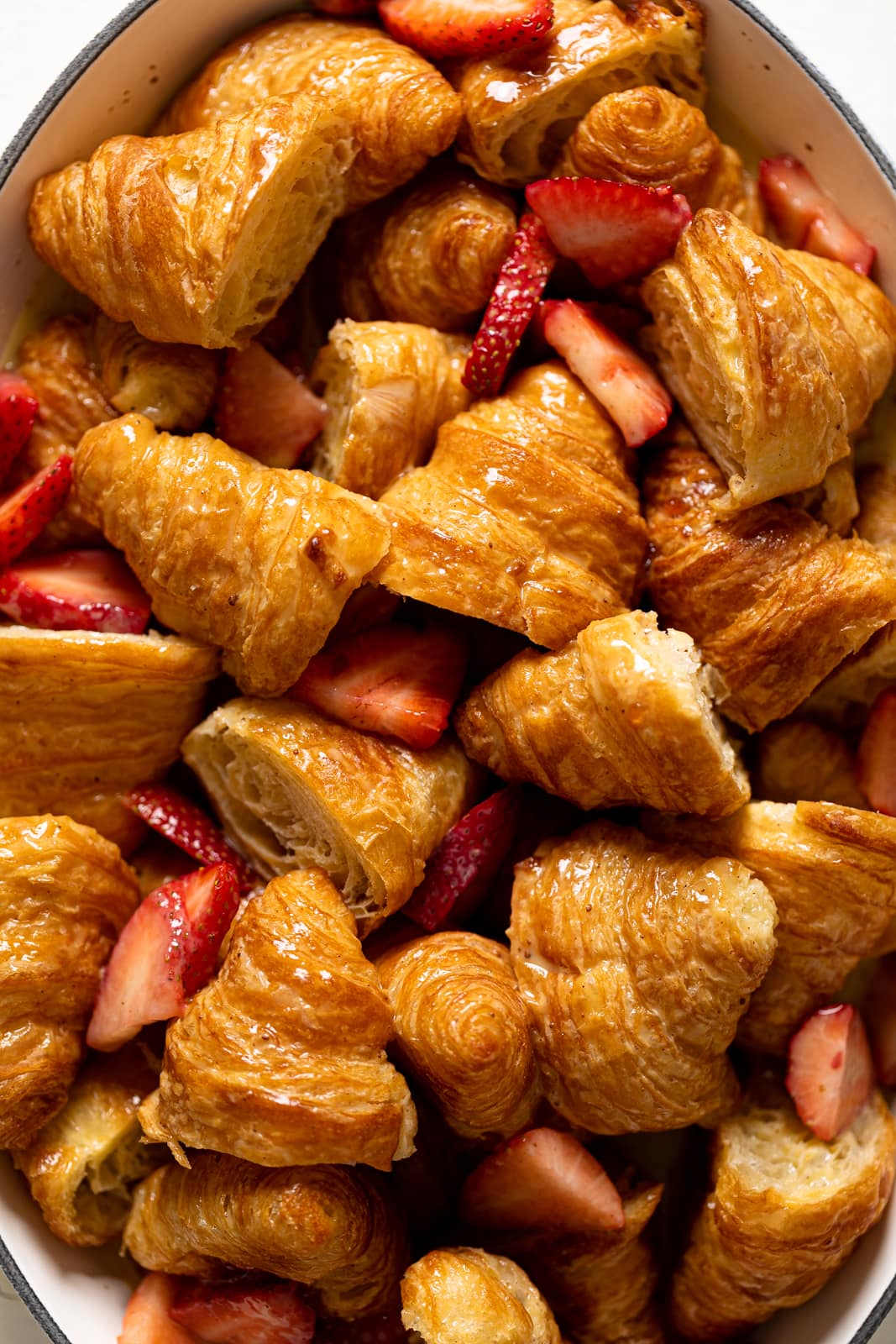 Baked vs. Pan-Fried French Toast
Both baked and pan-fried French toast recipes are delicious, however, I prefer the one that takes less active cooking time, especially on the weekends where I'm extremely laid back.
Instead of frying your French toast in butter over the stove, try a baked version. It's easier to whip together, makes less mess (yes, to tossing everything together in one dish), makes a pretty decent batch for the entire family, and is basically "set it + forget it" vibes (hello, oven).
Make things easier on yourself by baking your French toast. You can even assemble the casserole the night before and bake it once you're ready to eat!
Ingredients in Baked Strawberry Croissant French Toast
For the French Toast:
12-16 croissants, roughly chopped
2 cups Almond milk, at room temp.
6 large organic eggs, beaten
½ cup pure maple syrup
3 Tbsps strawberry preserves, at room temp. (optional)
2 tsps vanilla extract
1 tsp ground cinnamon
½ tsp ground nutmeg
Pinch of ground allspice
½ tsp sea salt
3-4 cups sliced strawberries
For the Simple Strawberry Topping:
2 cups sliced fresh strawberries
¼ cup organic cane sugar
¼ cup filtered water
1 tsp freshly-squeezed lemon juice
The Toppings:
Powdered sugar, for sifting
Coconut whipped cream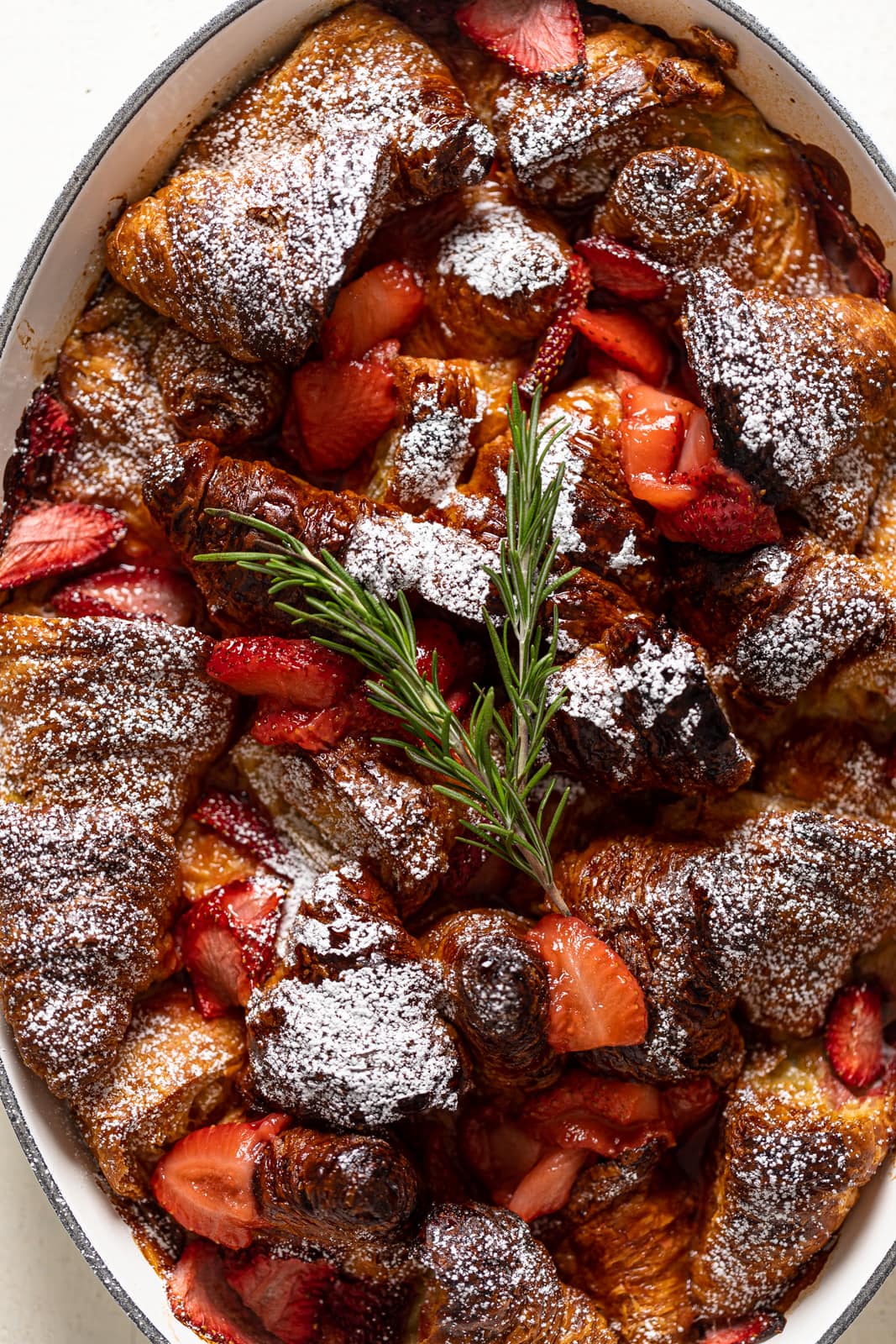 Making Strawberry Jam
It's highly recommend that you make your own strawberry jam/compote for this baked french toast dish. If you have fresh strawberries and a bit of sugar on hand, you can whip it up in less than 15 minutes.
Then, you'll use the compote to infuse the batter with extra strawberry flavor and you can serve it on top!
Health Benefits of Strawberries
Secrets to the Perfect French Toast Casserole
If you are making this dish for the first time, here are some tips and tricks for a successful Baked Strawberry Croissant French Toast!
Use day-old bread or croissants.
Using fresh bread------the fresher the bread, the more moisture inside. Day-old bread absorbs the egg mixture much better than fresh, moist bread. For the same reason, croutons are commonly used in stuffing (which is a savory bread pudding). When it bakes, the stale bread will become eggy and light. The drier the bread at the beginning, the better the bread pudding texture.
Bake in a high-sided casserole dish.
This french toast casserole can get bubbly in the oven, so to avoid any spillage, use a high-sided baking dish. You can also bake the casserole on top of a baking sheet for extra protection!
Top with maple syrup!
Since this is a breakfast dish, it is a requirement to top it all off with maple syrup. Seriously!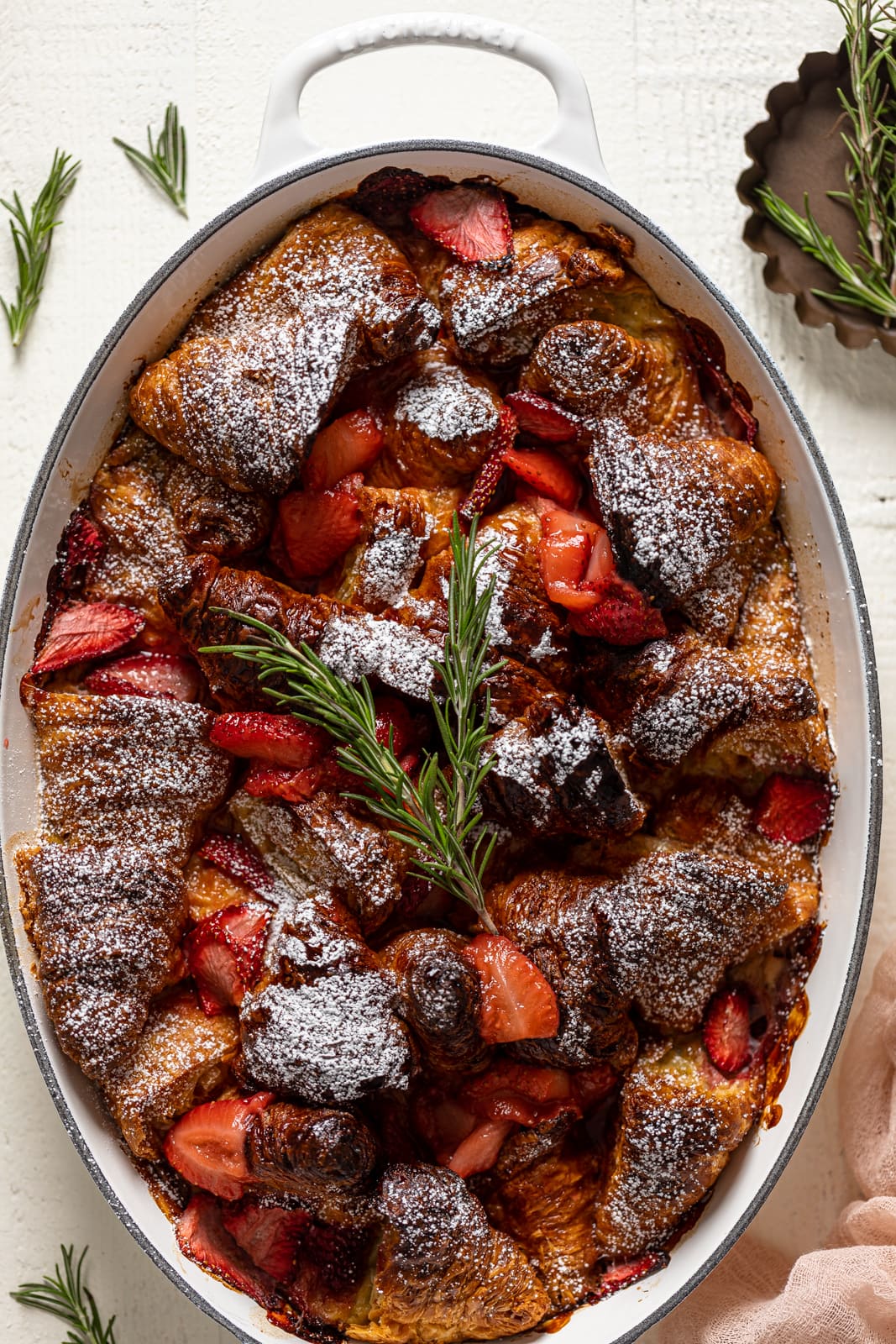 MORE RECIPES TO MAKE WITH STRAWBERRIES
MADE OUR RECIPE(S)?
If you make this Baked Strawberry Croissant French Toast, tag @orchidsnsweettea_ on Instagram and hashtag it #orchidsandsweettea
FRENCH TOAST:
12-16

croissants, roughly chopped

2

cups

Almond milk, at room temp.

(You can use your favorite plant-based milk or regular milk, if preferred!)

6

large

organic eggs, beaten

½

cup

pure maple syrup

3

Tbsps

strawberry preserves, at room temp.

(optional)

2

tsps

vanilla extract

1

teaspoon

ground cinnamon

½

teaspoon

ground nutmeg

Pinch of

ground allspice

½

teaspoon

sea salt

3-4

cups

sliced strawberries
SIMPLE STRAWBERRY TOPPING:
2

cups

sliced fresh strawberries

¼

cup

organic cane sugar

¼

cup

filtered water

1

teaspoon

freshly-squeezed lemon juice
TOPPINGS:
Powdered sugar, for sifting

Coconut whipped cream

(You can also use regular whip for non-dairy option)
TO MAKE FRENCH TOAST:
Lightly grease a large baking dish (9 x 13″) with vegan butter or oil and pre-heat the oven to 375 degrees Fahrenheit.

In a large bowl, whisk together the milk, eggs, vanilla, strawberry preserves (if using), maple syrup, vanilla, cinnamon, nutmeg, allspice, and salt, and set aside so that everything marries together and activates, about 5 minutes.

Next, add the chopped croissants into the prepared baking dish and spread around evenly.

Pour the liquid mixture atop croissants, generously covering all pieces.

Bake casserole for 35-40 minutes or until fully cooked through (less 'jiggly') and edges and tops are golden brown (or slightly dark brown, if preferred).
TO MAKE THE SIMPLE STRAWBERRY TOPPING:
In a saucepan, add together all ingredients over medium-high heat, stirring until combined. Once strawberries begin to soften, continue stirring until mixture begins to thicken a bit, about 5-6 minutes. Remove from heat and let cool.

Remove the french toast from oven and let cool for 5 minutes or so before topping it with the powdered sugar, strawberry topping, and coconut whipped cream. To serve, cut into desired sized squares pieces. Drizzle with maple syrup, if desired!

Bon Appetit!
STORAGE: Any leftovers can be kept in a tightly sealed container and refrigerated for up to 1-2 days.
MAKE AHEAD | OVERNIGHT: If you want to prep this recipe for the next day, simply pour all the ingredients in the baking dish (following the steps), covering it tightly, and keeping it refrigerated for 24 hours. Remove from the fridge and let sit at room temp for about 30 minutes to 1 hour. Bake when ready to eat.
Calories:
362
kcal
|
Carbohydrates:
52
g
|
Protein:
9
g
|
Fat:
13
g
|
Saturated Fat:
6
g
|
Polyunsaturated Fat:
2
g
|
Monounsaturated Fat:
4
g
|
Trans Fat:
0.01
g
|
Cholesterol:
168
mg
|
Sodium:
447
mg
|
Potassium:
296
mg
|
Fiber:
3
g
|
Sugar:
31
g
|
Vitamin A:
527
IU
|
Vitamin C:
54
mg
|
Calcium:
153
mg
|
Iron:
2
mg
Baked Strawberry Croissant French Toast.