This Vegan Chia Seed Maple Banana Bread is super moist, tasty, packed with healthy nutrients including superfoods like Chia Seeds, and 100% delicious! It takes less than 10 minutes to whip together and makes for a great healthy alternative for a little sweetness in the morning for breakfast or even for dessert after dinner. All vegan ingredients, entirely kid-friendly, and a gluten-free option available.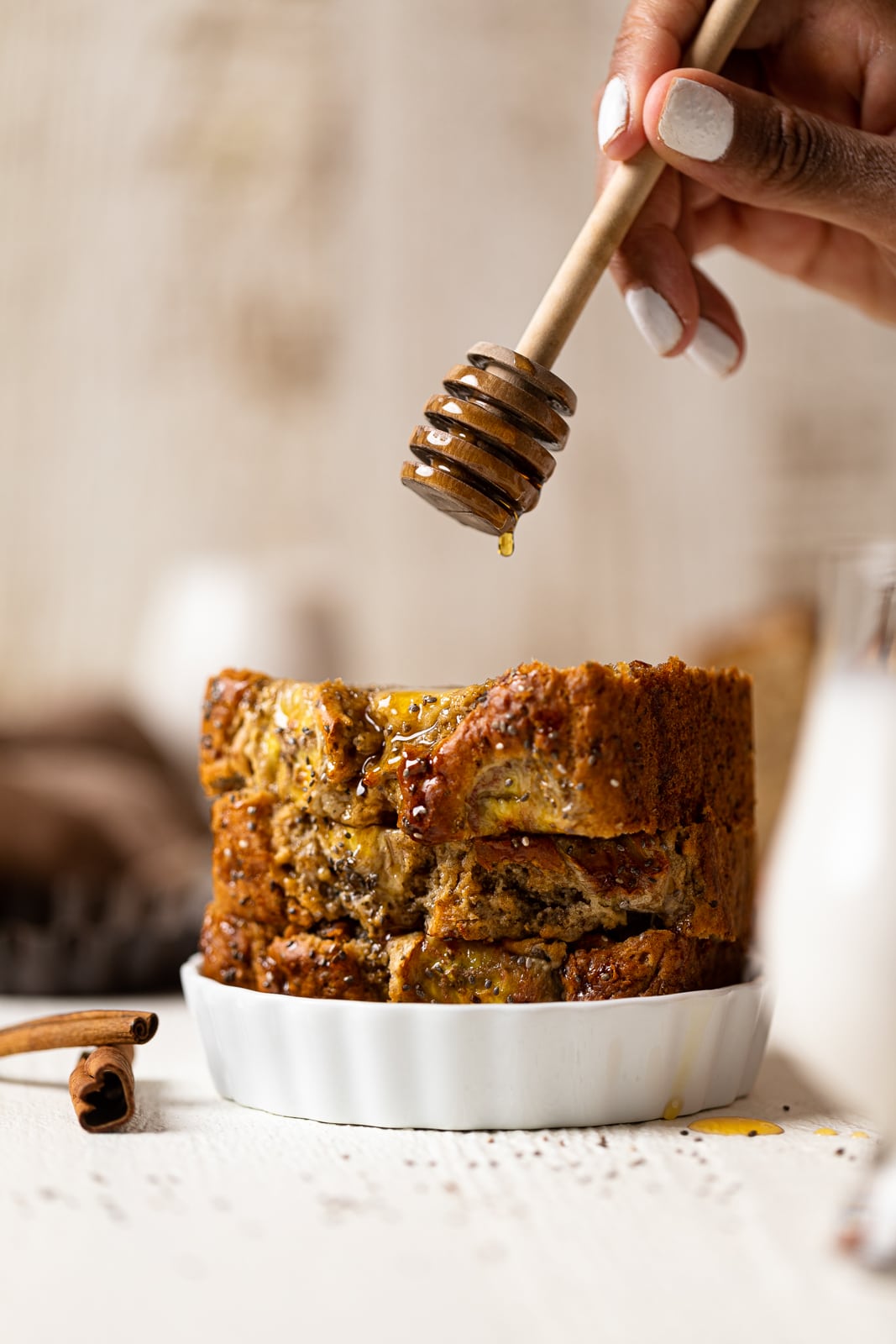 I don't know about you, but I absolutely love baking any form of banana bread. My most favorite banana bread recipe has to be my Vegan Cinnamon Crunch Banana Bread, which is incredible and is topped with a crunchy pecan + walnut topping. It's a MUST! However, this recipe definitely comes in at a strong second!
Of course, if you're a chocolate and/or bourbon lover then I have this Vegan Chocolate Bourbon Banana Bread for you too! It's so rich and decadent all at the same time. Such a sweet treat to treat yo'self to for sure! Yes, I had to write it how I said it. Haha.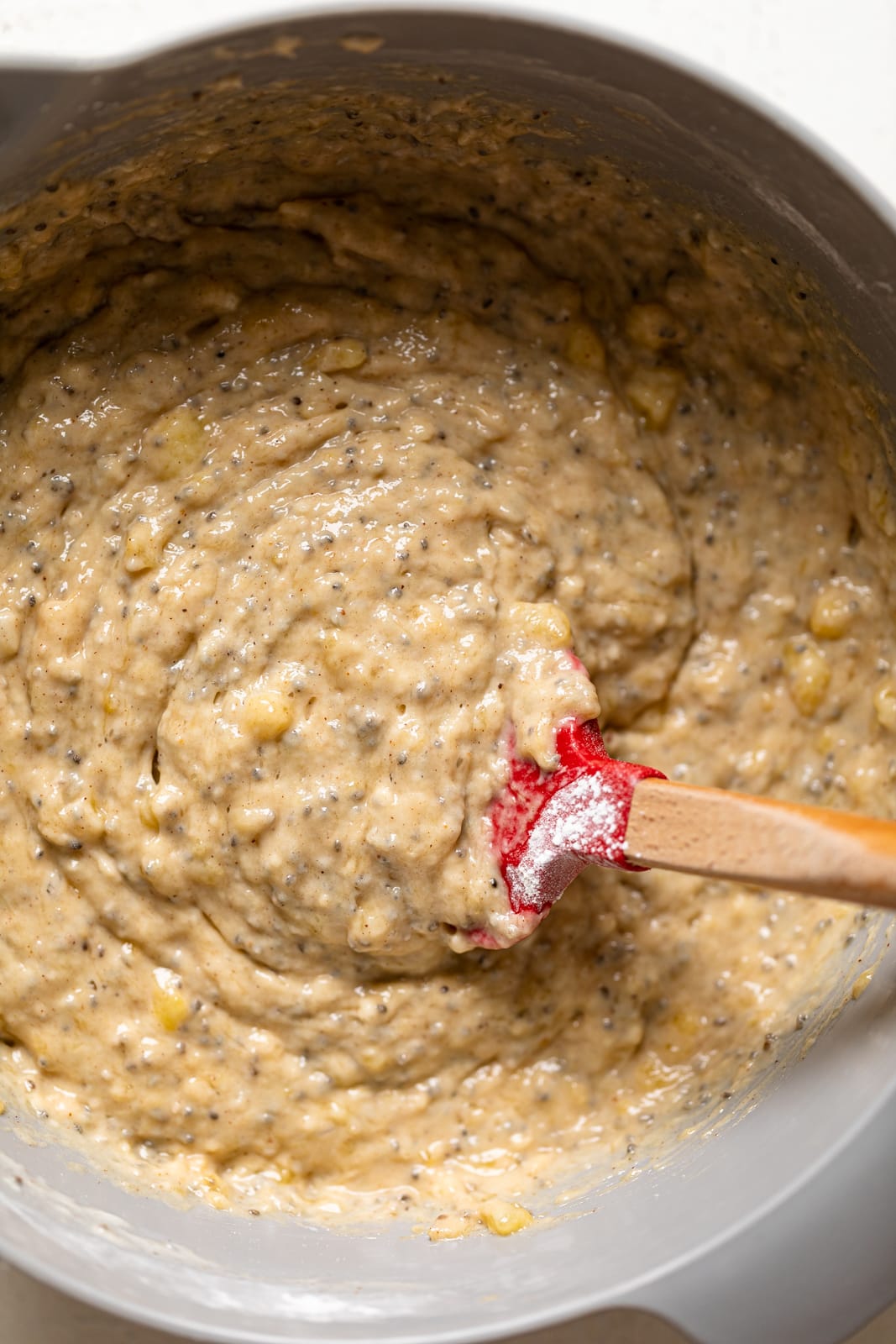 How to Make Chia Seed Maple Banana Bread
This is a simple recipe to make. And chances are you probably already have the ingredients on hand. Here's what you need to know about the ingredients for vegan chia seed maple banana bread.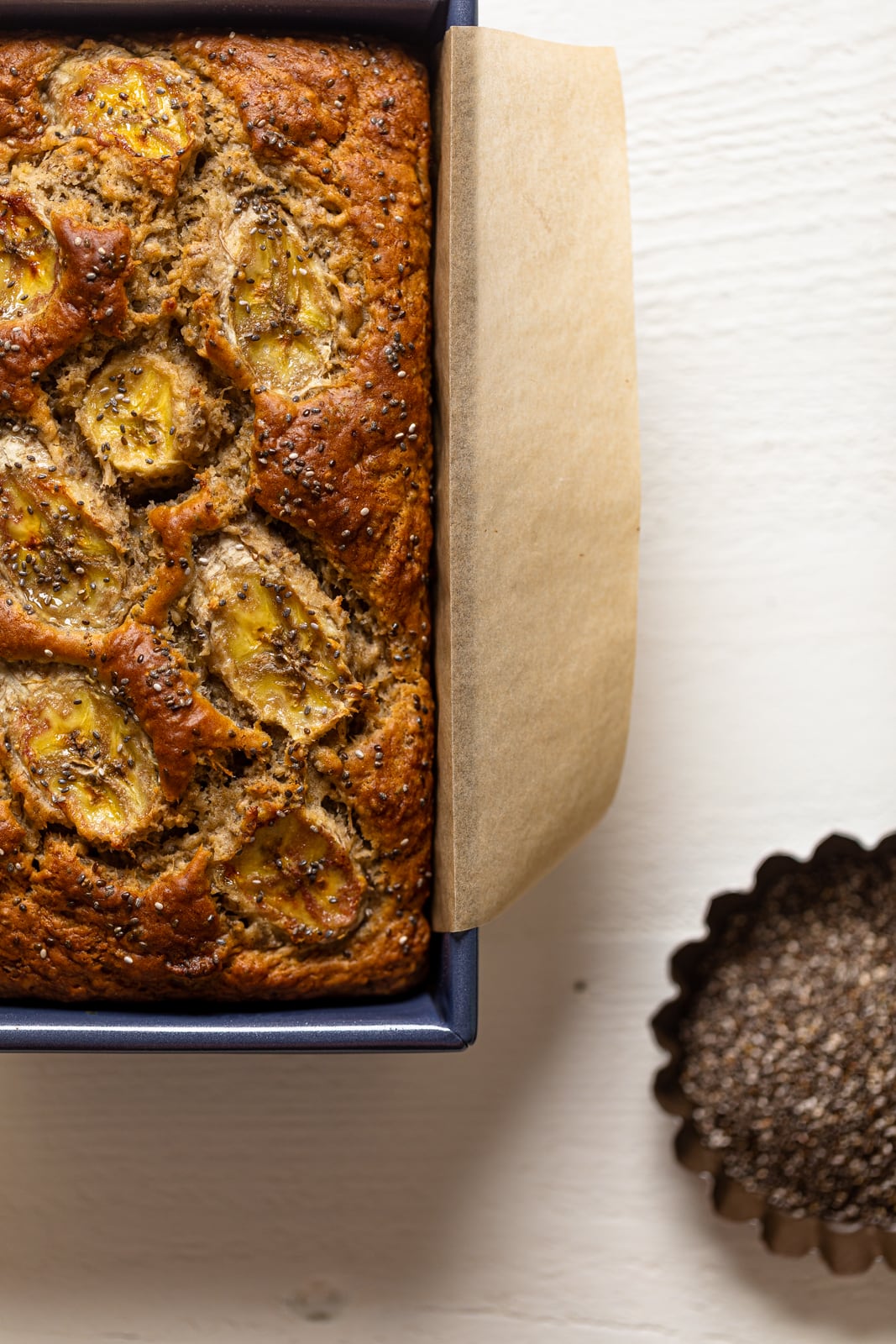 INGREDIENT NOTES
Bananas. You'll want to use really ripe bananas for the densest, sweetest flavor.
All-purpose flour. I like Bob's Red Mill or King Arthur's organic flour, which is certified vegan.
Brown sugar. Again, choose organic to make sure it's vegan.
Almond milk. You can use any plant-based milk, including a nut-free option like oat or soy milk.
Apple cider vinegar. My trick is to combine vegan milk with some ACV to make vegan "buttermilk." It's tangy and acidic, which helps the baking soda rise. You can also use white vinegar.
Vegan butter. I like to bake with the buttery sticks from Earth Balance, they're easy to measure.
Maple syrup. You can also use agave, but I love the warming flavor of maple in this banana bread.
Chia seeds. I love using chia seeds from organic brands like Whole Foods or Navitas Organics. It's such a rich superfood.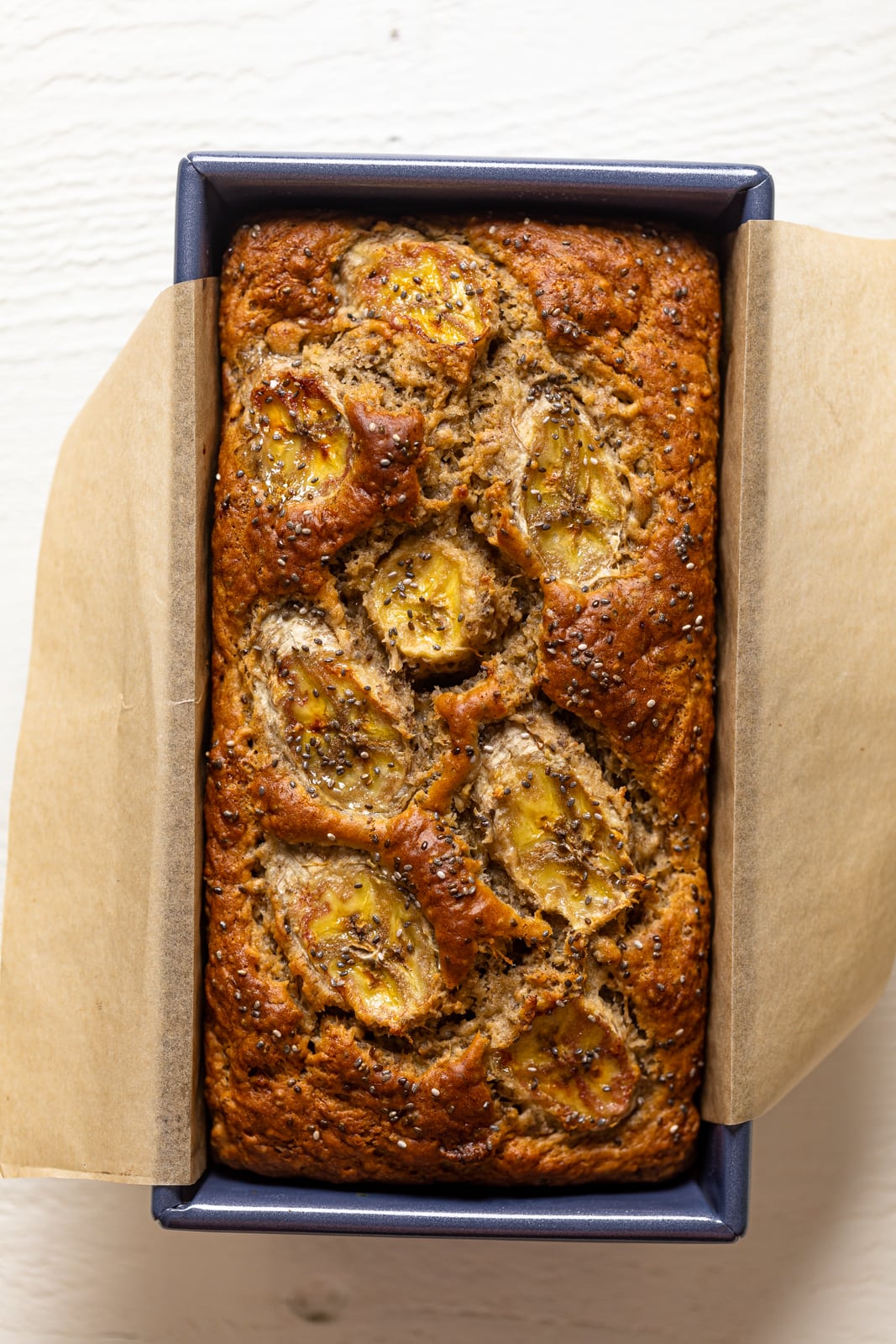 Looking for a Healthier Sweetener Option?
The Best Healthy Sugar Alternatives + Substitutes list is all about finding better ways to enjoy your favorite sweets without compromising your healthy lifestyle. For those who follow a vegetarian and/or vegan lifestyle, this lists offers a few great ideas to incorporate healthy sweeteners into your diet.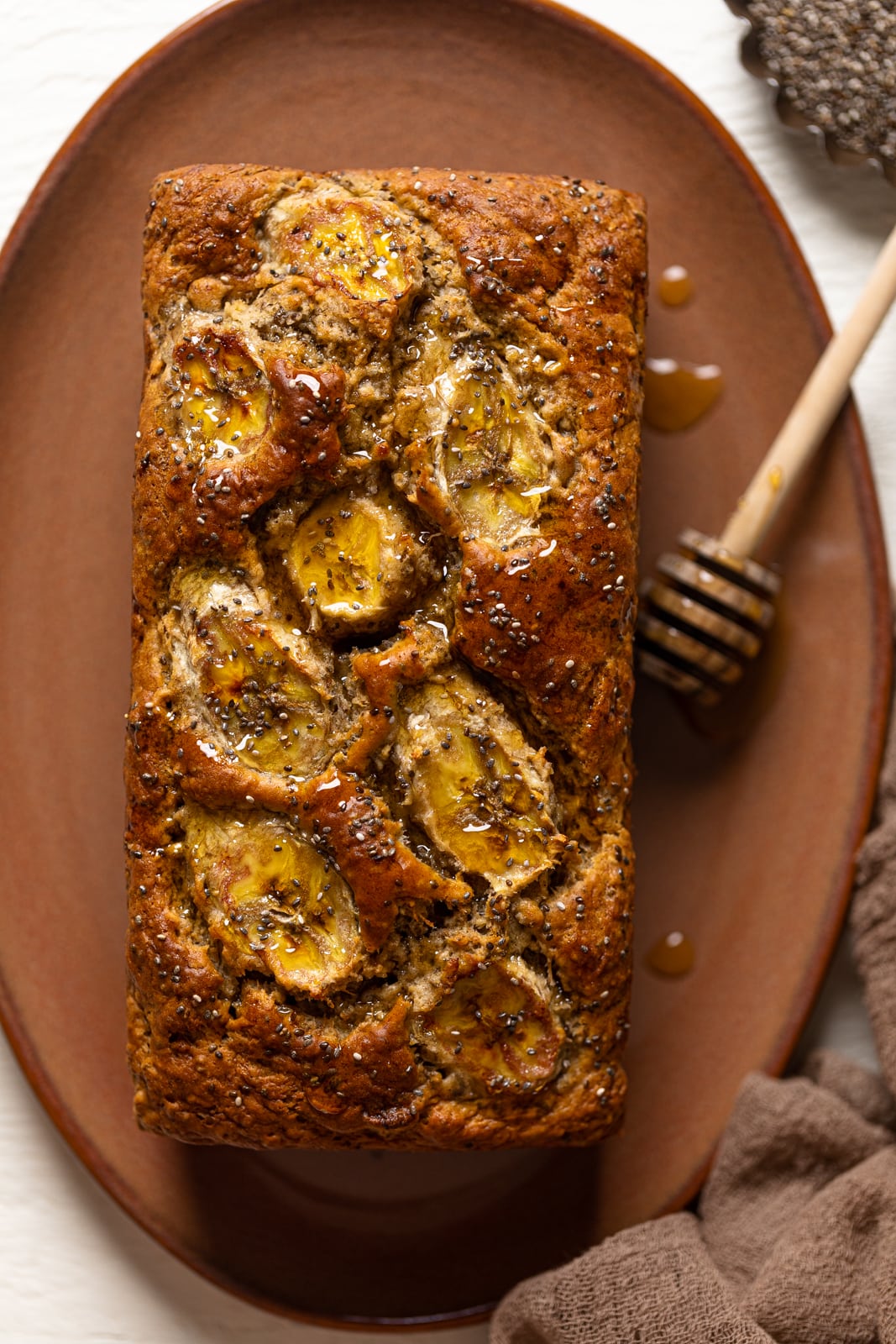 When it comes to Banana Bread, I've found a new love for it. Honestly, I never use to be a fan of it, especially the traditional way that it was often made when I was growing up. However, since putting my own spin on things, I've realized just how delicious it can be and just how versatile it is as well.
Let's take this Almond-Cinnamon Crunch Blueberry Banana Bread, which is a fun balance between crunch and fluffiness. Best during breakfast, as a snack, or for dessert, this banana bread uses healthier ingredients which include a blend of whole wheat + all-purpose flour, toasted almond nuts, organic blueberries, coconut oil, and non-dairy milk. Plus, it's completely dairy-free and vegan which is a real special sweet treat for those taste-buds!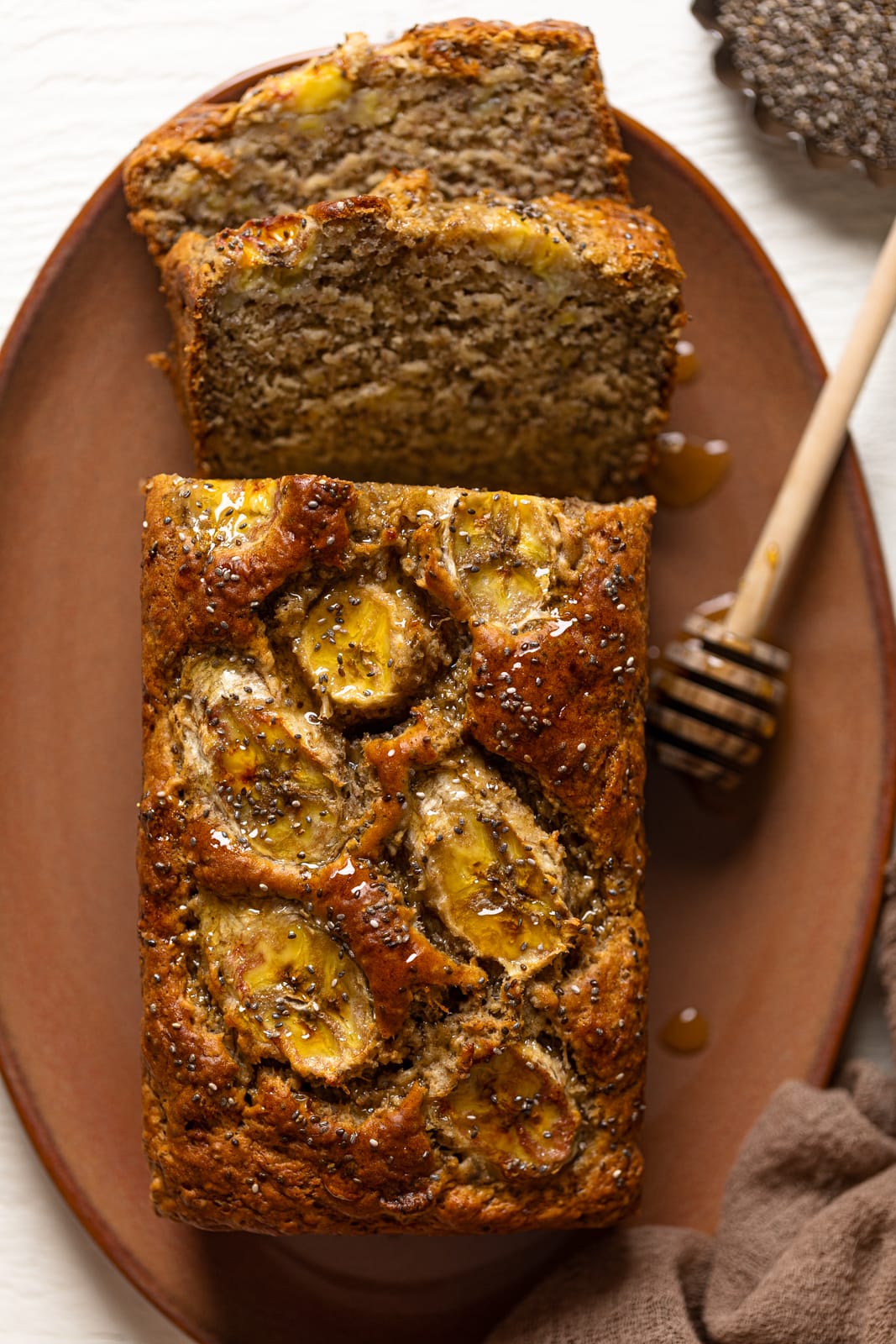 Can I Make Gluten-Free Chia Seed Maple Banana Bread?
Usually when turning my breads into gluten-free bread, I simply swap regular all-purpose flour for the gluten-free all-purpose from Bob's Red Mill or King Arthur. It's usually a pretty equal swap, but I always recommend slightly adjusting the liquids to ensure that it's not too wet. I talk more about this in the recipe notes!
Also, if you're looking for a delicious Oat Flour version of banana bread, this Oat Flour Banana Bread from The Toasted Pinenut is pretty amazing!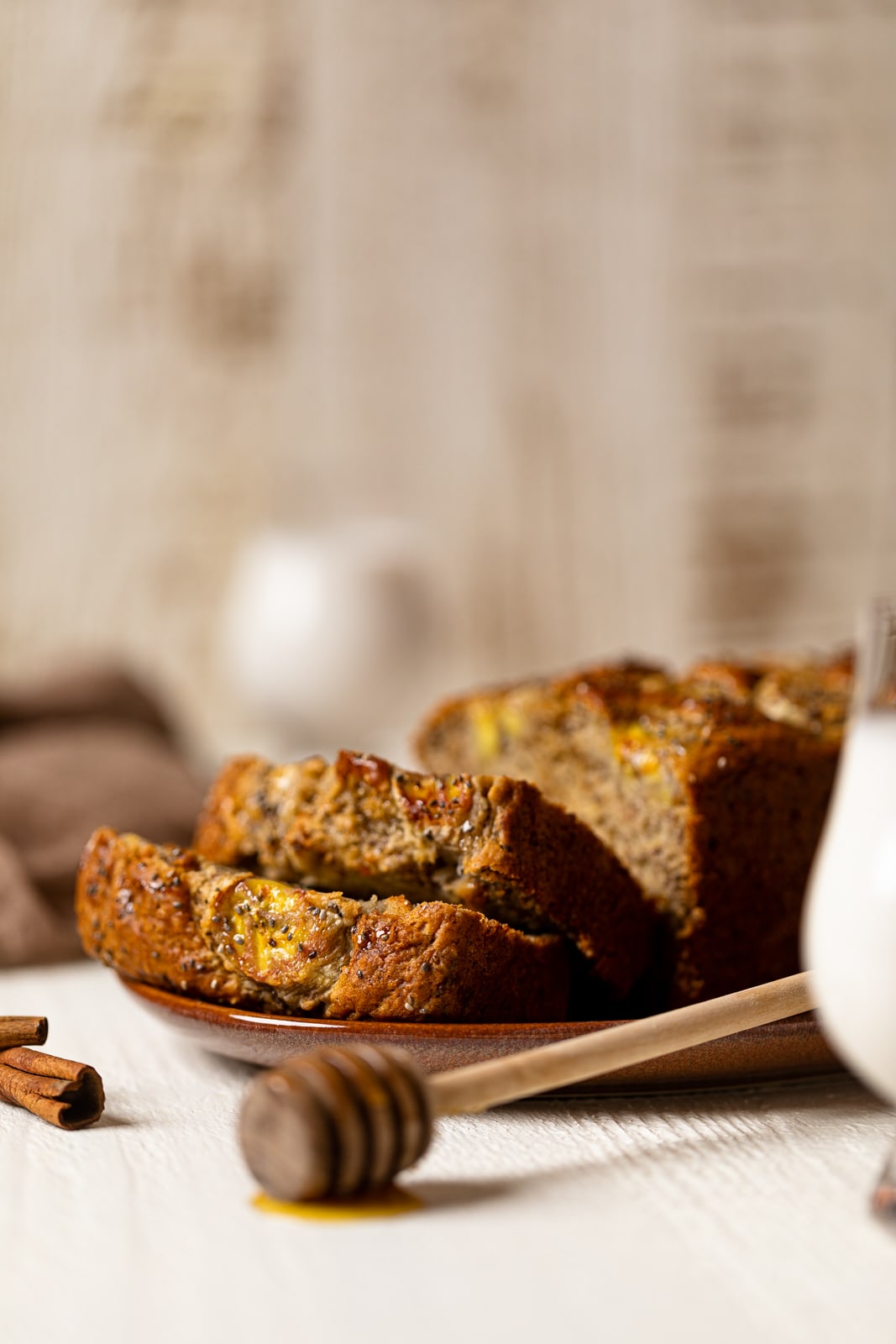 Why Chia Seeds Anyway?
OK, so did you know that Chia Seeds are considered a superfood? Yup. It is. For those of you who are wondering what a superfood is anyway----whelp, it's pretty simple. Superfoods are nutrient-rich foods that are considered to be especially beneficial to one's health and well-being.
While there isn't just one type of food that can fight away any one disease, etc.; having an array of good foods (including superfoods) and a well-balanced diet is the key to overall good health.
When it comes to Chia Seeds, this type of food falls under the 'Nuts and Seeds' category of superfoods. They are generally rich in fiber, vegetarian protein, and heart-healthy fats. Research has indicated that eating nuts and seeds helps to protect us against heart disease.
While some nuts and seeds are dense in calories, Chia Seeds have very few calories which often makes it a great option when adding it to meals and drinks.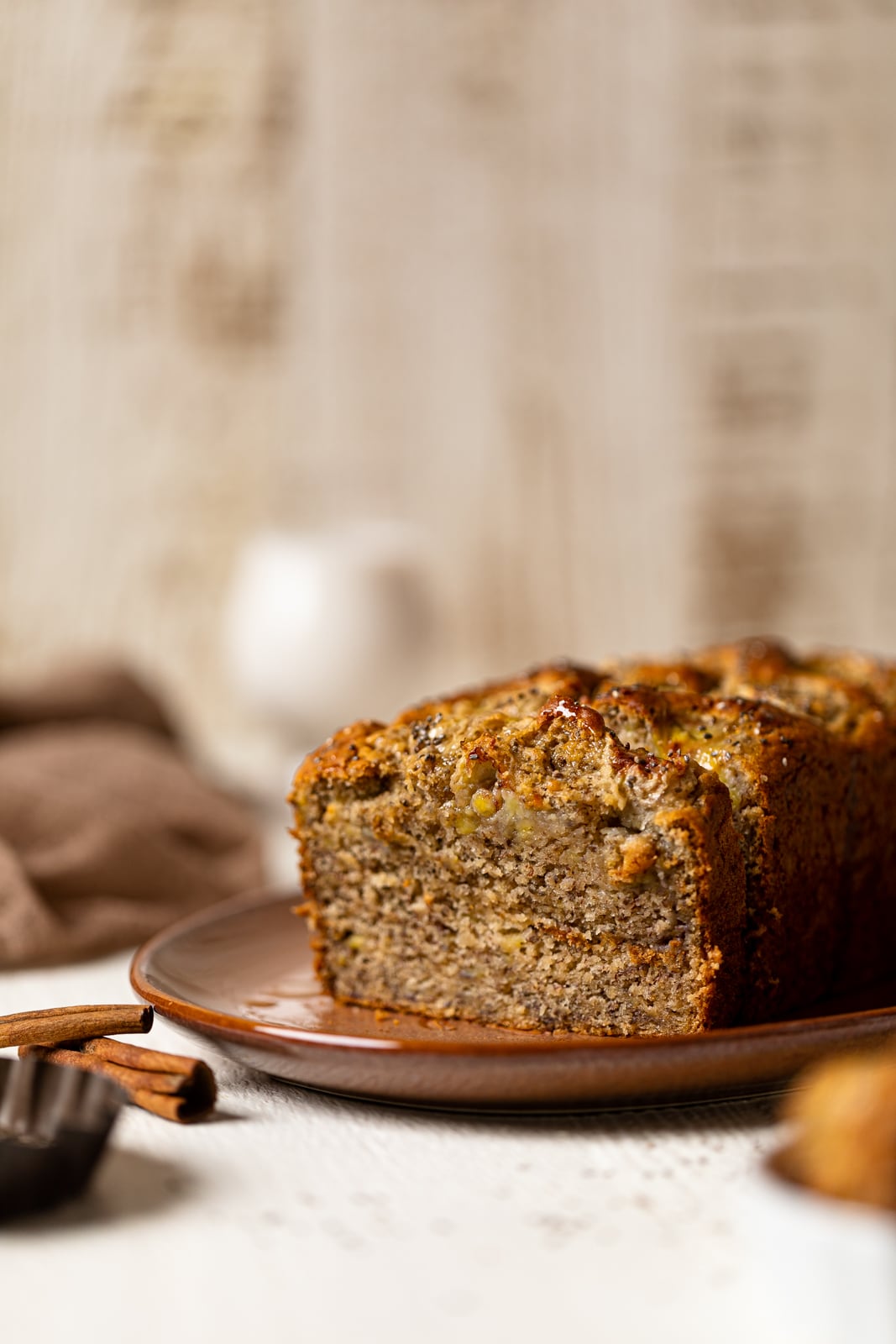 Why I Love Using Maple Syrup or Agave as a Sweetener.
When it comes to both syrups, I often use them interchangeably, although I love to use pure maple syrup mostly. Agave is said to have a lower glycemic index, which makes it perfect for those with diabetes. On the other hand, pure Maple syrup has tons of antioxidants because it comes directly from a plant's sap.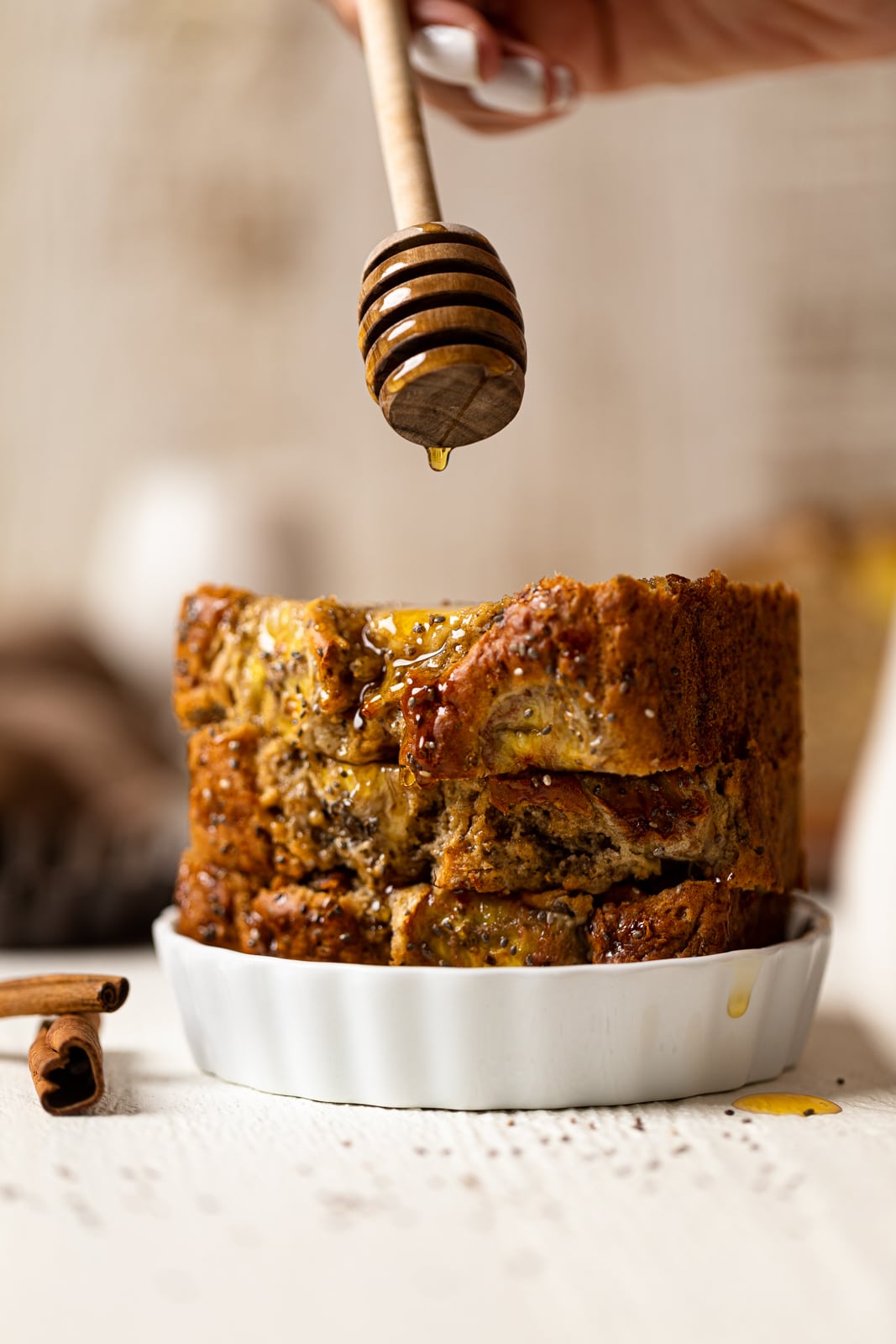 Health Benefits of Bananas
Believe it or not, Bananas not only taste great but they provide essential nutrients in our daily diet. In addition, Bananas hold a fair amount of fiber, several antioxidants, while just ONE banana contains about 105 calories, and contains mostly water and carbs.
Other Benefits:
Potassium
Vitamin B6
Vitamin C
Magnesium
Copper
Manganese
Protein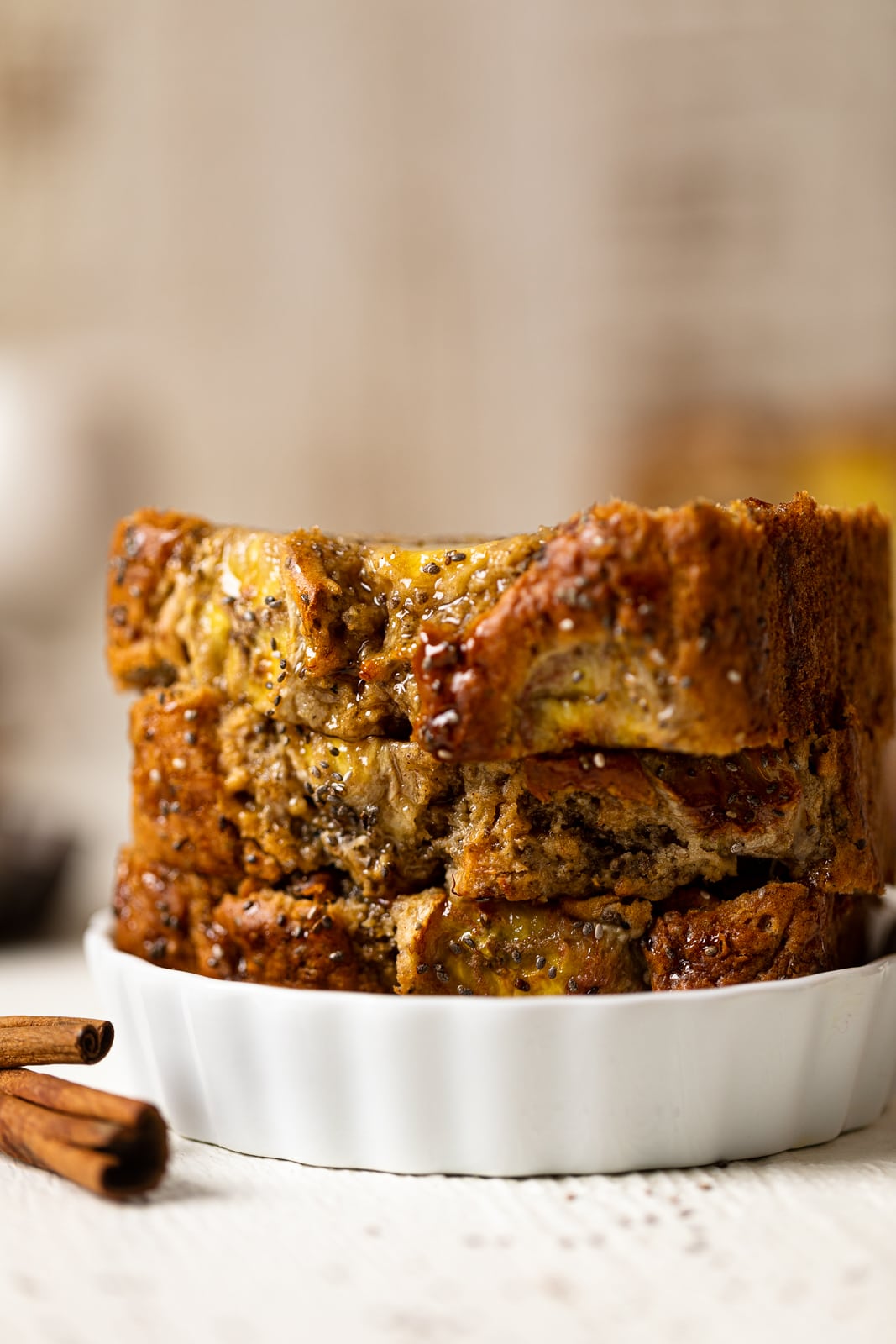 MADE OUR RECIPE(S)?
If you make this Vegan Chia Seeds Maple Banana Bread, tag @orchidsnsweettea_ on Instagram and hashtag it #orchidsandsweettea!
BREAD:
4

very ripe

Bananas, mashed

2

cups

organic All-Purpose Flour

½

cup

organic brown sugar

2

tsps

baking powder

½

teaspoon

baking soda

¼

cup

chia seeds

1

tablespoon

ground cinnamon

1

teaspoon

ground nutmeg

¼

teaspoon

sea salt

¾

cup

Almond milk, unsweetened

(You can use your favorite plant-based milk!)

1

teaspoon

apple cider vinegar

1

teaspoon

vanilla extract

¼

cup

vegan butter, melted

(See Notes!)

¼

cup

pure maple syrup

(See Notes!)
Preheat your oven to 375 degrees Fahrenheit and line a loaf pan with parchment paper and lightly grease it using vegan butter or coconut oil.

In a bowl or measuring cup, add the milk and apple cider vinegar together, whisking until combined. Let it sit for 5-10 minutes until the mixture slightly thickens.

In a large bowl, combine the mashed bananas, melted butter, maple syrup, vanilla, and Almond milk-AVC mixture, whisking them together until well combined.

Next, add in the flour, baking powder, baking soda, brown sugar, cinnamon, nutmeg, and sea salt into the wet ingredients, stirring until just combined. NOTE: DO NOT OVER-MIX! Fold in chia seeds.

Pour batter in the prepared loaf pan and evenly spread it out.

Gently place the banana slices on top of batter (lightly pressing them in so they stay in place) and sprinkle the top of batter with a bit of chia seeds.

Bake for 55-60 minutes, or until a toothpick or knife that is inserted in the middle comes out clean.

Once done, remove bread from oven and let it cool for 10-15 minutes before gently removing it from loaf pan to cool completely.

Once cooled, slice, drizzle with maple syrup, and enjoy!

Bon Appetit!
STORAGE: Refrigerate leftover bread by tightly wrapping it in foil paper or keeping it fully covered in a cake stand—lasts up to a week. Can also be stored at room temperature for up to 2 days.
GLUTEN-FREE VERSION: To make this bread GF, I recommend using a GF Flour Blend (Bob's Red Mills has a great version!). **NOTE: If the bread mixture is too 'thin + runny', simply add additional GF flour, ¼ cup at a time.**
OIL: Instead of vegan butter, you can also use vegetable oil coconut oil, if preferred.
MILK: You can use any plant-based milk for this recipe. I love using Califia Farm's Almond Vanilla or Oats + Roasted Almonds Milk or So Delicious Dairy-Free's Almond Milk, however, you can use Soy, regular Almond, Macadamia, Coconut, etc.
Calories:
276
kcal
|
Carbohydrates:
48
g
|
Protein:
4
g
|
Fat:
8
g
|
Saturated Fat:
1
g
|
Polyunsaturated Fat:
3
g
|
Monounsaturated Fat:
3
g
|
Trans Fat:
1
g
|
Sodium:
327
mg
|
Potassium:
106
mg
|
Fiber:
3
g
|
Sugar:
20
g
|
Vitamin A:
7
IU
|
Vitamin C:
0.2
mg
|
Calcium:
158
mg
|
Iron:
2
mg
Vegan Chia Seed Maple Banana Bread.