This Vegan Chia Seed Maple Banana Bread is super moist, tasty, packed with healthy nutrients including superfoods like Chia Seeds, and 100% delicious! It takes less than 10 minutes to whip together and makes for a great healthy alternative for a little sweetness in the morning for breakfast or even for dessert after dinner. All dairy-free + vegan ingredients, entirely kid-friendly, and a gluten-free option available.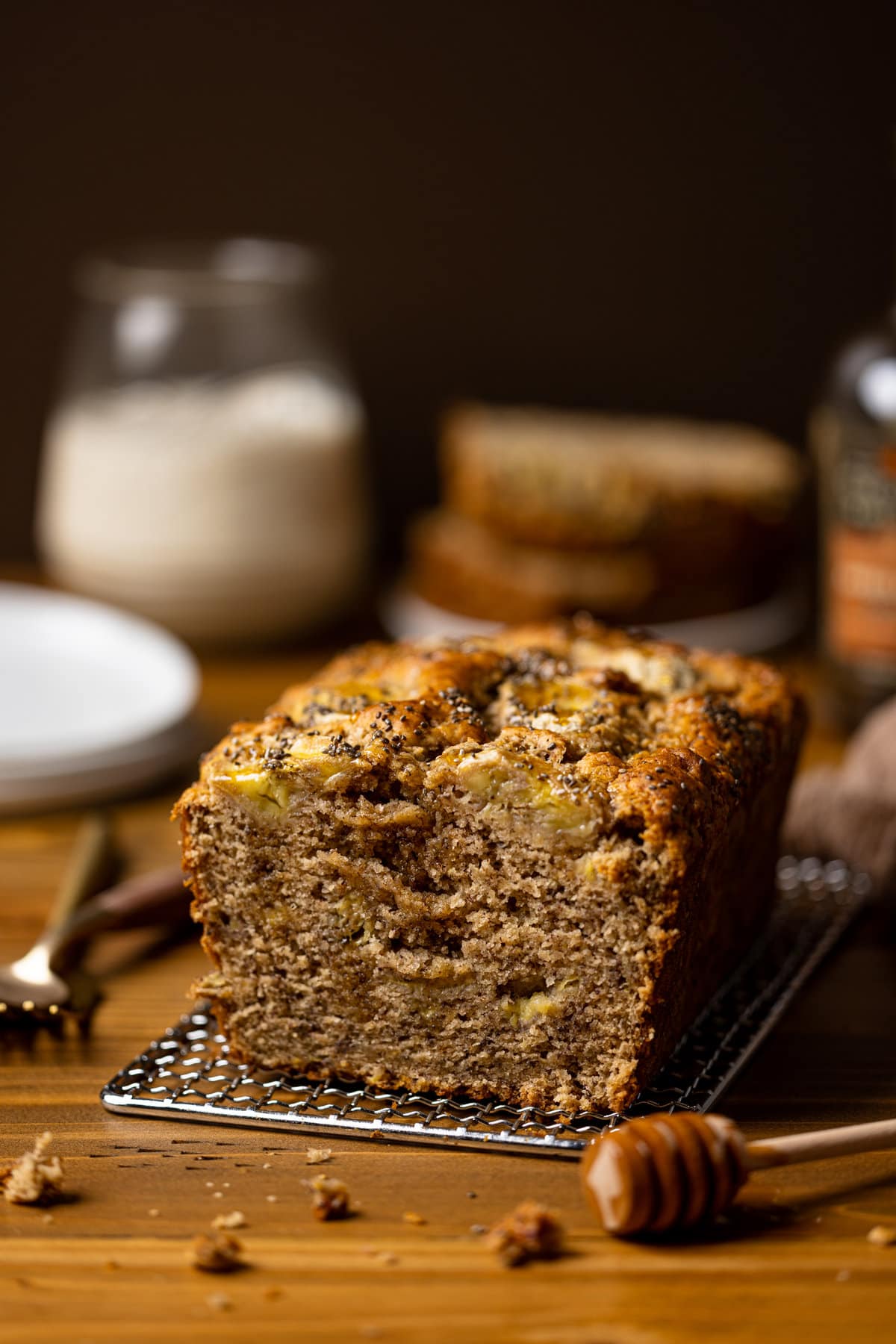 Disclaimer: This post contains affiliate links via Amazon for products that I wholeheartedly love.
I don't know about you, but I absolutely love baking any form of banana bread. My most favorite banana bread recipe has to be my Vegan Cinnamon Crunch Banana Bread, which is incredible and is topped with a crunchy pecan + walnut topping. It's a MUST! However, this recipe definitely comes in at a strong second! Granted, this isn't my first time making banana bread and it won't be my last, but I couldn't remember the last time I made a banana bread without a crunch topping. However, this Vegan Chia Seed Maple Banana Bread is definitely refreshing and actually is a strong contender although I'm obsessed with a good nutty topping. Haha.
Of course, if you're a chocolate and/or bourbon lover then I have this Vegan Chocolate Bourbon Banana Bread for you too! It's so rich and decadent all at the same time. Such a sweet treat to treat yo'self to for sure! Yes, I had to write it how I said it. Haha.
This banana bread is definitely one that you'll have on rotation in your house, especially when you have a few spotty (very ripe) bananas just lying around. Plus, I've turned this bread into muffins and it's BEYOND DLEISH! Really a nice switch up, especially when you have kids. 
What You'll Love About This Banana Bread The Most?
Easy to make.
Super delish----major banana flavor.
A great amount of sweetness, but not too much.
Incredibly soft, tender, and fluffy in texture!
Fun baking activity for entire family.
Is entirely dairy-free, vegan, and has a great gluten-free option.
Did I mention the best thing to eat for breakfast, as a snack, or dessert? Yes!!
Tips When Baking Banana Bread
I know that many people have trouble with the amount of time needed to bake banana bread or have it fully cook through. Since the batter is pretty thick, it can be a bit tricky to ensure that the middle is fully solid and cooked through. 
However, after a bit of trial and error with many types of breads, I've found that the following tricks have be full proofed in baking my bananas breads perfectly:
Ensure that your batter is the "right" consistency. You want the batter to be "scoopable" which means that it's thick but also easily stirred versus really "liquidy" or super thick where it's hard to manage.
Midway through the baking time, poke small holes (using a toothpick or cake tester) around the tops of the bread to allow for the heat to penetrate through more easily and cook everything evenly. NOTE: I do this twice. Once halfway through the baking time and the second time in the last 10-15 minutes.
Place your bread at the top rack so that it browns but doesn't burn since it's in the oven for at least 1 hour.
Ensuring that your leaveners are fresh plays a role in the texture while your bread bakes, which also helps it to bake through more easily.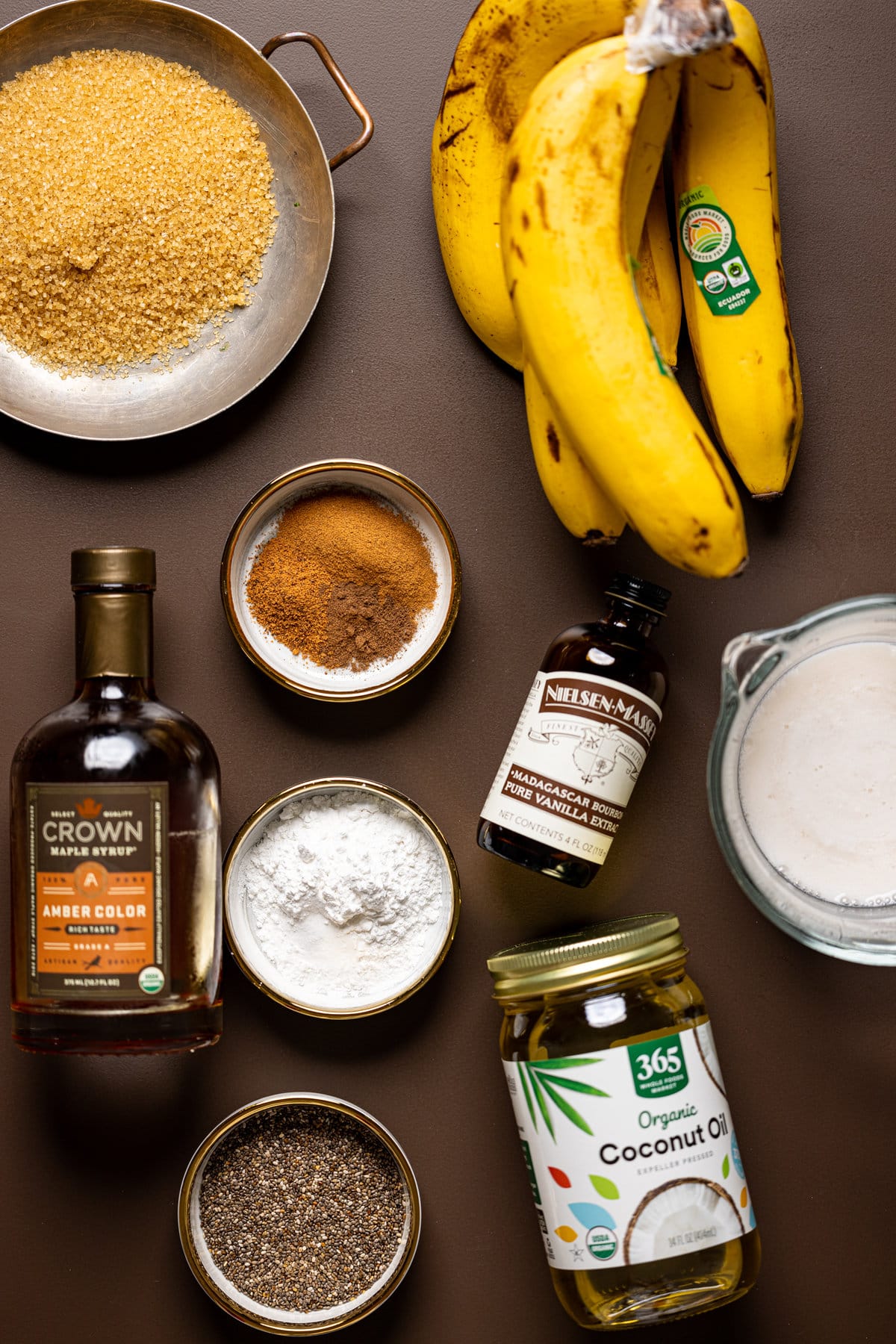 How To Best Mash Bananas
When it comes to mashing bananas, you might assume that there's no best way to do it but there is! Mashed bananas are perfect and versatile for all kinds of foods like pancakes (these Healthy Banana Bread Pancakes are AMAZING), waffles (Flourless Vegan Banana Oats Waffles--YUM), muffins, breads, donuts, cinnamon rolls (These Banana Bread Cinnamon Rolls are super fluffy)---you name it. Therefore, understanding how to best mash bananas is so important for the perfect texture and bake. Here are a few great ways to do so:
Use a fork and add your bananas to a bowl, mashing them until "puree-like" (with chunks visible).
Mash bananas on a cutting board which makes for an easier and faster way.
Use a potato masher or pastry blender to mash effectively.
Add bananas to a food processor and process until full broken down.
How to Make Chia Seed Maple Banana Bread
This is a simple recipe to make. And chances are you probably already have the ingredients on hand. Here's what you need to know about the ingredients for vegan chia seed maple banana bread.
INGREDIENT NOTES
Bananas. You'll want to use really ripe bananas for the densest, sweetest flavor. 
All-purpose flour. I like Bob's Red Mill or King Arthur's organic flour, which is certified vegan. You can also do half all-purpose and half bread flour for a more "bread-like" texture.
Baking powder and baking soda. These are leaveners. Make sure that they're fresh.
Brown sugar. Again, choose organic to make sure it's vegan.
Almond milk. You can use any plant-based milk, including a nut-free option like oat or soy milk. 
Apple cider vinegar. My trick is to combine vegan milk with some ACV to make vegan "buttermilk." It's tangy and acidic, which helps the baking soda rise. You can also use white vinegar. 
Coconut oil. I like to bake with melted coconut oil, however, you can sub with melted vegan butter, avocado oil, or olive oil.
Maple syrup. You can also use agave, but I love the warming flavor of maple in this banana bread. 
Vanilla. Adds great flavor to bread.
Chia seeds. I love using chia seeds from organic brands like Whole Foods or Navitas Organics. It's such a rich superfood. 
Spices. I love adding spices to the mix for an amplified banana flavor. You'll need cinnamon, nutmeg, and allspice.
Can I Use Another Plant-Based Milk for Vegan Chia Seed Maple Banana Bread?
Yes, you can use any dairy-free milk you like to make this vegan banana bread. Here are some easy recipes to make your own milk that's cheaper and so easy!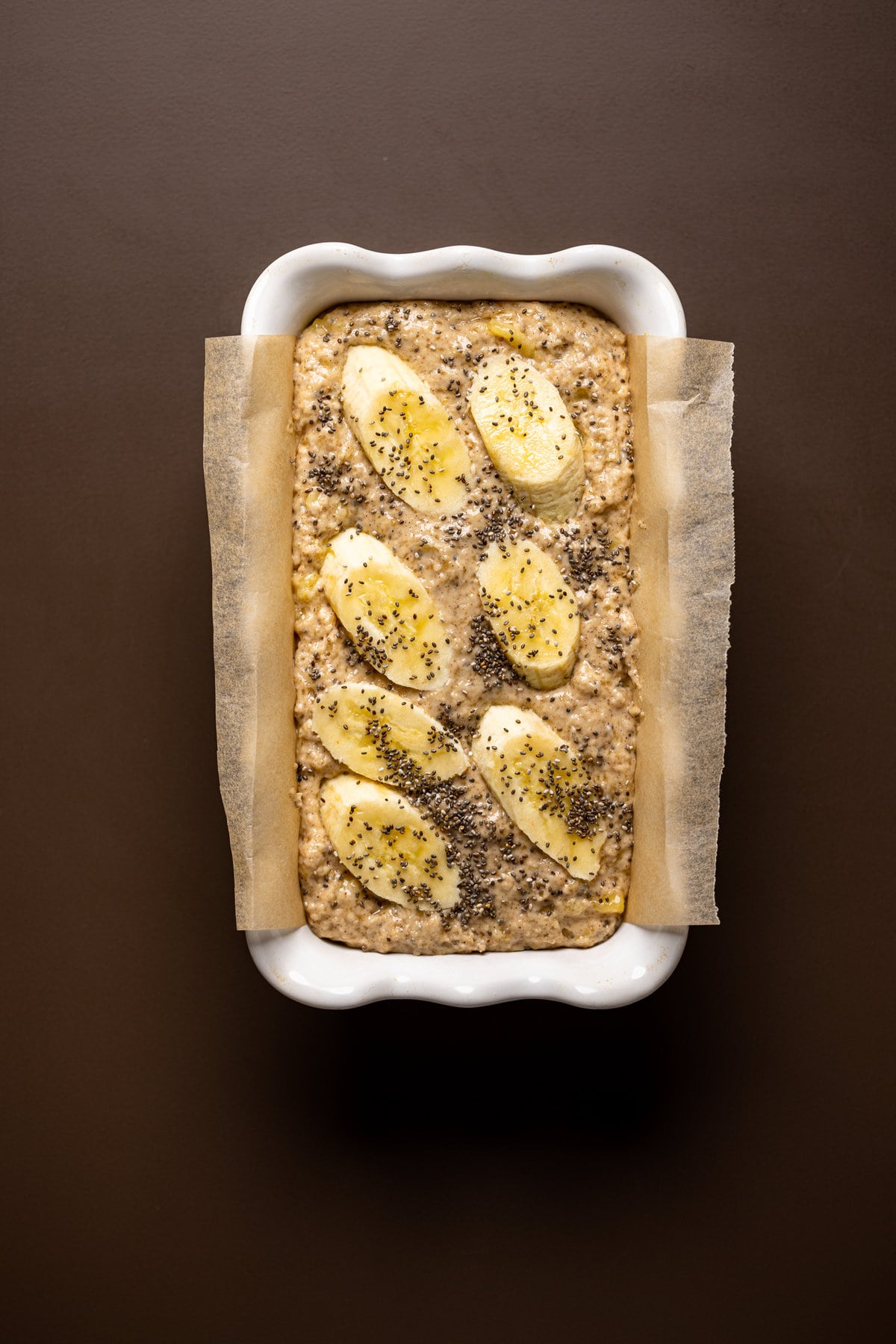 How Ripe Should Bananas be for Banana Bread?
When it comes to making banana bread, the level of ripeness of your bananas matter. I've made my banana bread with both types of bananas and to be honest, the VERY ripe bananas have made the BEST banana breads. 
Very ripe bananas make for a sweeter and more moist bread and the mashing is also a lot easier. 
Can I Use Frozen Bananas?
Absolutely! You can always use frozen bananas in your Vegan Chia Seed Maple Banana Bread, however, you'll need to thaw them out at room temperature and then drain off any excess liquid before mashing them and adding them to the mix. 
How to Know If Your Baking Powder + Baking Soda are Fresh
Baking is such a science, but more importantly because certain ingredients like your leaveners (aka baking powder + baking soda) are completely fresh so that your banana bread (and other baked goods) fully rise and bake through nicely.
Incase you weren't aware, there's an easy to double check both the baking powder and baking soda. Here's what you need:
BAKING SODA HACK:
-Add 1 teaspoon baking soda with ¼ cup vinegar or lemon juice in a bowl and if it's fresh, the mixture should "bubble/fizz". If no bubble/fizz is present, then your baking soda needs to be replaced.
BAKING POWDER:

 
-Add 1 teaspoon baking powder with ¼ cup Hot tap water in a bowl and if it's fresh, the mixture should "bubble/fizz". If no bubble/fizz is present, then your baking powder needs to be replaced.
Health Benefits of Bananas
Believe it or not, Bananas not only taste great but they provide essential nutrients in our daily diet. In addition, Bananas hold a fair amount of fiber, several antioxidants, while just ONE banana contains about 105 calories, and contains mostly water and carbs.
Other Benefits:
Potassium
Vitamin B6
Vitamin C
Magnesium
Copper
Manganese
Protein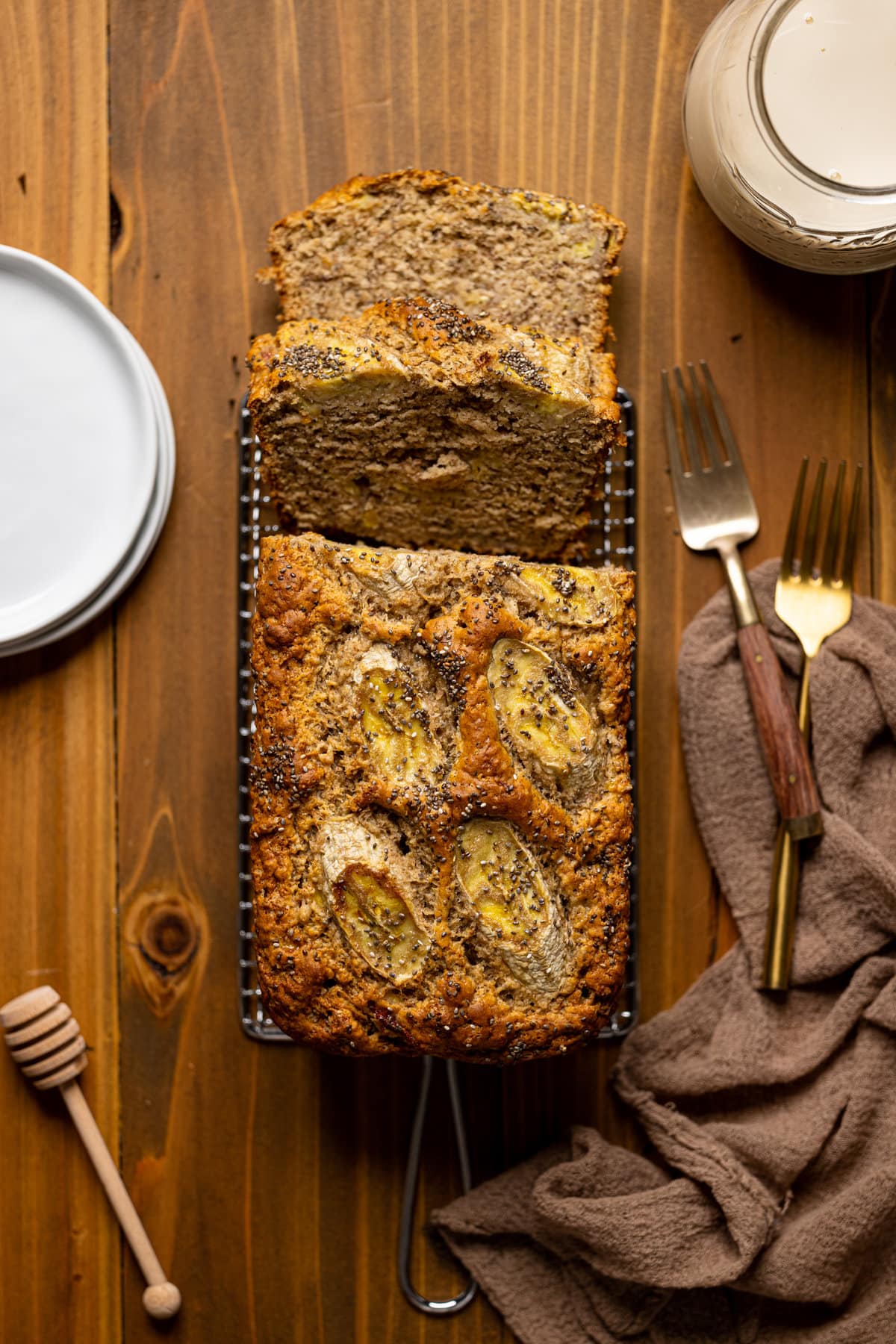 How to Ripen Bananas for Banana Bread
Have you ever had bananas that weren't fully ripe, but you were dying to make a banana bread? Well, I totally understand. I've definitely been there. Luckily, I've come across a few hacks to help you ripen your bananas if you're in a pinch and here's what you can do:
Keep the banana bunches together to avoid the ripening process from stalling. 
Store your bananas in a warm place like near a heater or atop your refrigerator. This helps them to ripen faster.
Using a paper bag, add your bananas inside and fold it over to close it. The gases from inside the bag once shut tight will ripen the bananas within 24-36 hours.
If you're looking to ripe your bananas more quickly for baking purposes then you can do one of the following:
Oven Method: Preheat the oven at 300 degrees Fahrenheit and place bananas (with peels on) unto a baking sheet and let them bake for 15-20 minutes or until skins are black. The bananas at this point should be soft and sweet.
Microwave Method: Poke holes into the peel bananas (all around) and microwave for 30 seconds at a time until the bananas are soft enough. 
Why Chia Seeds Anyway?
OK, so did you know that Chia Seeds are considered a superfood? Yup. It is. For those of you who are wondering what a superfood is anyway----whelp, it's pretty simple. Superfoods are nutrient-rich foods that are considered to be especially beneficial to one's health and well-being.
While there isn't just one type of food that can fight away any one disease, etc.; having an array of good foods (including superfoods) and a well-balanced diet is the key to overall good health.
When it comes to Chia Seeds, this type of food falls under the 'Nuts and Seeds' category of superfoods. They are generally rich in fiber, vegetarian protein, and heart-healthy fats. Research has indicated that eating nuts and seeds helps to protect us against heart disease.
While some nuts and seeds are dense in calories, Chia Seeds have very few calories which often makes it a great option when adding it to meals and drinks.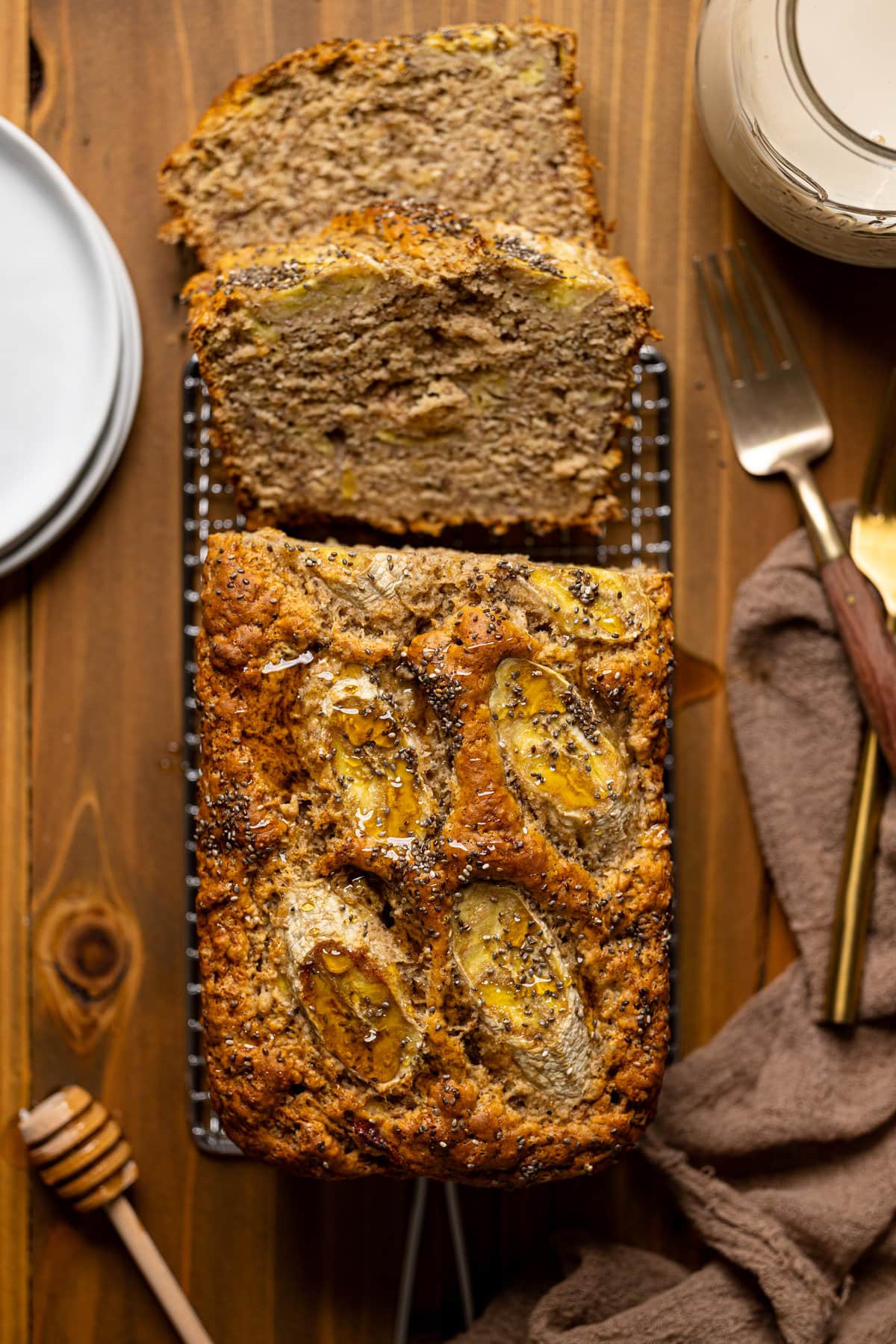 Can I Make Gluten-Free Chia Seed Maple Banana Bread?
Usually when turning my breads into gluten-free bread, I simply swap regular all-purpose flour for the gluten-free all-purpose flour or 1-to-1 baking flour from Bob's Red Mill. I recommend using a GF Flour Blend (Bob's Red Mills has a great version!) for greater ease. However, if using only GF All-purpose flour, be sure to add Xanthan Gum so that it acts as regular flour would.
Also, when making this Healthy Banana Bread gluten-free, I had success with the following adjustments:
Reducing the use of bananas to only 3 instead of 4.
Reducing Agave to ⅓ cup instead.
Using only 2 Tablespoons of a healthier oil like canola instead of melted vegan butter.
Everything else remains the same throughout the recipe.
How to Store and Freeze Banana Bread
Refrigerate leftover bread by tightly wrapping it in foil paper or keeping it fully covered in a cake stand—lasts up to a week. Can also be stored at room temperature for up to 2 days. You can freeze leftovers by wrapping the whole loaf in aluminum foil. Store it in a zip-top bag. Squeeze as much air out as you can without smooshing the bread.
My Fave Vegan Baking Recipes
MADE OUR RECIPE(S)?
If you make this Vegan Chia Seeds Maple Banana Bread, tag @orchidsnsweettea_ on Instagram and hashtag it #orchidsandsweettea!
Total Time:
1

hour
15

minutes
BREAD:
4

very ripe

Bananas, mashed

2

cups

organic All-Purpose Flour

(You can also use 1 cup all-purpose + 1 cup bread flour for a 'bread-like" texture)

½

cup

organic brown sugar

2

tsps

baking powder

½

teaspoon

baking soda

¼

cup

chia seeds

2

tsps

ground cinnamon

1

teaspoon

ground nutmeg

¼

teaspoon

ground allspice

¼

teaspoon

sea salt

¾

cup

Almond milk, unsweetened

(You can use your favorite plant-based milk!)

1

tablespoon

apple cider vinegar

(You can also use lemon juice)

1

teaspoon

vanilla extract

¼

cup

melted coconut oil

(See Notes!)

¼

cup

pure maple syrup

(See Notes!)
TO MAKE THE VEGAN BUTTERMILK:
In a measuring cup or bowl, add the milk and apple cider vinegar, whisking together to combine. Let it sit for 5-10 minutes until it slightly thickens and "activates".
TO MAKE THE BREAD:
Preheat your oven to 375 degrees Fahrenheit and lightly grease it using vegan butter or coconut oil and line with parchment paper, leaving a hanging over on the sides for an easy "pull-out".

In a large bowl, combine the mashed bananas, coconut oil, brown sugar, maple syrup, vanilla, chia seeds, and Almond milk-AVC mixture, whisking them together until combined.

Next, add in the flour, baking powder, baking soda, cinnamon, nutmeg, allspice, and sea salt into the wet ingredients, stirring with a wooden spoon or spatula until just combined. NOTE: DO NOT OVER-MIX!

Pour/scoop the batter into the prepared loaf pan and evenly spread it out.
TOP THE BREAD:
Add the sliced bananas atop the bread batter, lining them side by side until the top is fully covered. Add sprinkles of chia seeds atop everything.

Bake for 55-60 minutes, or until a toothpick or knife that is inserted in the middle comes out clean. NOTE: Midway, I like to poke VERY SMALL holes all over the bread to allow heat to penetrate through and to ensure it cooks through so that the centers aren't uncooked.

Once done, remove bread from oven and let it cool for 25-30 minutes before gently removing it from loaf pan to cool completely.

Once cooled, slice, drizzle with a bit of maple syrup (if desired), and enjoy!

Bon Appetit!
STORAGE: Refrigerate leftover bread by tightly wrapping it in foil paper or keeping it fully covered in a cake stand—lasts up to a week. Can also be stored at room temperature for up to 2 days. You can freeze leftovers by wrapping the whole loaf in aluminum foil. Store it in a zip-top bag. Squeeze as much air out as you can without smooshing the bread.
SWEETENER: If you choose to opt out of maple syrup, you can always substitute with Date syrup, organic cane sugar,  or organic brown sugar as well.
GLUTEN-FREE OPTION: SEE RECIPE POST FOR GREATER DETAILS FOR MAKING THIS BREAD GF!
OIL: Instead of coconut oil, you can also use melted vegan butter, avocado oil, or olive oil, if preferred.
WHAT PLANT-BASED MILKS ARE GOOD FOR THIS RECIPE? You can always use your fave plant-based store-bought milk or one of the following: Almond, coconut milk, homemade oat milk, homemade cashew milk, flax milk, potato milk, quinoa milk, etc.
Calories:
285
kcal
|
Carbohydrates:
48
g
|
Protein:
4
g
|
Fat:
9
g
|
Saturated Fat:
6
g
|
Polyunsaturated Fat:
2
g
|
Monounsaturated Fat:
1
g
|
Trans Fat:
0.01
g
|
Sodium:
284
mg
|
Potassium:
104
mg
|
Fiber:
3
g
|
Sugar:
20
g
|
Vitamin A:
6
IU
|
Vitamin C:
0.2
mg
|
Calcium:
154
mg
|
Iron:
2
mg
Vegan Chia Seed Maple Banana Bread.