These Flourless Vegan Banana Oats Waffles are the best, easiest gluten-free waffles for the entire family. Made right in a blender, these waffles are naturally sweetened, fluffy, thick, airy, and bursting with banana, spices, + oat flavors. The perfect breakfast or brunch dish with the perfect taste for your mornings!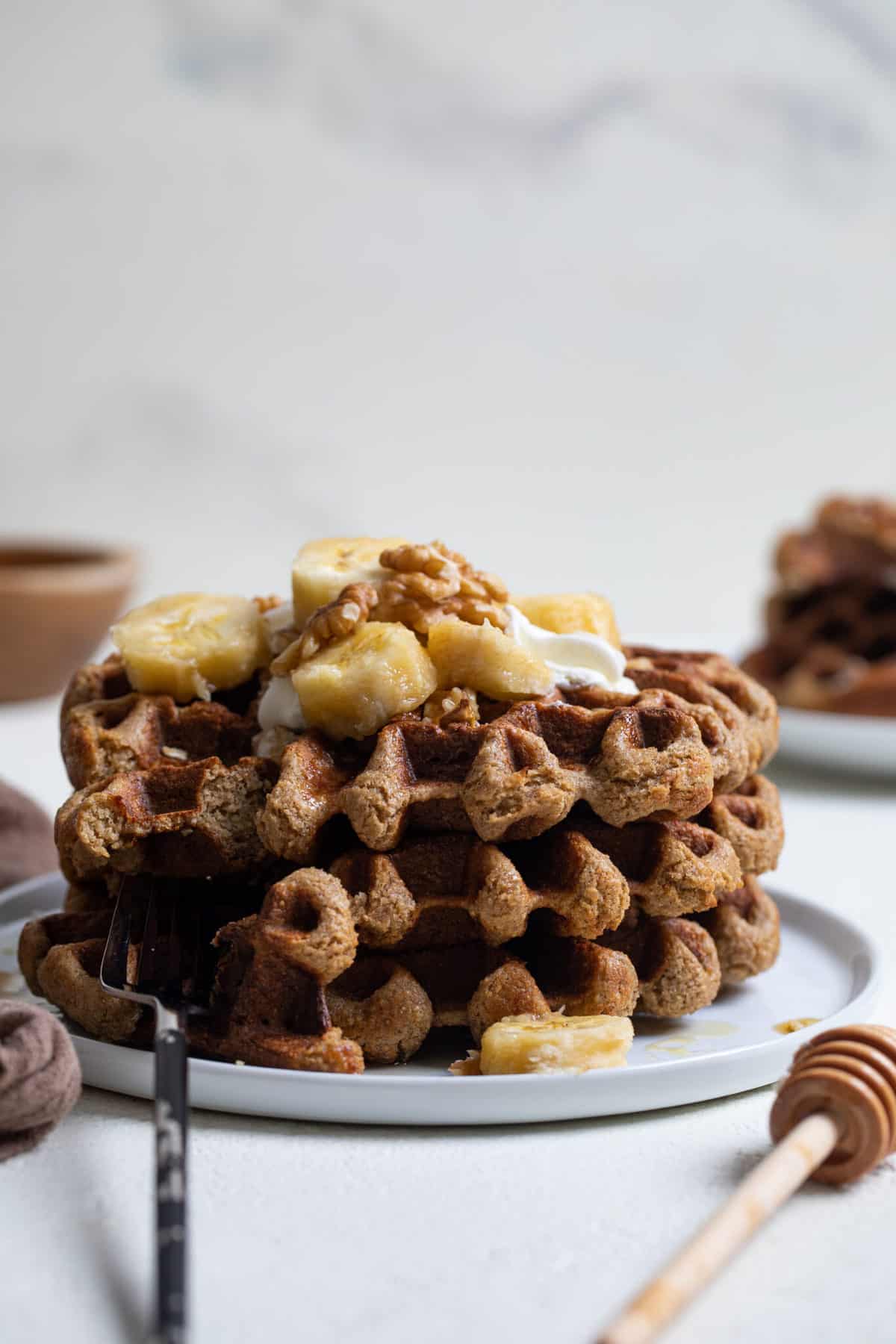 Flourless Vegan Banana Oats Waffles-----Apparently it's International Waffle Day today as well as Pecan Day! Therefore, I figured that this waffle recipe fit perfectly for both things, don't you agree?
In all honesty, this recipe is the beginning of something new for Orchids + Sweet Tea. OK, I know what you're thinking---how so, right? Well, for one--I've made it more of personal a mission to dabble into a lot more GF (Gluten-Free) recipes as well as recipes that use different methods like this one----made right in a blender.
Secondly, I've been doing a ton of reflecting and have come to the conclusion that I'm going to start incorporating my love for Interior Design in my food photos and in an artistic way, hence the new direction that I took throughout the photos of these waffles.
So, going forward, you'll begin to see a lot more variety when it comes to flavors, styles, etc.
But of course, my motto of turning your faves into healthier options doesn't change at all--and neither does the 'goodness' factor when it comes to your taste buds being satisfied. Haha.
You with me? OK, good.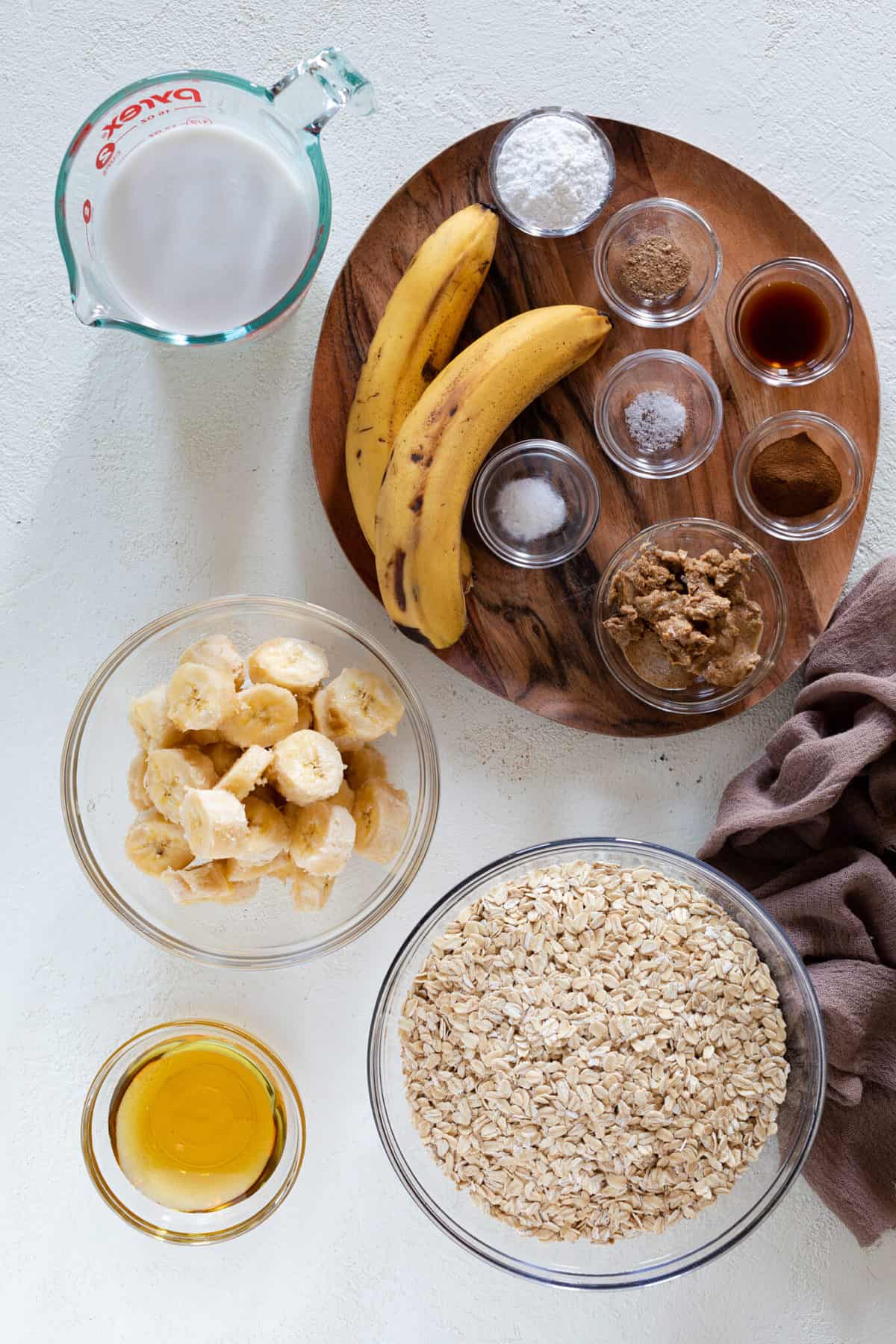 Why Banana + Oats Waffles?
OK, so I know that you might be asking, why did I chose this combo anyway? To be honest, I LOVE banana anything for the most part and while I'm a die hard fan of waffles, sometimes, you just need something super easy, quick, and filling.
As we know, both bananas and oats have a variety of nutrients, therefore, creating a jam-packed breakfast dish only made sense.
These banana oat waffles are absolutely perfection! Super soft, fluffy, thick, and full of warm, comforting flavors! Definitely satisfaction with every bite.
BENEFITS OF BANANA?!
Whelp, did you know that Bananas are the most consumed fruit in the world? Yup. That's right. We all eat them. And we eat them A LOT! But, the most important part of it all is that Bananas come with great health benefits.
They are high in Potassium and Fiber. They help to prevent against asthma, cancer, high blood pressure, diabetes, heart disease, and more.
When it comes to digestive issues, bananas, like apple sauce are often the go-to for treating certain upsets, including diarrhea. It's actually apart of the BRAT diet.
Lastly, Bananas actually contain a type of amino acid that that plays a role in preserving memory and boosting your mood, according to specific studies. That's right. Bananas are well rounded in their benefits for our health.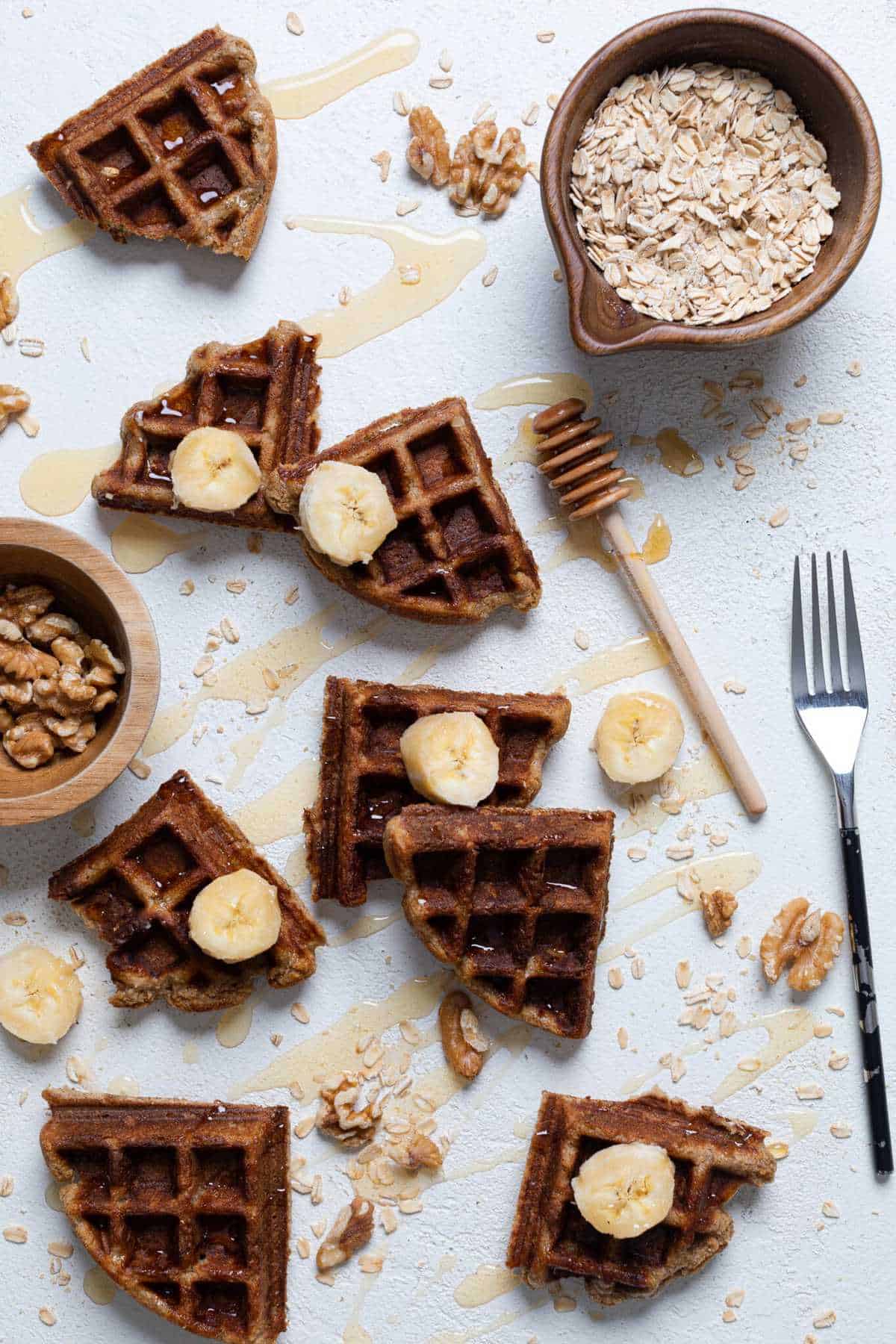 What You'll Need For This Recipe?
Oats – Creates a nice airy, fluffiness to waffles. Great flour alternative for GF (GF Rolled Oats)
Banana – Works as a great binder. Essence of flavor in these waffles
Almond Milk – Makes things nice + soft; Sub with your fave plant-based milk
Agave – A natural sweetener. Can be substituted with maple syrup as well
Vanilla – Adds nice hint of vanilla flavor to amplify bananas
Almond Butter – A great binder also. Adds nice nutty flavor. Can be substituted with peanut butter
Spices – Brings all flavors together nicely. Creates a warm, comforting feel: cinnamon, nutmeg, allspice
Baking Powder + Baking Soda – Great leaveners for waffles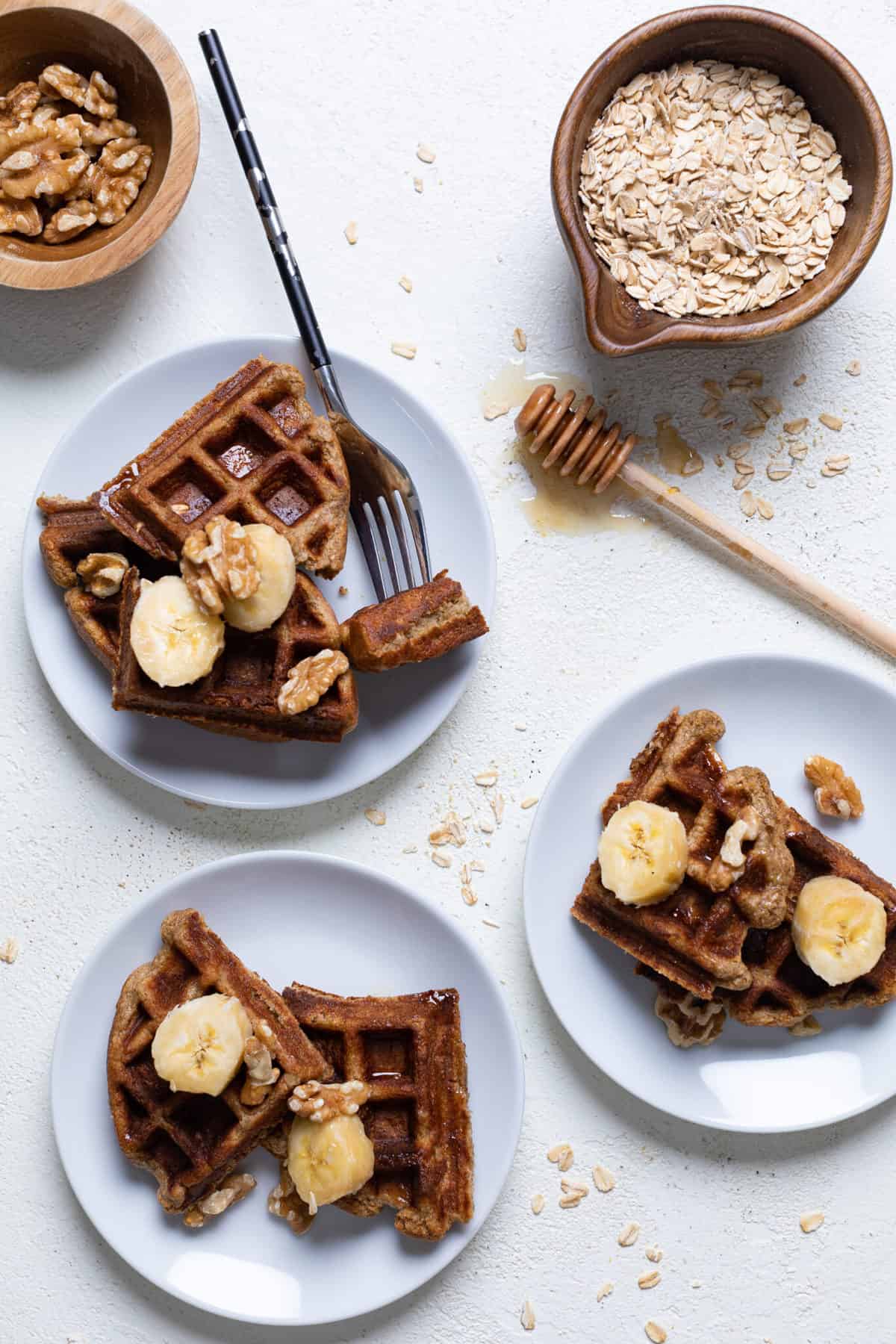 WHAT YOU'LL LOVE MOST ABOUT THIS RECIPE?
Super easy to make.
Totally dairy-free, vegan + GF!
Whipped together in under 25 minutes—TOTAL!
Sweetness is adjustable based on tastebud preferences.
Everything made in a BLENDER. Yup. How can it get any easier?
Did I mention that—THIS RECIPE IS AMAZING?!
My Top Waffle Faves!
These Vegan Pumpkin Spice Waffles are THE BEST! They come fluffy, thick, airy, and is jam-packed with delicious Fall season warmth—–think pumpkin + pumpkin spices.
These Flourless Vegan Sweet Potato Oats Waffles are the best easiest gluten-free waffles for the entire family. Made right in a blender, these waffles are naturally sweetened, fluffy, thick, airy, and full of sweet potato + oat flavors.
These Raspberry Pecan Vegan Waffles are light, fluffy, easy to make, and full of crunchiness from the roasted pecans that are tucked away inside. A great balance of salt, sweet, and tartness.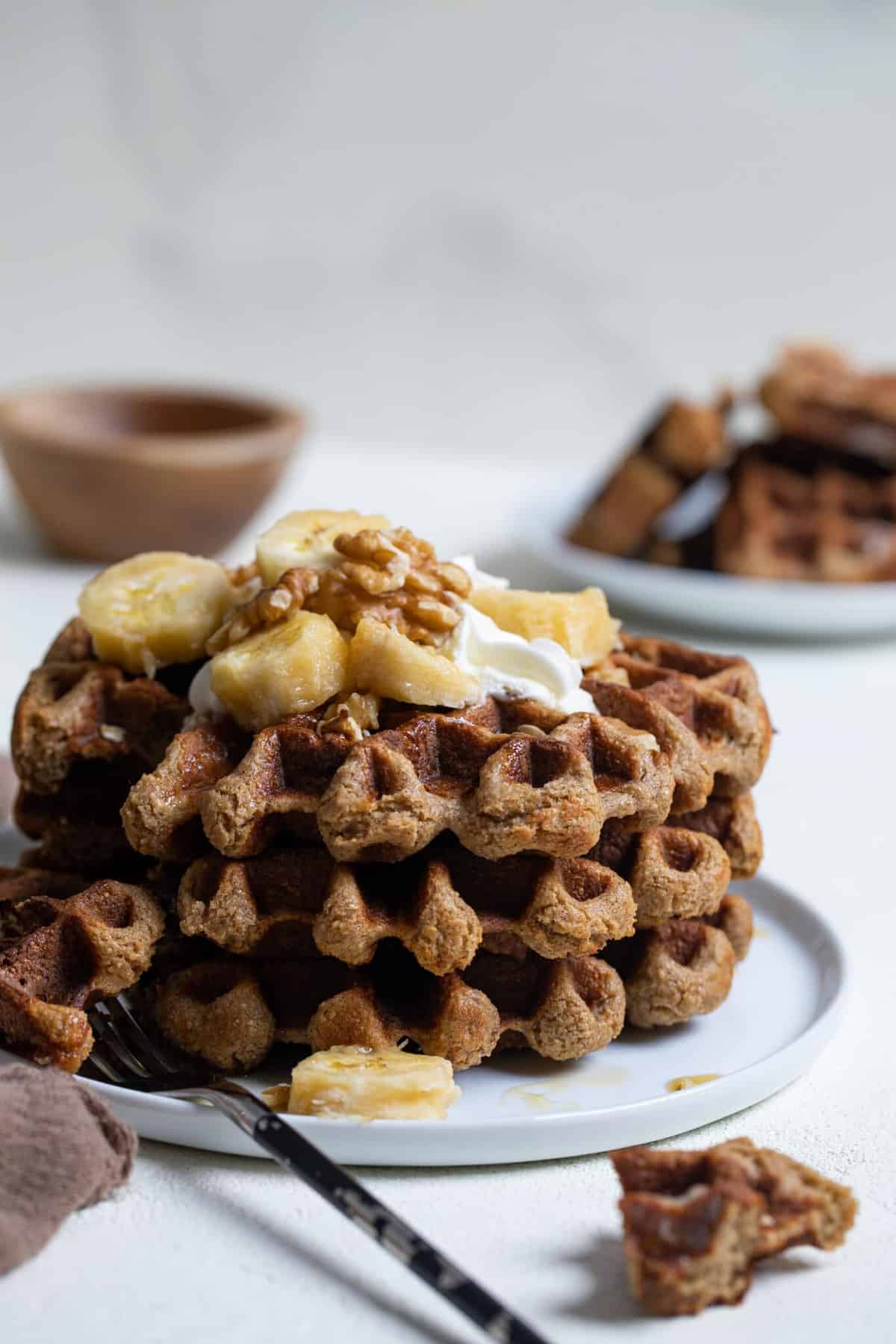 Wet Ingredients:
2

Medium

Bananas, peeled + mashed

(That's about 1-½ cups!)

1 ½

cups

Almond milk + 1 tablespoon Apple Cider Vinegar

(You can use your fave plant-based milk!)

2

tsps

vanilla extract

3-4

Tbsps

Agave

(Add an additional tablespoon if more sweetness is needed!)

2

Tbsps

Almond butter

(I use Justin's)
Dry Ingredients:
4

cups

Gluten-free Rolled Oats

(I use Bob's Red Mill)

2

tsps

baking powder

1

teaspoon

baking soda

2

Tbsps

ground cinnamon

1

teaspoon

ground nutmeg

pinch of

all spice

½

teaspoon

sea salt
Preheat your waffle maker to desired setting––medium-high heat worked for me!

In a measuring cup or small bowl, add the Almond milk and apple cider vinegar, whisking them together and letting it sit for 5 minutes or so.

Now, add the ingredients to your blender, ensuring that all WET INGREDIENTS (including milk-apple cider vinegar mixture) are placed on the BOTTOM and then the DRY INGREDIENTS on TOP. NOTE: Putting the ingredients in this order allows everything to blend well and become nice and smooth.

Blend on high speed using a high-powered blender for a few seconds (15-20 to be exact!) until batter is smooth.

Next, spoon batter into your waffle maker (¼ cup approximately) and cook according to your waffle iron's instructions.

Once each waffle completes, add to a baking sheet and place them in the oven on the lowest setting (to keep them warm). Repeat until all waffles are made.

To serve–stack waffles (whole or cut), top with sliced bananas, toasted pecans, and drizzle with maple syrup.

Bon Appetit!
STORAGE: Leftovers can be tightly sealed in a zip loc bag (once fully cooled) and either refrigerated for a few days or frozen.To serve, reheat waffles in the oven on 400 degrees for a few minutes until warmed through.
FREEZE WAFFLES: To store waffles for longer periods, simply add them unto a baking sheet lined with parchment paper and place in the freezer for 2 hours. Once fully frozen, remove and store them in a zip loc and freeze for up to 3 months.
NUT BUTTER OPTIONS: You can use Peanut Butter or Pecan Butter instead of Almond Butter if desired. Any smooth nut butter works as long as it's Vegan-approved!
OATS: Ensure that your oats are certified GF (Gluten-Free). I used Thick Rolled Oats, but you can also use Old Fashion if preferred.
MILK: You can use any non-dairy milk for this recipe. I love using Califia Farm's Oats + Roasted Almonds Milk, however, you can use Soy, regular Almond, Macadamia, Coconut, etc.
PECANS: In addition to using toasted pecans for topping, you can also incorporate it into your waffles if preferred. Simply add ½ cup toasted pecans in with other dry ingredients and continue remaining steps in recipe. See Recipe for Toasting Pecans.
REGULAR WAFFLES: For standard waffles (Non-Belgian style), this recipe will make more than 6 waffles. 
 
 
Calories:
344
kcal
|
Carbohydrates:
62
g
|
Protein:
9
g
|
Fat:
8
g
|
Saturated Fat:
1
g
|
Polyunsaturated Fat:
2
g
|
Monounsaturated Fat:
3
g
|
Sodium:
604
mg
|
Potassium:
462
mg
|
Fiber:
9
g
|
Sugar:
15
g
|
Vitamin A:
46
IU
|
Vitamin C:
7
mg
|
Calcium:
231
mg
|
Iron:
3
mg
Flourless Vegan Banana Oats Waffles.