This Peanut Butter Chia Seed Overnight Oats recipe is the perfect healthy meal to kick start your day or meal prep for the week ahead. These Oats boasts it's creaminess, thickness from the thickly cut oatmeal and chia seeds used, and generous nutty flavor from the delicious peanut butter; which all create quite the experience in just one bowl. A win for the entire family. All vegan and Gluten-Free.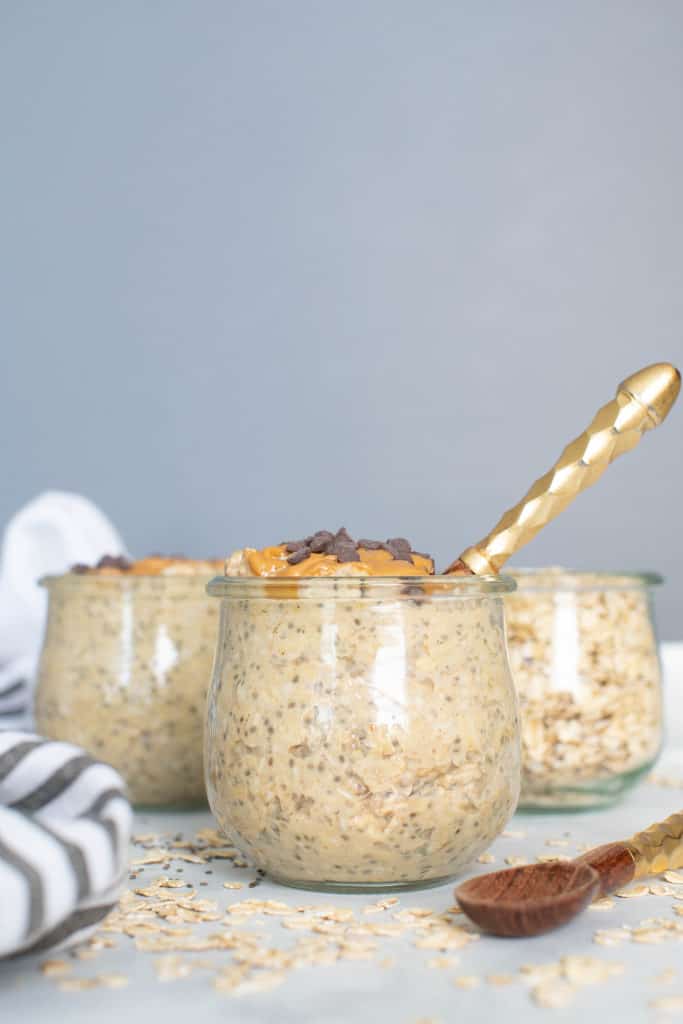 It's been such a busy two weeks and I couldn't ask for a better early morning fix than with this easy, simple overnight oats recipe. Honestly, overnight oats are the best for those busy or lazy days AND they make the perfect meal prep meal for the entire family. Oh and did I mention that these are awesome for post-workouts!
Yup. These overnight oats have a great amount of protein needed for those muscles right after!
If you've been an avid reader of Orchids + Sweet Tea, then you've probably already fell in love with our Banana Peanut Butter Overnight Oats recipe. All vegan and Gluten-Free.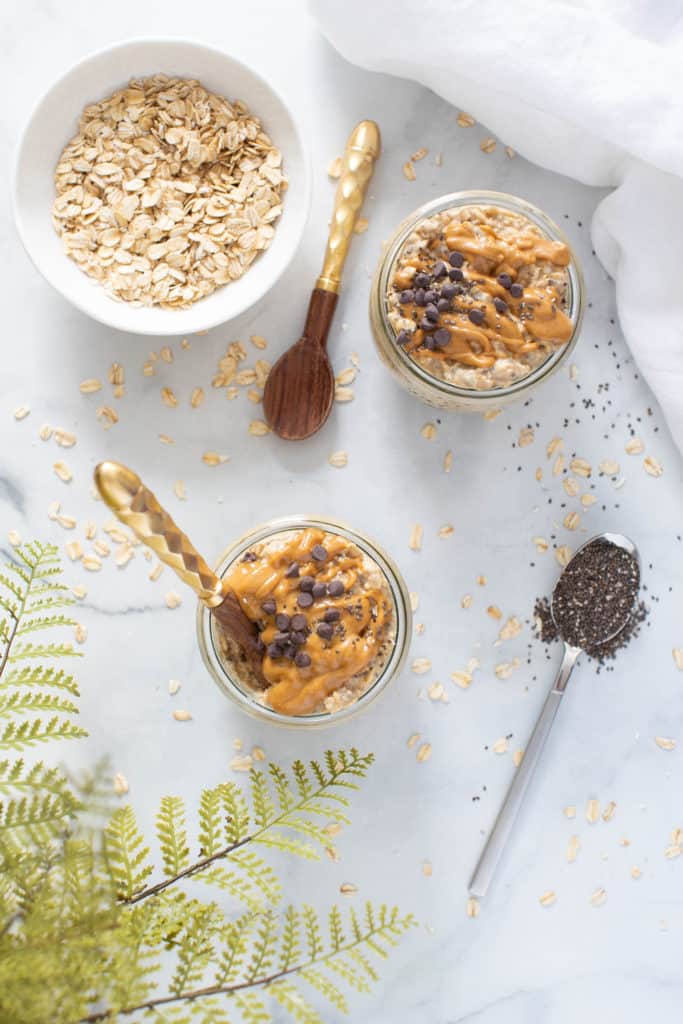 Of course, we do have a delicious Easy Make Ahead Chai Latte Chia Pudding recipe, which seems to be the perfect contender for these overnight oats.
Either way, your taste buds will thank you and the time that you save will thank you even more! Haha.
OK, so if you're a lover of oatmeal, then I'd recommend heading over to our Breakfast Peanut Butter Banana Chia Seeds Oats, which is such an easy recipe to whip together.
On the other hand, one of our most loved oatmeal recipes are these Flourless Vegan Banana Oats Waffles! Made right in a blender, these Gluten-Free waffles are naturally sweetened, fluffy, thick, airy, and full of flavor. The perfect breakfast or brunch dish with the perfect taste for your mornings!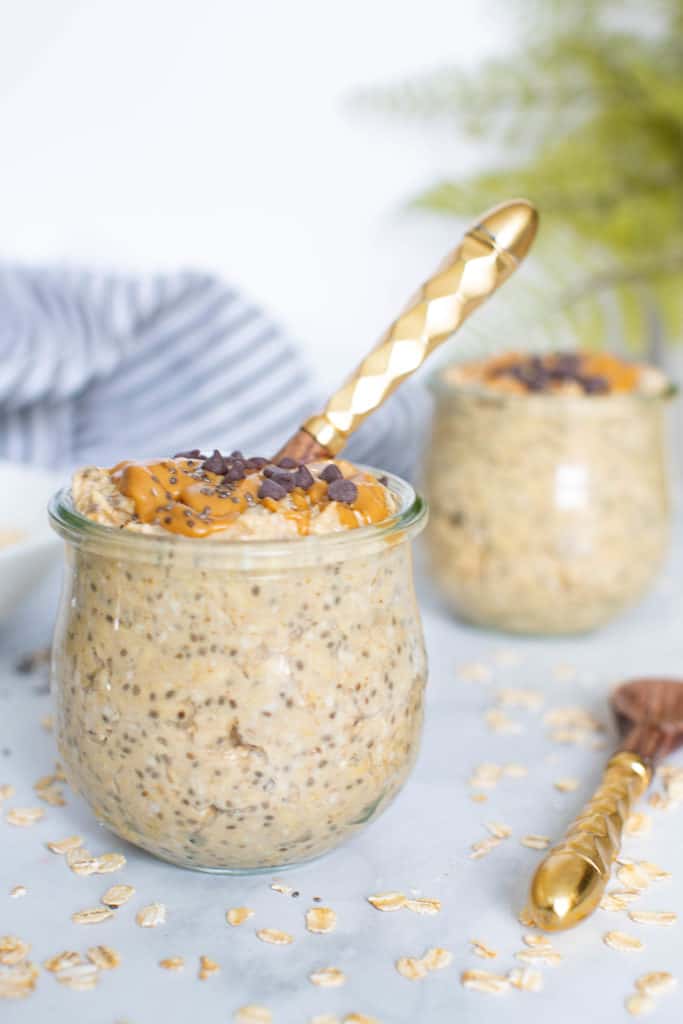 BENEFITS OF OATS!?
If you aren't familiar, oats are super nutritious! They include a great source of carbs, fiber (the soluble kind!), protein, and fat. In addition, they are loaded with important vitamins, minerals, and antioxidant.
Other great benefits:
They can help to lower cholesterol.
Improves Blood Sugar levels.
May help with losing weight.
Great alternative for skincare.
Helps to relieve constipation.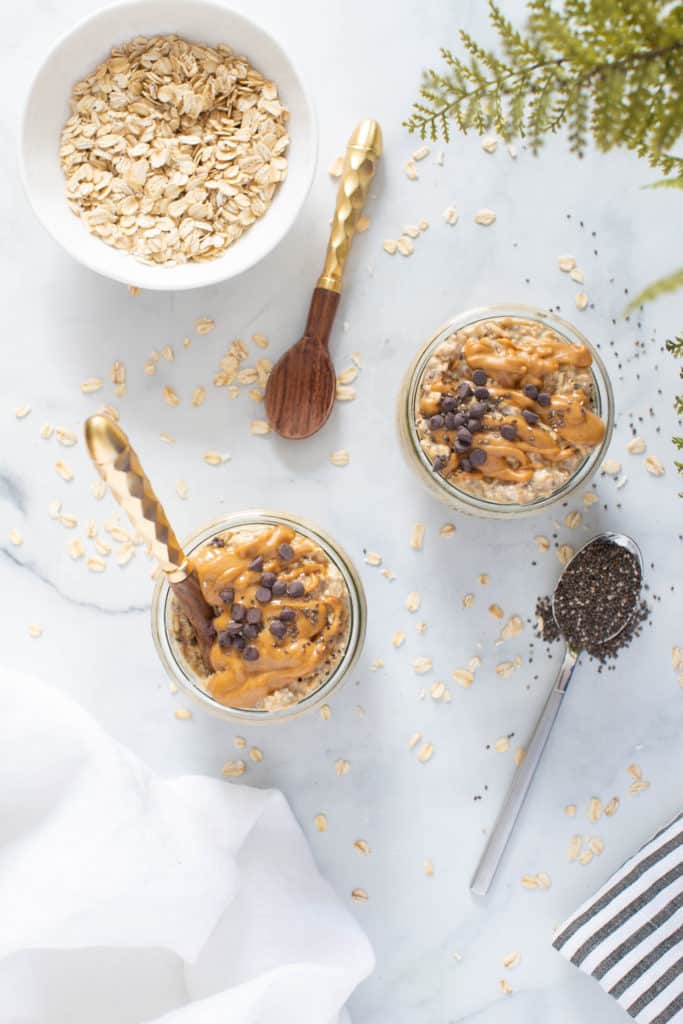 LOOKING FOR A HEALTHIER SWEETENER OPTION?
The Best Healthy Sugar Alternatives + Substitutes list is all about finding better ways to enjoy your favorite sweets without compromising your healthy lifestyle. For those who follow a vegetarian and/or vegan lifestyle, this lists offers a few great ideas to incorporate healthy sweeteners into your diet.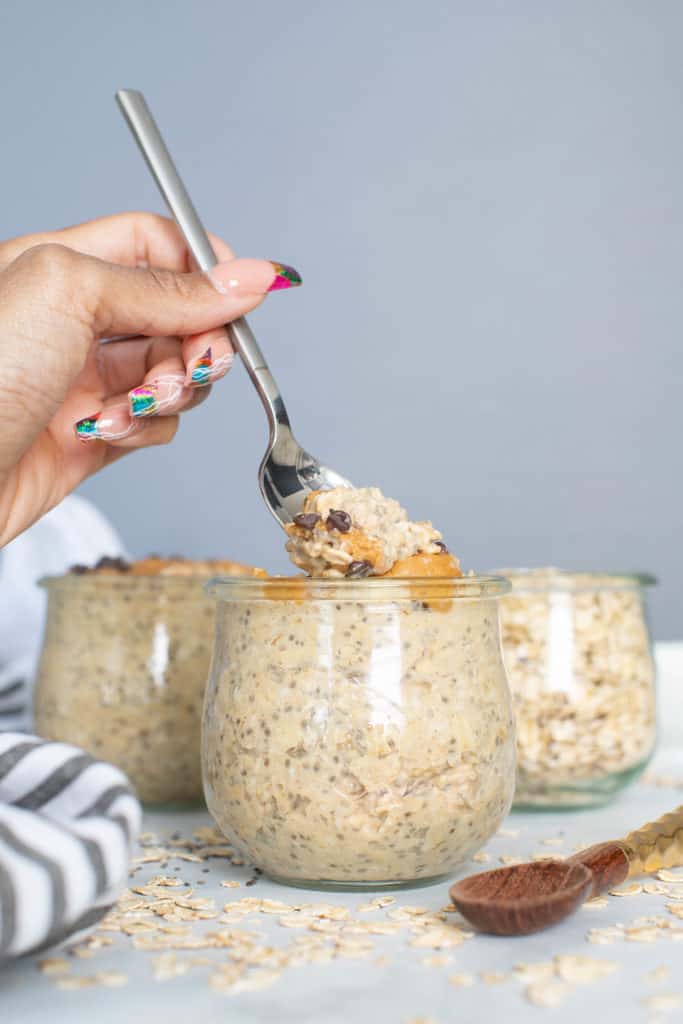 WHAT DID I USE IN THIS OVERNIGHT OATS RECIPE?
Gluten-free Oats
Chia Seeds
Agave Syrup
Almond Milk
Peanut Butter (w/ Flaxseed Meal)
Vanilla
Pinch of Cinnamon
Sea Salt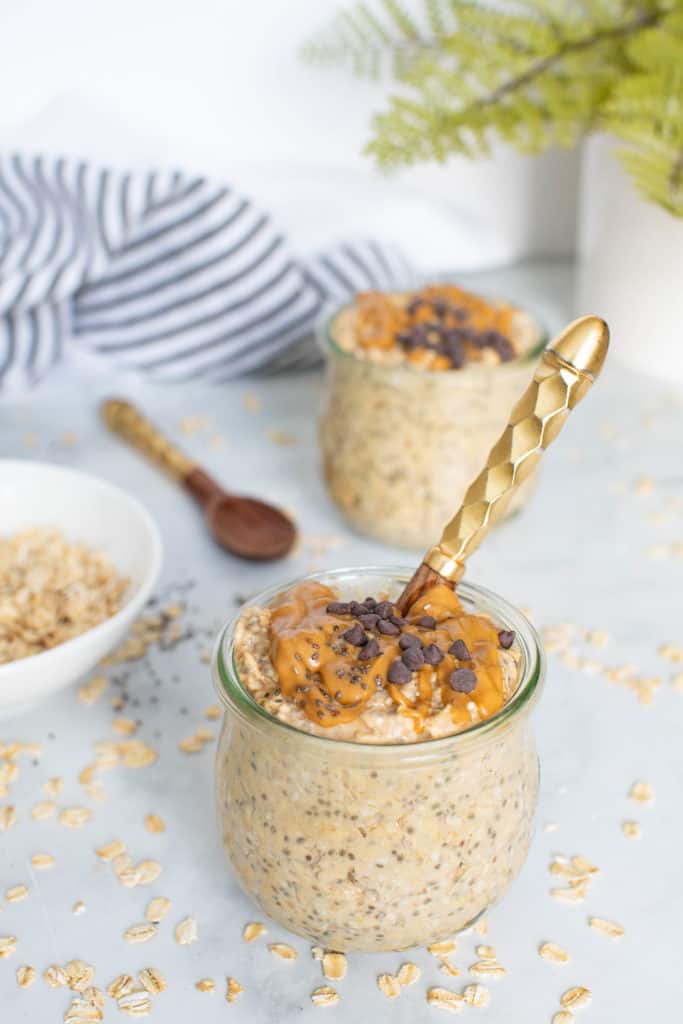 What's So Great About Overnight Oats, Anyway?
Whelp, if you haven't really had overnight oats then you might not understand why they are so great for many of us!
Firstly, overnight oats are simply oats that are soaked in liquid overnight. Simple.
The thing that makes them such a hit is of course the many flavors that you can create from them by adding your own favorite ingredients and the little effort that it takes to a create a delicious breakfast meal.
Plus, oats carry a great amount of nutrients and antioxidants (as mentioned above) and this make for the perfect post-workout meal due to the amount of protein!
So, here's a few answers to the questions that you might have (FAQS):
How long do overnight oats last?
If prepping your meal for the entire week, the good news is that these overnight oats can last 2-3 days (and sometimes longer) once tightly stored in the refrigerator. Of course, you can freeze them once they're made as well and thaw them out in the fridge before consuming.
Can you eat overnight oats hot or cold?
Yup, you sure can! It's all about your own personal preference. Therefore, it doesn't matter whether you choose to eat them cold right from the fridge or hot from the stovetop.
Why do you use Rolled Oats for overnight oats?
Whelp, it has been said that you can use steel-cut oats for overnight oats, however, the texture and taste might be much different. Actually, it might turn our more chewy and dense. Therefore, we definitely recommend to sticking to Rolled Oats and ensuring that they are Gluten-free certified (like our faves from Bob's Red Mill) is an awesome plus!
Do I have to use only Almond milk to make these?
Not at all! You can feel free to use any milk alternative of your choosing. If preferred, you can even use Soy Milk, Oat Milk, Coconut Milk, or whatever else you choose. Just NOT Water!
I know that they are Overnight Oats but do I really have to wait overnight?
Unfortunately, yes! In order to ensure that the oats and chia seeds fully hydrate and create the perfect creaminess, it's always best to wait at least 8 hours or overnight.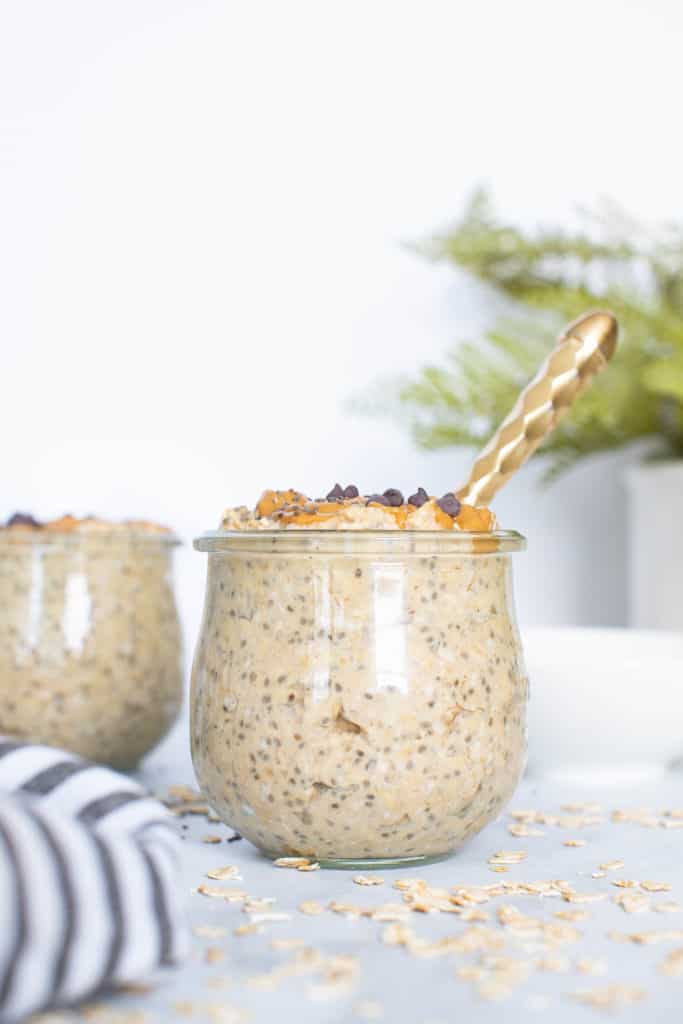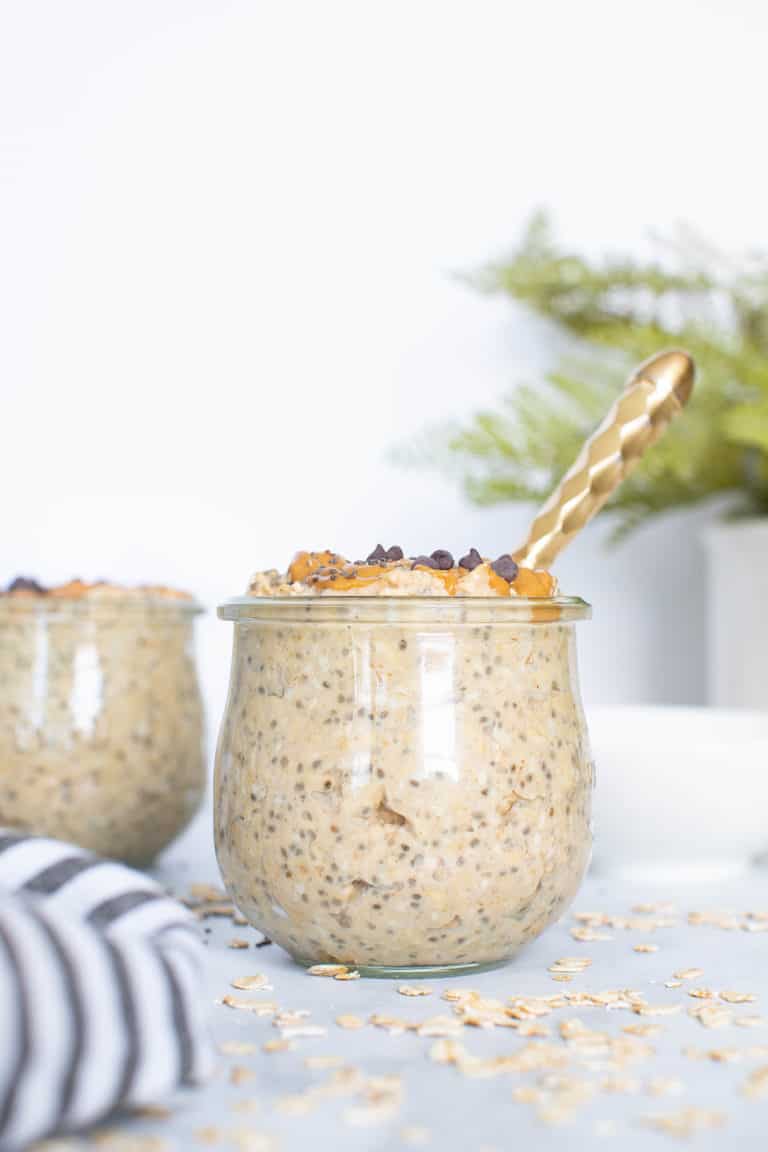 Now let's dig right into this recipe, shall we?
Add all ingredients to a medium bowl, stirring until well combined.
Tightly cover bowl with plastic wrap and refrigerate overnight (or at least 8 hours).
To serve (hot or cold), add oatmeal to individual bowls or jars and top with a dollop of peanut butter and chocolate chips, if desired.
Bon Appetit!
MADE OUR RECIPE(S)?
If you choose to make these Peanut Butter Chia Seed Overnight Oats or any other recipe from us, be sure to tag us on Instagram at #Orchidsandsweettea so that we can share the love!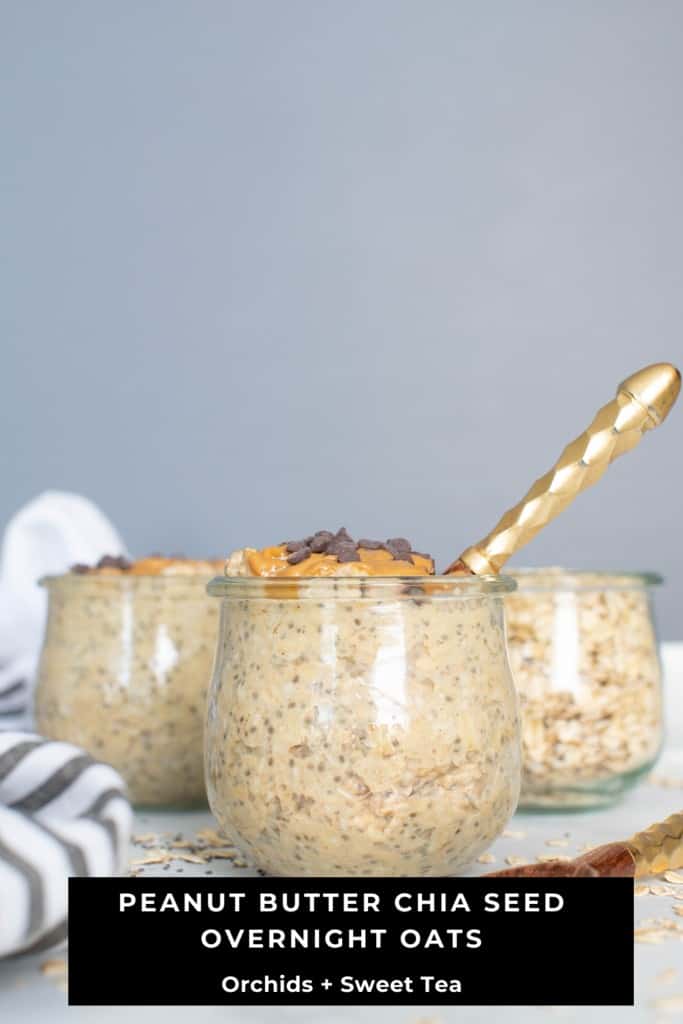 OVERNIGHT OATS:
2

cups

Rolled oats, gluten-free

3-4

Tbsps

chia seeds

2

cups

Almond milk 

(You can use your fave plant-based milk)

3-4

Tbsps

vegan peanut butter, melted

2-3

Tbsps

Agave + more if needed!

(You can sub with maple syrup)

2

tsps

vanilla extract

pinch of

cinnamon

pinch of

sea salt
Add all ingredients to a medium bowl, stirring until well combined.

Tightly cover bowl with plastic wrap and refrigerate overnight (or at least 8 hours).

To serve (hot or cold), add oatmeal to individual bowls or jars and top with a dollop of peanut butter and chocolate chips, if desired.

Bon Appetit!
STORAGE: Can be stored in the refrigerator for up to 5 days. Perfect for meal prep for the week!
NUT BUTTER: If preferred, you can always substitute peanut butter with Almond butter, SunButter (perfect for allergy-free needs!), Tahini (Sesame Seed Butter), Hazelnut Butter, etc.
SWEETENER: Instead of Agave, you can simply use pure maple syrup or add ½ cup mashed bananas to oats as a sweetener.
MILK: You can use your favorite plant-based milk, whether Soy, Oat, Coconut, etc.
HOMEMADE OAT MILK: If you prefer to make your own oat milk, you can see our easy Oat Milk Recipe.
Calories:
649
kcal
|
Carbohydrates:
85
g
|
Protein:
20
g
|
Fat:
26
g
|
Saturated Fat:
4
g
|
Polyunsaturated Fat:
11
g
|
Monounsaturated Fat:
10
g
|
Trans Fat:
0.03
g
|
Sodium:
437
mg
|
Potassium:
509
mg
|
Fiber:
16
g
|
Sugar:
18
g
|
Vitamin A:
10
IU
|
Vitamin C:
4
mg
|
Calcium:
468
mg
|
Iron:
5
mg