This Jamaican-inspired Banana Bread Baked Oatmeal is the ultimate healthy + hearty breakfast recipe, regardless of the season. It comes drenched in island-y flavors from the lime, coconut, banana, and optional rum extract; topped with warm banana slices, coconut flakes, and toasted pecans. A fully vegan and gluten-free recipe for the entire family.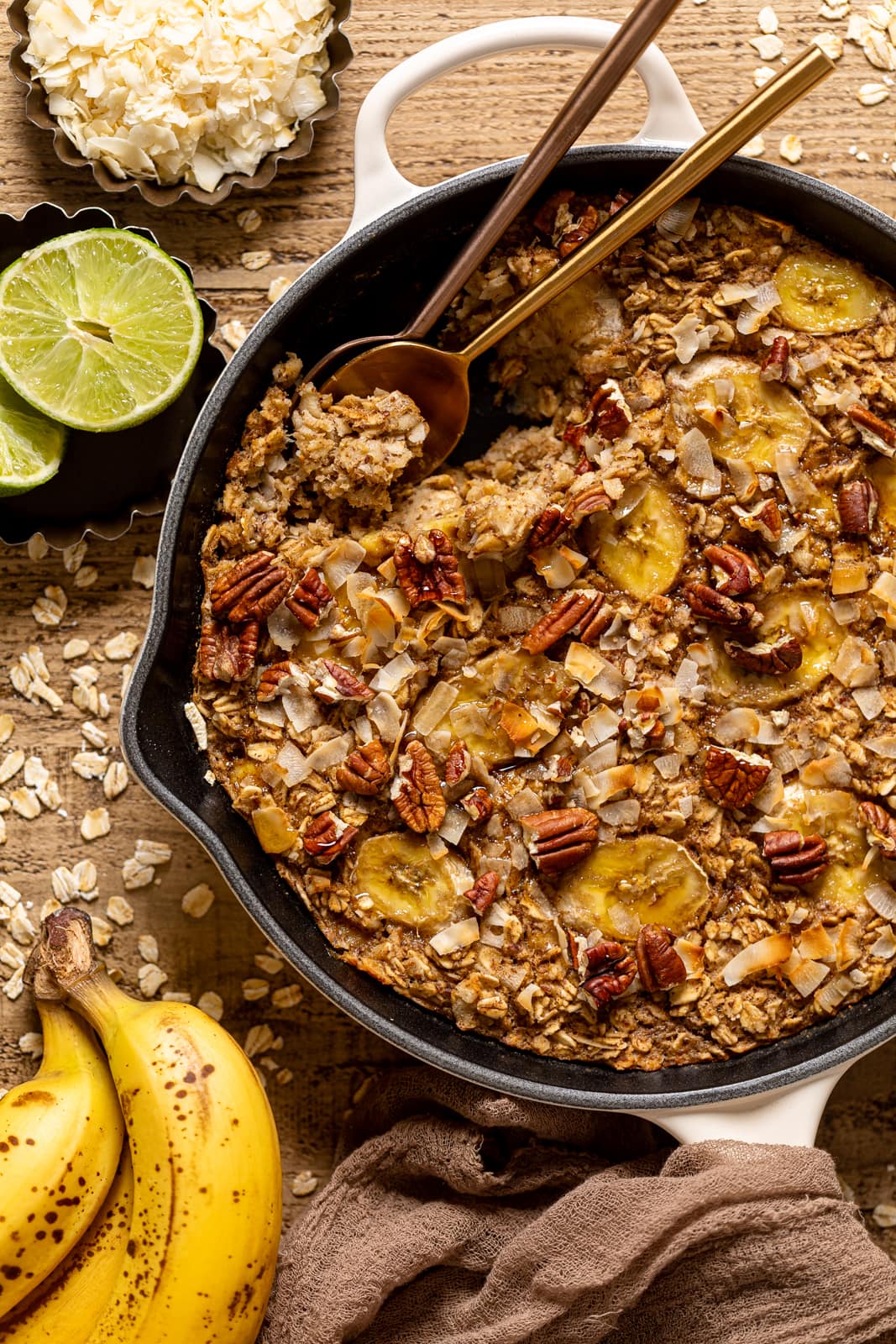 This is one of my few attempts to making baked oatmeal because we usually love cooking our oatmeal over the stovetop in our house or a quick overnight oats. However, baked oatmeal is definitely a great contender with our favorites and this Jamaican-inspired Banana Bread Baked Oatmeal is one that'll be on rotation in your house!
When it comes to using bananas, I truly love to tap into my Jamaican side of things because it's such a staple in the culture. The very popular banana bread is made differently from our Americanized version in that there isn't much of a topping, but instead----a simple design of banana sliced tucked away. That's why I chose this baked oatmeal recipe which I feel would be fun for you to create and enjoy.
Oatmeal is an incredibly nutritious food, packed with essential nutrients like iron, magnesium, phosphorous, folate, and zinc. Not to mention dietary fiber and antioxidants! And once you love this baked oatmeal, then you'll enjoy this Creamy Jamaican Cornmeal Porridge which is the perfect way to start your start!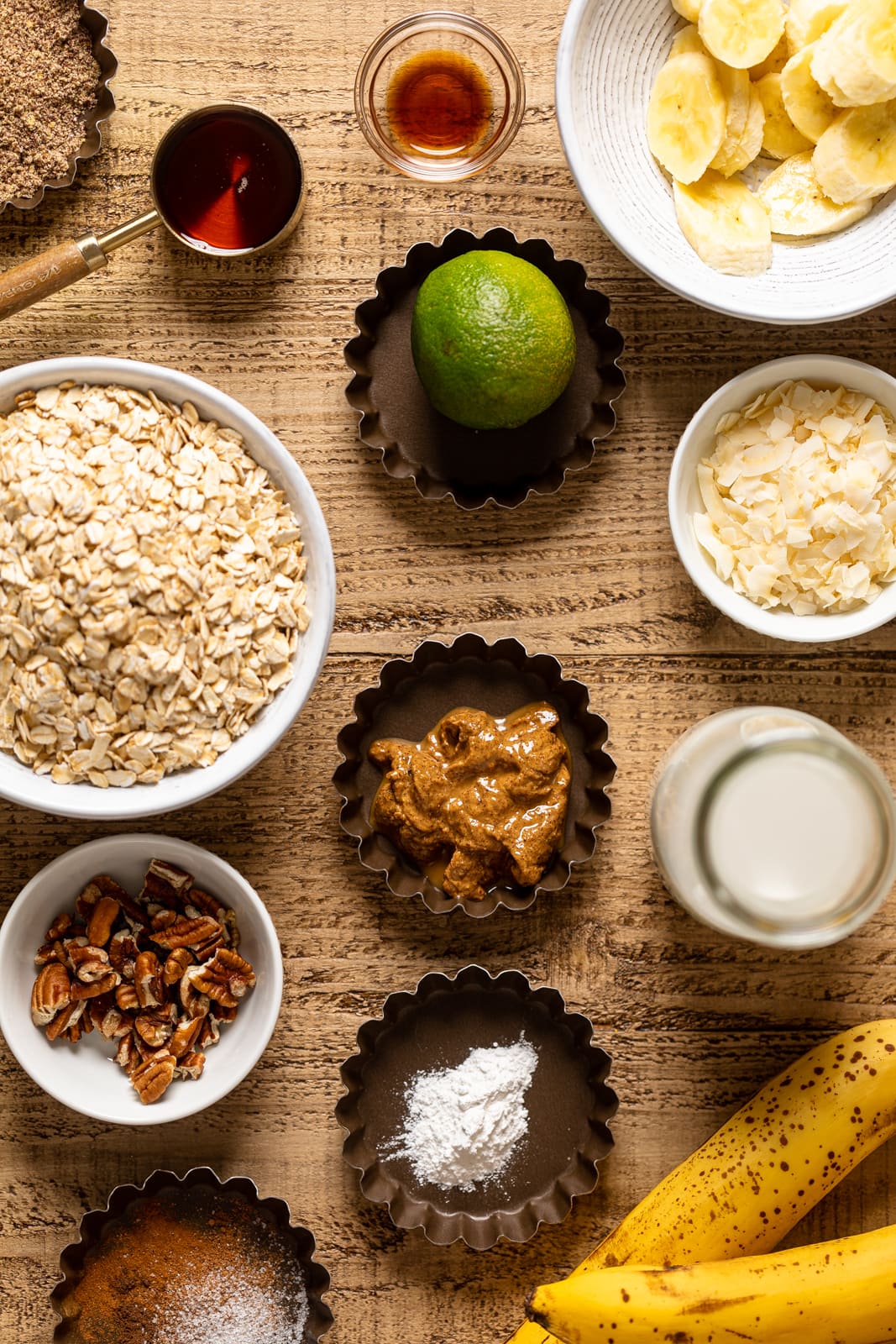 How to Make Jamaican-inspired Banana Bread Baked Oatmeal
There are a few key ingredients in this warm baked oatmeal recipe that you may not usually use in your morning oatmeal. These make this recipe better for you and even tastier.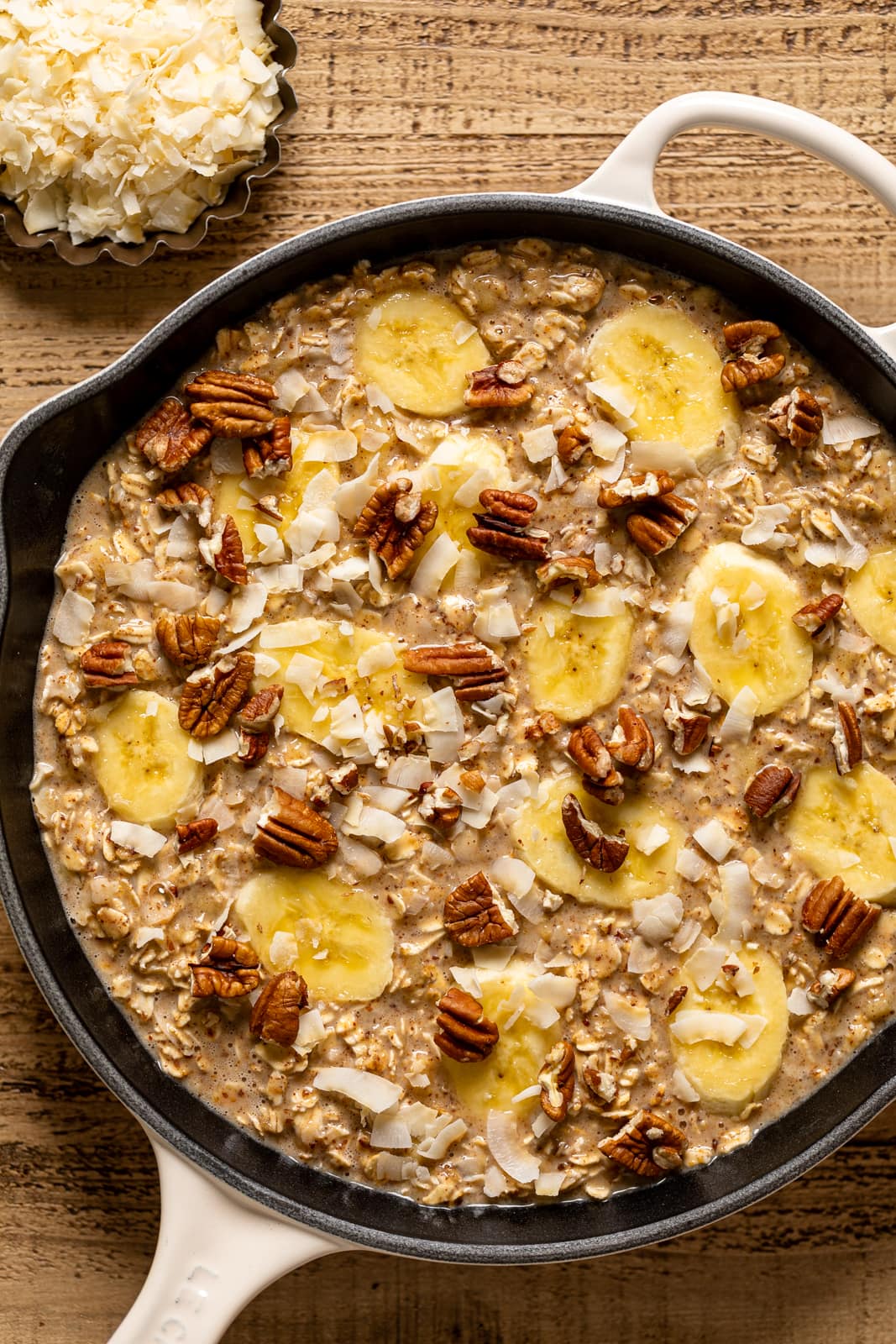 Ingredients
Here's the list of ingredients to make banana bread for breakfast today:
Thick Cut Rolled Oats. Choose gluten-free if necessary.
Almond Milk. You can use any kind of plant-based milk you like. Coconut, oat or cashew will all be great.
Spices. We're talking cinnamon, nutmeg and allspice.
Flaxseed meal. This add tons of healthy fats and fiber, plus they make your oatmeal extra creamy.
Bananas. The use of banana adds a great binder and volume
Maple Syrup. For that ultra-caramelized flavor. You could also use honey if you're not vegan.
Nuts. Use walnuts, pecans, hazelnuts or your favorite kind!
Brown Sugar. I like to use organic sugar to make sure it's fully vegan.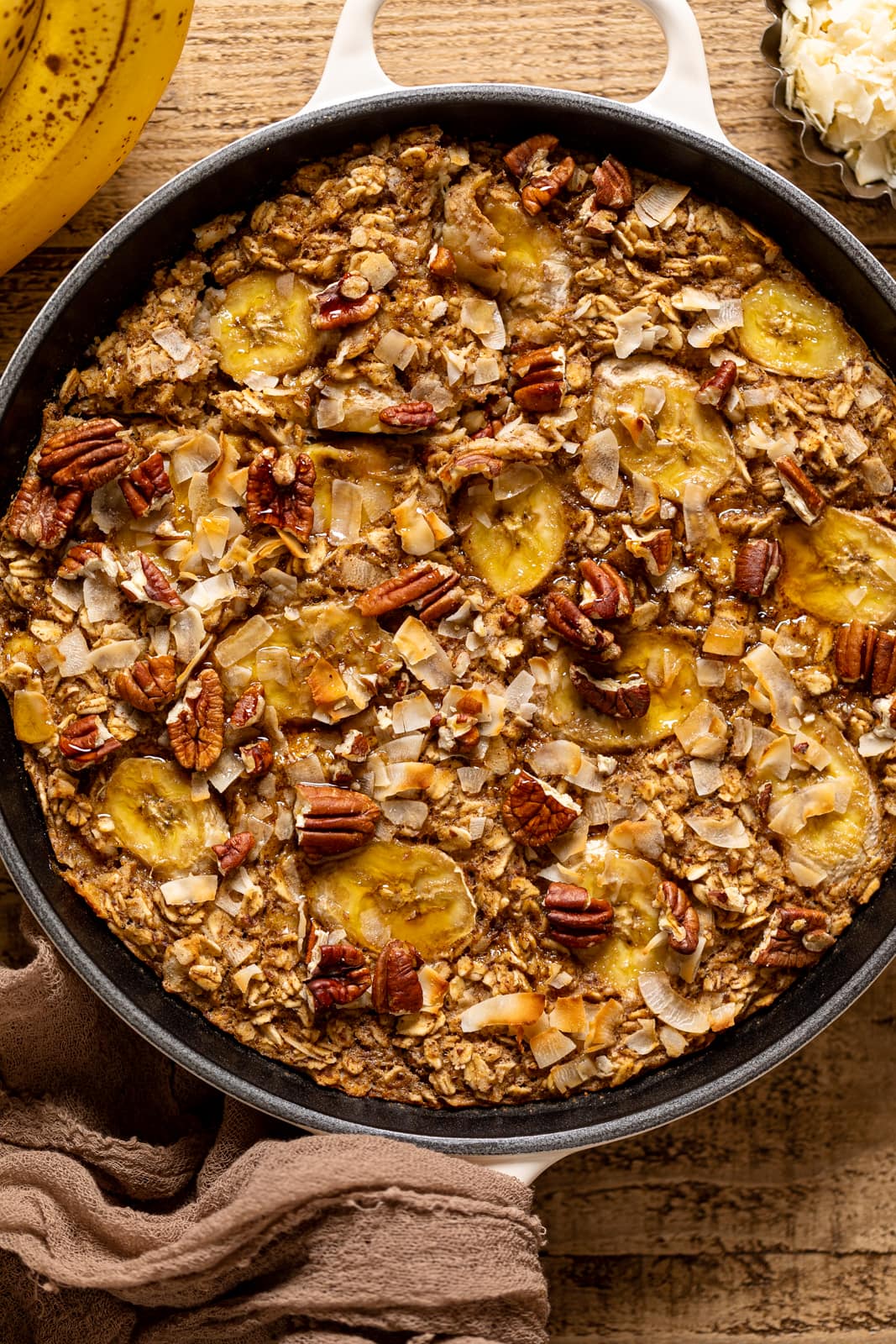 Health Benefits of Oats
Oats are another superfood that's great to start your day with. Rolled oats like the ones used in this recipe, are a healthy source of complex carbs, fiber (the soluble kind!), protein, and fat. In addition, they are loaded with important vitamins, minerals, and antioxidants.
Other great benefits of oats, according to studies:
They can help lower cholesterol.
Helps regulate blood sugar levels to avoid crashes and spikes
May help with losing weight.
Helps to relieve constipation.
MORE HEALTHY OATMEAL RECIPES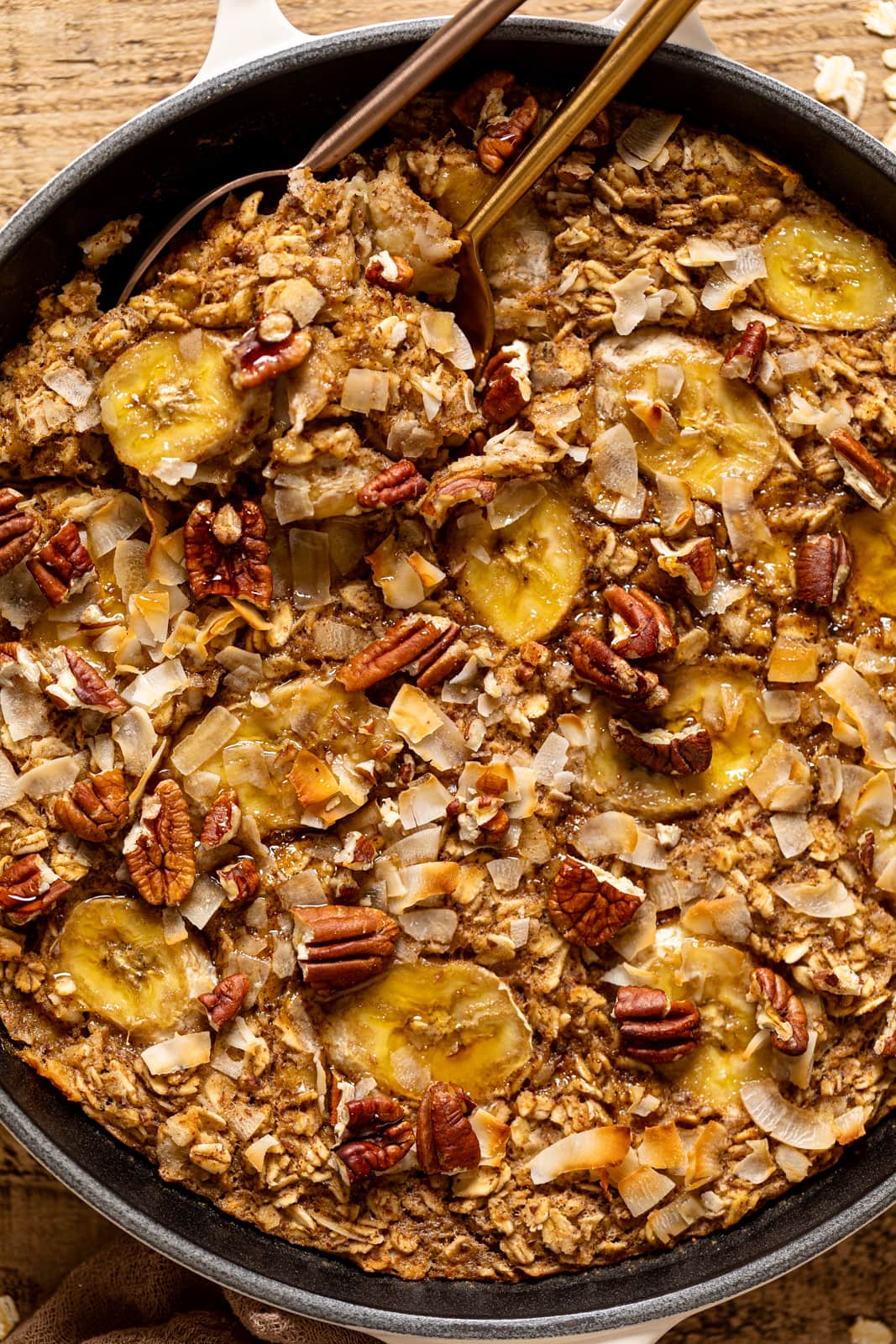 Is 
this Banana Bread Baked Oatmeal Gluten-Free?
Yes! This recipe is totally gluten-free for my celiac friends out there. Be sure to buy oats that state "gluten-free" on the package. Some oats are GF and some are not, so pay attention when shopping! If you are not sensitive to gluten, you can use any variety of oats.
You can make this breakfast for a bunch of people (it is a real crowd-pleaser!) or for one. If you are cooking for people, it's nice to offer a GF option every now and then.
MADE OUR RECIPE(S)?
If you make this Jamaican-inspired Banana Bread Baked Oatmeal or any other recipe from us, be sure to tag us on Instagram at #Orchidsandsweettea so that we can share the love!
BAKED OATMEAL:
2

very ripe bananas, mashed

2

cups

organic rolled oats

(Use GF-certified if desired)

1

teaspoon

baking powder

1 ½

teaspoon

ground cinnamon

½

teaspoon

ground nutmeg

¼

teaspoon

ground allspice

¼

teaspoon

sea salt

1

tablespoon

flaxseed meal

¼

cup

almond butter

1 ½

cups

Almond milk

2

Tbsps

pure maple syrup

1

teaspoon

vanilla extract

1

teaspoon

rum extract, optional

½

teaspoon

lime zest

½

cup

coconut flakes

¼

cup

toasted pecans, roughly chopped
TOPPINGS:
Banana slices

Coconut flakes

Toasted pecans

Pure maple syrup
Lightly grease a baking pan (9 x 9″) OR 10-inch oven-safe skillet with butter or oil and pre-heat the oven to 375 degrees Fahrenheit.

In a large bowl, add the mashed bananas, milk, maple syrup, flaxseed meal, vanilla, rum extract, and almond butter, whisking until combined. Add in the dry ingredients: rolled oats, baking powder, cinnamon, nutmeg, allspice, lime zest, and salt, stirring (using a wooden spoon or spatula) until combined.

Fold in the coconut flakes and toasted pecans.

Pour the mixture into the prepared pan or skillet, evenly spreading until even. Top mixture with sliced bananas and sprinkle additional coconut flakes and pecans atop as well.

Bake oatmeal for 35-40 minutes or until fully cooked through (less 'jiggly') and edges and tops are golden brown.

Remove from oven and let cool for 5 minutes or so. To serve, cut into desired sized squared pieces and drizzle with maple syrup, if desired.

Bon Appetit!
STORAGE: Any leftovers can be kept in a tightly sealed container and refrigerated for up to 3-4 days. To serve, simply reheat in the microwave or oven until warmed through.
TO FREEZE: To keep any leftovers for a longer period, simply allow baked oatmeal to fully cool before cutting it into squares and individually wrap each square in foil paper and then adding them to a freezer-safe ziplock bag. 
TOASTED NUTS: Add chopped walnuts/pecans to a baking sheet and toasting them in the oven (400 degrees Fahrenheit) for 5-10 minutes, tossing them halfway to avoid browning on one side.
SWEETENER: Instead of maple syrup, you can simply use Agave to oatmeal as a sweetener.
Calories:
471
kcal
|
Carbohydrates:
56
g
|
Protein:
11
g
|
Fat:
25
g
|
Saturated Fat:
8
g
|
Polyunsaturated Fat:
6
g
|
Monounsaturated Fat:
9
g
|
Sodium:
383
mg
|
Potassium:
602
mg
|
Fiber:
11
g
|
Sugar:
16
g
|
Vitamin A:
45
IU
|
Vitamin C:
6
mg
|
Calcium:
281
mg
|
Iron:
3
mg