Flourless Espresso Chocolate Waffles + Strawberries have a sweet tone with a richness and comes completely fluffy, thanks to the gluten-free oats, dairy-free milk and plenty of freshly sliced strawberry for a nice fresh touch.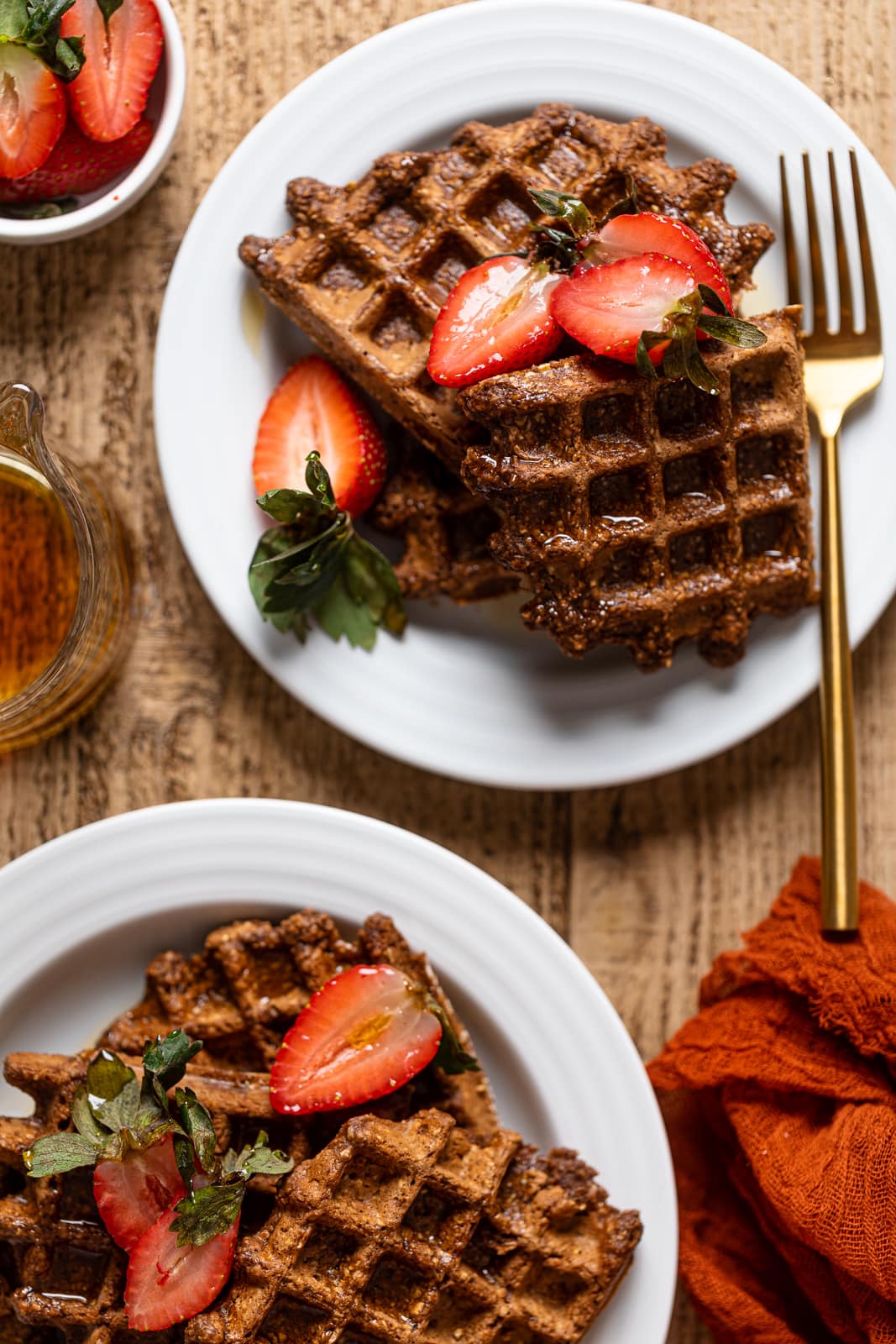 If you're anything like me then you can get behind a breakfast of hot-off-the-press waffles--- am I right? Especially when it comes to these Flourless Espresso Chocolate Waffles + Strawberries. They are truly one of my favorite ways to incorporate espresso powder into my foods.
For good reason, I thoroughly enjoy flourless waffles made out of oats because they have such a beautiful texture. A mix between crunchy and fluffy----SO good!
In case you weren't aware----you definitely need to try my Flourless Vegan Banana Oats Waffles which have been such a hit on the blog. Also, these Flourless Vegan Sweet Potato Oats Waffles have become a force within themselves as well. Definitely recommend trying both waffles if you're a waffle lover!
How to Make Flourless Espresso Chocolate Waffles + Strawberries
You can use any waffle maker for these waffles, from mini to Belgian-style to square-shaped. All you need is a blender for the initial mix and a few simple ingredients:
Gluten-free rolled oats. You can find a great gluten-free version from Bob's Red Mill.
Baking powder. This helps your waffles rise and become crisp in the iron as they cook.
Cocoa powder. This gives the rich chocolate flavor. I love using organic cocoa powder and you can sub with cacao powder as well.
Maple syrup. For a bit of sweetness without refined sugars. You can also swap out maple syrup for honey or agave.
Espresso. I love using instant coffee or espresso powder for a nice pick-me-up. It especially enhances the richness of the chocolate flavor.
Almond milk. Feel free to use any milk you like, including dairy milk, hemp, coconut, cashew or soy for nut-free.
Almond butter. You can also use peanut butter or your pecan butter, if preferred.
Cinnamon. This spice helps to enhance the rich chocolate flavor as well.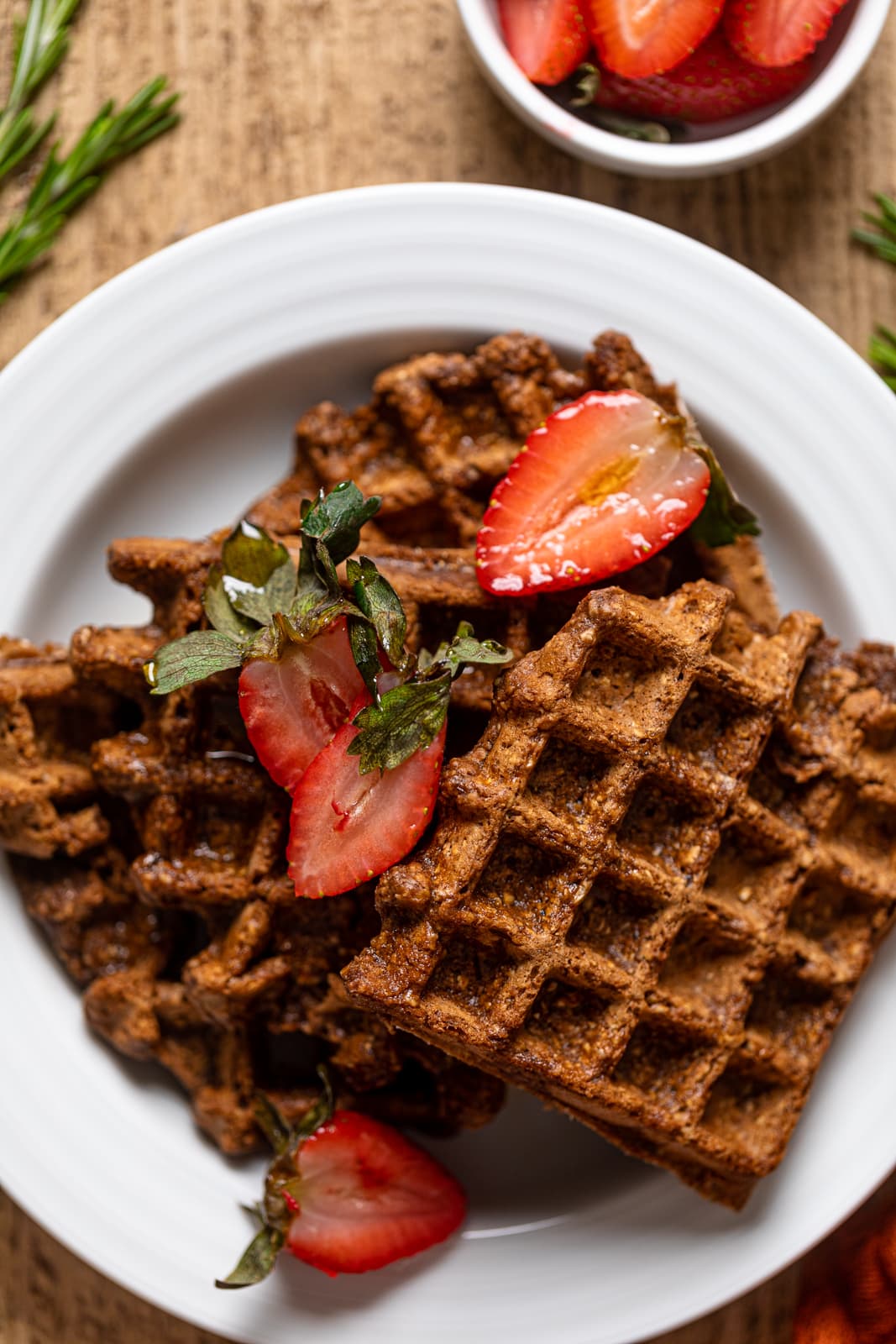 Cacao vs. Cocoa
Did you know that Cacao AND Cocoa are the same thing?
Chocolate is actually made from Cacao beans (or seeds). It's said that companies who use the term 'Cacao' are referring to the beans, pods, or ground up version of the beans. However, the term Cocoa is often referred to as the powdered version of it all (which is formed after the fat is pressed out of the bean).
Of course there's a whole process that happens and you can find out more about that here.
Note that to make cocoa powder, the fat must be removed from the chocolate. This means that cacao or cocoa powder is lower in fat and calories than regular chocolate.
So of course, it's always best to go with a brand of Cacao that contains those nutrients and are premium to ensure that your body actually receives all of those boosters. Navitas Organics' version of Cacao not only does that, but it's so delicious as well! You can always purchase it on their site or through a large retailer like Amazon.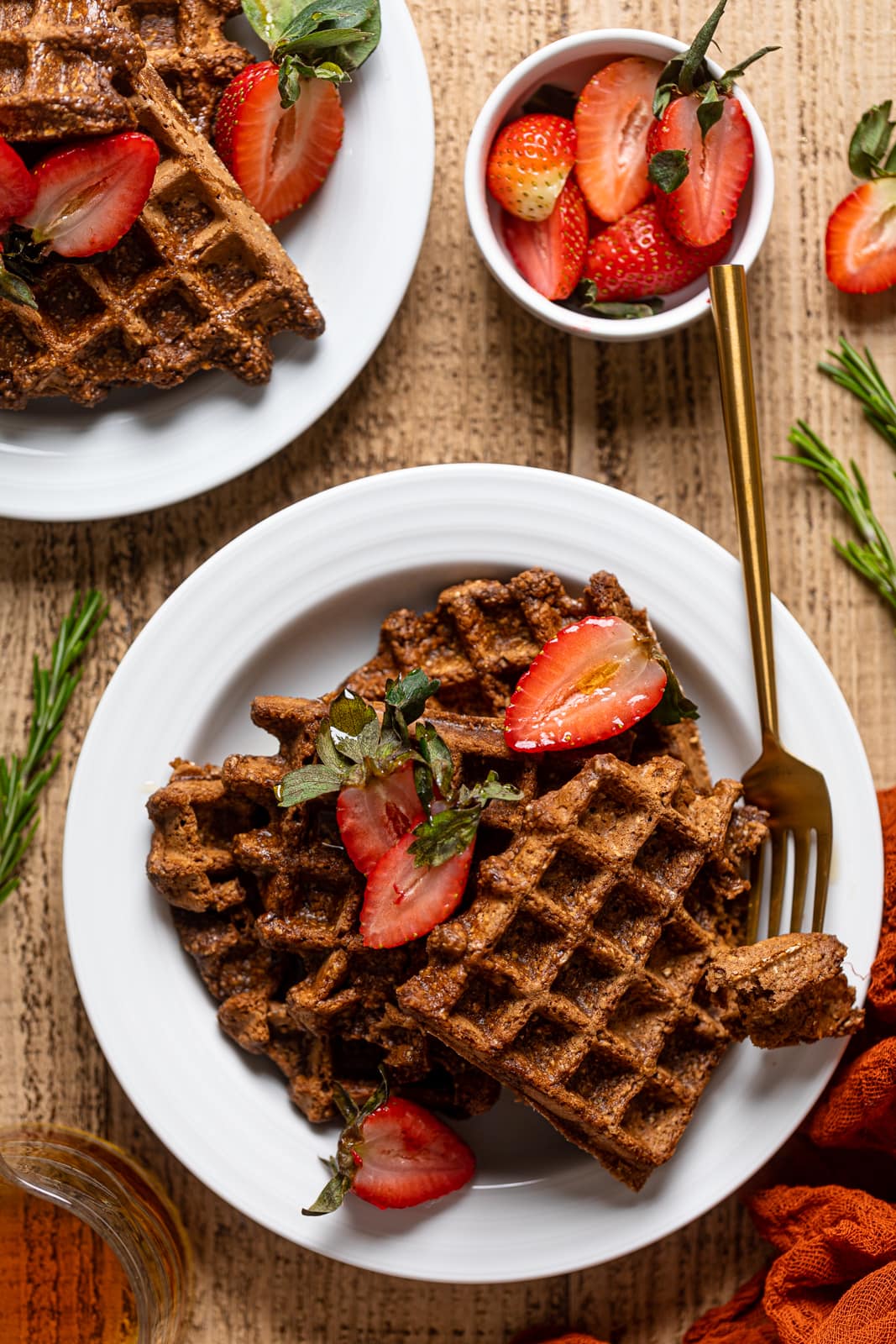 Tricks to Making Perfect Waffles
Use these tricks to make sure your flourless waffles come out perfectly:
Make sure the waffle maker is fully preheated before you add the batter.
Spray the waffle maker top and bottom well with nonstick spray to make sure your waffles don't get stuck.
If your waffle maker has an indicator light, wait for it to go off before you open the waffle maker. Otherwise, your waffle won't be fully cooked.
These are best served hot out of the waffle iron, so don't wait, serve them up!
Can I Make Waffles Ahead of Time?
If you're a planner, you can make a big batch of these Flourless Espresso Chocolate Waffles + Strawberries and store them for later. Let the waffles cool fully, then pop them into an airtight bag or container and freeze.
You can defrost and heat the waffles in the microwave, toaster oven or regular oven to serve.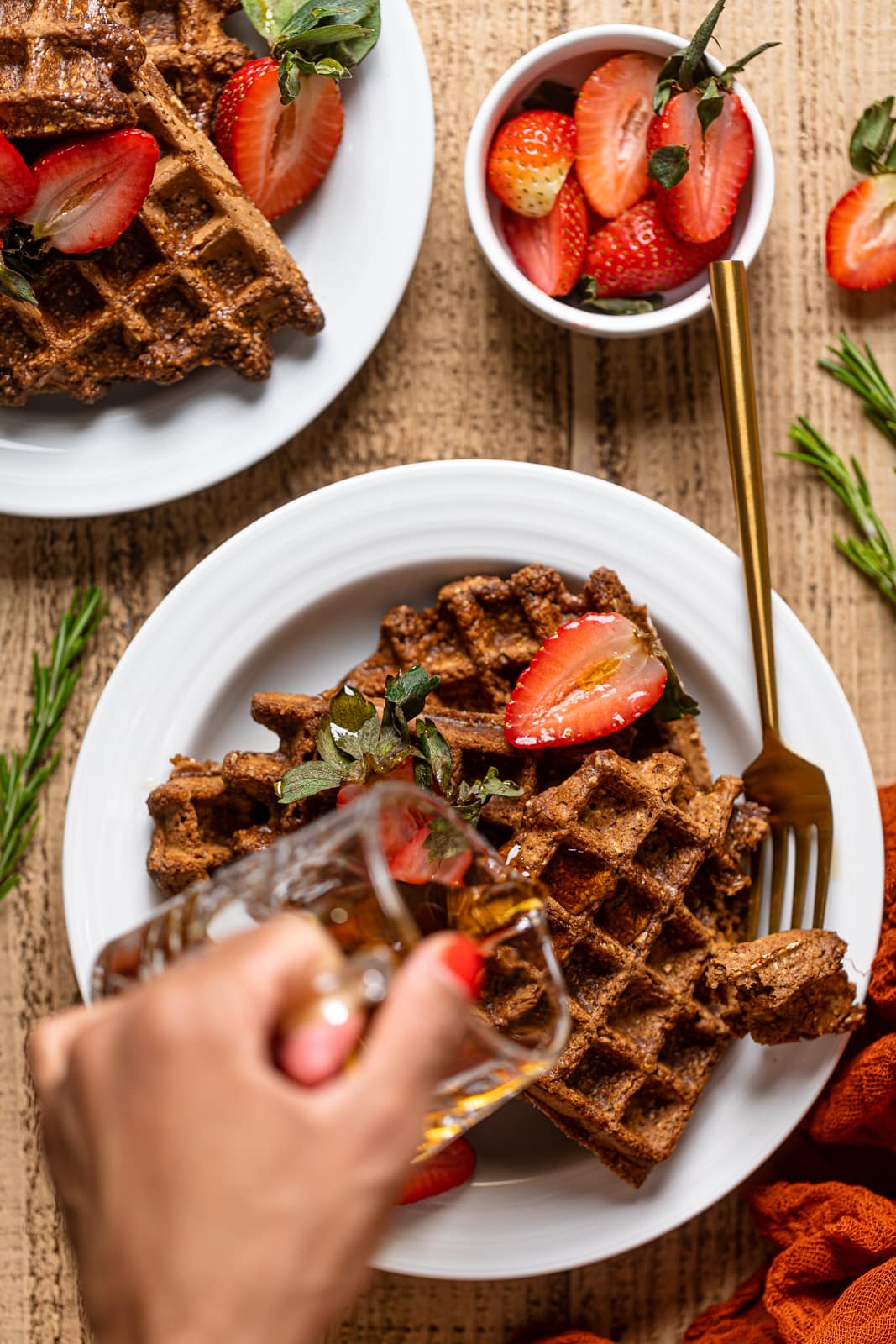 More Favorite Gluten-Free Recipes
MADE YOUR RECIPE(S)?
If you make these Flourless Espresso Chocolate Waffles + Strawberries, tag @orchidsnsweettea_ on Instagram and hashtag it #orchidsandsweettea
TOPPINGS:
Sliced strawberries

Pure maple syrup, for drizzle

Coconut whipped cream, optional
Preheat your waffle maker to desired setting––medium-high heat worked for me!

In a measuring cup or small bowl, add the Almond milk and apple cider vinegar, whisking them together and letting it sit for 5 minutes or so.

Now, add the ingredients to your blender, ensuring that all WET INGREDIENTS (including milk-apple cider vinegar mixture) are placed on the BOTTOM and then the DRY INGREDIENTS on TOP. NOTE: Putting the ingredients in this order allows everything to blend well and become nice and smooth.

Blend on high speed using a high-powered blender for a few seconds (15-20 to be exact!) until batter is smooth.

Next, spoon batter into your waffle maker (½ cup approximately) and cook according to your waffle iron's instructions.

Once each waffle completes, add to a baking sheet and place them in the oven on the lowest setting (to keep them warm). Repeat until all waffles are made.

To serve–stack waffles (whole or cut), top with fresh strawberries, and a drizzle with maple syrup.

Bon appetit!
STORAGE: Leftovers can be tightly sealed in a zip loc bag (once fully cooled) and either refrigerated for a few days or frozen.To serve, reheat waffles in the oven on 400 degrees for a few minutes until warmed through.
FREEZE WAFFLES: To store waffles for longer periods, simply add them unto a baking sheet lined with parchment paper and place in the freezer for 2 hours. Once fully frozen, remove and store them in a zip loc and freeze for up to 3 months.
NUT BUTTER OPTIONS: You can use Peanut Butter or Pecan Butter instead of Almond Butter if desired. Any smooth nut butter works as long as it's Vegan-approved!
OATS: Ensure that your oats are certified GF (Gluten-Free). I used Thick Rolled Oats, but you can also use Old Fashion if preferred.
MILK: You can use any non-dairy milk for this recipe. I love using Califia Farm's Oats + Roasted Almonds Milk, however, you can use Soy, regular Almond, Macadamia, Coconut, etc.
Calories:
302
kcal
|
Carbohydrates:
51
g
|
Protein:
9
g
|
Fat:
8
g
|
Saturated Fat:
1
g
|
Polyunsaturated Fat:
2
g
|
Monounsaturated Fat:
3
g
|
Sodium:
256
mg
|
Potassium:
340
mg
|
Fiber:
8
g
|
Sugar:
9
g
|
Vitamin A:
4
IU
|
Vitamin C:
0.05
mg
|
Calcium:
258
mg
|
Iron:
3
mg