Make the best Copycat Velveeta Broccoli Mac and Cheese that's creamy, flavorful, and has hints of spice from the secret ingredient--- cajun seasoning. This one is definitely comfort food at its best! A true family favorite! Vegan + Gluten-free options available.
Mac and cheese is the definition of comfort in a bowl. I literally remember being in absolutely love with Mac and cheese growing up, especially a box of Velveeta! While the classic version was an absolute delicious option, i always would scurry the aisles of the grocery store for the broccoli version. There was something about those bits + pieces of broccoli that added a nice balance between all that creaminess.
So of course, I had to pay homage to a childhood staple of mine. This Copycat Velveeta Broccoli Mac and cheese is by far the most creamiest, easy pasta that I enjoy making for my family that can act both as a main dish or side. It just depends on how you're feeling that night. Haha.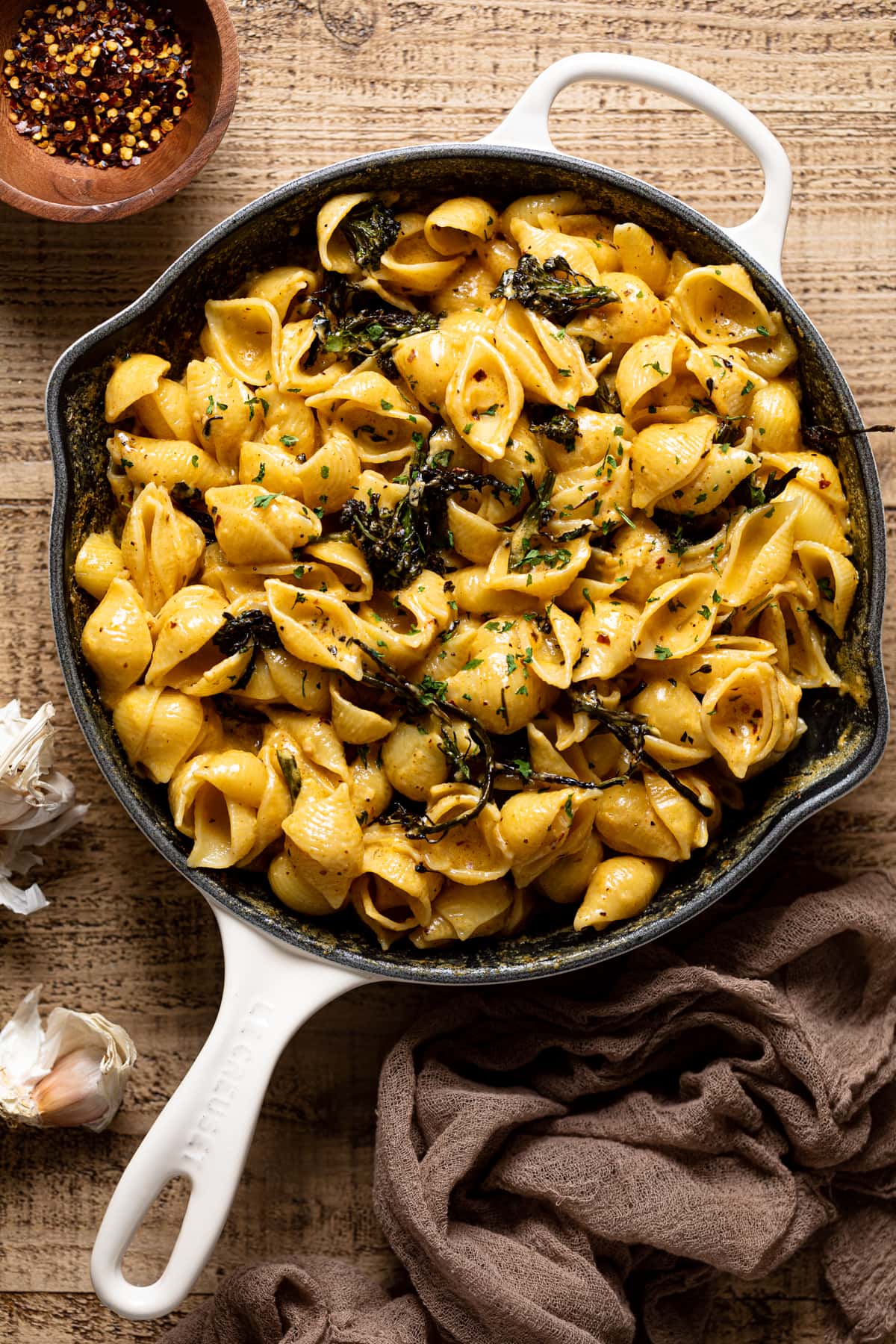 Can I Make this Mac + Cheese Vegan or Gluten-Free?
This recipe is 100% delicious, but it does come with a vegan, dairy-free, and gluten-free option. I like to use GF pasta and GF friendly ingredients to make this recipe attainable for any diet. However, if you need to have this dish vegan-friendly----I always love making my Ultimate Vegan Mac + Cheese recipe (made from a cashew cream) and just add in the roasted broccolini and wallah!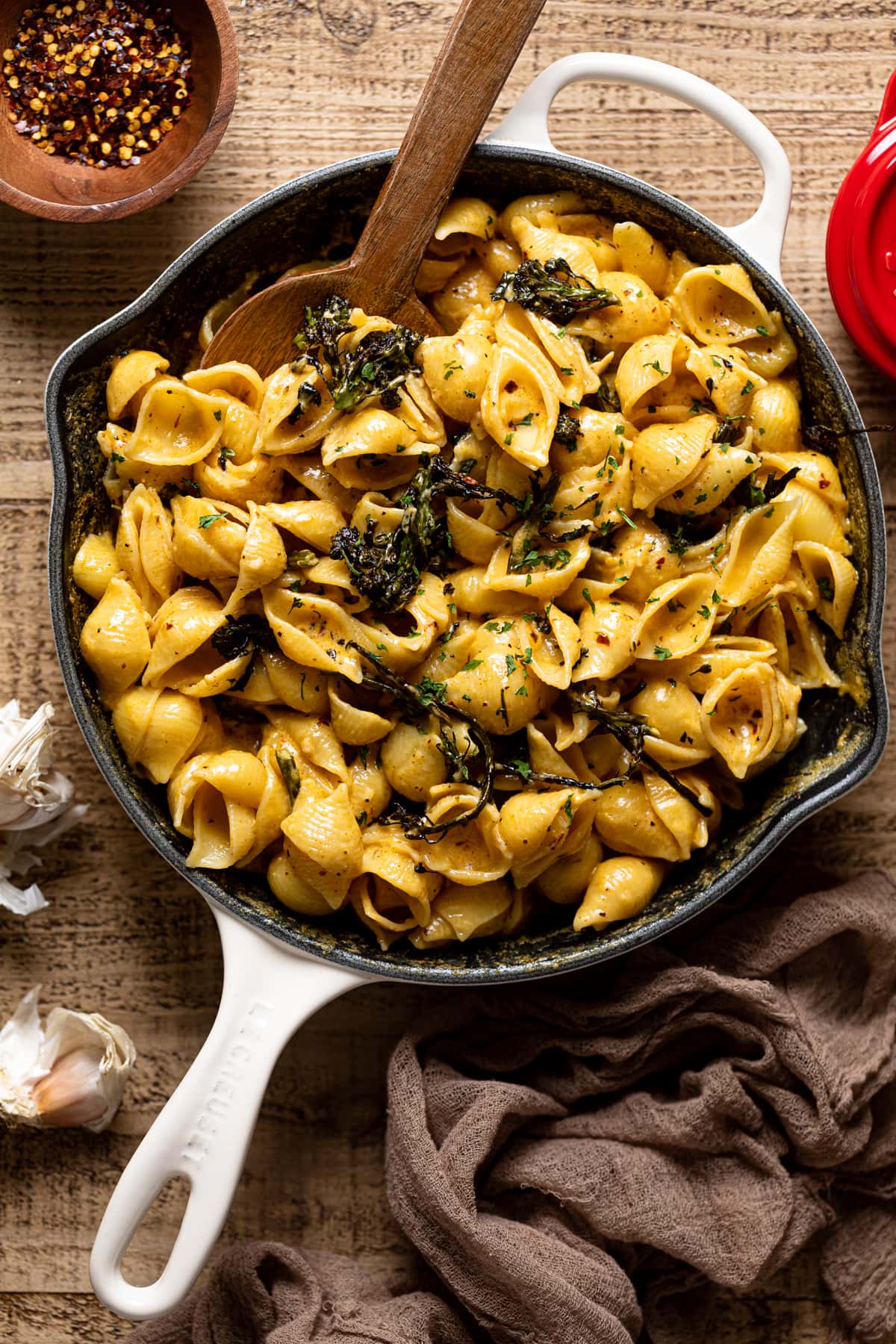 What to Serve with Broccoli Mac and Cheese
You can serve this creamy broccoli mac + cheese pasta as an entree all on its own (with a tall glass of Traditional Southern Iced Sweet Tea) or treat it like a side dish. It's great with Creamy Tuscan Chicken + Spinach or Braised Apple BBQ Braised Ribs and a Quick + Easy Fall Harvest Apple Kale Salad.
Of course, if you're looking to keep things entirely meatless----these BBQ Cauliflower Wings or this Jerk Veggie Farro Bowl work as the perfect mains for this Mac + Cheese also.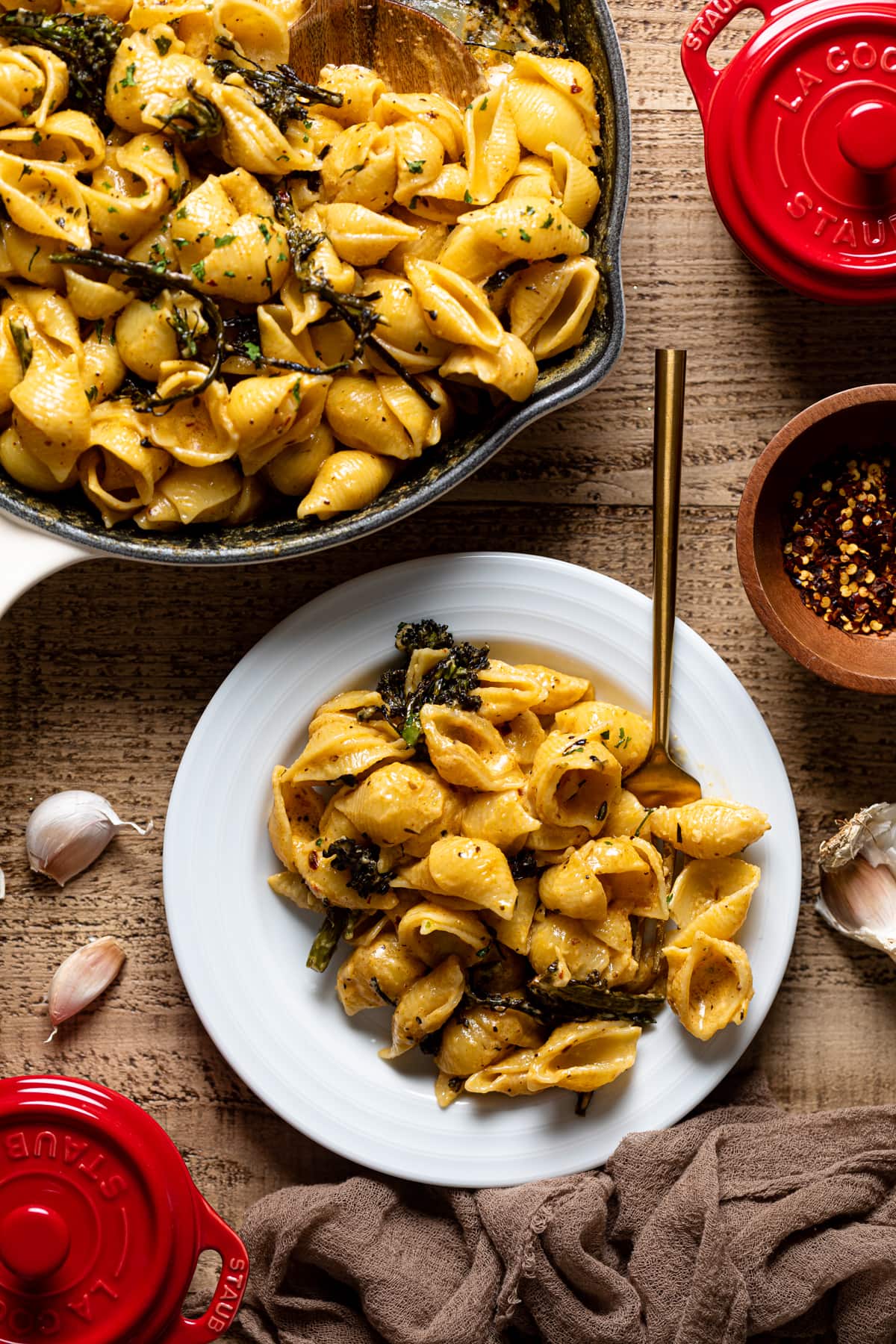 WHAT GOES INSIDE THIS MAC + CHEESE EXACTLY?
Ok, so when it comes to making this Copycat Velveeta Broccoli Mac + Cheese, I chose to keep ingredients minimal for ease.
For starters, you need your favorite dry medium shells pasta (I love using the medium size because it creates more 'meatiness' in every bite). Of course, the sauce is the 'star' of this dish, therefore, the following ingredients are super important: heavy cream, vegetable stock, white cooking wine, cajun seasoning blend (secret ingredient), garlic cloves, Sharp cheddar cheese, and seasonings.
Lastly, you add your roasted broccoli or broccolini and BAM! You're good to go!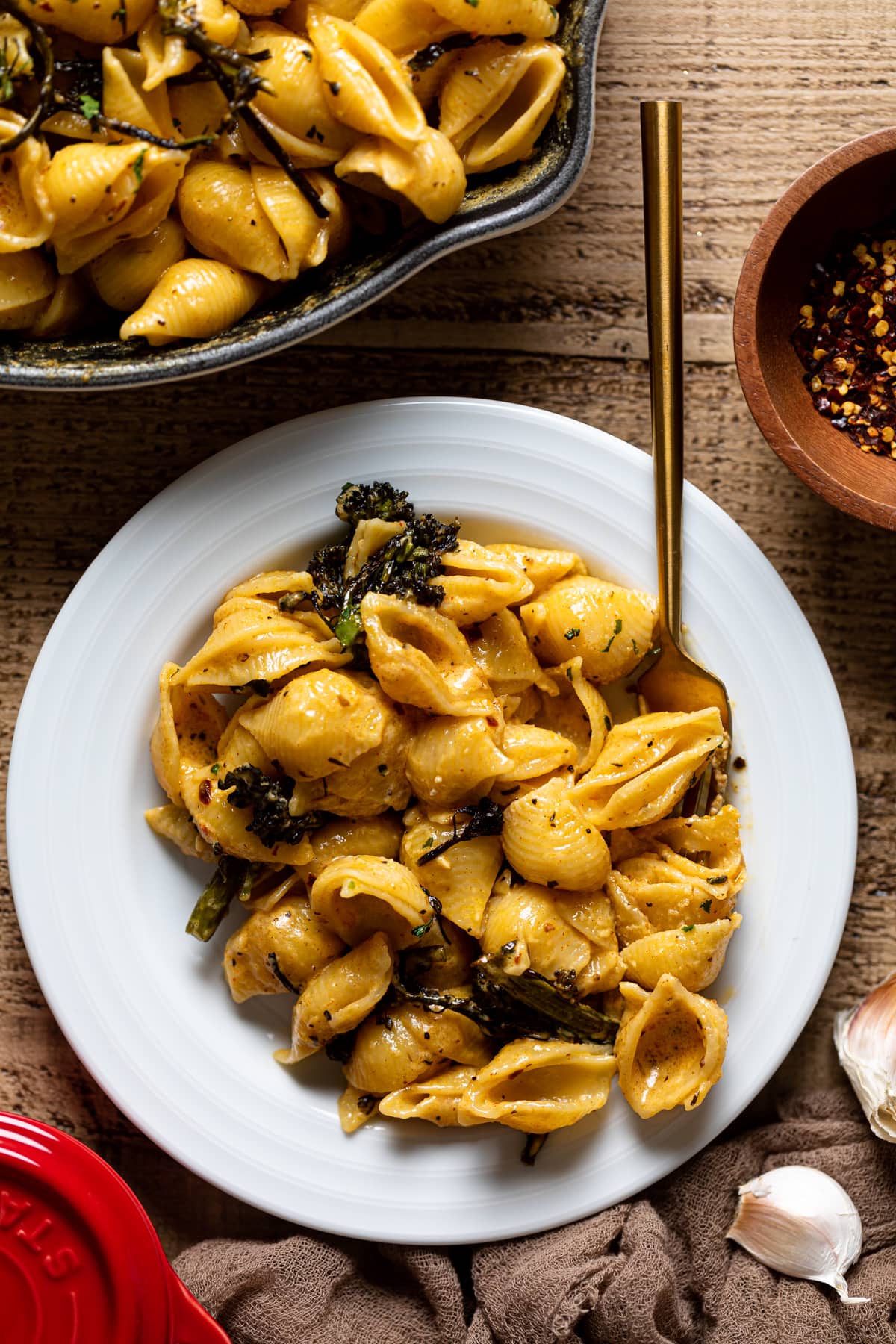 CAJUN SEASONING BLEND
To make your seasoning, combine:
Garlic powder
Italian seasoning
Smoked paprika
Sea salt
Black pepper
Cayenne
Dried thyme
Onion powder
Together, these herbs and spices strike the perfect balance of savory and fresh with a bit of smoky heat.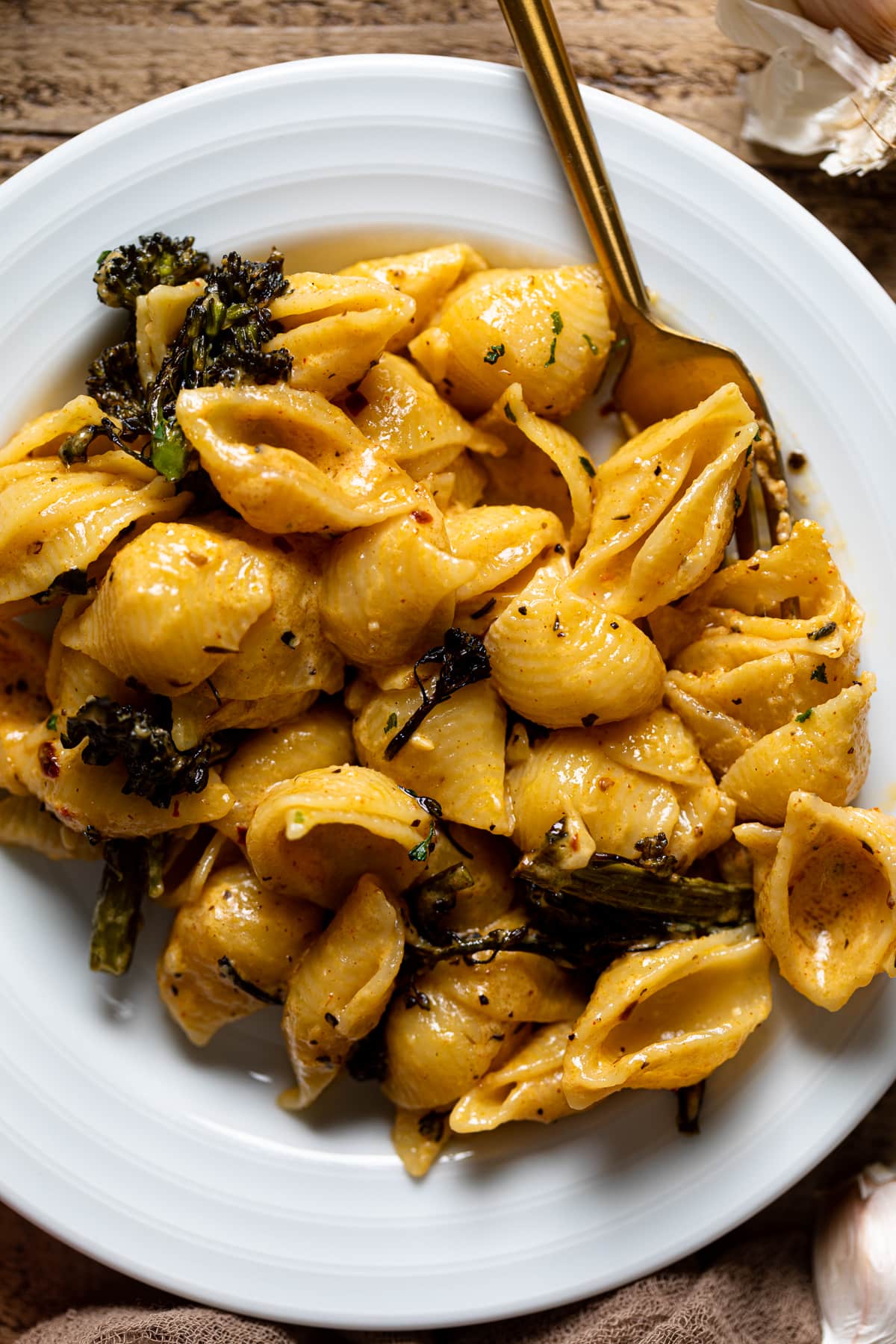 Other Recipes You'll Love
My Copycat Velveeta Broccoli Mac + Cheese is a smash hit, so if you like this one, you will love these recipes!
MADE OUR RECIPE(S)?
If you make this Copycat Velveeta Broccoli Mac + Cheese or any other recipe from us, be sure to tag us on Instagram at #Orchidsandsweettea so that we can share the love!
ROASTED BROCCOLINI:
handful of

broccolini, ends chopped

1

tablespoon

Extra virgin olive oil

1

teaspoon

sea salt + black pepper
MAC + CHEESE:
1

(16 oz.) pacakge

organic medium shells

1

cup

organic heavy cream

¼

cup

organic vegetable stock, low-sodium

2

Tbsps

white cooking wine

1

tablespoon

cajun seasoning, homemade or store-bought

(See Notes!; You can also omit this ingredient if you'd like!)

2

cups

organic Sharp cheddar, shredded

3

garlic cloves, minced

½

teaspoon

garlic powder

½

teaspoon

smoked paprika

1

teaspoon

sea salt

1

teaspoon

dried parsley
TO ROAST THE BROCCOLINI:
Arrange a rack in the middle of the oven and heat the oven to 375ºF. Line a rimmed baking sheet with parchment paper.

Add the broccolini to a bowl along with the olive oil, sea salt, and black pepper, and toss until the everything is fully coated.

Transfer to the baking sheet, spreading them out evenly and bake until the they become charred and golden-brown at the edges, about 15-20 minutes.
BOIL THE PASTA:
Cook pasta according to packaging. NOTE: pasta shells don't take a long time to cook, usually 8-10 minutes (however, you should cook at 6-8 minutes or so—'al dente').
MAKE THE SAUCE:
In a large 12-inch skillet, add the olive oil and add minced garlic sauté frequently about 1-2 minutes until translucent and fragrant.

Add in the tuscan seasoning blend, garlic powder, smoked paprika, salt, and parsley and whisk together until well combined. Add in the heavy cream, vegetable stock, and white cooking wine, whisking until combined and it begins to bubble, about 1-2 minutes. Add in the Sharp cheddar and continue to stir until really creamy.

Reduce the heat to low and add in the cooked pasta and roasted broccolini and stir until everything is well coated.

 Remove from heat and serve immediately as a main or a side dish.

Bon Appetit!
STORAGE: Any leftovers can be kept in a tightly sealed container and refrigerated for up to 3-4 days.
GLUTEN-FREE: To make this dish GF, simply use Gluten-Free pasta shells and ensure that other ingredients are GF-friendly. 
VEGGIES: If preferred, you can always use traditional broccoli instead of broccolini or add other greens to the mix for additional flavor such as Spinach, Kale, or Collard Greens.
SPICES/HERBS: If desired, you can reduce the amounts slightly. Please know that this recipe is bold in flavor, so feel free to adjust based on your tastebuds.
CAJUN SEASONING: If you'd like to make a homemade cajun seasoning blend, simply visit my Cajun Sweet Potato Grits w/ Chickpea recipe.
VEGAN OPTION: To make this vegan, I definitely enjoy making my Ultimate Vegan Mac + Cheese recipe and adding the roasted broccolini to it. Dynamite!
Copycat Velveeta Broccoli Mac + Cheese