This Vegan Jamaican Power Bowl is the next best thing for the colder season! Absolutely comforting, easy to make, and the perfect dairy-free + meatless weeknight meal option that comes full of nutrients. Made with roasted Jerk butternut squash, brussels sprouts, baby potatoes, tomatoes, sweet peppers, along with quinoa and a quick stew red peas. To add more flavor----there's a homemade garlic dressing—–all that you can't go wrong with for dinner.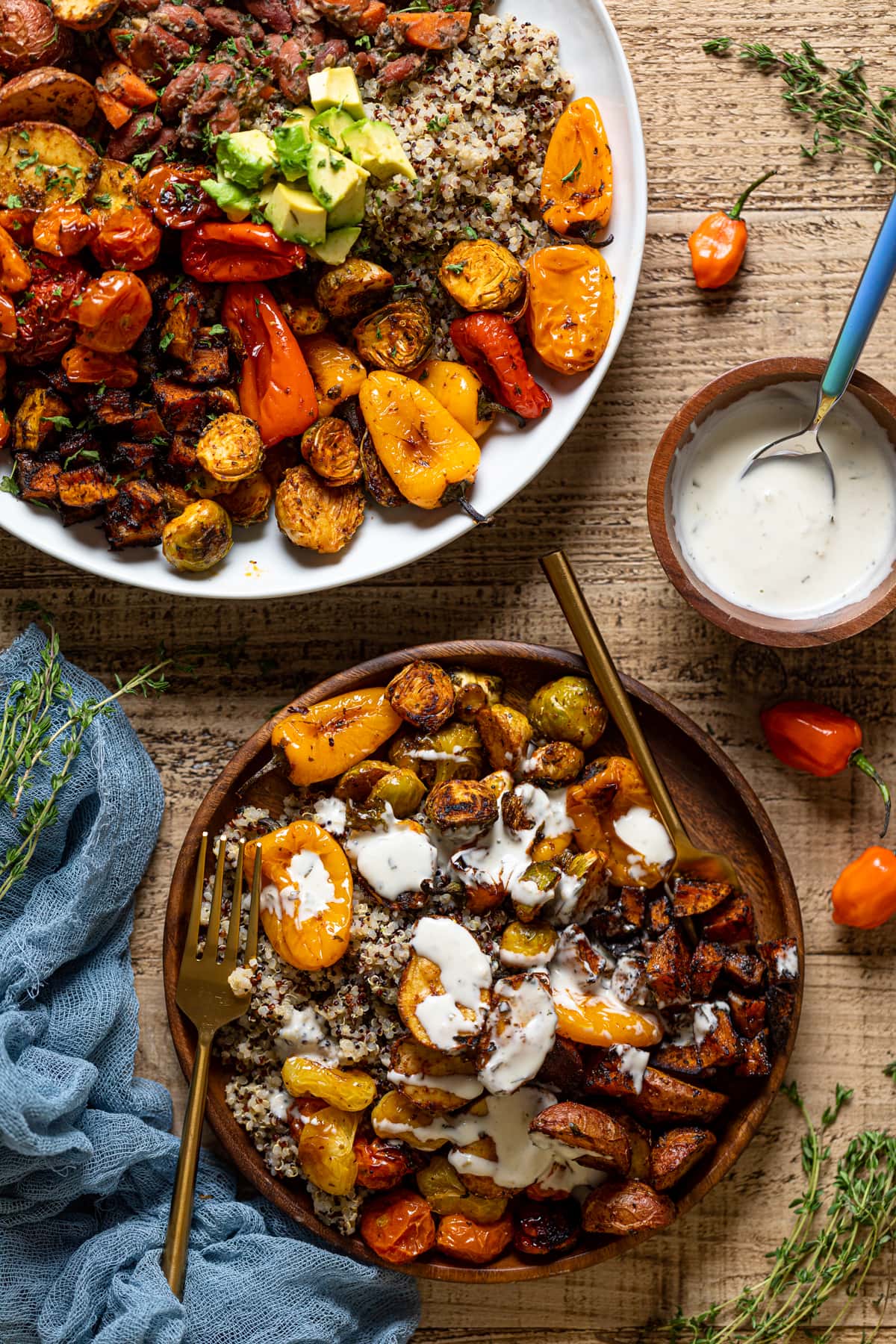 I don't even know where to begin about this Vegan Jamaican Power Bowl. It's literally one of the best bowls I've made in a long time and it's loaded with things like flavors + textures.
When it comes to eating food bowls, I'm super big on getting the most nutrients and enjoyment out of every bite and this one does the trick! And of course, I've included a ton of roasted veggies for heightened flavor and to also keep things interesting.
For this dish, I used my Roasted Herb Tomatoes recipe and my Garlic Herb Smashed Potatoes (minus the smash) because---why not? Haha.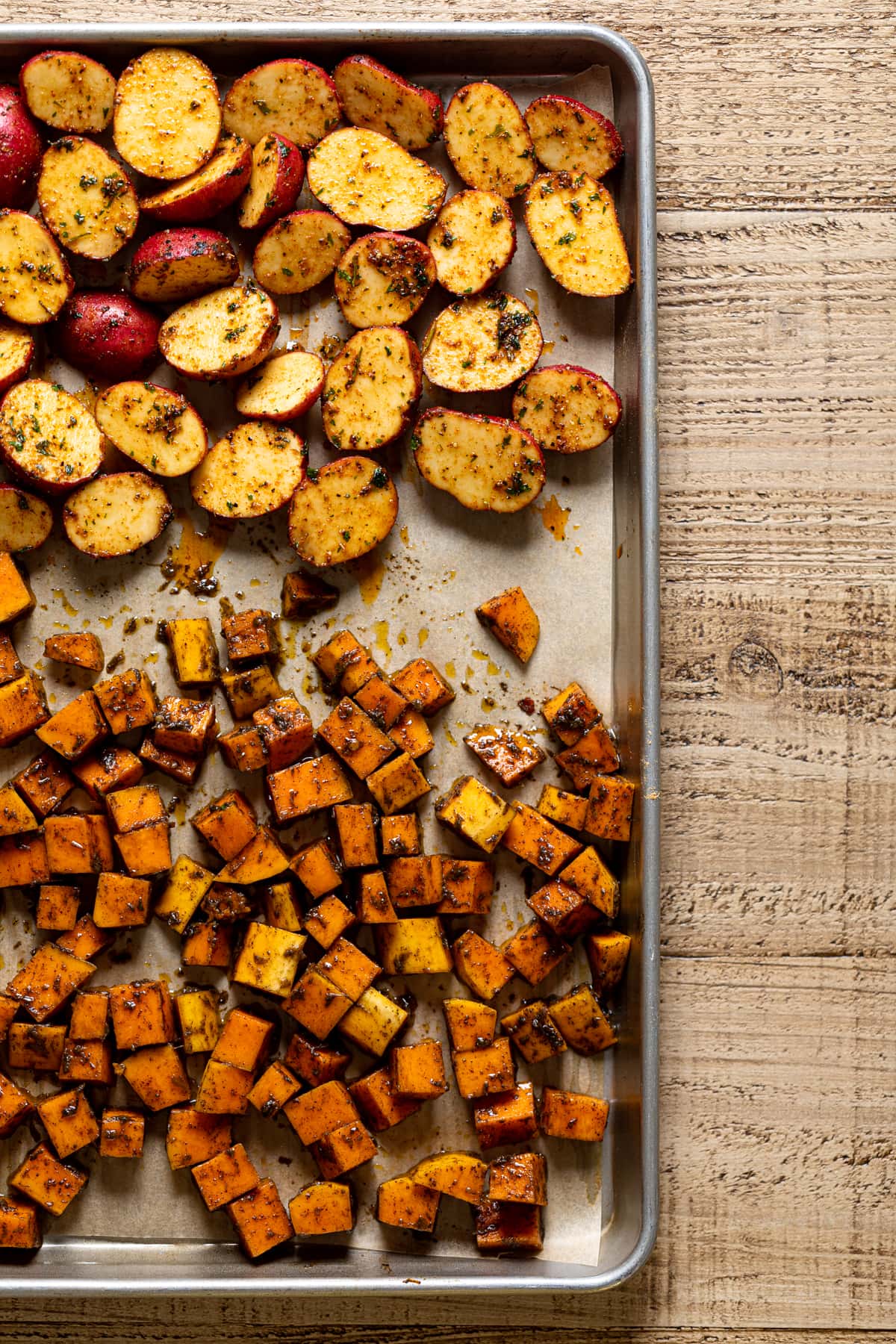 How to Make this Vegan Jamaican Power Bowl
This Vegan Jamaican Power Bowl is literally made in a matter of seconds once all of the ingredients have been cooked and/or roasted to perfection. All you need is a large platter or plate and section each ingredient into a spot until everything is laid out.
Perfectly Roasted Potatoes
Knowing how to roast all vegetables (in general) perfectly is definitely a learned skill. All veggies are different and they all have vast cooking times.
The most common rule of thumb is to roast thicker vegetables at a higher temperature because they can handle the heat. For example, potatoes or sweet potatoes can roast at a higher temp because of their thickness. Broccoli, on the other hand, lends well to a lower heat when cut into florets.
Other common rules when roasting is to use lots of olive oil and a rimmed baking sheet. The oil flavors the veggies and prevents them from sticking to the pan. You can also use a heavy pinch of salt and pepper for perfectly seasoned vegetables. In this recipe, I chose to use melted vegan butter in place of oil.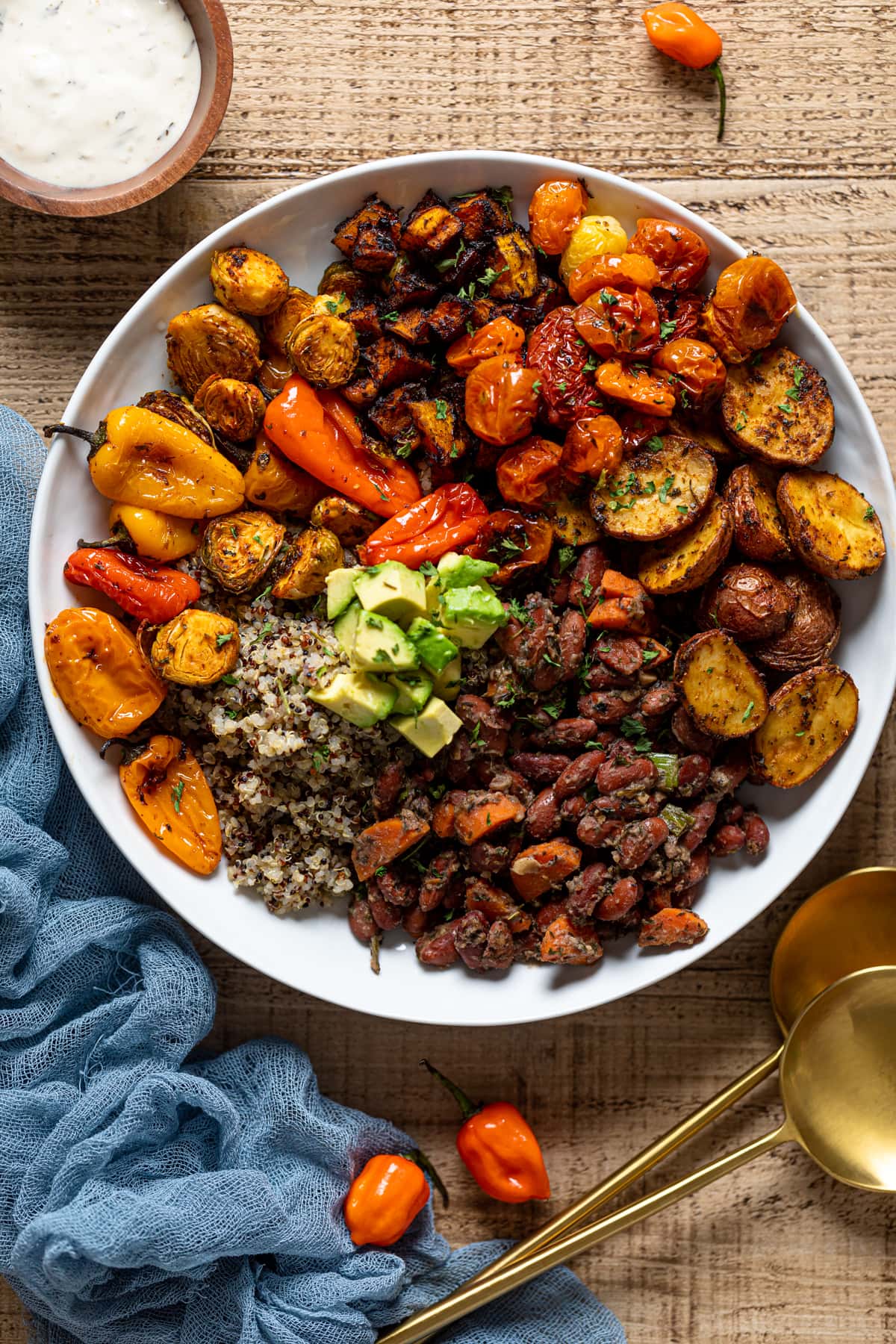 How to Make Herb Roasted Tomatoes
The key for this recipe is to start with great-quality tomatoes. Choose a mix of large and cherries, and several different colors if you can find them.
Top Reasons Why You'll Love This Bowl!
Once you make and eat this Vegan Jamaican power bowl ----- you'll fall in absolute love. Haha. More importantly, here are also the reasons why you'll love it the most:
It's ALL Vegan + Plant-based.
Super easy to make and quick
So many nutrients in one bowl.
Great for meal prepping and make aheads for the week!
Full of warm flavors, hints of sweetness/spiciness + savoriness (The best reason!)
Perfect for any time of day—Dinner, Lunch, Breakfast (if that's your thing), whatever!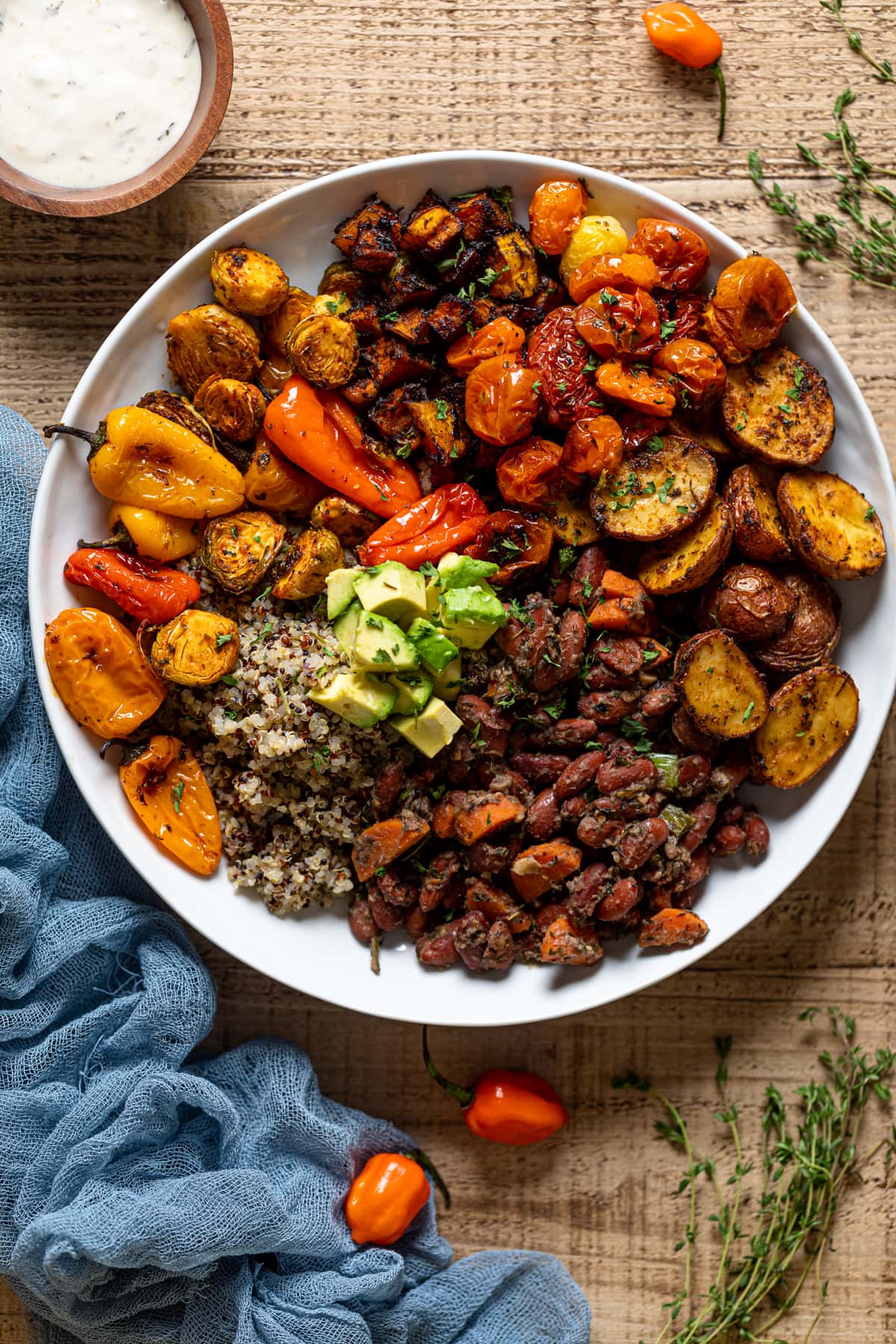 What is Jerk Seasoning?
Jerk seasoning is a flavorful spice blend from Jamaica. It has a uniquely complex flavor profile that's a bit nutty, a bit spicy, and full of rich umami flavors, which makes it especially tasty in this vegan power bowl recipe.
It is traditionally used as a dry rub on chicken, but I love spicing up all sorts of dishes with jerk flavor. You can buy store-bought jerk seasoning or you can make your own.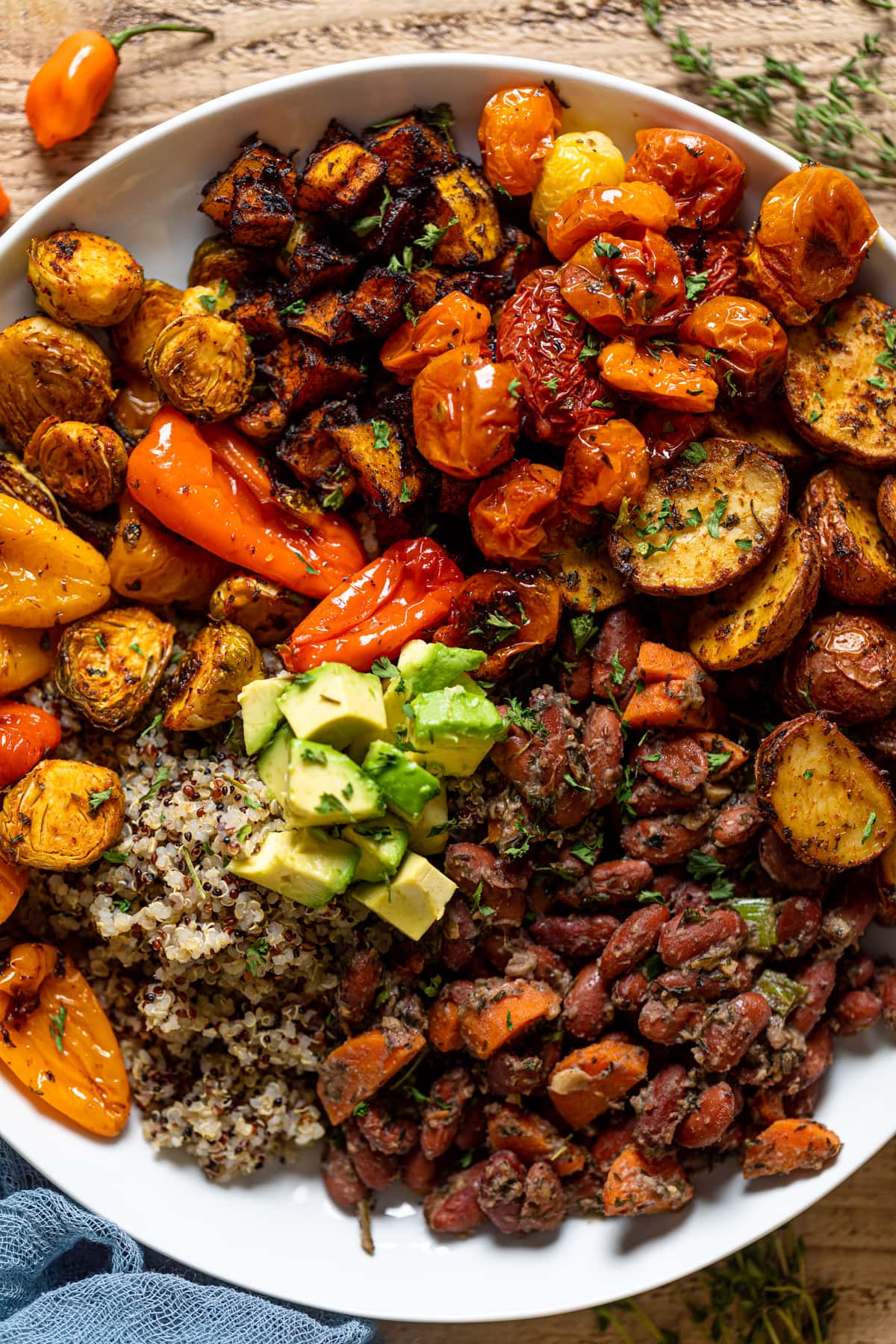 Optional Toppings for Vegan Jamaican Power Bowl
Other excellent toppings for this Jamaican power bowl are:
Black beans
Lentils
Green peas
Farro
Asparagus
Sweet potatoes
Broccolini
Roasted Cauliflower
Chickpeas
Carrots
Bell peppers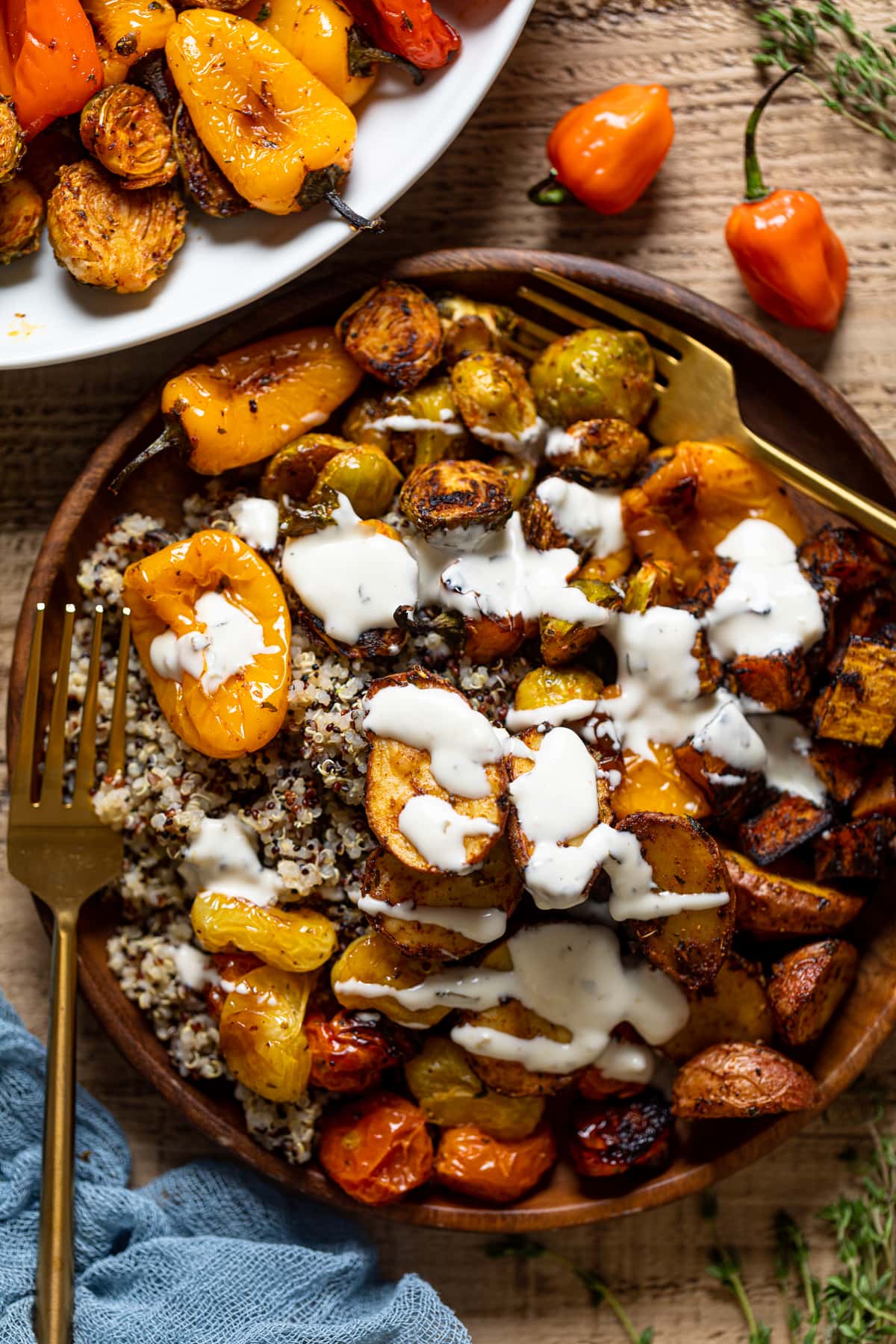 More Easy Meatless Weeknight Meals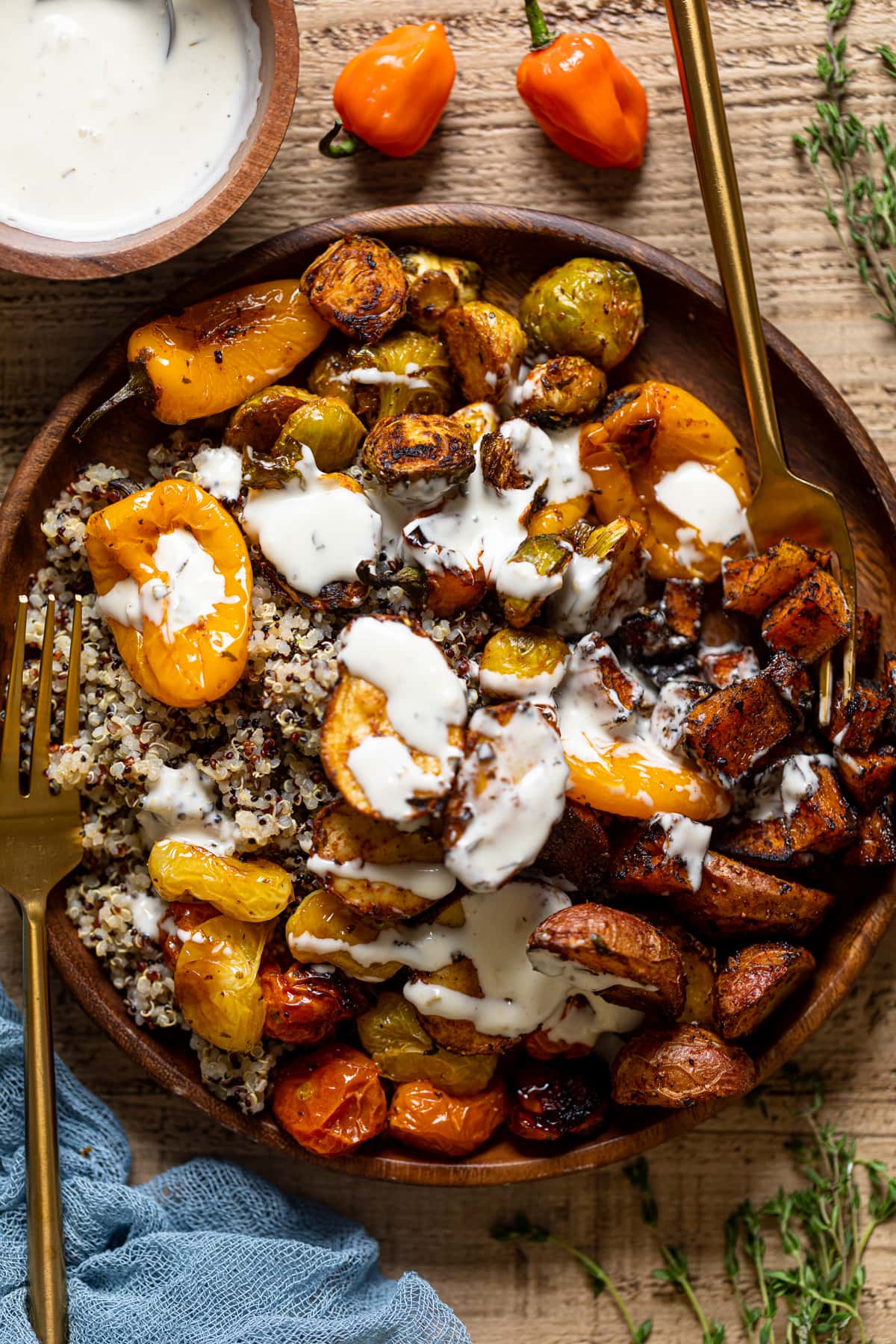 MADE OUR RECIPE(S)?
If you make this Vegan Jamaican Power Bowl, tag @orchidsnsweettea_ on Instagram and hashtag it #orchidsandsweettea!
ROASTED JERK BUTTERNUT SQUASH:
HOMEMADE JERK SEASONING:
1

tablespoon

onion powder

1

tablespoon

garlic powder

2

tsps

cayenne pepper

2

tsps

salt + black pepper

2

tsps

dried thyme

2

tsps

brown sugar

1

teaspoon

ground allspice

1

teaspoon

dried parsley

1

teaspoon

paprika

½

teaspoon

red pepper flakes

½

teaspoon

ground cinnamon

½

teaspoon

ground nutmeg

½

teaspoon

ground clove

¼

teaspoon

ground cumin
LIGHT STEW PEAS:
1

tablespoon

Extra virgin olive oil

1

(15 oz.) can

kidney beans, drained + rinsed

1

carrot, peeled + chopped

1 ½

cups

full-fat coconut cream or milk

2

Tbsps

organic vegetable stock

2

garlic cloves, minced

½

red onion, diced

2

scotch bonnet peppers, left whole!

1

teaspoon

sea salt

Pinch of

black pepper

1

teaspoon

dried parsley

1

teaspoon

dried thyme

½

teaspoon

smoked paprika

¼

teaspoon

ground all-spice
TO ROAST THE JERK BUTTERNUT SQUASH:
Preheat your oven to 400 degrees Fahrenheit and prepare TWO baking sheets by lining them with parchment paper.

In a bowl, add the butternut squash along with the olive oil and jerk seasoning, gently mixing everything together until the squash is fully coated.

Add the butternut squash unto one of the baking sheet (in a single layer) and and bake for 25-30 minutes or until they are charred, tender, and crisp.
TO ROAST THE VEGGIES:
Add the brussels sprouts, potatoes and sweet peppers in a bowl with olive oil + herb seasonings, mixing everything together until veggies are fully coated. Place veggies unto the other prepared baking sheet separately grouped and bake for 15-20 minutes or until the brussels sprouts and sweet peppers are golden, wilted, and crisp.
TO MAKE THE LIGHT STEW:
Add 1-2 Tbsps of olive oil to a medium 10-inch skillet over medium-high heat.

Add in the garlic, onion, and carrot and Sauté for 1-2 minutes until slightly tender and fragrant. Stir in the seasonings.

Next, add the beans, veggie stock, and coconut cream/milk, stirring everything together and bringing it all to a boil. Once it begins to boil, add the scotch bonnet peppers and reduce heat to low and let simmer for 8-10 minutes. Remove from heat once done.
ASSEMBLY:
To assemble: in a bowl or a large platter---evenly spoon the ingredients side by side as follows: cooked quinoa, roasted potatoes, roasted tomatoes, roasted sweet pepper, light stew peas, roasted jerk veggies and top with diced avocado and a drizzle of lemon-garlic dressing.

Bon Appetit!
STORAGE: Place any leftovers in a tightly sealed container in the refrigerator for 3-4 days.
POTATOES: For an extra kick, you can always substitute Yukon potatoes with baby red potatoes, sweet potatoes (sliced in rounds), etc.
OIL: If you'd like to use an alternative to olive oil, you can also use melted vegan butter, coconut oil, or grapeseed oil.
DRESSING (STORAGE): Leftover dressing can be kept in an airtight container or jar in the refrigerator for up to 2 weeks.
COCONUT MILK: Makes things nice + creamy; If using the canned coconut milk instead of canned coconut cream, be sure to refrigerate overnight to make it thick.
HERB ROASTED TOMATOES: To make this, see my recipe here.
MAKE AHEAD: All ingredients can be made and individually stored as meal prep and assembled when ready to serve.
Calories:
926
kcal
|
Carbohydrates:
108
g
|
Protein:
19
g
|
Fat:
55
g
|
Saturated Fat:
31
g
|
Polyunsaturated Fat:
4
g
|
Monounsaturated Fat:
17
g
|
Sodium:
3589
mg
|
Potassium:
2962
mg
|
Fiber:
25
g
|
Sugar:
19
g
|
Vitamin A:
29268
IU
|
Vitamin C:
270
mg
|
Calcium:
375
mg
|
Iron:
13
mg
Vegan Jamaican Power Bowl.