These Flaky Jamaican Curry Chickpea Kale Veggie Patties are truly something amazing and have the right texture from the ultra flaky crust and flavorful curry filling. Wrapped in nicely buttery, curry + herb-infused, flaky crust, and stuffed entirely with a 'meaty' filling that consists of onion, garlic, carrots, chickpeas, and more; these patties will leave you forgetting that it's totally meat-less and convinced that vegan veggie patties are the new 'foodie' favorite---for both kids and adults-alike! Entirely dairy-free + vegan. Make Ahead option.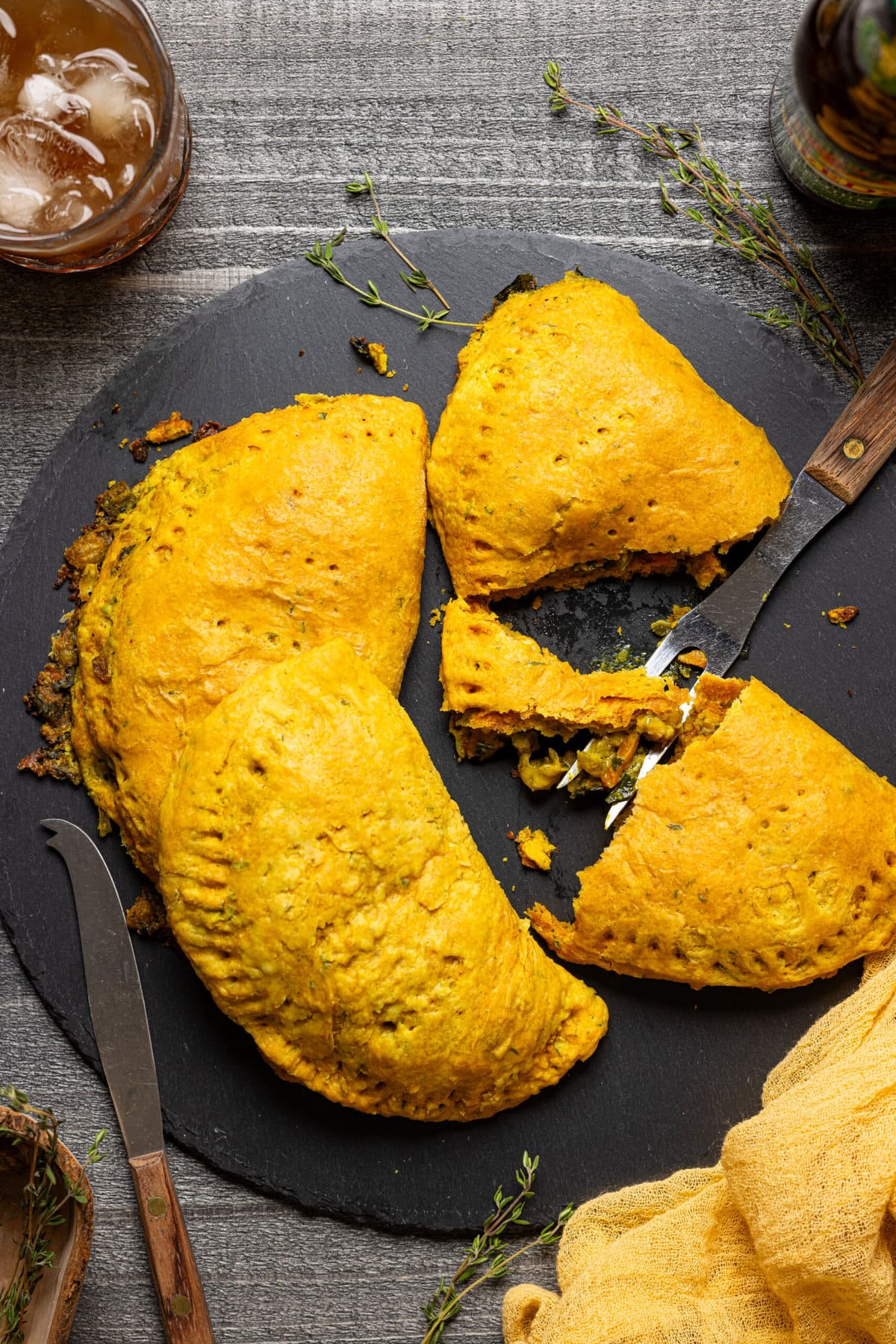 Patties of any kind if I'm honest is an absolute love of mine. Growing up, classic beef patties like these Spicy Jamaican Beef Patties were a staple. However, I always enjoy switching things up and pushing the envelope as it relates to both flavor and ingredient combos---hence these Flaky Jamaican Curry Chickpea Kale Veggie Patties were born! They're seriously something special and truly offer a ton of flavor in every bite. Plus, I like to make larger patties, but they work great as smaller ones for a great appetizer situation for the holidays or a gathering.
The crust is SUPER soft, buttery, flaky, and just has the right amount of crunch to them like the ones from Juici Patties in Jamaica, which were my FAVES!!! Of course, I have these Vegan Jamaican Beef Patties which are the meatless version to the traditional beef patties, but the curry chickpea + kale filling in these patties are so delicious----I promise.
This coconut curry recipe boasts of tender chickpeas and chopped kale that are simmered until succulent in a spicy (with the option of mild), savory sauce made from coconut milk/cream, herbs + seasonings, scotch bonnet peppers, garlic, ginger, veggies, turmeric, and curry powder. Plus, if you're a lover of curry dishes, then this Weeknight Jamaican Curry Chicken + Gnocchi, Spicy Coconut Curry Chicken Bowl, Easy Vegan Chickpea Curry Bowl, and Vegan Pumpkin Curry Butternut Squash is one for the books!
These little handheld vegan patties can be a quick breakfast or lunch on the go (if you're into savory for breakfast!), a satisfying snack, or a great laidback dinner. Once they're baked, they can be eaten all week long. With a simple burst in the microwave or oven to warm (for the BEST results), you have a hot and fresh vegan patty all week long.
What is Jamaican Curry?
There is no singular recipe for Jamaican curry because all families have their own traditions. However, it is generally a mix of locally-found seasonings. You can find either store-bought mixes or you can season your curry on your own using a variety of flavorings.
Scotch bonnet peppers are found in many Jamaican dishes, so I had to include them in this sauce. They add a sweet-spicy kick, but watch out! These guys can get seriously spicy, especially for those with mild heat tolerance.
Jump to:
What You'll Love Most About These Vegan Patties
They're super easy to make.
Ultra flaky, buttery, soft crust with an intensely flavorful curry filling.
Only requires a handful of staple ingredients with the ability to substitute where necessary.
Makes for a great weeknight meal---completely dairy-free + vegan!
Perfect as a fun baking activity for the entire family.
Works great as a meal prep option and larger batching.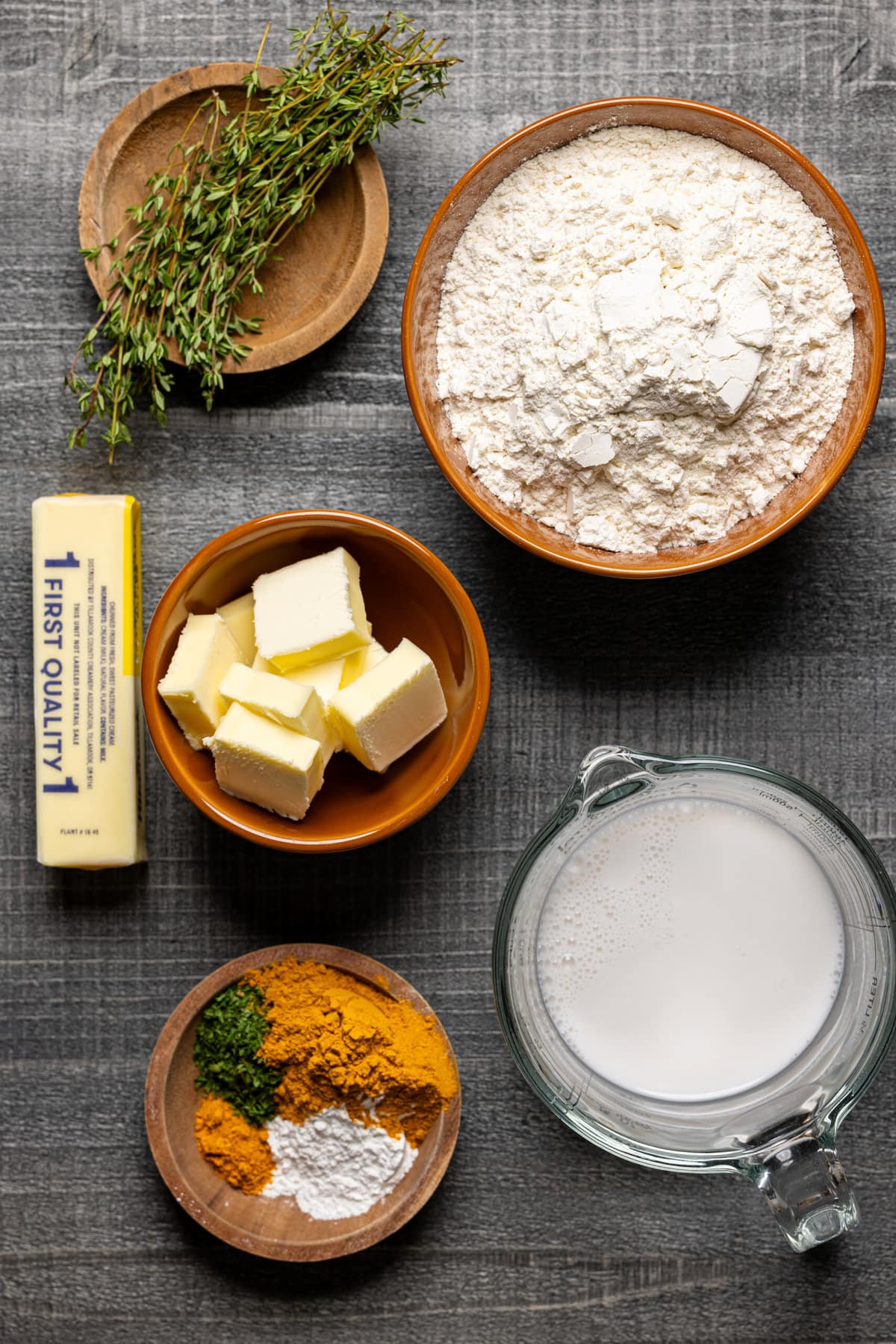 How To Make Flaky Jamaican Curry Chickpea Kale Veggie Patties
When it comes to making this Flaky Jamaican Curry Chickpea Kale Veggie Patties recipe, the process comes in 3 easy steps:
Begin by prepping your crust first! Getting your crust made using the handful of ingredients and having it chill in the refrigerator for at least 1 hour is super important for creating the most flakiest crust possible!
Sauté all of your veggies in a skillet (I love using a cast-iron skillet) and add in the spices and herbs. Let the chickpeas + kale be the last veggie added after liquids. Let it all simmer, simmer, simmer, until thickened and tender.
Finally, it's the assembly + bake step. You'll begin rolling out, cutting, and shaping your dough, then add the cooled filling, brushing with a vegan 'egg' wash, bake, and wallah.
Ingredients for Flaky Crust
The crust is such an important part of these Flaky Jamaican Curry Chickpea Kale Veggie Patties, especially when it comes to texture. Here's what you'll need:
All-purpose flour. I use organic flour from Bob's Red Mill or King's Arthur. For a better flakier texture to your crust, you can add pastry flour to the mix.
Baking powder. This acts as a leavener + helps to make the dough a bit more fluffy and soft.
Curry powder. You can use a quality curry powder or turmeric as a substitute, if desired.
Turmeric, parsley, + thyme. These add additional flavor and turmeric is a powerful ingredient with anti-inflammatory properties, etc.
Vegan butter. Make sure your butter is VERY COLD! This is the key to flaky layers. I love buttery sticks from Earth Balance or Miyoko's.
Almond milk. You can use water or other unsweetened dairy-free milk if you like.
Apple cider vinegar. This adds a tangy buttermilk-like flavor without actual buttermilk. You can use lemon juice instead.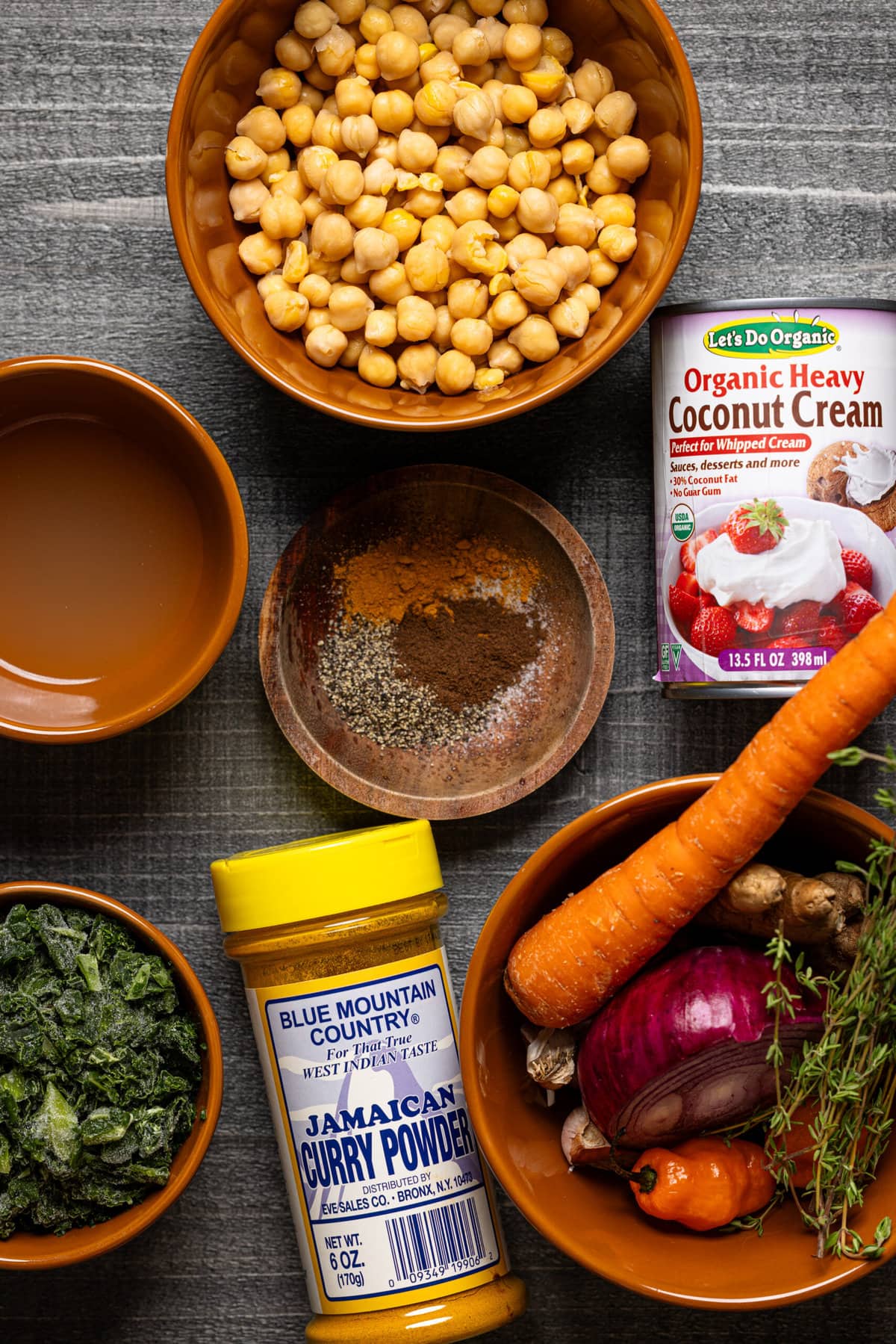 Ingredients for Veggie Filling
The ingredients for these vegan patties are important for developing the right flavor notes and texture. Here's what you'll need:
Herbs + Spices. For the crust + filling it's all about the herb + spice blend, which includes salt, black pepper, parsley, turmeric powder, thyme, and allspice.
Chickpeas. One of my faves! Chickpeas are packed with a host of vitamins, minerals, + fiber and offers a variety of health benefits. They make a great ingredient for the filling.
Fresh Greens. I use kale, but spinach, collard greens, or Bokchoy also works well to add some greens, Vitamins, and color in.
Red onion. Substitute with yellow or white if that's what you have.
Carrots. I love using carrots to add a bright color to the dish and provide added nutrients. You'll simply need to peel + chop.
Vegetable stock. This adds great additional flavor. Use store-bought low-sodium broth or make your own! For added nutrition (non-vegan option), add in half the amount in bone broth.
Garlic + ginger. I prefer fresh, but you could substitute with 1 teaspoon garlic powder and ½ teaspoon ground ginger in a pinch.
Coconut Milk. You can use either full-fat canned coconut milk or cream.
Scotch bonnet pepper. Totally optional, but this will add a nice kick of heat to the dish. You can also substitute with habanero peppers or jalapeños, if you have those on handy. Remove the seeds for less heat.
Thyme. I recommend fresh, but if you only have dried, use a half teaspoon.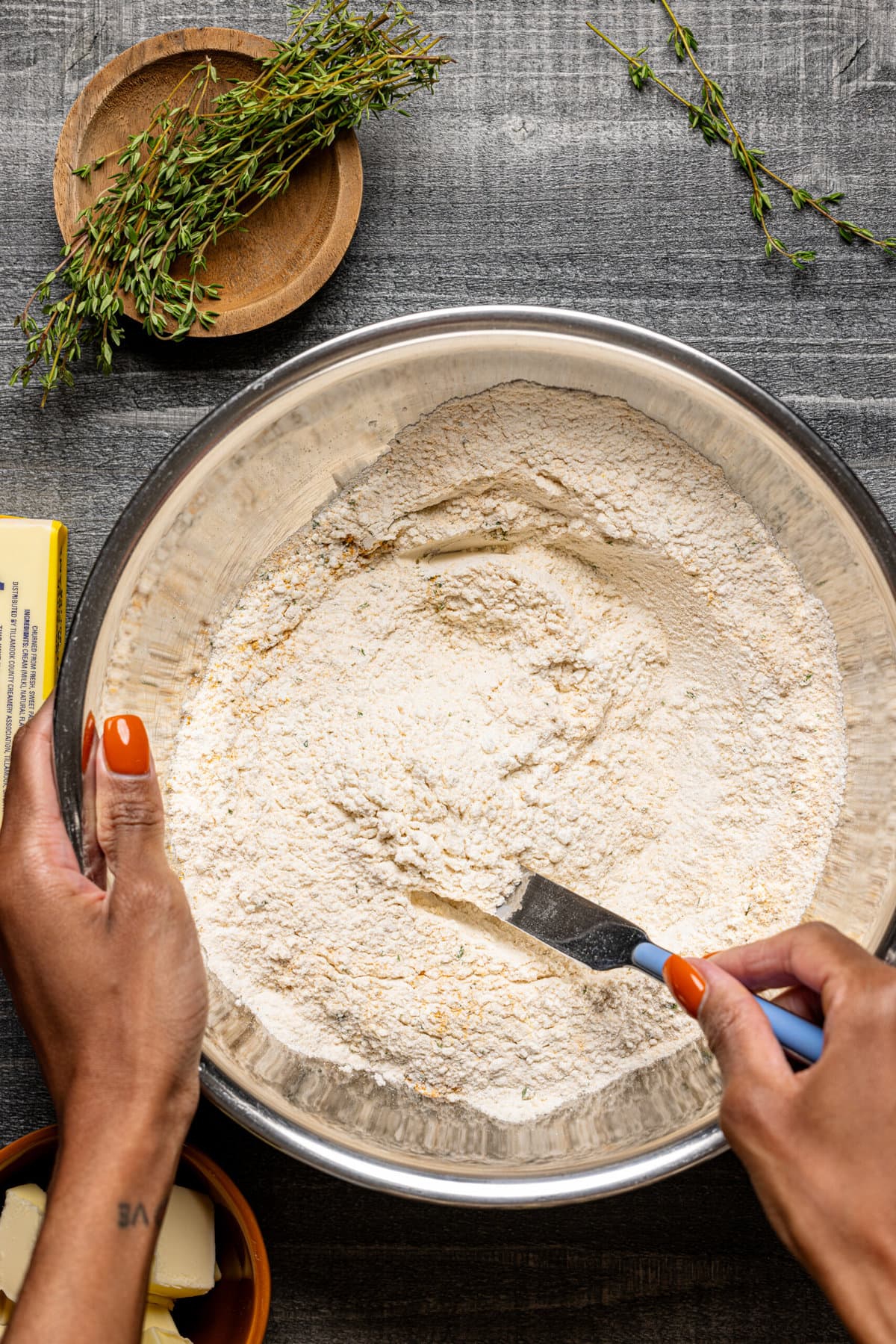 Tips For Making the Flakiest Crust
The butter is SUPER important. When it comes to the vegan buttery sticks, ensuring that they are COLD and of course from a great brand is key! For Vegan pastry crusts, I generally go for Earth's Best Buttery Sticks or Miyoko's unsalted vegan butter, which taste like real unsalted butter.
Adding Shortening works too! Although I tend to use buttery sticks alone, adding shortening or lard adds great wonders as well. All you need is half shortening and half butter.
Fridge time is an important time! Chilling your dough for an hour at a minimum is so imperative to a flaky crust. Even slightly longer makes for a great advantage.
Your flours matter, big time! Again, while different brands of flour hydrate differently (causing a slightly different result), ensuring that you mix in all-purpose flour with pastry flour is also just as important. Believe it or not, pastry flour makes a difference and serves a greater purpose!
SLOWLY pour in liquids, don't dump it! Gently pouring in the milk-ACV mixture is so imperative. I pour ¼ cup at a time and work the dough with my hands to eyeball how wet or dry everything is.
The dough can be made in advance, too. If making your crust ahead, you can always store it in the refrigerator for up to 2 days. No longer!
Not too Thick or Thin. Ensuring that you roll out a good enough crust is of course a must. Most go by the rule of thumb being ⅛ or so of an inch thickness or even slightly thicker. This helps your crust to the perfect thickness to carry the weight of your filling without compromising flakiness.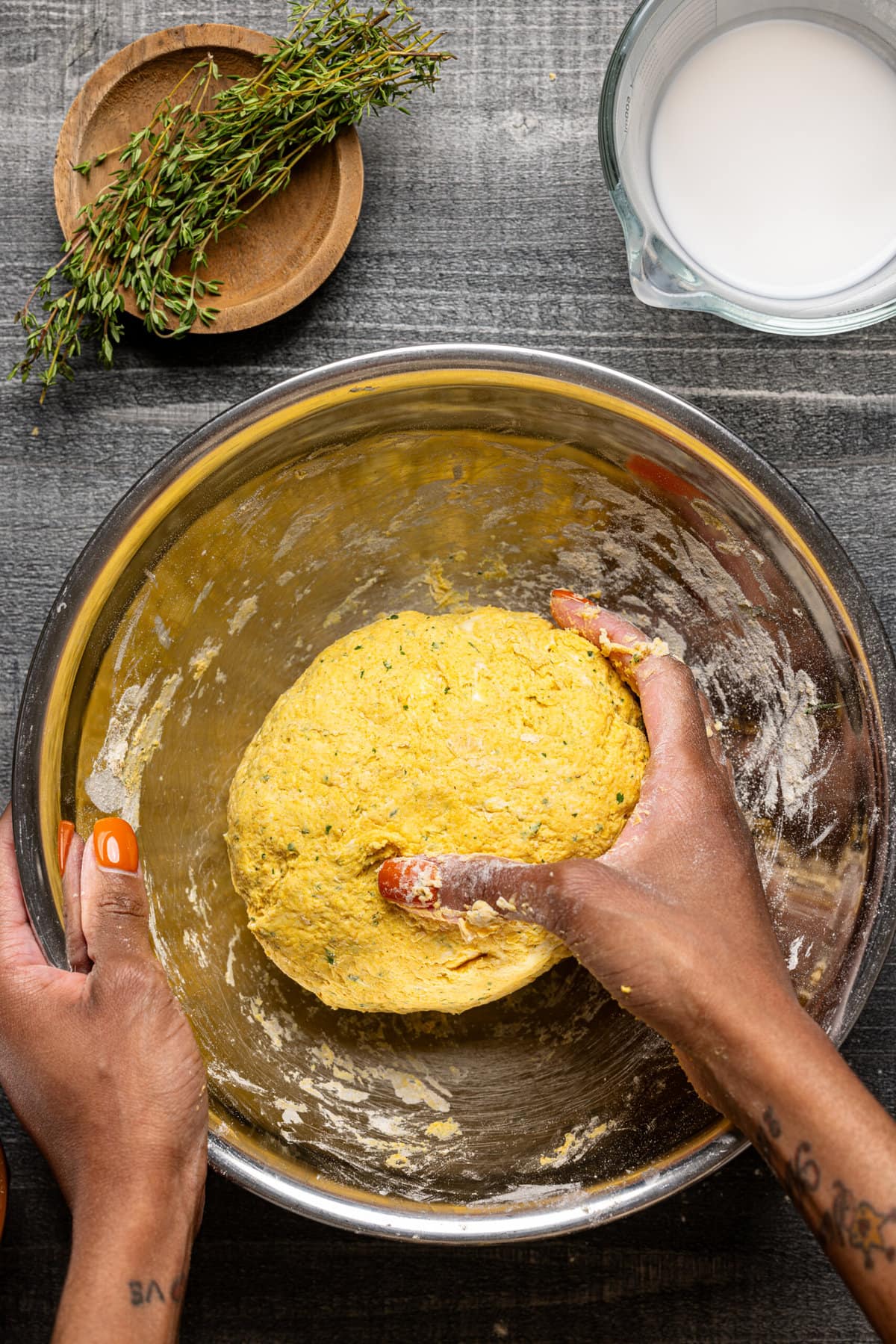 The Secret to Super Flaky Vegan Jamaican Veggie Patties
As you can see, I'm no stranger to homemade patties, pop tarts, or pastries of any sort. Because I've made them so many times, I feel like I have completely perfected the recipe. Here's my secret to a super Flaky Jamaican Curry Chickpea Kale Veggie Patties:
GRATE + CUBE THE BUTTER!
Yes---I know. You might be wondering why I've stated this but it works. Since we'll be using 2 sticks in this recipe, I simply grate 1 stick of butter and cube the other. Honestly, I think that the variation in the butter pieces helps some to melt faster and settle more in the dough, which creates a beautiful flakiness like no other.
To take it a step further, you can add the cubed butter to the dry ingredients and blend it into "peas-like" pieces--leaving out the grated butter for now. Then after the dough has chilled and you've begun rolling it out until a floured surface, simply add the grated butter in, fold a few times and then roll it out. This creates butter in more than one layer which creates a heavenly crust too.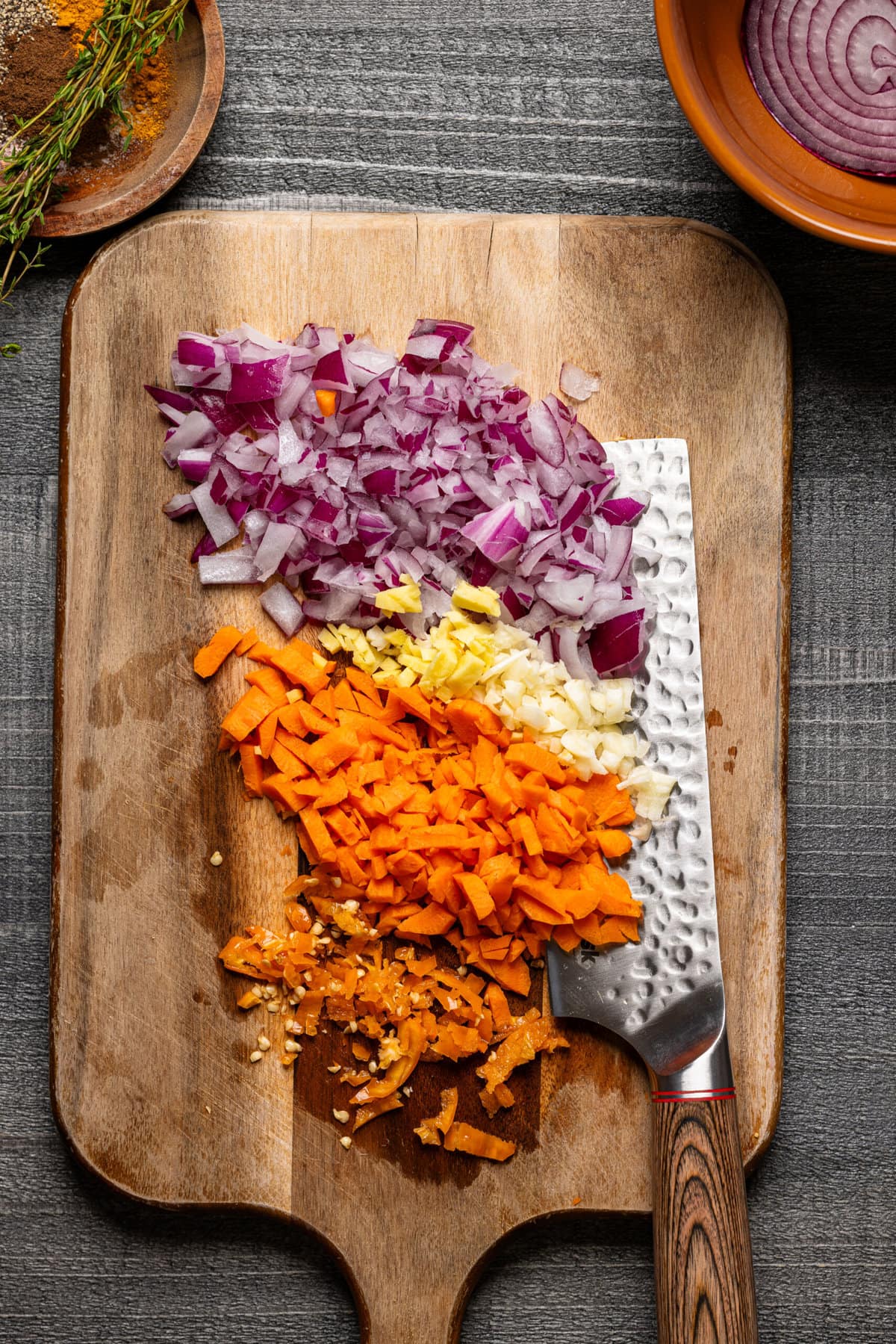 How to Use Dried Beans in these Patties
I love the convenience of using canned beans, especially during weeknights where time is limited. But if you have more time or would like to use dried beans, no worries!
Simply soak your beans (chickpeas for this recipe) overnight covered in water to help cut down on the cook time. For a quicker soak time, simply add your beans to water in a pot, bring to a boil, remove from heat and cover the pot to let the beans rest in the water for at least 1 hour.
Then on the day of, boil your beans in water for 60-180 minutes, depending on the type of bean and it's size. Smaller beans cook on the quicker end of this timeframe.
What Can Be Used in Place of Kale in these Vegan Patties?
Although, kale is the most common veggie used in this Jamaican Vegan Patties, you can definitely use other greens such as spinach, collard greens, bokchoy, etc. for a nice twist! When it comes to vegetables, there are so many benefits as we all know. While some veggies pack a greater punch when it comes to nutrients, we've curated a special list of our Our Top 12 Favorite Healthy Green Leafy Vegetables! Most of these are super popular while others are under utilized in many dishes. Lettuce Eat, Shall We?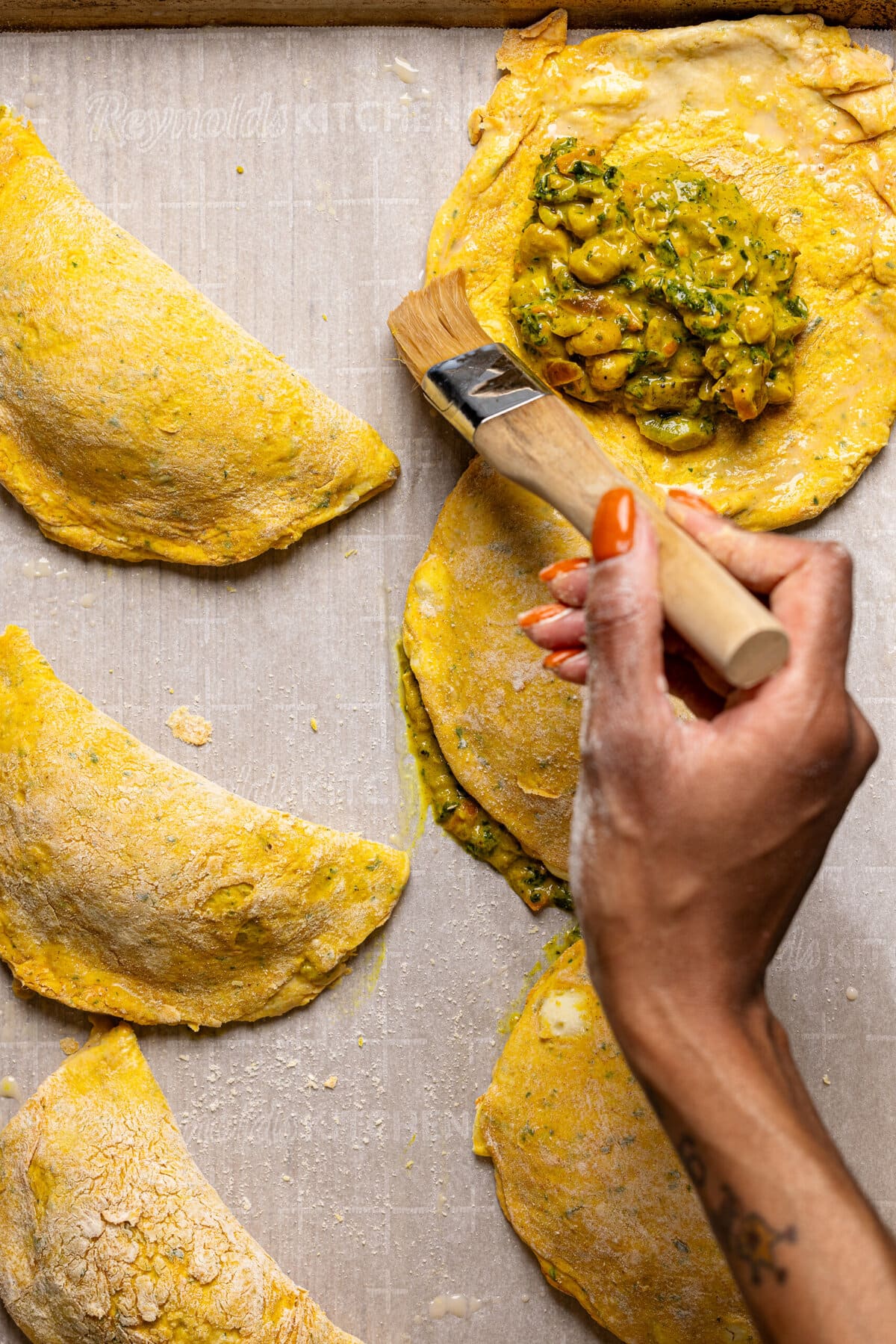 WHY I LOVE ADDING TURMERIC TO MY CURRY!
Turmeric is an amazing ingredient to incorporate into your dishes, especially in this curry patty recipe. The health benefits that derive from this simple ingredient is so awesome. But if you're wondering, what turmeric is and where you can find it—no worries. Let's talk!
Turmeric is the spice that gives curry its yellow hue. That's right—it creates that bright yellow color all on it's own. The main ingredient in turmeric—curcumin, is where all the incredible benefits lie.
Benefits include -
Improved heart health
Very strong antioxidant
Powerful inflammatory effects
Strong antibacterial effects
Aids digestion
Here, I've curated a list of cooking + baking essentials that I use to achieve my favorite baked goods or cooked meals, especially with these Vegan Jamaican Veggie Patties. Everything from my fave baking sheet, dutch ovens, high-powered blender, mixing bowls, and more. SEE THEM HERE!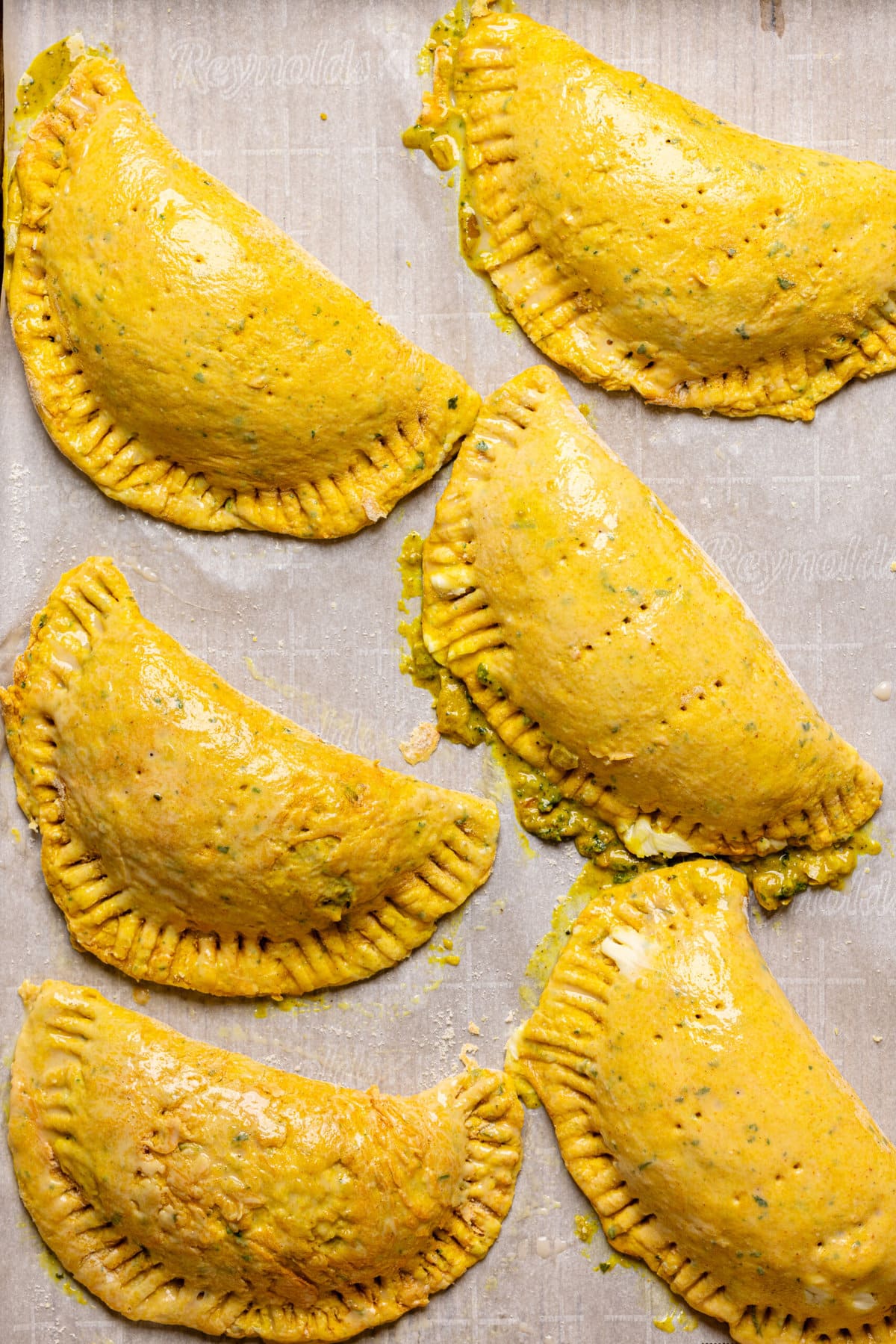 What Are Chickpeas?
For those of you who aren't aware, another name for Chickpeas is Garbanzo Beans. They have been around for thousands of years and originate from the Middle East. Chickpeas have such a great texture and nutty flavor, which allows them to successfully pair well with a lot of other ingredients, especially in vegan and/or vegetarian recipes.
From creamy hummus to tasty curries and crispy falafel, chickpeas are a superstar ingredient that adds both fun and nutrition to your meals. Plus, they're a great source of protein, fiber, vitamins, and minerals.
Chickpea Health Benefits
When it comes to the health benefits of Chickpeas, here are a few awesome reasons why you should probably add this simple ingredient to your diet more often:
Packed with Nutrients + have a moderate amount of calories!
Rich in Plant-Based Proteins!
Support Blood Sugar Control.
Full of Fiber + might aid digestion.
May protect against Chronic Diseases (such as heart Disease, Cancer, Diabetes, etc.)
May Help keep your appetite under control (Think about how protein + fiber helps to slow down digestion, therefore keeping you full longer!).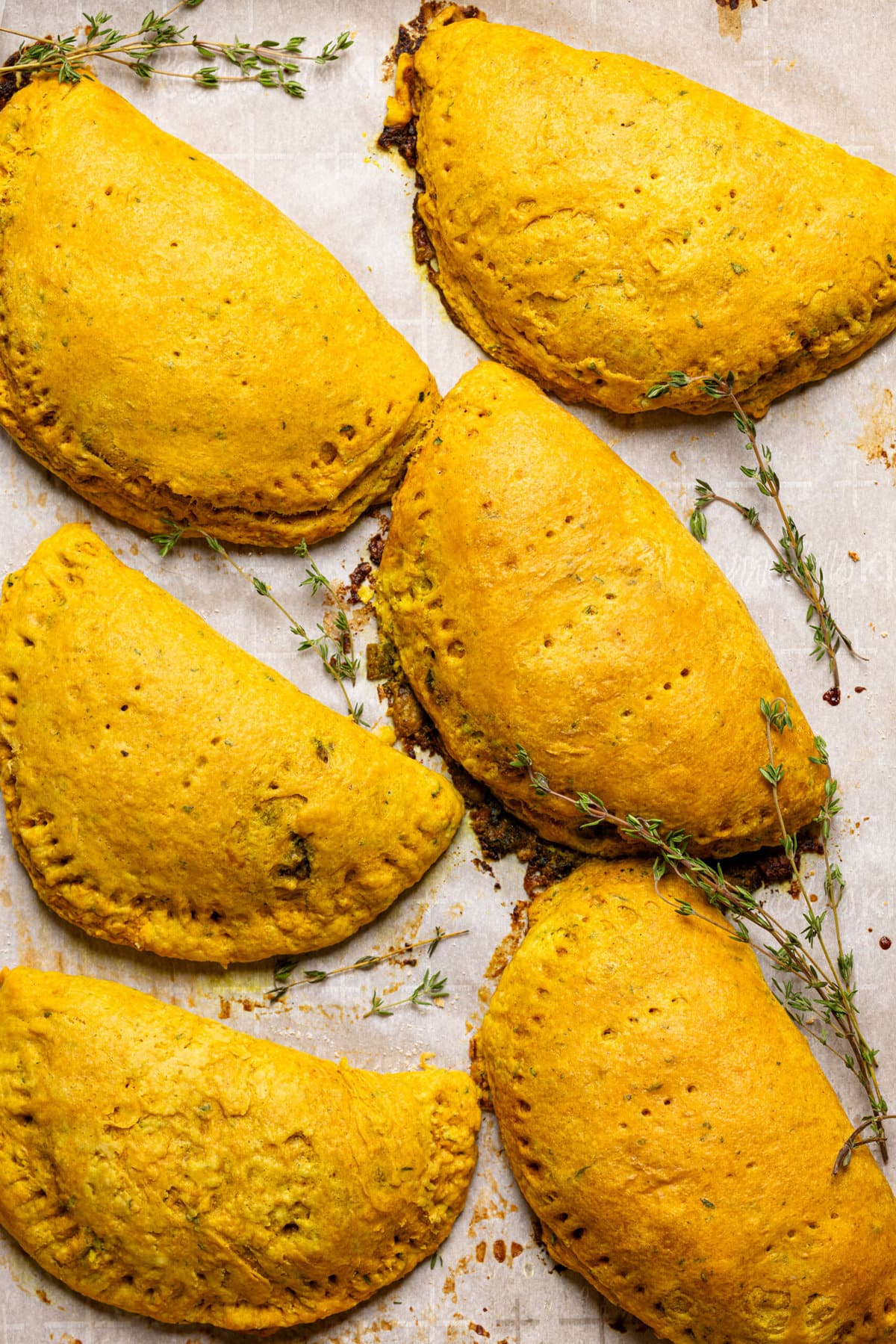 Common Q + A's for these Flaky Jamaican Curry Chickpea Kale Veggie Patties
How to store + reheat leftover patties?
Leftover patties can be stored in an airtight container for up to 3 days. To serve warm, heat in the microwave, or flat in a toaster oven. 
Can I freeze these veggie patties?
Absolutely! For longer storage–the patties can be stored in the freezer. After they have baked and are completely cooled, simply place your patties onto a baking sheet (spaced apart) and freeze them for 2-3 hours. Once frozen, transfer them to a zip loc bag and reheat when ready to eat! They last up to 3 months.
Why do I need to burn the curry?
Whenever using Jamaican curry powder, it's important to burn the powder first to avoid digestive issues for some people because of it's potency. In addition, the "burning" process releases better flavor + color.
Can I Make the Crust in a Food Processor?
Oh yes! If using a food processor to incorporate milk to flour/butter mixture, ONLY ADD ¼ cup of milk AT A TIME to your dough, keeping it on "pulse" to avoid the dough from breaking down too much and it becoming "watery". With this method, you may not need the entire 1 cup of almond milk.
Why do I need to grate my butter?
To create a beautifully crumbly and flaky crust, I suggest grating 1 stick of butter and cutting the second stick into cubes. To grate your butter, add the 1 stick to a freezer for 15 minutes. Remove from freezer and using a grater, grate into pieces. 
Can I use salted or unsalted vegan butter for the crust?
Yes! You can always substitute the salted vegan  butter with unsalted vegan butter. When doing so, just add ½ teaspoon salt to dry ingredients for crust.
Can I make the curry filling coconut milk-free?
Of course! If you'd prefer to make this curry recipe without coconut milk, you can substitute with Almond milk. NOTE: If you need the sauce to be a little thick, add 1 teaspoon of cornstarch, arrowroot starch, all-purpose flour, etc. if needed. Always mix thickeners with water to avoid lumps.
How to substitute scotch bonnet peppers?
While traditionally scotch bonnet peppers are used in Jamaican dishes, unfortunately, they might not be found easily in some areas, therefore, substituting them with habanero peppers, jalapeños, etc works just fine! For equal spice to scotch bonnet, you can add a pinch of cayenne pepper and a few drops of hot sauce when substituting.
How to substitute Jamaican Curry Powder?
Unlike regular curry powder, Jamaican curry powder contains more turmeric (hence the bold yellow color) and allspice. Therefore, if you don't have Jamaican curry powder handy, simply use regular curry powder and add additional turmeric powder and a few pinches of allspice powder.
Can I make these veggie patties ahead of time?
Absolutely! You can definitely make these vegan veggie patties in advance and/or larger batches and freeze them for longer lengths of time. Simply add them to a freezer-safe ziplock bag after individually wrapping them in parchment paper for the greatest "pull + reheat" out the freezer situation!
Can I turn these veggie patties into smaller sizes?
Yup! This recipe makes 6 large veggie patties or 12 regular size patties which are smaller in size. You can also make these veggie patties bite-sized for the perfect appetizer! Just cut the dough smaller using a biscuit cutter, etc.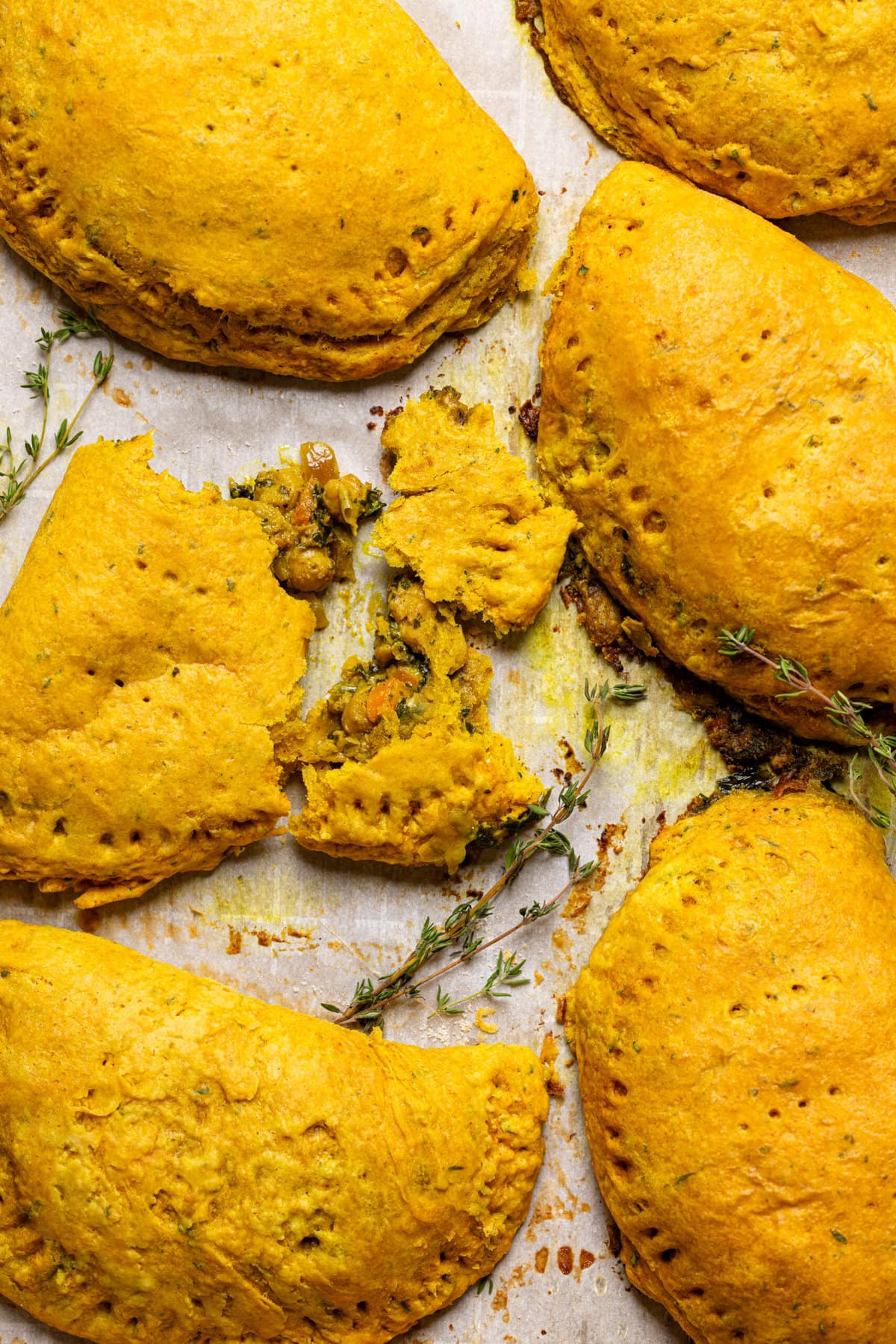 More Curry Based + Jamaican Recipes to Try Next!
Now that you've fallen in love with the curry in this recipe, then I recommend trying out the following curry recipes as well amazing Jamaican recipes to try next with your family:
MADE OUR RECIPE(S)?
If you tried this Flaky Jamaican Curry Chickpea Kale Veggie Patties recipe or any other recipe on my website, please please leave a 🌟 star rating and let me know how you go in the 📝 comments below. I love hearing from you.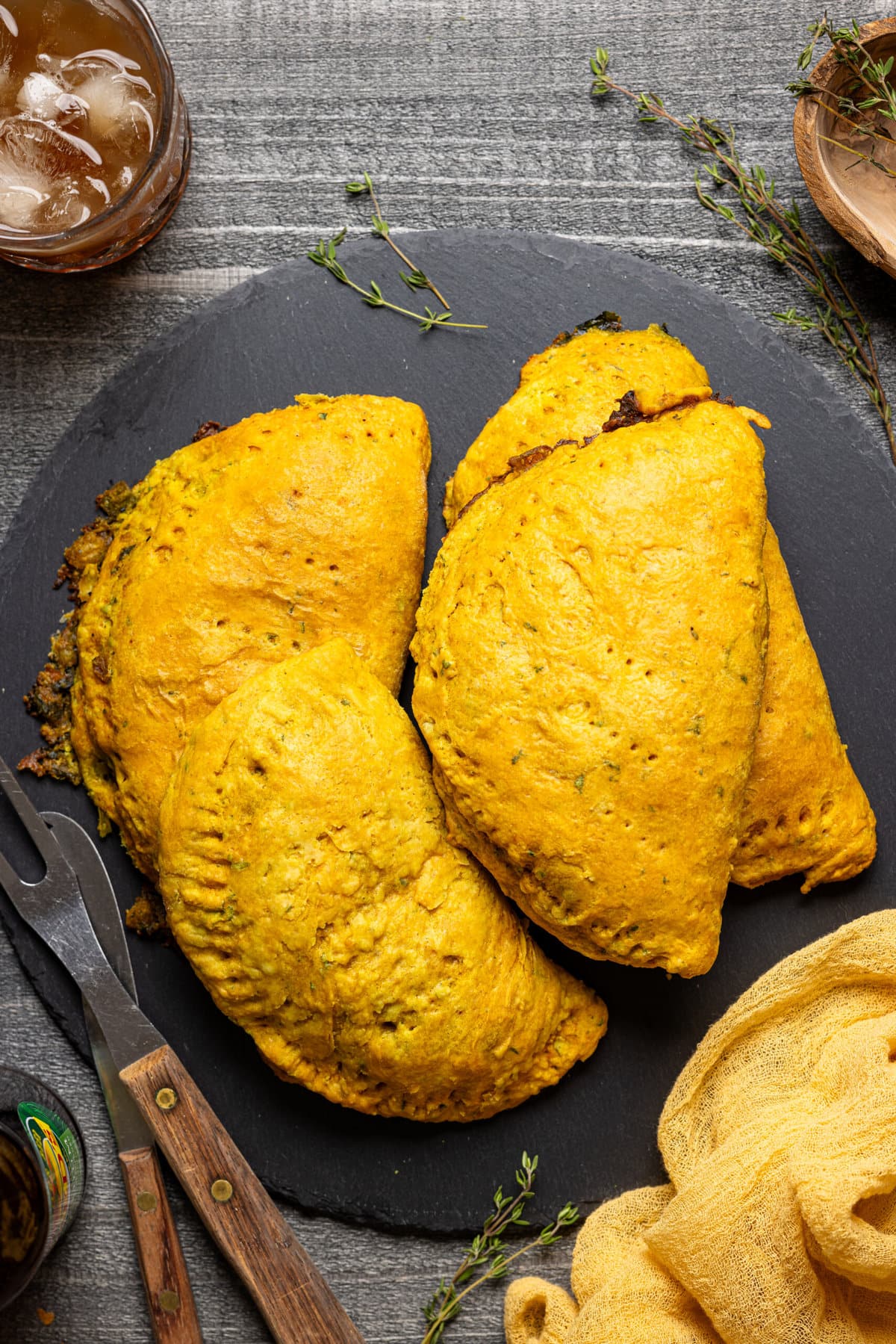 Total Time:
1

hour
15

minutes
FLAKY CRUST:
2 ½

cups

organic all-purpose flour

1

tablespoon

baking powder

1

tablespoon

Jamaican curry powder

(You can also use regular curry powder if desired)

½

teaspoon

turmeric powder

1

teaspoon

dried parsley

1

teaspoon

chopped fresh thyme sprigs

1

cup

VERY COLD unsalted vegan butter, cubed + grated

1

cup

VERY COLD Almond milk, unsweetened + 2 Tbsps

1

tablespoon

apple cider vinegar
CURRY CHICKPEA FILLING:
1

(15 oz.) can

organic chickpeas, drained + rinsed

1

tablespoon

extra virgin olive oil

½

red onion, chopped

(You can also use white or yellow)

3

garlic cloves, minced

1

scotch bonnet pepper, minced

1-2

fresh thyme sprigs

1

carrot, peeled + chopped

1

ounce

ginger root, peeled + minced

1

(14 oz.) can

full-fat coconut cream/milk

3-4

Tbsps

vegetable stock, organic

2 ½

Tbsps

Jamaican curry powder

(You can also use regular curry powder if desired)

1

teaspoon

turmeric powder

1

teaspoon

sea salt

1

teaspoon

black pepper

1

teaspoon

ground allspice

1

cup

chopped kale, organic

(You can use fresh or frozen)
VEGAN 'EGG' WASH:
2

Tbsps

Almond milk, unsweetened

1

tablespoon

pure maple syrup
TO MAKE THE CRUST:
In a large bowl, add the flour, baking powder, curry powder, turmeric, parsley, and thyme, whisking them all together until combined.

Add the cubed + grated butter and using a pastry blender, blend butter into dry ingredients until the mixture becomes "peas-like" and crumbly.

Pour the cold milk mixture and stir (working it together with one hand) until the dry ingredients are moistened. NOTE: If the ingredients feels a little too dry, add 1 tablespoon of cold milk at a time, until it's moistened BUT not too wet!

Now, shape the dough into a ball and wrap it in plastic wrap and flatten it slightly and chill for at least 1 hour. NOTE: The dough will look rather light yellow in color. It will darken and become golden once baked.
BURN THE CURRY POWDER + MAKE THE FILLING:
If using authentic Jamaican curry powder, it's super important to first "burn" your powder. SEE NOTES FOR MORE. NOTE: If not using Jamaican curry, you can skip this step and add the onions, etc. after the olive oil and then add the curry powder.

In a medium skillet (10-inch) over medium-high heat, add the olive oil and once fully heated, add curry powder. Stir curry powder in oil and let it sit until it becomes a dark brown and becomes fragrant, about 2-3 minutes.

Add the minced garlic, onions, and ginger, sautéing until fragrant and golden. Next, add in the chopped carrots and sauté a bit more. Add in the turmeric, allspice, salt, and black pepper, stirring until combined.

Pour in the coconut milk/cream, veggie stock, and minced scotch bonnet, stirring until combined. Let the mixture boil for a minute or so before adding the chickpeas and kale. Toss them in sauce, add in the thyme sprigs and reduce heat to simmer for about 15-20 minutes or until sauce thickens and the chickpeas are cooked through and tender, stirring occasionally. Remove from heat and let cool completely.
ASSEMBLY:
Preheat the oven to 400 degrees Fahrenheit and line a baking sheet with parchment paper.

Once chilled, remove the dough from the refrigerator and place on a lightly floured surface, rolling it out into a large rectangle (about 3 mm thick). Cut into medium circles (I use a small saucepan cover or a large biscuit cutter---for a smaller patties), until all dough it used.

On one half of the circular dough, lightly brush with vegan 'egg wash' to ensure that they close together best! On the other half of the dough, add 2 Tbsps of the curry filling and carefully bend the vegan 'egg' wash half over the side with the curry filling (creating a half moon shape). Gently press the edges down and using a fork, carefully "crimp" around the edges and place patty onto the baking sheet. Repeat until all patties are made.

Lightly brush all the patties with remaining vegan 'egg' wash and bake in the oven 20-25 minutes, until golden brown and the crust looks crispy.

Once done, remove from the oven and let them cool for a few minutes (10 minutes or so).

Bon Appetit!
STORAGE: Leftover patties can be stored in an airtight container for up to 3 days. To serve warm, heat in the microwave, or flat in a toaster oven. 
FREEZE: See FAQ!
TURMERIC: While adding turmeric is optional, it definitely has benefits: powerful medicinal properties, natural anti-inflammatory ingredient, increases antioxidant activity in the body, and more.
FOOD PROCESSOR FOR CRUST: See FAQ!
GRATED + CUBED BUTTER: To create a beautifully crumbly and flaky crust, I suggest grating 1 stick of butter and cutting the second stick into cubes. To grate your butter, add the 1 stick to a freezer for 15 minutes. Remove from freezer and using a grater, grate into pieces. 
SALTED VS. UNSALTED VEGAN BUTTER: You can always substitute the salted vegan  butter with unsalted vegan butter. When doing so, just add ½ teaspoon salt to dry ingredients for crust.
COCONUT MILK FREE OPTION: See FAQ!
BURNING THE CURRY POWDER: See FAQ!
SERVING SIZE: This recipe makes 6 large veggie patties or 12 regular size patties which are smaller in size. You can also make these veggie patties bite-sized for the perfect appetizer!
Calories:
250
kcal
|
Carbohydrates:
49
g
|
Protein:
6
g
|
Fat:
4
g
|
Saturated Fat:
1
g
|
Polyunsaturated Fat:
1
g
|
Monounsaturated Fat:
2
g
|
Sodium:
648
mg
|
Potassium:
209
mg
|
Fiber:
3
g
|
Sugar:
3
g
|
Vitamin A:
1778
IU
|
Vitamin C:
5
mg
|
Calcium:
166
mg
|
Iron:
4
mg