If you love the flavors of Jamaican Jerk, then you'll surely love this delicious Vegan Jamaican Jerk Walnut Tacos recipe, made with a flavorful walnut 'meat' mixture, homemade jerk seasoning, roasted veggies, pineapple chunks, and an easy lime sauce. These little tacos have so much flavor and are a great meatless alternative for lunch or dinner. It's the ultimate vegan taco recipe! Gluten-free option.
What Makes Jamaican Jerk Walnut Tacos SO GOOD?
Tacos are my thing and always will be my thing, so I couldn't be more obsessed with this Vegan Jamaican Jerk Walnut Tacos recipe! I like to make tacos on Tuesdays, or any day of the week. Tacos are the perfect food that is filling, easily customizable, and always delicious.

You can stick anything in a tortilla and top with a good cool, fresh sauce It will likely taste good! Oh, and this Spicy Restaurant Style Salsa is the perfect side or topping for these tacos too!
Of course, when it comes to using Jerk seasoning----I'm always ready because Jamaican cuisine is a staple for me. As you may know, I enjoy sharing my Jamaican background and the foods that stem from it, therefore, these tacos are no different.
Overall, these walnut mest tacos are super easy to make, a great quick weeknight option, entirely meatless, includes bold flavors, balance between savory, spicy, and sweet, and are just plain DELICIOUS. Everyone in my family loves these tacos and they're sure to be a real hit in your household.
Jump to: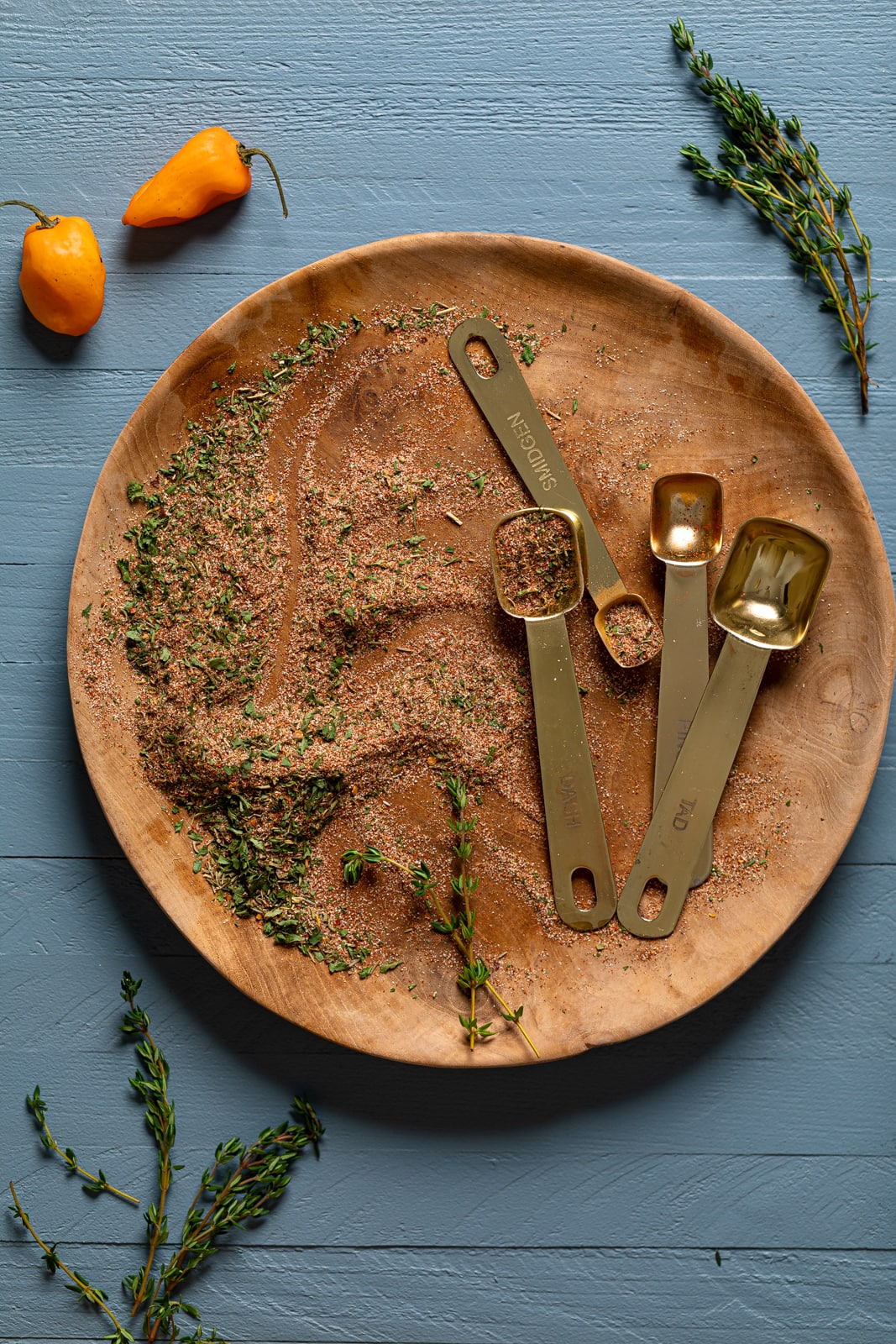 What is Vegan Walnut Meat?
Walnut meat also known as "Raw Nut Meat" is a great healthy alternative to ground meat and is made with walnuts (soaked), mushrooms, and spices---generally. However, I chose to keep things simple by using solely walnuts and spices. Once you get the right texture, simply add your favorite sauce, seasonings, etc. and wallah! A delicious and vegetarian quick option.
How to Make Vegan Walnut Meat
Vegan walnut meat is incredibly easy to make. You only need three ingredients for the actual "meat mixture" and the first step starts with soaking the walnuts. For a quick soak, simply add chopped walnuts to a bowl and fill it with boiling hot water until walnuts are covered. After about 10-15 minutes, drain, and rinse.
Then comes the step of adding the soaked walnuts and garlic cloves into a food processor and processing until fully broken down into a "crumble-like" texture.
For added flavor, you can always add in mushrooms, chickpeas, lentils, or other nuts---processing them in with the soaked walnuts.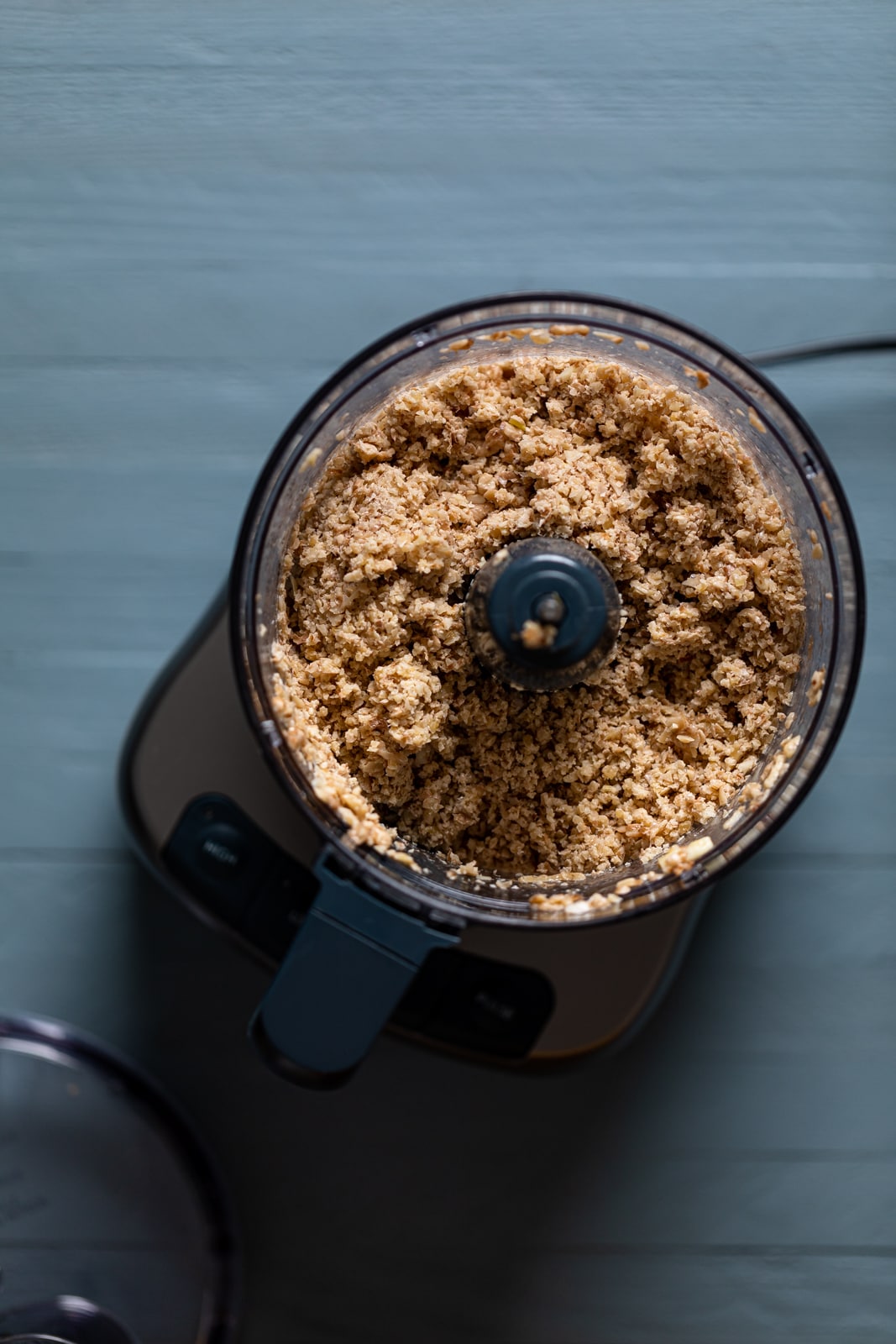 Ingredients in Vegan Jamaican Jerk Walnut Tacos
Walnut Meat:
Walnuts: Walnuts provide a rich, meaty texture to the filling, making it satisfying and hearty. They are also a good source of healthy fats and protein.
Garlic: Adds a robust and savory flavor.
Tomato Paste: Brings depth and a touch of sweetness to the filling, balancing the spiciness of the jerk seasoning.
Vegetable Stock: Provides moisture and helps bind the ingredients, ensuring a cohesive filling.
Extra Virgin Olive Oil: Olive oil imparts a pleasant richness and helps sauté the ingredients evenly.
Jerk Seasoning: The star of this recipe, infusing it with bold and spicy flavors.
Vegan Soy Sauce: Adds a salty and savory umami element.
Lemon Juice: Offers a refreshing zing that brightens up the flavors.
Homemade Jerk Seasoning:
Onion and Garlic Powder: Adds savory depth to the seasoning.
Cayenne Pepper and Red Pepper Flakes: Brings the signature jerk heat.
Sea Salt: Balances and enhances all flavors.
Dried Thyme: Provides earthy herbal notes.
Smoked Paprika and Ground Allspice: Adds smokiness and complexity.
Brown Sugar: Imparts a touch of sweetness for balance.
Ground Cinnamon, Ground Cumin, Ground Nutmeg, and Ground Cloves: A flavorful, aromatic blend.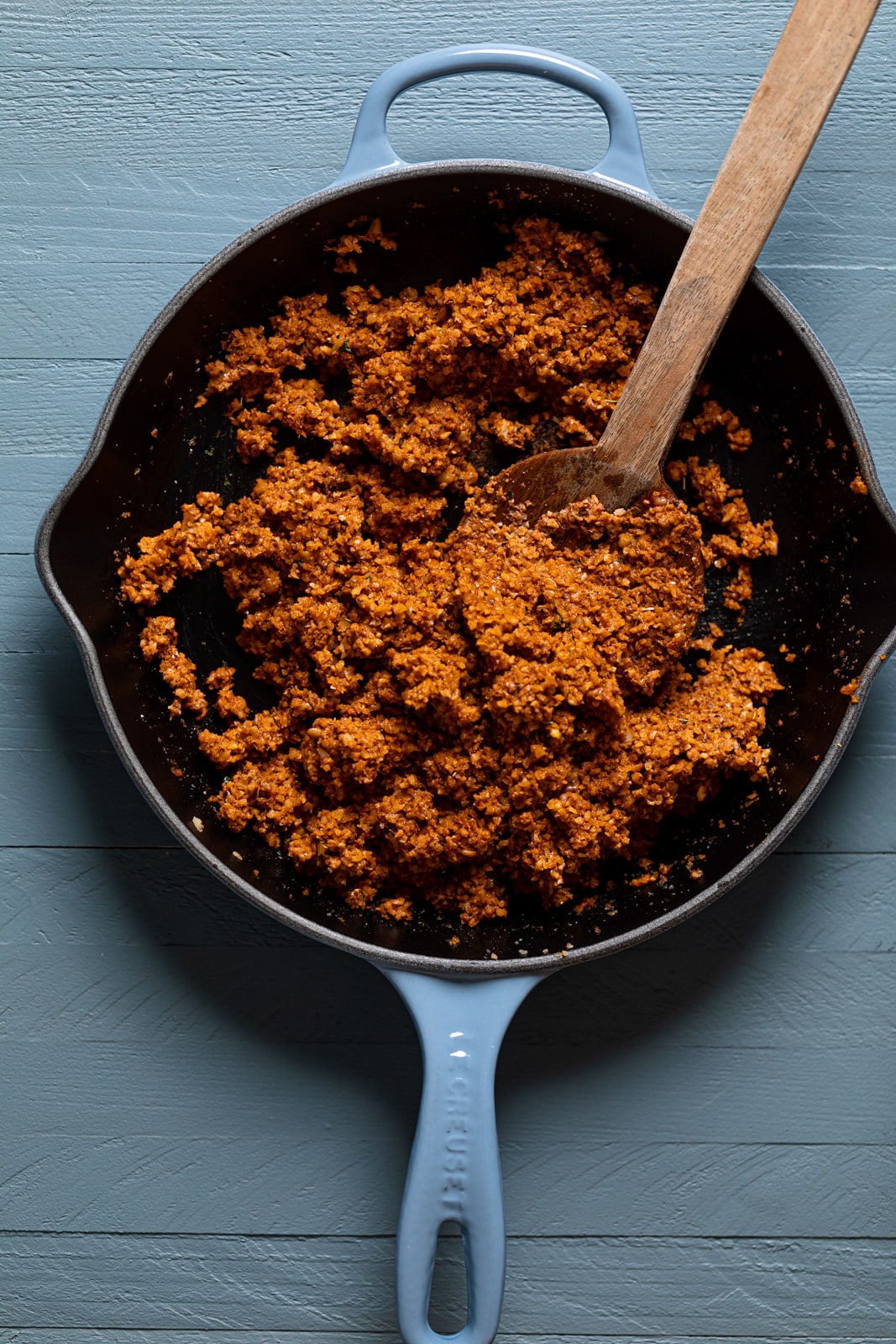 Why You Will LOVE Vegan Jamaican Jerk Walnut Tacos
Best Taco Toppings
Everyone is different when it comes to taco toppings, which is why I love using a variety of ingredients.
This is a great opportunity to teach children about what they like, and how much to add, and helps to develop their palate---which is what I try to do with my son. Plus, maybe they'll try something new on their own---who knows?!
Some of the most popular taco toppings in my house are:
Black beans
Pineapple chunks
Roasted veggies
Corn
Jalapeno
Cilantro
Green onion
Lime juice
Green salsa
Sour cream
Hot sauce
Pico de Gallo
Cheese
Vegan sauce of some kind (homemade)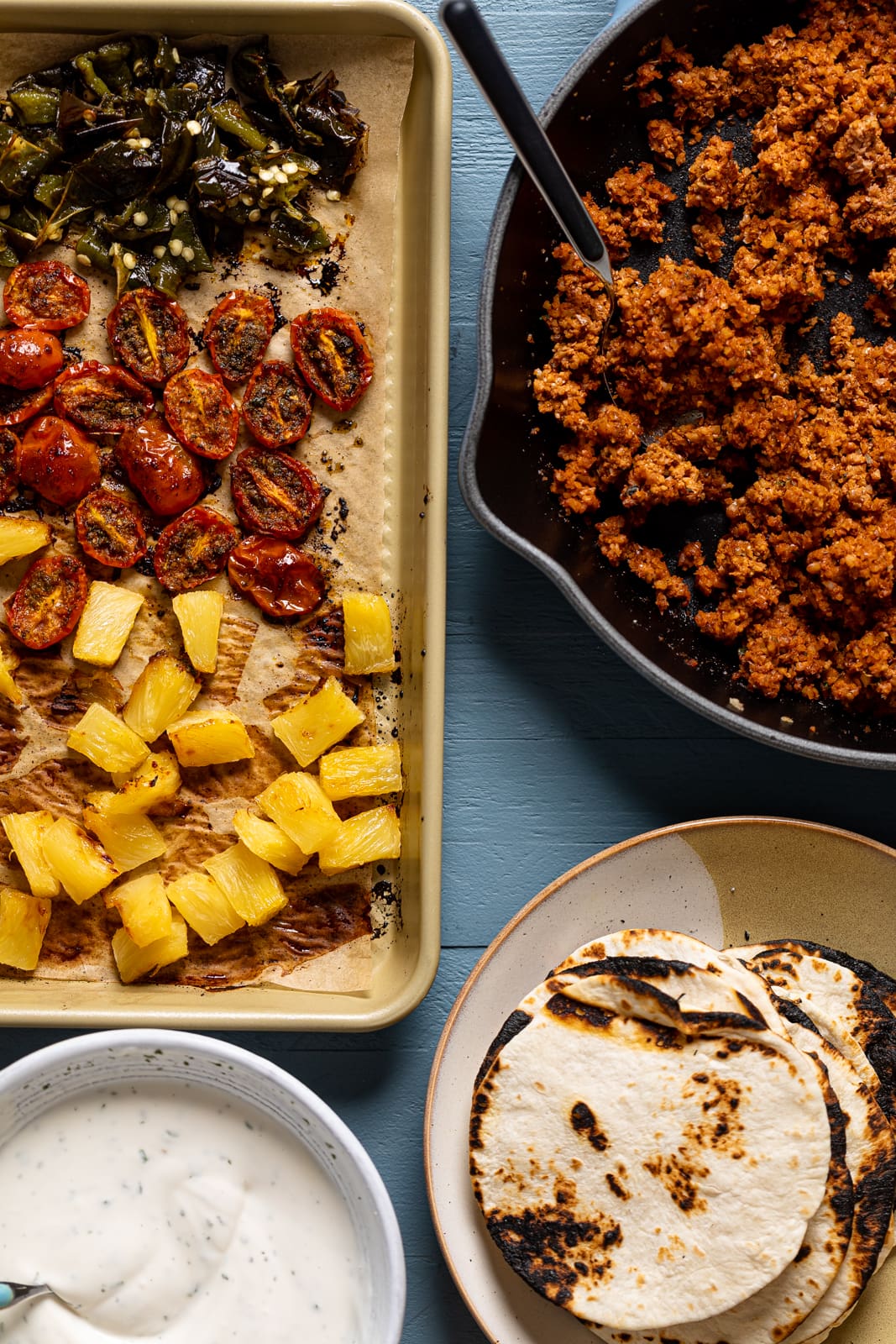 Easy Vegan Lime Sauce
To top your tacos and tame the heat a bit, make a dairy-free lime dressing with:
Vegan mayonnaise. Use any kind you like.
Parsley or Cilantro. If you're not a fan of either herbs, use basil.
Lime juice. Freshly squeezed!
Meal Prepping Ideas
This is a great recipe for meal prep. Simply prepare the walnut meat, dairy-free sauce and toppings ahead of time. Store them in separate airtight containers in the fridge for up to four days. Then heat and assemble your tacos when you're ready to enjoy!
Ingredient Substitutions and Swaps
This vegan walnut taco recipe is fairly easy to customize. If you don't have every item on the ingredient list, here are some simple swaps and substitutions that won't sacrifice flavor:
Substitute the lime juice in the vegan sauce/dressing with lemon juice.
Swap fresh parsley or cilantro for another fresh herb, such as basil or dill.
Try another fruit instead of pineapple. Mango will add a nice tropical spin and sweetness.
Switch things up by adding mushrooms, chickpeas, lentils, pecans, or other nuts to the walnut meat.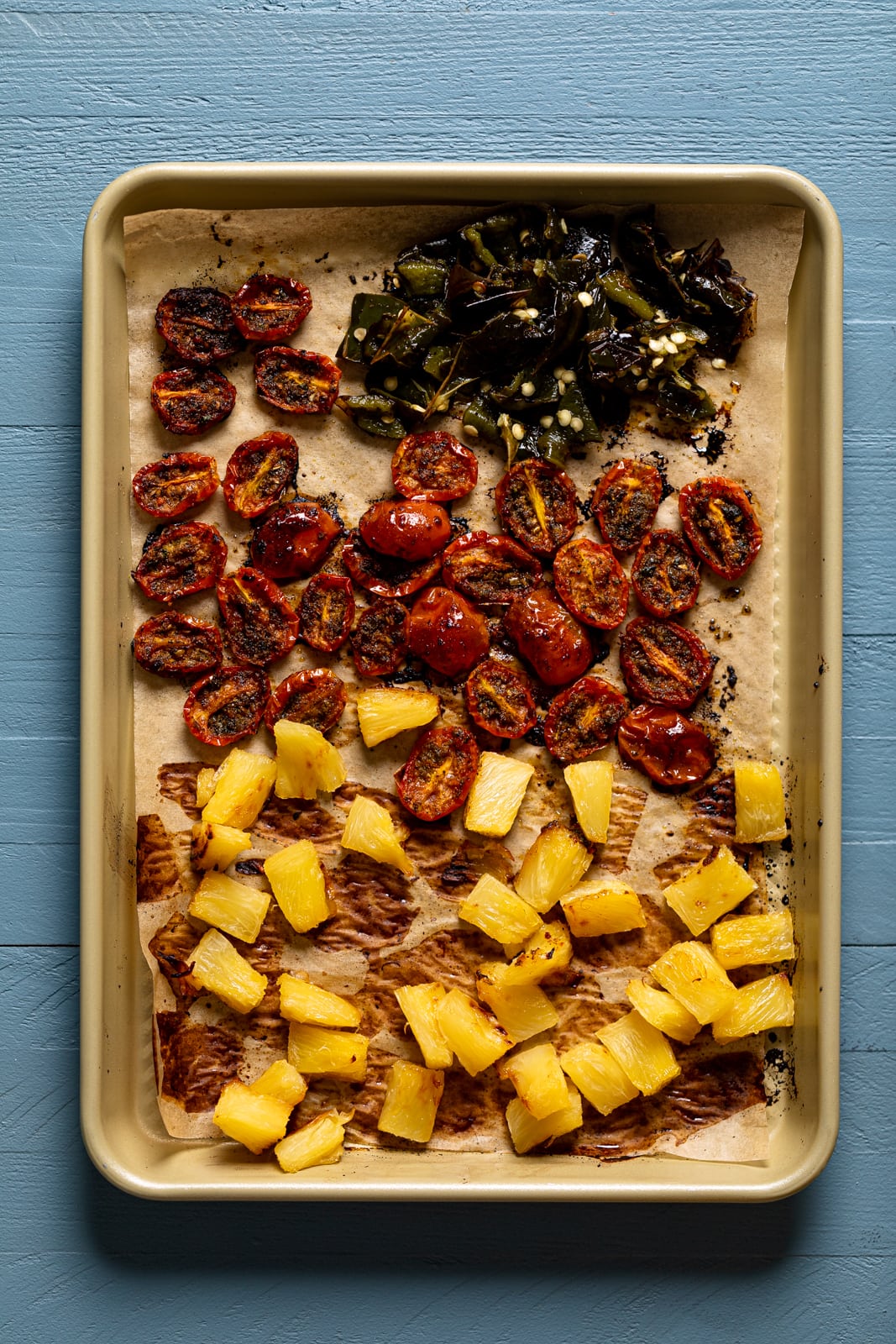 What Kind of Tortilla is Best for Vegan Tacos?
You can choose either corn or flour tortillas for this recipe. If you're looking for a gluten-free option, corn is your best bet. Whichever option you choose, I recommend the small street taco-size. They're easy to fill, hold, and eat by the dozen!
Of course, in a pinch, larger tortillas will work too. You can also use hard taco shells if you prefer a crunchier taco. If that's the case, skip heating the tortillas and simply fill your taco shells with the vegan walnut meat and toppings.
10 INGREDIENTS TO KEEP HANDY WHEN MAKING JAMAICAN DISHES
Sharing my top 10 ingredients that are a must-have for making Jamaican dishes and these ingredients do not necessarily need to be gluten or dairy-free, but they are incredibly important in creating authentic and flavorful Jamaican dishes.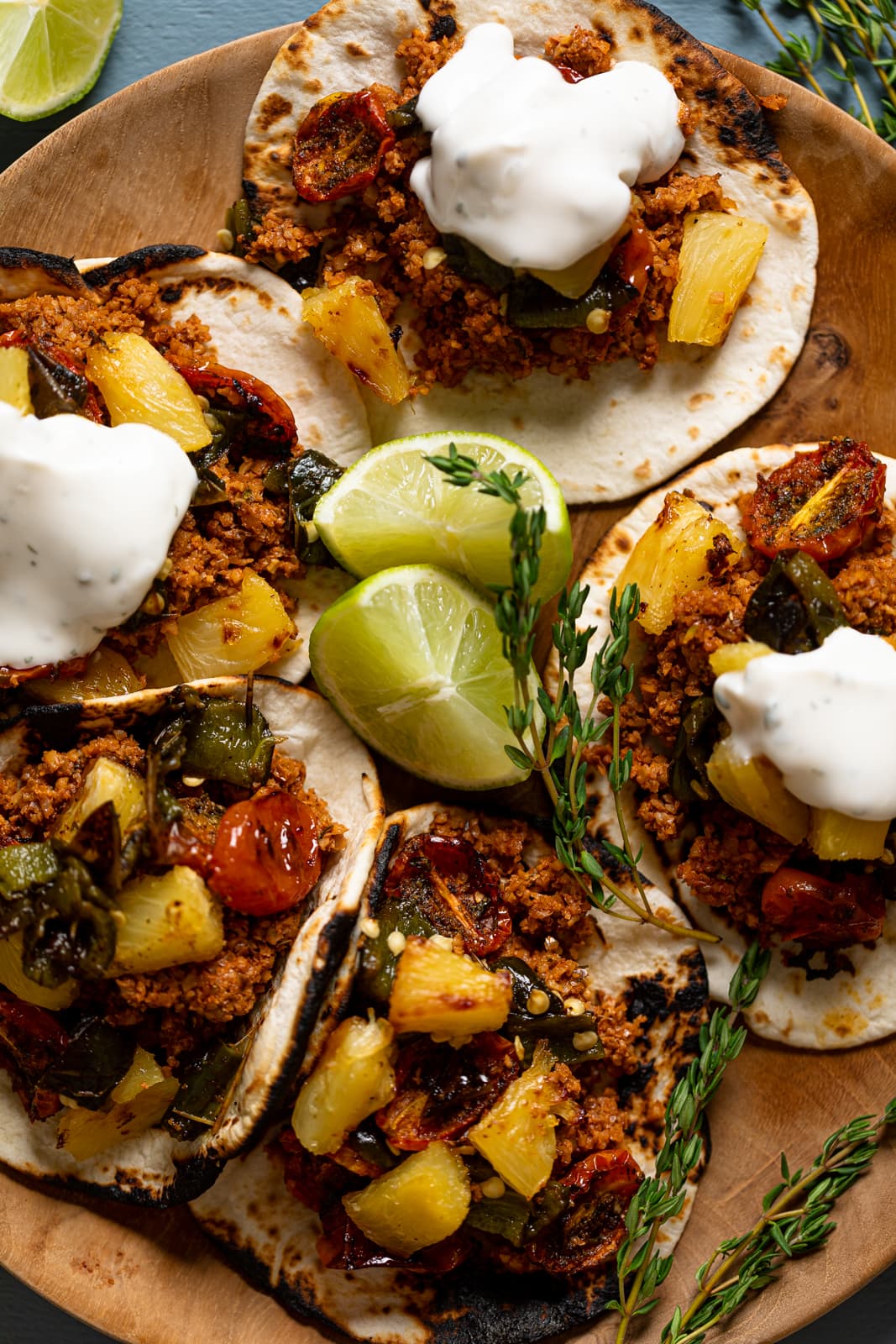 Vegan Jamaican Jerk Walnut Tacos Recipe Q + A's
How to Store Leftover Vegan Tacos
Place any leftover ingredients in a tightly sealed container in the refrigerator for up to 3-4 days.
How spicy are Jamaican Jerk Tacos, and can I adjust the heat level?
Jamaican Jerk seasoning can be quite spicy due to the peppers. You can adjust the heat by using fewer peppers or removing the seeds and membranes, or by using a milder chili variety.
Can i make this vegan tacos recipe gluten-free?
Of course! To ensure that these black bean tacos are gluten-free, simply ensure that the tortillas and any condiments used are gluten-free friendly.
Can I prepare the walnut filling in advance for meal prep?
Yes, you can prepare the walnut filling in advance and store it in an airtight container in the refrigerator for a few days. This makes it convenient for quick taco assembly later.
Other Taco Recipes You'll Love
If you are a fan of my Vegan Jamaican Jerk Walnut Tacos, you will also love these other tacos!
MADE OUR RECIPE?
If you make these Vegan Jamaican Jerk Walnut Tacos, be sure to Tag @orchidsnsweettea_ on Instagram and hashtag it #orchidsandsweettea!
VEGAN WALNUT "MEAT":
2

cups

walnuts, chopped

4

garlic cloves

2-3

Tbsps

organic tomato paste

2

Tbsps

organic vegetable stock

1

tablespoon

Extra virgin olive oil, for brushing

1

tablespoon

Jerk seasoning, homemade or store-bought

2

tsps

vegan soy sauce

1

teaspoon

freshly-squeezed lemon juice

½

teaspoon

browning, optional

(See Notes!)
HOMEMADE JERK SEASONING:
1

tablespoon

onion powder

1

tablespoon

garlic powder

2

tsps

cayenne pepper

2

tsps

sea salt

2

tsps

black pepper

2

tsps

dried thyme

2

tsps

brown sugar

1

teaspoon

ground allspice

1

teaspoon

dried parsley

1

teaspoon

smoked paprika

½

teaspoon

red pepper flakes

½

teaspoon

ground cinnamon

½

teaspoon

ground nutmeg

½

teaspoon

ground clove

¼

teaspoon

ground cumin
TACOS:
Soft flour or corn tortillas, any size + charred 

(See Notes!)

2

cups

Roasted herb tomatoes

Roasted poblano peppers, chopped

Pineapple chunks, roasted or charred
EASY LIME SAUCE:
1

cup

vegan mayonnaisee

2

Tbsps

chopped fresh parsley

(You can also use fresh cilantro as well)

2

Tbsps

freshly-squeezed lime juice
ROAST THE VEGGIES:
Be sure to roast your veggies in the oven at this point. See Roasted Herb Tomatoes recipe for instructions on how to roast all veggies.
SOAK THE WALNUTS:
In a bowl, add the chopped walnuts and cover it with boiling hot water, letting it soak for 10-15 minutes so that they soften a bit. Drain and rinse.
MAKE THE JERK SEASONING:
In a bowl, add together the onion powder, garlic powder, cayenne pepper, salt, black pepper, thyme, brown sugar, allspice, parsley, smoked paprika, red pepper flakes, cinnamon, nutmeg, clove, and cumin, stirring until combined. Set aside.
MAKE THE WALNUT TACO "MEAT":
Add the walnuts and garlic cloves into a food processor and process until combined and broken down---resembling "meat-like crumbles".

In a medium skillet (10-inch or so) over medium-high heat, add 1 tablespoon olive oil. Once heated, add the processed walnut along with tomato paste, 1 tablespoon jerk seasoning, soy sauce, lemon juice, veggie stock, and browning (if using)---stirring until combined and the "meat" mixture looks brown in color and is moistened. Let cook for 2-3 minutes.
CHAR OR WARM TORTILLAS:
To lightly toast taco tortillas, preheat oven on 350 degrees Fahrenheit and place tortillas directly on rack. Turn off oven once heated and let tortillas warm for 2 minutes. Remove from oven. For char on a stovetop, pop one of the tortillas unto a gas burner until you begin to see a little smoke. Remove tortilla to rotate it onto opposite side until it's lightly charred. Repeat until all tortillas are charred.
MAKE THE EASY LIME SAUCE:
Mix together the freshly-squeezed lime juice, vegan mayonnaise, and parsley in a bowl until combined and smooth. NOTE: You can also top these tacos with my Vegan Ranch Dressing as well!
ASSEMBLE TACOS:
To assemble tacos, add 1-2 Tbsps walnut "meat" atop a charred tortilla followed by: roasted herb tomatoes, roasted poblano peppers, pineapple chunks, and the Lime sauce. Repeat until desired amount of tacos are made.

Bon Appetit!
STORAGE: Place any leftover ingredients in a tightly sealed container in the refrigerator for up to 3-4 days.
MAKE AHEAD: All ingredients can be made and individually stored as meal prep (excluding tortillas) and assembled when ready to serve.
BROWNING: Jamaican browning is used to add additional "color" to any meat or food. You can find this at your local grocer or specialty food store or via online at Amazon.
JERK SEASONING (STORAGE): You can keep leftovers in a small tightly sealed jar and at room temperature for up to 6 months like your other herbs + spices.
Calories:
579
kcal
|
Carbohydrates:
22
g
|
Protein:
9
g
|
Fat:
53
g
|
Saturated Fat:
6
g
|
Polyunsaturated Fat:
19
g
|
Monounsaturated Fat:
5
g
|
Sodium:
1300
mg
|
Potassium:
588
mg
|
Fiber:
6
g
|
Sugar:
7
g
|
Vitamin A:
1295
IU
|
Vitamin C:
14
mg
|
Calcium:
103
mg
|
Iron:
4
mg
Vegan Jamaican Jerk Walnut Tacos.