If you have ever had curry in general, you know it's all about flavor + spice! Embrace the heat with my Weeknight Jamaican Curry Chicken + Gnocchi recipe which is guaranteed to make the entire family satisfied. With a fragrant blend of spices and tender shredded chicken, gnocchi and potatoes simmered in a sauce of sweet peppers, veggie or chicken stock, garlic, ginger, onions, and coconut milk, this dish is sure to be the newest family staple. Completely Dairy-free. Meatless + Gluten-free options.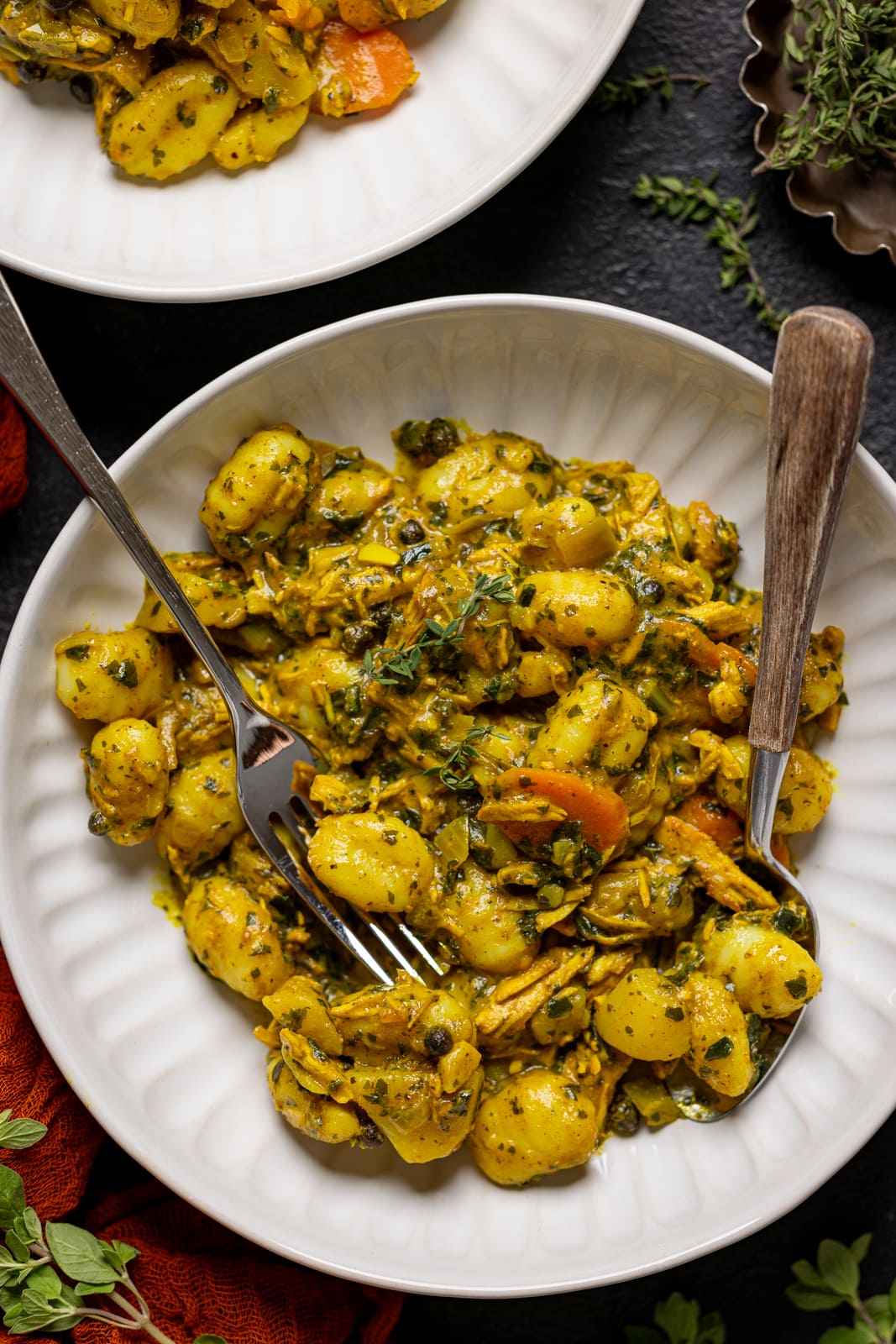 Disclaimer: This post contains affiliate links via Amazon for products that I wholeheartedly love and receive commission from.
When it comes to this original Jamaican Curry recipe, it's definitely one of those recipes that is a must make on any given night----whether for an easy weeknight meal or a laidback weekend vibe. Plus, this Spicy Butter Chickpeas are such a nice twist of curry flavor to try next! And this Spicy Coconut Curry Chicken Bowl is a great easy weeknight alternative for the entire family!
The best part about this curry chicken with gnocchi recipe is that it's SO easy to whip together. You can use organic chicken breasts or tenderloins which will be baked and then shredded or you can keep things traditional with larger pieces of chicken (chopped in chunks or whole) like in my Authentic Jamaican Curry Chicken recipe. But if you're a true curry lover, then this Vegan Pumpkin Curry Butternut Squash, Spicy Butter Chickpeas, Spicy Curry Vegan Meatballs + Orzo, and Vegan Curry Chickpea Mashed Potato Bowl is a must try for a delicious dinner.
Of course, there are varied versions of Jamaican curry chicken available, but this one is sure to knock your socks off-----promise! Plus, you're able to adjust the spicy flavors based on your tastebuds---so don't worry. This will be mentioned more in depth throughout this post. Haha. I also have a list of my Top 10 ingredients that are a must-have for making Jamaican dishes. These ingredients are incredibly important in creating authentic and flavorful Jamaican dishes, especially when it comes to seasonings + herbs.
And if you aren't a meat eater or just want to have a meatless Jamaican indulgence don't worry you're fully covered with options at the bottom of this post.
What is Jamaican Curry?
There is no singular recipe for Jamaican curry because all families have their own traditions. However, it is generally a mix of locally-found seasonings. You can find either store-bought mixes or you can season your curry on your own using a variety of flavorings.
Scotch bonnet peppers are found in many Jamaican dishes, so I had to include them in this sauce. They add a sweet-spicy kick, but watch out! These guys can get seriously spicy, especially for those with mild heat tolerance. Coconut milk in my curry cools down the dish just enough. So, you won't die of overheating. Haha.
Jump to:
What is Curry Powder?
Basically, curry powder is a combination of dried spices often used in Indian cuisine, however, is rather popular amongst other cultures like Asian, Caribbean, etc. In essence, curry is a dish that offers earthy, spicy, warming, with a hint of sweet notes. Overall, it's well-balanced and richly-spiced with savory flavors from the curry powder, coriander, cumin, allspice, and other herbs + spices.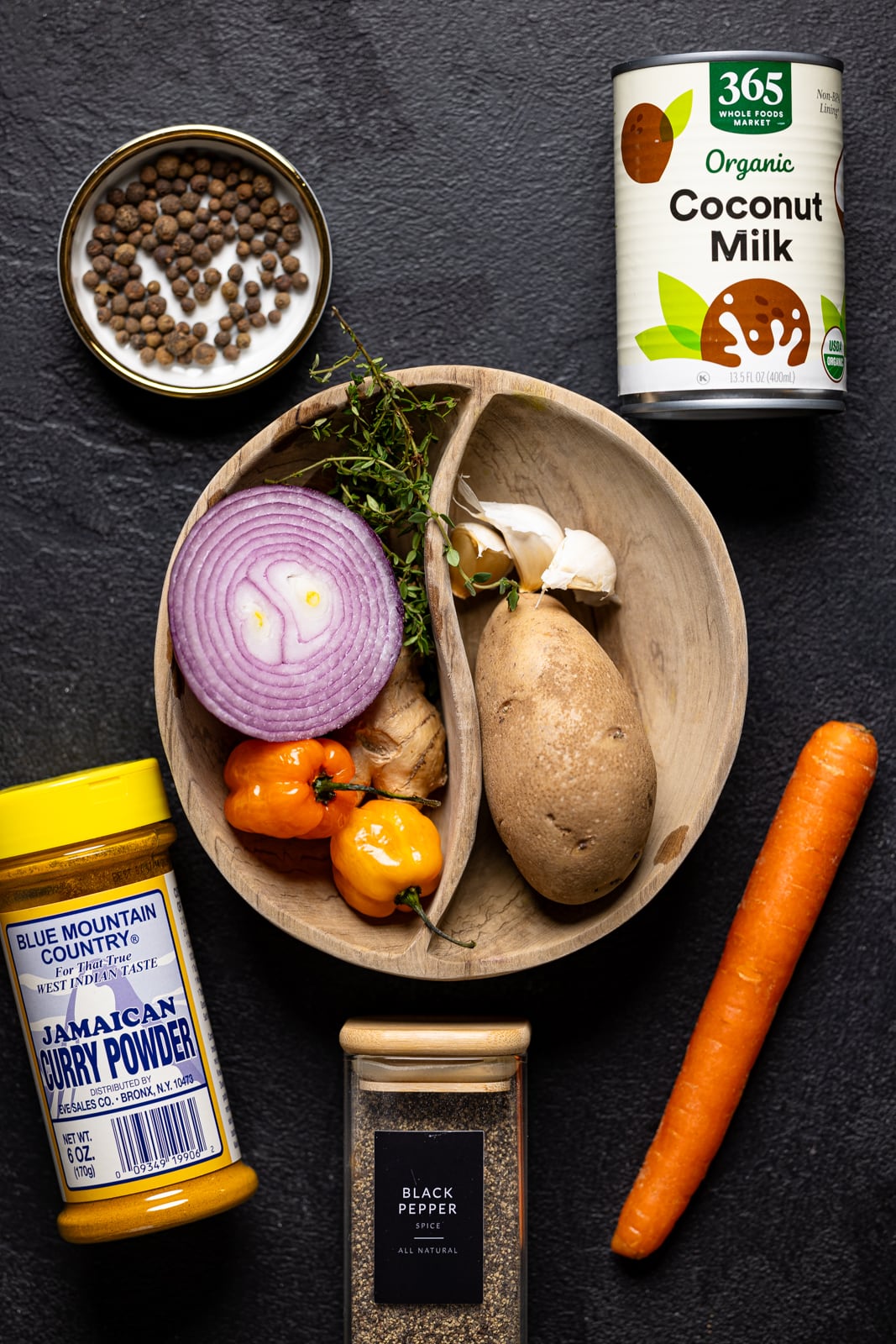 What is the Difference between Curry and Jamaican Curry?
The main difference between curry and Jamaican curry is that Jamaican curry is made with actual curry powder. Despite the newest variations of Indian curries, traditionally, it's usually made as a sauce-base and consists of a blend of coconut milk, tomatoes, fresh herbs, and spices.
Ingredients in Jamaican Curry Chicken + Gnocchi
Here's what you need to make this Jamaican Chicken Curry dish:
Chicken Breasts. One of the stars of this dish. I decided to shred them after it being cooked for a nice bite; Can also be diced in chunks. See below in the post on how to best shred chicken!
Gnocchi. You can make them yourself or purchase a quality store-bought version. For a gluten-free version, simply use gluten-free gnocchi.
Kale. I like to add additional greens to this dish. You can sub with spinach, broccoli, collard greens, etc.
Dried herbs and spices. Generally, you'll need a combination of salt and black pepper to taste.
Pimento seeds. These look like "black peppercorn", but are also known as allspice, pimento berries, etc. Adds additional flavor. You can also sub with 1 teaspoon ground allspice in a pinch!
Carrots. I love adding carrots. You can peel + chop and use them raw or roast them for added flavor.
Red onion. Substitute with yellow or white if that's what you have.
Olive oil. You can also use avocado oil or Grapeseed oil, if you prefer.
Chicken stock. This adds great additional flavor. Use store-bought low-sodium broth or make your own! For added nutrition, add in half the amount in bone broth or substitute with vegetable stock if that's what you have handy.
Garlic + ginger. I prefer fresh, but you could substitute with 1 teaspoon garlic powder and ½ teaspoon ground ginger in a pinch.
Curry powder. It's best to use authentic Jamaican curry from Blue Mountain Jamaican Curry Powder or Betapac. You can use a different quality curry powder or turmeric as a substitute, if desired.
Thyme. I recommend fresh, but if you only have dried, use a half teaspoon.
Scotch bonnet. If you don't like spice, use less of the peppers. You can also use habanero peppers.
Coconut Milk. You can use either full-fat canned coconut milk or cream.
Bell pepper. I like to use mini sweet peppers, however, you can use bell peppers and chop them up!
Potatoes. This is a nice thickening agent in your curry sauce and adds a hearty bite in this dish. Keep things traditional with Irish potato or yukon.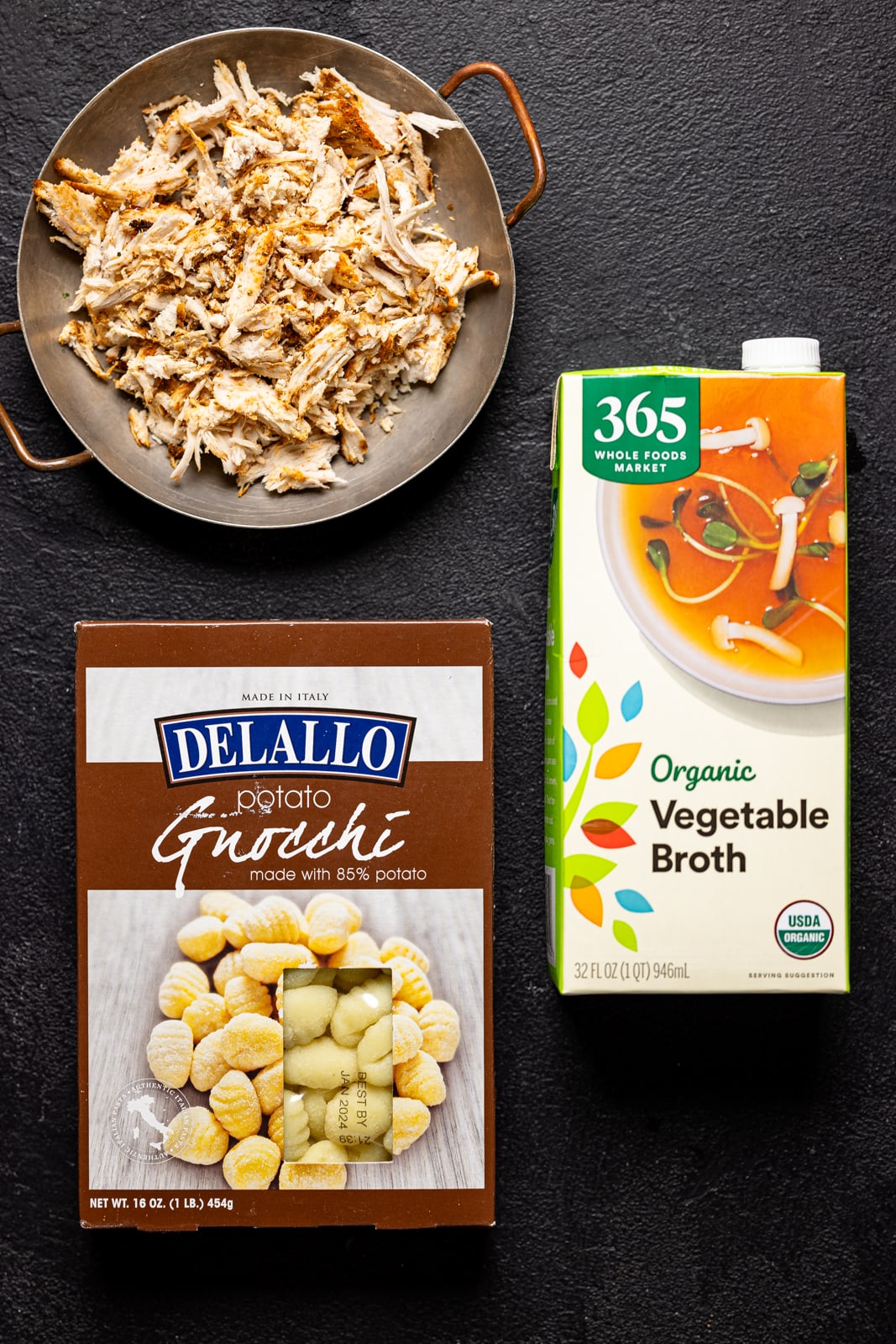 How to Make This Curry Dish
Weeknight Jamaican Curry Chicken + Gnocchi is generally an easy process---in total about 40-45 minutes:
You first start by cleaning and washing your chicken breasts to ensure that they are clean and ready to be seasoned. I like to wash my chicken with both vinegar and lemon to help keep things clean and sanitized.
Once your chicken is clean, then it's seasoning time! I'm all about seasoning every "layer" of my food, therefore, the chicken gets direct seasoning and so does the curry sauce. Let everything marinate for 5-10 minutes or overnight tightly wrapped in the refrigerator for the best results. You'll then bake the chicken in the oven at 400 degrees for about 30-35 minutes or until fully cooked through. Finally, you'll shred them!
Be sure to boil your gnocchi until they begin to "float to the top", drain, and set aside.
In a skillet over medium-high heat, add the olive oil and once fully heated, add the chopped onions, ginger and garlic, sautéing until fragrant and translucent, about 2-3 minutes. Then add in the remaining herbs + seasonings along with the remaining ingredients, stirring everything together until combined.
Let everything boil for a minute or so before adding in the thyme sprigs and reducing the heat to simmer for about 20-25 minutes or until sauce thickens and the chicken + potatoes are tender, stirring occasionally. Remove from heat once done and assemble your bowl.
What You'll Love About this Weeknight Curry
Hearty flavors and super easy to make.
Absolutely delicious--bold curry flavors that you don't want to miss.
Makes for a great weeknight meal or a laidback weekend dinner.
So well seasoned and full of texture, especially with the gnocchi.
Great for meal prepping and make aheads for the week!
Super customizable with the protein and veggie options.
Irresistible flavors that will have you coming back for more!
Perfect ANY season vibes!
Did I mention, it's just delicious? Both kids + adults approve!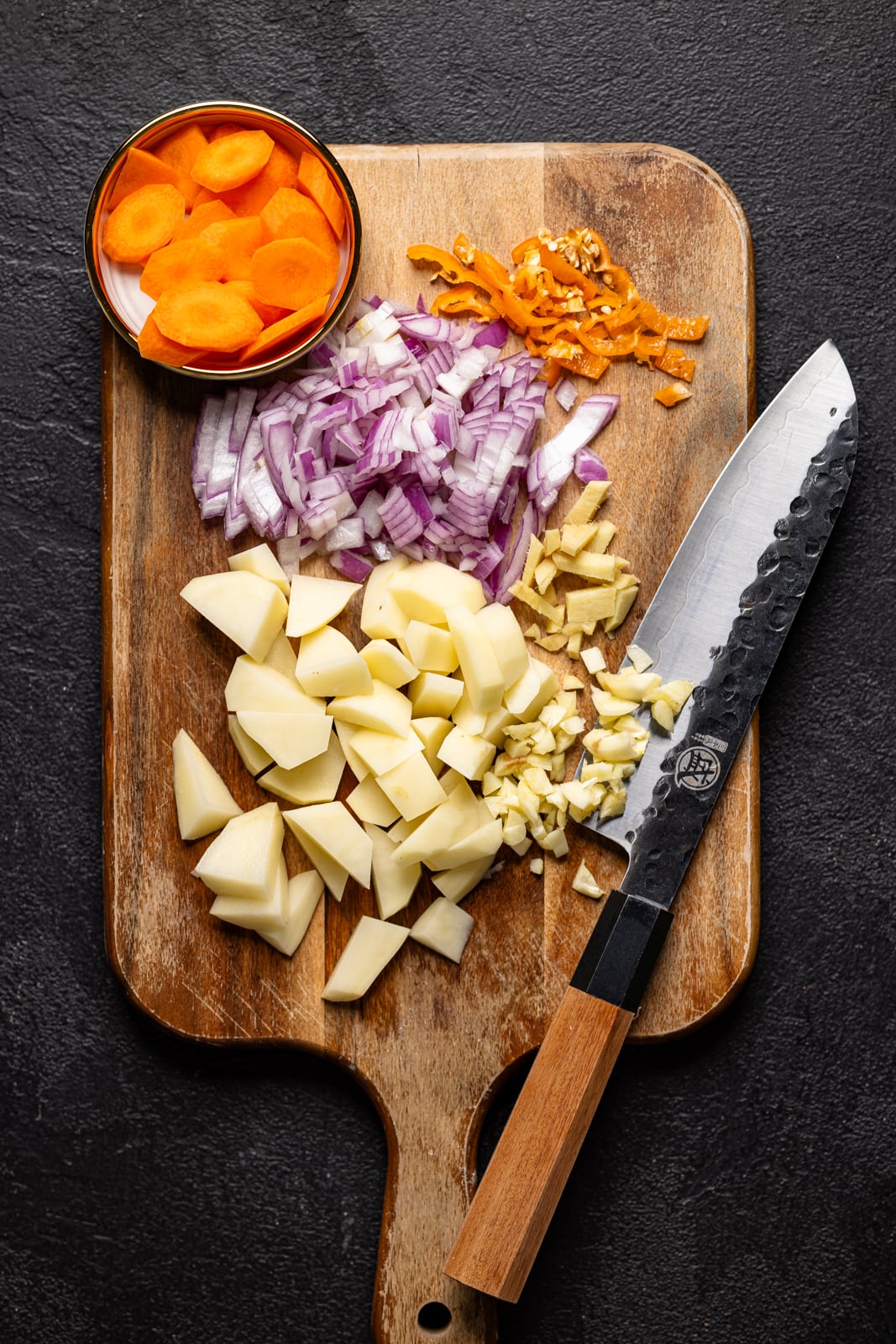 How Do You Pronounce Gnocchi?
Gnocchi is the plural of gnocco, an Italian variety of dumpling that has been around since Roman times. Other common additions include semolina, formaggio (cheese), ricotta, spinach and polenta. In terms of how to say it----it's pronounced nyow·kee.
What is Gnocchi and How Do You Make It?
Gnocchi are basically Italian dumplings made with flour, eggs, and potatoes---unless they are egg-free like this one that I purchased from Delallo foods. When it comes to making your own gnocchi, the process is done is fairly a few steps. It starts with boiling and mashing the potatoes, combining the ingredients together and kneading them into a ball, shaping the dough, cutting them into pieces, and boiling and draining the gnocchi. For a great recipe, check out AllRecipes.com.
How to Make Curry Sauce Thicker?
If you find that your sauce isn't thick enough, I definitely recommend covering the pot and allowing it to simmer a bit more. Usually, with a slow simmer over time, the sauce will automatically thicken. However, if it's truly not doing that, add 1 tablespoon of flour (or arrowroot starch, cornstarch, etc.) with 3-4 Tbsps warm water to a small cup or bowl, stir until smooth and "milky" and add to the sauce to help aide it.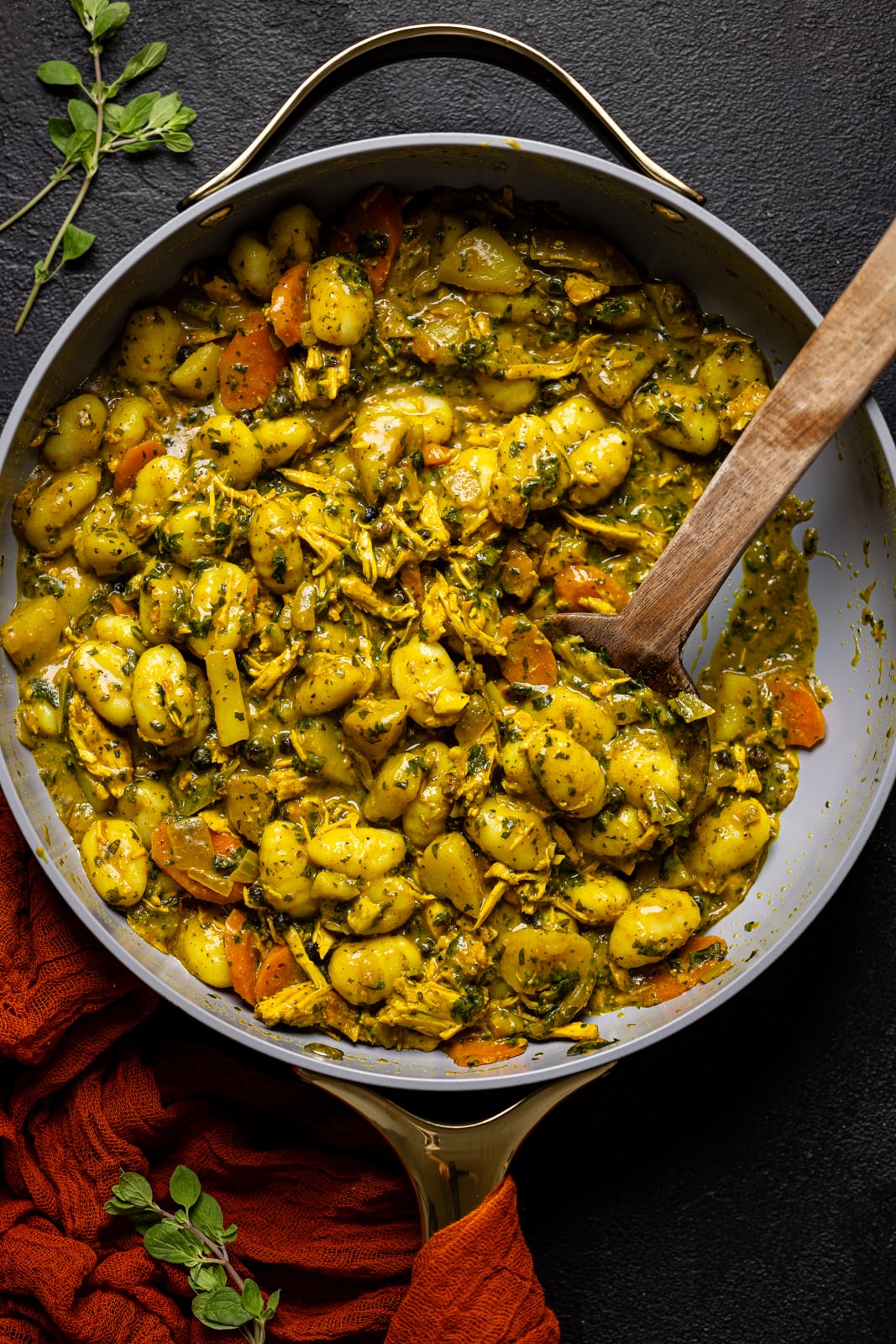 Best Meatless Options for this Chicken + Gnocchi
While this Weeknight Jamaican Curry Chicken + Gnocchi is perfect as is---I definitely wanted to give options for those of you who don't eat meat or just might make this dish more than once and want to switch things up with a meatless option from time to time! Here are a few great ingredients that you can substitute with the chicken in this creamy dish.
Other ingredient ideas include:
Roasted chickpeas
Beans (like White beans, Black beans, etc.)
Mushrooms
Tofu or Tempeh
Cauliflower
Roasted veggies (like Broccoli, Asparagus, etc.)
Vegan meatballs
Jackfruit
Other plant-based meat alternatives (store-bought)
How to Best Shred Chicken
When it comes to creating pulled or shredded chicken, there are two most effective ways to do so. Firstly, you would need to ensure that your chicken is fully cooked and cooled and then you shred the chicken in one of the following ways:
Forks: For this method you would need two forks. If using this method, place your cooked chicken breast onto a plate or cutting board and use both forks to separate the chicken meat and 'shred' as you separate. Continue doing this until all of your chicken is shredded.
Stand Mixer: If you're looking to avoid using arm strength, then the method of a stand mixer might be just for you. This is by far the fastest and easiest way to shred chicken and you simply place all of your cooked chicken breasts in the bowl of stand mixer. Add the paddle attachment and mix on low. In just 15-20 seconds you'll have shredded chicken. That easy!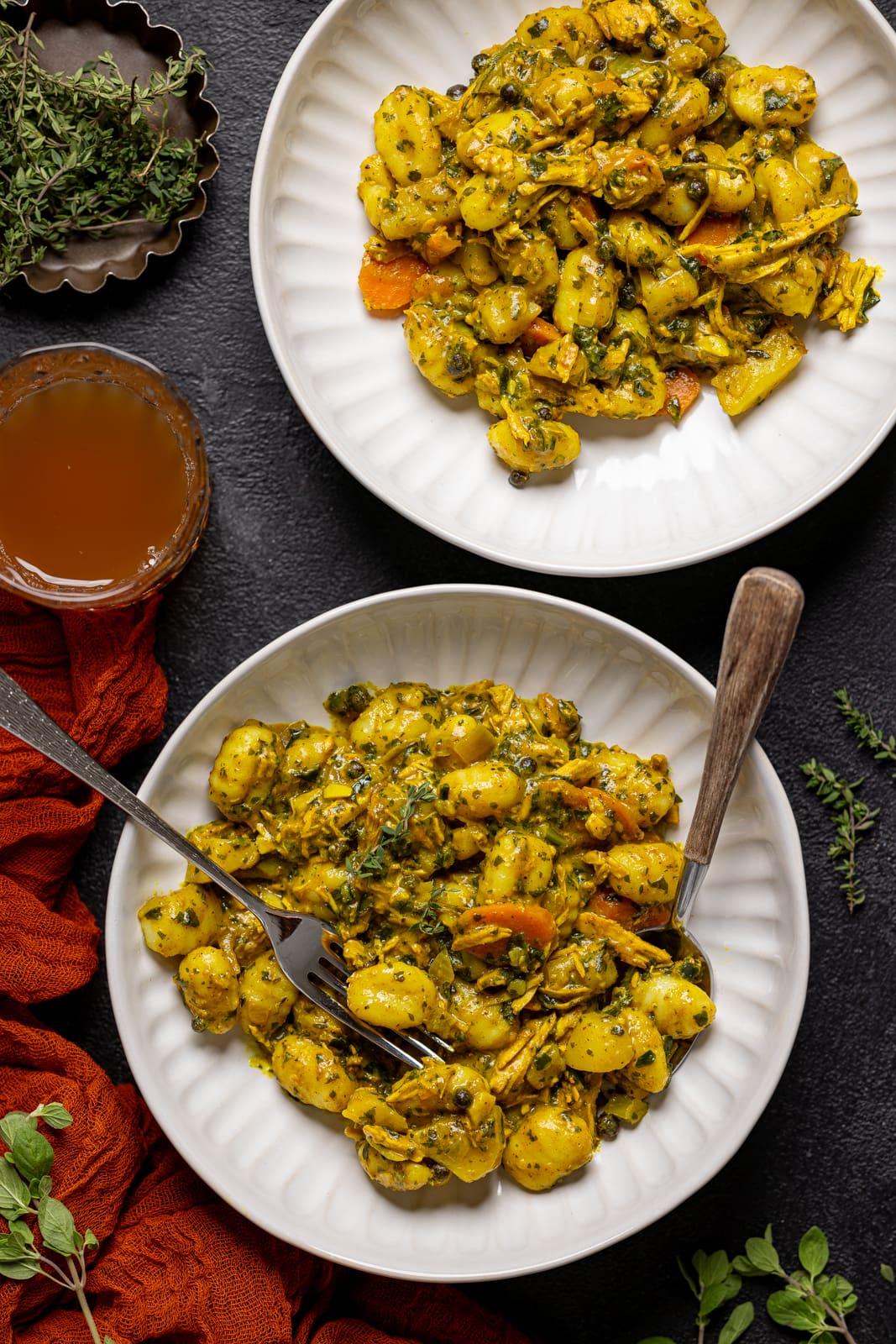 How to Best Store + Reheat this Curry Dish?
I personally think that leftovers are even more delicious than the first day! You can keep leftover chicken curry in an airtight container in the fridge for up to four days. To gently reheat the leftovers, use a Dutch oven on the stovetop over medium-low heat which you'll probably need to add ¼ cup or so of stock to make things creamy again. Alternatively, you can also use the microwave to reheat the dish as well.
Common Q + A's for this Weeknight Jamaican Curry Chicken + Gnocchi
Can I use only turmeric for the curry sauce?
Absolutely! You can actually use only turmeric instead of curry powder for the curry sauce, if desired. While using just turmeric is optional, it definitely has benefits: powerful medicinal properties, natural anti-inflammatory ingredient, increases antioxidant activity in the body, and more.
Is this curry chicken dish dairy-free?
Yes, it uses coconut milk for the creaminess so if you are dairy-free this recipe has you covered!
Can I make this ahead of time?
Of course! To make this recipe ahead of time, simply cook the chicken and shred it before storing it in an airtight container and refrigerate for up to 2 days. Then once ready to make everything, whip together the curry sauce, cook the gnocchi, and toss everything together.
Should curry be thick or thin?
The best consistency for curry should be where it's thick enough to coat all of the ingredients in the dish, but liquid-y enough to be drizzled atop your rice or veggies or to be dipped with flatbread, pita, or naan bread.
Can I use sweet potatoes for this dish?
Absolutely use those potatoes in your curry. Two reasons why: it adds nice "body" or thickness to the sauce as they cook in with the chicken and sauce; two------it makes for a nice addition when eating the chicken with your favorite side. I'm always big on experimenting and so, I would definitely add sweet potatoes instead to change things up. No harm to me.
How substitute scotch bonnet peppers?
While traditionally scotch bonnet peppers are used in Jamaican dishes, unfortunately, they might not be found easily in some areas, therefore, substituting them with habanero peppers, jalapeños, etc works just fine! For equal spice to scotch bonnet, you can add a pinch of cayenne pepper and a few drops of hot sauce when substituting.
How to substitute Jamaican curry powder?
Unlike regular curry powder, Jamaican curry powder contains more turmeric (hence the bold yellow color) and allspice. Therefore, if you don't have Jamaican curry powder handy, simply use regular curry powder and add additional turmeric powder and a few pinches of allspice powder.
Is Jamaican curry chicken spicy?
Generally, yes! However, you can create a milder dish by reducing the amount of scotch bonnet peppers used or substituting with milder peppers like jalapeños, etc.
How can I get more gravy?
If you love your curry chicken with a lot more gravy, no worries! Just use less potatoes (because they work as a thickener as everything cooks) or add additional liquid (stock or water), about 1 cup halfway through the cooking process for more gravy.
Is this curry dish gluten-free?
Yes, once you use all gluten-free friendly ingredients like coconut milk, GF chicken stock (or bone broth which is GF-friendly), and any other ingredients that you might add!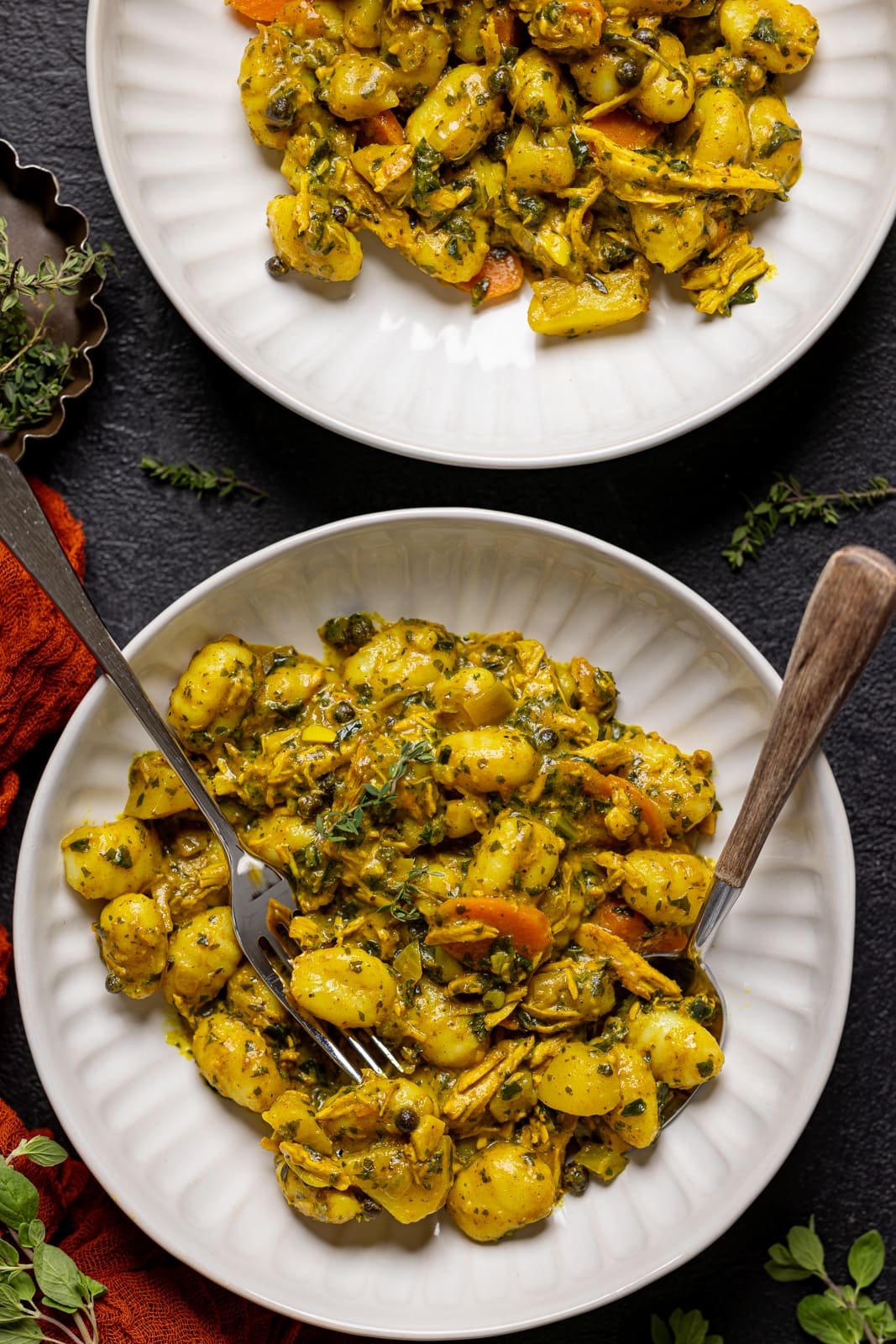 More Delicious Jamaican-style Recipes To Try Next!
Now that you've fallen in love with the bold flavors in this recipe, here are some more Jamaican-style ideas to try with your family next:
MADE OUR RECIPE(S)?
If you tried this Weeknight Jamaican Curry Chicken + Gnocchi recipe or any other recipe on my website, please please leave a 🌟 star rating and let me know how you go in the 📝 comments below. I love hearing from you.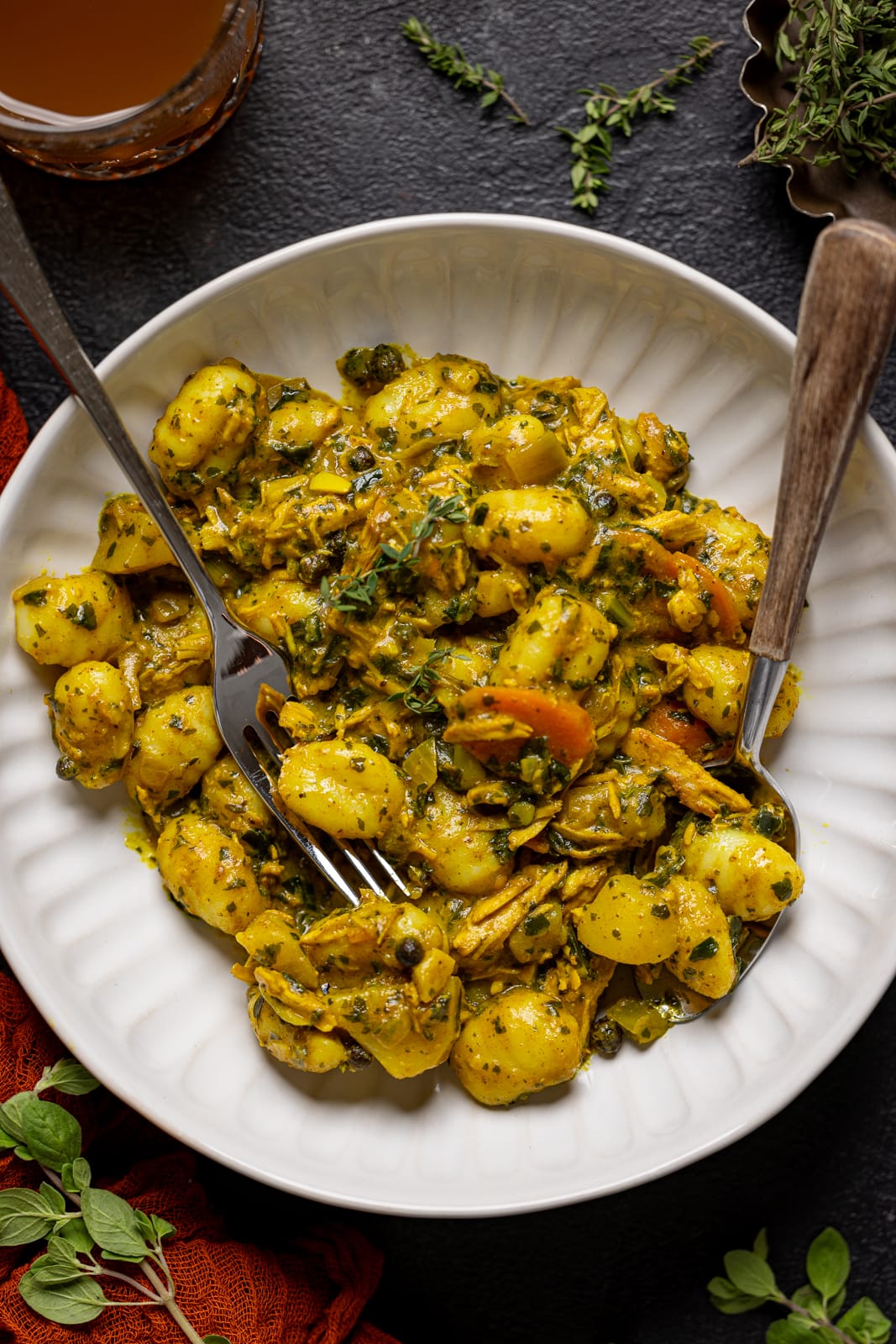 1

(16 oz.) package

potato gnocchi, homemade or store-bought

2-3

cups

cooked + shredded organic chicken breasts

(See Post for more info!)

1

cup

organic kale, chopped
JAMAICAN CURRY:
2

Tbsps

Extra virgin olive oil

1

(14 oz.) can

full-fat coconut milk

1

russet potato, peeled + cubed

1-2

carrots, peeled + chopped

1

bell pepper, cored removed + chopped

½

red onion, chopped

3

garlic cloves, minced

2

tsps

minced fresh ginger

1-2

scotch bonnet peppers

(Adjust to your level of spiciness; You can also use habanero peppers or omit entirely)

1-2

fresh thyme sprigs

½

cup

organic veggie stock, low-sodium

(You can also use chicken stock)

1

teaspoon

pimento seeds

(You can sub with 1 teaspoon ground allspice)

2

Tbsps

curry powder

(You can use actual Jamaican curry powder; See Notes)

1

tablespoon

hot sauce, optional

1

teaspoon

sea salt

1

teaspoon

black pepper
BOIL THE GNOCCHI:
In a medium-sized saucepan over medium high-heat, fill it with water about ¾ of the way. Once boiling, add the gnocchi and let it boil for 4-5 minutes or until all gnocchi begins to float at the top. Remove from heat, drain, and set aside.
BURN THE CURRY POWDER:
If using authentic Jamaican curry powder, it's super important to first "burn" your powder. SEE NOTES FOR MORE.

In a deep skillet or pot over medium-high heat, add the olive oil and once fully heated, add curry powder. Stir curry powder in oil and let it sit until it becomes a dark brown and becomes fragrant, about 2-3 minutes.
COOK EVERYTHING TOGETHER:
Add the minced garlic, onions, ginger, scotch bonnet peppers, and bell peppers, sautéing until fragrant and golden. Add the pimento seeds, salt, and black pepper, stirring until combined. Now, add in the shredded chicken until seared and coated in curry, about 3-4 minutes, stirring frequently.

Pour in the coconut milk, stock, and hot sauce, stirring until combined. Let the mixture boil for a minute or so before adding the chopped carrots, kale, and potatoes. Toss them in sauce, add in the thyme sprigs and reduce heat to simmer for about 20-25 minutes or until sauce thickens and the potatoes are cooked through and tender, stirring occasionally. Finally, add in the gnocchi and stir in the sauce until combined and coated.

Remove from heat once done.

To serve, spoon the chicken and gnocchi in prepared plate(s) or bowl(s). Garnish with a bit of dried parsley and sprinkles of red pepper flakes, if desired.

Bon Appétit!
STORAGE: Any leftovers can be kept in a tightly sealed container and refrigerated for up to 3-4 days.
TURMERIC: You can add 1 teaspoon of turmeric to the curry sauce, if desired. While adding turmeric is optional, it definitely has benefits: powerful medicinal properties, natural anti-inflammatory ingredient, increases antioxidant activity in the body, and more.
BURNING THE CURRY POWDER: When using Jamaican curry powder, it's important to burn the powder first to avoid digestive issues for some people because of it's potency. In addition, the "burning" process releases better flavor + color.
GLUTEN-FREE OPTION: Ensure that all ingredients are GF-certified including the gnocchi, coconut milk, stock, etc.
MAKE AHEAD: See FAQ section for details!
GREENS: To add a bit more flavor to this dish, you can always feel free to add in your favorite greens such as spinach, broccolini, collards, or asparagus. 
Calories:
220
kcal
|
Carbohydrates:
9
g
|
Protein:
23
g
|
Fat:
10
g
|
Saturated Fat:
2
g
|
Polyunsaturated Fat:
2
g
|
Monounsaturated Fat:
6
g
|
Cholesterol:
60
mg
|
Sodium:
743
mg
|
Potassium:
453
mg
|
Fiber:
3
g
|
Sugar:
3
g
|
Vitamin A:
5274
IU
|
Vitamin C:
64
mg
|
Calcium:
86
mg
|
Iron:
2
mg