A twist on traditional pasta bake----this Skillet Baked Cheesy Pumpkin Gnocchi is the epitome of Fall flavors and perfect for the entire family and so easy to whip together! Packed with bold, savory flavors, this one pot recipe is the best easy meal option that is made with soft potato gnocchi, chopped kale, roasted tomatoes (optional), herbs + seasonings, grated parmesan, shredded mozzarella cheese, and topped with generous amounts of additional Mozzarella cheese and breadcrumbs. Dairy-Free, Gluten-Free, + Make ahead options.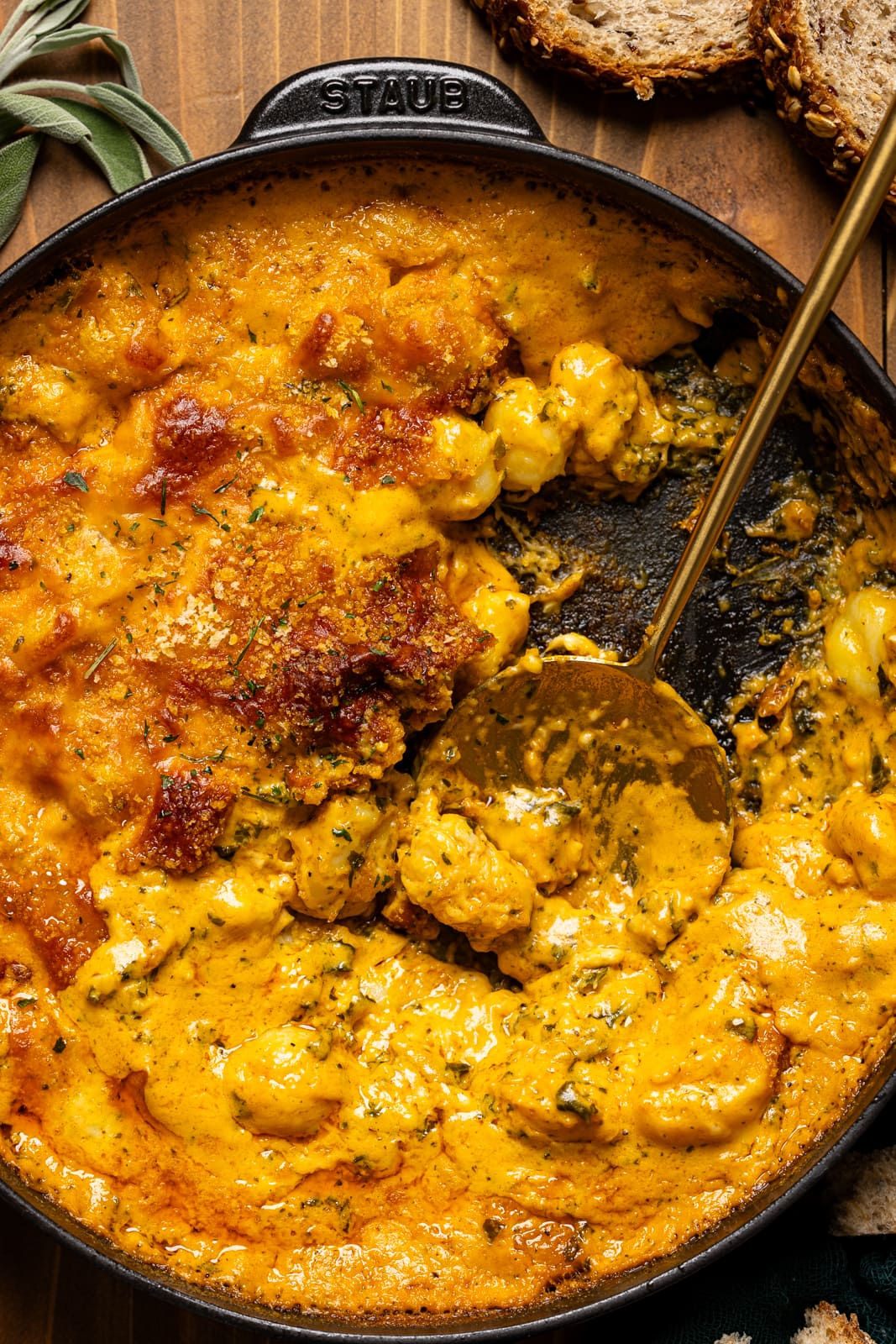 There's just something like a delicious one pot meal that brings everyone together and gets pulled together easily and quickly! This Skillet Baked Cheesy Pumpkin Gnocchi is no different! It's ooey, gooey, creamy center that is filled with a nice bite from the roasted tomatoes (if you choose to use it) and chopped kale, makes this one for the books. Plus, it's such a great family-friendly activity to do especially during the cooler months for a nice cozy vibe! Get your pumpkin spice + pie fix with this extremely delicious Easy Pumpkin Pie Iced Latte!
Honestly, you all absolutely LOVED my Garlic Chicken Broccoli Gnocchi, so I felt like I needed to make a Fall inspired version to enjoy like this one. However, as we soon head into even cooler months, you'll want to give this Creamy Garlic Chicken Gnocchi Soup, Creamy Lemon Pesto Gnocchi with Broccoli, Weeknight Broccoli Pesto Gnocchi + Chickpeas, Weeknight Jamaican Curry Chicken + Gnocchi, and of course one of the most popular gnocchi dishes on this site----Creamy Tuscan 'Marry Me' Chicken a try, especially to bring on all the comfort.
Overall, this pumpkin gnocchi dish is definitely comfort food in a bowl, includes simple steps, and can totally be personalized based on preference----i.e. sub with dairy-free products or eat with or without meat by subbing things like mushrooms, tofu, cauliflower, chicken, etc. as well as using sweet potato or butternut squash instead of pumpkin.
Jump to:
What is Baked Gnocchi?
Basically, baked gnocchi is a dish that often contains a level of sauce and ingredients that are then baked together with gnocchi for a nice pillowy gnocchi that is surrounded by bubbling pools of sauce and topped with gooey cheese.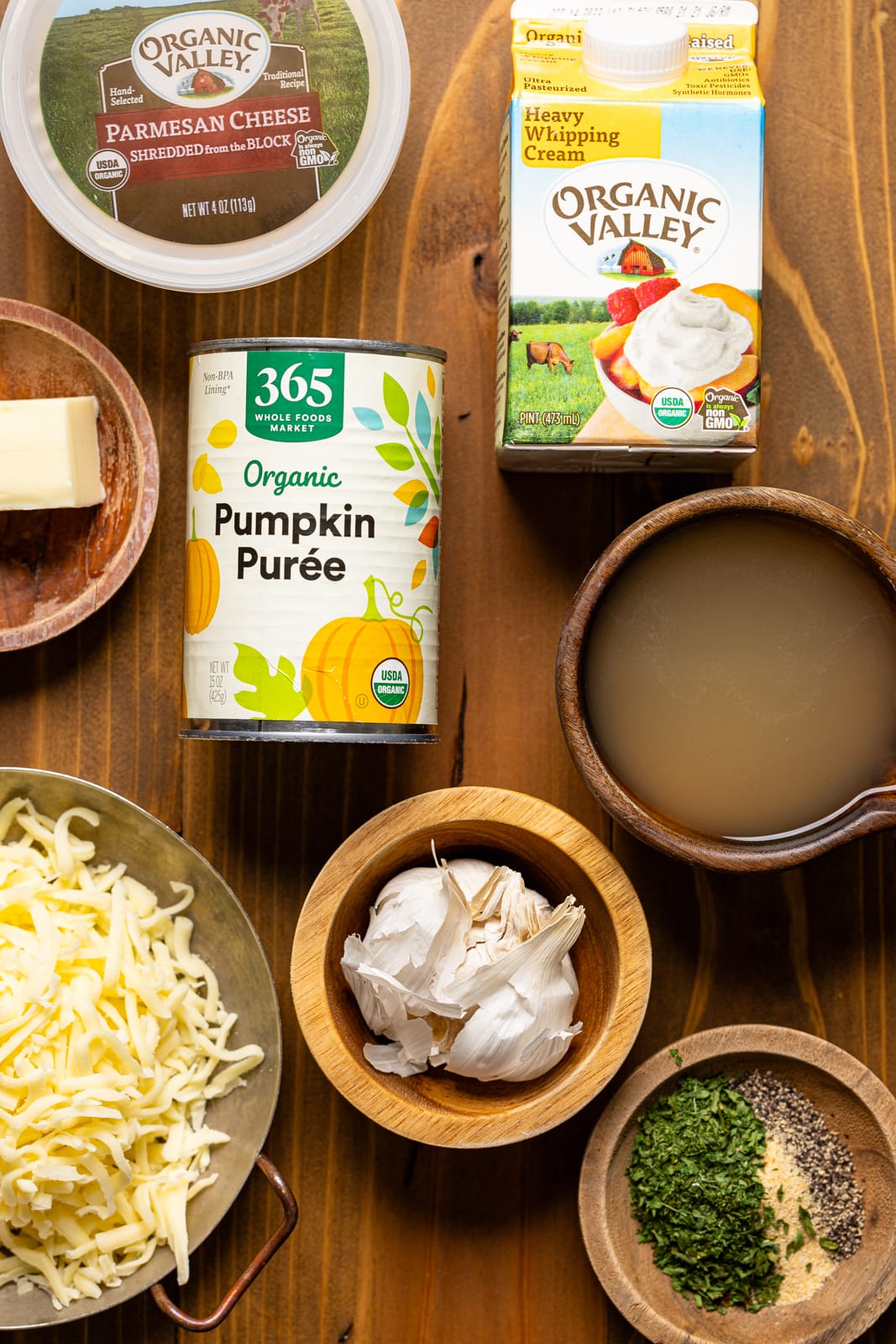 What is Gnocchi and How Do You Make It?
Gnocchi are basically Italian dumplings made with flour, eggs, and potatoes---unless they are egg-free like this one that I purchased from Delallo foods. When it comes to making your own gnocchi, the process is done is fairly a few steps. It starts with boiling and mashing the potatoes, combining the ingredients together and kneading them into a ball, shaping the dough, cutting them into pieces, and boiling and draining the gnocchi. For a great recipe, check out AllRecipes.com.
How Do You Pronounce Gnocchi?
Gnocchi is the plural of gnocco, an Italian variety of dumpling that has been around since Roman times. Other common additions include semolina, formaggio (cheese), ricotta, spinach and polenta. In terms of how to say it----it's pronounced nyow·kee.
How to Make Skillet Baked Cheesy Pumpkin Gnocchi
To make this creamy baked pumpkin gnocchi, you'll start by roasting your tomatoes (if you decide to use them) if you haven't already. Then to finish everything, you'll need a medium skillet on the stove to sauté the garlic followed by the pumpkin puree and seasonings. Then you slowly whisk in the wet ingredients and stir in the kale, roasted tomatoes, gnocchi, along with the parmesan + mozzarella. Let it simmer a bit more, top with the cheese + breadcrumbs, bake to perfection, and wallah! Nice, creamy results with that gooey topping we all love!
The Ingredients
Here's what you need to make this Skillet Baked Cheesy Pumpkin Gnocchi Recipe at home:
Gnocchi. You can make them yourself or purchase a quality store-bought version from Delallo Foods. For a gluten-free version, simply use gluten-free gnocchi.
Pumpkin. I use 100% organic pumpkin puree in the can, NOT pie filling. There's a difference! See further below for an homemade option.
Vegetable stock. Use store-bought low-sodium broth/stock or make your own! You can also use chicken stock if preferred.
Heavy cream. I recommend organic–always! Of course, for a vegan option, just use full-fat coconut cream/milk.
Butter. I recommend unsalted. You can always substitute with olive oil, grapeseed oil, or coconut oil. For a vegan option, use vegan butter.
Garlic. I prefer fresh, but you could substitute with 1-2 Tablespoons garlic powder in a pinch for a bold flavor. You can also roast a garlic bulb for greater flavor.
Herbs + Seasonings. A great addition of flavor. Adds such savoriness from the salt, black pepper, garlic powder, smoked paprika, and cinnamon.
Kale. I like to add additional greens to this dish. You can sub with roasted Brussels sprouts, spinach, collard greens, etc.
Tomatoes. You can add as many tomatoes as you'd like to fill this dish. I used grape tomatoes, however, heirlooms, roma, etc. works too! Just chop them up into nice bite-sized pieces.
Mozzarella Cheese. Makes things nice + gooey at the top; plus, adds such rich cheesy flavor. I freshly-grate a brick of organic cheese or you can use shredded. For a dairy-free option, sub with DF mozzarella shreds.
Parmesan. I love to freshly-grate my cheese, however, you can use your favorite shredded brand---quality does matter! You could also use pecorino romano. For a vegan option, So Delicious Dairy-Free or Violife cheese shreds tastes great.
Breadcrumbs. You can buy store-bought breadcrumbs or panko. Or see the notes below the recipe to easily make your own Seasoned Toasted Panko Bread Crumbs).
How to Make Your Own Pumpkin Puree
If you're thinking about making your own pumpkin puree instead of using a store-bought canned version, then you'll be happy to know that it is rather simple:
Step 1: Cut your pumpkins in half and scoop out the seeds. Be sure to save the seeds for another time because you can definitely use those!
Step 2: Feel free to cube the pumpkins into medium-large chunks and then place them unto a baking sheet lined with parchment paper. NOTE: ensure that the skin of pumpkin are peeled off at this point.
Step 3: Always season your pumpkin pieces (salt, black pepper, + smoked paprika) and lightly grease with olive oil until coated.
Step 4: Roast in the oven at 375 degrees Fahrenheit for about 40-45 minutes or until the edges are golden and they become super tender once tested with a fork or knife.
Step 5: Using a food processor or blender, puree your pumpkin along with water or veggie stock, until smooth. You can either use this immediately in whatever pumpkin recipe you'd like, store it in the freezer for later use.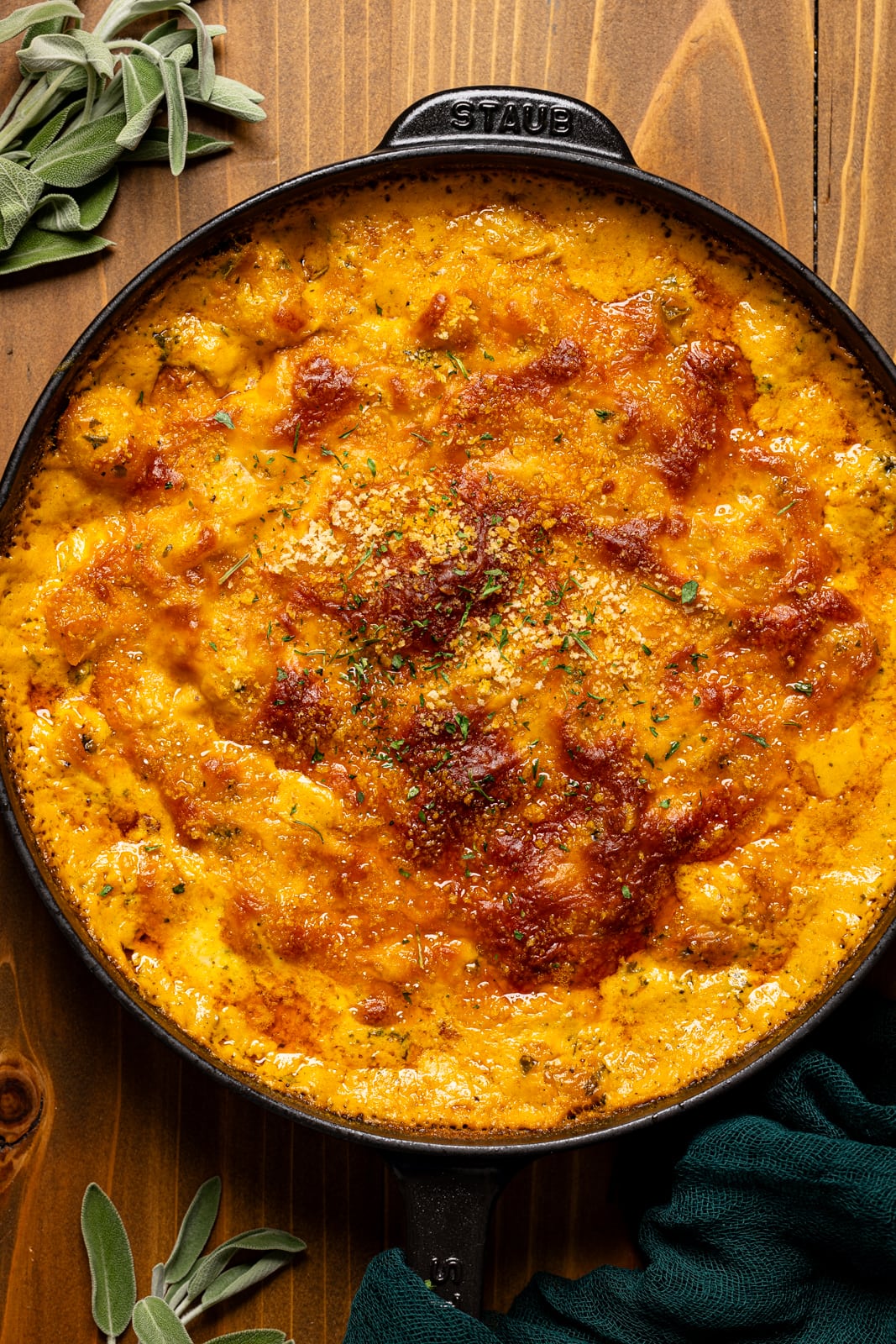 Why You'll Love This Baked Pumpkin Gnocchi
It's packed with flavors from the sauce, roasted tomatoes, kale, pumpkin, and gnocchi that is entirely delicious, but can also be enjoyed with meat and works for any type of eater.
Super easy to make and quick.
Full of savory, comforting, + delicious flavor! (The best reason!)
Very kid-friendly.
Comes with dairy-free and gluten-free options for those with sensitivities.
Done in just under 35 minutes---hello weeknight meal goals!
Health Benefits of Pumpkin
It must be noted that this recipe (and most sweet or savory pumpkin recipes) calls for 100% pumpkin puree, NOT pumpkin pie filling! Pumpkin pie filling is quite literally the sweet pumpkin custard that you find in traditional pumpkin pie. It already contains sugar, cinnamon, clove, and other ingredients that make a pie filling.
Adding pumpkin pie filling to a dish that calls for 100% pumpkin puree will add an un-welcomed sweetness, essentially ruining the dish. Even if you are unsure of what type of pumpkin a recipe is calling for, go for the 100% pumpkin puree.
How To Make Your Pumpkin Sauce More Flavorful?
It's all about the seasoning! Whether you choose to keep things simple or a bit more complex, adding herbs + seasoning to your sauce is KEY! Adding flavor to the base of your sauce with garlic and seasonings will add more depth to your creamy pasta and allow everything else to marry together well.
Topping Ideas for Baked Pumpkin Gnocchi
While I love this Skillet Baked Cheesy Pumpkin Gnocchi dinner as-is, straight from the pan, you can dress it up with toppings if you like.
I usually just add kale, but for extra spice, color and texture, you can try:
Chopped nuts, such as toasted pecans or walnuts
Sun-dried tomatoes
Roasted Brussel sprouts
Sliced jalapeños for a bit more heat
Cornflakes or Homemade Croutons for an extra crunch
Roasted pumpkin seeds for texture
Freshly-grated dairy-free parmesan cheese or nutritional yeast
If you discover a new favorite topping idea, be sure to let me know in the comments section below!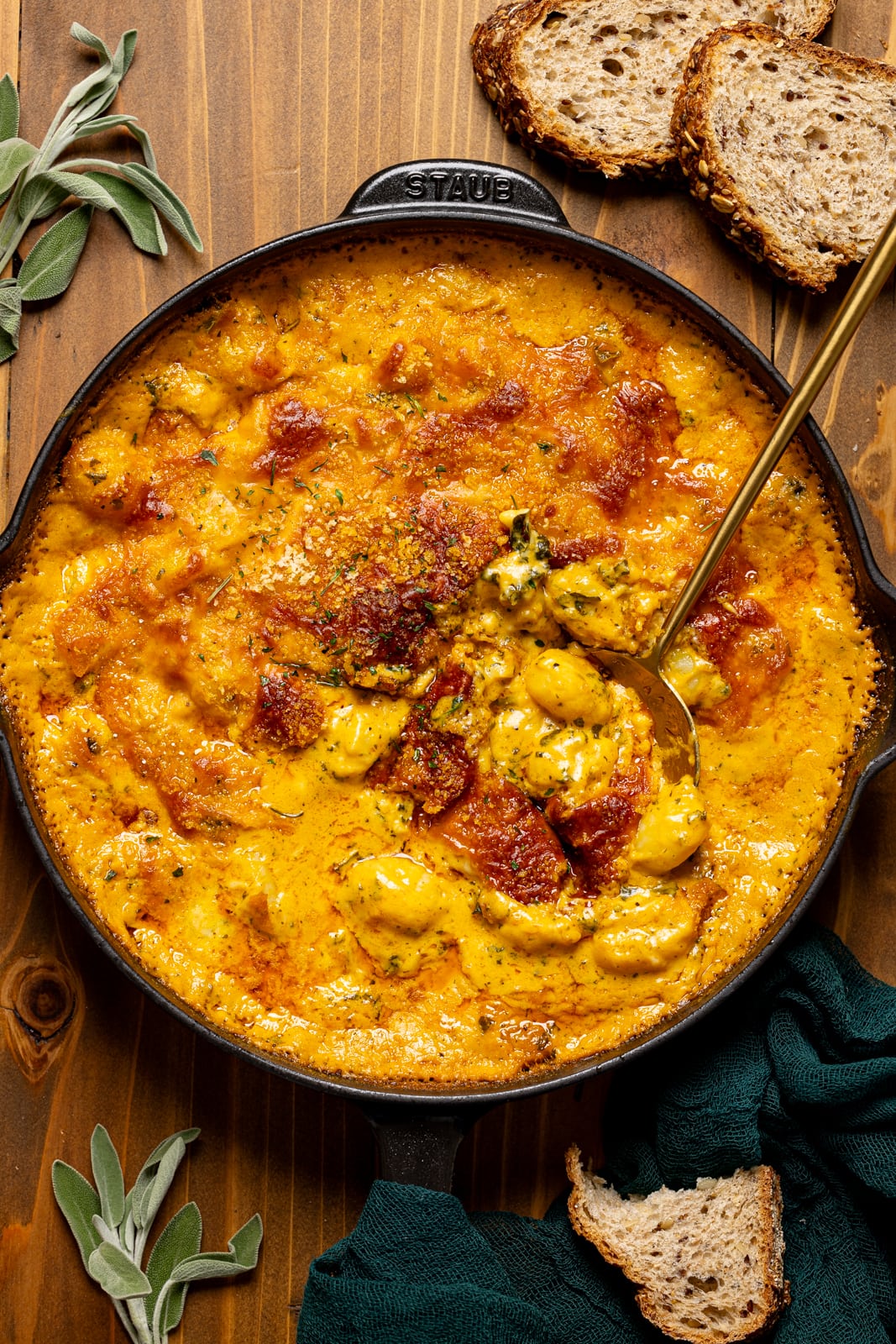 Meatless Options for this Baked Gnocchi
While this Skillet Baked Cheesy Pumpkin Gnocchi is perfect as is---I definitely wanted to give options for those of you who don't eat meat or just might make this dish more than once and want to switch things up with a "meatier" meatless option from time to time! Here are a few great ingredients that you can substitute in this creamy gnocchi dish.
Other ingredient ideas include:
Roasted chickpeas
Beans (like White beans, Kidney beans, etc.)
Mushrooms
Tofu or Tempeh
Cauliflower
Roasted veggies (like Broccoli, Asparagus, Cabbage, etc.)
Vegan meatballs
Jackfruit
Other plant-based meat alternatives (store-bought)
What Can I Eat with this Baked Gnocchi?
Like many pasta dishes, this recipe can be easily enjoyed with a delicious salad of some sort. Then of course, there are warm salads like Roasted Eggplants, Grilled Zucchini, other Roasted Veggies, homemade Garlic Bread, etc.
Lastly, you can serve a platter of cooked veggies such as sautéed broccolini or asparagus or switch things up with one of the following:
A delicious Salad
Sautéed Greens
Grilled Veggies
Toasted Bread
Common Q + A's for this Skillet Baked Cheesy Pumpkin Gnocchi
How to store + reheat leftovers?
Any leftovers can be kept in a tightly sealed container and refrigerated for up to 3-4 days. To re-heat, simply heat in the oven for the best results or microwave for a minute or two until heated through. 
Can I make this baked gnocchi dairy-free?
Absolutely! To make this sauce dairy-free, simply use vegan butter instead of the regular butter. Then swap the cream with full-fat coconut milk or coconut cream. And use your favorite dairy-free shredded cheese or nutritional yeast instead of parmesan and mozzarella.
Can I use another veggie besides kale?
You can totally use your fave greens like Brussels sprouts, spinach, collard greens, asparagus, broccoli, etc. for a nice twist! When it comes to vegetables, there are so many benefits as we all know. While some veggies pack a greater punch when it comes to nutrients, we've curated a special list of our Our Top 12 Favorite Healthy Green Leafy Vegetables! Most of these are super popular while others are under utilized in many dishes. Lettuce Eat, Shall We?
Can I make this baked gnocchi gluten-free?
Yes! For a gluten-free option, just be sure that the gnocchi is GF-friendly as well as the cream, breadcrumbs, and stock.
Can I make this baked gnocchi ahead of time?
Of course! Cook the gnocchi ahead of time and let it cool completely before storing in an air-tight refrigerator for 3-5 days. Prep kale and chop, storing it in an airtight container overnight. Also, roast your tomatoes and make breadcrumbs (if using homemade) 2-3 days prior and store in an airtight container in the refrigerator until ready to use. On the day of, remove everything to room temp., about 15-20 minutes and continue with making the creamy pumpkin sauce and then the assemble STEPS before baking everything together.
Can I use another pasta instead of gnocchi?
Of course! You can use long pastas like Pappardelle, Fettuccine, etc. however, I would recommend tossing with tongs to ensure that pasta is fully manageable and fully coated. Otherwise, other pastas such as Penne, Rigatoni, Paccheri, Orecchiette, etc. are perfect to bake as well.
Do you cook the gnocchi before adding it to sauce?
While many people might argue that you need to cook the gnocchi prior to adding it to your sauce, I don't agree when it comes to this recipe. Of course, if it's a pasta dish that takes longer to cook (hence going in the oven to bake), then I recommend adding your gnocchi uncooked when tossing in the sauce prior to baking. Therefore, the gnocchi will be fully cooked through as it bakes. However, for quicker pasta dishes that only require a quick toss in the sauce, it's best to boil your gnocchi first.
Is gnocchi just pasta?
Basically, gnocchi are a type of pasta consisting of soft, fat and chewy dumplings. Traditionally, it's made of semolina or plain wheat flour, egg, and mashed potato.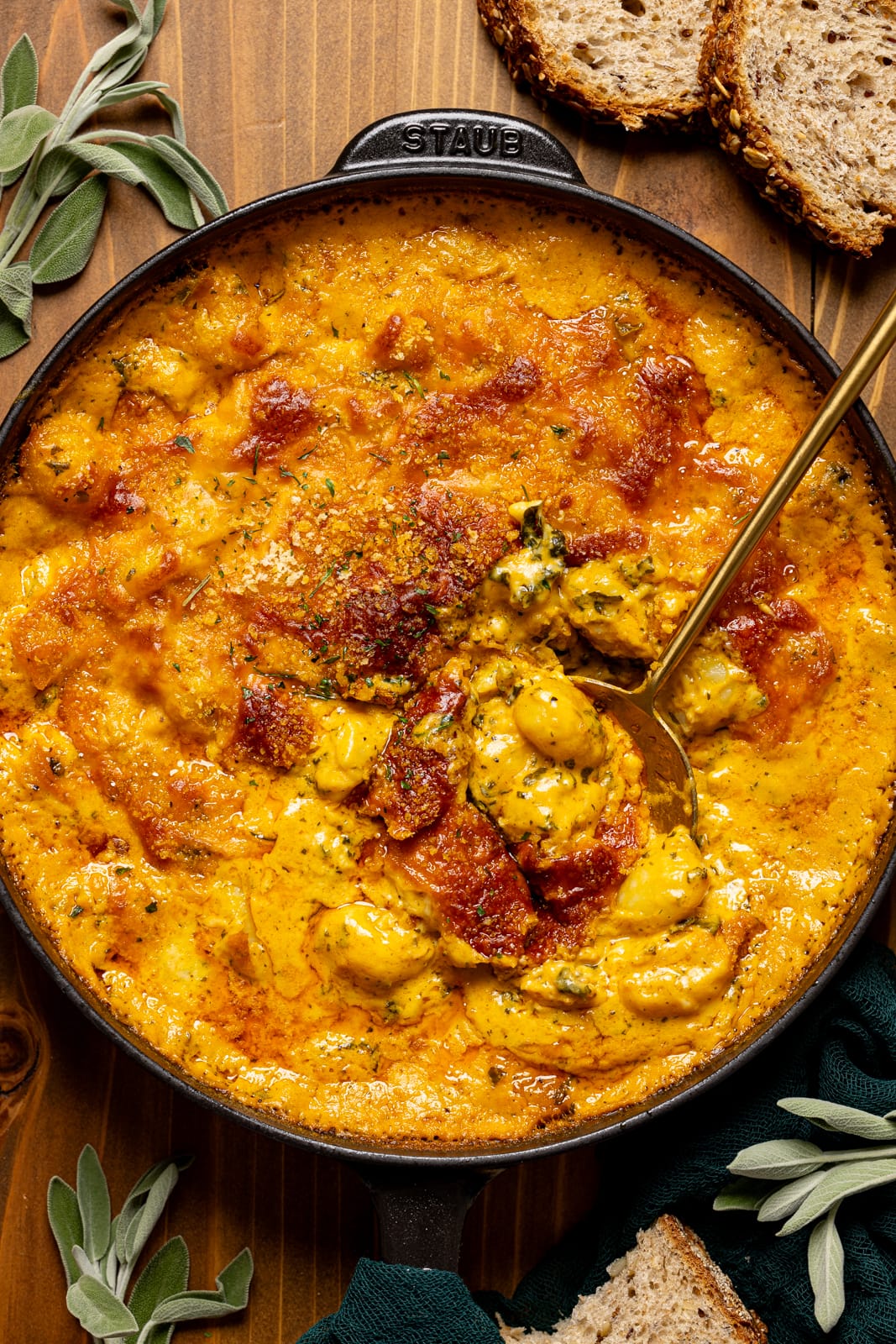 More Easy Comforting Meals to Try Next!
Now that you're on a pumpkin flavor kick with this baked gnocchi recipe, give these recipes that your entire family will love a try next:
MADE OUR RECIPE(S)?
If you tried this Skillet Baked Cheesy Pumpkin Gnocchi recipe or any other recipe on my website, please please leave a 🌟 star rating and let me know how you go in the 📝 comments below. I love hearing from you.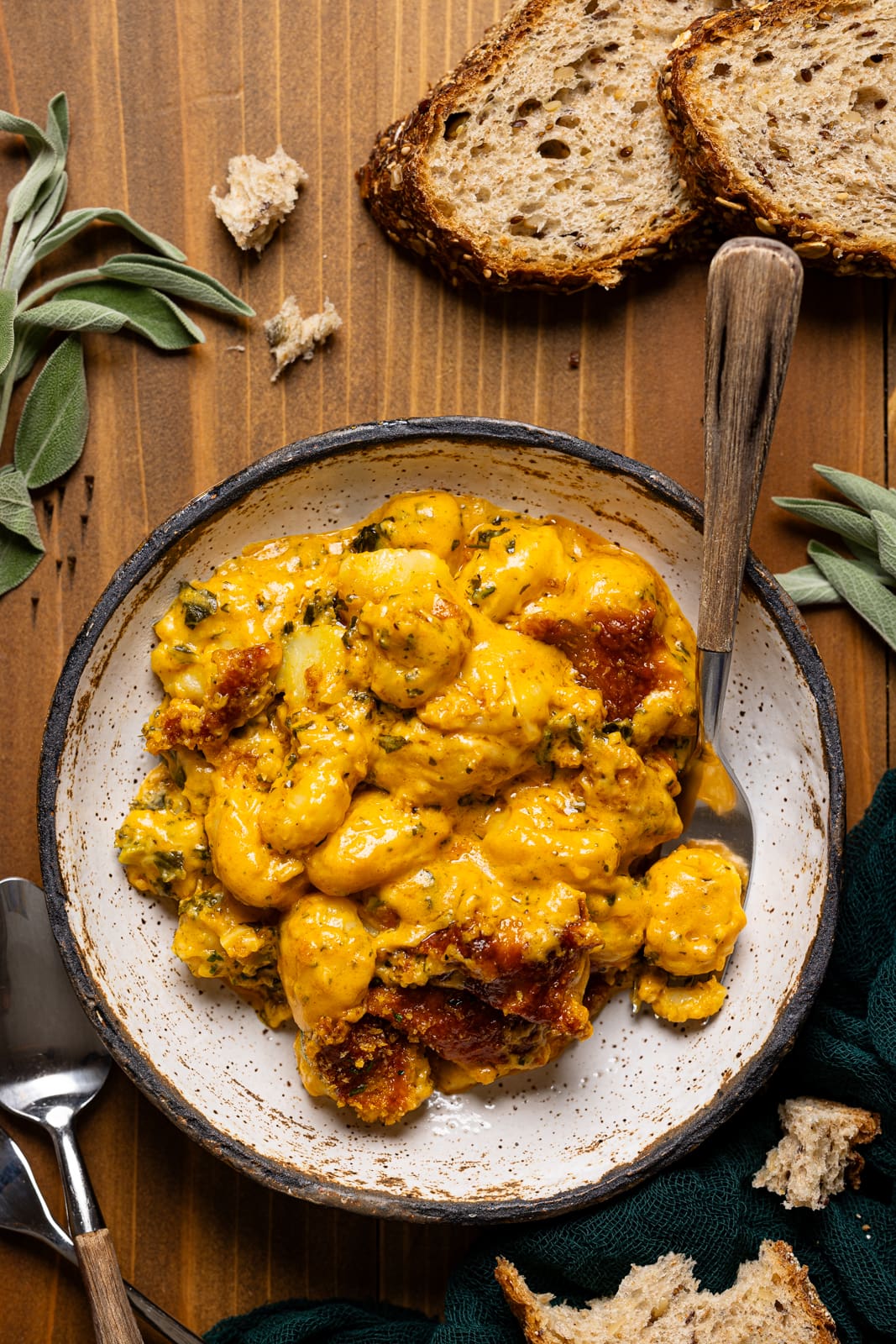 BAKED GNOCCHI:
2

(16 oz.) packages

potato gnocchi, homemade or store-bought

2

cups

organic kale, chopped

2

Tbsps

unsalted butter

3

garlic cloves, minced

1

teaspoon

sea salt

1

teaspoon

black pepper

1

teaspoon

garlic powder

1

teaspoon

dried parsley

1

teaspoon

smoked paprika

½

teaspoon

ground cinnamon

1

cup

100% pumpkin puree

(Not pie filling; See Post for homemade option)

1 ½

cups

organic heavy cream

1

cup

organic vegetable stock

1

cup

shredded mozzarella cheese, organic

(You can also use sharp cheddar, mild cheddar, etc.)

1

cup

freshly-grated parmesan cheese
TO MAKE THE ROASTED TOMATOES:
TO MAKE THE CREAMY PUMPKIN SAUCE:
Preheat the oven to 375 degrees Fahrenheit.

In the medium deep skillet over medium-high heat, add the butter until melted. Add in the minced garlic and sauté until fragrant, about 1 minute.

Add in the seasonings: salt, black pepper, garlic powder, parsley, smoked paprika, and cinnamon and stir until combined. Add in the pumpkin puree and stir until combined.

Reduce the heat to medium-low and slowly add in the heavy cream and veggie stock, whisking until combined and the sauce begins to thicken a bit from the flour. Let it slightly bubble for 1-2 minutes and then add in the grated parmesan and mozzarella cheese, whisking again until fully melted and sauce thickens, about 2-3 minutes.

Add in the uncooked gnocchi, roasted tomatoes (if using), and kale stirring everything together until they are fully coated.
BAKE EVERYTHING TOGETHER:
Remove the skillet from heat and sprinkle the remaining mozzarella cheese along with breadcrumbs atop everything until fully covered.

Bake (without being covered) for 15-20 minutes or so, or until cheese has fully melted, the top (breadcrumbs) is browned slightly, and the sauce is bubbly at the sides.

Remove from oven and serve with your favorite salad or bread.

Bon Appetit!
STORAGE: Any leftovers can be kept in a tightly sealed container and refrigerated for up to 3-4 days. To re-heat, simply heat in the oven for the best results or microwave for a minute or two until heated through. 
MAKE AHEAD: See FAQ section for details!
GREENS: To add a bit more flavor to this dish, you can always feel free to add in your favorite greens such as roasted Brussels sprouts, spinach, kale, collards, or asparagus. 
DAIRY-FREE + GLUTEN-FREE OPTIONS: See FAQ section for details!
Calories:
483
kcal
|
Carbohydrates:
10
g
|
Protein:
11
g
|
Fat:
46
g
|
Saturated Fat:
28
g
|
Polyunsaturated Fat:
2
g
|
Monounsaturated Fat:
11
g
|
Trans Fat:
0.2
g
|
Cholesterol:
138
mg
|
Sodium:
1298
mg
|
Potassium:
287
mg
|
Fiber:
2
g
|
Sugar:
3
g
|
Vitamin A:
5425
IU
|
Vitamin C:
33
mg
|
Calcium:
378
mg
|
Iron:
1
mg