Say hello to this homemade Toasted Panko Bread Crumbs recipe – a breeze to make and bursting with flavor. With just a handful of uncomplicated ingredients, including bread + your preferred seasonings, you'll be well on your way to creating your own batch of these seasoned golden, crunchy crumbs that'll make your dishes shine. No more settling for store-bought when you can whip up these homemade bread crumbs that add that extra 'oomph' to every bite. Gluten-free option.
Why Homemade Panko Bread Crumbs
Having breadcrumbs in your kitchen arsenal is a fantastic move, especially panko breadcrumbs--they are lighter and airier but also larger than the usual ones. What does this mean for your food? A next-level crunchiness that's beyond satisfying

They not only work wonders in stuffings like this Homemade Vegan Stuffing but also elevate the taste of casseroles, and pasta dishes like this incredible Southern-Style Cajun Pasta with Pecan Breadcrumbs + how can we forget The BEST Southern Baked Mac and Cheese. And if you're a fan of crispy chicken like I am, you're in luck. Panko breadcrumbs take crispy chicken to a whole new level. From Crispy Oven Fried Chicken to Sticky Orange Popcorn Chicken, panko breadcrumbs work their magic, giving your dishes that irresistible, next-level crunch.

If I were to sum up this homemade panko breadcrumb recipe in a nutshell, it's bursting with flavor, a breeze to make using simple ingredients, incredibly versatile for various dishes, and definitely outshines store-bought options with its unbeatable freshness and taste.
Jump to:
What Are Panko Bread Crumbs?
Panko breadcrumbs originate from Japan and are made by processing bread without crusts into airy, light, and larger flakes. Unlike traditional breadcrumbs, which are often denser and finer, panko breadcrumbs maintain their shape and texture during cooking, resulting in a crispier and more delicate coating when used for frying or baking!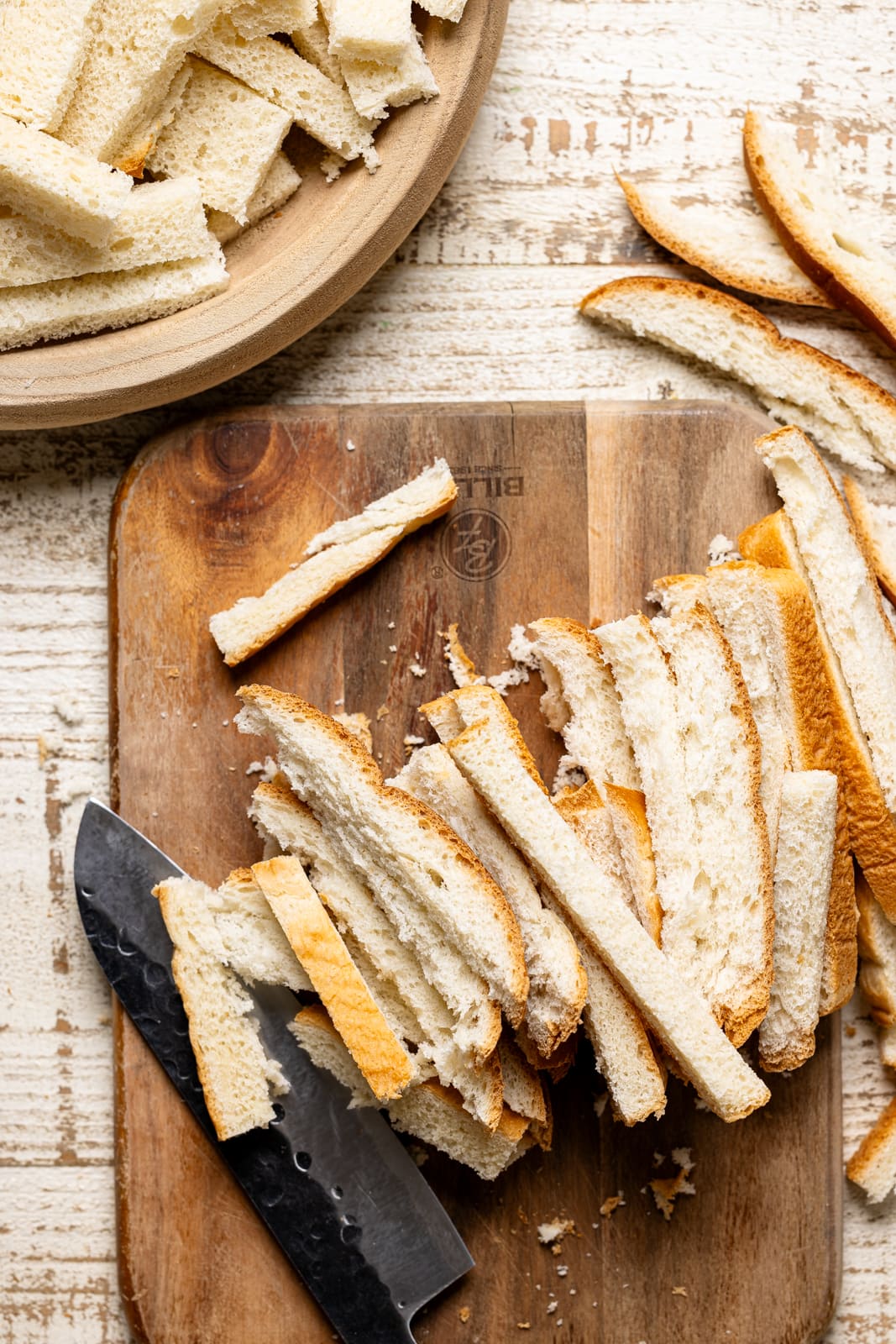 How To Make Homemade Panko Bread Crumbs
Creating your homemade bread crumbs involves three main steps. First, carefully cut the bread and remove the crust. Second, crumble the bread and mix in the seasonings for flavor. Finally, bake everything to perfection, resulting in a batch of light, airy, and incredibly delicious breadcrumbs.
Ingredients
Here's what you need to make the crispiest homemade breadcrumbs -
White Bread: The blank canvas for amazing crunch.
Garlic Powder: Pops in savory garlicky goodness.
Onion Powder: Sneaks in that delicious oniony flavor.
Dried Oregano: Adds a touch of herby delight.
Dried Basil: Infuses dishes with aromatic freshness.
Dried Parsley: Sprinkles in mild, pleasant herbiness.
Dried Thyme: Throws in earthy, cozy notes.
Smoked Paprika: A smoky twist.
Sea Salt: Balances and elevates the overall delicious taste.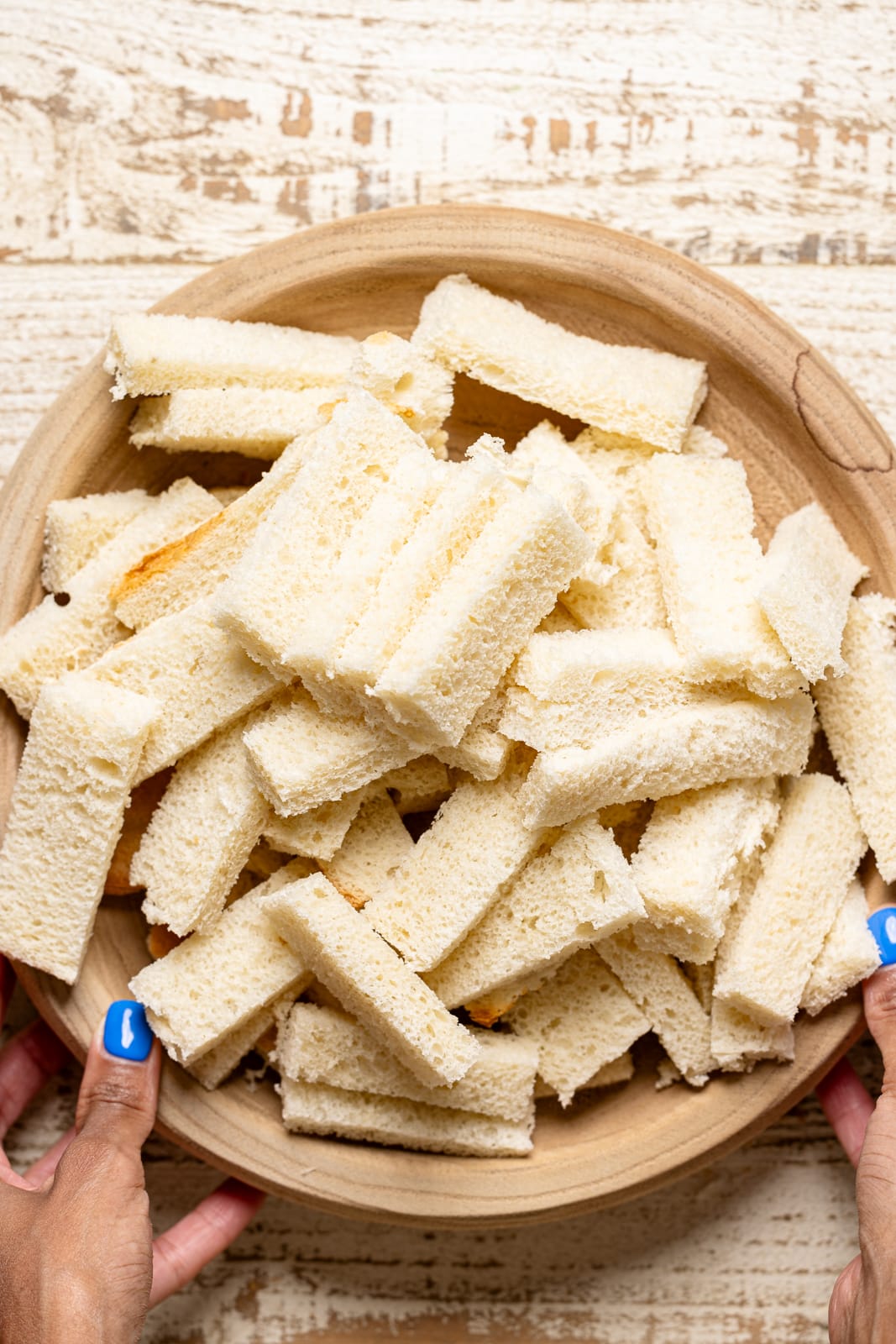 Uses of Panko Bread Crumbs
Panko bread crumbs are incredibly versatile in the kitchen. They're a go-to choice for creating irresistibly crispy coatings + crunch to different foods, both savory and sweet! Here are some ideas -
Crispy Coatings: Perfect for achieving an extra crunch on fried chicken like this Crispy Southern Hot Honey Fried Chicken or for coating fish, shrimp, or vegetables like these Lemon Pepper Cauliflower Wings.
Casseroles and Gratins: Add a crispy topping to dishes like Baked Vegan Buffalo Mac + Cheese scalloped potatoes, or vegetable gratins.
Baked Dishes: Use as a topping for baked pasta, stuffed mushrooms, or even as a crispy layer on shepherd's pie-- It would make a delicious addition to this Butternut Squash Sweet Potato Shepherd's Pie
Meat and Meatballs: Mix into meatloaf or meatball mixtures for improved texture and added crunch. Try my Weeknight Baked Meatball Penne Pasta Casserole.
Stuffed Proteins: Use as a stuffing filling for chicken or turkey! Or for a vegetarian version, there are Spiced Chickpea Stuffed Sweet Potatoes!
Vegetarian Dishes: Enhance the texture of veggie burgers, patties, or fritters.
Desserts: Create crispy toppings for pies or fruit crumbles like My Favorite Peach Crumble Pie, or even French toast, it would be a great addition to my Baked Crunch Cinnamon French Toast recipe!
As y'all can see the versatility of panko breadcrumbs makes them an essential pantry ingredient for adding that delightful crunch + texture to a wide variety of dishes.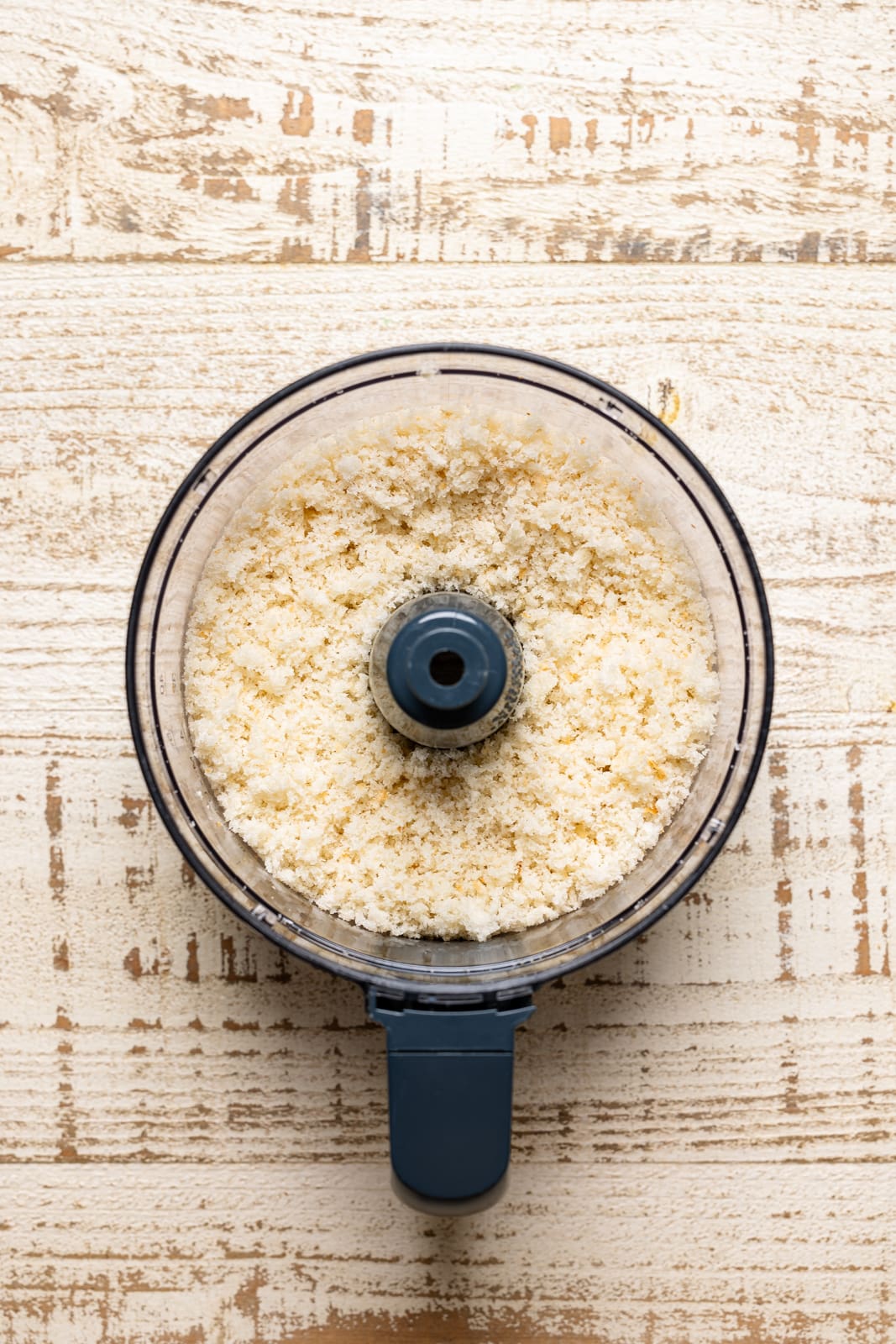 Can I Make Gluten-free Panko Breadcrumbs?
Absolutely, you can make gluten-free panko breadcrumbs! To do so, use gluten-free white bread slices instead of regular bread. Process the gluten-free bread in the same way as the regular bread to create gluten-free breadcrumbs.
TIP
Make sure the gluten-free bread slices are at room temperature and thawed out (if they were frozen or refrigerated).
The Secret Perfectly Toasted Bread Crumbs
The key to perfect toasting is consistency and attention. Stir or toss the breadcrumbs frequently to ensure even browning, and keep a close eye on them as they can turn from toasted to burnt quite rapidly!
Why You Will Love This Toasted Panko Bread Crumbs Recipe
Elevates dishes with a delightful crispy texture.
Simple steps + big flavor pay-off.
Super versatile
An affordable + easy pantry essential
And did I mention just absolute toasting perfection?? They add SO MUCH depth to dishes.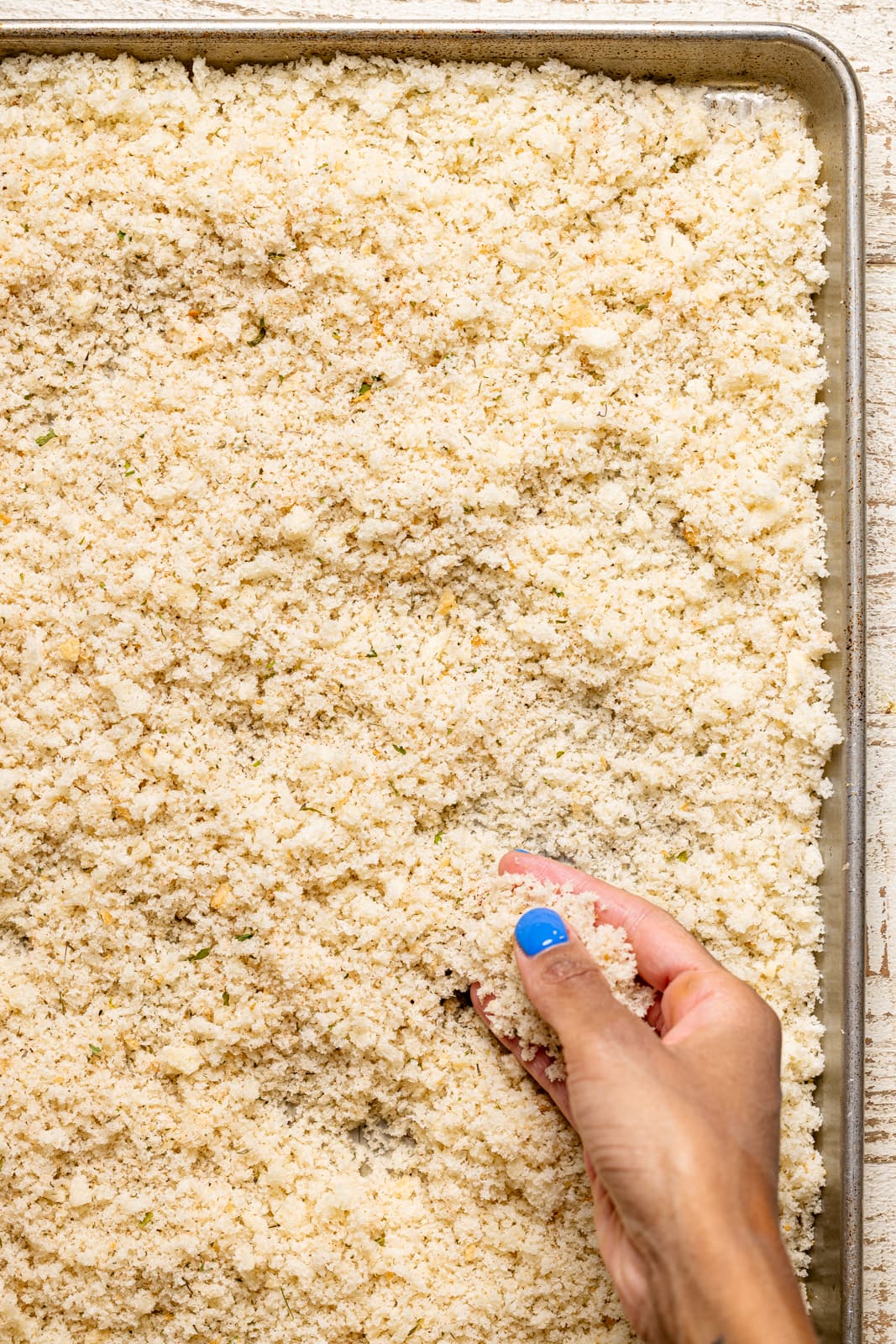 Toasted Panko Breadcrumbs Q + A's
Can I adjust the level of toasting for different recipes?
Absolutely! The degree of toasting can be adjusted to suit the specific needs of your recipe. For some dishes, you might prefer a lighter toasting for a subtler flavor, while others may benefit from a deeper toasting!
Do I need to use oil for this Panko Bread Crumbs recipe?
Toasting panko bread crumbs generally doesn't require adding oil. You can achieve a crispy texture by toasting them in the oven without any oil.
How to store?
Leftover freshly homemade bread crumbs can be stored in an airtight container in the fridge for about a week, or frozen for about 4 months. Homemade dried bread crumbs can be stored in an airtight container in the pantry for about 2 weeks or frozen for about 4 months. 
Can I use different spices or none at all?
Absolutely! The beauty of this toasted panko breadcrumbs recipe is its versatility. You can customize the spices to your liking or leave them out entirely. Whether you prefer a simple, neutral crunch or want to infuse bold flavors, the choice is yours.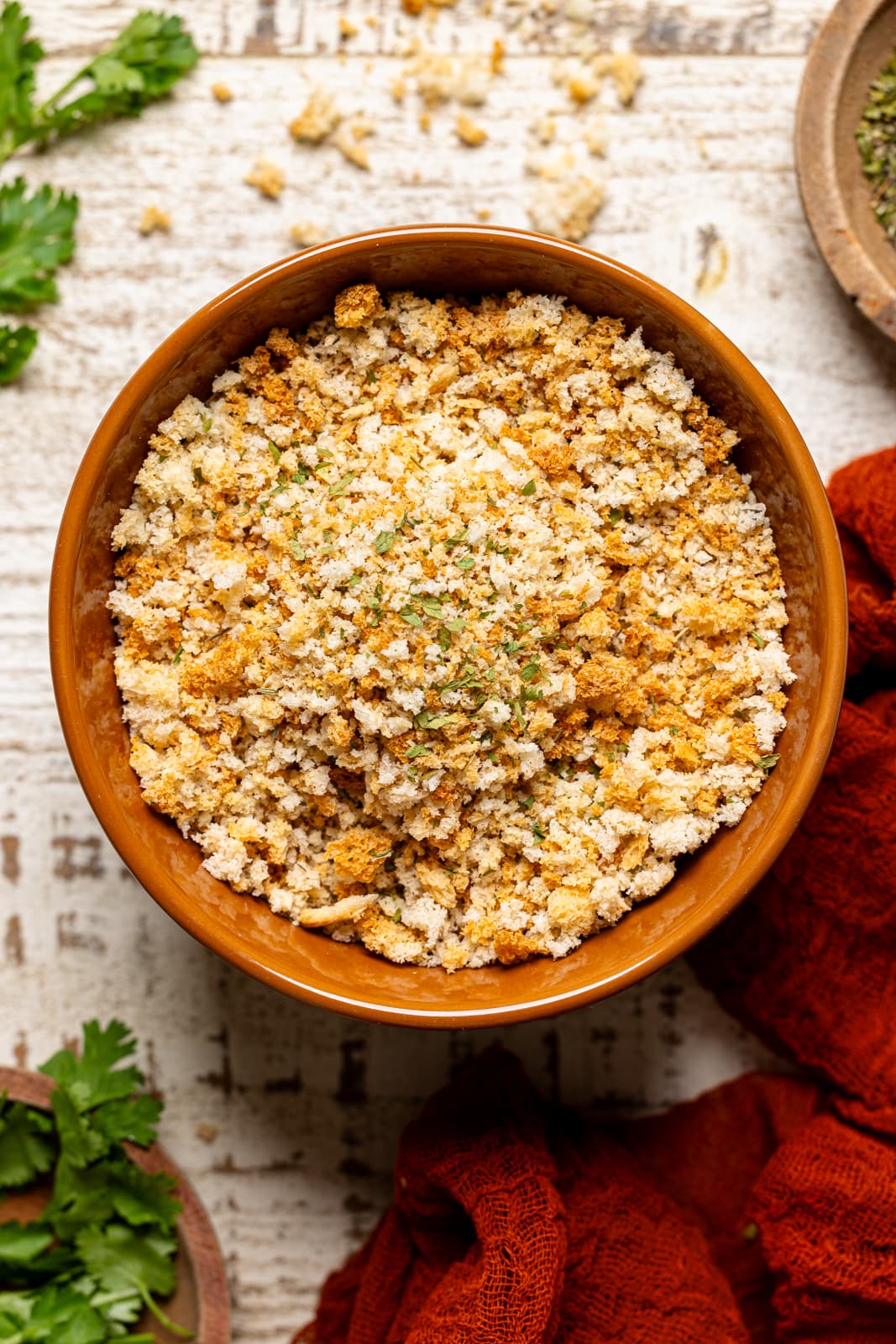 More Delicious Crispy Dishes
BREAD CRUMBS:
1

loaf

white bread, organic

1

teaspoon

garlic powder

1

teaspoon

onion powder

1

teaspoon

dried oregano

1

teaspoon

dried basil

1

teaspoon

dried parsley

1

teaspoon

dried thyme

½

teaspoon

smoked paprika

½

teaspoon

sea salt
CUT THE BREAD:
Cut the bread slices all around to remove the crusts and then cut each bread slice into strip-like shapes.
TURN THE BREAD INTO CRUMBLES:
In a food processor, add handfuls of cut bread slices and process until blended into small pieces. NOTE: You don't want to process the bread too much until it becomes dust!
BAKE THE BREAD CRUMBLES:
Preheat the oven to 375 degrees Fahrenheit and prepare a baking sheet with parchment paper.

Spread the bread crumbles unto prepared baking sheet as evenly as possible. Season with salt, garlic powder, onion powder, oregano, basil, parsley, thyme, and smoked paprika, lightly tossing everything together and spreading it out evenly again, if needed. NOTE: You can toss together the bread crumbs + seasonings in a bowl prior to if easier.

Bake the bread crumbs for 20-30 minutes or until golden brown and crispy.

Once done, remove from oven and let bread crumbs cool for at least an hour before adding to sealable bags or tightly sealed containers for later. NOTE: Bread crumbs will "dry" more as they cool.

Bon Appetit!
STORAGE: Leftover freshly homemade bread crumbs can be stored in an airtight container in the fridge for about a week, or frozen for about 4 months. Homemade dried bread crumbs can be stored in an airtight container in the pantry for about 2 weeks or frozen for about 4 months.

 

SPICES/HERBS: If desired, you can reduce the amount of taco seasoning used slightly. Please know that this recipe is bold in flavor, so feel free to adjust based on your tastebuds.
TOASTED VS. TRADITIONAL PANKO: You can totally make traditional Panko bread crumbs that are lighter in color by reducing the baking time until they're just crisp and not as golden. 
GLUTEN-FREE OPTION: To make these bread crumbs GF-friendly, be sure to substitute with gluten-free bread slices that are at room temperature and thawed out (if they were frozen or refrigerated). 
Calories:
4
kcal
|
Carbohydrates:
1
g
|
Protein:
0.2
g
|
Fat:
0.05
g
|
Saturated Fat:
0.01
g
|
Polyunsaturated Fat:
0.02
g
|
Monounsaturated Fat:
0.01
g
|
Sodium:
146
mg
|
Potassium:
18
mg
|
Fiber:
0.3
g
|
Sugar:
0.1
g
|
Vitamin A:
72
IU
|
Vitamin C:
0.2
mg
|
Calcium:
11
mg
|
Iron:
0.4
mg