This Pesto Pasta Bake is swirled with tangy ricotta cheese, savory homemade pesto, and gooey melted parmesan. It's a fast family-friendly pasta dinner for any weeknight.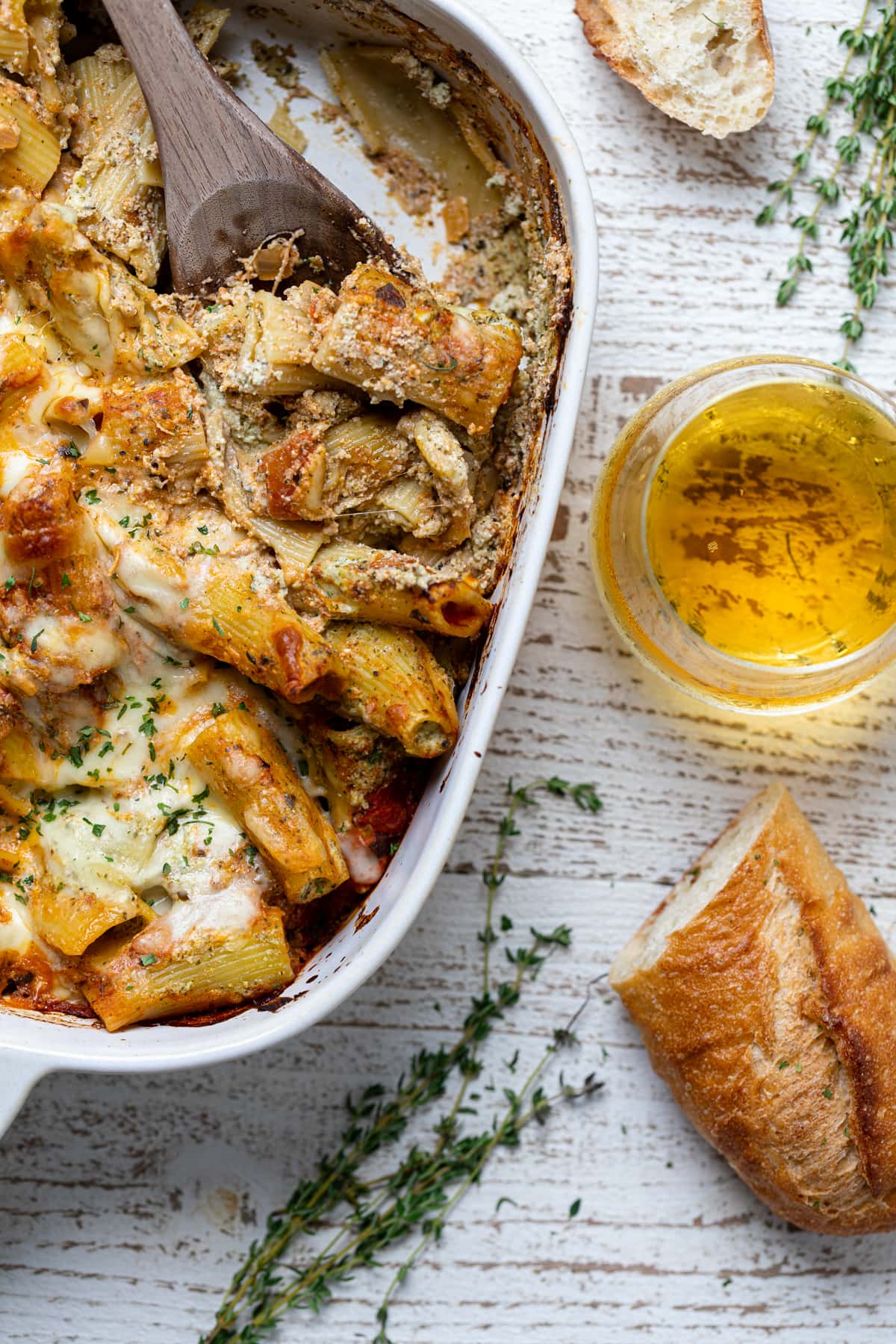 When fall weather comes, I'm always looking for recipes that bridge late summer produce with comfort. This cheesy, herby pasta bake with pesto, ricotta, mozzarella and parmesan is perfect for that. It has the bright flavors of summer basil with a layered and hearty pasta dish. This is a perfect casserole to feed a crowd this fall.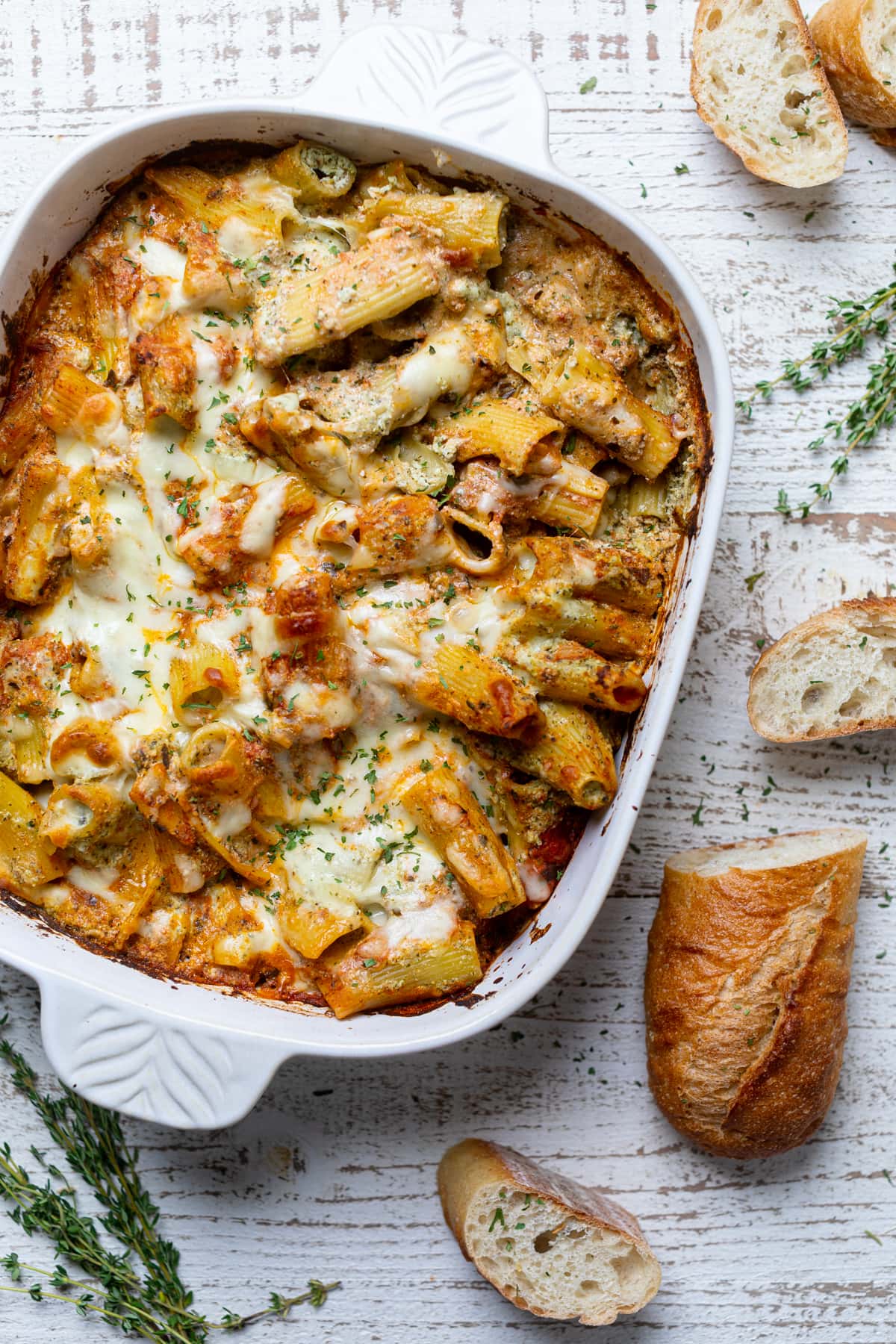 How to Make Pesto Pasta Bake
You can use store-bought pesto for this recipe if you're short on time, but I highly recommend whipping up a quick batch of your own pesto.
To put everything together, you'll toss your cooked pasta with the pesto sauce and plenty of cheese in a baking dish, and bake until everything is gooey and warm, with a crisp crust on top.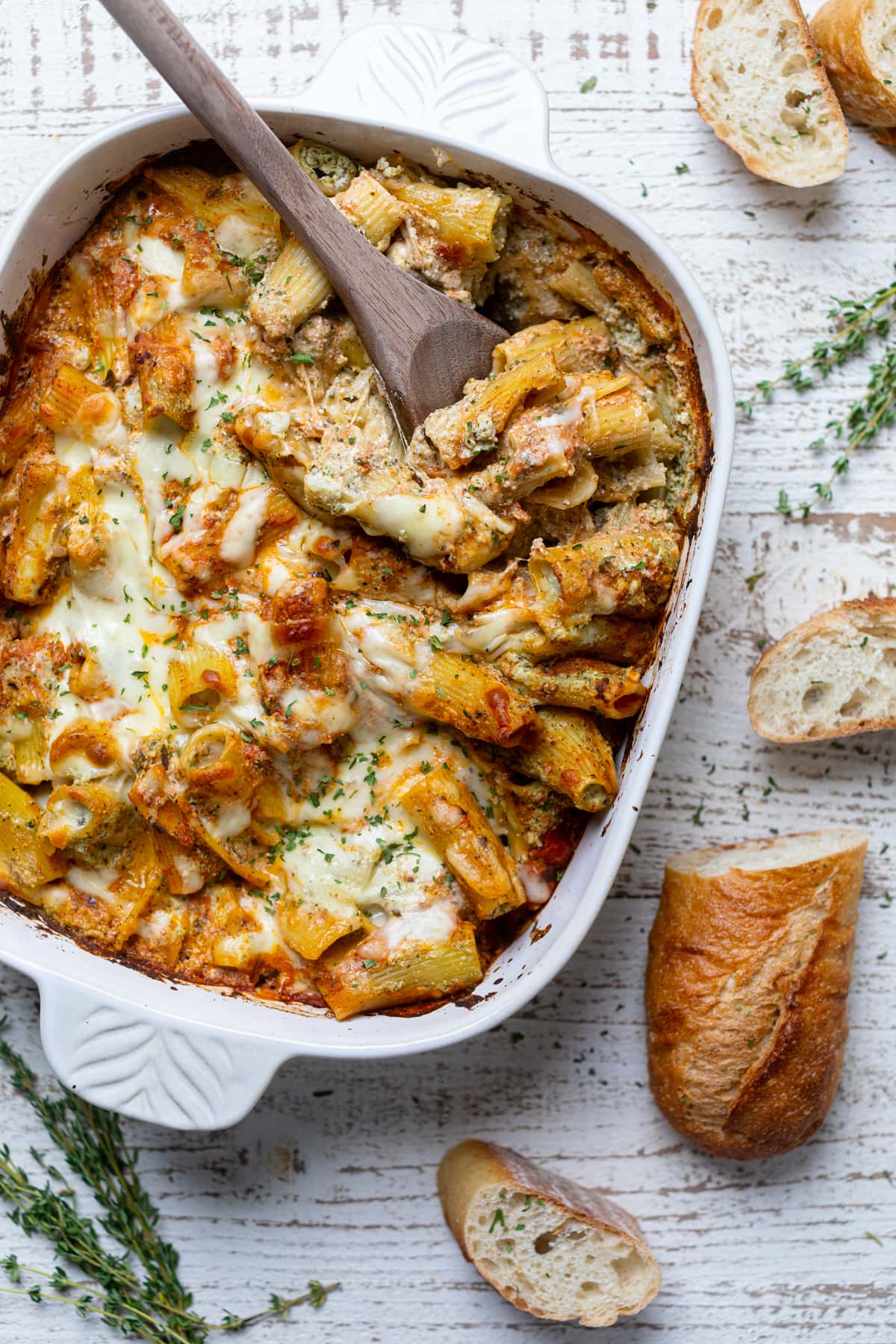 Making Pesto Sauce
It's quick and easy to make pesto sauce, and such a great way to use leftover basil.
I use a less traditional pesto recipe for this pasta bake. Since there's so much cheese in the casserole, you can omit it from the pesto. Here's what you need:
Greens. I like to bulk up the pesto with fresh spinach or kale. It adds flavor, nutrients and bright green color.
Basil. Use any kind of basil you like. If you want to supplement with other herbs, toss in some thyme, rosemary, oregano, or chives.
Walnuts. I like the soft texture and mild flavor of walnuts. You could also use the more traditional pine nuts or cashews. For nut-free pesto, use pumpkin seeds or sunflower seeds.
Olive oil. This is essential for achieving the creamy, airy and light texture you're looking for.
Lemon juice. This helps keep the sauce bright green and vibrant.
Garlic. Don't hold back on the garlic--remember, you're flavoring a lot of pasta with this sauce!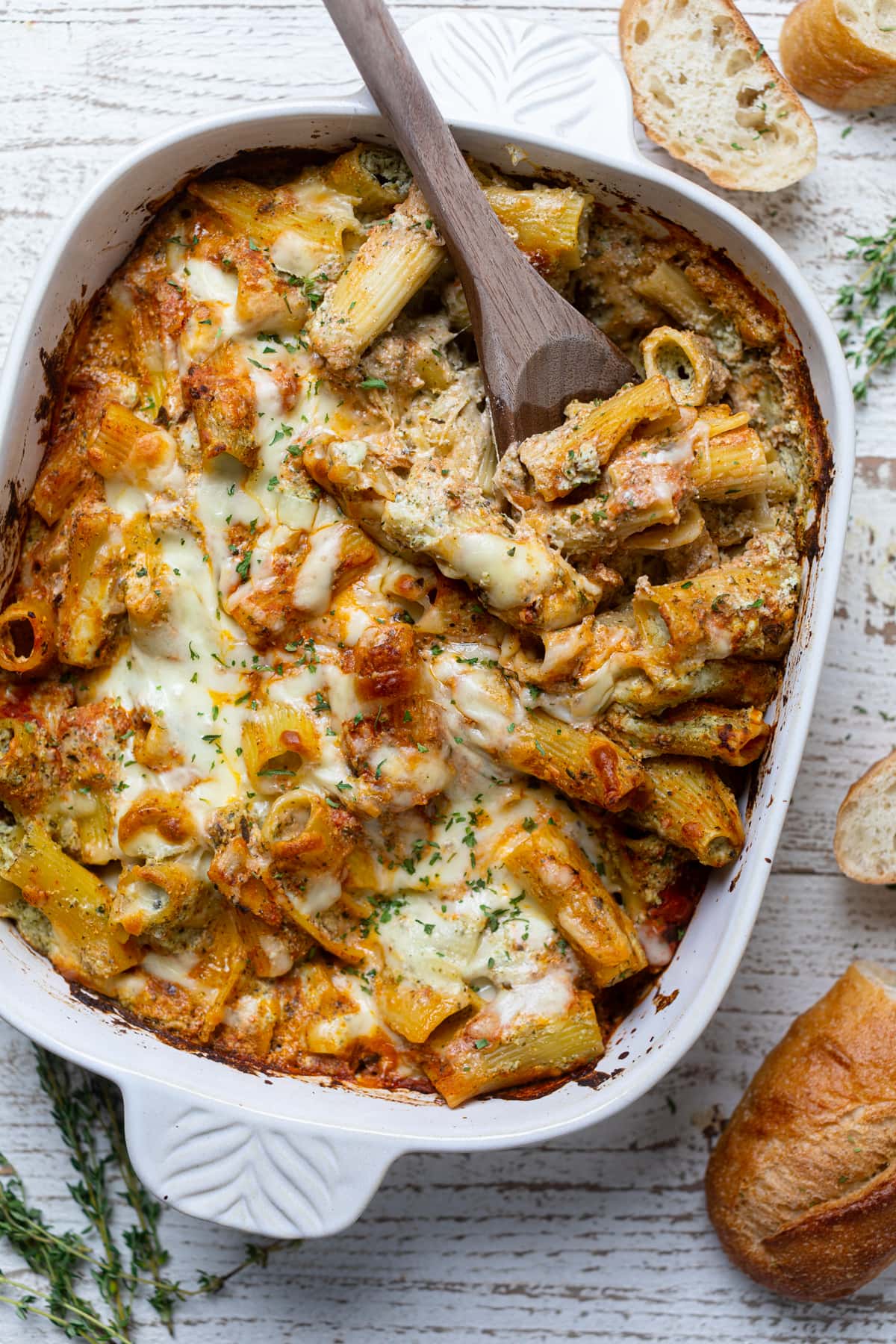 More Ways to Use Pesto
If you love pesto as much as I do, you might want to make a double batch. Here are some of my favorite ways to use leftover pesto:
On grilled cheese sandwiches
Spread on avocado toast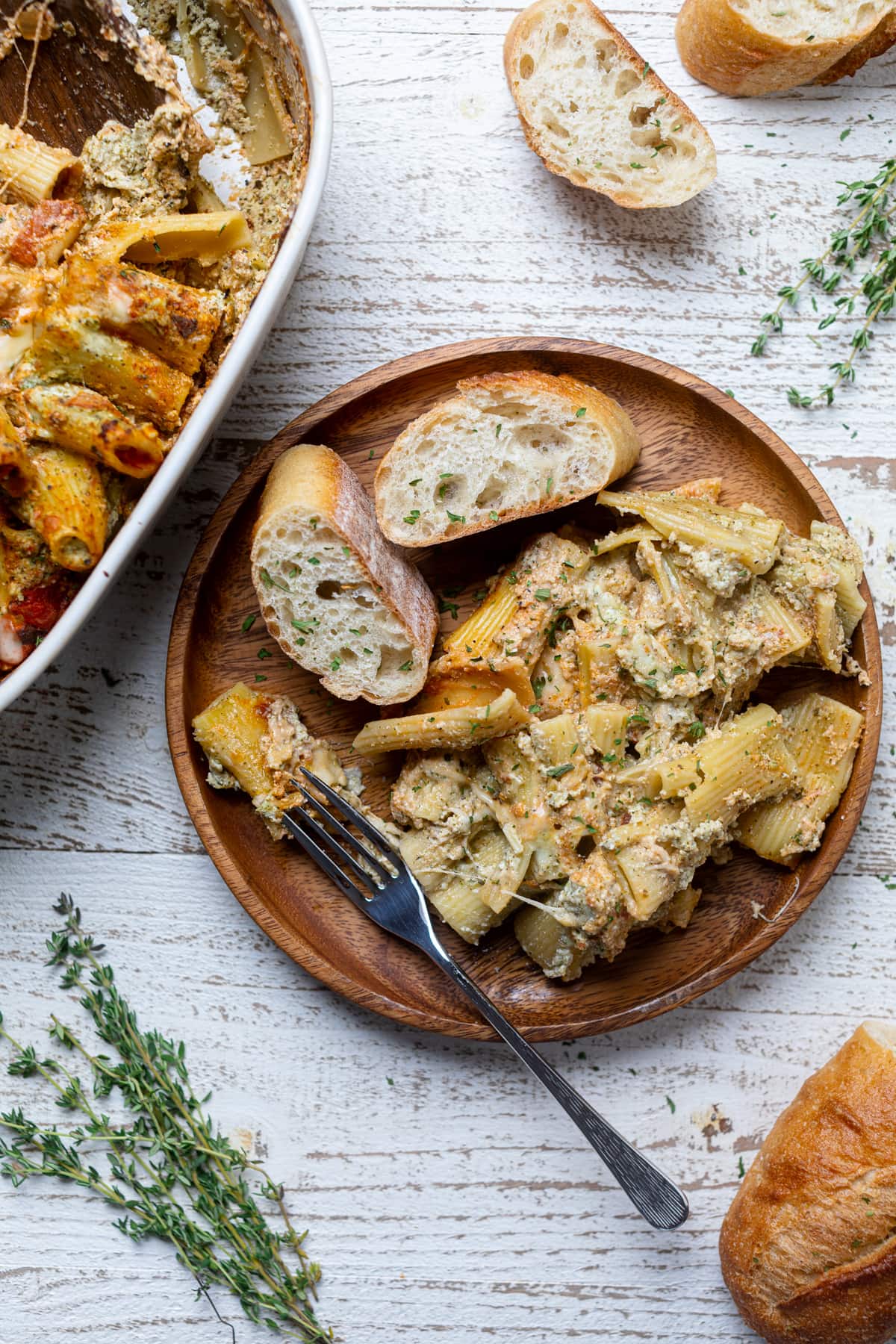 Assembling the Pasta Bake
When your pesto is done, you can assemble the baked pasta dish.
Here's what you need:
Pasta. I like rigatoni, but any short pasta shape works. Feel free to use gluten-free if necessary.
Parmesan. This adds salty, savory flavor.
Mozzarella. This cheese is an expert melter for the gooey, cheesy texture you're looking for.
Ricotta. I use part-skim, but any kind will work.
Tomato sauce. I use organic. Store-bought or homemade are both great!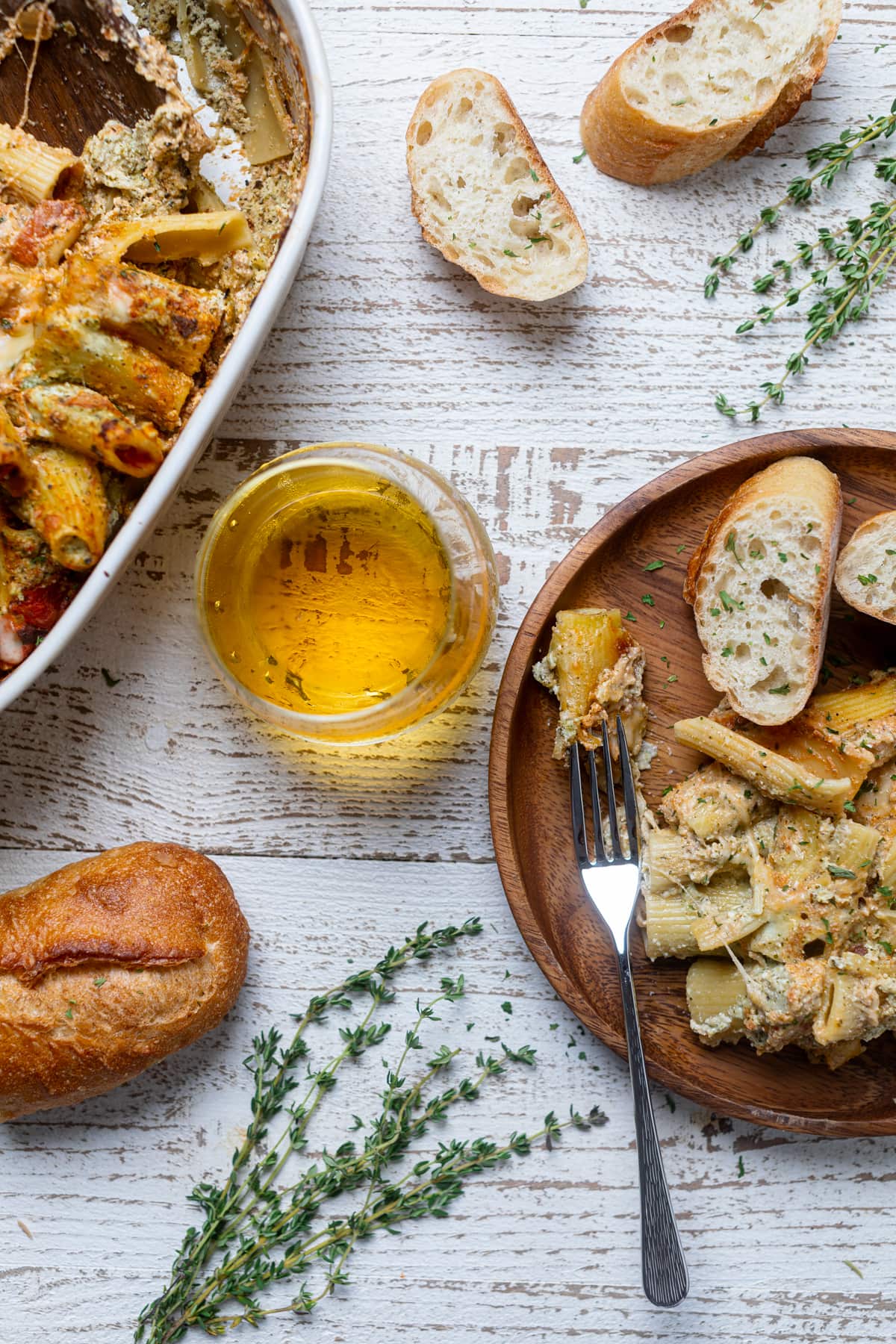 Storage
You can make the casserole ahead of time if you like. Assemble everything a day before, then bake the pasta just before serving.
Store leftovers in an airtight container for up to four days. You can reheat servings in the microwave to serve.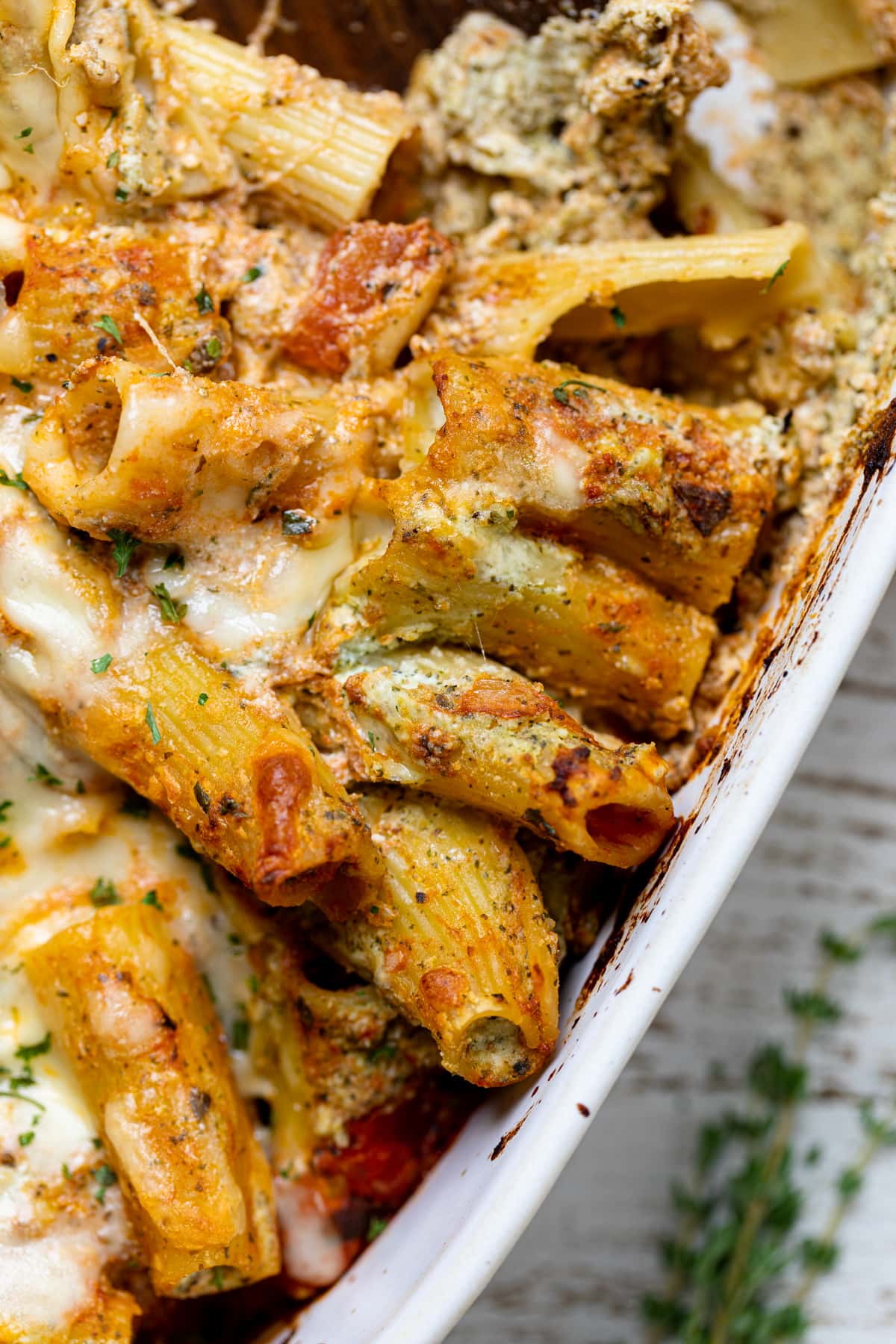 More Favorite Pasta Recipes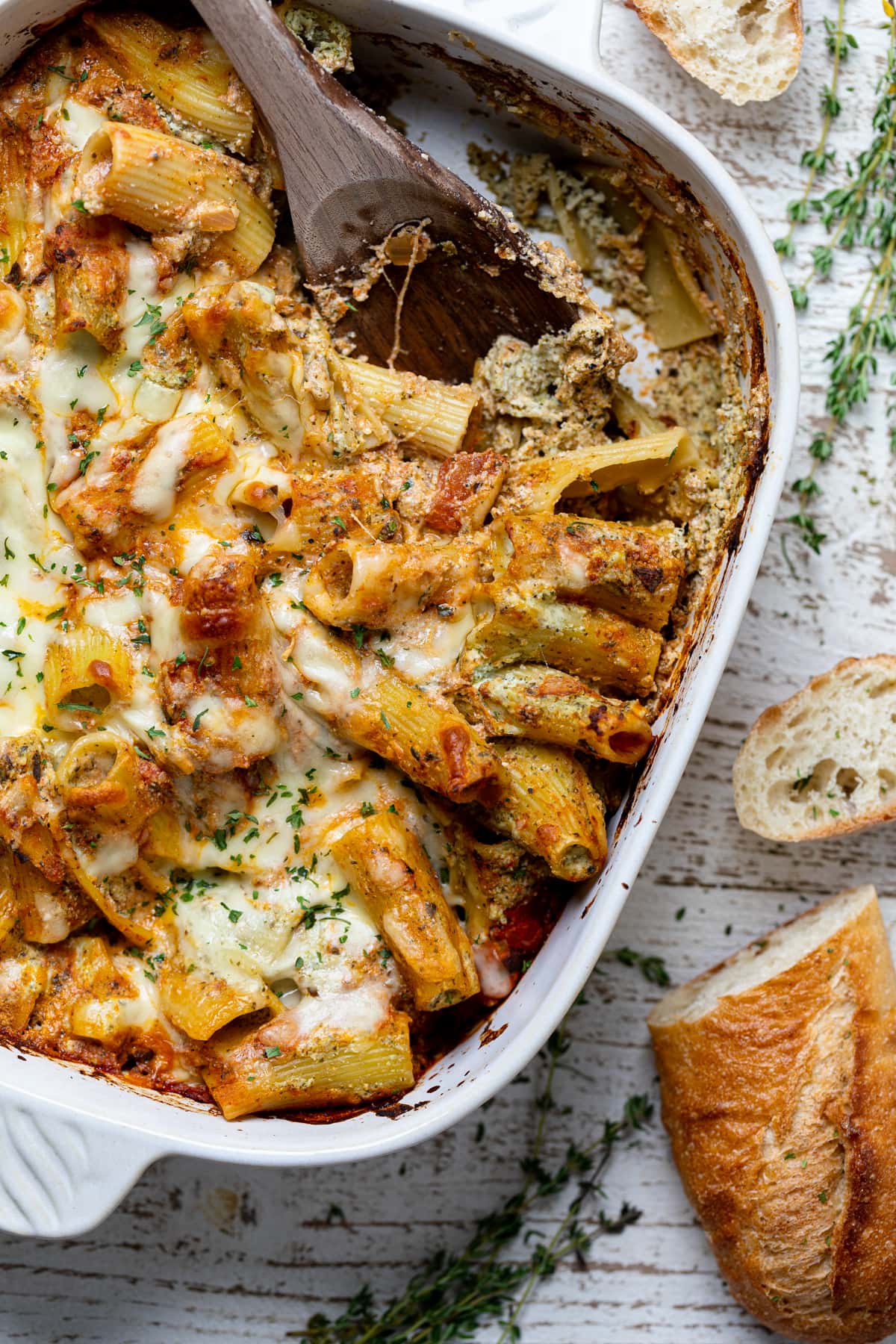 MADE OUR RECIPE(S)?
If you make this Pesto Pasta Bake or any other recipe from us, be sure to tag us on Instagram at #Orchidsandsweettea so that we can share the love!
PASTA BAKE:
1

(16 oz.) box

rigatoni pasta, organic 

1

tablespoon

Extra Virgin Olive Oil + 1 Tbsp!

1

cup

grated parmesan cheese

3

cups

shredded mozzarella cheese, organic 

4

cups

ricotta cheese 

(I use Part Skim; You can use regular if preferred)

2-3

Tbsps

pasta water

(See Notes for Instructions!)

1

(15 oz.) can

organic tomato sauce
Preheat oven to 400 degrees Fahrenheit and lightly grease a standard baking dish.

Begin by cooking rigatoni pasta according to the directions of the packaging (about 8-10 minutes) and drain (leaving aside 2-3 Tbsps of pasta water for later).

Meanwhile, add ricotta cheese and a few Tbsps (2-3 at most) of pasta water and stir using a spatula until smooth. Fold in parmesan cheese and place it in the refrigerator until ready to use.
PESTO SAUCE:
Add all ingredients into a food processor and process until well blended and broken down. NOTE: If needed, add a bit of water (1 Tbsp), if too thick.
PASTA BAKE:
Add drained cooked pasta together with the pesto sauce and gently stir until everything is well incorporated.

Add a bit of the tomato sauce to the base of the baking dish and add pasta-pesto mixture and top with dollops of the ricotta cheese mixture. Then Sprinkle a nice layer of mozzarella cheese (1 cup) for extra cheesiness.

Top with remaining tomato sauce and sprinkle with mozzarella cheese again.

Loosely cover with foil and bake for 20-25 minutes. Remove foil paper and bake for another 5 minutes or so, until cheese has fully melted and browned slightly.

Remove from oven and serve with your favorite salad or bread.

Bon Appetit!
STORAGE: Any leftovers can be kept in a tightly sealed container and refrigerated for up to 3-4 days.
BOILED PASTA WATER: Since ricotta cheese usually comes out a bit thick, the trick to the ultimate creaminess is in mixing in a bit of the boiled pasta water.
MAKE AHEAD: Cook your pasta and let it cool completely before storing in an air-tight refrigerator for 3-5 days. In a bowl, combine your ricotta and parmesan and place in an air tight container to refrigerate overnight as well. make the pesto sauce and add to an airtight container and refrigerate as well. On the day of, remove everything to room temp., about 10-15 minutes and continue assembly STEPS.
Calories:
757
kcal
|
Carbohydrates:
12
g
|
Protein:
39
g
|
Fat:
63
g
|
Saturated Fat:
26
g
|
Polyunsaturated Fat:
12
g
|
Monounsaturated Fat:
21
g
|
Cholesterol:
142
mg
|
Sodium:
1174
mg
|
Potassium:
381
mg
|
Fiber:
2
g
|
Sugar:
2
g
|
Vitamin A:
1938
IU
|
Vitamin C:
3
mg
|
Calcium:
805
mg
|
Iron:
2
mg
Pesto Pasta Bake