Make the easiest Kale Pesto Pizza with homemade crust, mozzarella cheese, and fresh kale leaves for a healthy but kid-approved weeknight dinner.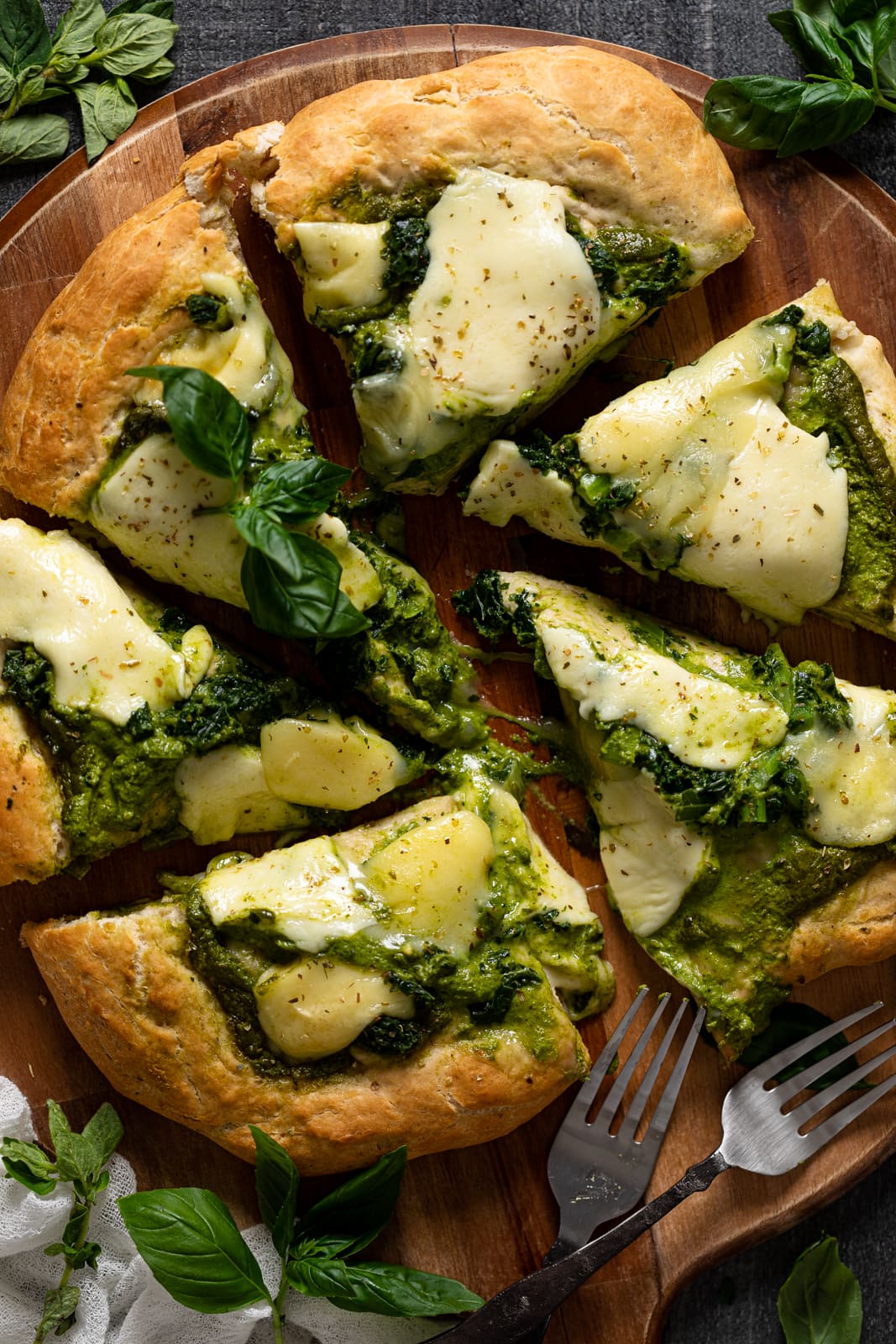 Warm weather calls for outdoor eating. And what's better than a fresh, green pizza on a hot summer night? This homemade pizza recipe is topped with a creamy kale pesto, melty mozzarella, and extra greens. It's kid-approved, adult-approved and entertaining-approved!
Ingredients for Kale Pesto
The star of this homemade pizza is the creamy and bright green kale pesto. Here's what you need to make it:
Kale and basil. This blend of leafy greens and herbs helps bulk up your pesto without sacrificing flavor.
Walnuts. These are soft enough to blend easily into your pesto to make it fluffy and creamy.
Olive oil. A must in any great pesto.
Lemon juice. This helps preserve the bright green color and adds a bright note of citrus to the pizza sauce.
Garlic. Use fresh!
Red pepper flakes. this is optional, but I like bit of heat on this kale pesto pizza.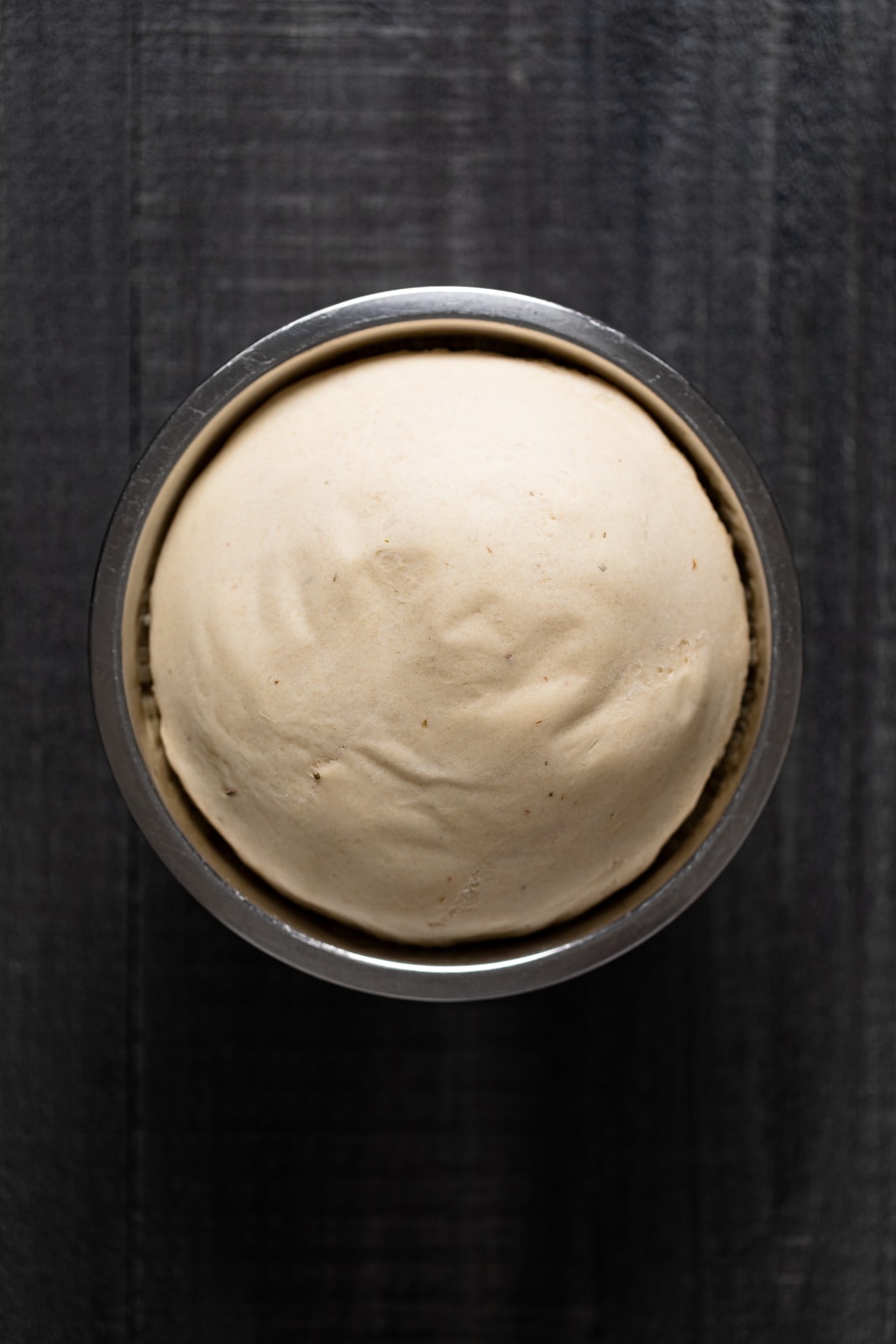 Homemade Pizza Dough
Don't be intimated by making your own pizza dough. It's simple and requires just a few ingredients:
Flour. I use all-purpose organic flour from Bob's Red Mill.
Brown sugar. The yeast needs a bit of sugar to activate; they'll eat it all when the dough rises so the crust won't actually taste sweet.
Instant yeast. This is also called rapid-rise yeast.
Oregano and garlic powder. I like to sneak a bit of extra flavor into my pizza crust. But if you're a purist, you can omit the seasonings.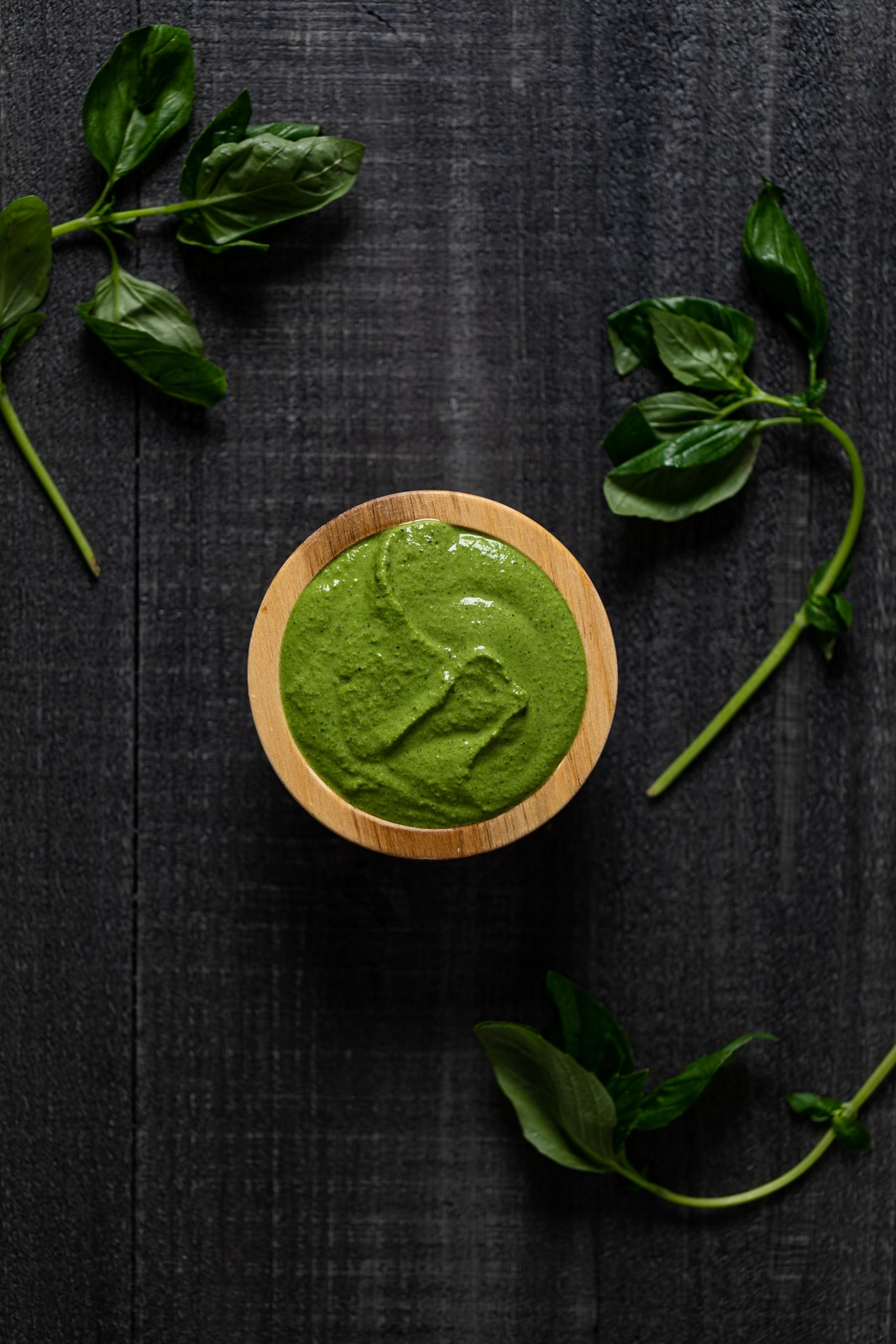 Toppings for Kale Pesto Pizza
Since the kale pesto is the star of this pizza, you don't need much more in the way of toppings. I like to add some globs of fresh mozzarella to tie everything together.
Assembling the Pizza
Before you start assembling your pesto pizza, make sure your oven is preheated nice and hot. A hot oven is essential for a crispy crust that cooks fast.
Tip: You'll also want to use a pizza pan or stone in your oven. These help direct heat to the crust for the best crunch. 
Cover your rolled-pout crust with pesto to the edges. Then dollop all over with mozzarella cheese. Stick your pizza into the hot oven. It should only need 15 to 20 minutes to cook up beautifully!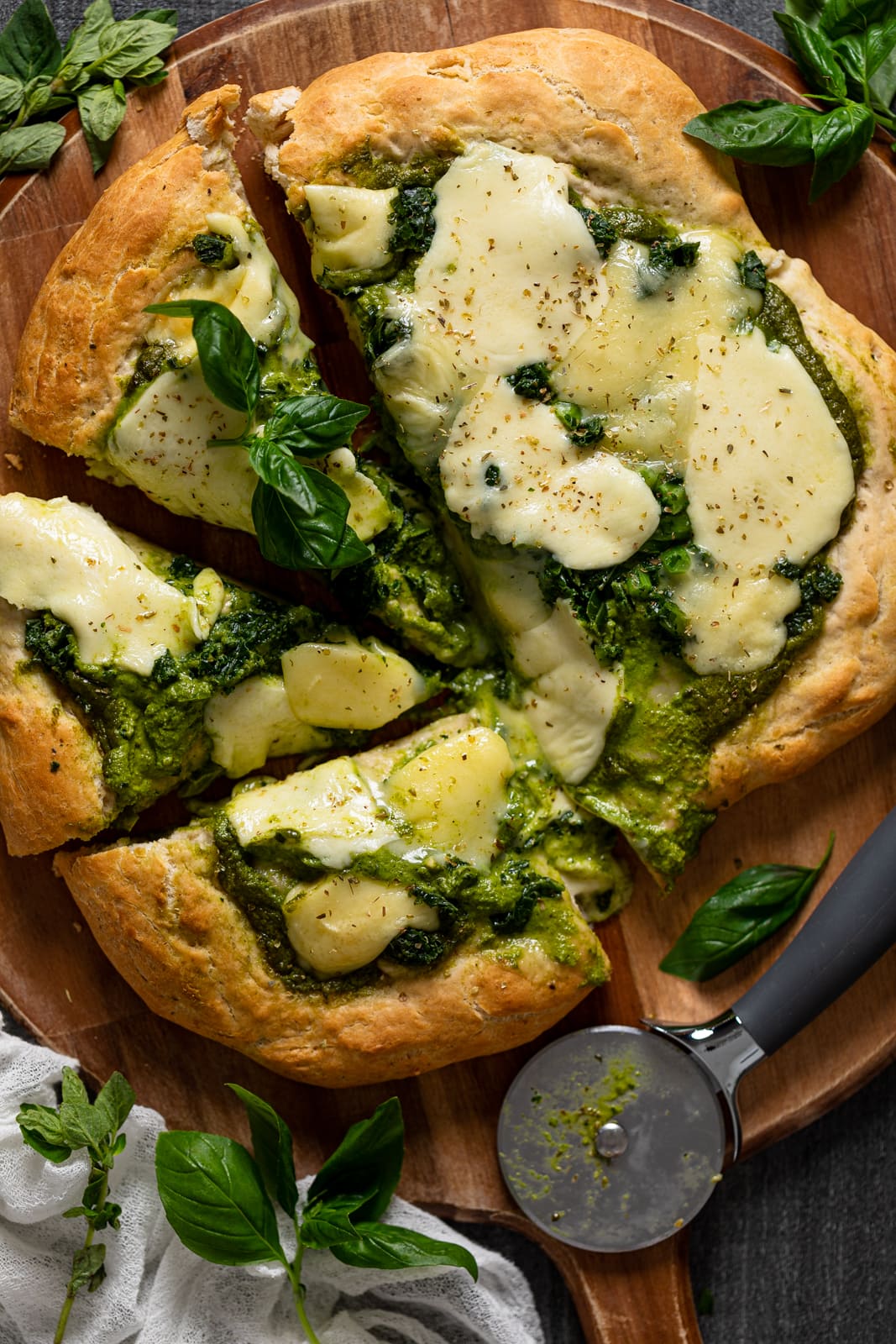 What to Serve with Kale Pizza
While your pizza cooks, make a simple side dish to complete the meal. We love to serve this pesto pizza with:
Can I Double the Dough?
Yes! It's easy to double or triple this homemade pizza dough recipe. You can even freeze the dough before rising. Simply stick it in an oiled air-tight bag or container and into the freezer for up to six months. When you're craving some kale pizza, defrost the dough in the fridge overnight. Then let it come to room temperature for about half an hour before rolling, topping, and baking.
Can I Make the Dough Gluten-Free?
Absolutely! Learn how to make the all-time best easy gluten-free pizza crust for your favorite toppings.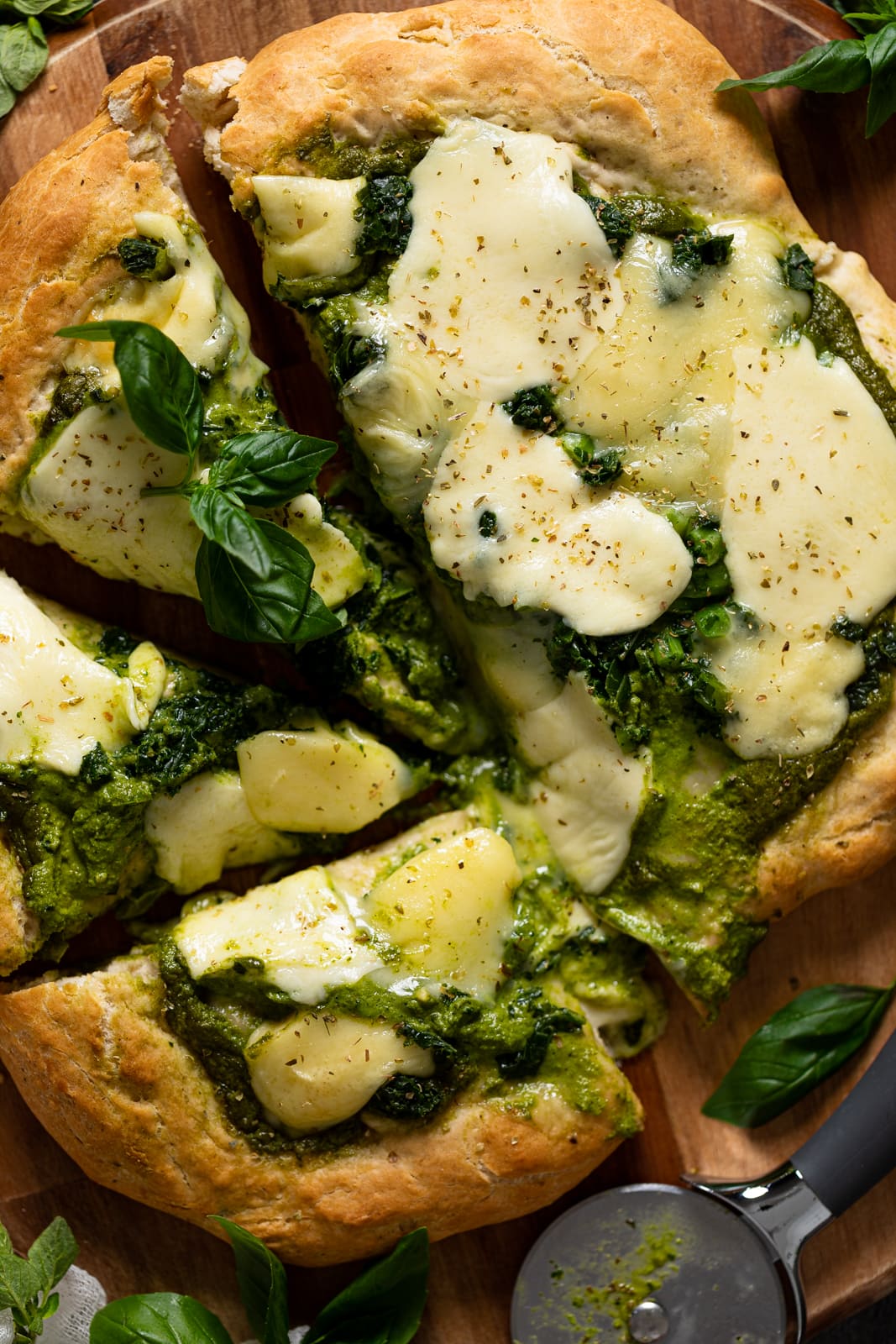 More Vegetarian Pizza Recipes
MADE OUR RECIPE(S)?
If you make this Easy Kale Pesto Pizza, be sure to tag me on Instagram @orchidsandsweettea!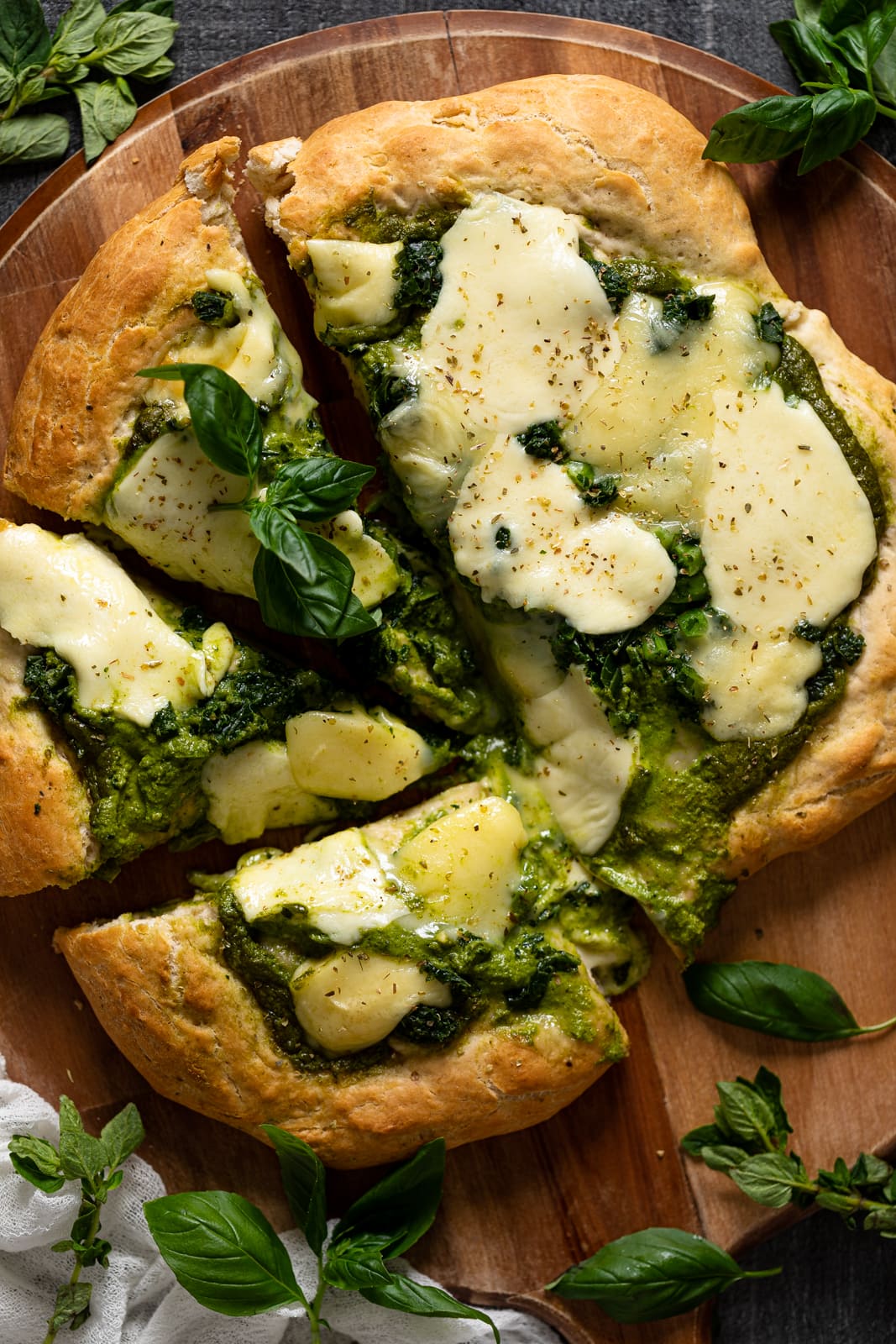 CRUST:
2 ¾

cups

organic all-purpose flour

(See Notes for GF option!)

1

cup

WARM fresh water

(Ensure that it's warm and not hot!)

1

tablespoon

organic brown sugar

1

packet

rapid-rise yeast 

(That's 2 ¼ tsps!)

1

tablespoon

Extra virgin olive oil

1

teaspoon

dried oregano

1

teaspoon

garlic powder
SIMPLE PESTO SAUCE:
1

cup

kale, de-stemmed + chopped

1

cup

basil leaves

1

cup

walnuts

¼

cup

Extra virgin olive oil

1

teaspoon

freshly-squeezed lemon juice

4

garlic cloves

1

teaspoon

sea salt

1

teaspoon

black pepper

Pinch of

red pepper flakes

½

cup

filtered water
TOPPINGS:
8 oz.

fresh mozzarella cheese, sliced

1

cup

cubed mozzarella cheese

(I like to use the block cheese)

1-2

cups

kale, de-stemmed + chopped
MAKE THE PIZZA CRUST:
In the bowl of an electric mixer (with a dough hook attachment), mix together the warm water, brown sugar, olive oil, and yeast (you might need to use a whisk to ensure that everything combines together well). Let is sit for at least 5 minutes, until yeast begins to activate and foam.

Slowly add the flour, dried oregano, and garlic powder (on low speed!), until fully incorporated and a soft dough is formed. NOTE: if dough is too sticky, add ½ cup of additional flour at a time).

Now, increase the speed to medium-high and knead the dough for about 5 minutes in the mixer.

Once done, add the dough onto a floured surface and slightly roll out the dough until it's flat enough to form a flat circle the rest of the way with your hands, about 11 inches in diameter. Lightly grease your pizza pan with extra virgin olive oil and place dough on one end of pan, evenly pressing it and flattening it out to fit the entire pan. Gently use your finger to stretch dough until pan is fully covered and gently pinch the edges of the dough together to form the crust.
TO MAKE THE PESTO SAUCE:
Add all ingredients into a food processor or blender and process (or blend) until combined and broken down. NOTE: If needed, add a bit of water (1 Tbsp), if too thick. The pesto should be creamy.
ASSEMBLY:
Preheat the oven to 475 degrees Fahrenheit and place top rack into the middle of oven. NOTE: be sure to use a great pizza pan to ensure that your crust is crispy and not soggy.

Add a few spoonfuls of the pesto sauce unto the top of center of crust until evenly spread out.

Generously sprinkle chopped kale atop pesto sauce followed by pieces of fresh mozzarella, leaving a bit of crust bare for the edges. Add cubed mozzarella cheese, tucking them in between the fresh mozzarella pieces.

Lightly brush the tops of the edge of the crust with 1 tablespoon of olive oil to ensure that it becomes a nice golden brown.

Transfer the pizza pie to the hot oven and bake for 15-20 minutes or so, until the mozzarella has melted (and becomes bubbly) and the crust is crispy and golden brown.

Once done, allow pizza to rest/cool for a few minutes (about 2-3 minutes) so that the mozzarella sets before cutting into generous slices, using a pizza cutter.

Bon Appetit!
PIZZA CRUST: For a crispy pizza (especially on the bottom), I suggest using a pizza pan with holes to allow the crust to bake through nicely. I used the AirBake Pizza Pan, which can be found at Target!
STORAGE: Leftover pizza is best kept tightly wrapped in foil paper, refrigerated for 3-4 days for optimal freshness.
GLUTEN-FREE CRUST: To make your pizza crust GF, see my Easy GF Pizza Crust recipe.
GREENS: If preferred, you can always add greens other than Kale, like Spinach, Broccoli, or Collard Greens to the pizza.
Calories:
451
kcal
|
Carbohydrates:
53
g
|
Protein:
18
g
|
Fat:
22
g
|
Saturated Fat:
4
g
|
Polyunsaturated Fat:
8
g
|
Monounsaturated Fat:
9
g
|
Cholesterol:
9
mg
|
Sodium:
414
mg
|
Potassium:
987
mg
|
Fiber:
14
g
|
Sugar:
3
g
|
Vitamin A:
1970
IU
|
Vitamin C:
17
mg
|
Calcium:
847
mg
|
Iron:
30
mg
Easy Kale Pesto Pizza.