This The Ultimate Veggie Pizza Recipe is absolutely one of my favorite homemade pizzas to date. It comes loaded with flavorful veggies like zucchini, bell peppers, kale, jalapeños, along with fresh mozzarella, roasted grape tomatoes, and comes based with a crispy, fluffy crust. It's just that simple, yet it's bursting with savoriness and flavor. Perfect for any meatless lunch or dinner meal and is made in under 30 minutes. Vegan + Gluten-free options!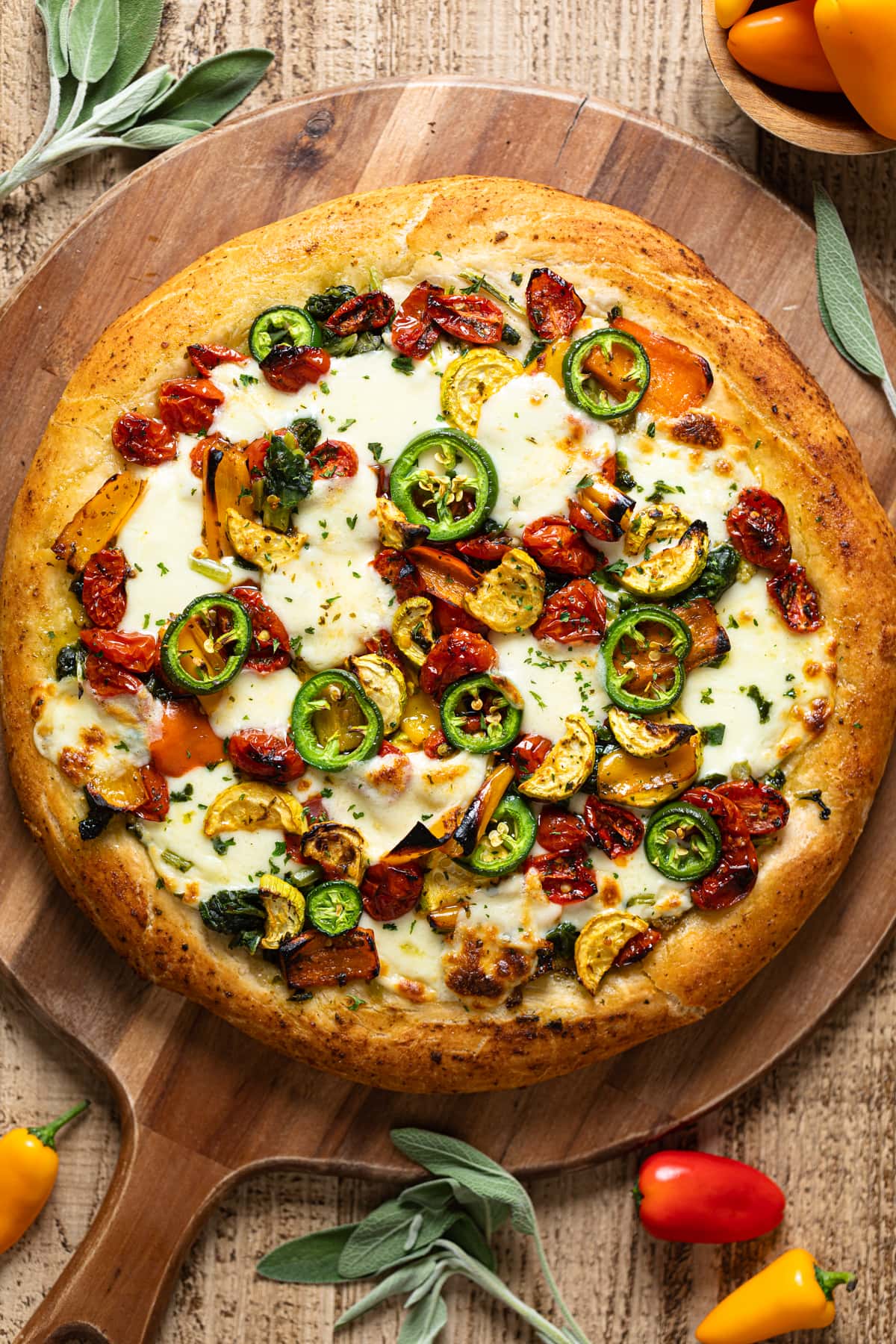 It's not hard to convince me to have a pizza night, especially during the winter months. From Garlic Herb Cheese Pizza to Chickpea + Veggie Gluten-Free Pesto Pizza, I'm here for every kind of pie. I live in New York , after all, where we take our pizza very seriously. This homemade Ultimate Veggie Pizza Recipe has all the charm and flavor of a classic NY-style slice, from the comfort of your own kitchen that is vegetarian and entirely without meat. 
Secondly, I've been so intentional with the New Year and everything lately, therefore, I have been tweaking and re-modeling a ton of my meals and this vegetarian pizza has been a go-to for the entire family lately. Sometimes, you're just in the mood for a Neapolitan-style pie and this one comes with an airy crust, minimal toppings, and a melty, cheesy pull that the best pizzas boast of. If you're a lover of a good pie, then this Best Homemade Vodka Pizza, Gluten-Free Hot Honey Bacon Pizza, and Kale Pesto Pizza. Plus, if you or your loved ones have a gluten sensitivity, then you'll be able to whip together this Easy Gluten-Free Pizza Crust and still enjoy the easy toppings for this pizza recipe!
Why this Vegetarian Pizza?
If you've ever been home and seriously craved for pizza delivery but either couldn't get it or you preferred to have a family cooking session for a fun night like pizza night or homemade takeout, then this vegetarian pizza comes in real handy! It's super easy to make, fun to mix and match toppings, convenient to roast your veggies in advance or the night of, works for both meat eaters and non-meat eaters (Hello, hearty, "meaty feel"), and can be made entirely vegan or gluten-free if needed.
What Does Vegetable Pizza Contain?
This veggie pizza recipe contains a an array of fresh ingredients like tomatoes, zucchini, jalapeños, bell peppers, kale, and fresh mozzarella. Of course, you can always add your own favorite toppings or substitute ones based on your preference. 
What is a Veggie Pizza?
Basically, a veggie pizza is a baked meatless Italian pie which is a great option for vegetarians, those with special dietary needs, or someone who just wants to incorporate healthier eating into their diet.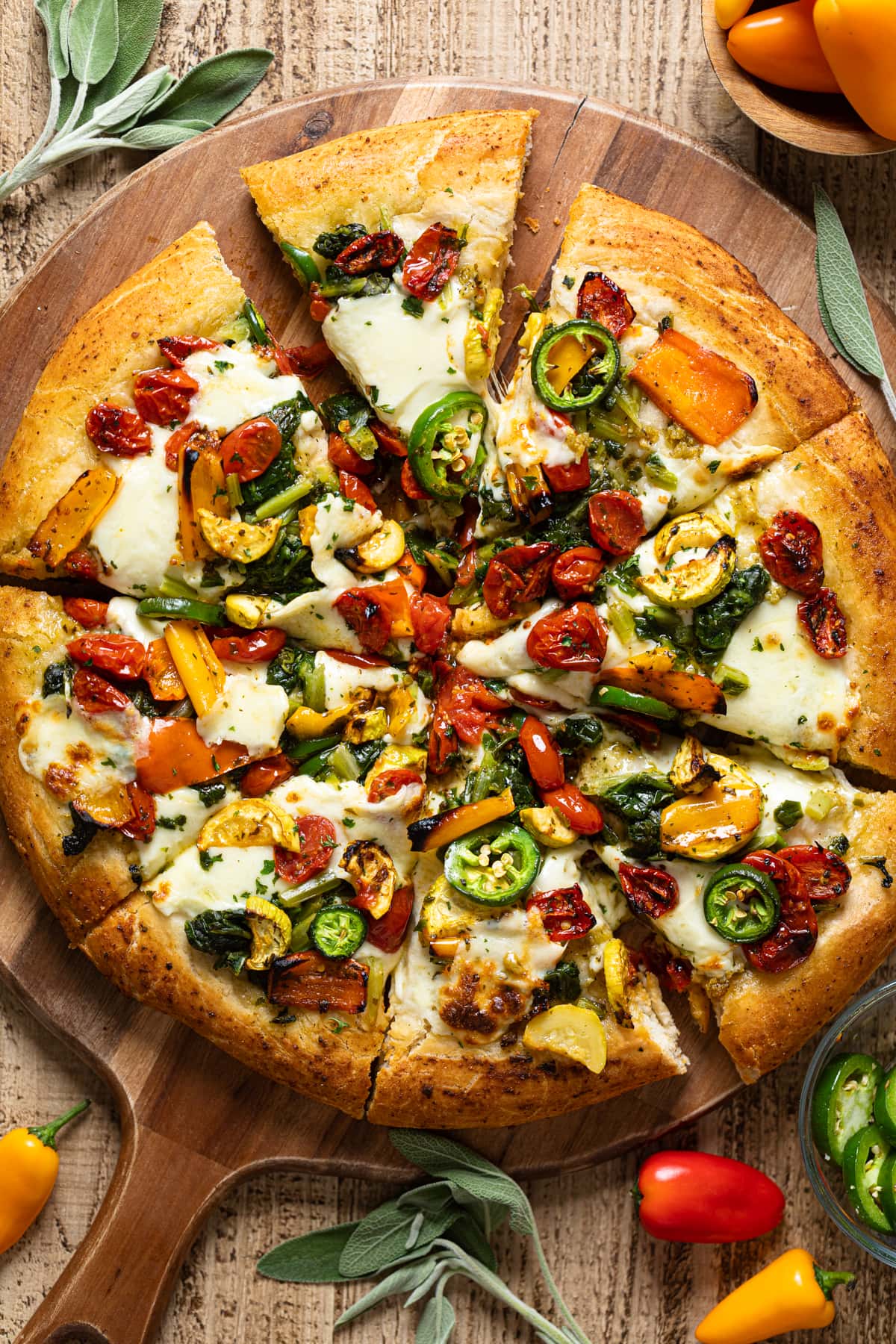 How to Make an Ultimate Veggie Pizza
The first step in this pizza recipe is to make the crust. Don't be intimidated by the idea of making your own pizza crust. Once you've tried it, you'll see how simple and fun it is to make! After you make the crust, whip up the pesto sauce, roast the veggies, then assemble everything and bake!
Homemade Veggie Pizza Recipe Ingredients
But trust me when I tell you that it's SO GOOD!
The crust is perfectly thin and airy (yet thick enough to hold up all of the ingredients) and the overload of roasted veggies alone adds a nice velvety crunch. Here's what you need to make this easy, flavorful veggie pizza:
All-purpose flour. I use King Arthur organic flour. 
Warm water. Cold water will prevent the yeast from activating, but hot water can kill the yeast, so it's important to strike a temperature balance. The water should be warm to the touch, but not steaming. 
Honey. This feeds the yeast and adds flavor to the dough. You can also use pure maple syrup or agave. 
Yeast. Use rapid-rise yeast for this dough. 
Olive oil. This helps the dough get is supple, elastic stretchiness. 
Kale. I love the combination of kale and cheese. However, you can substitute the greens with another leafy base, such as spinach or arugula.
Bell pepper. I love the splash of color from red and yellow sweet mini peppers. Of course, you can use any color bell pepper you like. And larger peppers work just as well as the mini ones. 
Tomatoes. In the summer, I can't get enough vine-ripe tomatoes, and this pizza is the perfect opportunity to eat even more, especially when roasted!
Mozzarella (fresh or brick). Adds a great amount of savory and beautiful melty cheese flavor between the veggies.
Pesto sauce. You can use a premium store-bought version or make your own homemade pesto sauce, which also has a nut-free option.
Zucchini. I love the mild, slightly sweet flavor of zucchini and slice them and roast them for this pizza. However, you can always substitute with artichoke, yellow squash, cucumber, or eggplant.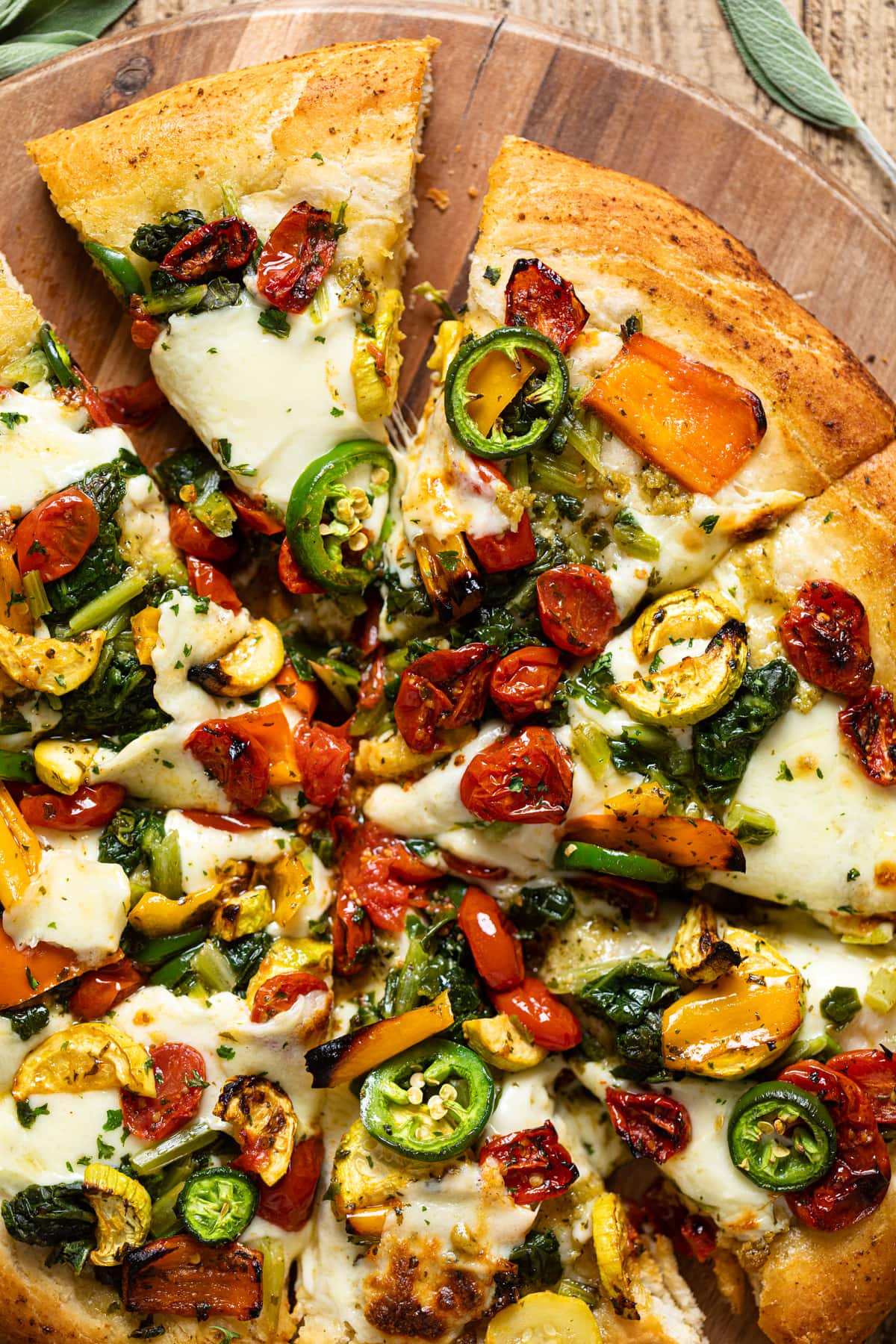 Deliciously Roasted Veggies for Pizza
The topping for this veggie pizza is sweet, smoky, and savory all at once. I love add easy, staple ingredients like tomatoes, jalapeños, bell peppers, and zucchini and season mine with garlic powder, dried oregano, dried basil, and dried parsley. These Italian herbs together add a complex, herby, and earthy flavor to the pizza. And bell peppers become so sweet and silky-smooth to add depth to your pizza. Definitely check out my Herb roasted tomatoes for an easy way to roast your vegetables for everything!
In a pinch, make this the best homemade pizza even easier by using jarred roasted red peppers or jalapeños!
Tips to Making The Perfect Pizza Crust Every Time
When it comes to making the perfect pizza crust, it only really takes a FEW HACKS/TRICKS for this to happen.
Here's how:
Make sure that your oven is preheated and is HOT!! This ensures that everything bakes evenly and cooks pretty fast to avoid anything that could possibly cause your pizza to be soggy or undercooked (like the dough!).
Never EVER use cold dough! Using cold dough changes the hydration and makes it more aggressive to stretch and work out. This isn't good for your crust at all.
Always, Always use a Pizza Sheet Pan. For a crispy pizza, I suggest using a pizza pan with holes to allow the crust to bake through nicely. I used the AirBake Pizza Pan, which can be found at Target!
DO NOT over roll dough! When following the step of rolling out the dough slightly to flatten it, never roll out the dough too much! Be sure to follow the steps of stretching it out with your hands the rest of the way.
Never add TOO MUCH sauce! This step is super imperative (trust me, I learned the hard way!) and it's such truth. Never add all the sauce entirely to avoid a soggy middle or crust.
Precook any toppings that might require a longer cook time! This is especially true for certain veggies (and of course meats) that require a longer cook time that the allotted short amount of minutes that an actual pizza takes to cook. That way you aren't trying to overcook your pizza because the toppings aren't fully cooked.
Best Vegetarian Pizza Topping Variations
If you've made this veggie pizza more than once and want to switch things up or simply aren't a fan of specific ingredients, no worries! You can definitely mix and match your toppings:
Add sautéed mushrooms, roasted broccoli, Brussels sprouts, or olives.
Use poblano peppers instead of jalapeños. 
Add traditional tomato pizza sauce instead of pesto.
Replace the mozzarella cheese with Parmesan cheese, sharp or mild cheddar. 
Instead of kale, substitute with arugula, basil, spinach, etc.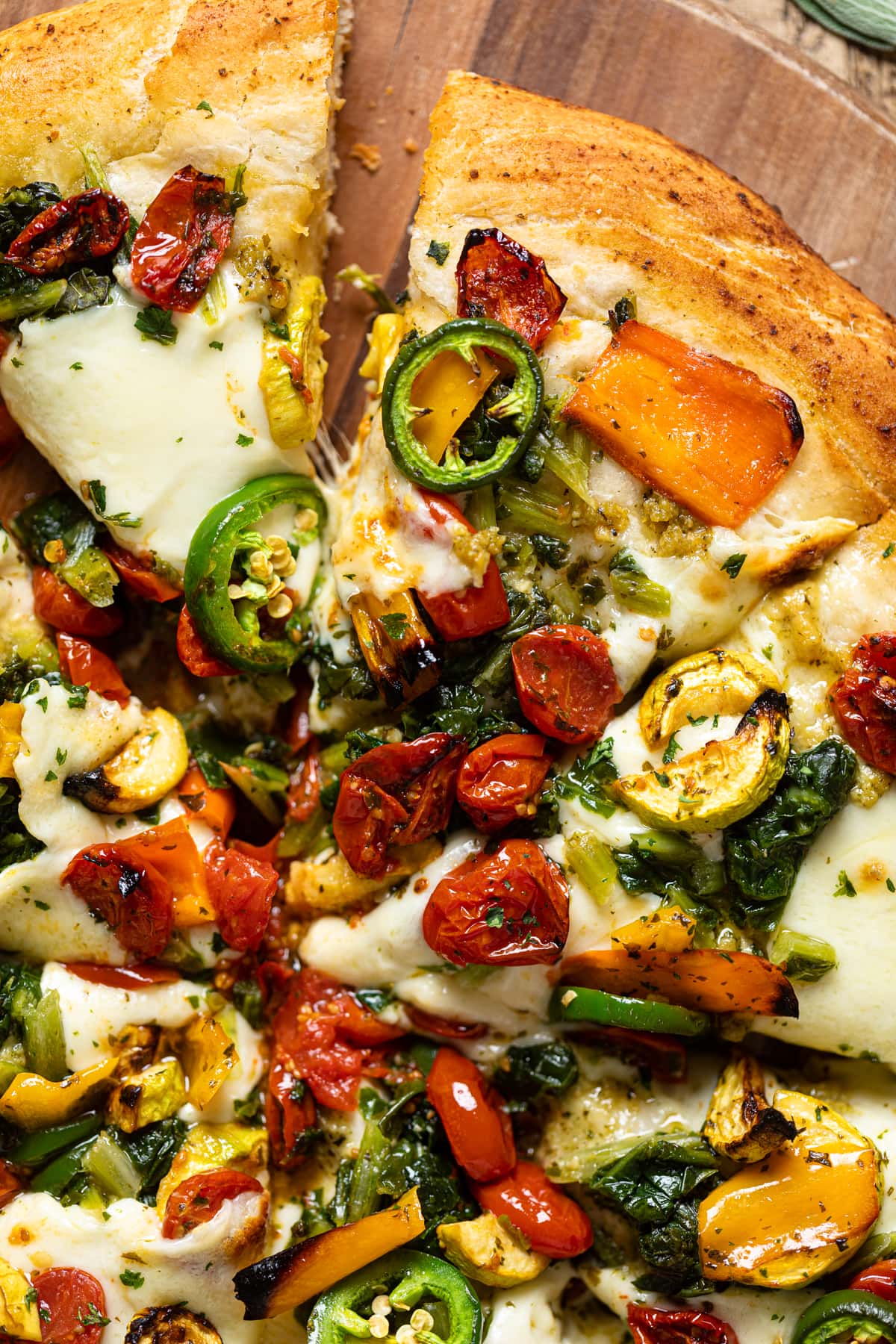 Tips for Making No-Rise Pizza Crust
If your mixture of yeast, water and honey doesn't bubble after 5 minutes, that may be a sign that your yeast is dead. The crust won't rise, so it's best to get a new packet of fresh yeast. 
Use an electric mixer for the best results. Pizza dough needs to be well mixed and kneaded to activate as much gluten as possible. 
The dough should be soft, supple and stretchy when it's done mixing. It shouldn't be too sticky. If it is, add a bit more flour until it easily pulls away from the side of the mixing bowl. 
Can I Make Gluten-Free Pizza?
Absolutely! To make this recipe gluten-free, simply use my easy gluten-free pizza crust recipe. The rest of the ingredients can remain the same. 
Does Vegetarian Pizza include Cheese? Can I Make this Vegan?
Like traditional pizzas, this vegetarian pizza includes mozzarella cheese, however, if you need to make this pizza vegan--you totally can! Simply omit the mozzarella with premium dairy-free shreds of your choice (You can use mozzarella shreds) and ensure that you use another sweetener option for the crust like maple syrup or Agave instead of honey. 
Does Veggie Pizza Contain Egg?
Nope! Most veggie pizzas don't contain egg at all, not even in the crust and this pizza recipe does not as well. In fact, the crust is made from flour, yeast, honey, water, and olive oil. You can also add a few pinches of garlic powder and oregano for extra flavor if desired. 
Homemade Vegetable Pizza Storage Suggestions
Store leftover pizza in an airtight container in the fridge for up to four days. You can always enjoy it cold (Confession... I actually LOVE cold pizza). The flavors seem to marinate and taste even better the next day. But if you are not on the cold pizza bandwagon, then you can always reheat it on a griddle or in the oven to serve.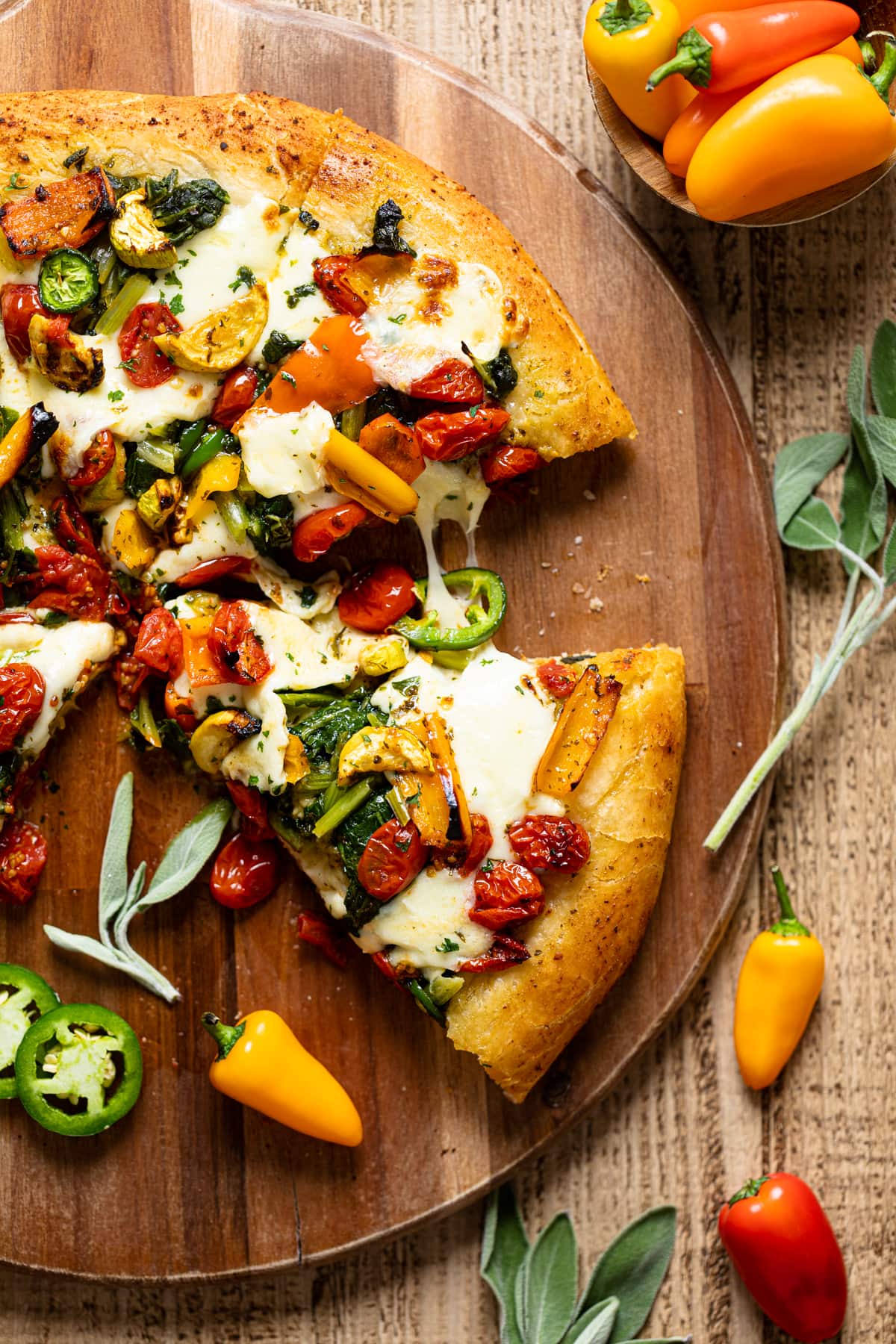 Other Delicious Family-Friendly Vegetarian Recipes to Try!
MADE OUR RECIPE(S)?
If you choose to make this Ultimate Veggie Pizza Recipe or any other recipe from us, be sure to follow us on Instagram @orchidsnsweettea_ or tag us at #Orchidsandsweettea so that we can share the love!
Total Time:
1

hour
15

minutes
PIZZA CRUST:
2 ¾

cups

organic all-purpose flour

(See Notes for GF option!)

1

cup

WARM fresh water

1

tablespoon

honey or Agave

1

packet

rapid-rise yeast 

(That's 2 ¼ tsps!)

1

tablespoon

Extra virgin olive oil

¼

teaspoon

sea salt
TOPPINGS:
1

tablespoon

Extra virgin olive oil

2

cups

fresh mozzarella cheese

(That's about 4 ozs.)

2

cups

roasted herb tomatoes

2

cups

mini bell peppers, diced or sliced

1

zucchini, peeled + sliced into rounds

2

jalapeños, sliced

1

teaspoon

sea salt

1

teaspoon

black pepper

1

teaspoon

garlic powder

1

teaspoon

smoked paprika

1

teaspoon

dried oregano

1

teaspoon

dried basil

1

teaspoon

dried parsley

Pinch of

red pepper flakes

1

cup

chopped kale, fresh or frozen
TO MAKE THE PIZZA CRUST:
In the bowl of an electric mixer (with a dough hook attachment), mix together the warm water, honey, olive oil, and yeast (you might need to use a whisk to ensure that everything combines together well). Let is sit for at least 5 minutes, until yeast begins to activate and foam.

Slowly add the flour and salt (on low speed!), until fully incorporated and a soft dough is formed. NOTE: if dough is too sticky, add ½ cup of additional flour at a time)

Now, increase the speed to medium-high and knead the dough for about 5 minutes in the mixer. 

Once done, cover the dough with plastic wrap for 10 minutes, until is rises a bit. 

Once done, add the dough onto a floured surface and slightly roll out the dough until it's flat enough to form a flat circle the rest of the way with your hands, about 11 inches in diameter. Lightly grease your pizza pan with extra virgin olive oil and place dough on one end of pan, evenly pressing it and flattening it out to fit the entire pan. Gently use your finger to stretch dough until pan is fully covered and gently pinch the edges of the dough together to form the crust.
ROAST THE VEGGIES:
Preheat your oven to 400 degrees Fahrenheit and prepare a large baking sheet by lining it with parchment paper.

Add the tomatoes, zucchini, mini bell peppers, and jalapeños unto the baking sheet (in a single layer) and drizzle with olive oil and season with seasonings (salt, black pepper, garlic powder, smoked paprika, oregano, basil, parsley, and red pepper flakes) and bake for 25-30 minutes or until veggies are charred, wilted, and tender. Remove and let cool slightly.
ASSEMBLY:
Preheat the oven to 475 degrees Fahrenheit and place top rack into the middle of oven. NOTE: be sure to use a great pizza pan to ensure that your crust is crispy and not soggy.

Brush a generous amount of the pesto sauce over the top of the crust until evenly coated.

Generously add pieces of fresh mozzarella atop the sauce, leaving a bit of crust bare for the edges.

Top with chopped kale followed by roasted tomatoes, zucchini, bell peppers, and jalapeños.

Lightly brush the tops of the edge of the crust with 1 tablespoon of olive oil to ensure that it becomes a nice golden brown.

Gently transfer the pizza pie to the hot oven and bake for 15-20 minutes or so, until the cheese has melted (and becomes bubbly) and the crust is crispy and golden brown.

Once done, allow pizza to rest/cool for a few minutes (about 2-3 minutes) so that the cheese sets before cutting into generous slices, using a pizza cutter.

Bon Appetit!
PIZZA CRUST: For a crispy pizza, I suggest using a pizza pan with holes to allow the crust to bake through nicely. I used the AirBake Pizza Pan, which can be found at Target!
STORAGE: Leftover pizza is best kept tightly wrapped in foil paper, refrigerated for 3-4 days for optimal freshness.
GLUTEN-FREE CRUST: To make your pizza crust GF, see my Easy GF Pizza Crust recipe.
STORAGE (PESTO SAUCE): Any leftovers can be kept in a tightly sealed jar and refrigerated for up to 1 week. Can also be frozen for a longer period---up to 6 months.
ROASTED VEGGIES: It's super important to roast your veggies before assembling them unto pizza to avoid an abundance of liquid on pizza when baking as well as to ensure that veggies are cooked through before the crust and cheese melts. 
Calories:
500
kcal
|
Carbohydrates:
49
g
|
Protein:
17
g
|
Fat:
28
g
|
Saturated Fat:
7
g
|
Polyunsaturated Fat:
9
g
|
Monounsaturated Fat:
11
g
|
Cholesterol:
25
mg
|
Sodium:
693
mg
|
Potassium:
599
mg
|
Fiber:
6
g
|
Sugar:
9
g
|
Vitamin A:
3772
IU
|
Vitamin C:
100
mg
|
Calcium:
256
mg
|
Iron:
4
mg