This Best Vegan Chickpea Meatball Subs recipe is truly something special and is the perfect rendition of the traditional New York Marinara Sub. Loaded with savory, spicy and sweet flavors, these 'meatball subs' made from only veggies are flavorful and tender; based with a brioche hot dog bun and topped with vegan meatballs, dairy-free cheese shreds, and roasted herb tomatoes. Gluten-Free option.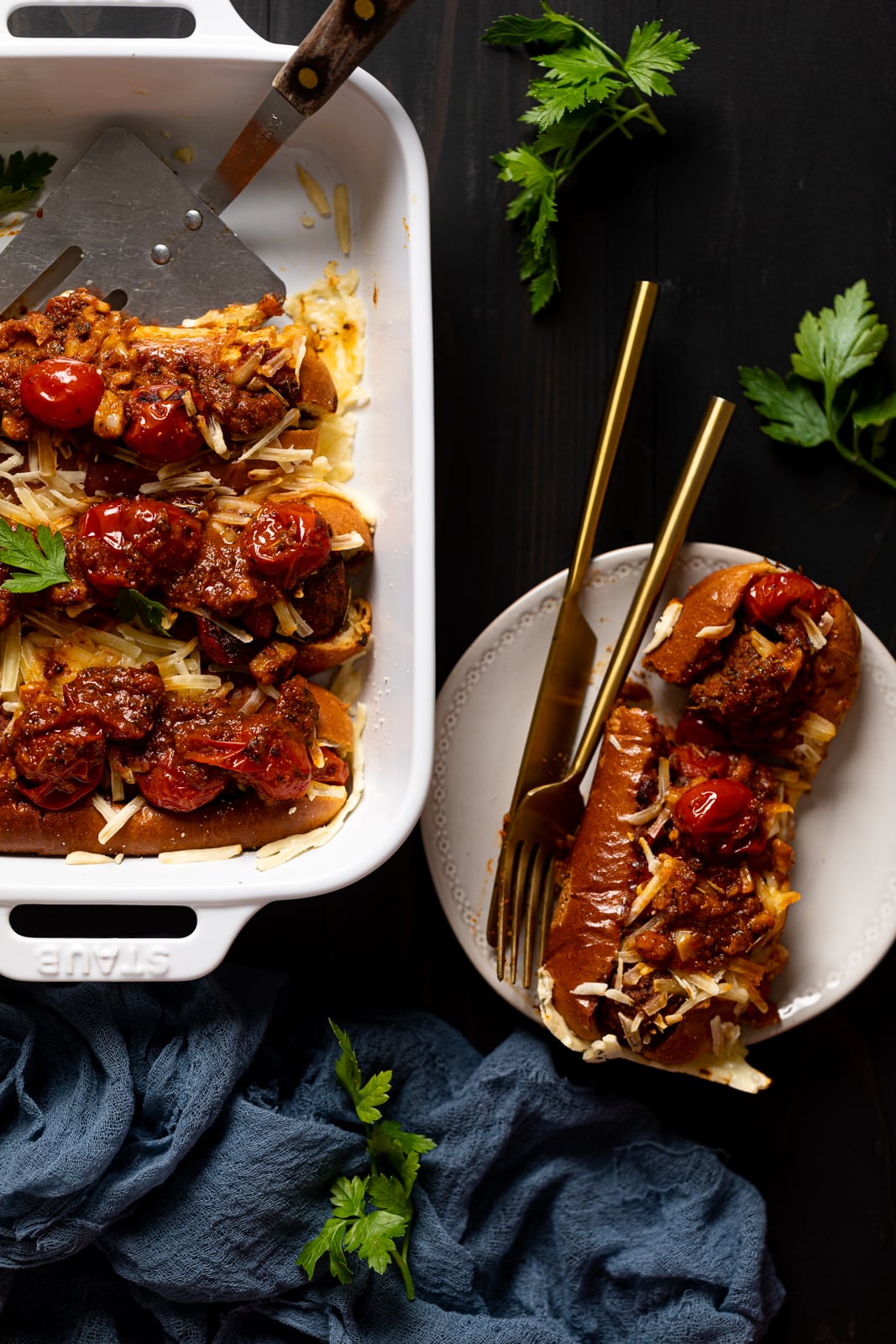 I couldn't be more excited to share this Vegan Meatball Subs recipe with you all! For starters, this recipe pays homage to such a popular dish here in NYC so it's a pretty big deal! Haha.
Much like Hero Sandwiches, these subs are super simple in ingredients but nothing short of flavor.
For these savory little bites, I used chickpeas and quinoa to create the vegan meatballs. I know.
It sounds a bit crazy since most people like to use zucchini or mushrooms or something else which they feel hold together a lot better, but chickpeas and quinoa worked just fine! Don't believe me? Try this Vegan Chickpea Meatballs with Polenta recipe. It's definitely important to ensure that you use the correct amount of ingredients to avoid a mushy meatball or one that falls apart easily.
While my family and I don't eat Vegan meals daily, we do try to incorporate it as much as we can for the week.
However, the key for me is to create tasty meals, especially on days where we eat vegan foods so that you don't feel like you're missing out! Turning your faves into healthier options is the motto for Orchids + Sweet Tea and will always be. Are you just transitioning to a Vegan or Plant-based diet and need help staying the course?
No worries---check out these few tips on How to Best Transition into a Plant-Based or Vegan Diet.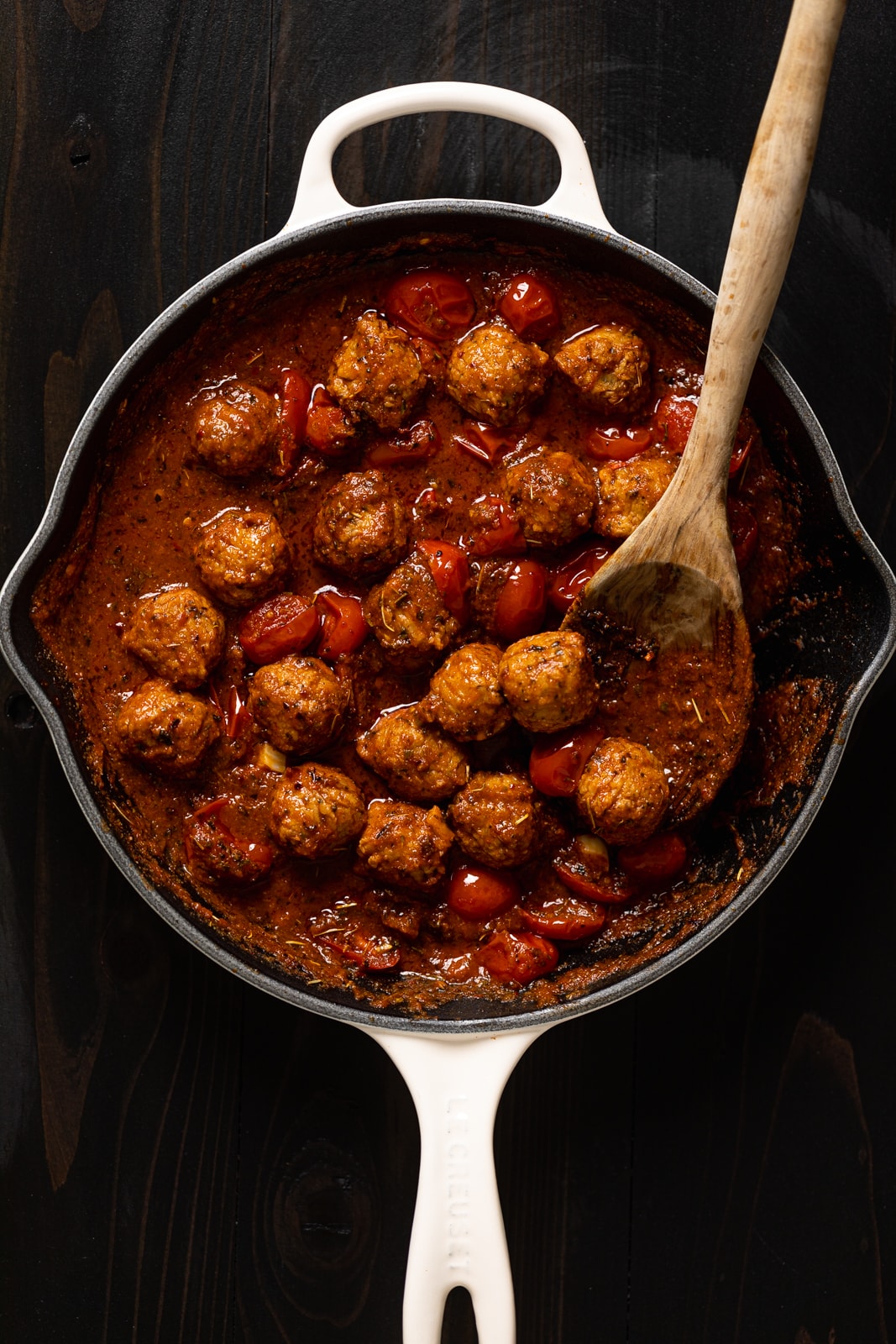 How to Make a Meatball Sub
Start making this meatball sub recipe by roasting your tomatoes. This recipe for herb-roasted tomatoes produces the best-tasting, most concentrated roasted tomatoes. They have a thick, jammy texture that creates a sauce all on their own in addition to the delicious tomato filling/sauce.
Next, cook make and cook the vegan meatballs. And you can make the simple tomato/marinara sauce on the stove.
What Goes on a Meatball Sub?
When it comes to topping these vegan meatball subs, you only need a handful of ingredients that include:
Homemade tomato sauce (aka Marinara sauce)
Herb roasted tomatoes
Dairy-free cheese shreds (I like to use mozzarella shreds)
Other options: shredded/pickled carrots, radish, cucumber, cilantro, bell peppers
How to Make Vegan Chickpea Meatballs
To make the meatballs, you'll quickly sautéing onions and garlic. Then, you'll add the remaining ingredients until you have a nice thick dough. I like to use a scoop to shape evenly sized meatballs, but you can just as easily go by eyesight and use your hands to shape the cute little balls.
Then sear them until you have a beautiful golden-brown crust all over. Add them to the sauce and let everything simmer to perfection!
INGREDIENT NOTES
Here are some notes to keep in mind about the chickpea meatball ingredients:
Pecans. You can use another soft nut like walnuts or cashews if you prefer. However, I find that pecans add a wonderfully buttery flavor to the dairy-free meatballs.
Nutritional yeast. This is a key vegan ingredient for cheesy flavor. If you haven't tried it yet, I strongly recommend it!
Parsley, oregano, and basil. These three Italian herbs make a great trio. But if you're missing one, you can easily substitute it with more of the other two spices.
How to Make Herb Roasted Tomatoes
Another component to this recipe is to start with great-quality tomatoes. Choose a mix of large and cherries, and several different colors if you can find them.
INGREDIENTS
Tomatoes. You can add as many tomatoes as will fit on your baking sheet.
Olive oil. Don't skimp on the oil! It helps concentrate the tomato flavor and makes a nice jammy texture. You can use these roasted tomatoes like a dressing or sauce.
Dried herbs. I like a mixture of Italian herbs like oregano, basil and parsley. But you can mix up the seasonings with other fresh or dried herbs. Thyme, rosemary, marjoram and tarragon are all delicious with tomatoes.
Spices. Likewise, feel free to play with different spices in your roasted tomatoes. I like paprika, garlic powder and a pinch of red pepper flakes for a slight kick.
The Best Vegan Cheese for Meatball Subs
As I've mentioned, I like to use vegan mozzarella shreds to top these vegan meatball subs and my favorite brand is Violife. I have also used Daiya and So Delicious Dairy-Free which are a great addition as well. I just find that Violife 'melts' or gets stretchy a little bit better.
Of course, you can always use homemade vegan cheese also!
How to Store + Reheat Vegan Meatball Subs
Store any leftover meatballs in an airtight container in the fridge for 2 to 3 days.
You can also freeze the meatballs for up to three months. Defrost them overnight in the fridge and reheat them on the stove or in the oven. Make some fresh tomato/marinara sauce, add the vegan meatballs, and assemble the meatball subs and serve.
What to Serve with a Meatball Sub
Serving these vegan meatball subs is super easy. You can add any of the following sides to create a complete meal for the entire family:
Coleslaw
Chips
Salad
Fries or Potato wedges or Onion rings
Pasta salad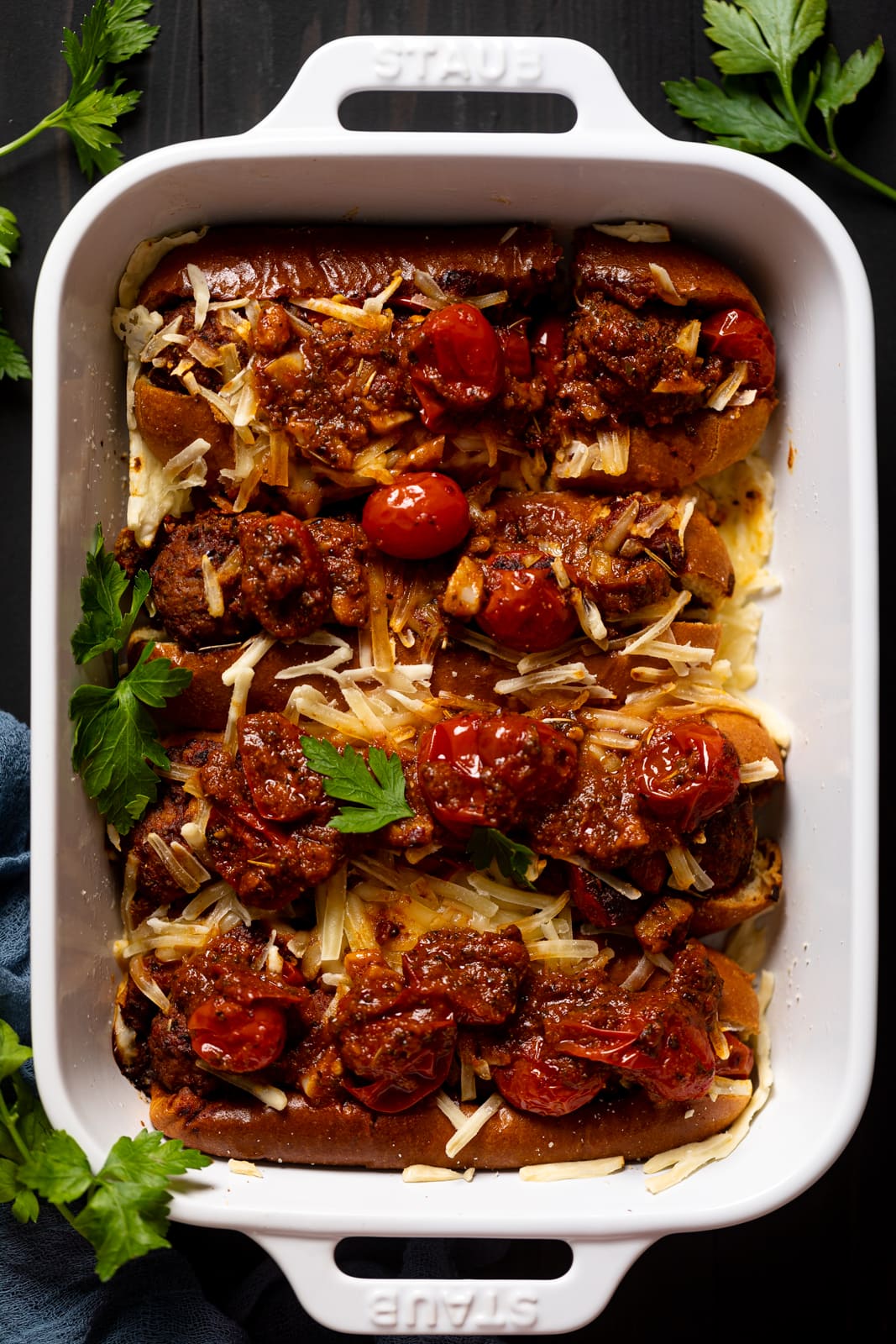 Other Vegan Recipes You'll Love
If you are a fan of my Vegan Meatball Subs, then you will love these recipes, too!
MADE OUR RECIPE(S)?
Made these Vegan Meatball Subs? Tag @orchidsnsweettea_ on Instagram and hashtag it #orchidsandsweettea!
VEGAN MEATBALLS:
1

(15 oz.) can

chickpeas, drained + rinsed

1

cup

cooked quinoa

(Cook according to packaging!)

½

cup

chopped pecans

½

cup

vegan bread crumbs

(See Notes for Homemade!)

¼

cup

nutritional yeast

½

onion, chopped

3

garlic cloves, roughly chopped

1

tablespoon

dried parsley

1

teaspoon

smoked paprika

1

teaspoon

dried oregano

1

teaspoon

dried basil

½

teaspoon

red pepper flakes

½

teaspoon

sea salt + black pepper

1

tablespoon

Extra virgin olive oil, for cooking + 1 Tbsp!
HOMEMADE MARINARA SAUCE:
2

cups

organic tomato sauce

¼

cup

organic vegetable stock

1

teaspoon

sea salt + black pepper

1

teaspoon

dried oregano

1

teaspoon

smoked paprika

1

teaspoon

garlic powder

1

teaspoon

dried parsley

Pinch of

red pepper flakes

Pinch of

cayenne pepper
TO MAKE THE HERB ROASTED TOMATOES:
TO MAKE THE VEGAN MEATBALLS:
Preheat the oven to 400 degrees Fahrenheit and lightly grease a standard baking dish. Set aside.

Start by adding onions and garlic cloves to a heated skillet (with 1 tablespoon of extra virgin olive oil) and sautéing them until they are fragrant and translucent, about 2-3 minutes. Set aside skillet for later.

Add the cooked quinoa, pecans, and sautéed onions and garlic to a food processor and pulse for 1 minute or so. Add the chickpeas, nutritional yeast, olive oil, oregano, basil, red pepper flakes, smoked paprika, dried parsley, black pepper, sea salt, and bread crumbs, processing everything until it grounds into a thick mixture.

Using an ice cream scoop (or spoon), shape mixture into individual balls (further rounding them with your hands). Repeat until all meatballs are created.

Reheat previous skillet over medium-high heat (with all the bits left in it) and add additional olive oil if needed. Add meatballs to pan and sear until nicely golden on all sides. Remove each meatball and set aside.
TO MAKE THE TOMATO/MARINARA SAUCE:
In a medium 10-inch skillet over medium-high heat, add 1 tablespoon of olive oil and let it heat.

Add the tomato sauce, veggie stock, salt, black pepper, oregano, smoked paprika, garlic powder, parsley, red pepper flakes, and cayenne pepper, stirring everything together until combined. Bring it to a boil and then reduce the heat to low, adding in the meatballs and allowing them to simmer in the sauce for 3-4 minutes.

ASSEMBLE: slightly open each hot dog bun and line them (upward with opening faced up) and fill them with vegan meatballs with the marinara sauce. Top with vegan cheese shreds and bake for 10-15 minutes or until buns are crispy and shreds have become a bit stretchy. Remove from oven and serve immediately.

Bon Appétit!
STORAGE: Store any leftover meatballs in an airtight container in the fridge for 2 to 3 days. You can also freeze the meatballs for up to three months. Defrost them overnight in the fridge and reheat them on the stove or in the oven. Make some fresh tomato/marinara sauce, add the vegan meatballs, and assemble the meatball subs and serve.
OILS: Instead of using Extra Virgin Olive Oil, you can substitute with Grapeseed Oil, Avocado Oil, or Coconut Oil. 
GLUTEN-FREE OPTION: To make this dish GF, simply use Gluten-Free hot dog buns and ensure that other ingredients are GF-friendly. 
HOMEMADE BREADCRUMBS: To make your own breadcrumbs, simply grind 1-2 cups of cubed bread into a food processor until finely chopped. Place crumbs onto a parchment lined baking sheet and spread out evenly. Bake for 5-6 minutes in the oven set at 350 degrees Fahrenheit, stirring occasionally. Once brown + crisp, remove from oven and let cool. Continue recipe steps and store remaining breadcrumbs in a tightly sealed container. 
Calories:
340
kcal
|
Carbohydrates:
40
g
|
Protein:
9
g
|
Fat:
17
g
|
Saturated Fat:
2
g
|
Polyunsaturated Fat:
4
g
|
Monounsaturated Fat:
9
g
|
Sodium:
1477
mg
|
Potassium:
517
mg
|
Fiber:
8
g
|
Sugar:
10
g
|
Vitamin A:
1532
IU
|
Vitamin C:
8
mg
|
Calcium:
140
mg
|
Iron:
4
mg
Best Vegan Meatball Subs