Get ready to turn up the flavor with this Crispy Cajun Sweet Potato Fries recipe! These oven-fried sweet potatoes are like a party for your taste buds, bringing together the natural sweetness of sweet potatoes with the bold, zesty kick of Cajun spices. This sweet potato fries recipe is not just any fries; it's oven-baked perfection with a crispy exterior and a tender, fluffy interior. Elevated to flavor heaven when dipped in a special homemade fry sauce. Perfect as a spicy snack or as a unique side dish! Vegan + Gluten-free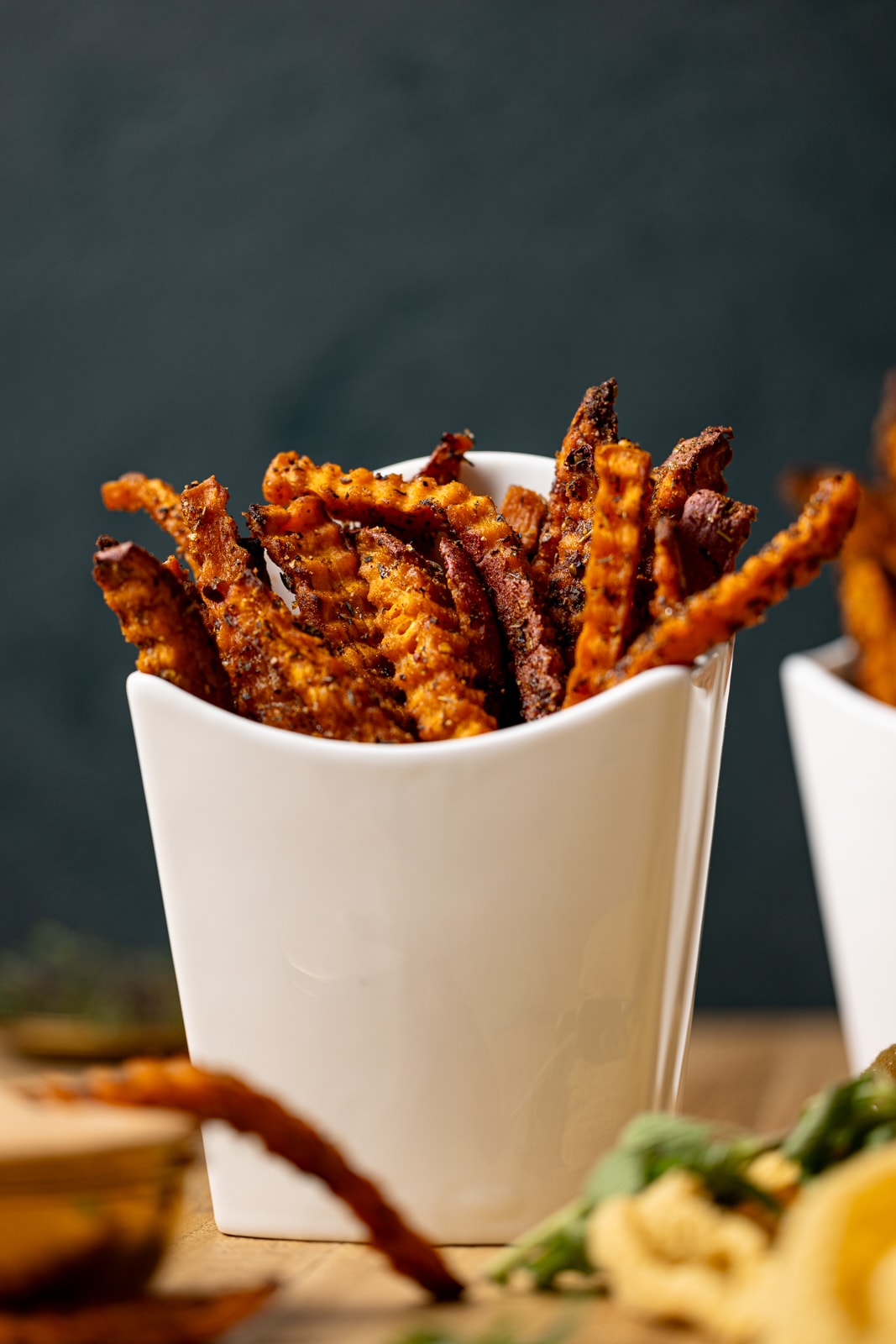 What Makes These Crispy Cajun Sweet Potato Fries SO DELICIOUS?
I'm kind of obsessed with sweet potatoes-- they've found their way into my soups, pastas, cinnamon rolls, cheesecakes, breads, smoothies, and even tacos. But here's the thing: I've never made sweet potato fries on Orchids + Sweet Tea before, and that's about to change.

Sure, I've made Spicy Honey Sweet Potato Wedges in the past, but these fries are on a whole new level of special—crispy, crinkled + delicious. I couldn't resist sharing this recipe with you. Plus, you know I'm all about that Cajun flavor, so of course, I had to sprinkle in my homemade cajun seasoning for that extra flavorful twist. And to top things off for dessert---this 1-Layer Maple Sweet Potato Cake is one for the books! When it comes to this Blender Maple Sweet Potato Pie, it is smooth, velvety, full of sweet potato + spices flavor and is housed with a buttery, flaky crust.
You're in for a treat with this sweet potato fries recipe, baked in the oven to guarantee those crispy results we all crave—no soggy fries around here, I promise! It's incredibly easy, requiring just a handful of simple ingredients. Plus, it makes the perfect sidekick to so many meals, and let's not forget it's the ultimate flavor-packed snack, showcasing all the sweet potato goodness we absolutely adore.
Jump to: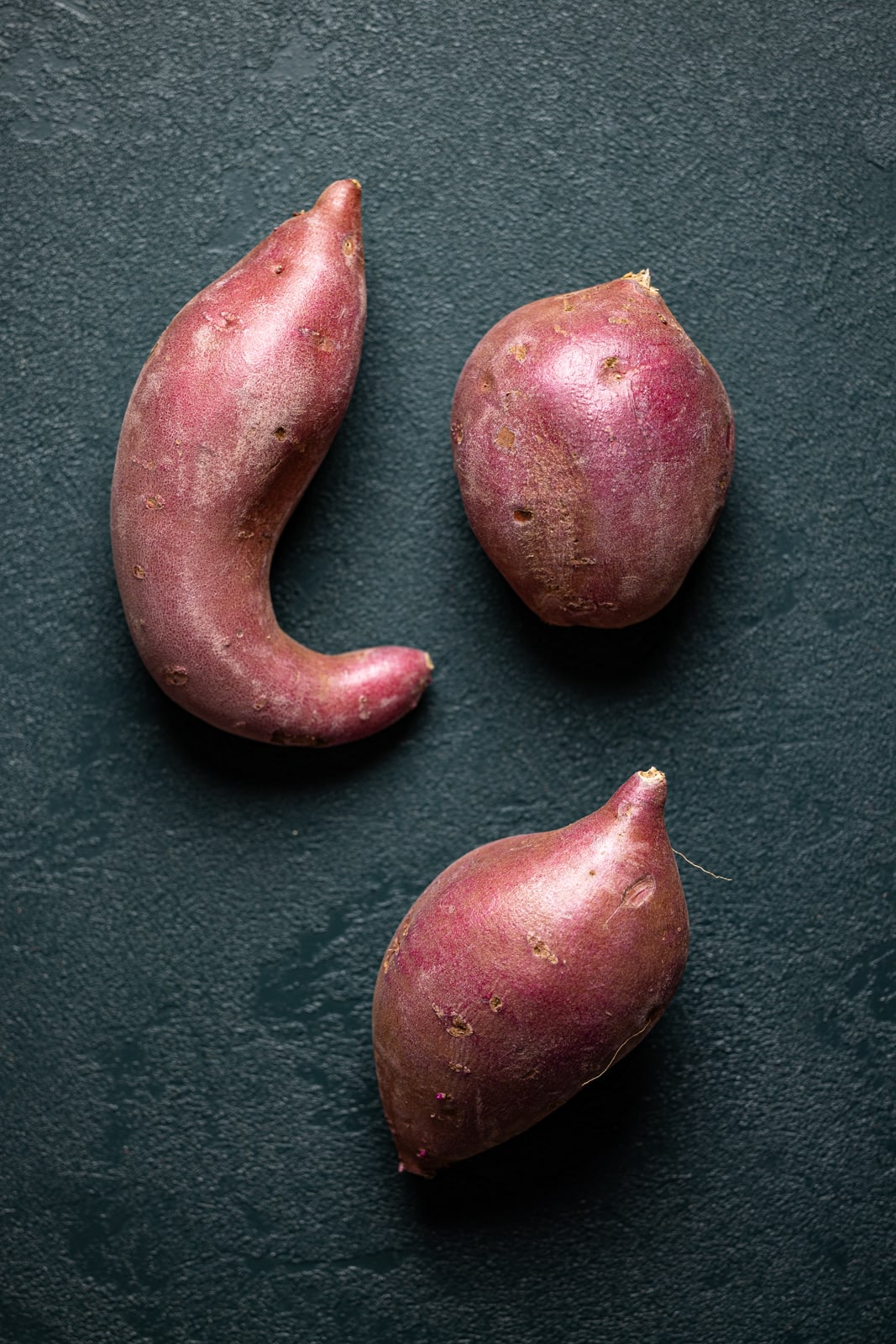 How To Make Crispy Cajun Sweet Potato Fries
The secret to achieving that mouthwatering crispiness with these potatoes lies in the prep work. We start by cutting them into perfect fry-like shapes (I love using a wavy knife for added texture). Then, we soak them in ice-cold water, allowing them to fully dry afterward. After that comes the magic touch – a drizzle of oil and a generous amount of cajun seasoning. Finally, it's all about popping them in the oven to fry to perfection.
Ingredients
Here's the simple list of what you need for this Crispy Cajun Sweet Potato Fries recipe:
Organic sweet potatoes. The star of the show offering natural sweetness and a delightful texture.
Extra virgin olive oil. Creates that extra crispy exterior.
Homemade Cajun Seasoning (Adds a burst of spicy, flavorful goodness to the fries.)
FRY SAUCE [DAIRY-FREE]:
This dairy-free fry sauce is creamy and tangy, making it the perfect accompaniment to these crispy fries.
Vegan mayonnaise. Adds creaminess.
Organic ketchup. Adds a touch of tangy sweetness.
Buffalo sauce or Sriracha (Ensure that buffalo sauce is dairy-free) Brings a hint of heat to the sauce.
Worcestershire sauce. Provides depth of flavor.
Chili powder. For an extra spicy kick if you like it hot.
Sea salt. Enhances overall seasoning.
Smoked paprika. Adds smoky complexity.
Dried parsley. Adds a herby note.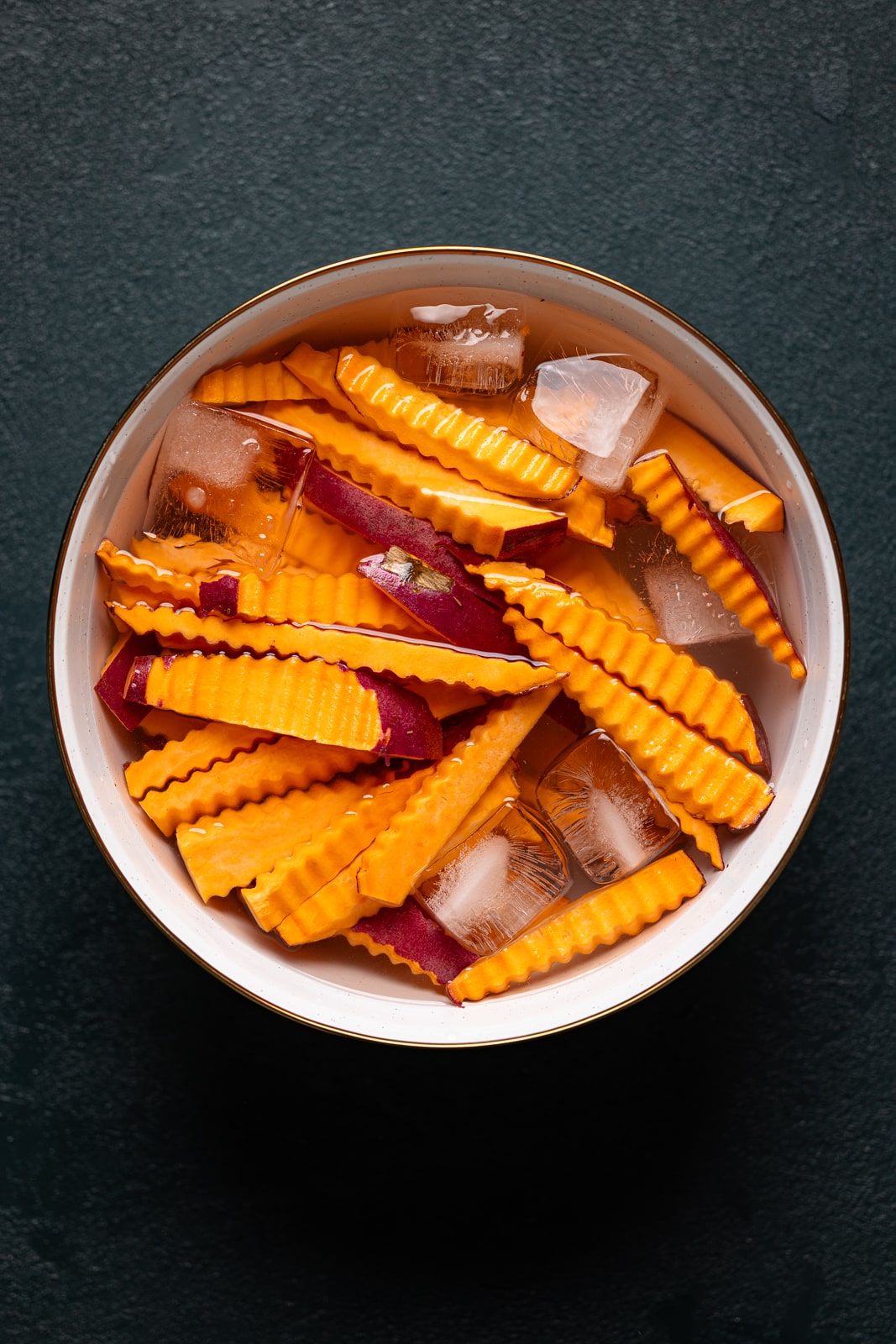 How To Make Homemade Cajun Seasoning
This Cajun seasoning is as simple as mixing all your spices together and takes just 5 minutes! Here are the simple ingredients that you will need for this recipe -
Ingredients
Garlic Powder: Adds a savory kick.
Italian Seasoning: Contributes a blend of dried herbs for complexity.
Smoked Paprika: Infuses a smoky undertone.
Sea Salt: Enhances overall flavor.
Black Pepper: Provides a pungent, spicy element.
Cayenne Pepper: Introduces fiery heat.
Dried Thyme: Offers an earthy, aromatic note.
Onion Powder: Imparts a subtle, sweet onion flavor.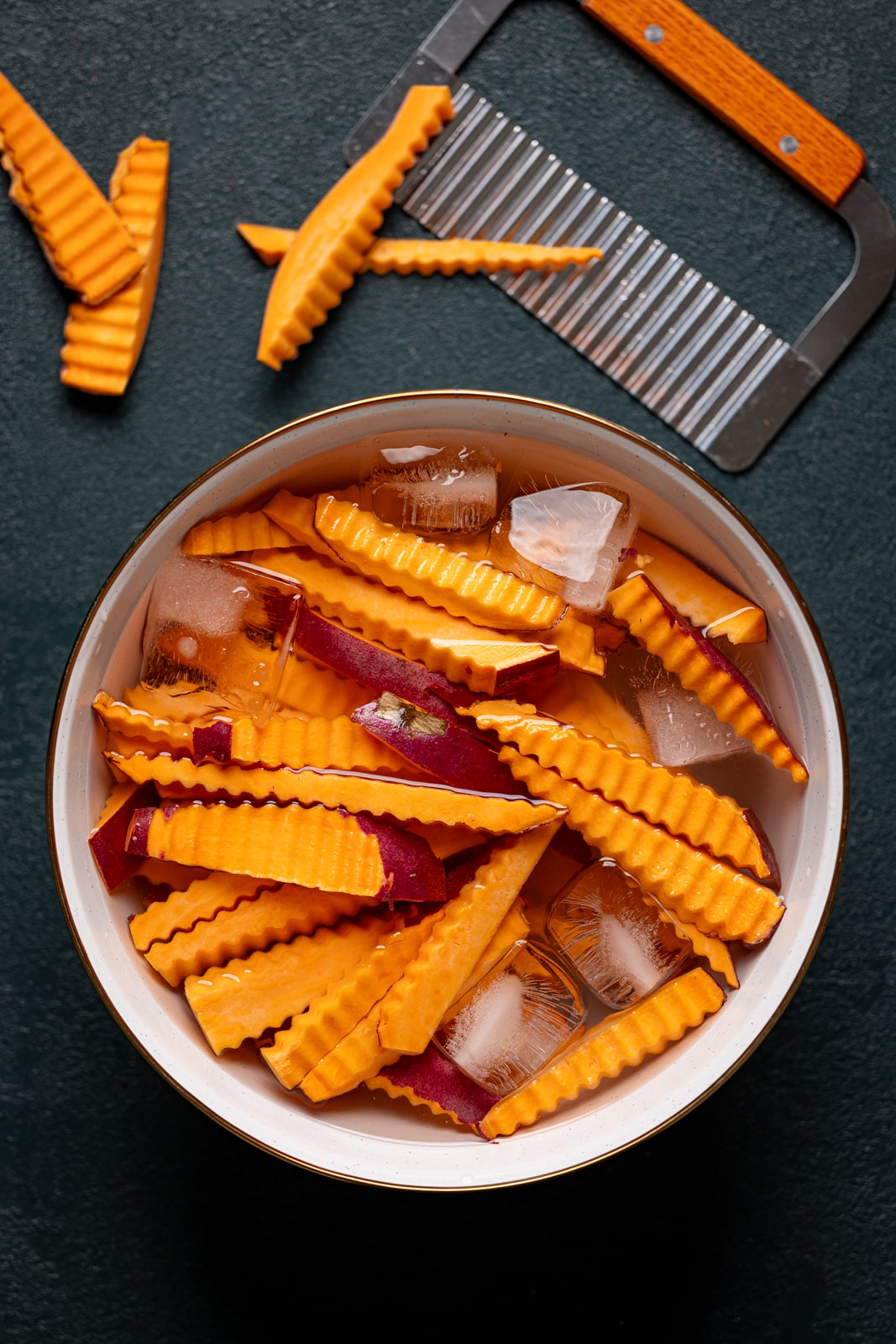 Why You Will Completely LOVE These Crispy Sweet Potato Fries
Crispy exterior, tender interior – the perfect potato texture.
Bursting with Southern Cajun flavor!
Ideal side dish for the whole family to enjoy.
Versatile--complements various main courses.
A total crowd-pleaser at gatherings and dinner parties.
Elevates your potato game to a whole new level.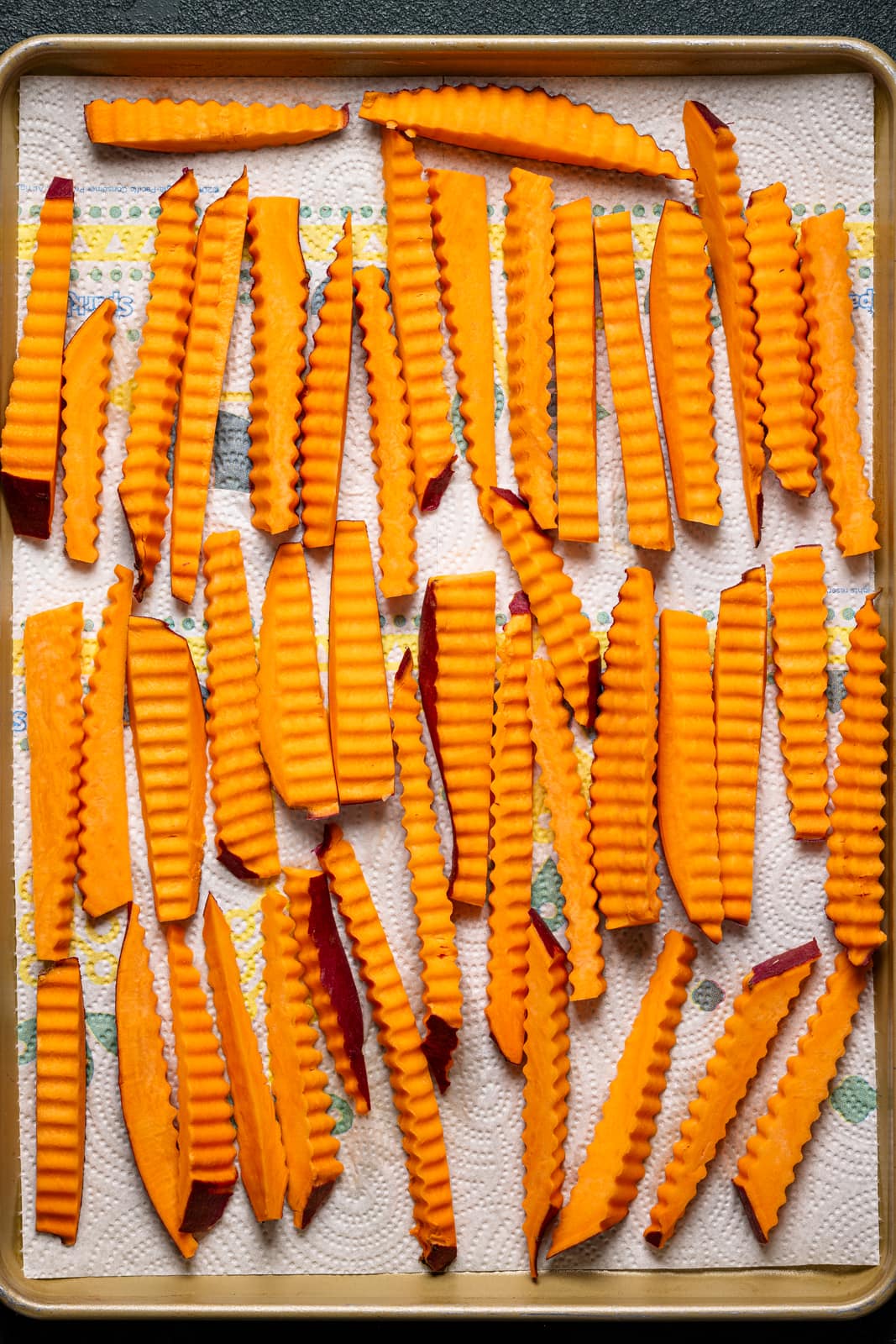 What Are Crinkle Cut Fries?
Basically, crinkle-cut fries are wave-like fries that are a bit crispier and have a better texture than regular fries due to the grooves and cuts. Therefore, when it's fried (or baked) it produces a lot more crunch and crispiness than most other types of fries.
For these crinkle-cut fries, you don't need anything out of the ordinary when it comes to equipment except for an actual crinkle cutter, which is super easy to purchase.
Tips for SUPER CRISPY Baked Sweet Potato Fries
These are my top tips to make sure your sweet potato fries are as crisp as possible:
Cut the potatoes to equal sizes as much as possible. This way, they cook at the same rate.
Soak the potatoes for at least 20 minutes in cool water. This removes excess starch on the outside of the potatoes that prevent them from crisping up.
Let the potatoes dry for at least 30 minutes. moisture is the enemy of crispiness! For good measure, blot them dry with a towel as well.
Don't be afraid to season well!
Let the oven heat up fully before you add the fries to the oven. It needs to be a nice and hot environment.
Spread the potato pieces out well on the baking sheet lined with a wire rack to let the hot air circulate around each individual fry.
Best Condiments To Dip Sweet Potato Fries Into
Dipping these Crispy Cajun Sweet Potatoes is a must and while there are many options out there if you don't want to limit yourself to just fry sauce, I highly recommend serving these fries with any of the following:
Ketchup
Vegan Mayo
Chili Sauce
Tartar Sauce
Garlic Sauce
Burger Sauce + more!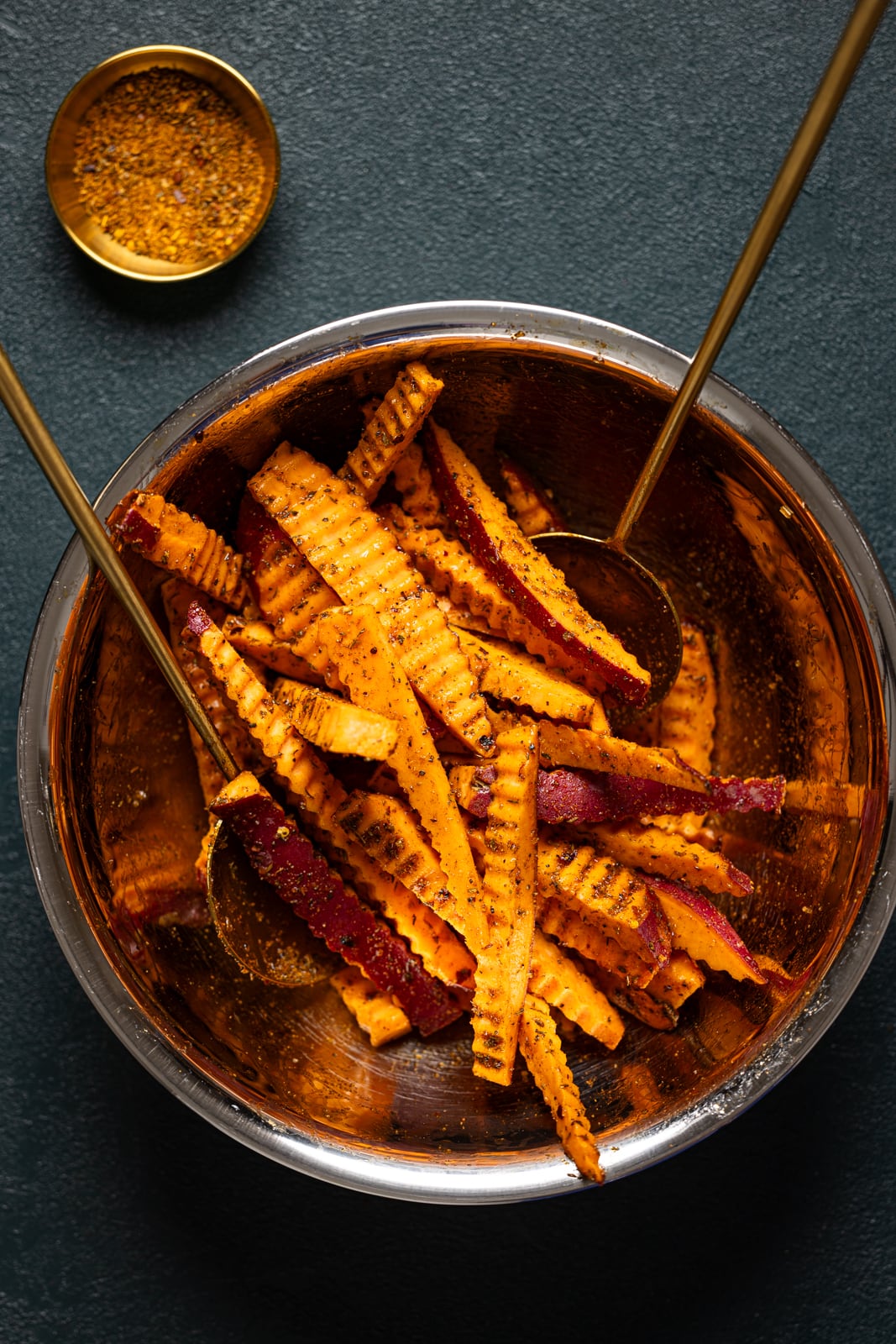 What Else Can I Use Cajun Seasoning For?
There's no limit to what Homemade Cajun seasoning is good for. I love adding it to everything from pasta to fish! Here are some more ideas -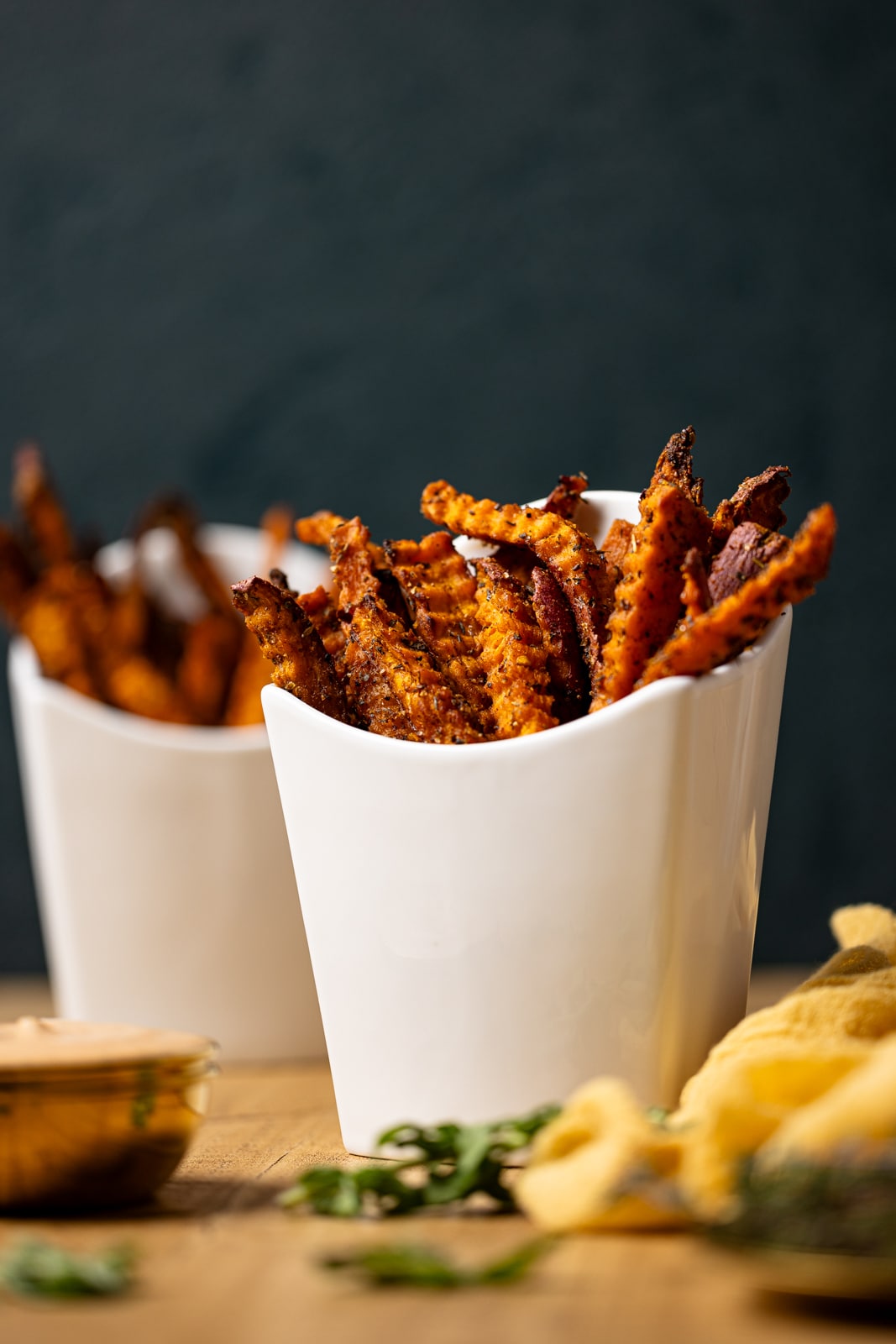 How To Serve Crispy Cajun Sweet Potato Fries?
These homemade Crispy Cajun Fries are so incredibly tasty that they can stand tall as a delicious snack all by themselves. They're a crunchy and satisfying treat that will have you reaching for more.
But if you want a little more, consider pairing them with these delightful options:
Burgers + Sandwiches:
Match the crave-worthy crunch of the sweet potatoes with a juicy, flavorful burger or sandwich. It's a match made in culinary heaven! Try alongside this Vegan Nashville Hot Chicken Sandwich, Jerk Turkey Burger, Southern-Style Bacon Grilled Cheese Sandwich or this vegan-friendly Vegan 'Tuna' Melt Sandwich
Wings:
Serve with another favorite side like these juicy tender Orange Chicken Wings or with a veggie alternative like Lemon Pepper Cauliflower Wings
Loaded Sweet Potato Fries:
Go all out by loading these sweet potato fries with toppings like melted cheese, crispy candied bacon bits,herb roasted tomatoes and a dollop of sour cream. It's a flavor explosion that combines the indulgence of comfort food with the irresistible crunch of crispy potatoes. Use this Loaded Potatoes with Spicy Beans or this Meatless Buffalo Ranch Kettle Chip Nachos for inspiration!
Grain Bowls
Create hearty bowl meals with a base of these sweet potato fries. Top them with your favorite proteins, veggies, and sauces for a flavorful and filling bowl. They would go beautifully with this Vegan Jamaican Power Bowl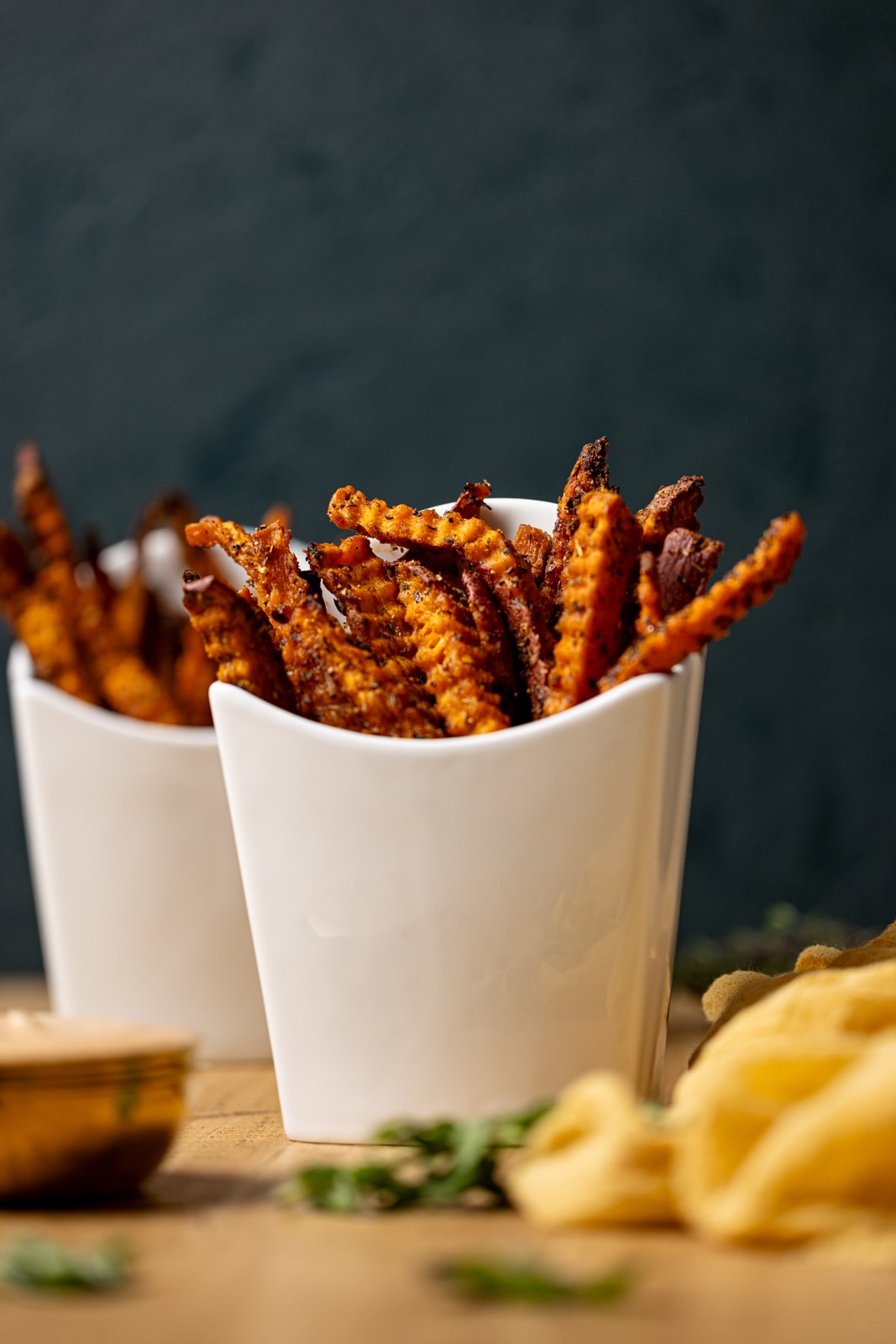 Crispy Cajun Sweet Potato Fries Q + A's
How to store?
Place any leftovers in a tightly sealed container in the refrigerator for 3-4 days. For longer storage, simply add leftovers to a freezer-safe ziplock bag or container and keep them frozen for up to 10 months. 
Is This Sweet potato fries Recipe Gluten-free?
Yes, however be sure to double-check that Fry Sauce ingredients are gluten-free friendly to make this entire recipe gluten-free!
Can I use other seasonings?
Absolutely! You can get creative with your seasoning choices, my homemade lemon pepper seasoning also goes great with sweet potato fries. Just be mindful of the quantities to ensure the seasoning complements the fries without overpowering them.
Why won't my sweet potato fries get crispy?
This issue is rather common if you don't allow for the potatoes to soak correctly. I always ensure that your water is VERY cold and stir in the salt so that they are well dehydrated after the soak. In addition, it's never bad to prolong the soak time a bit (adding another 30 minutes) for bigger batches.
How Long Will Cajun Seasoning Last?
When stored in an airtight container in a cool, dry place, homemade Cajun Seasoning can retain its flavor for up to 6 months.
Does The Seasoning Need To Be Refrigerated?
It is not necessary to refrigerate the seasoning as long as it is stored in an airtight container in a cool, dry place.
Can I Air-fry sweet potato fries?
While I made these fries originally in the oven, this recipe will also work in your air fryer.
- Air fryers tend to get hotter and have better air circulation than your oven, so the homemade sweet potato fries might need a slightly shorter cook time.
- Check on the fries every 10 minutes to shake the potatoes so they do not stick. - After 30 mins, check for doneness every few minutes.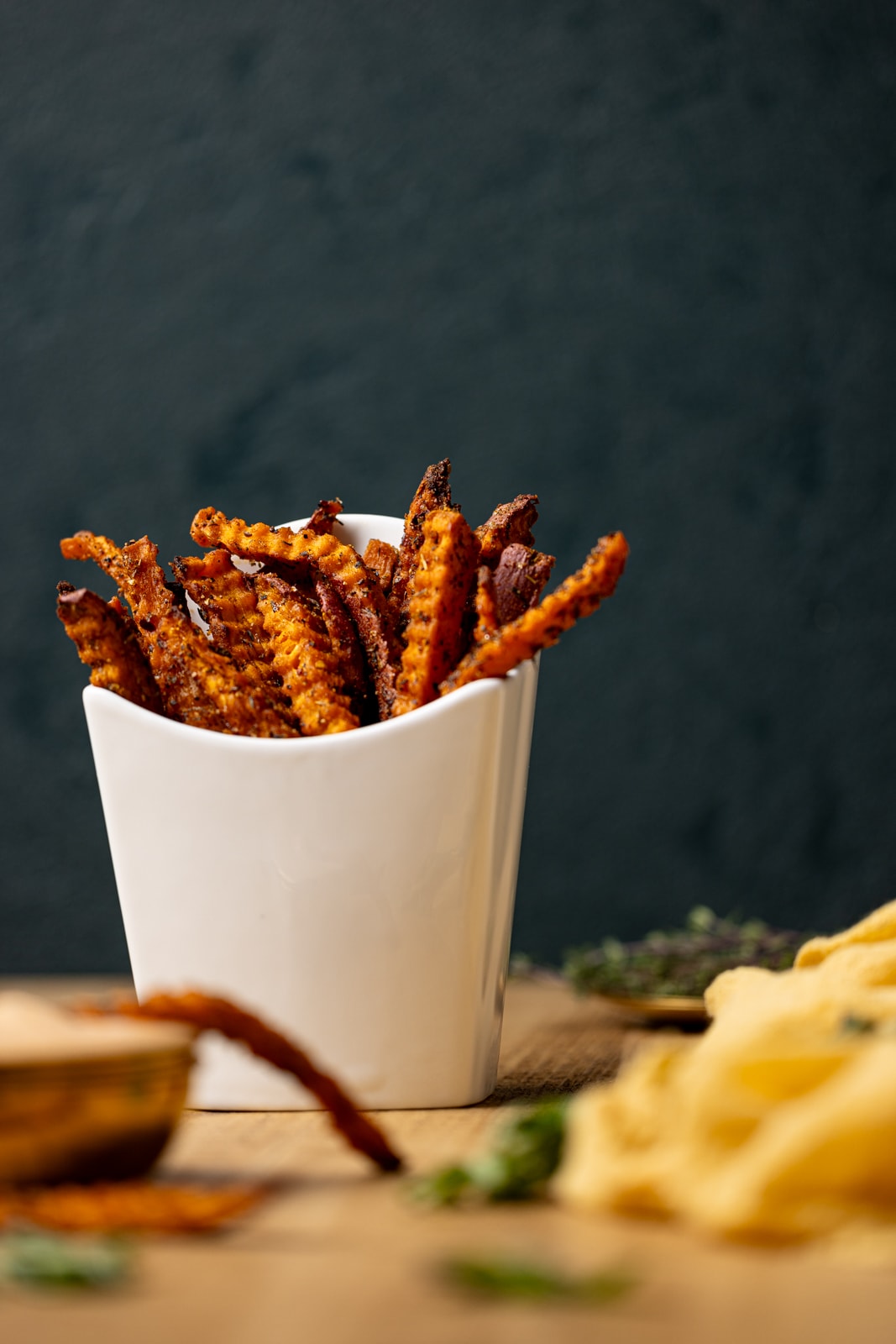 Other Potato-Packed Recipes You'll Love
If you are a fan of this Crispy Cajun Sweet Potato Fries recipe you will also love these potato recipes!
MADE OUR RECIPE(S)?
If you tried this oven-baked Crispy Cajun Sweet Potato Fries recipe or any other recipe on my website, please please leave a 🌟 star rating and let me know how you go in the 📝 comments below. I love hearing from you.
Prep Time:
1

hour
30

minutes
Total Time:
2

hours
10

minutes
HOMEMADE CAJUN BLEND:
2-3

Tbsps

Homemade Cajun Seasoning
FRIES:
2

lbs.

organic sweet potatoes

3-4

Tbsps

Extra virgin olive oil
FRY SAUCE [DAIRY-FREE]:
1

cup

vegan mayonnaise

¼

cup

organic ketchup

1

teaspoon

buffalo sauce or Sriracha

(Ensure that buffalo sauce is dairy-free)

1

teaspoon

Worcestershire sauce

Pinch of

chili powder

Pinch of

sea salt

¼

teaspoon

smoked paprika

¼

teaspoon

dried parsley
PREP + SOAK SWEET POTATOES:
Rinse and pat dry each sweet potato and cut lengthways into halves and then in halves lengthways again, and then one last time----this should create a medium-thick "stick-like" shape. You should have about 6-8 pieces of fries (aka "sticks") when done for each sweet potato. Repeat until all sweet potatoes are cut. Then using a crinkle cutter, slice down the sides of each potato from the top end of the potato---this should create a "crinkle-like" shape. Repeat again and continue to repeat until all sweet potatoes are sliced/shaped.

In a bowl, add cold water until ¾ filled along with a few ice cubes and salt to keep things cold. Add cut sweet potatoes into bowl and let soak for 20 minutes.

Once soak time is complete, drain sweet potatoes and pat dry thoroughly before adding them unto a flat surface (i.e. countertop, cutting board, etc.) lined with paper towels for them to "dry" out for a bit (about 30-minutes to 1 hour). NOTE: This process helps them to be extra crispy when baked.
BAKE THE SWEET POTATO FRIES:
Preheat the oven to 400 degrees Fahrenheit and line a rimmed baking sheet with parchment paper. 

Add the dry cut slices of sweet potatoes into a large bowl along with the olive oil and cajun seasoning, mixing everything together with your hands until fries are full coated.

Transfer the fries to the prepared baking sheet and bake for 35-40 minutes or until fries are golden and crispy. NOTE: Test the doneness of sweet potatoes by seeing how soft they are and how golden the edges become. If they are tender then they are done.
TO MAKE THE DAIRY-FREE FRY SAUCE:
In bowl, whisk together the vegan mayo, ketchup, buffalo or Sriracha sauce, Worcestershire, chili powder, salt, parsley, and smoked paprika until combined and smooth. Cover and refrigerate until ready to use.

Remove the baked sweet fries from the oven and serve with a side of your favorite condiment/sauce or the fry sauce.

Bon Appetit!
STORAGE: Place any leftovers in a tightly sealed container in the refrigerator for 3-4 days. For longer storage, simply add leftovers to a freezer safe ziplock bag or container and keep frozen for up to 10 months. 
CAJUN SEASONING (STORAGE): Any leftover cajun seasoning mix can be stored in a ziplock bag for later use or used as garnish. 
GLUTEN-FREE: Be sure to double check that Fry Sauce ingredients are gluten-free friendly to make this entire recipe gluten-free!
Calories:
433
kcal
|
Carbohydrates:
33
g
|
Protein:
2
g
|
Fat:
31
g
|
Saturated Fat:
4
g
|
Polyunsaturated Fat:
1
g
|
Monounsaturated Fat:
5
g
|
Sodium:
310
mg
|
Potassium:
520
mg
|
Fiber:
5
g
|
Sugar:
6
g
|
Vitamin A:
21492
IU
|
Vitamin C:
4
mg
|
Calcium:
47
mg
|
Iron:
1
mg