Bring a burst of Southern zest and flair to your kitchen with this Homemade Cajun Seasoning recipe it's your ticket to flavor-filled meals. This bold seasoning blend combines a handpicked selection of cajun spices infusing your dishes with a rich umami depth and a smoky undertone to elevate your dishes to a whole new level of deliciousness. Crafted from just a few simple ingredients. Ready in just 5 minutes. Vegan, Nut-free + Gluten-free.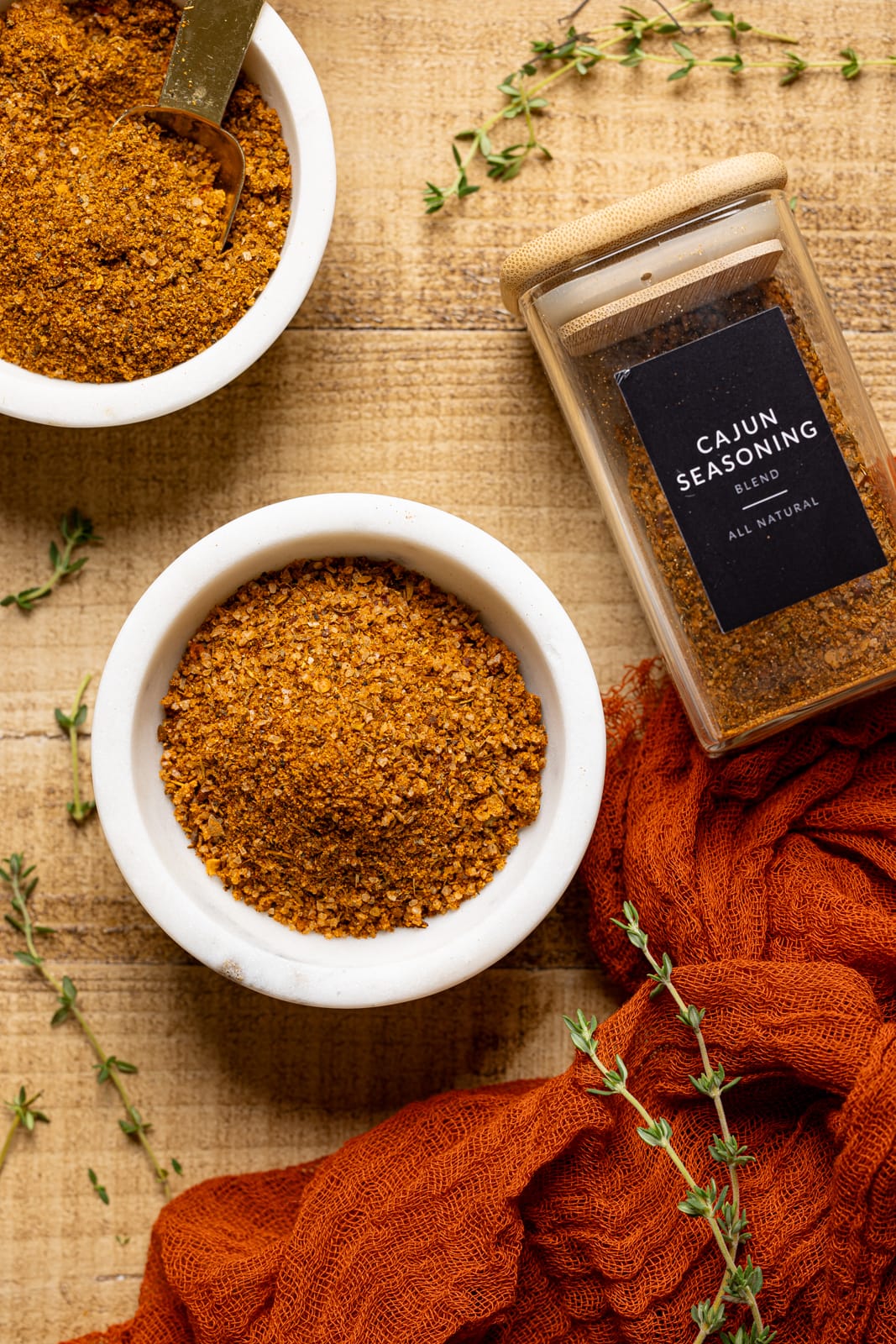 Why Homemade Cajun Seasoning
Homemade Cajun Seasoning is a staple in our dinners, especially for someone with Southern roots like me. Once I started making it at home, I realized how much better mixing my own cajun spices tasted than store-bought. Now, I always keep a double batch on hand. This Southern-Style Cajun Pasta with Pecan Breadcrumbs and One Skillet Creamy Cajun Chicken Orzo are just a few of my family's all-time favorite cajun recipes that have become a regular and easy dinner options that we enjoy weekly and for gatherings. It's a seasoning we can't do without!
This easy cajun seasoning recipe is so versatile and takes just 5 minutes to make! It can be sprinkled on so many dishes--Its bold smoky + umami profile complements everything from poultry and seafood to vegetarian and vegan creations, making it an essential addition to pantry spices. It goes beautifully with this Spicy Cajun Shrimp, Kale + Cauliflower Rice, Cajun Veggie Pumpkin Pizza or atop these Seasoned Crinkle Cut Fries, heck it even tastes good on popcorn for a flavorful twist.
Jump to: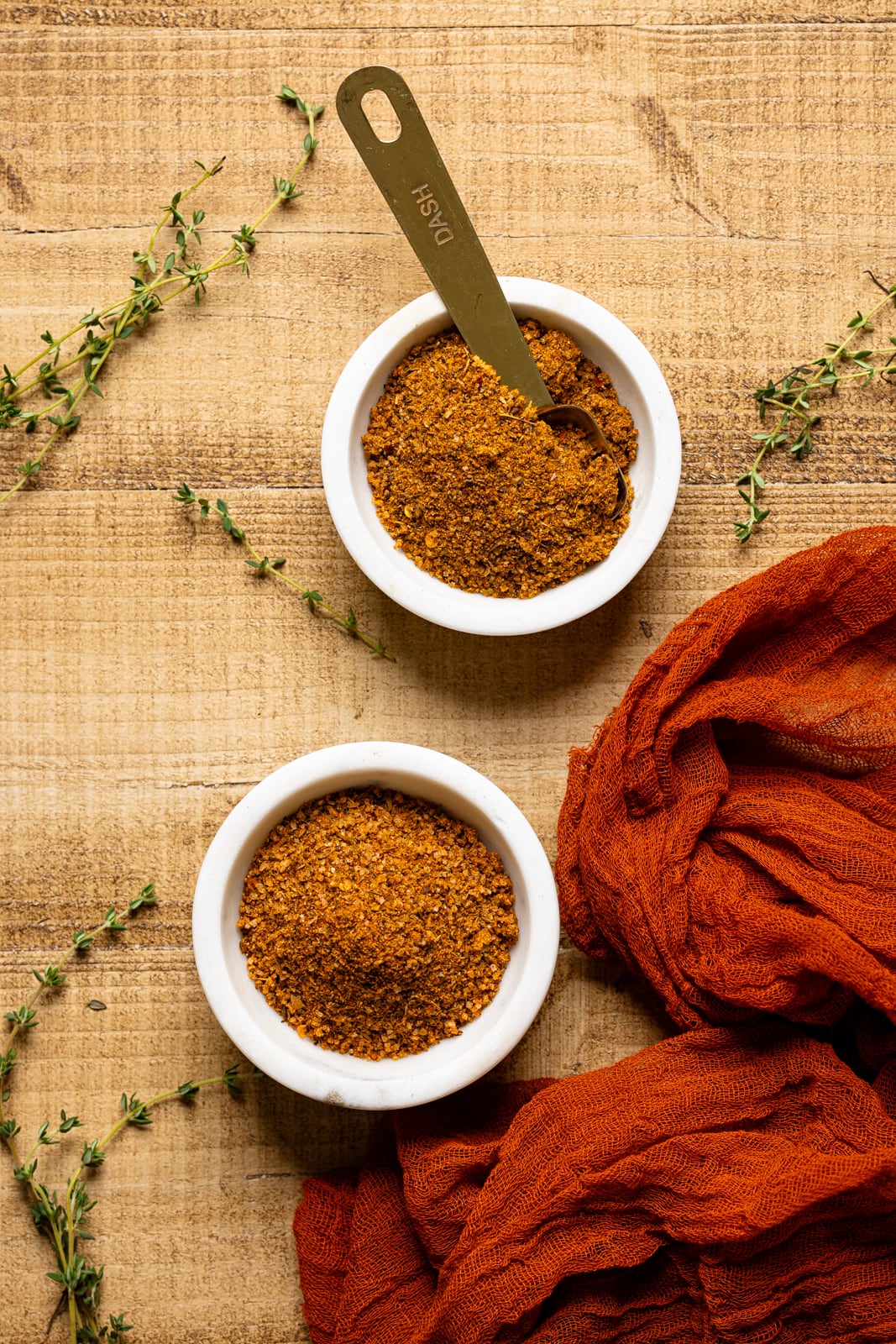 What is Cajun Seasoning?
Cajun seasoning is a distinctive spice blend hailing from the American South, particularly Louisiana, known for its bold and spicy flavor profile with a hint of smokiness. Essentially, Cajun spices can elevate the taste of any dish that could use a little heat and depth of flavor.
How To Make Homemade Cajun Seasoning
This cajun seasoning recipe is as simple as mixing all your spices together and takes just 5 minutes! Here are the simple ingredients that you will need for this recipe -
Ingredients
Garlic Powder: Adds a savory kick.
Italian Seasoning: Contributes a blend of dried herbs for complexity.
Smoked Paprika: Infuses a smoky undertone.
Sea Salt: Enhances overall flavor.
Black Pepper: Provides a pungent, spicy element.
Cayenne Pepper: Introduces fiery heat.
Dried Thyme: Offers an earthy, aromatic note.
Onion Powder: Imparts a subtle, sweet onion flavor.
Can I Use Cajun Seasoning As A Marinade?
Yes absolutely! Creating a Cajun seasoning marinade is super easy and adds a ton of flavor to your dishes.
How To Use As A Marinade
Grab a few tablespoons of Cajun seasoning and mix it with ¼ cup of olive oil, and 2 tablespoons of lemon juice or vinegar. (The exact amount will depend on what + how much you are planning on marinating)
Now, coat your meat, seafood, or tofu/veggies in this delightful concoction and let them hang out in the fridge. For meats, aim for at least 30 minutes, while seafood and veggies are good to go in 15-30 minutes. You can go longer if you want that Cajun punch to really sink in.
Then, fire up the grill, pop them in the oven, or cook them however you like. That Cajun magic will do its thing, and you'll have a mouthwatering meal with a personal touch. Enjoy!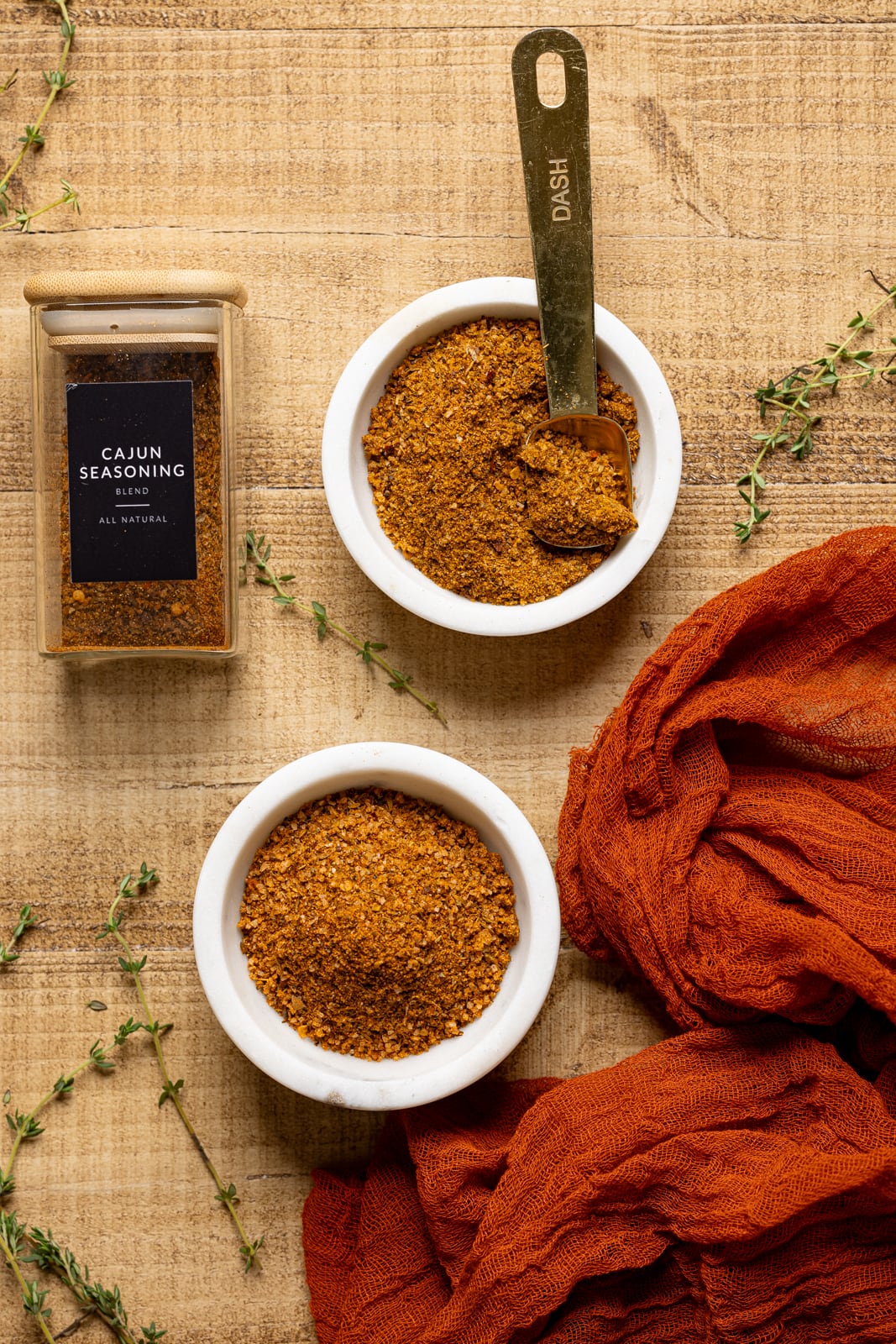 Why You Will LOVE This Cajun Seasoning Recipe
Burst of Southern Flavor: It brings a vibrant and bold flavor to your dishes.
Versatility: It complements a wide range of dishes.
Homemade Goodness: You can enjoy a fresh and additive-free seasoning blend made right in your own kitchen.
Customizable: Adjust the intensity and ingredients to suit your taste preferences.
Quick and Easy: Ready in just 5 minutes.
What is Homemade Cajun Seasoning Used For?
There's no limit to what Homemade Cajun seasoning is good on. I love adding it to everything from pasta to fish! Here are some more ideas -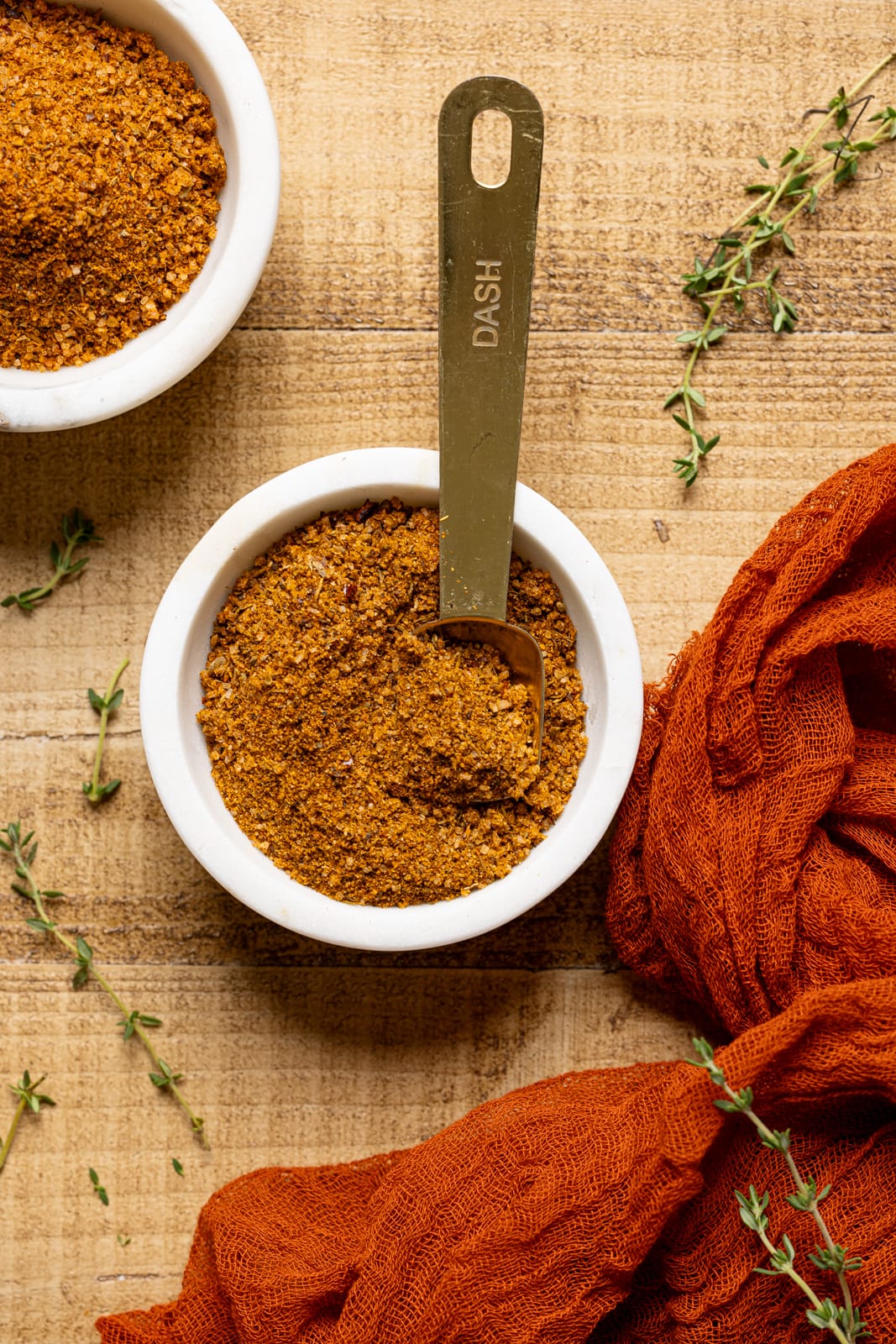 Homemade Cajun Seasoning Q + A's
Can I Adjust The Level of Spiciness in The Seasoning?
Absolutely! You have full control over the level of spiciness in this homemade Cajun Seasoning recipe. You can add more or less black pepper & cayenne powder or add red pepper flakes to increase the heat.
How Long Will Cajun Seasoning Last?
When stored in an airtight container in a cool, dry place, homemade Cajun Seasoning can retain its flavor for up to 6 months.
How Much Seasoning Should I Use In My Recipes?
The amount of seasoning to use depends on personal taste preferences and the specific dish you are preparing. It is best to start with a small amount, such as a teaspoon, and gradually adjust according to your desired flavor intensity.
Does The Seasoning Need To Be Refrigerated?
It is not necessary to refrigerate the seasoning as long as it is stored in an airtight container in a cool, dry place.
Reader Favorite Southern Recipes You'll Love!
MADE OUR RECIPE(S)?
If you tried this Homemade Cajun Seasoning or any other recipe on my website, please please leave a 🌟 star rating and let me know how you go in the 📝 comments below. I love hearing from you.
SEASONING BLEND:
1

teaspoon

garlic powder

1

teaspoon

Italian seasoning

1

teaspoon

smoked paprika

1

teaspoon

sea salt

1

teaspoon

black pepper

1

teaspoon

cayenne pepper

1

teaspoon

dried thyme

1

teaspoon

onion powder
TO MAKE THE SEASONING BLEND:
In a bowl, mix together the garlic powder, Italian seasoning, smoked paprika, salt, black pepper, cayenne pepper, thyme, and onion powder until combined.

Store seasoning blend in a tightly sealed mason jar or seasoning jar at room temperature.

Enjoy!
STORAGE: You can store the leftover seasoning blend in an airtight container or tightly sealed mason jar at room temperature for up to six months. Use it on anything from simple roasted vegetables to salad dressing to herb oil for dipping bread.
BIGGER BATCH: This recipe makes for about 2 servings worth of this seasoning blend. To make a larger batch, feel free to double or triple the ingredients. 
SMOKIER TASTE: If you'd prefer more of a bolder smoky flavor, simply add another ½ teaspoon of smoked paprika to the mix.
Calories:
21
kcal
|
Carbohydrates:
5
g
|
Protein:
1
g
|
Fat:
0.4
g
|
Saturated Fat:
0.1
g
|
Polyunsaturated Fat:
0.2
g
|
Monounsaturated Fat:
0.1
g
|
Sodium:
1166
mg
|
Potassium:
101
mg
|
Fiber:
2
g
|
Sugar:
0.4
g
|
Vitamin A:
950
IU
|
Vitamin C:
1
mg
|
Calcium:
39
mg
|
Iron:
2
mg