If you're looking for a delicious and healthy snack that's both sweet and spicy, then you have to try these Southern Hot Honey Cauliflower Bites. This recipe is perfect for those who love a little heat with their snack and want something that's easy to make. These bites are Vegetarian and packed with flavor. With a crispy coating and a hot honey sauce, they're sure to be a hit with everyone who tries them. The perfect vegetarian game-day snack or veggie side dish! Vegan + Gluten-free option.
Are you looking for a vegetarian-friendly appetizer that's sure to be a hit at your next get-together or game-day party? These Southern Hot Honey Cauliflower Bites are a perfect choice!
Crispy and crunchy cauliflower florets are coated in a deliciously spicy and sweet sauce, making them irresistible to vegetarians and non-vegetarians alike. And the best part? This recipe is versatile and can be used in a variety of dishes, from nourishing power bowls to pizzas. You'll love these Sticky Coca-Cola Cauliflower Wings, Crispy Baked Orange Cauliflower Bites, and Everything Bagel Cauliflower Bites.
So, whether you're hosting a game day get-together or just looking for a delicious and healthy snack, these Southern Hot Honey Cauliflower Bites are a must-try.
Vegan Game-day Snacks
Seasoned Crinkle Cut Fries - Make the crispiest Fries in the oven as a family-friendly side dish or snack. This is the easiest method for the best-tasting oven-baked fries that guarantee absolute crispiness and bold cajun flavor
Loaded Vegan Queso Skillet Nachos - These nachos come topped with three type of beans, onions, kale, corn, jalapeños, and ultimately topped with a blanket of homemade vegan queso. A healthy dairy-free and vegan twist on classic nachos!
Vegan Jamaican Beef Patties - Get ready to taste the ultimate vegan treat with these Jamaican Beef Patties! Made with whole food ingredients and filled with quinoa, carrots, and chickpeas, you won't even miss the meat. The buttery, curry-infused crust is the perfect finishing touch.
Vegan Chickpea 'Tuna' Melt Sandwich - This sandwich is a healthy and hearty plant-based meal or snack! 100% plant-based, creamy, cheesy, and PERFECTLY toasted. The best part? This is Kid-friendly, Dairy-free, and completely Plant-based +Vegan!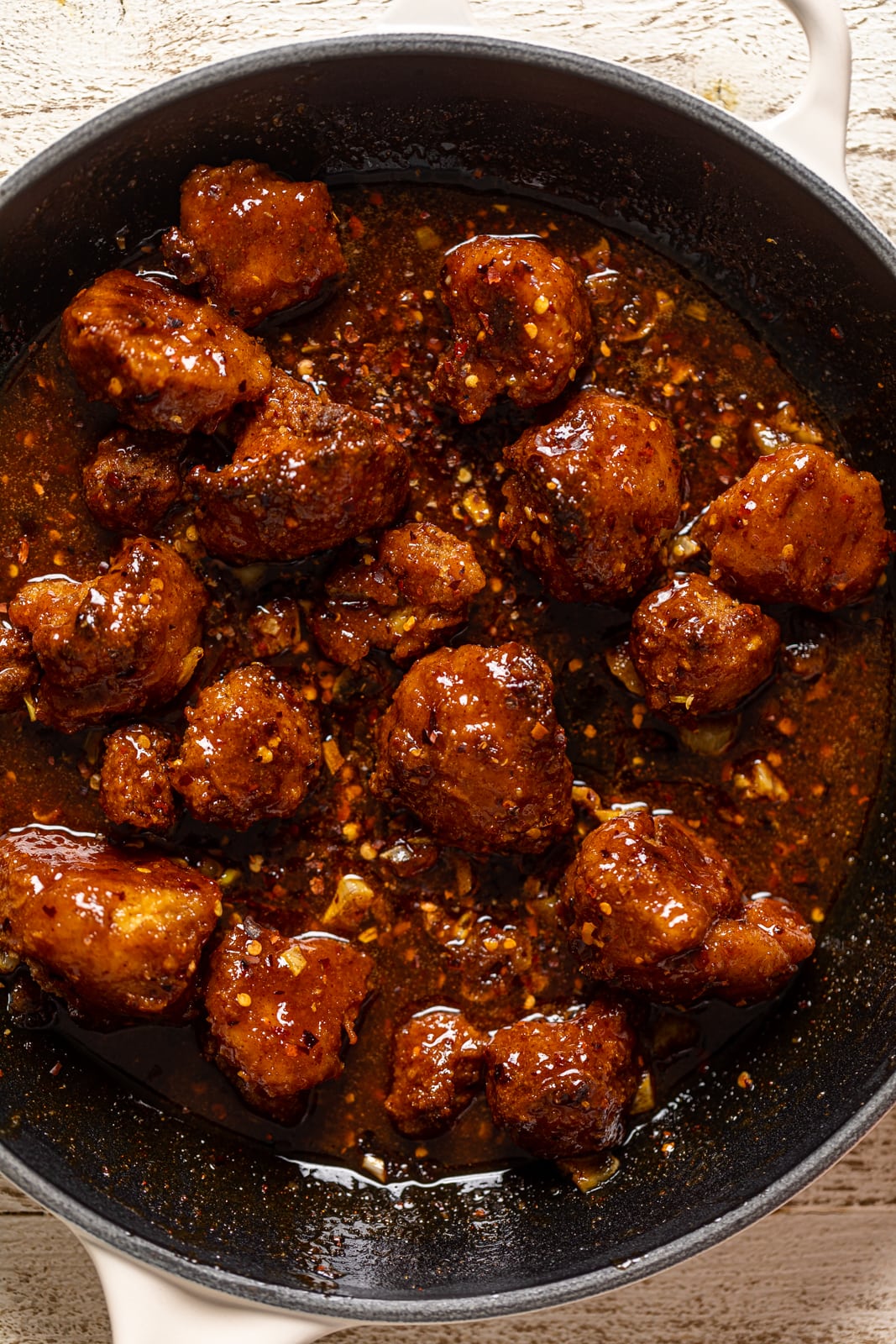 Tricks to The Crispiest Cauliflower Wings
Get your cauliflower wings perfectly crispy every time with these easy tips-
Give each wing enough space on the baking sheet to allow for proper airflow.
Use fresh breadcrumbs and avoid any that are soggy or stale.
Line the baking sheet with parchment paper to prevent sticking and promote even cooking.
Let the wings cool for 5 to 10 minutes before serving to help them set and achieve maximum crispiness.
With these simple tricks, you'll be enjoying perfectly crispy cauliflower wings in no time!
Ingredients
Here's what you need to make these bites:
Cauliflower. Cut the head into evenly-sized medium florets.
Bread crumbs. You can make your own

Seasoned Toasted Panko Bread Crumbs

).

Store-bought panko also works. Or Opt for Gluten-free breadcrumbs!
Flour. I use organic all-purpose from Bob's Red Mill.
Almond milk. Or another plant-based milk (unsweetened).
Hot honey. My favorite is Mike's Hot Honey.
Spices. I use red pepper flakes, garlic powder and smoked paprika.
The Best Hot Honey Sauce
The sticky and sweet sauce that coats your baked cauliflower bites is the star of this dish. Here's what you'll need to make it:
Unsalted butter. You can use vegan butter if you're dairy-free.
Garlic. I recommend fresh!
Raw honey. This is less refined and has a cloudy look compared to pasteurized honey. Or a 'Vegan Honey' alternative.
Spices. The heat in this hot honey sauce comes from cayenne, chili powder, smoked paprika, onion powder, and red pepper flakes.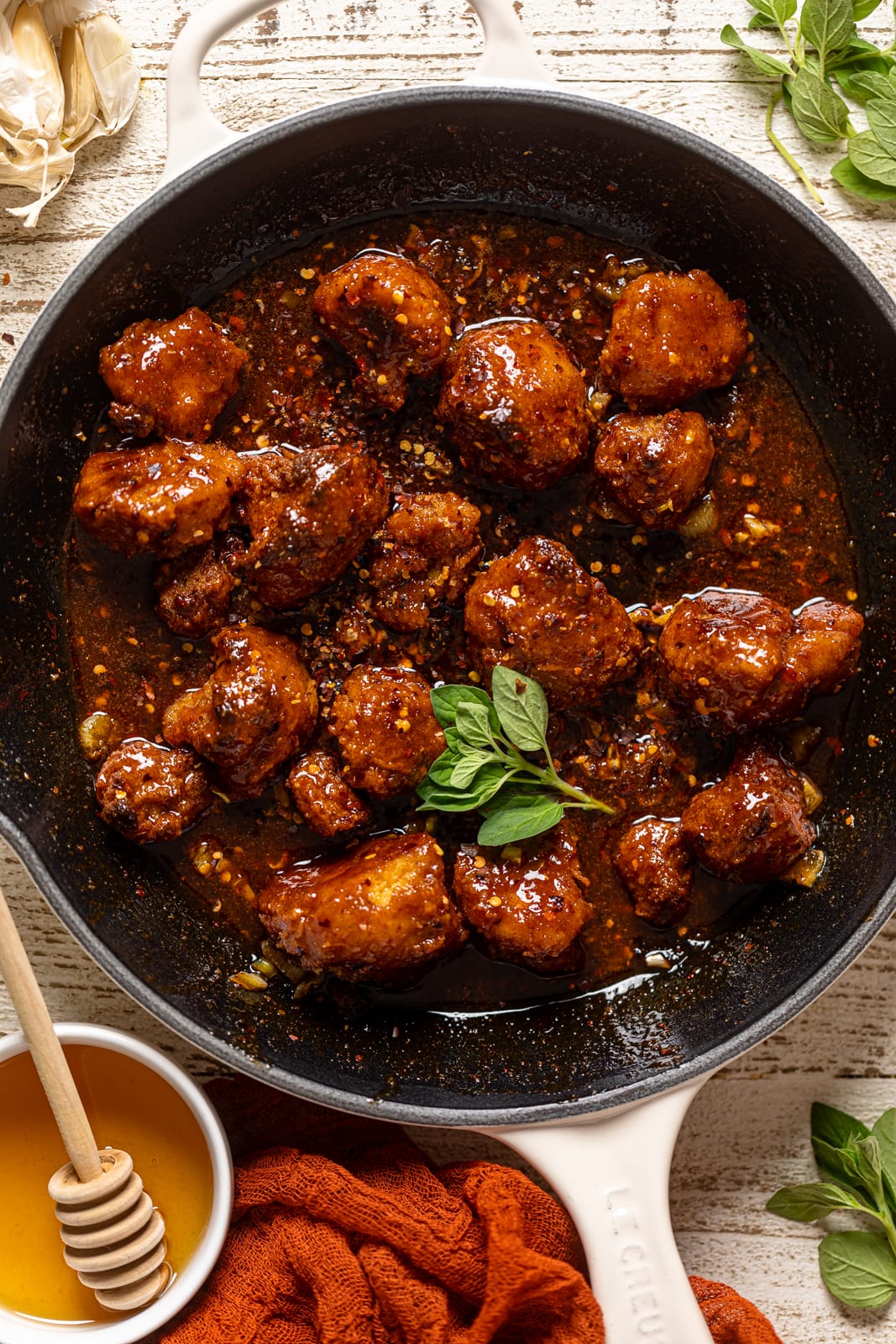 How to Serve Hot Honey Cauliflower
To serve these spicy bites, I recommend enjoying them fresh out of the oven. You can serve them as a vegetarian appetizer with forks and napkins. They're delicious with a side of ranch dressing.
Or turn the bites into a savory and saucy salad topper! You can also incorporate the cauliflower into pasta, top homemade pizza, or make a vegetarian grain bowl with cauliflower! It's seriously so versatile and delicious.
How Long to Bake Cauliflower Bites
The baking time will vary depending on your oven. Check the wings after 20 minutes, to make sure they're nice and crunchy but not burning. If necessary, pop the wings under the broiler for 5 to 10 minutes for an extra crispy crust. Or if you happen to have an air fryer that will work too!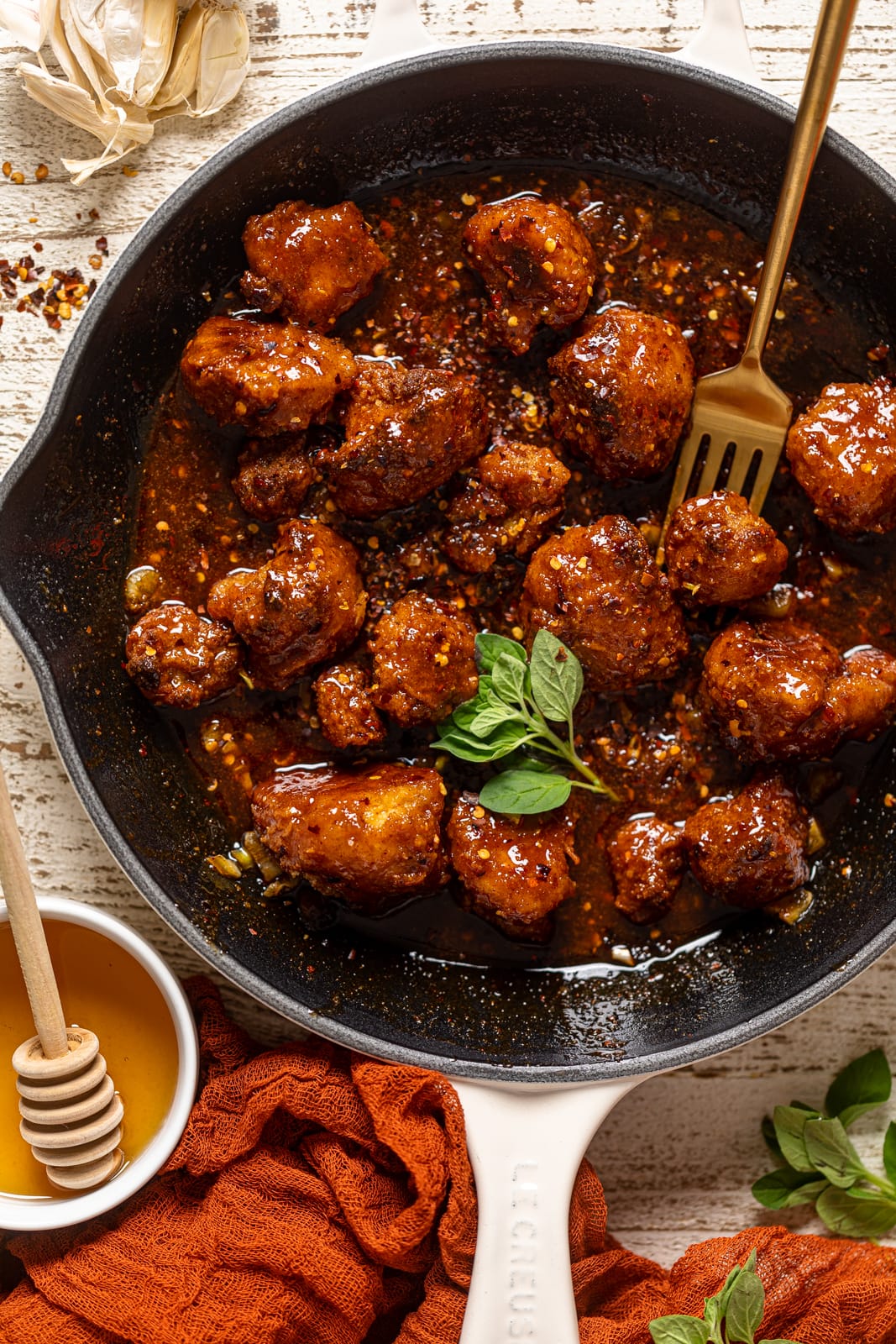 Hot Honey Cauliflower Q+A's
How To Make Gluten-free Southern Hot Honey Cauliflower Bites?
My gluten-sensitive friends don't worry, I've got you! You can either buy gluten-free breadcrumbs or make your own gluten-free breadcrumbs with your fav GF bread of choice! It's that easy, then you've got yourself a fully vegetarian & gluten-free dish to suit everyone's dietary needs!
Is It Possible To Make VEGAN Hot Honey?
Yup! For my vegan pals that want to avoid honey, there are a lot of vegan honey alternatives available nowadays or you can always make your own 'hot honey' with maple or agave syrup instead!
Is Cauliflower good for us?
Cauliflower is a nutrient-rich vegetable that offers tonnes of health benefits which is one of the reasons I LOVE creating recipes with it!
It's high in vitamin C, fiber, and potassium!
Contains antioxidants that can help protect against cell damage and reduce the risk of chronic diseases.
Supports immune function!
Incorporating cauliflower into your diet is a great way to boost your nutrient intake and promote overall health and well-being, and what better way drizzled in a sweet and spicy hot honey?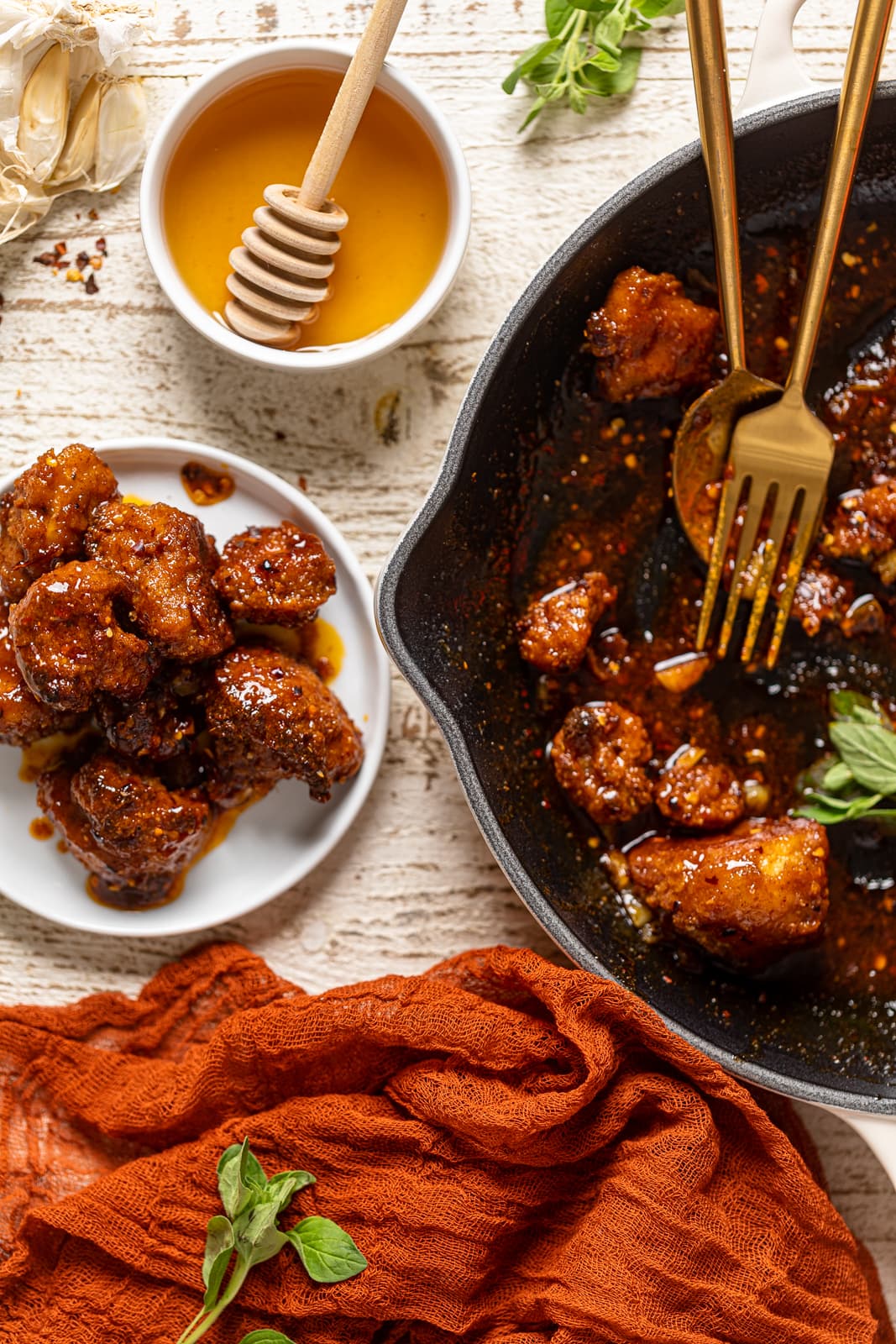 More Mouthwatering Cauliflower Recipes
MADE OUR RECIPE(S)?
If you make these Hot Honey Cauliflower Bites, tag @orchidsnsweettea_ on Instagram and hashtag it #orchidsandsweettea
CAULIFLOWER BITES:
1

head of

Cauliflower, chopped in medium chunks

3

cups

bread crumbs 

(You can make your own Seasoned Toasted Panko Bread Crumbs)

¾

cup

organic all-purpose flour

1

cup

Almond milk

¼

cup

hot honey

(I love Mike's Hot Honey!)

1

tablespoon

red pepper flakes

1

teaspoon

garlic powder

½

teaspoon

sea salt + black pepper, each

1

teaspoon

smoked paprika
HOT HONEY SAUCE:
6

Tbsps

unsalted butter

4

garlic cloves, minced

¼

cup

raw honey

1

teaspoon

cayenne pepper

1

teaspoon

chili powder

1

teaspoon

smoked paprika

½

teaspoon

onion powder

1

teaspoon

red pepper flakes
TO MAKE THE CAULIFLOWER BITES:
Preheat your oven to 450 degrees Fahrenheit and line your baking sheet with parchment paper. NOTE: Doing this step is a MUST to prevent sticking.

In a medium bowl, add the milk, flour, hot honey, garlic powder, salt, black pepper, smoked paprika, and red pepper flakes, and whisk together until fully combined. Set aside.

In a separate bowl, add bread crumbs and set aside also. 

Now, dip each cauliflower into batter (shaking off any excess) and then toss into bread crumbs. Then lay each cauliflower side by side on the baking sheet (about an inch apart). Repeat until all cauliflower are coated.

Bake for 30-35 minutes or until golden brown and "crunchy" looking. NOTE: If not crispy enough, turn on broil and bake for another 5-10 minutes.
TO MAKE THE HOT HONEY SAUCE:
Place all ingredients in a medium saucepan over medium-high heat and whisk together until it begins to boil. Reduce heat to low-medium and let everything simmer for about 15 minutes or so, stirring occasionally. Once thickened enough to desired consistency, remove from heat and let cool.

Once cauliflowers are crisp, remove from oven and toss them in the sauce until fully coated. Add coated cauliflower back to baking sheet and place them back in the oven (turning oven on broil) for about 5-6 minutes.

To serve, add cauliflower bites to a salad, tacos, atop pasta, as a topping on pizza, with quinoa or rice, or by themselves with Vegan Ranch dipping sauce.

Bon Appetit!
STORAGE: Best if consumed within the same day. Store leftovers in a tightly sealed container in the refrigerator for up to 2 days. Reheat in oven when ready to serve.
Calories:
714
kcal
|
Carbohydrates:
115
g
|
Protein:
15
g
|
Fat:
23
g
|
Saturated Fat:
12
g
|
Polyunsaturated Fat:
3
g
|
Monounsaturated Fat:
6
g
|
Trans Fat:
1
g
|
Cholesterol:
45
mg
|
Sodium:
1021
mg
|
Potassium:
327
mg
|
Fiber:
6
g
|
Sugar:
40
g
|
Vitamin A:
2116
IU
|
Vitamin C:
2
mg
|
Calcium:
254
mg
|
Iron:
6
mg