When it comes to pizza, I'm a TRUE die hard fan and there is nothing like the family-oriented Mama + Papa pizza shops here in Brooklyn! I wanted to keep the same momentum going with flavor (while still incorporating a gluten-free friendliness option) and I came up with this delicious Chickpea + Veggie Gluten-Free Pesto Pizza.
Sponsored Post: This post is sponsored by Bob's Red Mill but the content and opinions expressed are all based on my genuine love for this brand and are my own. Thanks so much for supporting the brands I love.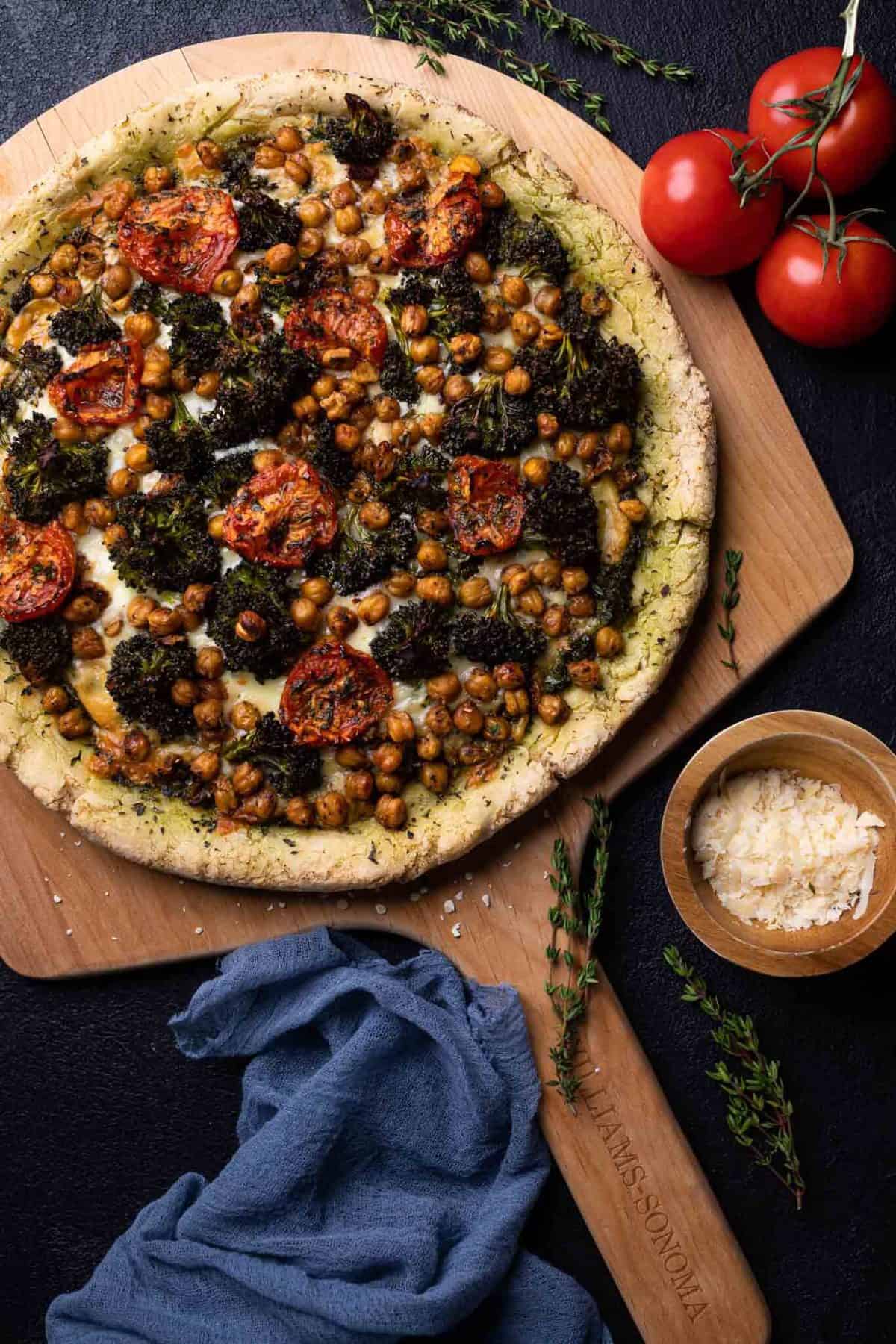 Pizza, Pizza, Read all about it!
Pizza in my household is a deep kind of love. My husband loves authentic Brooklyn-styled (he's from Brooklyn) or Dominos pizza (which is fine if it's made perfectly and that's not always the case) and as a Southerner, I'm used to delicious deep dish pizzas from Pizza Hut.
Personally, I'm a HUGE BELIEVER in flavor and if you've been following Orchids + Sweet Tea for awhile, then you're probably already aware of this. However, I don't know------ I just love a truly thin slice of Brooklyn Pizza with the thin, crispy crust and perfectly melted cheese.
What You'll Love Most About This Gluten-Free Pizza?
Like with any pizza that I joyfully indulge in, this chickpea and veggie gluten-free pizza is loaded with fresh + savory flavors, has no rising time required for crust, absolutely knead-free, hearty + comforting, MEGA flavorful, super easy to make and is the perfect fun, family dinner-making activity. But most of all----PERFECTION in EVERY. SINGLE. BITE.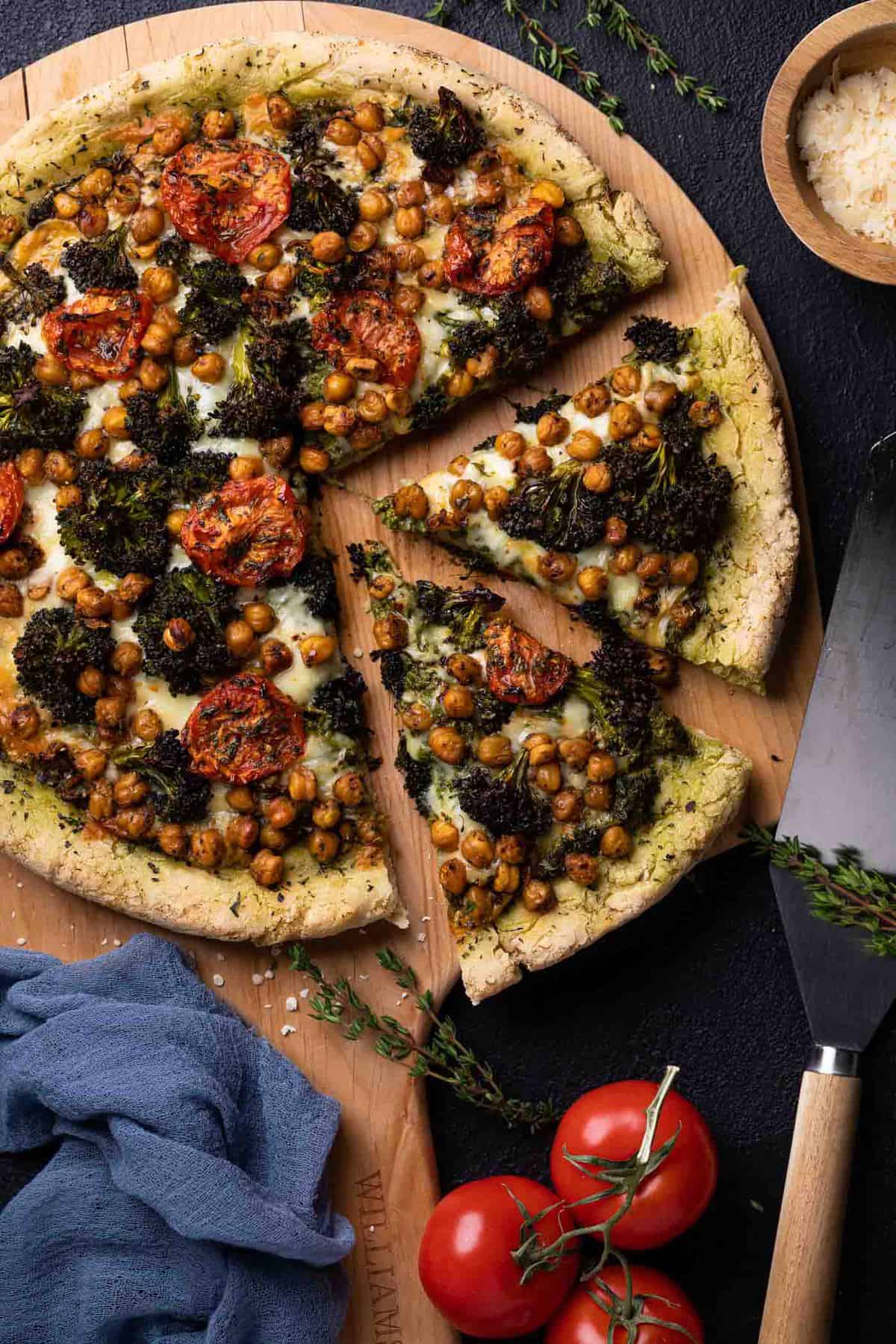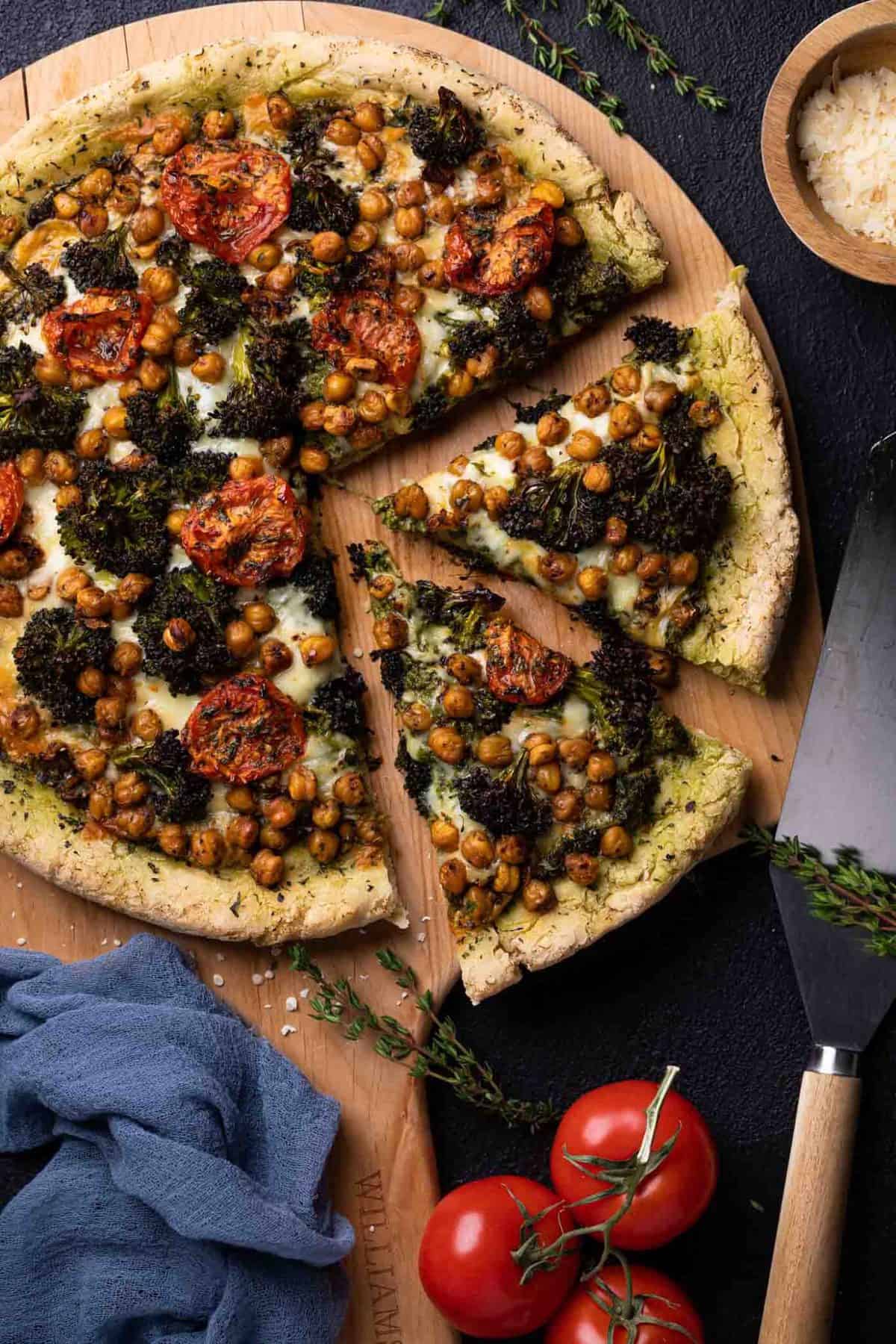 While I do love to enjoy a slice or two on occasion, my main foods include dairy-free and sometimes gluten-free options. If you haven't taken a look around my site, I definitely recommend tapping on my recipe index and testing out the other great vegan and gluten-free options that I have.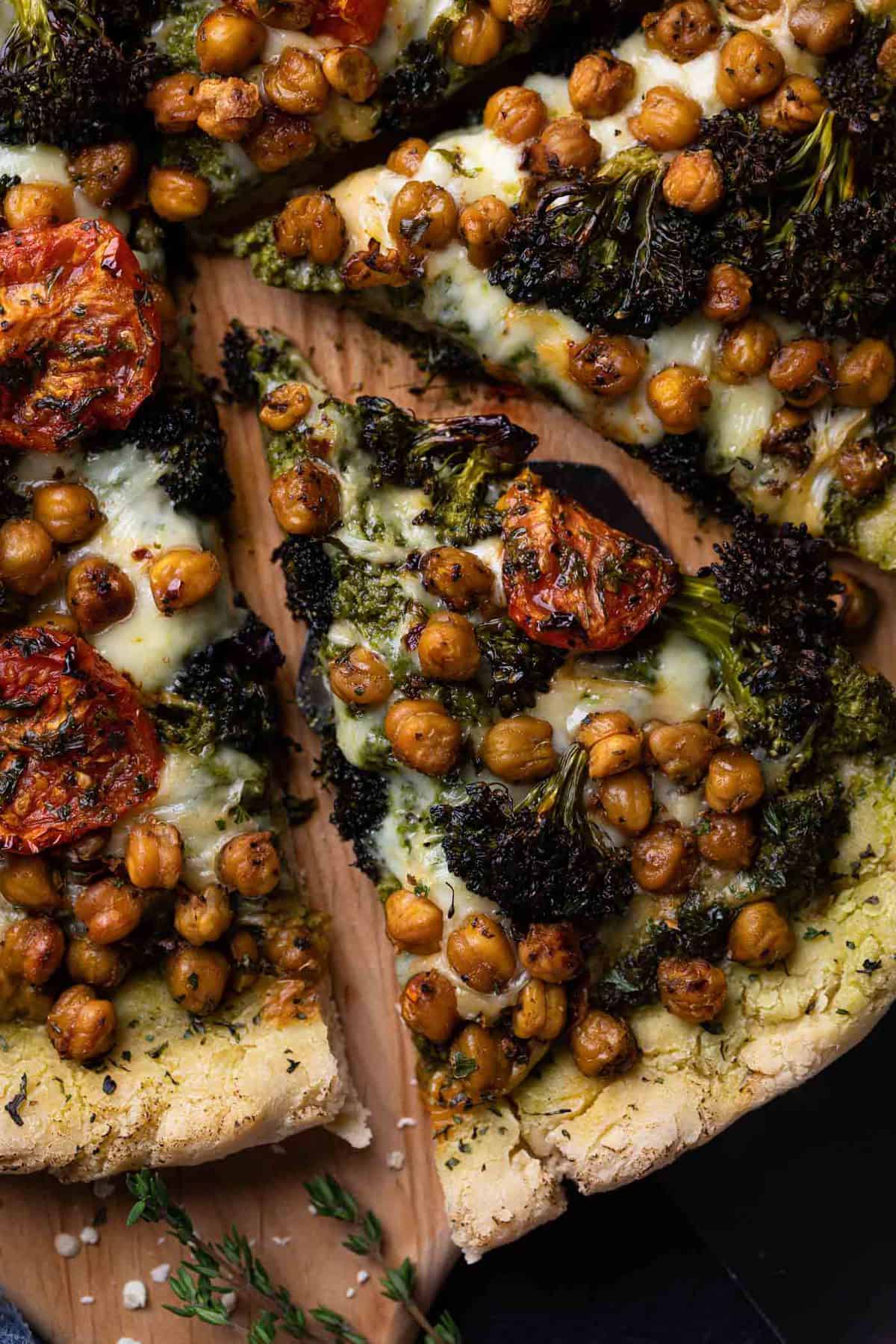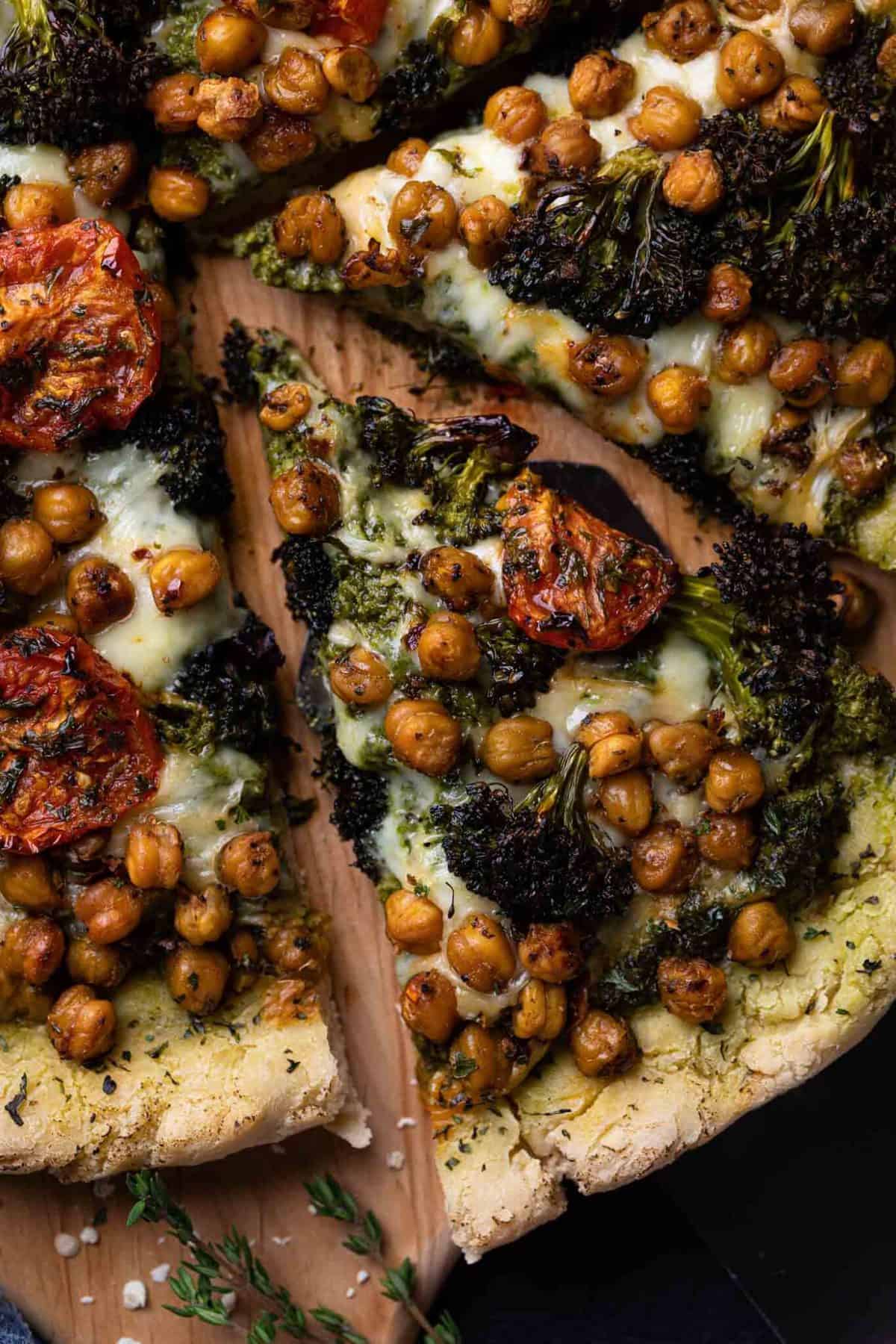 Easy Pesto Sauce and Nut-Free
Traditionally, pesto contains nuts much like this recipe. However, you can substitute the walnuts in this recipe with sunflower seeds or pumpkin seeds for a nut-free version.
When it comes to homemade pizza, I enjoy re-creating the sauce base with other ingredients besides traditional pizza sauce which helps to create a fresh, new and tasty way of sprucing things up with your pizza.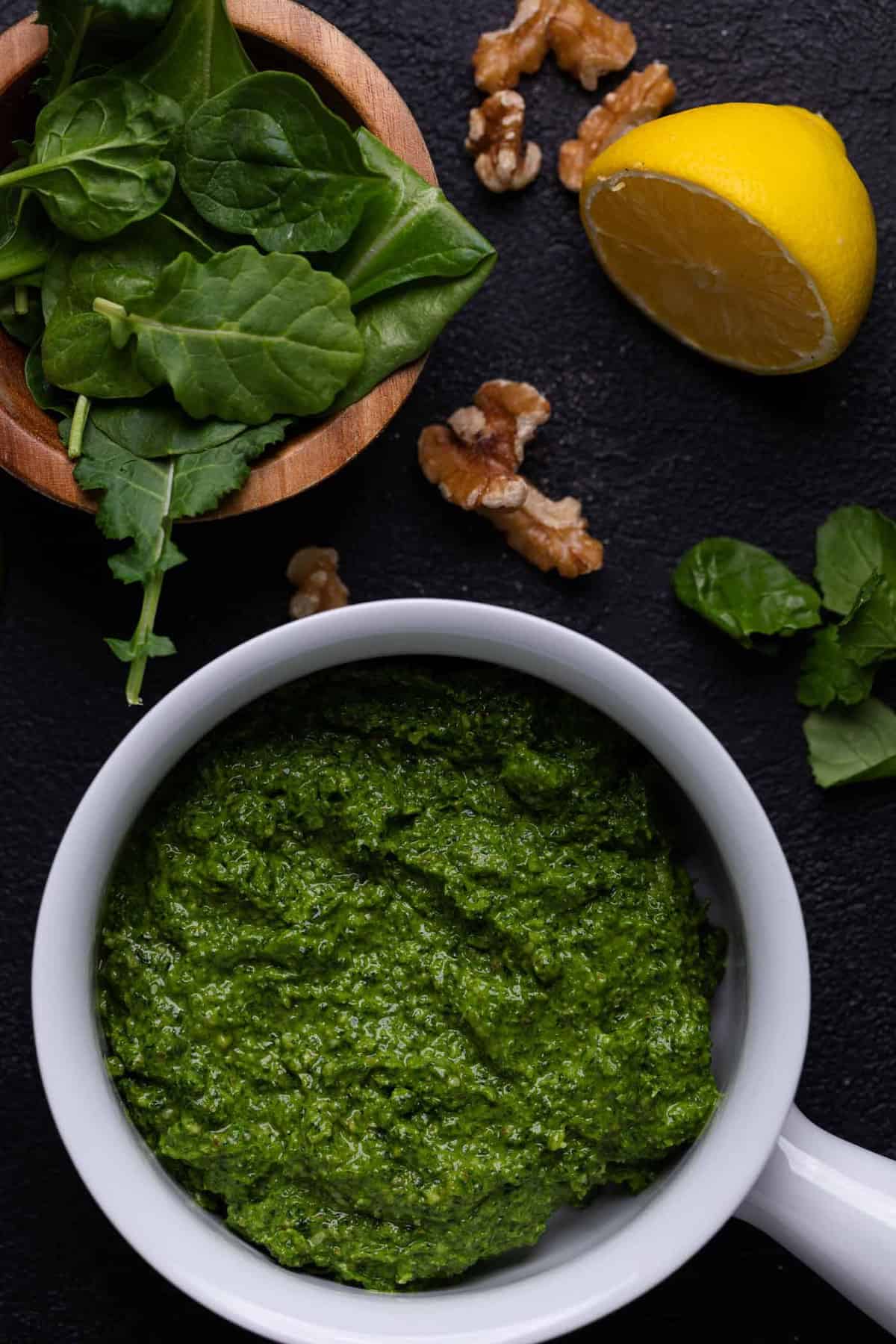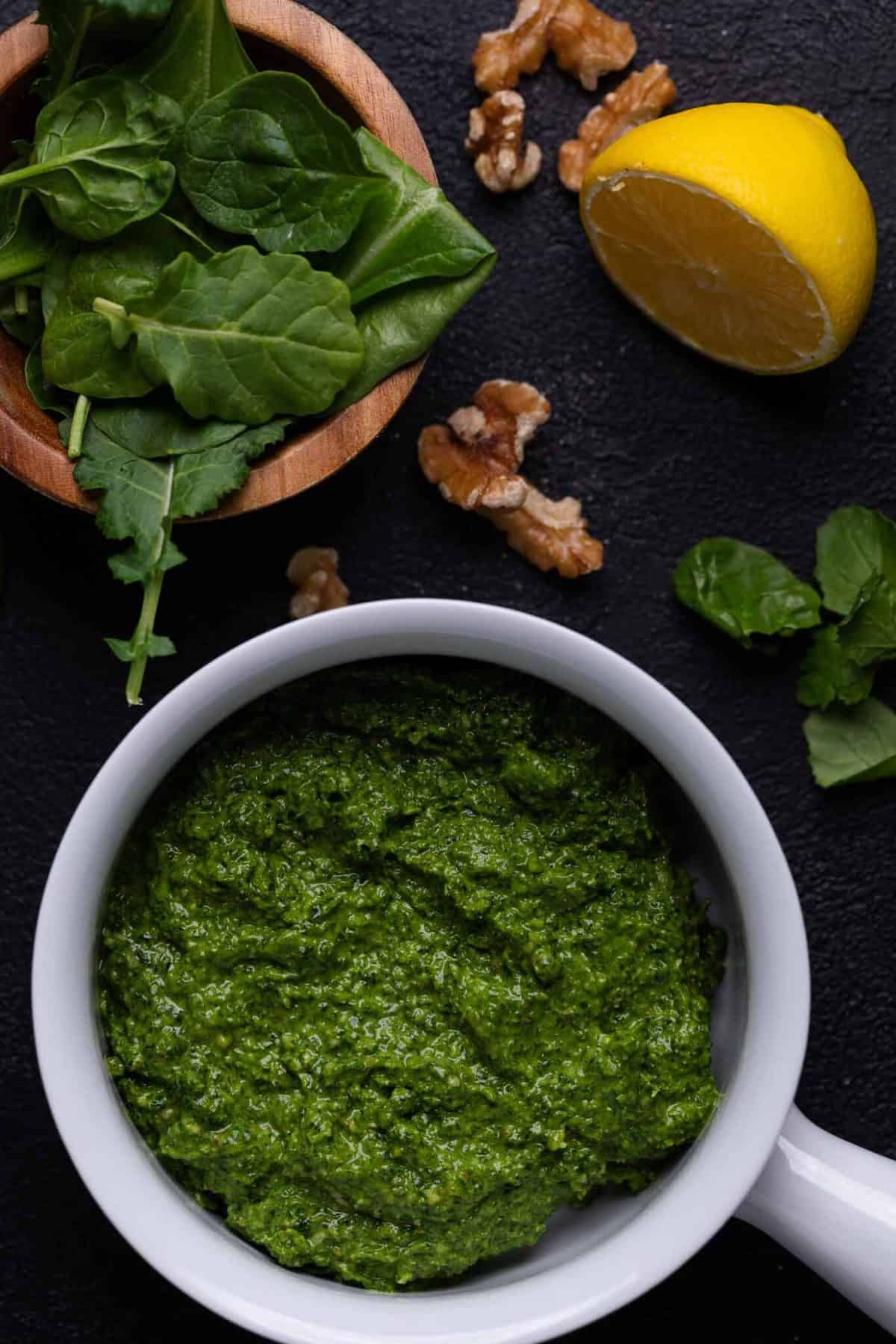 Ingredients Needed for this Pesto Sauce
1 cup organic spinach (You can sub w/ kale or arugula)
1 cup basil leaves
1 cup walnuts
¼ cup Extra virgin olive oil
1 tsp juice of a lemon
6 garlic cloves
¼ cup grated parmesan cheese
1 tsp sea salt + black pepper
1 tsp red pepper flakes
½ tsp smoked paprika (optional)
1 teaspoon dried parsley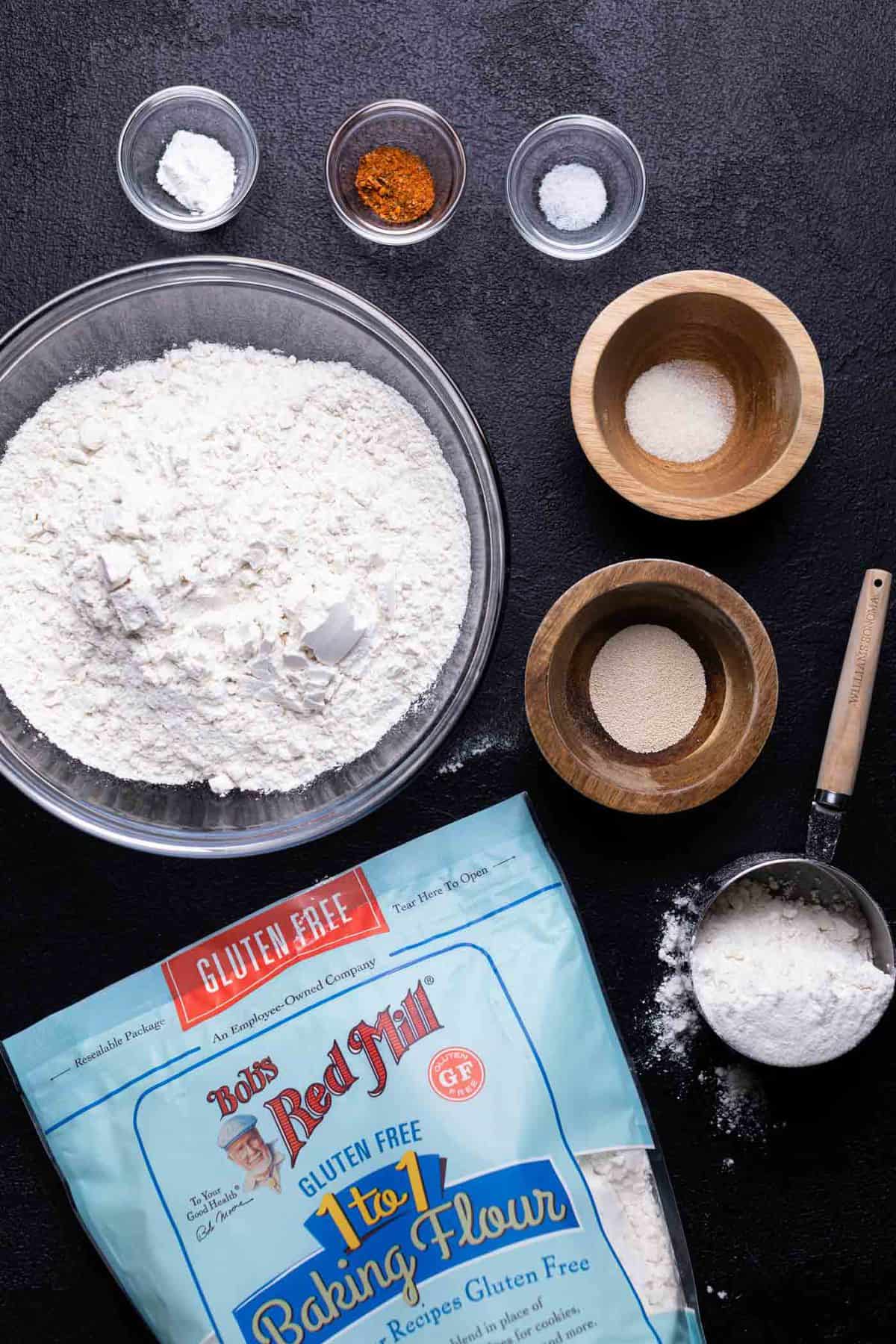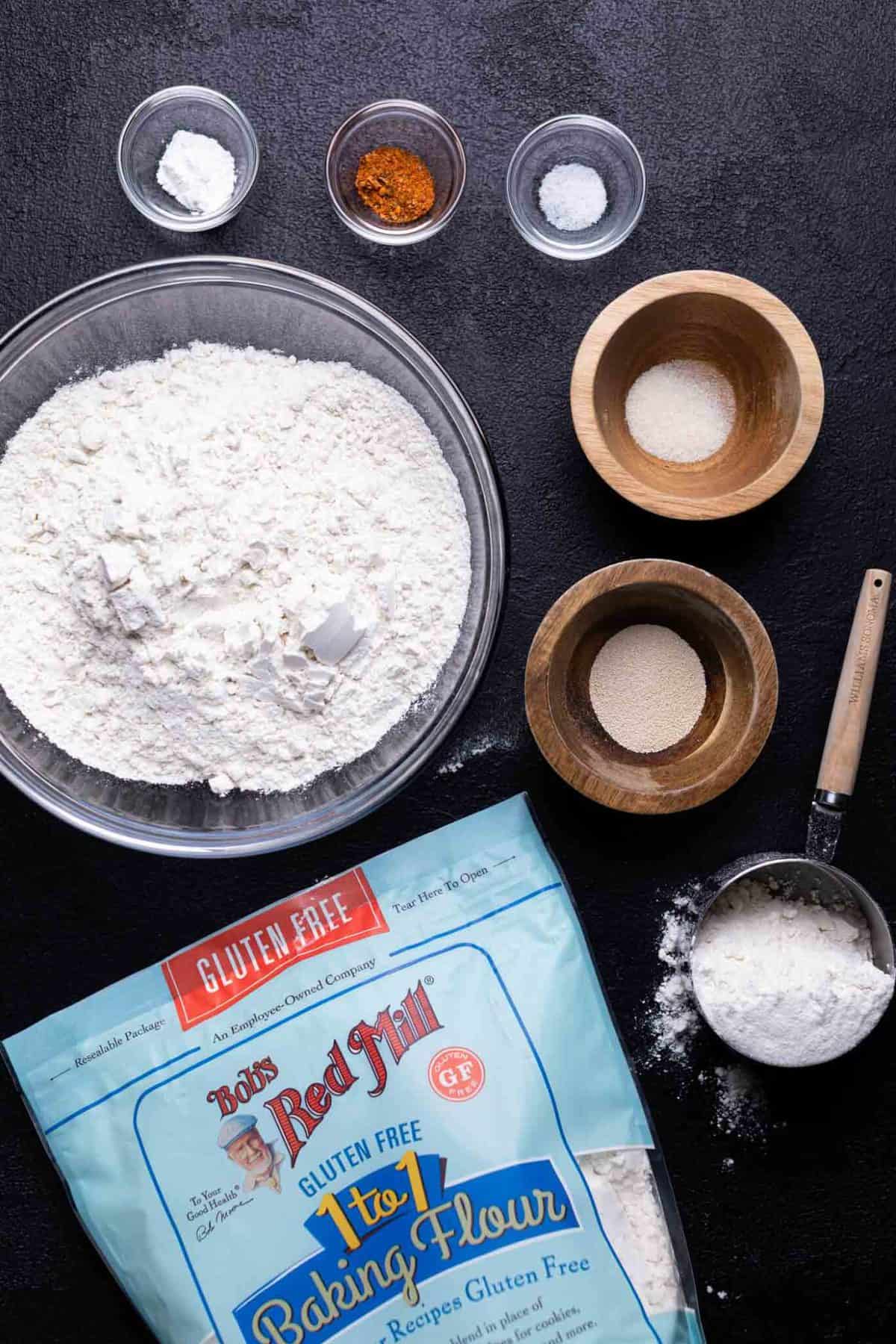 How to Make an Easy Gluten-Free Pizza Crust
This Gluten-Free pizza crust literally only requires six ingredients, one of which is optional----the cajun seasoning. To make this crust, you simply need:
1 cup warm water
2 tsps active dry yeast
4 cups Bob's Red Mill Gluten-Free 1-to-1 Baking Flour
1 teaspoon sea salt
1 teaspoon baking powder
1 teaspoon cajun seasoning (optional; for extra flavor)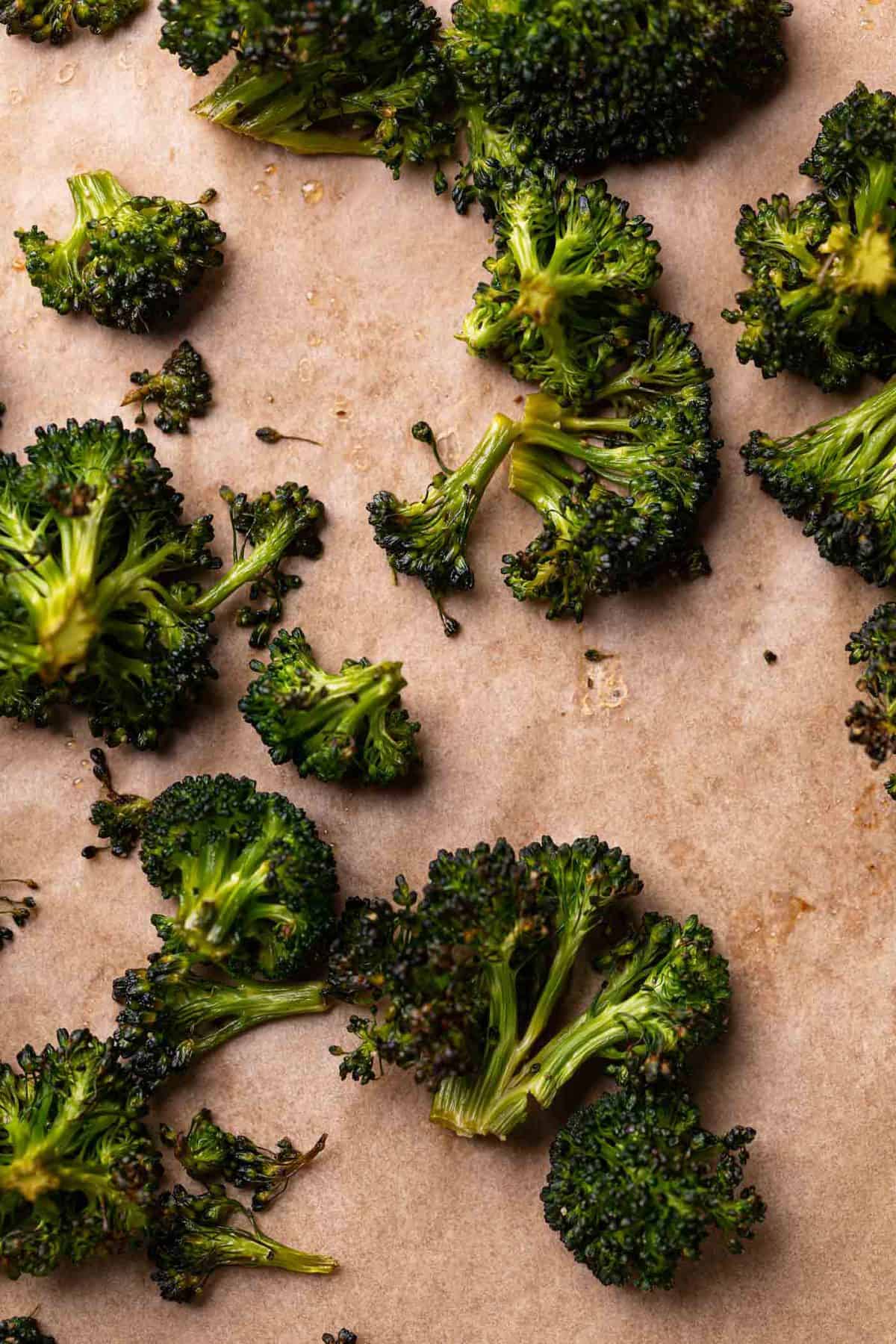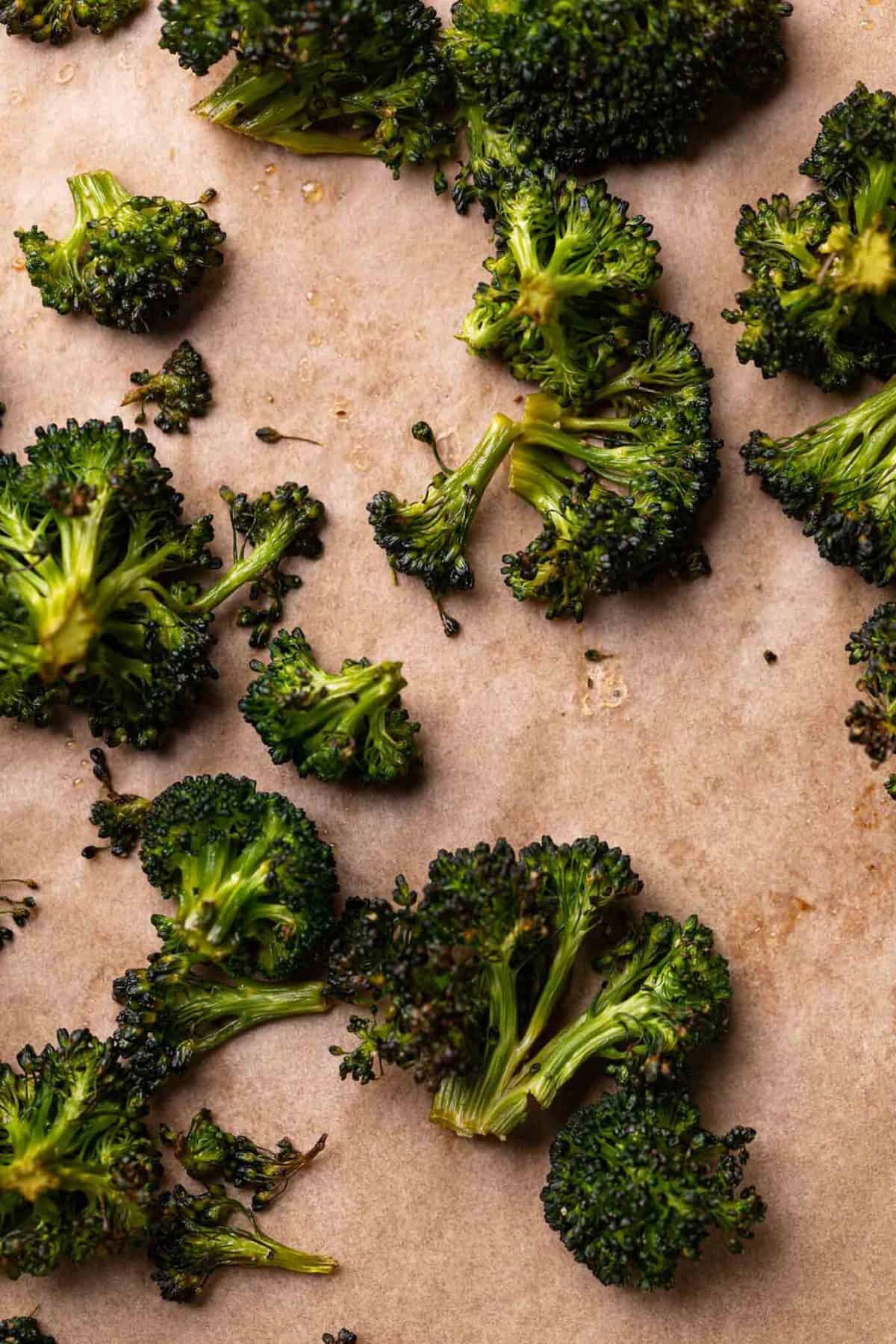 Benefits of Roasting your Veggies
In case you weren't aware of this fact----raw veggies aren't necessarily the most nutritious. In fact, they are pretty tough on our digestive systems, which is why the way that we prepare our veggies for eating is important.
While there are studies that show that specific veggies might lose their nutrients when at high temps, there are other studies that show that others (like tomatoes---technically a fruit) do best when roasted or even sautéed at high temps. To dig deeper, some veggies are able to go through high temps of cooking where their cell walls are broke down and we have greater access to their nutrients and benefits.
Oddly enough, before knowing this, I often enjoyed my veggies roasted because I find that the flavor profile is greatly enhanced when dressed with a bit of extra virgin olive oil and then seasoned to perfection. However, knowing what I know now, I love roasting my veggies that much more.
Just be sure to check out the list of veggies that do best with roasting versus not.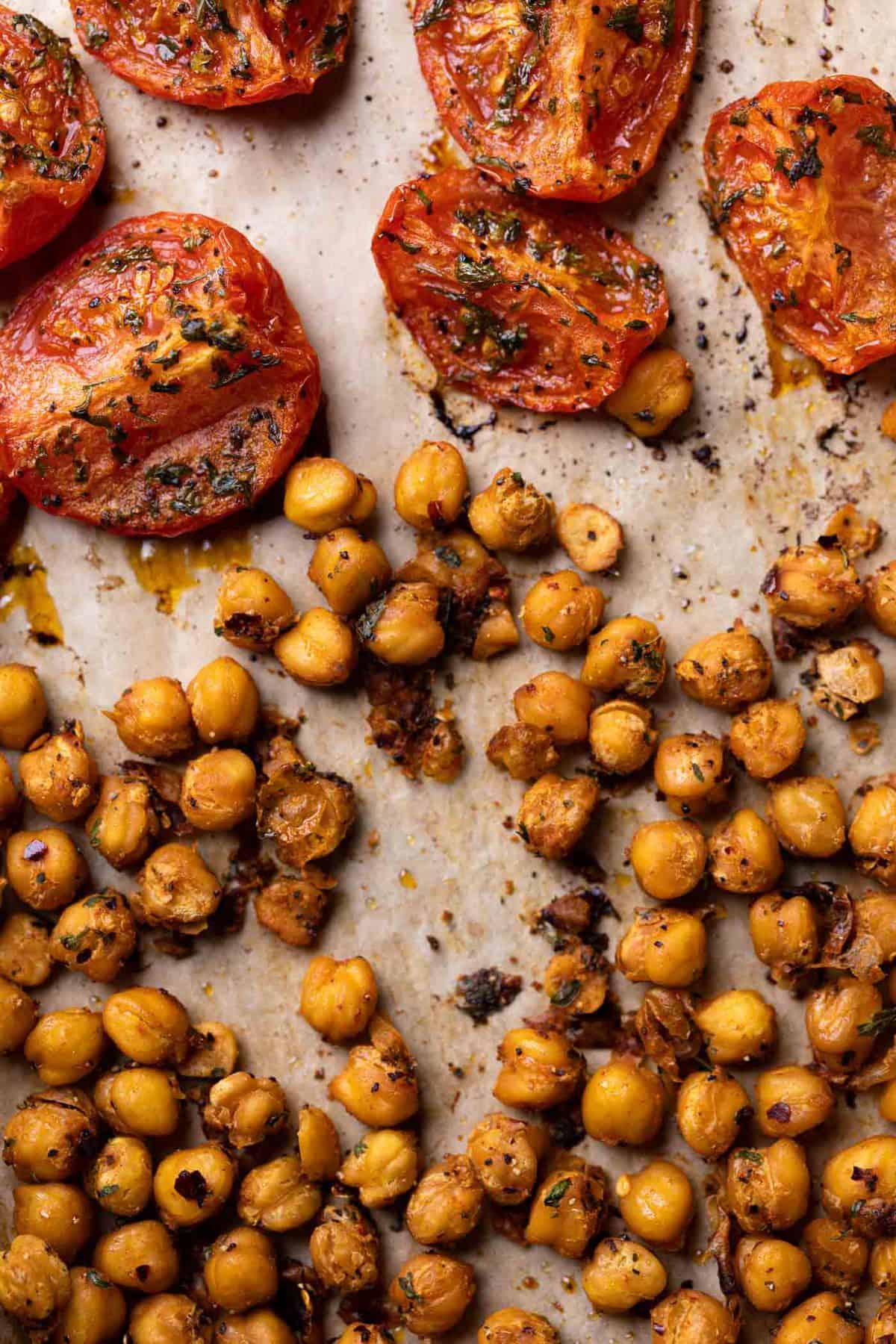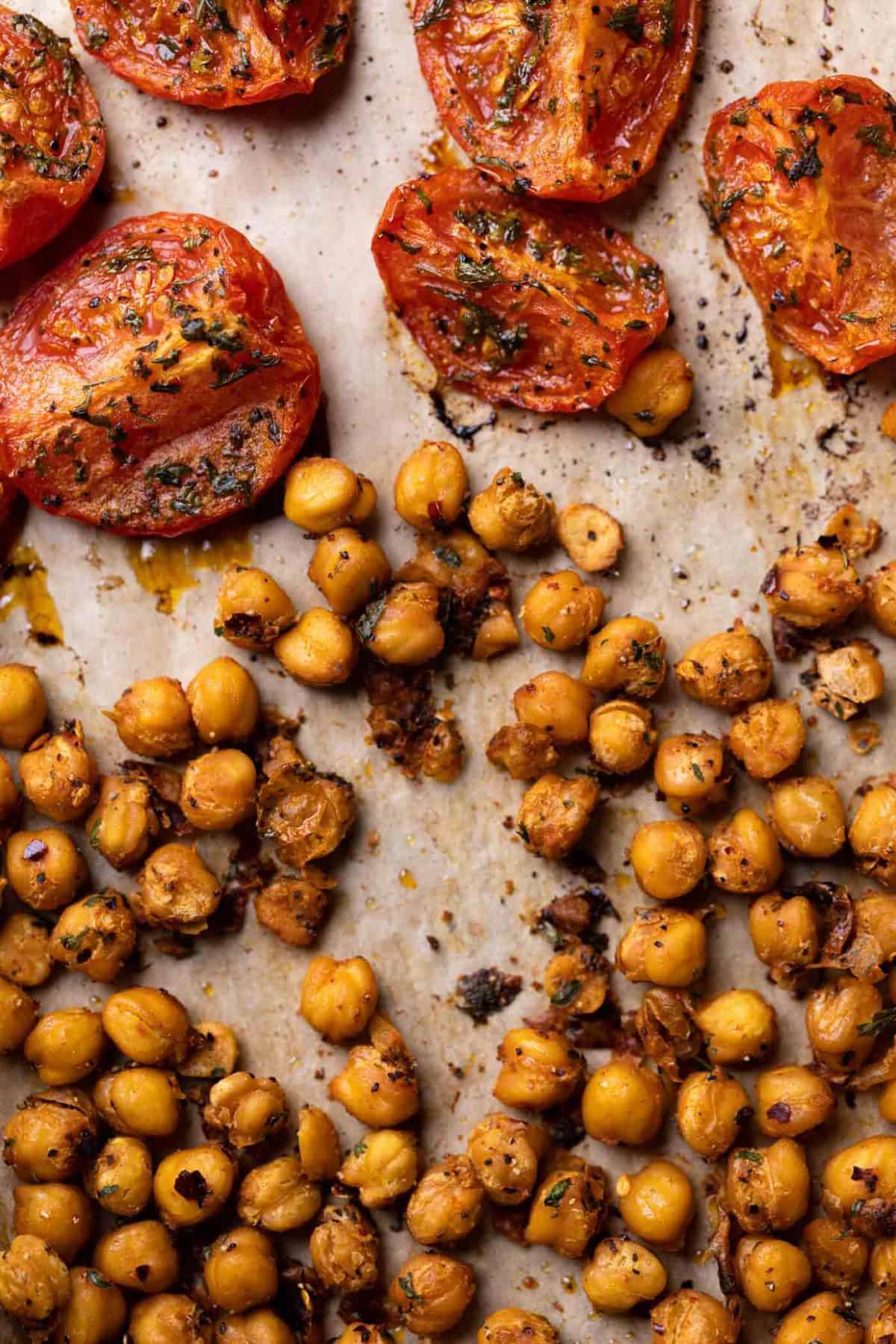 Other Cooking Methods for your Veggies.
As mentioned before, if you chose not to roast your veggies, just know that there are other ways that work just as great in most cases. I definitely recommend steaming your veggies for a nicely crisp and soft texture and sautéing them as an alternative option, which personally creates a balanced texture and flavor profile as a middle ground for roasting and steaming.
In addition, you can always microwave your veggies for a quick and hands-free option which also preserves as much nutrients as needed. Lastly, you always have the option of 'griddling' which is where you cook your veggies in a pan with raised ridges that is done over the stove top or oven.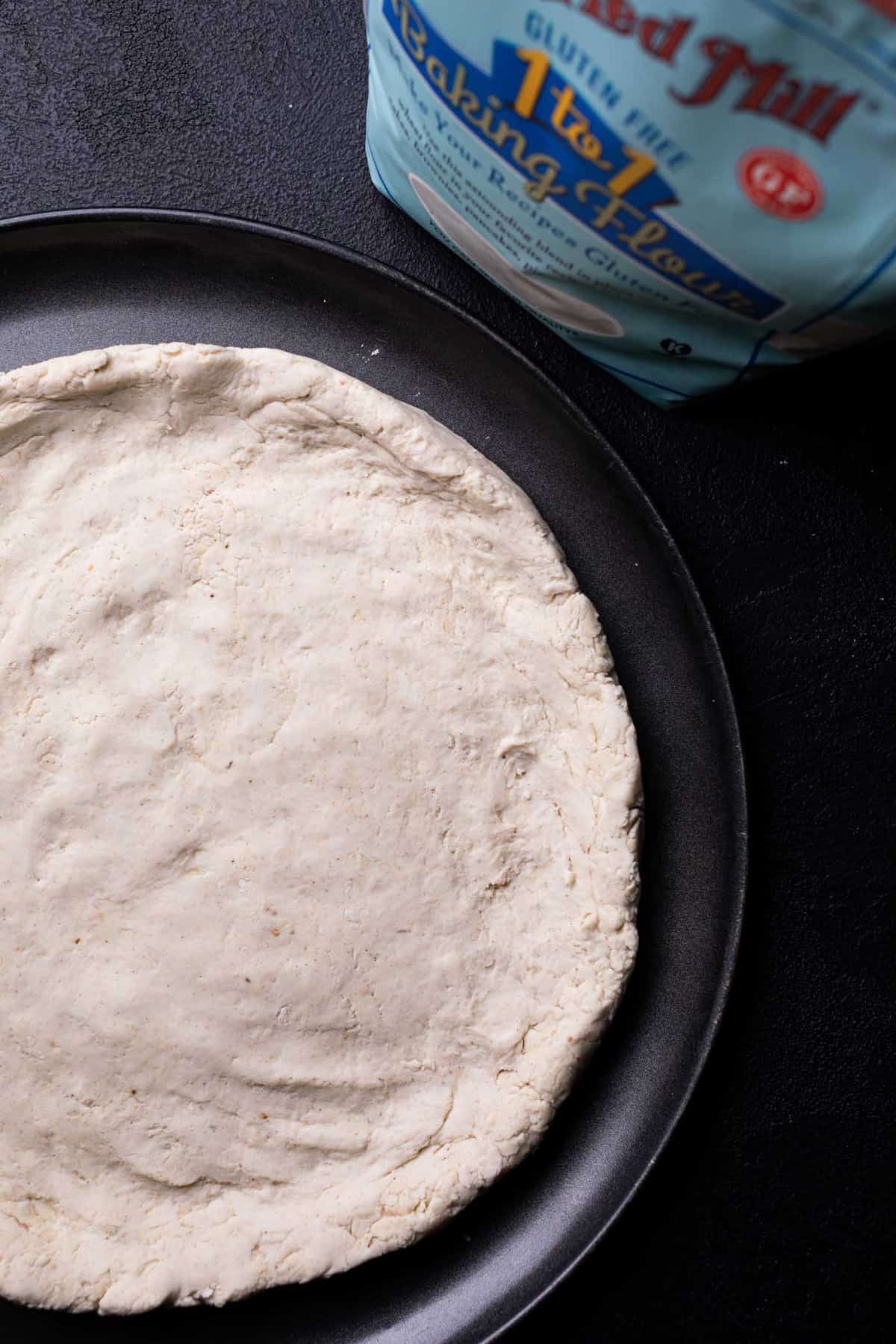 Just as an FYI, this recipe is definitely "filling". You may only need 2-3 slices per person and leftovers are easy to store. It made for a great leftover the next day after reheating it in the oven so that it warmed evenly. My little guy loved this pizza and if you've been following my blog, you'll know that he's pretty picky when it comes to eating!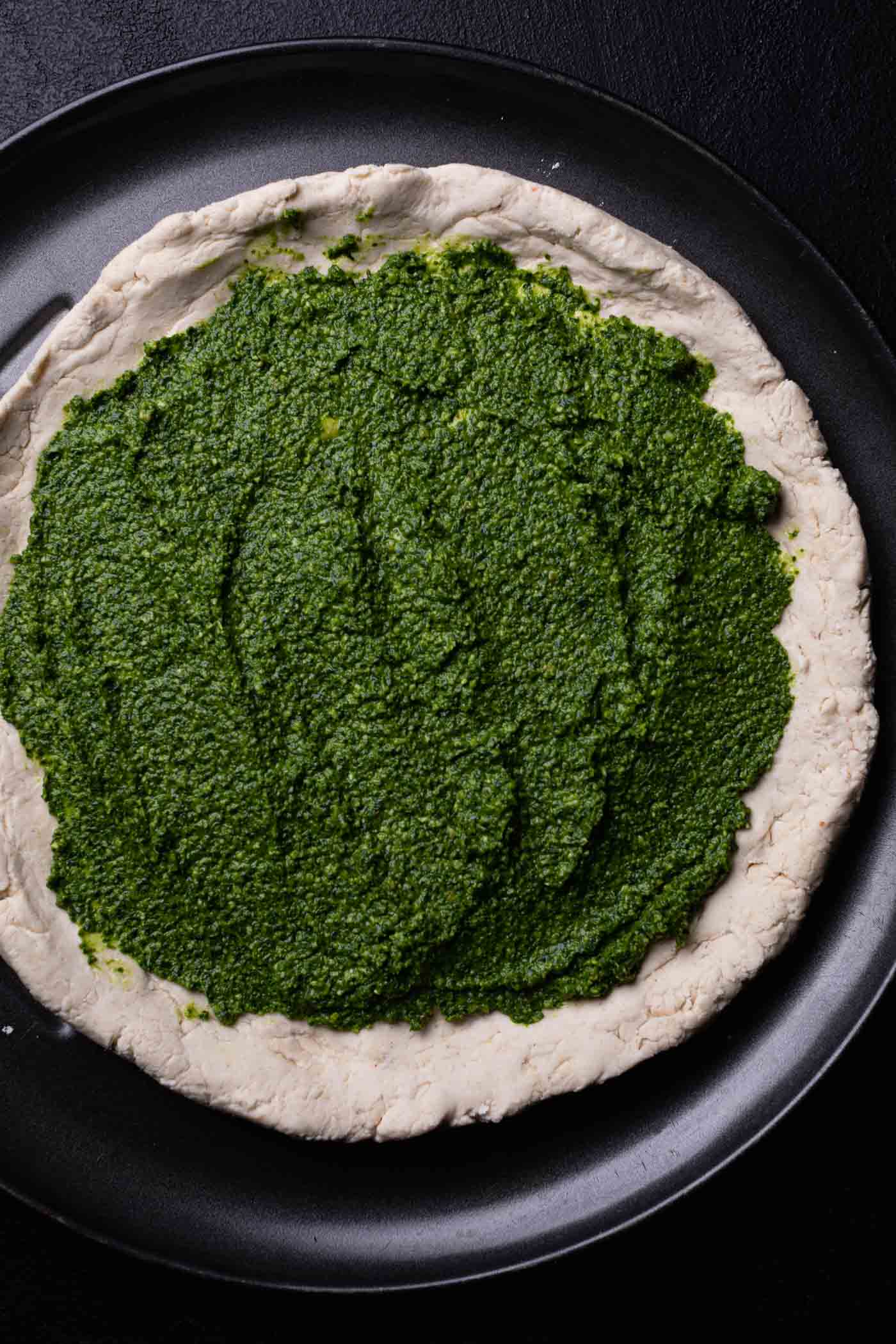 I'm currently learning more and more about Gluten-Free ingredients and am happy to share and educate you as I go along. To be honest, I didn't know that I was intolerable to Gluten (to a degree) until I started seeing patterns that indicated such right after having my son.
However, since I began being intentional about minimizing gluten in my diet on a daily basis, I've noticed some pretty positive changes. Plus, there are so many great gluten-free options available in your local stores these days that definitely make eating a gluten-free diet so much easier than a few years ago.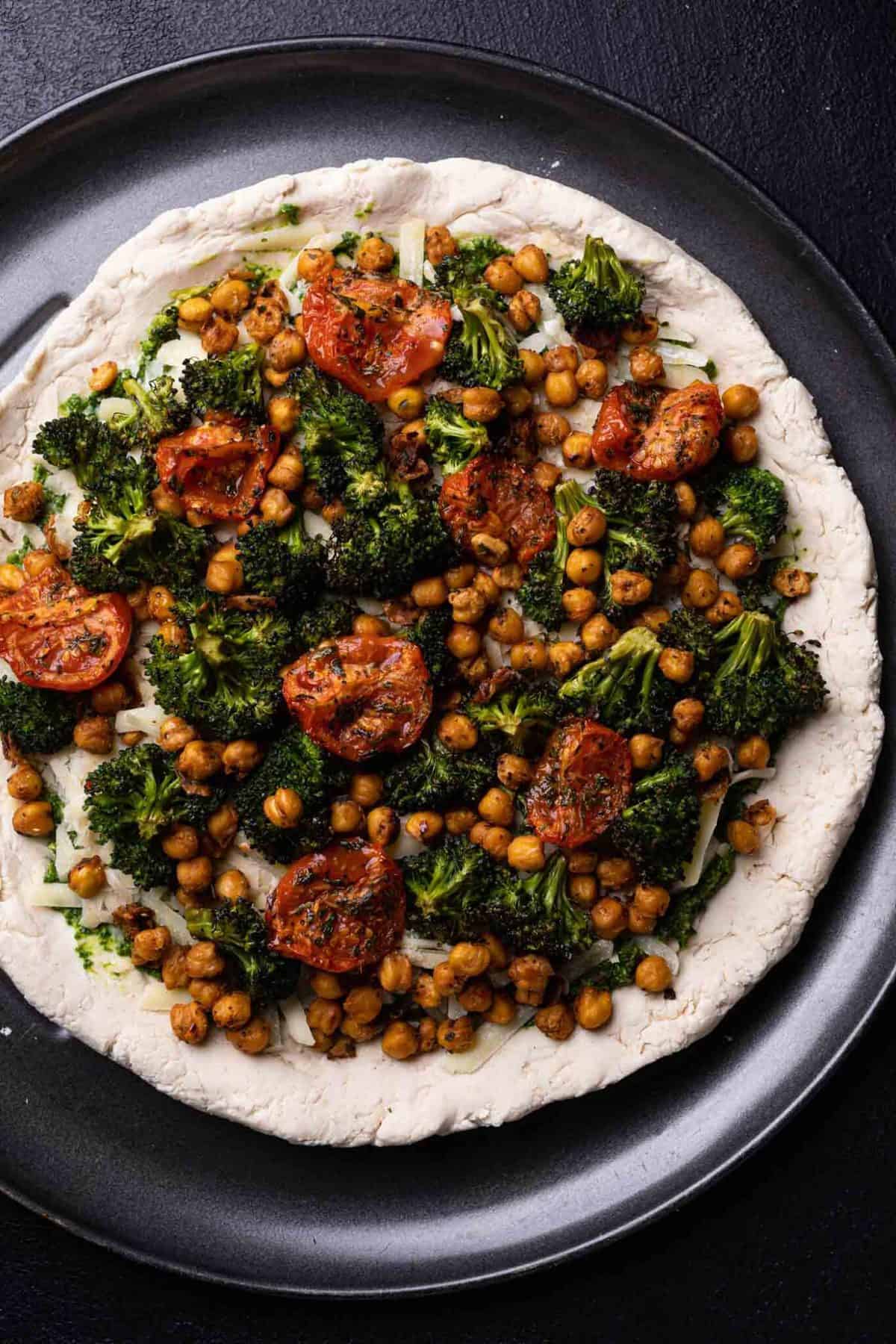 What is Gluten Anyway?
In simple terms, gluten is a type of protein found in wheat, rye, and barley. You see it most often in cereals, breads, and grains. Gluten is great for keeping the elasticity in food intact while it is fermenting. Some companies also use gluten because it allows food products top stick together and become more chewy.

As a Rule of Thumb---these grains and starches Contain Gluten:
Wheat
Wheat germ
Rye
Barley
Bulgur
Couscous
Farina
Graham flour
Kamut Matzo
Semolina
Spelt
Triticale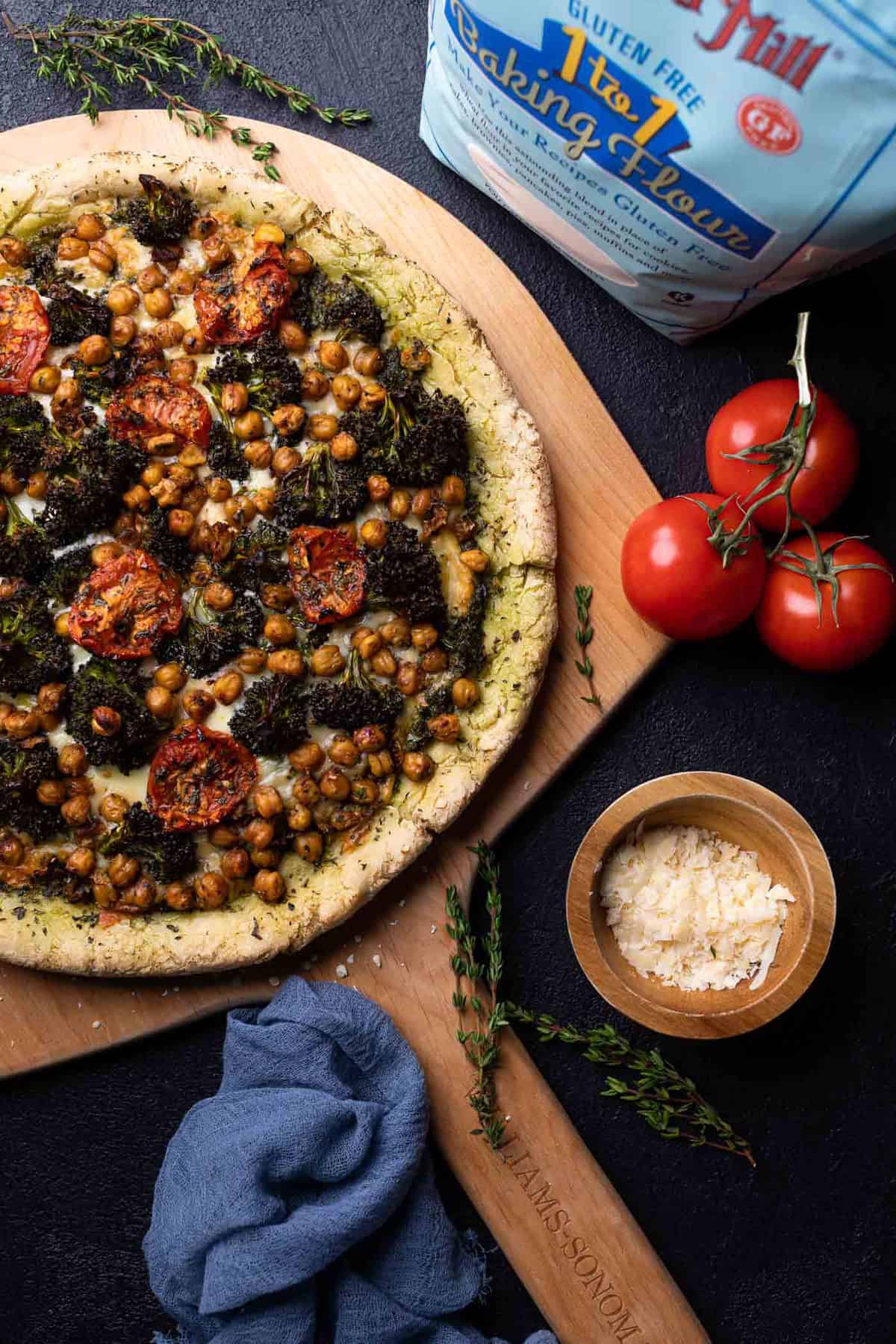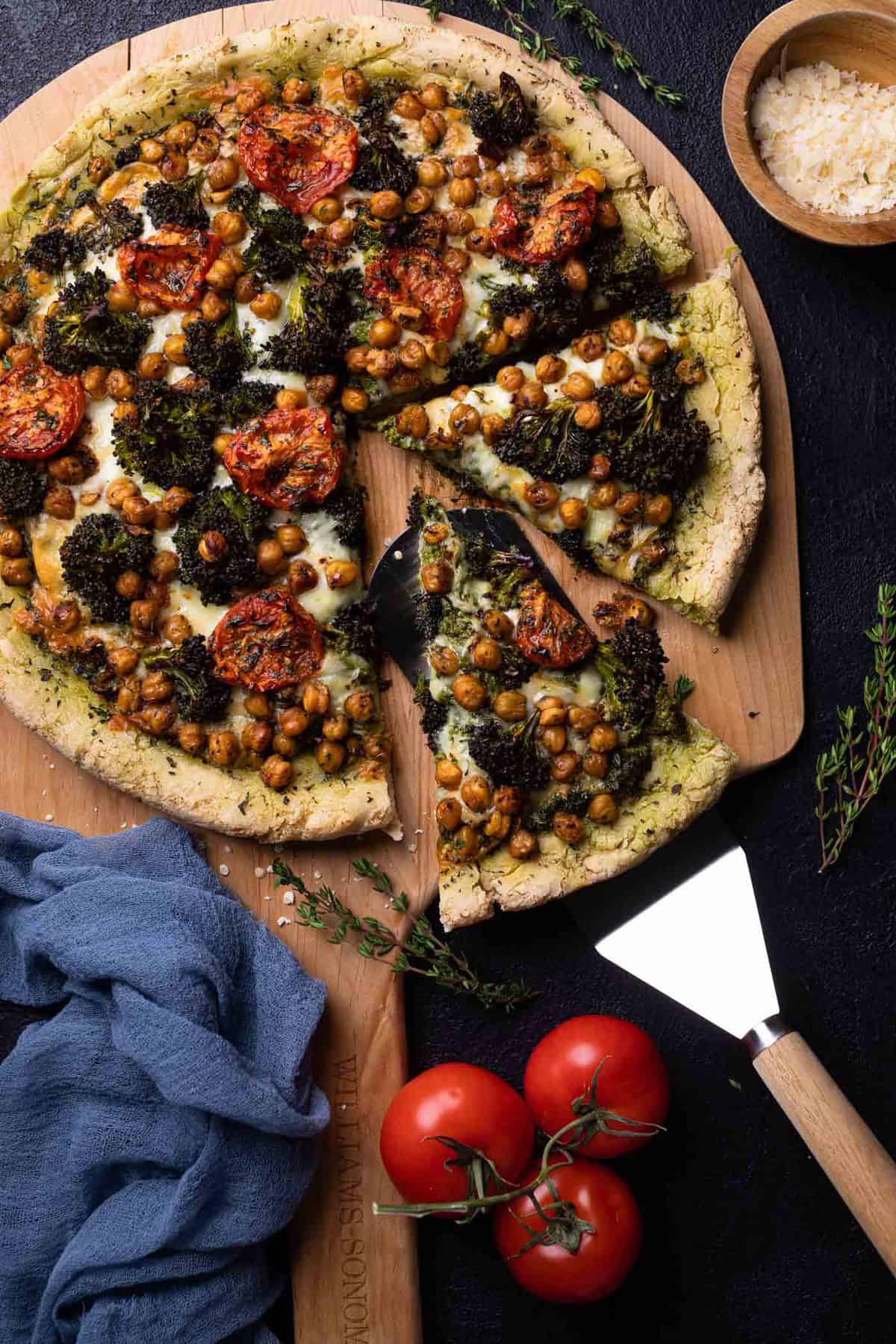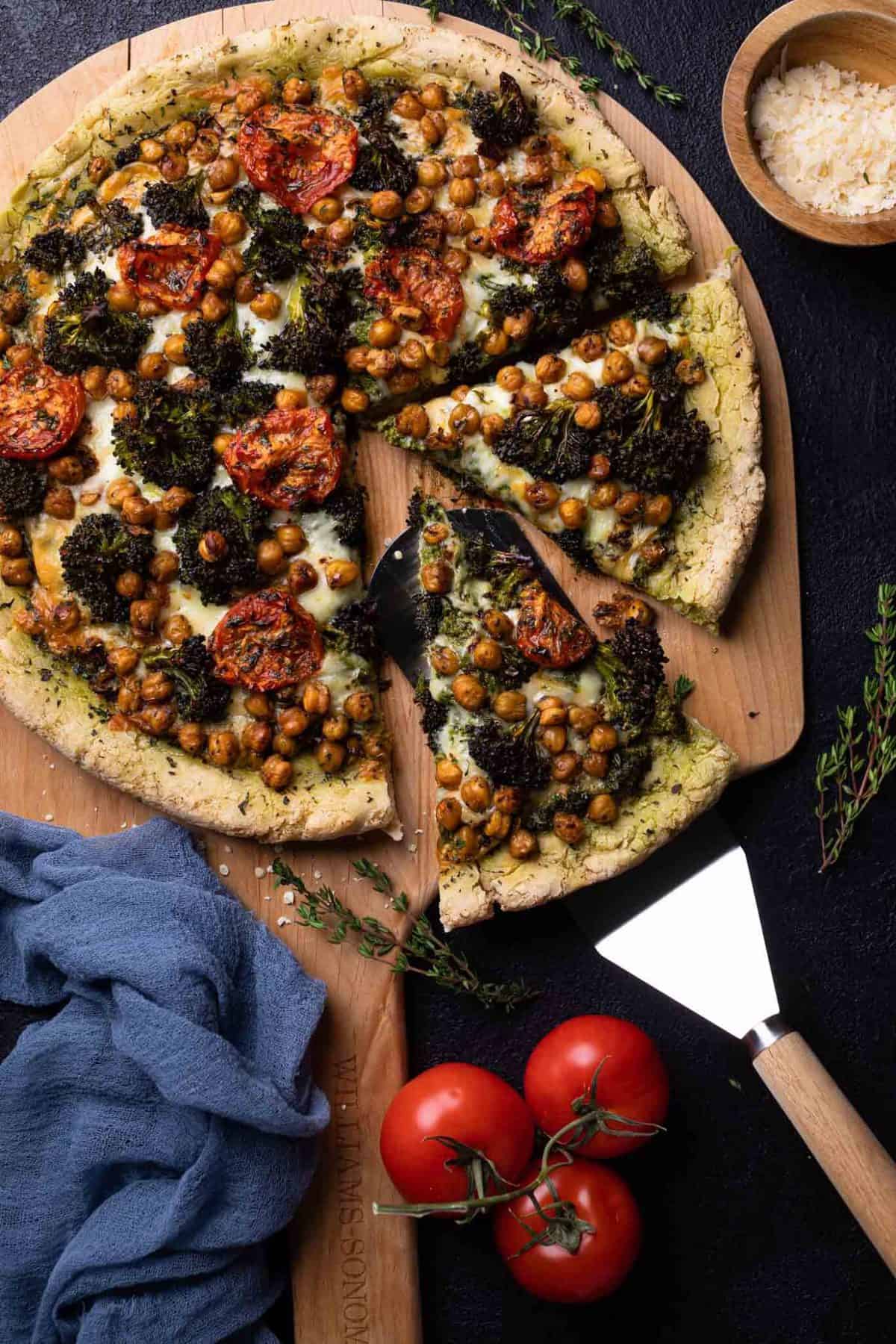 The Following Foods Often Contain Gluten:
Malt/malt flavoring, soups, commercial bullion and broths, cold cuts, French fries (often dusted with flour before freezing), processed cheese (e.g., Velveeta), mayonnaise, ketchup, malt vinegar, soy sauce and teriyaki sauces, salad dressings, imitation crab meat, bacon, egg substitute, tabbouleh, sausage, non-dairy creamer, fried vegetables/tempura, gravy, marinades, canned baked beans, cereals, commercially prepared chocolate milk, breaded foods, fruit fillings and puddings, hot dogs, ice cream, root beer, energy bars, trail mix, syrups, seitan, wheatgrass, instant hot drinks, flavored coffees and teas blue cheeses, vodka, wine coolers, meatballs, meatloaf communion wafers, veggie burgers, roasted nuts, beer, oats (unless certified GF), oat bran (unless certified GF).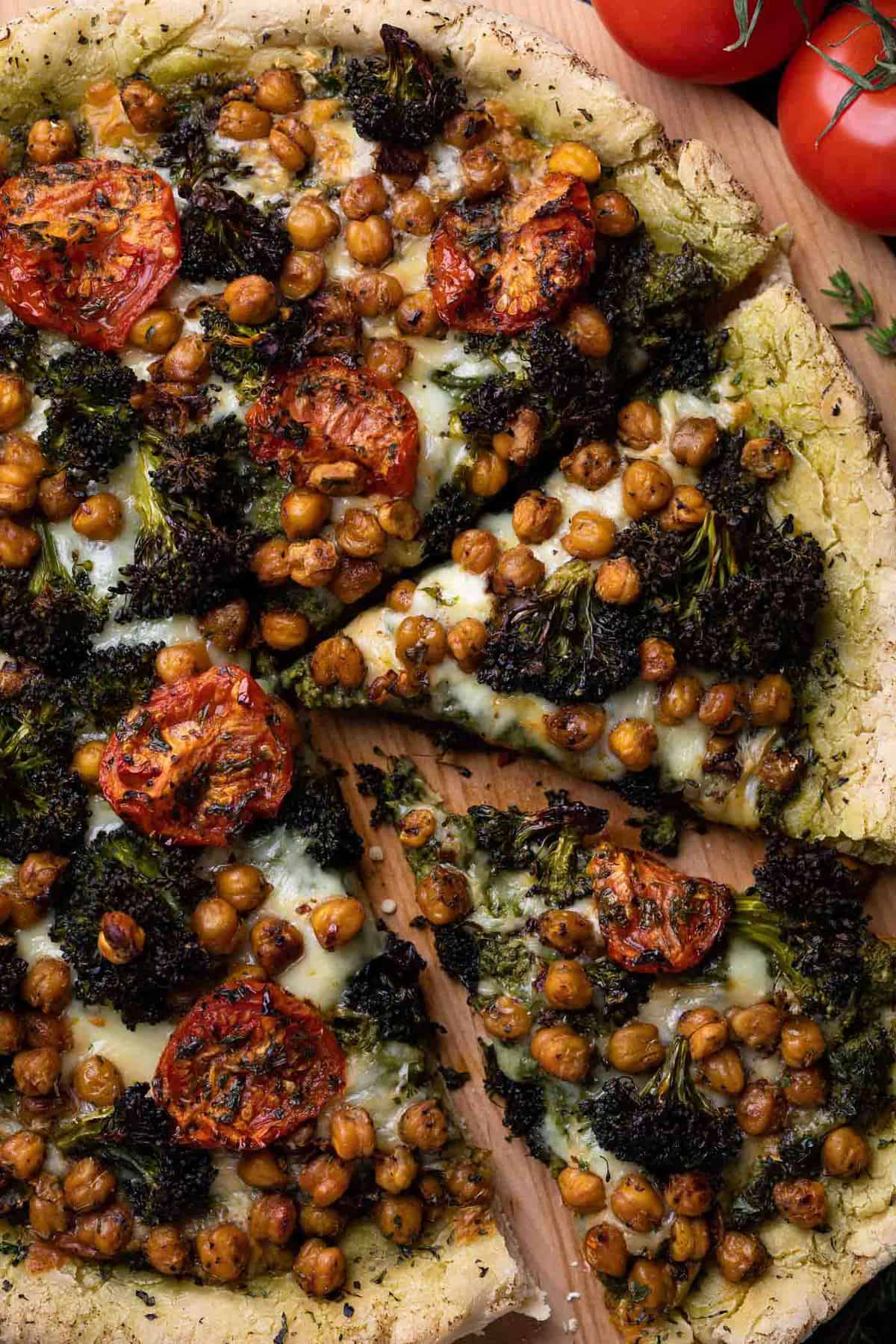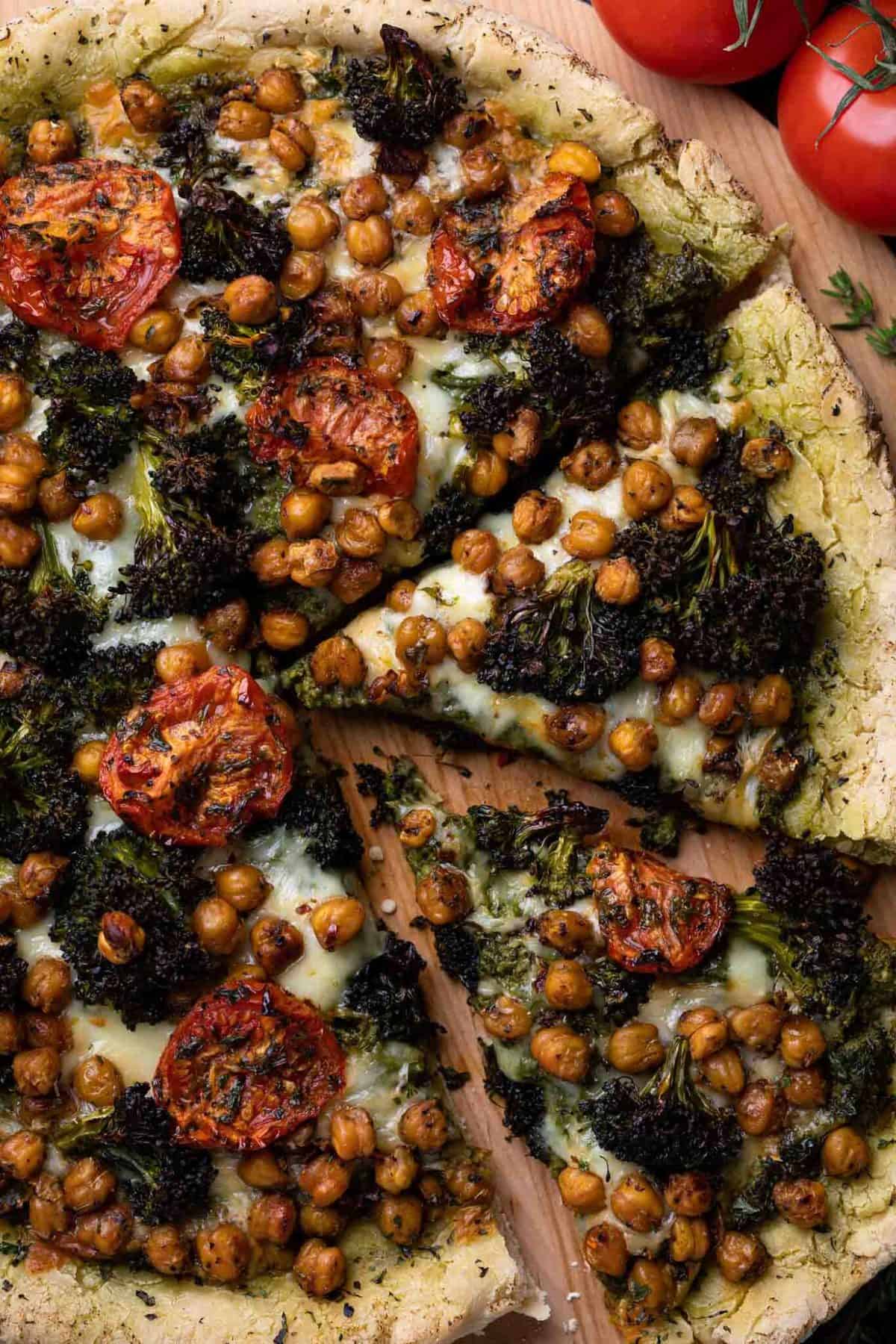 These are Miscellaneous Sources of Gluten:
shampoos
cosmetics
lipsticks, lip balm
Play-Doh
medications
non self-adhesive stamps and envelopes
vitamins and supplements (check label)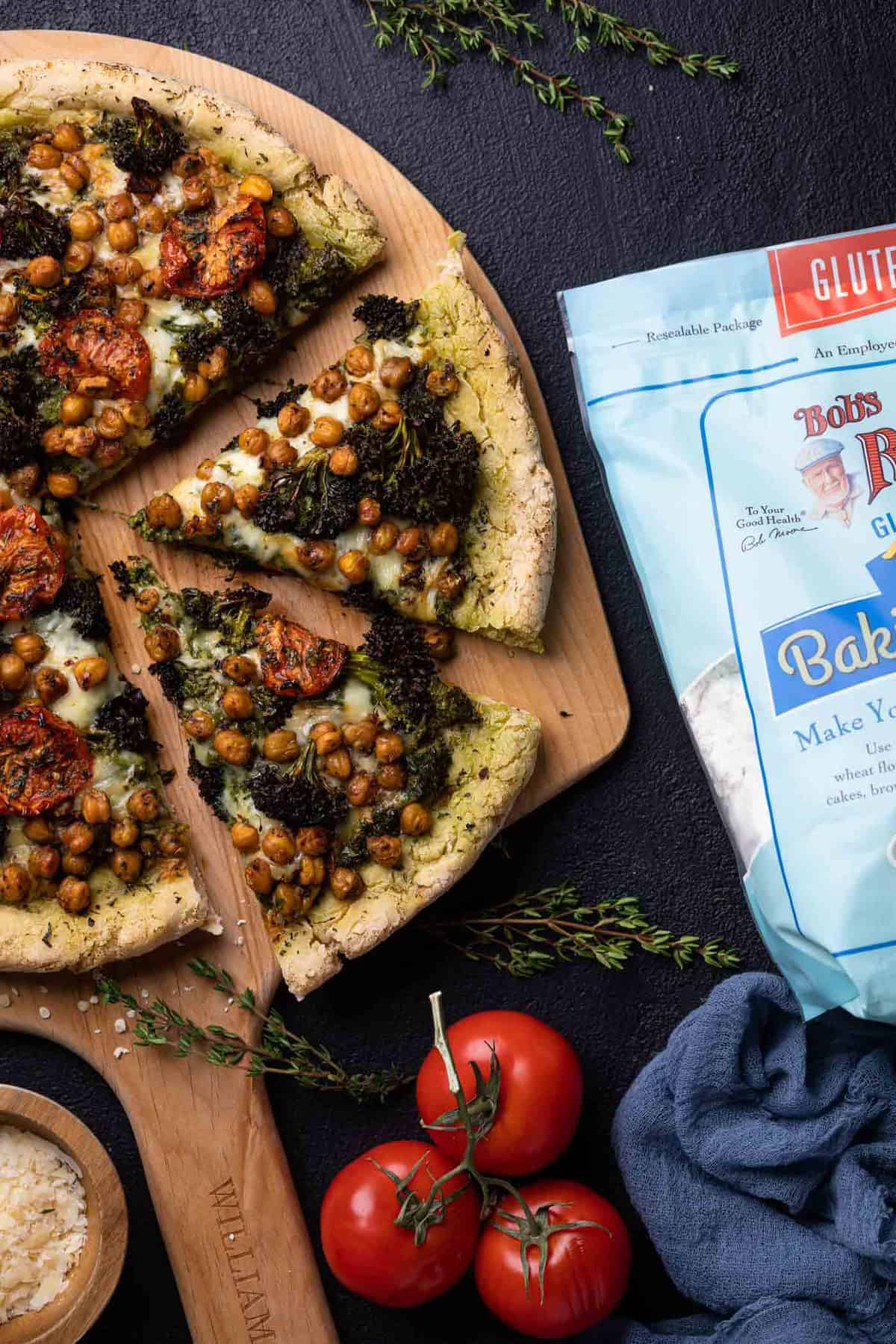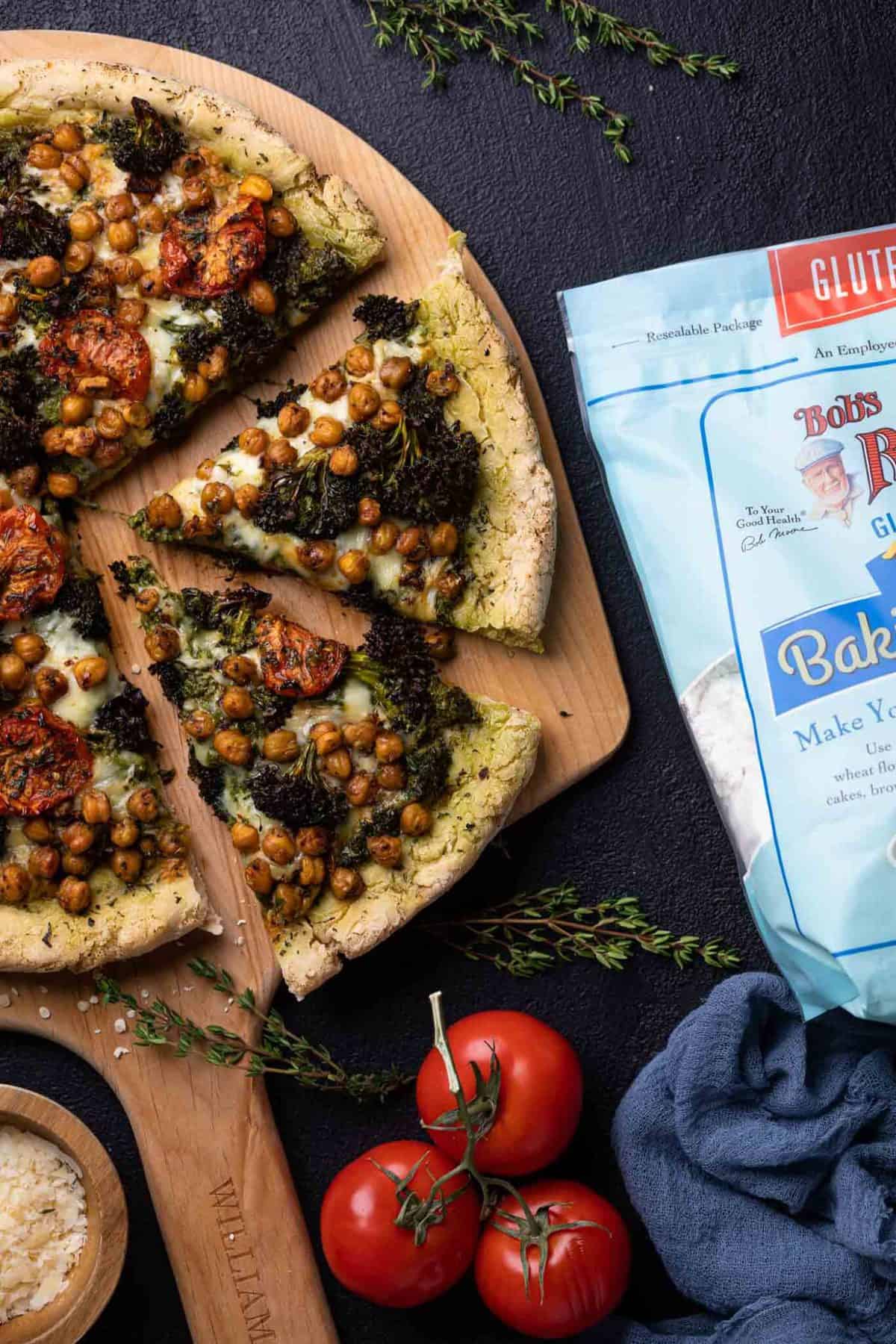 Best Tips for Making a Gluten-Free Crust
For a long time, I found that making a gluten-free pizza crust was difficult. Even now, it's definitely still pretty tricky, however, after attempt after attempt, I've come up with a few tricks that have helped me to achieve a great gluten-free crust;
Don't Over-mix. Usually, homemade pizza doughs require a mixer of some sort, especially if you don't want to knead by hand. However, since this pizza dough is no-knead, you don't need a mixer, therefore, ensuring that you don't over-mix is key. Do understand that this dough will look pretty rough and not entirely smooth, but trust me---it'll bake perfectly.
Spread and Don't Roll Out. You might be used to rolling out your pizza dough to perfection, however, I've noticed that gluten-free pizza dough is a bit more fragile and is easily formulate by spreading it out and flattening it out with your fingers. This should be easy since the dough is pretty soft and moist.
Allow your dough to Hydrate so that it isn't dry. This step is important because most people are afraid of gluten-free pizza crust because they fear that it's dry. However, this can be avoided by letting it 'rest' after it's mixed together and formulated in a ball. The resting allows for the starches in the flour to hydrate.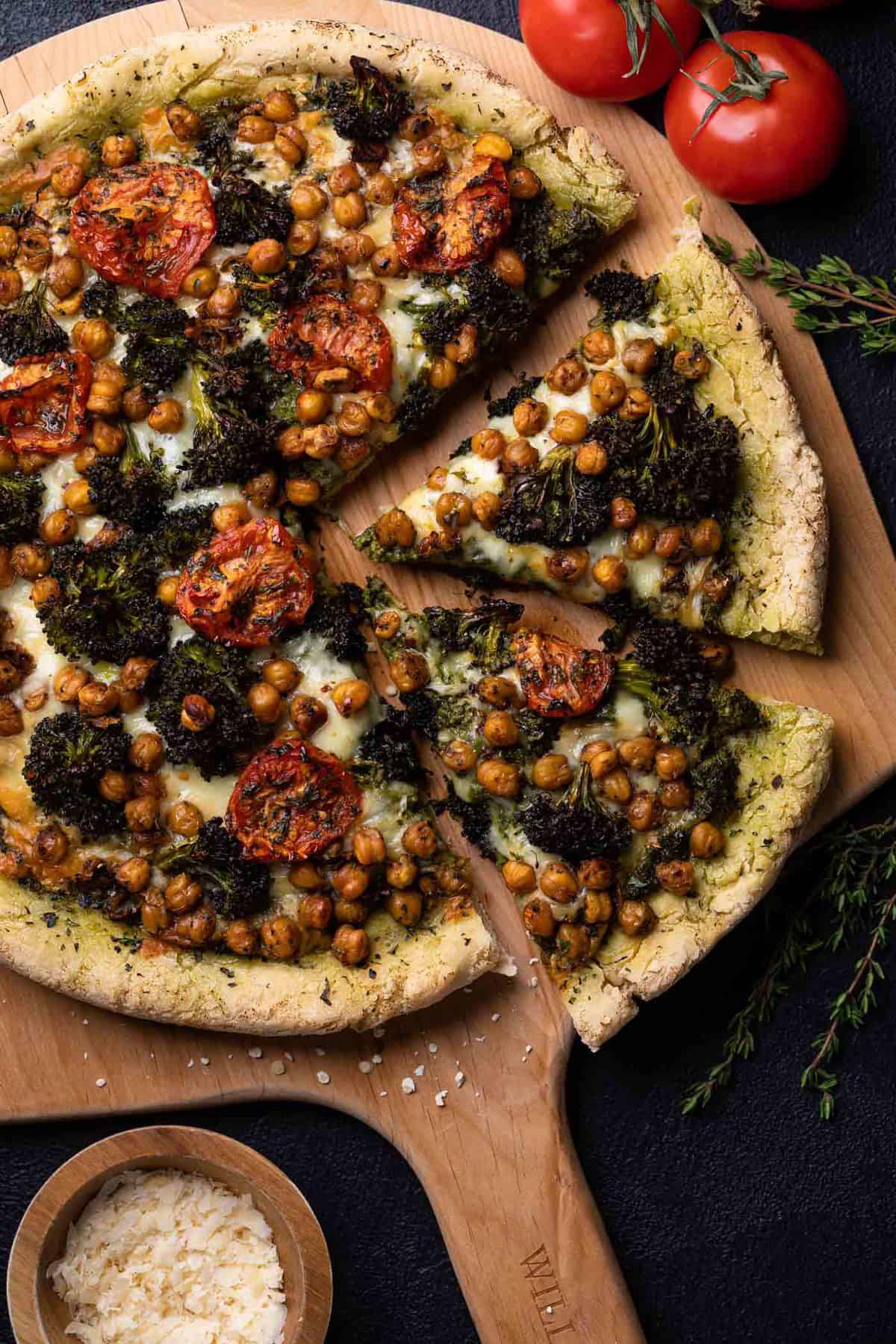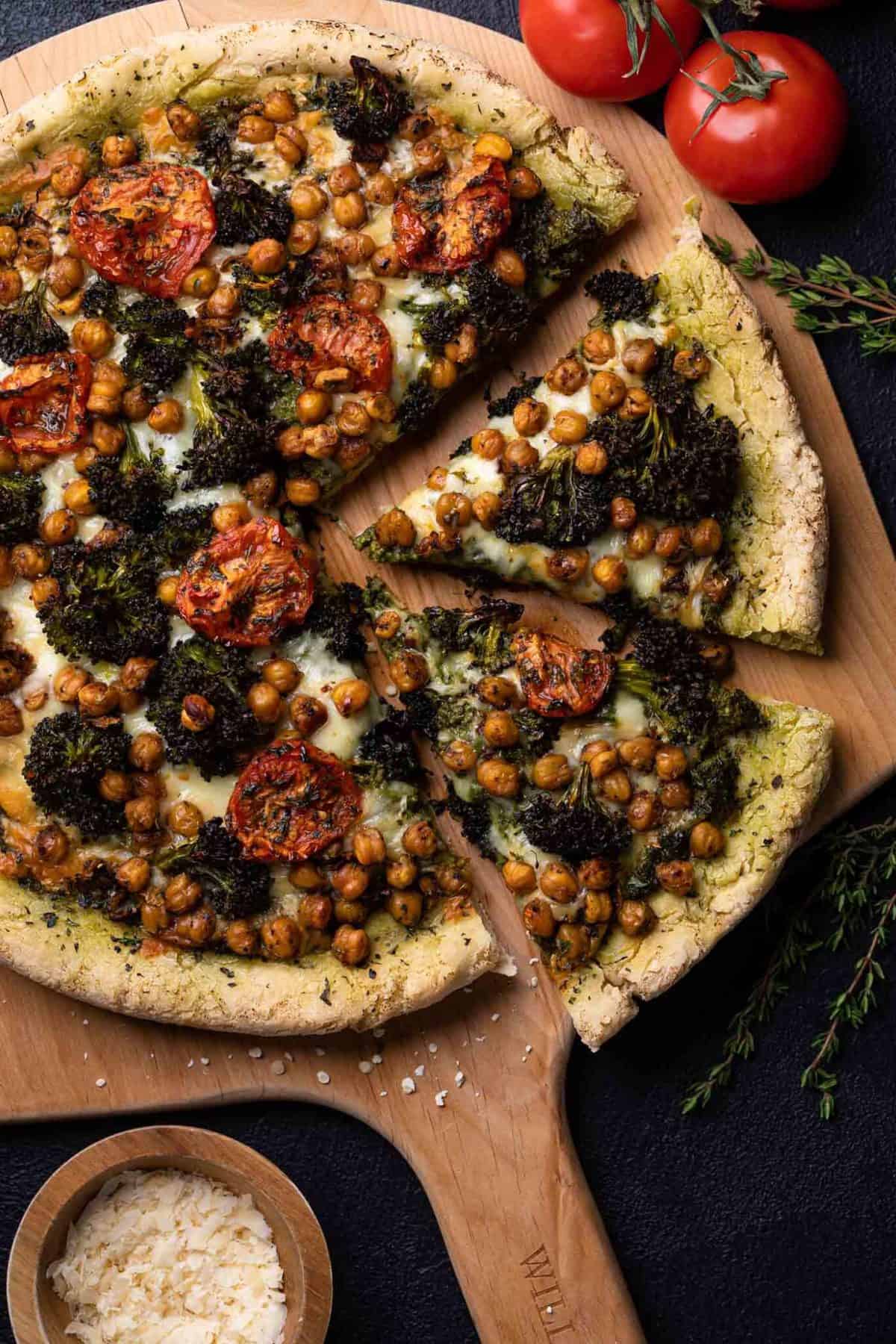 Other Great Gluten-Free Options
Gluten-Free Pumpkin S'Mores Cookies—-the epitome of Fall + Comfort in every single bite. These cookies are incredibly soft and chewy!
Homemade Gluten-Free Apple Crisp—the epitome of warm, sweet, rich in Fall spices, and absolutely creamy.
Gluten-Free Coconut Lime Shrimp Pasta—-the perfect weeknight meal for the entire family. Nicely flavored + creamy, this pasta is the epitome of comfort food and comes completely Gluten-Free and Dairy-Free.
Creamy Roasted Garlic Cauliflower Chickpea Soup is a vegan's dream. A silky smooth texture and rich umami flavor makes this the perfect vegetarian soup for chilly winter nights or for meal prepping lunches!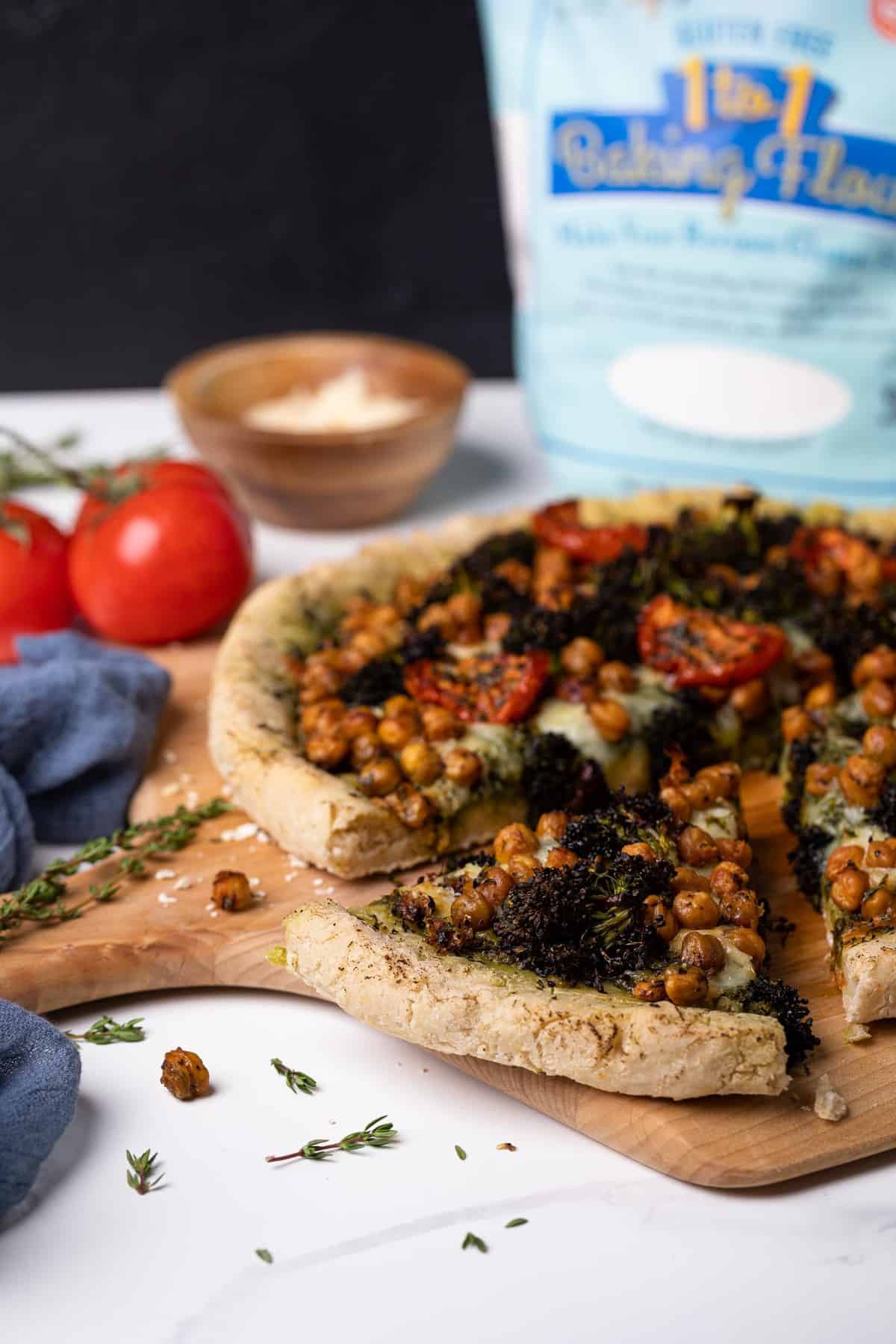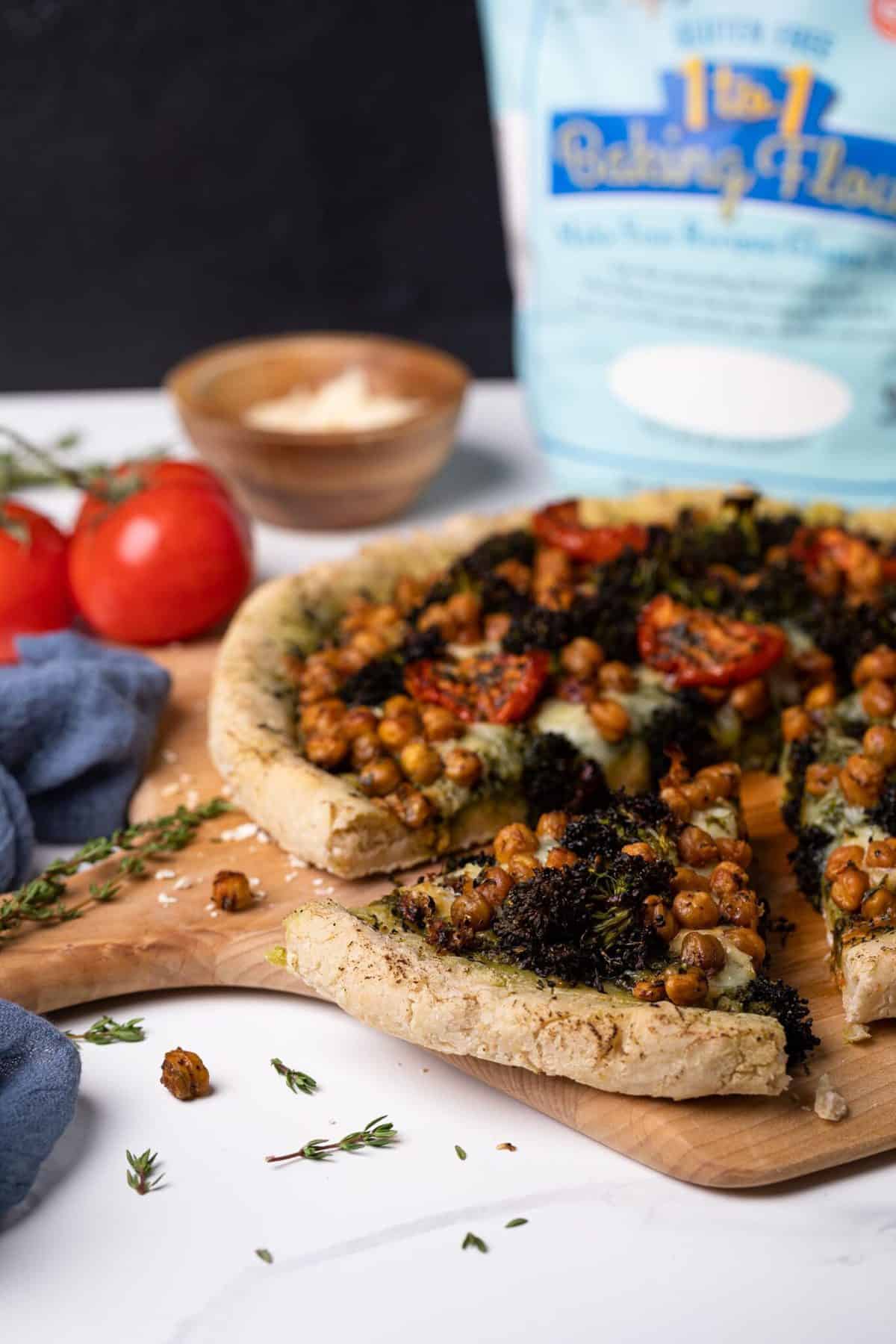 Total Time:
1

hour
30

minutes
1

(15 oz.) can

chickpeas, drained + rinsed

2

cups

chopped broccoli

1

cup

grape tomatoes, halved

2

Tbsps

Extra virgin olive oil

1

teaspoon

sea salt + black pepper

½

teaspoon

ground cumin

1

teaspoon

garlic powder

1

teaspoon

dried parsley

1

teaspoon

smoked paprika

1

cup

grated parmesan 

2

cups

shredded Mild cheddar cheese or mozzarella
ROASTED VEGGIES:
Begin by preheating your oven to 450 degrees Fahrenheit and adding the chickpeas, broccoli, and tomatoes to a bowl and drizzle with olive oil and season until well coated. Place coated veggies onto a large baking sheet lined with parchment paper and bake for 10-15 minutes or until veggies have shrunk a bit, become fragrant, and browned on the edges. Once done, remove from oven and set aside.
GLUTEN-FREE CRUST:
In a large bowl, add together the yeast, sugar, and warm water, allowing it to sit to dissolve and become foamy, about 5 minutes.

In a separate bowl, whisk together the flour, baking powder, salt, and cajun seasoning, and create a medium-sized well in the center of the dry ingredients.

Pour in the yeast mixture and stir using a wooden spoon until the dough is smooth and together, about 5-6 minutes. NOTE: The dough might look a bit rough and not as smooth as regular pizza dough----that's fine!

To allow the dough to 'rest', formulate the dough into a ball and add it to a lightly greased bowl and covered, letting it sit and slightly rise for 20-25 minutes.

In the meantime, make your pesto sauce.
PESTO SAUCE:
Add all ingredients into a food processor and process until well blended and broken down. NOTE: If needed, add a bit of water (1 Tbsp), if too thick.
ASSEMBLY:
Once done, lightly grease a pizza pan with olive oil and place dough ball on one end of pan, evenly pressing it and flattening it out with your fingers to fit the entire pan. Gently use your finger to stretch dough until pan is fully covered and gently pinch the edges of the dough together to form the crust.

Brush a generous amount of the pesto sauce unto pizza crust and evenly spread it to cover the top.

Sprinkle on the cheeses followed by the roasted veggies.

Lightly brush the tops of the crust with the olive oil mixture to ensure that it becomes a nice golden brown.

Gently transfer the pizza pie to the hot oven and bake for 15-20 minutes or so, until the cheese has melted (and becomes bubbly) and the crust is crispy and golden brown.

Once done, allow pizza to rest/cool for a few minutes (about 5 minutes!) so that the cheese sets before cutting into generous slices, using a pizza cutter.

Bon Appetit!
PIZZA CRUST: For a crispy pizza (especially on the bottom), I suggest using a pizza pan with holes to allow the crust to bake through nicely. I used the AirBake Pizza Pan, which can be found at Target! See GF Pizza Crust recipe for awesome tips. 
STORAGE: Leftover pizza is best kept tightly wrapped in foil paper, refrigerated for 3-4 days for optimal freshness.
CAJUN SEASONING: To make your own homemade cajun seasoning, see my recipe. Any leftover cajun seasoning mix can be stored in a ziplock bag for later use or used as garnish.
SWEETENER: Instead of cane sugar, you can substitute with brown sugar, Agave, or honey. 
RESTING TIME: You can always skip this step if needed. It isn't a requirement at all. Just substitute active dry yeast with rapid rise yeast. 
Calories:
665
kcal
|
Carbohydrates:
69
g
|
Protein:
28
g
|
Fat:
37
g
|
Saturated Fat:
11
g
|
Polyunsaturated Fat:
9
g
|
Monounsaturated Fat:
13
g
|
Cholesterol:
42
mg
|
Sodium:
1532
mg
|
Potassium:
1076
mg
|
Fiber:
20
g
|
Sugar:
6
g
|
Vitamin A:
1674
IU
|
Vitamin C:
25
mg
|
Calcium:
1170
mg
|
Iron:
30
mg