This Grandma's Cheese Sheet Pan Pizza is an easy, delicious dinner option perfect for family pizza night, complete with a fluffy homemade soft crust, twice the cheesy goodness, and everything that you could ever need in every single bite! Gluten-free option available.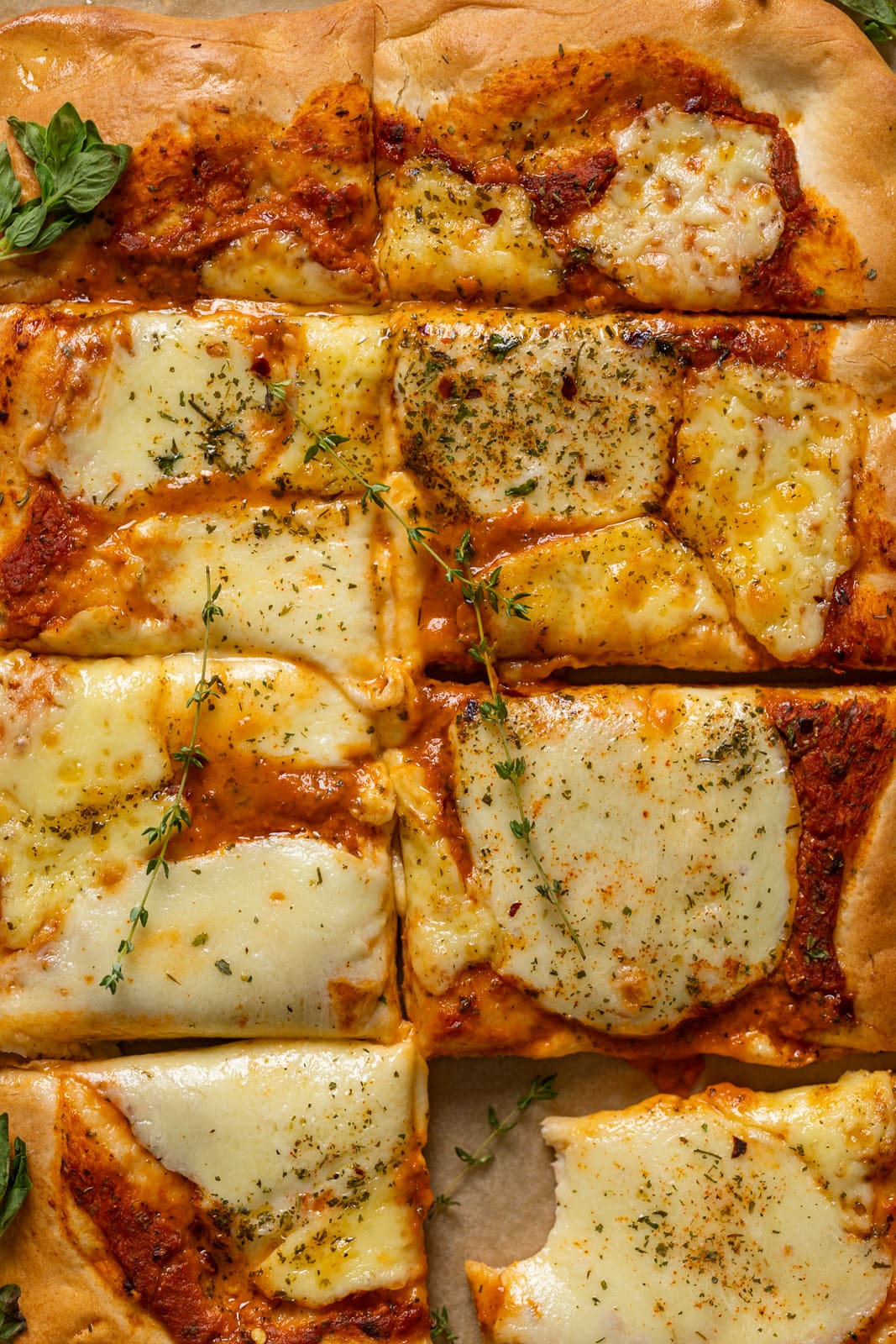 Disclaimer: This post contains affiliate links via Amazon for products that I wholeheartedly love.
Pizza is by far one of those things that I can't resist. Seriously, pizza is my favorite food to eat (I literally can consume it daily if my body would allow----Haha) and this Grandma's Cheese Sheet Pan Pizza is SO good!
Sheet pan pizzas have become my favorite kinds of pizza to make because it's super easy to make, doesn't require much clean up, and is so bold in cheesy flavor.
Traditionally, I would use pizza sauce or tomato sauce, however, for this particular recipe I wanted to add vodka sauce for a nice switch up. Plus, it goes so great with both cheeses that I chose to use----fresh mozzarella and sharp cheddar.
I remember growing up in Florida and enjoying a good slice of delicious pizza from Pizza Hut (especially with my Grandma) that we bought on Fridays for takeout night. While Pizza Hut was definitely one of the best places that I've gotten pizza, it wasn't until moving to NYC that I truly understood the amazingness of a good slice.
Mom and Pop pizza shops in NYC, especially Brooklyn are SO BOMB! It's always a beautiful experience to watch the dough being stretched out then topped with a healthy dose of sauce, packed on with cheese, and then tossed in a good brick oven. I mean, all of the bubbling of the cheese and charr--ness of the crust is PERFECTION.
And now that I enjoy making pizzas at home, especially as a family with my husband and son, I get so excited whenever I get a chance to share a new pizza recipe with you all. Of course, I love leaving room for you to add or sub any toppings that you prefer for the best eating experience!
How to Make Grandma's Cheese Sheet Pan Pizza
This pizza starts with a homemade crust. However, you can certainly use a store-bought crust if you're in a rush. My recipe yields a soft, fluffy crust that's somewhere between thin and thick. Just right, if you ask me. The other components to complete this pizza is the combination of bold cheeses (fresh mozzarella + sharp cheddar) and vodka sauce with seasonings.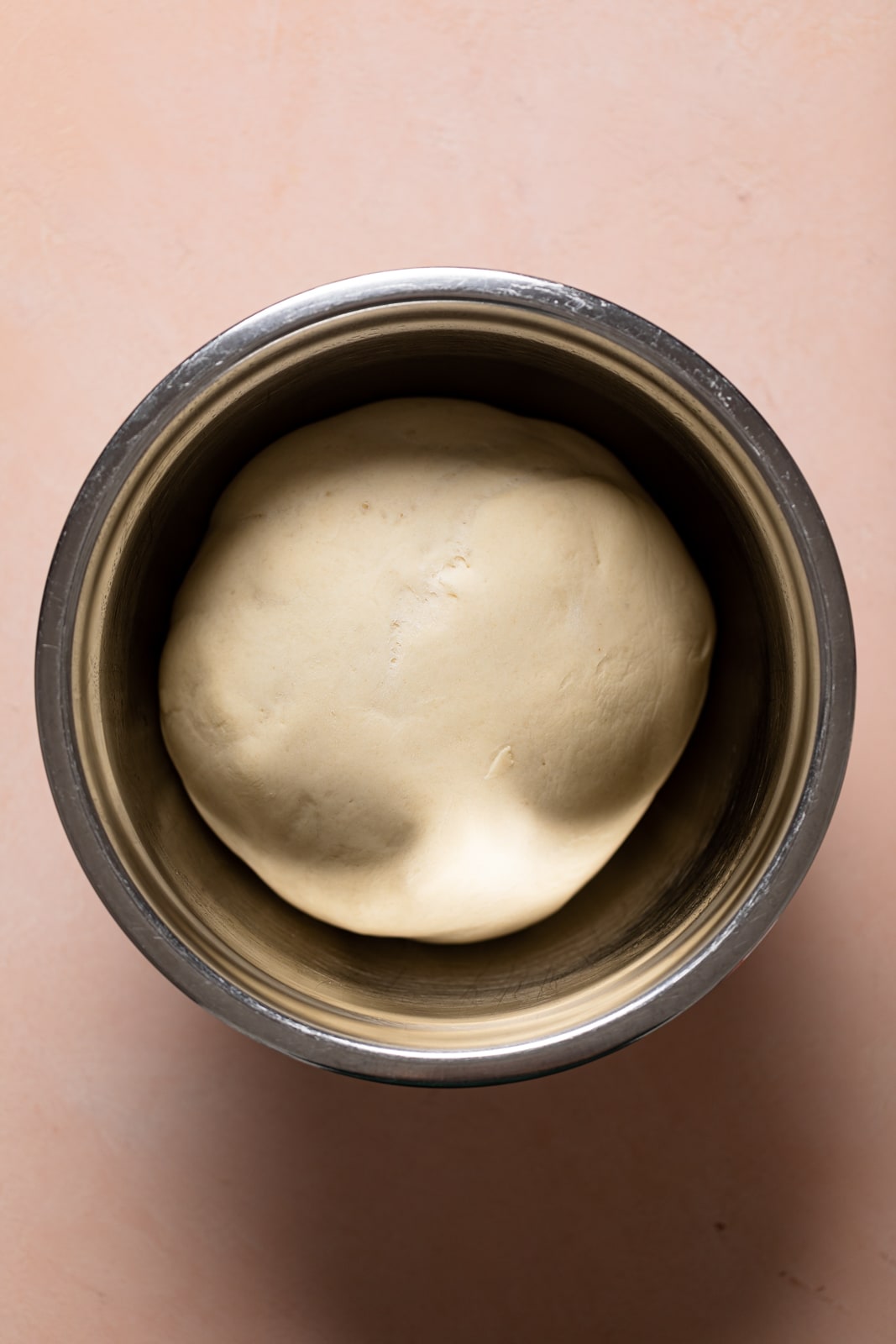 Ingredients for Homemade Pizza Crust
For the best pizza, make your own crust! It's easier than you might think, and my recipe takes just a few ingredients and little time to rise. Plus, the dough is seasoned for added flavor!
Here's what you need:
All-purpose flour. I use organic flour. If you want to make gluten-free pizza dough, check out the notes section below the recipe!
Cane sugar. I like to use organic. All of the sugar will be consumed by the yeast in the dough.
Yeast. Use rapid-rise or instant yeast for dough that rises quickly.
Oil. I like to use Extra virgin olive oil mostly, but you can use Grapeseed oil also. This is a neutral oil.
Garlic powder. For added flavor and a hint of saltiness.
TIPS FOR MAKING NO-RISE PIZZA CRUST
If your mixture of yeast, water and sugar doesn't bubble after 5 minutes, that may be a sign that your yeast is dead. The crust won't rise, so it's best to get a new packet of fresh yeast.
Use an electric mixer for the best results. Pizza dough needs to be well mixed and kneaded to activate as much gluten as possible.
The dough should be soft, supple and stretchy when it's done mixing. It shouldn't be too sticky. If it is, add a bit more flour until it easily pulls away from the side of the mixing bowl.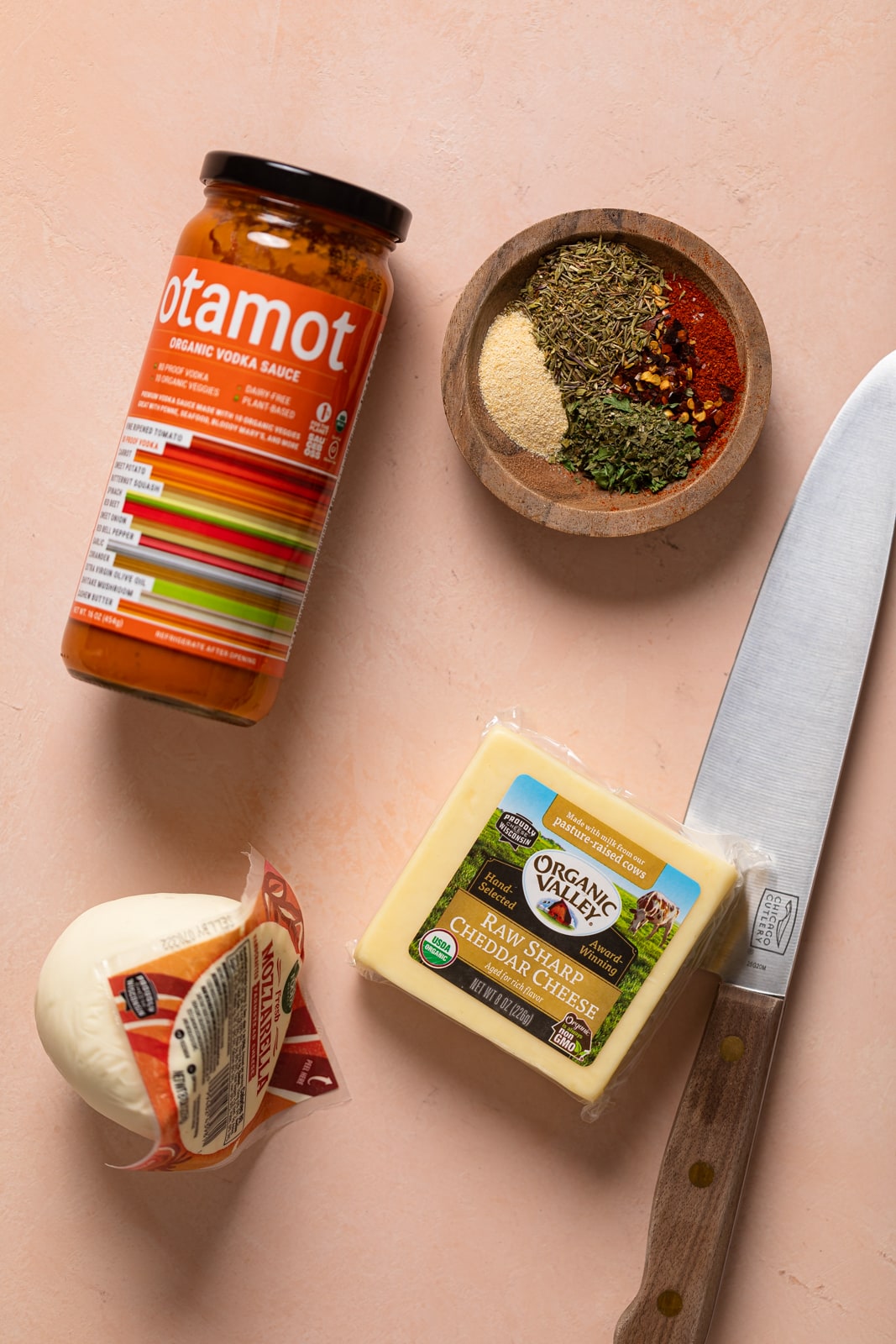 Ingredients in Grandma's Cheese Sheet Pan Pizza
It's surprising that this Cheese Sheet Pan Pizza has such a short and sweet ingredient list, when you consider how flavor-packed it is. This is a great pantry recipe to whip up on a weeknight with the following ingredients:
Mozzarella (fresh or brick). Adds a great amount of savory and beautiful melty cheese flavor between both cheeses.
Raw Sharp Cheddar Cheese. I like to use the raw brick of cheese for a fresh, bold flavor, however, you can always use shredded sharp cheddar if it's what you have on hand.
Vodka sauce. You can use a store-bought version or make it from scratch. You can keep things traditional by using pizza sauce or tomato sauce.
Pizza crust. Both store-bought or homemade works!
Herbs + seasonings. Adds the incredible flavors. Think salt, black pepper, smoked paprika, garlic powder, parsley, oregano, basil, etc.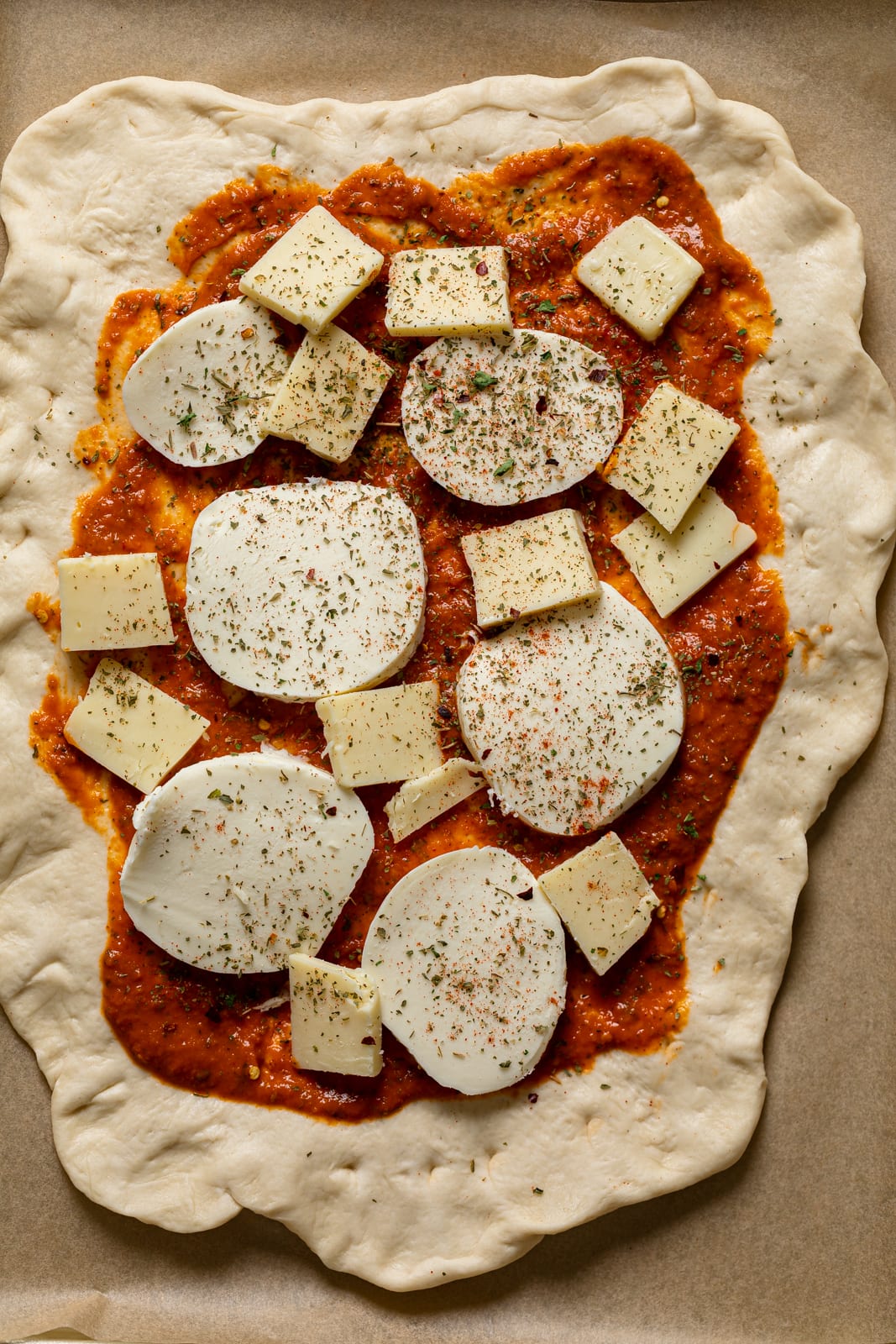 Why You'll Love This Pizza Recipe
It's a SUPER EASY from-scratch dough recipe that will leave you with a fool-proof fluffy and crunchy crust.

The recipe serves 8 people, so there's plenty of pizza for the whole crew to enjoy! 

Major savory flavors from the bold cheesiness that takes the flavor to the next level. 
SHOP MY FAVORITE TOOLS FOR BAKING, ESPECIALLY FOR THIS PIZZA!
Here, I've curated a list of cooking + baking essentials that I use to achieve my favorite baked goods or cooked meals, especially with this sheet pan cheese pizza. Everything from my fave baking sheet, pastry brushes, pastry blender (for mashing too), mixing bowls, and more. SEE THEM HERE!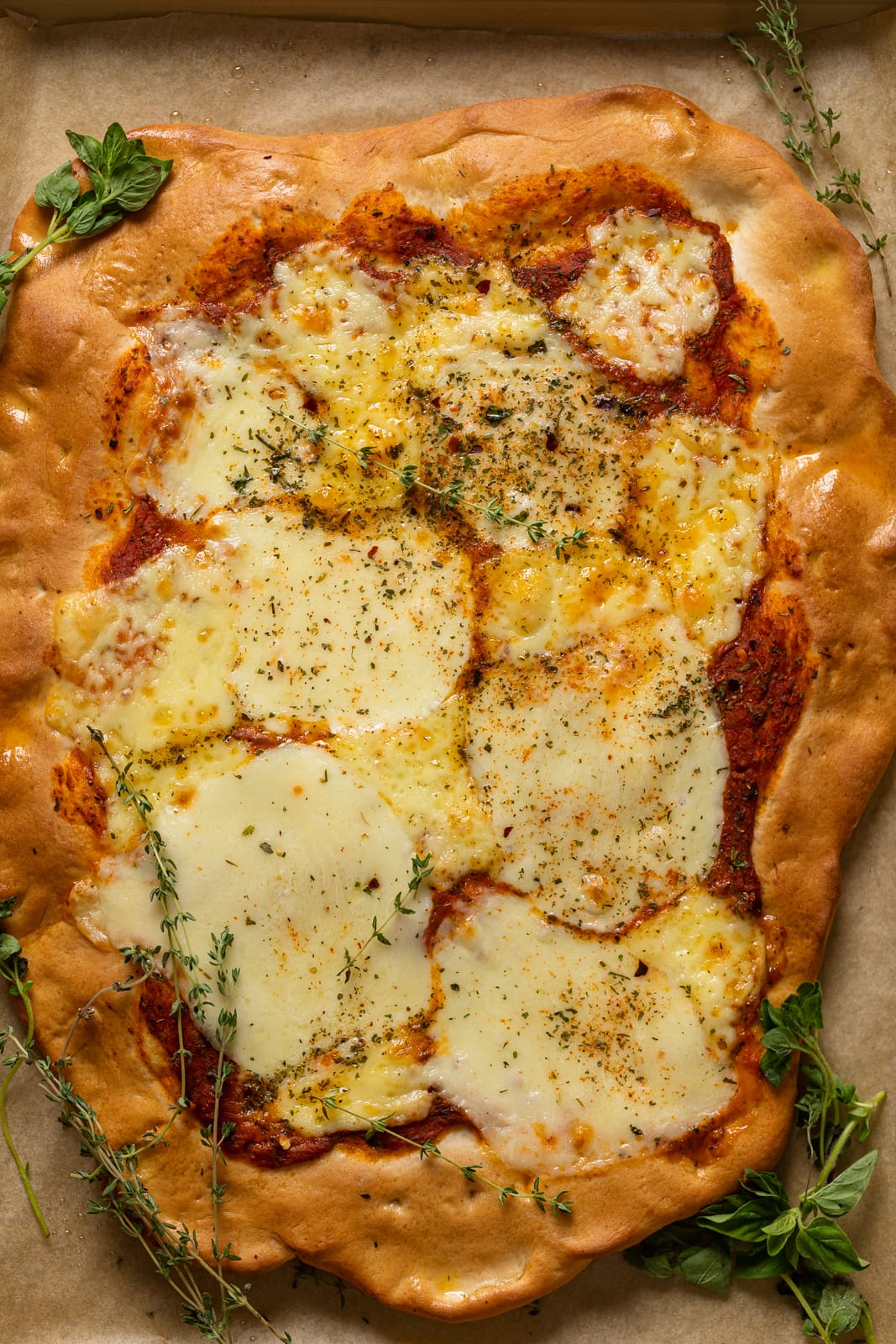 Pizza Toppings
To round things out, I use mozzarella cheese, sharp cheddar cheese, vodka sauce, and finally, pinches of herbs + seasonings. If you like parmesan, asiago, or another cheese, feel free to use it! You could also top this pizza with oregano, parsley, and/or basil fresh out of the oven. Feel free to personalize it to suit your favorite flavors. 
Best Types of Cheese for this Grandma's Cheese Sheet Pan Pizza
Even though this Grandma's Cheese Sheet Pan Pizza is based on using mozzarella cheese and sharp cheddar cheese, you can also switch things up and add a new flare in their flavor profile by adding any of the following:
Gruyère
Mild Cheddar Cheese
Gouda
American cheese
Parmesan cheese (grated)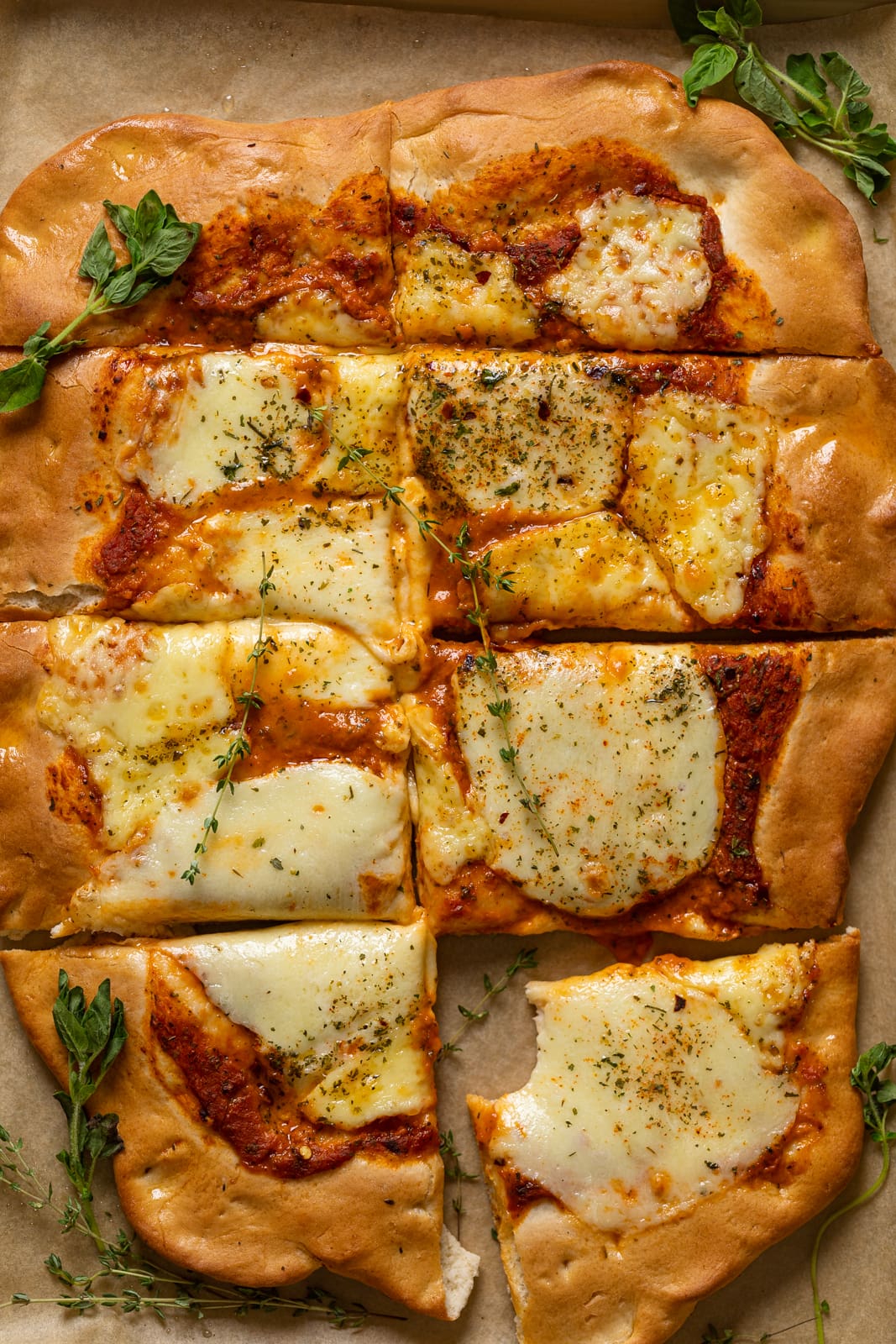 Can I Double the Dough?
Yes! It's easy to double or triple this homemade pizza dough recipe. You can even freeze the dough before rising. Simply stick it in an oiled air-tight bag or container and into the freezer for up to six months. When you're craving some cheese pizza, defrost the dough in the fridge overnight. Then let it come to room temperature for about half an hour before rolling, topping, and baking.
RAPID (INSTANT) RISE YEAST VS. ACTIVE DRY YEAST
If you're not using the Rapid Rise Yeast for this recipe, please know that the rise time will be twice as long (about 3 hours) since regular Active Yeast doesn't work as quickly.
What to Serve with Grandma's Cheese Sheet Pan Pizza
While your Grandma's Cheese Sheet Pan Pizza cooks, make a simple side dish to complete the meal for an easy weeknight meal or pizza night extravaganza. We love to serve this cheese pizza with: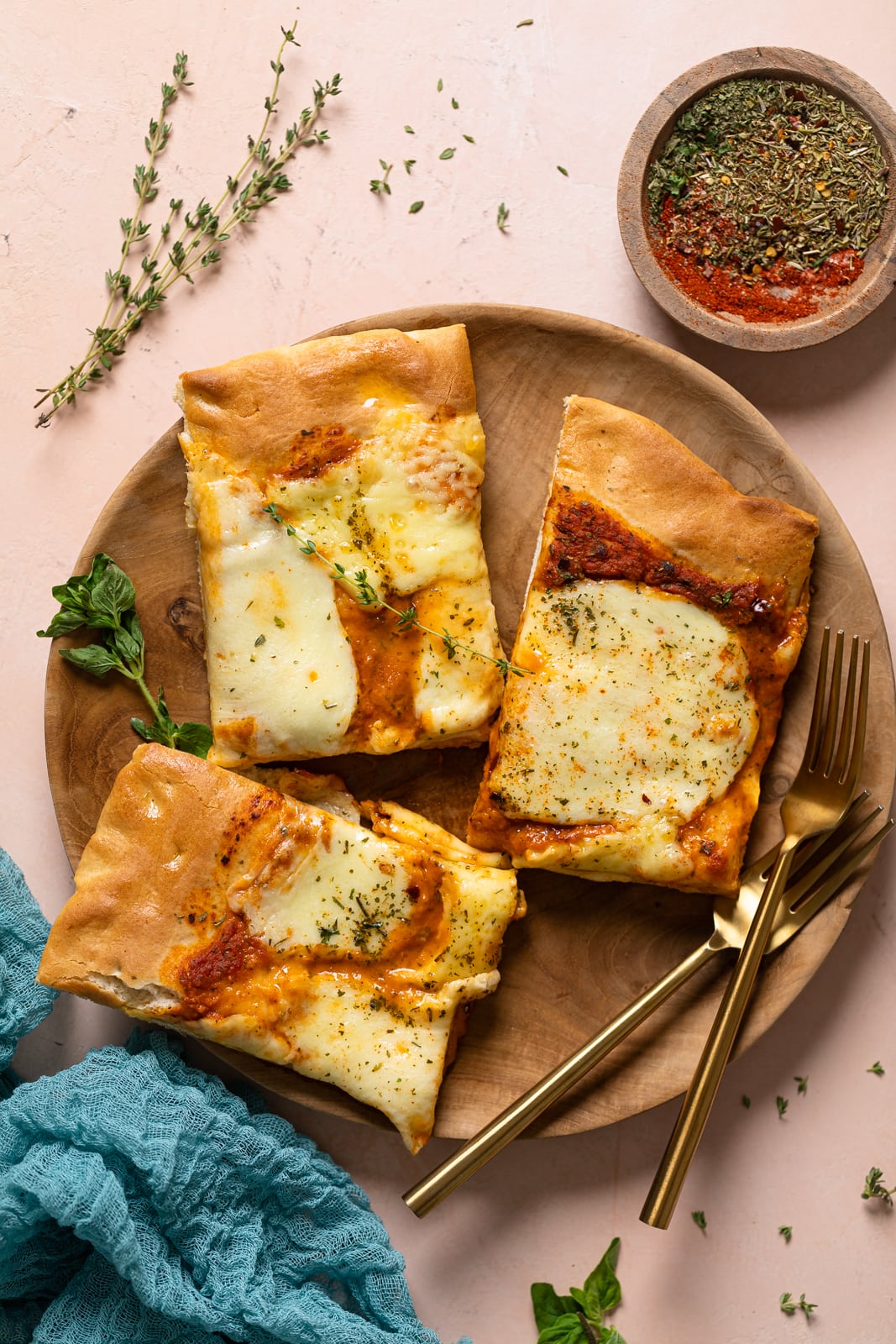 Can I Make Gluten-Free Pizza?
Yes! To make gluten-free pizza crust, use this recipe. It's thin, crispy and holds all of your toppings.
Storing Leftovers
Store any leftover Grandma's Cheese Sheet Pan Pizza in an airtight container (or wrapped in foil) in the fridge for up to four days. You can reheat in the oven, in a skillet on the stove or in the microwave (though it might get soggy).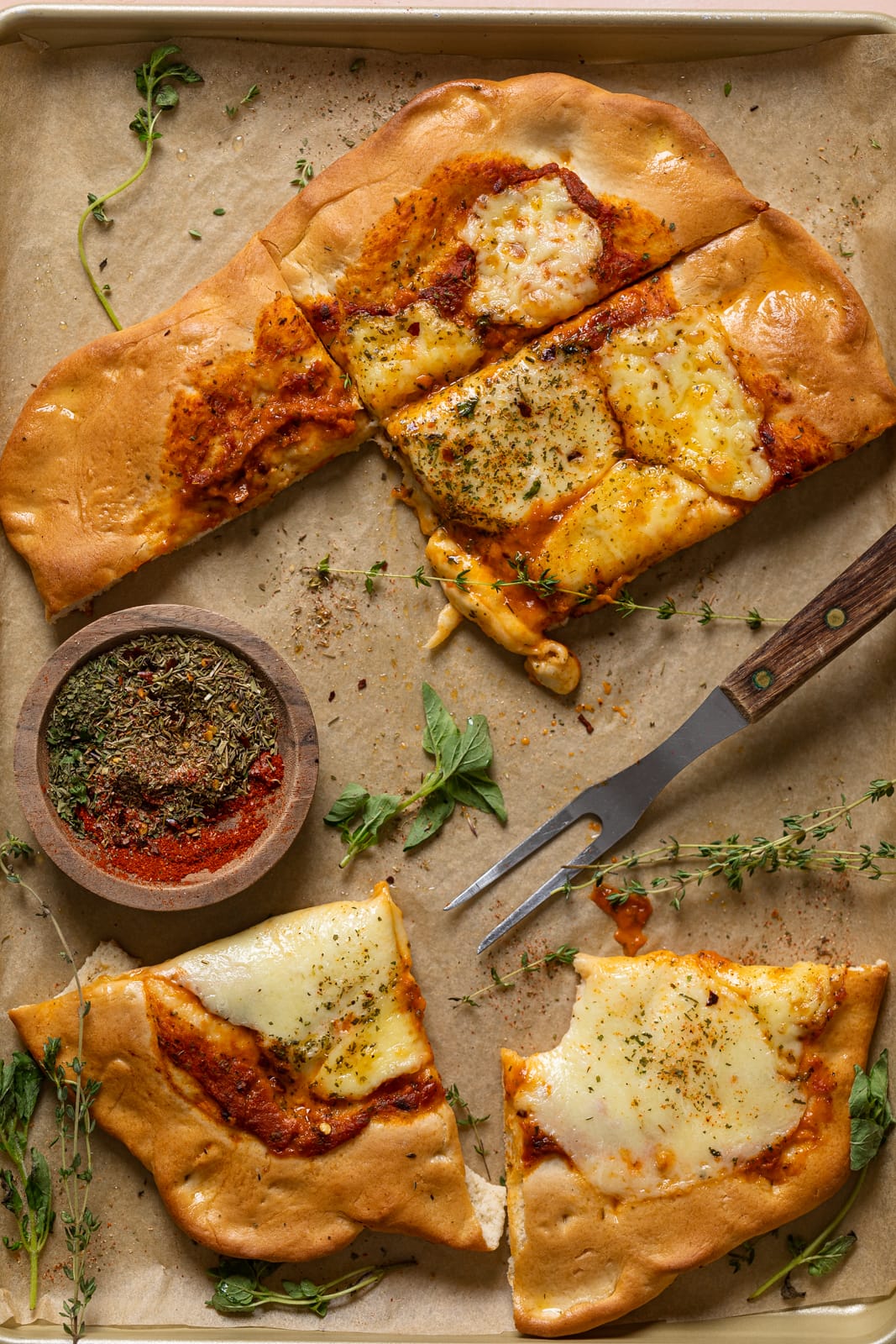 More Pizza Night Recipes to Try!
MADE OUR RECIPE(S)?
If you make this Grandma's Cheese Sheet Pan Pizza, be sure to tag me @orchidsandsweettea!
TOPPINGS:
8

oz.

fresh mozzarella cheese, sliced

4

oz.

raw sharp cheddar cheese, cubed

1

cup

organic vodka sauce

1

teaspoon

sea salt

1

teaspoon

black pepper

1

teaspoon

garlic powder

1

teaspoon

smoked paprika

1

teaspoon

dried parsley

1

teaspoon

dried oregano

1

teaspoon

dried basil

¼

teaspoon

red pepper flakes
GARNISH:
1

tablespoon

Extra virgin olive oil

Dried oregano

Dried basil

Fresh or dried parsley
TO MAKE THE PIZZA CRUST:
In the bowl of an electric mixer (with a dough hook attachment), mix together the warm water, sugar, olive oil, and yeast (you might need to use a whisk to ensure that everything combines together well). Let is sit for at least 5 minutes, until yeast begins to activate and foam.

Slowly add the flour and garlic powder (on low speed!), until fully incorporated and a soft dough is formed. NOTE: if dough is too sticky, add ½ cup of additional flour at a time)

Now, increase the speed to medium-high and knead the dough for about 5 minutes in the mixer. 

Once done, cover the dough with plastic wrap for 10 minutes, until is rises a bit. 
ASSEMBLY:
Preheat the oven to 475 degrees Fahrenheit and place top rack into the middle of oven. Line a baking sheet with parchment paper and set aside.

Once done, add the dough onto the prepared baking sheet and slightly roll out the dough until it's flat enough to form a flat rectangular shape the rest of the way with your hands, about 11 inches in diameter, evenly pressing it and flattening it out to fit the entire pan. Gently use your finger to stretch dough until pan is fully covered and gently pinch the edges of the dough together to form the crust.

In a bowl, add the vodka sauce along with salt, black pepper, garlic powder, smoked paprika, parsley, oregano, basil, and red pepper flakes, stirring everything together until combined.

Spoon a generous amount of the vodka sauce over the top of the crust until evenly coated.

Generously sprinkle on the sliced fresh mozzarella and cubed cheddar cheese until crust is fully covered in the middle, leaving a bit of crust for the edges.

Lightly brush the tops of the edge of the crust with 1 tablespoon of olive oil to ensure that it becomes a nice golden brown.

Transfer the pizza pie to the hot oven and bake for 15-20 minutes or so, until the mozzarella has melted (and becomes bubbly) and the crust is crispy and golden brown.

Once done, allow pizza to rest/cool for a few minutes (about 2-3 minutes) so that the mozzarella sets before cutting into generous slices, using a pizza cutter. Add a few pinches of dried oregano, parsley, and basil for garnish, if desired.

Bon Appetit!
STORAGE: Leftover pizza is best kept tightly wrapped in foil paper, refrigerated for 3-4 days for optimal freshness.
PIZZA CRUST: For a crispy pizza (especially on the bottom), I suggest using a pizza pan with holes to allow the crust to bake through nicely. I list all of my favorite cooking tools in my Amazon Shop, here.
GLUTEN-FREE CRUST: To make your pizza crust GF, see my Easy GF Pizza Crust recipe.
GREENS: If preferred, you can always add greens to your pizza like Kale, Spinach, Brussels sprouts, or Collard Greens to the pizza.
RAPID (INSTANT) RISE YEAST VS. ACTIVE DRY YEAST: If you're not using the Rapid Rise Yeast for this recipe, please know that the rise time will be twice as long (about 3 hours) since regular Active Yeast doesn't work as quickly.
Calories:
350
kcal
|
Carbohydrates:
38
g
|
Protein:
15
g
|
Fat:
15
g
|
Saturated Fat:
7
g
|
Polyunsaturated Fat:
1
g
|
Monounsaturated Fat:
6
g
|
Cholesterol:
37
mg
|
Sodium:
711
mg
|
Potassium:
202
mg
|
Fiber:
2
g
|
Sugar:
3
g
|
Vitamin A:
616
IU
|
Vitamin C:
2
mg
|
Calcium:
265
mg
|
Iron:
3
mg
Grandma's Cheese Sheet Pan Pizza.