Make extra-crispy, sweet-enough Sticky Peach Chicken Wings with an easy sauce mixture that has a delicious peachy flavor, seasoned to perfection, and a nicely juicy center. The perfect appetizer or main meat that can be served with your favorite sides—whether during lunch, dinner or brunch.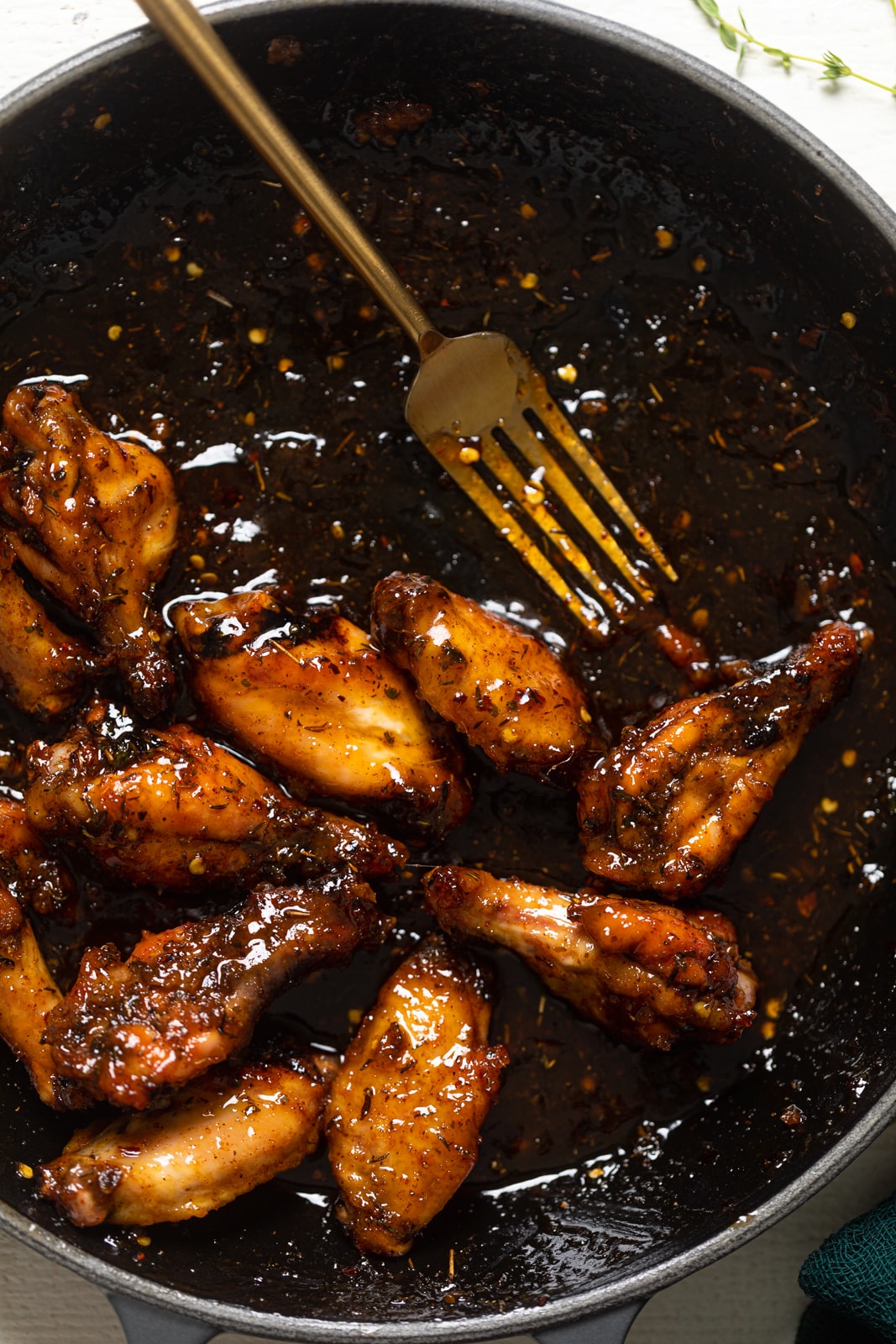 Wings are by far one of my favorite things to eat ever since childhood. They are literally the things that I find make the perfect appetizer, main meat item, snack, or breakfast. Haha.
These Sticky Peach Chicken Wings are just what our Summer needs, especially with the bold peach flavor profile and I can guarantee that once you try these---you'll be hooked. Plus, these crispy Lemon Pepper Buffalo Wings and Sticky Gochujang Chicken Wings are truly the next best thing! Oh and this Vegan Peach Crisp Oatmeal Porridge is so comforting for breakfast and worth trying.
I couldn't be more excited to share this recipe with you all and be rest assured that these sticky peach chicken wings are super easy to make, are sweet enough and savory, can be done in both the oven or air-fryer, and is the perfect addition to so many meal ideas.
How to Make Sticky Peach Chicken Wings
The best part about any wing is the crispy coating that is formed without an "actual coating". And these wings do not disappoint. I talk more about tips to making these wings nice and crispy, but let's talk about this delicious recipe.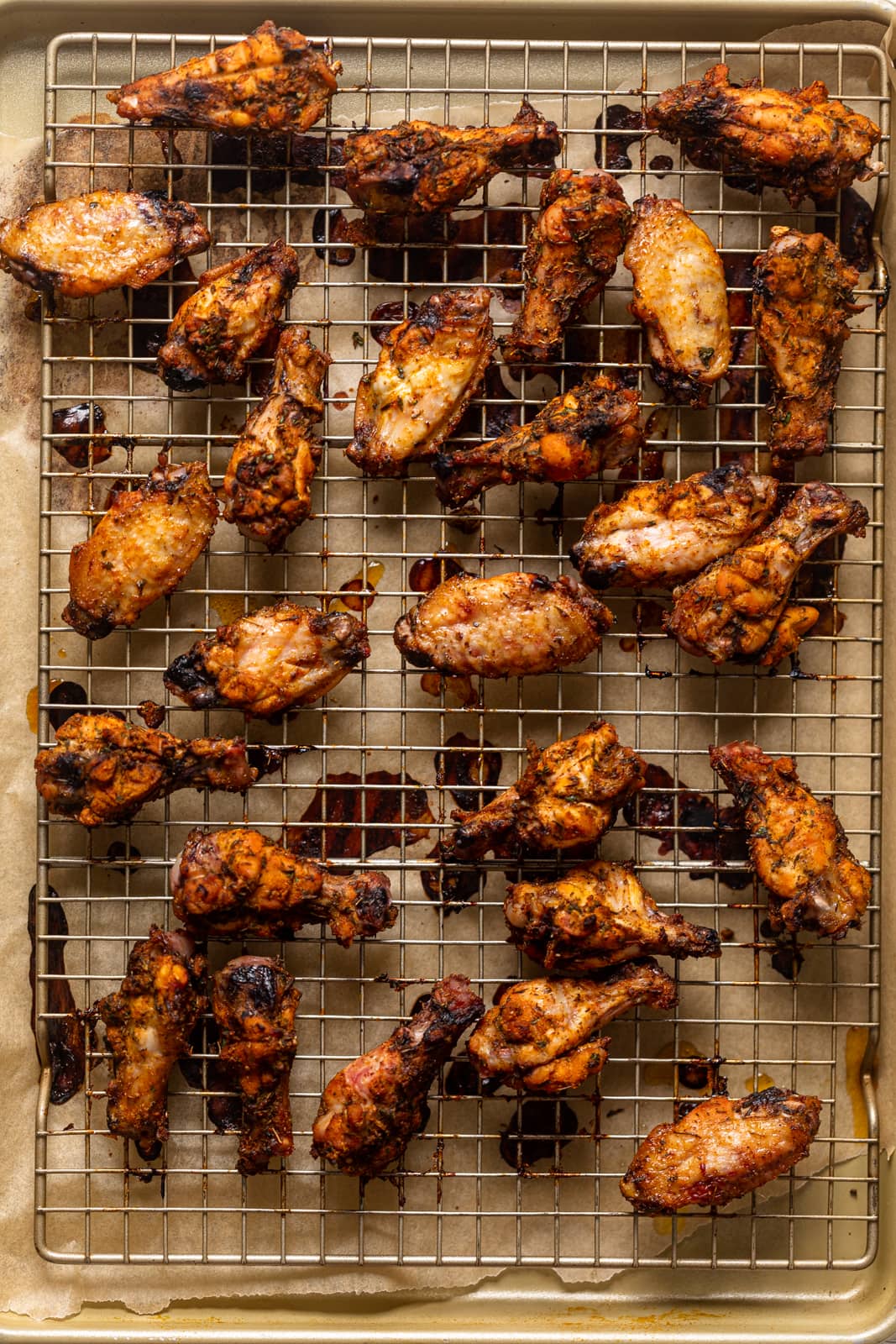 Ingredients 
You'll need the following ingredients for these sticky peach chicken wings:
Peach preserves or jam. I like to use organic preserves/jam by Bonne Maman, however, homemade jam works great too!
Unsalted butter. This adds additional flavor.
Brown sugar. This adds a nice glaze-like texture to the sauce.
Apple cider vinegar. This gives the sauce acidity and a slight tangy taste.
Chicken stock. I like to use organic chicken stock, you can also use veggie stock if preferred.
Garlic. Fresh minced or grated garlic also works.
Chicken wings. I like to use organic wings that are disjointed (comes in two pieces) for a better cook.
Herbs + seasonings. For a nice flavor profile, I like to well season my wings with: salt, black pepper, smoked paprika, parsley, thyme, oregano, and garlic powder.
Tips + Tricks to The Crispiest Chicken Wings
To make sure your wings get as crispy as possible without needing an actual "coating", follow these simple tips:
Make sure each wing has plenty of space on the baking sheet. The airflow helps things crisp up.
When using a baking sheet, add a wire rack atop the parchment paper so that wings can crisp up nicely on all sides.
Cook wings until crisp prior to adding sauce so that they have minimal liquid.
After rinsing your wings, be sure to pat dry completely until they are as dry as possible.
What are the Two Types of Wings?
When it comes to wings, there are two types: Drums (a.k.a. drumettes) and flats (a.k.a. wingettes). The drums actually look like miniature chicken legs and have one single bone in the middle surrounded by meat, whereas the flats are "flat" and contain two smaller bones that runs the length of the wing.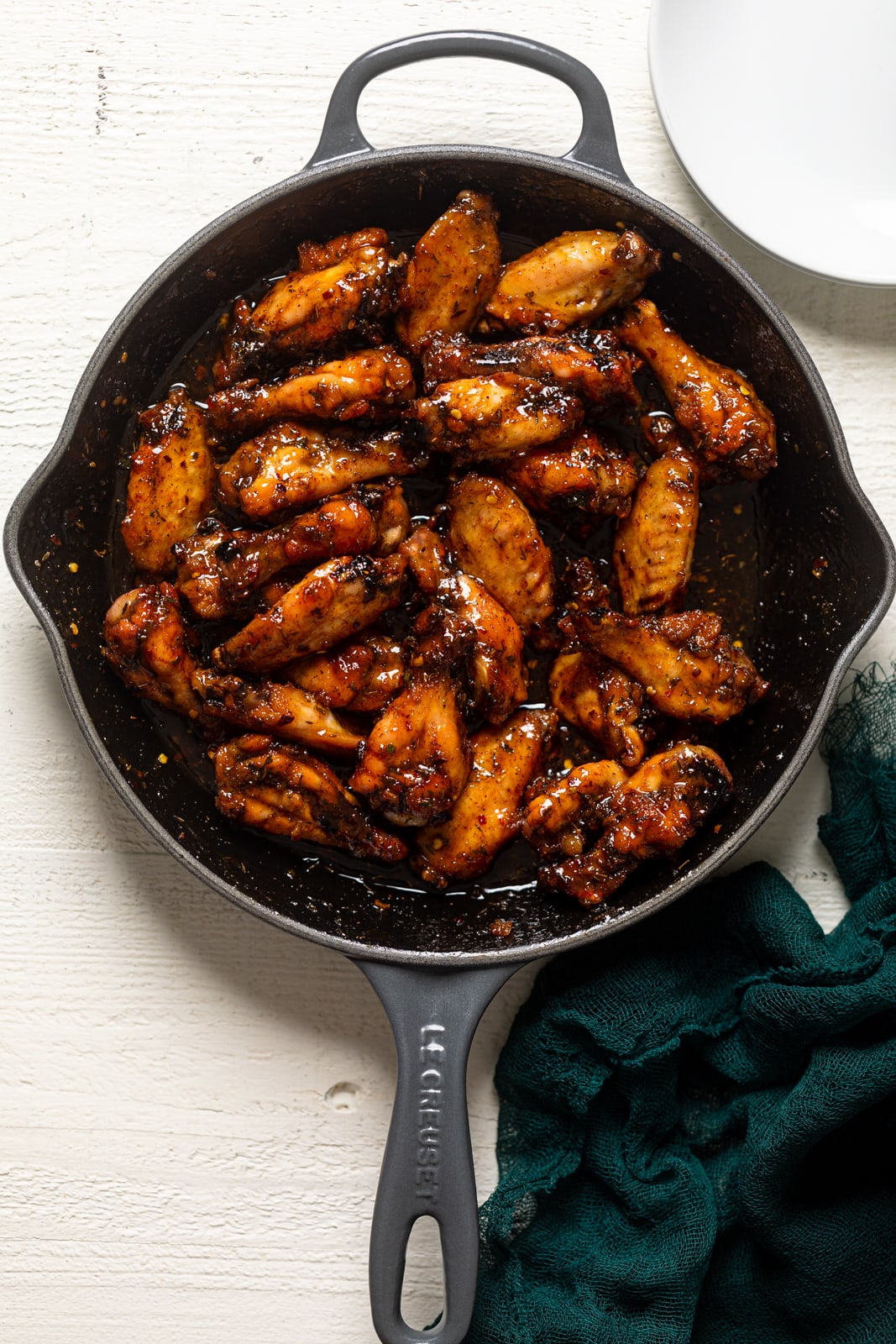 Baked Buffalo Wings versus Air-Fried
Of course, both methods of making these sticky peach chicken wings is effective. However, if you're wondering whether you'd be able to also make these wings in an air-fryer—-then yes! Absolutely!
Simply do all steps the same (minus adding the bit of peach sauce) and cook them in your air-fryer for the amount of time needed (somewhere between 10-15 minutes I believe). Once crisp, make the peach sauce in the skillet, toss them in the sauce and wallah.
As you know, this recipe is for baked wings and honestly, they're just as crispy as using them in the airy-fryer (especially when you use a wire rack), so the choice is yours!
When Are Peaches in Season?
The United States sees its peak peach season every summer. You will begin to see them emerge in grocery stores around May, with September being the end of the season. The peak harvest season for peaches is July and August.
I like to get my peaches from the freshest source possible. When peaches are already very ripe, I usually pass on them. I generally like to allow the peach to soften and ripen on my countertop so I can keep an eye on them. Overripe peaches are hard to revive. Buying firmer peaches gives you more time to make a variety of recipes with them.
If you buy your peaches at the farmer's market, the farmer will likely tell you all about the growing process. I have learned so much about produce by simply talking to the local farmers that sell at my local summer market. They are always helpful in identifying types of peaches, how they grow, and how to cook them.
This goes for any fruit, not only peaches. During cherry season, farmers will market their freshest cherries. During apple and pumpkin season, you barely see any other type of produce. Seasonal fresh produce is the best way to pick the freshest fruit available.
What to Serve with Sticky Peach Chicken Wings
These sticky peach chicken wings are full of flavor all on their own. But who doesn't love to dunk and dip?
Serve your wings with any (or all) of these tasty condiments:
Blue Cheese
Kimchi mayo (Whole Foods Market has a great option)
Salsa verde
More hot sauce!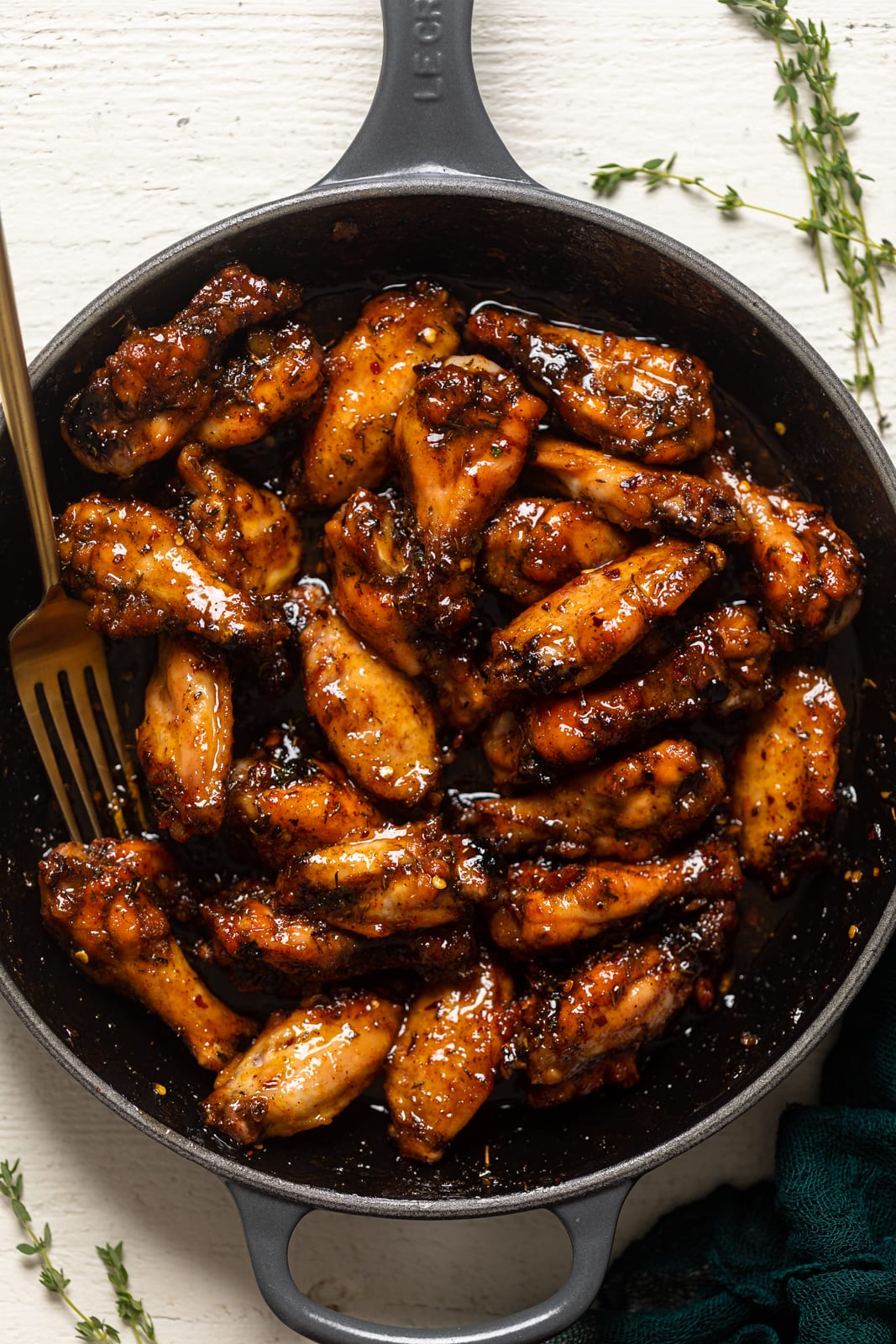 How to Serve Sticky Peach Chicken Wings
You can eat these Sticky Peach Chicken Wings hot out of the oven dipped in your favorite creamy sauce as a standalone food. I like ranch, dairy-free creamy lime dressing, or my creamy avocado dressing.
However, if you're thinking about serving these wings with something to create a complete, full meal, then I recommend trying my favorite ways to incorporate them:
How to Store Leftovers
These sticky peach chicken wings are best the day they're made, since they're so crispy. However, you can store leftovers in an airtight container in the fridge for up to four days. Reheat them in the oven or in an oven or air fryer to crisp them back up when you're ready to serve.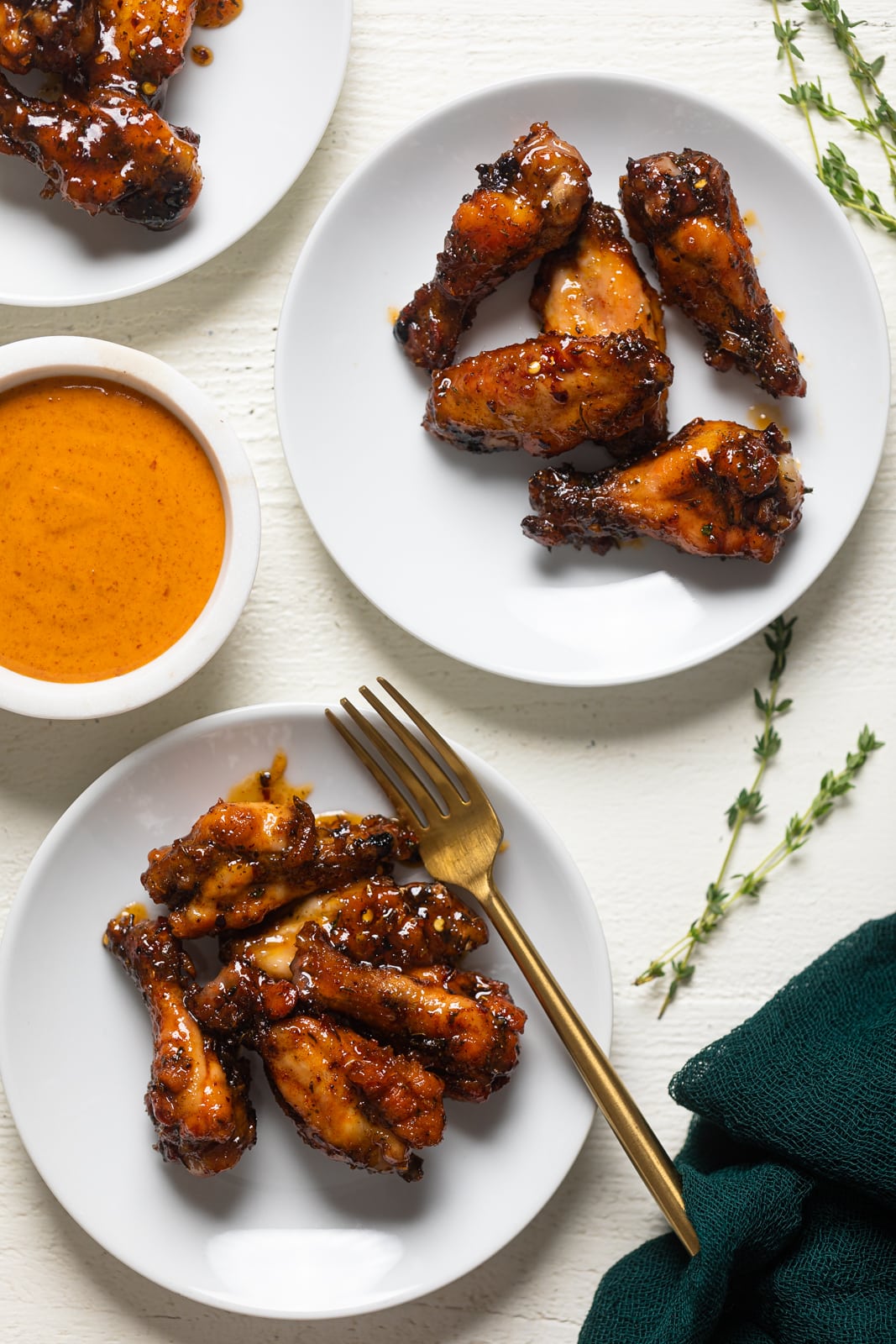 My Fave Chicken Recipes
If you're a true lover of these Sticky Peach Chicken Wings like I am, then these other chicken recipes will surely be a new staple in your house:
MADE OUR RECIPE(S)?
If you choose to make these Sticky Peach Chicken Wings or any other recipe from us, be sure to tag us on Instagram at #Orchidsandsweettea so that we can share the love!
PREPARE THE WINGS:
Preheat the oven to 400 degrees Fahrenheit and line a baking sheet with parchment paper and then add a wire rack atop. NOTE: Doing this step is a MUST to prevent sticking and ensures that the wings crisp up evenly. OPTION 2: Prepare a 12-inch oven-safe iron cast skillet and grease with butter.

Rinse your chicken wings and pat dry well to remove as much excess liquid as possible. Once dry, add the seasonings: salt, black pepper, smoked paprika, parsley, thyme, garlic powder, and oregano and rub everything together with your hands until wings are well coated.

Line each wing atop prepared wire rack on baking sheet side by side, about 1 inch apart.

Bake wings for about 20-25 minutes or until crisp and cooked through before adding the sauce.
TO MAKE THE PEACH SAUCE:
In a saucepan over medium-high heat, add the butter and let it melt. Add the minced garlic and sauté until fragrant, about 1-2 minutes.

Add in the brown sugar, peach preserves/jam, apple cider vinegar, chicken stock, salt, black pepper, and red pepper flakes---whisking until everything is combined and the sauce becomes smooth. Reduce heat to low and allow the sauce to simmer for 1-2 minutes until is had a "sticky" consistency.

Once the wings have become crispy, remove from the oven and add them to the sauce, tossing until wings are fully coated.

Serve wings immediately with your favorite side or salad.

Bon Appetit!
STORAGE: Store leftovers in a tightly sealed container in the refrigerator for 3-4 days. Reheat in oven when ready to serve.
SWEETENER: You can always substitute honey with Agave or maple syrup instead of brown sugar, if desired.
Calories:
696
kcal
|
Carbohydrates:
75
g
|
Protein:
29
g
|
Fat:
31
g
|
Saturated Fat:
11
g
|
Polyunsaturated Fat:
6
g
|
Monounsaturated Fat:
11
g
|
Trans Fat:
1
g
|
Cholesterol:
133
mg
|
Sodium:
756
mg
|
Potassium:
395
mg
|
Fiber:
2
g
|
Sugar:
55
g
|
Vitamin A:
816
IU
|
Vitamin C:
9
mg
|
Calcium:
71
mg
|
Iron:
3
mg
Sticky Peach Chicken Wings.