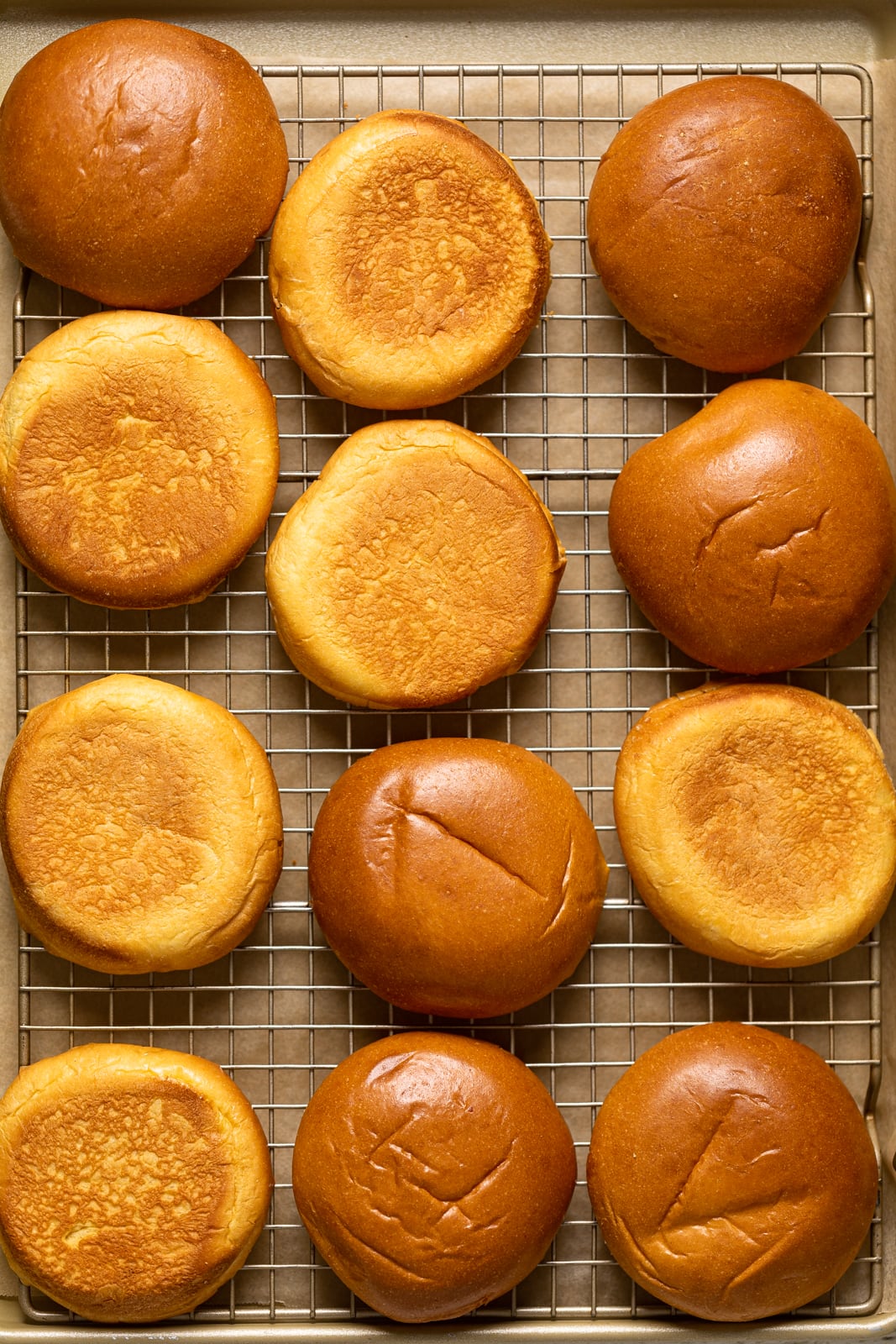 BBQ Pulled Chicken Sandwich in 3 Steps
To make these BBQ pulled chicken sandwiches, there are only 3 main components:
Tender chicken breasts, shredded, and coated in a delicious BBQ sauce.
Freshly chopped jalapeños and dill pickles for a soft crunch
Toasted buns---brioche buns
How to Cook BBQ Pulled Chicken Sandwich
Cooking BBQ Pulled Chicken Sandwich is generally an easy process—in total about 40-45 minutes. You first start by cleaning and washing your chicken pieces to ensure that they are clean and ready to be seasoned. I like to wash my chicken with both vinegar and lemon to help keep things clean and sanitized.
Once your chicken is clean, then it's seasoning time! I'm all about seasoning every "layer" of my food, therefore, the chicken gets direct seasoning and so does the sauce. Let everything marinate for 5-10 minutes or overnight tightly wrapped in the refrigerator for the best results.
Once marinated, remove from the refrigerator and let sit at room temperature before baking the chicken breasts in the oven.
On the stovetop, stir the BBQ sauce, red pepper flakes, chicken, and honey together until coated.
Assemble chicken sandwiches-------wallah!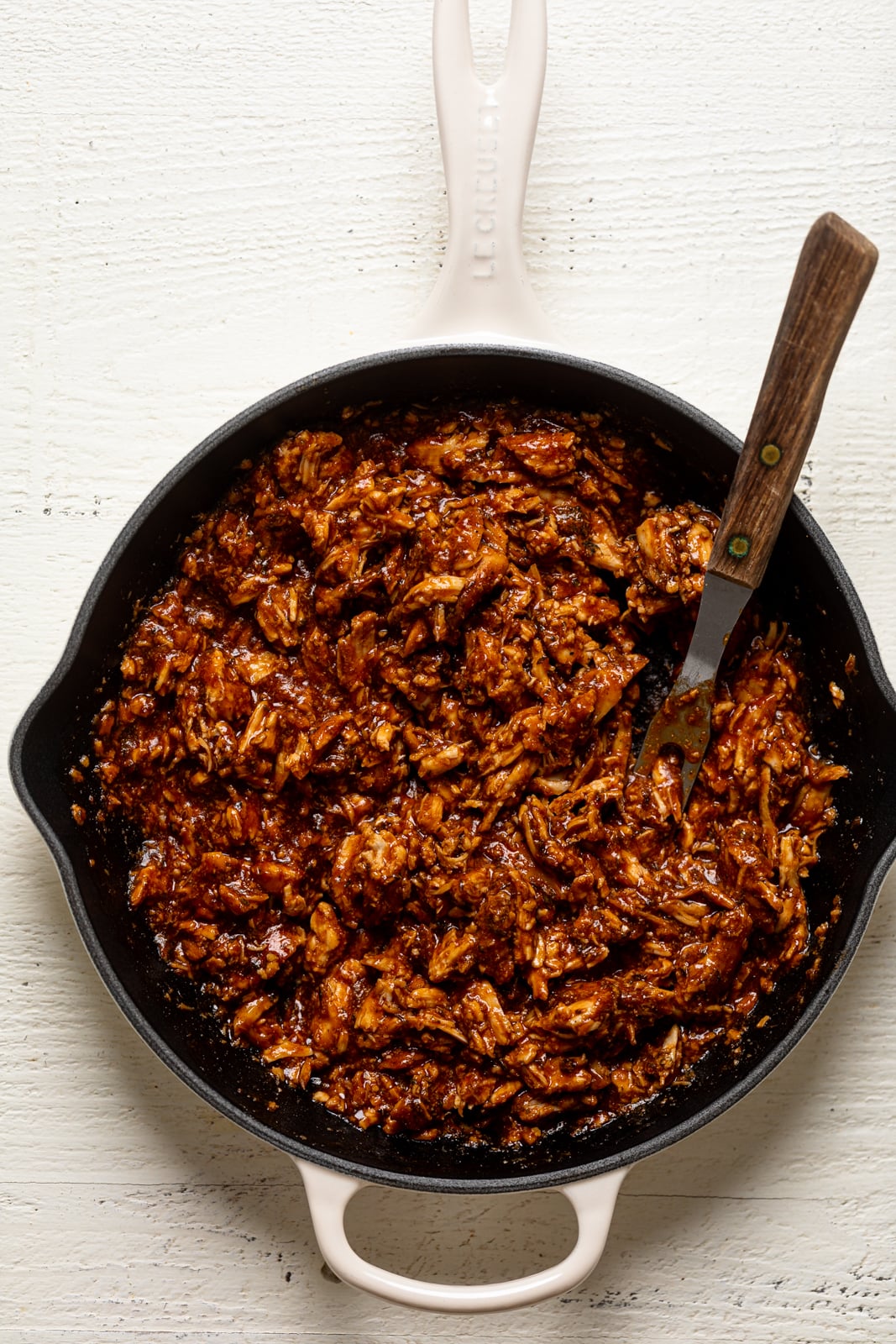 Dairy-Free Herb Aioli Sauce
If you're thinking about adding a sauce to the mix with these BBQ Pulled Chicken Sandwiches-----don't skip the creamy and savory herb aioli sauce. I keep it vegan because I'm avoiding too much dairy and of course, this recipe is all vegan.
You can use regular mayo if you're not avoiding dairy. Otherwise, this sauce is quick and easy to make with fresh and powdered garlic, lemon juice, and a bit of dried dill, oregano, and cilantro. See recipe here!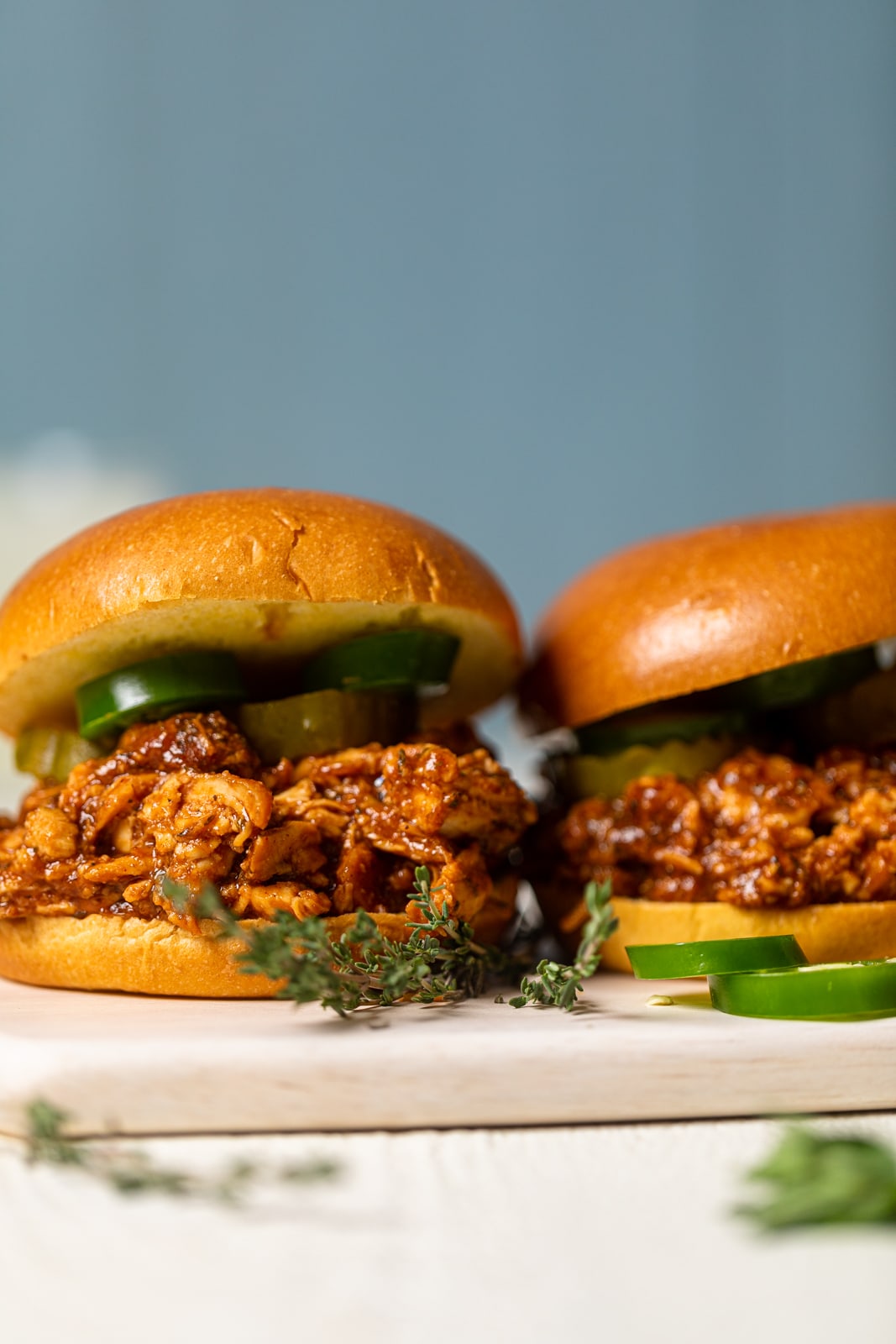 Topping Ideas
Pile these flavorful BBQ Pulled Chicken Sandwiches with your favorite toppings, including:
Tomato slices
Shredded lettuce
Shredded cabbage
Pickles
Sliced jalapeños
Red onion
Slaw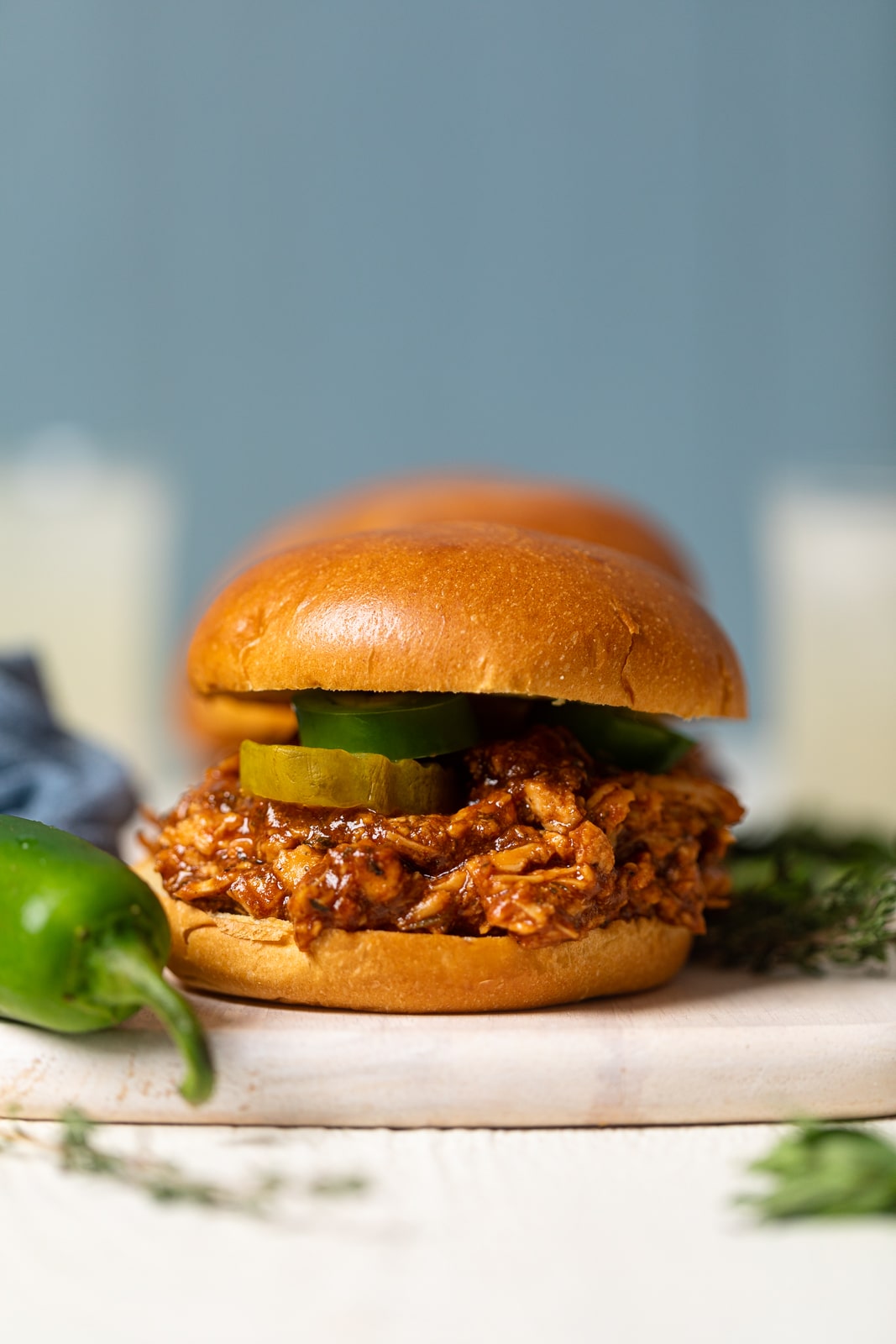 How to Best Use Pulled Chicken
Not making these BBQ Pulled Chicken Sandwiches? No worries----pulled chicken is so versatile that you can definitely add it to many other dishes. For starters, you can add it to your favorite salad (hello, Ultimate Summer BBQ Chopped Kale Salad) or with this Easy Weeknight Creamy Tuscan Ravioli.
Of course, as I've stated before, shredded chicken can be incorporated in the following foods:
Pizza
Sandwiches
With pasta
Baked ziti
Scones
with Fries or wedges
Atop mashed potatoes
Soup
and so much more.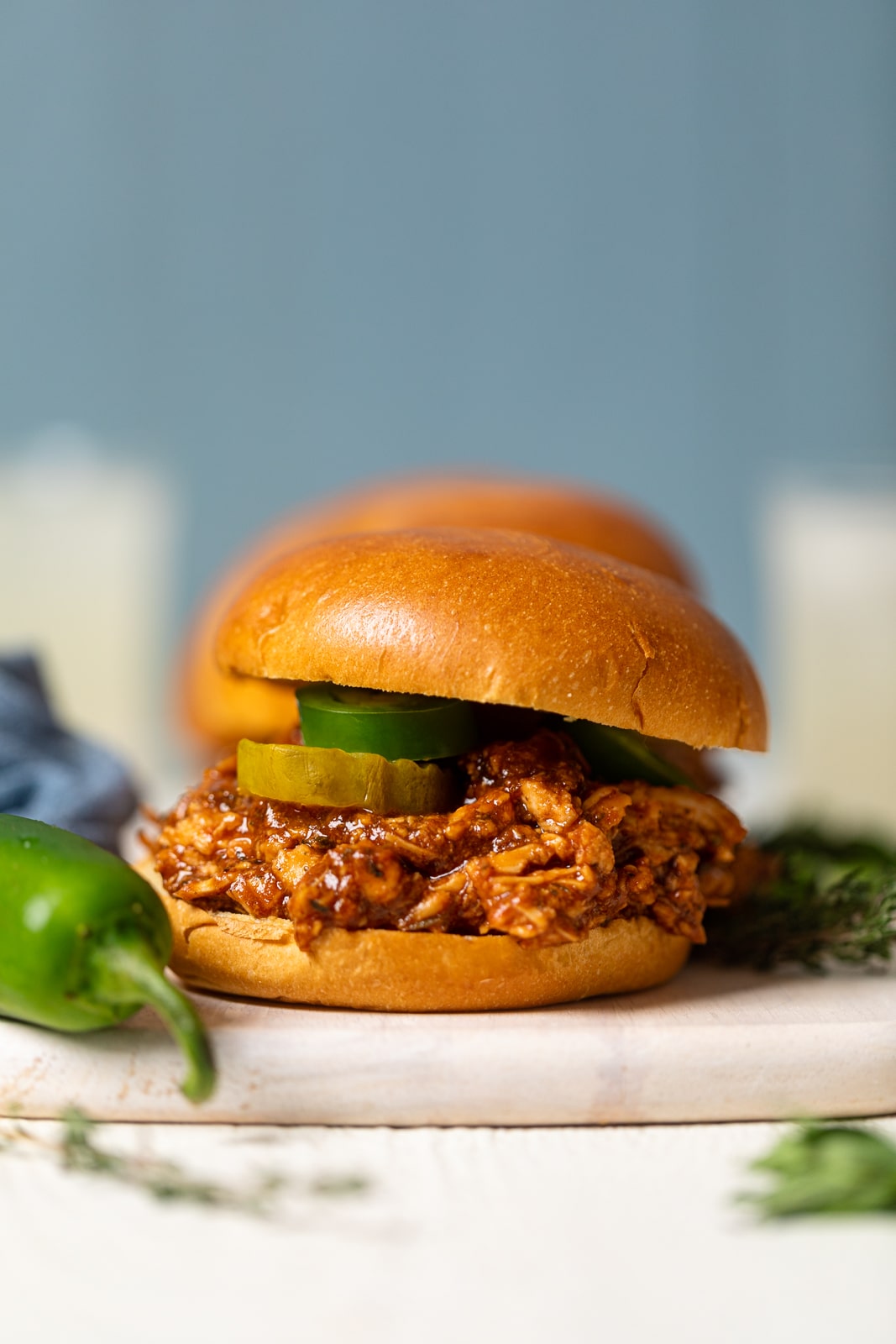 More Delicious Sandwich Recipes
MADE OUR RECIPE(S)?
If you make this Best BBQ Pulled Chicken Sandwich, be sure to tag me on Instagram @orchidsandsweettea!