Quick + Easy Blood Orange Kale Salad: Sometimes you're just craving a healthy, light salad for lunch. If that sounds like you every now and then, you don't need to suffer a boring plain old bowl of greens. Instead, add a splash of color, flavor, and nutrients with fresh fruit. This time of year, I'm always trying to eat more citrus. It's full of vitamin C to provide an immune-boosting dose of nutrients. Plus, it adds a bit of sweetness and tart flavor to this salad for a unique flavor profile.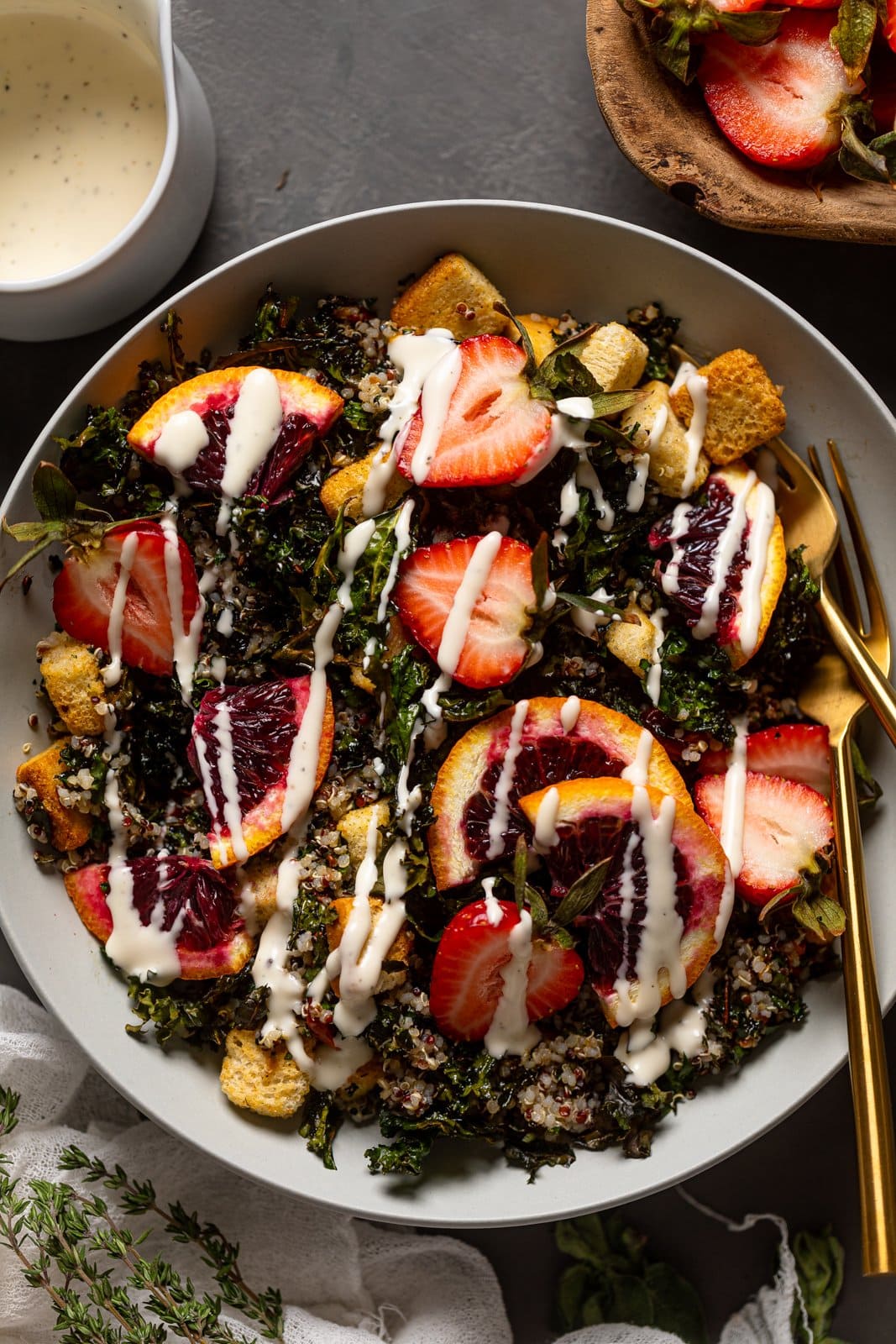 This salad is both elegant and so easy to make. You can even prepare it ahead of time and store this salad in the fridge for an easy on-the-go lunch. This is one healthy recipe that will have you feeling your best.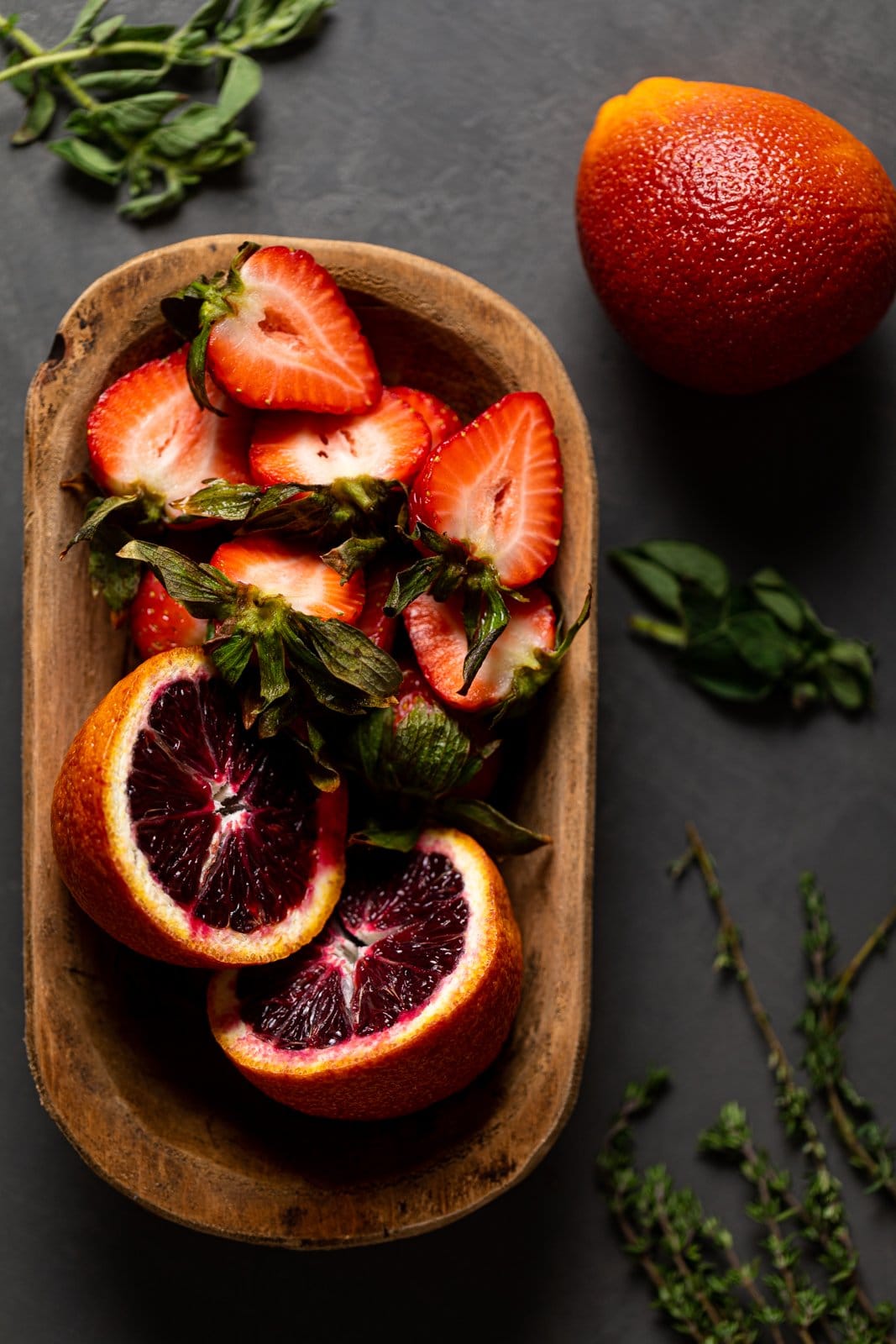 How To Make The Easiest Blood Orange-Kale Salad
Ready to get in the kitchen to whip up this super simple salad? Let's get to the recipe.
Ingredients
The ingredients for this wintery salad are simple and easy to customize based on what's in your kitchen:
Quinoa. I love the earthy flavor and soft texture that quinoa brings to this salad. You can also substitute quinoa with another grain such farro or roasted veggies like cauliflower, Brussels sprouts, sweet potato, and more.
Olive oil. Use a nice high-quality extra-virgin olive oil to roast the broccoli.
Garlic powder. You can also use fresh minced garlic if you prefer in the dressing.
Kale. Be sure to chop your kale leaves well into bite-sized pieces. No one likes feeling like they have to chew for 5 minutes to get through a tough leaf of kale! If you prefer a different leafy green, you can use spinach, romaine, butter lettuce, or another favorite salad base. For an extra touch, I chose to roast my kale for a nice crisp!
Blood oranges. This citrus fruit makes the most dramatic presentation with the contrast between deep green kale and ruby red blood orange. You can also substitute blood oranges with another orange citrus, including Cara Cara oranges, mandarins, clementines, or satsumas.
Strawberries. Use dark red, organic berries for the most flavor. If strawberries aren't in season, you can also use dried fruit, such as cranberries or apricots. Other berries are also delicious in this salad, including raspberries and blackberries.
Croutons. Feel free to use your favorite gluten-free croutons if necessary! You can use store-bought or make your own croutons with a loaf of stale bread.
Salad dressing. Use your favorite homemade or store-bought dressing to bring this salad to life! I made my favorite homemade garlic dressing which adds a great bold flavor.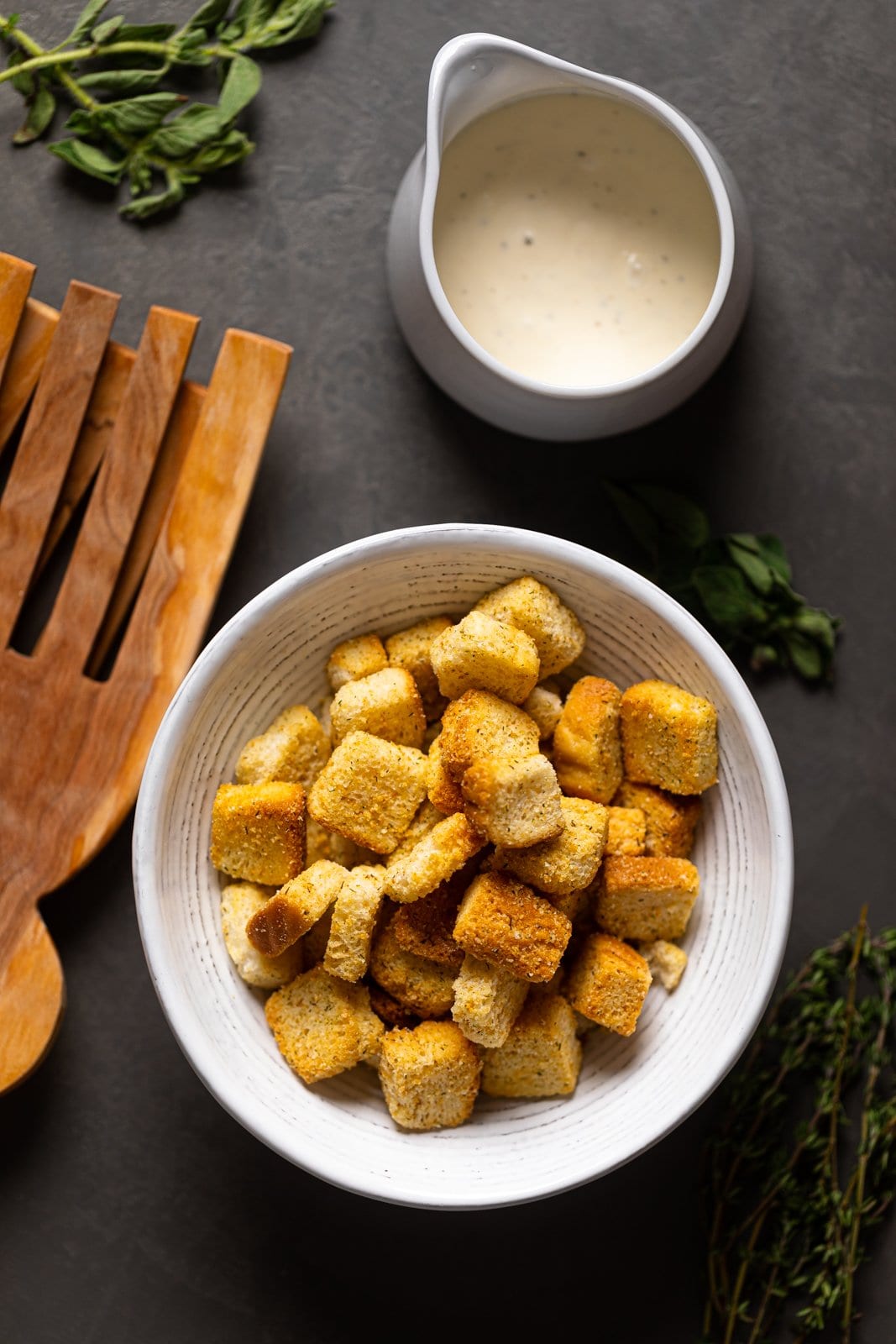 Additional Ingredients
If you want to take this already delicious winter salad to the next level, have fun tossing in your favorite salad toppers. I especially love the following ingredients with the kale and citrus in this recipe:
Diced mango
Peaches
Pitted olives
Figs
Spinach, arugula, romaine, and other lettuces for a varied texture
Cheese, either dairy or plant-based (goat cheese would be especially nice in this salad)
Toasted nuts and/or seeds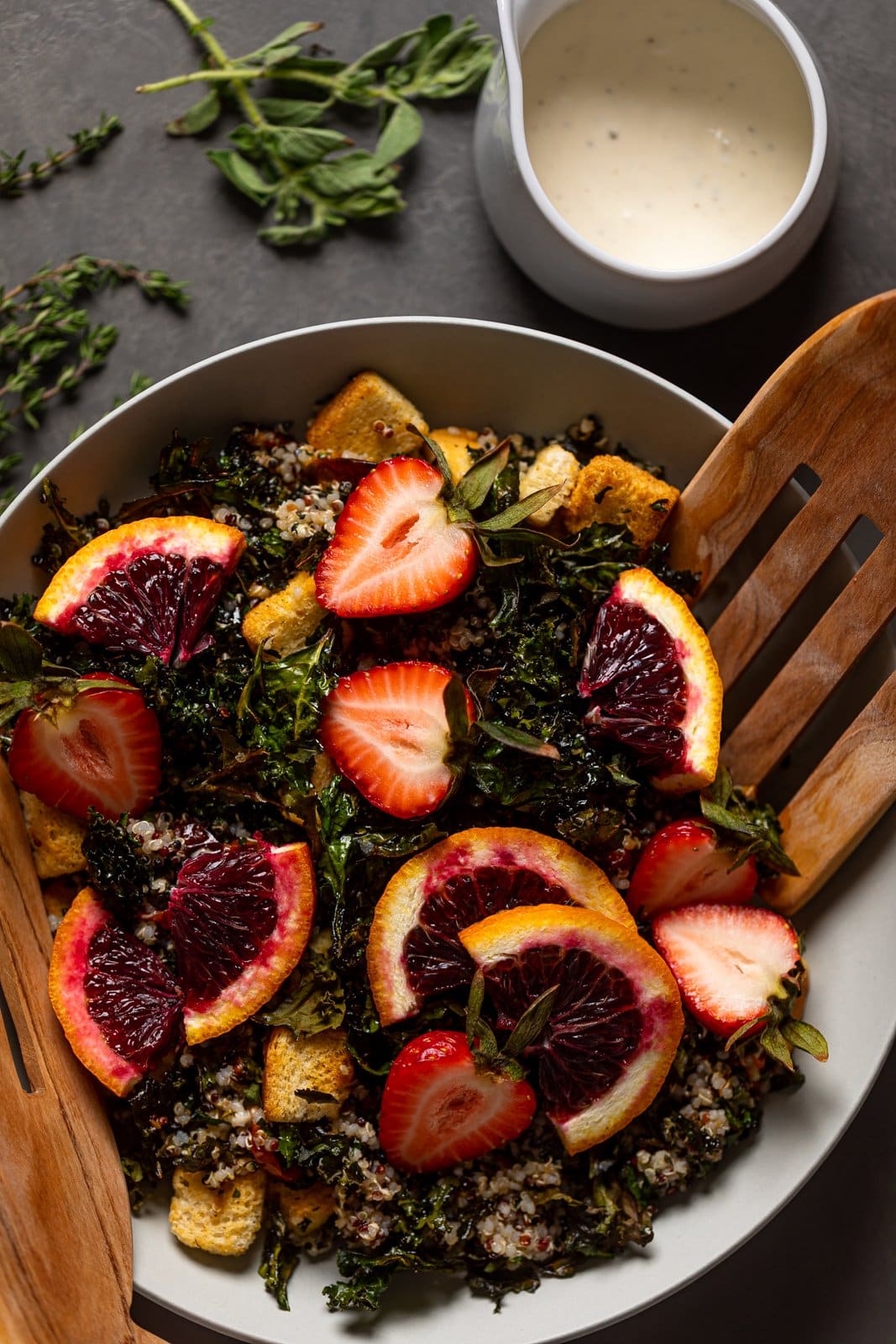 Can I Make This Salad for Meal Prep?
You can prep this hearty kale salad up to two days ahead of time. The roasted tomatoes and quinoa can be made up to 2 days beforehand and stored in an airtight container and refrigerated. The dressing can be made and refrigerated in a separate airtight container. The salad can be tossed up to 30 minutes before serving.
You may also want to slice the strawberries just before you dig in, as if they're left to sit too long, they may soften up and release lot of their sweet juice.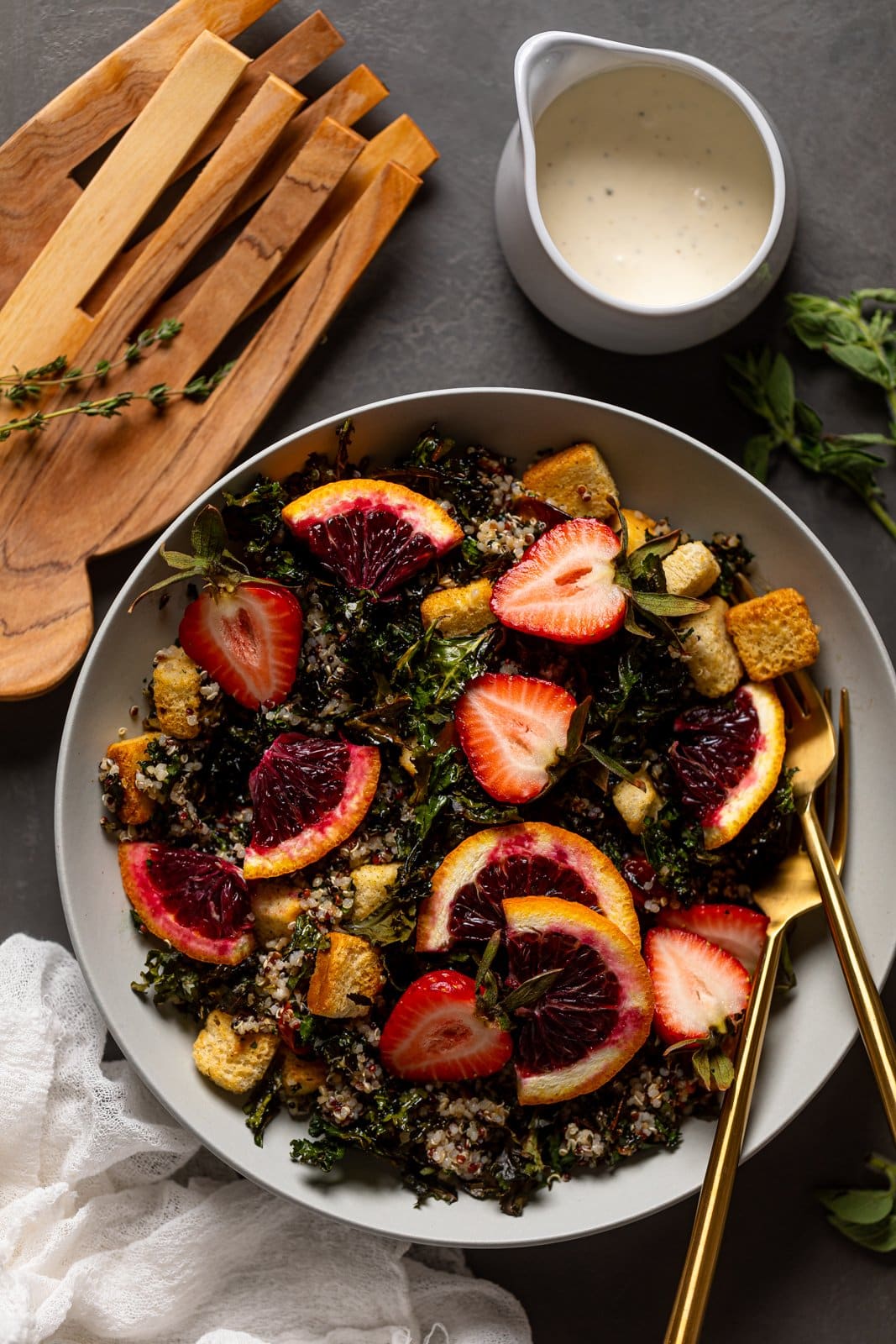 Best Salad Dressing for Blood Orange Kale Salad
This fruity salad is great with a wide range of different salad dressings. In particular, I love the combination of strawberries with a bold garlic dressing or nice sweet balsamic vinaigrette. The great thing about this salad is that you can make a big batch and let everyone dress their own, so there's something for every palate.
Here are some of my favorite homemade salad dressing recipes to whip up and drizzle on your salad:
Dairy-Free Garlic Salad Dressing
This creamy and vegan salad dressing ties the salad together. It gives it body, heft and a silky-smooth texture you'll love.
Here's what you need to make dairy-free dressing:
Garlic. I amp up the garlic flavor by using both fresh and dried.
Vegan mayonnaise. You can use any brand you like. If you're not vegan, feel free to use regular mayo.
Almond milk. feel free to use a different dairy-free milk.
Dried parsley. A different herb like basil or oregano will also work.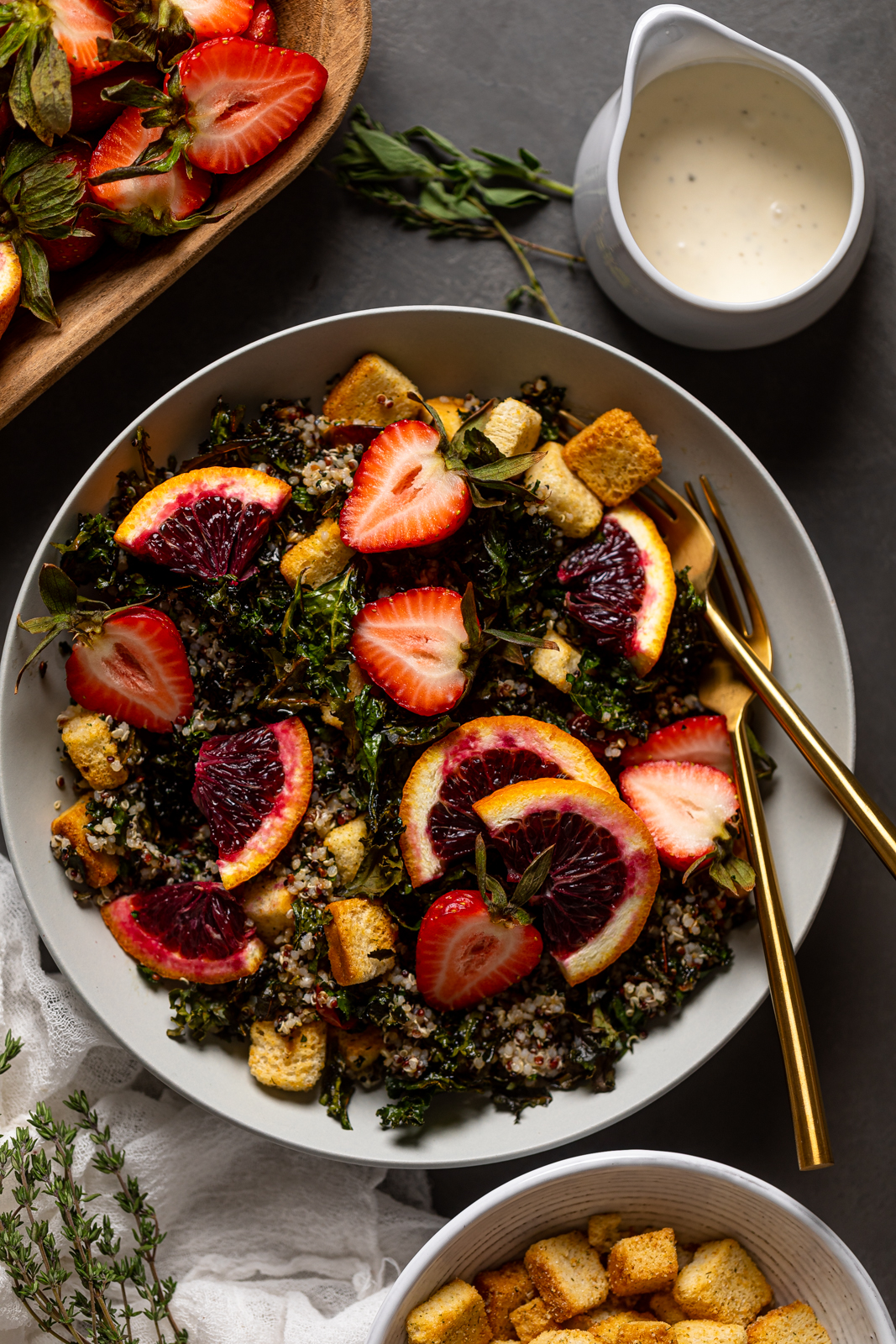 What to Serve with Blood Orange Kale Salad
You can enjoy this salad on its own as a light lunch. Or, if you'd like to add some protein to round out your meal, add crispy tofu or nuts to keep things plant-based. If you're not vegetarian or vegan, you can add seared salmon or leftover cooked chicken.
If you're offering this salad as a side dish, I personally love it paired with a hearty and warming entree like Vegan Cheesy Carrot Soup or Vegan Bolognese Pasta.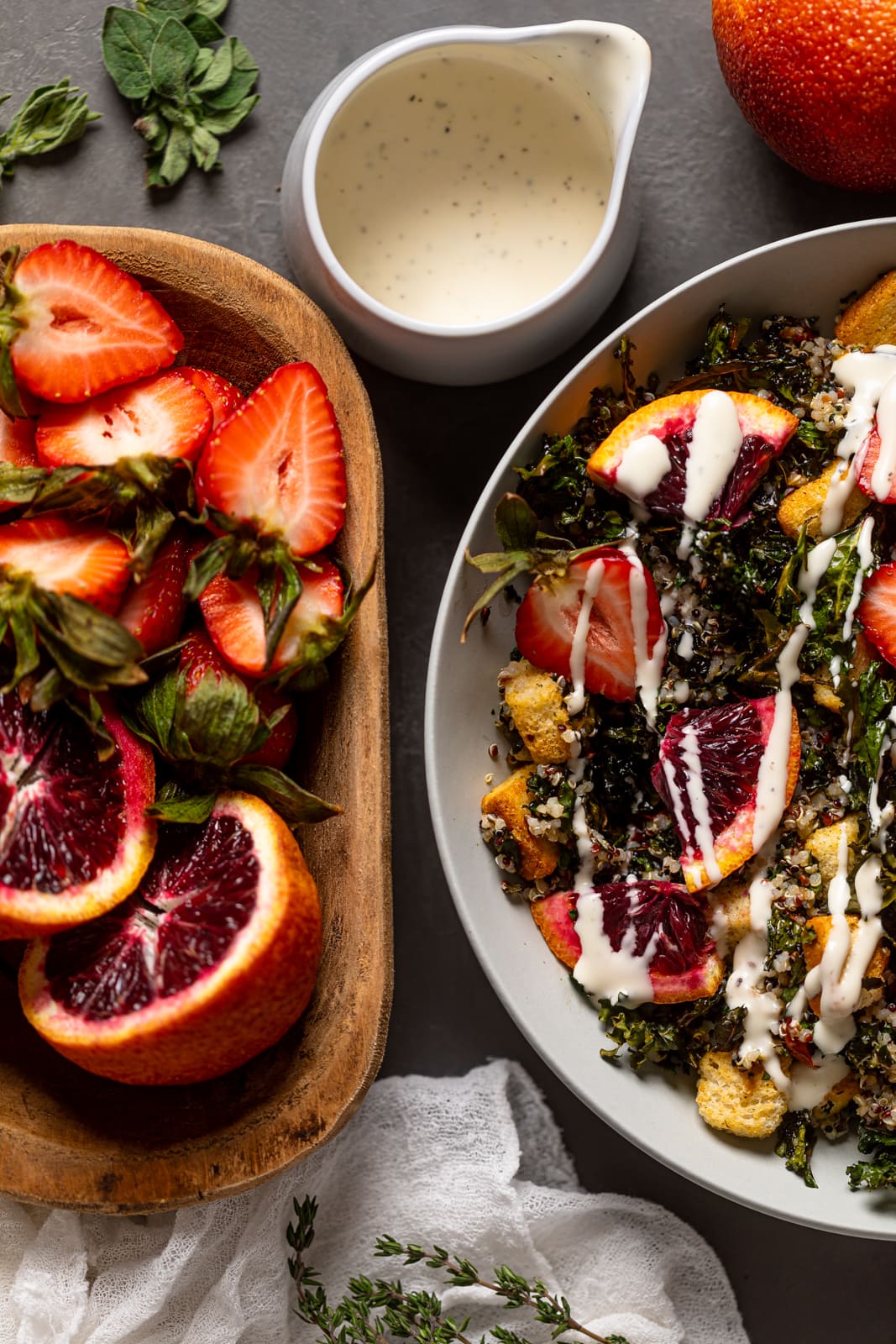 More Hearty Plant-Based Salad Recipes
MADE OUR RECIPE(S)?
If you make this Blood Orange Kale Salad or any other recipe from us, be sure to tag us on Instagram at #Orchidsandsweettea so that we can share the love, rate, comment below, + share!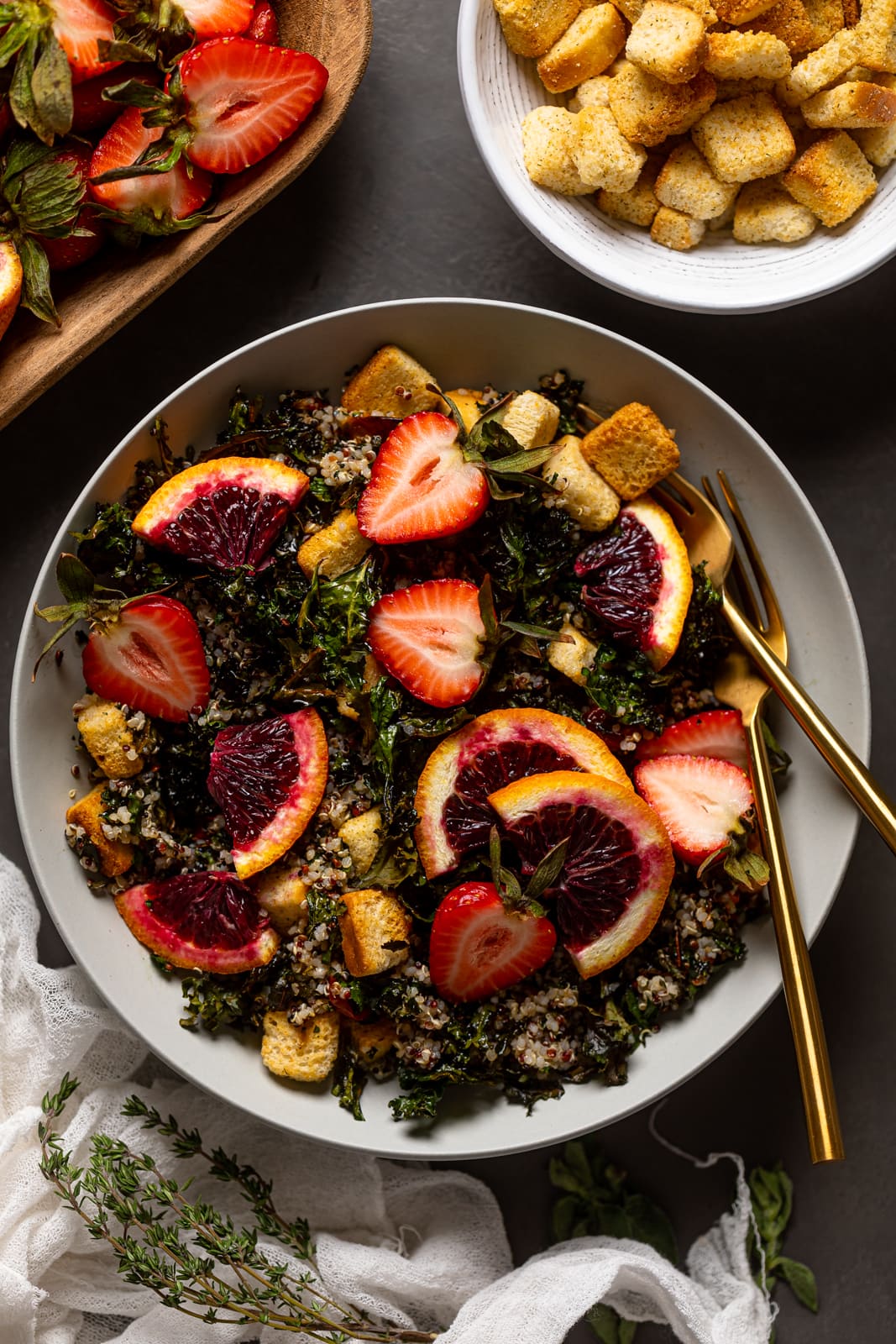 SALAD:
4

cups

kale, de-stemmed + chopped

(Roasted, if desired)

2

Tbsps

Extra virgin olive oil

1

teaspoon

sea salt

2

cups

fresh strawberries, stems removed + halved

2

blood oranges, thinly sliced

(skin on)

2

cups

croutons, homemade or store-bought

2

cups

Herb roasted tomatoes

(See Notes!)
DAIRY-FREE GARLIC DRESSING:
ROAST THE KALE:
If you choose to roast your kale, simply preheat the oven to 400 degrees Fahrenheit and line a baking sheet with parchment. Add chopped kale unto baking sheet, spreading evenly and drizzle with olive oil and salt. Bake for 10-15 minutes or until kale is wilted + crisp. Remove from oven.
TO COOK QUINOA:
Begin by adding the water and salt to a medium saucepan over medium-high heat until it begins to boil. Add in the quinoa, whisking continuously while boiling for 1-2 minutes. Reduce heat to bring to a simmer for 10-15 minutes, whisking every 3-4 minutes until fully cooked through, and water has dried, and the quinoa has thickened. Remove from heat and let it cool.
TO MAKE SALAD:
In a large bowl, add the roasted kale, cooked quinoa, strawberries, sliced blood oranges, croutons, and roasted tomatoes, tossing everything together.
TO MAKE DRESSING:
Mince 3 garlic cloves and place in a large jar or medium bowl. Add vegan mayonnaise, unsweetened almond milk, dried parsley, garlic powder, salt, and black pepper. Seal the jar and shake or whisk together until smooth and creamy.

Drizzle with the dressing when ready to serve and toss to combine.

Bon Appetit!
STORAGE: Leftovers can be refrigerated in an airtight container for up to 2 days.
ADDITIONAL INGREDIENTS: To add more flavor to this salad,  you can add the following ingredients:  mango, peaches, oranges, olives, figs, spinach, arugula, romaine lettuce, and so on.
MAKE AHEAD: The roasted tomatoes and quinoa can be made up to 2 days beforehand and stored in an airtight container and refrigerated. The dressing can be made and refrigerated in a separate airtight container. The salad can be tossed up to 30 minutes before serving.
HERB ROASTED TOMATOES: To see the recipe, tap this link.
Calories:
1452
kcal
|
Carbohydrates:
116
g
|
Protein:
23
g
|
Fat:
96
g
|
Saturated Fat:
11
g
|
Polyunsaturated Fat:
6
g
|
Monounsaturated Fat:
13
g
|
Sodium:
3746
mg
|
Potassium:
1240
mg
|
Fiber:
18
g
|
Sugar:
14
g
|
Vitamin A:
14464
IU
|
Vitamin C:
217
mg
|
Calcium:
601
mg
|
Iron:
10
mg
Quick + Easy Blood Orange Kale Salad.