How to Build the Perfect Breakfast Bowl --- It's no secret that a healthy (and filling!) breakfast is the best way to kick off your day. Not only does your breakfast set the stage for your daily energy and nutrition and it can also help combat a multitude of other health concerns. By fueling your body with a nutritious breakfast you are setting yourself up for success for the rest of the day.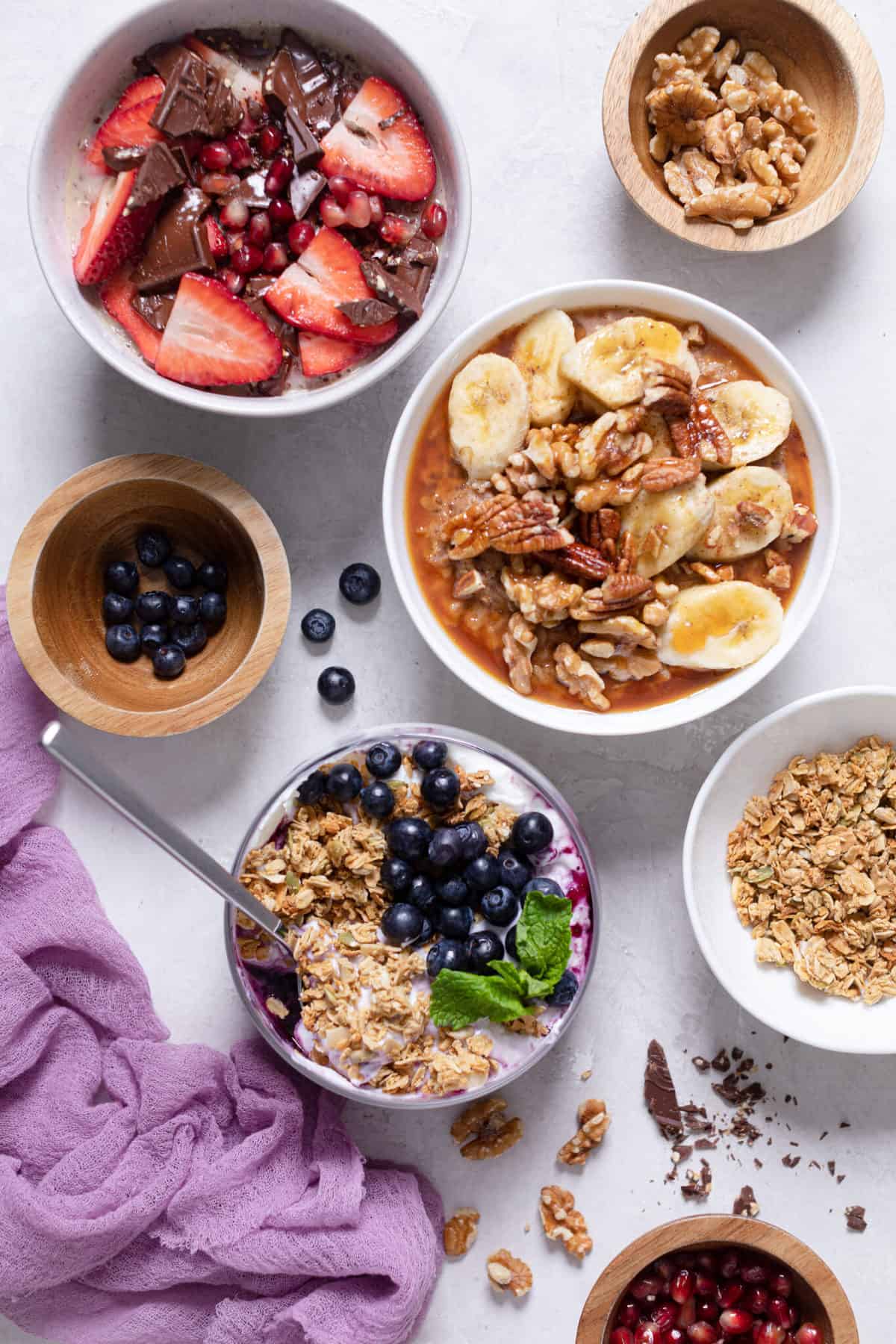 In today's blog post, I'm going to be sharing some of my favorite breakfast bowl recipes and my top recommendations for healthy superfoods to add to your breakfast bowls.
With these tips, you'll be able to mix and match my recipes with your favorite morning foods for a perfectly balanced breakfast bowl every time. One of the things I love most about breakfast bowls is their diversity, you could have a new version every single day if you'd like!
Sweet or Savory?
If you're like me, I often flip in between a savory and sweet breakfast. Sometimes I prefer a more hearty breakfast bowl, while other days I am looking to snack on something more simple and refreshing.
My moods certainly change with the seasons, and I love that the DIY element of breakfast bowls means you can constantly switch it up or stick with your favorite classics.
No matter if you prefer savory or sweet, there are plenty of breakfast bowl options available to you. I highly recommend checking out the #breakfastbowl hashtag on Instagram for some incredible drool-worthy breakfast bowls that people have created. I love how a breakfast bowl can not only be a nutritious breakfast but can also be a colorful work of art.
FYI----for the recipe to these delicious breakfast bowls pictured, check out our latest IG Reel!
How to Build a Breakfast Bowl
While building a breakfast bowl certainly isn't rocket science there are some helpful tips to consider to ensure you get the most out of your ingredients:
Start with a base that will make up the majority of your breakfast bowl flavor. This could be yogurt, oats, a smoothie, eggs, or other grains such as oatmeal, quinoa, or granola.

From there, layer your ingredients however you see fit. Don't be afraid of contrasting textures as the dynamics of crunchy and smooth ingredients often create a really tasty combo!

In addition, don't be afraid to mix your sweet and savory ingredients for a robust breakfast bowl that will satisfy all of your cravings. A great way to do this is with nuts, fruit, and yogurt.

And don't forget the garnish! I love topping my breakfast bowls with garnishes I find around my pantry, like nuts, fruit, chia seeds, or parsley for savory bowls.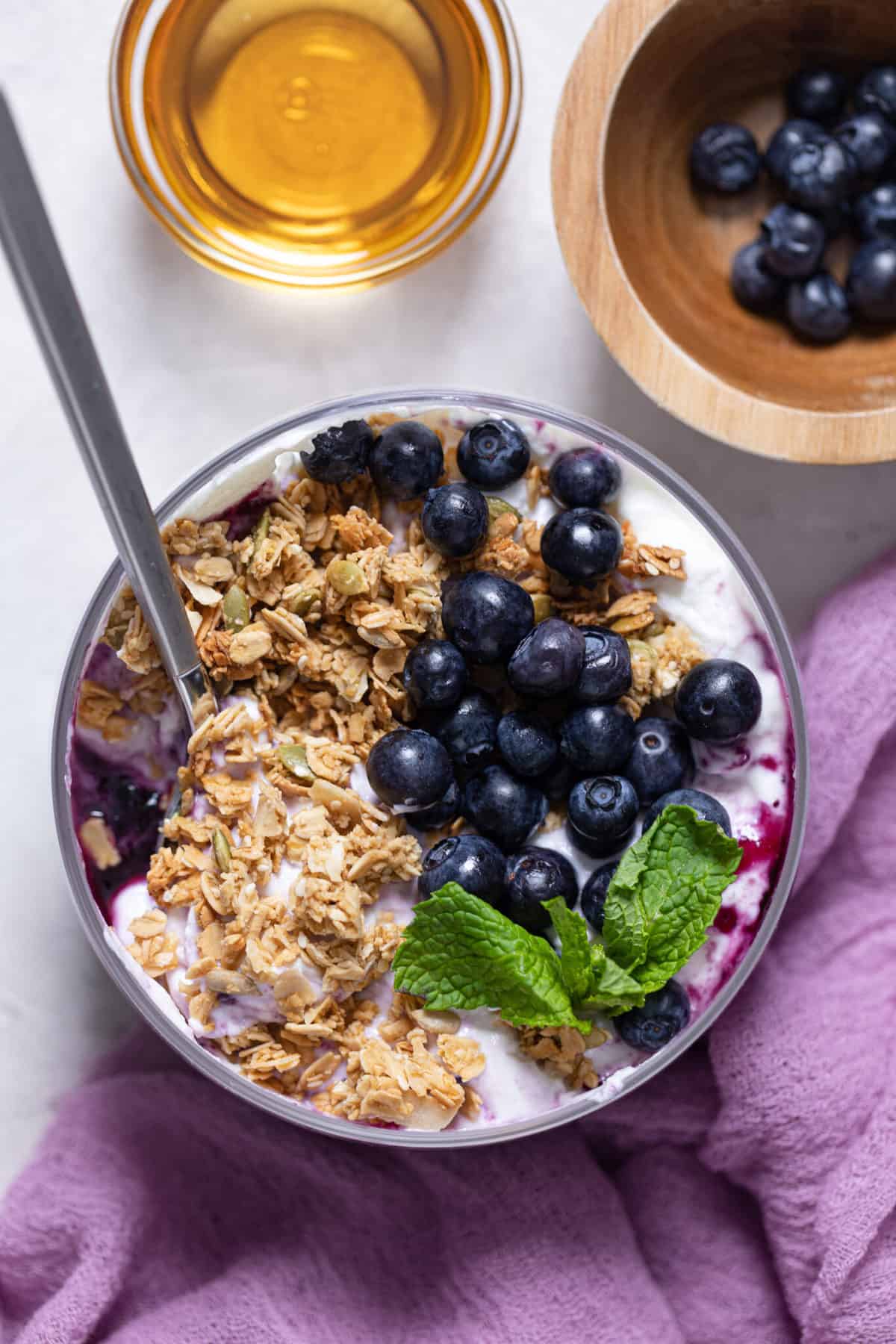 My Favorite Breakfast Bowl Ingredients
When creating my dream breakfast bowl, here are some of my go-to superfoods to create a yummy and nutritious breakfast.
Blueberries
Blueberries are some of the best antioxidants you can find! Not only are they delicious but the flavonoids in blueberries help to eradicate toxins in your body that damage your cell walls. This antioxidant property helps to promote healthy cell regeneration and can even improve your memory!
Acai berries
Another great form of antioxidants, acai berries contain high levels of anthocyanins which help to fight cancer, heart disease, and many other types of diseases. These berries are high in amino acids and other essential fatty acids to help promote healthy cells and internal systems. You can also get acai berries in powdered form to use in smoothies!
Flaxseeds
If you have been following me for a while, you know I LOVE flaxseeds for their accessibility and amazing health benefits. Along with being rich in antioxidants, flax seeds are good sources of fiber, omega-3 fatty acids, and other cancer-fighting vitamins like vitamin B. I use these little seeds in a ton of my recipes!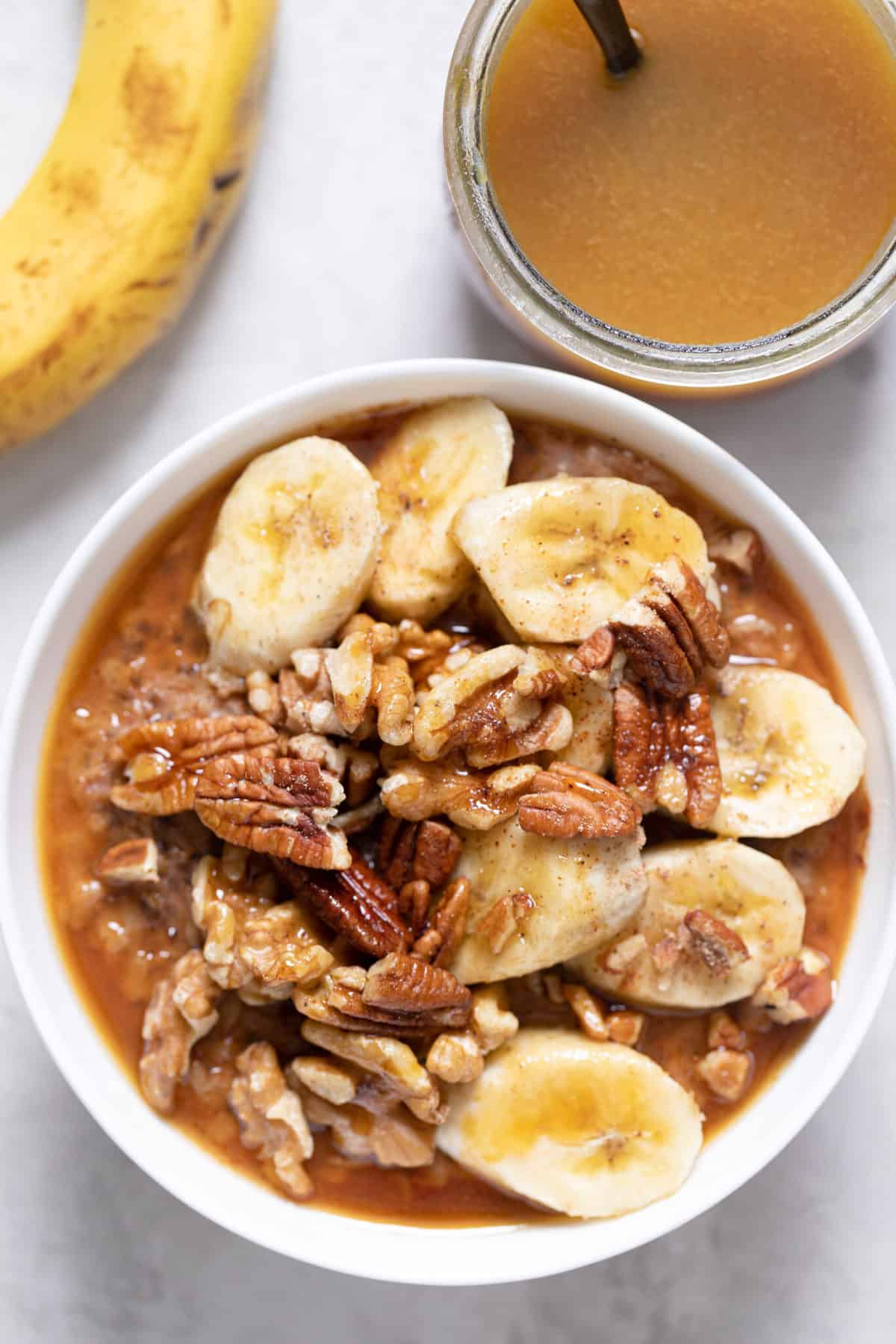 Oats
I love using oats for breakfast foods! My favorite ways to use oats include doing an overnight oat creation or using them for baking breakfast baked goods. Oats are high in crucial nutrients like calcium, magnesium, potassium, and vitamin E.
These little guys are also packed with protein making them an excellent choice for vegans or anyone looking to up their non-meat protein intake for breakfast. Due to their high nutritional value, oats are great for waking you up in the morning and kicking off your day with energy.
Strawberries
These fruits are super accessible at any local grocery store and are considered to be in the top 20 highest antioxidant-rich foods! Strawberries contain high levels of antioxidants known as polyphenols and are an excellent source of potassium. Strawberries are known for their digestive properties making them a popular choice for breakfast.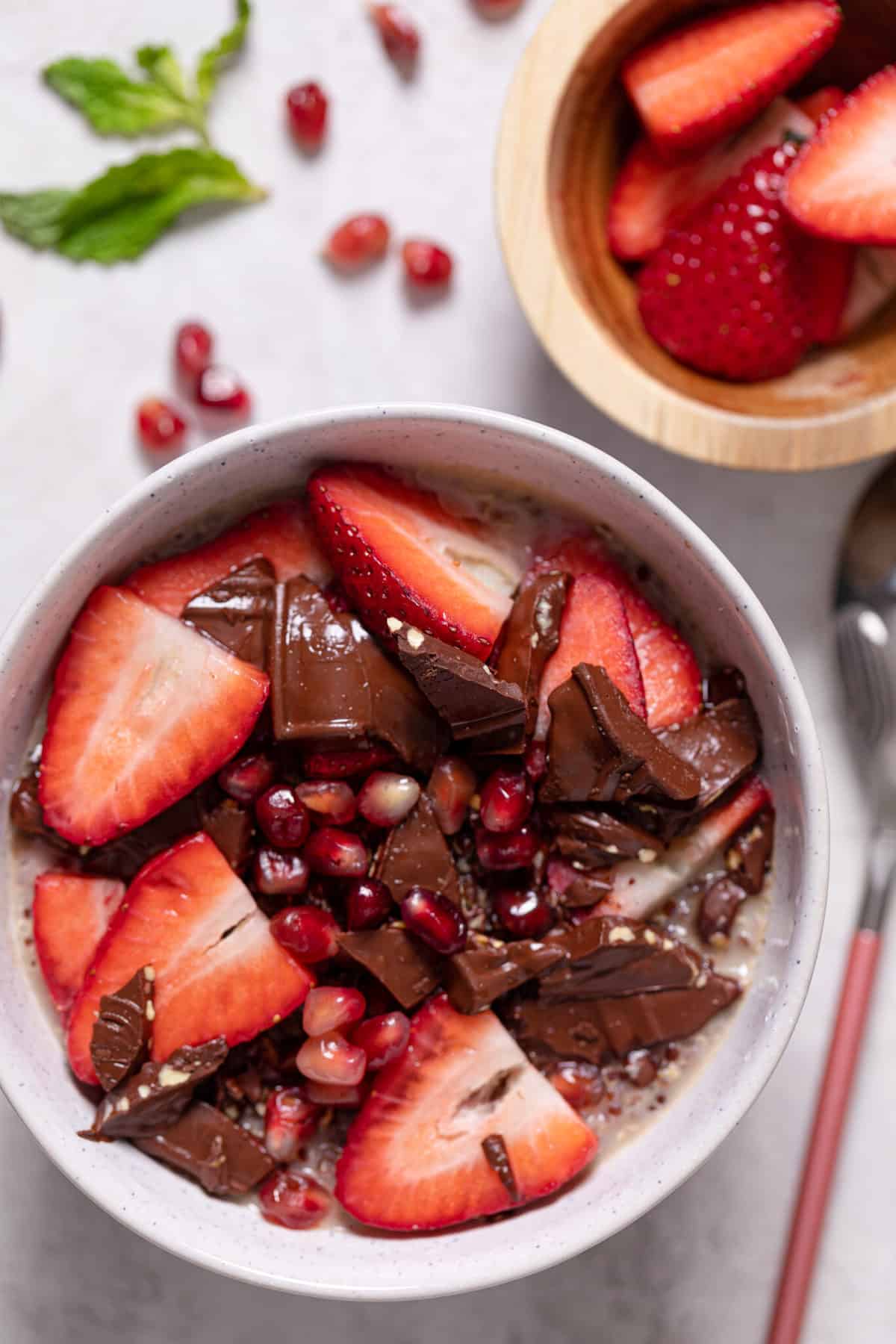 My Top Breakfast Bowl Recipes
Now that I have shared my favorite ingredients for breakfast bowls, here are some of my most highly recommended recipes! These breakfast bowls are in my weekly rotation and I love adjusting the recipes based on what I have in the pantry. Give these recipes a try and let me know what you think!
10-Minute Fall Harvest Quinoa Breakfast Bowl
This quick breakfast bowl recipe is perfect for a breakfast on the go or a more elaborate brunch. This recipe is meal prep friendly, so you can batch cook these bowls and save for busy mornings during the week.
The bowl is packed with nutrients and diverse flavors such as quinoa, chia seeds, fall-inspired spices and topped with peanut butter, pumpkin seeds, chopped chocolate, and raisins.
This breakfast bowl is a vegan and gluten-free staple for your breakfast bowl rotation. One of my favorite ingredients in this bowl is pure maple syrup. To maximize the nutrient potential, make sure your syrup is pure, or try agave if you are concerned with the glycemic index.
Healthy Greek Yogurt Breakfast Bowl
The breakfast bowl is the epitome of a nutrient-dense and satisfying breakfast bowl. Swap out any of these ingredients for your favorites, or simply what you have in the fridge that morning!
The greek yogurt base for this breakfast bowl ensures you will feel full until lunch all while satisfying your sweet tooth. Greek yogurt is a high protein alternative to traditional yogurt and this recipe is entirely gluten-free. Some of my favorite toppings include granola, bananas, nuts, chia seeds, pineapples, chocolate, assorted berries, and pure maple syrup.
Breakfast Peanut Butter Banana Chia Seeds Oats
This entirely vegan oat-based breakfast bowl is one of my faves for whipping up in the morning or making the night before as an overnight oats creation. I absolutely love peanut butter so this one is always a top choice for me!
This oatmeal is packed with bold flavors and nutrient-dense ingredients so you'll be sure to satisfy not only your tastebuds but your cravings throughout the day as well. Again, this bowl is easily customizable so feel free to adjust the toppings based on what is available to you. My favorite toppings are bananas, blueberries, and sliced pecans!
Healthy Cranberry Orange Oatmeal
This is one of my quickest breakfast bowl recipes, clocking in at 10-15 minutes to make start to finish! This gluten-free, vegan option is perfect for mornings on the go, and I even have an overnight option I share as well.
I love the fall theme of this breakfast bowl with its' orange-infused flavors and warm spices, but it truly is the perfect breakfast option year-round. This breakfast bowl is drizzled with a simple cranberry sauce making which gives the perfect blend of sweet and tart. I also love adding nuts or pumpkin seeds on top for just the right amount of crunch.
Savory Chickpea Veggie Breakfast Salad
This one is for my savory breakfast bowl lovers! As much as I love sweet breakfast bowls packed with fruits and other goodness, the Southern girl in me just loves a savory, flavor-rich breakfast bowl. This one, which I call a breakfast salad, is a great way to kick of your day mostly because of its' protein-packed ingredients.
In fact, this would also make an excellent recipe for lunch or dinner as well. Breakfast for dinner is one of my favorite treats, what about you? This breakfast salad is full of bold flavors from roasted chickpeas, a boiled egg, multi-colored tomatoes, a blend of roasted butternut squash and onions, sautéed spinach, and a homemade pesto dressing to top it all off.
This recipe is a bit more detailed than the recipes I shared above so I recommend trying this one out for weekend brunch or morning you have a bit of extra time.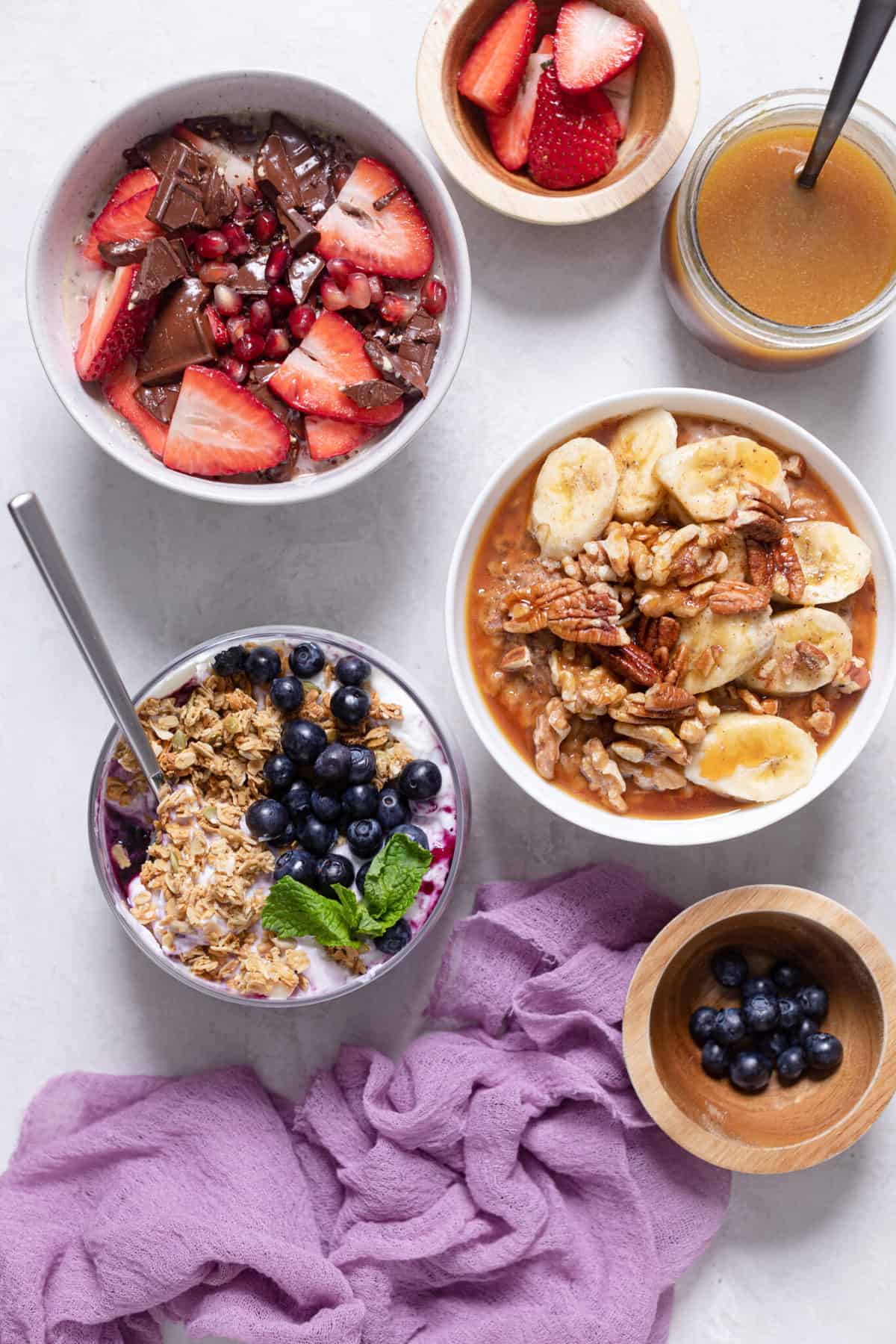 The recipe I am sharing is not vegan, however, I do detail the steps you can take to make a similar vegan version!
What are your favorite things to add to your breakfast bowl? Let me know in the comments!
How to Build the Perfect Breakfast Bowl.