Inside the Grocery Bag of a Food Blogger discusses the many ingredients that I, as a Food Blogger, cannot live without. In addition, you'll learn about a few staple items as well as the surprising differences in cheeses, especially as it relates to tolerance versus intolerance.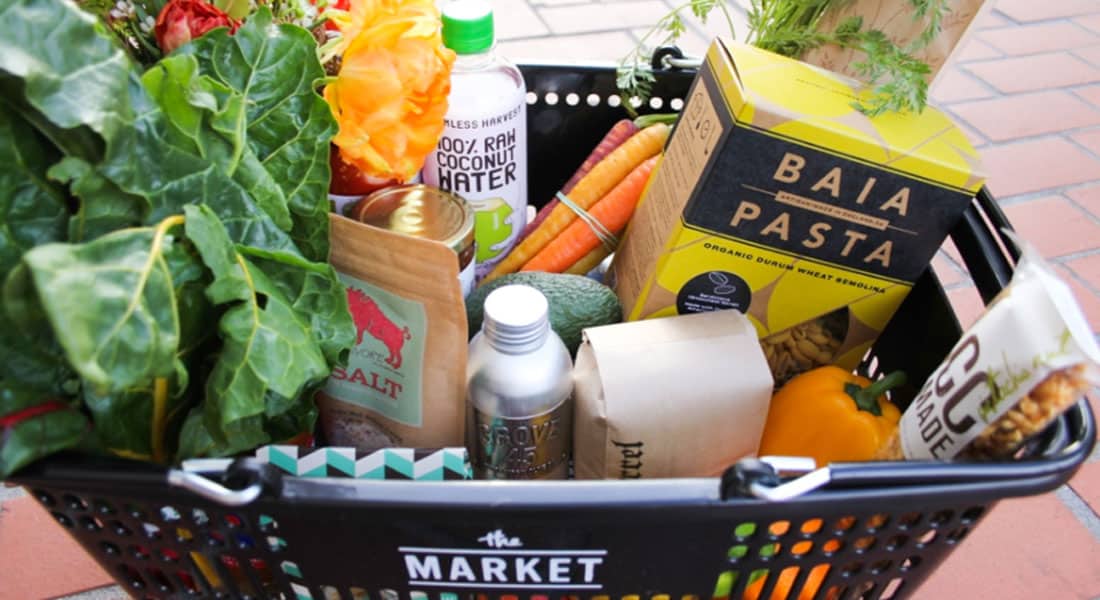 If you've been following my blog for sometime then you'll know that I absolutely LOVE flavor! Although I use healthier (mostly organic) ingredients and I do my best to live a healthier lifestyle, I still enjoy the good ole' sweet treats, bold + complex flavors, and everything else in between.
Therefore, most of the items that I purchase may be similar to the ones that you buy on a daily or weekly basis. However, because I am a Food Blogger, I tend to shop a bit differently than I use to (and probably many of you). Now, I have to consider my "inventory" ingredients, which are specifically for recipes versus my day-to-day stuff! Yup, that's right! I know. Longer lists and more trips to the grocery store! Ugh!
Since becoming a Food Blogger, I now have to do my grocery shopping almost every week. And if I do manage to stretch things to every 2 weeks, there are always little trinkets that need to be bought in between so that I can create one of my recipes. I guess there's no escaping the store or my pockets, huh!? Haha.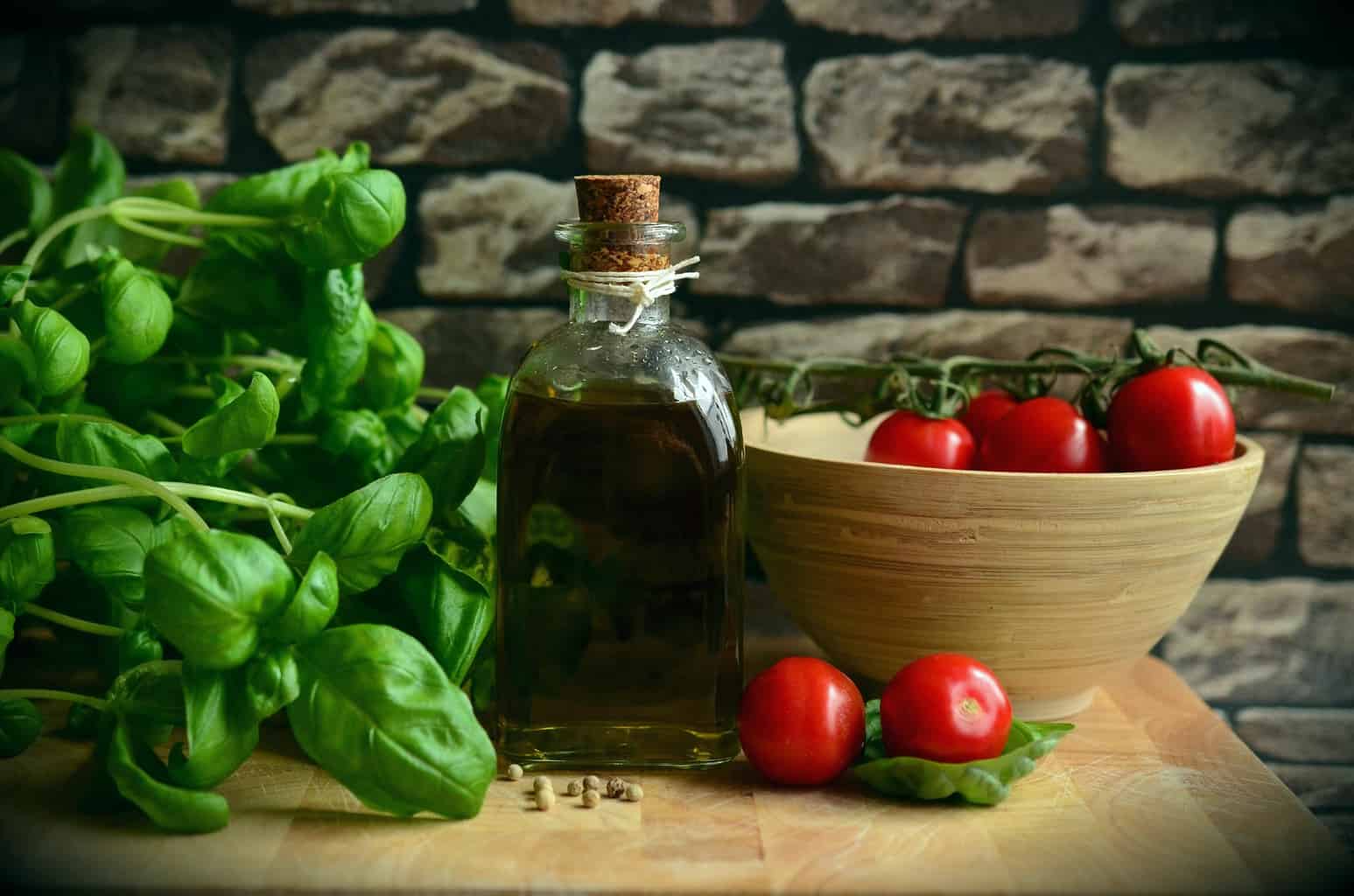 One thing I do know, however----I definitely look at food differently, especially when buying organic vs. non organic. I do understand that this is a hugely controversial subject because of the fact that most people believe that "organic" ingredients aren't necessarily better than their counterparts, and while this may have some truth to it (when it comes to pesticides being present, etc), I'm still a huge fan of certain ingredients being organic.
You can also find out the list of ingredients that I believe should always be organic (vs. not!) by subscribing to my newsletter (it'll be emailed to you by the next day!). Luckily, there are still things like farmers markets, organic markets, etc., which allow you to still get great organic foods.
"YOU DON'T HAVE TO COOK FANCY OR COMPLICATED MASTERPIECES–--JUST GOOD FOOD FROM FRESH INGREDIENTS." -JULIA CHILD
Now onto the best part---my typical grocery list, which oftentimes include:
Coconut milk
Salmon
Chicken
Shrimp (wild; not farm raised)
Ground turkey meat
Chicken (breasts and wings, mostly!)
Eggs
Organic flour (all-purpose + whole wheat)
Pure Cane sugar
Raw Brown sugar
Oils (extra virgin olive oil, coconut oil, grape-seed oil, + canola oil---for baking!)
Herbal teas (peppermint, dandelion, chamomile, etc.)
Chickpeas (if canned, I use the Whole Foods or Goya brand)
Black beans (if canned, I use the Whole Foods or Goya brand)
Lentils
Red Kidney beans
Taco shells
Tortillas
Fruits; mostly organic (bananas, blueberries, strawberries, raspberries, blackberries, oranges, apples, tomatoes, avocado)
Frozen fruits (blueberries, strawberries, mangos, pineapple, raspberries, tropical mix)
Veggies; mostly organic (zucchini, broccoli, cauliflower, broccolini, romaine lettuce, purple cabbage, arugula, spinach, kale, mustard greens, carrots, onions, jalapeños, garlic, thyme, + other herbs)
organic heavy cream
organic cream cheese
granolas
organic chicken stock
yogurt (dairy-free--So Delicious brand)
Cheeses (brick + organic shredded)
Nuts (almonds, pinenuts, pecans, pistachios, walnuts, etc.)
Bread (organic whole grain--Dave's Killer brand; sourdough, + other speciality bakery bread)
Sour cream
Ice cream (healthier brands--Halo Top, Talenti, So Delicious, or Haagen Daz...Haha!)
Water (Fiji or Essentia; on the cheaper side of things---Nestle Pure Life)
Pasta
Seasonings + Spices
Other Baking Goods
As you can see, my grocery list can be a bit long, especially when it comes to the little speciality ingredients for my recipes (which can go on and on).
By the way, have you checked out the latest breakfast recipe: Baked Strawberry French Toast Casserole or the 3 Detoxes That You Should Be Doing More Often?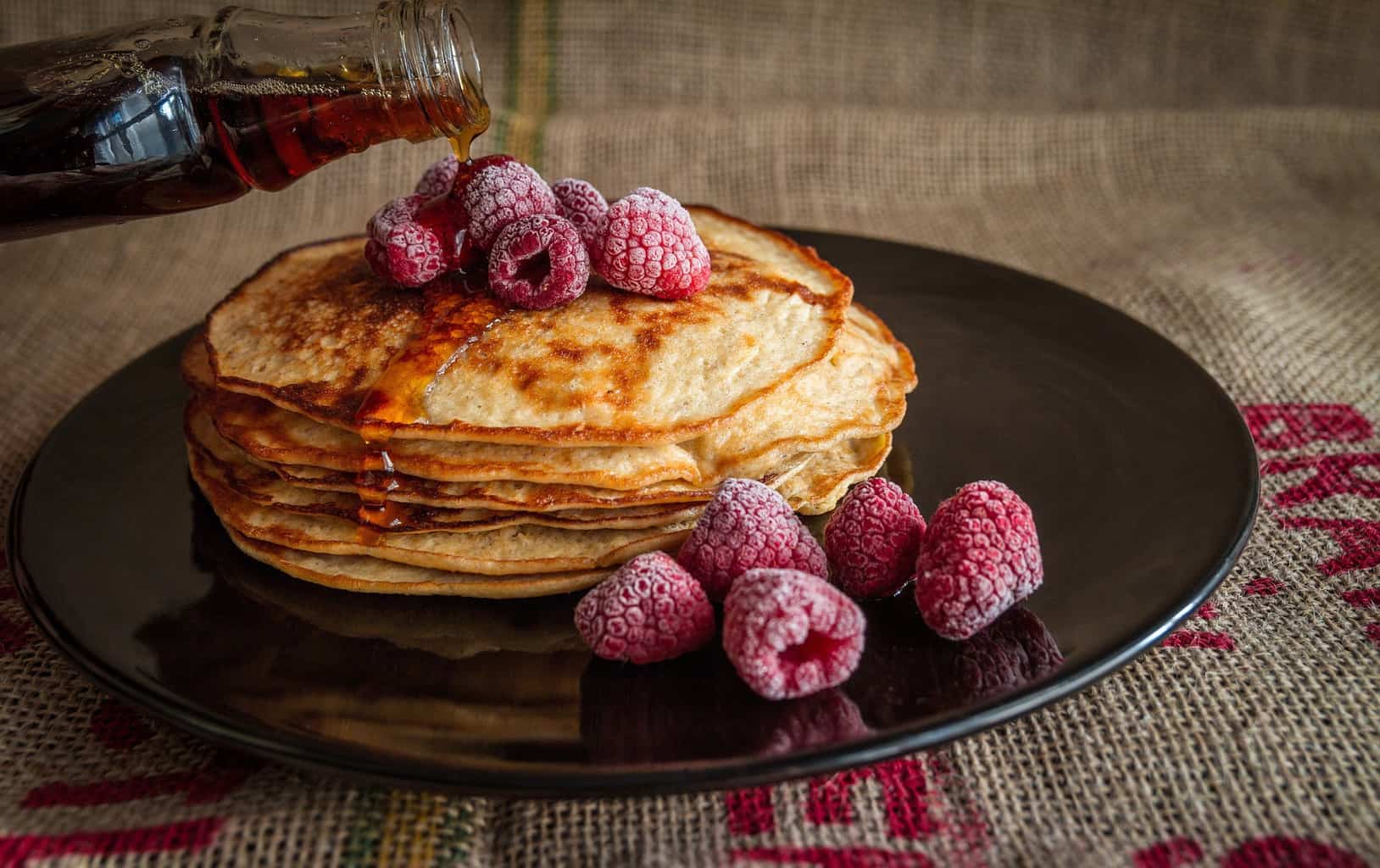 All in all, grocery shopping is a real science (especially when it comes to getting a bang for your buck!), so that is why I do the following when grocery shopping:
I always purchase the essentials first, which make up 70 % of my bag---fruits, veggies, eggs, milk, sugars, flours, cheeses, breads, meat, and fish.
Then, the other 30% which may include snacks, nuts, other sweets (ice cream, etc.), pastas, and other speciality items, I try to search for bargains in correlation with the healthier brands.
For instance, specific stores such as Target (one of my quick Go-to's) may have one of my particular favorite branded items on sale versus my usual go-to place to shop, Amazon Fresh. If that be the case, then I'll split my grocery bag between both places so that I am able to save a few dollars.
Unfortunately, I am not the girl who walks through each aisle reading the nutrition labels on her food (not that there's anything wrong with those who do this!), however, I do research about brands and once I resonate with their mission and overall manufacturing process, then I'm pretty much a die hard fan (sometimes regardless of the price).
I believe that it's so important to know what goes into our foods, especially when it comes to how certain brands process and package what we eat.
In addition, another great trick to saving on foods (especially when purchasing organic) is to stock up during sales. Personally, when a particular healthier food item is one sale, I'll either purchase more than two (depending on the savings) and store it in my pantry or freezer.
Freezing items is a great way to preserve foods just as an FYI---most times for months at a time, even with homemade recipes that are too much to leave in the refrigerator.
Honestly, when it comes to canned foods, I'm not a major fan! There a few things that I purchase canned, however, I always try to get "fresh" ingredients, which ultimately means less processing and altering. But I'm no judge of those who enjoy canned foods.
It's definitely a preference, however, I know that most canned foods are higher in salt, sodium, sugars, and all the other stuff that aren't necessarily that great for you. More importantly, I follow the same rule of thumb when purchasing my little guy's snacks as well.
He has a handful of pre-packaged snacks (and frozen breakfast items; mostly waffles or pancakes!) that he absolutely LOVES, however, I try to incorporate more homemade snacks, foods, and sweets. Again, it's so important to make sure that we know exactly what we are eating, including what our little ones consume.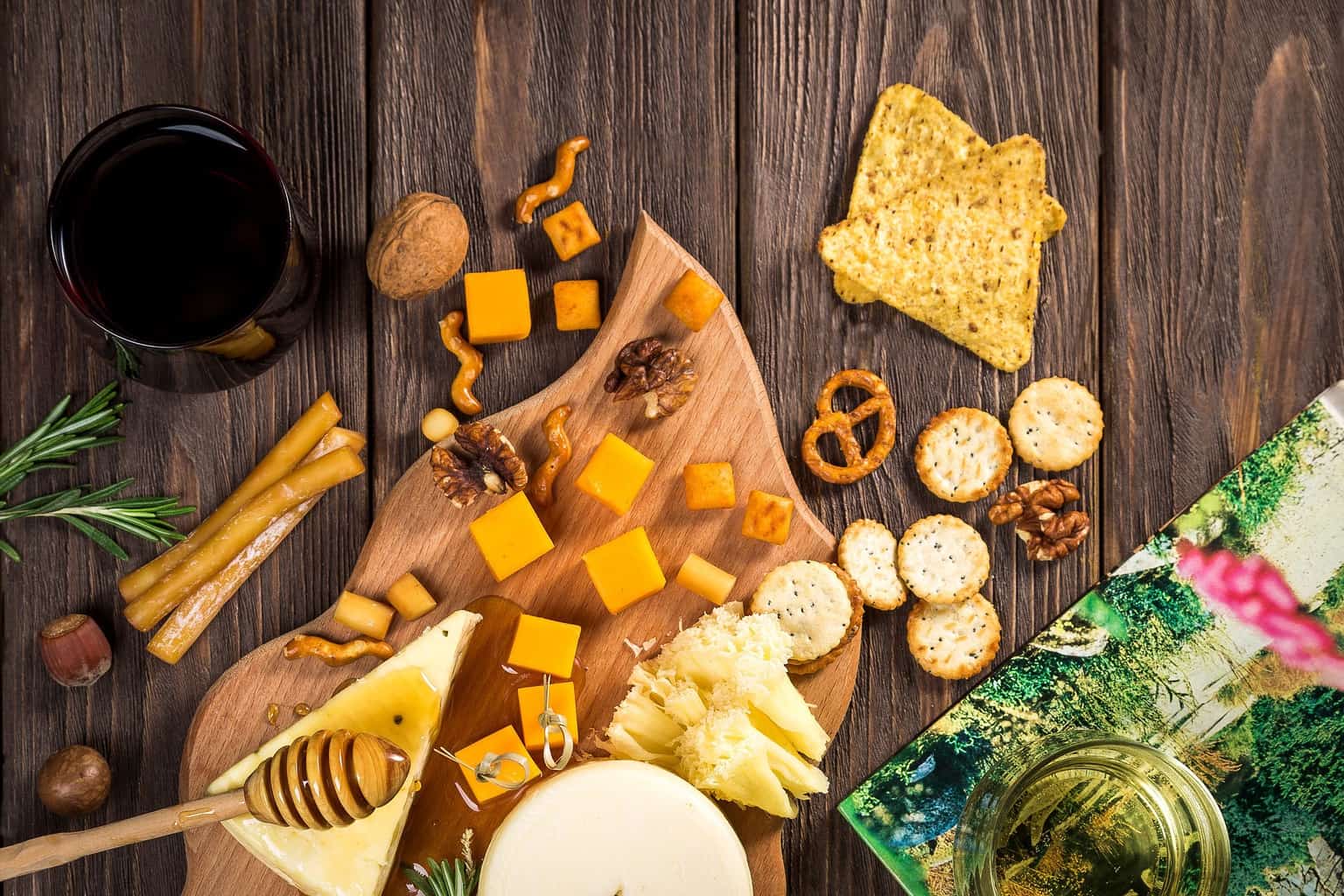 I don't know about you, BUT cheese is my absolute kryptonite! While I do make an effort to stay clear of dairy (due to my slight intolerance), I just always find myself eating something with cheese or some sort of dairy for that matter, especially when eating out!
However, I've since learned that for those of us with an intolerance to dairy, there are cheeses that we MAY be able to tolerate. It's mostly dependent on whether trace levels of lactose are still present after the cheese making process.
During the processing of cheese, most of the lactose is drained off with the whey and the small amounts that remain are turned into lactic acid during the "aging process" of the cheese. Therefore, the following cheese that still have trace levels, but can be digested by those of us with an intolerance include:
Natural
Aged (Cheddar, Parmesan, + Swiss)
Of course, moderation is key here, so no getting carried away! Haha!
However, the following cheeses have higher lactose present (since they are freshly unripened cheeses):
Mozzarella
Cream Cheese
Ricotta
Cottage cheese
Who knew, right?
Well, there you have it---Inside the Grocery Bag of a Food Blogger.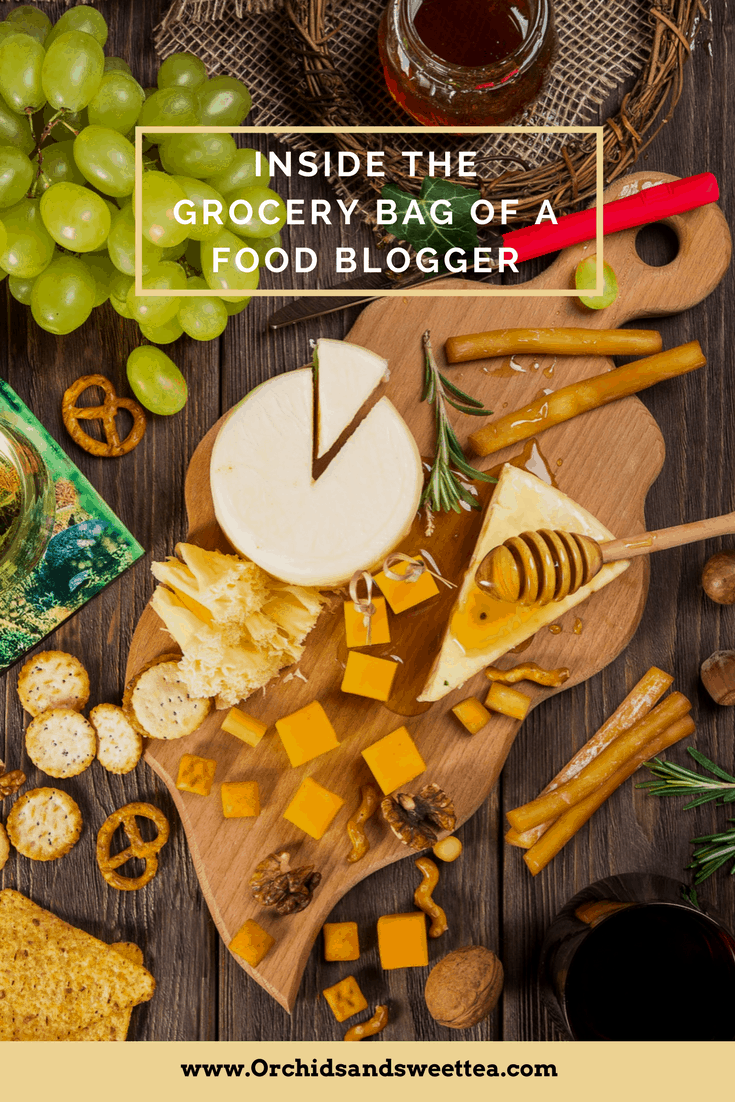 Inside the Grocery Bag of a Food Blogger.
DID THIS HELP IN ANY WAY?
If this post helped in any way or you just loved it, be sure to tag us on Instagram at #Orchidsandsweettea so that we can share the love. Don't forget to comment below, + share!