These Healthy Vegan Gingerbread Quinoa Muffins are the perfect grab-n-go breakfast or snack for the entire family. Jam-packed with delicious ginger flavor, comforting spices, and high-protein from the quinoa; these muffins are the perfect naturally sweetened indulge for the Holidays and beyond. Super easy to whip together, dairy-free, vegan, and oil-free.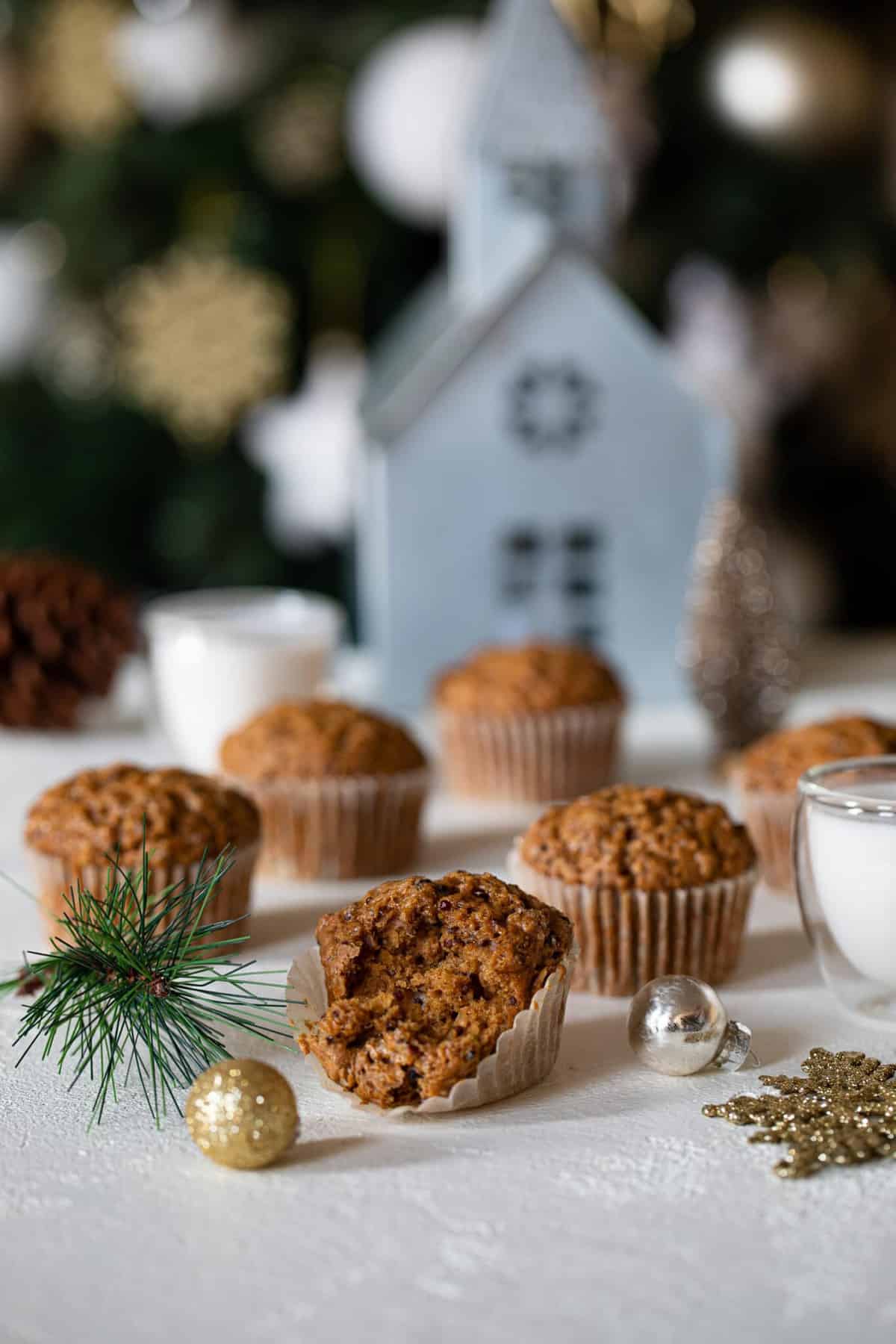 These Healthy Vegan Gingerbread Quinoa Muffins are EVERYTHING, ya'll. Muffins have been my thing lately. They are just so perfect as a quick grab-n-go breakfast!
Why these Healthy Vegan Gingerbread Quinoa Muffins?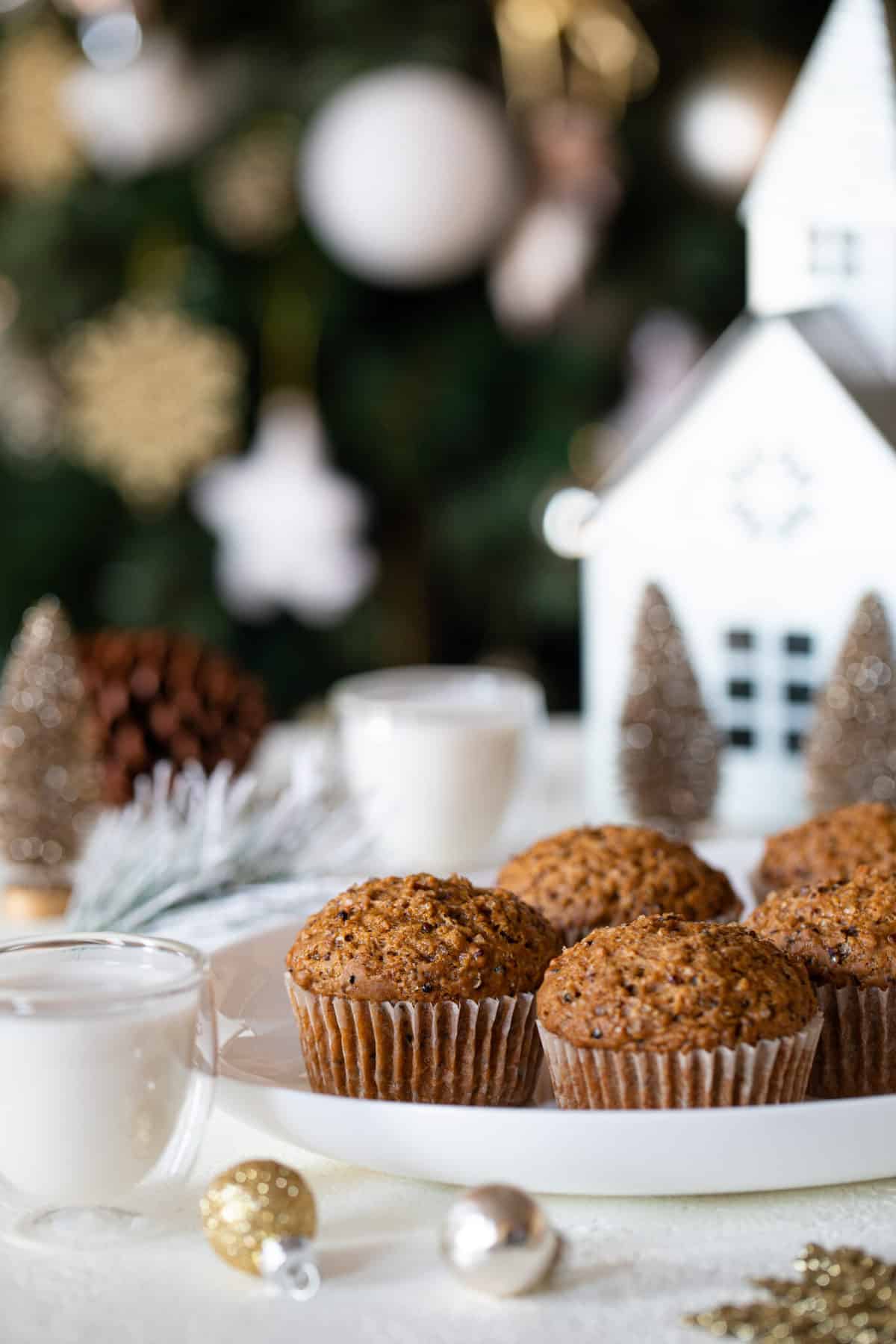 What You're Guaranteed to Love About these Gingerbread Muffins.
They're super easy to make.
Perfect as a meal substitute for breakfast or a healthy snack.
Not too sweet, but perfectly sweet----NATURALLY sweetened!
Loaded with Gingerbread flavor + spices!
Super fluffy and melt-in-your-mouth in every little bite.
Incredibly fluffy from the cooked quinoa + high in protein.
Easy storage and Make ahead option.
Just too delicious to pass up.
Why I Love using Maple Syrup or Agave as a Sweetener.
When it comes to both syrups, I often use them interchangeably, although I love to use pure maple syrup mostly. Agave is said to have a lower glycemic index, which makes it perfect for those with diabetes. On the other hand, pure Maple syrup has tons of antioxidants because it comes directly from a plant's sap.
What You'll Need For These Gingerbread Quinoa Muffins?
Flour – Creates a nice airy, fluffiness to muffins, BUT can be substituted with GF flour if needed
Baking Soda — Very important leavener
Almond Milk + ACV – Makes things nice + soft; Sub with your fave plant-based milk. Combine both milk + apple cider vinegar to activate leavener
Vegan Butter — Vegan butter melted is a great sub for oil. Adds nice flavor
Vanilla – A great addition of flavor and marries everything together
Agave – A natural sweetener. Can also be subbed with maple syrup
Spices – Cinnamon, Ginger,+ Cloves – the best combo of Gingerbread flavors that also brings a lot of comfort
Cooked Quinoa – Adds a great level of protein. Creates fluffiness in muffins
Molasses – The ingredient that offers a bit of bitterness while giving muffins their beautiful brown color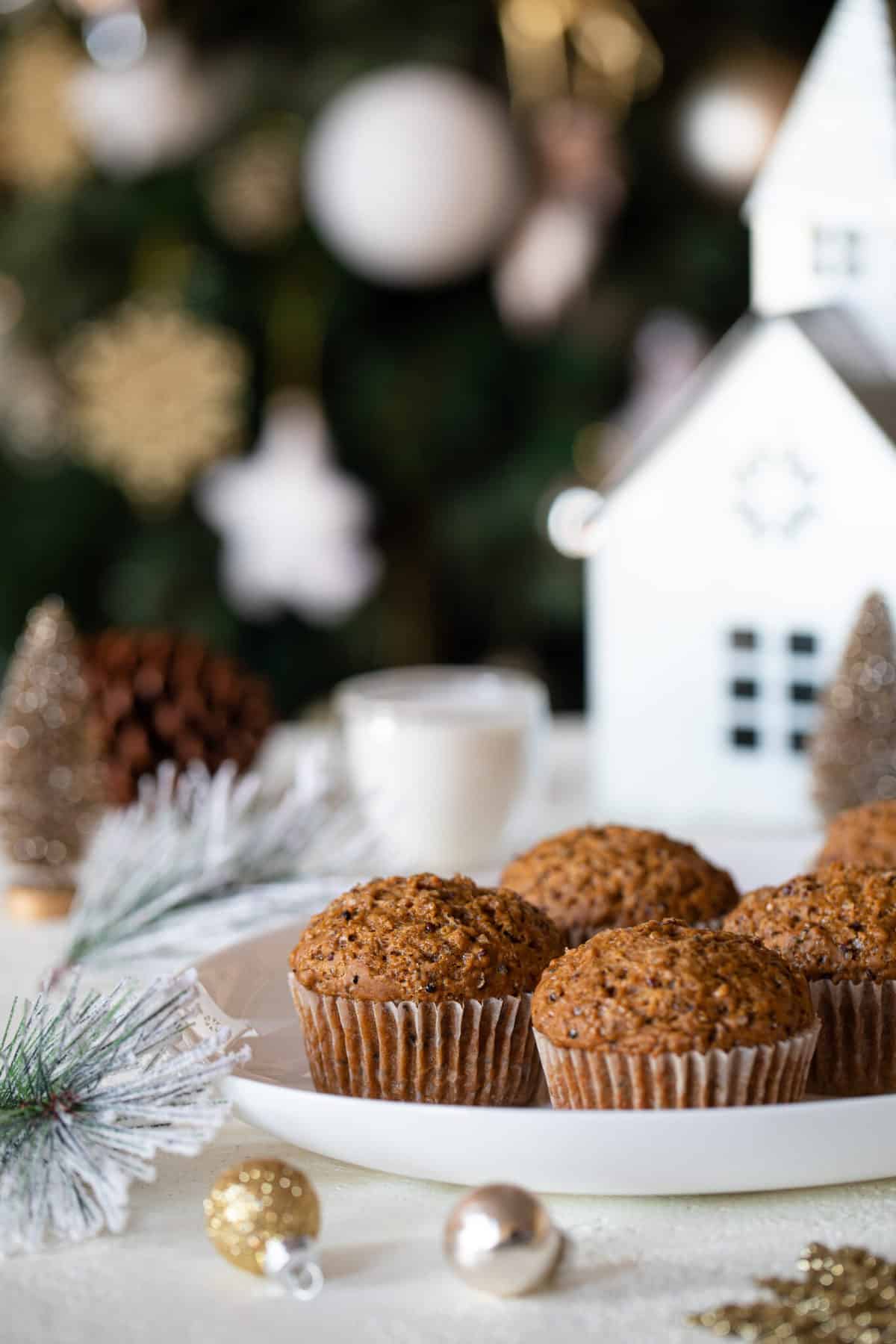 LOOKING FOR A HEALTHIER SWEETENER OPTION?
The Best Healthy Sugar Alternatives + Substitutes list is all about finding better ways to enjoy your favorite sweets without compromising your healthy lifestyle. For those who follow a vegetarian and/or vegan lifestyle, this lists offers a few great ideas to incorporate healthy sweeteners into your diet.
My Top 5 Tips for the Perfect Muffins.
Always mix your wet and dry ingredients separately. Once well mixed, you then add both together. This avoids your batter from being overworked.
NEVER Over-mix! Always mix batter until just combined.
It's best to use a liner for your muffins, but if not, ALWAYS generously grease/butter your pan.
ALWAYS add things like fruit, nuts, chocolate chips, etc. LAST + only fold them in.
FILL EACH MUFFIN CAVITY! Unlike cupcakes where filling them ¾ full is key, always fill your muffin cavities to the very tops to ensure that your muffins are nice and full.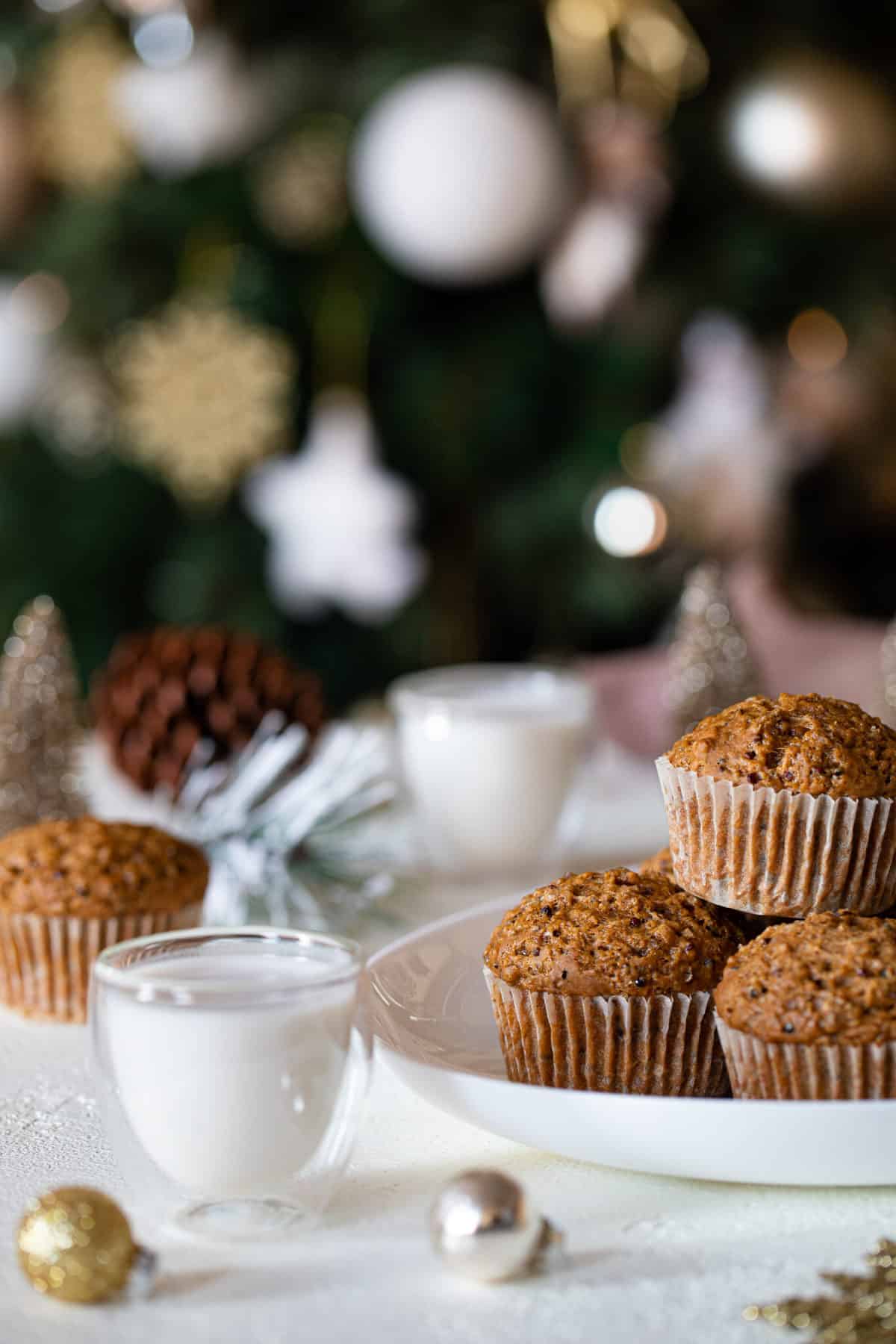 REGULAR MOLASSES VS. BLACKSTRAP MOLASSES?!
OK, so if you aren't aware, there are two types of Molasses—-regular and blackstrap.
While most people use regular molasses which is literally 'bittersweet', I tend to use blackstrap molasses in all of my recipes as a way to cut back on the sugar content.
Blackstrap is hardly used by many due to it's bitterness and 'heaviness' when use din baking since it can make the texture of your baked goods more thick and dense if not used correctly.
That's why I use only HALF THE AMOUNT of molasses that a recipe might otherwise require. That way, I get the darker color (not too dark) without compromising the texture or taste. Don't worry—I make a not of this in the recipe below as well.
But did you know that Blackstrap Molasses actually has more nutritional value? Yup.
It actually contains vital vitamins and minerals such as: iron, calcium, magnesium, Vitamin B6, and Selenium. In addition, it is considered a superfood.
HATE COOKING QUINOA IN FEAR OF IT BEING BLAND?
OK, so I've heard so many people talk about not really being a huge fan of quinoa because it has no taste or the taste is so bland.
Honestly, the KEY is to build flavor for every component of your dish so that together, the flavor is EXPLODING, including with your quinoa.
MY SECRET TO AMAZING QUINOA?
Veggies stock or chicken stock (for non-vegan/vegetarian options). Yup. Instead of using water, I just substitute with some sort of stock, adding salt or whatever based on necessity.
Trust me, your quinoa will NEVER BE THE SAME after this delicious trick.
HOW DO I STORE THESE MUFFINS? CAN THEY BE FROZEN?
Absolutely! When it comes to muffins in general, leftovers can regularly stored in an airtight container in the refrigerator for up to 5 days and the same goes for these muffins.
However, you are looking to make these ahead (perhaps for the entire family or just yourself) and store them longer---don't worry! They can be frozen too! To do so, simply allow your baked muffins to cool completely before lining them up on a baking sheet and placing them in the freezer for a minimum of 4 hours or until they are completely solid.
Then you can transfer them to a freezer safe bag and store them in the freezer for up to 2 months! To serve, just remove your muffin(s) and reheat in the oven until warmed through.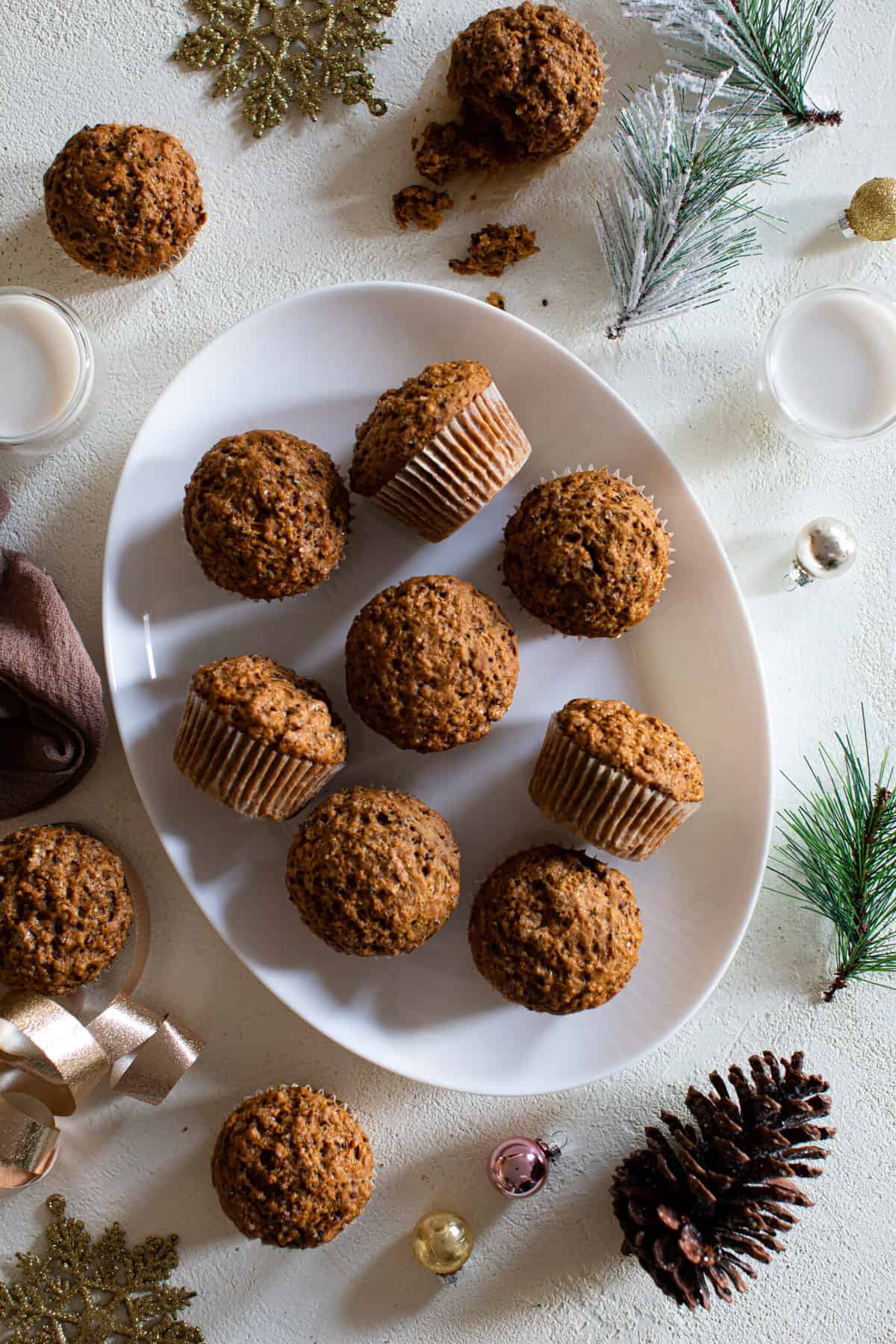 Why Quinoa? Are There Health Benefits?
In case you weren't aware, quinoa is one of the most popular health foods. Not only is it healthy for you, but it's also Gluten-Free, High in Protein, and one of the few plant foods that comes high in all 9 essential amino acids.
So, yes----quinoa is a superfood and is very healthy for you and is actually one of my favorite grains to cook with! Granted, I know that many people aren't fans of quinoa because they feel that it's too bland or has a weird texture, however, I do mention a few great tips for making it less bland (above in the post).
When it comes to quinoa, it has a ton of nutrients which include protein, magnesium, iron, zinc, etc. In addition, quinoa actually has a much higher amount of fiber than most grains and has the following benefits:
Lower Glycemic Index (Great for Blood Sugar control)
Beneficial effects on your metabolism
Very high in antioxidants
May help you lose weight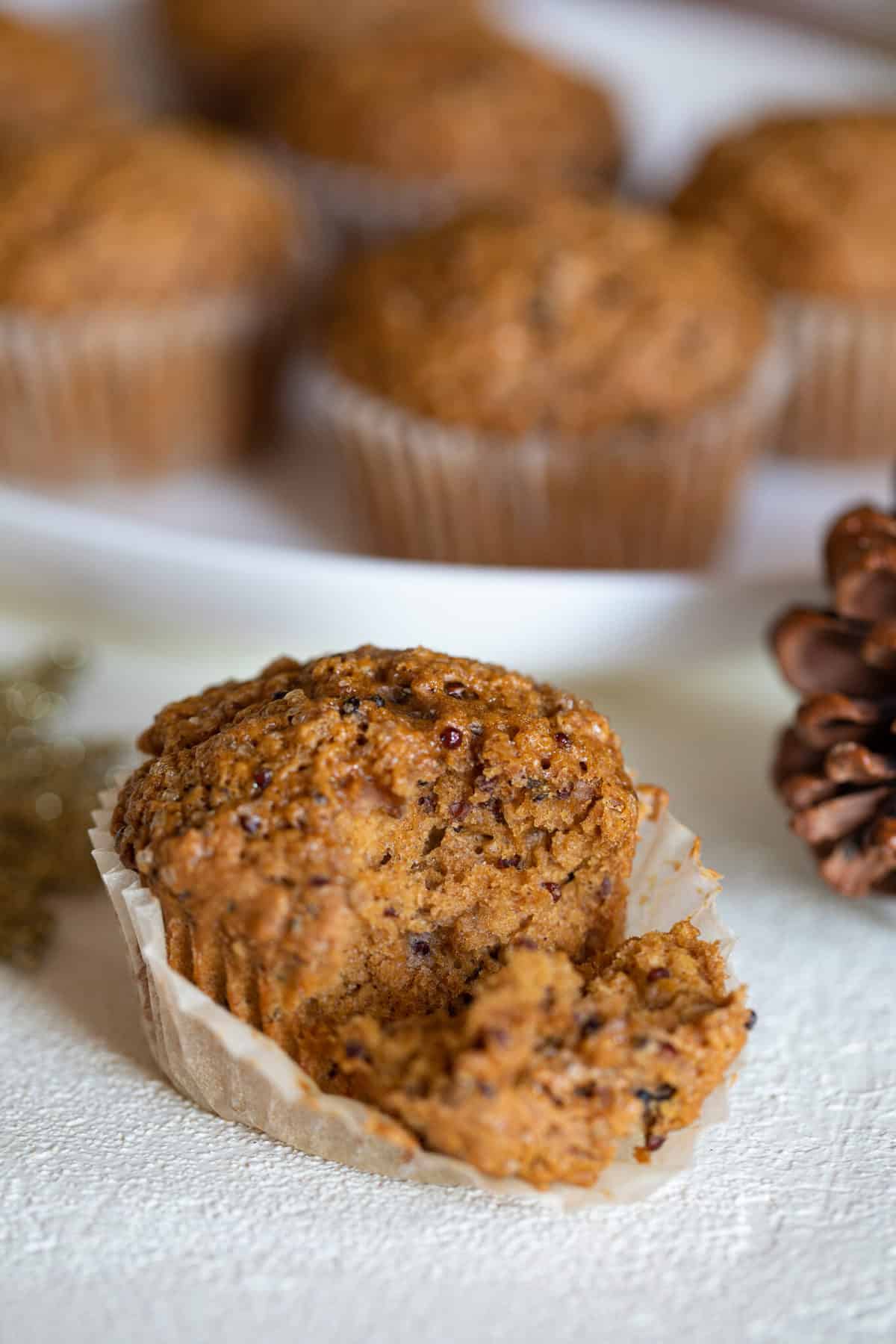 1 ¾

cup

organic all-purpose flour

(I use Bob's Red Mill)

1

teaspoon

baking soda

2

tsps

ground cinnamon

1

teaspoon

ground ginger

½

teaspoon

ground cloves

½

teaspoon

sea salt

¼

cup

molasses + 1 Tbsp!

(See Notes!)

½

cup

Agave

(I use Wholesome Sweets; See Notes!)

1

teaspoon

vanilla extract

4

Tbsps

vegan butter, melted

½

cup

Almond milk + 1 tablespoon ACV

(You can use your fave plant-based milk!)

⅓

cup

cooked quinoa

(See Notes!)
Preheat your oven to 400F. Lightly grease your muffin pan (for larger muffins) or for smaller muffins, line the wells with liners.

In a large bowl whisk together the flour, baking soda, salt, and spices. Add in the quinoa, vanilla, and Agave, and fold a bit.

Add the milk + ACV (apple cider vinegar), melted butter, molasses, and stir until just combined. DON'T OVERMIX!

**NOTE: The batter should look moist, but thick where it's 'scoop-able' but not easily poured. If way too thick, add 1-2 Tbsps more milk. If too runny, add more flour, 1 tablespoon at a time.**

Divide the batter evenly among the wells of the prepared muffin pan.

Bake for 20 to 24 minutes or until the centers come out clean. Once fully baked through, remove from oven and let the muffins cool in the pan before removing.

To serve, enjoy muffins along with your favorite coffee, tea, or a glass of plant-based milk.

Bon Appetit!
STORAGE: Can be tightly sealed in the refrigerator for up to 5 days. Can be frozen for up to 2 months in a freezer safe bag.
MOLASSES: If using regular molasses, you can use the recommended amount as listed in the recipe. If using Blackstrap Molasses, simply use 1 less tablespoon than the amount listed to ensure that the batter isn't too bitter.
MUFFIN SIZE: This recipe can make 8 Jumbo muffins OR 12 standard muffins, if desired.
QUINOA:Begin by cooking the quinoa in a medium pot of 3 cups boiling water OR veggie stock (for extra flavor), whisking continuously as it begins to boil. Add a pinch of sea salt and reduce heat to low and simmer (covering the pot with a lid) for 10-15 minutes, whisking every 3-4 minutes until fully cooked through, water has dried, and thickened. 
SWEETENER: If you choose to opt out of pure cane sugar, you can always substitute with pure maple syrup, Agave, or Date syrup as well. 
OIL: Instead of vegan butter, you can also use coconut oil or vegetable oil, if preferred.
Calories:
159
kcal
|
Carbohydrates:
28
g
|
Protein:
2
g
|
Fat:
4
g
|
Saturated Fat:
1
g
|
Polyunsaturated Fat:
1
g
|
Monounsaturated Fat:
2
g
|
Trans Fat:
1
g
|
Sodium:
236
mg
|
Potassium:
137
mg
|
Fiber:
1
g
|
Sugar:
12
g
|
Vitamin A:
2
IU
|
Vitamin C:
2
mg
|
Calcium:
35
mg
|
Iron:
1
mg
Healthy Vegan Gingerbread Quinoa Muffins.