This Vegan Gingerbread Cake + Chai Buttercream is a healthier option to a Holiday classic + favorite—Gingerbread!. Not only is it completely moist + fluffy, but it's also loaded with warm ginger flavor and spices, that when paired with this velvety chai buttercream, works amazingly together and just melts in your mouth with goodness. Super easy to make in a few steps and comes completely dairy-free + vegan. Gluten-free option.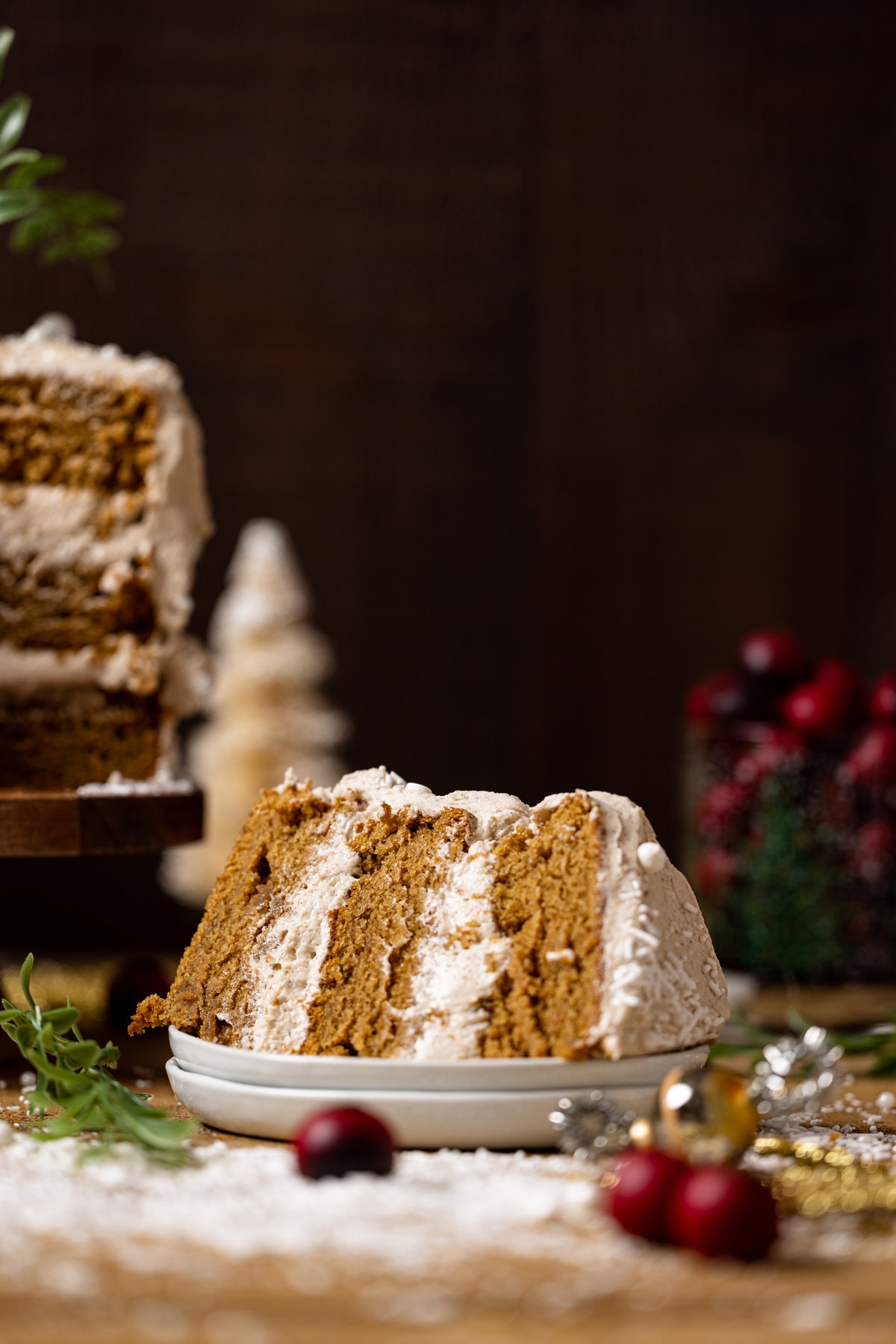 Disclaimer: This post contains affiliate links via Amazon for products that I wholeheartedly love.
I can't believe that we're only days away from Christmas and the New Year is right around the corner! Where has the time flown this year, right? While I do enjoy Holiday baking, I must admit that this year I've focused a bit more on savory comfort foods and drinks above all. But I had to recently remake and reshoot this Vegan Gingerbread Cake + Chai Buttercream because you can't have Christmas without some sort of gingerbread. Besides, the warm, cozy flavors of this cake is just the thing I need this season to kick things off. 
Gingerbread is the Best Addition to the Season.
Usually, I'm the girl who attempts to make gingerbread cookies (definitely check out these delicious Soft + Chewy Gingerbread Oatmeal Cookies), which are the epitome of of every child and adult's dream. However, this year, I've been wanting to step outside of the box and stretch myself a bit--especially when it comes to making cakes, since they were originally my greatest fears to attempt. But this cake came out PERFECT. I can't even believe it.
I DID IT! And I did it GOOD! Haha. The best part is----this cake is a balance between a burst of ginger flavor and my favorite---Chai.
Speaking of Chai, I recently made these Vegan Chai Tea Latte Cinnamon Rolls and OMG, they are delicious! Not being your typical Cinnamon Roll, this recipe is topped with a mouth-watering Black Tea-infused Chai Tea glaze that will leave you 'Cinnamon Roll obsessed'. Definitely not your average vegan sweet treat, but 100% homemade and filled with pure goodness! Overnight option available.
How to Make Vegan Gingerbread Cake + Chai Buttercream
This gingerbread cake as I've mentioned before is super easy to whip together and doesn't require anything special when it comes to ingredients except for the apple cider if that's a specialty for you. To start, you simply create the buttermilk by adding the milk + apple cider vinegar together and letting it sit for a few minutes. Then whisk together the wet ingredients, add in the dry ingredients, and mix until smooth and combined.
Divide the batter into prepared cake pans, bake, and let cool completely. Make the buttercream, assemble by frosting, decorate as you feel, and wallah. Slice and enjoy!
What You'll Love Most About this Cake?
It's super fluffy, soft and moist.
Very easy to whip together and uses minimal main ingredients.
Warm and comforting in every bite.
Loaded with Winter/Holiday spices like gingerbread and chai.
Can be made as a traditional 2-layer or 3-layer cake or cupcakes!
Not too sweet, but perfectly sweet at the same time.
Topped with an airy, light buttercream thats completely dairy-free + vegan.
Absolutely delicious!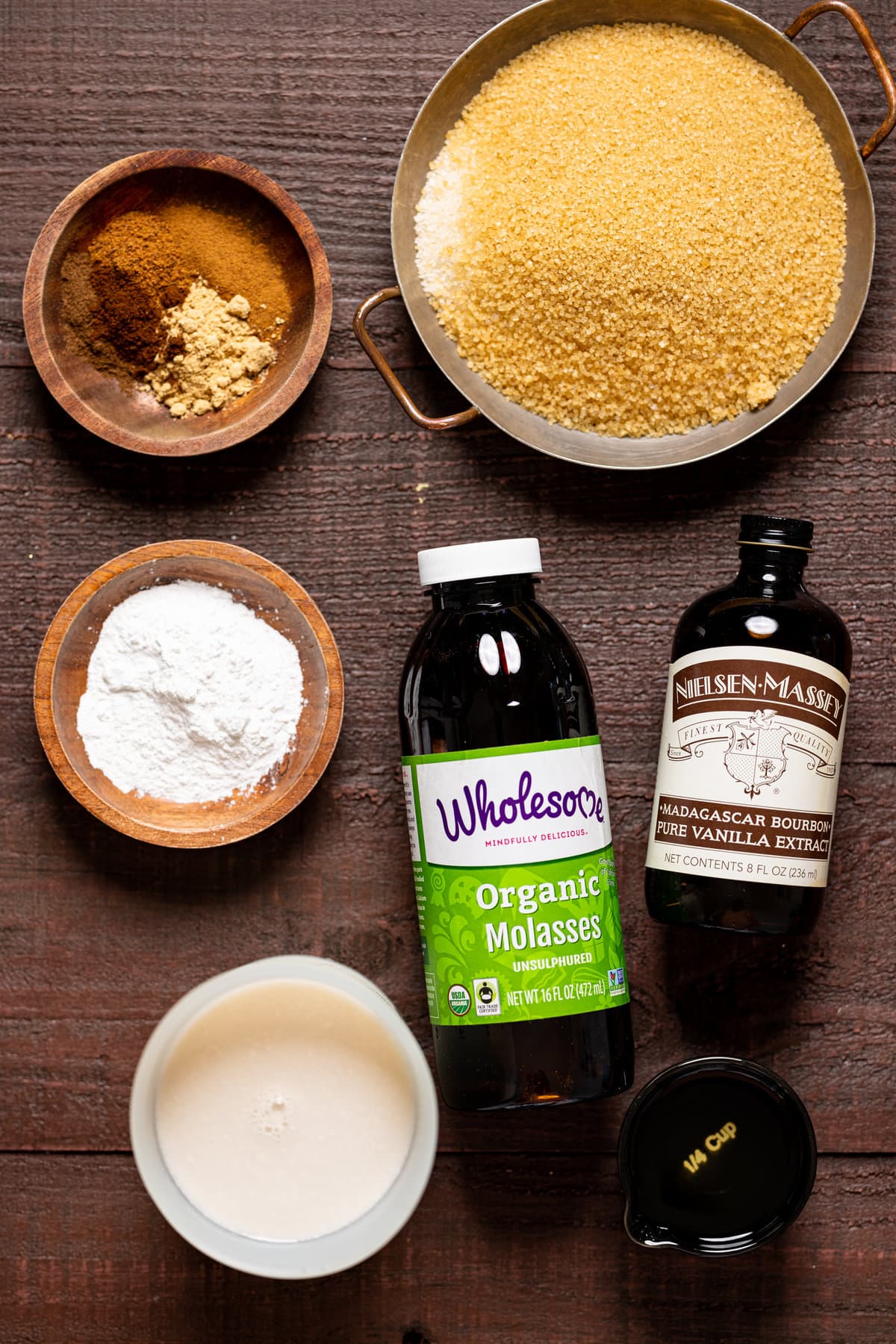 Ingredients for Vegan Gingerbread Cake
Here's what you need to make this gingerbread cake batter and topping:
All-purpose flour. I use organic flour from Bob's Red Mill.
Cake flour. You can also use all-purpose four if you don't have cake flour.
Baking powder and baking soda for leavening.
Cane sugar. You can ensure that this is vegan-friendly by it being certified organic.
Gingerbread spices. This adds a warming spice profile to this cake. You'll need ginger, cinnamon, nutmeg, cloves, and allspice.
Almond milk. Choose unsweetened. Feel free to use a different plant-based milk if you like. I recommend making easy 

homemade almond milk (my recipe doesn't require soaking!)

Canola oil. This adds moisture to this cake. I always use organic for a healthier option, however, you can sub with coconut oil, olive oil, or melted butter.
Butter. I like to use Earth balance as my vegan butter.
Vanilla extract. This complements the flavors. 
Molasses. I like to use a premium molasses.
Buttermilk. I create a dairy-free version. This includes your fave plant-based milk + 1 ½ Tablespoons lemon juice or apple cider vinegar.
Chai spices. This latte is all about the spice blend, which includes cinnamon, nutmeg, ginger, allspice, cardamom, cloves, and black pepper. 
Powdered sugar. If you use granulated sugar, your frosting will have a gritty texture, so I highly recommend organic powdered sugar.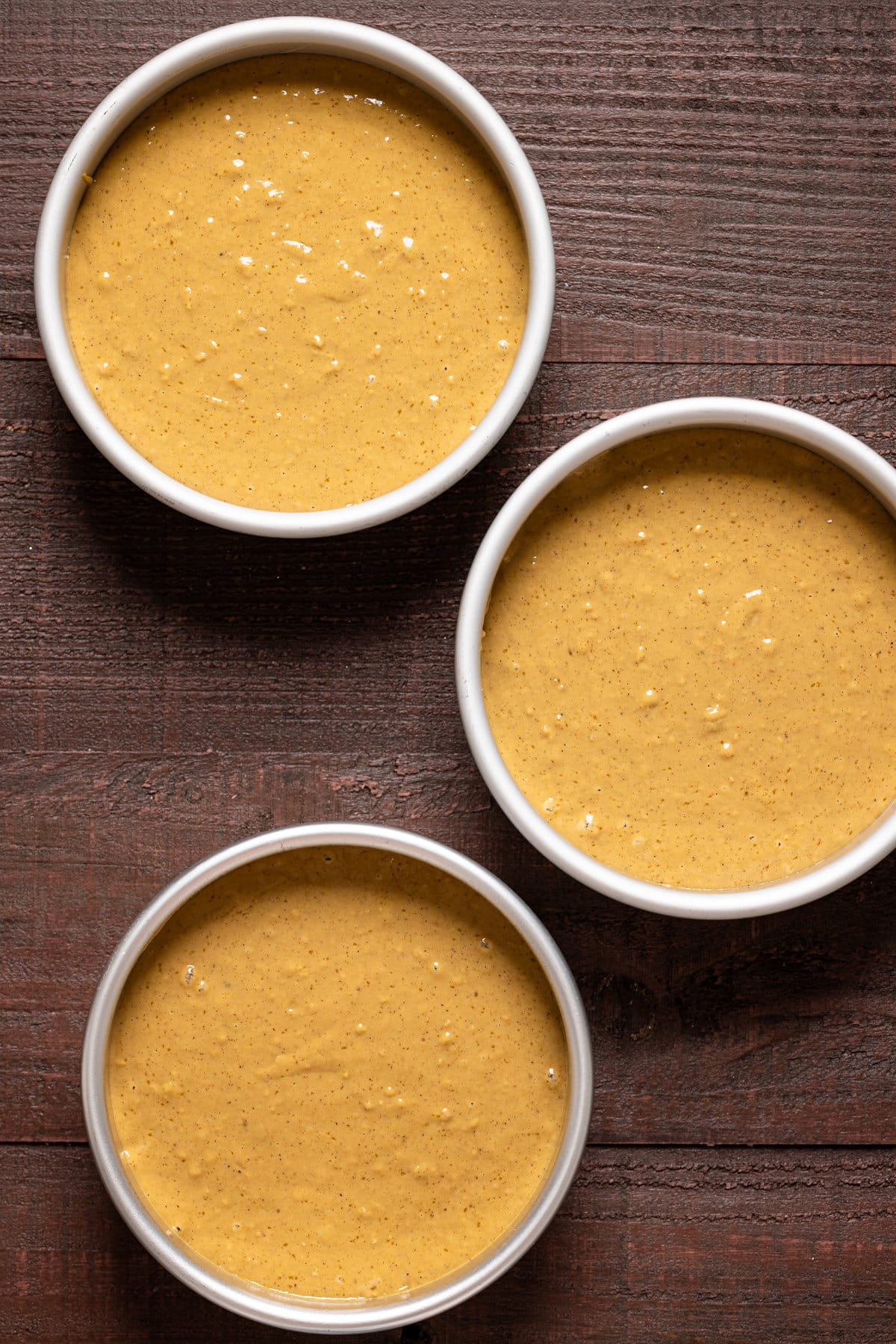 Cake Flour vs. All-Purpose Flour.
When it comes to the main ingredient of this entire gingerbread cake recipe—-the flour, I enjoy using Bob's Red Mill Unbleached White All-Purpose Flour, which is ideal for all kinds of baking, including this one.
However, I do occasionally use Super-Fine Cake Flour which adds a nice airiness and fluffiness to your cakes as well.
How to Make Gingerbread Cake with Cake Mix
Whether you choose to make the batter of this gingerbread cake from scratch or with cake mix, you won't be disappointed. Simply implement a few teaks and you'll enjoy this cake as if you made it entirely without a mix! If using your favorite box of dairy-free vanilla cake mix, simply turn it into this Gingerbread Cake by purchasing TWO boxes and:
Instead of using vegetable oil, substitute with the canola oil or other subs as listed in this recipe.
Add a little baking powder and baking soda to the mix (perhaps 1-teaspoon of baking powder + ½ teaspoon baking soda or so per box).
Use organic cane sugar instead of standard white sugar.
Add 1 cup of all-purpose flour (per box) to the cake mix to add more "body" to your cake.
Replace the water with the dairy-free 'buttermilk'. 
Be sure to add the gingerbread spices and molasses as the recipe states.
Make the chai buttercream and add it to the layer + top of the cake per usual.
HOMEMADE CHAI TEA BLEND
While you can purchase chai tea mixes in stores, it's definitely a blend that is easy to find, but also easy to make. Your Vegan Gingerbread Cake + Chai Buttercream will taste amazing, whichever you use.
If you do plan on making your own spice blend, you will need:
Cinnamon
Nutmeg
Ground ginger
Allspice
Ground cardamom
Ground cloves
Black pepper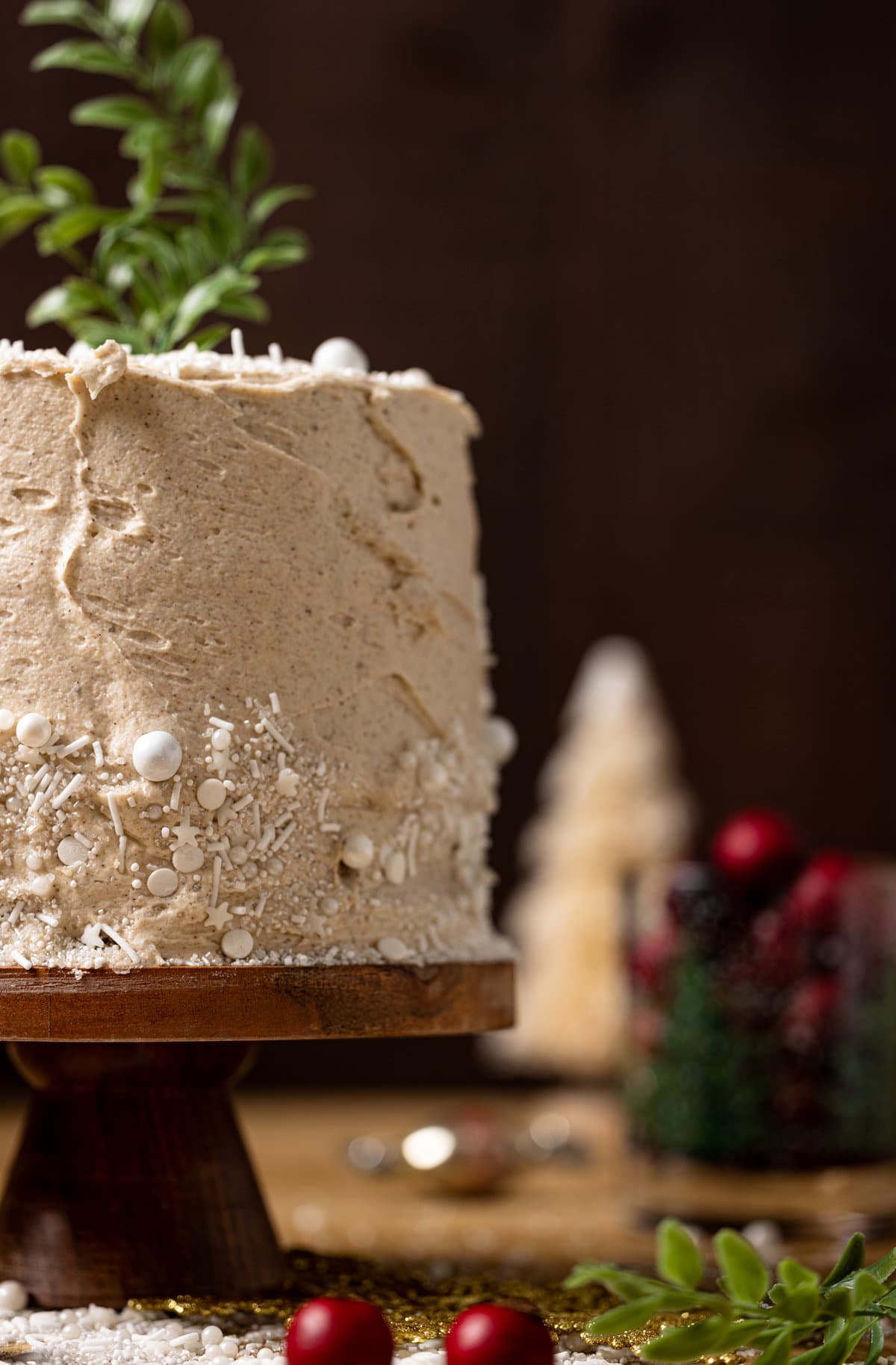 Regular Molasses vs. Blackstrap Molasses?!
OK, so if you aren't aware, there are two types of Molasses----regular and blackstrap.
While most people use regular molasses which is literally 'bittersweet', I tend to use blackstrap molasses in all of my recipes as a way to cut back on the sugar content. Blackstrap is hardly used by many due to it's bitterness and 'heaviness' when use din baking since it can make the texture of your baked goods more thick and dense if not used correctly.
That's why I use only HALF THE AMOUNT of molasses that a recipe might otherwise require. That way, I get the darker color (not too dark) without compromising the texture or taste. Don't worry---I make a not of this in the recipe below as well.
But did you know that Blackstrap Molasses actually has more nutritional value? Yup.
It actually contains vital vitamins and minerals such as: iron, calcium, magnesium, Vitamin B6, and Selenium. In addition, it is considered a superfood.
Health Benefits of Blackstrap Molasses
Greatly Used for De-frizzing Hair.
Best Substitutes for Molasses?
OK, so if you're not a fan of using molasses, then I completely understand. While molasses usually plays the most important role for the beautiful brown color in anything Gingerbread, there are definitely other options!
Dark Maple Syrup (Just be sure to reduce other liquids slightly to avoid an overly wet dough)
Dark Corn Syrup
DIY Mix: ½ honey + ½ brown sugar or ½ dark corn syrup + ½ maple syrup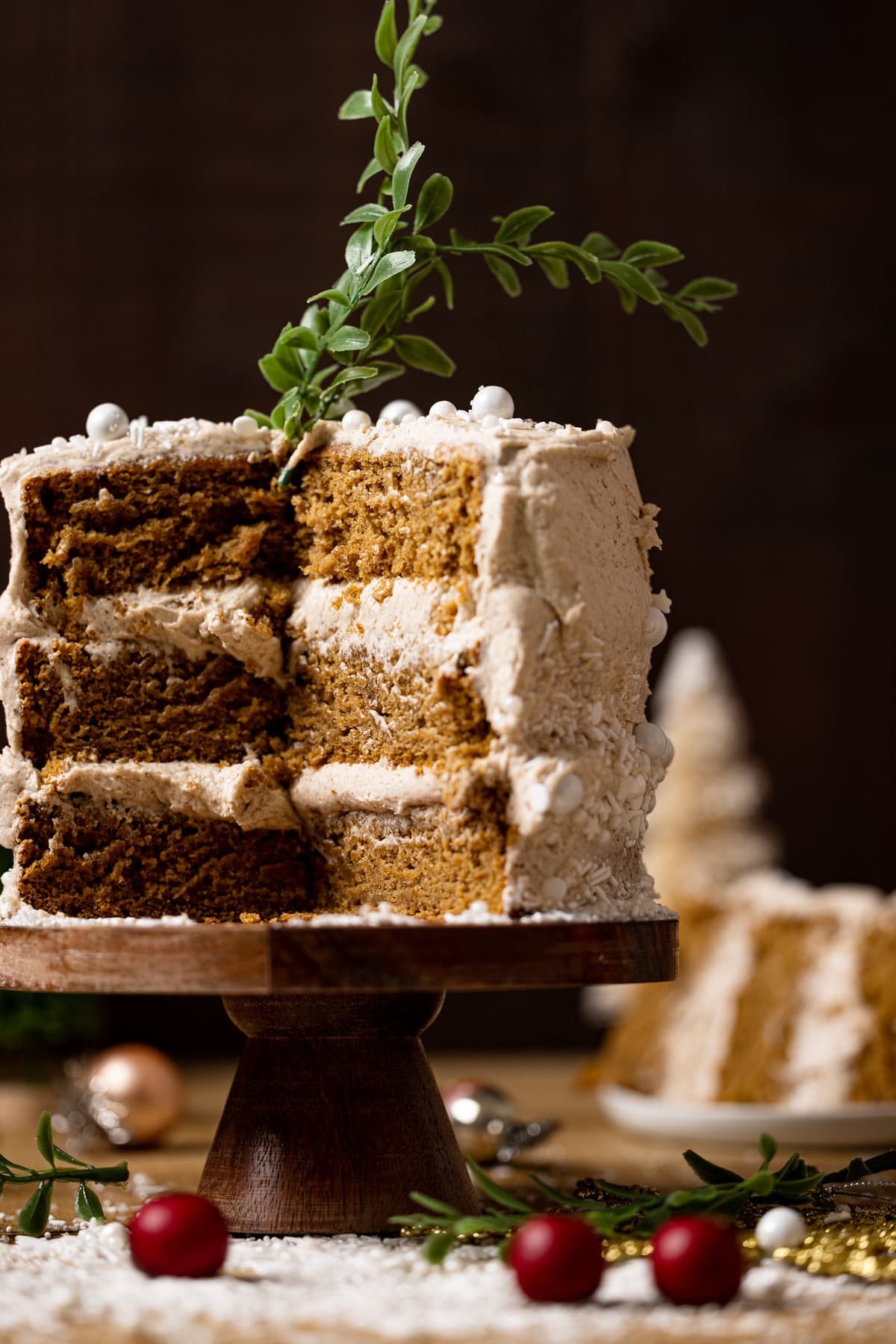 TIPS FOR MAKING THE PERFECT CAKE?
When it comes to making this Vegan Gingerbread Cake + Chai Buttercream or any cake rather, I'm sharing a few quick tips that I've learned along the way to ensure that my cakes come out just the way I like them---soft, fluffy, and moist. Here's what I've learned:
Tip #1:
The main thing that I've learned about baking a cake is having the right tools. As a basic—-you should have a cake stand (preferably one that has a turnstile table), spatulas (big + small), piping bags + tips, correct baking pans and parchment paper, and if you need to get a bit more fancy—Bake Even Cake Strips, which are such a genius invention.
Have no clue what these are? Whelp, you basically soak them in water before wrapping them around your cake pan while baking. These stripes ensures that your cakes don't bake with a funny "dome" or anything. Just flat and even. Of course, if you don't have these strips, you can simply butter your pan and use liners along with an old trick that I've always done when baking-----add a small pot of water to the oven to keep things moist. Yup. It works EVERY. TIME.
Tip #2:
One of the essential ingredient combos for a light, silky cake texture is baking powder + baking soda and an acid ingredient (usually vinegar or buttermilk). When acid and baking powder/soda reacts, it creates bubbles and helps to create a nice rise for your baked goods, leaving an airy texture.
In the case of vegan cakes, this is usually done by adding apple cider vinegar to your milk and letting it sit for a few minutes and then later combining it with the dry ingredients (which includes baking powder + baking soda). Wallah!
Tip #3:
One of my latest tricks to a perfect cake has been to ensure that ALL of my dry ingredients are sifted. Trust me, ya'll—-this works! Making all the dry ingredients fully sifted makes things airy, as you've guessed it and allows everything to combine faster.
Tip #4:
Never Over-mix! When creating a cake, it's so important to add the dry ingredients and wet ingredients alternately and as soon as everything is combined very well, THAT'S IT! Over-mixing creates a more dense cake.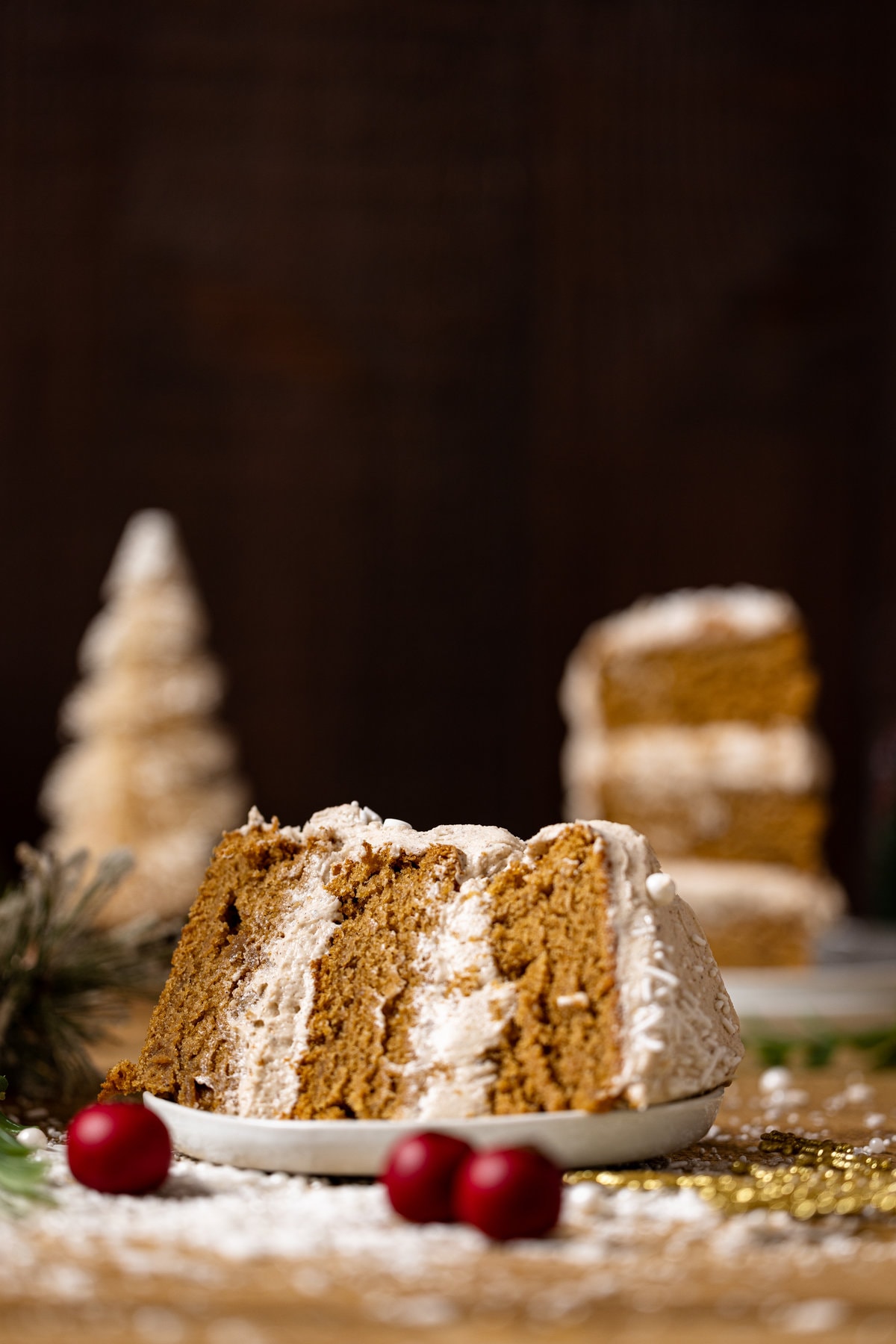 How to Store Leftover Gingerbread Cake
Keep cake leftovers stored for up to 4-5 days in the fridge. Keep it in an airtight container to keep the cake from drying out. You can also freeze the cake tightly wrapped in plastic wrap for up to 3 months. Before serving, defrost the cake on the counter.
Can I Make this Gingerbread Cake Gluten-Free?
If you would love to make this gingerbread cake gluten-free, then substituting all-purpose flour with Bob's Red Mill 1-to-1 Baking Flour is the easiest option. It's a special blend of gluten-free flours, starches, and xanthan gum, which makes this cake just as soft, fluffy, and airy as the original! They also have a great All-purpose GF flour that works great as well.
Can I Make Gingerbread Cupcakes?
Sure! To turn this gingerbread cake recipe into individual cupcakes, simply divide the batter between about 30 cupcake wells. Bake for 18 to 20 minutes, until the centers are set. 
More Amazing Gingerbread Recipes to Try!
MADE OUR RECIPE(S)?
If you make this Vegan Gingerbread Cake + Chai Buttercream, tag @orchidsnsweettea_ on Instagram and hashtag it #orchidsandsweettea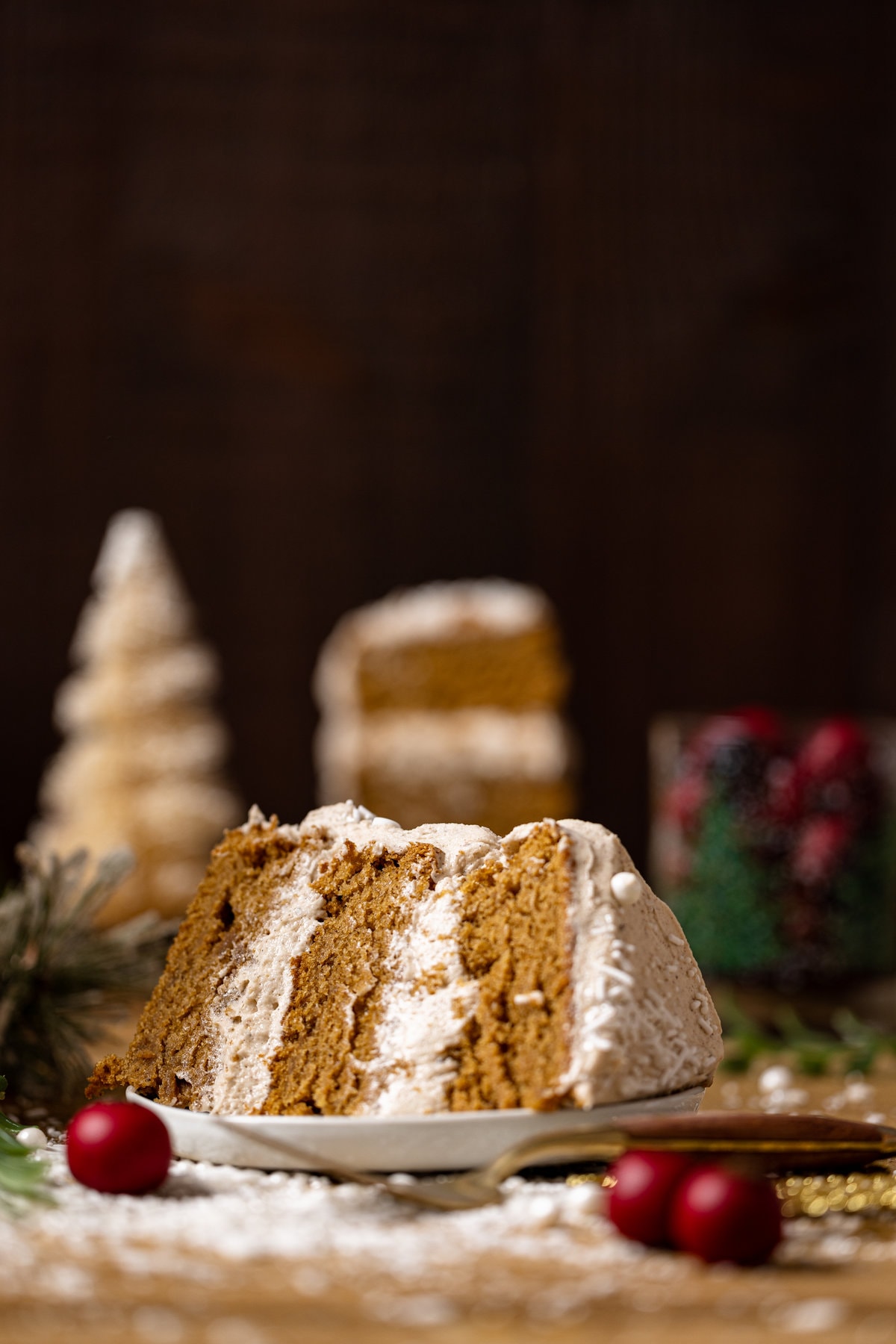 CAKE:
4

cups

organic all-purpose flour

(See Notes!)

1 ½

cups

organic cane sugar

2 ½

tsps

baking powder

½

teaspoon

baking soda

2

tsps

ground ginger

1 ½

tsps

ground cinnamon

½

teaspoon

ground nutmeg

¼

teaspoon

ground cloves

⅛

teaspoon

ground allspice

Pinch of

sea salt

3

cups

dairy-free 'Buttermilk'

(Almond milk + 1 ½ tablespoon apple cider vinegar)

¼

cup

organic canola oil

(See Notes!)

6

Tbsps

molasses

1

teaspoon

vanilla extract
CHAI BUTTERCREAM:
5

cups

organic powdered sugar, sifted

1

cup

vegan butter, softened at room temp.

1

teaspoon

chai spice blend

(See Notes for More!)

1

teaspoon

vanilla extract

3-4

Tbsps

Almond milk

(You can use your fave plant-based milk)
TO MAKE THE CAKE:
Begin by preheating your oven to 350 degrees Fahrenheit. Lightly grease (with butter) AND line with parchment paper the bottoms of TWO 8-inch cake pans (for thicker layers) or THREE 6-inch cake pans.

In a bowl or large measuring cup, whisk together the milk and apple cider vinegar and set aside for 5-10 minutes until everything "activates" to create the dairy-free "buttermilk".

In a large bowl, whisk together both the flour, sugar, baking powder, baking soda, cinnamon, nutmeg, ginger, allspice, cloves, and salt until combined.

In a separate bowl, add the dairy-free 'buttermilk', molasses, vanilla, and oil together and whisk until combined and smooth. Add in dry ingredients and using a wooden spoon (or electric hand-mixer for ease), mix until combined and smooth. NOTE: The batter should be thick, but slowly fall off of the spoon or whisk once lifted.

Divide the batter evenly into each of the cake pans and bake for 30-35 minutes, or until a toothpick or butter knife comes out clean when tested in the centers.

Remove cakes from the oven and let them rest in the pan for 10 minutes or so before removing the cakes and placing them onto a cooling rack to fully cool. NOTE: Let them cool for at least 1-2 hours in a cool place.
MAKE THE BUTTERCREAM:
Simply beat the butter in the bowl of an electric mixer (or using a hand-mixer) on medium-high speed, until smooth and pale. Add in the powdered sugar, chai spice blend, vanilla, and milk, continuing to mix on medium-speed until you reach the desired consistency----smooth and fluffy. NOTE: Add more milk (1 tablespoon at a time if too thick) or powdered sugar (for more thickness).
ASSEMBLY:
Place the first cake layer on your cake stand and evenly cover the top with buttercream. Now, top with 2nd layer and add more buttercream atop that layer, spreading it over the tops and sides of cake, evenly and thinly. NOTE: If making a 3-layer, be sure to repeat step 1 of assembly once again before getting to the final layer.

Once fully frosted, add small little designs of the buttercream using a piping bag + tip around the sides and top of cake. Chill for 5 minutes to ensure that buttercream sets. Top with festive sprinkles, if desired. NOTE: For a fancy moment or occasion, add florals or greenery atop cake for a Fall/Winter/Holiday vibe!

When ready to serve, remove from the refrigerator. Slice and enjoy!

Bon Appetit!
STORAGE: Keep cake leftovers stored for up to 4-5 days in the fridge. Keep it in an airtight container to keep the cake from drying out. You can also freeze the cake tightly wrapped in plastic wrap for up to 3 months. Before serving, defrost the cake on the counter.
FLOUR: You can also use cake flour in place of all-purpose flour for a fluffier texture. 
GINGERBREAD CUPCAKES: This recipe yields about 30 cupcakes. Simply bake for 18-20 minutes instead, until centers come out clean.
BUTTERMILK: For a dairy-free 'buttermilk', use 1 cup Almond milk + 1 Tablespoon apple cider vinegar.
CHAI SPICES: To make your own homemade Chai Tea spice blend, you can use the following: 2 Tbsps ground cinnamon, 1 teaspoon ground nutmeg, 1 tablespoon ground ginger, 1 teaspoon ground allspice, 1 teaspoon ground cardamom, ½ teaspoon ground cloves, and ¼ teaspoon black pepper.

 
Calories:
712
kcal
|
Carbohydrates:
181
g
|
Protein:
10
g
|
Fat:
32
g
|
Saturated Fat:
6
g
|
Polyunsaturated Fat:
9
g
|
Monounsaturated Fat:
16
g
|
Trans Fat:
4
g
|
Cholesterol:
10
mg
|
Sodium:
483
mg
|
Potassium:
438
mg
|
Fiber:
2
g
|
Sugar:
53
g
|
Vitamin A:
152
IU
|
Vitamin C:
0.1
mg
|
Calcium:
232
mg
|
Iron:
4
mg
Vegan Gingerbread Cake + Chai Buttercream.