Start your mornings on a sunny note with this naturally sweet Anti-Inflammatory Pineapple Citrus Smoothie made with pineapples, orange juice, turmeric, honey, yogurt, lemon, and lime. It truly tastes (and looks!) like a tropical sunrise in a glass with health benefits! Vegan option available!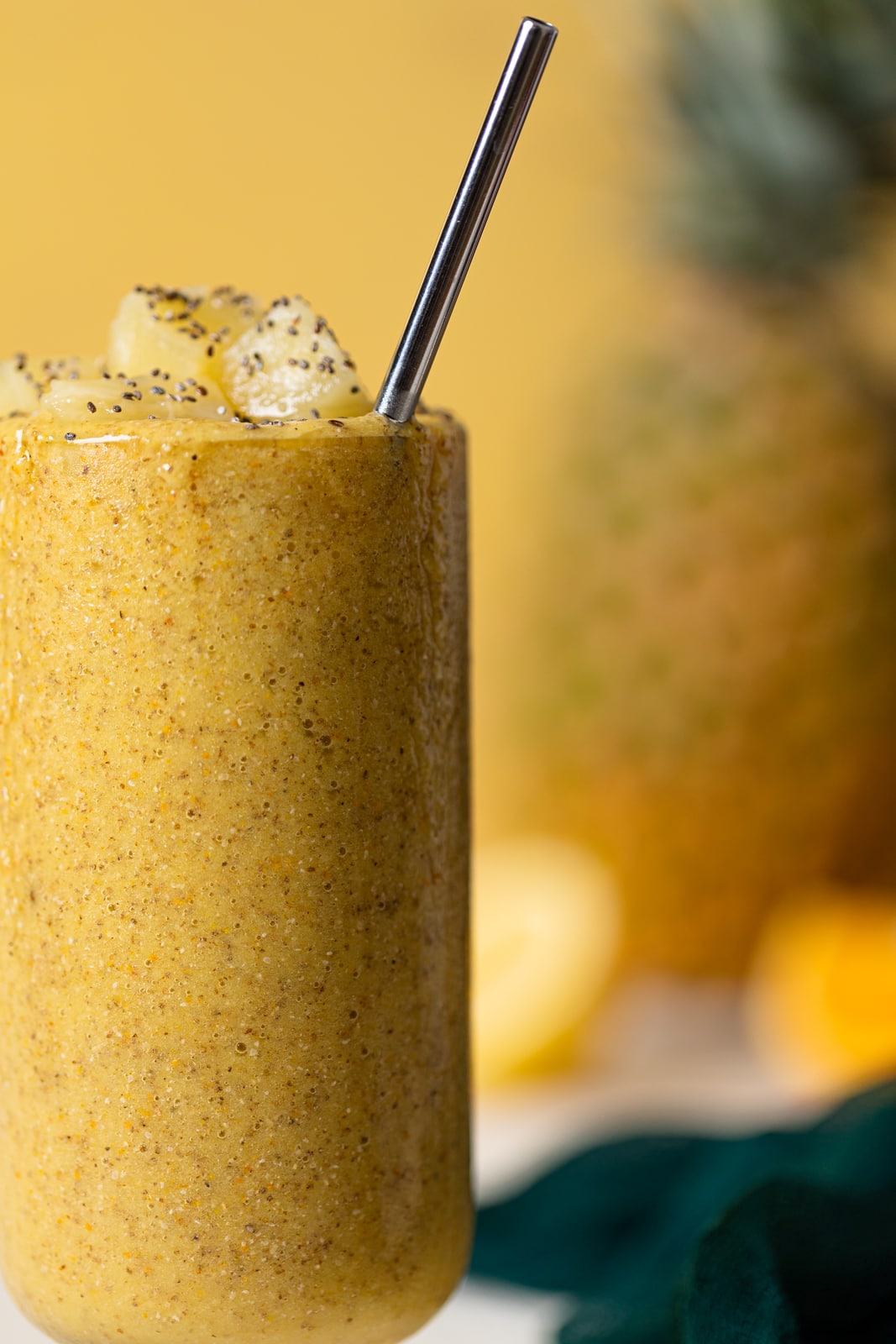 Disclaimer: This post contains affiliate links via Amazon for products that I wholeheartedly love.
I don't know who doesn't love a good smoothie. Haha. Seriously, smoothies are the one thing that is super easy to whip together but tastes so amazing----especially when you put together your favorite ingredients. Plus, it's so convenient and works for children who are picky eaters---as a way to get those fruits + veggies in.
This Anti-Inflammatory Pineapple Citrus Smoothie has it all: plenty of nutrients, fruity flavor, and a great texture! There's no going wrong with this packable, portable and creamy meal. Plus, this Immune-Boosting Strawberry Banana Poppyseed Smoothie is definitely one to try next!
How to Make Anti-Inflammatory Pineapple Citrus Smoothie
The only piece of kitchen equipment you'll need to whip this pineapple citrus smoothie up in minutes is a high-speed blender. This is a simple dump-and-go breakfast recipe that's ideal for busy weekday mornings or as a healthy snack.
INGREDIENTS
Once you have your blender out and ready, add the following ingredients to start making your smoothie:
Pineapple chunks. I like to purchase frozen pineapples or canned organic pineapple mostly, however, you can slice an actual pineapple into chunks and freeze it, if preferred.
Honey. You can use Agave or maple syrup or Medjol dates as a natural sweetener, if preferred.
Lemon + Lime juice. For more tart flavor to cut through some of the sweetness of the pineapple.
Orange. I like to use a navel orange, but you could use any other kind of large, juicy citrus fruit. Oranges are a great source of Vitamin C and fiber.
Chia seeds. These add a ton of gut-healthy fiber and omega-3 fatty acids to your smoothie. Plus, chia seeds absorb liquid, which helps your smoothie thicken up naturally without melting, even as the ingredients warm up out of the freezer.
Greek yogurt. For a nice creaminess, I love to add yogurt to my smoothies. You can always substitute with dairy-free yogurt if needed.
Turmeric powder. This golden spice adds a hint of earthy flavor to balance out the sweetness of the fruit. It also adds a brighter color and has natural antioxidant properties, thanks to the curcumin in turmeric. You can omit the turmeric if you don't have it on hand.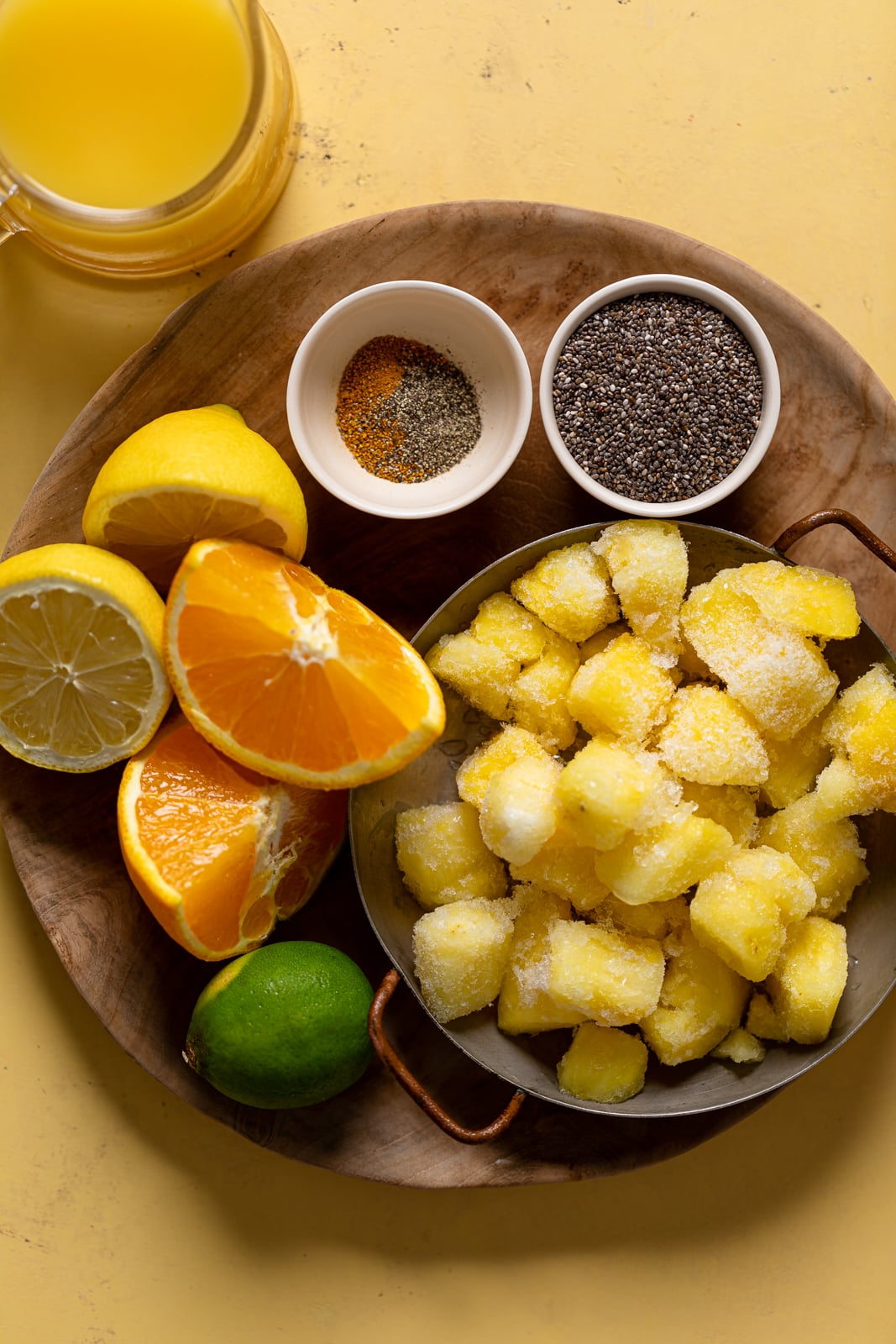 What Fruits Goes Well with Pineapple in a Smoothie
Whether you're trying to switch things up with the taste of this Anti-Inflammatory Pineapple Citrus Smoothie or you just don't like citrus fruits, here's a list of other great fruits that work amazingly with pineapple:
Mango
Banana
Passion fruit
Grapefruit
Apples
Pear
Peaches
Serving Suggestions
I like to turn my pineapple citrus smoothie into a treat by adding a few garnishes. A sprinkle of chia seeds adds a bit of crunch to the top of the smoothies, while pineapple chunks adds a festive touch. You can also add coconut chips, a scoop of your favorite granola or cereal, or pineapple chunks to make your smoothie pop.
Storing Anti-Inflammatory Pineapple Citrus Smoothie
The chia in these smoothies helps them maintain their creamy texture, even you don't finish the drink right away. Store leftover smoothie in an airtight container or mason jar in the fridge. They're best enjoyed the same day they're made.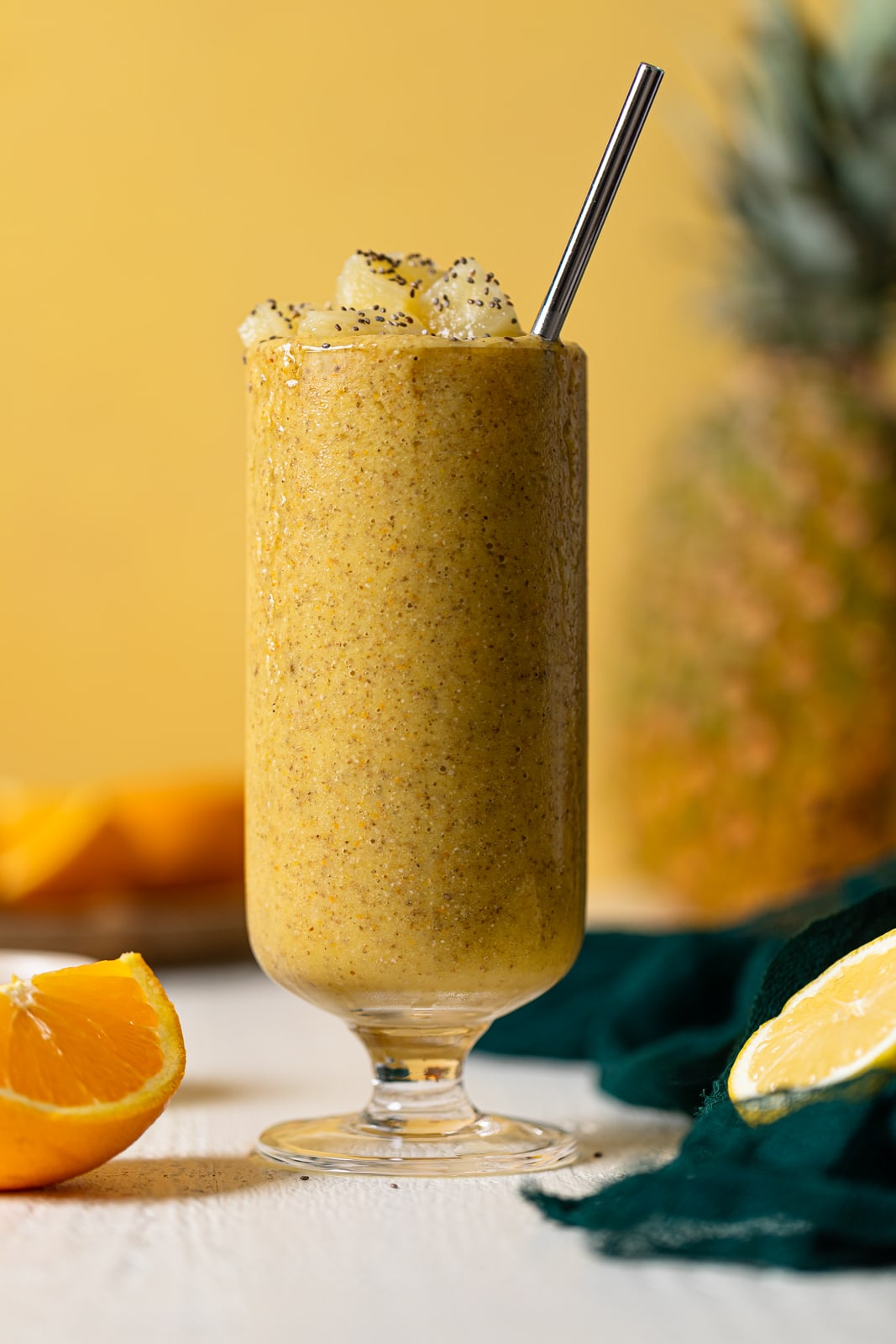 Chia Seed Health Benefits
Perhaps the best health benefit of chia seeds is how rich they are in omega-3 fatty acids. These are the healthy fats that our bodies need but do not produce on their own. Omega-3s help to reduce inflammation and may fight free radicals, reducing the risk of chronic disease.
In addition, chia seeds can be added to almost anything. Add them in other smoothies like this one. Sprinkle them on your sandwich, add some to your morning smoothie, or scoop a tablespoon into your cereal. No matter how you eat them, chia seeds are extremely beneficial to your diet!
BENEFITS OF CHIA SEEDS + WHY YOU SHOULD BE USING THEM
Benefits of Chia Seeds + Why You Should Be Using Them—–Convinced yet? Here are some of the top health benefits of chia seeds according to science. I've also added some of my favorite recipes to incorporate chia seeds into your everyday meals.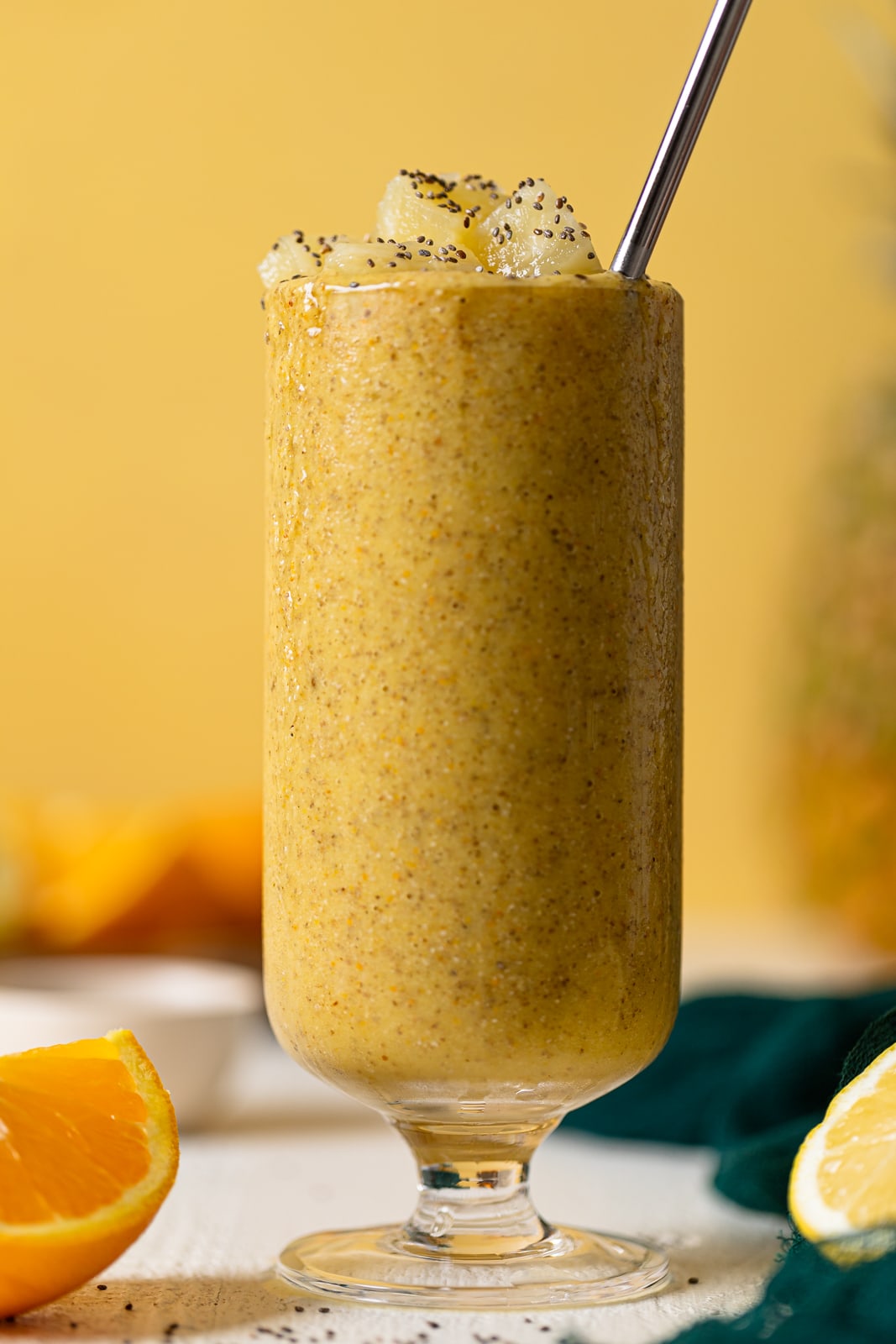 Make-Ahead Anti-Inflammatory Pineapple Citrus Smoothie
If you're planning ahead, you can make this Anti-Inflammatory Pineapple Citrus Smoothie the night before. Store it in an airtight container or jar in the fridge. In the morning, just give it a good shake or stir in case it separates (that's normal). The smoothie is best consumed within the same day, or no more than 10 hours later.
Can I Make a Smoothie Bowl?
If you prefer to eat your smoothie with a spoon, rather than drink it through a straw, make a smoothie bowl! Simply add less milk or use frozen pineapple to give your pineapple citrus smoothie a thicker texture. then add your favorite toppings, including:
Pineapple chunks
Yogurt or whipped cream
Fresh fruit
Chia seeds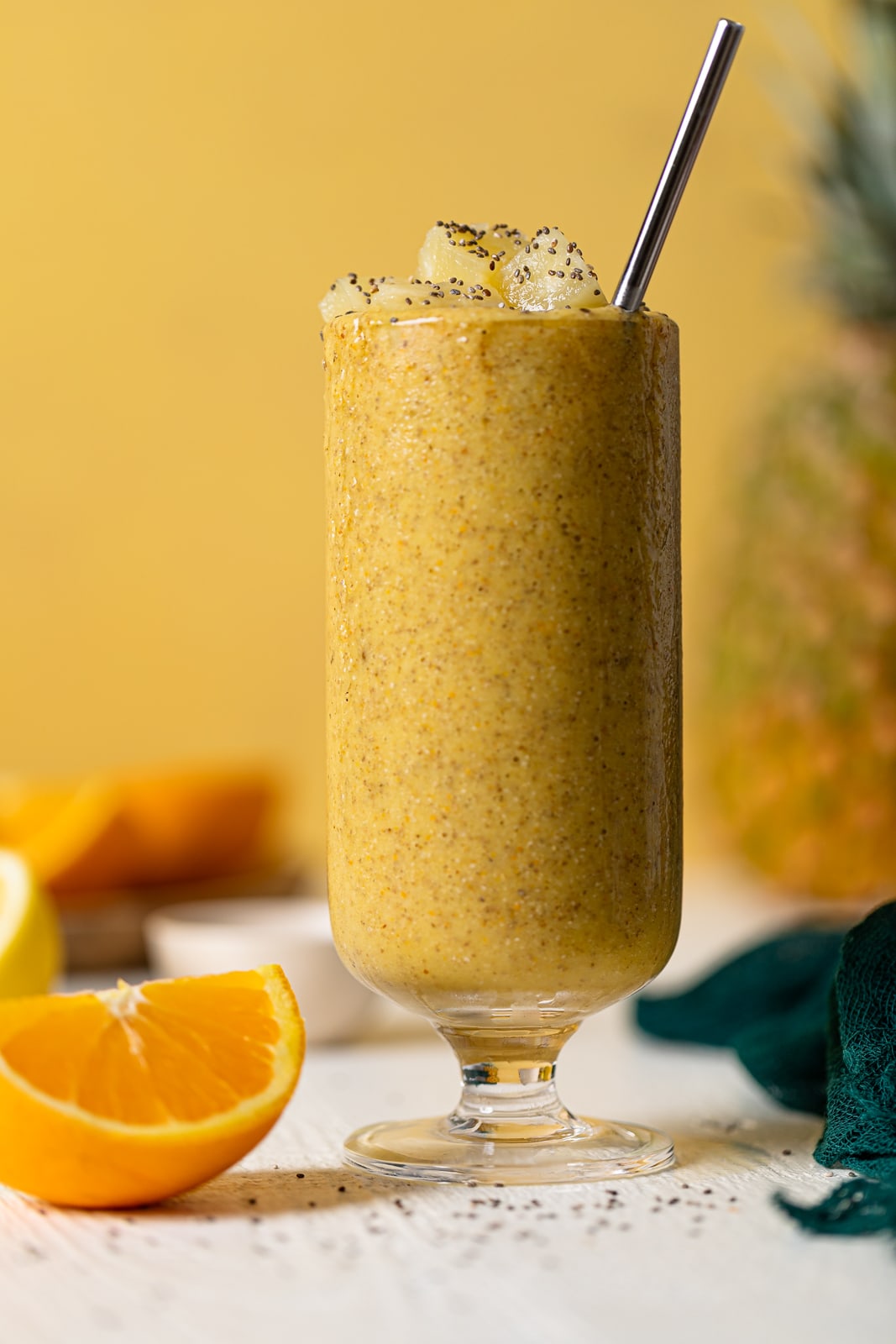 More Healthy Smoothie Recipes to try!
MADE OUR RECIPE(S)?
If you make this Anti-Inflammatory Pineapple Citrus Smoothie, tag @orchidsnsweettea_ on Instagram and hashtag it #orchidsandsweettea!
SMOOTHIE:
2-3

medium

oranges, freshly-squeezed

(Should be about 1 cup)

1

cup

frozen pineapple

(See Notes!)

1

lemon, freshly-squeezed

1-2

Tbsps

raw honey

(See Notes!)

1

teaspoon

ground turmeric

⅛

teaspoon

black pepper

2

Tbsps

chia seeds

½

lime, freshly-squeezed

½

cup

Greek yogurt

(You can also use dairy-free yogurt)
GARNISH:
Pineapple chunks

Chia seeds
Add all ingredients to a high-powered blender (adding the frozen pineapples first, then the rest following) and blend until smooth.

Adjust the amount of orange juice (or add water or ice), depending on desired consistency, adding 1 tablespoon more at a time, if needed.

To serve—pour smoothie in your favorite glass and top with pineapple chunks and sprinkles of chia seeds, if desired.

Sip and enjoy!
STORAGE: Store any leftovers in the refrigerator, tightly sealed or in a covered mason jar, ensuring that you drink it within the same day for best taste and consistency.
SWEETENER: You can always use maple syrup, Vegan honey, or Medjol dates as a substitute for Agave. For vegan honey—-Bee Free Honee, click link.
TURMERIC: For health benefits of using turmeric, ensuring that it is paired with black pepper, helps to aid in curcumin absorption.
PINEAPPLES: If you're using freshly chopped pineapple, you can freeze them prior to adding them to this smoothie or just add ice for a "smoothie-like" consistency. 
VEGAN OPTION: To make this smoothie vegan, simply substitute honey with a vegan-friendly sweetener and Greek yogurt with a dairy-free yogurt alternative.
EQUIPMENT: See my favorite equipment to use daily via my Amazon Shop List.
Calories:
496
kcal
|
Carbohydrates:
99
g
|
Protein:
19
g
|
Fat:
9
g
|
Saturated Fat:
1
g
|
Polyunsaturated Fat:
6
g
|
Monounsaturated Fat:
1
g
|
Trans Fat:
0.04
g
|
Cholesterol:
5
mg
|
Sodium:
46
mg
|
Potassium:
1141
mg
|
Fiber:
21
g
|
Sugar:
65
g
|
Vitamin A:
744
IU
|
Vitamin C:
286
mg
|
Calcium:
434
mg
|
Iron:
4
mg
Anti-Inflammatory Pineapple Citrus Smoothie.