Make extra-crispy, slightly tangy, just-spicy-enough Crispy Lemon Pepper Buffalo Chicken Wings with an easy sauce mixture that has a delicious sweet-spicy flavor, seasoned to perfection with a lemon pepper blend, and a nicely juicy center. The perfect appetizer or main meat that can be served with your favorite sides or dipping sauce---whether during dinner or brunch or lunch. Air Fryer, Dairy-Free + Gluten-Free options.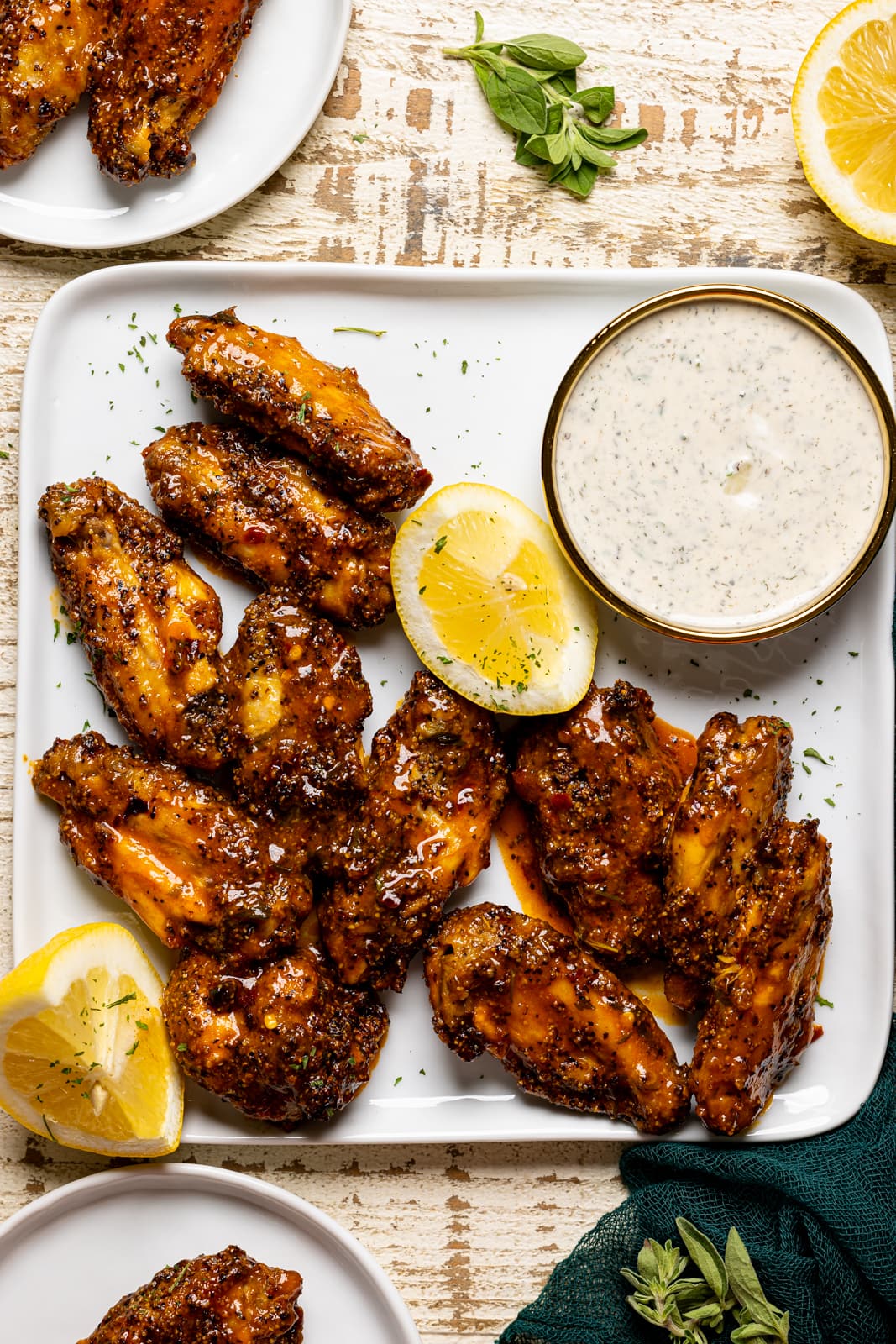 Disclaimer: This post contains affiliate links via Amazon for products that I wholeheartedly love and receive commission from.
It's officially my Birthday week, so I'm sharing some of my personal faves ALL WEEK LONG on the site and via Instagram (Check out all Reels to see these recipes in action). Of course, if you know me, then you know that I'm a huge fan of chicken wings, therefore, it was only right that I started out with these Crispy Lemon Pepper Buffalo Chicken Wings to kick things off. I mean, I wasn't called "chicken wing" growing up as nickname for no reason. haha.
Honestly, when it comes to wings, there isn't a bad flavor (for the most part) and while traditional buffalo wings like these Classic Oven Baked Buffalo Wings or Crispy Buffalo Popcorn Chicken, are a crowd-pleaser, adding lemon pepper seasoning to the mix truly takes things to the next level. You won't be disappointed and I promise that everyone will be going for a round of seconds and thirds. Plus, if you're fan of chicken wings in general, then you must try these Baked Jamaican Jerk Chicken Wings, Spicy Orange Chicken Wings, Sticky Gochujang Chicken Wings, and even these Lemon Pepper Cauliflower Wings and Crispy Buffalo Cauliflower Wings/Bites for all of my meatless loving peeps!
This chicken recipe is overall super easy to make, the perfect balance between spicy, tangy, and savory, can be done in both the oven or air-fryer, completely family-friendly, and is the best addition to so many meal ideas, gatherings, and summer BBQs.
What Makes a Buffalo Chicken Wing?
Buffalo chicken wings also known as hot wings, are deep-fried unbreaded chicken wings that are then coated in a spicy hot sauce mixture with butter. They are often served simple with a side of celery or a dipping sauce like ranch or blue cheese.
Jump to:
Do I Use Cornstarch or Flour for Crispy Chicken?
OK, so this is one of the hot debates as it relates to which one creates the crispier chicken or chicken wings. While cornstarch does add extra layer of crispiness for your chicken, using flour still works too!
But to best honest, the best kept secret is the combination of both cornstarch and flour (equal parts, so that's 2 Tbsps EACH for this recipe), which creates the crispiest results. Of course, if you're looking to make this fried chicken recipe gluten-free, then substitute the cornstarch or flour with arrowroot starch or a great all-purpose flour.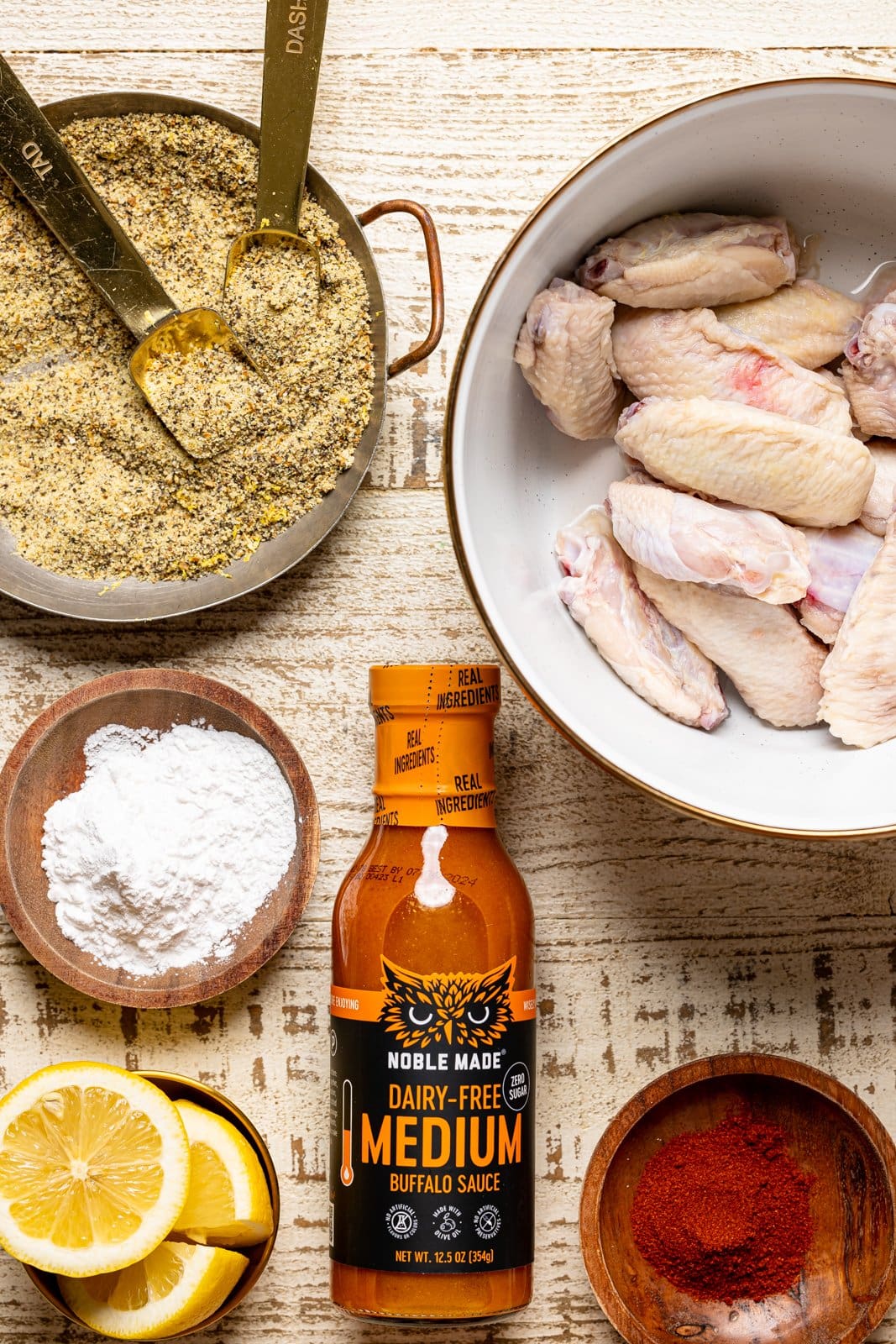 How to Make Crispy Lemon Pepper Buffalo Wings
The THREE parts of these buffalo wings are the chicken wings, lemon pepper seasoning, and the buffalo sauce.
The best part about any wing is the crispy coating that is formed without an "actual coating". And these buffalo chicken wings do not disappoint. I talk more about tips to making these wings nice and crispy, but let's talk about this delicious recipe, especially the marinade and the sauce.
Ingredients for Chicken Wings
Here's what you need for these delicious Crispy Lemon Pepper Buffalo Wings:
Chicken wings. I like to use organic wings that are disjointed (comes in two pieces) for a better cook. You can also use whole pieces of chicken (i.e. drumsticks, thighs, etc.) if preferred. For a meatless option, see my Lemon Pepper Cauliflower Wings recipe.
Lemon pepper seasoning. You can easily make your own homemade blend or use a store-bought version.
Smoked paprika. This adds an extra layer of complexity to the wings. Gives a delicious earthy, smoky flavor. You can use regular paprika, if desired.
Cornstarch. Used for the "coating" of the wings for an extra crispiness. You can sub with arrowroot starch, flour, tapioca flour, etc.
Unsalted butter. This adds additional flavor to the sauce. For a dairy-free option, feel free to use vegan butter.
Buffalo sauce. This can be mild, hot, or very hot--whichever level of heat preferred. For a dairy-free option, I love Noble Made.
Raw Honey. This adds a nice hint of sweetness to the heat. Feel free to use maple syrup or cane sugar, if you'd like.
Red pepper flakes, garlic powder, and parsley. Use as much or as little spice as you like for the sauce. Adds additional flavor.
Tips + Tricks for The Crispiest Chicken Wings
To make sure your chicken wings get as crispy as possible without needing an actual "coating", follow these simple tips:
After rinsing your wings, be sure to pat dry completely until they are as dry as possible before marinating them.
Make sure each wing has plenty of space on the baking sheet or baking dish. The airflow helps things crisp up.
When using a baking sheet, add a wire rack atop the parchment paper so that wings can crisp up nicely on all sides.
Cook wings until crisp prior to adding sauce so that they have minimal liquid.
Broiling your wings for about 5 minutes or so helps to get them nice and crispy without burning.
Always toss your crispy wings in the sauce for a minute or two or until fully coated to avoid keeping them in the sauce too long and making them soggy.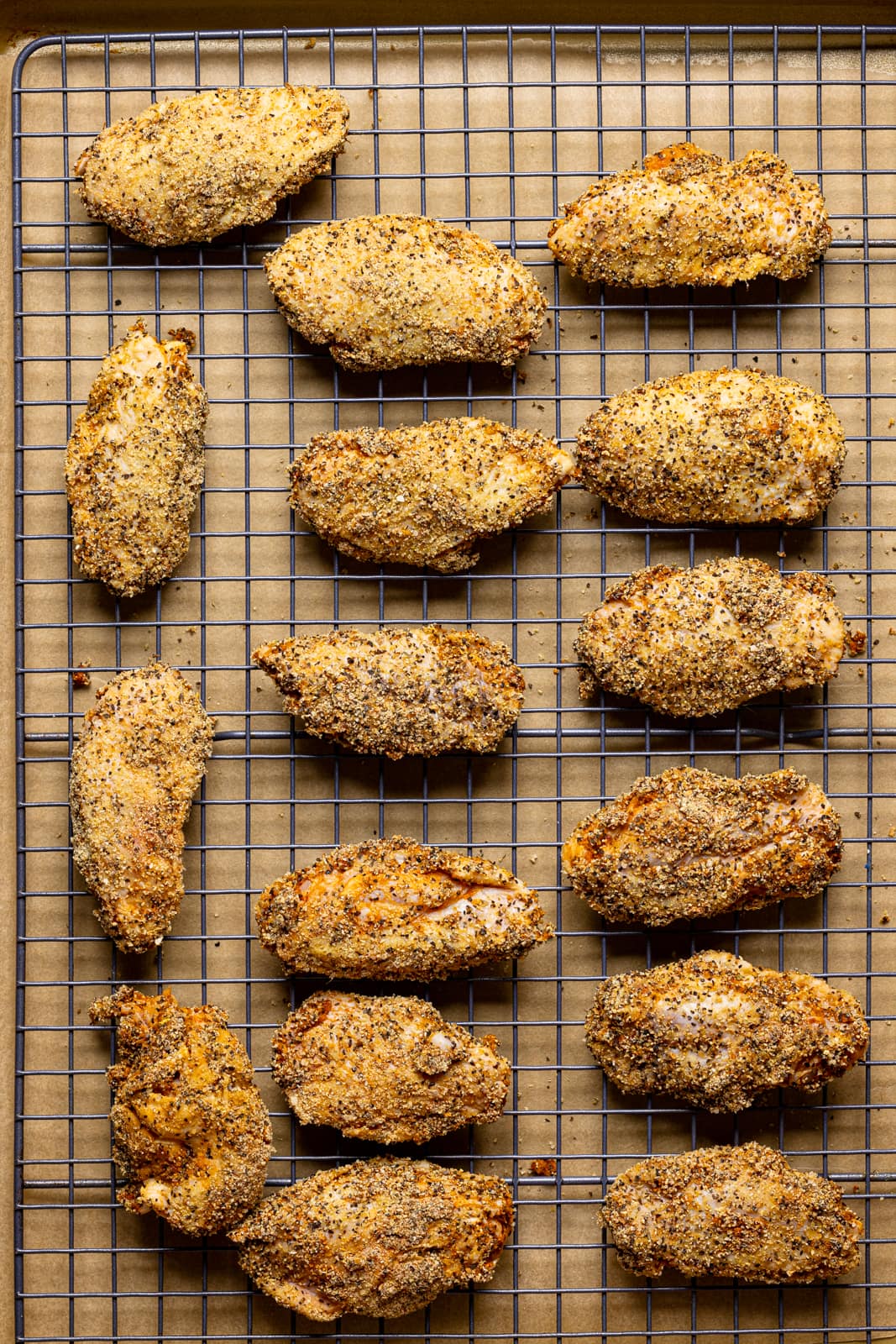 What are the Two Types of Wings?
When it comes to wings, there are two types: Drums (a.k.a. drumettes) and flats (a.k.a. wingettes). The drums actually look like miniature chicken legs and have one single bone in the middle surrounded by meat, whereas the flats are "flat" and contain two smaller bones that runs the length of the wing.
How to Prep + Season Wings
Baking these Crispy Lemon Pepper Buffalo Wings are generally an easy process—in total just under 1 hour due to the process of cooking the chicken wings and making and tossing them in the buffalo sauce. You first start by cleaning and washing your chicken pieces to ensure that they are clean and ready to be seasoned. I like to wash my chicken wings with both vinegar and lemon to help keep things clean and sanitized.
Once your chicken wings are clean, then it's time to pat them dry and season them! I'm all about seasoning every "layer" of my food, therefore, the chicken gets direct lemon pepper seasoning and the sauce gets a bit of seasoning as well. Let everything marinate for 10-15 minutes or 1-2 days (or overnight tightly wrapped in the refrigerator) for the best results.
Do You Bake or Fry Buffalo Wings?
Of course, both methods of making these lemon pepper buffalo chicken wings are effective. However, if you're wondering whether you'd be able to also make these wings in an air-fryer—-then yes!
To make your crispy chicken wings in an air fryer, it's very similar to doing it the oven. The only difference would be the cook time and adding them to a basket versus a baking sheet. Once you've seasoned and dusted your chicken wings, add them to your air fryer basket, spray with cooking oil, and cook them at 360 degrees for 10-15 minutes. NOTE: You might want to spray your basket with cooking oil to ensure that your chicken doesn't stick to it during cooking.
As you know, this recipe is for baked wings and honestly, they're just as crispy as using them in the airy-fryer (especially when you broil them in the last round), so the choice is yours!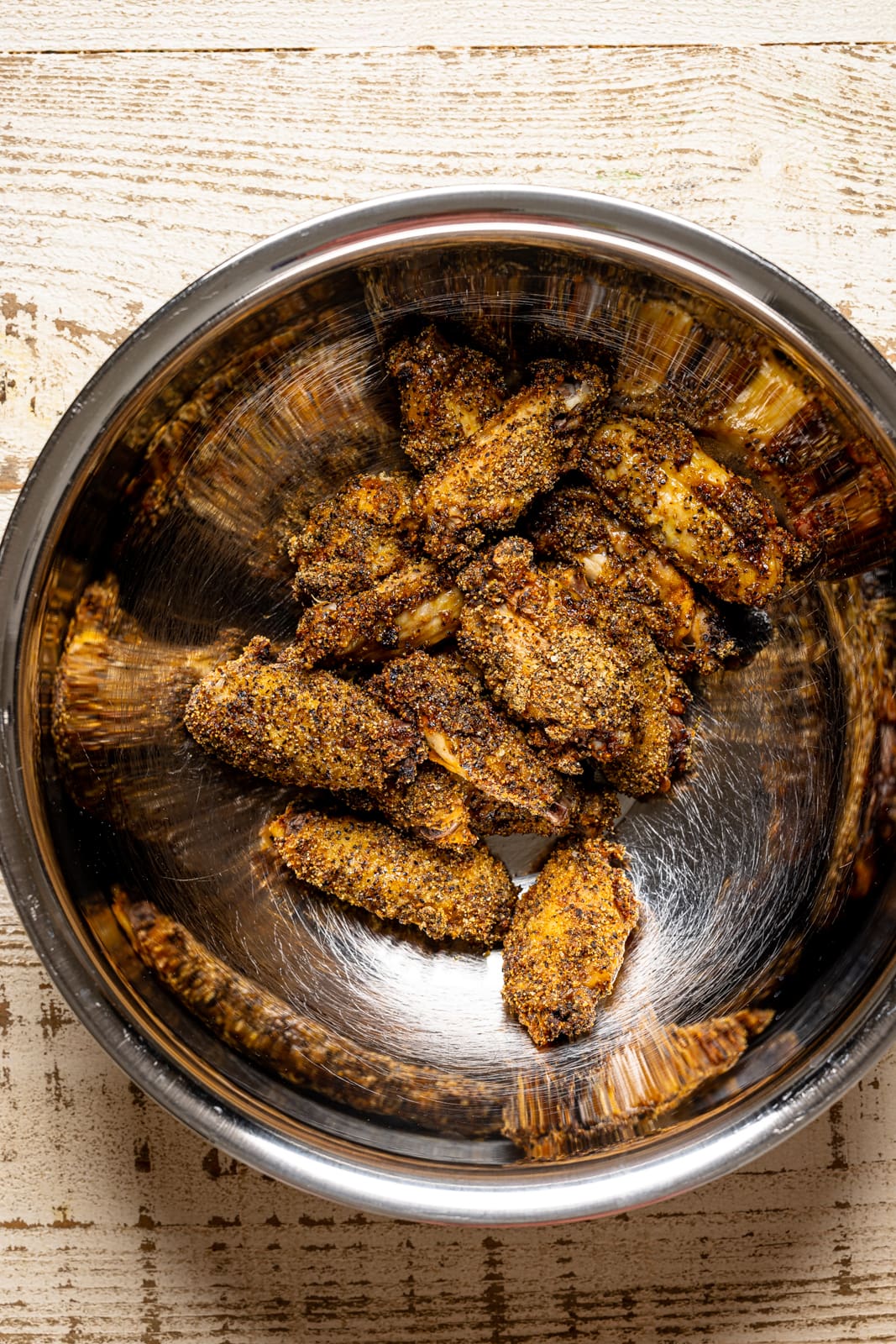 What is Buffalo Sauce Made Of?
In general, buffalo sauce is made of mixture of hot sauce, butter, vinegar, and Worcestershire sauce. Making your own homemade buffalo sauce is simple and here's what you need:
Frank's Hot sauce.
Butter.
White vinegar.
Worcestershire sauce.
Cayenne pepper.
Garlic.
Why You Will LOVE these Wings!
Versatile snack, appetizer, or side option.
Boasts of a great dairy-free + gluten-free option.
Zesty, spicy, and bold flavor combo.
The perfect crispiness on the outside + juiciness on the inside!
Such nostalgia with the classic buffalo sauce.
Addictively tasty + irresistible for the entire family.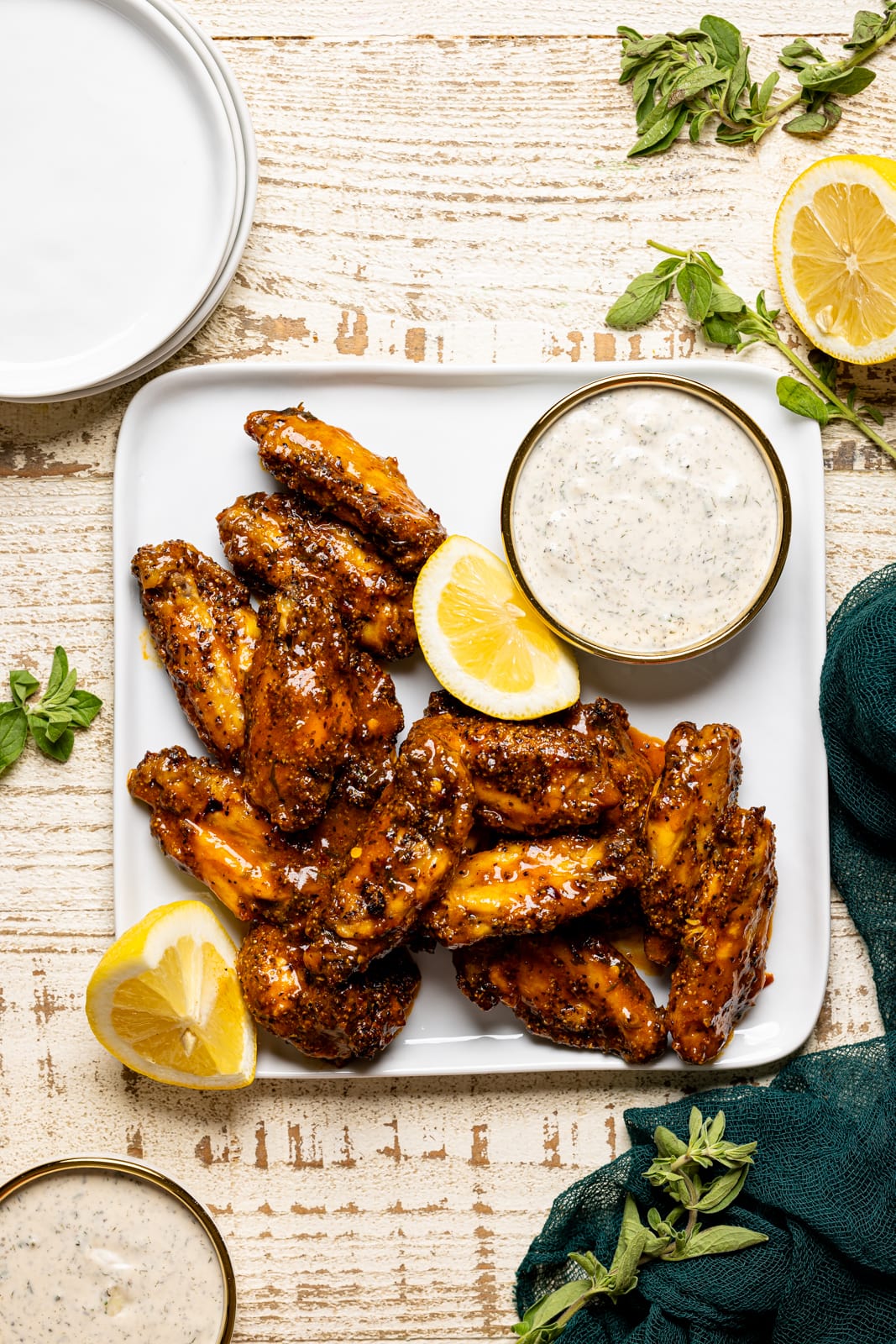 What to Serve with Lemon Pepper Buffalo Chicken Wings
These lemon pepper buffalo wings are full of flavor all on their own, but who doesn't love to dunk and dip----right? So, feel free to serve your wings with any (or all) of these tasty condiments:
Blue cheese
More hot sauce!
However, if you're thinking about serving these chicken wings with something to create a complete, full meal, then I recommend trying my favorite ways to incorporate them:
Common Q + A's for these Wings
How do you store + reheat these wings?
Any leftovers can be kept in a tightly sealed container and refrigerated for up to 3-4 days. Reheat in the oven at 375 degrees Fahrenheit or microwave when ready to serve.
Can I make these buffalo wings gluten-free?
Absolutely! To make these wings GF, just ensure that all sauce ingredients are GF-friendly and the best alternative to cornstarch is arrowroot starch or Gf flour. 
Can I make these buffalo wings dairy-free?
Yes! To make these wings dairy-free, simply ensure that the buffalo sauce is dairy-free (Noble Made has a great option) and substitute the butter with vegan butter. 
Can I make my own lemon pepper seasoning?
Of course! To make your own blend of Lemon Pepper Seasoning, see my recipe!
How do you make buffalo sauce stick to wings?
The most effective way to get the buffalo sauce to stick to your wings is by baking the sauce on. Once your wings are fully baked + crispy, simply make the sauce in the skillet, toss them in the sauce, and add them back to the baking sheet with the wire rack and broil them for 5 minutes or so, until the sauce sticks.
Do buffalo wings have have breading?
Traditionally, no. This is is why I toss them in cornstarch for this recipe to help further make them crispy with out actual breading.
Should you put buffalo sauce on chicken before or after cooking?
Traditionally, most buffalo wings recipes are tossed in the sauce after they are baked and crispy. This helps them to soak up the sauce nicely without becoming soggy.
Why add butter to buffalo wing sauce?
Honestly, the butter gives a nice richness and smoothness to the buffalo sauce that you notice without it. It also cuts down the heat and adds additional flavor!
Is Frank's Red Hot the same as buffalo sauce?
While both sauces have a similar base, the main difference is that buffalo sauce also has a buttery, richness to it as well as added flavor from paprika unlike Frank's Red Hot.
Is it better to bake chicken wings at 350 or 400?
You can totally bake your chicken wings at 350 degrees Fahrenheit, however, I find that cooking them at 400 degrees Fahrenheit will result in a crispy skin in a shorter time. I personally find the results better with the latter.
Why is my baked wings not crispy?
After cleaning and rinsing your wings, f the chicken isn't dry by patting them dry then the chicken wings won't crisp up. Also, the use of the cornstarch helps to create a crispy outside as well. Lastly, as mentioned in my tips section of the post, using a baking sheet with a wire rack is key!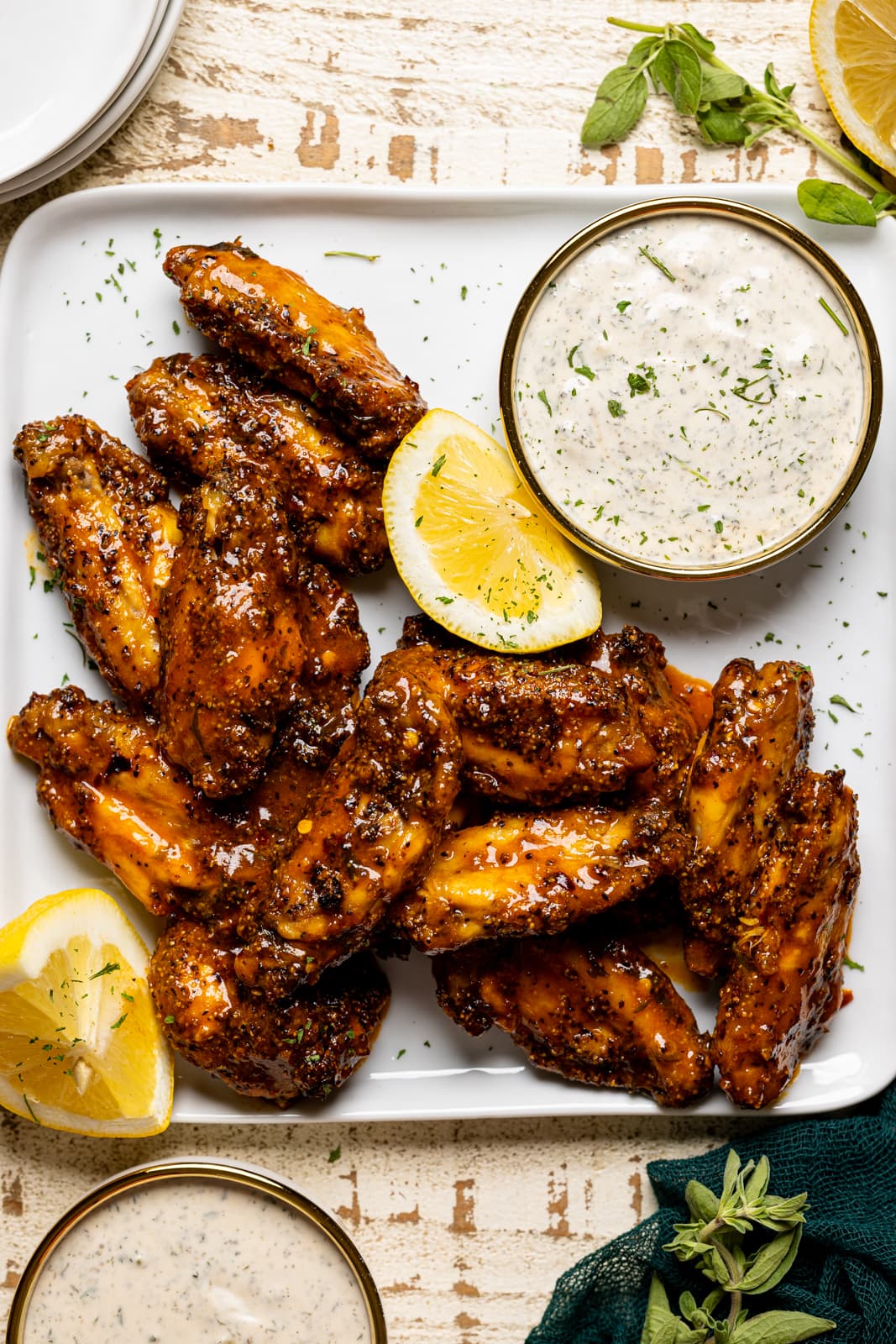 More Delicious Chicken Recipes to Try Next!
MADE OUR RECIPE(S)?
If you tried this Crispy Lemon Pepper Buffalo Wings recipe or any other recipe on my website, please please leave a 🌟 star rating and let me know how you go in the 📝 comments below. I love hearing from you.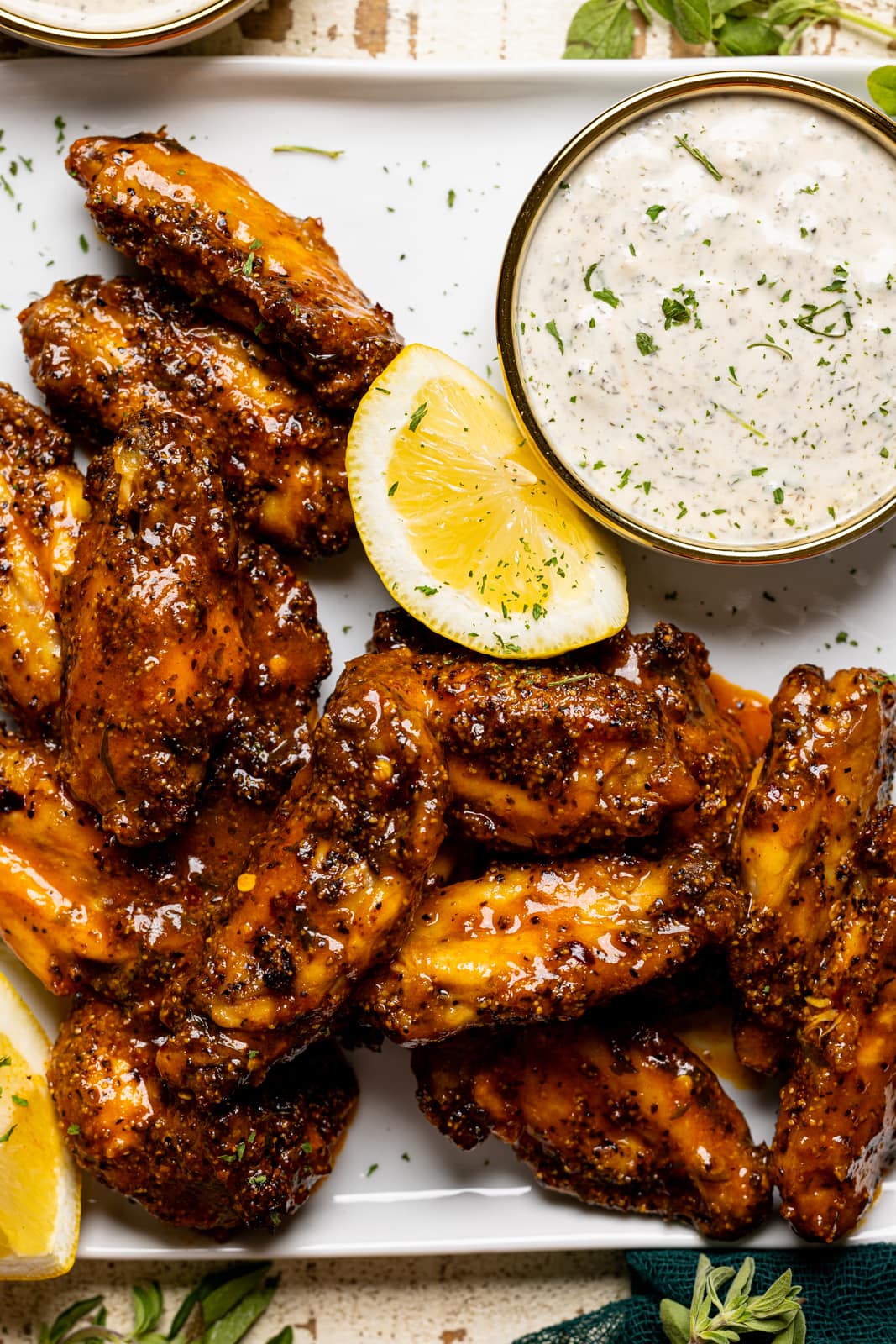 CHICKEN WINGS:
2 ½

lbs.

organic chicken wings, disjointed

2

Tbsps

lemon pepper seasoning, homemade or store-bought

¼

cup

cornstarch

(See Post for alternatives)

1

teaspoon

smoked paprika
SAUCE:
2

Tbsps

unsalted butter

1 ½

cups

buffalo wing sauce, premium

2

Tbsps

pure maple syrup or raw honey

½

teaspoon

garlic powder

½

teaspoon

dried parsley

Pinch of

red pepper flakes
MARINATE THE CHICKEN WINGS:
In a large bowl, add your freshly cleaned + rinsed chicken wings along with the lemon pepper seasoning, smoked paprika, and cornstarch, mixing everything together until chicken is fully coated. Let it sit for 10-15 minutes. NOTE: For best results, it's best to marinate chicken overnight in the refrigerator or for up to 2 days.

Preheat the oven to 400 degrees Fahrenheit and line a baking sheet with parchment paper and a wire rack for the best crispy results. NOTE: be sure to generously spray the wire rack to ensure that wings don't stick.
BAKE THE CHICKEN:
Lay each chicken wing side by side onto the baking sheet (about an inch apart). Repeat until all chicken wings are assembled. Bake chicken wings for 25-30 minutes or until crispy and golden.
WHIP TOGETHER THE SAUCE + TOSS WINGS:
In a medium skillet (10-inch) over medium-high heat, add the butter and let it melt. Then add in the buffalo sauce, the sweetener, garlic powder, parsley, and red pepper flakes, and whisk everything together until it begins to boil. Reduce heat to low-medium and let everything simmer for another 2-3 minutes or so, stirring occasionally. Add in the crispy chicken wings and toss them until coated.

Remove from heat and serve immediately with your favorite side or dipping sauce.

Bon Appetit!
STORAGE: Any leftovers can be kept in a tightly sealed container and refrigerated for up to 3-4 days. Reheat in the oven at 375 degrees Fahrenheit or microwave when ready to serve.
GLUTEN-FREE OPTION: To make these wings GF, just ensure that all sauce ingredients are GF-friendly and the best alternative to cornstarch is arrowroot starch or Gf flour. 
DAIRY-FREE OPTION: To make these wings dairy-free, simply ensure that the buffalo sauce is dairy-free (Noble Made has a great option) and substitute the butter with vegan butter. 
LEMON PEPPER SEASONING (HOMEMADE): To make your own blend of Lemon Pepper Seasoning, see my recipe!
TIPS FOR CRISPY WINGS: See the post for all tips for making the most crispiest chicken wings.
Calories:
475
kcal
|
Carbohydrates:
5
g
|
Protein:
35
g
|
Fat:
34
g
|
Saturated Fat:
11
g
|
Polyunsaturated Fat:
7
g
|
Monounsaturated Fat:
13
g
|
Trans Fat:
1
g
|
Cholesterol:
156
mg
|
Sodium:
139
mg
|
Potassium:
307
mg
|
Fiber:
0.2
g
|
Sugar:
0.04
g
|
Vitamin A:
559
IU
|
Vitamin C:
1
mg
|
Calcium:
25
mg
|
Iron:
2
mg