Make extra-crispy, just-spicy-enough Classic Oven Baked Buffalo Wings with an easy sauce mixture that has a delicious hot sauce-honey flavor, seasoned to perfection, and a nicely juicy center. The perfect appetizer or main meat that can be served with your favorite sides---whether during dinner or brunch. Gluten-Free option.
I can honestly say that my love for chicken wings stem all the way back to childhood. Fun fact: my childhood nickname growing up was "chicken wing"---haha!
So of course, whenever I get the chance to share any kind of chicken wing recipe with you, I'm so excited. These Classic Oven Baked Buffalo Wings are definitely a crowd-pleaser with the right amount of heat that can easily be offset with a good dip like ranch, blue cheese, etc. These crispy Lemon Pepper Buffalo Wings or Crispy Buffalo Popcorn Chicken are definitely one to try next!
Although these wings make for the perfect handheld appetizer, I also love making these wings during the week along with my favorites like brown rice, mashed potatoes, mac + cheese, pasta, or even atop a nice salad. They're just perfect with anything and I know that I might be biased because of my absolute LOVE for chicken wings as a whole.
What's the History of Buffalo Wings + Why are they Called Buffalo Wings?
OK, so one of the fascinating things about buffalo wings has to be their origin. I read that these wings were originally born in Buffalo, NY in 1964---hence the name. It was said that the original creator actually wanted to re-purpose leftover cooked wings to feed her family and eventually came up with the concept of crispy wings drenched in a sweet-hot sauce.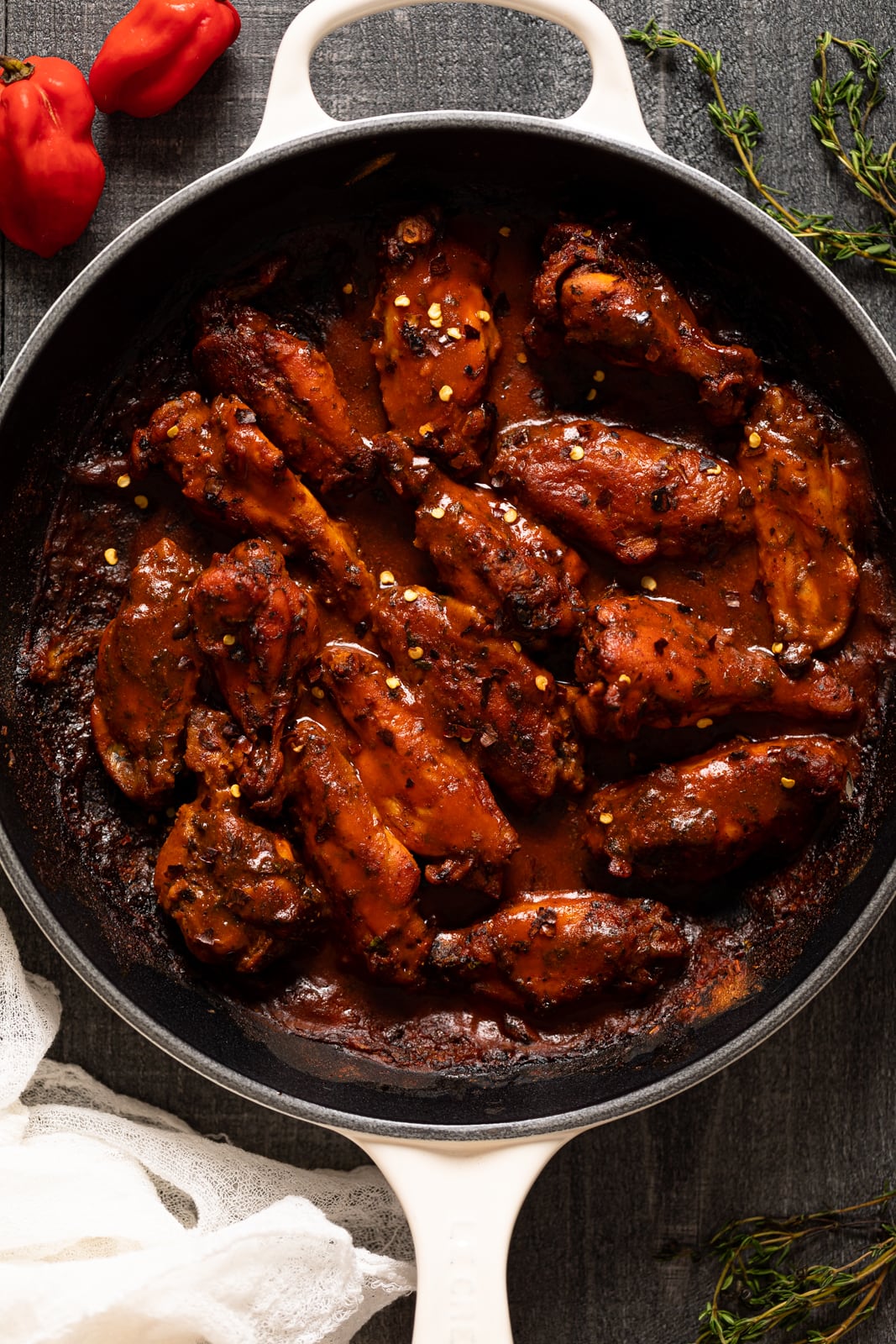 How to Make the Crispiest Classic Oven Baked Buffalo Wings
The best part about any wings is the crispy coating that is formed without an "actual coating". And these wings do not disappoint. I talk more about tips to making these wings nice and crispy, but let's talk about the ingredient that help make these wings possible:
Buffalo sauce. This can be mild, hot, or very hot--whichever level of heat preferred.
Honey. This adds a nice hint of sweetness to the heat. Feel free to use Agave or maple syrup if you'd like.
Cajun seasoning. This blend adds a nice extra kick of herb + spice flavor, but it totally optional. For a homemade blend, check out this recipe.
Herbs + Spices. This main blend of seasonings works for both the wings and sauce because I like to season every layer of food: salt, black pepper, smoked paprika, garlic powder, onion powder, dried thyme, dried parsley, and red pepper flakes.
Red pepper flakes + hot sauce. Use as much or as little spice as you like.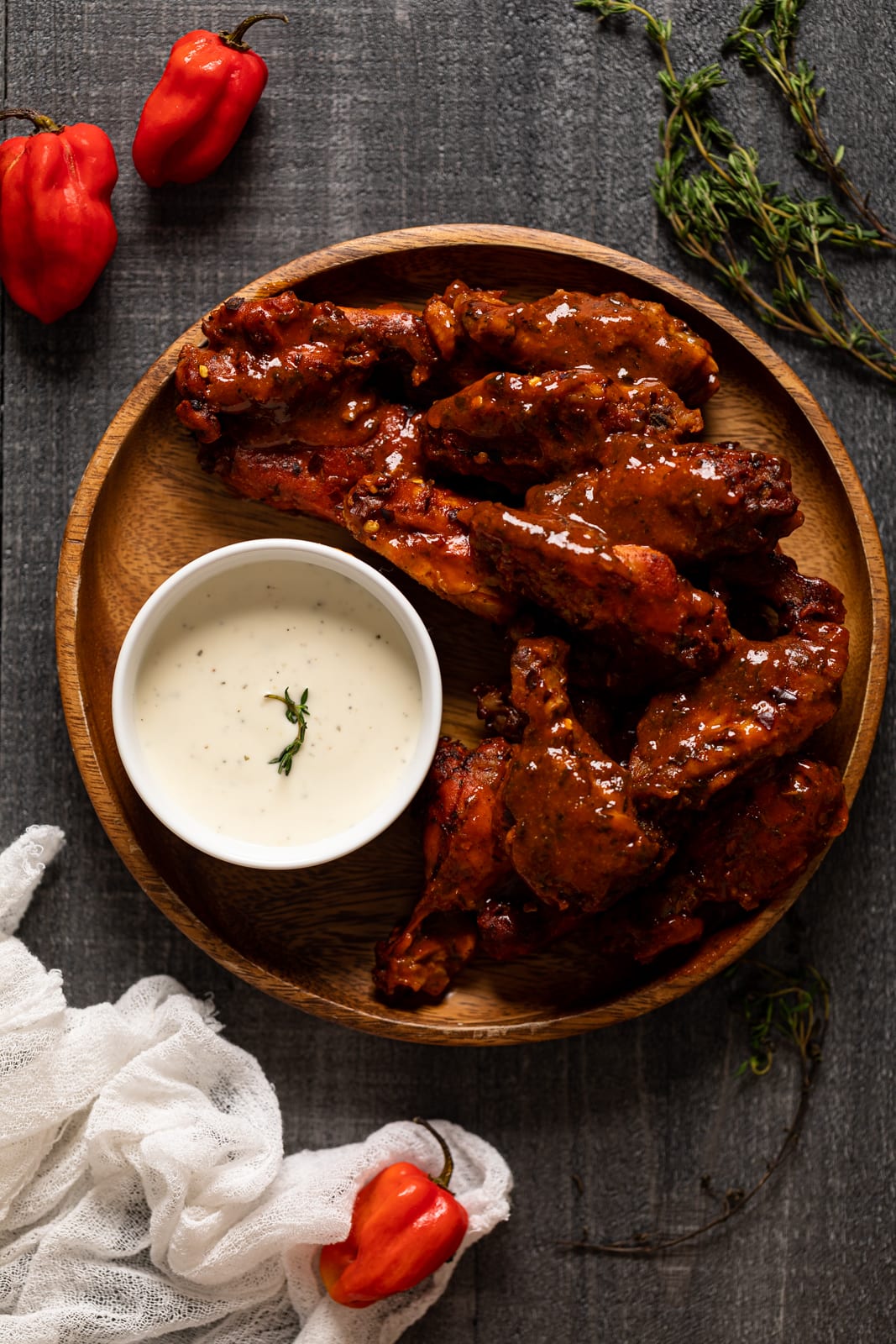 How to Make Classic Oven Baked Buffalo Wings
Making Classic Oven Baked Buffalo Wings is generally an easy process—in total about 30-35 minutes. You first start by cleaning and washing your chicken wing pieces to ensure that they are clean and ready to be seasoned. I like to wash my chicken with both vinegar and lemon to help keep things clean and sanitized.
Once your chicken wings are clean, then it's seasoning time! I'm all about seasoning every "layer" of my food, therefore, the chicken gets direct seasoning and so does the sauce. Let everything marinate for 10-15 minutes or overnight tightly wrapped in the refrigerator for the best results.
Then you preheat the oven to 400 degrees Fahrenheit and line a baking sheet with parchment and a wire rack or grease a large 12-inch skillet before adding the wings to whichever you choose to use and letting them bake for 25-30 minutes.
Lastly, mix together the sauce ingredients, spoon it unto the chicken wings and let them bake for another 5-6 minutes or until sauce is "baked unto" wings.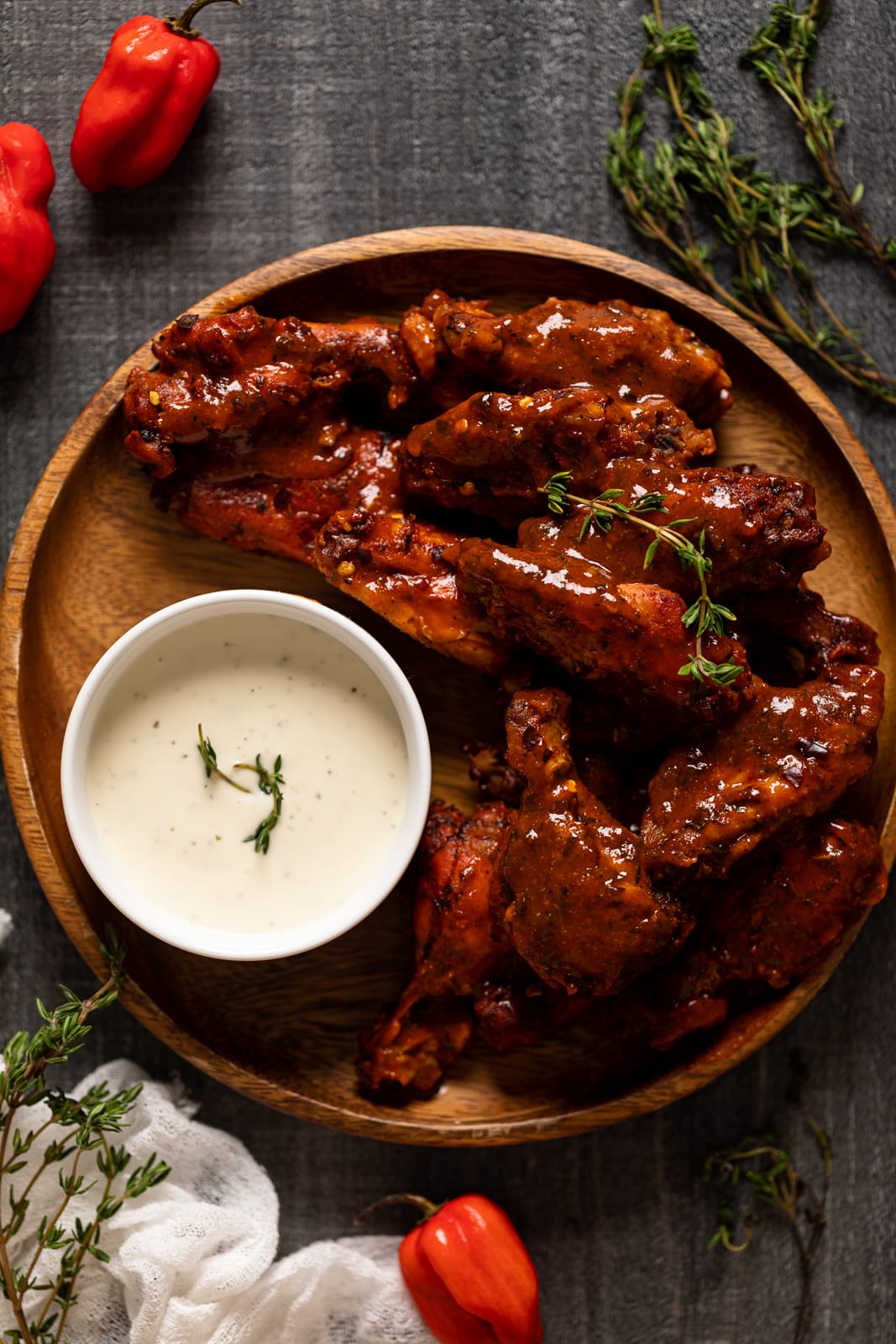 Tips + Tricks to The Crispiest Chicken Wings
To make sure your wings get as crispy as possible without needing an actual "coating", follow these simple tips:
Make sure each wing has plenty of space on the baking sheet. The airflow helps things crisp up.
When using a baking sheet, add a wire rack atop the parchment paper so that wings can crisp up nicely on all sides.
Cook wings until crisp prior to adding sauce so that they have minimal liquid.
After rinsing your wings, be sure to pat dry completely until they are as dry as possible.
What are the Two Types of Buffalo Wings?
When it comes to wings, there are two types: Drums (a.k.a. drumettes) and flats (a.k.a. wingettes). The drums actually look like miniature chicken legs and have one single bone in the middle surrounded by meat, whereas the flats are "flat" and contain two smaller bones that runs the length of the wing.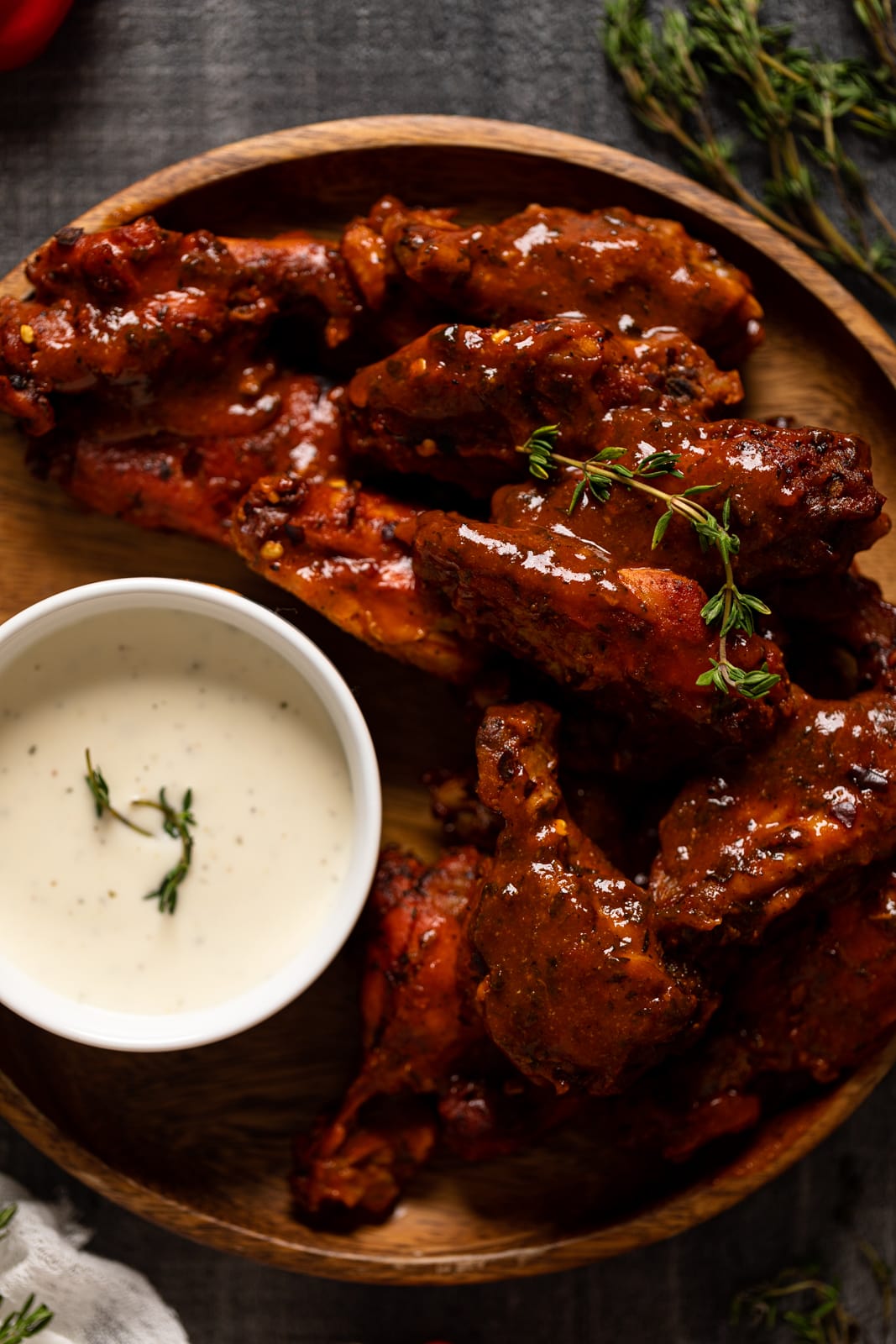 What to Serve with Classic Oven Baked Buffalo Wings
These classic buffalo wings are full of flavor all on their own. But who doesn't love to dunk and dip?
Serve your wings with any (or all) of these tasty condiments:
Blue Cheese
Salsa verde
More hot sauce!
What is Buffalo Sauce Made Of?
In general, buffalo sauce is made of mixture of hot sauce, butter, vinegar, and Worcestershire sauce. Making your own homemade buffalo sauce is simple and here's what you need:
Frank's Hot sauce.
Butter.
White vinegar.
Worcestershire sauce.
Cayenne pepper.
Garlic.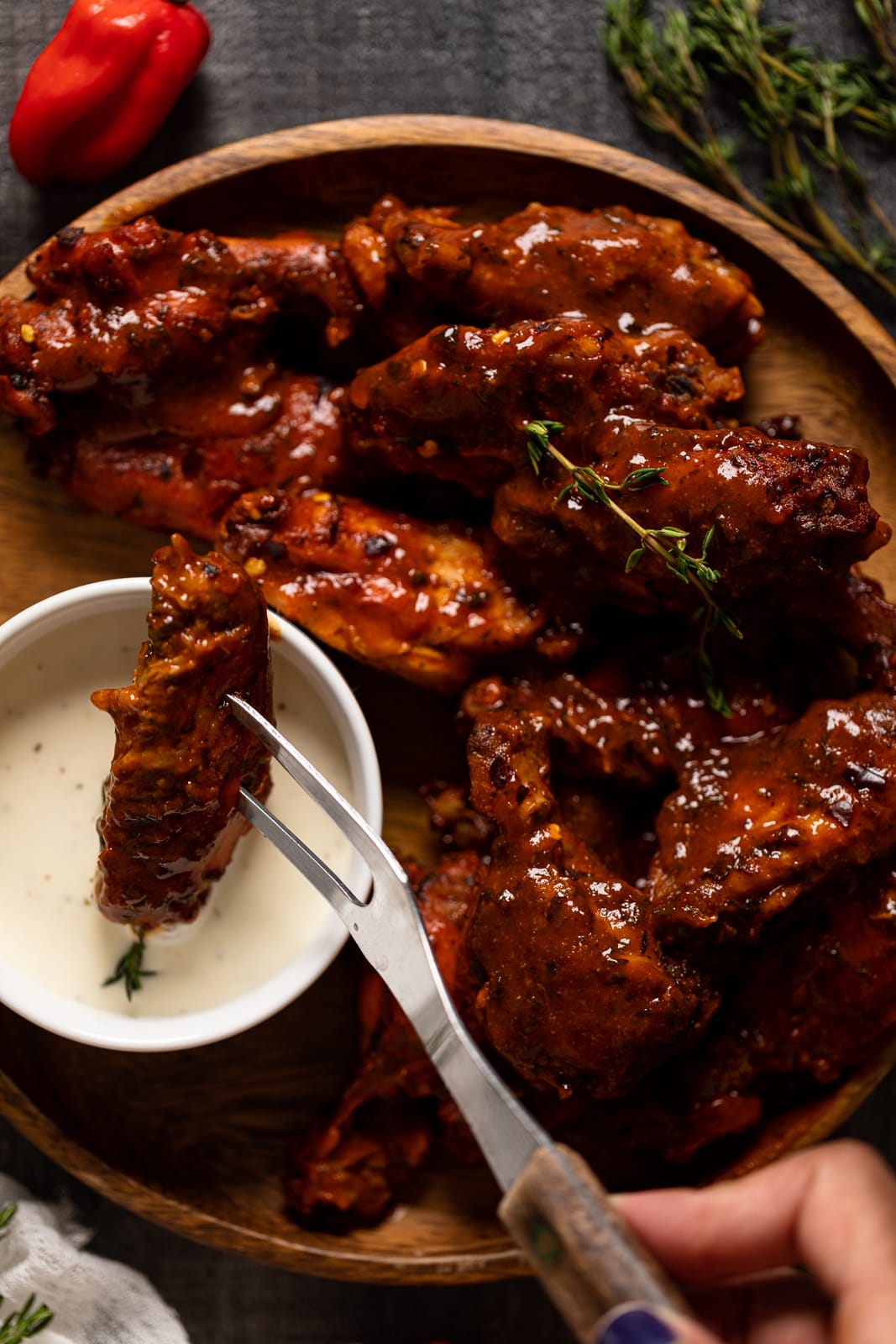 Baked Buffalo Wings versus Air-Fried
Of course, both methods of making these crispy classic buffalo wings is effective. However, if you're wondering whether you'd be able to also make these wings in an air-fryer----then yes! Absolutely!
Simply do all steps the same (minus adding the bit of buffalo sauce) and cook them in your air-fryer for the amount of time needed (somewhere between 10-15 minutes I believe). Once crisp, just toss them in the buffalo sauce mixture and wallah.
As you know, this recipe is for baked wings and honestly, they're just as crispy as using them in the airy-fryer (especially when you use a wire rack), so the choice is yours!
Make-Ahead Classic Oven Baked Buffalo Wings
You can store baked buffalo chicken wings in an airtight container in the fridge for up to three days. Or, if you want to plan ahead, you can assemble the buffalo sauce and marinade your wings up to two days ahead of time. Keep the buffalo sauce in an airtight container in the fridge. Then let the wings sit at room temperature for about 30 minutes and bake them just before serving.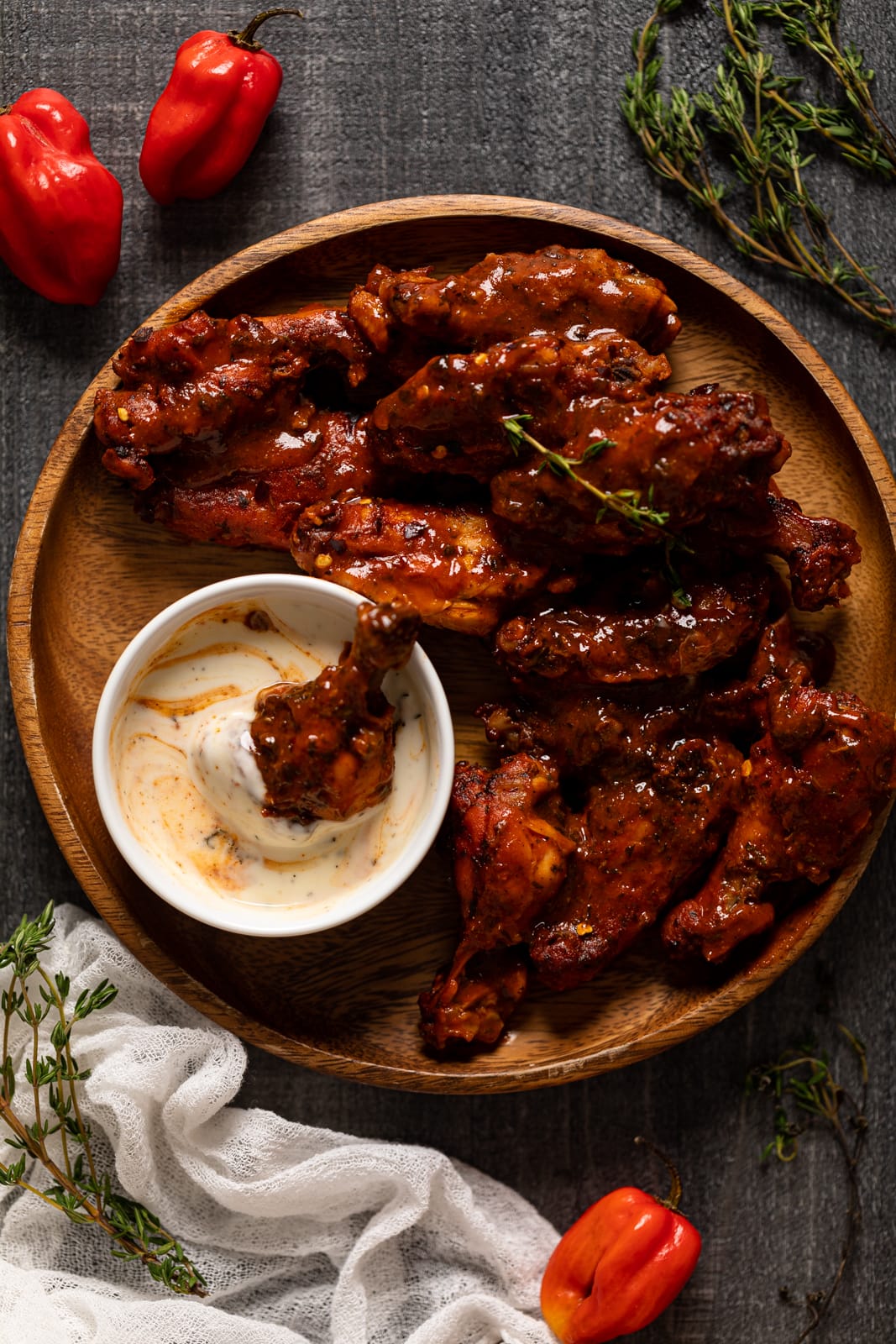 More Delicious Buffalo-infused Recipes
MADE OUR RECIPE(S)?
If you make this Classic Oven Baked Buffalo Wings, tag @orchidsnsweettea_ on Instagram and hashtag it #orchidsandsweettea!
CHICKEN WINGS:
2 ½

lbs.

organic chicken wings, disjointed

(Cleaned + rinsed)

1

teaspoon

sea salt

1

teaspoon

black pepper

1

teaspoon

smoked paprika

1

teaspoon

garlic powder

1

teaspoon

onion powder

1

teaspoon

dried thyme

1

teaspoon

cajun seasoning, homemade or store-bought, optional

(See Notes for blend ingredients)

1

teaspoon

dried parsley
SAUCE:
2

cups

classic buffalo wing sauce

(I like to use Frank's or The New Primal )

2

Tbsps

raw honey

½

teaspoon

garlic powder

½

teaspoon

black pepper

½

teaspoon

dried parsley

½

teaspoon

red pepper flakes

Pinch of

sea salt
PREP THE CHICKEN WINGS:
Be sure to clean your chicken (but cutting off extra fatty areas) and rinse them with lemon and vinegar, patting them dry once clean. In a bowl, add the chicken wings along with salt, black pepper, garlic powder, onion powder, smoked paprika, thyme, parsley, and cajun seasoning (optional), massaging everything together with your clean hands until wings are fully coated. Add ¼ cup buffalo sauce and mix together. Let wings sit in marinade for 15 minutes or so-----best if done overnight wrapped in the refrigerator.
BAKE THE CHICKEN WINGS:
Preheat the oven to 400 degrees Fahrenheit and line a baking sheet with parchment paper and then add a wire rack atop. NOTE: Doing this step is a MUST to prevent sticking and ensures that the wings crisp up evenly. OPTION 2: Prepare a 12-inch oven-safe iron cast skillet and grease with butter.

Line each wing atop prepared wire rack on baking sheet side by side, about 1 inch apart or in the skillet.

Bake wings for about 25-30 minutes or until crisp and cooked through before adding the sauce.
MIX TOGETHER THE SAUCE:
In a bowl, add the buffalo sauce, honey, garlic powder, salt, black pepper, parsley, and red pepper flakes, stirring everything together until combined.

Once the wings have become crispy, spoon the sauce atop wings and let them bake for another 5-6 minutes or until the sauce is "sticky" atop wings.

Remove the chicken wings from the oven and serve immediately with your favorite side.

Bon Appetit!
STORAGE: Store leftovers in a tightly sealed container in the refrigerator for 3-4 days. Reheat in oven when ready to serve.
SWEETENER: You can always substitute honey with Agave or maple syrup if desired.
CAJUN SEASONING BLEND: To create your own homemade blend, be sure to check out this Cajun Sweet Potato + Chickpeas recipe. 
GLUTEN-FREE OPTION: To make these wings GF, just ensure that all sauce ingredients are GF-friendly.
Calories:
199
kcal
|
Carbohydrates:
7
g
|
Protein:
14
g
|
Fat:
12
g
|
Saturated Fat:
3
g
|
Polyunsaturated Fat:
3
g
|
Monounsaturated Fat:
5
g
|
Trans Fat:
0.1
g
|
Cholesterol:
59
mg
|
Sodium:
2901
mg
|
Potassium:
162
mg
|
Fiber:
1
g
|
Sugar:
6
g
|
Vitamin A:
500
IU
|
Vitamin C:
1
mg
|
Calcium:
19
mg
|
Iron:
1
mg
Classic Oven Baked Buffalo Wings.