Make a delicious and extra-cheesy Garlic Herb Cheese Pizza with a homemade fluffy and chewy crust, marinara sauce and plenty of fresh and dried herbs for a family-favorite dinner at home.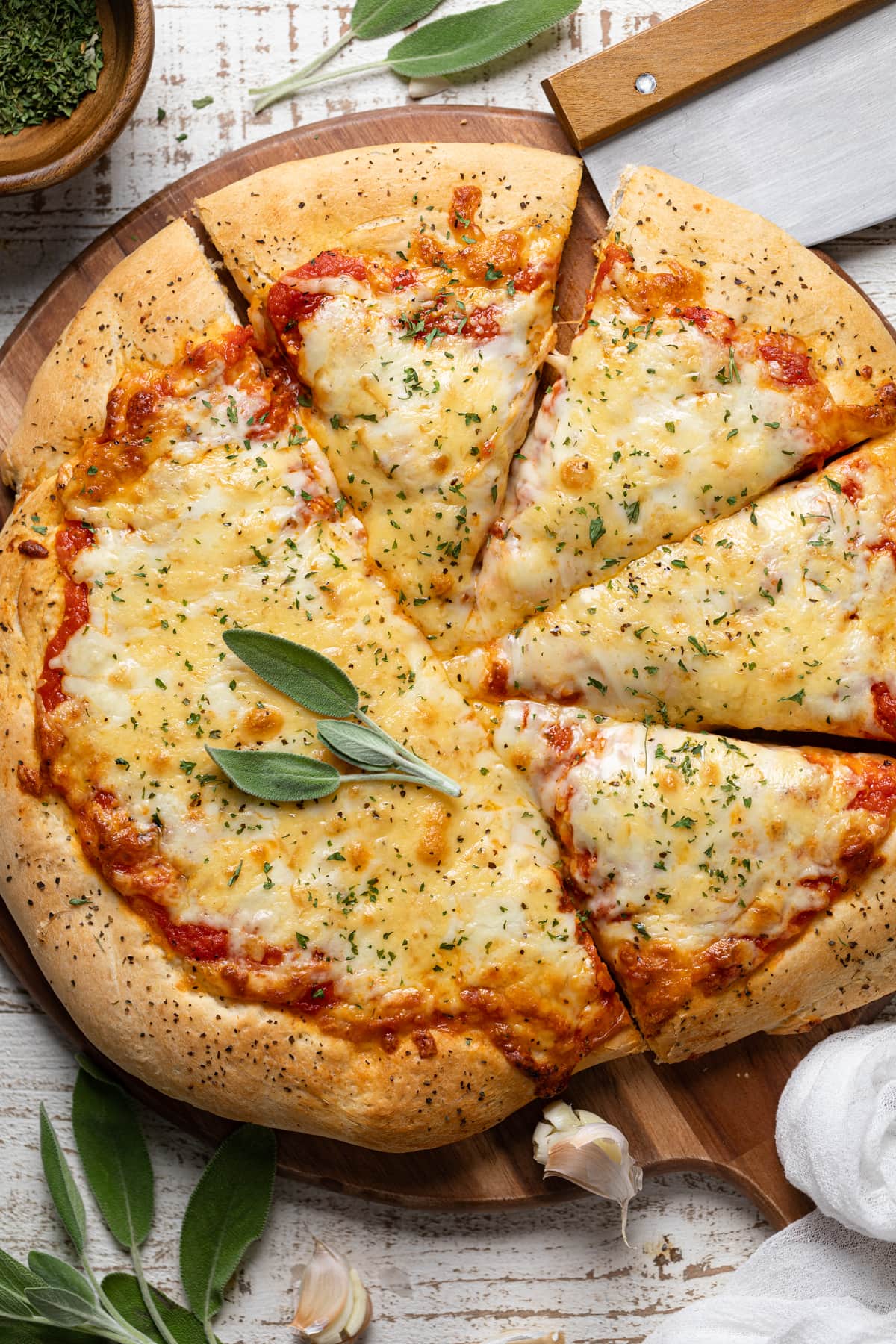 It's not hard to convince me to have a pizza night. From Vegan Hawaiian Buffalo Chicken Pizza to Chickpea + Veggie Gluten-Free Pesto Pizza, I'm here for every kind of pie. I live in New York , after all, where we take our pizza very seriously. This homemade recipe has all the charm and flavor of a classic NY-style slice, from the comfort of your own kitchen.
The crust is super fluffy and chewy. It's thin but strong enough to hold plenty of gooey, melted mozzarella cheese and the delicious garlic herb sauce. Even if you've never made pizza at home before, you'll find this recipe easy, fun and totally accessible. I can't wait to hear what you think!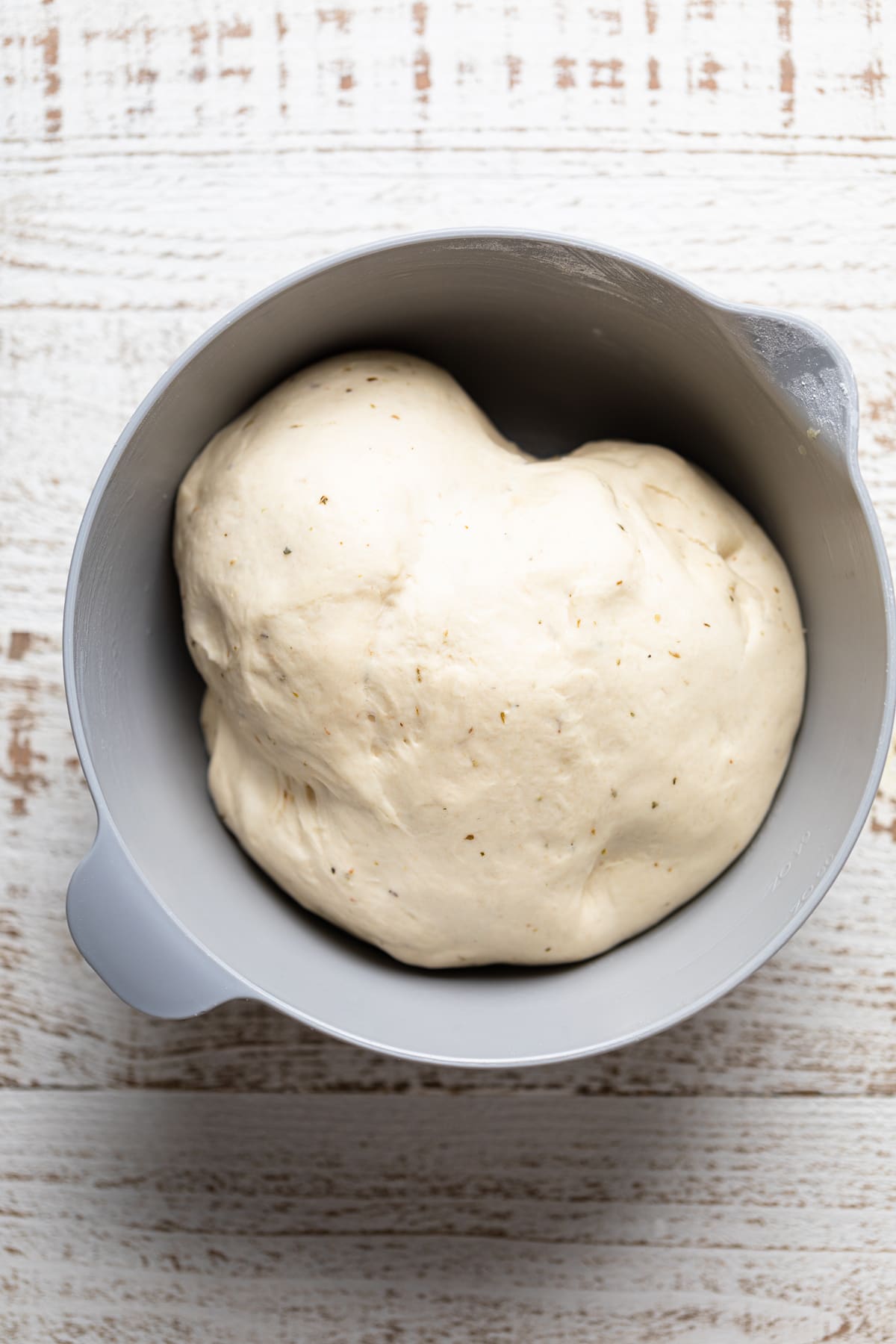 How to Make Garlic Herb Cheese Pizza
The first step in this pizza recipe is to make the crust. Don't be intimidated by the idea of making your own pizza crust. Once you've tried it, you'll see how simple and fun it is to make! After you make the crust, whip up the garlic herb sauce, then assemble everything and bake!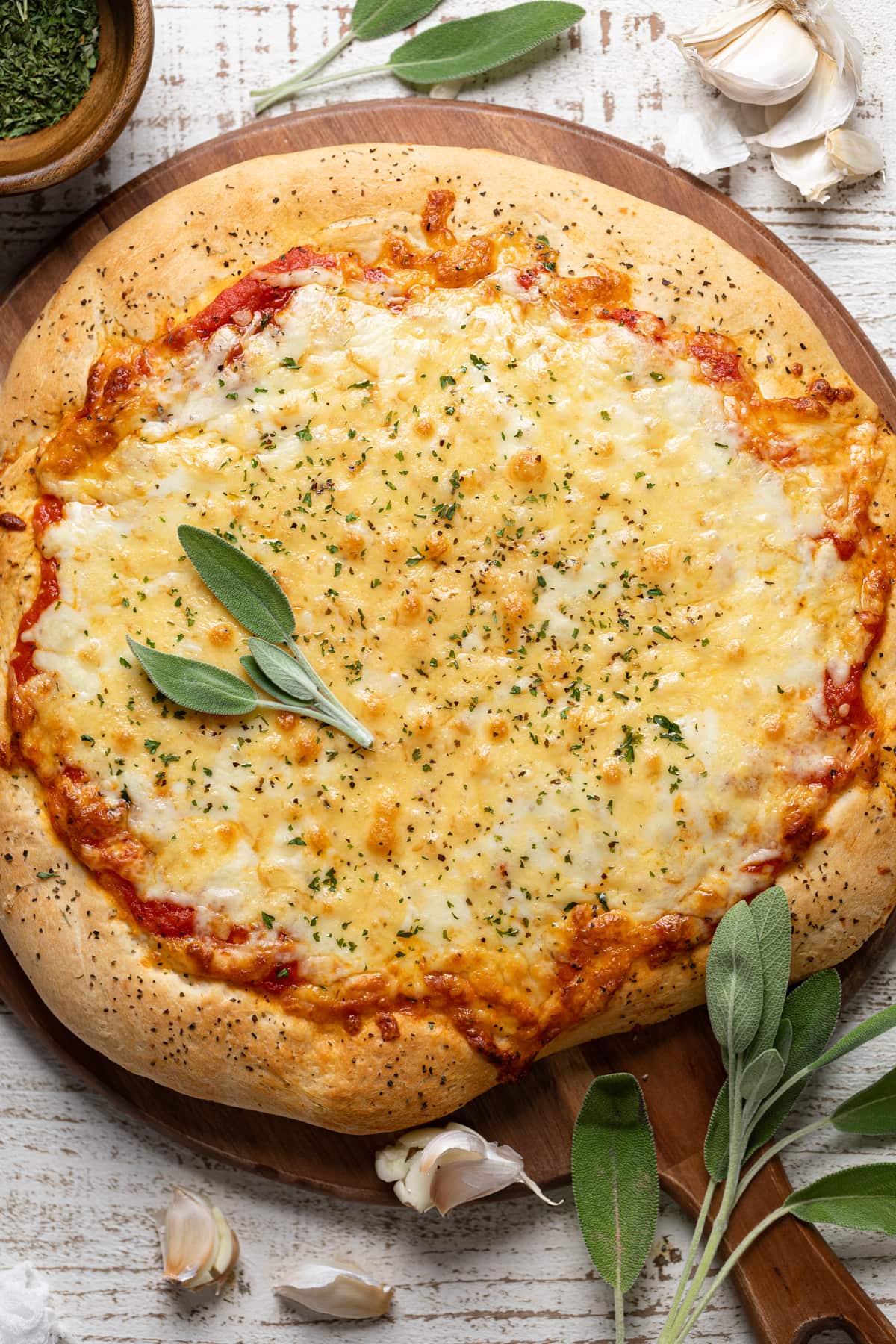 Easy Homemade Pizza Crust
Here's what you need to make the light and fluffy pizza dough:
All-purpose flour. I use King Arthur organic flour.
Warm water. Cold water will prevent the yeast from activating, but hot water can kill the yeast, so it's important to strike a temperature balance. The water should be warm to the touch, but not steaming.
Honey. This feeds the yeast and adds flavor to the dough. You can also use agave.
Yeast. Use rapid-rise yeast for this dough.
Olive oil. This helps the dough get is supple, elastic stretchiness.
Salt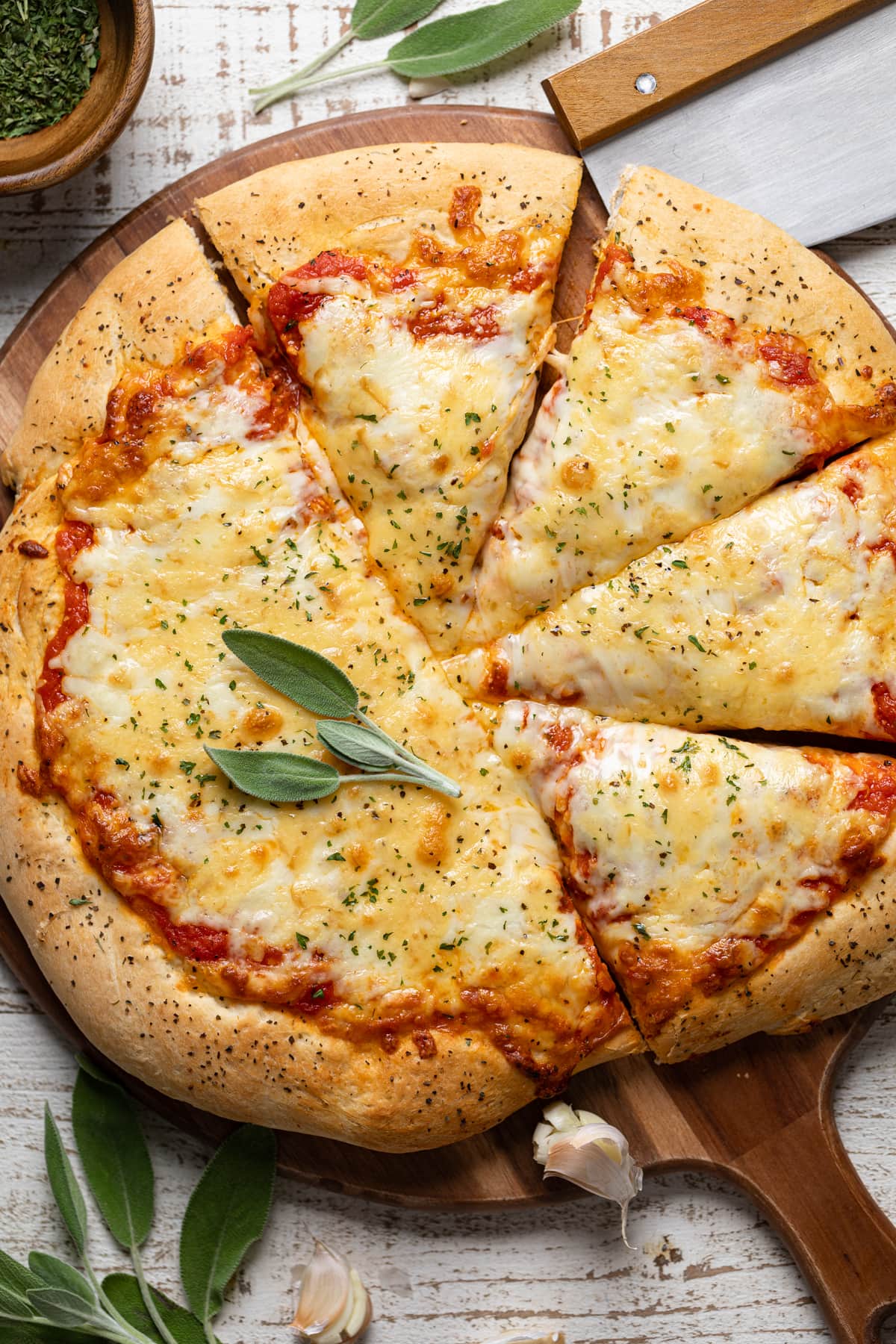 Tips for Making No-Rise Pizza Crust
If your mixture of yeast, water and honey doesn't bubble after 5 minutes, that may be a sign that your yeast is dead. The crust won't rise, so it's best to get a new packet of fresh yeast.
Use an electric mixer for the best results. Pizza dough needs to be well mixed and kneaded to activate as much gluten as possible.
The dough should be soft, supple and stretchy when it's done mixing. It shouldn't be too sticky. If it is, add a bit more flour until it easily pulls away from the side of the mixing bowl.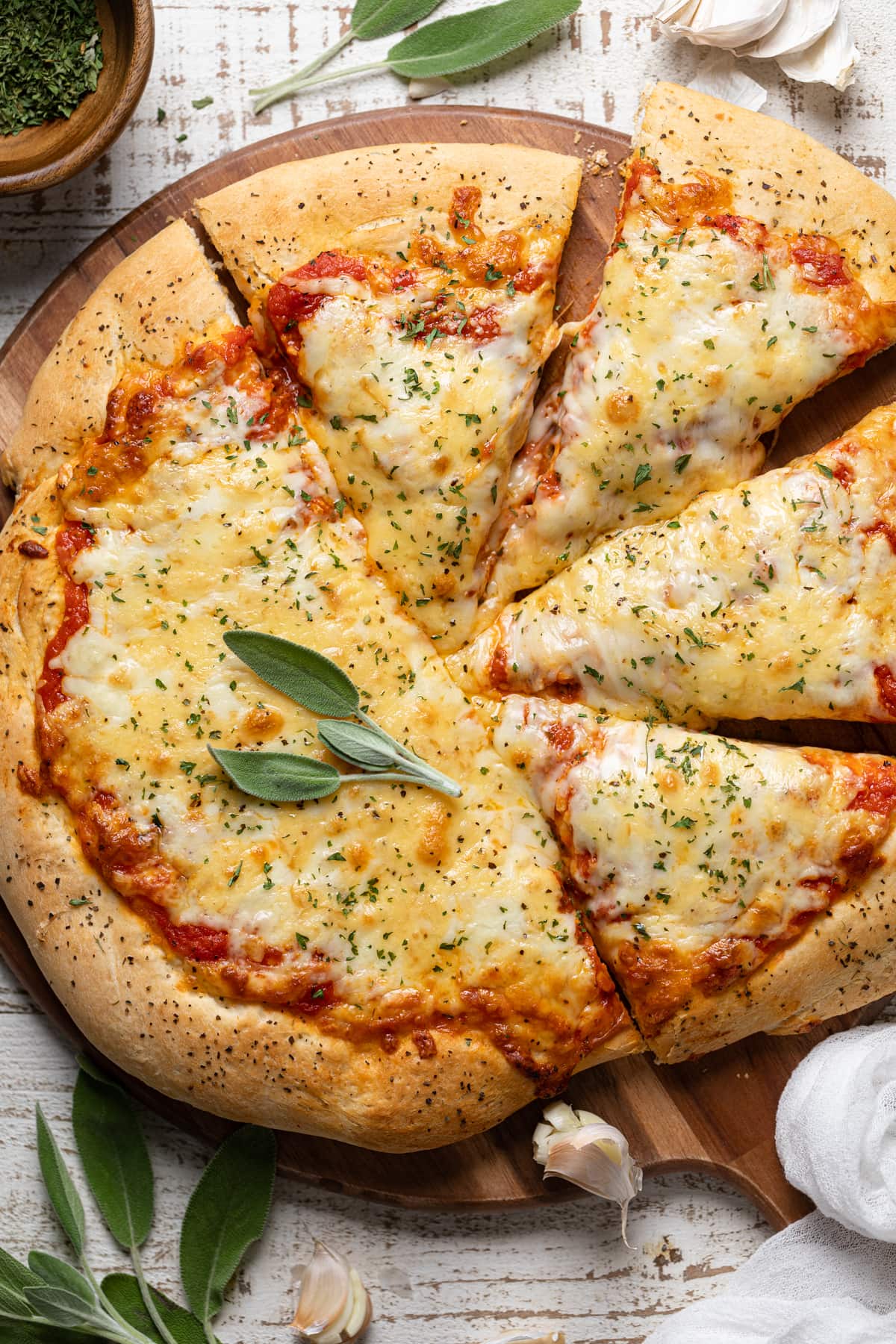 Garlic Herb Pizza Sauce
The delicious savory flavor of this homemade pizza comes from the garlic herb sauce. Here's what you need to make it:
Marinara sauce. Use your favorite store-bought sauce or make your own.
Garlic. Fresh garlic will give you the best flavor, but you can use 1 teaspoon of garlic powder if you prefer.
Dried parsley, oregano, and thyme. You can use fresh herbs, but you'll need a tablespoon of each.
Smoked paprika. This adds a subtle heat. If you like more spice, you can add more paprika.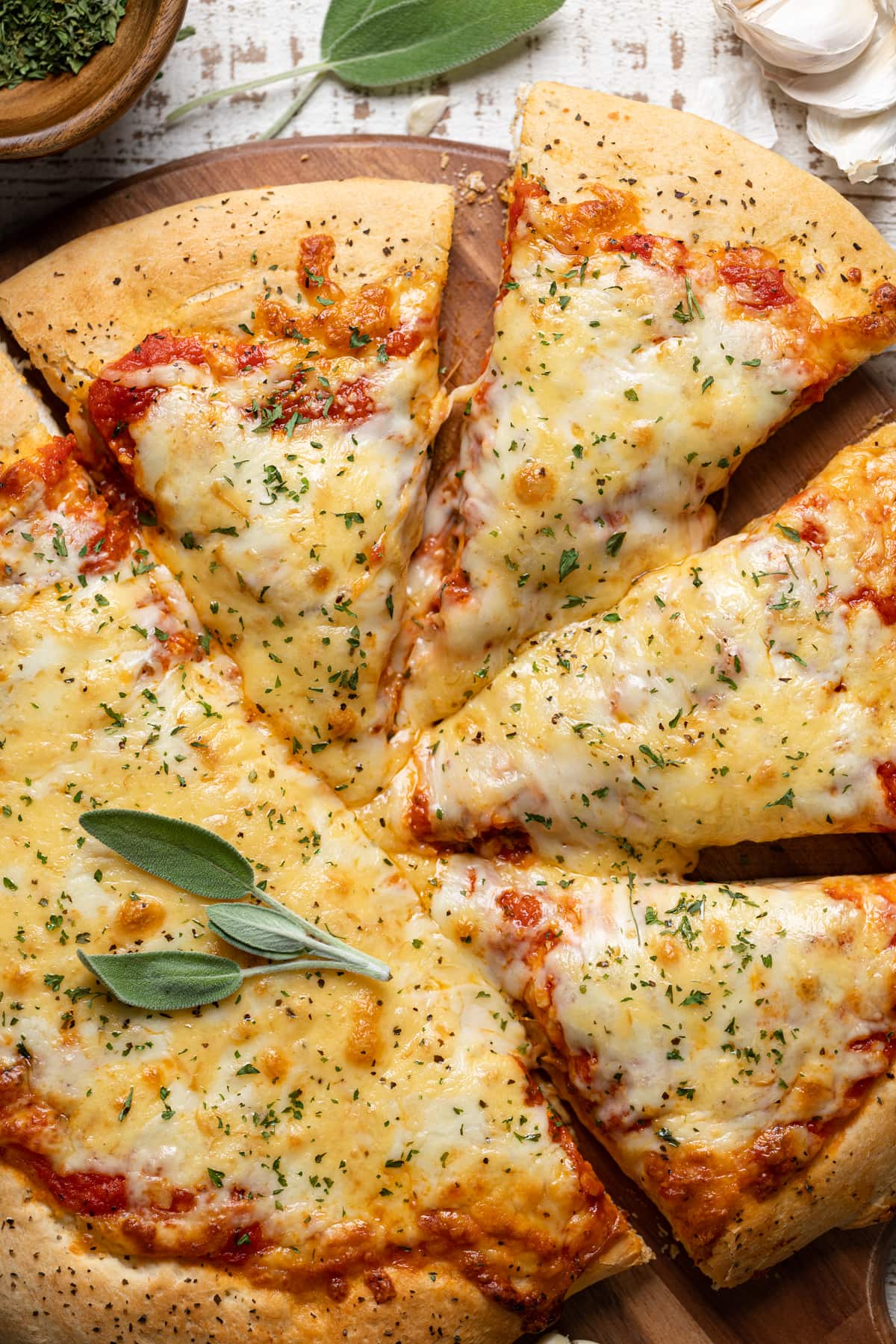 Pizza Toppings
I like to pile my pizza high with tons of gooey, melted cheese. My favorite cheeses for pizza are mozzarella, mild cheddar and gouda. This trio is salty, sharp and mild for the perfect balance of flavor. Plus, they all melt nicely for those stunning cheese pulls.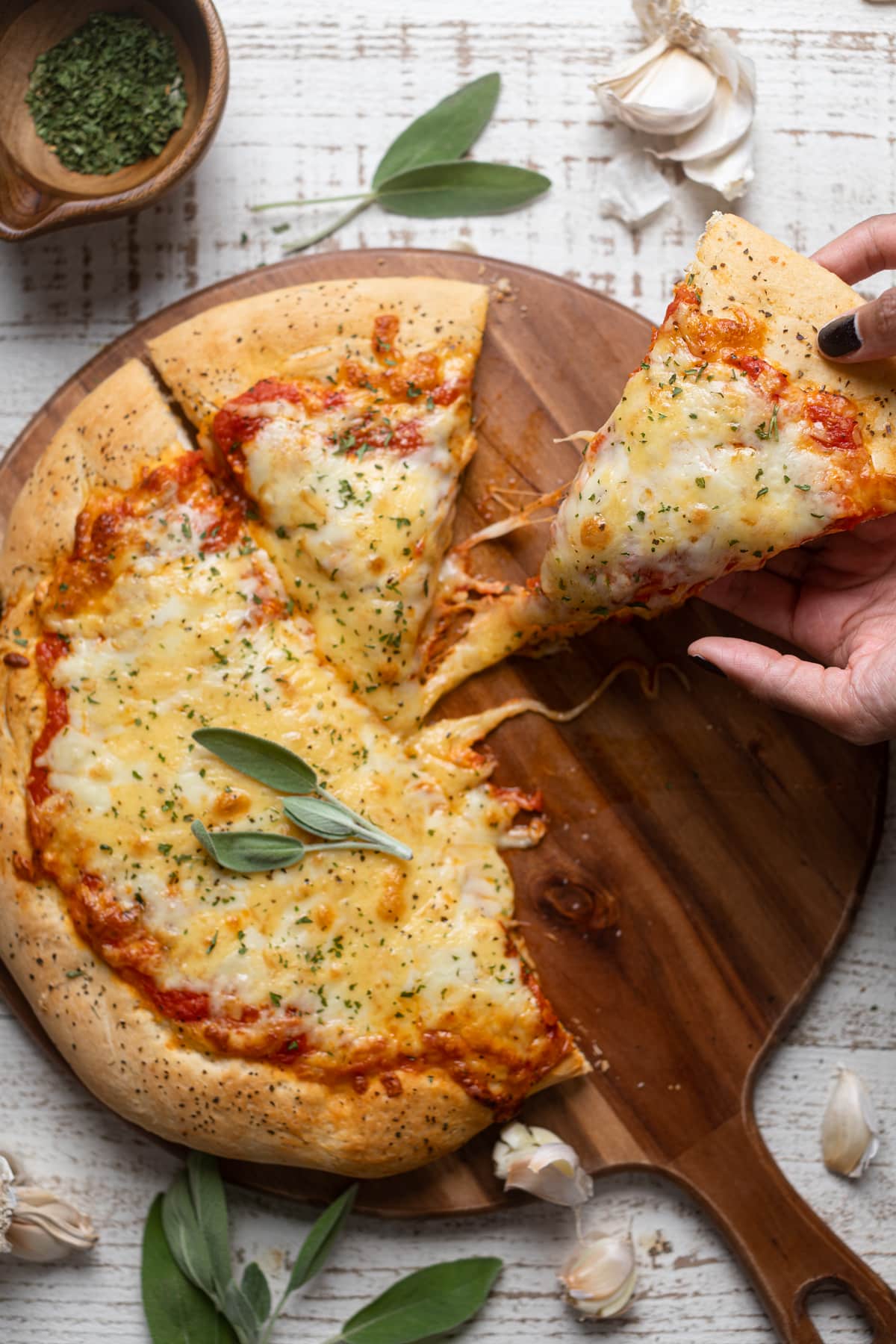 Can I Make Gluten-Free Pizza?
Absolutely! To make this recipe gluten-free, simply use my easy gluten-free pizza crust recipe. The rest of the ingredients can remain the same.
For dairy-free pizza, use your favorite vegan cheeses on top.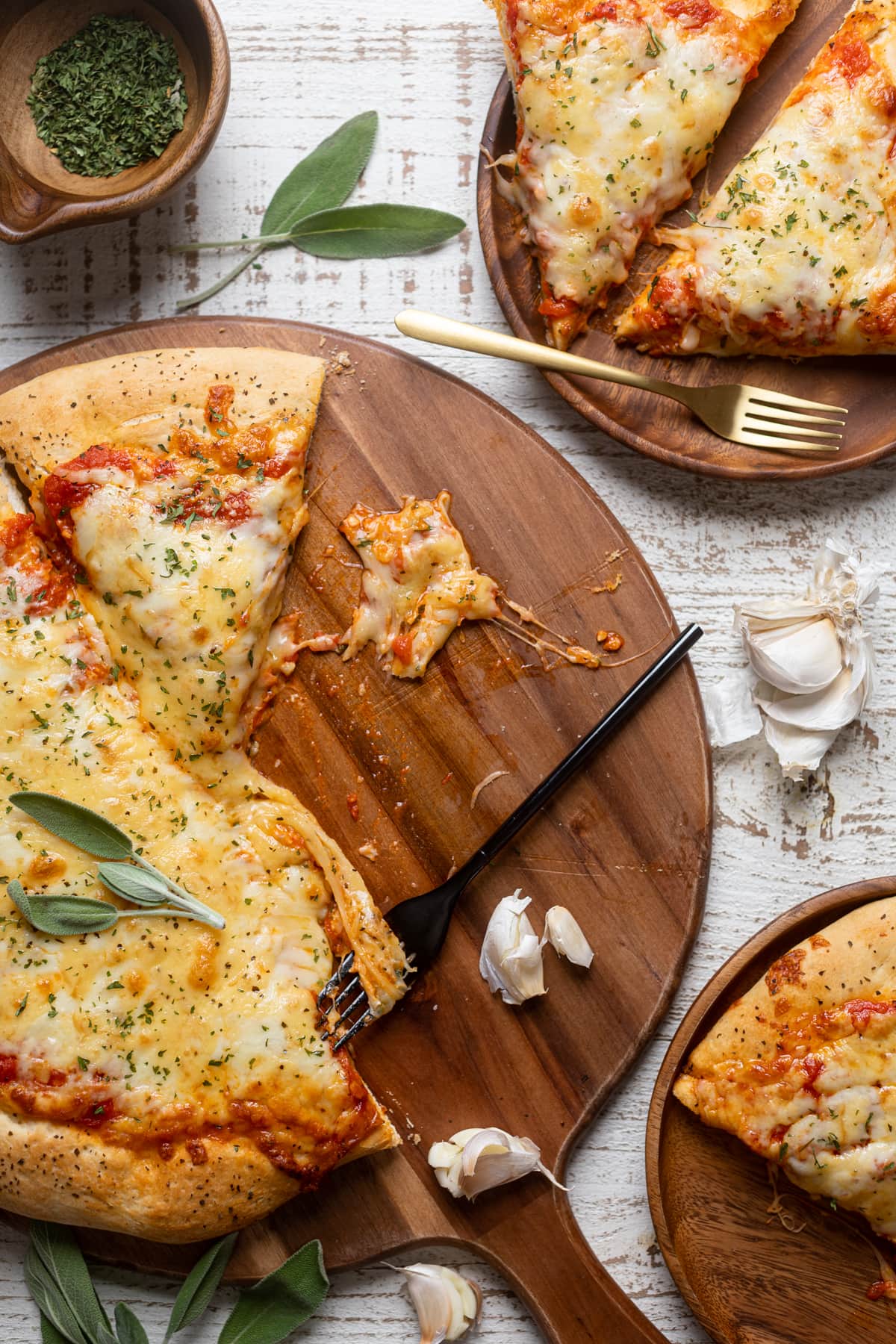 More Pizza Night Recipes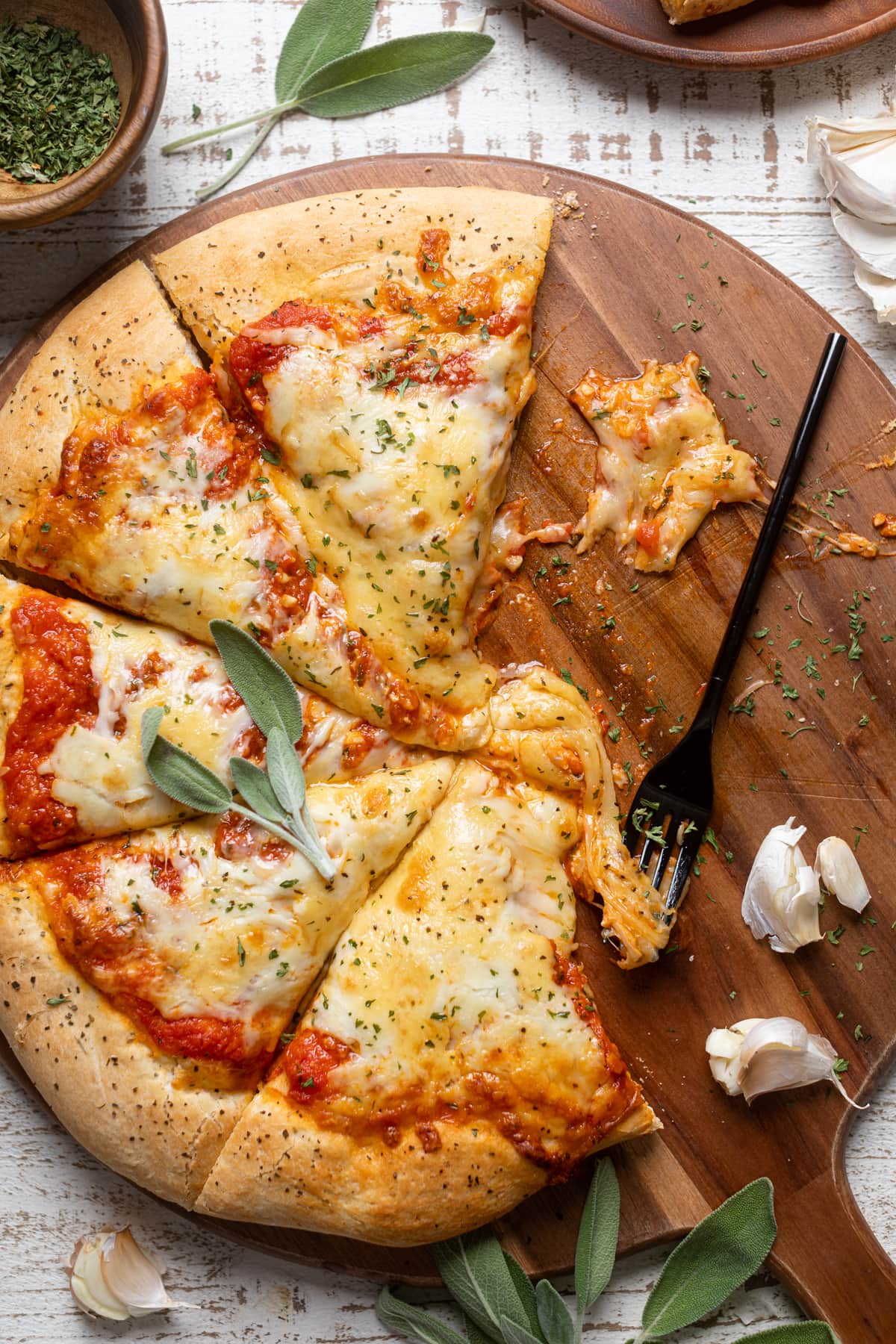 MADE OUR RECIPE(S)?
PIZZA CRUST:
2 ¾

cups

organic all-purpose flour

(See Notes for GF option!)

1

cup

WARM fresh water

1

tablespoon

honey

1

packet

rapid-rise yeast

(That's 2 ¼ tsps!)

1

tablespoon

Extra virgin olive oil

¼

teaspoon

sea salt
GARLIC HERB SAUCE:
1

cup

Marinara sauce

4

garlic cloves, minced

1

teaspoon

garlic powder

1

teaspoon

dried parsley

1

teaspoon

dried oregano

½

teaspoon

dried thyme

½

teaspoon

smoked paprika
TOPPINGS:
1

cup

fresh mozzarella cheese

2

cups

Mild cheddar cheese, shredded

1

cup

freshly grated Gouda cheese
PIZZA CRUST:
In the bowl of an electric mixer (with a dough hook attachment), mix together the warm water, honey, olive oil, and yeast (you might need to use a whisk to ensure that everything combines together well). Let is sit for at least 5 minutes, until yeast begins to activate and foam.

Slowly add the flour and salt (on low speed!), until fully incorporated and a soft dough is formed. NOTE: if dough is too sticky, add ½ cup of additional flour at a time)

Now, increase the speed to medium-high and knead the dough for about 5 minutes in the mixer. 

Once done, add the dough onto a floured surface and slightly roll out the dough until it's flat enough to form a flat circle the rest of the way with your hands, about 11 inches in diameter. Lightly grease your pizza pan with extra virgin olive oil and place dough on one end of pan, evenly pressing it and flattening it out to fit the entire pan. Gently use your finger to stretch dough until pan is fully covered and gently pinch the edges of the dough together to form the crust.
GARLIC HERB SAUCE:
In a bowl, mix all ingredients together until well combined.
ASSEMBLY:
Preheat the oven to 475 degrees Fahrenheit and place top rack into the middle of oven. NOTE: be sure to use a great pizza pan to ensure that your crust is crispy and not soggy.

Brush a generous amount of the garlic herb sauce over the top of the crust until evenly coated.

Generously sprinkle on the cheeses until crust is fully covered in the middle, leaving a bit of crust for the edges.

Lightly brush the tops of the edge of the crust with 1 tablespoon of olive oil to ensure that it becomes a nice golden brown.

Transfer the pizza pie to the hot oven and bake for 15-20 minutes or so, until the cheese has melted (and becomes bubbly) and the crust is crispy and golden brown.

Once done, allow pizza to rest/cool for a few minutes (about 2-3 minutes) so that the cheese sets before cutting into generous slices, using a pizza cutter.

Bon Appetit!
PIZZA CRUST: For a crispy pizza (especially on the bottom), I suggest using a pizza pan with holes to allow the crust to bake through nicely. I used the AirBake Pizza Pan, which can be found at Target!
STORAGE: Leftover pizza is best kept tightly wrapped in foil paper, refrigerated for 3-4 days for optimal freshness.
GLUTEN-FREE CRUST: To make your pizza crust GF, see my Easy GF Pizza Crust recipe.
Calories:
450
kcal
|
Carbohydrates:
38
g
|
Protein:
22
g
|
Fat:
23
g
|
Saturated Fat:
13
g
|
Polyunsaturated Fat:
1
g
|
Monounsaturated Fat:
7
g
|
Cholesterol:
73
mg
|
Sodium:
736
mg
|
Potassium:
235
mg
|
Fiber:
2
g
|
Sugar:
2
g
|
Vitamin A:
747
IU
|
Vitamin C:
3
mg
|
Calcium:
498
mg
|
Iron:
3
mg
Garlic Herb Cheese Pizza Recipe