This Gluten-Free Hot Honey Bacon Pizza [Valentine's Day Edition] is one of the best versions of pizza where taking the holiday of love and using it to re-create something phenomenal for the entire family----a heart-shaped beauty. It comes with a homemade gluten-free crust, based in a hot honey-infused pizza sauce and then loaded with mozzarella + sharp cheddar cheeses, and chopped candied bacon. The Perfect sweet-savory recipe for lunch or dinner, especially on Valentine's Day.
Disclaimer: This post contains affiliate links via Amazon for products that I wholeheartedly love.
I couldn't be more excited to share this Gluten-Free Hot Honey Bacon Pizza [Valentine's Day Edition] with you all. Firstly, I haven't created a solely gluten-free pizza since my last Chickpea + Veggie Gluten-Free Pesto Pizza, which was a few years ago. Secondly, I've always wanted to make a heart-shape pizza and so I decided to give it a try and it was so easy! Whether you celebrate V-day or not, this pizza is perfect for any occasion or a just because way of saying "I love you". My son loves things like this and I can definitely see why. It creates such excitement for some reason while eating. Haha.
It's DAY 4 OF LOVE WEEK on Orchids + Sweet Tea and I couldn't be more excited for the deliciousness coming your way all week long---in honor of Valentine's Day next week! Be sure to watch all recipes via IG Reels for a nice visual. Oh and these Gluten-Free Blueberry Chia Pancakes and Toasted Coconut Bread [Gluten-Free] are truly something to try if you're into gluten-free breakfast options!
 This homemade pizza is topped with gooey, melted mozzarella and sharp cheddar (for a bolder flavor) with candied bacon pieces and a velvety hot honey-infused pizza sauce. And best of all, the entire recipe (including a homemade crust) takes less than an hour to get on the table and gobble up! Because is there anything better than pizza night?
What You'll Love Most About This Gluten-Free Pizza?
Like with any pizza that I joyfully indulge in, this heart-shaped gluten-free pizza is loaded with sweet + savory flavors, has little rising time required for crust, absolutely knead-free, hearty + comforting, MEGA flavorful, super easy to make and is the perfect fun, family dinner-making activity. But most of all----PERFECTION in EVERY. SINGLE. BITE.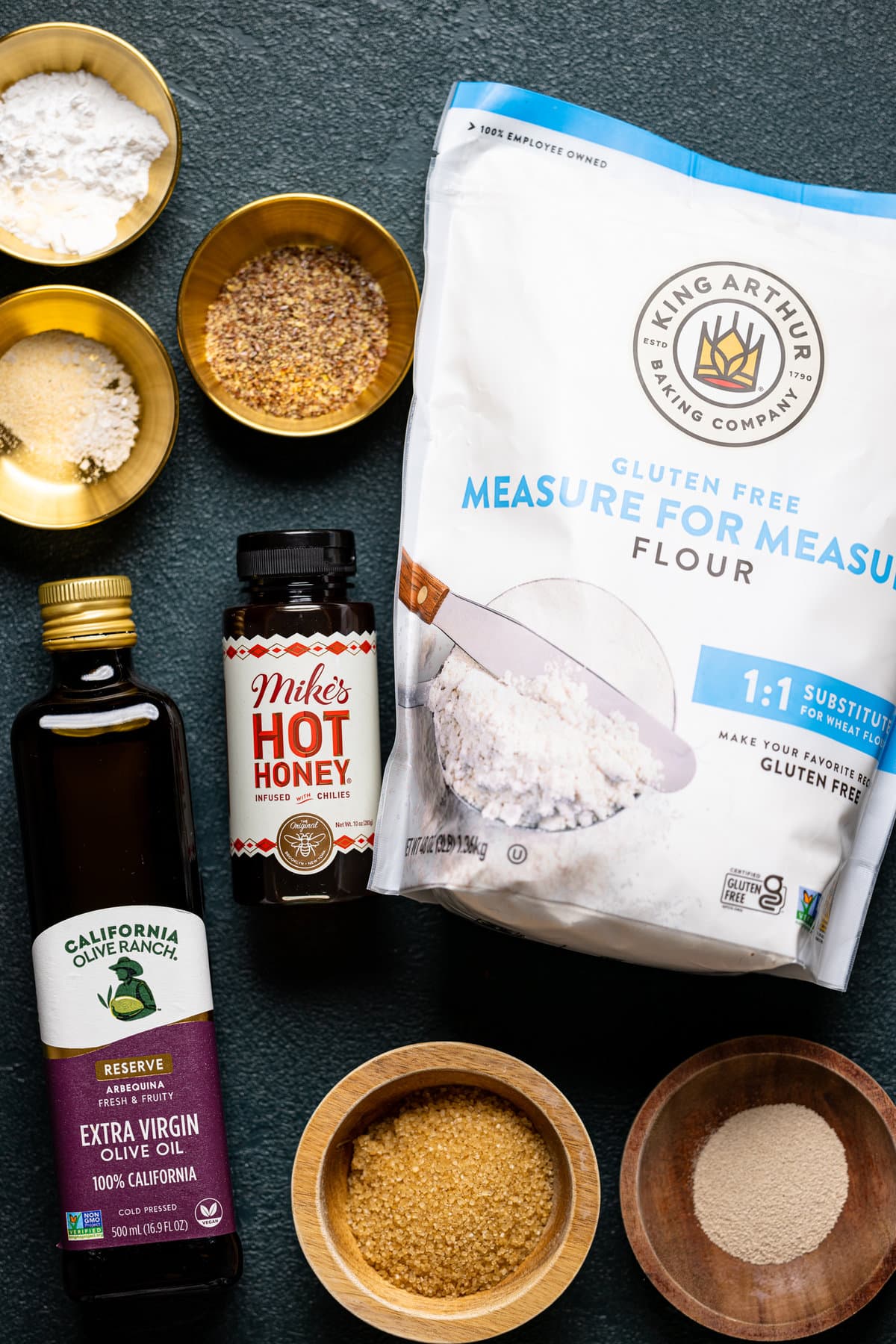 How to Make Gluten-Free Hot Honey Bacon Pizza
The awesome thing about this Gluten-Free Hot Honey Bacon Pizza recipe is that most of the ingredients are household staples unless bacon is a special ingredient. Plus, it's easy to mix and match ingredients with whatever you have on hand, so there's no need to make an extra trip to the store. Instead, embrace the laid-back nature of this delicious pizza!
You'll start by prepping your candied bacon and baking them until crispy and caramelized. In the meantime, you'll whip together your GF pizza crust, let it rise, shape it into a heart, and then mix together the pizza sauce and assemble the toppings. Once fully assembled, simply bake the pizza until crust is crisp and cheeses have melted and wallah!
Ingredients for Homemade Gluten-Free Pizza Crust
For the best pizza, make your own GF crust! It's easier than you might think, and my recipe takes just a few ingredients and little time to rise. Plus, the dough is seasoned for added flavor!
Here's what you need:
Gluten-free flour. I use organic 1-to-1 gluten-free flour for the best results. If you want to use gluten-free all-purpose or another GF flour, just ensure that you add xanthan gum if not included.
Raw honey. All of the sugar will be consumed by the yeast in the dough. You can sub with cane or brown sugar.
Yeast. Use rapid-rise or instant yeast for dough that rises quickly.
Olive oil. This is a neutral oil, but you could also use Grapessed oil.
Garlic powder and salt. For added flavor.
Arrowroot. This acts as a thickener to make the dough a bit more fluffy and thick.
Flaxseed meal. This is the binder needed. You can also use Psyllium husk if you have it on hand.
Water. You'll need for your water to be WARM so that the yeast activates best.
Using Candied Bacon
For an extra dose of sweet flavor to balance the savory ingredients, I love to use candied bacon in these sandwiches. It's also super easy to make! Simply coat the bacon slices in maple-y syrup and brown sugar, then bake them in a 400°F oven until they're crisp., Warming: candied bacon will disappear quickly, so you might want to make extra!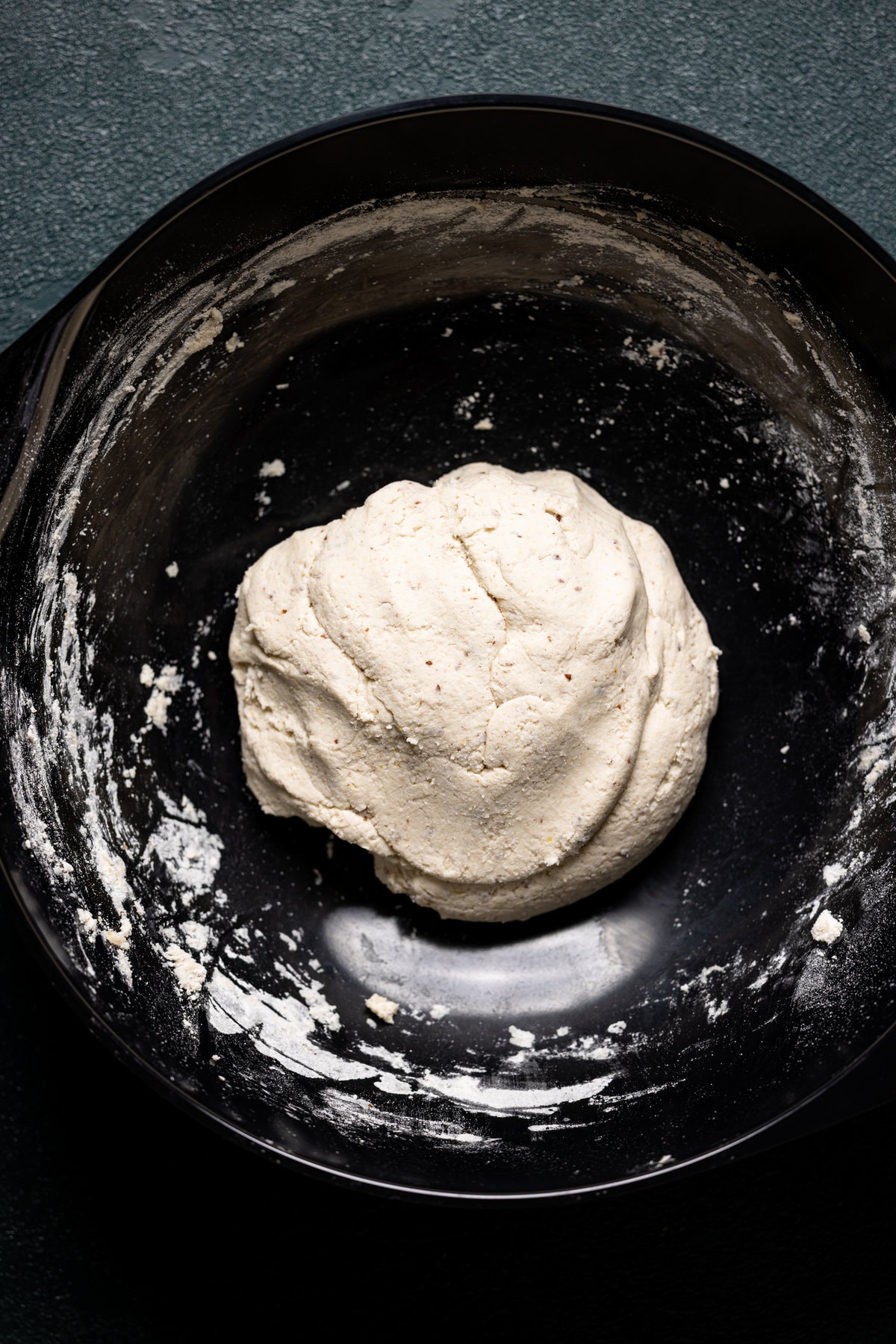 Ingredients for Gluten-Free Hot Honey Bacon Pizza
When it comes to this Gluten-Free Hot Honey Bacon Pizza, the ingredients are fairly simple and include the following: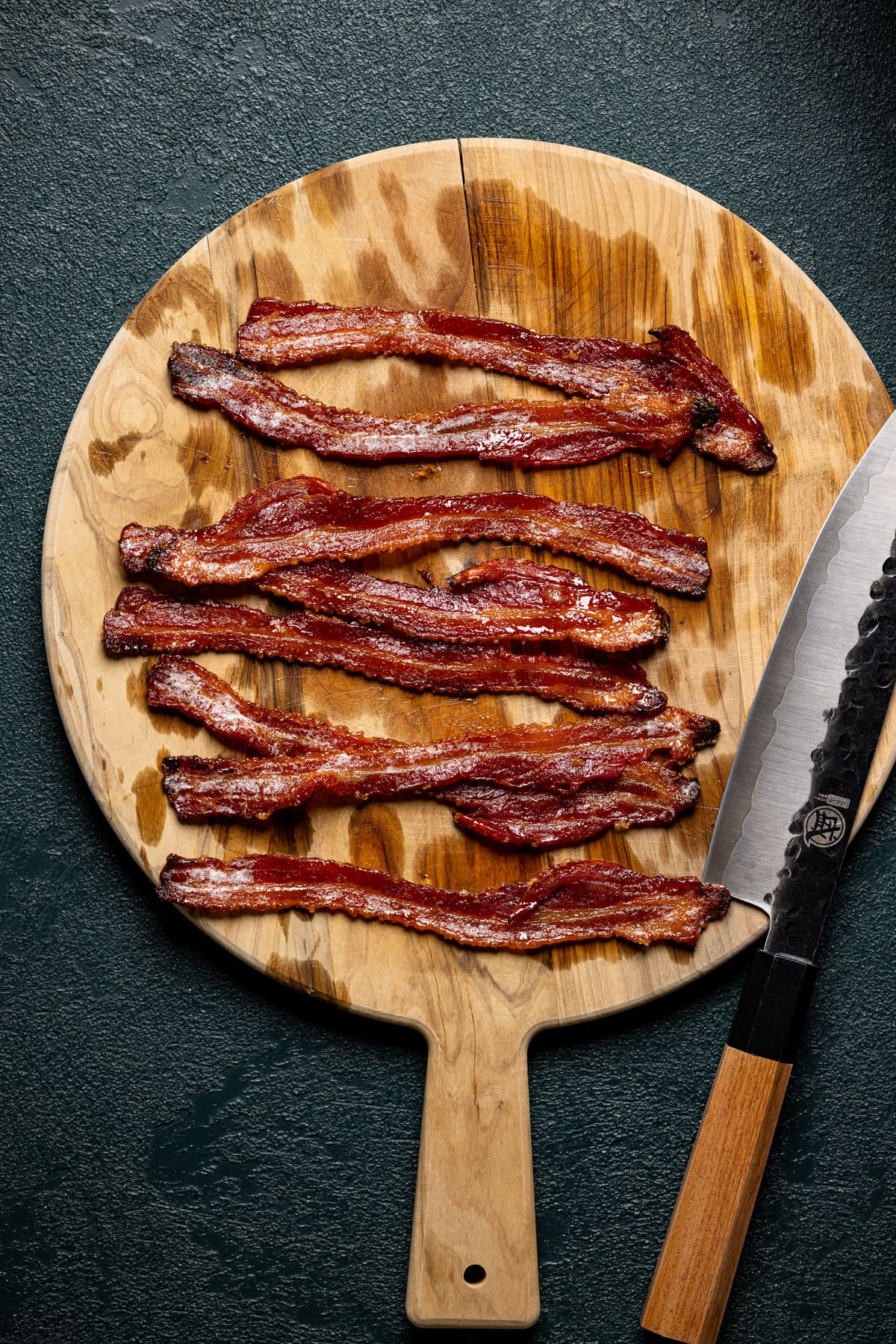 HOW TO ENSURE THE PERFECT PIZZA CRUST EVERY TIME!
When it comes to making the perfect pizza crust (whether gluten-free or not), it only really takes a FEW HACKS/TRICKS for this to happen. However, it is imperative that you follow these exact steps every time, so that the perfect crust is achieved!
HERE'S HOW:
Make sure that your oven is preheated and is HOT!! This ensures that everything bakes evenly and cooks pretty fast to avoid anything that could possibly cause your pizza to be soggy or undercooked (like the dough!).
Never EVER use cold dough! Using cold dough changes the hydration and makes it more aggressive to stretch and work out. This isn't good for your crust at all.
Always, Always use a Pizza Sheet Pan. For a crispy pizza, I suggest using a pizza pan with holes to allow the crust to bake through nicely. I used the 

AirBake

 Pizza Pan, which can be found at 

Target

!
DO NOT over roll dough! When following the step of rolling out the dough slightly to flatten it, never roll out the dough too much! Be sure to follow the steps of stretching it out with your hands the rest of the way.
Never add TOO MUCH sauce! This step is super imperative (trust me, I learned the hard way!) and it's such truth. Never add all the sauce entirely to avoid a soggy middle or crust.
Precook any toppings that might require a longer cook time! This is especially true for certain veggies (and of course meats) that require a longer cook time that the allotted short amount of minutes that an actual pizza takes to cook. That way you aren't trying to overcook your pizza because the toppings aren't fully cooked.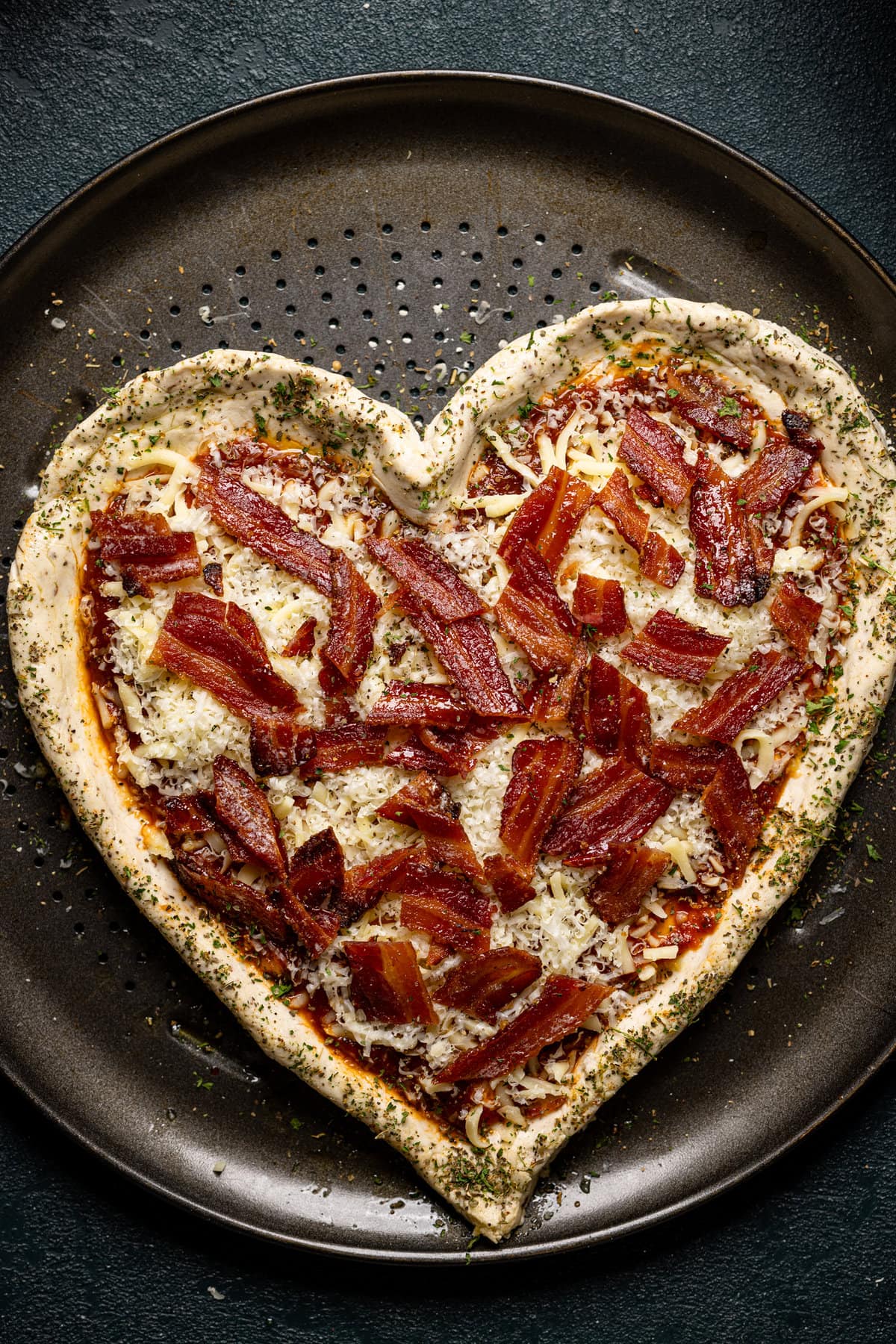 SHOP MY FAVORITE TOOLS FOR BAKING, ESPECIALLY FOR THIS PIZZA!
Here, I've curated a list of cooking + baking essentials that I use to achieve my favorite baked goods or cooked meals, especially with this Gluten-Free Hot Honey Bacon Pizza. Everything from my fave baking sheet, pastry brushes, pastry blender (for mashing too), mixing bowls, and more. SEE THEM HERE!
Best Types of Cheese for this Gluten-Free Hot Honey Bacon Pizza
Even though this Gluten-Free Hot Honey Bacon Pizza is based on using mozzarella cheese and sharp cheddar cheese, you can also switch things up and add a new flare in their flavor profile by adding any of the following:
Gruyère
Mild Cheddar Cheese
Gouda
American cheese
Parmesan cheese (grated)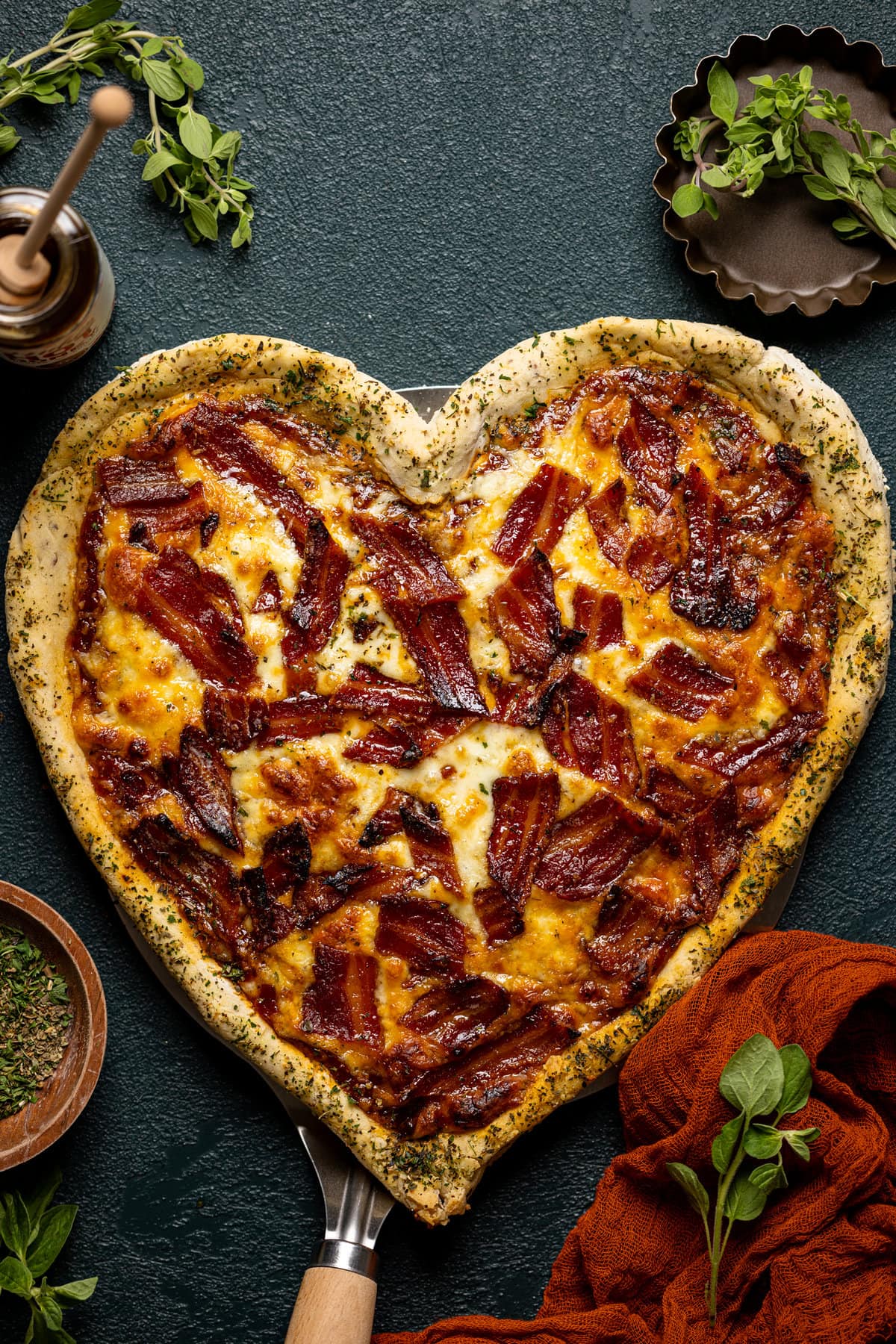 How to Make Your Own Hot Honey
If you don't have any hot honey on hand or you simply just want to make your own hot honey, no worries! It's really simple and only requires a few ingredients. You'll need: 1 cup raw organic honey (or regular honey), 1 teaspoon red pepper flakes, and 1 tablespoon apple cider vinegar.
To create your own hot honey, just bring to a simmer all ingredients in a saucepan and then remove it from heat and let it cool completely before adding it to your pizza sauce. Feel free to store any remaining hot honey in an airtight glass jar (straining red pepper flakes) if desired and keep stored for up to 6 months at room temp.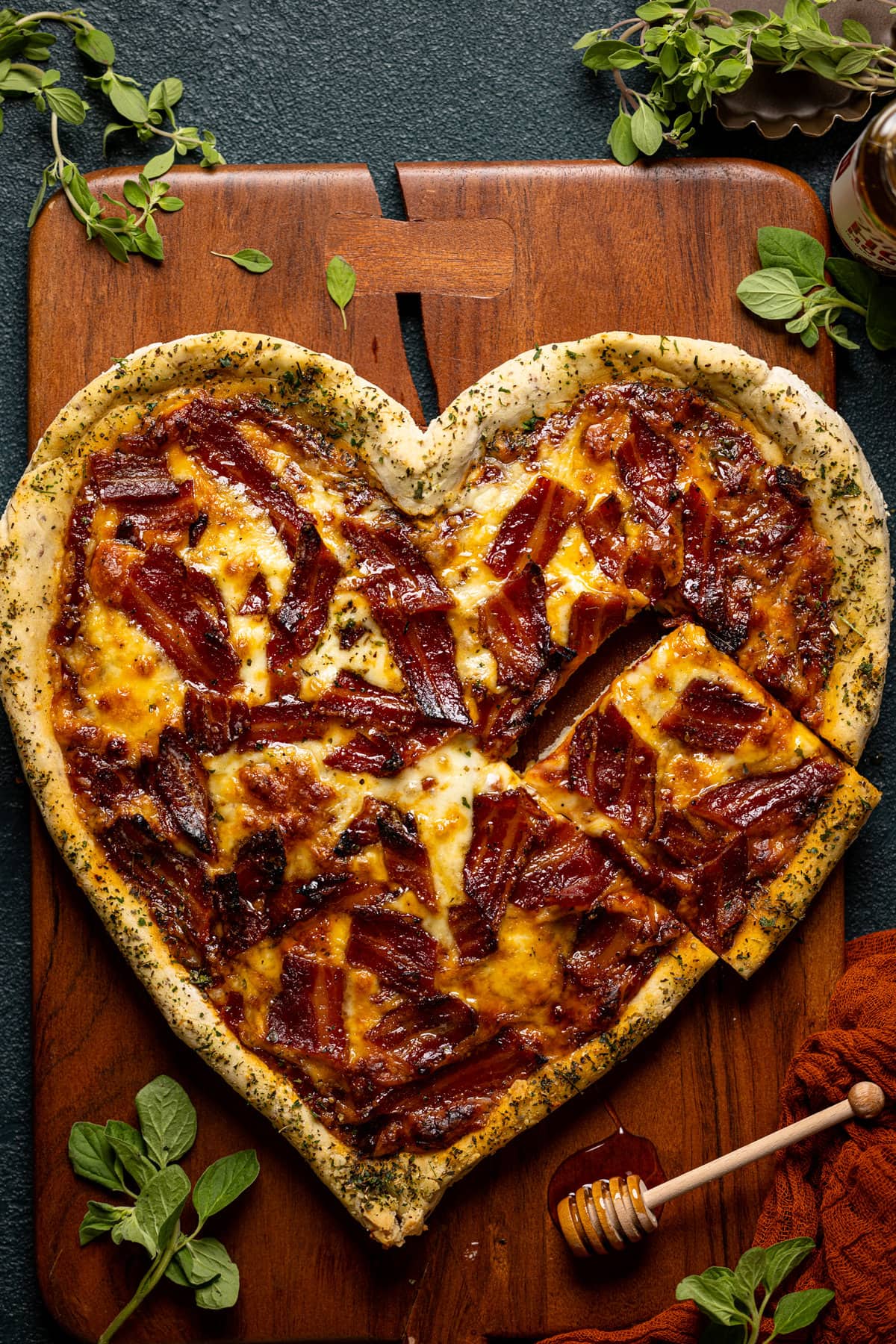 Can I Freeze the Gluten-Free Pizza Crust?
Absolutely! Simply follow the instructions to make the gluten-free pizza crust, let it rise, and then par-bake the crust for 5-6 minutes (after it's shaped without any toppings) and let it cool completely. Stick it in an air-tight bag or well wrapped and into the freezer for up to 1 month. When you're craving some pizza, defrost the crust in the fridge overnight. Then let it come to room temperature for about half an hour before topping and baking it fully.
RAPID (INSTANT) RISE YEAST VS. ACTIVE DRY YEAST
If you're not using the Rapid Rise Yeast for this recipe, please know that the rise time will be twice as long (about 3 hours) since regular Active Yeast doesn't work as quickly.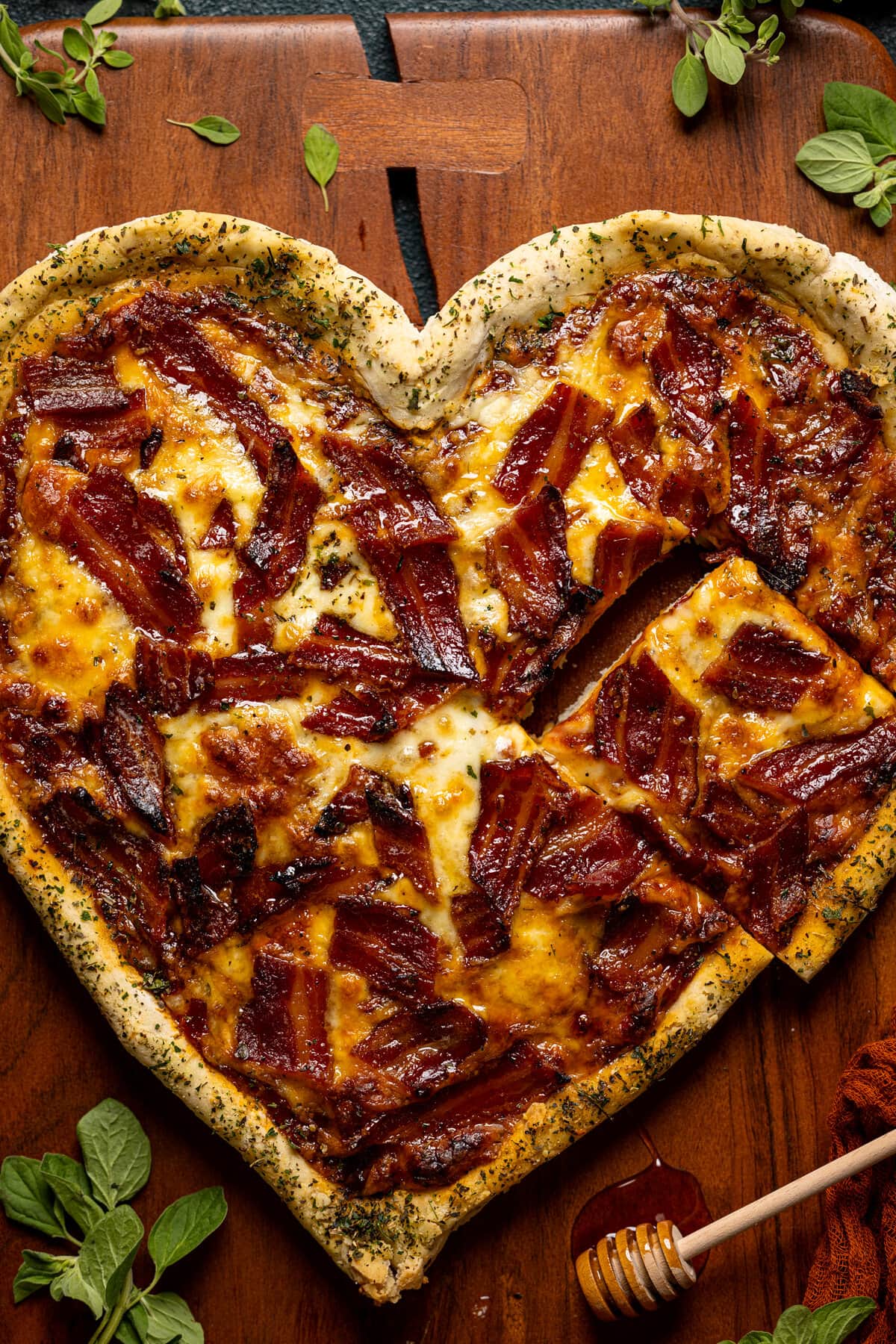 How To Store Leftover Gluten-Free Hot Honey Bacon Pizza
Leftover pizza is best kept tightly wrapped in foil paper, refrigerated for 3-4 days for optimal freshness.
Other Delicious Pizza Recipes You'll Love
If you are a fan of my Gluten-Free Hot Honey Bacon Pizza [Valentine's Day Edition], you will also love these other pizza options also!
MADE OUR RECIPE(S)?
If you make this Gluten-Free Hot Honey Bacon Pizza [Valentine's Day Edition], be sure to Tag @orchidsnsweettea_ on Instagram and hashtag it #orchidsandsweettea!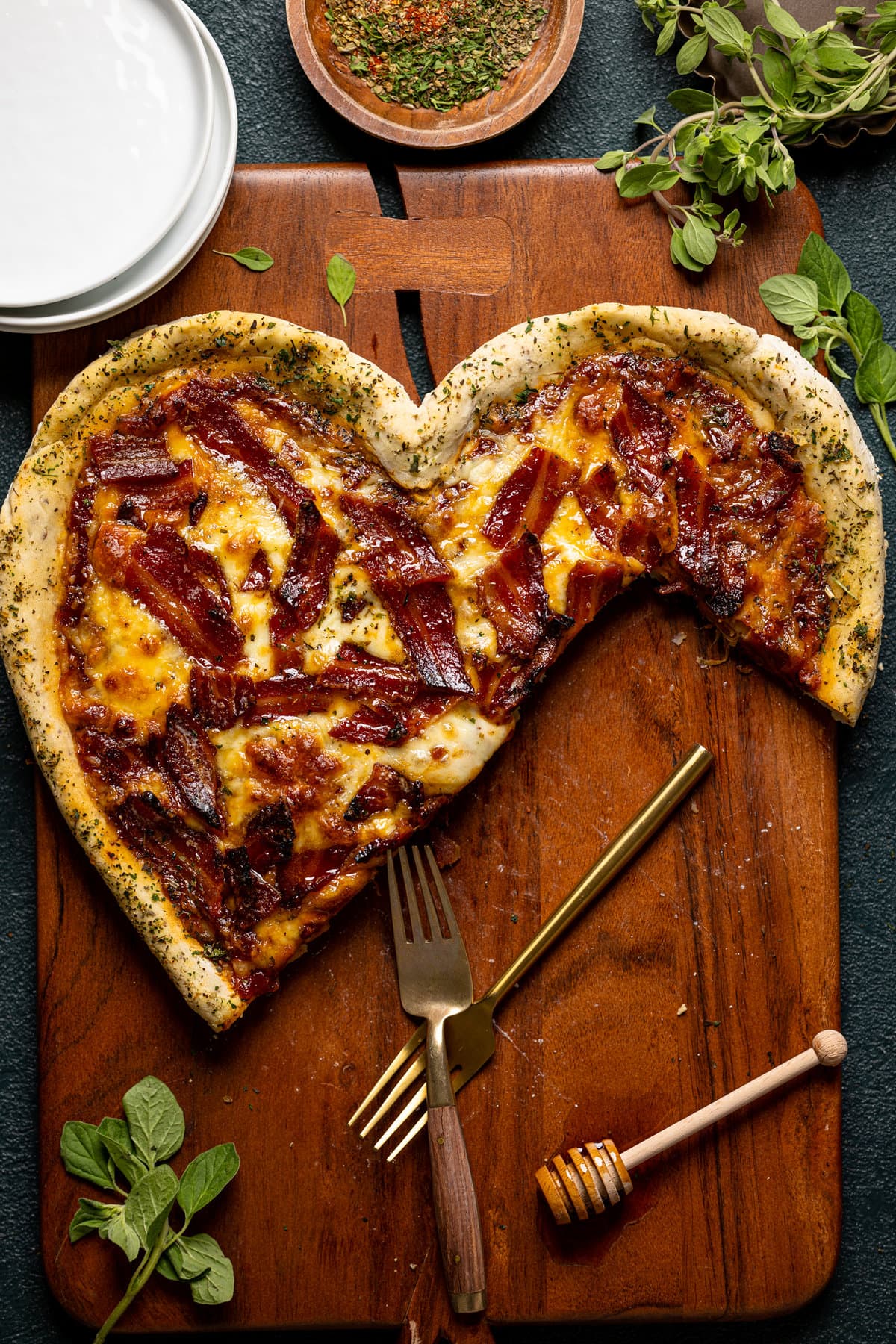 CANDIED BACON:
2

cups

chopped candied bacon
GLUTEN-FREE CRUST:
1

Gluten-free pizza crust
TOPPINGS:
⅓

cup

organic pizza sauce, homemade or store-bought

¼

cup

Hot honey

1-2

cups

organic mozzarella cheese, freshly grated

(You can also use shredded if desired)

½

cup

freshly-grated organic sharp cheddar

(You can also use shredded if desired)

1

teaspoon

sea salt

1

teaspoon

black pepper

1

teaspoon

garlic powder

1

teaspoon

smoked paprika

1

teaspoon

dried oregano

1

teaspoon

dried basil

1

teaspoon

dried parsley

Extra virgin olive oil, for brushing
MAKE THE GLUTEN-FREE PIZZA CRUST:
SHAPE THE PIZZA DOUGH:
Preheat the oven to 475 degrees Fahrenheit and place top rack into the middle of oven. NOTE: be sure to use a great pizza pan to ensure that your crust is crispy and not soggy.

Once risen, add the dough onto your prepared pizza pan and slightly roll out (or flatten using your hands) the dough until it's flat enough to form a flat circle the rest of the way with your hands, about 11 inches in diameter. Then using both hands, gently shape the pizza into a heart, creating a sharp edge at the bottom and curves at the top of each side. Pinch the edges of the dough together to form the crust. NOTE: If you don't want to form a heart, simply shape crust into regular circle.
ASSEMBLY:
In a bowl, add the pizza sauce, hot honey, and salt, black pepper, garlic powder, smoked paprika, oregano, parsley, and basil, mixing everything together until combined.

Spoon a generous amount of the pizza sauce (about ½-¾ cup) over the top of the crust until evenly coated.

Generously sprinkle on the mozzarella and sharp cheddar until crust is fully covered in the middle, leaving a bit of crust for the edges. Top with roughly chopped bacon pieces.

Lightly brush the tops of the edge of the crust with olive oil (and sprinkle with parsley + thyme, if desired) to ensure that it becomes a nice golden brown.
BAKE THE PIZZA:
Transfer the pizza pie to the hot oven and bake for 15-20 minutes or so, until the cheeses have melted (and becomes bubbly) and the crust is crispy and golden brown.

Once done, allow pizza to rest/cool for a few minutes (about 2-3 minutes) so that the cheeses have set before cutting into generous slices, using a pizza cutter. Drizzle with hot honey, if desired.

Bon Appetit!
Calories:
72
kcal
|
Carbohydrates:
19
g
|
Protein:
0.3
g
|
Fat:
0.1
g
|
Saturated Fat:
0.02
g
|
Polyunsaturated Fat:
0.04
g
|
Monounsaturated Fat:
0.01
g
|
Sodium:
343
mg
|
Potassium:
71
mg
|
Fiber:
1
g
|
Sugar:
17
g
|
Vitamin A:
174
IU
|
Vitamin C:
1
mg
|
Calcium:
20
mg
|
Iron:
1
mg